Vom Serviced Apartment in die eigenen vier Wände: Nach ein bis maximal zwei Monaten sollte das für uns soweit sein, so das Ziel. Deshalb beschließen wir die Wohnungssuche direkt nach unserer Ankunft in Shanghai Anfang Januar zu starten. Nachdem wir bereits einige Wohnungen gesehen hatten, wussten wir schon relativ genau, was wir wollten und was nicht: Die grundsätzliche Entscheidung zwischen modernem Compound und taditionellem Lane House war schnell getroffen: Uns ist das Flair der alten Backsteinhäuser inmitten der Former French Concession lieber als ein Hochhauskomplex. Dafür verzichten wir gerne auf integriertes Fitnessstudio, Schwimmbad und ein abgeschirmtes Gelände, das mit Sicherheit einige Annehmlichkeiten mit sich bringt. Für uns gefühlt aber doch zu isoliert, anonym und eher mit einem Leben im Hochsicherheitstrakt vergleichbar als mit unserer Vorstellung von Alltag in Shanghai.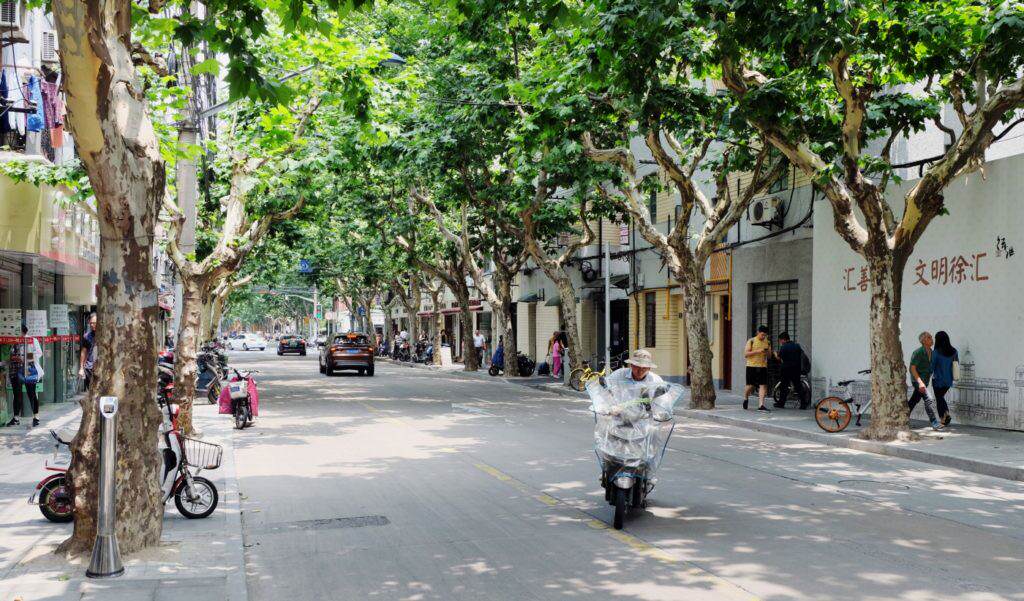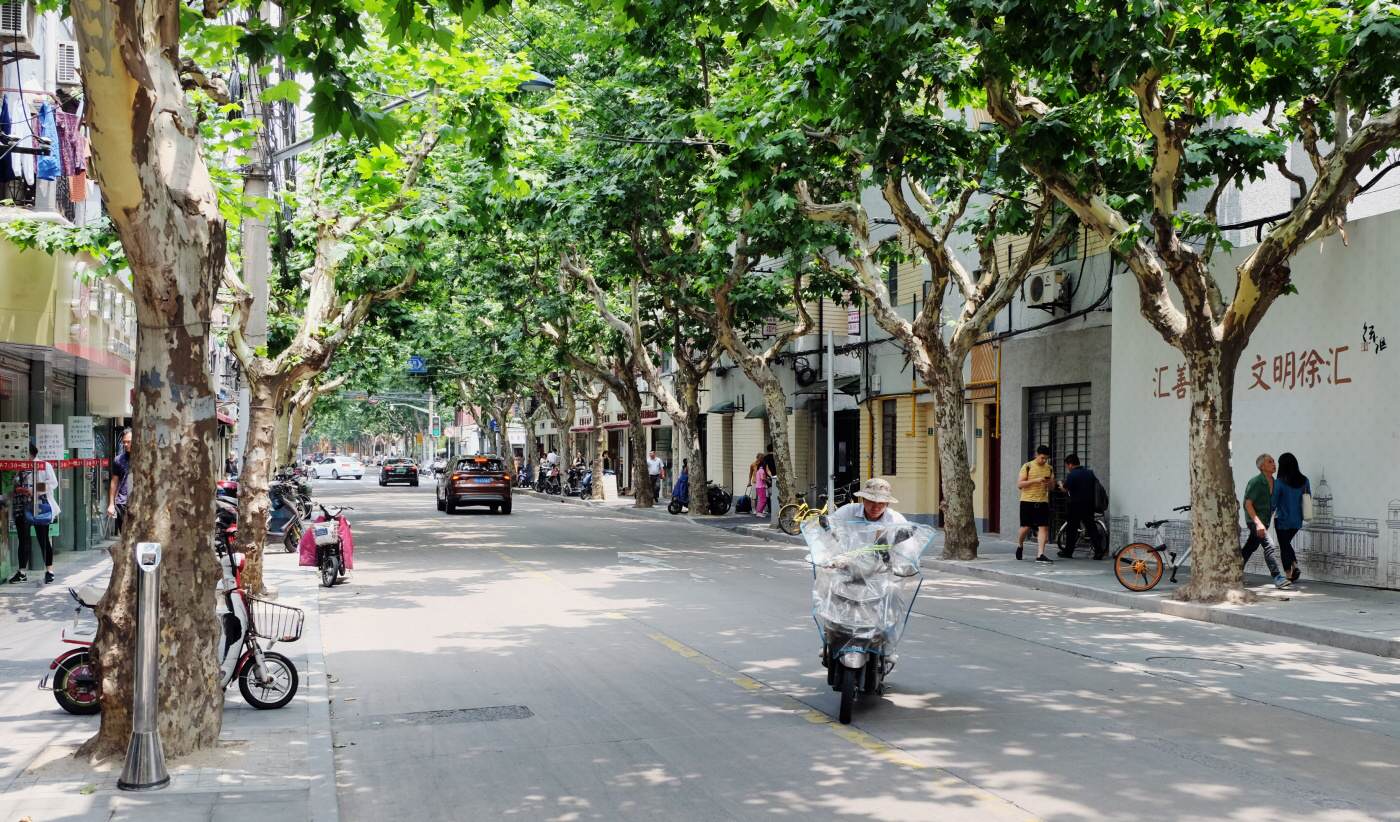 From staying in a Serviced Apartment to living in our own four walls: We wanted to achieve this after one or two months, this was our goal. So we started homesearching straight after arriving in Shanghai at the beginning of January. After we had seen only a few apartments, we could tell already what we wanted: The decision between modern Compound and traditional Lane House was taken quickly. For us it was more important to stay in an apartment with flair and character right in the middle of a local community in Former French Concession than in a high rise building. We rather renounce a gym, swimming pool and a shielded area, which for sure also has quite some amenities to offer. But for us a Compound feels too isolated, anonymous and too similar to living in a Serviced Apartment compared to our vision of daily life in Shanghai.
Zum Vergleich die Hauptunterschiede zwischen Compound und Lane House:
These are the most significant differences between Compound and Lane House:
Compounds – Hochhauskomplex mit einigen Annehmlichkeiten:
Bei sogenannten Compounds handelt es sich um Komplexe aus mehreren Hochhäusern. Diese verteilen sich zwar auch mitten in der Stadt, sind aber doch etwas abgetrennter vom täglichen Leben in den umliegenden Seitenstraßen und Gassen. Vielleicht schon aufgrund des Pförtners, der die Zufahrtsschranke bewacht. Meist ist ein Fitnessstudio und / oder Schwimmbad im Komplex integriert, oft sogar Supermärkte und kleine Läden für den täglichen Gebrauch, manchmal auch ein kleiner Park, Spielplätze, Tenniscourts oder ähnliches. Für uns also ein klares Signal: Hier wohnt man z.B. gerne als Familie mit Kindern. Der Bereich wirkt geschützt und man hat alle nötigen Dinge in kurzer Distanz.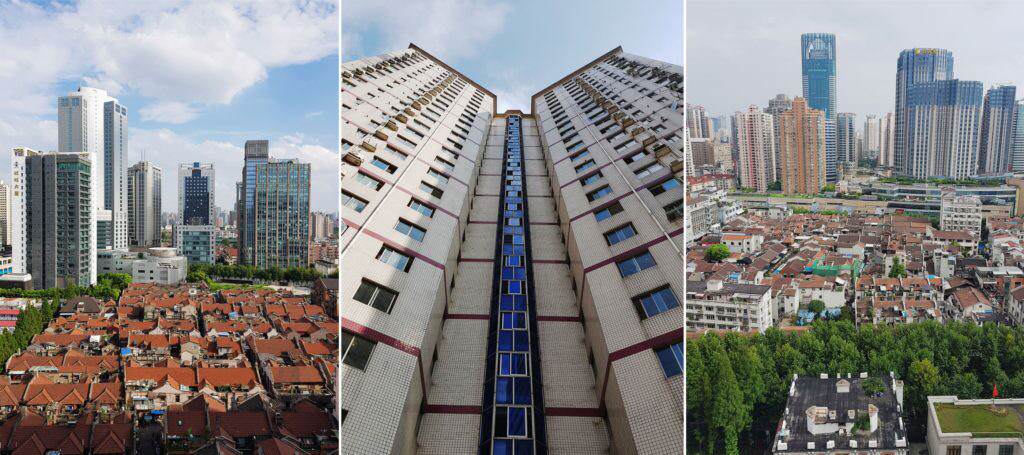 Da die Hochhäuser über einige dutzend Stockwerke verfügen, gibt es immer mehrere Lifts und je nach Apartment-Lage genießt man einen knaller Ausblick. Die Wohnungen sind oft neu renoviert, wirken hell und geräumig, also durchaus mit westlichen Standards vergleichbar. Teils sind sie auch etwas fancy eingerichtet. 🙂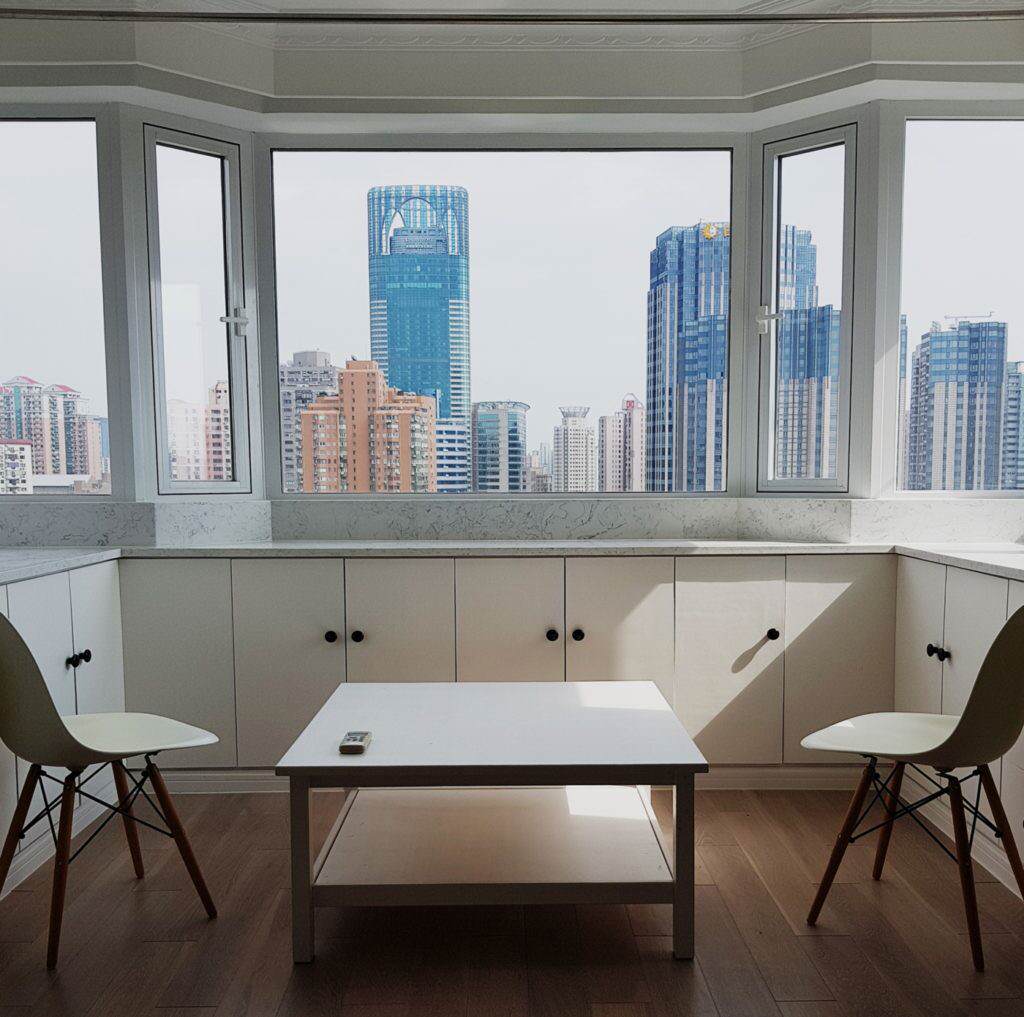 Compounds – High rise buildings with amenities:
A Compound is a complex of a few high rise buildings, which are also spread out across the city, yet a bit more shielded from the everyday life in the small alleys and sidestreets, not only because there is a porter and a secured entrance gate. Often there is a gym, and / or swimmingpool integrated in the complex. Sometimes even supermarkets, some shops for daily needs as well as a small green area, playgrounds, tennis courts or similar facilities. For us the clear signal: It´s a great place to stay mainly for families. The area is kind of protected and daily things can be reached in short distance.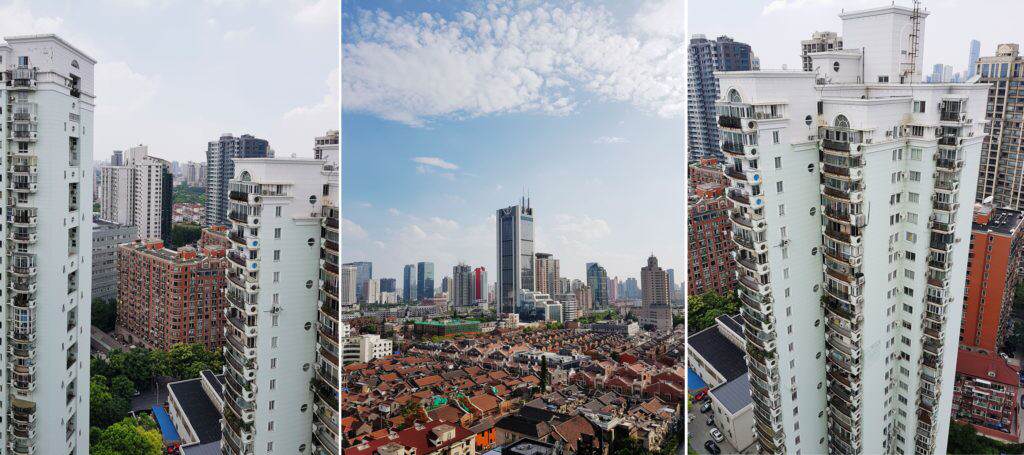 Because of the several floors (~20-40), there are always elevators and depending on the floor you stay, you enjoy breathtaking views. The apartments are often newly renovated, appear bright and spacious, so are actually comparable to Western standards. Some are even decorated kind of fancy. 🙂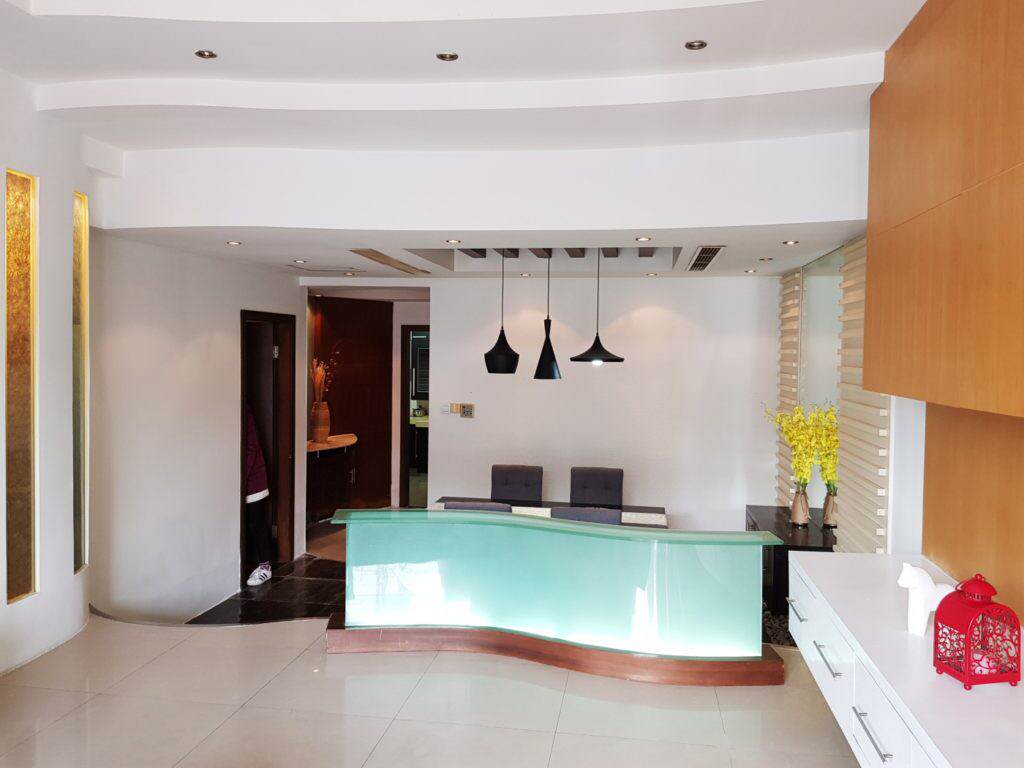 Lane Houses – traditionelle Reihenhäuser in chinesischer Nachbarschaft
Lane Houses sind die traditionellen chinesischen Wohnhäuser, die man vor allem in der Former French Concession findet – das Viertel, in das wir definitiv ziehen wollen. Die sogenannten Shíkùmén (Steintor-Häuser) in den Lilòngs (Gässchen) definieren ebenfalls Wohneinheiten, die sich hinter großen Backsteintoren entlang der Straßen eröffnen und so erst auf den zweiten Blick wirklich sichtbar werden.
Betritt man diese Shíkùmén-Siedlungen, ist man schlagartig mitten im chinesischen Alltag angekommen: Wäsche hängt aus den Fenstern, dazwischen auch mal ein Stück Fleisch, oder eine ganze Ente. Roller parken und die kleinen, meist engen Gassen sind gesäumt von mehreren Eingangstüren und kleinen Briefkästen. Überall wird gewerkelt und doch ist es meist verhältnismäßig ruhig innerhalb dieser traditionellen, von Steinmauern umgebenen Wohneinheiten, die leider immer stärker den riesigen Compounds weichen müssen. Denn teilweise schon ziemlich heruntergekommen, fassen diese maximal 3- bis 4-stöckigen Häuser nicht einmal einen Bruchteil an Bewohnern, verglichen mit den riesigen Hochhauskomplexen mit mehreren Dutzend Stockwerken.
Lane Houses – traditional row houses in Chinese neighbourhoods
Lane Houses offer the traditional Chinese way of living, which is still very common in the Former French Concession, the area we are planning to move to. The so called Shíkùmén (stonegate-houses) in the typical Lilòngs (small alleys) are community areas, which can be found behind the bigger and smaller stonegates throughout the alleys of Former French Concession – and most of the time you only recognize them at second sight.
But right upon entry of such an alley, you have suddenly arrived in the middle of real Chinese everyday life: Laundry is hanging out of the windows, inbetween also some parts of drying meat or even a whole duck. Scooters park along the small alleys, which are lined with entrance doors and small mailboxes. Everywhere people are busy, still it appears to be surprisingly quiet within these backyards, compared to the big mainstreets outside the stonewalls. Lots of these Shíkùmén-settlements unfortunately get sacrificed for the big Compounds, because these 3-4 floors high Lane Houses are already pretty run down and only offer space for a small amount of apartments and people, compared to the high rise buildings with dozens of floors.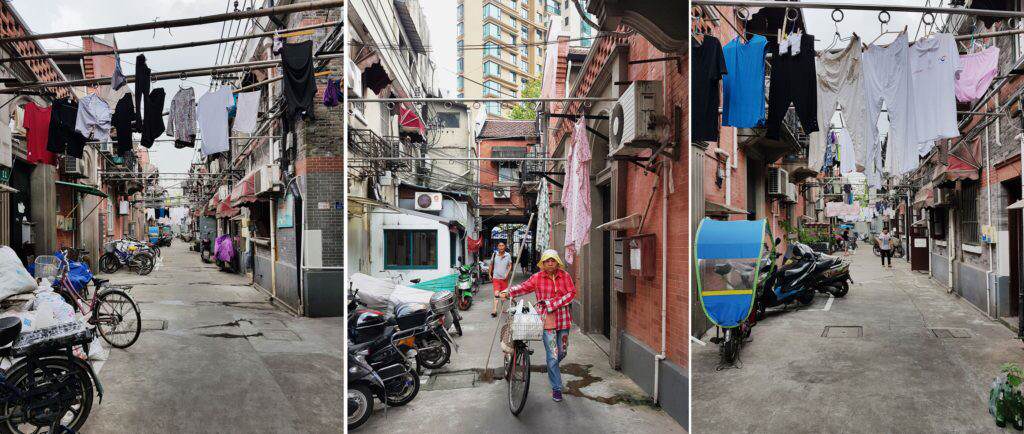 Da es sich bei den Lane Houses tatsächlich um traditionelle, also alte chinesische Häuser handelt, sind diese teils ziemlich bescheiden und es wirkt auf den ersten Blick fast skurril, was sich hinter den Fassaden verbirgt. Die Treppenaufgänge sind oft dunkel und eng. Trotzdem lagern die Chinesen dort alles mögliche, was in der Wohnung keinen Platz hat. Teilweise verfügen die Häuser über so genannte "shared kitchen". Nicht jeder hat also eine eigene Küche, sondern man teilt sich eine dunkle Ecke im Hausaufgang, um im Wok über Gas zu brutzeln.
Because the traditional Lane Houses are quiet old, mostly they are also modest and even weird looking from the inside. The stairways are often dark and narrow. Nonetheless the Chinese residents store literally everything there what doesn´t have a place inside their apartment. Sometimes the houses offer so called "shared kitchens", means: Not everybody has their own private kitchen, but shares a small corner in the hallway to cook in the wok over gas. That doesn´t feel too inviting when visiting in the first place.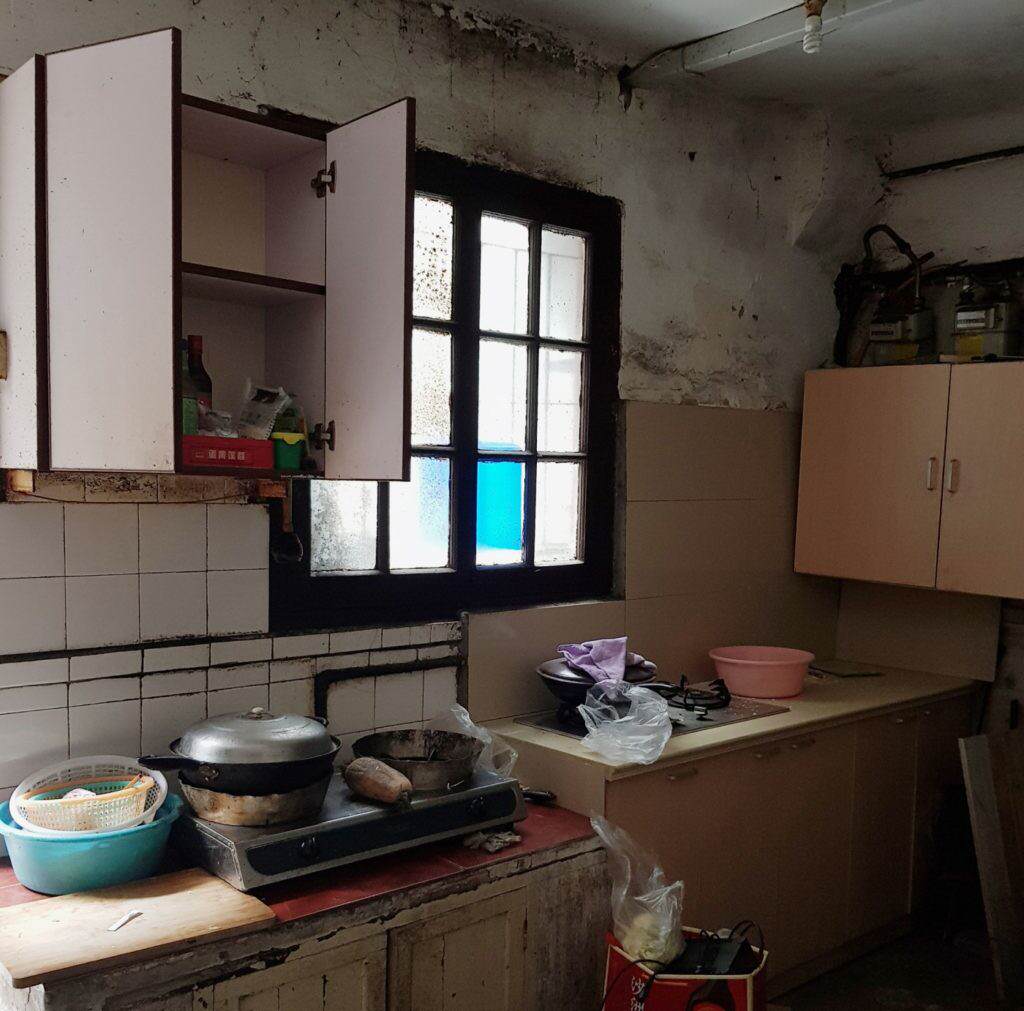 Nicht ganz einladend auf den ersten Blick. Doch was sich hinter so mancher Wohnungstür verbirgt, lässt uns nur noch staunen: Teils komplett neu renovierte, modern und vor allem mit Charme und Charakter eingerichtete Wohnungen. Wir sind sofort geplättet, weil wir hinter diesen Fassaden so schicke Apartments definitiv nicht erwartet hätten.
But what can be found behind some apartment door, completely amazes us: Totally renovated, modern and charming apartments, which you would definitely not expect behind these kind of facades from the outside. We are overwhelmed.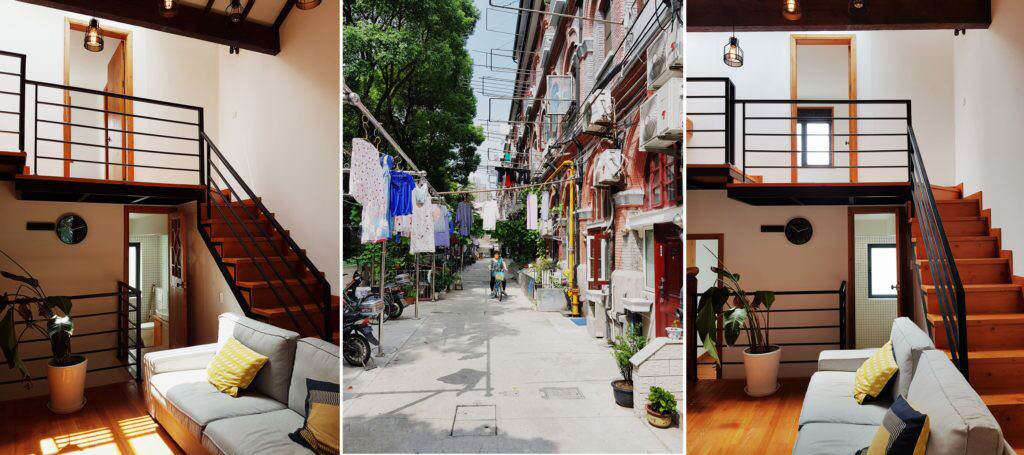 Lane Houeses sind meist etwas kleiner und verwinkelt, verfügen dafür aber nicht selten über zwei Stockwerke, so genannte "Duplex-Wohnungen", was einen gewissen Loft-Charakter mit sich bringt und unsere Herzen sofort höher schlagen lässt. Unsere Entscheidung ist also defnitiv getroffen, auch wenn es eine Herausforderung wird unsere Möbel, die sich zu diesem Zeitpunkt bereits im Container auf dem Seeweg nach Shanghai befinden, in diesen oft sehr verwinkelten und mit Schrägen versehenen Wohnungen unterzubringen. Denn schnell merken wir: Quadratmeter-Angaben sind hierzulande mit Vorsicht zu genießen, egal ob bei Lane Houses oder Compounds: Chinesen messen anscheinend anders, dafür aber zumindet einheitlich: Eine 80 qm-Wohnung ist in Wirklichkeit gerade mal 50-60 qm groß. Für eine realistisch große 80 qm Wohnung, sollte man also mindestens nach 100-120 qm suchen. 🙂 Wir haben ab sofort also eine absolut eindeutige Mission: Homesearching in einer Shíkùmén-Siedlung im Former French Concession!
The rooms in the Lane Houses are mostly less spacious, but therefore sometimes have a second floor, a so called "Duplex", offering a kind of a Loft-character, which makes our hearts jump with joy. So our decision to aim for a Lane House is taken quickly, even if it will be a challenge to fit in all our furniture, which at this point is already packed into the container and on the way to Shanghai. Because of the Duplex-style the rooms often are contorted and sometimes slanted, so arranging the interior must we well thought of. What makes it even more difficult: Measurements are different in China, no matter if you think about a Compound or a Lane House: If you are searching for a 80 sqm apartment, you will mostly get only 50- 60 sqm presented in reality. So better look for 100-120 at least to get an adequate comparison. 🙂 But for us it´s more than crystal-clear now and we are on a mission: Homesearching in a Shíkùmén-settlement in Former French Concession.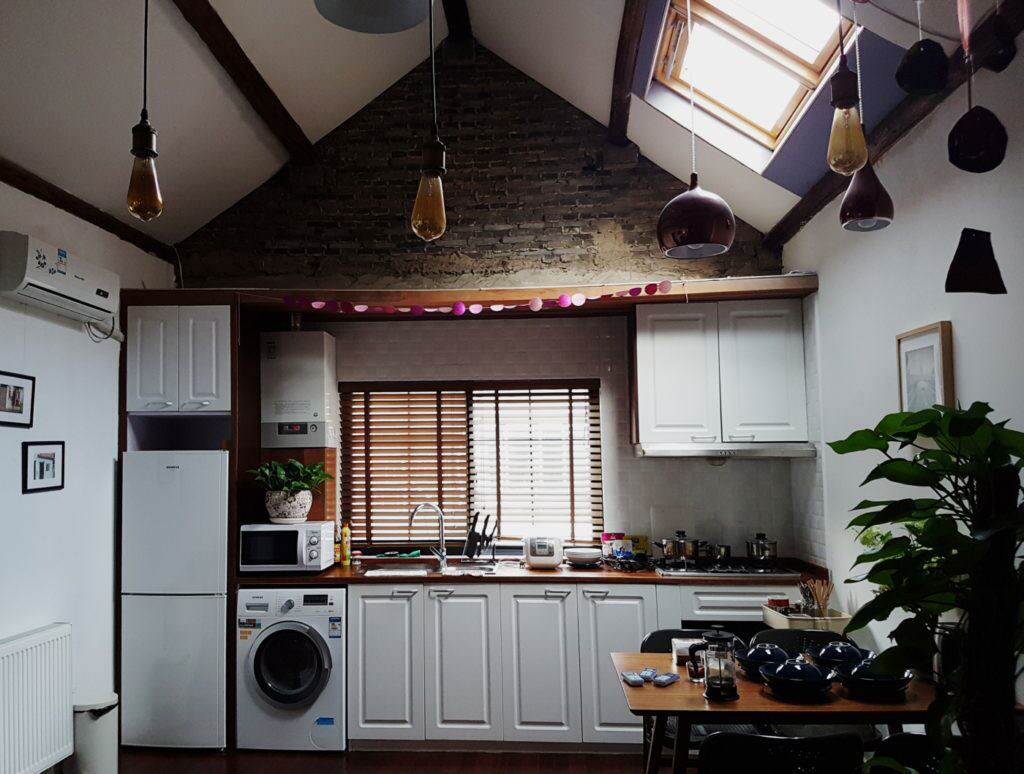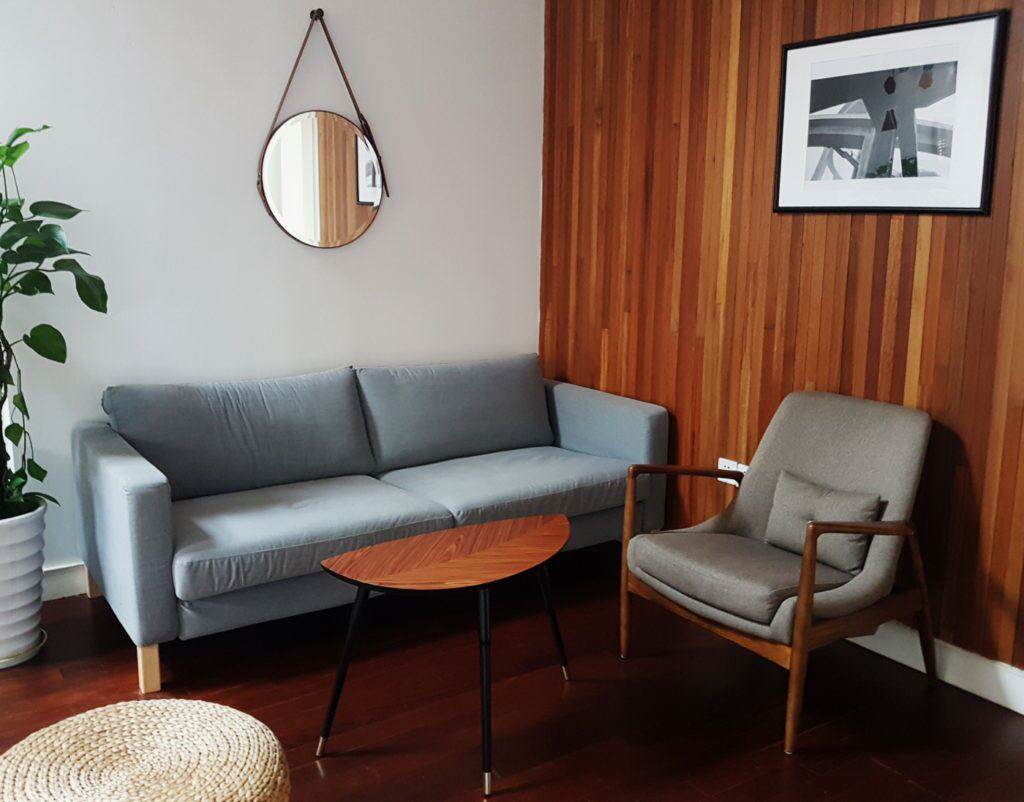 Und das Homesearching kann schnell zum Househunting werden… Denn der Wohnungsmarkt in Shanghai ist durchaus schnelllebig. Vermietet wird hier am liebsten ab sofort oder maximal innerhalb der nächsten 7 bis 10 Tage. Man sollte also schnell, flexibel und entscheidungsfreudig sein. Gesagt getan, machen auch wir uns auf die Suche über die Online-Plattform SmartShanghai, die als Online-Magazin alle möglichen Informationen bündelt, wie Restaurant-Tipps, Job-Angebote, Ankauf-Verkauf und eben auch Wohnungsanzeigen.
Homesearching can easily change to househunting over here… Because the housing market is fast-moving in Shanghai. Flats are often rented out immediately, very latest after 7 to 10 days. Therefore you need to be fast, flexible and keen to make a decision.  No sooner said than done: We start searching for a flat via the online-platform SmartShanghai, which is an online-magazine covering all daily needs, like restaurant-tips, job opportunities, purchase and sale as well as rent advertising.
Hinter den Anzeigen stecken so gut wie immer Immobilienfirmen, die die Wohnungen über ihre Makler vermitteln. Findet man Gefallen an einer Wohnung, kontaktiert man den entsprechenden "agent", natürlich über WeChat. Im Nu hat man ungefragt noch einige mehr freie Wohnungen zur Auswahl auf das Handy geschickt bekommen, die der Makler gerade offen hat. Auch die Gegenseite arbeitet schnell. Innerhalb weniger Tage lassen sich unkompliziert Besichtigungstermine vereinbaren und es kann los gehen: Das Househunting, das grob zusammengefasst folgendermaßen abläuft:
The advertising is set by different real estate companies, who rent out the flats via agents. If you like a place, you just contact the agent, of course via WeChat. And after telling your reqiurements, you will have received a choice of 10 or more apartment options on your mobile. Also the agent-side operates fast: Within a few days you will have the opportunity to visit several options. So househunting basically works like this: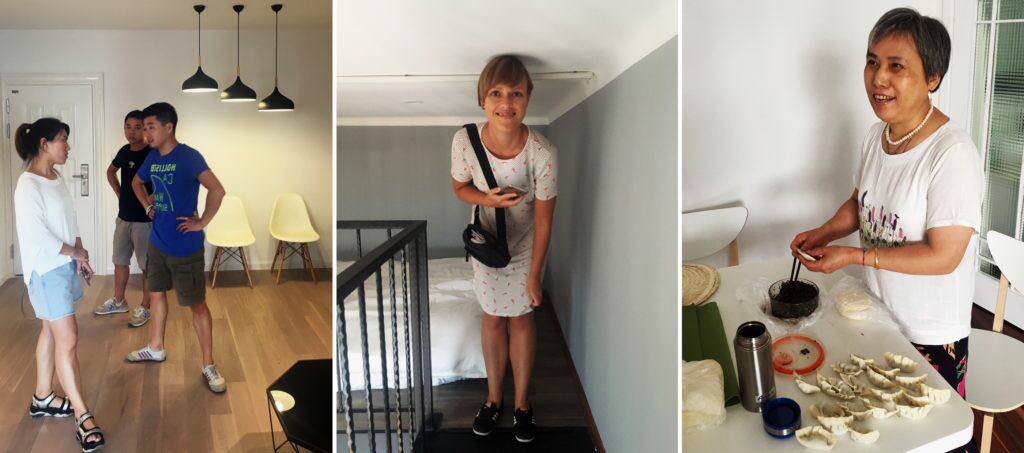 Der Makler koordiniert die Besichtigungstermine und besorgt die Schlüssel bzw. Zugangscodes. Nacheinander schauen wir verschiedene Wohnungen an, ohne jemals die eigentlichen Vermieter zu treffen, dafür allerdings ab und an andere Interessierte mit deren Maklern, die aktuellen Mieter oder die Ayi (Haushaltshilfe). Wir machen Fotos & Notizen und nach jeder Besichtigung lassen wir die Pros und Cons Revue passieren, so weiß unser agent besser, was wir wollen und kann gezielter suchen. An einem Vormittag schafft man so locker 4 bis 5 Wohnungen, an einem ganzen Tag bis zu 11 (unser Rekord). Ist man an einer Wohnung ernsthaft interessiert, folgt der nächste Schritt: Noch einmal mit geschärfterem Blick besichtigen und anschließend die Verhandlungen starten… Doch davon muss ich Euch in einem weiteren BlogPost berichten.
Your agent will set viewing appointments and take care of getting the keys or codes to enter the apartments. That way we visit one after each other, without hardly ever meeting the landlords, but sometimes other visitors with their agents, the current tennants or even the Ayi (household help).  We take pictures and notes and after each visit we discuss pros and cons with our agent, so with every visit it gets clearer what we really want.  At that pace it´s not difficult to get 4 to5 apartments visited in a row during one morning and up to 11 apartments on an entire Saturday, which was our record.  In case you are really interested in one of the flats, you will visit again and start negotiations afterwards. But this chapter I will have to fill in another BlogPost.