Die ersten vier Wochen in Shanghai wohnen wir im "Serviced Apartment". Heißt: In einem etwas größeren Hotelzimmer mit Waschmaschine und Küchennische, sodass wir etwas mehr Platz haben, Wäsche waschen, uns Kaffee kochen und (theoretisch) ab und zu auch etwas zu Essen kochen können.
For the first four weeks we are living in a Serviced Apartment. Means: We stay at a slightly bigger hotelroom, which additionally contains a washing machine and a small kitchenette, so we are able to do our laundry, make ourselves some coffee and tea or (in theory) even cook something to eat.
Theoretisch deshalb, weil:
1. die Möglichkeiten, schnell und teils super günstig Essen zu gehen, einfach unbegrenzt sind &
2. zwar die Küche mit Geschirr ausgestattet ist, das Zimmer aber nicht über einen Esstisch, geschweige denn zwei Stühle verfügt.
"In theory" because:
1. there are endless opportunities to get a quick bite to eat, for a considerably fair amount of money in Shanghai &
2. the kitchenette does feature some crockery-equipment, but doesn´t offer a proper place to sit and eat with a table and chairs for two.
Immerhin: Zwei Mal haben wir gekocht und am viel zu hohen Couchtisch gegessen, der eigentlich als mein Nachttisch dient, weil es komischerweise nur diesen einen gibt. Ich sitze also auf dem Schreibtischstuhl, Jan mir gegenüber auf dem Bett. Geht schon mal, ist aber nicht wirklich zu einer Routine geworden.
Nevetheless: We have cooked twice and sat around the small couch table, which is actually too high – the one sitting on the office chair and the other one right on the bed. Fine someehow, however didn´t really become a routine for us.
Aber zumindest können wir Kaffee oder Tee kochen, Snacks zubereiten und von Tellern essen. Witzigerweise gibt es aber wie bei "Schneewittchen & die 7 Zwerge" von jedem Geschirr-Teil alles exakt rationiert in der entsprechenden Exemplar-Anzahl: 2 große Teller, 2 kleine Teller, 2 Tassen, 2 Gläser, 2 Gabeln, 2 Messer, 2 Löffel. Ich ordere also Nachschub beim Housekeeping, was wiederum zu einem lustigen Erlebnis führt:
But at least we can have a cup of coffee or tea, prepare some snacks and eat from plates. Fun fact: The kitchenette is well equipped, though like in 'Snow White & the 7 Dwarfs' only with exactly two pieces each: 2 big plates, 2 small plates, 2 cups, 2 glasses, 2 forks, 2 knives, 2 spoons. So I order some additional stuff from the housekeeping, which results in another funny story: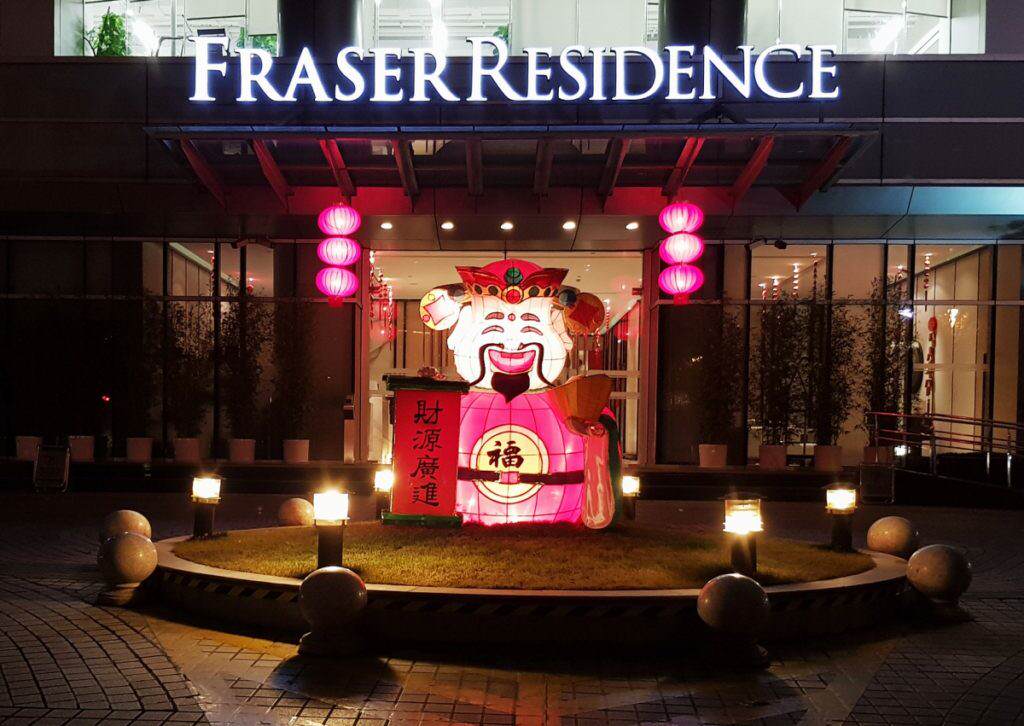 Von Töpfen, Pfannen und anderen Missverständnissen / Of Pans & Pots, and other misunderstandings
Ich sage also persönlich an der Rezeption Bescheid, dass ich gerne noch einen Topf hätte (ja, ich wollte kochen), zudem bitte je noch zwei Gläser und Tassen, und etwas mehr Besteck. Rezeptionist: Schreibt auf und verspricht es dem Housekeeping zu melden. Auf dem Zimmer angekommen, klingelt mein Telefon: Rezeptionist fragt, was genau für einen Topf ich denn brauche… Puhhh, weiß ich auch nicht, einfach einen normalen Topf eben. Er fragt weiter: Was ich denn kochen wolle. Ich: Naja, nur eine Soße, also einen ganz normalen, handelsüblichen Topf. – OK.
I tell the receptionist in person that I would like to have another pot (yes, I wanted to cook), as well as two more glasses and cups and some more crockery. He notes it down and promises to inform the housekeeping. When I arriving back in the room, the telephone rings: The receptionist asking what kind of pot I need exactly. Puuhhh… I don´t know, just a normal pot. He continues: "So what do you want to cook?" Me: "Hmm… some kind of sauce. So I just need a very ordinary small pot." – "OK".
10 Minuten später klingelt es an der Tür und eine Dame vom Housekeeping streckt mir freudestrahlend eine Pfanne, zwei Geschirrtücher und Besteck entgegen… Ich versuche ihr auf Englisch zu erklären, dass ich eigentlich einen Topf brauche. Sie schaut mich an, versteht natürlich rein gar nichts und grinst. Ich zeige auf die Pfanne, schüttele mit dem Kopf und zeige mit Nicken auf den einen Topf, den ich bereits in der Küche hatte. Sie: Grinst ebenfalls und holt ihr Handy heraus, tippt irgendetwas ein und zeigt mir schließlich die englische Übersetzung "bring later". Daraufhin nicke ich dann wieder und harre der Dinge.
10 minutes later the doorbell rings and a lady from the housekeeping stretches out to me with a big smile on her face: a pan, 2 dishcloths and some grockery. 🙂 I try to explain in Englisch that I actually needed a pot, not a pan. She looks at me, all smiling, but not understanding a single word until I point at the other pot I already got. Then she starts typing something into her mobile to show me the Englisch translation of it: "Bring later". So I nod again and keep waiting.
Ca. 30 Minuten später klingelt es erneut und eine andere Dame vom Housekeeping bringt mir tatsächlich einen Topf. Nun kann ich endlich anfangen zu kochen.
30 minutes later the doorbell rings again and another lady from the housekeeping hands me a real pot. Now I can start cooking eventually.
---
Sie sind schon süß, die Shanghainesen – und es ist erstaunlich, wie gut man sich doch mit seinem Gegenüber versteht, auch wenn beide Seiten kein Wort der jeweils anderen Sprache sprechen. Und dabei sind die Meisten stets freundlich und verständnisvoll – und das nicht nur im Serviced Apartment. Nichtsdestotrotz lautet mein Zwischenfazit: Ich muss unbedingt anfangen Chinesisch lernen!
Somehow it is really cute how the Shanghainese try to understand and make clear what they want, always friendly – also outside the Serviced Apartment. Nonetheless one of my first key take-aways: I really have to start learning Chinese.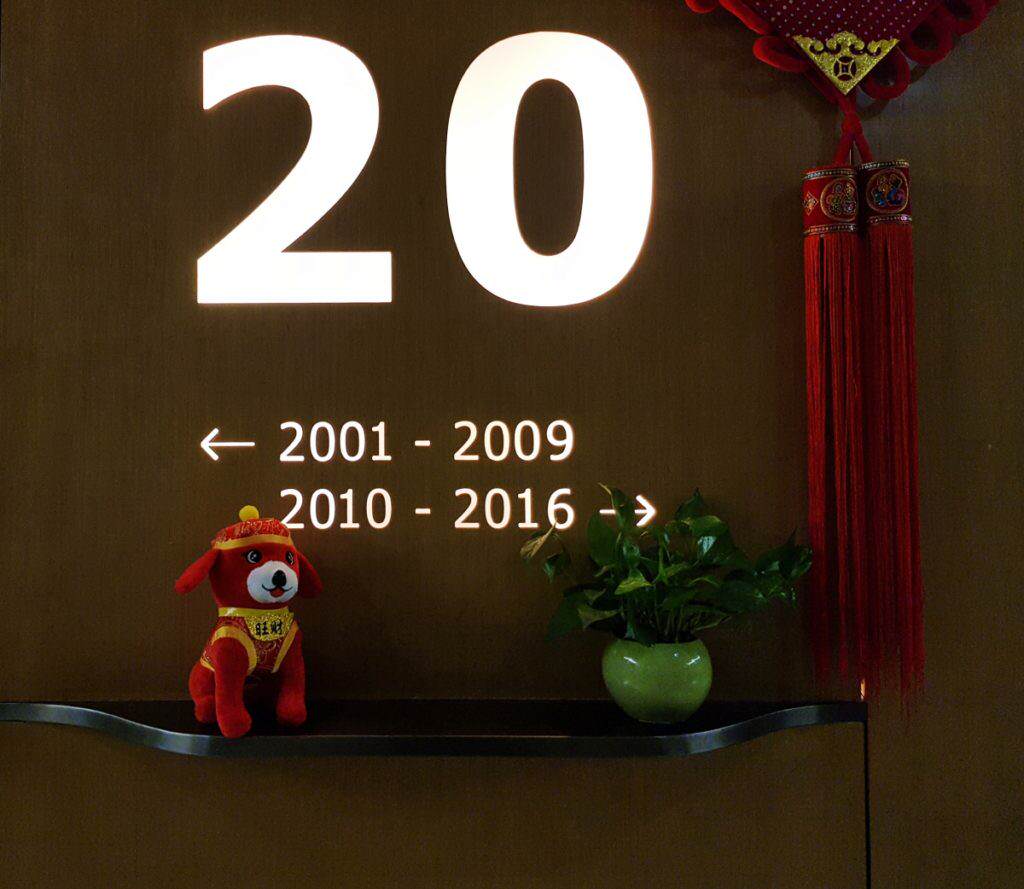 Pest Control! – Really?
Im Grunde ist das Leben im Serviced Apartment ganz angenehm: Dreimal pro Woche schaut das Housekeeping vorbei und macht Ordnung. Einmal gab es sogar eine "Pest Control", die mehrere Tage vorher groß per Mail angekündigt wurde und einen riesen Aufwand vermuten ließ: Man solle einen Termin vereinbaren, zu dem das Housekeeping die Pest Control, durchführen kann, heißt es im Schreiben. Außerdem weisen sie schon einmal darauf hin, dass es im Nachgang zu ein paar störenden Gerüchen kommen kann, die sie selbstverständlich beseitigen. Man solle aber bitte offene Nahrungsmittel etc. im Kühlschrank verstauen. Ich stelle mir also vor, dass an Tag X das Housekeeping in Schutzanzügen durch unser Zimmer strömt, wild Chemikalien versprüht und danach alles komisch riecht oder sich ungesund anfühlt. Daraufhin verräume ich natürlich alles: Kleidungstücke in die Schränke, Essen in den Kühlschrank, Zahnbürsten in die Kosmetiktasche etc.
Basically life in a Serviced Apartment is quite pleasant: Three times a week the housekeeping comes around and tidys up. Once there was even a "Pest Control", which was announced via e-mail some days in advance and seemed to be a big deal. We were asked to make an appointment. Furthermore they informed: "There might be a slight trace of odour, which you may find rather unpleasant. We will be happy to refresh your apartment if you should require it. You are also encouraged to cover any food items or store the food in the refrigerator as the chemical may leave the food with an unpleasant odour and taste." So I expected that on day X housekeeping – dressed-up in protective overalls – will roam the rooms and cover the whole apartment in chemicals and everything will smell and feel unhealthy. So I pack away literally everything: clothes into the wardrobe, food inside the fridge, toothbrushes in the duty bag etc.
Am Tag X erscheint dann eine Dame vom Housekeeping mit drei Männern, die zwar keine Schutzanzüge tragen, aber einen Feuerlöscher-ähnlichen Gegenstand dabei haben. Mit diesem gehen sie in die Küche, öffnen den Schrank unter der Spüle und kaum will ich ihnen dabei über die Schulter blicken, sind sie auch schon fertig. Nicht einmal 10 Sekunden hat das Spektakel gedauert und die Pest scheint besiegt. Ich bin verwirrt, aber beruhigt: Anscheinend gab es in unserem Zimmer doch keinen wirklichen Seuchen-Ausbruch, der verhindert werden musste… 🙂
On day X a woman from houesekeeping shows-up with three male colleagues. They do not wear overalls at all, but come along with a yellow fire-extinguisher-like item. They open the shelf underneath the sink and within less then 10 seconds they are already done with the "Pest Control". Me: confused, but also eased: Apparently there was no real pest in our room, which needed to be killed… 🙂
---
Ich fühle mich irgendwie umsorgt, auch von den restlichen Annehmlichkeiten des Serviced Apartments. Im Gebäudekomplex gibt es einen kostenfreien Fitnessraum und ein Schwimmbad sowie zwei Restaurants. Wenn man etwas erledigen oder erfragen muss, kann man sich an die Rezeption wenden.
Sure thing: I feel kind of cosseted in our Serviced Apartment, especially thinking of all the amenities. In the complex there is a gym, an indoor swimming pool, which we can use free of charge, as well as two restaurants. If you have some small things to do, like printing or scanning, or need to get any information, you can just ask at the reception.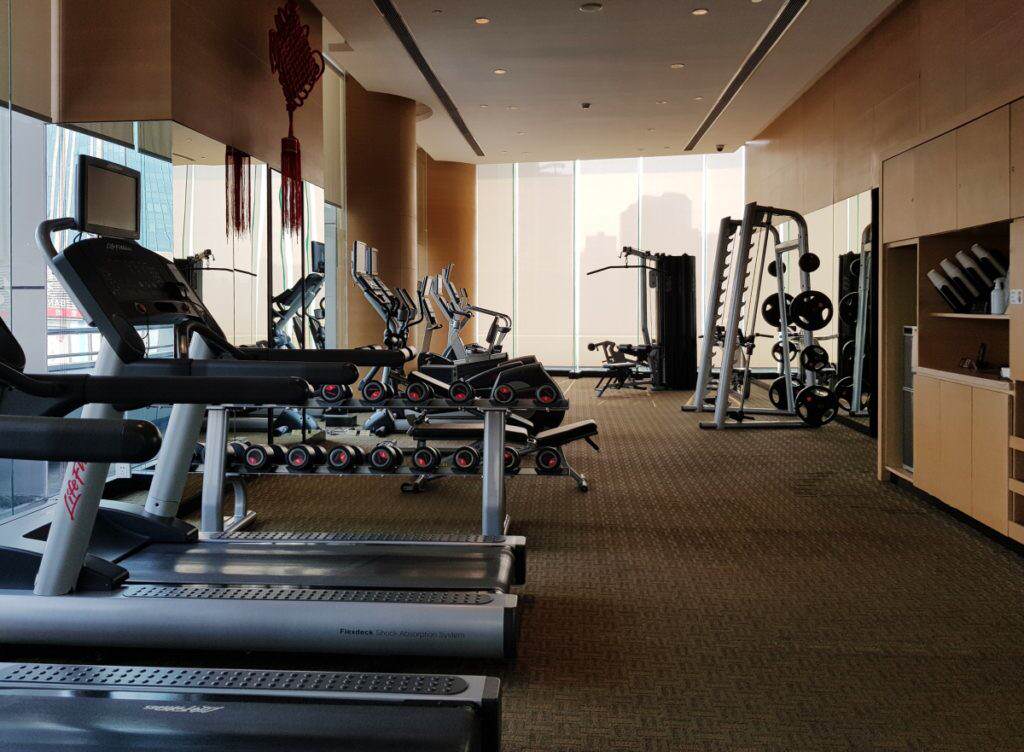 Und der Blick aus unserem Zimmer mit kleinem Balkon ist echt grandios.
And the view out of our room with small balcony is simply stunning.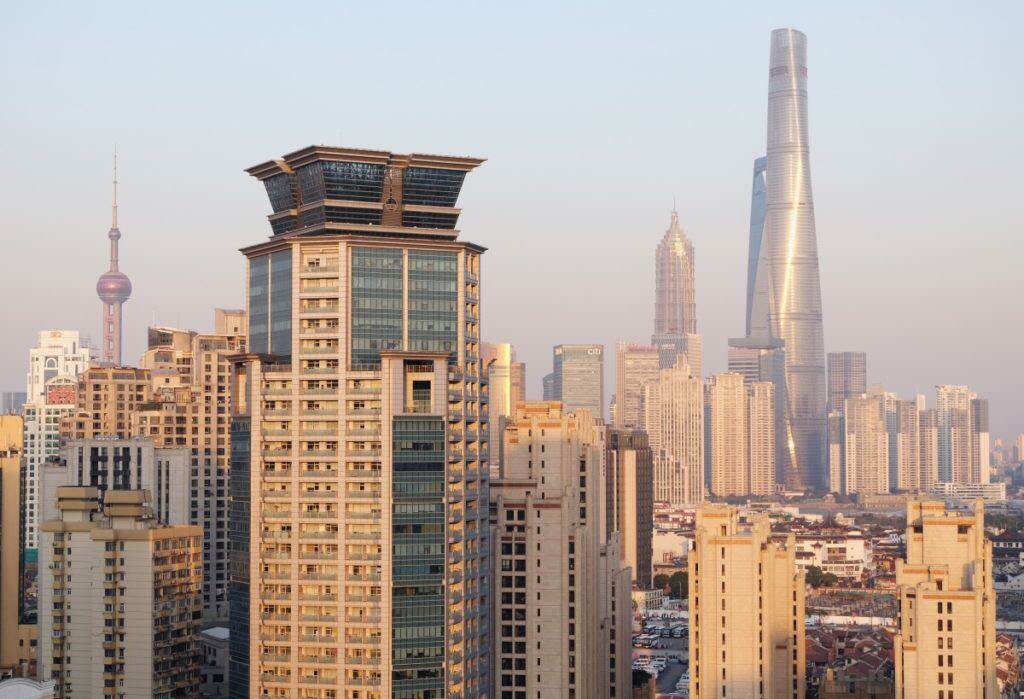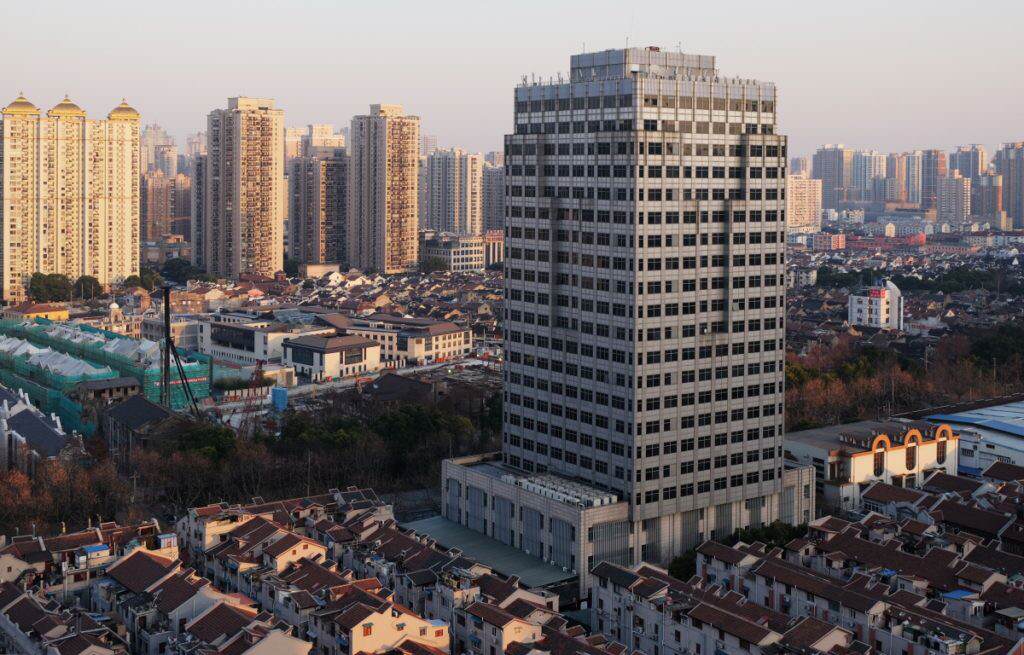 Alles in allem also ganz angenehm. Und dennoch fühlt es sich im Serviced Apartment eben doch an wie im Hotel. Etwas steril, anonym und wenig wohnlich. Wir können es also kaum erwarten unsere eigene Bleibe zu finden und starten nach unserer Ankunft direkt mit der Wohnungssuche. Doch das ist eine ganz andere Geschichte und definitiv einen separaten BlogPost wert. Also unbedingt Dranbleiben!
All in all: Easy living in our Serviced Apartment. But still it feels like living in a hotelroom: A bit sterile, anonymous and little homelike. That´s why we cannot wait to find our own apartment soon and so we start searching directly upon our arrival in Shanghai. But homesearch or here better to call houesehunting is a totally different story and definitely deserves a separate blogpost. So stay tuned!