#14Cities Kampagne "Fränkische Städte" | Tourist Board of Franconia
7 Monate, 14 Fränkische Städte und deren traditionelle sowie einzigartige Events waren Inhalt der Influencer-Kampagne "Fränkische Städte", die ich in Kooperation mit dem Tourismusverband Franken im Sommer 2017 umgesetzt habe. Insgesamt vier Blogerinnen haben Franken über mehrere Monate aus unterschiedlichen Blickwinkeln bereist und darüber auf ihren Blogs und Social Media Kanälen berichtet. Zusammengefasst und beworben wurde der Content über das Newsboard des Tourismusverbandes Franken. Insgesamt 15 ausführliche Artikel, 17 Fotogalerien und Instagram Posts sowie Stories sind über Smile4Travel entstanden und werden für die Bewerbung der Frankenmetropolen 2018 eingesetzt.

7 months, 14 Franconian Cities and their traditional as well as unique events were part of the Influencer campaign "Franconian Cities", which I realized in summer 2017 in cooperation with the Tourist Board of Franconia. All together 4 bloggers travelled Franconia and covered the 14 cities – everyone under a different topic and with their own eyes, before sharing the unique content on the blogs and Social Media channels. On the Newsboard of Franconia all content was clustered and promoted. Smile4Travel created 15 detailed articles, 17 photo galleries and content on Instagram (posts and stories), which will be used to promote Franconia with its 14 cities and their events as a great tourism destination in 2018 as well.

---
Samsung Snapshooter | official Community Samsung Mobile Germany
Seit 2016 bin ich Mitglied der offiziellen und exklusiven Instagram-Community "Samsung Snapshooter". Als Brand Ambassador von Samsung Mobile Deutschland teile ich exklusive Inhalte auf meinem Instagram-Account, die ich mit meinen Samsung-Geräten aufgenommen habe. Als Samsung Snapshooter habe ich zudem die Möglichkeit an exklusiven Community- und Launch-Events teilzunehmen und die neuesten mobilen Samsung-Geräte zu testen.
Since 2016 I am member of the official and exclusive Instagram-Community "Samsung Snapshooter". As a brand ambassador of Samsung Mobile Germany I share exklusive content on my Instagram channel, which I created with my Samsung devices. As Samsung Snapshooter furthermore I have the opportunity to be part of exclusive community- and launch-events and test the latest Samsung mobiles.
Launch Samsung GalaxyS8 / S8+ in New York City – March 2017

2017 war ich einer von 13 ausgewählten Influencern, die zum offiziellen Launch des Samsung Galaxy S8 und S8+ nach New York City eingeladen waren, um dort die neuen Geräte noch vor offiziellem Verkauf zu testen. Im Rahmen der Kampagne habe ich diverse Postings (darunter Teaser und Instagram-Posts sowie Stories) live vor Ort kreiert. Meine Eindrücke der fünftägige Reise habe ich in einem Artikel zusammengefasst.
In 2017 I was one of 13 selected influencers, who were invited to the official lauch of the Samsung Galaxy S8 and S8+in New York City to test the leatest devices before the official sale. Within the campaign I cretaed different posting (teaser as well as Instagram posts and stories). My insights and experiences during that trip I covered in a separate BlogPost.
Promotion Samsung Galaxy S9 / S9+ in cooperation with AIDA Cruises, March 2018

Im März 2018 habe ich zusammen mit 32 weiteren Snapshootern an Bord der AIDAperla die Nordsee und 5 Seehäfen sowie deren Umgebung erkundet und dabei unvergessliche Momente eingefangen und mit dem neuen GalaxyS9+ festgehalten.
In March 2018  I went aboard of AIDAperla to cruise the North Sea and explore 5 seaports together with 32 other Samsung Snapshooters. We captured our unforgetable memories with the new GalaxyS9+. 
---
Mobile Photography & Instagram
Instagram ist meine Lieblings-App, wenn es um Soziale Kanäle geht. Seit 2013 betreibe ich meinen Instagram-Account @Smile4Travel, auf dem ich mich zu 100% der mobilen Fotografie verschrieben habe. Mittlerweile habe ich einen aktiven Account mit 32k Followern aufgebaut, mit dem ich 2015 zwei Wochen auf der "Suggested User List" von Instagram gelandet bin. Neben dem Posten und virtuellen Interagieren spielt für mich die Community, die hinter den unzähligen Kanälen steckt, eine besondere Rolle. Über Instagram habe ich die unterschiedlichsten Menschen getroffen, die mir im normalen Leben wahrscheinlich nie begegnet wären. Hinter diesen Begegnungen stecken besondere Geschichten, die ich unter der Kategorie "Geschichten im Quadrat" sammele. Instagram ist für mich mehr als nur eine Foto-Plattform, auf der ich meine täglichen Fundstücke teile.
Instagram is my favorite social media app. 2013 I created my Instagram account @Smile4Travel, on which I commited myself to 100 % mobile photography. Meanwhile I reach 32k follower with my account, which brought me on the official "Suggested User List" of Instagram in 2015 for two weeks. Besides posting and interacting virtually, for me the community behind the different channels plays an unique role. Via Instagram I met so many different people; I would never have met without the community. Behind these encounters are special stories to tell, so I created the category "Squared Stories". For me Instagram is more than a plattform to share pictures.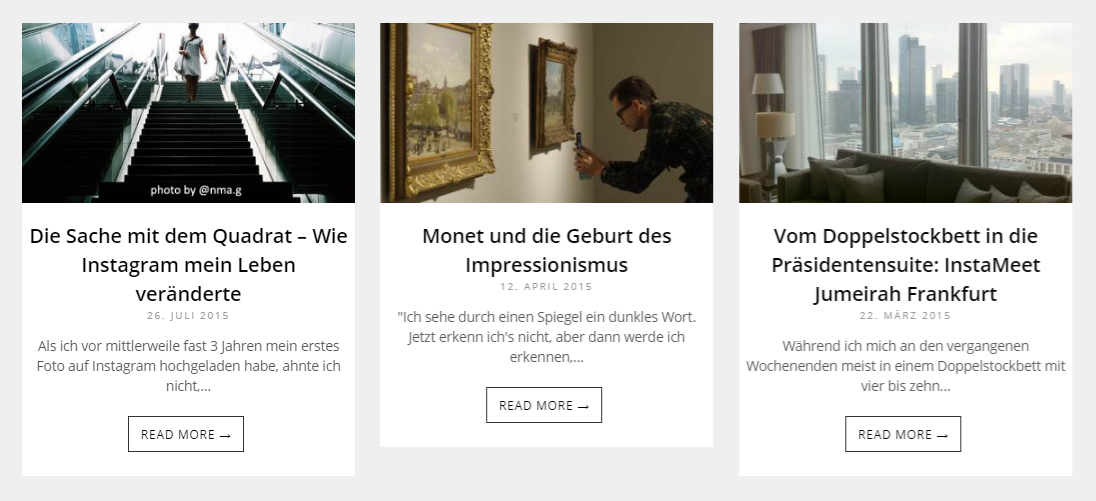 Instagram Community Management
Im März 2014 habe ich zusammen mit Martin Widenka (@widenka) die Frankfurter Instagram-Community @IgersFrankfurt gegründet. Bis September 2015 haben wir die Community zusammen aufgebaut und gemanaged. Im Zuge dessen konnten wir mehrere InstaMeets organisieren, die uns an ungewöhnliche und teils offiziell nicht zugängliche Orte gebracht haben.
Im Oktober 2015 habe ich aufgrund meines Ortswechsels nach Nürnberg die Instagram-Community @IgersFranconia gegründet, um die in Franken durchaus vielfältigen Städte-Communities zu bündeln und weiter zusammenzurücken. Repostings, Ankündigungen von InstaMeets oder Foto-Ausstellungen, bis hin zur Organisation und Teilnahme an lokalen Events: @IgersFranconia soll die stetig wachsende Instagram- und Foto-Community in Franken stärken.
In March 2014 Martin Widenka (@widenka) an me found the Instagram-Community @IgersFrankfurt. Until September 2015 we raised and managed the community. During that time we had the opportunity to organize several InstaMeets, which brought us to places, we otherwise would not have been able to access. Because of my location move to Nuremberg, in October 2015 I handed over my part and found the Instagram-Community @IgersFranconia to bring the diverse single city communities in Franconia closer to each other. Repostings, announcements of upcoming InstaMeets or exhibitions to organisation and participation at local events: @IgersFranconia is there to strengthen the crowing Instagram and photo community in Franconia.
---
Further projects
Über Instagram konnte ich bereits weitere kleine Projekte realisieren, so zum Beispiel:
With my work on Instagram I also had the opportunity to realize some small projects, for example:
"Wir feiern Bayern"
Im Rahmen der Kampagne "Wir feiern Bayern" habe ich an einem Instagram-Battle teilgenommen und Fotos rund um den traditionellen Bier-Brau-Prozess erstellt. Die Kampagne fand im Rahmen der beiden Jubiläen statt, die Bayern 2018 feiert: 100 Jahre Freistaat und 200 Jahre Verfassungsstaat Bayern.
In the context of the campaign "We celebrate Bavaria" I took part in a InstaBattle and created pictures around the traditional brewing process of beer. The campaign was part of two anniversaries, Bavaria is celebrating in 2018: 100 years Free State of Bavaria and 200 years constitutional state.

---
PickMotion
Ich bin stolz Teil der PickMotion-Community zu sein, für deren monatliche Challenges, individuelle Postkarten und Magnete ich bereits Instagram-Motive liefern konnte.
I am proud to be member of the PickMotion community, for whose monthly challenges, individual postcards and magnets some of my Instagram motives were used.