Gokurakuyu heißt der japanische Badehausbetreiber, der 2013 seinen Weg nach Shanghai gefunden und der chinesischen Bevölkerung die japanische Badekultur näher gebracht hat. Denn ungehemmt nackt sein, ist für die Chinesen keine Selbstverständlichkeit. Doch japanische Onsen-Bäder (Badehäuser gespeist aus heißen Quellen) sind einfach ein Traum, das haben auch die Chinesen mittlerweile erkannt und an einem verregneten Sonntagnachmittag strömen bade- und amüsierfreudige Familien, Paare und Freunde in das ziemlich großzügig angelegte japanische Onsen-Bad Gokurakuyu nach Pudong. Ich kann sie verstehen: Denn was gibt es Schöneres als an einem grauen, nass-kalten Shanghaier Wintertag in 40 Grad heißem Wasser zu entspannen, sich in der Salz-Sauna die Poren zu reinigen, im "Electric Bath" ein bisschen kitzeln zu lassen, bei einer Massage zu entspannen oder auch quälen zu lassen, oder oder oder?
Japanese bathing culture in the middle of nowhere of Pudong
Gokurakuyu is the name of the Japanese bathhouse branch, which found its way to Shanghai back in 2013 and introduced Japanese bathing culture to the Chinese people. Of course it´s not an easy matter for Chinese people to be naked in front of each other. But Japanese bathhouses (so-called Onsen) are just awesome. Also more and more Chinese appreciate these institutions and that's why on a rainy Sunday afternoon lots of families, couples and friends find their way to this big Japanese Onsen-spa (jap. for hot spring) to bath, hang out and to have fun. I am totally with them, because: What else could be better on a grey, wet and cold Shanghai winter-day than to relax in 40 degree hot water, to clean the pores in the salt sauna, to be tickled in the "electric bath", to relieve or feel some pressure during a massage?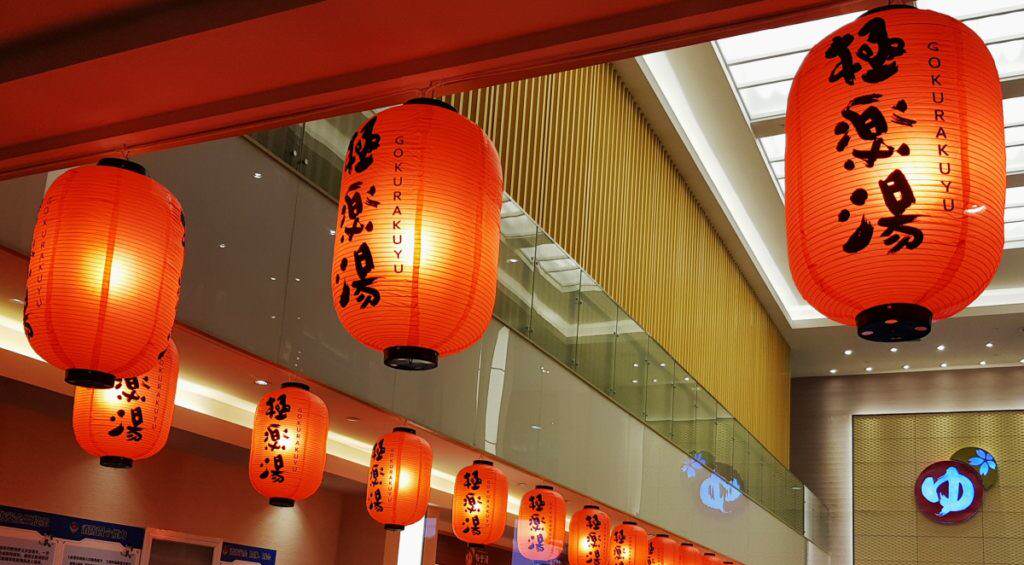 Im Gegensatz zu uns reizt die chinesischen Mit-Besucher etwas anderes allerdings noch weitaus mehr: Gokurakuyu ist wirklich ziemlich groß, neu und modern. Und von allerlei Entertainment-Möglichkeiten, die Chinesen glücklich machen, finden sich hier einige:
In contrast to us the Chinese visitors seem to enjoy something else even more: Gokurakuyu is really big, new and modern. And features lots of entertainment facilities, which Chinese love so much:
Mayong-Räume, in die sich meist Männer zurückziehen und das tun, was sie einfach am Liebsten tun: Unter sich sein und Karten bzw. mit Steinen spielen.
Mayong-rooms, where most of the men disappear to do what they like most: stay among each other and play cards.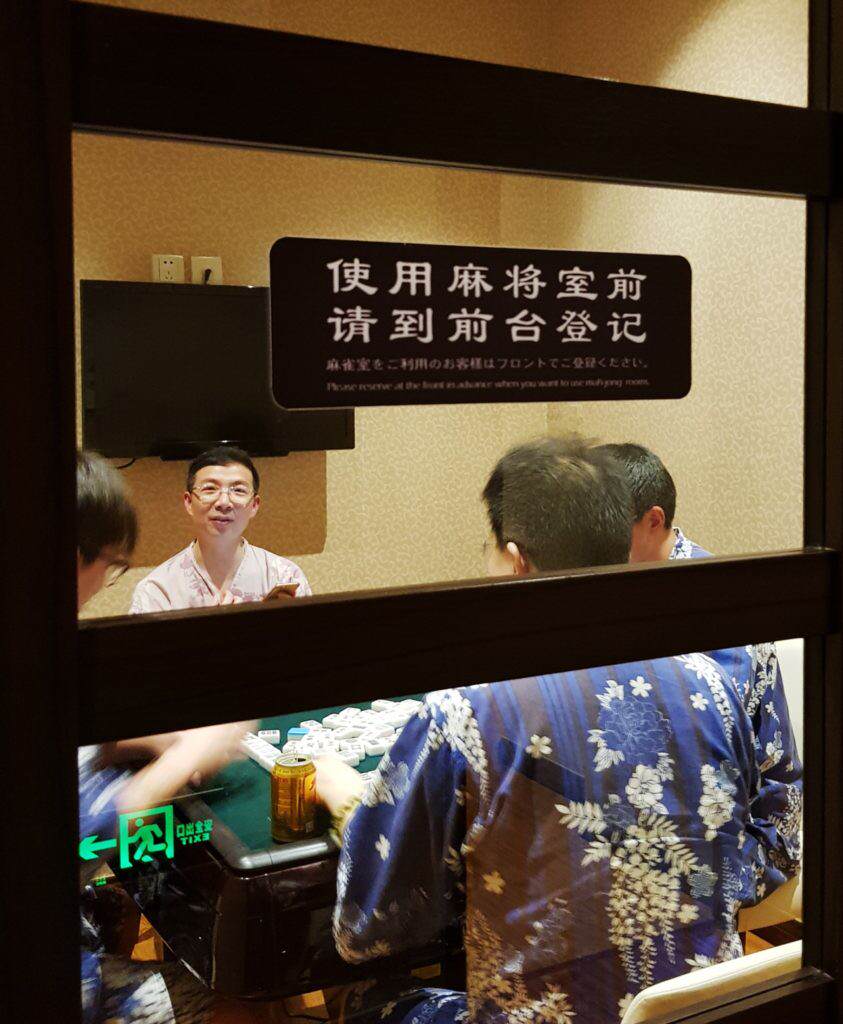 Riesige Ruheräume entweder mit Tatami-Matten ausgelegt oder mit komfortablen Liegen sowie Fernsehern, Steckdosen, Computer-, Leseecken und Bars bestückt.
Huge relaxation rooms, which are equipped with traditional Tatami-mats or comfortable loungers as well as TV, plug sockets, computer- and reading-corners, as well as small bars to grab a few drinks or some ice cream.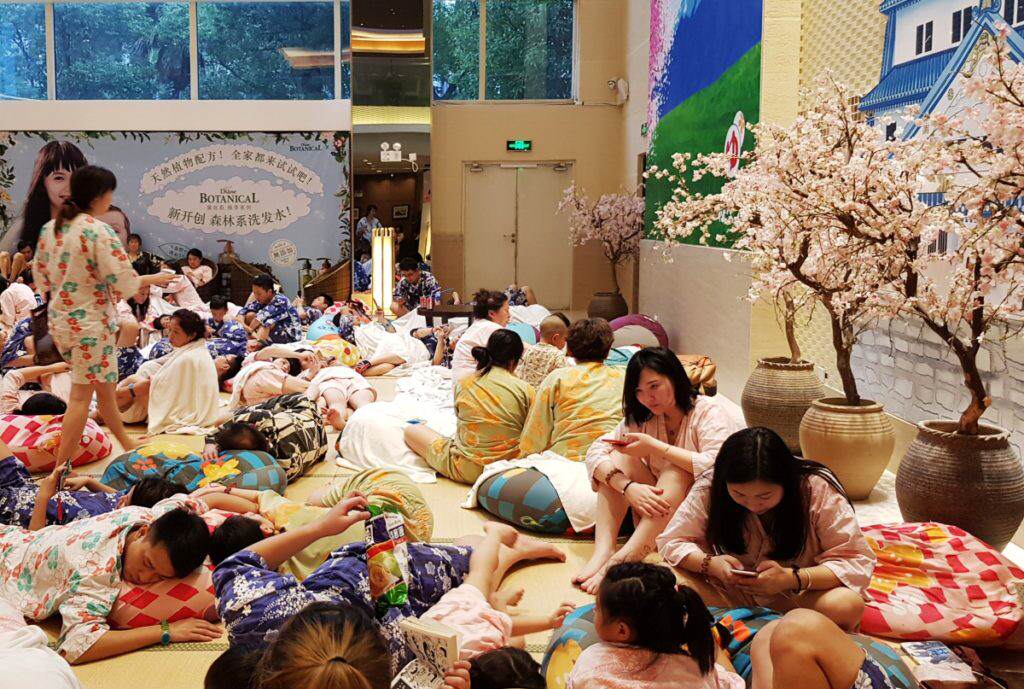 WLAN gibt es sowieso überall. Handys sind nur im Umkleide- und Nackt-Badebereich verboten.
WiFi is available anyways – mobiles however are only permitted outside the changing and naked areas.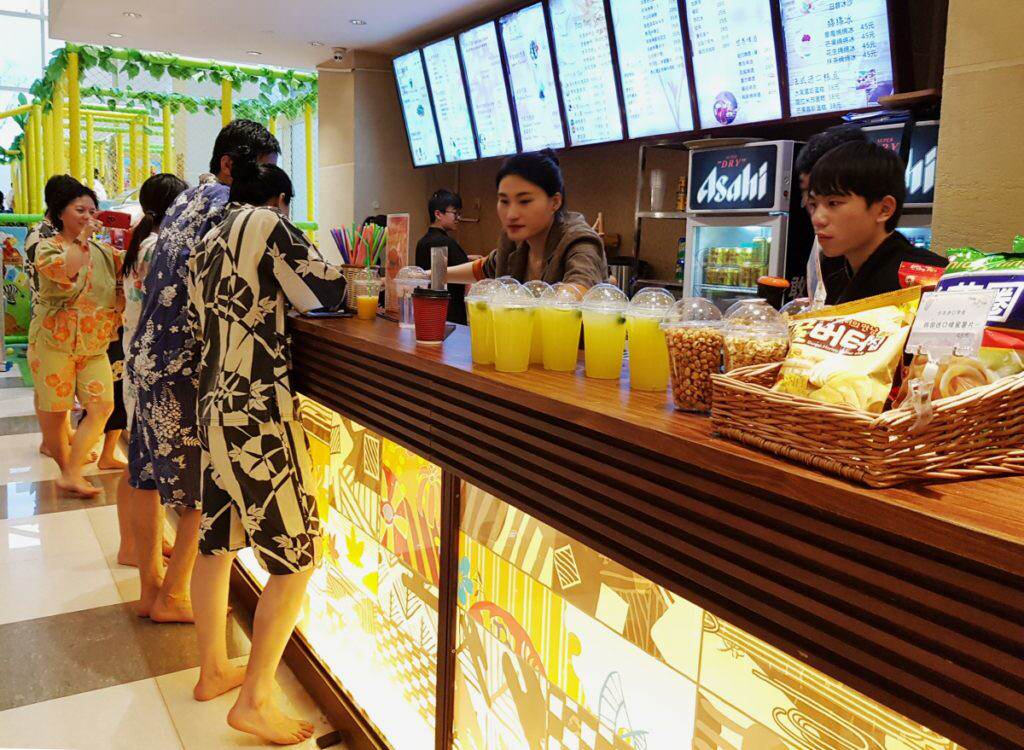 Spiele-Ecken, in denen sich die Kids bei verschiedenen Spielen mit den unterschiedlichsten Geräuschpegeln austoben können.
Play-corners, where the kids can have a fling with loud, shrill and luminous games of various kinds.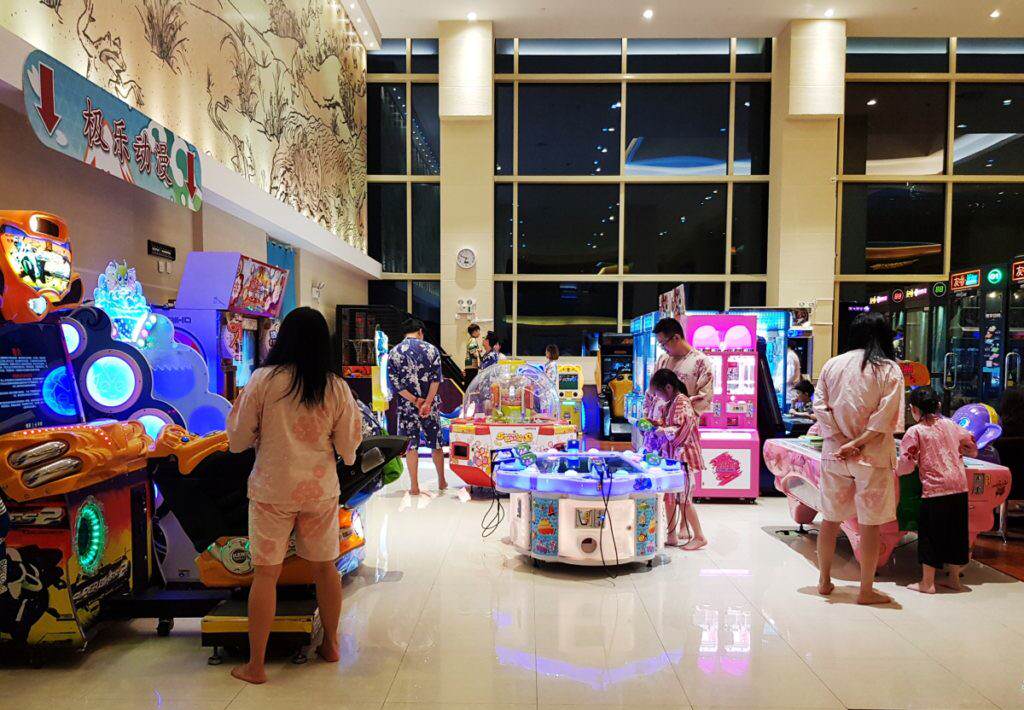 Einem zentral gelegenen Restaurant, in dem es so ziemlich alles aus der japanischen und chinesischen Küche gibt – von Sashimi, über Nudelsuppen, bis hin zu Hot Pot und Hühnerfüßen.
A central restaurant, where you can find lots of Japanese as well as Chineses food and snacks, such as Sashimi, noodle soups, Hot Pot or chicken feet.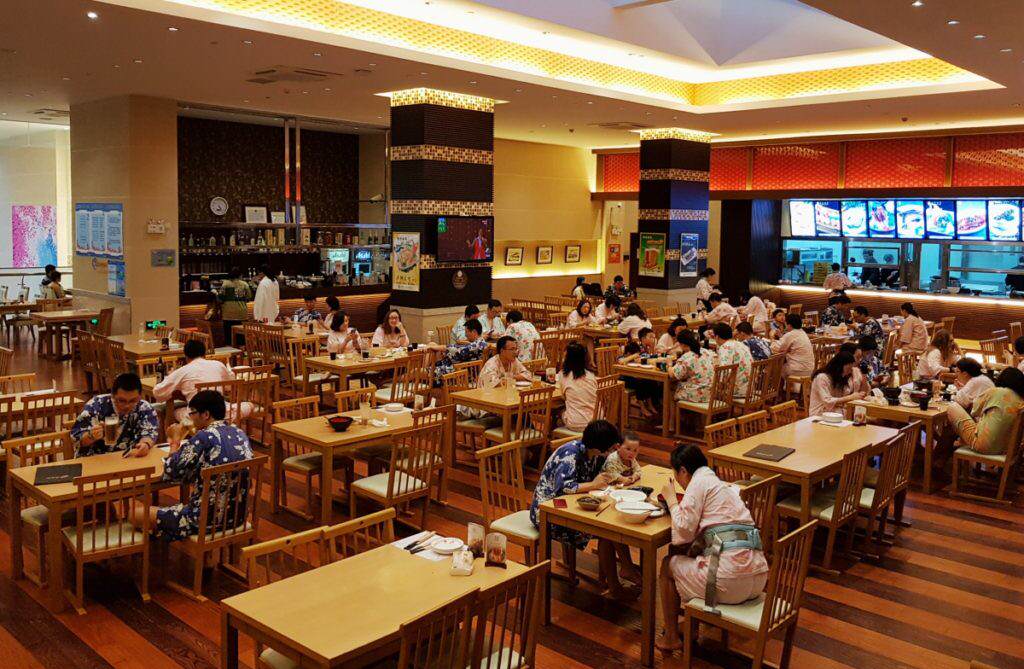 Ein Spa-Bereich, in dem von Fuß- über traditionelle chinesische Massage bis Mani- und Pediküre alles angeboten wird.
A spa, which offers everything from foot over tradtional Chinese massages to manicure- or pedicure-treatments.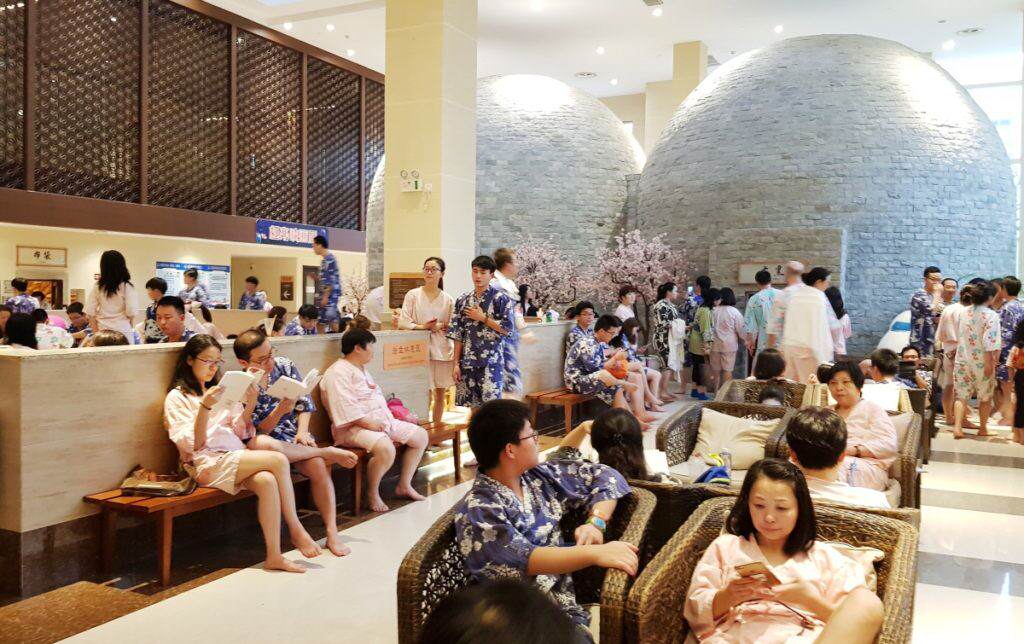 Stein- & Salzaunen, Dampfbäder und, und, und.
Stone- & Salt saunas, steam baths and, and, and.
Letztere sind uns etwas suspekt: Die Saunen, die sich im gemischten Bereich befinden, betritt man nämlich bekleidet(!) in seinem Baumwoll-Kimono (Yukata), sodass dieser danach komplett durchgeschwitzt ist… Und das individuelle Dampfbad nimmt man im Sitzen, ebenfalls in den Yukata sowie ein Handtuch gehüllt. Die Damen und Herren schauen auf den ersten Blick eher aus wie Empfangspersonal, oder? 🙂
Actually the sauna and steam baths in the mixed and dressed area are a bit suspicious to us: While using them you have to keep wearing(!)  your Yukata (cotton kimono), which means it will be soaking wet afterwards. What's meant to be the individual steam baths I actually only realize at second sight: Don´t you think these lovely ladies and gentlemen rather look like receptionists? 🙂
Im Grunde kommt das Gokurakuyu ziemlich nah an die japanischen Onsen ran, die wir bereits in Japan besucht haben, mit noch etwas mehr Entertainment-Charakter eventuell – wobei auch die original japanischen Saunen bisher mit einem Fernseher ausgestattet waren…
Doch die grundsätzlichen Prinzipien sind dieselben.
Basically the Gokurakuyu gets really close to some of the Japanese Onsen, we have visited in Japan already. A little bit more of entertainment-character maybe – but actually also the saunas in Japan where equipped with TVs…
 And the essential guidelines are the same: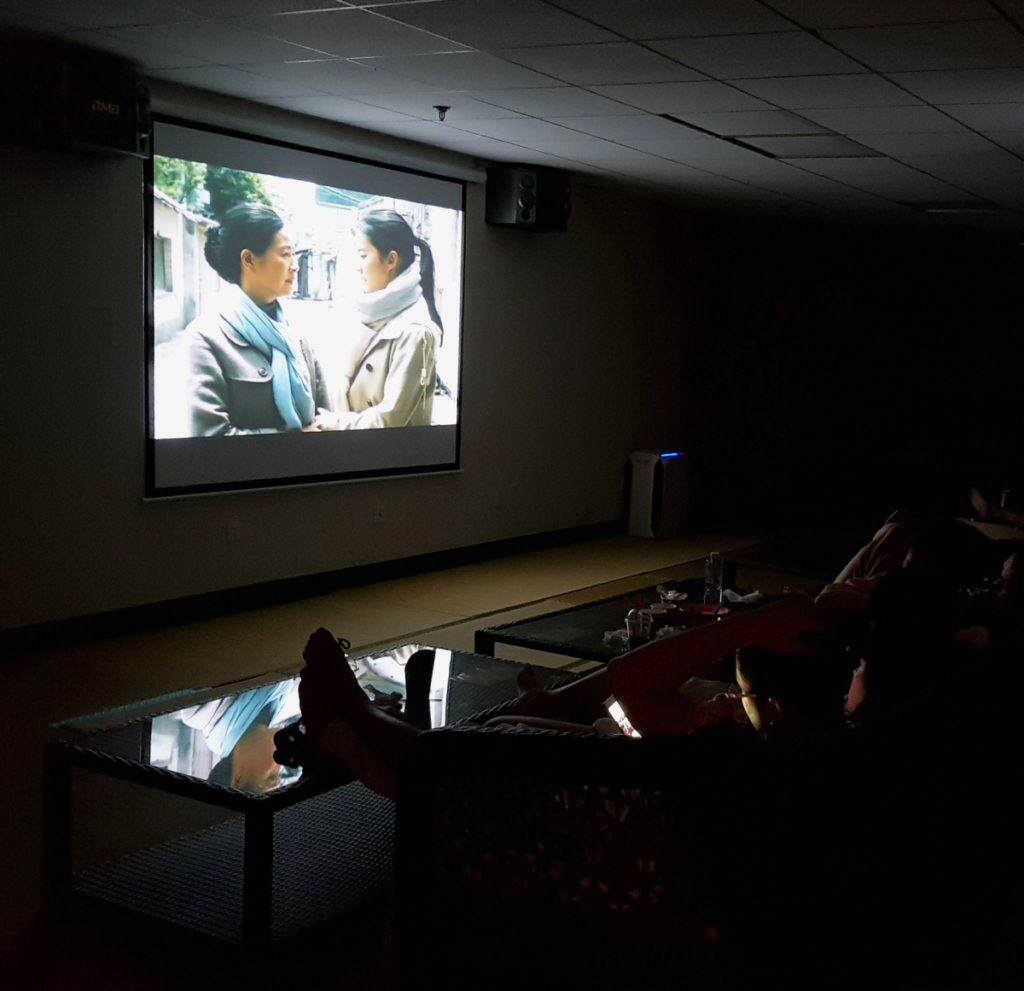 Auch im Gokurakuyu in Shanghai heißt es:
Also in Gokurakuyu in Shanghai the rules are:
1. Schuhe ausziehen und in einen kleinen Schrank sperren, bevor der mit Tatami-Matten ausgelegte Eingangsbereich überhaupt betreten werden darf. Danach läuft alles nur noch barfuß.
Take off your shoes and drop them into one of the small lockers, before even putting a foot onto the tatami-equipped entrance area. Afterwards everyone just walks barefoot.
2. Sich einen japanischen Baumwoll-Kimono (Yukata) leihen.
2.Rent yourself a Japanese cotton kimono (Yukata).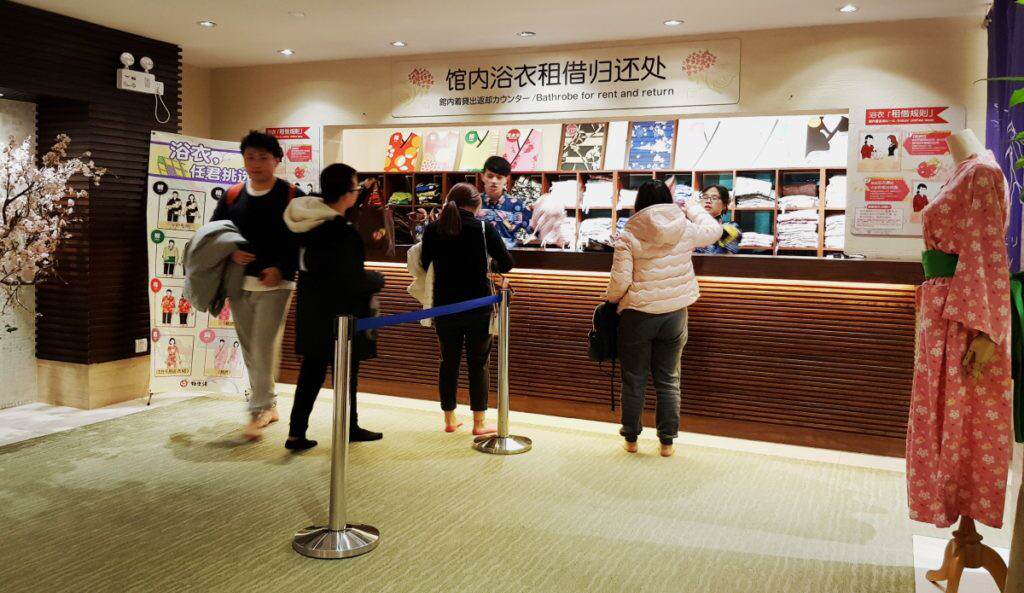 3. Sich aus- bzw. umziehen, Männlein und Weiblein getrennt.
3. Change and/or get naked – of course men and women separately.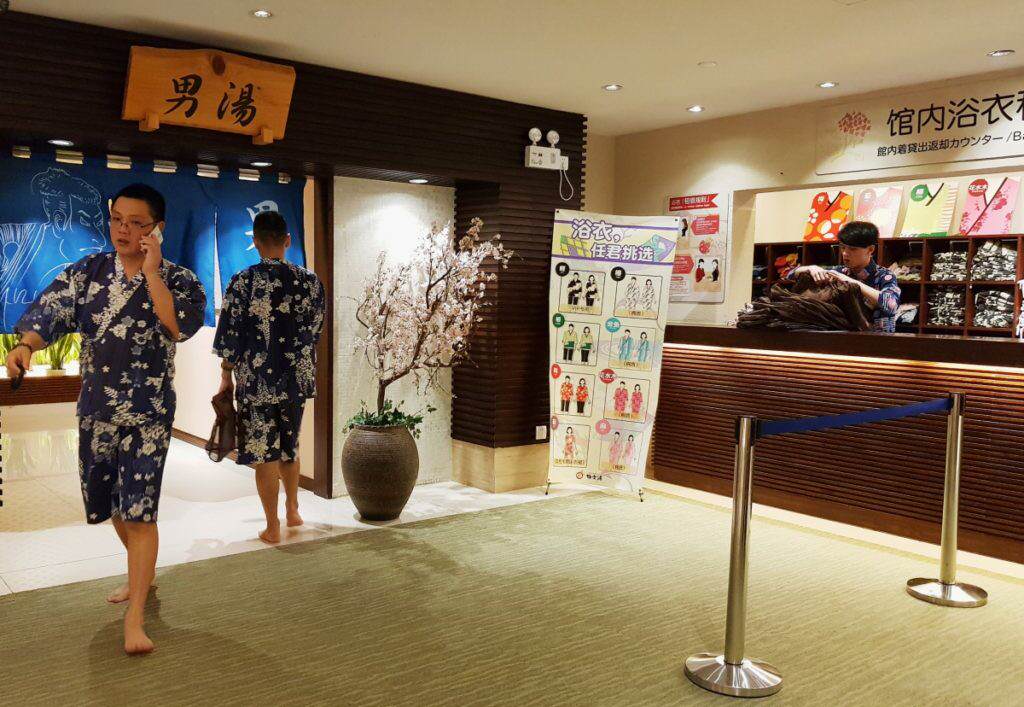 4. Sich gründlich säubern – mitgebracht werden muss auch hier wie im japanischen Onsen nichts: Jede Duschkabine ist mit Shampoo & Duschgel ausgestattet, Handtücher bekommt man vor Ort, Badeschlappen trägt man nicht und im Badebereich bewegt sich sowie so jede(r) wie Gott ihn/sie schuf.
4. Wash yourself spring-clean – like in a Japanese Onsen you don´t have to bring anything: Every shower is equipped with bath soap, shampoo etc. Fresh towels you will get provided. Bathing-slippers are not allowed and in the bathing area everybody is naked anyhow.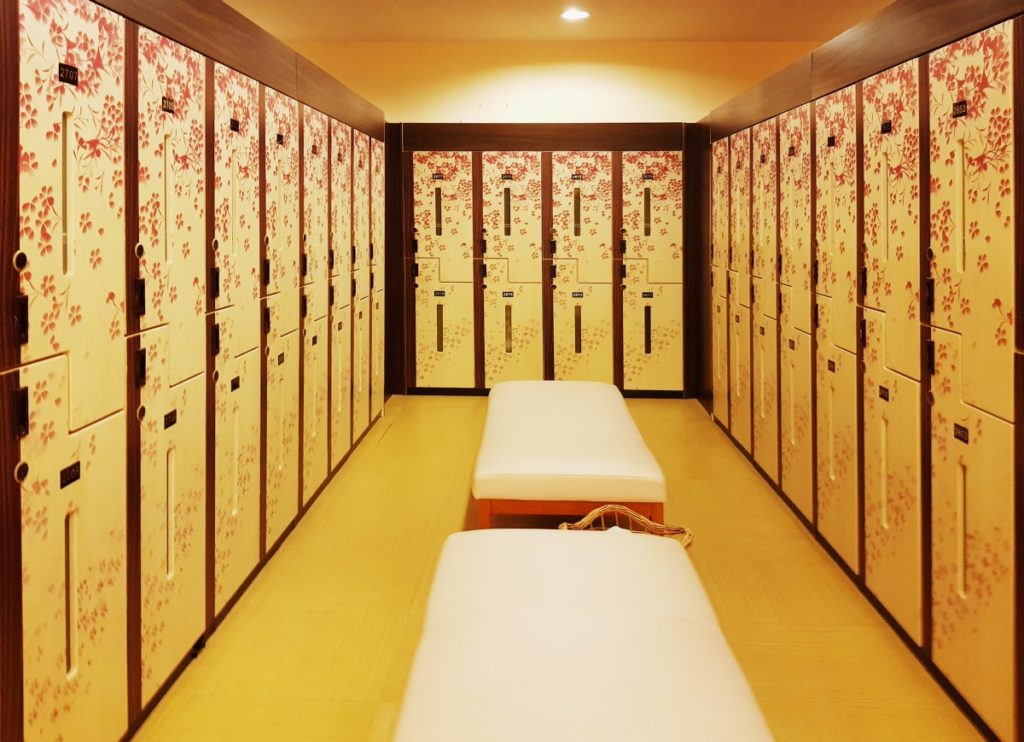 5. Gebadet und sauniert wird strikt getrennt nach Frauen und Männern. Man trifft sich später oder zwischendrin wieder im schicken pyjama-ähnlichen Gewand zum gemeinsamen Ausruhen, Essen, Lesen oder Sonstigen in den gemischten Bereichen.
5. Bathing and sauna is strictly separated by men and women. You can meet later on or inbetween dressed in your Yukata in the mixed area to relax, eat, read or anything you like.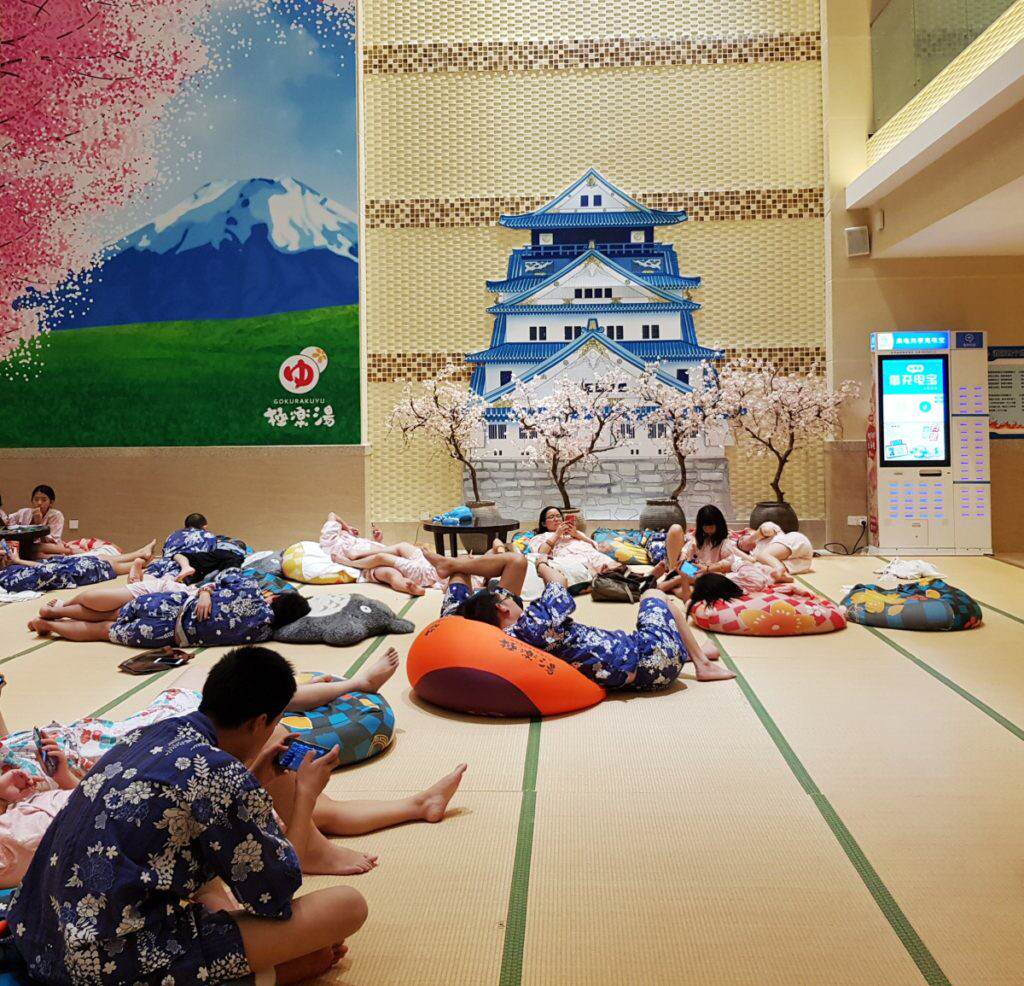 Ein paar Unterschiede zum japanischen Onsen gibt es dennoch: In China ist es anscheinend nicht verboten mit Tattoos ins Onsen zu gehen – in Nippon ein absolutes KO-Kriterium.
But there are still some differences we have discovered in comparison to traditional Japanese Onsen: Apperently in China it is not prohibited to enter an Onsen if you have any tattoos – an absolute no-go in Nippon.
---
Im Grund kann man hier Stunden, sogar einen ganzen Tag verbringen, denn von erschwinglichen Massage-Angeboten über sonstige Maniküre, Pediküre, Barber-Shops gibt es hier alles, was das Herz begehrt. Sogar einen Laden, in dem Gesichtsmasken und sonstige Pflegeprodukte erstanden und direkt angewendet werden können. Nur Übernachtungsmöglichkeiten bietet das Gokurakuyu keine – spätestens um 2 Uhr nachts muss man die Anlage verlassen.
Actually you could spend various hours or even the whole day here. There is more than enough to do: From manicure to pedicure or even quite affordable massage offers give lots of opportunities, even if you don´t like the entertainment-character too much. Only option missing is to stay overnight – latest by 2am at night you need to leave the bath.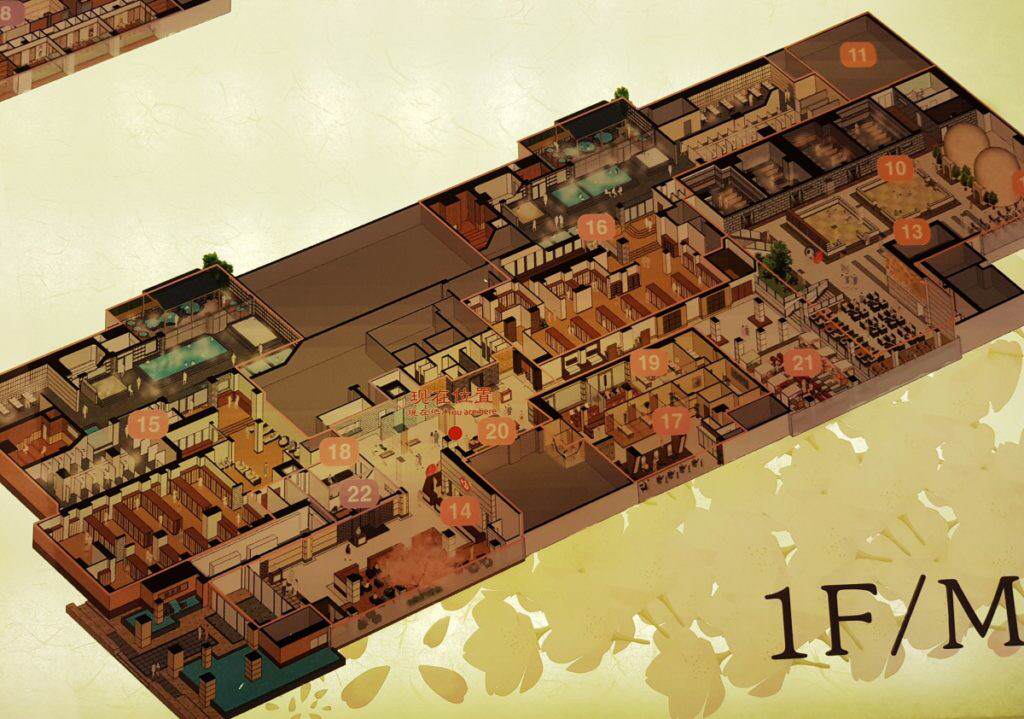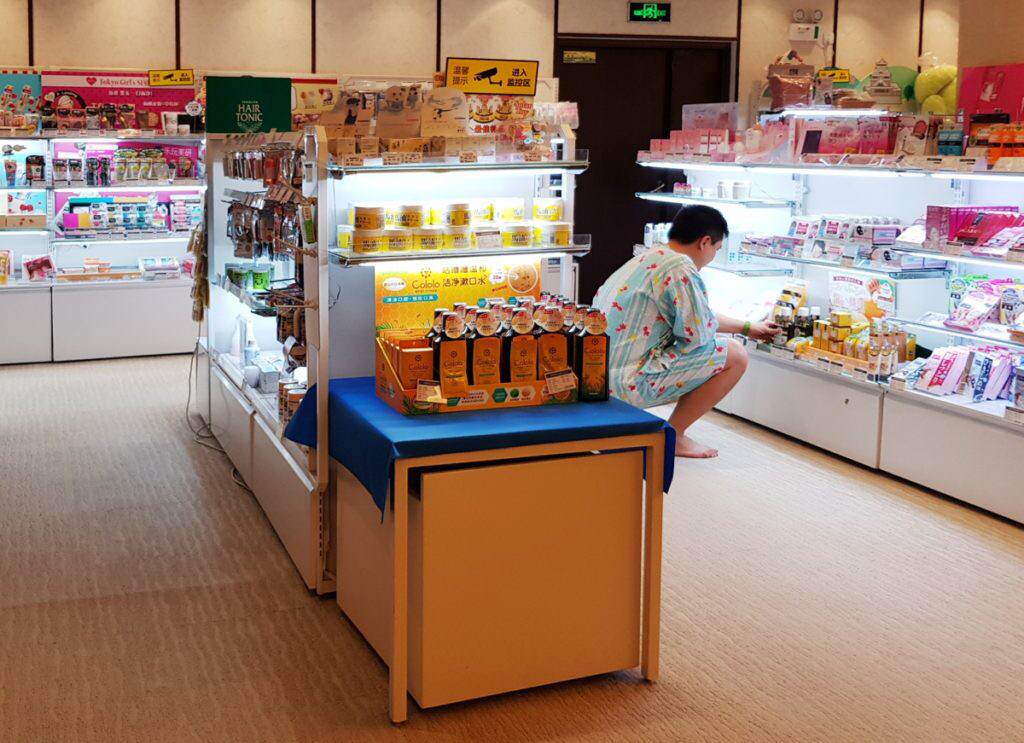 Kleiner Tipp: Am Abend geht es um einiges ruhiger zu. Dann ist man im "Ruheraum" eher vom Schnarchen des Nachbars genervt als vom Geplauder und Geschreie der Kids oder lauten Handytönen.
Good to know: The later, the calmer it gets. By then in the relaxing room you rather get annoyed by the snorring of your neighbour than from the voices or mobile sounds.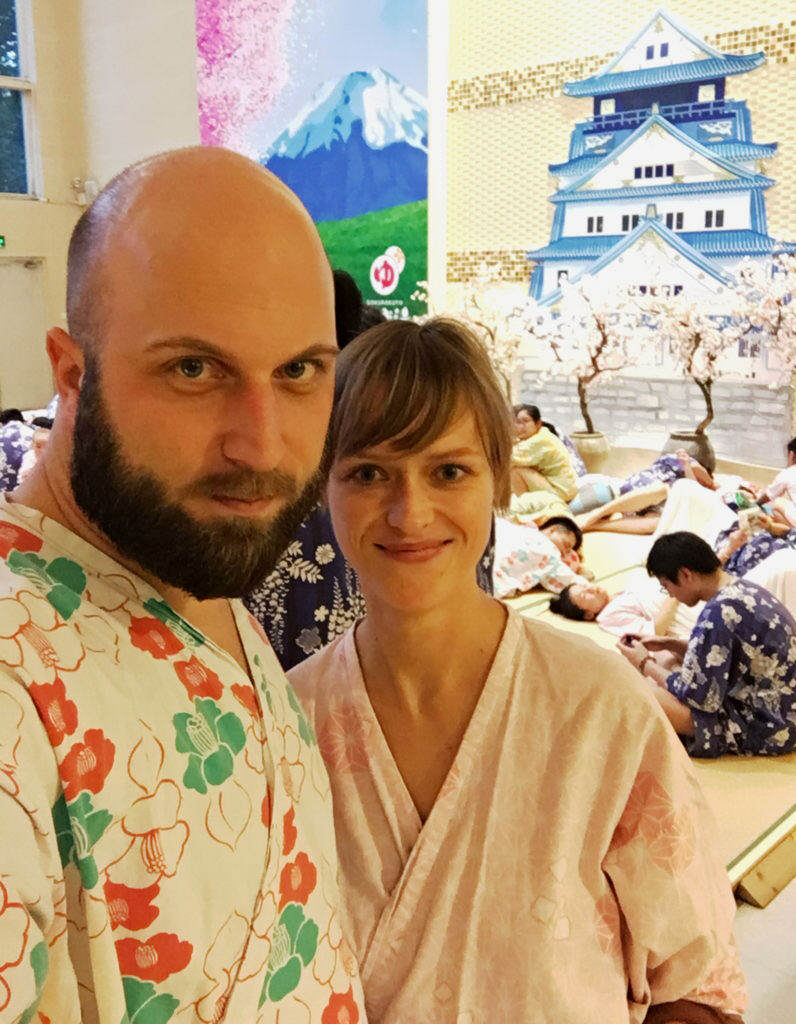 Uns gefällt es zu späterer Abendstunde so gut, dass wir uns nicht kümmern, wann die letzte U-Bahn fährt. Dazu kommt, dass beim Bezahlen wieder einmal keine unserer vier Kreditkarten funktioniert und wir mit Mühe und Not unser komplettes Bargeld zusammenkratzen müssen, um unseren Tag im japanischen Onsen begleichen zu können. Erst mit einem spontan eingeräumten Rabatt der netten Kassiererin, die kein Wort Englisch spricht, können wir unsere Schuhe wieder aus dem Schrank sperren und nach ca. 20 Minuten vergebens eingegebener Kreditkarten-PINs den Heimweg antreten. Natürlich, um anscheinend kurz nach 23 Uhr bereits die letzte Metro verpasst zu haben.
We actually like it so much that we don´t think about the operating hours of the metro. Furthermore the payment procedure again takes longer than expected, because none of our four credit cards work. After putting all our remaining cash together the cashier lady still has to grant us a discount so that the we can pay and leave our relaxed day in the Onsen behind. Of course: It seams that around 11 o clock the last metro already passed the station…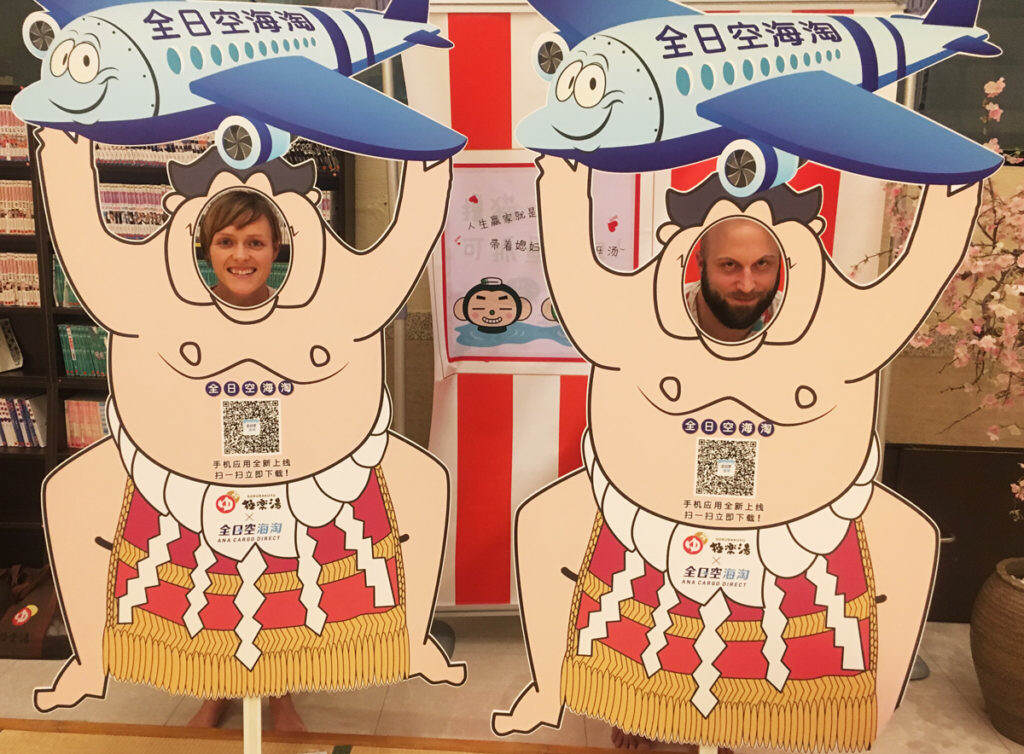 Somit heißt es: Auf die Straße und auf ein Taxi hoffen. Wir haben Glück: nach ca. 10 Minuten können wir zu einem ehemaligen Seefahrer, der ein paar Brocken Englisch spricht, ins Taxi steigen und er fährt uns über verlassene Highways aus dem Nirgendwo des neuen Shanghai (Pudong) wieder zurück ins alte Shanghai (Puxi). Irgendwie passt das zum Wetter an diesem verregneten nasskalten Sonntagabend.
For us that means: Getting back to the street and finding a taxi. We are lucky: After 10 minutes we join a former sailor, who speaks some Englisch. On empty highways (which I have never seen before in Shanghai) he drives us from the middle of nowhere of "New Shanghai" (Pudong) back to "Old Shanghai" (Puxi). Somehow that just fits the weather conditions perfectly on this rainy and cold Sunday evening.
---
Gokurakuyu Onsen
Adress: 600 Xin Jinqiao Lu / Jinxin Lu
Metro: Line 9 / station: Tai´erzhuang Rd. Frome there 7 min. walking
entry: 138 RMB
opening hours: 10 am – 2 pm
www.gokurakuyu.cn
Rated as the best bathhouse in Shanghai by SmartShanghai
Lesetipp:
Welche 10 Regeln ihr unbedingt beachten sollten, wenn ihr ein japanisches Onsen-Bad, egal ob in Japan oder China betretet, lest ihr hier. (German only)