Über vier Wochen sind wir jetzt schon in Shanghai und tagtäglich auf´s Neue überwältigt von den vielen Eindrücken und Kontrasten, die diese Metropole zu bieten hat. Unsere ersten Tage sind geprägt von jeder Menge Organisatorischem: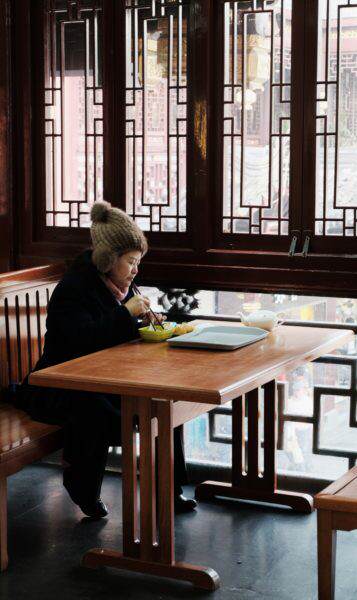 Zunächst müssen wir uns orientieren, eine Wohnung finden, Bargeld besorgen, SIM- und Subway-Karten kaufen, herausfinden, wo man gut und günstig essen kann, wo sich der nächstgelegene Supermarkt befindet und und und. Dinge, die für´s "Überleben" wichtig sind eben, schließlich wird das hier kein kurzer Stop-over. Es geht vielmehr um´s Ankommen, Einleben und Tuchfühlung aufnehmen mit unserer neuen (Wahl-)Heimat- und das auf den verschiedensten Ebenen.
After a bit more than four weeks of staying in Shanghai we are still overwhelmed every single day by all the impressions and contrasts this metropolis has to offer. Our first days are mainly driven by all the basic things that need to be organized: Get orientated, look for a nice permanent apartment, get cash, buy SIM- and metro-cards, find good eateries, check the nearest supermarket, or better find out if there is any supermarket at all, and and, and. Things to ´survive´, if you stay in town for good, compared to just a short travel stopover. For us this time it´s all about arriving, settling in and getting familiar with our new home base – on all the different levels.
Während der ersten Wochen sind mir schon einige Kuriositäten aufgefallen, die ich angefangen habe aufzuschreiben. Täglich passiert so viel und ich glaube ehrlich gesagt, dass uns schon ganz bald viele Dinge, nicht mehr bemerkenswert, sondern einfach nur alltäglich vorkommen werden. Um dem vorzubeugen und diese ersten besonderen Eindrücke nicht allzu schnell als selbstverständlich abzuhaken, möchte ich meine Erlebnisse im Blog festhalten und mit euch die Momente teilen, die mich schier verrückt machen, oder einfach nur amüsieren.
During the first few weeks I have already oberved several curiosities, so I felt the need to start noting them down. On a daily basis I get to experience so many unique things, which I think might become somewhat ordinary rather sooner than later. So in order not forget about everything too fast and to make sure I will remember all these tiny little things and special moments, which at least partly still drive me crazy or amuse me right now – and of course because I want to share them with you on my blog.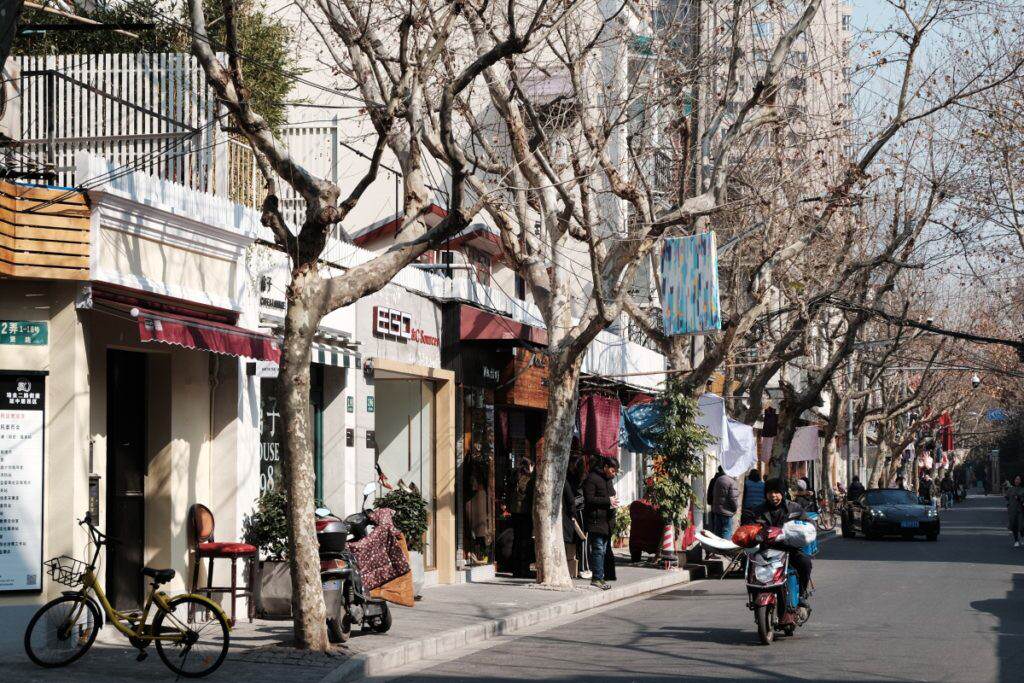 Gerne möchte ich euch an meinem Leben in Shanghai teilhaben lassen – erzählen, was ich erlebe, wie es sich lebt in dieser chinesischen Mega-Metropole und vor allem auch denjenigen Tipps geben, die selbst das Auswandern nach China oder gar Shanghai in Betracht ziehen. Denn eines ist uns in den ersten Tagen bereits selbst zu Gute gekommen: Die Empfehlungen, kleinen Anekdoten und Kuriositäten von Freunden und Kollegen. Denn mit ein bisschen Insider-Wissen und Erlebnissen Gleichgesinnter im Hinterkopf, lassen sich viele Entscheidungen einfach leichter treffen.
I would like to share my daily life in Shanghai with you – tell you what I experience, how settling in in this Chinese metroplis feels like and provide anybody with hints and tips, who might also consider moving to China or even to Shanghai. Same as we also benefit from explanations and experiences of friends and colleagues, whose referrals in mind often help to go after some of the many decicisons a bit more educated and relaxed.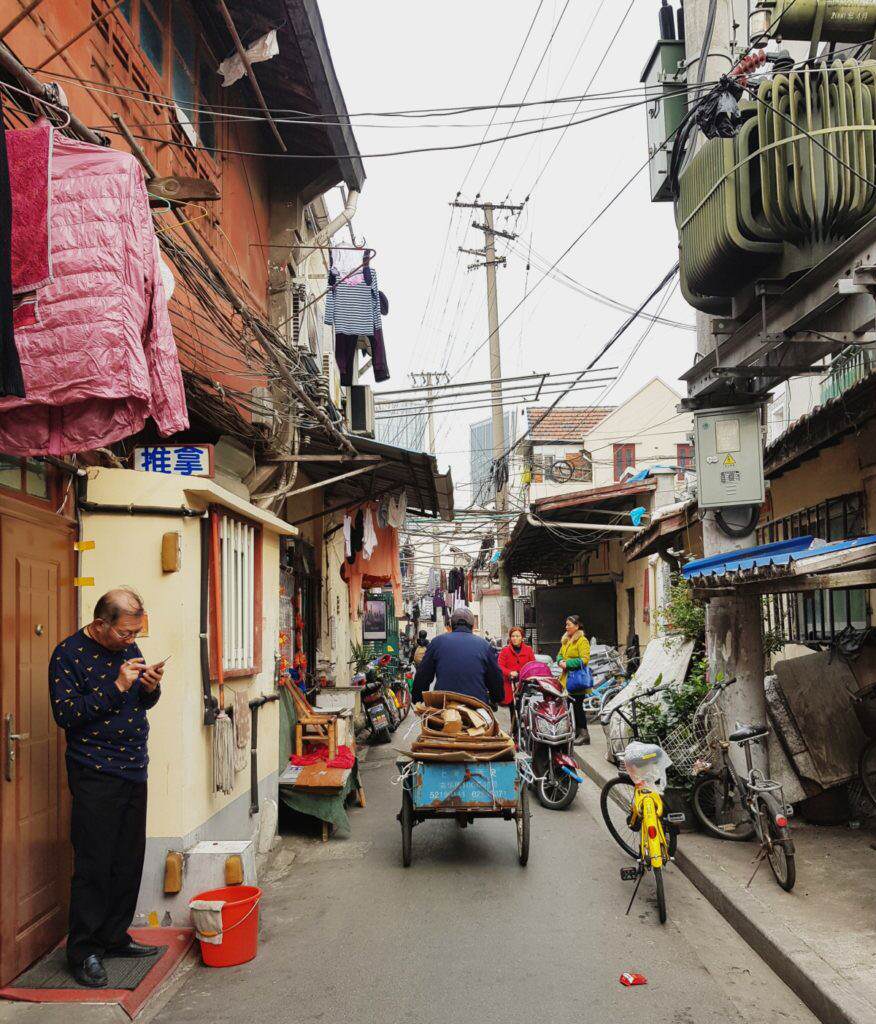 Um hier gekonnt am Alltag teilzuhaben, sollte man sich direkt von Anfang an die nötigen Essentials aneignen, z.B. selbst an grünen Fußgängerampeln auf den Verkehr zu achten, aber dazu später mehr. Sicherlich: Es wird einige Dinge geben, an die ich mich niemals gewöhnen werde. z.B. Das ständige Herumrotzen und Spucken der Chinesen auf der Straße. Es ist und bleibt einfach widerlich! Doch man muss es wohl akzeptieren und versuchen auszublenden, wenn man hier dauerhaft ankommen will.
To become an integral part of the Shanghainese everyday life, you better get used to some essentials, like always be aware of traffic, even if all pedestrian lights are green. But more on that later. Sure thing: There might be some things I never will get used to. For example the loud and heavily sniffing and spitting on the streets. For me it is and will stay disgusting! But I guess I have to accept the fact, they just do it everywhere and anytime and I will have to ignore it, if I want to settle down here in the long run.
Einige Themen werde ich mit Sicherheit früher oder später in einzelne ausführlichere BlogPosts packen. Hier aber schon mal die ersten fünf "überlebenswichtigen" China-Erkenntnisse:
Some topics I will definitely cover with dedicated BlogPosts later on. But for now let´s get started with these five essential insights as your topline survival-guide:
---
#1 Digital first: Ohne Smartphone geht hier nichts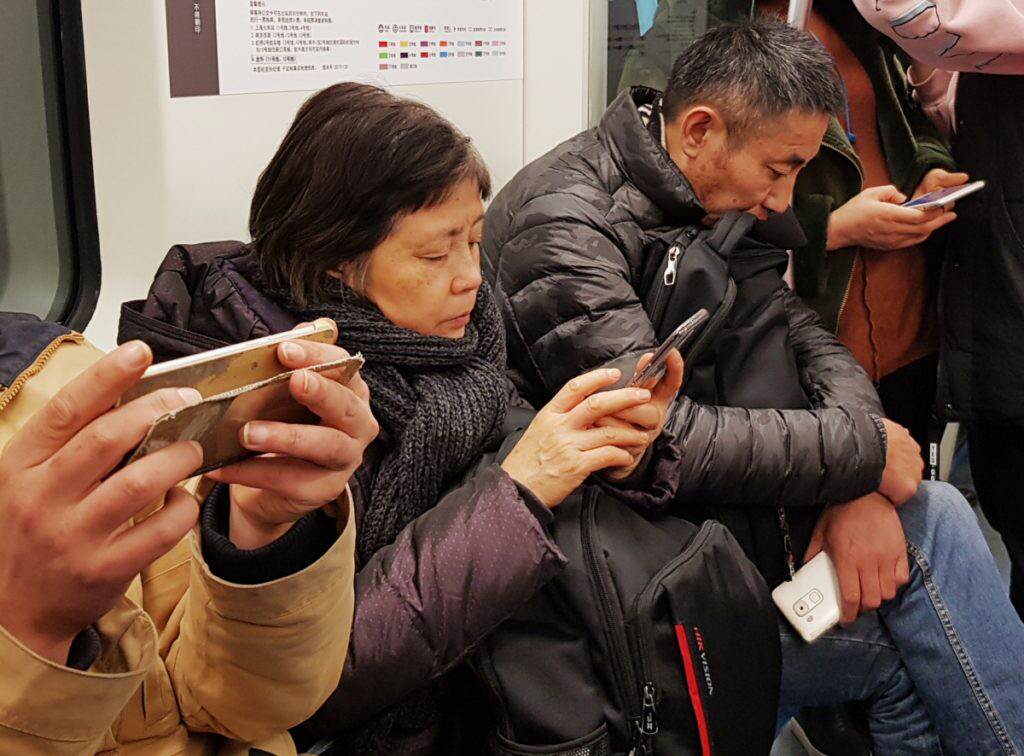 Alles läuft über´s Handy: Was bei uns in Deutschland über verschiedene Apps, wie Facebook, Messenger, WhatsApp etc. abgedeckt wird, findet man hier alles gebündelt in einer einziger App: WeChat. Vom normalen Chatten, über Fotos und Erinnerungen mit Freunden teilen, bis Bezahlen im Supermarkt, Taxi, oder an jedem x-beliebigen und noch so kleinen Gemüsestand, WeChat fasst alle Möglichkeiten in einer einzigen App zusammen. Sogar die eigene Miete zahlt man über WeChat. Und selbst für Strom, Wasser und Gas gibt es eigene Symbole. Ohne Smartphone ist man also aufgeschmissen und ohne das WeChat-icon auf dem Display ist man in China irgendwie nicht wirklich Teil des sozialen Lebens – deshalb ist eines unserer ersten to do´s: WeChat aktivieren und sämtliche weitere China-spezifischen Apps downloaden (z.B. Alipay, DiDi, MoBike etc.) und sich langsam aber sicher an das digitale China herantasten. Und als Plan B schadet es nicht etwas Bargeld bei sich zu haben – aber nur für den Fall, dass sich der Handy-Akku verabschieden sollte… 😉
Everything is mobile and without your mobile phone you will belost. The individual apps we use in Germany like Facebook, Messenger, WhatsApp etc., get unified in China in ONE single app, which covers for everything: WeChat. From normal chatting ad messaging to sharing pictures and memories with your friends, WeChat is also used as the preferred payment method when shopping or taking a taxi, getting groceries at literally every tiny little foodstall or even the smallest veggie-trader. You pay your rent via WeChat, even for electricity, water and gas you will find special symbols in the app. That´s the reason why our very first step is: Getting WeChat activated and download all the essential apps to slowly but surely become part of this digital China, because without you somehow are not really part of everyday social life. And without your mobile even some minor things might become more difficult than expected. So as a plan B always make sure to have some cash with you – just in case your mobile is on low battery… 🙂
China und internationale Kreditkarten: Nicht die allerbesten Freunde
Überall ist zwar das Visa-Symbol zu lesen, aber dass die Karten diversester Banken beim Bezahlen tatsächlich auch funktionieren, geschweige denn Bargeld am ATM ausspucken, ist damit noch lange nicht sichergestellt. Hat man also einmal einen Geldautomaten gefunden, der mit der Kreditkarte kompatibel ist: Unbedingt gut merken! Übrigens ist das in Gebieten außerhalb der Großstädte und insbesondere Shanghai´s noch viel extremer. Wer also plant die Provinzen des Landes zu bereisen, sollte sich vorher gut informieren, welche Zahlungsmittel dafür geeignet sind.
China and international credit cards: Not the closest friends
Even if the "Visa"-sign appears almost everywhere: You cannot be really sure, if paying your bill or getting cash really works until the end. So if you found an ATM, that seems to work with your card: remember it well! By the way: In Shanghai it´s still "easy" to pay with credit cards in hotels, international restaurants etc. But if you travel to more rural parts and provinces, make sure you are informed which payment methods will be accepted – cash is of course always king.
---
#2 Verkehrsregeln / Traffic rules:
Auf Verkehrsampeln ist kein Verlass: Bestenfalls als Empfehlung betrachten
…oft werden sie nämlich ignoriert, solange kein chinesischer Polizist auf der Kreuzung steht und Fußgänger sowie Verkehr regelt. Selbst einen Zebrastreifen mit grüner Ampel zu überqueren sollte man sich gut überlegen, außer man kann die Geschwindigkeit der heranfahrenden Autos, Busse, E-Scooter und Fahrräder wirklich gut einschätzen.
Don't count on the traffic lights: Rather consider them a recommendation instead
…as most of the time they get ignored by everybody as long as there isn´t a police officer on the street, taking care of handling the traffic. Even to use a zebra crosswalk combined with a green traffic light should be thought of very well and only be risked if you really can estimate the speed of approaching cars, busses, e-scooters and bikes.
Merke: Rechts abbiegen geht immer! Als wäre bei jeder roten Ampel ein grüner Abbiegepfeil integriert, fahren Autos, Roller, Fahrräder und sonstige Gefährte ohne mit der Wimper zu zucken auch über Zebrastreifen, die gerade von sehr vielen Fußgängern benutzt werden.
Be aware: They always turn right! It seems like in every red traffic light there is an integrated green arrow. Without batting an eyelash cars, scooter, bikes drive across zebra crossings, even if they are used by several pedestrians already.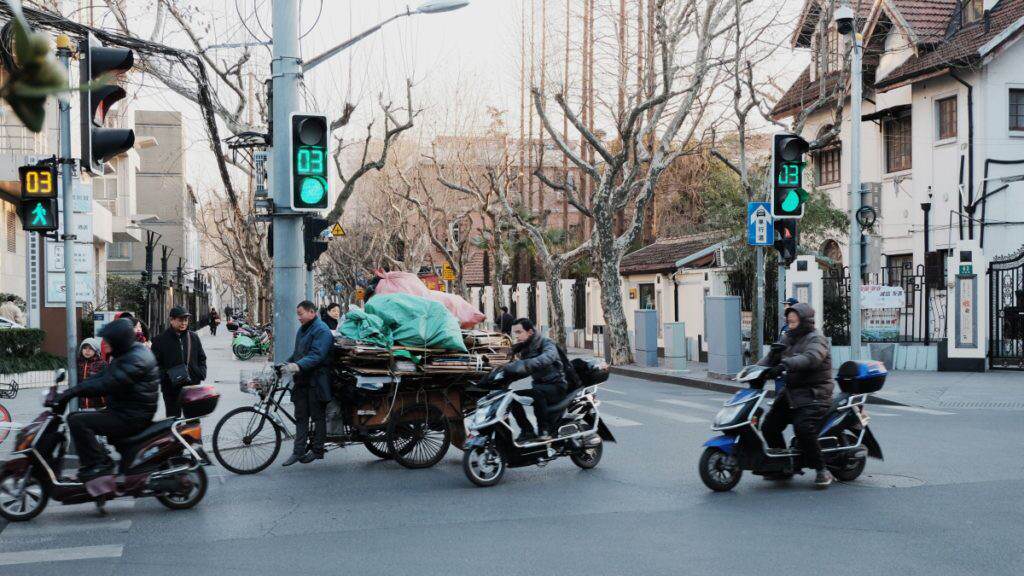 Hinzu kommt, dass Chinesen meist ohne Licht fahren und man deshalb, vor allem sobald es dunkel wird, gut auf den Verkehr achten sollte. Selbst auf dem Bürgersteig ist man nicht sicher: Denn auch hier schlengeln sich Fahrräder und Roller durch die Fußgänger – irgendwie doch sehr gekonnt, denn einen Unfall habe ich bisher noch nicht gesehen.
Another aspect, which makes it even worse: Lights are used very rarely, even during nighttime. So be aware, even if you walk on the sidewalks: Bikes and Scooters also use it. Somehow really skillfull. At least I did not witness any accidents yet.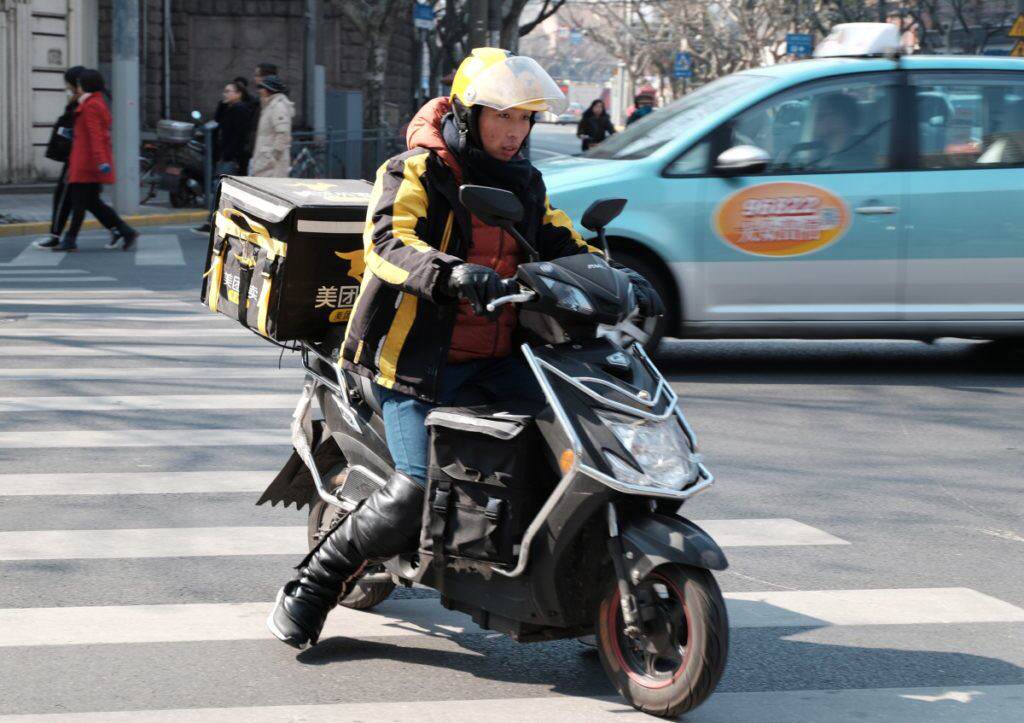 Außerdem wichtig zu wissen:
Nicht jedes herannahende Fahrzeug hört man auch. Das liegt zum eine daran, dass viele Fahrräder unterwegs sind und zum anderen, dass es mittlerweile extrem viele E-Roller und E-Autos gibt. Zum einen ist das sehr angenehm, denn selbst eine Großstadt wie Shanghai ist dadurch teilweise viel ruhiger als gedacht – zum anderen erhöht dies aber die Gefahr die unzähligen Scooter einfach zu überhören. Doch eins ist ziemlich offensichtlich: Sollte es tatsächlich mal eng werden, wird gehupt, was das Zeug hält, sodass man sich noch schnell auf die Seite retten kann.
Furthermore good to know:
You cannot hear every vehicle coming. One reason for that is: There are many bikes on the roads. But the other reason is: Quite some cars and especially scooters work electrically. This is actually pretty good, because by that even in such a huge city like Shanghai it feels more quiet than you would expect. On the other hand there is quite some risk you don´t hear the countless E-scooters approaching. But good to know: If it´s really getting tight sometime, they will honk as loud and penetrant as they can, so you can still get out of their way.
---
#3 Abholen & Bringen lassen
Foodora, ein "neuer" Lokal-unabhängiger Lieferservice? Oldschool!!! Hier heißen sie "Sherpa´s", "Meituan Waimai" und Co, flitzen in organge-farbenen, blauen oder sonstigen Outfits mit ihren Scootern durch die Stadt und liefern alles aus jedem x-beliebigen Lokal bis an die Haustür oder den Büro-Fahrstuhl – und sei es auch nur eine einzige Schale Nudelsuppe in der omnipräsenten Plastiktüte.
#3 Take-away & getting deliveries
Foodora, the "brandnew" eatery-independent delivery service? Oldschool!!! In Shanghai they are called "Sherpa´s", "Meituan Waimai" or Co. Racing on their scooters and highly visible in their orange, blue or yellow outfits, they deliver everything from every small eatery around the corner to your apartmen-door or office-elevator – and be it only a single cup of noodle-soup in a plastic-bag.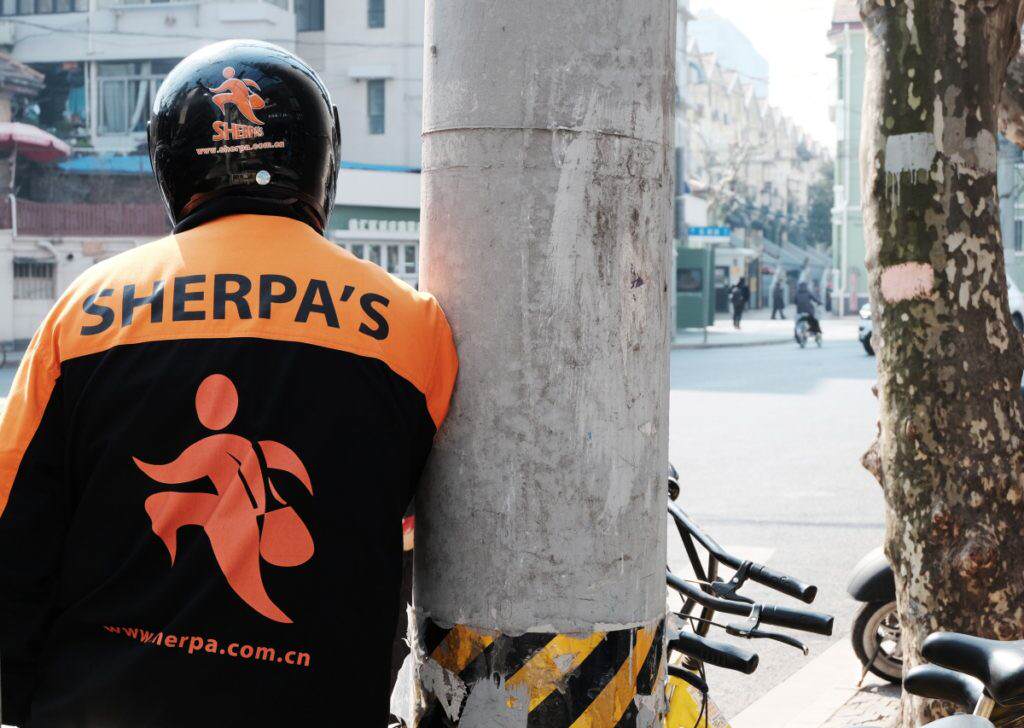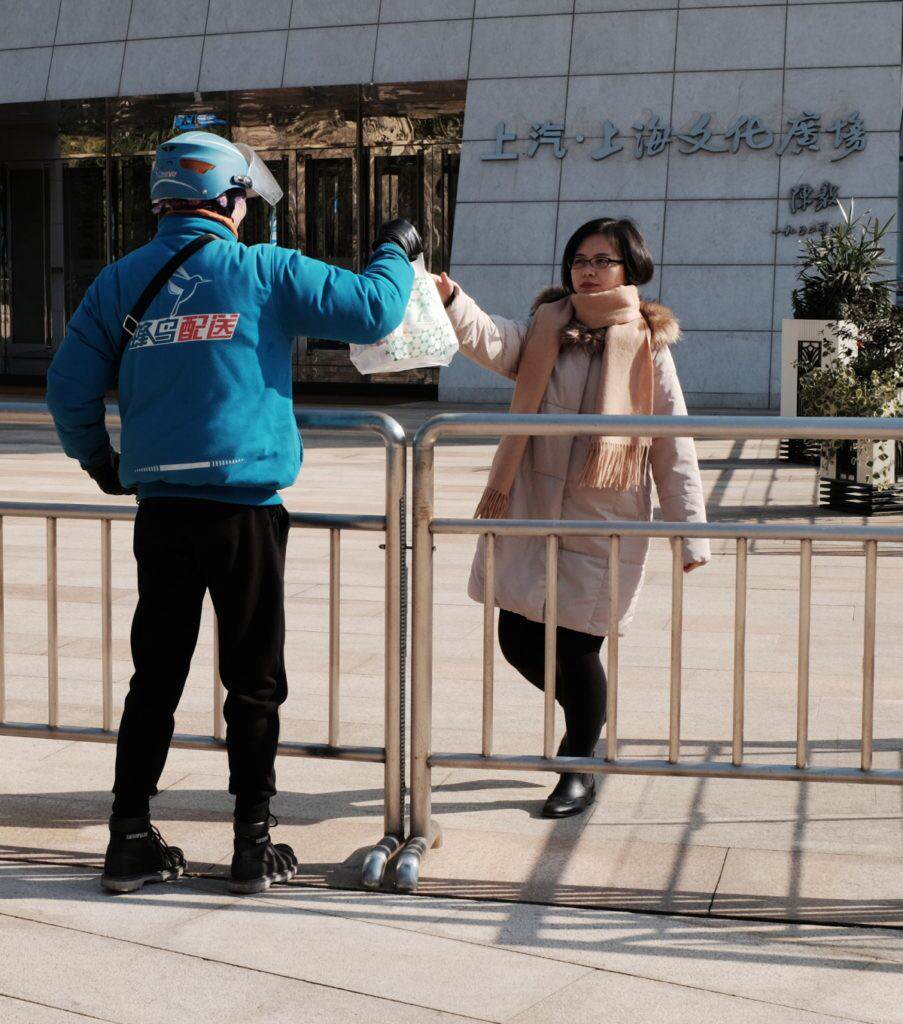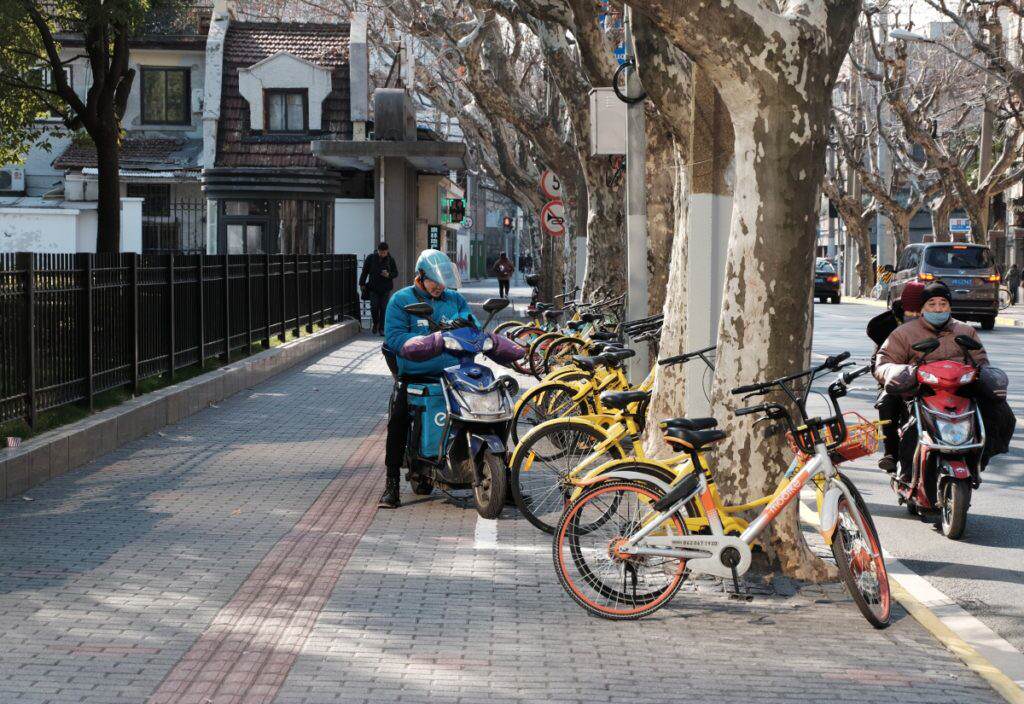 Doch Essen ist nicht das einzige, was geliefert wird: Es gibt eigentlich nichts, das nicht gebracht oder abgeholt werden kann. Sei es der Pass, der nochmal aufs Konsulat muss für zwei Tage: Ein Driver kommt und holt ihn ab. Oder Unterlagen, die unterschrieben werden müssen, ein Voucher, von dem ich z.B. dachte, dass ich diesen irgendwo abholen muss – weit gefehlt: Wird geliefert. Irgendwie praktisch, aber bestätigt leider auch Folgendes:
But it´s not only about food: There is nothing, that cannot be delivered. From your passport, which needs to be handed in to the consulate for a few more days: A driver will come to pick it up. Or some documents you need to sign, there will be somebody delivering them to you. Even a voucher, which I really thought I have to pick up myself somewhere, had been delivered to my attention within a few hours. It seems really convenient, but also leads me to the next:
---
#4 Chinesen haben es immer eilig, machen aber ungern einen Schritt zu viel
Das aktuellste Beispiel ereignet sich genau in dem Augenblick als ich diesen Artikel schreibe: Es ist die Nachricht unserer Wohnungs-Maklerin, die versucht ein kurzes Treffen mit unseren Vermietern zur Zahlung der Kaution und des ersten Miet-Anteils zu arrangieren (Randnotiz: Angeblich sind die Vermieter immer noch ziemlich nervös, obwohl schon alles unterschrieben und eingetütet ist. Lediglich unsere erste Zahlung steht noch aus, was nicht so einfach ist, wenn man chinesisches Online-Banking noch nicht gemeistert hat und auch WeChat-Pay etc. noch nicht aktiviert werden konnte…)
Die Vermieterin möchte heute nicht nach draußen in die Kälte und würde es präferieren, dass unsere Maklerin das Geld von uns einsammelt und ihr dann persönlich vorbei bringt… – Soviel zum Thema, sie können es kaum erwarten, bis das Geld bei ihnen eintrifft… am Ende schickt sie dann einfach ihren Mann… 😉
#4 Chinese are always on the run, but never take one step too much
The latest example just happens as I´m writing this article: It´s the message from our agent, after she tried to arrange a quick meet-up with our landlords to pay our deposit and first rental. (short notice: Earlier on she told us the landlords – a young couple – are still a bit worried unless they receive the money from us – even if everything else is settled already: tenancy agreement signed and we had already paid a part of the deposit. As we are not able to make an online transfer or pay via WeChat yet, we thought: Cash would be the easiest and fasted way.)
Then our agent texts us: "I´m still waiting for them to confirm. She doesn´t want to come outside to the cold today, prefers me to collect the money and transfer to them instead…"
So I really don´t get it: What´s more important to the landlord lady now? Getting hands on our money to be more relaxed or staying inside their warm house? In the end she just sent her husband to handle the pick-up… 😉
---
#5 Metro Regeln / metro rules
Das Phänomen "Immer in Eile, aber nie einen Schritt zu viel machen" kann man auch täglich in der Metro beobachten. Niemand kann es erwarten die ankommende Metro so schnell wie möglich zu betreten. Es wird gestürmt, sobald sich die Türen öffnen. Kaum ist der Chinese im Abteil angekommen, bleibt er auch schon auf dem Fleck stehen. Kann ja gar nicht sein, dass da auch noch andere Leute rein wollen…
Was ich in Japan so schätzen und lieben gelernt habe: Niemand drängelt, erst aussteigen lassen, dann einsteigen und solange einfach ordentlich draußen in Reih´ und Glied anstehen: In China Pustekuchen, auch wenn die Pfeile am Boden nichts anderes anzeigen als in Japan auch.
The phenomenon "Always on the run, but never taking one step too much" can be spotted in the metro on a daily basis: Nobody can wait until the metro has arrived, stopped and everybody from inside stepped out at first. But as soon as the doors open, everybody just tries to storm inside. And as soon as everyone has entered the train, they instantly stop – as if there is no chance that any other people also wanted to enter…
What I had discovered and appreciated so much in Japan: Nobody pushes, nobody rushes. In Japan literally everybody waits for the people to get out of the metro car first before starting to enter. And in the meantime really everybody will wait in a perfect line, one after each other and nobody would ever think of queue-jumping. In China: No chance! Even if the signs on the ground show exactly the same procedure.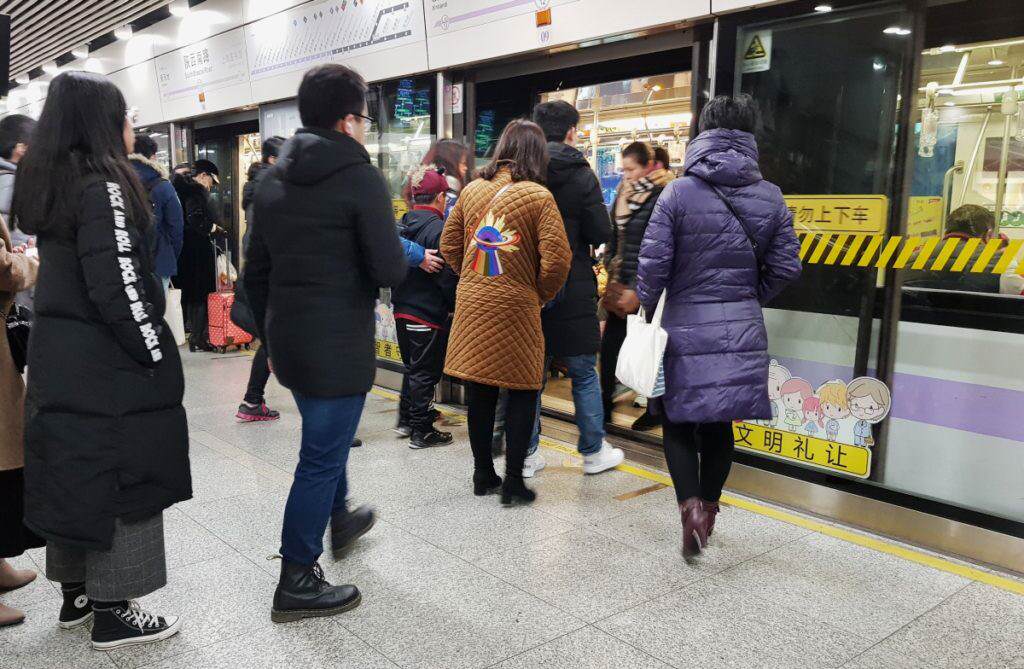 Dasselbe an Rolltreppen: Kaum steigt der Chinese irgendwo aus, rennt er zur nächsten Rolltreppe, die Augen entweder strickt geradeaus, oder auf´s Handy gerichtet. Somit wird alles außenrum ignoriert. Kaum angekommen auf der Rolltreppe, bleibt er stehen und lässt sich nach oben oder unten fahren. Von wegen rechts stehen, links gehen.
Deshalb mein Tipp, wenn man es wirklich eilig hat: Niemals mit der Menge auf die Rolltreppe stellen und warten, sondern: Beine in die Hand nehmen und die Treppen nutzen. Denn die sind meist menschenleer – zumindest solange eine Rolltreppe in der Nähe ist.
Same procedure at the escalators: As soon as the Chinese exit the metro cars, they run to the closest
escalators. Eyes straight forward or down starring on the smartphone, they ignore everything around themselves. As soon as they reached the escalators they stand still. Nobody would ever think of keep walking on the steps, which would be the fastest way to reach the destination. So you don´t have to worry about "standing right, walking left".
My advice, if you are really in a hurry: Keep walking and use the staircases: They are always empty – at least if there are some escalators nearby… 😉