7:05 Uhr: Nach einer schlaflosen Nacht lande ich am Flughafen von Koh Samui. Müde und erschöpft vom Nachtflug aus Shanghai mit Aufenthalt in Bangkok, steige ich kurz vor 10 Uhr auf die Haad Rin Queen Fähre, die mich nach einer weiteren Stunde schließlich nach Koh Phangan bringen soll. Koh Phangan, das ist doch diese thailändische Partyinsel, oder? Richtig! Bekannt ist sie für ihre Partys, allen voran die berühmt-berüchtigte Full Moon Party am Strand von Haad Rin. Meine Intention ist jedoch eine ganz andere, genauer gesagt, eine dem Party-Urlaub komplett entgegengesetzte: Ich reise nach Koh Phangan, um ein zehntägiges Yoga-Retreat zu machen. Und was soll ich sagen: Thailand empfängt mich mit den perfekten Bedingungen: Die Sonne strahlt und färbt dabei färbt das Wasser in verschieden schimmernde türkis-blaue Nuancen. Das ist Meer so ruhig und glatt, wie ich es bisher noch nie zuvor gesehen habe und den Horizont zieren weiße Quellwolken. Meine erste Thailand-Reise scheint eine ganz besondere zu werden.
7 am: After a long night with almost no sleep I´ve just landed at the airport of Koh Samui. Tired and exhausted from my flight over night from Shanghai via Bangkok to Koh Samui, at 10 am I step onto the Haad Rin Queen ferry. One more hour and I will finally arrive at Koh Phangan. Koh Phangan, isn´t that the island of Thailand, best known for its exhausting partyscene, especially the full moon party, taking place at Haad Rin beach every month? Yes, it is. But my aim to visit Koh Phangan is a different one, actually the most contrastful, you could probably imagine: I am visiting Koh Phangan for a 10-day Yoga retreat. And what can I say: Koh Phangan welcomes me with perfect conditions: The sun is shining bright and the sunlight turns the ocean into different shades of blue and turquoise. The sea is calm as I´ve never seen it before, while white cumulus clouds adorn the horizon. My first visit to Thailand seems to become a very special one.
Yoga-Oase & Hidaway: The Sactuary Koh Phangan
Ich kam eher zufällig auf das am Strand von Haad Tien gelegene Yoga-Resort "The Sanctuary". Doch ziemlich schnell stellte sich heraus, dass es wohl der beste Ort war, den ich mir hätte aussuchen können, um innere Ruhe zu finden und meine Hummeln im Hintern etwas zu entspannen. Jeder, der mich kennt, weiß, dass ich meine Reisen hauptsächlich dafür nutze, um möglichst viel von Land und Leuten kennen zu lernen, keine Mühen scheue an entlegene Orte zu gelangen und meistens versuche mein Reiseziel so genau wie möglich zu entdecken. Auch diesmal war ich davon überzeugt, dass ich – zumindest gegen Ende meines Aufenthalts – einen oder zwei Tagesausflüge unternehmen würde, um Koh Phangans Dschungel und ein paar andere Strände zu erkunden, um Schnorcheln oder gar endlich einmal wieder Tauchen zu gehen. Hey, ich bin schließlich in Thailand. Letztendlich habe ich allerdings ganze zehn Tage und Nächte an ein und demselben Ort verbracht… Wie konnte das bloß passieren?
It was more by chance that I found the Yoga resort "The Sanctuary", located at Haad Tien beach on the island of Koh Phangan. But it turned out quickly that it was the best place I could have chosen to find my inner peace and calm down my bumble in the butt. Everybody, who knows me well, will affirm, that I am not the kind of person who spends a week or even more time at only one place while travelling, not exploring the surroundings, getting to know countryside and people. But The Sanctuary changed that: My stay really calmed me down. I was convinced to go on at least one or two day trips at the end of my holiday to explore Koh Phangan´s jungle or other beaches, to snorkel or maybe even go diving again. Hey, I´m in Thailand, right? But in the end I spent 10 days and nights at this place. How could that happen?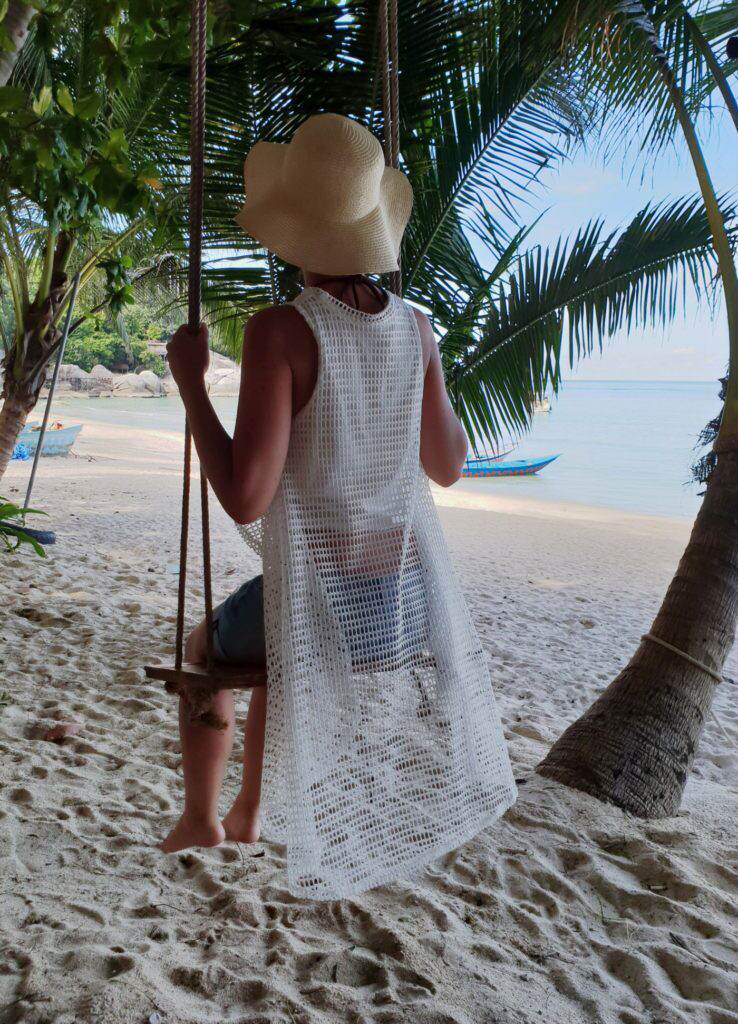 Auf der Suche nach dem perfekten Yoga Retreat |
In search of the perfect yoga retreat
Location & Bungalows
Es waren mit Sicherheit mehrere Faktoren, die letztendlich dazu beigetragen haben, dass ich im The Sanctuary meinen perfekten Ort gefunden habe. Ruhig und und etwas versteckt liegt das Resort eingebettet zwischen Meer und Dschungel am Strand von Haad Tien. Wer mit der Fähre in Haad Rin ankommt, erreicht die kleine Bucht in nur 5 Minuten mit einem der kleinen Taxi-Boote. Und obwohl es nur eine so kurze Distanz ist, sind diese fünf Minuten ausschlaggebend: Sobald ihr die Füße von dem kleinen Taxi-Boot setzt, werdet ihr sofort spüren in einer ganz anderen Welt angekommen zu sein. The Sanctuary nimmt den größten Teil der Bucht für sich ein und außer ein paar vereinzelten anderen Bungalows und einer Hand voll Restaurants, die sich um das Resort verteilen, gibt es hier nicht viel: Kein ATM, kein Minimarkt, keine Touranbieter, nichts. Bei rauer See und hohen Wellen, muss ein 1-stündiger Umweg über Schotterstraßen durch das Hinterland in Kauf genommen werden, um The Sanctuary zu erreichen. Vielleicht der erste Grund, warum jeder, der hierher kommt diesen Ort bewusst wählt und nicht zufällig daran vorbei stolpert.
For sure there were more reasons, influencing that at The Sanctuary I found my perfect place. One I am sure is the location itself: The resort lies remote at the quiet Haad Tien Beach, which you can reach in 5 minutes by a small Taxi boat after arriving with the ferry at Haad Rin. Even if it´s a really short distance, as soon as you step your feet off the small boat, you will feel that you arrived in a totally different world. As The Sanctuary covers most part of the bay, you will not find anything else here besides some other small bungalows and a hand full of restaurants in walking distacne. But besides this: No ATM, no minimarket, no tour guides, nothing. If the sea is rough and the waves are too high, you need to tale a jeep, taking you for at least one hour through the outback of Koh Phangan. Maybe the first reason, why you don´t pass by here by chance.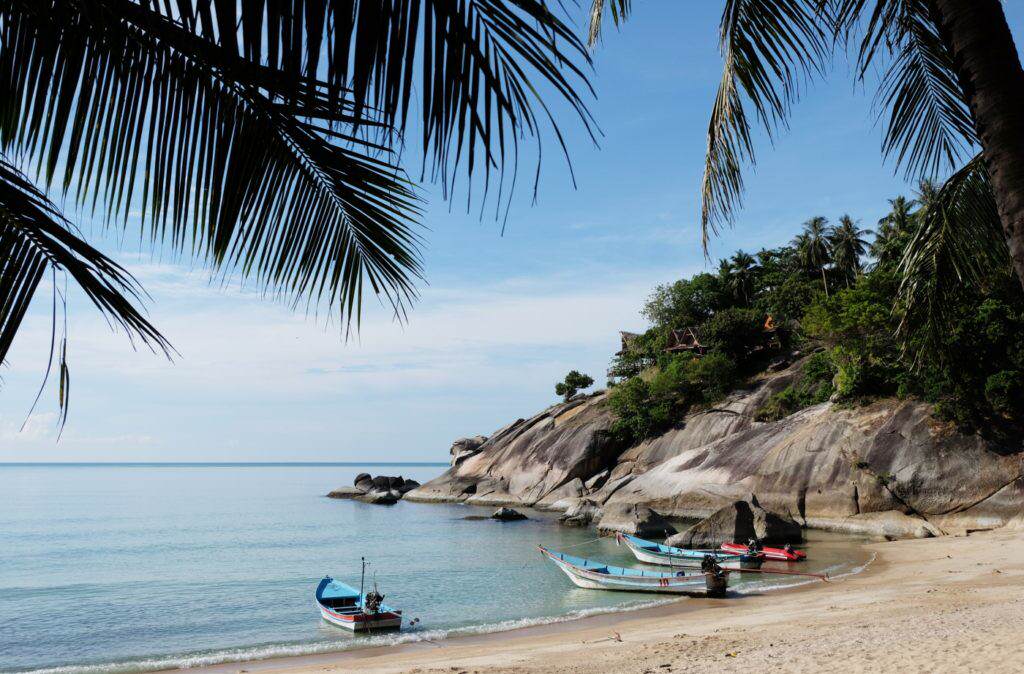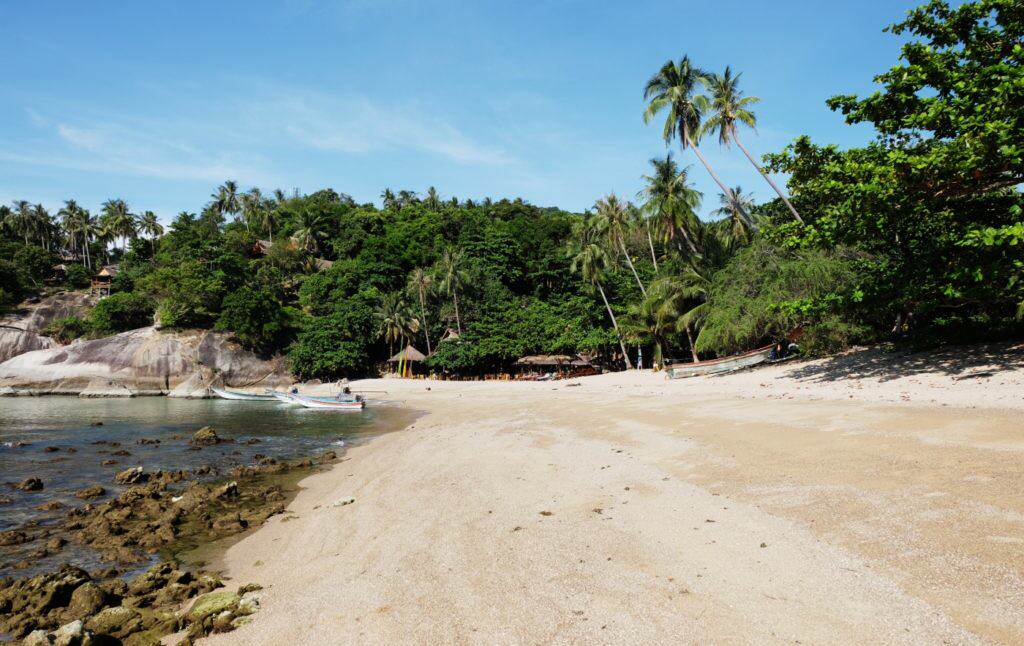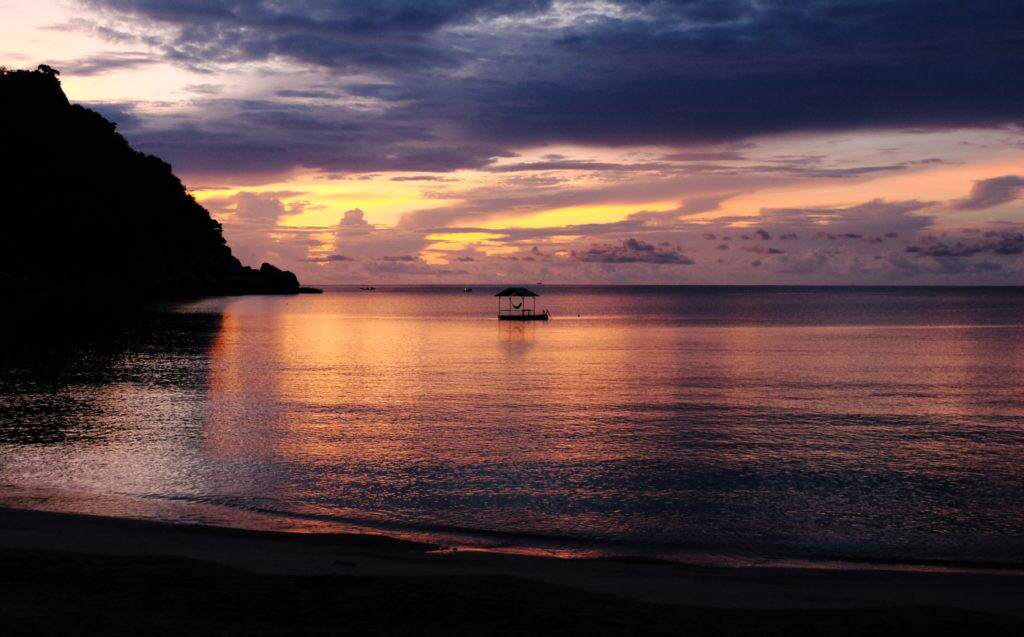 Im Dschungel eingebettet verteilen sich die Unterkünfte am Hang gebaut. Es gibt verschiedene Bungalows, die je nach Preiskategorie unterschiedlich ausgestattet und komfortabel sind: Vom günstigen Gemeinschafts-Zimmer bis hin zu mit Klimaanlage ausgestatteten geräumigen Bungalows, wahlweise mit Meer-Blick. Für jeden Geldbeutel ist somit das passende dabei.
The resort is embedded in the middle of the jungle. Winding up the hill you will find different bungalow types from cheaper dorms to spacious bungalows. Depending on the price category they are further or closer to the beach, offer fan or A/C or even provide an ocean view. So you will definitely find your perfect fit.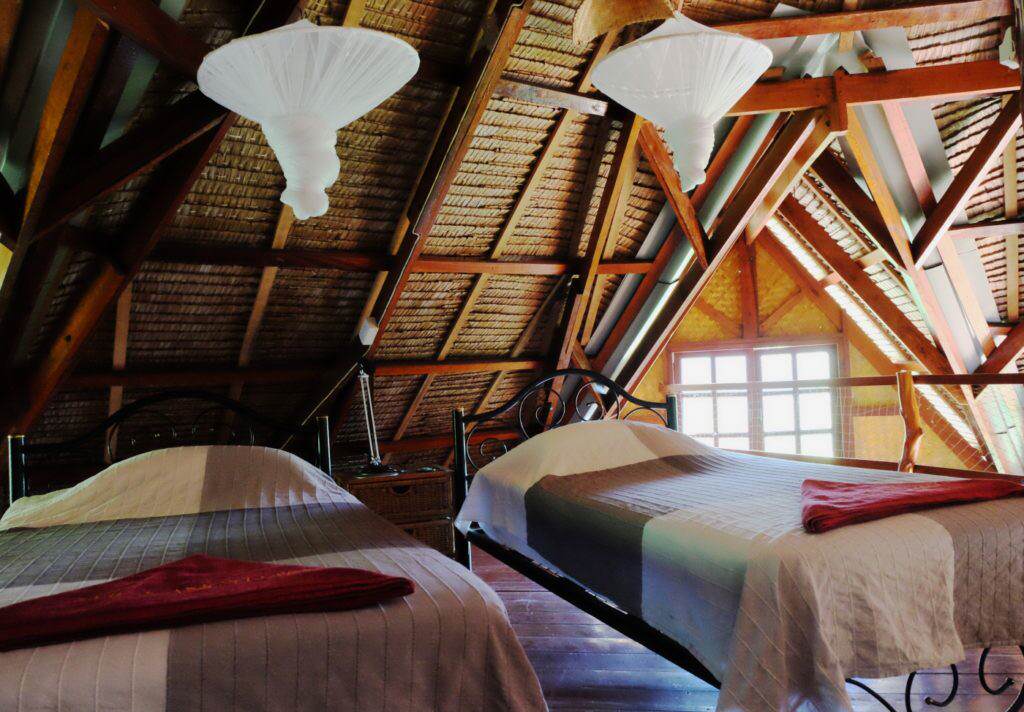 Mein Bungalow mit großem Balkon und Hängematte liegt etwas am Hang gebaut auf halben Weg zwischen Strand und Buddha Hall, wo täglich die Yoga-Kurse stattfinden. Ich liebe die Dschungelgeräusche, die mich umgeben, wenn ich morgens aufwache, tagsüber in meiner Hängematte liege und abends einschlafe. Was das Leben im Dschungel allerdings auch mit sich bringt, sind Gesellen wie Geckos, Kröten und kleinere Krabbeltiere, die sich ab und an im Badezimmer oder auf dem Balkon verirren. Wenn euch das stört, solltet ihr lieber ein Zimmer in Strandnähe auswählen. Gewappnet sein solltet ihr auf jeden Fall gegen die Moskitos, von denen es hier unzählige gibt. Aber auch das gehört zum Wohnen im Dschungel einfach dazu, oder?
I got a hillside bungalow with a big balcony and hammock, lying in the middle of the jungle, halfway between the beach and Buddha Hall, where the daily yoga classes take place. I love the jungle sounds surrounding me, when I wake up in the morning, relax in my hammock in the afternoon and fall asleep at night. What living in the jungle also comes along with, are some smaller animals such as geckos, toads or crawlies. So if you can´t stand this, you should think about the location of your bungalow pretty well. 🙂 What you cannot avoid are the mosquitos. So better be prepared, but don´t worry too much, it´s part of staying in the jungle, right?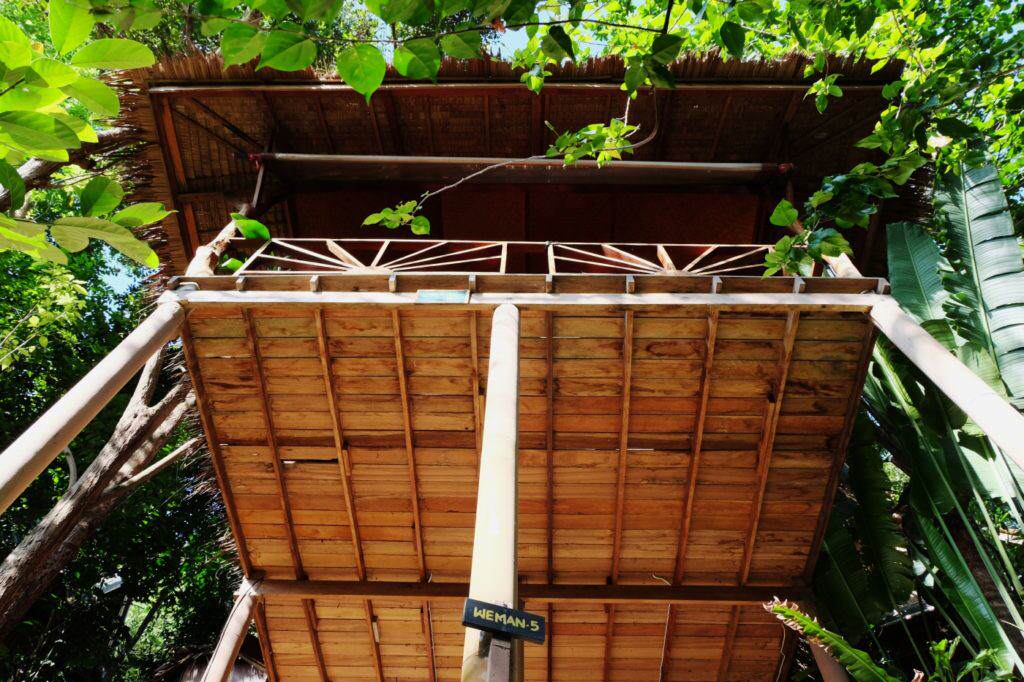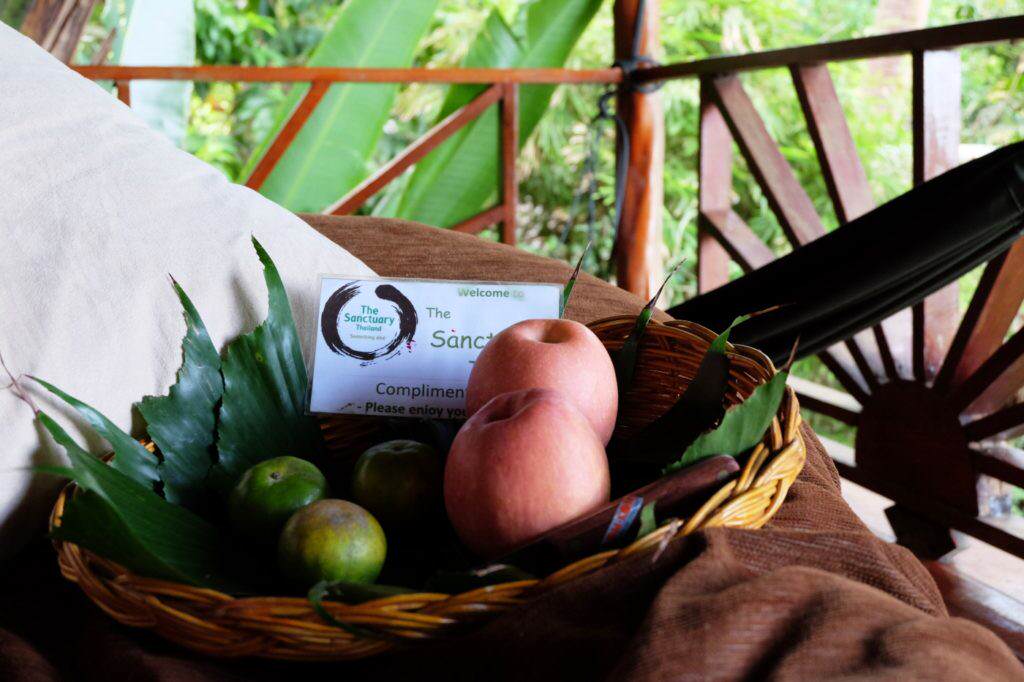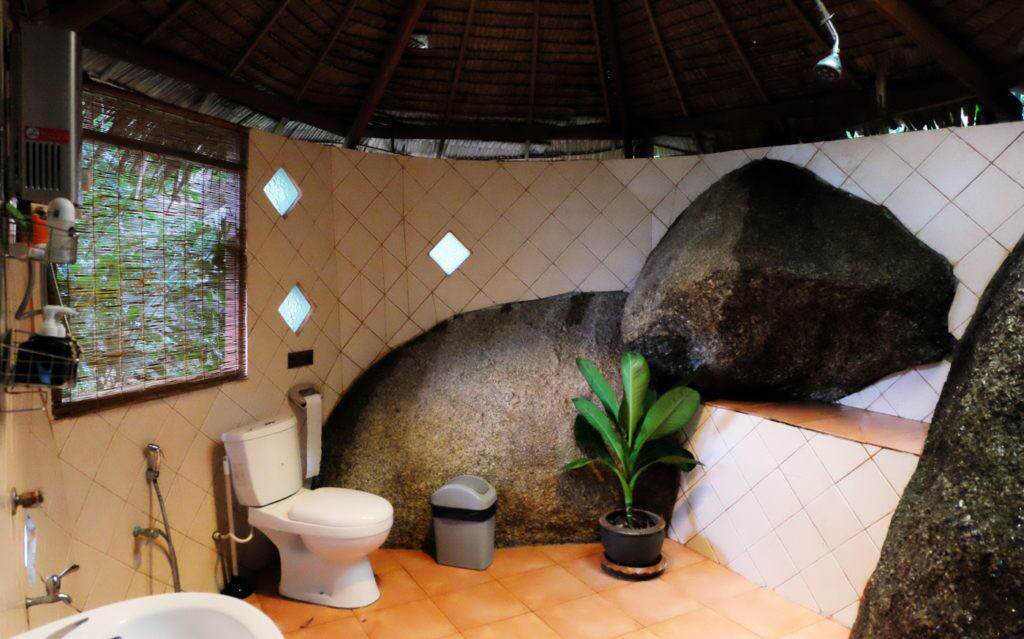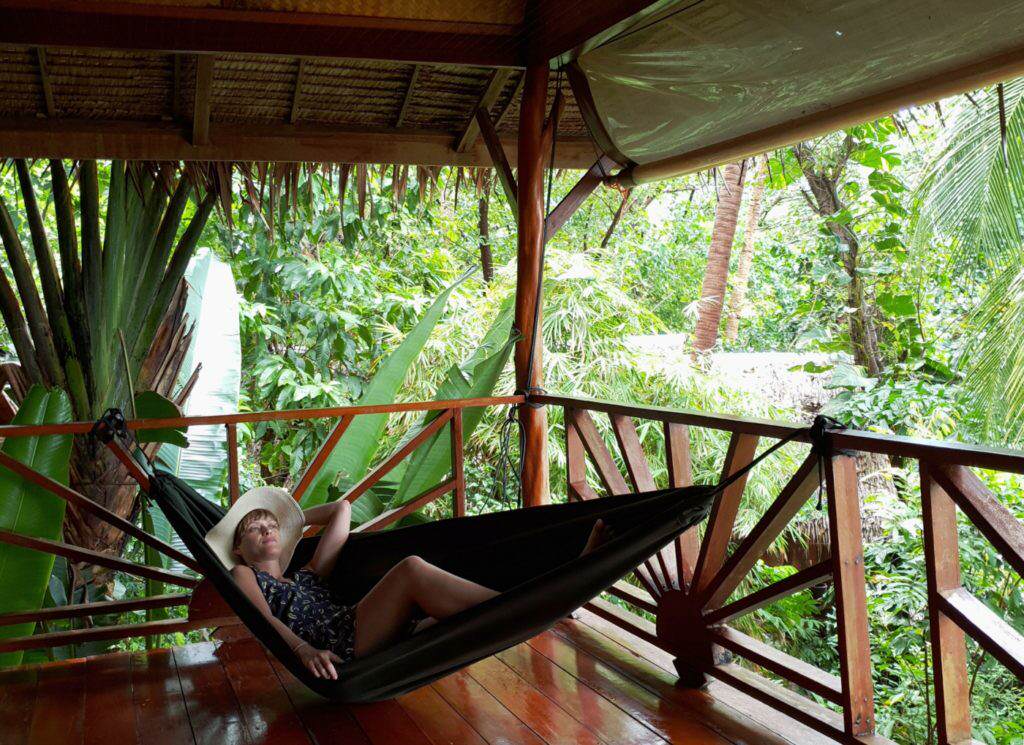 Yoga, Meditation & Wellness
Der Grund, warum ich The Sanctuary ausgewählt habe, waren die vielen Möglichkeiten meinen Aufenthalt ganz individuell gestalten zu können. The Sanctuary bietet drei verschiedene Yoga-Kurse sowie einen Pilates-Kurs täglich an. Zusätzlich hat man die Option private Yoga- und Pilates-Stunden zu buchen. Von Montag bis Freitag findet zudem abends eine geführte Meditation statt, der sich jeder kostenfrei anschließen kann. Dazu kommen die vielen Entspannungsmöglichkeiten, die das Resort-eigene Spa mit Massagen, Körper- und Gesichtsbehandlungen anbietet, sowie ein Dampfbad und ein eigenes Wellness-Center. Jeden Sonntag laden die Heiler in den "Tea Temple" ein und geben eine Einführung in alternative Medizin und Therapien.
The reason, why I decided for a yoga retreat at The Sanctuary is simple: There are lots of options you can choose from and create your own scedule without being commited to a certain timetable. The Sanctaury offers three Yoga- and one pilates sessions a day as well as the opportunity to book private classes. From Monday to Friday there is a guided meditation, everybody can join for free. Furthermore they have their own spa, where they offer different massages as well as body and facial treatments, a steam bath and their own wellness-center. There is a healers gathering every Sunday at the "Tea Temple", where you can get an introduction into different kinds of alternative health and therapies.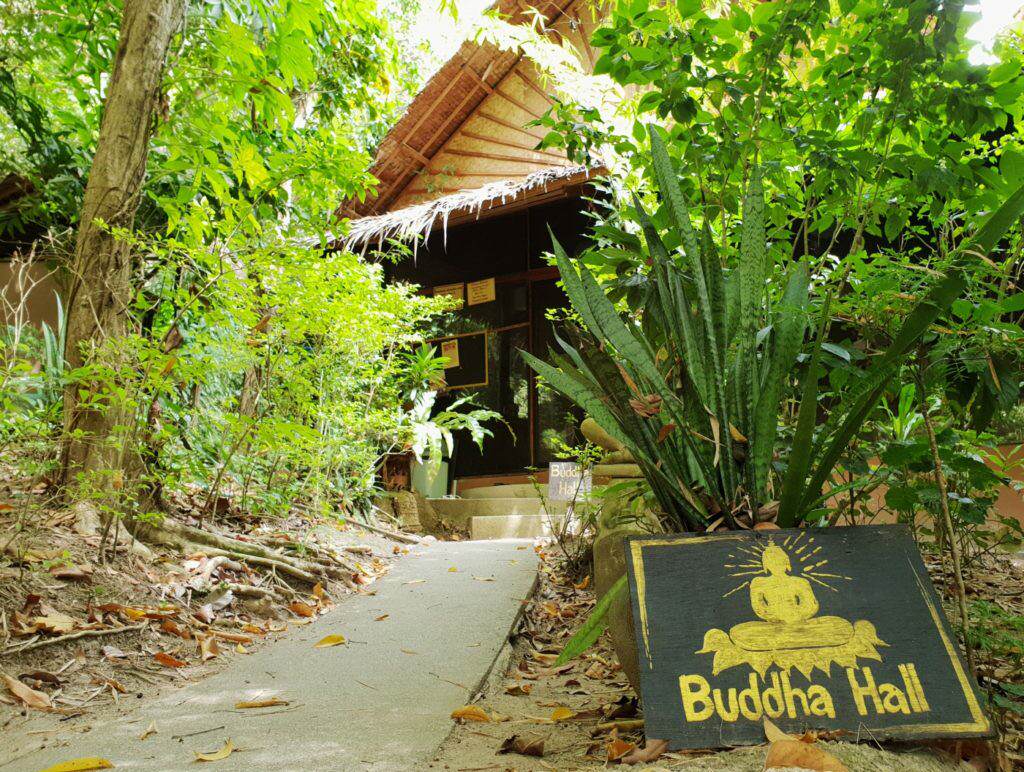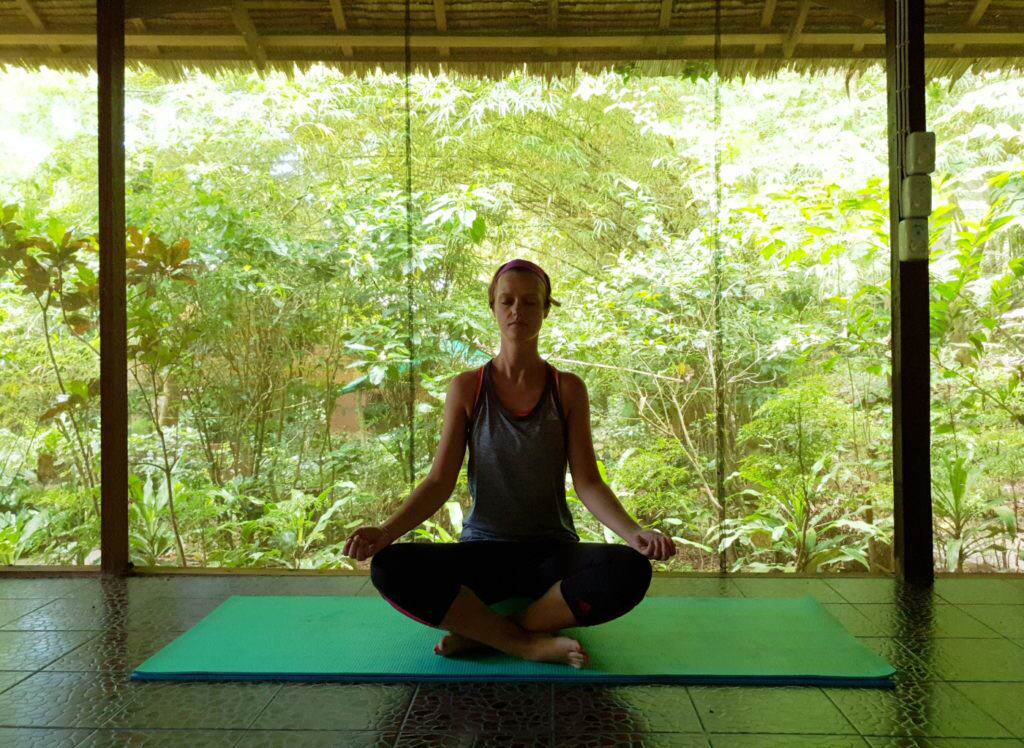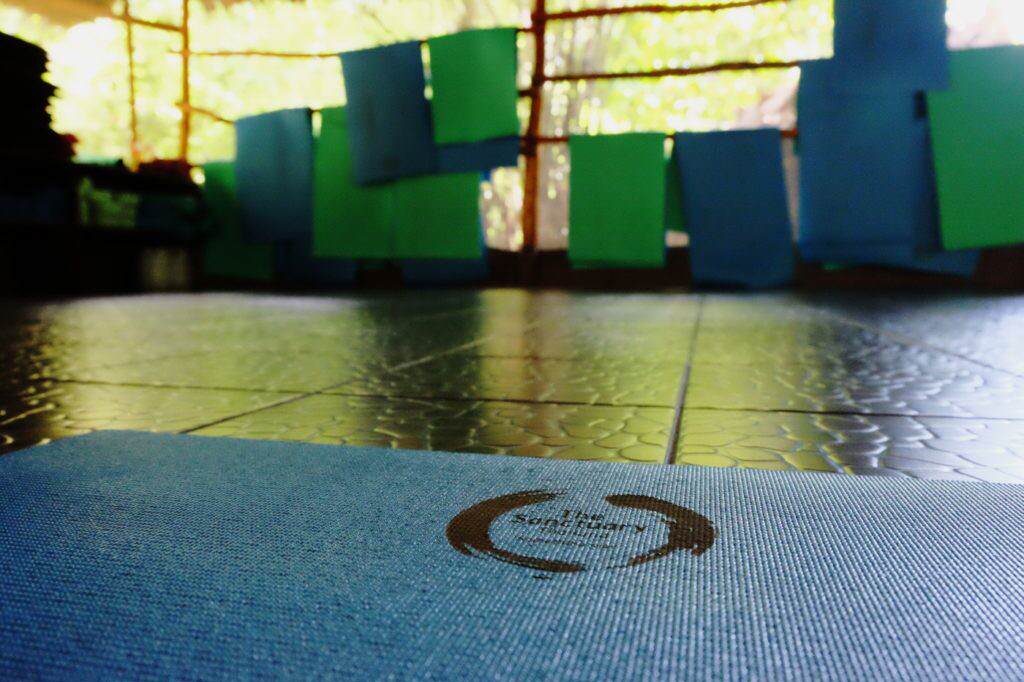 Tagesplan ganz individuell | Creating your individual schedule
Im The Sanctuary stellt sich jeder seinen Tagesplan ganz individuell zusammen, auch wenn ihr ein Yoga-Holiday-Paket bucht. Der Vorteil dabei: Eine gewisse Anzahl an Yoga- /Pilates-Stunden (Gruppe & Privat), Spa-Anwendungen sowie Sitzungen bei den Heilern sind bereits inkludiert, sodass ihr euch vor Ort keine Sorgen um zusätzliche Kosten machen müsst. Gestalten könnt ihr euer Programm dennoch komplett individuell und nach persönlichem Gusto. Meine Tage sind also durchaus gut gefüllt und strukturiert, ohne dass ich mich dabei stressen muss. Klingt perfekt, oder? Ist es auch! 🙂
You can create your personal daily programm, just as it suits your needs. Even if you´ve booked a Yoga-Holiday-Package. The advantage: You already have a certain amount of yoga- / pilates classes inluded (group and private), as well as spa-treatments, the access to the steam bath and even sessions with their healers. So you don´t have to worry about additional costs, but you can still establish your daily routine on your own by joining the classes you wanna take. Decide day by day, what you feel like. Sounds perfect? – It really is!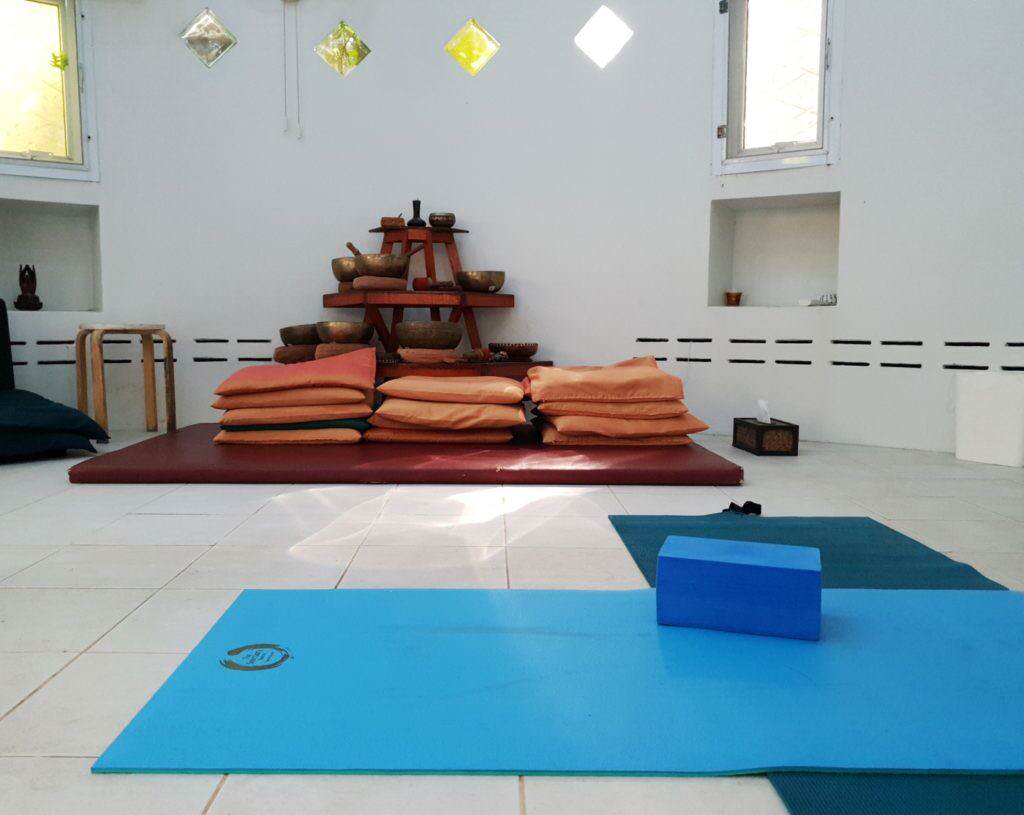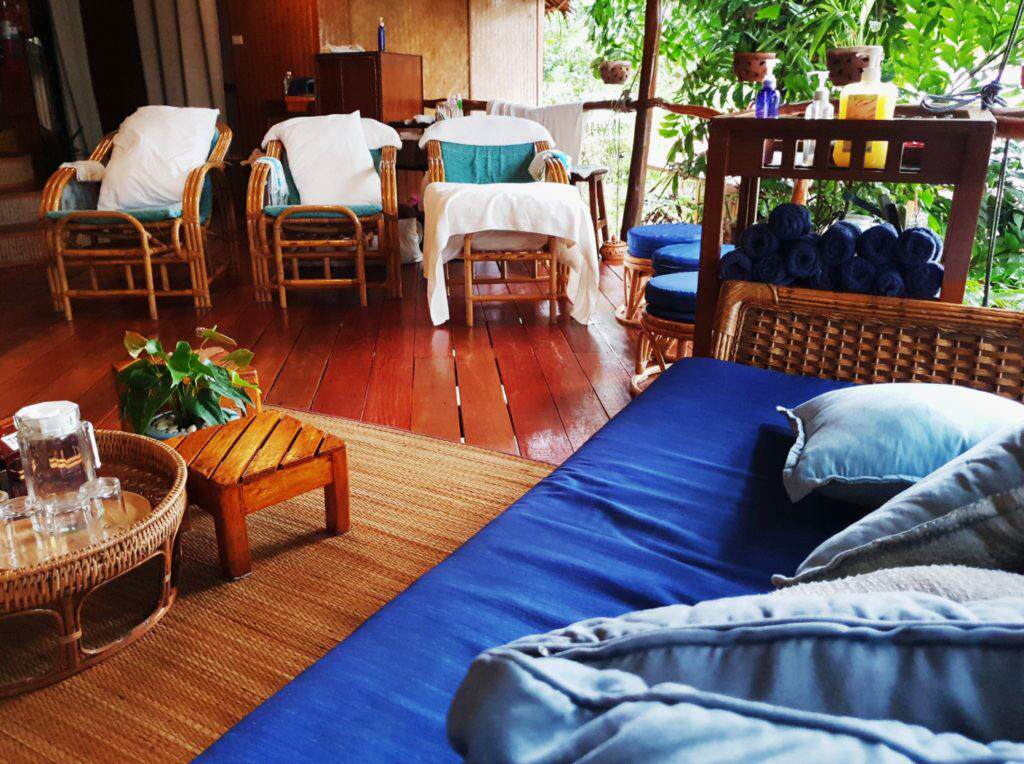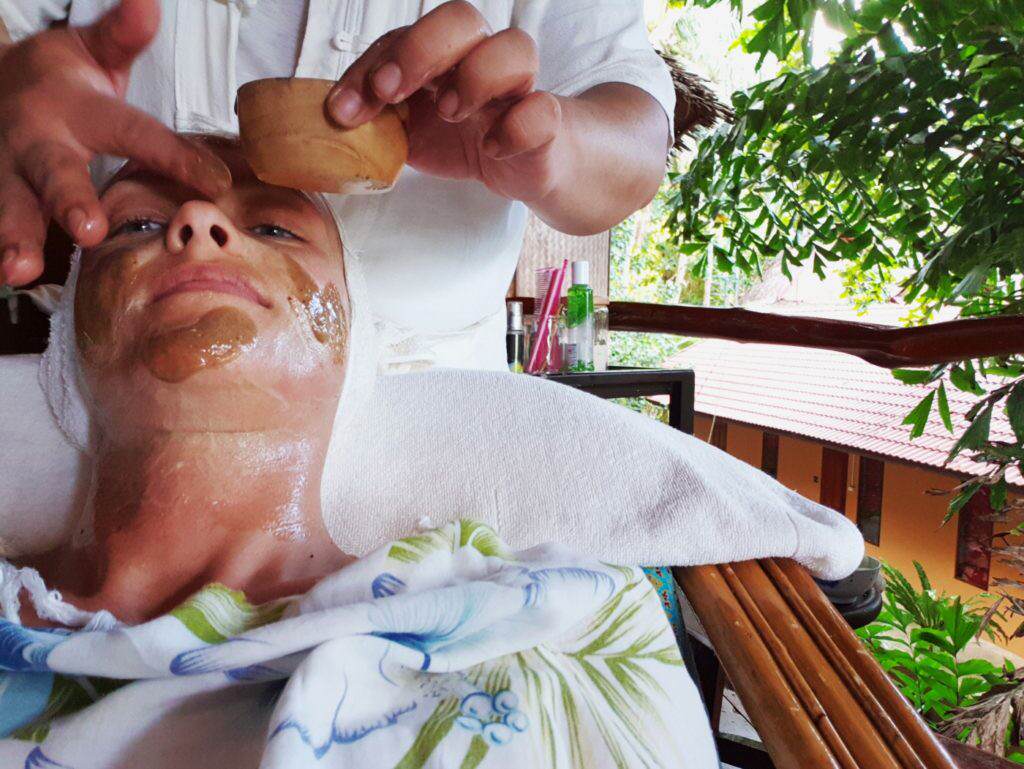 Fasten & Entgiften | Fast & Detox
Denkt ihr im Urlaub an Fasten und Entgiften? Nicht unbedingt? Kann ich verstehen. Doch einige Gäste, die ich hier kennen lerne, kommen sogar regelmäßig und zwar genau aus diesem Grund ins The Sanctuary: Die Umgebung, die Yoga-Kurse, das Essen – alles ist abgestimmt auf einen perfekten Entspannungs-Urlaub, der sich ideal mit einer Körperentgiftung kombinieren lässt. Die Trainer achten genau auf ihre Schüler und weisen sie im Yoga-Unterricht beispielsweise darauf hin, wann es an der Zeit ist, die nächsten Kräuter einzunehmen, ohne dass es für die anderen störend ist. Wer also seinen Urlaub damit verbringen möchte, nicht nur seinen Kopf frei zu bekommen, sondern auch seinen Körper zu entgiften, ist im The Sanctuary bestens aufgehoben.
When you think of holiday, do you think of fasting and detoxing? Not really? I can understand! But quite a few people I met at the Sanctuary, come here regulary and even exactly for this reason. The surroundings, the yoga classes, the food, everything matches a relaxing holiday, which can be combined with a detox ideally. The trainers really care and e.g. always tell their students, when it´s time for the next herbs, without bothering the others. So if you want to spend your holiday not only to clear your head, but also clean your body, The Sanctuary is the perfect spot.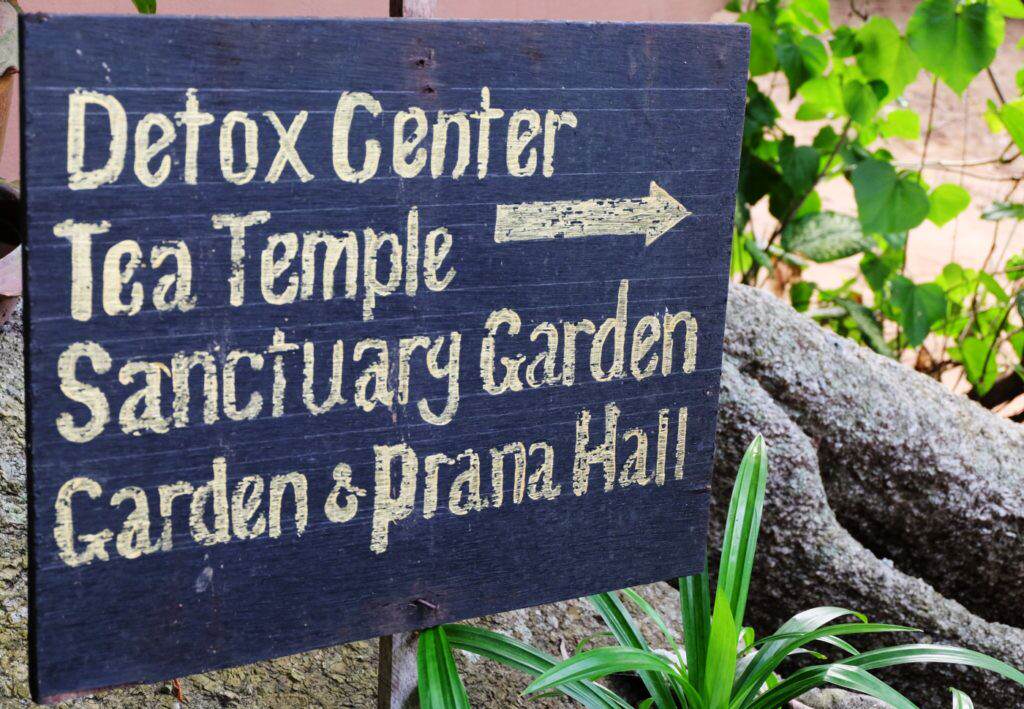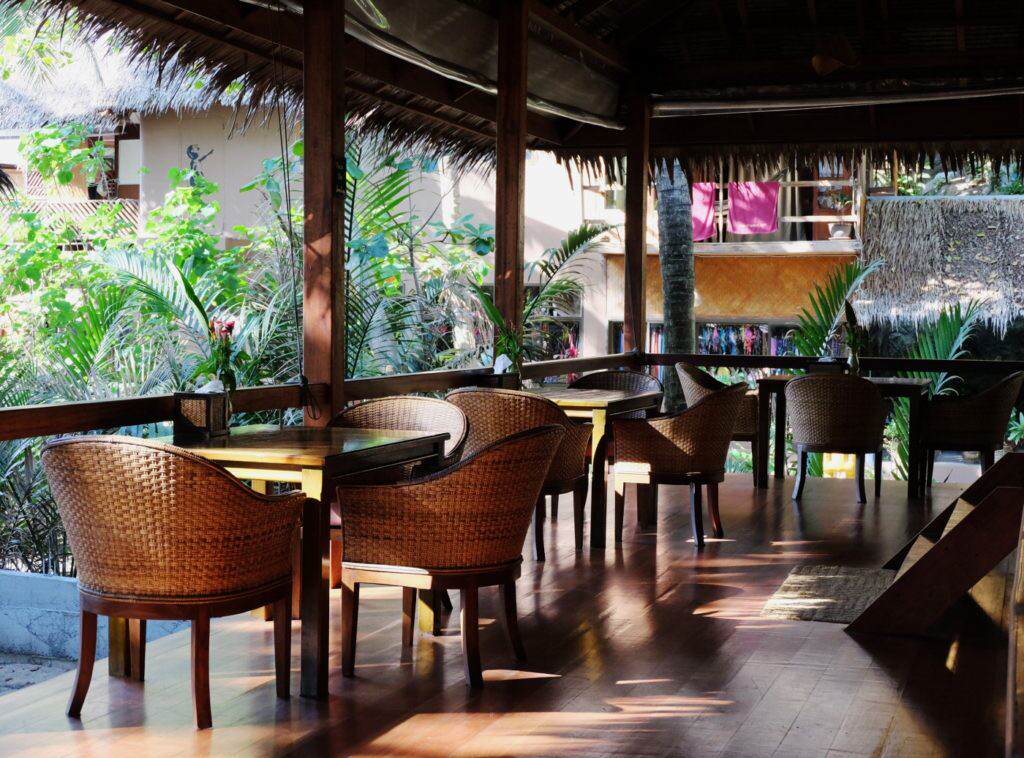 Und wer jetzt denkt "in Thailand fasten – nie im Leben, dafür schmeckt das Essen viel zu gut", dem muss ich einerseits vollkommen recht geben. Doch was das The Sanctuary-eigene Restaurant an Smoothies, Salaten und sonstigen Rohkost-Variationen auf die Teller zaubert, ist einfach nur fantastisch und tut dem Thailand-Erlebnis keinen Abbruch:
Anybody, who now thinks "fasting in Thailand is a no-go, because the food is just too delicious": On the one hand I have to agree. But on the other hand: Everything what is served at The Sanctuary restaurant, from smoothies, salads to all kinds of raw-food variations, tastes fantastic and doesn´t break the Thailand-experience at all.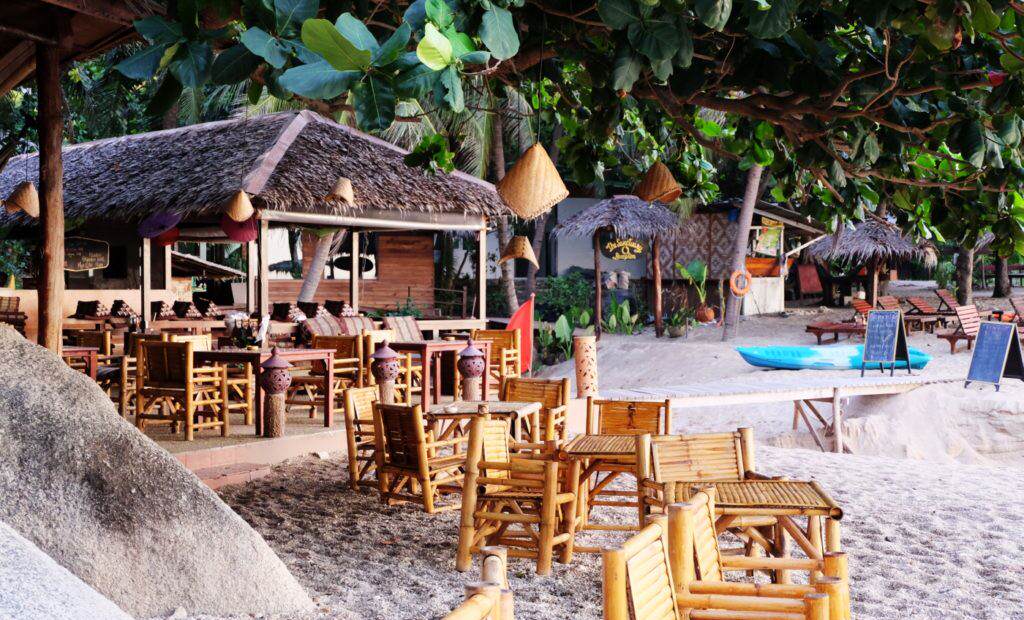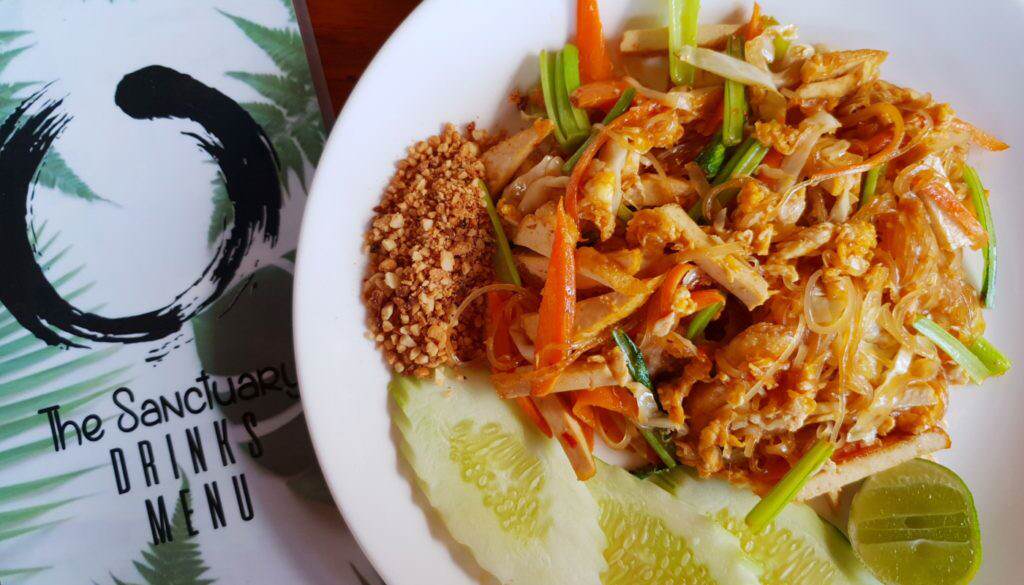 Hier gibt es alles, was das Herz begehrt, wenn man sich nur darauf einlässt: Von rohem Pad Thai, über Maki- oder Reispapierrollen bis hin zu veganen Burgern. Und ich bin nun weiß Gott kein Verfechter von veganer Kost. Jeder der mich kennt, weiß das nur zu gut. Doch ich muss gestehen, die Vielfalt, die hier geboten wird, hat es mich keinen einzigen Tag bereuen lassen, dass ich mich in Kombination zu meinem 10-Tage Yoga Programm für das 7-Tage Roh-Fasten entschieden habe. Ja, richtig gelesen: Ich faste, esse also nur Rohkost und trinke Smoothies und bin trotzdem begeistert. 🙂
You will find everything you can think of in a raw-version: From pad thai, maki- or rice paper rolls to vegan burgers. To be honest: I am not an advocate of vegan food or other diets or trends you find everywhere these days. But I have to admit that due of the variety offered at The Sanctuary restaurant, I did´t regret it for a single day to have decided for the 7-days-raw-fast in addition to my 10-days-yoga-holiday. Yes, you got it right: I am fasting. For 7 days I only have raw food and drink smoothies. And I´m still thrilled.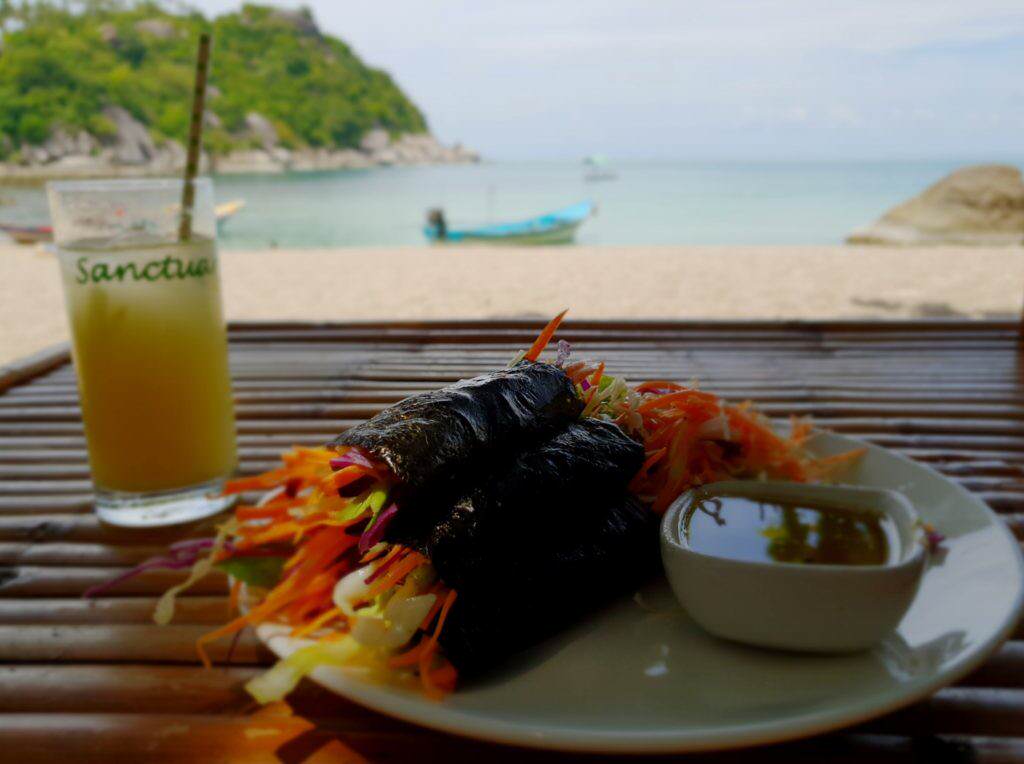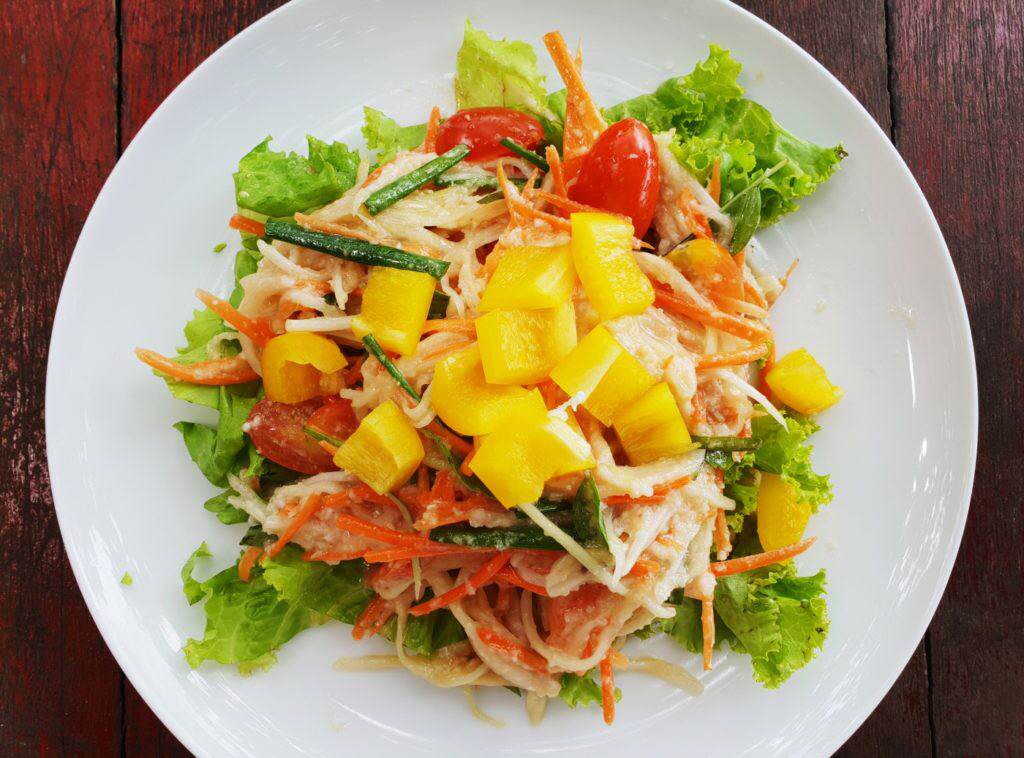 Klar freue ich mich am Ende dieser Woche auch wieder darauf Fisch und echte, also gekochte Thai-Currys zu zelebrieren. Ich bin auch nicht zur Vegetarierin oder gar Veganerin geworden. Doch die ein oder andere Gewohnheit habe ich bereits in meinen Alltag in Shanghai integriert: z.B. eine kleine Runde Morgen-Yoga oder das Zubereiten von frischen Smoothies und Salaten. Denn eines muss ich zugeben: Meinem Magen ging es während meiner Zeit im The Sanctuary richtig gut!
And of course I am looking forward to enjoy fish, seafood and the real cooked thai curries by the end of this week. And no: I didn´t convert into a vegetarian or even vegan person (hubby would freak out :)) But some of the routines I integrated into my daily habits in Shanghai, e.g. doing morning yoga and taking the time to prepair myself smothies and salads. Why? Because I really have to admit that my stomach felt great during my time at Koh Phangan.
Mein Tagesablauf | My daily routine
Es klingt vielleicht komisch, aber meine Tage im The Sanctuary sind durchaus gut getaktet und strukturiert, ohne dass mir eine Sekunde lang langweilig ist: Ich beginne meinen Tag mit einer Portion Flohsamen um 7 Uhr, gefolgt von einer Yoga- Einheit entweder um 8 Uhr oder 10.30 Uhr, je nach Wetter- und Gefühlslage. Dazwischen Sonne tanken und einen frischen Smoothie zum Frühstück genießen. Der perfekte Start in einen entspannten Tag.
It might sound strange, but my days at The Sanctuary are pretty structured and organised. So I don´t feel bored for one second: I start my day with a portion of psyllium at 7am, followed by a yoga session at 8am or 10.30am, depending on my mood and the weather. In between I enjoy the sun and have a smoothie for breakfast. The perfect start into a relaxed day, isn´t it?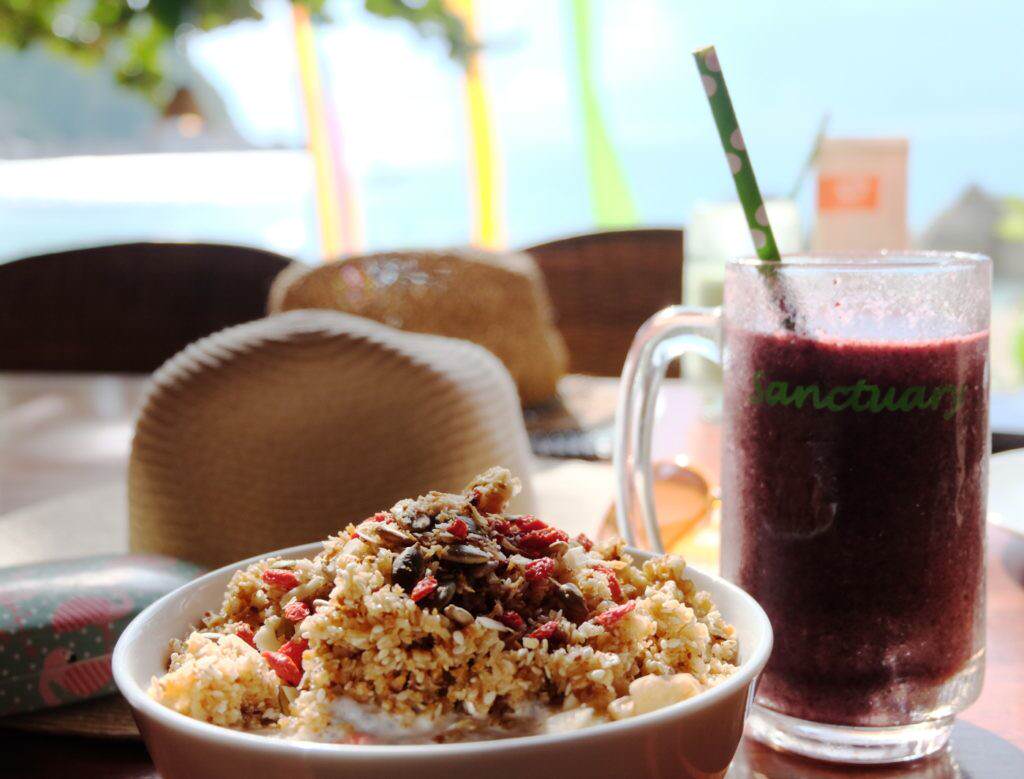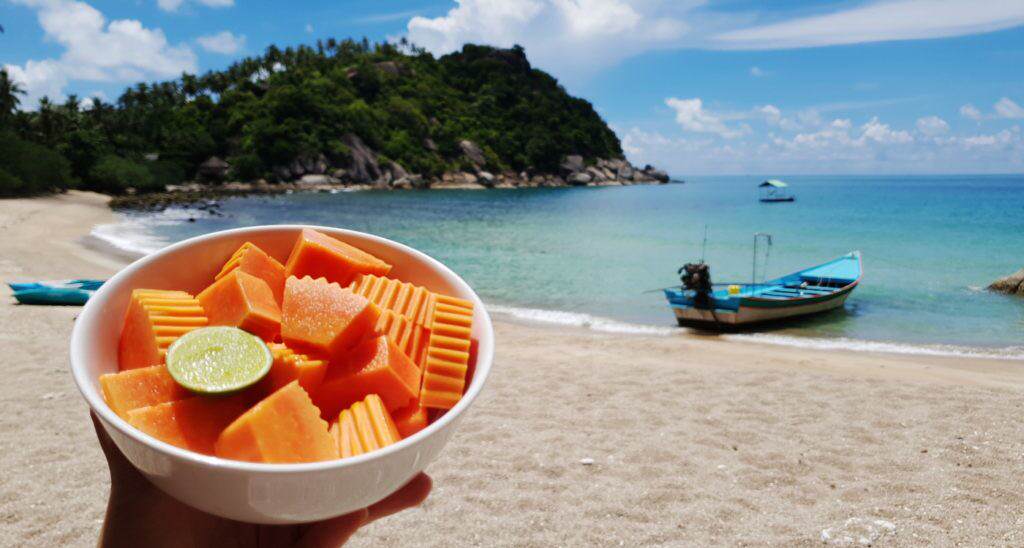 Mittags wartet ein Salat meiner Wahl. Der "Salad from Heaven" ist einer meiner Lieblingssalate geworden. Denn er klingt nicht nur himmlisch, sondern schmeckt auch so.
For lunch I have a salad of my choice. Actually the "salad of heaven" becomes my favourite one. It doesn´t only sound, but even tastes like heaven.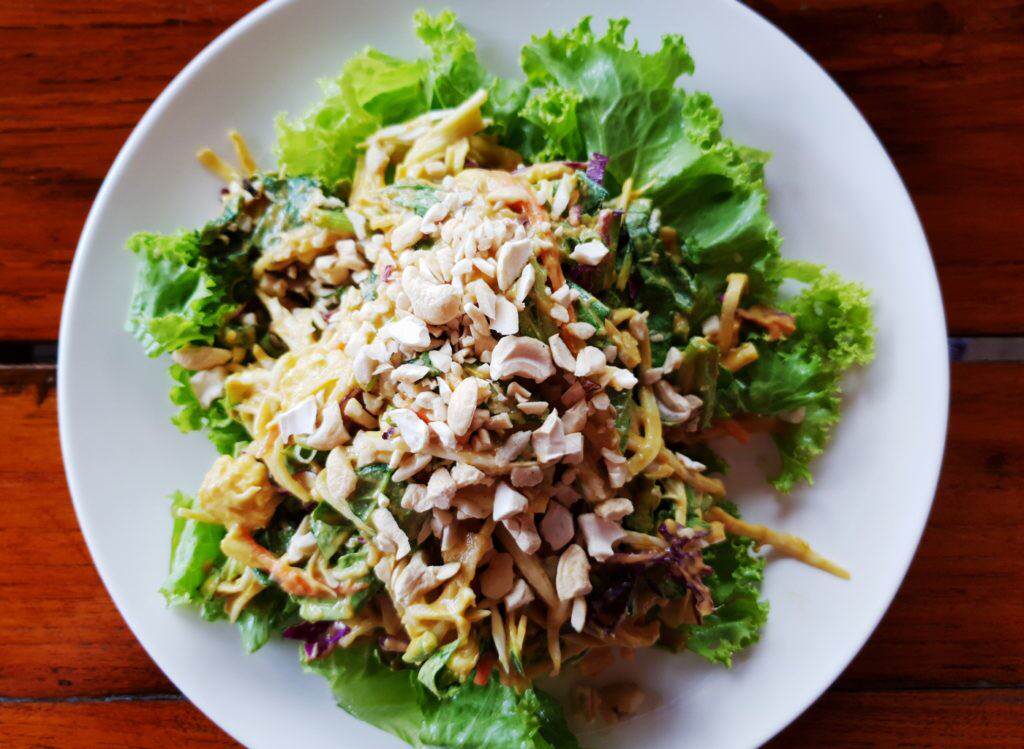 Und am Nachmittag? Über den Nachmittag verteilt warten fünf Tage lang jeweils ein Glas Weizengras, eine Kokosnuss mit Spirulina sowie ein fruchtiger Lymph-Shake zur Entgiftung auf mich. Außerdem will ich meine Aufenthalte im Spa nicht missen, ab und zu das Dampfbad genießen, einfach mal nur in meiner Hängematte chillen, oder zu einer der Nachbarbuchten spazieren. Nun ich will mich nicht beschweren, aber etwas Organisation meines Tagesablaufes gehört im The Sanctuary einfach mit dazu.
And in the afternoons? During the days I am raw-fasting, my afternoons are covered with different shakes at certain times: One wheetgrass-shot, a coconut with spirulina and a detoxing lymph juice for five days in a row. Furthermore I don´t want to miss my spa-opportunities and try the steam bath, lie in my hammock from time to time or take a walk to one of the adjoined beaches. Without complaining I have to say that I really have to plan my days, at least a little. 🙂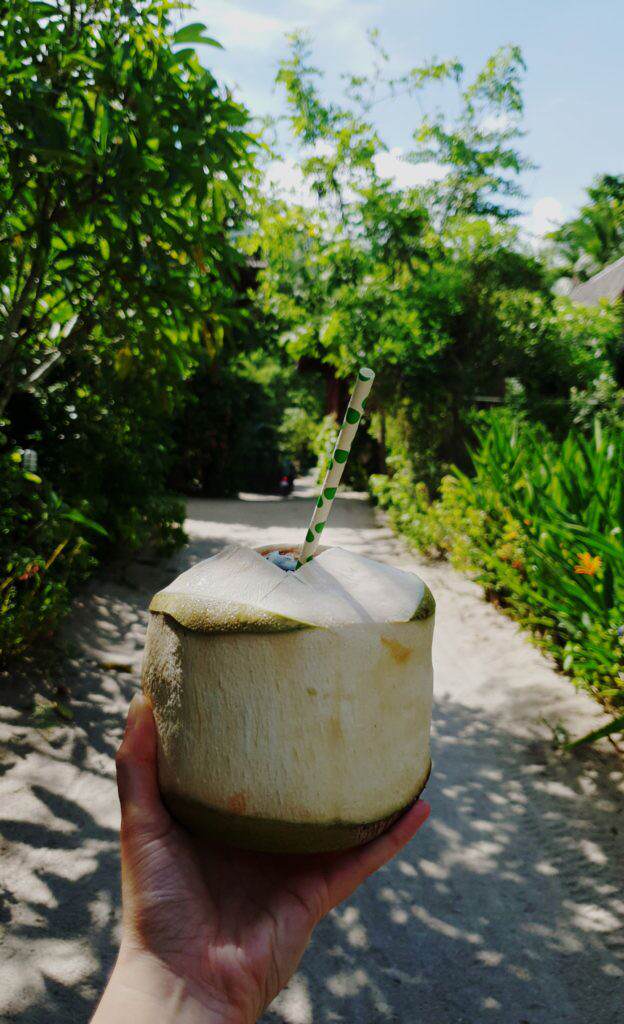 Von Tag zu Tag spüre ich, wie ich mich mehr entspanne und immer weiter von meinem inneren Drang abkomme doch noch einen Tagesausflug zu unternehmen, um Koh Phangan zumindest ein bisschen kennen zu lernen. Irgendwie ist The Sanctuary ein magischer Ort, der es geschafft hat, mich so zu entspannen, dass ich am Ende meiner zehn Tage mit einem so guten Gefühl abreise, ohne nur einen Gedanken daran zu verschwenden eventuell doch etwas verpasst zu haben.
From day to day I feel more relaxed and leave behind my inner urge to go on a daytrip to explore Koh Phangan. Somehow The Sanctuary is a magical place, which helped me to calm down. After ten days I leave without feeling to have missed something.
Haad Rin: Zurück in die Realität | Back to reality
Nach zehn entspannten, dennoch intensiven aber einfach nur schönen Tagen verlasse ich Koh Phangan schließlich wieder. Als ich durch Haad Rin laufe, um von meinem Taxi Boat zum Fährableger zu kommen, erlebe ich noch einmal das komplette Kontrast-Programm zu meinen zehn Tagen Ruhe und Entspannung pur: Schrill leuchtende T-Shirts, Billig-Schmuck und Bikini-Tops anstatt bunter Sarongs und bequeme Hippie-Hosen zieren hier die Geschäfte. Burger, Pizza und Fast Food anstatt Rohkost und Fruchtshakes… Zudem unzählige Apotheken… Und an jeder Ecke ATMs, dass auch bloß den Partywütigen das Geld nicht ausgeht.
After 10 really relaxing, still intens, but just geat days, I am leaving Koh Phangan. As I walk through Haad Rin to make my way from the small taxi boat to the ferry terminal, I experience a complete contrast to my ten days filled with tranquility and relaxation: Shrill shining T-shirts, cheap jewelry and bikini-tops instead of colourful sarongs and comfortable hippie pants cover the store windows here. Burger, pizza and fast food instead of raw food and fruit shakes… Moreover lots of farmacies, and ATMs, just making sure nobody runs out of money…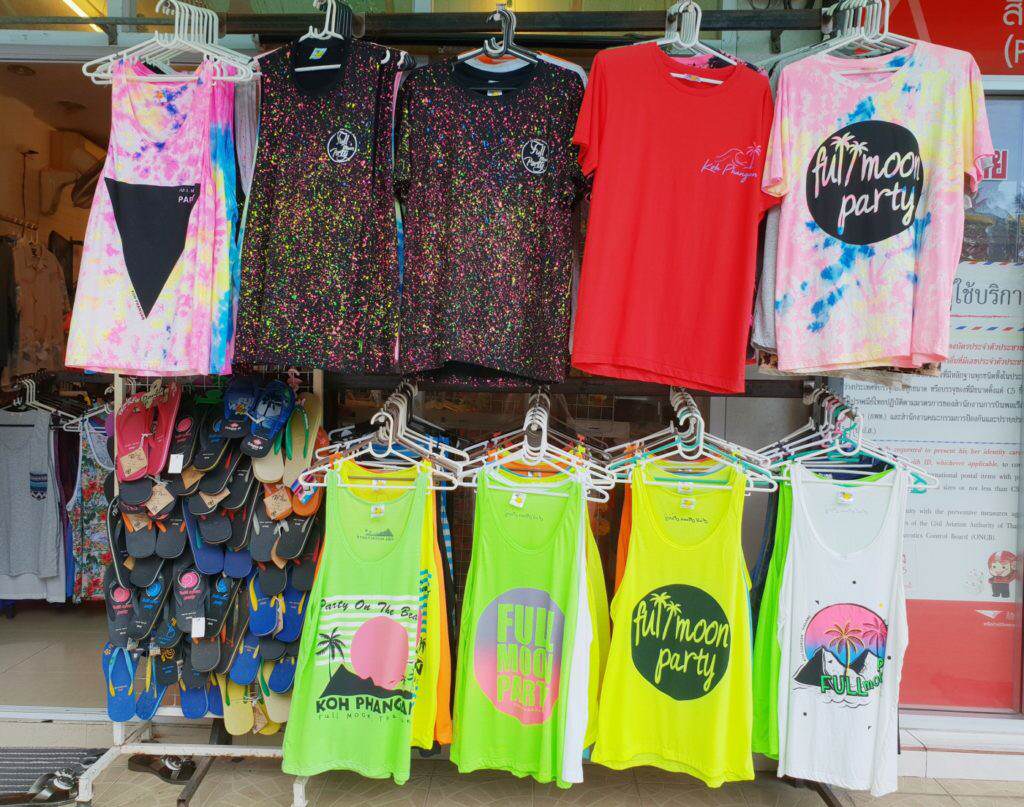 In zwei Tagen steigt am Strand von Haad Rin wieder eine der legendären Full Moon Parties. Während also mindestens 200 bis 300 Partyhungrige von der ankommenden Fähre gehen, verlasse ich zusammen mit gerade einmal 25 anderen die Insel.
In two days there will be the next Full Moon Party. While at least 200 to 300 people leave the arriving ferry, I go on board with just 25 other people to leave the island.
Im Sonnenuntergang fahren wir nach Koh Samui und ich lasse Koh Phangan als meinen Ort innerer Ruhe hinter mir. Doch einiges an Ruhe, Gelassenheit und gutem Lebensgefühl nehme ich mit von dieser Insel, die jeder nur als den Ort für lange Partynächte kennt. Irgendwie skurril. Doch für mich ist Koh Phangan nun zu einem ganz besonderen Ort geworden. Während dicke Wolken den Himmel bedecken und die Sonne davon abhalten sich im Meer zu spiegeln, ist es wohl an der Zeit zu gehen..
 At sunset we make our way to Ko Samui. I leave Koh Phangan behind as a place where I found my inner peace. With me I take lots of rest, serenity and good vibes. Kind of comical as Koh Phangan is the Thai island, everybody knows for its long party nights. For me it is a totally different island now. As the clouds cover the sky, stopping the sun from reflecting the sea, it seems to be just the right time to leave…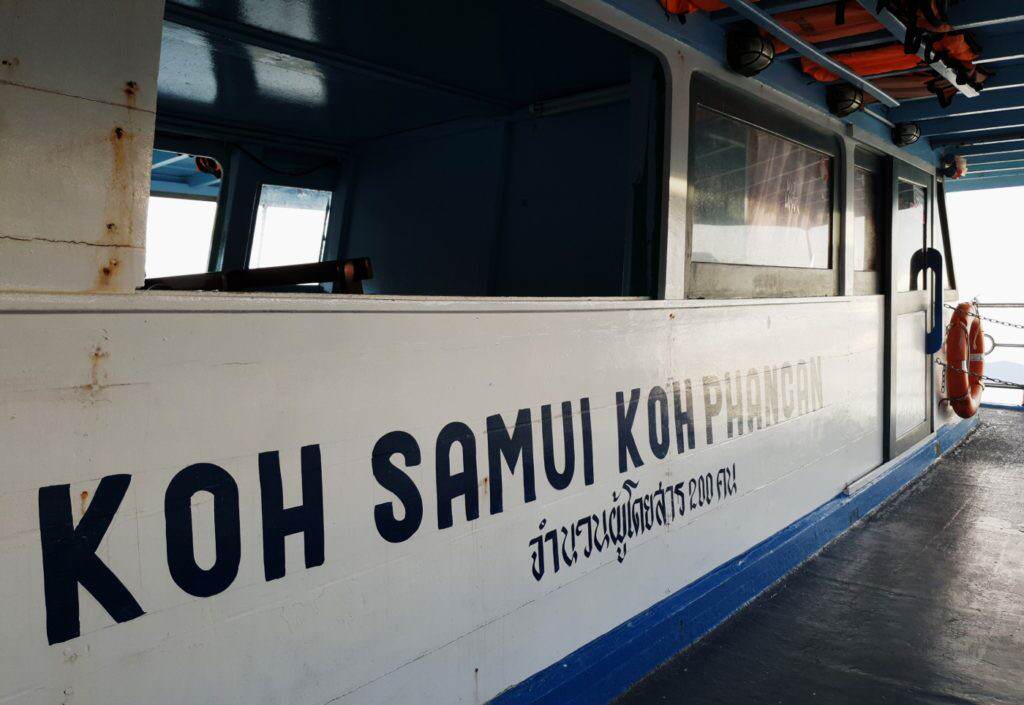 Zusammengefasst | Summarized
Habt ihr nun auch Lust auf einen Yoga- und /oder Detox-Urlaub bekommen? Dann hab ich hier nochmal ein paar Fakten für euch zusammen gefasst:
Are you keen on going on a yoga and / or detox holiday as well? I have summarized some facts for you:
Koh Phangan: Anreise | Getting there
Koh Phangan besitzt keinen eigenen Flughafen, weshalb die Anreise immer mit der Fähre erfolgt. Es gibt verschiedene Möglichkeiten The Sanctuary zu erreichen, am kürzesten sind die Fährverbindungen von Koh Samui. Am Ausgang des Flughafens könnt ihr kombinierte Taxi-Fähr-Tickets kaufen, die nicht überteuert sind.
As Koh Phangan doesn´t have an airport, the ferry is always the way to reach the island. There are different ways to reach The Sanctuary. The shortest way is from Koh Samui. You can buy combi taxi-ferry-tickets at the exit of Samui airport, which aren´t overpriced.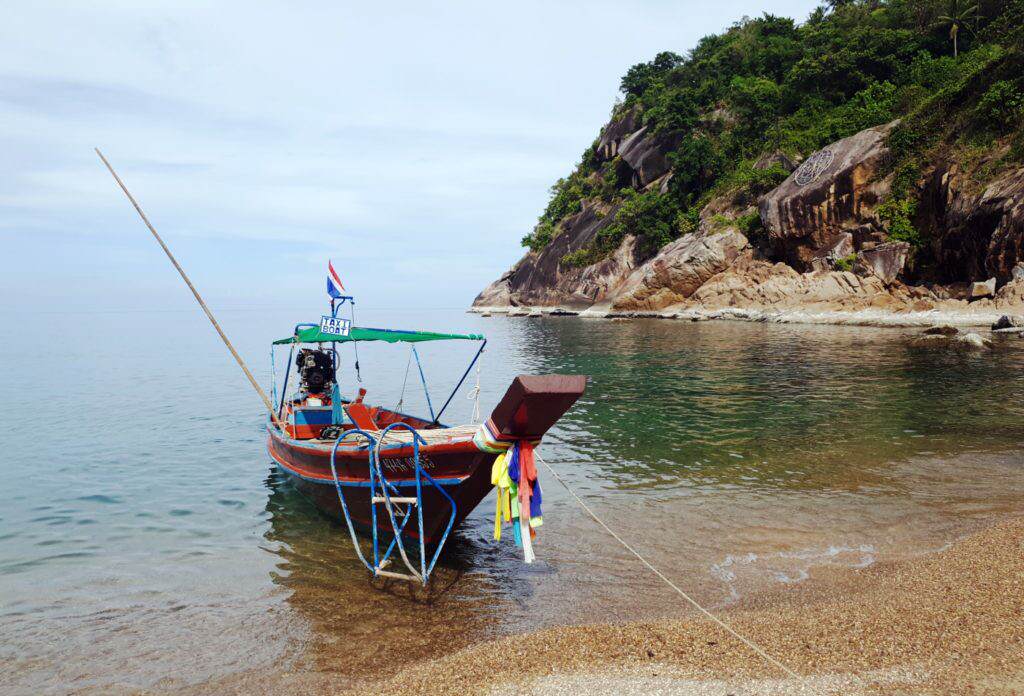 Haad Rin Queen ferry
Von Koh Samui aus kommend könnt ihr die Fährverbindung der Haad Rin Queen vom Big Buddha Pier nutzen (4 Fährverbindungen täglich, 10 Min. Taxifahrt vom Samui-Flughafen entfernt, danach 1 Stunde Fährfahrt nach Haad Rin – Strand der Full Moon Parties). Am Anlegepier von Haad Rin warten bereits Taxi-Boote, die euch in 5 Minuten direkt zum Strand von Haad Tien bringen. Geht davon aus, dass ihr mindestens 300 Baht für die kurze Fahrt zahlen müsst. Solltet ihr der einzige Passagier sein, eventuell sogar etwas mehr. Ist das Meer rau und die Wellen zu hoch, wird aus einer 5-minütigen Taxi-Boot-Fahrt eine 1-stündige Fahrt mit dem Jeep durchs Hinterland.
Coming from Koh Samui you can take the Haad Rin Queen ferry, leaving from Big Buddha Pier (4 rides daily, 10 min. taxi ride from Samui airport). The ferry to Haad Rin Beach (known for the Full Moon Parties) takes about 1 hour. After reaching Koh Phangan there will be taxi boats, which take you to Haad Tien beach in 5 minutes. Expect to pay 300 Baht. If you are the only person, maybe even a bit more. If the sea is rough and the waves are too high, the only way to reach The Sanctuary is an 1 hour jeep ride through the outback.
Thong Nai Pang ferry-boat
Eine weitere und günstigere Möglichkeit The Sanctuary direkt mit der Fähre zu erreichen ist die Verbindung zwischen Koh Samui und Thong Nai Pang im Norden von Koh Phangan mit der Thong Nai Pang-Fähre. Zwischen April und Oktober verlässt das Fährboot jeweils um 12 Uhr mittags Mae Nam town (45 Minuten entfernt von Samui-Flughafen). Dieses steuert auf dem Weg nach Thong Nai Pang verschiedene Buchten im Osten von Koh Phangan an und stoppt nach ca. 1 Stunde Fahrt direkt an der Bucht von Haad Tien. Vorteil: Ihr seid nicht auf eines der Taxi-Boote angewiesen. Nachteil: Längere Anfahrt vom Flughafen, nur 1 Abfahrt täglich und bei zu hohen Wellen verkehrt das Boot nicht. Also immer gut die Wettervorhersage checken!
Another and even cheaper opportunity to reach The Sanctuary directly by ferry is the connection between Koh Samui and Thong Nai Pang in the North of Koh Phangan. Between April and October the Thong Nai Pang ferry-boat departs daily at noon from Mae Nam town (45 min. drive from Samui airport). This ferry-boat heads for different bays on the East coast of Koh Phangan and stops at Haad Tien after 1 hour. The advantage: You are not reliant on the taxi boats. Disadvantage: You have a longer ride from the airport, only one departure daily and if there are high waves, the boat doesn´t go. So you better check the weather forecast regulary.
The Sanctuary: Lage & Ausstattung | Location & facilities
The Sanctuary liegt im Südosten von Koh Phangan zwischen den Buchten Haad Yuan und Why Nam. Das Resort ist eingebettet im Dschungel mit direktem Strandzugang, verfügt über ein ausgezeichnetes Seafood & vegetarisches Restaurant, bietet Bungalows für jede Preiskategorie sowie Yoga-Holiday-Pakete (3 / 7 / 10 Tage) sowie unterschiedliche Entgiftungs-Programme.
The Sanctuary lies in the Southeast of Koh Phangan, between the bays Haad Yuan and Why Nam. The resort is embedded in the jungle and has direct beach access, a great seafood & vegetarian restaurant, offers bungalows of any price range and yoga-holiday-packages (3 / 7 / 10 days) as well as different detox programmes.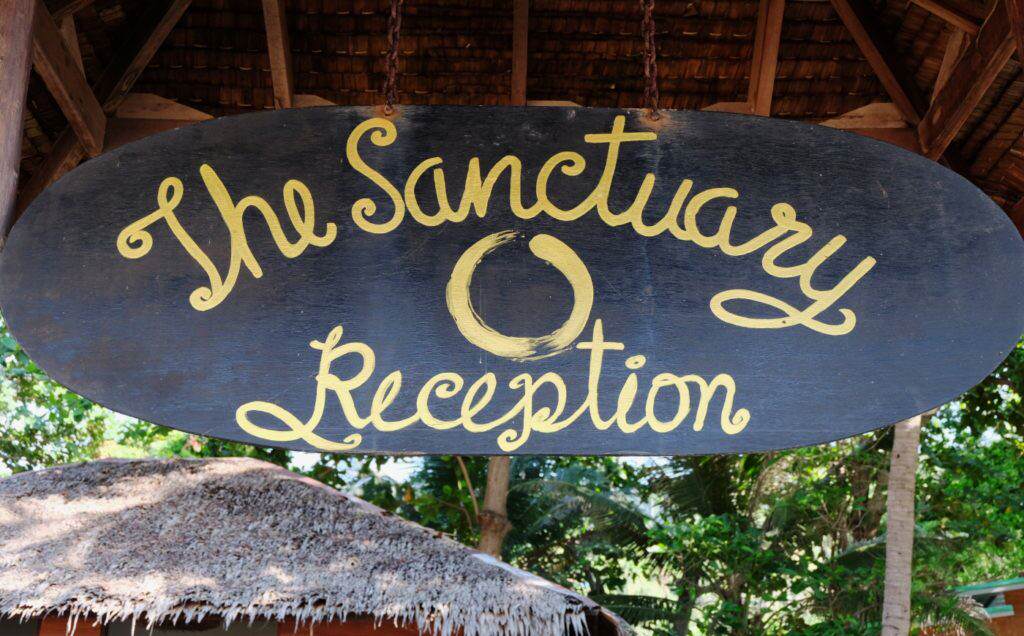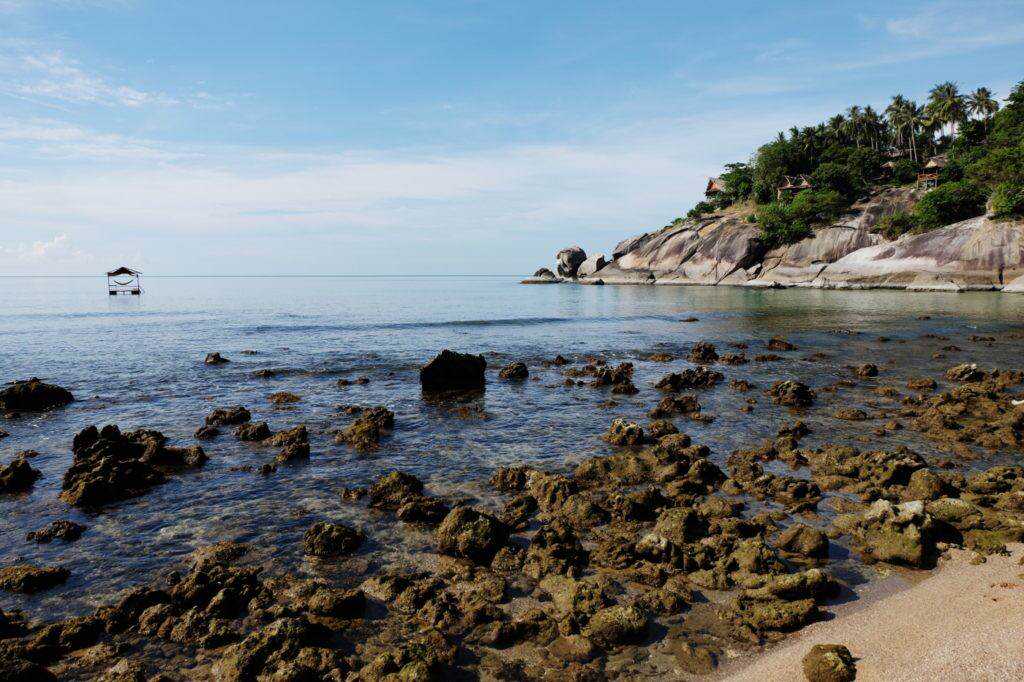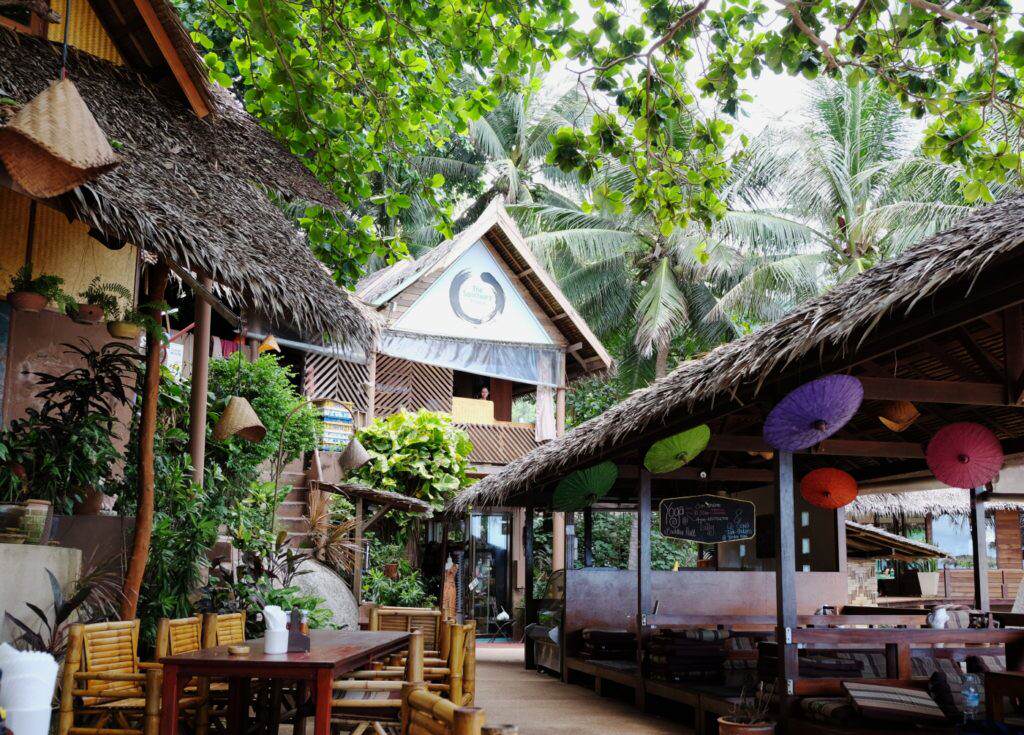 Benachbarte Strände | Adjoined beaches
Neben Yoga, Pilates, Entgiften, Fasten oder Schlemmen lohnt sich ein Abstecher zu den benachbarten Buchten und Stränden:
Besides yoga, pilates, detox, fasting or feasting it is worth to visit the adjoined bays and beaches:
Haad Yuan
10 Minuten Fußweg entfernt von Haad Tien liegt der lang gezogene Sandstrand Haad Yuan, der über einen kleinen Hügel vom The Sanctuary aus zu erreichen ist. Folgt einfach den Schildern Richtung "Eden Bar".
10 minutes by foot from The Sanctuary you will find the long streched sandy beach of Haad Yuan. It is reachable by a small path over a hill. Just follow the signs for "Eden Bar".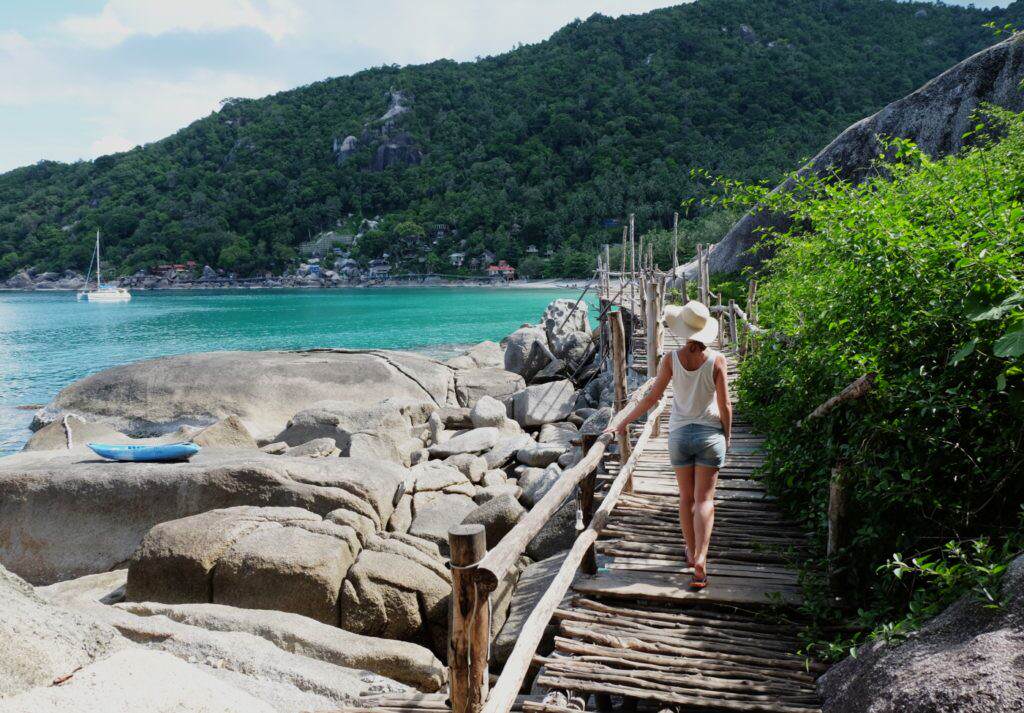 Hier ist etwas mehr los als in Haad Tien. Ihr findet hier ein paar Bars und Restaurants, ebenso einen kleinen Shop.
Over there some more bars and restaurants are located. So it´s a little more lively.
Why Nam Beach
Nur 5 Minuten in entgegengesetzter Richtung erstreckt sich die Bucht von Why Nam. Folgt einfach dem Pfad an der "Guy´s Bar" vorbei, der euch ebenfalls über einen kleinen Hügel bringt.
Only 5 minutes, in opposite direction you will find the hidden bay of Why Nam. Just follow the path, passing "Guy´s Bar", which will also take you across a small hill.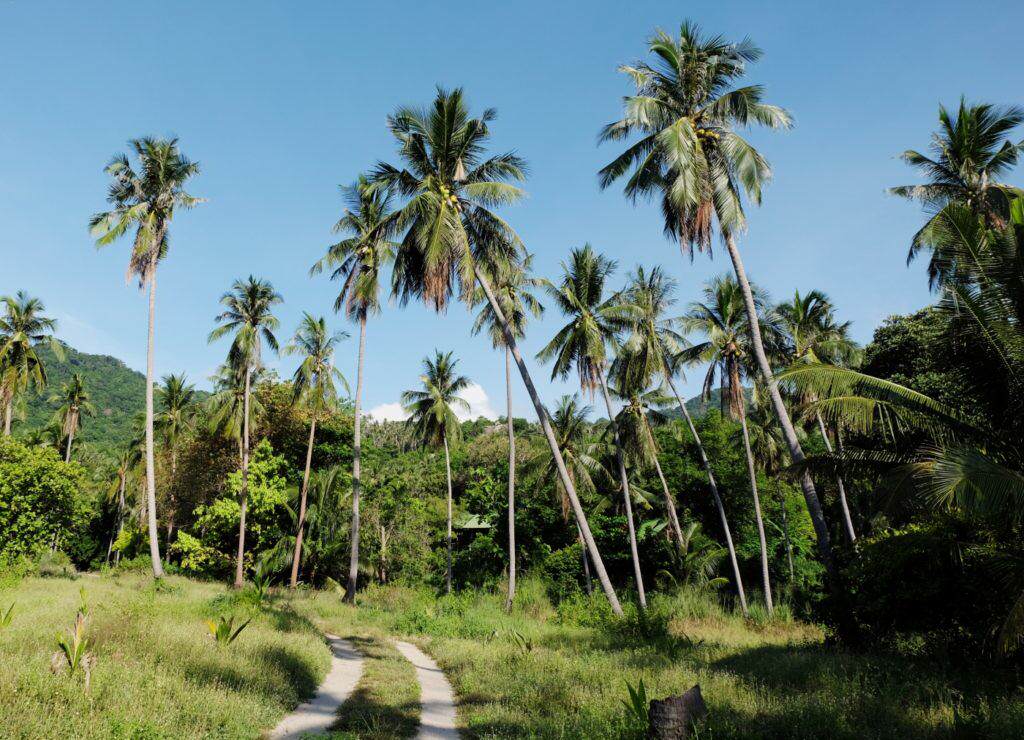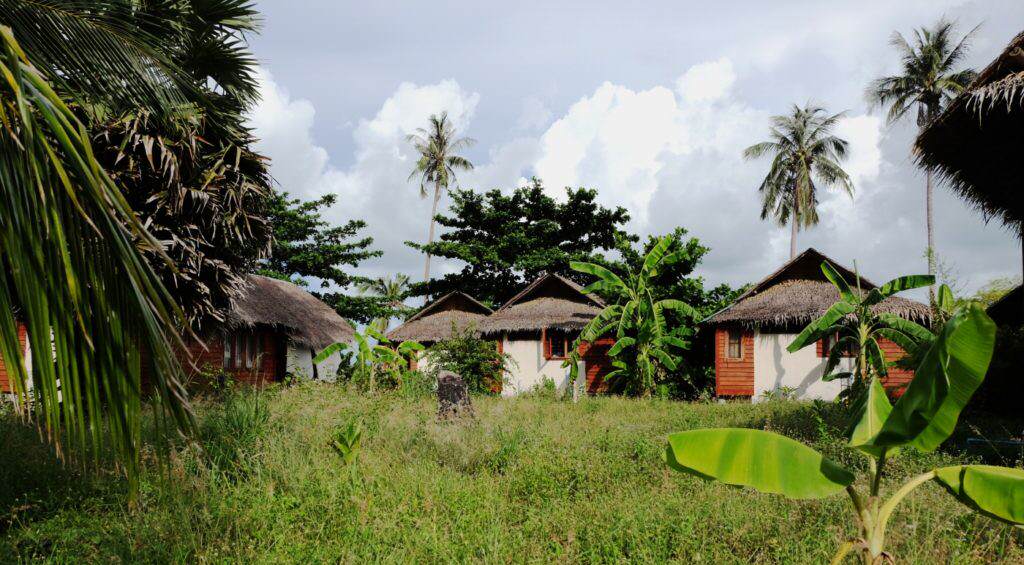 "Guy´s Bar" ist übrigens der Tipp für eine kleine Rave-Party jeden Freitag. Legendär vor allem, weil die Party 12 Stunden dauert. Also entweder hingehen, oder gute Oropax parat haben. 🙂
By the way: "Guy´s Bar" is a legendary spot every Friday night as they have a small rave party, lasting 12 hours until the next day. If you don´t decide to go there, you should take some good earplugs with you.

Diese Bucht ist mein absoluter Lieblingsstrand, da ich hier an dem ein oder anderen Nachmittag komplett alleine liege und die Sonne genießen kann.
This bay is my absolute favorite, because on some days I was the only person enjoying the sun.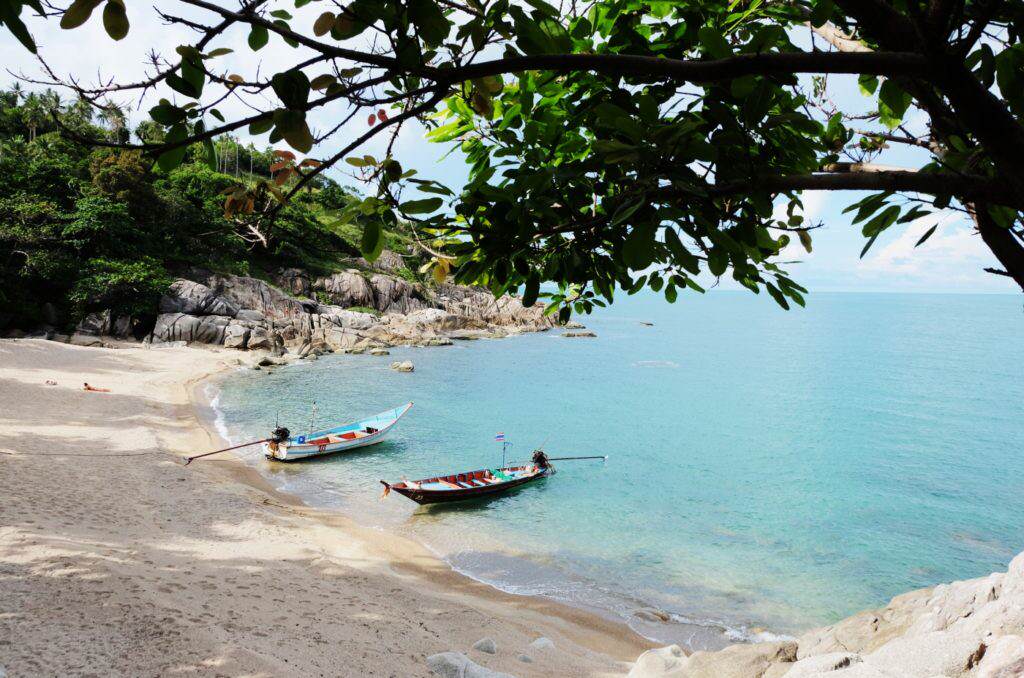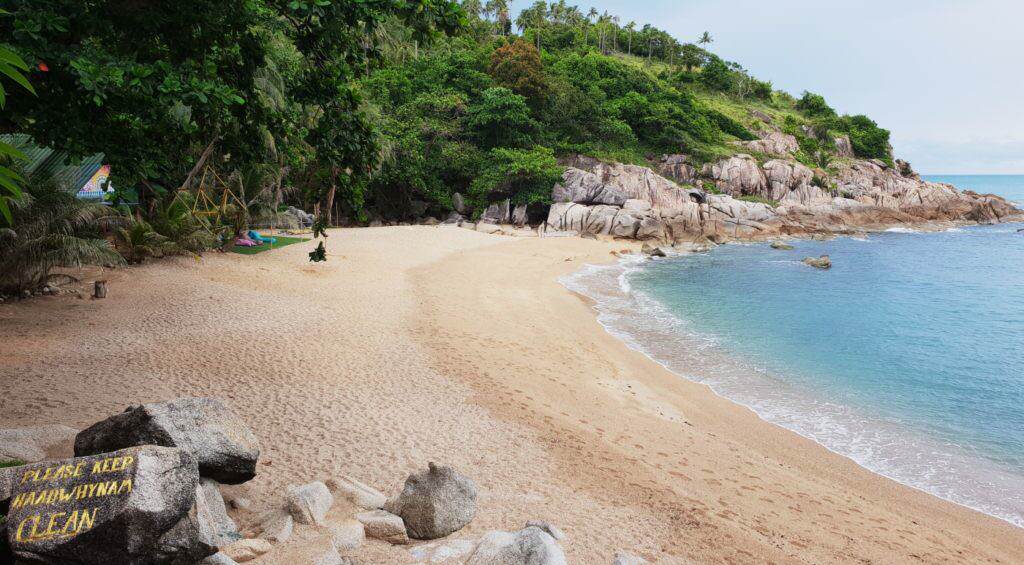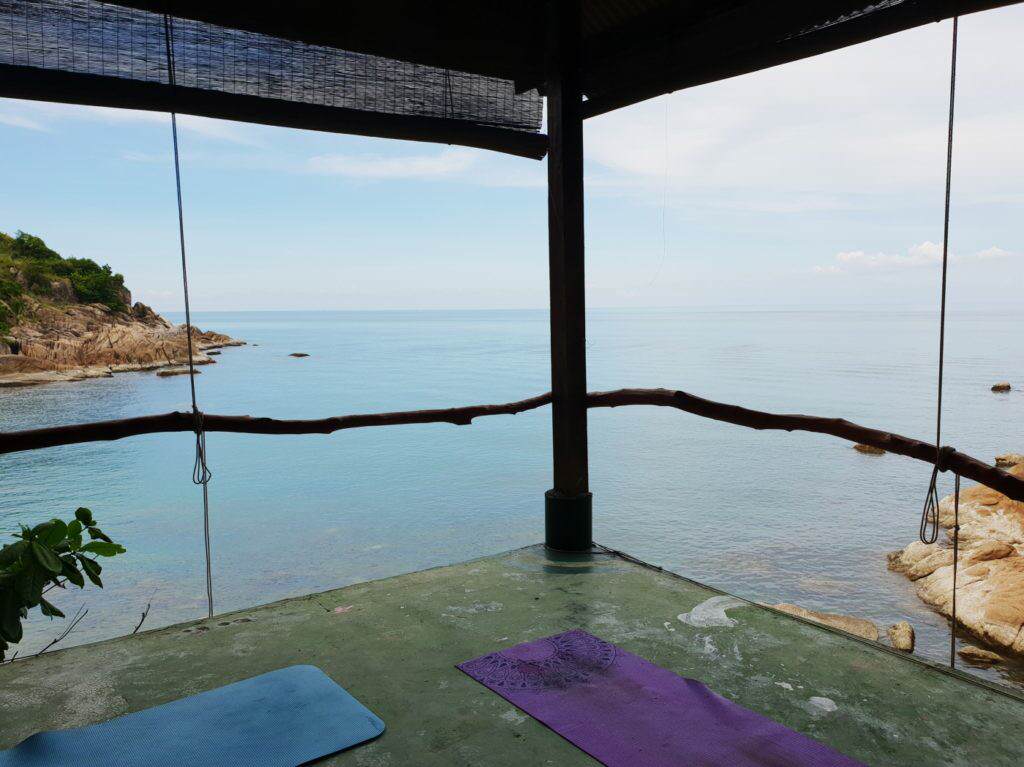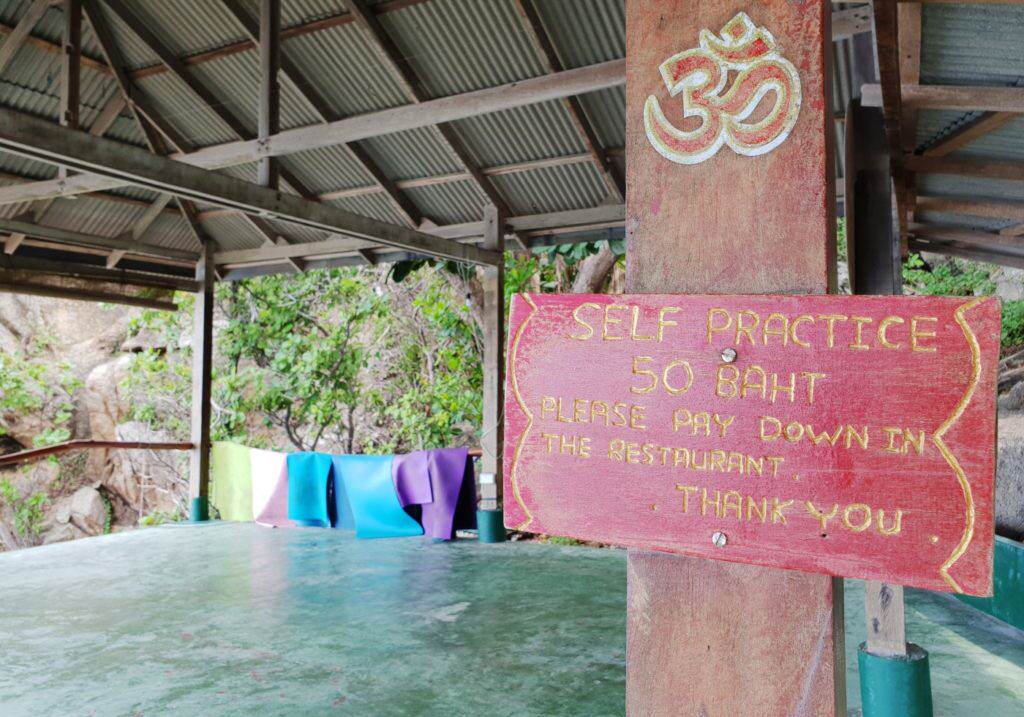 Lost Paradise
Wer einen Strandbesuch mit einer kleinen Wanderung verbinden möchte, kann den ca. 1,5 stündigen Fußmarsch zum Anlass nehmen in das wahre und ursprüngliche Koh Phangan einzutauchen. Durch teils dichtes Gras und Palmen gesäumte Buckelpisten führt dieser schweißtreibende Weg schließlich zu einem lang gestreckten weißen Sandstrand, den ihr mit etwas Glück ganz für euch alleine habt. Denn außer einer Bar und einem nur zum Teil fertig gestellten Resort gibt es hier nichts außer Sand und Palmen.
Anybody, who is keen on combining a beach visit with a hike of 1,5 hrs, can take it as a opportunity to dive into the real and original-kept Koh Phangan. The walk towards Lost Paradise leads you through high grass and with palmtrees lined moguls, before you reach the elongated white sandy beach. If you are lucky, you don´t have to share it without other people, because besides one bar and a not-finished resort there is nothing going on here.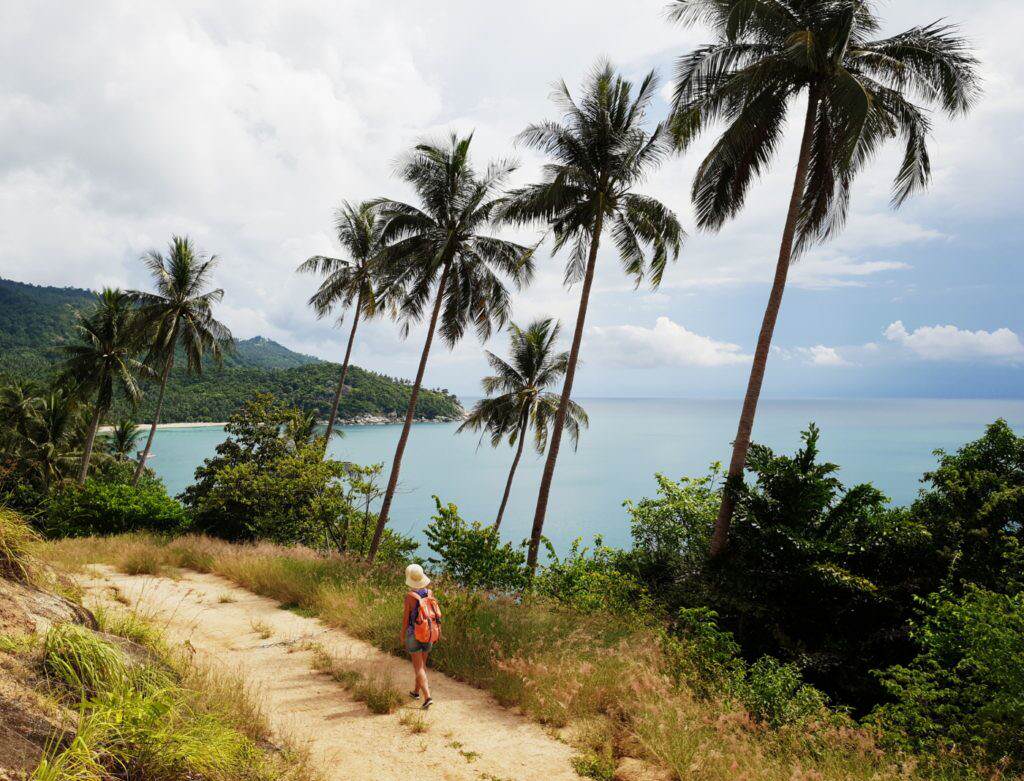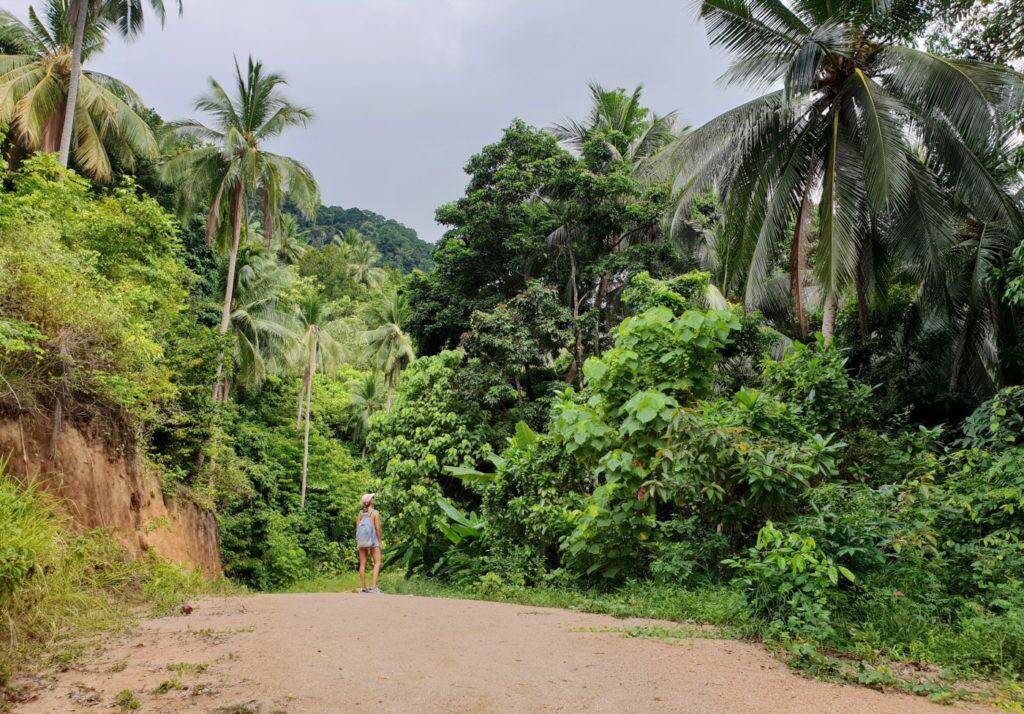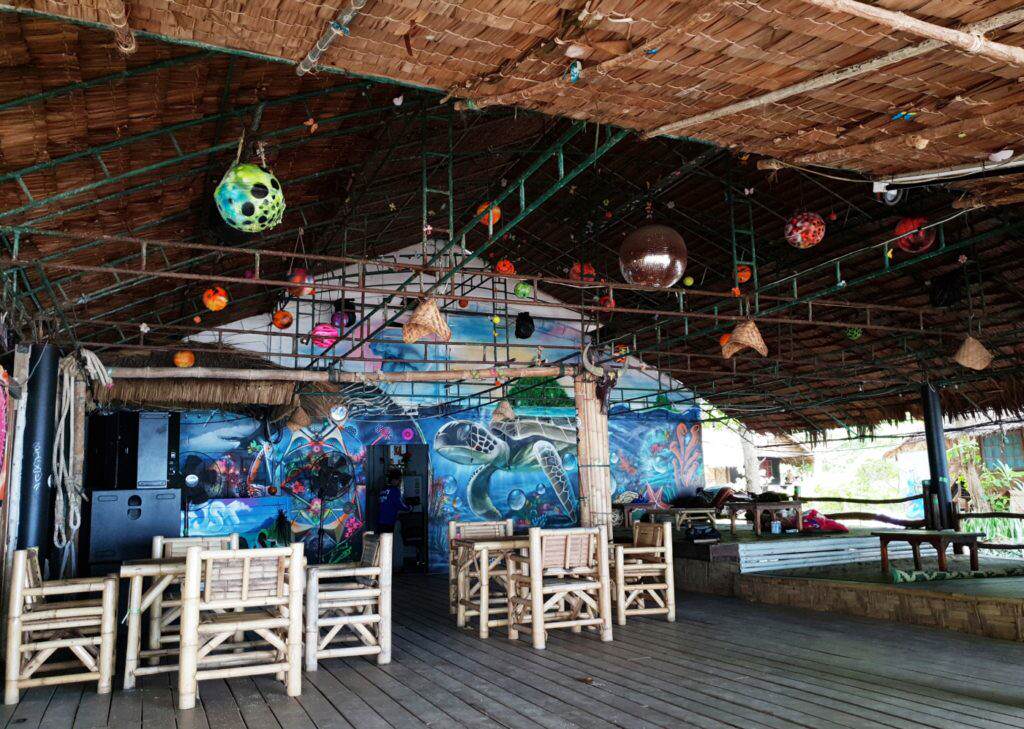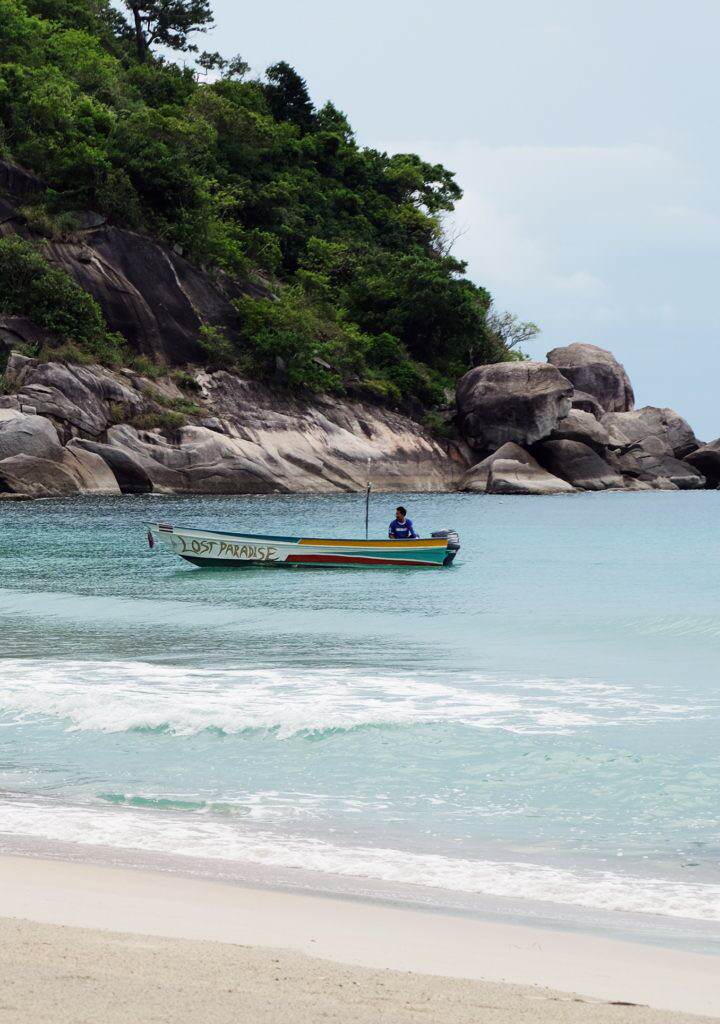 Und dann ist da noch May | And then there is this lady called May
Wenn ihr einmal eine ganz spezielle Massage erleben wollt, dann besucht May! Denn es gibt einen Grund, warum May kein offiziell ausgeschriebenes Massagestudio hat und dennoch sogar in der Nebensaison Tage im Voraus ausgebucht ist: Nur vier Slots hat sie täglich zur Verfügung, denn eine Massage bei ihr dauert mindestens zwei Stunden und dabei nimmt sie sich so viel Zeit wie jeder einzelne benötigt. So kann es schon einmal passieren, dass ihr noch eine Stunde warten müsst, bis ihr für euren Termin tatsächlich an der Reihe seid.
If you ever wanted to experience a really special massage, you should visit May. There is a reason, why, even without even having a officially signed massage studio, her appointments are booked up for days, even in low season: She offers only four slots a day, because a massage at May will at least take two hours. And she will definitely take all the time everybody needs to be treated. So it can happen that you have to wait for one more hour until your appointment actually starts.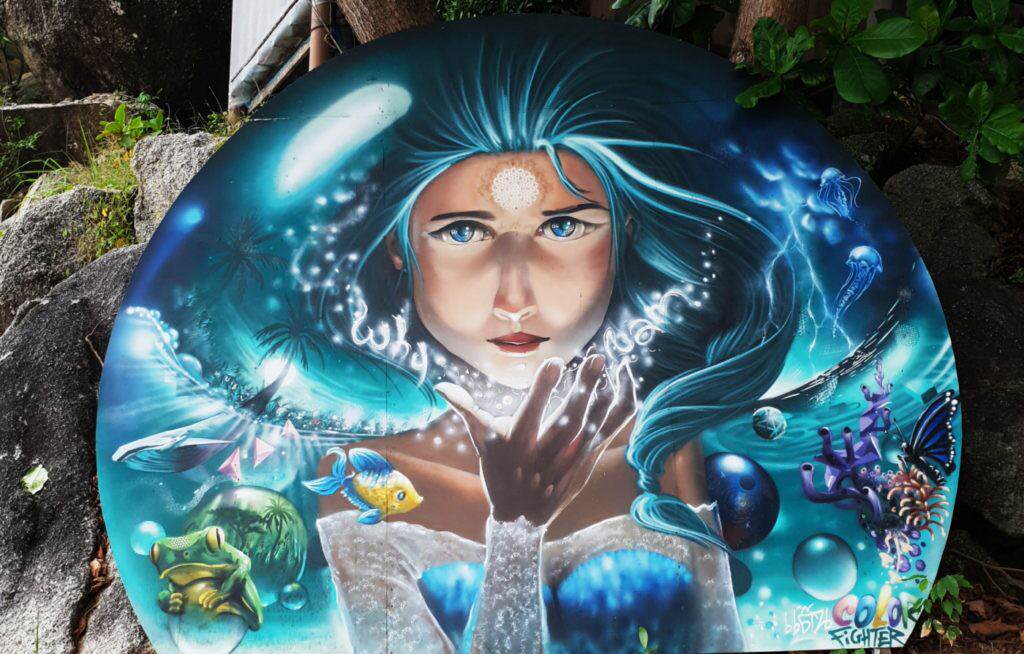 Die Massage bei May ist deshalb so besonders, weil ihr ein ca. 1 stündiges Gespräch voraus geht, bei dem sie anhand eures Namens und Geburtsdatums diejenigen Chakras (Energiezentren) ausmacht, die euren Körper beeinflussen und euch Tipps gibt, wie ihr zur inneren Ruhe findet. Man hört auch Geschichten, May habe schon Leute behandelt, denen sie dringend zu einem Arztbesuch riet und dieser sich dann als durchaus ausschlaggebend herausstellte.
The massage from May is that special, because there will be a conversation preceding the treatment. With the help of your name and birthday she will figure out the chakras (energy centers) influencing you most and give you hints how to find your inner peace. There are even stories saying that May recommended a doctor´s visit to some people, which was decisive to them.
Ich will nicht zu viel verraten. May ist keine Heilerin und schon gar keine Wahrsagerin, doch die Art und Weise, wie sie bei Charaktereigenschaften und Verhaltensweisen ohne jegliches Vorwissen ins Schwarze trifft, ist einfach faszinierend. Und die Massage, die danach folgt ist so intensiv, dass sich ein Besuch bei May auf jeden Fall lohnt, solltet ihr einen Termin ergattern. Fragt einfach im Café am Why Nam Strand nach ihr und habt etwas Bargeld dabei, um eine Anzahlung (200 Baht von insgesamt 800) machen zu können.
I don´t want to reveal more. May isn´t a healer or even a fortune teller, but the way how she hits the mark with some character traits and behavoirs without knowing anything of you, is really fascinating. And the massage followed is really intense, so May is really worth a visit, if you are able to get an appointment. To get one, just ask for her at the café of Why Nam beach and bring some cash to make a down payment (200 of 800 Baht).
---
The Sanctuary & Haad Tien Beach | Thai, Raw & Seafood Restaurant | Yoga, Wellness & Spa
Why Nam Beach | Haad Yuan | Lost Paradise
Offenlegung | Disclosure
Dieser Artikel ist in Kooperation mit The Sanctuary entstanden. Vielen Dank, dass ich das 10-Tage-Yoga-Paket in Kombination mit der 7-Tage-Rohfasten-Kur zu einem vergünstigten Preis genießen und somit das komplette Yoga- und Wellness-Angebot sowie die ausgezeichnete Küche genießen durfte. Der Artikel spiegelt dennoch meine unbeeinflusste Meinung wider. Gefunden habe ich The Sanctuary nach einiger Internet-Recherche auf meiner Suche nach dem perfekten Yoga-Retreat. Gestolpert bin ich schließlich über den Blog-Beitrag von Bridges & Balloons, der mich schließlich davon überzeugt hat, dass dies genau der richtige Ort für mich ist.
This article is the result of a collaboration with The Santuary Koh Phangan. Many thanks that I had the opportunity to enjoy a 10-days-yoga-holiday-package in combiation with the 7-day-raw-fast at a special price. So I had the opportunity to try the whole yoga- and wellness range at The Santuary including the excellent cuisine. Nonetheless this article reflects my uneffected opinion. I´ve discovered The Sanctuary during my research for the perfect yoga retreat and after reading the blogpost of Bridges & Ballons I was definitely convinced that this was the place I was searching for.