Sie klingen stimmungsvoll, mystisch und geschichtsträchtig: Himmelstempel, Platz des Himmlischen Friedens, Verbotene Stadt, Chinesische Mauer: Dies sind nur wenige, dafür aber umso bekanntere Sehenswürdigkeiten in Peking. Mit welchen Orten Chinas Hauptstadt sonst noch aufwartet und wie ihr die berühmten Sehenswürdigkeiten am besten genießen könnt, verrate ich euch hier:
What sounds atmospheric, mystical and full of history, are the most popular sights of Beijing: Temple of Heaven, Tian´anmen Square, Forbidden City, the Great Wall of China. But actually these are only some, of the most commonly visited sights of Chinas capital. Which sights Beijing has to offer in addition and how to enjoy the most popular ones, you can finde here:
---
What to see & Things to do in Beijing
#1 Himmelstempel | Tempel of Heaven
In der Südstadt Pekings liegt der Himmelstempel, eingebettet in eine große Parklandschaft, die vor allem in den Morgenstunden ihren Reiz hat, wenn sich die Bewohner Pekings zum gemeinsamen Tai Chi, Tanzen oder Singen treffen.
In Beijing´s South, embedded in a huge park, you can find the famous Temple of Heaven. The park itself is most charming in the early morning hours, when the locals meet for tai chi, dancing or singing.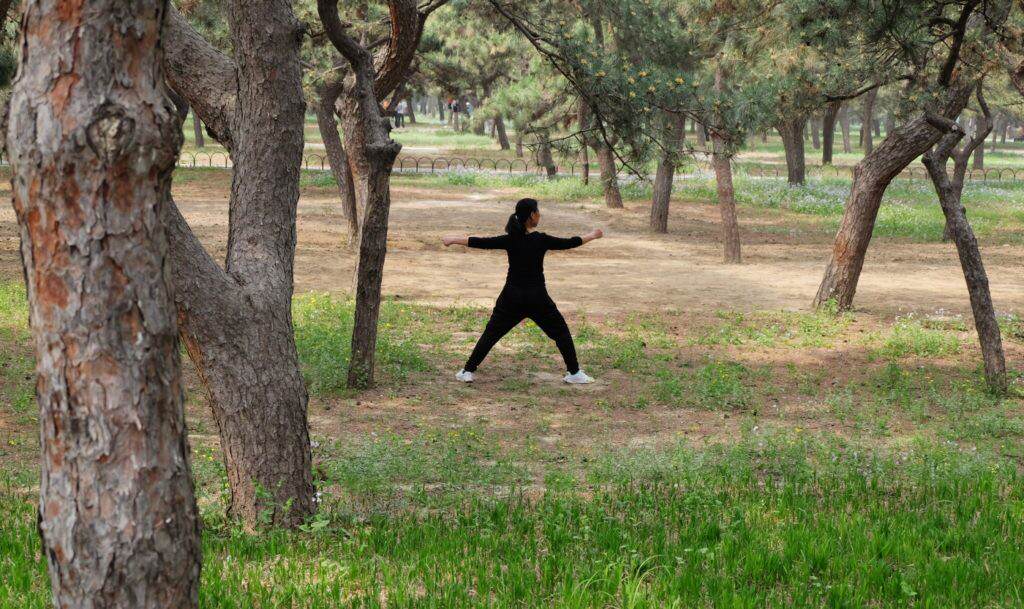 Dann liegt auch das Weltkulturerbe selbst noch in magischer Stimmung. Und wer es, anders als die meisten chinesischen Besucher, in Erwägung zieht ein paar Schritte links oder rechts zu gehen, hat die Chance auf fast menschenleere Fotos.
By then the World Heritage Site still lies in a magical athmosphere. And if you are (unusual for Chinese tourists) keen on walking some steps to the left or right and have a look around some corners, you will have the chance of getting some almost deserted pictures.
Fun Fact: Chinesische Touristen fotografieren meist alles frontal und gehen (wie vor allem in der Verbotenen Stadt mittig, um es dem Kaiser gleichzutun). Am Rand lassen sich somit am leichtesten die großen Touristengruppen umgehen.
Fun fact: Chinese tourists mostly capture sights full frontal and tend to walk in the middle (especially in the Forbidden City likewise the emperor did in earlier days).To avoid the big tourists groups it´s always worth to step aside.
Der Himmelstempel ist nicht nur beliebtes Fotomotiv, sondern auch herausfordernde Zeichenkulisse.
The Temple of Heaven isn´t only a popular photospot, but also a challenging drawing backdrop.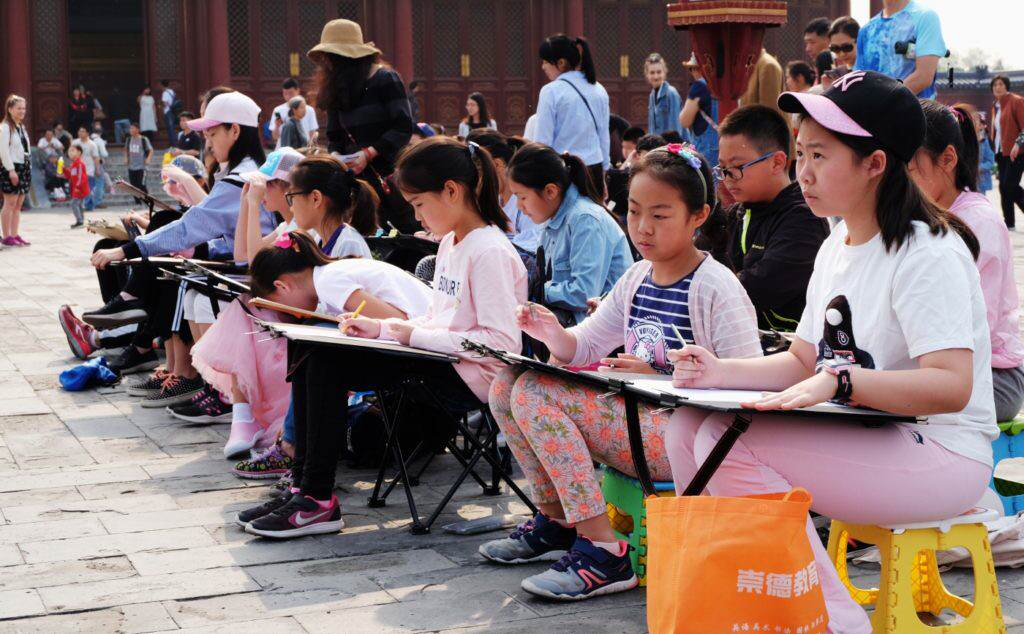 #2 Platz (am Tor) des Himmlischen Friedens | Tian´anmen Square
Der Platz (am Tor) des Himmlischen Friedens ist wohl einer der bekanntesten Orte und mit einer Fläche von 440.000 Quadratmetern der größte befestigte Platz weltweit. Umrandet wird er von monumentalen Gebäuden wie der Großen Halle des Volkes im Westen oder dem Chinesischen Nationalmuseum im Osten, sowie dem Tor des Himmlischen Friedens im Norden, das den Eingang zur Verbotenen Stadt bildet. Die "Überquerung" des Platzes solltet ihr aufgrund der Größe selbst und wegen des Anstehens vor den Sicherheitskontrollen zeitlich nicht unterschätzen. Wer den Himmelstempel, den Tian´men Platz und die Verbotene Stadt in einem Rutsch besichtigen will, sollte dafür unbedingt den kompletten Tag einplanen!
Tian´anmen Square for sure is one of the best known and with 440.000 square metres the largest public square worldwide. It is surrounded by monumental buildings, such as The Great Hall of the People in the West or the National Museum of China in the East as well as the Gate of Heavenly Peace in the North, which marks the entrance to the Forbidden City. Crossing Tian´anmen Square takes some time, due to the huge size and queing for the security controls. If you want to visit Temple of Heaven, Tian´anmen Square and Forbidden City in one go, you should plan in a whole day for it.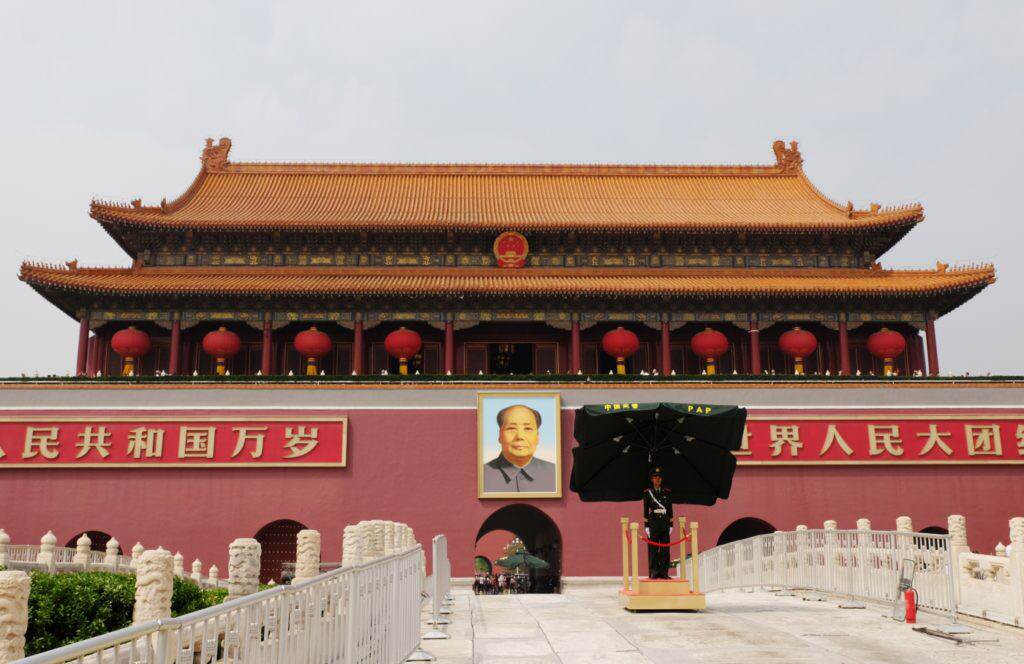 #3 Verbotene Stadt | Forbidden City
Mehr als 500 Jahre blieb der einfachen Bevölkerung der Zutritt zum ehemaligen Kaiserpalast verwehrt, was den Namen Verbotene Stadt erklärt. Seit 1987 UNESCO Weltkulturerbe ist die Verbotene Stadt heute eine der meistbesuchten Sehenswürdigkeiten von Peking. Auch wenn die Tore erst um 8.30 Uhr geöffnet werden, ist bereits ab 7 Uhr morgens Schlangestehen angesagt, um Tickets zu ergattern. An besonders geschäftigen Tagen kann es auch vorkommen, dass die 80.000 Tages-Tickets bereits am Vormittag ausverkauft sind. So ging es uns beispielsweise am langen Wochenende rund um den 1. Mai.
For more then 500 years the former Emperor´s palace was off limits for the "normal population", which explains the name Forbidden City. Since 1987 the Forbidden City is claimed as UNESCO World Heritage Site and nowadays it is one of the most visited sights of Beijing. Even if doors only open at 8.30am, people start lining-up from 7am onwards to get tickets. Especially on busy days the 80.000 daily tickets might be sold out until midday – happenend to us on the weekend around Labour Day (May 1st).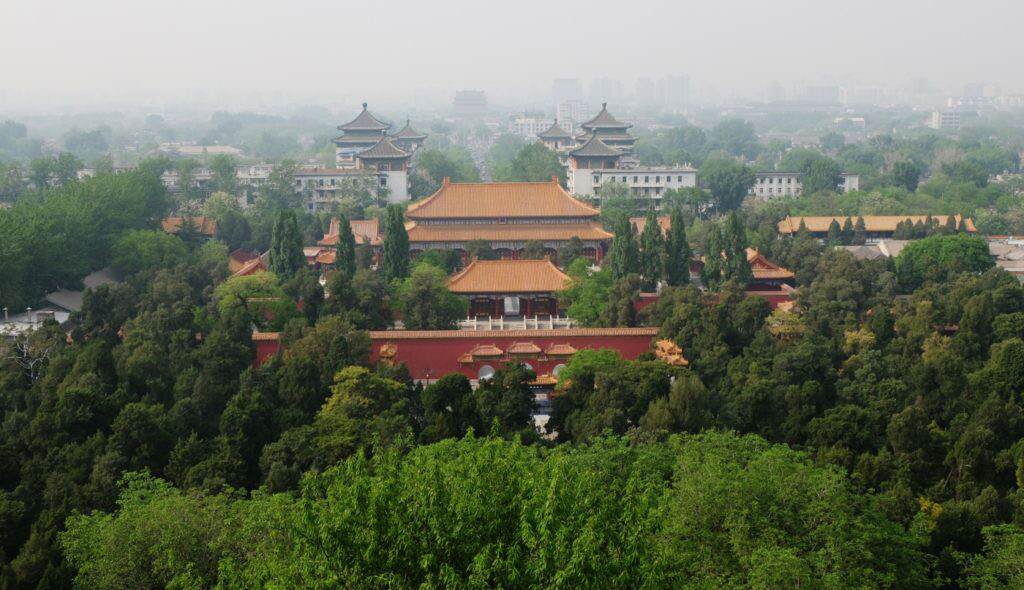 Aber auch von oben lässt sich die Verbotene Stadt bewundern: Der Jingshan Park am nördlichen Ende eröffnet nicht nur schöne Spaziermöglichkeiten, sondern auch einen faszinierenden Ausblick. Von hier werden die Dimensionen dieser "Stadt innerhalb der Stadt" vielleicht sogar noch deutlicher sichtbar!? Wir sparen uns den Besuch der Verbotenen Stadt für die nächste Peking-Reise auf.
But you can also overlook the Forbidden City: Jingshan Park in the North provides nice walks and a great view. And from up the hill the dimensions of this " city within the city" might become even more tangible!? So we save the visit within the walls for our next trip to Beijing.
#4 Chinesische Mauer | Great Wall of China
21.196,18 km lang und während verschiedenster Epochen errichtet, schlängelt sich die Chinesische Mauer, oder besser gesagt viele einzelne Abschnitte, durch weite Teile des Landes nördlich von Peking. Somit ergeben sich unzählige Möglichkeiten diese Grenzbefestigung zu besichtigen, die einst zum Schutz des Chinesischen Kaiserreiches vor den nomadischen Reitervölkern aus dem Norden gebaut wurde. Von einem Halbtagsausflug ab Peking bis hin zu mehrtägigen Wanderungen auf unrestaurierten und damit wenig besuchten Stücken ist alles möglich. Unsere Tour zur Chinesischen Mauer, die zu den 7 Neuen Weltwundern zählt, könnt ihr hier nachlesen.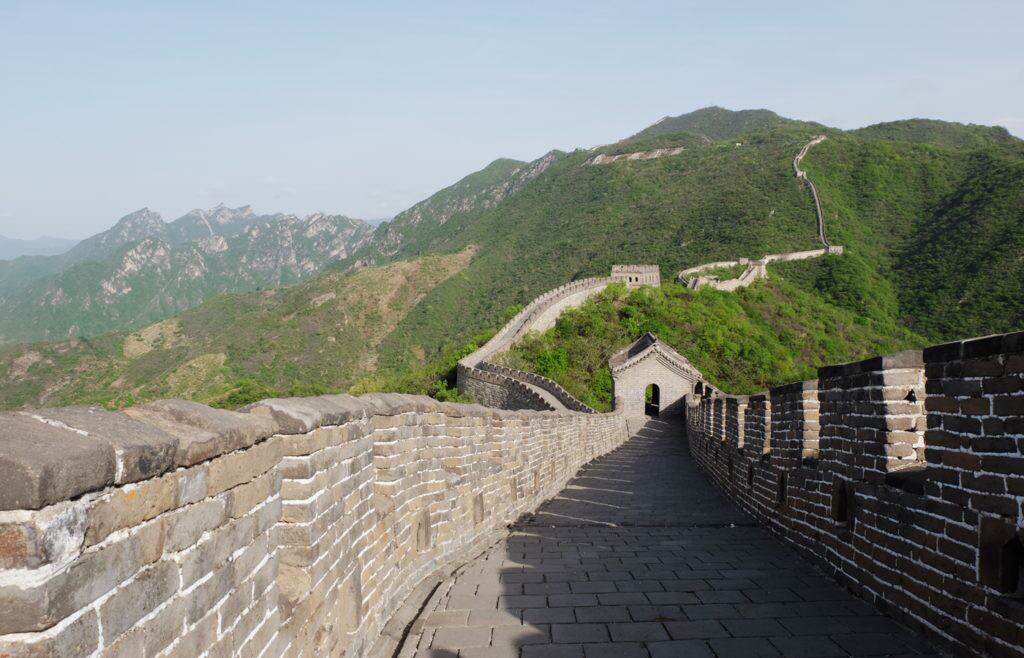 21.196,18 km long and built during different dynasties, the Great Wall of China, or better to say different sections of it, wind through large parts of the country North of Beijing. So there are unlimited options to visit this boarder fortification, which was once constructed to secure the Chinese Empire from nomadic horse folks threatening China from the North. You can either jump on a half-day tour from Beijing or hike the more remote parts of the Great Wall for several days. Our tour to the Great Wall of China, one of the ´New 7 Wonders of the World´, deserves being covered in a separate BlogPost.
#5 798 Art District
Der 798 Art District liegt zwar etwas außerhalb des mit historischen Sehenswürdigkeiten bestückten Stadtkerns, ist aber dennoch einen Besuch wert. Das riesige Areal aus ungenutzten Fabriken wurde seinerzeit von noch 'ost'-deutschen Einwanderern errichtet und bietet heute die höchste Konzentration an zeitgenössischen Kunstateliers. Auch die politisch und sozial engagierten Gao Brüder haben hier ihre Werkstatt.
Even if the 798 Art District is located a bit little outside the city center, where you find all the historic sights, it is definitely worth a visit. The vast area of unused factories was built by some formerly 'East' German immigrants and offers the main concentration of contemporary art galleries in Beijing. Also the politically and socially engaged Gao Brothers have their workspace here.
Verglichen mit dem M50 in Shanghai ist dieses Areal riesig und man kann locker mehrere Stunden mit Bummeln, Fotografieren oder Kaffee trinken verbringen. Und tatsächlich: Einiges erinnert hier an Berlin und seine urbanen Ecken.
Compared to the M50 in Shanghai this area is huge and you can easily spend hours exploring, taking pictures or having coffee. And indeed: Some corners really remind me of Berlin's unique urban flair.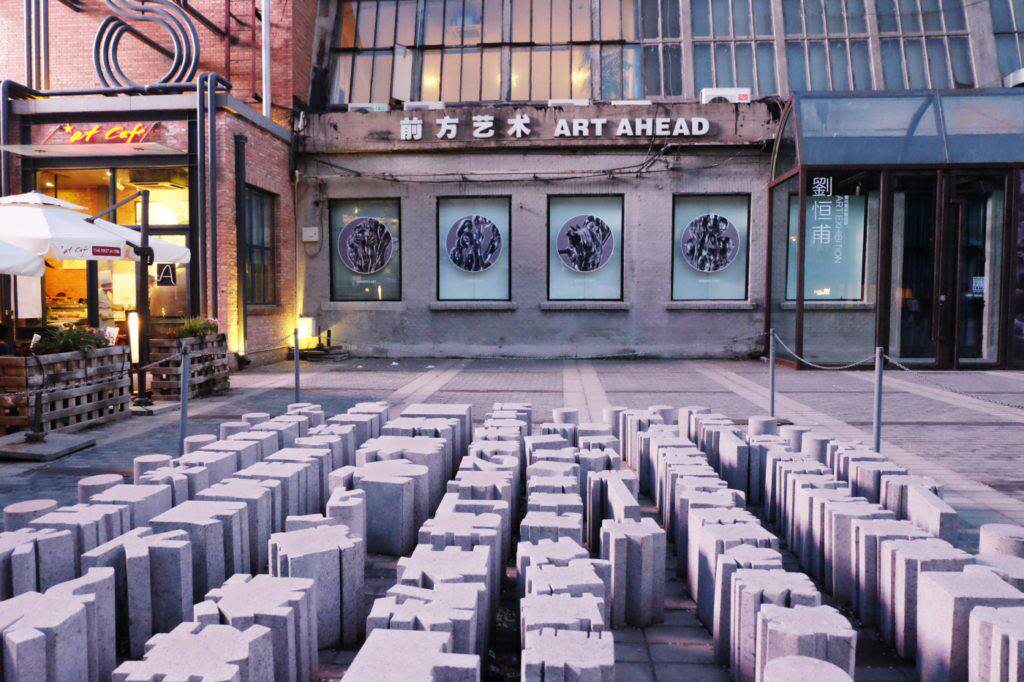 Vor allem für Fotoshootings beliebt ist diese Ecke Pekings: Hochzeitspaare, junge Hipster und Peking-Besucher posieren vor Graffiti-Wänden, alten Fabrikfassaden und auf stillgelegten Bahngleisen.
Especially popular for photo shootings: wedding couples, young hipsters and Beijing visitors come and choose to pose in front of graffiti walls, old factory facades and on abandoned railtracks.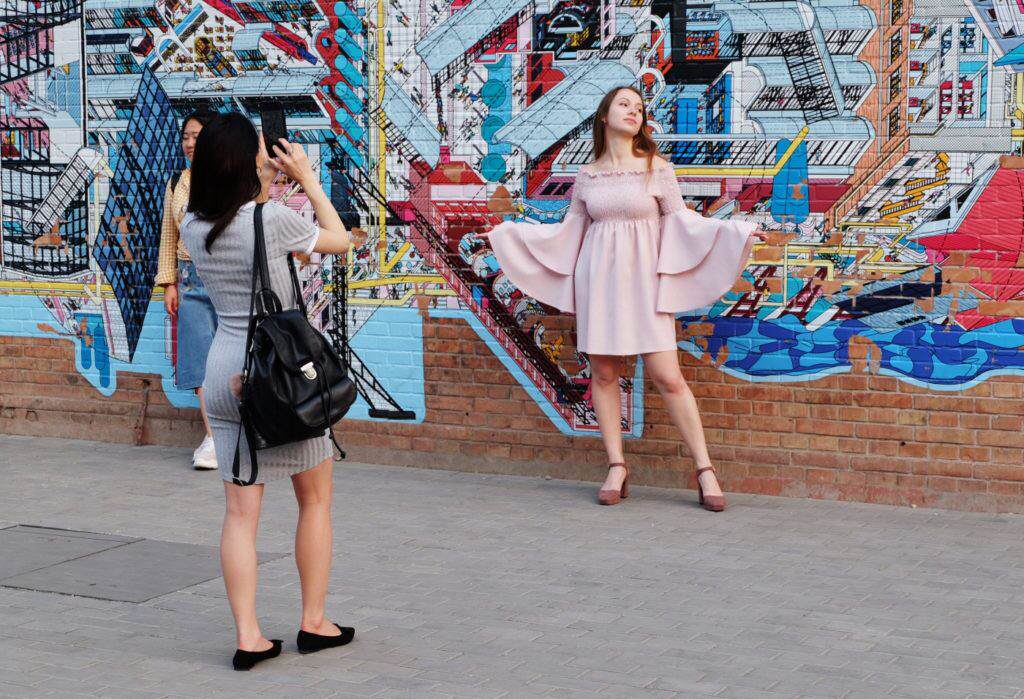 #6 Typisch chinesische Wohnviertel | Hutongs
Die typischen engen Gassen (Hutongs genannt) mit ihren flachen, meist nur einstöckigen Wohnhäusern und geschwungenen Dächern symbolisieren das traditionelle Peking. Bis in die 1990er Jahre war das Stadtbild größtenteils von diesen traditionellen Wohnsiedlungen geprägt. Dem Bauboom geschuldet verschwinden die Hutongs immer weiter, um modernen Hochhäusern Platz zu machen. Sie teilen das Schicksal der Shikumen-Siedlungen von Shanghai. Wie Tianzifang in Shanghai sind einige Hutongs mittlerweile Besuchermagnet. Und auch hier gilt: Immer mit dem nötigen Respekt den Anwohnern gegenüber sollte man es sich nicht entgehen lassen diese traditionellen Gassen Pekings zu besuchen – denn wer weiß wie lange es sie noch gibt.
The narrow alleys (called Hutongs) with their shallow, mostly one story high residential buildings and curved roofs symbolize the traditional Beijing. Until the 1990's the cityscape was mainly characterized by these traditional settlements. Due to the construction boom lots of Hutongs have already disappeared and got replaced by modern high-rise buildings and compounds, offering much more (vertical) space. So they actually share the same fate like many Shikumen settlements in Shanghai. And of course, similar to Tianzifang in Shanghai, some Hutongs nowadays are popular visitors' magnets. Always respecting the residents' privacy I would highly recommend to visit a Hutong, you never know for how long they will still be existing.
#7 Modern architecture: Galaxy Soho, CCTV Tower & Bird´s Nest
Auch Freunde der Architektur kommen in Peking auf ihre Kosten: Moderne Wolkenkratzer ziehen sich durch die komplette Stadt und überall sprießen stets neue moderne Bauten aus dem Boden. Für das Galaxy Soho, designt von der gefeierten britisch-irakischen Architektin Zaha Hadid (1950 – 2016) musste leider teilweise das angrenzende Hutong weichen.
Also architecture lovers will find their places in Beijing: Modern high-rise buildings pop out of the cities skyline everywhere. For the iconic Galaxy Soho, designed by the acclaimed British-Iraqi architect Zaha Hadid (1950 – 2016), the adjoining Hutong unfortunately had to be cleared partly.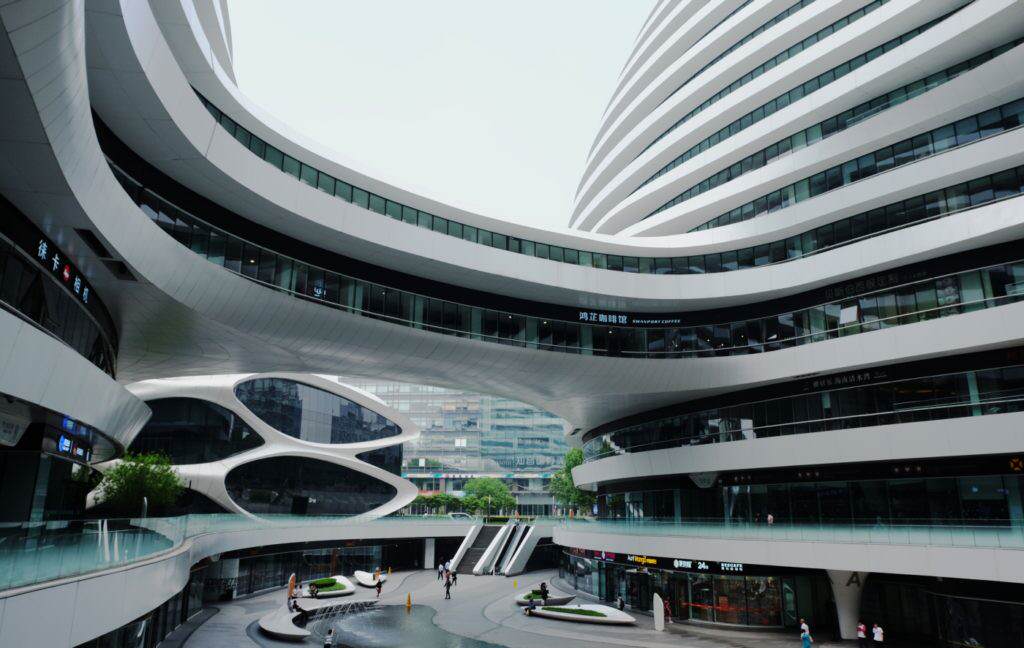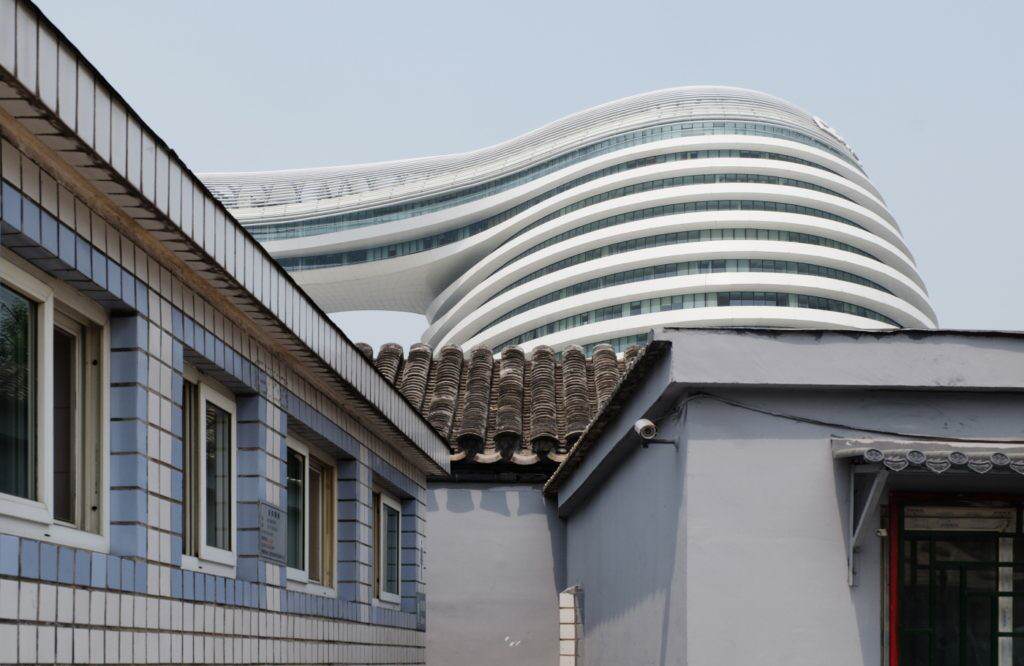 Für die Errichtung des CCTV Tower (auch als Big Pants = Große Hose bekannt) an der Dongsanhuan Zhonglu, der meist befahrenen Straße Pekings, war eine spezielle Bauweise nötig, um das Gebäude überhaupt stabilisieren zu können. Der Hauptsitz des Chinesischen Staatsfernsehens ist definitiv eines der visuellen Statements des modernen Peking.
Talking of icons, to build the CCTV Tower (also known as 'Big Pants'), located along the mostly frequented road in Beijing Dongsanhuan Zhonglu, a special engineering method had to be used in order to stabilize cover static requirements. The CCTV Headquarters (Chinese state owned television) are definitely one of the visual statements of modern Beijing.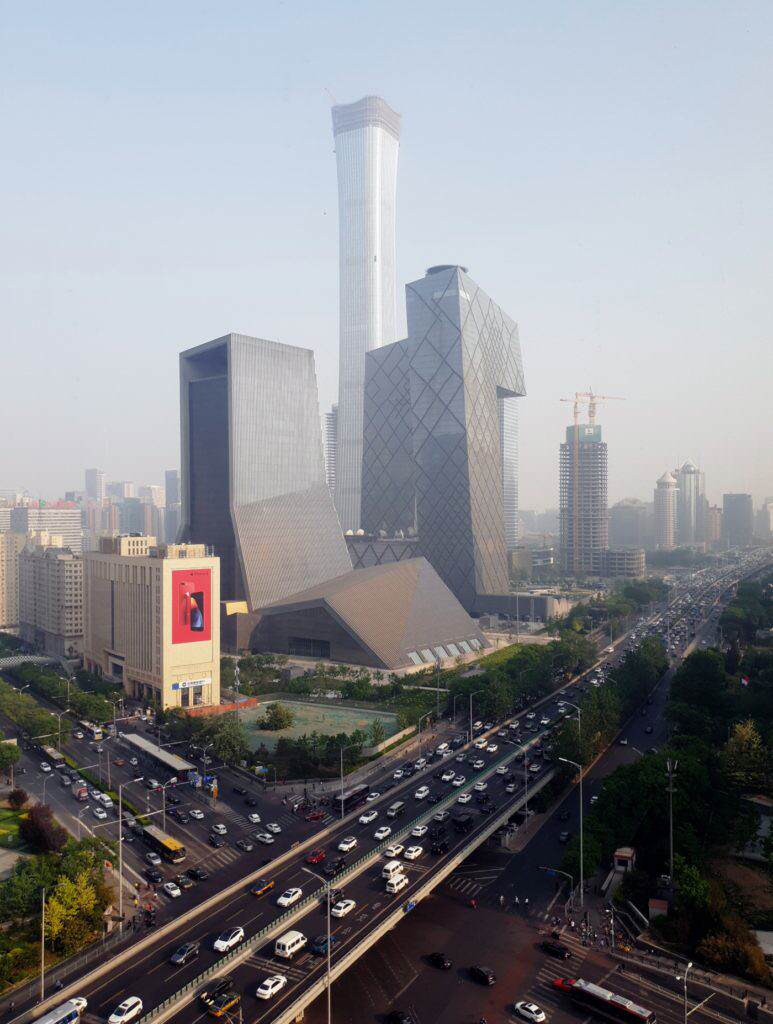 Das Nationalstadion, das eigens für die Olympischen Sommerspiele 2008 gebaut wurde, lohnt vor allem abends einen Besuch, wenn das sogenannte Vogelnest (Bird´s Nest) beleuchtet ist und die einmalige Konstruktion zum Vorschein kommt.
The National Stadium, which has been built for the Olympic Summer Games in 2008 is best visited in the evenings, when the Bird´s Nest is illuminated and its unique construction gets highlighted.
#8 Beihai Park
Wer etwas Erholung sucht, findet diese in vielen Gärten, die in Peking verstreut sind. Der Beihai Park, auch bekannt als der 'Nordsee' liegt nordwestlich der Verbotenen Stadt, lädt zum Spazieren oder Tretbootfahren ein. Ein Besuch lohnt nicht nur, um die Weiße Pagode zu bestaunen. Der Beihai Park zählt zu den ältesten, größten und best-erhaltenen alten Kaisergärten Chinas.
Everybody who is looking for some relaxation during a long sightseeing day, will find space to exhale in one of the various parks spread out over Beijing. Beihai Park, also known as "North Sea" is located Northwest of the Forbidden City. You can either go for a walk or rent a pedal-boat. The Beihai park is worth a visit, not only to marvel at the White Pagoba. It is one of China's oldest, largest and best-preserved ancient Imperial gardens.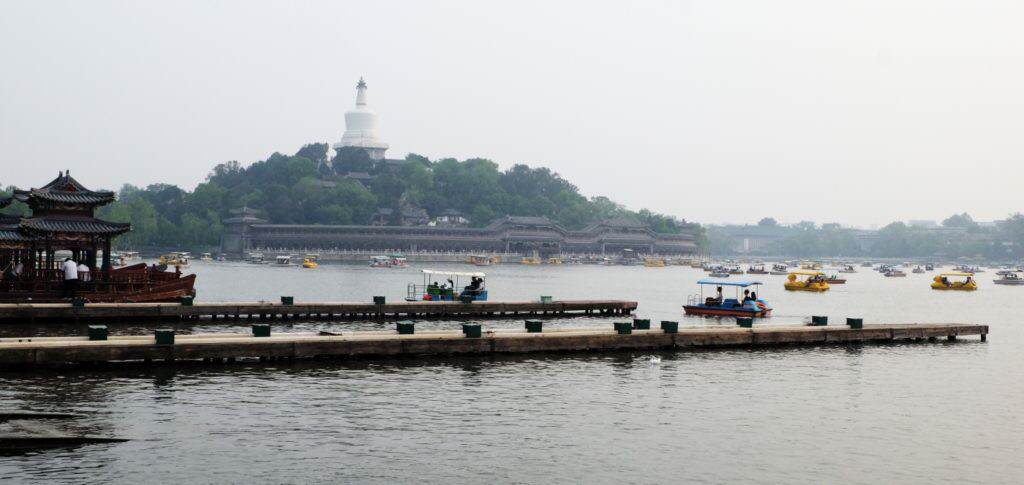 #9 Eat the Capital´s signature dish: Peking Duck
Was wäre ein Besuch in Peking, ohne die für die Stadt typische Spezialität probiert zu haben? Möglichkeiten Peking-Ente zu essen gibt es genügend und wer letztendlich die Beste zubereitet, darüber lässt sich ja bekanntermaßen streiten. Nachdem ich vorher noch nie original Peking-Ente gegessen hatte, sind noch einige Vergleiche nötig, um mir ein Urteil bilden zu können. Doch eins steht fest: Der spezielle Geschmack entsteht durch das Aroma des Holzes, in dessen Rauch die Peking-Ente zubereitet wird. Probiert haben wir zwei Varianten:
There is no visit to Beijing without having tasted the Capital´s signature dish: Peking Duck. Of course you will find countless options to try and the prestigious competition, which restaurant serves the city's finest is constantly high. But as taste differs and for me it has been the very first time to have an original Peking Duck, I cannot make a final judgement yet. But one thing is for sure: The special aromatic flavor of the crisp skin and the tender meat is influenced by the aroma of the wood, in which the duck is prepared. During our visit to Beijing we enjoyed two versions: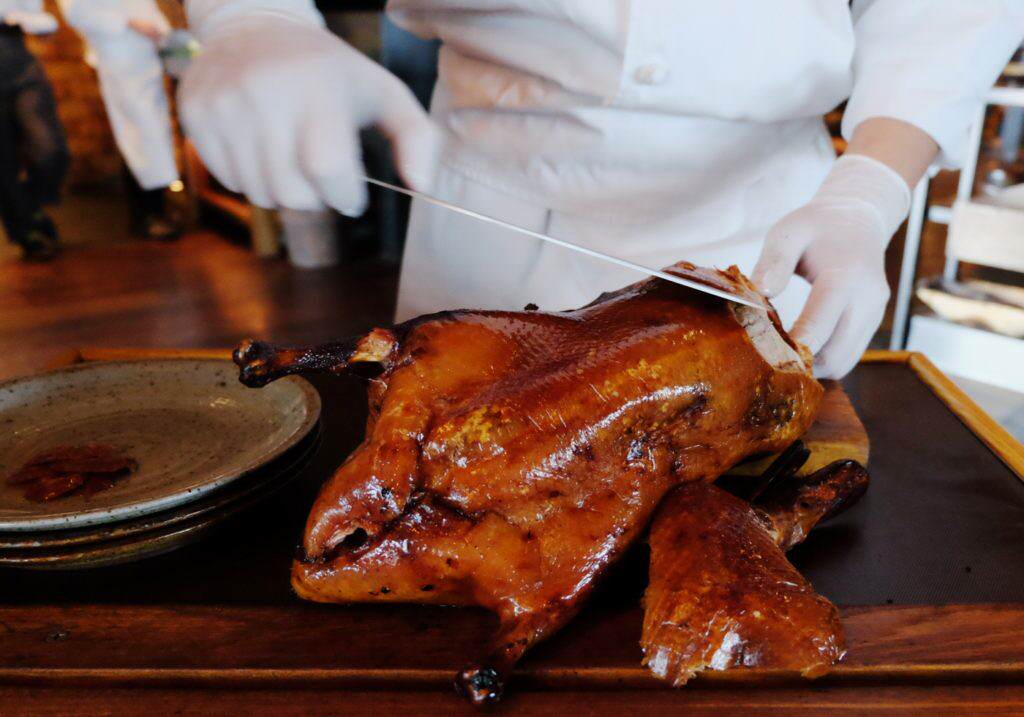 Peking-Ente im Restaurant Country Kitchen des Hotels Rosewood Beijing, das für originalgetreu zubereitete Gerichte und Rezepturen aus unterschiedlichen nördlichen Landesteilen bekannt ist. Hier werden bereits verlorene geglaubte Rezepte wieder aufleben gelassen und traditionell zubereitet, ganz ohne Shi-Shi. Der perfekte Ort um meine allererste Peking-Ente überhaupt zu genießen – zusammen mit weiteren chinesischen Köstlichkeiten, wie Gungbao Chicken mit getrocknetem Chili, Ingwer und Erdnüssen, Jing Dong Rou Bing (chinesische Fleisch-Pfannkuchen), Pot Stickers (frittierte Dumplings) oder Spinat-Blätter in Sesam-Sauce. Ein wahres Fest für den Gaumen und die ultimative Gelegenheit Chinas Küche mit all ihren Facetten kennen zu lernen.
I get to try my very first Peking Duck ever in the restaurant Country Kitchen of the Rosewood Beijing Hotel, together with lots of different dishes from different parts of Northern China, such as "Gungbao Chicken" featuring dried chillis, ginger and peanuts, "Jing Dong Rou Bing" (Chinese meat pancakes), "Pot Stickers" (pan-fried dumplings) or Spinach leaves in sesame sauce. The Country Kitchen is well known for its authentically prepared delicacies and bringing back "lost recipes", which were re-discovered and get a modern twist on its tables. Everything here gets cooked the traditional way without adding too much "shi shi". So the restauant is one of your best choices to enjoy the taste of China's multi-facetted cuisine.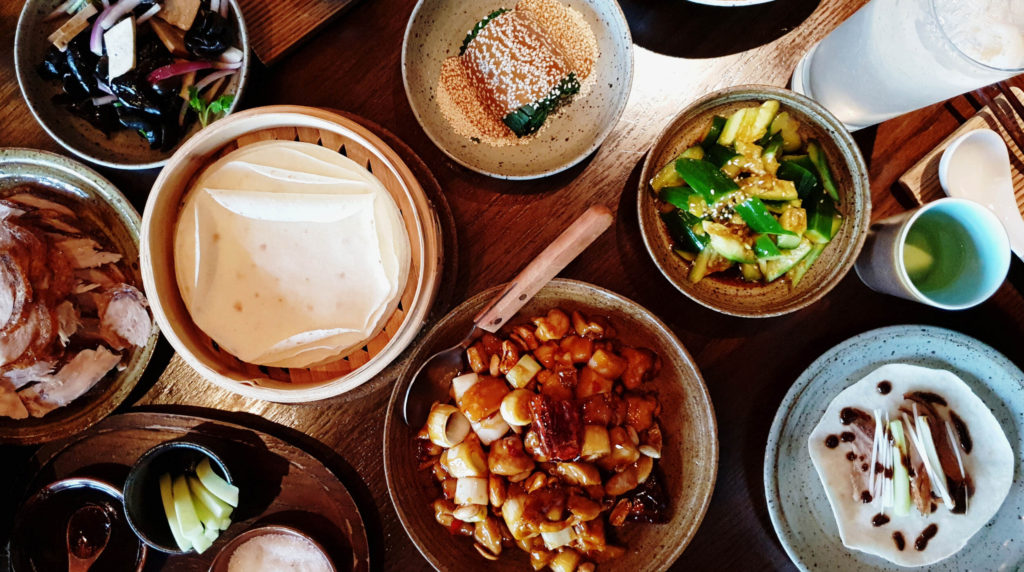 Und so genießt man Peking-Ente auf traditionelle Art: Nachdem der Koch die knusprig gegarte Ente live am Tisch in mundgerechte Stücke tranchiert, tunkt man zuerst die kross gebackene Haut in Zucker und isst das Beste nicht zum Schluss, sondern direkt als Appetizer. Schon das ist ein wahres Geschmackserlebnis.
The original Peking Duck is served like this: The chef will bring the crispy baked duck to the side of your table, slicing the meat into palatable pieces. The best isn't save for last here, as you will eat the crispy skin first, dipped in sugar as a delicious appetizer – what is already a real taste experience!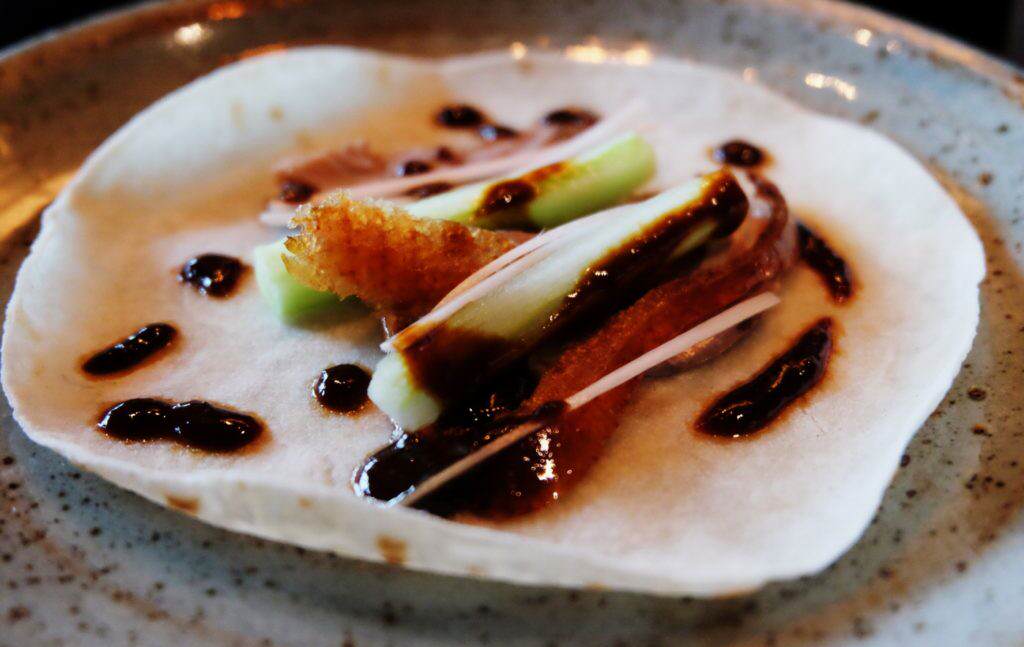 Danach sind die einzeln aufgeschnittenen Fleischstücke an der Reihe, die in kleine Pfannkuchen gerollt werden, um anschließend eher unkonventionell mit der Hand gegessen zu werden. Im Country Kitchen kommen noch Ingwer- und Gurkenstückchen in den Wrap, bevor alles mit der speziellen Soße beträufelt wird. Mmhhh…
Afterwards it is time for the small pieces of meat, which are wrapped into small pancakes. At Country Kitchen you add ginger, cucumber and of course the special sauce before wrapping everything together and enjoying the Peking Duck unconventionally with your hands.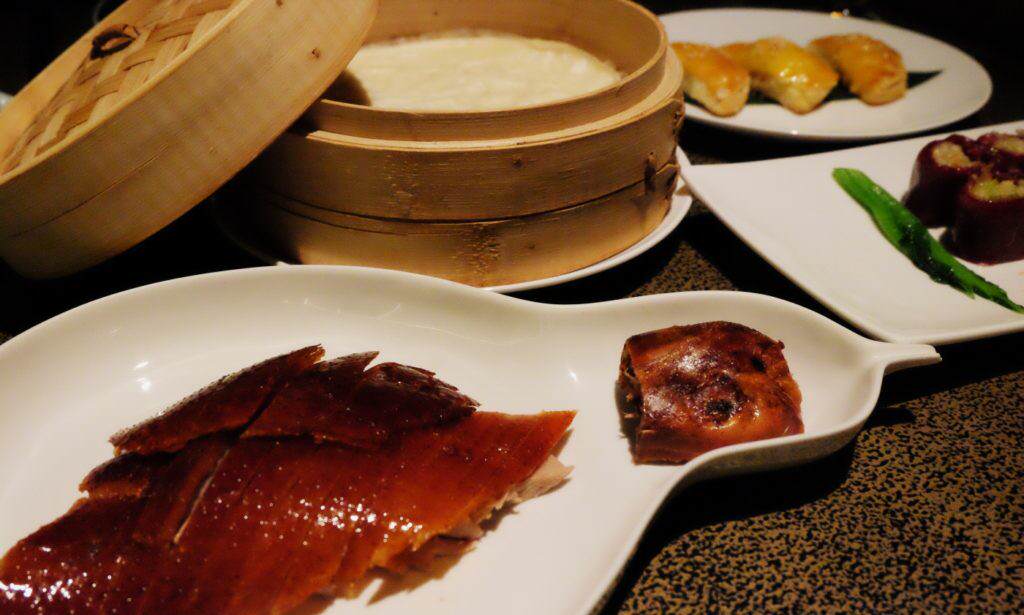 Unsere zweite Peking-Ente genießen wir im Jing Yaa Tang, eines der Restaurants im Opposite House Hotel. Hier werden als Wrap-Beilage zusätzlich Melonenstreifen und Knoblauch serviert, was den Geschmack nochmals verändert. Das Jing Yaa Tang ist zudem für sein Dim Sum Lunch bekannt. Für 168 RMB (ca. 22 Euro) wählt man hier so viele mundgerechte Köstlichkeiten wie man möchte, z.B. Dumplings, Reisrollen, etc. Die ideale Ergänzung zur halben Peking-Ente, die man hier auch für 188 RMB (25 Euro) genießen kann.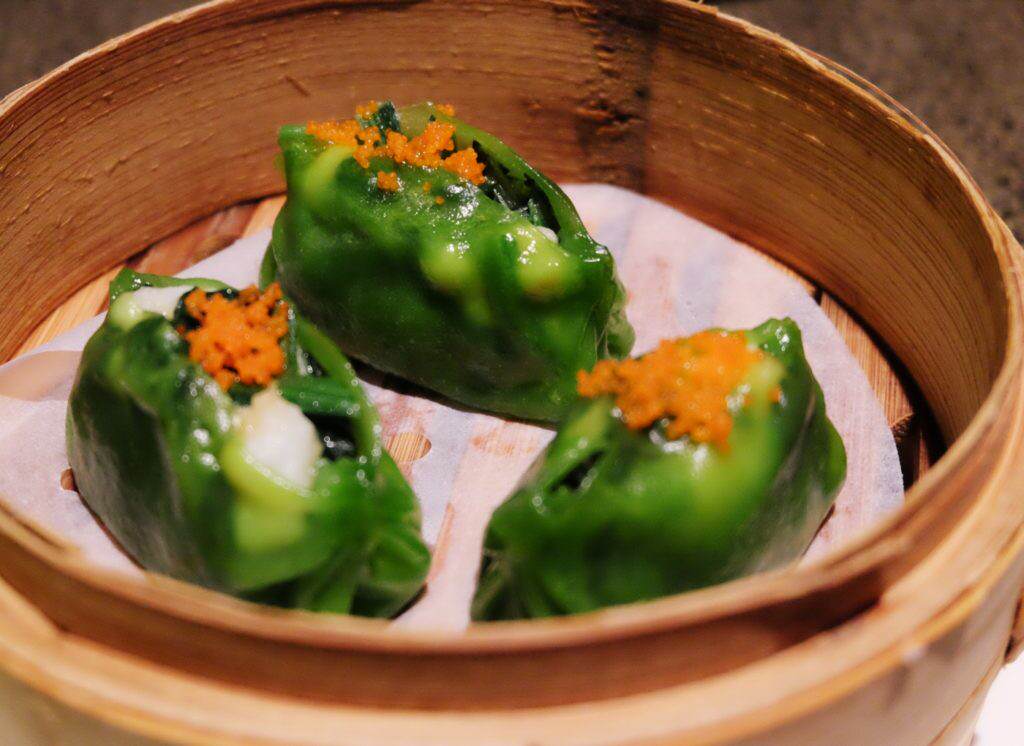 Our second Peking Duck we enjoy at Jing Yaa Tang, one of the restaurants of Opposite House Hotel. Here they offer to add slices of melon and garlic into your wraps, which creates an unexpected, yet really special taste. The Jing Yaa Tang is also well-known for its Dim Sum Lunch. For 168 RMB (22 Euros) you can choose as many dumplings, ricerolls etc. as you want. This is a really great supplement to half a Peking Duck, which you get here for 188 RMB (25 Euro).
#10 Beijing is always worth another visit
Der Sommerpalast, Fragrant Hills Park oder der Lama Tempel sind weitere Hauptattraktionen Pekings, die wir während unserer knapp 4 Tage nicht geschafft haben zu besuchen. Somit haben wir einige Gründe wiederzukommen. Aber nachdem Peking so riesig und ständig im Wandel ist, lautet meine 10. Empfehlung sowieso: Hebt euch auf jeden Fall einige Sehenswürdigkeiten für euren nächsten Peking-Besuch auf!
Summer Palace, Fragrant Hills Park or Lama Temple are only some of further key sights, we hadn´t enough time for to visit during our 4-day trip to Beijing. So we actually have many good reasons to come back. As the city is so huge and the pace of change so high, my 10th recommendation anyway is: Save up some of Beijing's attractions for your next stop!
---
Wissenswertes & Nützliches | Things to know about Beijing:
"There are 9 million bicycles in Beijing…"
Ehrlich gesagt bin ich mir damit nicht so sicher. Ich habe mir Peking diesbezüglich vorgestellt wie Amsterdam, nur viel größer. Und vielleicht gibt es sie auch, die Millionen an Fahrrädern. Doch dann gibt es meiner Meinung nach mindestens fünfmal so viele Autos, die die Straßen verstopfen, die Luft verschmutzen und es so gut wie unmöglich machen irgendein Ziel in kurzer und veranschlagter Zeit zu erreichen.
Actually I am not sure about that. I thought of Beijing being similar to Amsterdam when talking about bikes. And maybe there are really millions of bicycles in town, but if you ask me, then there are even five times more cars, blocking the roads, polluting the air and making it almost impossible to reach any destination in short time.
Mein Tipp: Konzentriert euch auf einen Bereich innerhalb der Stadt und versucht nicht zu viele unterschiedliche Orte ein einem Tag miteinander zu kombinieren, denn die Distanzen sind riesig und durch den Verkehr dauert es teils Ewigkeiten, um von A nach B zu kommen. Die Metro ist somit die bessere Option. Obwohl sich auch Taxifahren anbietet, um Ziele zu erreichen, die nicht direkt an eine Metro-Station gekoppelt sind. Taxis sind günstig, solltet ihr nur während der Rush Hour komplett meiden!
My recommendation: Focus on one area and don´t try to combine too many sights on one day as the distances are huge and because of the traffic it can take forever to reach your next destination. That´s why metro is always the better option. Although taxi rides make sense, if your destination is not close to a metro station.Taxis are cheap as well, but you should definitely avoid using them during rush hour!
Da liegt was in der Luft | Most of the time there is somehing in the air…
Während wir in Shanghai schon genervt sind von den Tagen, an denen der Luft-Qualitäts-Index eine Zahl über 150 zeigt und damit signalisiert, dass die Luftqualität "sehr ungesund" ist, ist dies in Peking wohl eher der Normalzustand. Und falls es mal nicht an der Verschmutzung durch Abgase liegt, dann zieht vielleicht gerade ein Sandsturm aus der Inneren Mongolei über die Stadt, die sogar den Regen dreckig auf der Erde ankommen lässt.
While in Shanghai we are already not so amused about the days, when the air quality index shows a number above 150, meaning "very unhealthy", in Beijing that´s pretty much normality. And if there is no too high pollution, you might as well face a sandstorm approaching from Inner Mongolia, which darkens the sky and even turns the rain drops brown-ish before they are hitting the ground.
Zu unserer Überraschung trägt in Peking fast niemand eine Maske, die davor schützt die feinen Staubpartikel einzuatmen. Und das obwohl die Luftverschmutzung doch (leider) so offensichtlich ist… Welche Erklärung gibt es dafür?
To our surprise, people in Beijing rarely wear any masks to protect themselves from inhaling in the micro dust particles. Even if the pollution is (unfortunately) as obvious as it gets. Does anybody have an explanation for that?
The early bird catches the pic
Wie schon oben bei den einzelnen Sehenswürdigkeiten beschrieben, lohnt es sich in Peking wirklich früh aufzustehen und so zumindest an den sehr beliebten Ecken die großen Touristengruppen zu meiden.
As described further above within the individual sections of the sights: Being an early bird will pay off for every spot you visit, as it will at least allow you avoid the large tourist groups.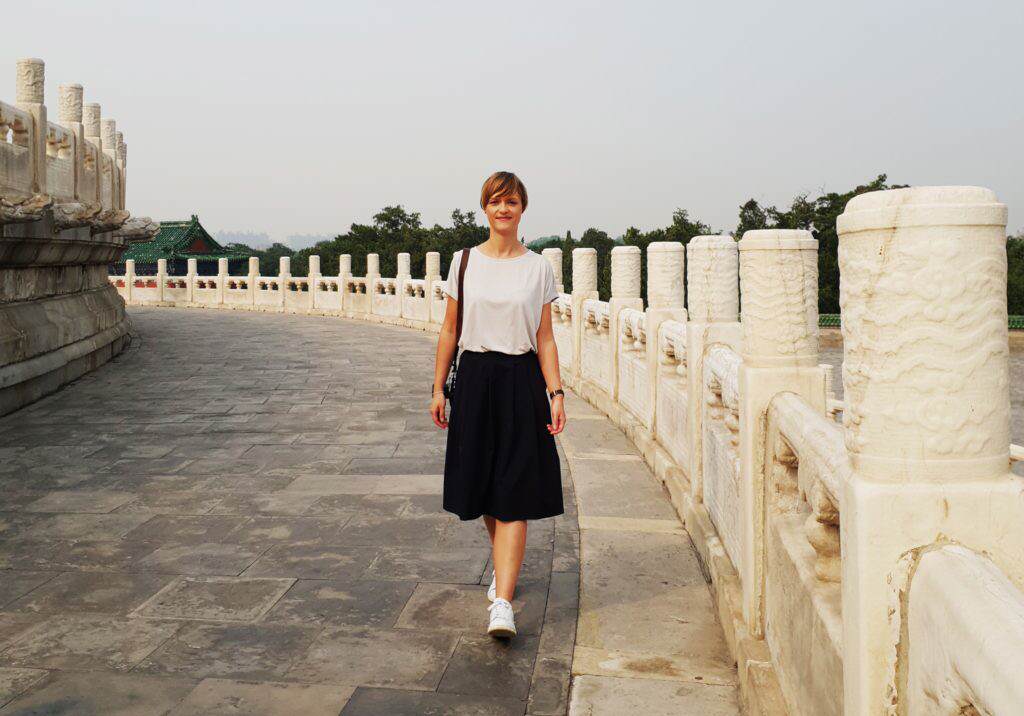 ---
---
Anreise | How to get to Beijing
Flugzeug, Zug, Bus – eigentlich jede Anreiseart ist denkbar und es kommt auf die Distanz und Zeit an, die ihr einplanen wollt. Wir haben uns für die Anreise mit dem Zug entschieden, um von Shanghai nach Peking zu kommen. Für uns eine sehr praktische Option, die Hauptstadt zu erreichen, denn es gibt stündlich Schnellzüge, die einen in gerade mal 4,5 Stunden zum Südbahnhof Pekings bringen. Nicht so schlecht für eine 1.318 km lange Strecke. Eine Reisegeschwindigkeit von 350 km/h und nur wenige Stopps machen es möglich.
By plane, train, bus, actually every transportation option is possible. So it depends on the distance and time which option you go for. We chose the train to make our way from Shanghai to Beijing. It´s a very convenient way to reach the capital, as there are several highspeed trains (almost every hour), which take you to Beijing South Railway Station in only 4,5 hours. Not too bad for a 1.318 kilometres long ride. Travelling with a speed of 350 km/h and only a few stops along the way make it happen.
Wir sind wirklich überrascht von der Zuverlässlichkeit auf Chinas Bahnstrecken. Sie sind schnell, komfortabel und pünktlich. Bereits eine Minute vor offizieller Abfahrtszeit ertönt ein lautes Piepen und der Zug setzt sich in Bewegung – noch pünktlicher sogar als die Shinkansen in Japan. 🙂
We are really impressed by the reliability of Chinese trains. They are fast, comfortable and on time. Closing the doors with a loud beep and leaving the station 1 minute before the official departure time makes them even more punctual than the famous Shinkansen in Japan. 🙂
Zu spät kommen sollte man also nicht. Die Zugänge zu den Gleisen ähneln den Gates am Flughafen. Es ist also relative einfach das richtige Gleis zu finden. Jedoch öffnen die Tore meist erst 15 Minuten vor Abfahrt. Kein Wunder, dass auch hier wieder ordentlich gedrängelt wird, um in den Zug zu kommen… Plant also genug Puffer ein! Ähnlich wie am Flughafen gibt es an den Bahnhöfen Sicherheitskontrollen, die vor allem an Reise-intensiven Tagen nochmals Zeit kosten.
So better don´t arrive too late. The access to the tracks looks similar to gates at the airport, which makes it also pretty easy to find the right one. Good to know: The doors to board the train only open about 15 minutes before departure. No surprise that pushing and hustling is quite common as everybody needs to be on the train on time… So, always plan in enough time, also to pass the security controls (similar to the airport), which will be even more packed on travel-intense (vacation) days.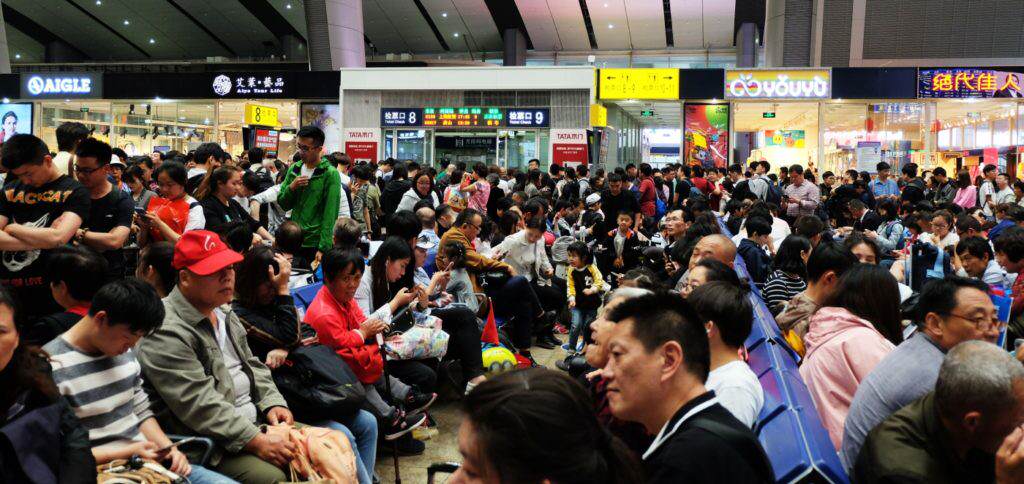 ---
Übernachten | Where to sleep in Beijing
Wir hatten die Möglichkeit im Rosewood Beijing zu übernachten, einem 5-Sterne Ultra-Luxushotel mit Blick auf die Pekinger Skyline bzw. den CCTV Tower. Und ich muss euch nicht verheimlichen, dass wir unseren Aufenthalt dort wirklich sehr genossen haben. Allein schon das Frühstück und die Abendessen-Optionen im sogenannten "Manor Club" waren toll: Was gibt es Besseres als den Tag bei einem Drink in ruhiger und entspannter Atmosphäre Revue passieren zu lassen?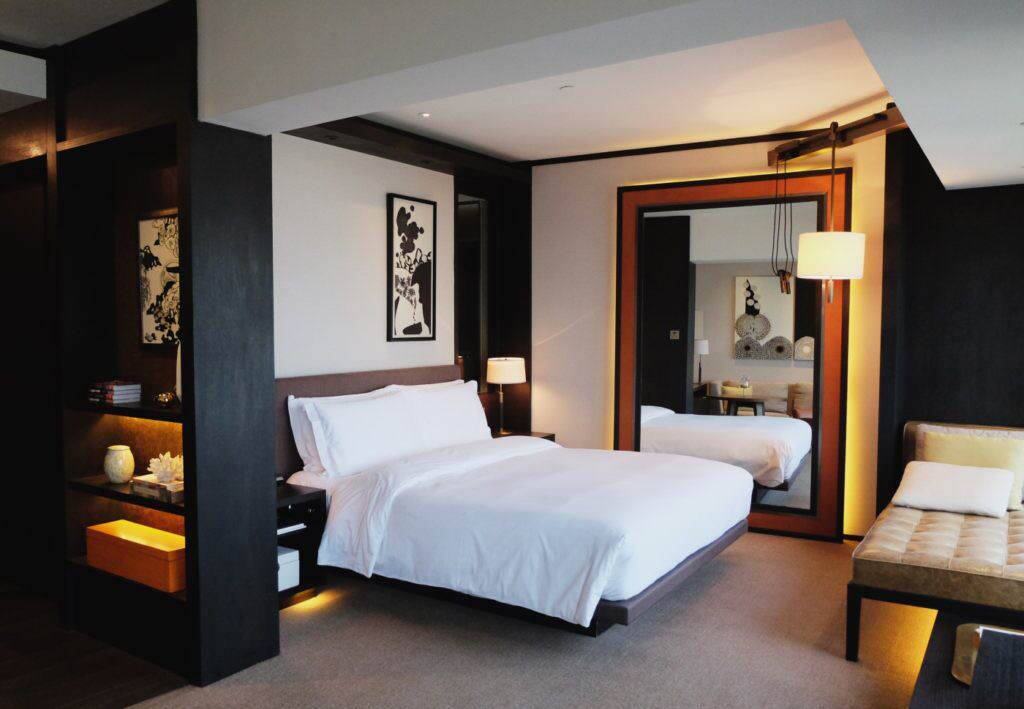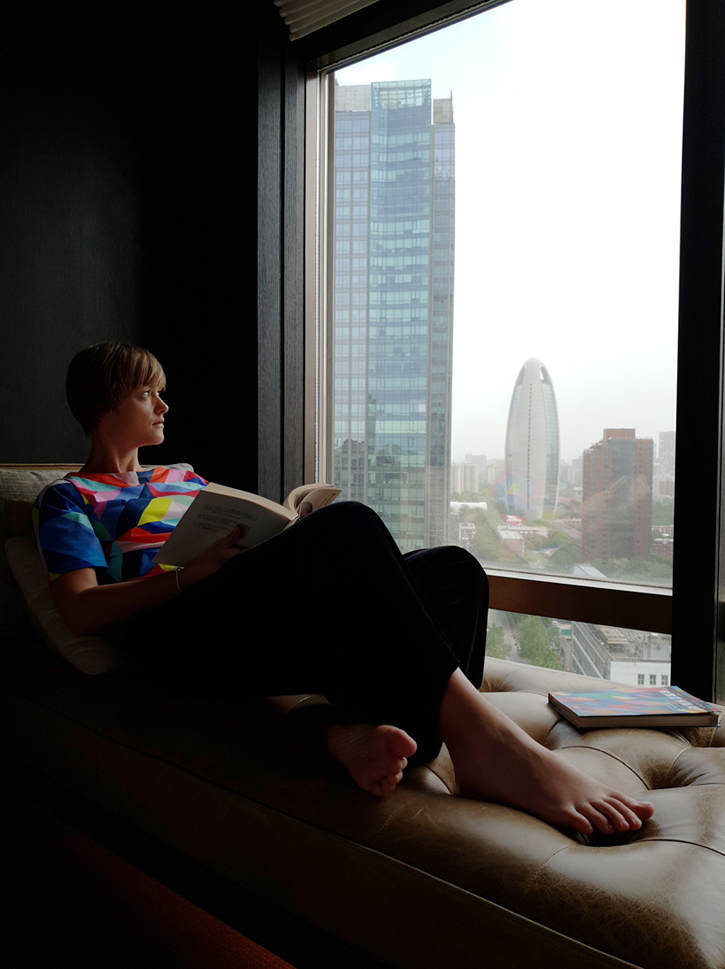 We had the opportunity to stay at Roosewood Beijing, a 5-star ultra-luxury hotel with great views of Beijing's skyline and the iconic CCTV Tower. We really enjoyed our stay there, loved the breakfast and dinner options at Manor Club, which offers a relaxed and private atmosphere while enjoying a drink and letting the day's impressions sink in.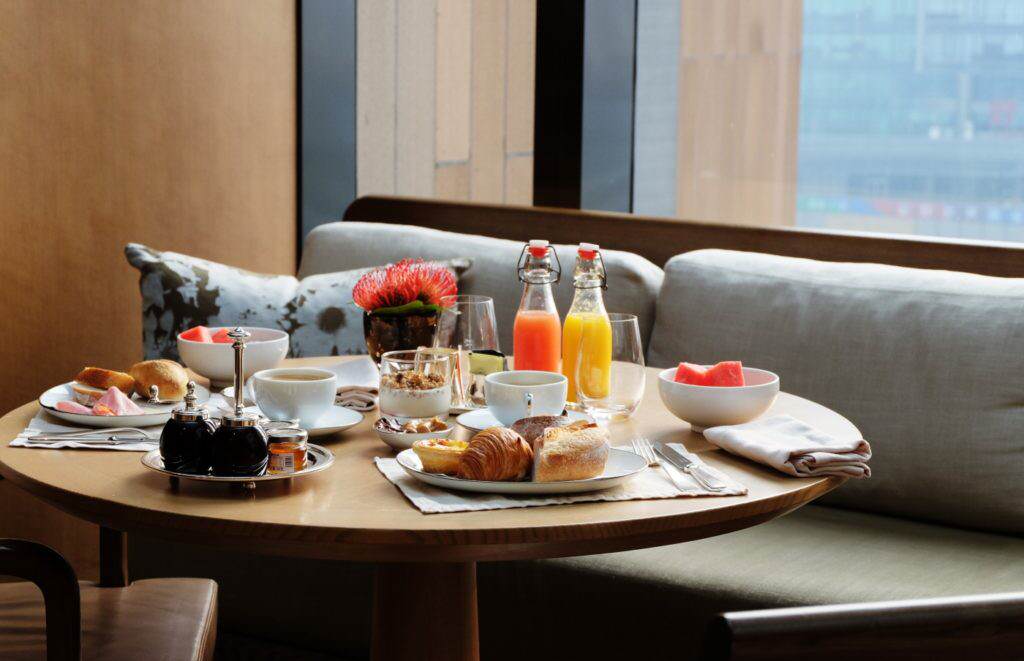 Natürlich haben wir auch den großzügigen Pool und das exklusive Spa genossen, der perfekte Ort zur Regeneration – speziell am Abend nach unserem 15-Stunden-Trip zur Chinesischen Mauer (worüber ich euch bald mehr erzählen werde).
Of course we also enjoyed the generous pool and the exclusive spa – the perfect place to relax, especially after our 15-hours trip to the Great Wall (I will soon share my experiences here).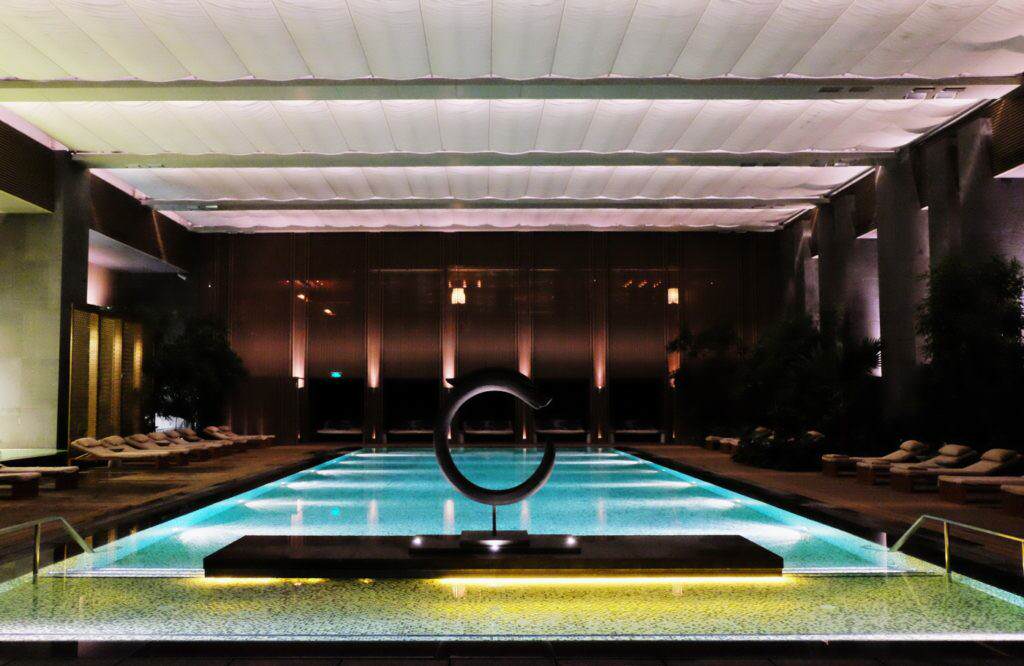 Vielen Dank Rosewood Beijing, dass wir 3 Nächte Luxus pur zum "Special Price" genießen durften, was unseren Aufenthalt in Chinas Hauptstadt noch unvergesslicher gemacht hat!
Thank you very much Rosewood Beijing for hosting us three nights on a special rate and making our stay in the Capital even more memorable!
Witziges zum Schluss | Some fun facts at the end:
Das Rosewood Beijing hat nicht nur einen tollen Spa-Bereich, man kann sich sogar in sogenannte Spa-Suiten einmieten. Der eigene Whirlpool und die Behandlungen gibt es dann direkt auf dem Zimmer. Definitiv was für´s nächste Mal! 😉
The Rosewood Beijing does not only offer a great spa-area, but also the opportunity to rent out a Spa-Suite, where you have your own whirlpool and treatments taking place in your room. Definitely an option for our next time! 😉
Obwohl das Hotel "nur" 282 Zimmer hat, gibt es 6 Restaurants, die auf unterschiedliche Küchen spezialisiert sind. Mit dem Red Bowl hat das Rosewood Beijing als einziges Ultra-Luxus-Hotel ein eigenes Hot-Pot-Restaurant im Angebot.
Even if the Rosewood Beijing "only" offers 282 rooms, it owns 6 restaurants, each specialized in a different cuisine – with the 'Red Bowl' being the only integrated Hot-Pot restaurant in the ultra-luxury hotel-landscape.
In der MEI Bar spielt 6 Tage die Woche die Hotel-eigene 6-köpfige Band, die praktischerweise ebenfalls direkt im Hotel wohnt… =)
At MEI Bar you can enjoy livemusic on 6 nights per week, performed by the 6 members of the hotel's own band. And they are all living in the hotel, too! 🙂
---
Click to see all Photo Galleries of Beijing:
798 Art District| Temple of Heaven | Tian'anmen Square | Forbidden City| Galaxy Soho, CCTV Tower & Bird´s Nest  | Hutongs | Beihai Park