Zwischen Januar und Februar, wenn das westliche Weihnachten und Silvester nach dem Gregorianischen Kalender längst vorüber sind und in einigen Teilen Europas sowie Brasilien die Karneval-Saison tobt, fokussiert sich im asiatischen Raum alles und jeder auf eines der, wenn nicht das bedeutendste Ereignis des Jahres: das Chinesische Neujahrsfest. Auch bekannt als Frühlingsfest im modernen China oder Lunar Year Festival in den meisten anderen asiatischen Regionen, basiert es auf dem Mondkalender, der jedes Jahr mit der ersten von zwölf Mond-Phasen zwischen Mitte Januar und Mitte Februar an einem anderen Tag startet (2018: 16.2. – 2019: 5.2. – 2020: 25.1.)
During the months of January and February, when the Christmas season in Western parts of the world is long over and the Carneval season is big in Central European and Brazil, China and the majority of the Asian continent celebrates one of the most important – if not the most important festival: Chinese New Year. Also known as Spring Festival in modern China or Lunar Year Festival in most other Asian regions, it is based on the lunar calender, starting with the first of twelve lunar months between mid of Jan and mid of Feb on a different date each year (2018: Feb 16th – 2019: Feb 2nd – 2020: Jan 25th )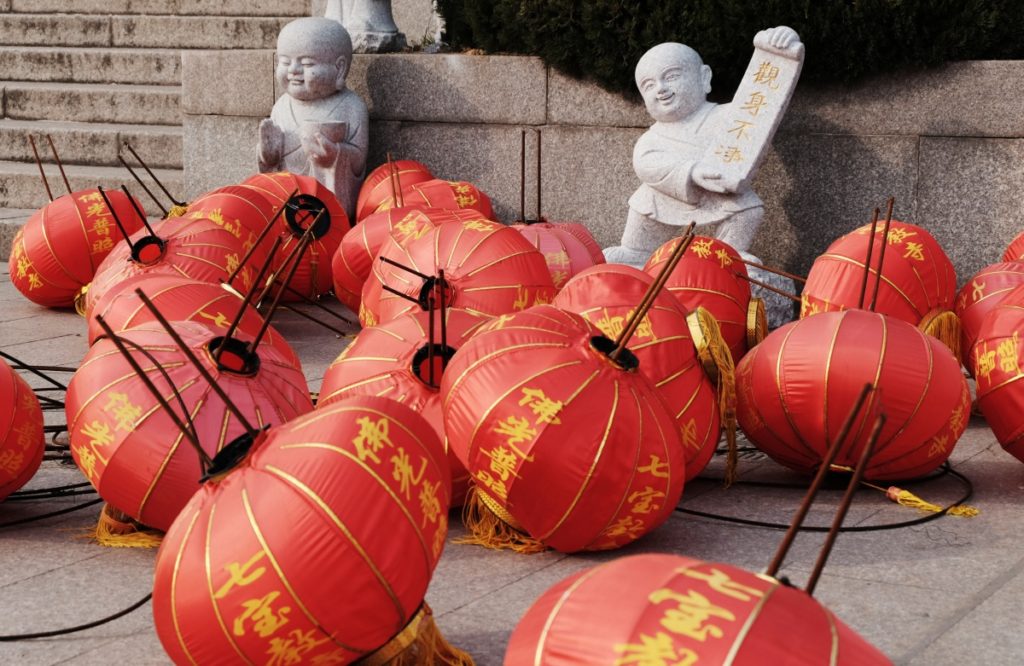 Aber egal unter welchem Namen ihr das Chinesische Neujahrsfest kennt: Die Feierlichkeiten starten bereits am Vorabend des Chinesischen Neujahrstages mit einem feierlichen Festessen, der Neujahrsgala im Fernsehen sowie diversen Feuerwerken und dauern volle 15 Tage bis zum Laternenfest – sieben arbeitsfreie Tage eingeschlossen, die fast alle Unternehmen ihren Angestellten zugestehen.
But no matter how you call it: Chinese New Year celebrations always start at the evening before New Years Day with a festive dinner, the New Years Gala-show on TV as well as various fireworks and lasts for15 days until the Lantern Festival , including 7 days off for all workers granted by almost every company.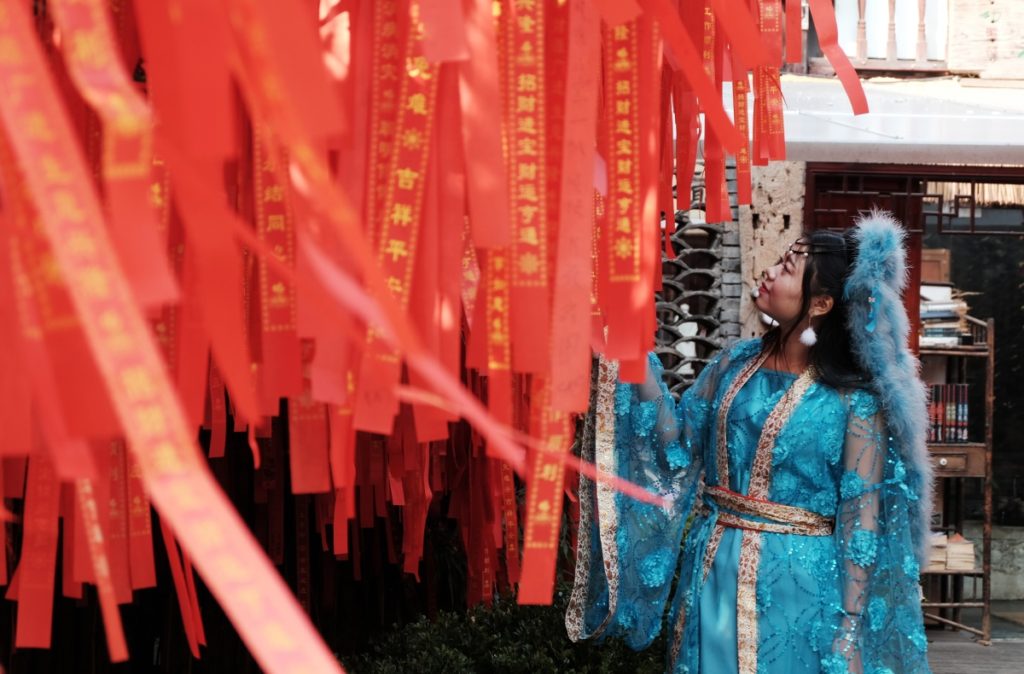 Somit ist das Chinese New Year das Fest mit der längsten Feiertags-Periode für alle chinesischen Arbeiter – und Schulkinder haben sogar einen ganzen Monat Ferien. Damit ist es auch prädestiniert für große Familien-Zusammenkünfte, genauso wie für jahrhundertealte Traditionen, die durchaus mit denen westlicher Weihnachtsgepflogenheiten vergleichbar sind.
So Chinese New Year also stands for the longest public holiday period for Chinese workers – and schoolchildren alike, who are even priviledged to have an entire month off. This being said it is obviously the best time of the year for big family reunions, and special traditions, which are very much comparable to the Christmas season and homecoming for the holidays of us Westerners.
Jeder reist nach Hause zu seiner Familie, und sei die jeweilige Provinz noch so abgelegen – sodass im Umkehrschluss Großstädte wie Shanghai fast leer gefegt, Züge und Flugzeuge dafür endlos überfüllt sind, wenn die größte Reisewelle der Welt sich in Gang setzt. Tickets sollten also früh genug gebucht und Reiseziele, auch außerhalb Chinas, mit Bedacht ausgewählt werden.
People travel home to visit their families, no matter how remotely located the respective provinces might be – which on the other side results in nearly wiped out cities, but crowded trains and planes at the beginning of the holiday week, when the world´s biggest human migration wave gets rolling. So you better book your flights early and think well in advance about potential travel destinations, if you do not want to spend the festival-season in town.
Die umfangreichen Vorbereitungen für die anstehenden Feiertage starten bereits mehrere Tage, wenn nicht sogar Wochen vorher mit gründlichen Haussäuberungen und großflächigen Dekorationen an Fenstern, Türen und auf den Straßen: rote Laternen, rote Reimpaare und andere Deko-Elemente. Rote Umschläge mit Geld schenkt man sich gegenseitig, um sich zu segnen. Dabei ist Rot die Farbe, die für Glück und Wohlstand in der chinesischen Kultur steht.
The various preparations already start some weeks before the actual holidays with in-depth house cleaning and huge red decoration in the windows, doors and on the streets. You will find red lanterns, couplets, and other decoration eveywhere. Also red envelopes filled with money are given to each other to symbolize blessing, as the colour red stands for hapiness, prosperity and good luck in Chinese culture.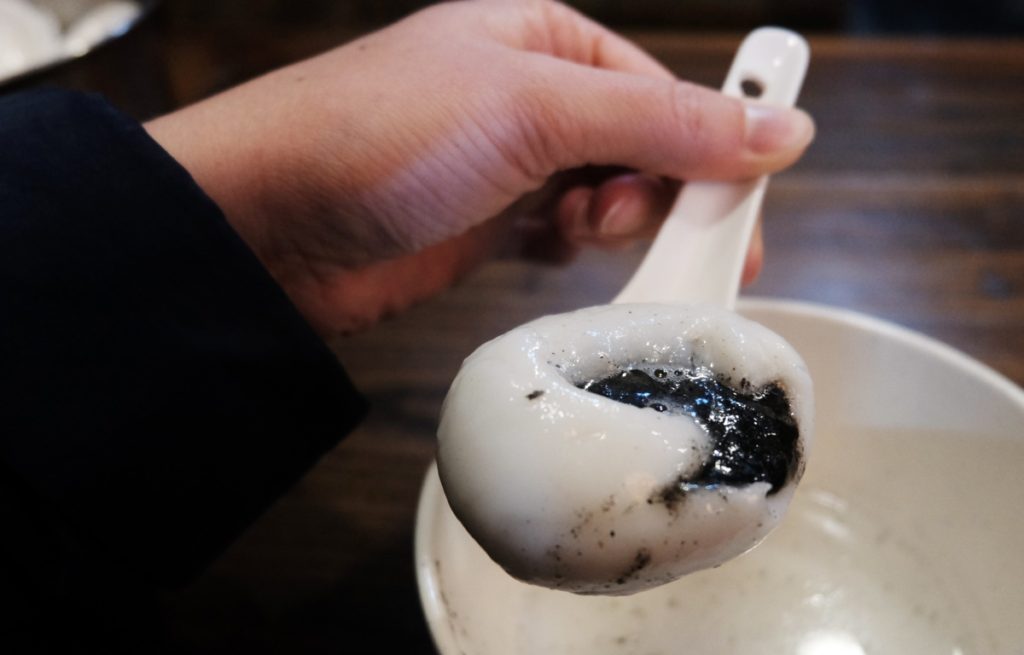 Eine weitere Tradition ist es, gut und viel während der Feiertage zu essen. Gefüllte Teigtaschen und süße Reiskuchen sind typische Speisen, von denen Chinesen – nicht nur, aber gerade am Chinesischen Neujahr – nicht genug bekommen können.
It´s a tradition to have lot´s of food during the Chinese New Year festival days. Dumplings and sweet rice cakes are typical meals, from which Chinese – not olny , but especially during Chinese New Year – cannot get enough of.
Da der Chinesische Kalender auf Tierkreiszeichen beruht, steht jedes Jahr ein anderes Tier im Vordergrund. 2018 feiert China das Jahr des Erd-Hundes, das einige Lebens-Veränderungen, aber auch Treue vorhersagt.
In diesem Sinne: Schöne Feiertage und ein frohes neues Jahr!
As the Chinese Calender is based on the zodiac signs, each year is dedicated to a different animal. 2018 will be the Year of the Earth Dog with some lifestyle changes but also loyalty predicted. So have some great holidays with family quality time and Happy New Year!