Hamburg gehört mit Sicherheit zu den beliebtesten Zielen, wenn es um Städtereisen innerhalb Deutschlands oder gar Europas geht. Kein Wunder: Mit dem größten Seehafen Deutschlands, der berühmten Speicherstadt oder dem idyllischen Elbufer hat Hamburg eine beeindruckende Bandbreite an Sehenswürdigkeiten zu bieten, die die Stadt an der Elbe wahrlich einzigartig machen. Und zu den sowieso schon bekannten Stadtvierteln – wie Außen- & Binnen-Alster, Hafen-City oder Schanze – kommen noch die von Touristen seltener besuchten Ecken, die allerdings einen Abstecher lohnen, will man echte Hamburger Luft schnuppern. Wo also anfangen, wenn man für seinen Aufenthalt nur ein Wochenende, also 48 Stunden Zeit hat? Keine Panik: Die Hansestadt ist zwar groß – dennoch empfinde ich Hamburg als eine durchaus gemütliche Großstadt, in der man Schlendern und sich Treiben lassen kann. Wahrscheinlich einer der Gründe, warum ich bei jedem meiner bisherigen Besuche wieder etwas Neues entdeckt habe. Hier sind meine persönlichen Hamburg Tipps für einen abwechslungsreichen Besuch in der deutschen Hafenstadt, natürlich ohne jeglichen Anspruch auf Vollständigkeit!
Hamburg for sure is one of the most popular destinations, when it comes to citytrips in Germany or even Europe. No surprise: Home to Germany´s biggest seaport, the famous warehouse district "Speicherstadt" or the idyllic banks of the river Elbe, Hamburg offers a huge spectrum of sights, which make the city unique. In addition Hamburg comprises a variety of neighbourhoods, some well-known by tourists, like Außen- & Binnen-Alster, Hafen-City or Schanze – others a bit less, still absolute worthwhile a visit, if you want to "live and breath" some real Hamburg air. So where to start, if you only have a 48 hours stay at your hands? Don´t worry: Of course Hamburg is a metropolis, but during my so-far stops I have always experience it as a laid-back city, where you can smoothly drift along. Maybe one of the reasons, why I always discovered something new with every new visit. In this BlogPost I want to share some of my personal Hamburg tipps with you – of course well aware these few recommendations cannot cover all of the city´s diversity.
Hamburg´s Sehenswürdigkeiten | Top Sights to see
#1 Hafen & Landungsbrücken | Hamburg Port
Ein Klassiker, der dennoch auf keiner Hamburg-Reise fehlen darf: Der Hamburger Hafen ist mit ca. 9.000 Schiffsanläufen pro Jahr, knapp 300 Liegeplätzen an insgesamt 43 Kilometer langen Kaimauern, vier modernen Containerterminals und drei Kreuzfahrtterminals einer der flexibelsten und leistungsfähigsten Universalhäfen weltweit (Quelle: hafen-hamburg.de/). Er fasziniert somit vor allem Technik-Fans. Aber nicht nur diese: Imposante Ein – und Ausblicke eröffnen sich jedem Besucher. Einen idealen Spaziergang bietet das Ufer der Nordelbe vorbei am Fischmarkt auf St. Pauli, entlang am Alten Elbtunnel, über die Landungsbrücken bis zur Elbphilharmonie am Baumwall, hin zur HafenCity.
It´s a local classic, but it cannot be missed when in town: Hamburg Port is one of the world´s most flexible and high-performing universal ports, due to ca. 9.000 ship calls per year, almost 300 berths and all together 43 km of quay for seagoing vessels, as well as four container- and three cruise-terminals (www.hafen-hamburg.de/en/). That´s why the city´s port is not only highly fascinating for tech-loves, but also a must-see for you & me. Every visitor will get impressive insights and views while strolling around the areal. A great way to explore the harbour area is to take a walk along the Northern banks of the river Elbe, where you will pass St. Pauli Fish Market, the old Elbtunnel, the Landungsbrücken piers before you reaching world-famous Elbphilharmonie and Hafencity.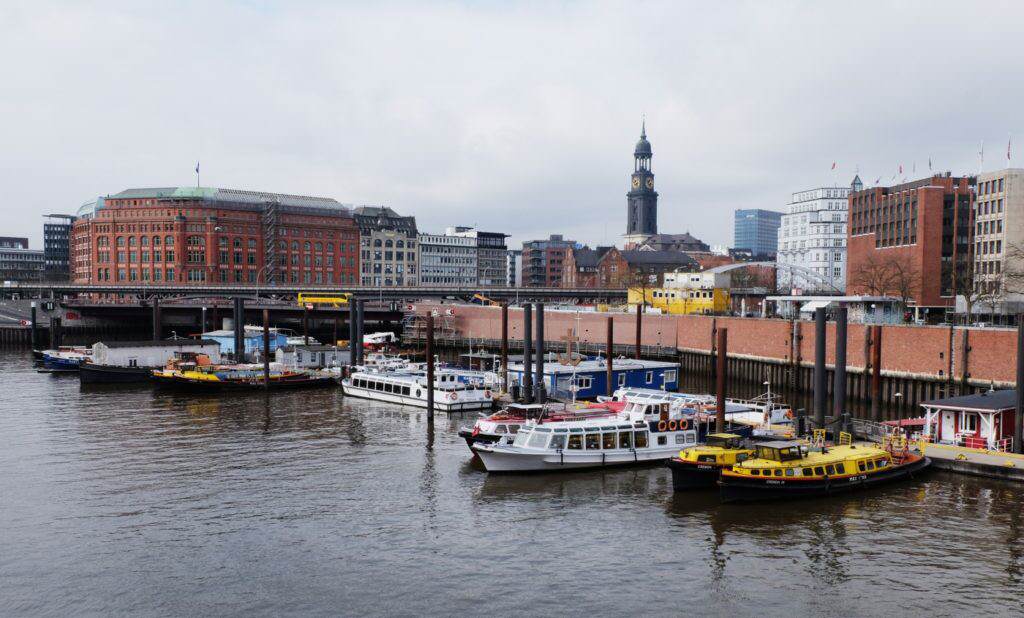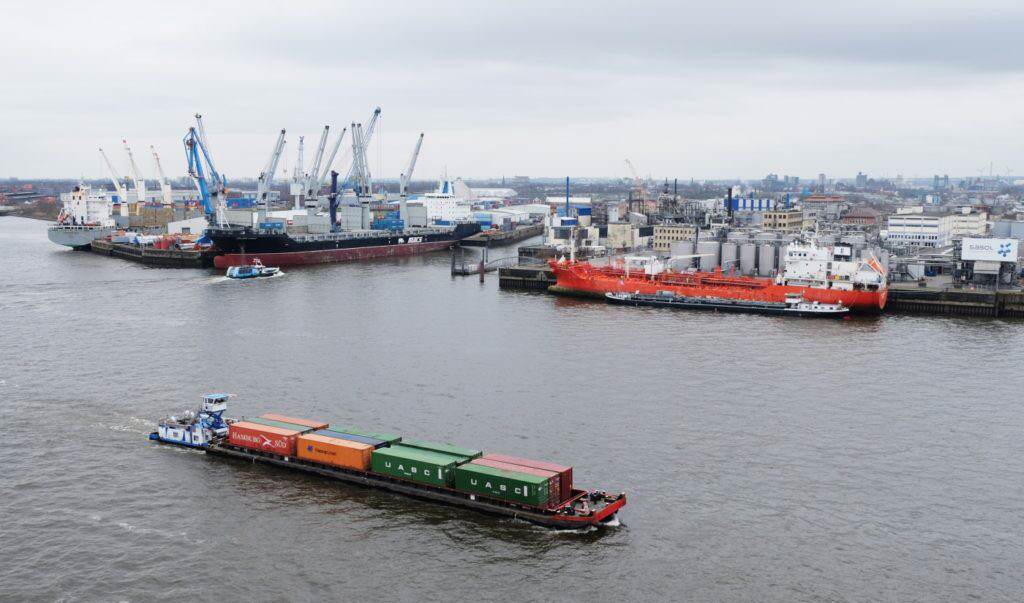 #2 Elbphilharmonie: Hamburg von oben | Hamburg from above
Seitdem die Elbphilharmonie im November 2016 (endlich) fertiggestellt und feierlich eröffnet wurde, war ich nicht mehr in Hamburg. Deshalb gehört dieses architektonische Meisterwerk auch ohne Konzertbesuch definitiv auf die Liste meiner Tour. Aus den unterschiedlichsten Perspektiven wurde das neue Wahrzeichen der Stadt bereits abgelichtet. Doch auch der Blick von oben lohnt! Die Aussichtsterrasse der Elbphilharmonie auf 37 Metern Höhe verspricht einen Rundumblick auf Elbe, Hafen, Speicherstadt und HafenCity und ist sogar kostenfrei (zumindest noch bis August 2018). Lediglich für die Vorbestellung eines Onlinetickets zahlt man aktuell 2 Euro, um so den Zutritt zu einer bestimmten Uhrzeit zu gewährleisten und sich das Anstehen zu ersparen.
I haven´t been to Hamburg since the Elbphilharmonie´s highly anticipated and celebrated opening in November 2016. That´s why I definitely had to catch a glimpse of this architectural masterpiece, even without the chance of attending a concert. It has already been captured thousand of times from different angles, but also the view from above is worth it. The viewing platform in 37 metres hight promises a panoramic view of river Elbe, the Port, Speicherstadt and HafenCity and is free of charge (at least until August 2018). You can reserve a ticket online for 2 Euro, allowing you to enter the platform at a specific day and time and skip queues.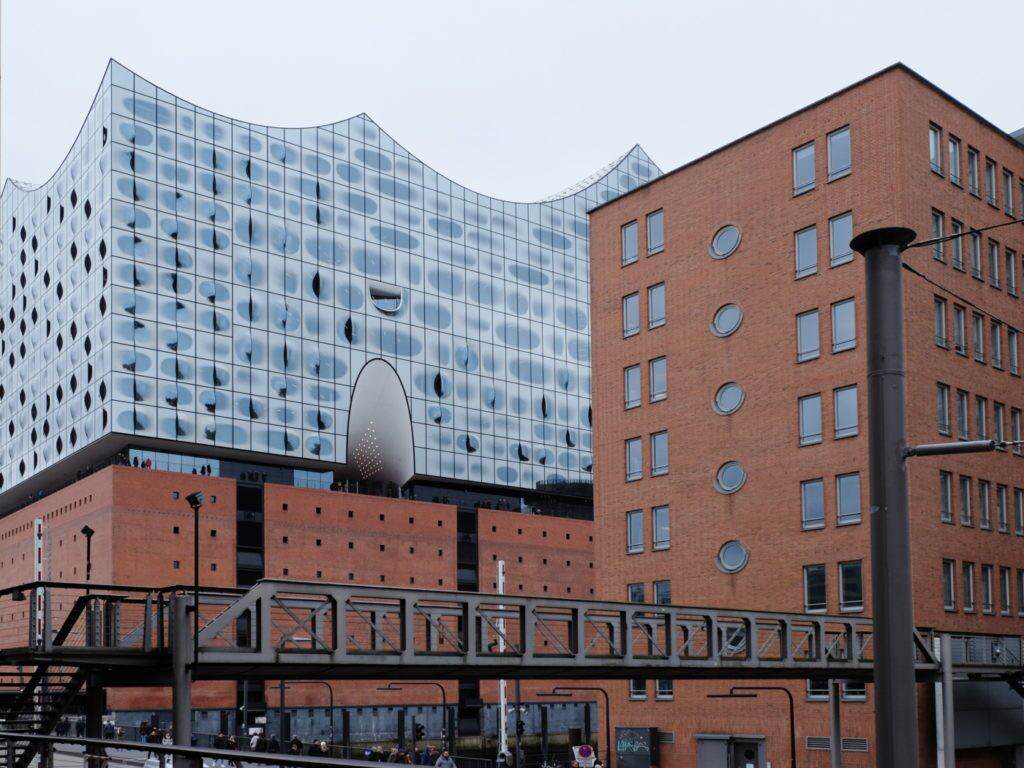 Also fahre mit der ca. 80 Meter langen gebogenen Rolltreppe "Tube" bis zum Plateau im 6. Stockwerk, durch dessen Panoramafenster man schon erste Blicke nach draußen erhaschen kann. Zwei Stockwerke weiter oben gelangt man auf die Außenplaza, über die man die Elbphilharmonie schließlich komplett umrundet und so tatsächlich großartige Ausblicke – sowohl auf die Innenstadt, als auch die Hafenfront genießt.
So I take the 80 metres long and curved escalators, called "Tube" to get up to the 6th floor, where a panorama-window already offers first previews. Two floors further up, you get to the outside plaza, where you can circumnavigate the Elbphilharmonie, and enjoy really incredible views of the city centre and harbour area.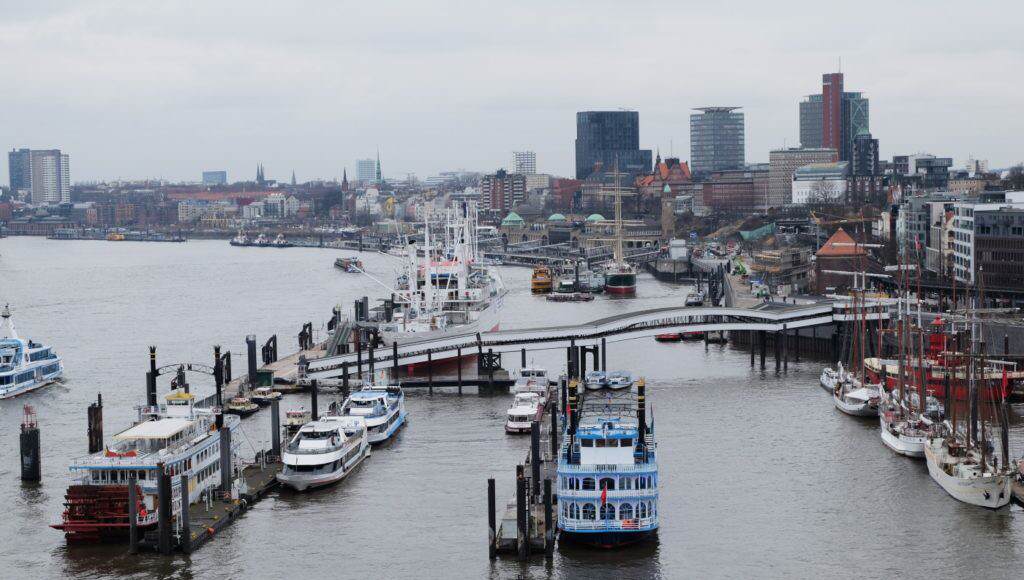 #3 Hamburgs Speicherstadt
Die Architektur der an den Hamburger Hafen angrenzenden Speicherstadt ist einzigartig. Wie ein nicht enden wollendes Freilichtmuseum erscheint dieser riesige Lagerkomplex mit seinen orange-braunen Fassaden, die im Sonnenlicht ihre wahre Faszination entfalten. Ich liebe es an den Kanälen entlang zu schlendern und lasse mich gerne über die Brücken von Speicher zu Speicher treiben.
The architecture of the "Speicherstadt" is truly unique. It feels like wandering through an almost endless open air museum, once you have started exploring this huge warehouse complex. The orange-brown coloured facades fascinate even more, when they get touched by the afternoon sunlight. I love to stroll around the canals, crossing bridges and catching memorable views.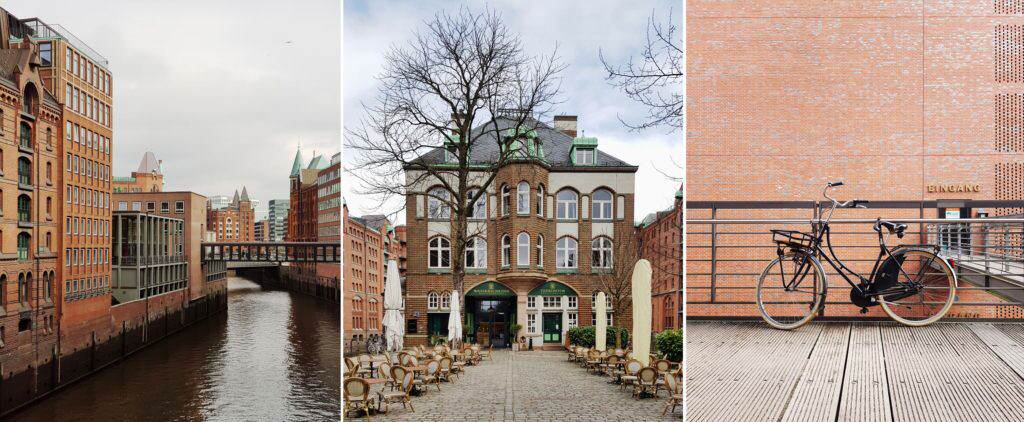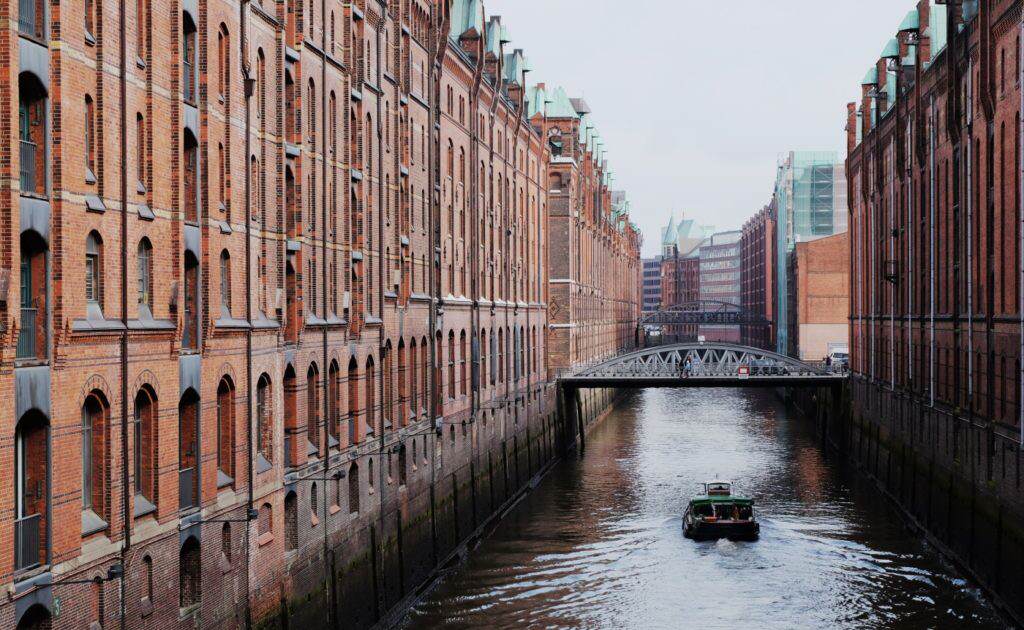 Eines der beliebtesten Fotomotive der Speicherstadt ist das Wasserschlösschen, das sowohl von der Poggenmühlenbrücke aus als auch frontal äußerst pittoresk anzusehen und einzufangen ist. Im Inneren befindet sich ein Teekontor mit angeschlossener Gastronomie – das perfekte Plätzchen also für einen Nachmittagssnack im Herzen der Speicherstadt.
One of the most popular photo spots is the water castle, which you can view best from Poggenmühlenbrücke, at the same it´s pittoresque looking at its front facade. Inside you can find Café Fleetschlösschen, a former custom booth – so this place, even if it´s really touristy, is your perfect spot for a short afternoon break.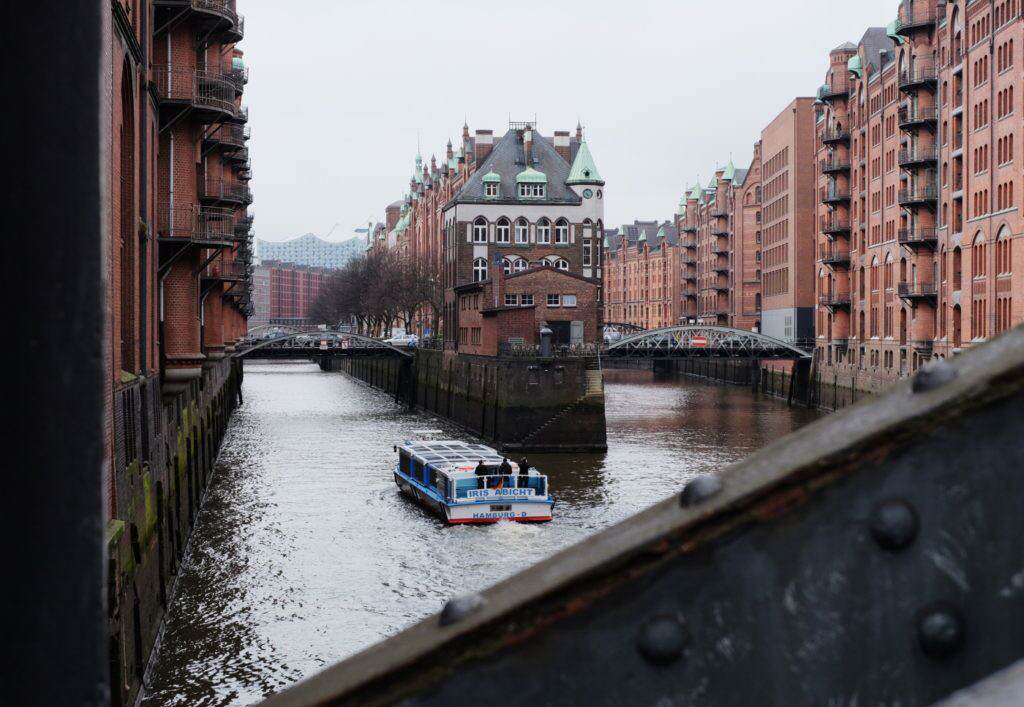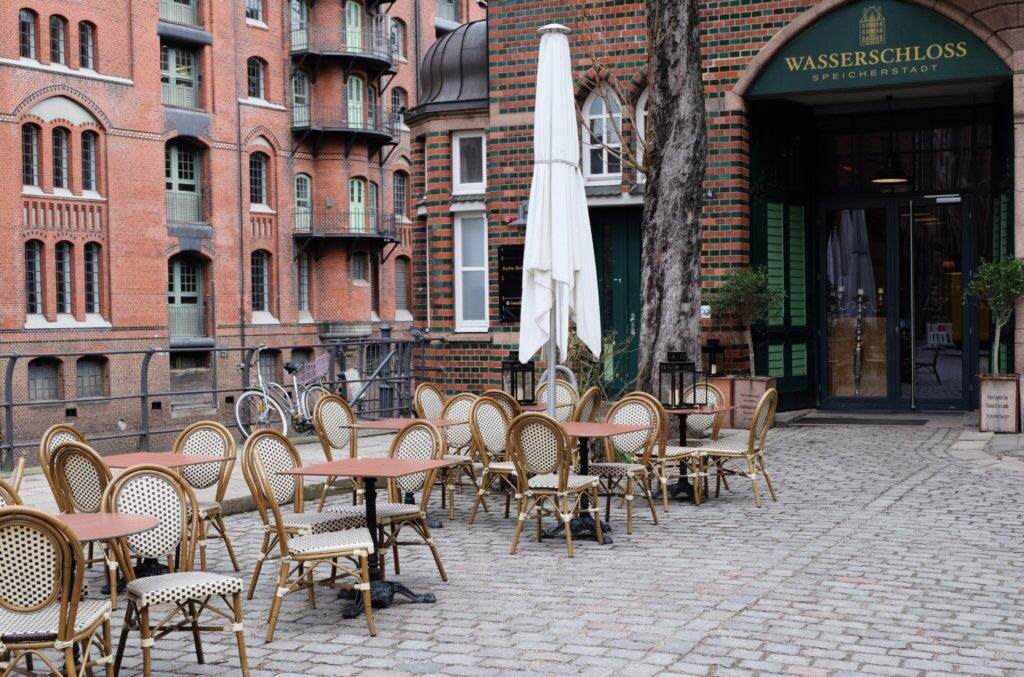 Wer es etwas zünftiger mag, findet in der Markthalle von Currywurst über Fish & Chips bis hin zu indischen Spezialitäten alles für den kleinen Hunger zwischendurch.
For those who prefer just to grab a quick bite, you will find everything from Currywurst, Fish & Chips to Indian specialities in the "Markthalle".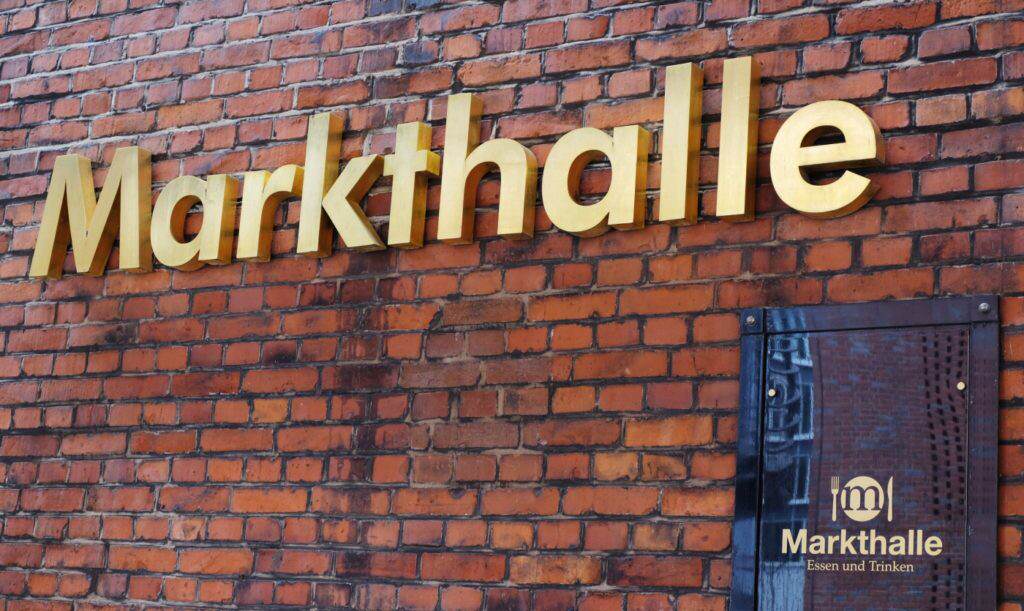 #4 Kontorhausviertel Hamburg |Kontorhaus district
Angrenzend an Hamburgs Speicherstadt liegt ein weiteres Highlight für Architekturfans: Das Kontorhausviertel. Bisher hatte ich noch nie Gelegenheit mir diese Ecke Hamburgs anzusehen, doch diesmal lasse ich mir die ehemaligen Bürogebäude nicht entgehen, die für norddeutsche Hafenstädte so markant sind und ich bin wirklich begeistert: Hinter jeder Ecke kommt eine noch schönere Fassade oder Holztür zum Vorschein und sogar die lokale Polizeistation wartet mit einer wahrlich prunkvollen Eingangstür auf. Im Kontorhausviertel gibt es also nicht nur das berühmte Chilehaus, sondern noch einige weitere Highlights zu entdecken.
Adjoined lies another very interesting area for architecture-lovers: The Kontorhaus district. So far I never had the chance to take a look around here. But this time I don´t want to miss this urban areal in Hamburg´s city centre with its striking and so typical buildings of Northern German port cities. Around each and every corner you will find another beautiful facade or wooden door. Even the local police station welcomes with an impressive entrance. So there is so more to see besides the popular Chilehaus office-buidling, which of course is also worth a visit when you are closeby.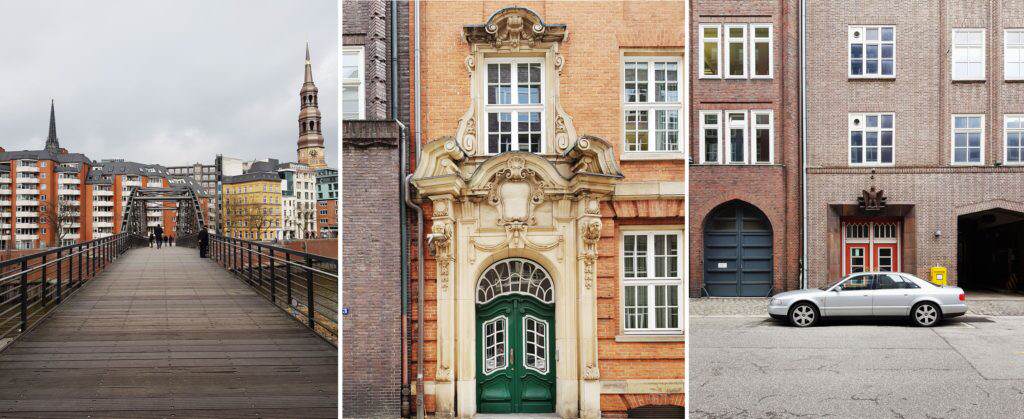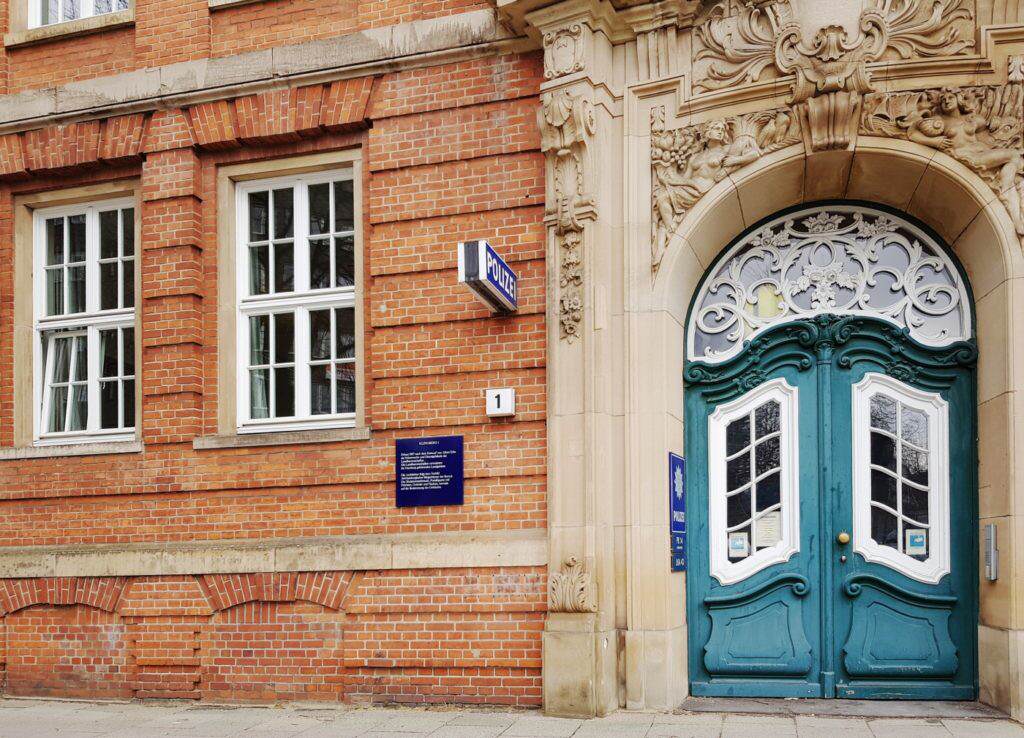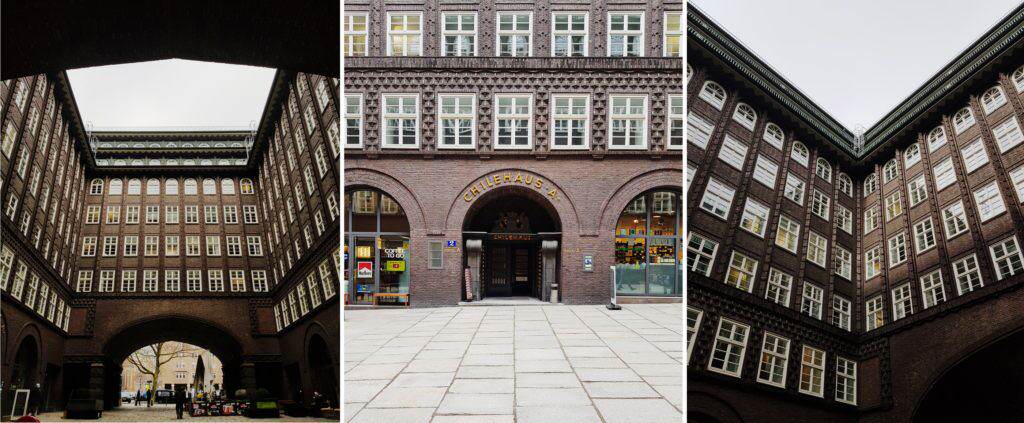 #5 Nikolaiviertel | Nikolai Quarter
Ebenfalls fußläufig zwischen Nikolai Fleet und Alsterfleet liegt im Süden der Hamburger Innenstadt das Nikolaiviertel, das mit seinen engen Gassen und kleinen Fachgeschäften einen unfassbar dörflichen Charakter versprüht. Hier nahm einst Hamburgs Geschichte ihren Anfang und das ist selbst heute beim Entlangschlendern noch spürbar. Die schmalen Häuser, die sich hier aneinanderreihen, sind auf den ersten Blick gar nicht so offensichtlich. Doch hat man sie einmal entdeckt, offenbaren sie aus jeder Perspektive neuen Charme, dem ich mich mit meiner Kamera nicht entziehen kann. Nur wenige Touristen laufen mir hier über den Weg. Komisch eigentlich. Aber da war es wieder: das sich einfach mal Treiben lassen, ohne ständig auf den Stadtplan mit vordefinierten "Must-See´s" zu blicken, lässt einen oft die wahren Sehenswürdigkeiten entdecken. Bis 2019 soll das Nikolaiviertel übrigens im Rahmen der historischen Altstadtsanierung einer umfassenden Aufwertung und Neugestaltung unterzogen werden und wird damit sicherlich auch touristisch weiter in den Vordergrund rücken. Also nichts wie los, wenn ihr das Viertel noch nicht ganz so überlaufen antreffen wollt.
Also reachable in walking distance, you will find the Nikolai Quarter, which is located in the South of Hamburg´s city centre, just between Nikolai Fleet and Alsterfleet. The narrow alleys and the small specialitiy shops make you feel like wandering through a small village. You can still feel that the history of Hamburg once started from here. The tightly lined up facades are not visible at first glance, but once discovered, I cannot stop pointing my camera towards them. Only a few tourists pass by, which is quite unusual when walking through the central parts of the HanseCity. The fact that Nikolai Quarter is not listed as a Must-See on every tourguide, is exactly why it is a great example that just strolling around aimlessly often takes you to even greater spots. Due to a historic urban renewal this district is meant to be revaluated and redesigned until 2019, which will for sure attract more tourists by then. So don´t wait too long, if you want to see this area in its authentic shape.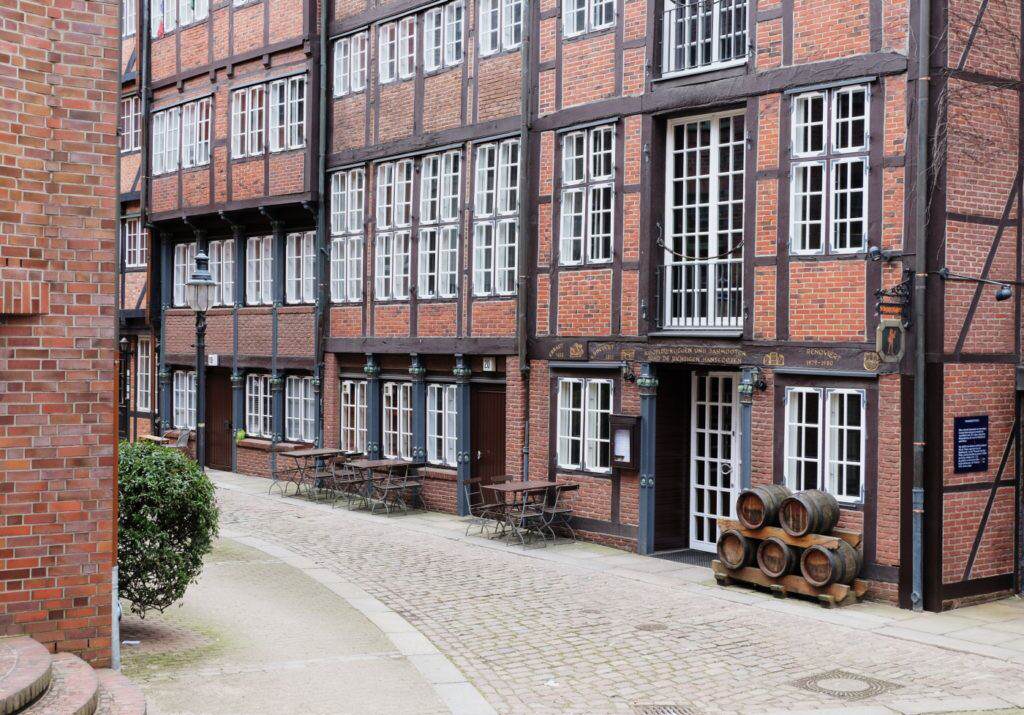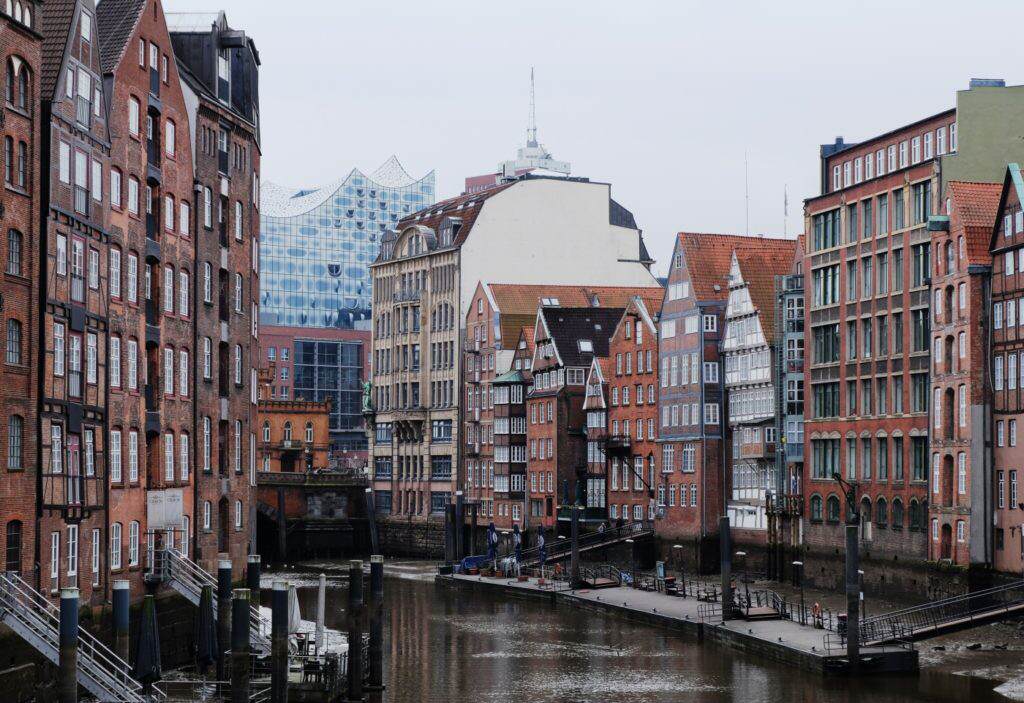 #6 Schanzenviertel: Hamburg Alternativ | alternative vibes
Wer nochmal einen ganz anderen Vibe Hamburgs spüren möchte, kann dies im berühmt-berüchtigten Schanzenviertel tun. Klar ist die "Schanze" schon lange kein Geheimtipp mehr, sondern angesagtes Szeneviertel und Partymeile. Doch ich liebe es immer wieder mich durch die Straßenzüge mit alternativen Läden, Cafés und Kneipen treiben zu lassen und den Kontrast aufzusaugen, den Hamburg an dieser Stelle zu bieten hat. Die lockere Schanzen-Atmosphäre ist augenblicklich spürbar sobald man die Haltestelle "Sternschanze" verlässt und auf die Schanzenstraße mit ihren unzähligen Falafelläden zusteuert.
If you want to experience a totally different vibe of Hamburg, you should visit the "Schanzenviertel", which of course is not the best kept secret anymore, but rather a trendy hotdspot and buzzing nightlife district. Nonetheless: I love to stroll around the streets with its cosy shops, cafés and pubs and soak up the contrasts of the big city life here. You can feel the unique and alternative atmosphere as soon as you leave the metro station "Sternschanze" and walk towards "Schanzenstraße" with its array of Falafel restaurants and take aways.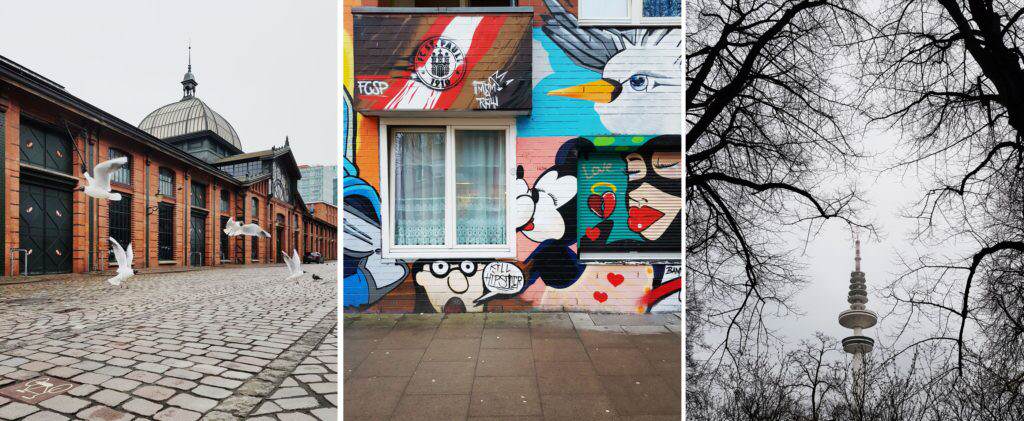 "Die Bullerei" – eines der Restaurants von Tim Mälzers befindet sich ebenfalls hier. Genau wie die beliebte Elbgold Kaffeerösterei. Aber auch kleine, unbekannte und somit nicht ganz so überlaufene Cafés laden zum Verweilen ein.
"Die Bullerei" – one of Tim Mälzer´s restaurants can be found here, as well as the really popular café and roastery "Elbgold". But also small and not overly famous cafés and restaurants are inviting you to pay them a visit.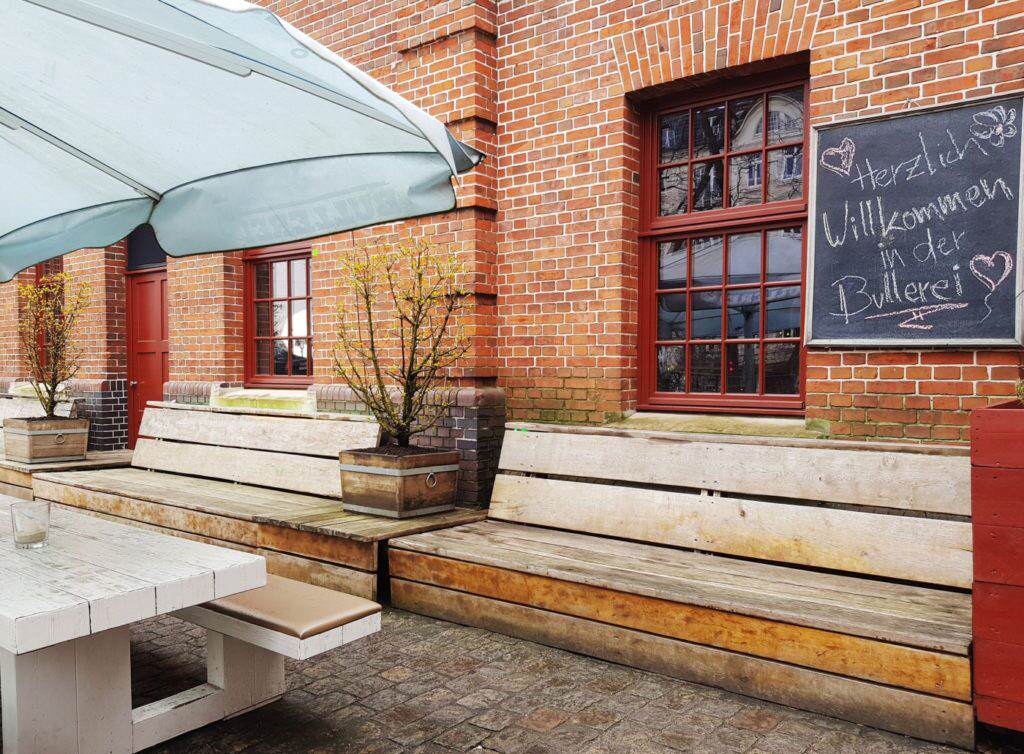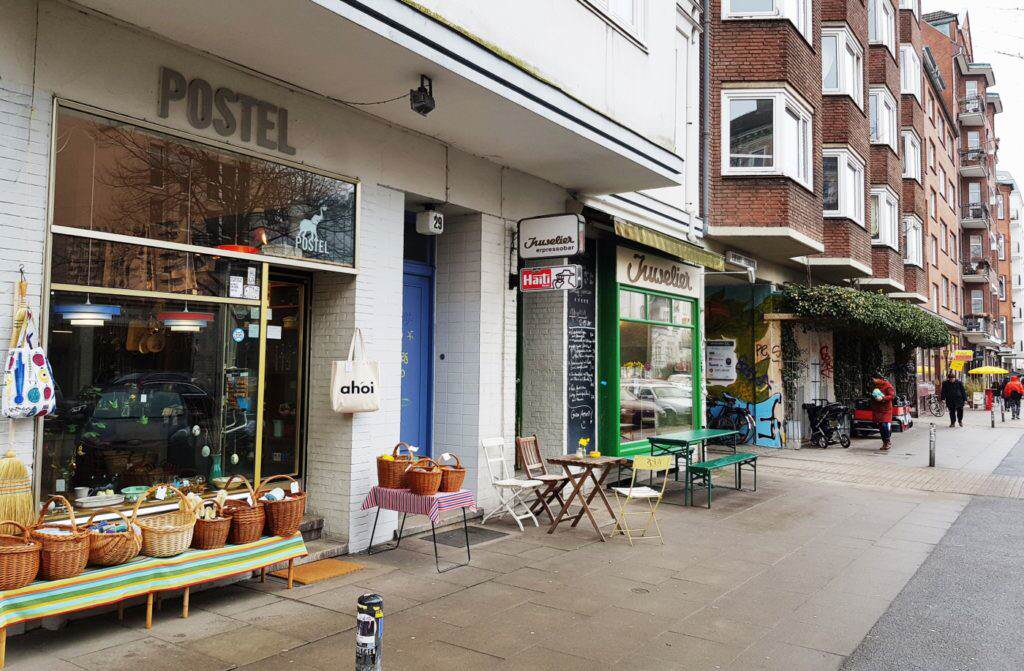 Übernachten in Hamburg | Where to stay
#7 Altona: Günstige Alternative | convenient alternative
Insgesamt war ich drei Nächte in Hamburg, zwei davon habe ich in Altona und eine in zentraler Stadtlage verbracht. Altona ist allein schon wegen der günstigeren Übernachtungspreise eine empfehlenswerte Alternative zur Innenstadt, vor allem wenn die Stadt aufgrund von Messen komplett ausgebucht ist. Der Bahnhof von Altona ist gut mit dem Stadtzentrum verbunden und auch die ICE-Linien halten hier, was Altona definitiv zu einem attraktiven Ausgangspunkt für Stadterkundungen macht.
Altogether I spent 3 nights in Hamburg this time, 2 of those I stayed at a hostel in Altona, the other one really centrally located. Regarding more effordable overnight options Altona is definitely a decent alternative to the city centre, especially when the city is expensive and booked up due to fairs etc.. The train station of Hamburg-Altona has a direct connection to the city centre and also high speed trains (ICE) stop here, which makes Altona an attractive option for city explorations.
#8 Frühstücks-Tipp | Breakfast Recommendation
Richtig gut gefrühstückt habe ich hier im KlippKroog. Ein anscheinend auch bei Hamburgern sehr beliebtes Restaurant.
I found a really great café, which seems to be quite popular among the locals as well: KlippKroog serves a very good breakfast.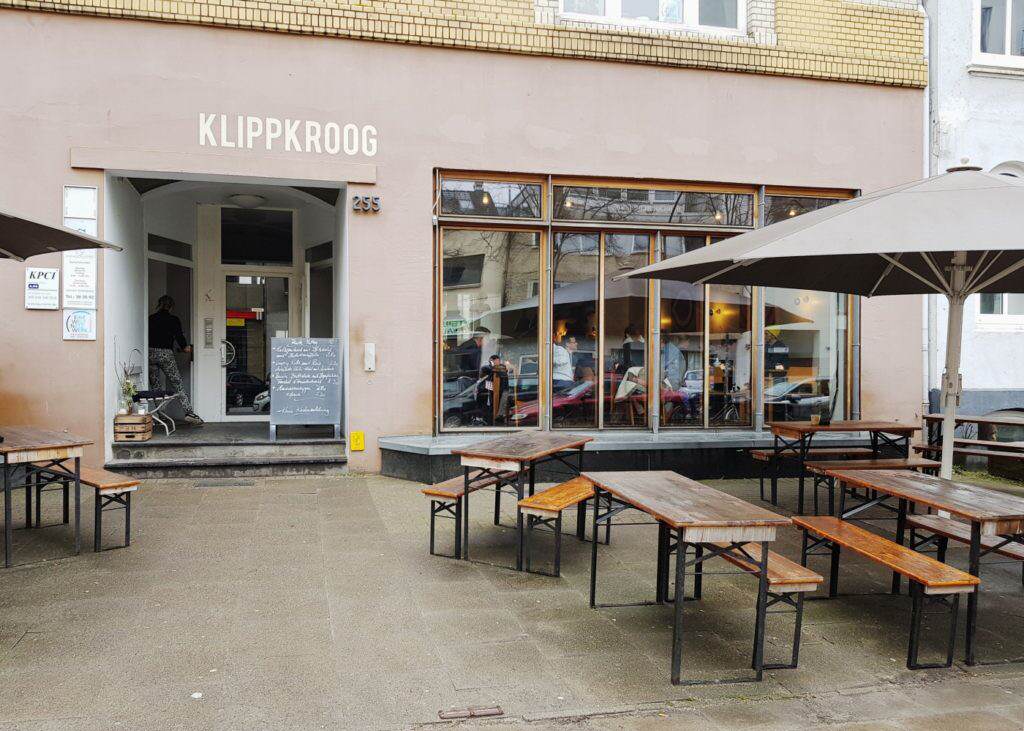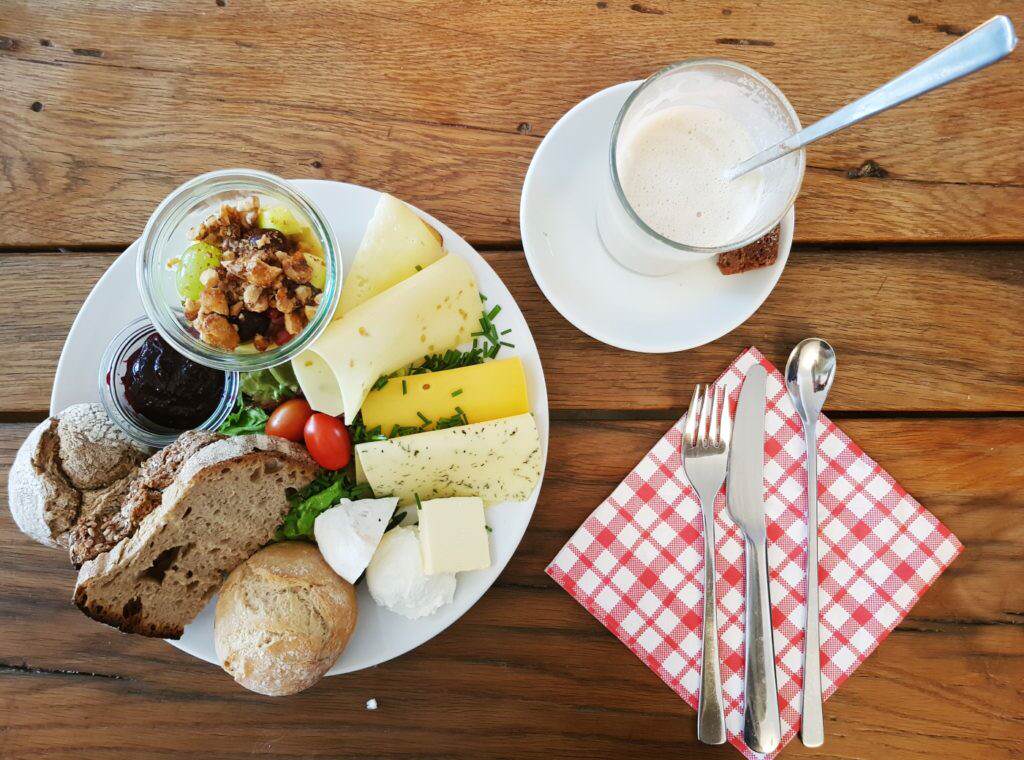 #9 Zentral übernachten | Staying central:
Scandic Hamburg Emporio
Mein Übernachtungstipp geht dennoch an das sehr zentral am Gänsemarkt gelegene Scandic Hamburg Emporio. Denn hier fühle ich mich von der ersten Sekunde an total wohl. Ich mag die skandinavische Schlichtheit und Leichtigkeit, die alle Scandic-Hotels versprühen, sowohl in den Zimmern, als auch in der Lobby – und den anderen ebenfalls stylish eingerichteten Hotelbereichen. Dazu kommt die nordisch angehauchte Küche und das ausgesprochen vielfältige Frühstücksbuffet im H2O-Restaurant. Nach einem langen Tag liebe ich es außerdem mich am Abend zurückziehen zu können und mich nach intensiven Fußmärschen bei einem Sauna-Gang zu entspannen. Auch dafür ist das Scandic Hamburg Emporio die perfekte Wahl.
My recommendation where to stay overnight in Hamburg still goes to a hotel – not just any, but really centrally located at "Gänsemarkt": The Scandic Hamburg Emporio. I felt comfortable by the minute I was walking in, as I really love the featured Scandinavian simplicity and easiness, which all the Scandic hotels offer, not only in the rooms, but also throughout the lobby and all other areas of the hotel, which are decorated with style. On top they have a impressive open kitchen at H2O Restaurant and a very diverse breakfast buffet. Furthermore I always appreciate it when there is a special way to calm down after a long day of wandering around the city – like here being able to relax in the hotel´s own sauna always makes my day.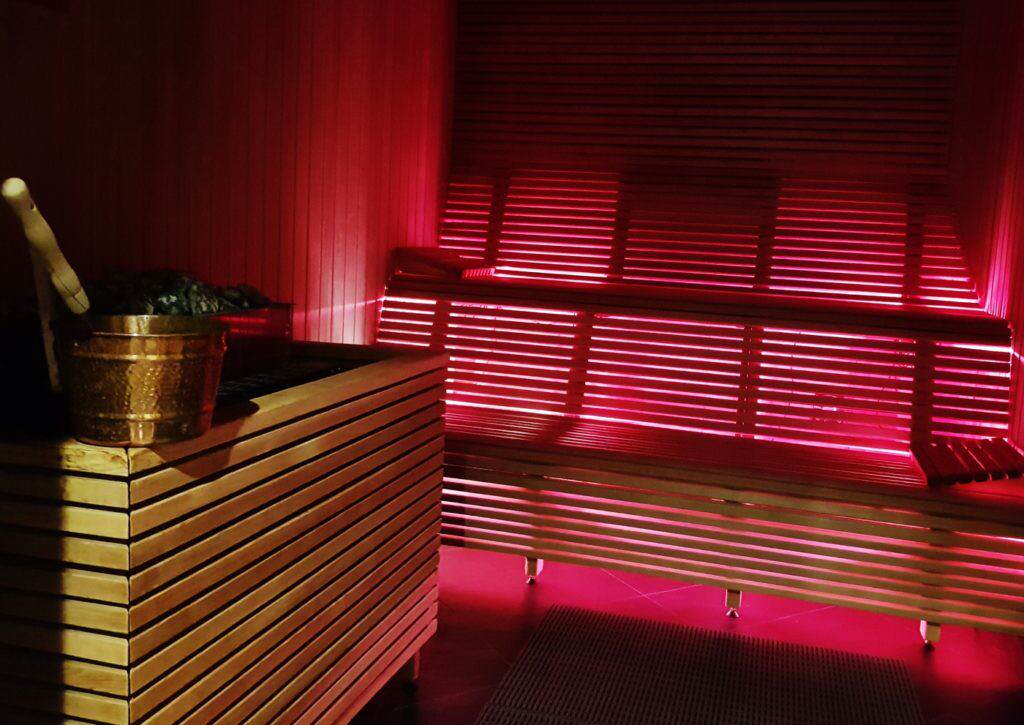 ---
Offenlegung: Die letzte Nacht meiner Hamburg-Reise habe ich kostenfrei im Scandic Hamburg Emporio verbracht und konnte so meinen Städtetrip in Hamburg entspannt abschließen. Vielen Dank, liebes Scandic-Team, dass ich für eine Nacht euer Gast sein durfte!
Disclosure: Scandic Hamburg Emporio offered me one night free of charge, so I could wrap-up my citytrip to Hamburg in a truely relaxed way. Thank you dear Scandic Hamburg Emporio team for having me!