This post is also available in: Deutsch (German)
Hamburg for sure is one of the most popular destinations, when it comes to citytrips in Germany or even Europe. No surprise: Home to Germany´s biggest seaport, the famous warehouse district "Speicherstadt" or the idyllic banks of the river Elbe, Hamburg offers a huge spectrum of sights, which make the city unique. In addition Hamburg comprises a variety of neighbourhoods, some well-known by tourists, like Außen- & Binnen-Alster, Hafen-City or Schanze – others a bit less, still absolute worthwhile a visit, if you want to "live and breath" some real Hamburg air. So where to start, if you only have a 48 hours stay at your hands? Don´t worry: Of course Hamburg is a metropolis, but during my so-far stops I have always experience it as a laid-back city, where you can smoothly drift along. Maybe one of the reasons, why I always discovered something new with every new visit. In this BlogPost I want to share some of my personal Hamburg tipps with you – of course well aware these few recommendations cannot cover all of the city´s diversity.
Hamburg´s Top Sights to see
#1 Hamburg Port
It´s a local classic, but it cannot be missed when in town: Hamburg Port is one of the world´s most flexible and high-performing universal ports, due to ca. 9.000 ship calls per year, almost 300 berths and all together 43 km of quay for seagoing vessels, as well as four container- and three cruise-terminals (hafen-hamburg.de/en/). That´s why the city´s port is not only highly fascinating for tech-loves, but also a must-see for you & me. Every visitor will get impressive insights and views while strolling around the areal. A great way to explore the harbour area is to take a walk along the Northern banks of the river Elbe, where you will pass St. Pauli Fish Market, the old Elbtunnel, the Landungsbrücken piers before you reaching world-famous Elbphilharmonie and Hafencity.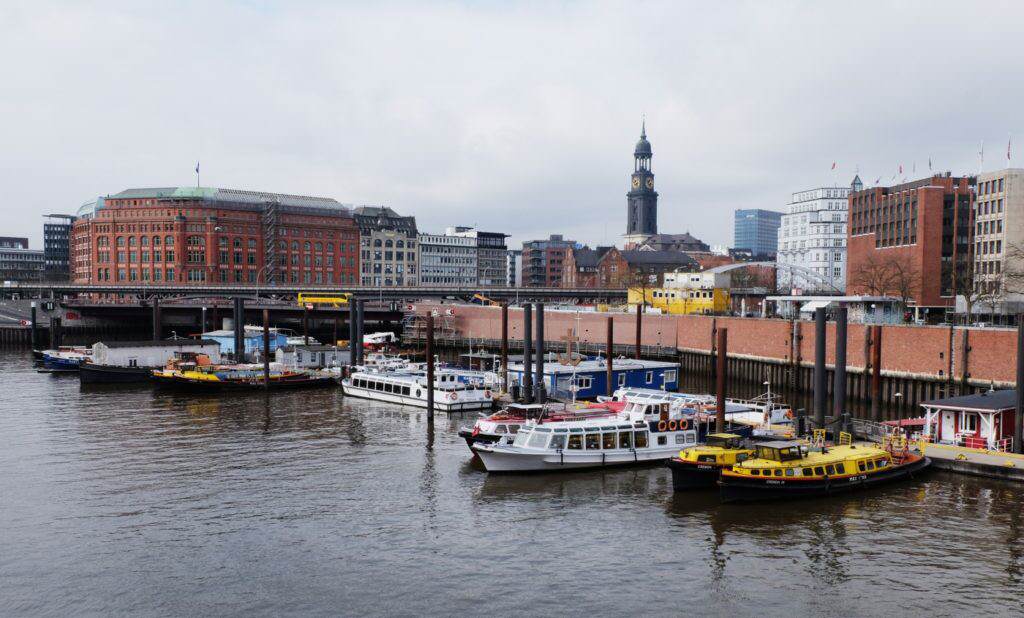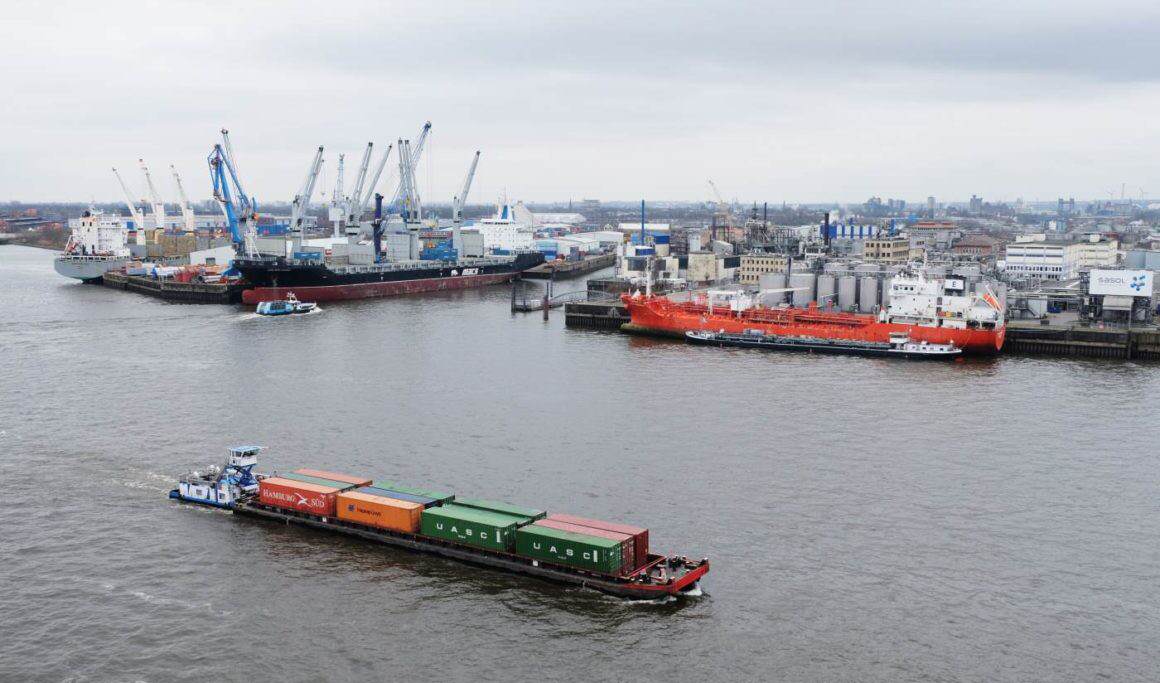 #2 Elbphilharmonie: Hamburg from above
I haven´t been to Hamburg since the Elbphilharmonie´s highly anticipated and celebrated opening in November 2016. That´s why I definitely had to catch a glimpse of this architectural masterpiece, even without the chance of attending a concert. It has already been captured thousand of times from different angles, but also the view from above is worth it. The viewing platform in 37 metres hight promises a panoramic view of river Elbe, the Port, Speicherstadt and HafenCity and is free of charge (at least until August 2018). You can reserve a ticket online for 2 Euro, allowing you to enter the platform at a specific day and time and skip queues.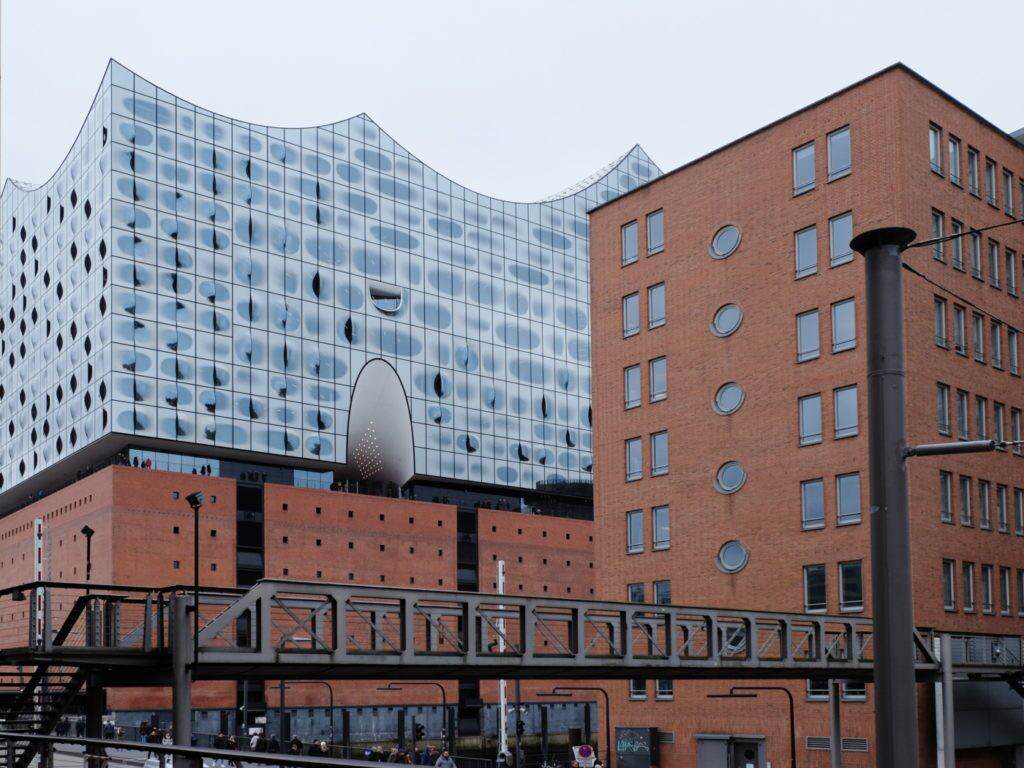 So I take the 80 metres long and curved escalators, called "Tube" to get up to the 6th floor, where a panorama-window already offers first previews. Two floors further up, you get to the outside plaza, where you can circumnavigate the Elbphilharmonie, and enjoy really incredible views of the city centre and harbour area.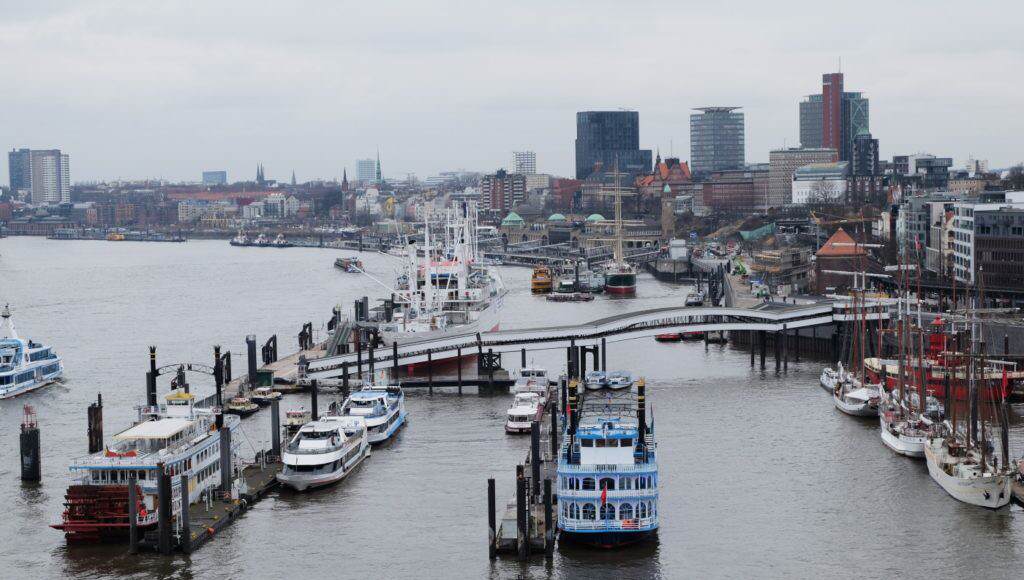 #3 Hamburg´s "Speicherstadt"
The architecture of the "Speicherstadt" is truly unique. It feels like wandering through an almost endless open air museum, once you have started exploring this huge warehouse complex. The orange-brown coloured facades fascinate even more, when they get touched by the afternoon sunlight. I love to stroll around the canals, crossing bridges and catching memorable views.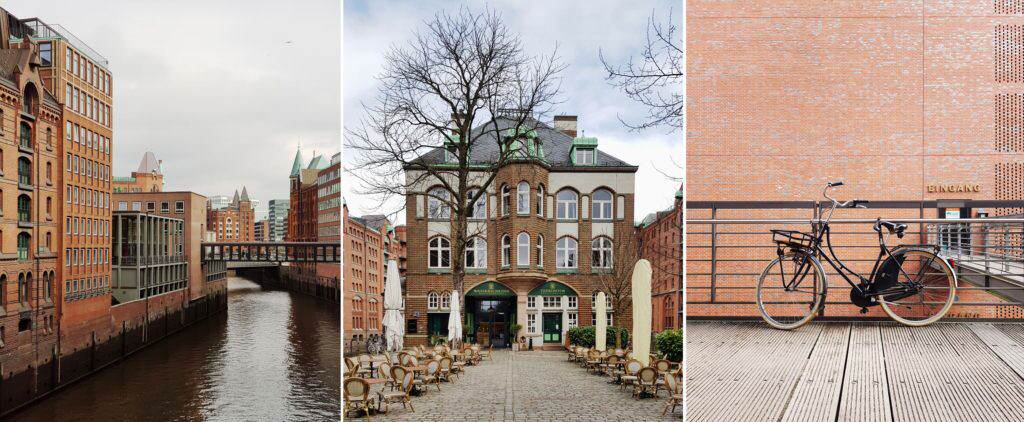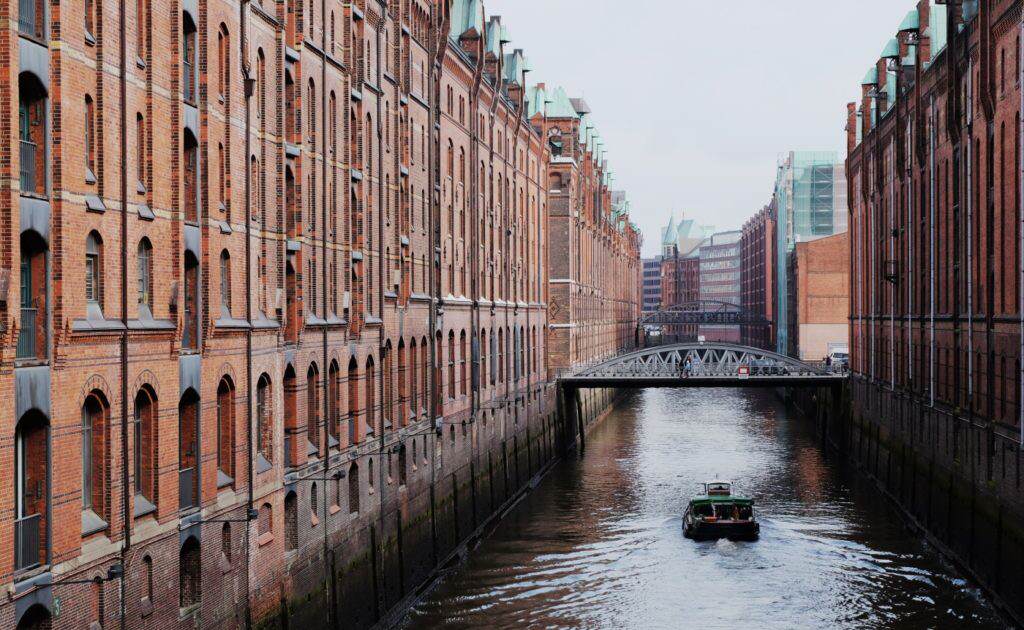 One of the most popular photo spots is the water castle, which you can view best from Poggenmühlenbrücke, at the same it´s pittoresque looking at its front facade. Inside you can find Café Fleetschlösschen, a former custom booth – so this place, even if it´s really touristy, is your perfect spot for a short afternoon break.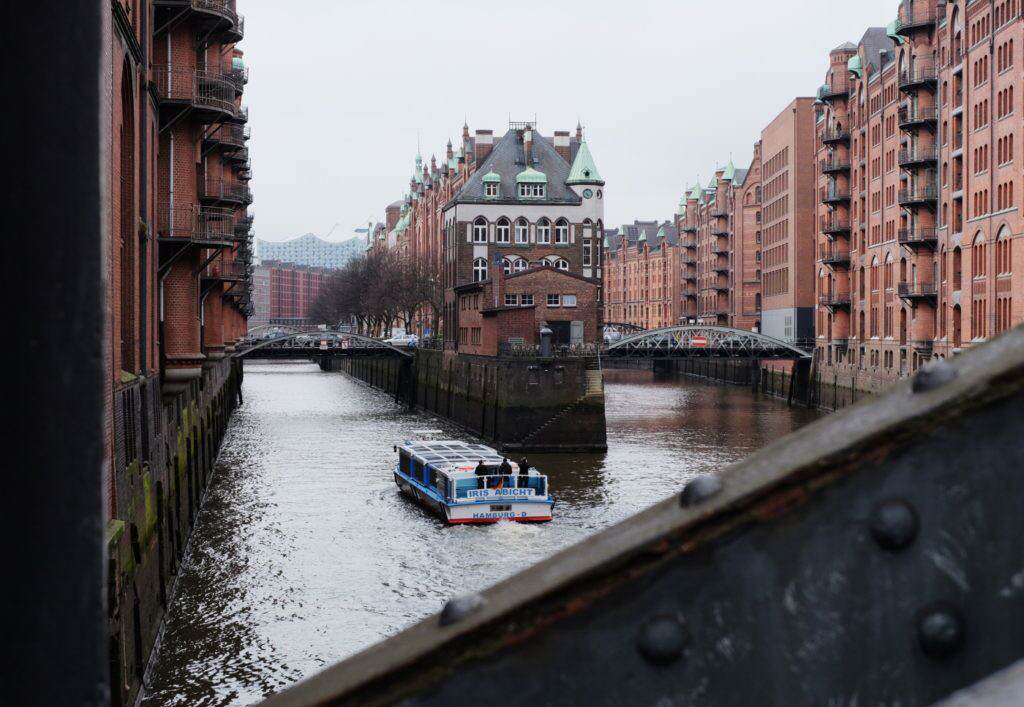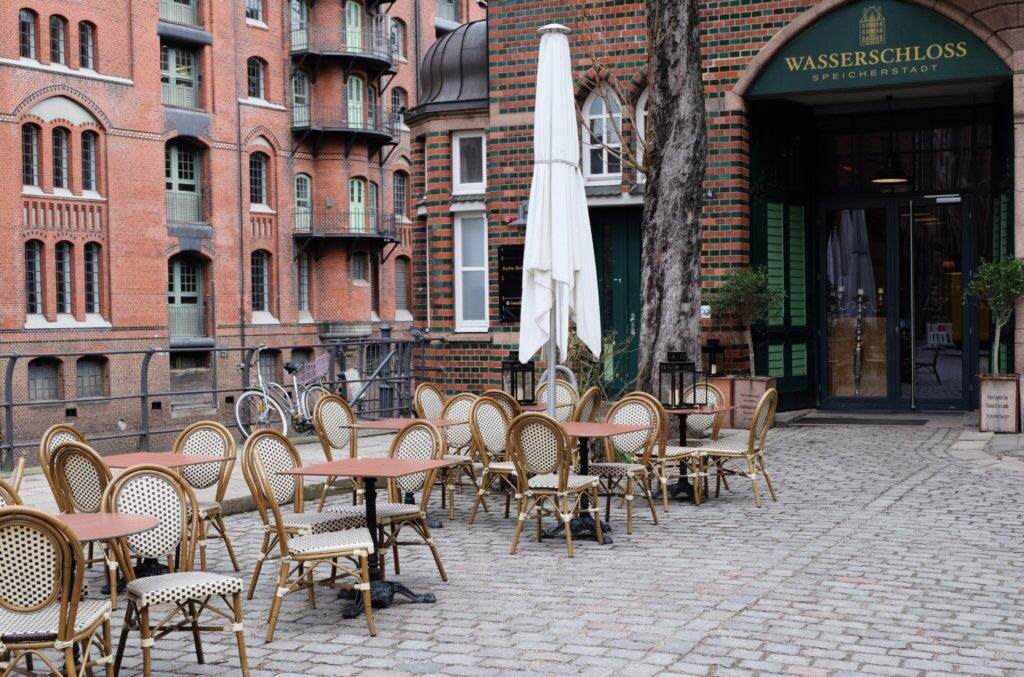 For those who prefer just to grab a quick bite, you will find everything from Currywurst, Fish & Chips to Indian specialities in the "Markthalle".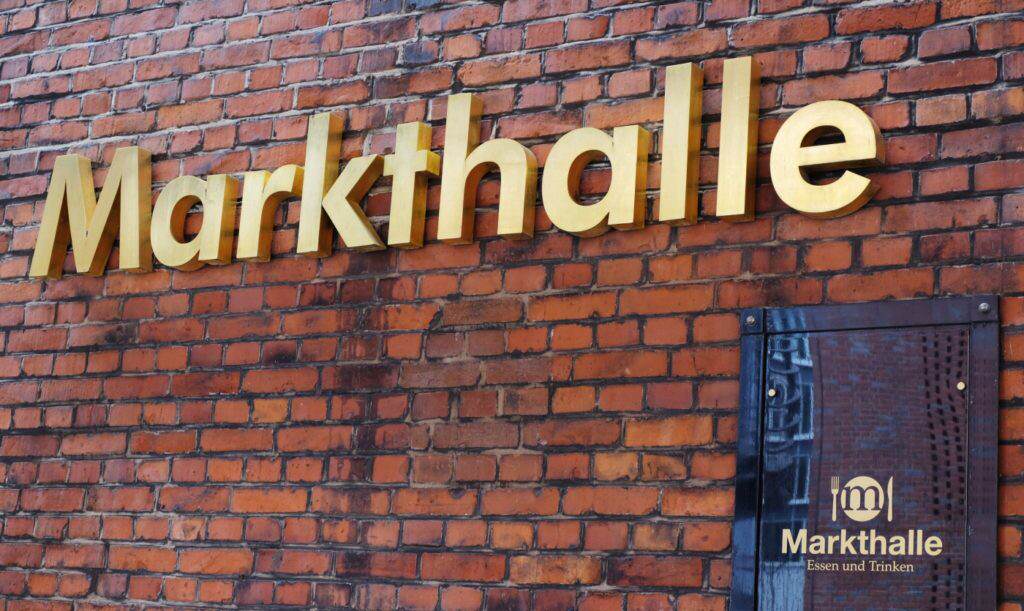 #4 Kontorhaus district
Adjoined lies another very interesting area for architecture-lovers: The Kontorhaus district. So far I never had the chance to take a look around here. But this time I don´t want to miss this urban areal in Hamburg´s city centre with its striking and so typical buildings of Northern German port cities. Around each and every corner you will find another beautiful facade or wooden door. Even the local police station welcomes with an impressive entrance. So there is so more to see besides the popular Chilehaus office-buidling, which of course is also worth a visit when you are closeby.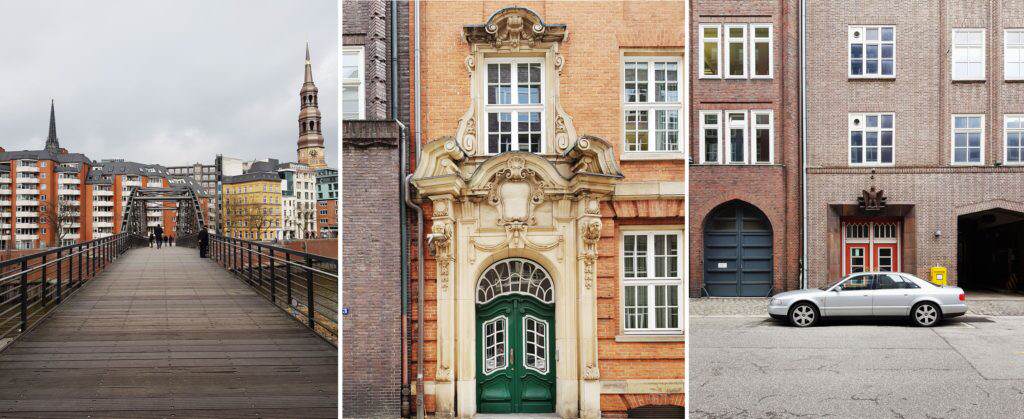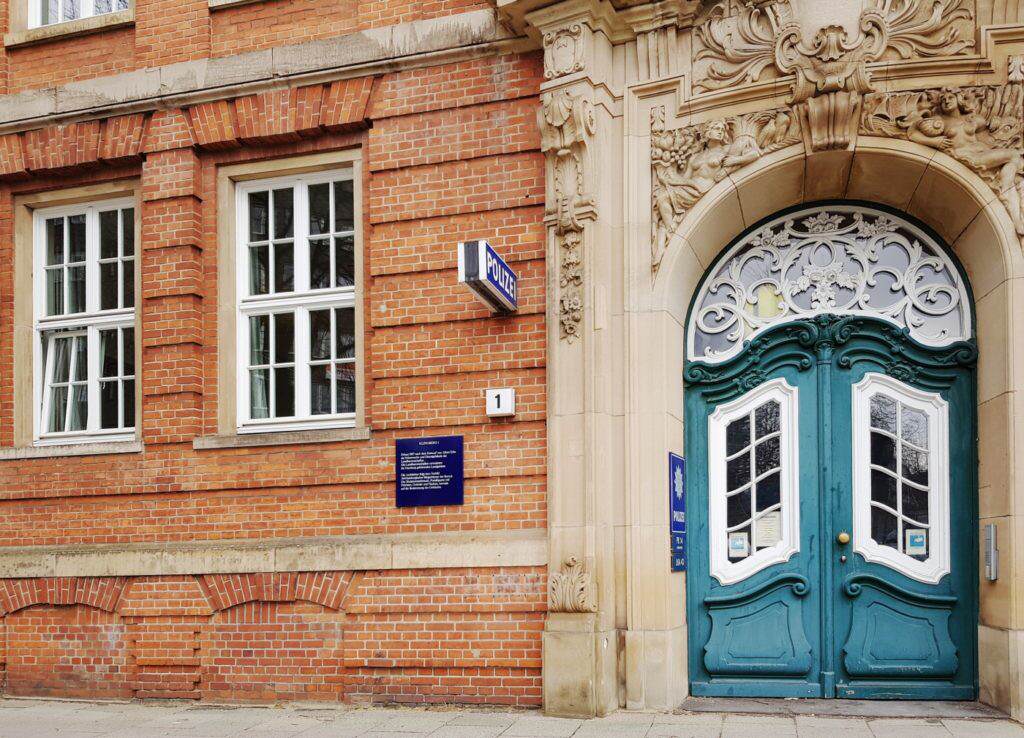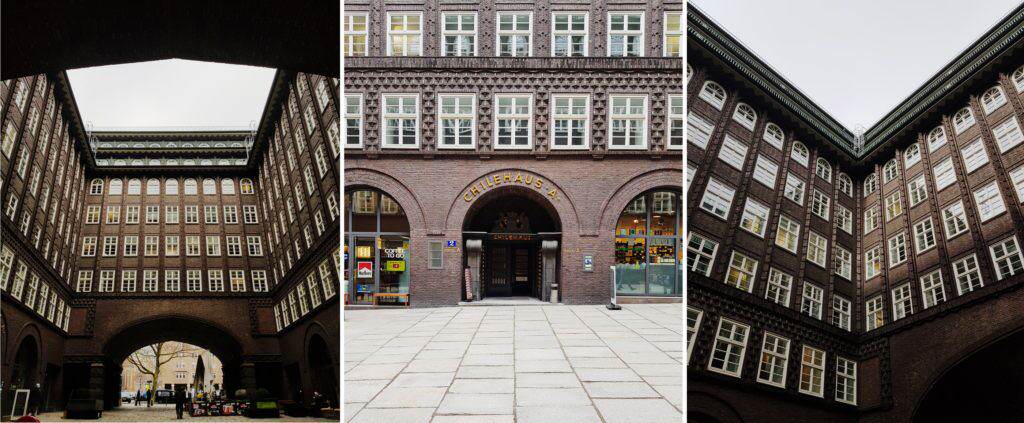 #5 Nikolai Quarter
Also reachable in walking distance, you will find the Nikolai Quarter, which is located in the South of Hamburg´s city centre, just between Nikolai Fleet and Alsterfleet. The narrow alleys and the small specialitiy shops make you feel like wandering through a small village. You can still feel that the history of Hamburg once started from here. The tightly lined up facades are not visible at first glance, but once discovered, I cannot stop pointing my camera towards them. Only a few tourists pass by, which is quite unusual when walking through the central parts of the HanseCity. The fact that Nikolai Quarter is not listed as a Must-See on every tourguide, is exactly why it is a great example that just strolling around aimlessly often takes you to even greater spots. Due to a historic urban renewal this district is meant to be revaluated and redesigned until 2019, which will for sure attract more tourists by then. So don´t wait too long, if you want to see this area in its authentic shape.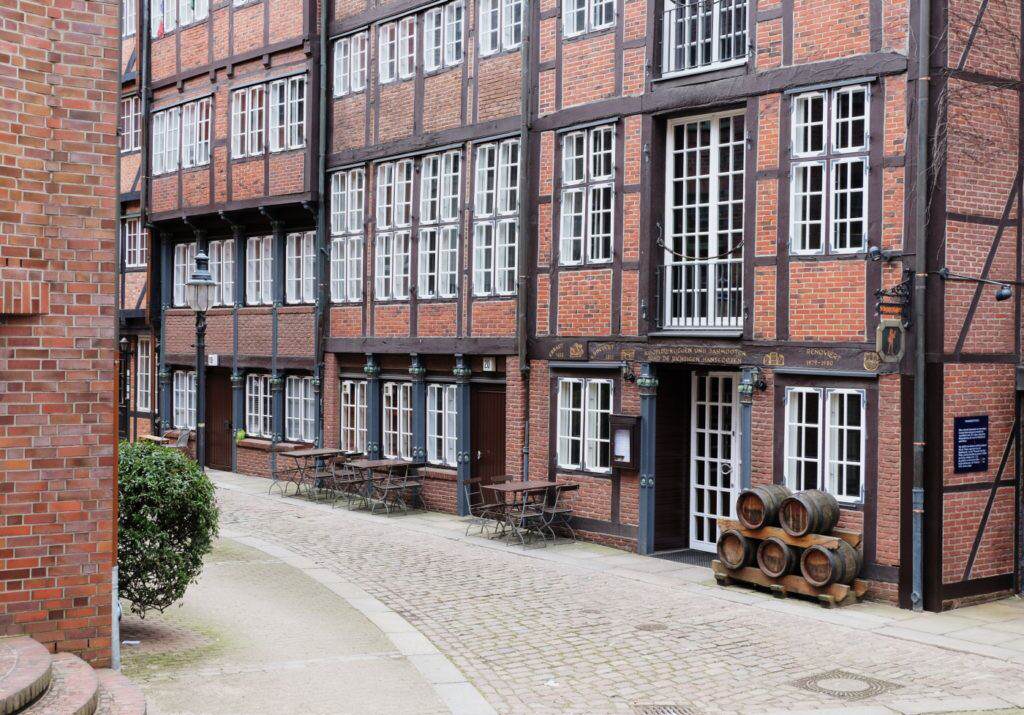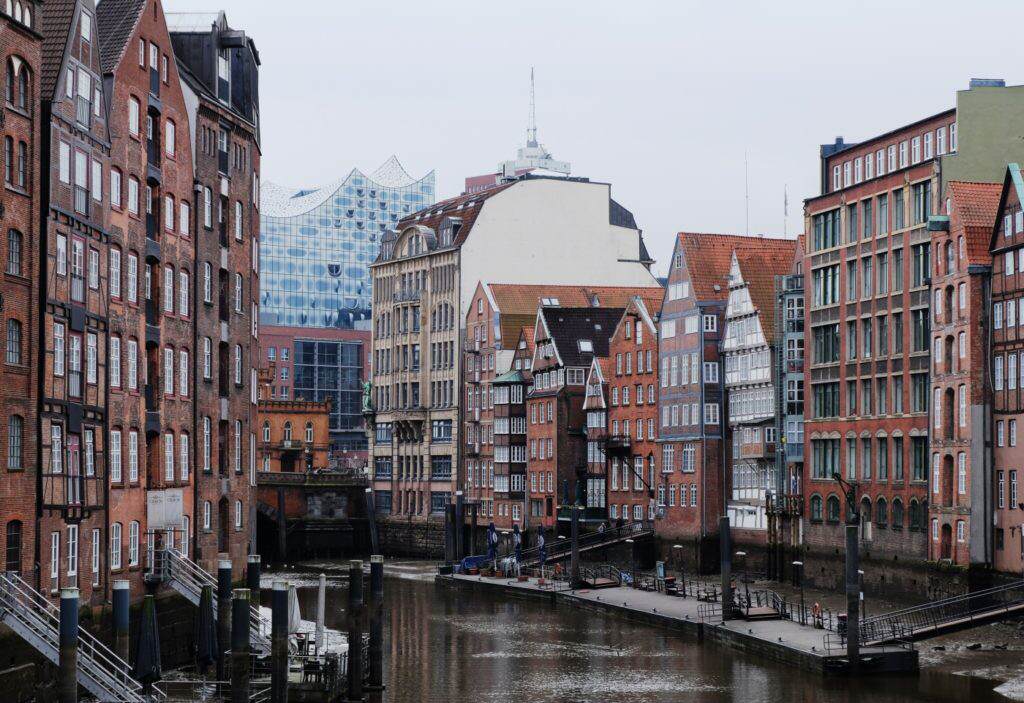 #6 alternative vibes
If you want to experience a totally different vibe of Hamburg, you should visit the "Schanzenviertel", which of course is not the best kept secret anymore, but rather a trendy hotdspot and buzzing nightlife district. Nonetheless: I love to stroll around the streets with its cosy shops, cafés and pubs and soak up the contrasts of the big city life here. You can feel the unique and alternative atmosphere as soon as you leave the metro station "Sternschanze" and walk towards "Schanzenstraße" with its array of Falafel restaurants and take aways.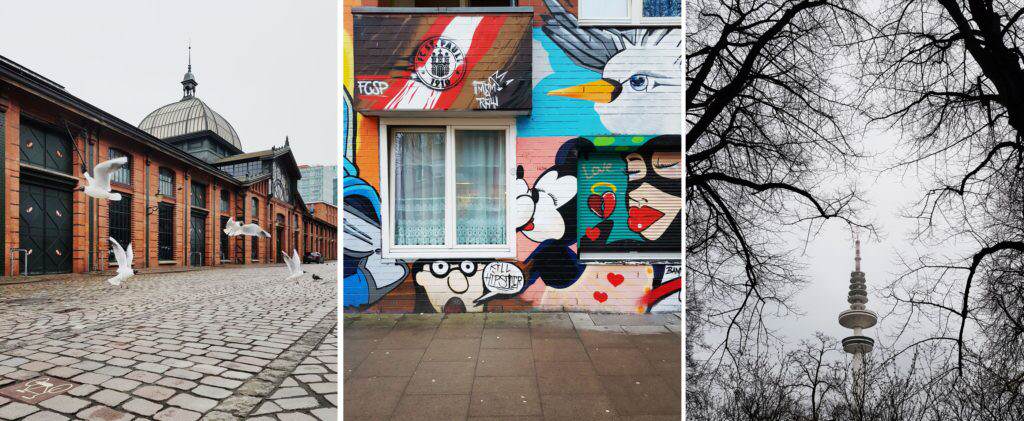 "Die Bullerei" – one of Tim Mälzer´s restaurants can be found here, as well as the really popular café and roastery "Elbgold". But also small and not overly famous cafés and restaurants are inviting you to pay them a visit.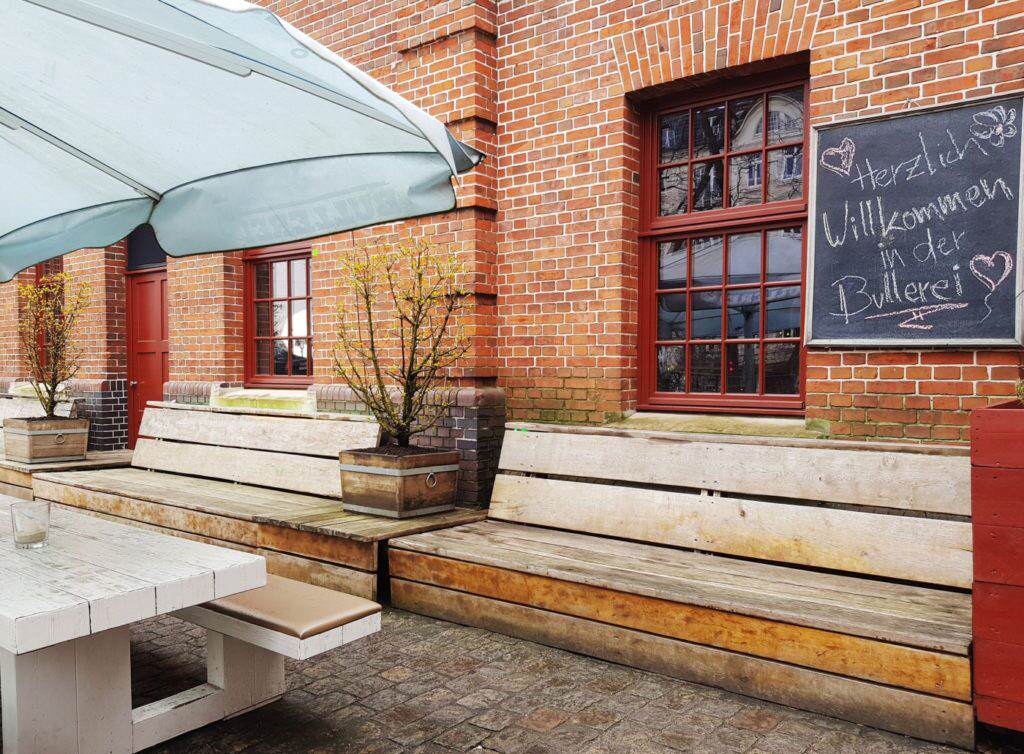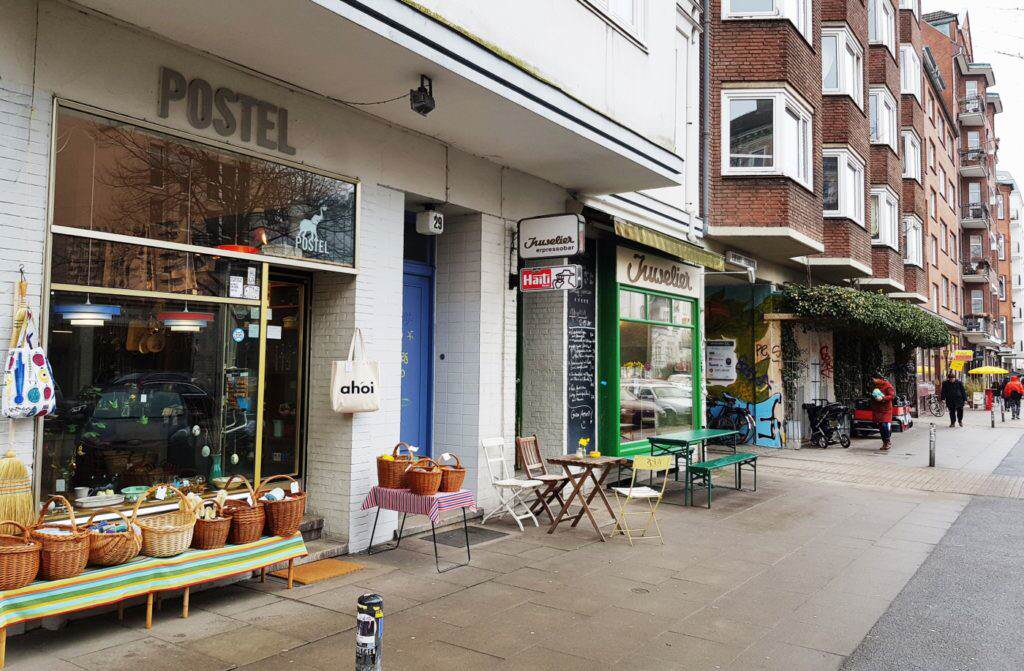 Where to stay in Hamburg
#7 Altona: convenient alternative
Altogether I spent 3 nights in Hamburg this time, 2 of those I stayed at a hostel in Altona, the other one really centrally located. Regarding more effordable overnight options Altona is definitely a decent alternative to the city centre, especially when the city is expensive and booked up due to fairs etc.. The train station of Hamburg-Altona has a direct connection to the city centre and also high speed trains (ICE) stop here, which makes Altona an attractive option for city explorations.
#8 Breakfast Recommendation
I found a really great café, which seems to be quite popular among the locals as well: KlippKroog serves a very good breakfast.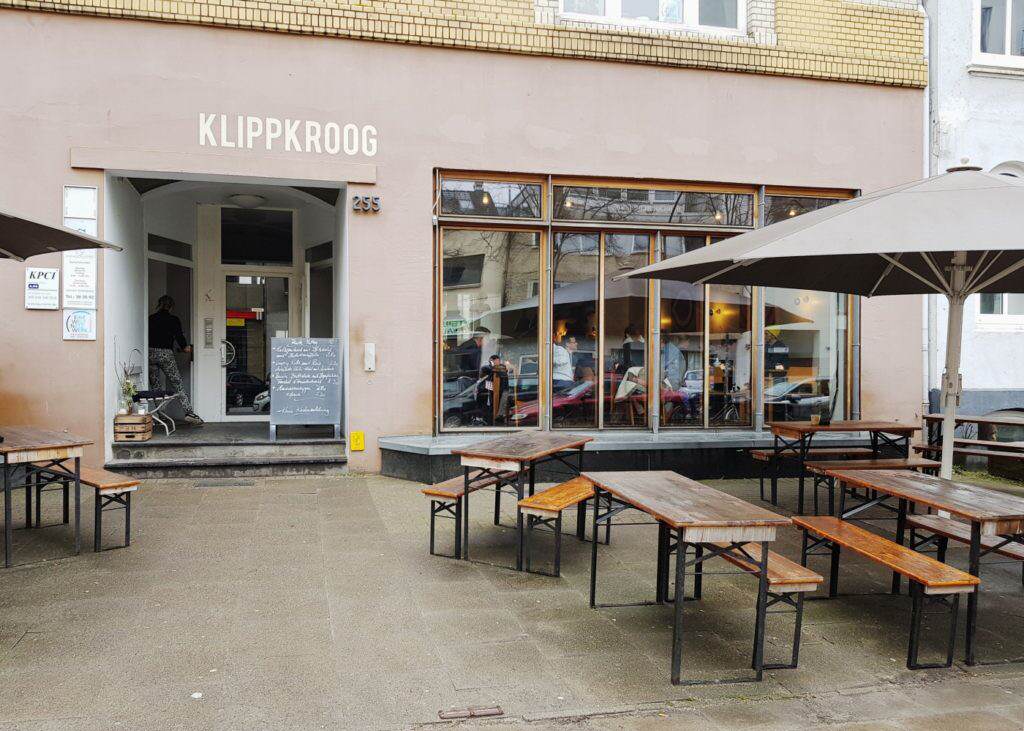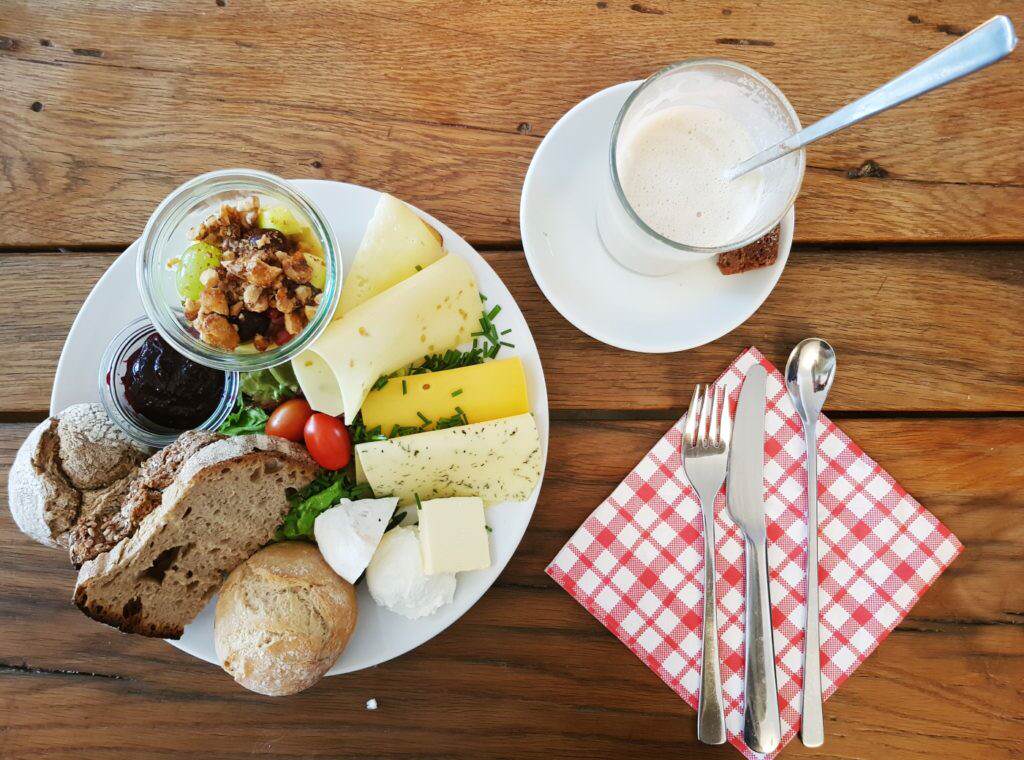 #9  Staying central: Scandic Hamburg Emporio
My recommendation where to stay overnight in Hamburg still goes to a hotel – not just any, but really centrally located at "Gänsemarkt": The Scandic Hamburg Emporio. I felt comfortable by the minute I was walking in, as I really love the featured Scandinavian simplicity and easiness, which all the Scandic hotels offer, not only in the rooms, but also throughout the lobby and all other areas of the hotel, which are decorated with style. On top they have a impressive open kitchen at H2O Restaurant and a very diverse breakfast buffet. Furthermore I always appreciate it when there is a special way to calm down after a long day of wandering around the city – like here being able to relax in the hotel´s own sauna always makes my day.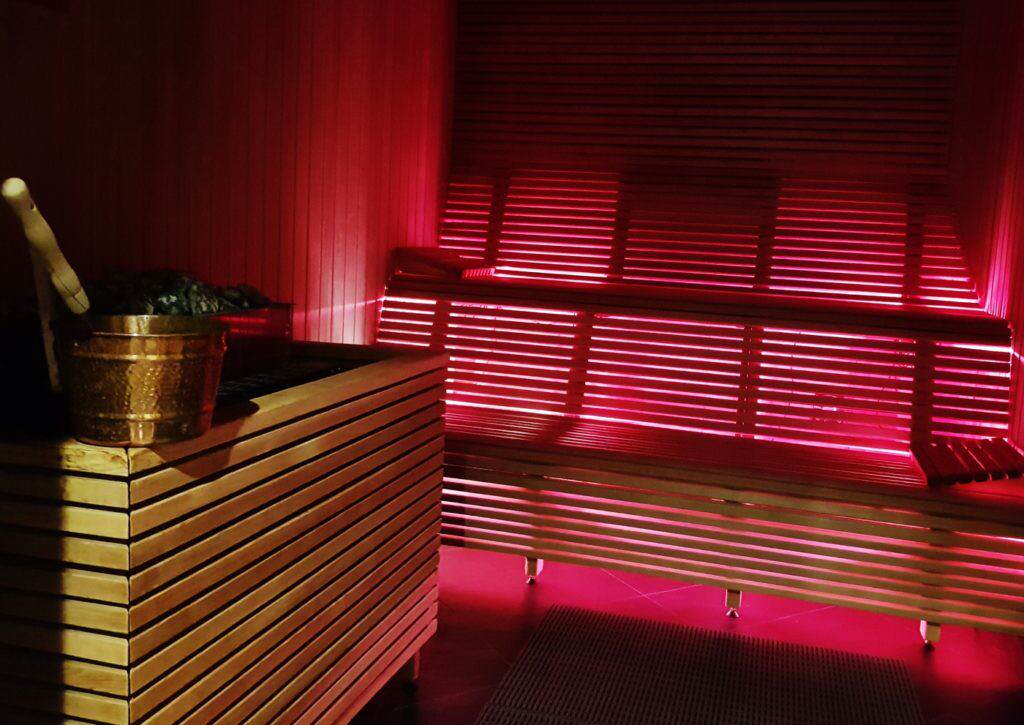 ---
***
DISCLOSURE:
Scandic Hamburg Emporio offered me one night free of charge, so I could wrap-up my citytrip to Hamburg in a truely relaxed way. Thank you dear Scandic Hamburg Emporio team for having me!
***
QUESTIONS & COMMENTS?
Have you ever been to Hamburg? Wich city is your favourite for a citytrip? Leave me a comment!
Do you like the article, or still have any suggestions or critics? I am happy to read what you are thiking! If you like my content, please feel free to share this article with your friends!
***
 – SMILE4TRAVEL NEWSLETTER –
Become part of the Smile4Travel Community – Follow my Facebook Page & Instagram and register for my Newsletter, so you don´t miss any Smile4Travel adventures! No Spam – I promise!
[mailpoet_form id="1″]