Meine Reise in die Hauptstadt der Ukraine fühlt sich an wie eine Zeitreise in eine längst vergangene Epoche. Dabei ist Kiew eine Stadt voller Kontraste: Plattenbauten und sowjetischer Brutalismus prägen das Stadtbild genauso wie prunkvolle Kirchen und Kathedralen, die sich in der gesamten Stadt verteilen. Fünf Tage habe ich in der ukrainischen Hauptstadt verbracht und bin begeistert. Begeistert von der Vielfältigkeit, dem Zusammenspiel von Moderne und historischen Bauten, vom guten Essen und dem Individualismus, der in der gesamten Stadt sichtbar ist. Ich nehme euch mit auf eine Reise durch Kiew und zeige euch die Highlights meiner Fotoreise, die in Kooperation mit Samsung Mobile Deutschland entstanden ist. Alle Fotos sind mit dem GalaxyNote9 aufgenommen und finden sich teils auch auf meinem Instagram-Account @Smile4Travel wieder. #Smile4TravelinUkraine
My trip to the Ukrainian capital feels like travelling back in time, even if Kiev is a city full of contrasts: Prefabricated buildings and Soviet Brutalism define the cityscape as well as magnificant churches and cathedrals. I have spent five days in Kiev and I am thrilled. – Thrilled by the coexistence of modern and historical buildings, by the delicious food and the individualism, which is visible in each and every street and corner of the city. Let me take you on a journey through Kiev and show you the highlights of my phototour, which is the outcome of my collaboration with Samsung Mobile Germany. All pictures in this blogpost are taken with the Galaxynote9 and some of them you can also find on my Instagram @Smile4Travel. #Smile4TravelinUkraine
#1 Vozdvyzhenka District Kiew
Bunte Häuserfassaden und Kopfsteinpflaster prägen die Straßenzüge des historischen Stadtteils Vozdvyzhenka. Gemütlich lässt es sich hier bis zum Andreassteig (Andriivski Descent) schlendern, der bergauf zum Castle Hill führt.
Colourful facades and cobblestones mark the streets of the historical Vozdvyzhenka District. From here you can easily walk towards Andriivski Descent, which willl lead you up the Castle Hill.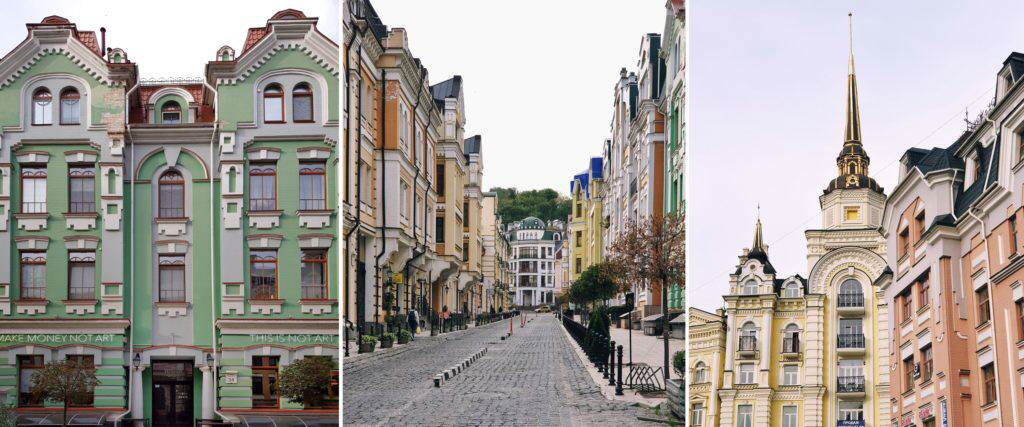 #2 Castle Hill | Kiev Hill
Doch den besten Blick auf das farbenfrohe Vozdvyzhenka-Viertel genießt man von oben – vom so genannten Castle Hill (Zamkova Hora), auch Kiev Hill genannt. Dieser lohnt sich etwas genauer zu erkunden, denn für die beste Aussicht folgt ihr am besten dem Trampelpfad bis ins Gebüsch.
But the best view of Vozdvyzhenka District you can catch from above – from the so called Castle Hill (Zamkova Hora), also known as Kiev Hill. It is worth to go for a short exploration as for the best view you should follow the small trail into the bushes.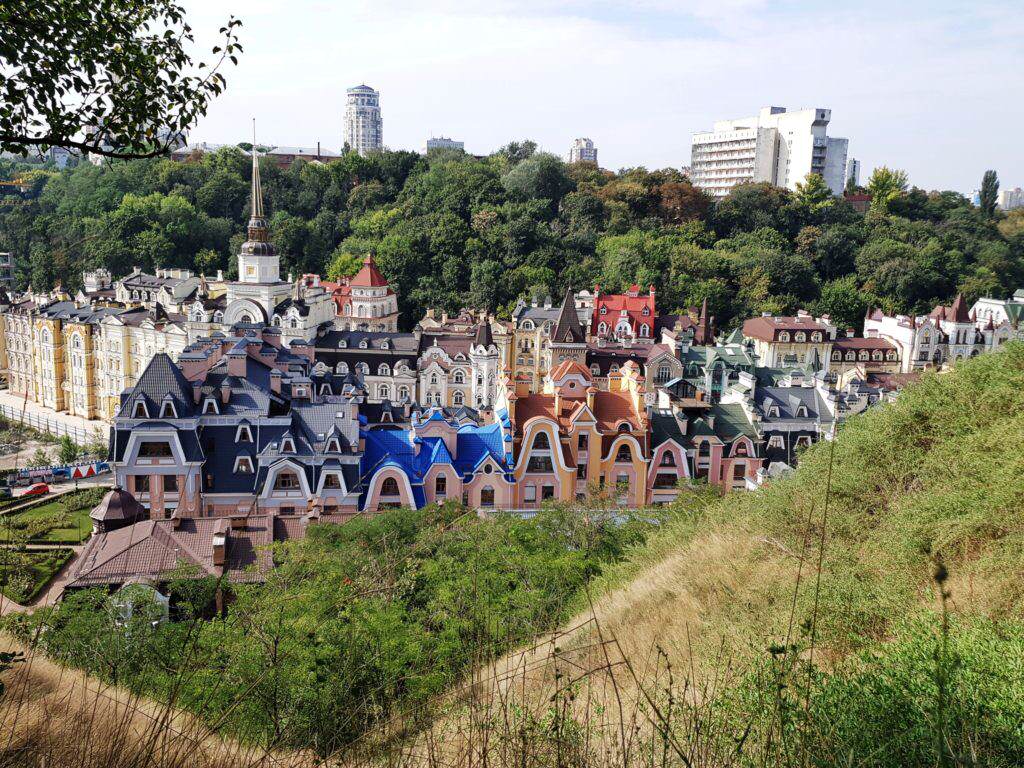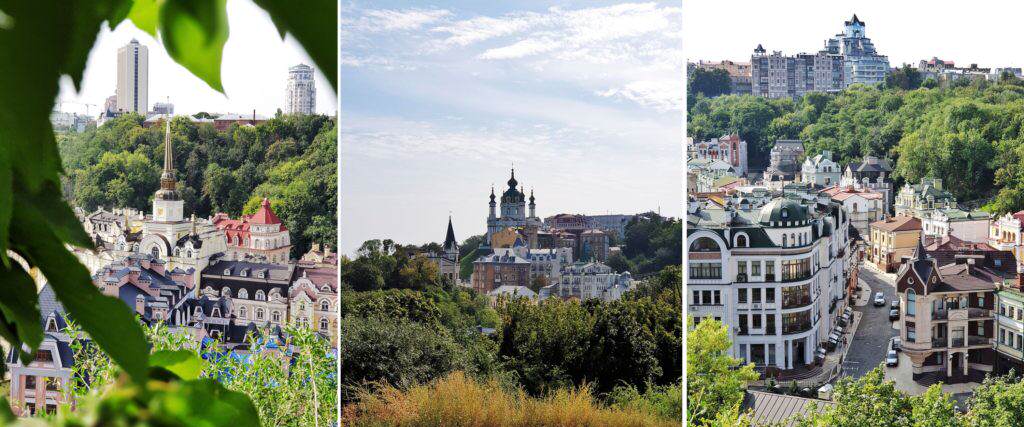 #3 Andreassteig | Andriivski Descent
Auf dem Weg entlang des Andreassteigs (Andriivski Descent) zur St. Andreas-Kirche gibt es Einiges zu entdecken: Neben Restaurants, Cafés und einem Flohmarkt, der wirklich zum Bummeln einlädt ist mein Highlight das riesige, frei stehende Wandgemälde "Revival / Renaissance", das der französische Streetart-Künstler Seth Globepainter zusammen mit dem ukrainischen Künstler Aleksey Kislow geschaffen hat.
On the way uphill the Andriivski Descent there is heaps to exploe before you eventually reach St. Andrew´s church: Besides restaurants, cafés and a flea market, which is really worth a visit, my highlight is the huge standalone mural "Revival / Renaissance", created by the French streetartist Seth Globepainter together with the Ukrainian artist Aleksey Kislow.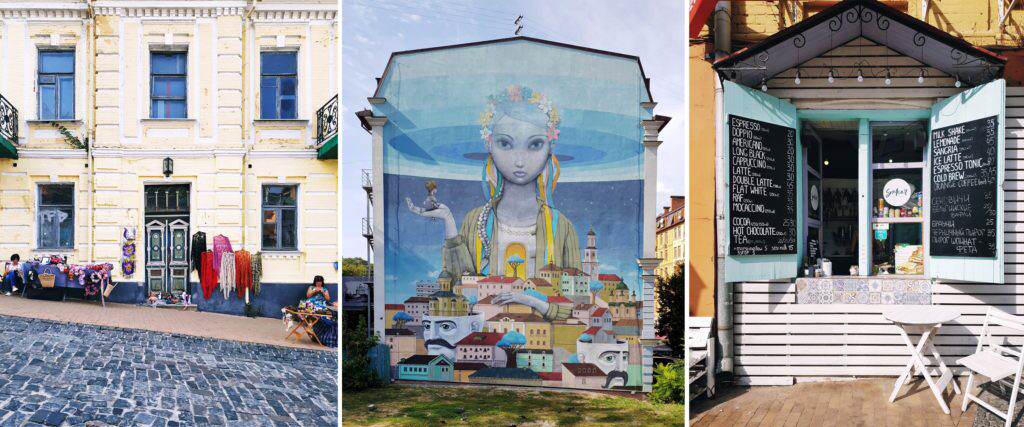 #4 St. Andreas-Kirche | Andriivska Church
Prunkvoll trohnt die riesige Barockkirche "St. Andrew´s" am Ende des Andreassteigs über der Altstadt von Kiew und strahlt mit ihren grün-goldenen Kuppeln eine königliche Majestät aus. Egal aus welcher Perspektive: Definitiv ein lohnenswertes Fotomotiv. Diese auffälligen mit gold verzierten Kirchturmspitzen finden sich übrigens in unterschiedlichsten Formen in ganz Kiew wieder, weshalb die Stadt auch den Spitznamen "Stadt der goldenen Kuppeln" trägt.
This major Baroque St. Andrew´s church (Andriivska Church) resides on the top of Andriivski Descent. No matter from which perspective: It is definitely a great photo motive. With its green-gold cupolas it is overlooking the old town of Kiev. This kind of golden domes you will find throughout the whole city of Kiev, giving the city its nickname "City of the golden cupolas".
#5 St. Michaelskloster | St. Michael´s Golden Domed Cathedral
Wunderschön erstrahlt auch das St. Michaelskloster mit seiner himmelblauen Fassade und den goldenen Kuppeln. Die komplette Anlage rund um das Mönchskloster ist sehenswert und wartet mit einigen tollen Fotomotiven auf, wie z.B. der Klosterkirche.
Also really beautiful is the St. Michaels Golden Domed Cathedral with its sky blue facades and golden cupolas. The whole monastery is worth a stroll, as there are great photo opportunities to discover, like the abbey for example.
#6 Children Landscape Park Peizazhna Alley
Ein fantasievolles Paradies versteckt sich hinter diesem kleinen Landschaftspark, der seit 2009 besonders an Popularität gewonnen hat, nachdem der Bildhauer Kostyantyn Skrytutsky dort einige surreale Figuren errichtete. Seitdem zieren Mosaike und "Alice im Wunderland"-ähnliche Figuren das Areal: Blaue Katzen oder grüne Hasen, die als Parkbank dienen. Die Peizaahna Alley mit ihren Spielplatzelementen ist definitiv nicht nur etwas für Kinder.
A small imaginatively paradies hides behind this Childrens Landscape Park "Peizaahna Alley". It became even more popular in 2009, after the sculptor Kostyantyn Skrytutsky installed some surrealistic "Alice in Wonderland"-like figures there, eg. blue cats or green rabbits, which serve as a bench to sit on. Peizaahna Alley with its playground elements definitely is not only made for kids.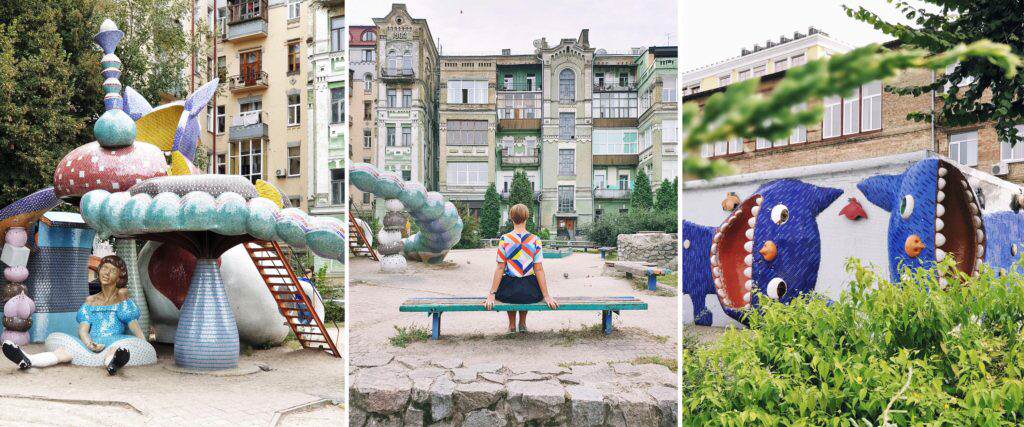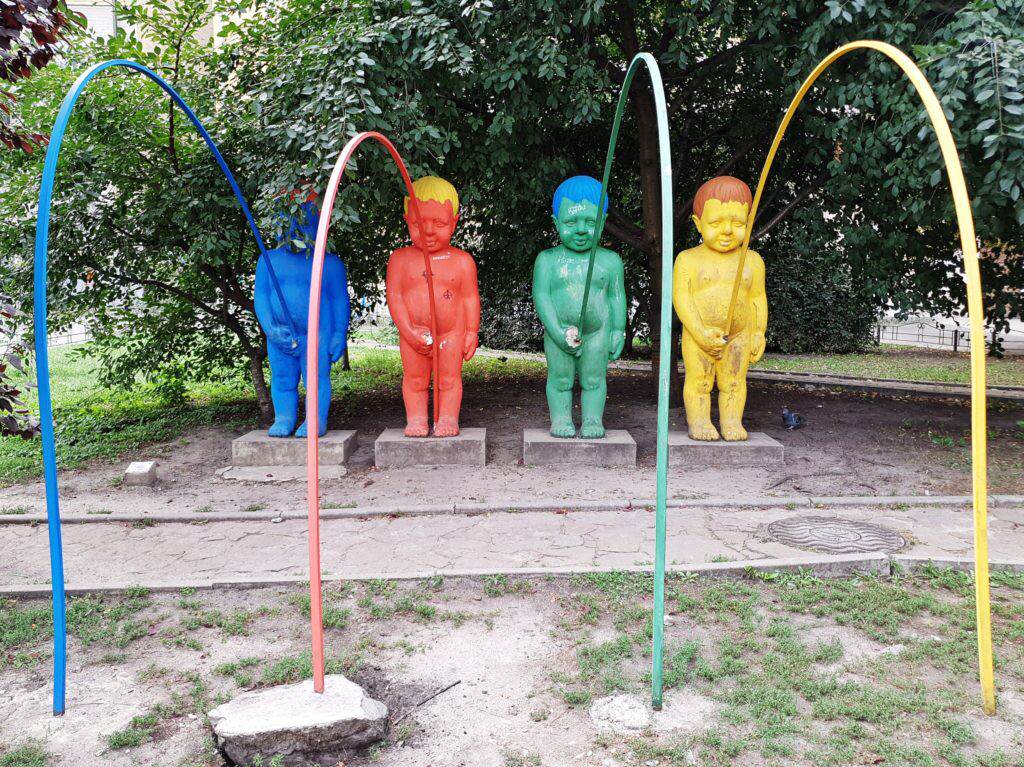 #7 Maidan Nezalezhnsti: Platz der Unabhängigkeit | Independence Square
Der Platz der Unabhängigkeit (Maidan Nezalezhnsti) ist der größte Platz Kiews und sollte auf jeden Fall auf der Liste stehen – schon allein wegen seiner geschichtsträchtigen Bedeutung. Viele politische Ereignisse haben sich hier abgespielt. Nachdem die Gebäude rund um den "Maidan" im 2. Weltkrieg komplett zerstört wurden, wurden diese in den Jahren danach im Neoklassischen Stil stalinistischer Architektur wieder aufgebaut. In einem der Gebäude befindet sich heute kurioserweise ein Mc Donald´s-Restaurant.
The Independence Square, also shortly called "Maidan" is the biggest square of Kiev and should definitely be on your list when visiting the Ukrainian capital. It has been the location of many political events in the past. The buildings around the square were totally destoyed in World War Two and afterwards have been reconstructed in the neo-classical Stalinist architecture. Fun fact: In one of the buildings you will find a Mc Donald´s Restaurant these days.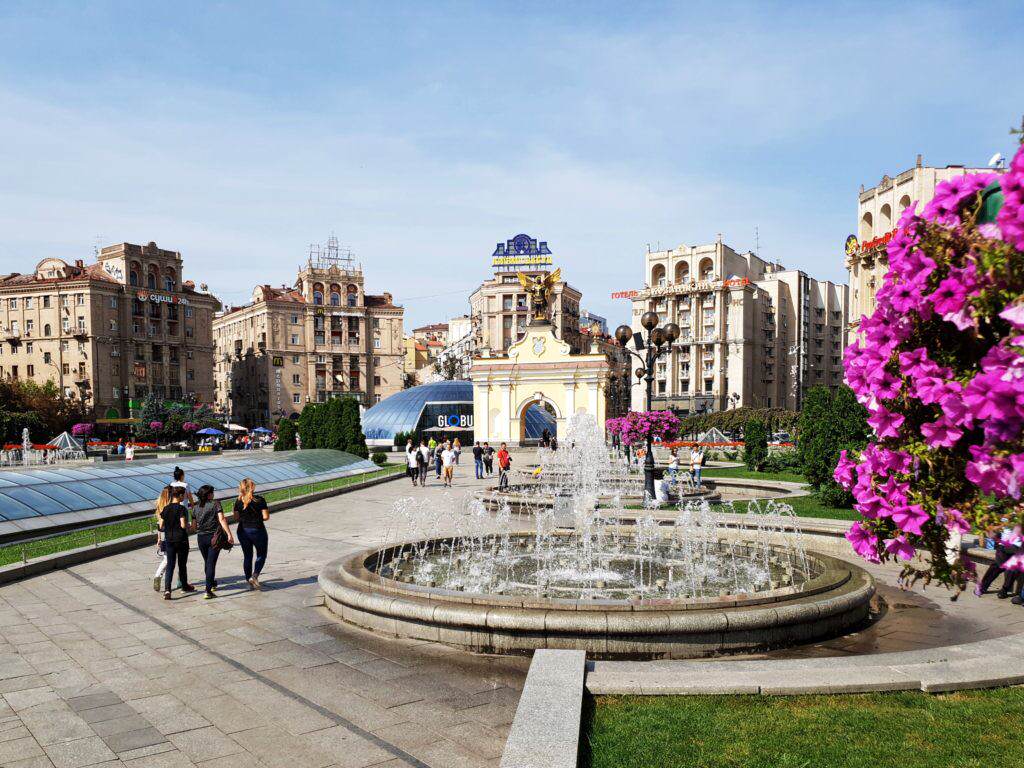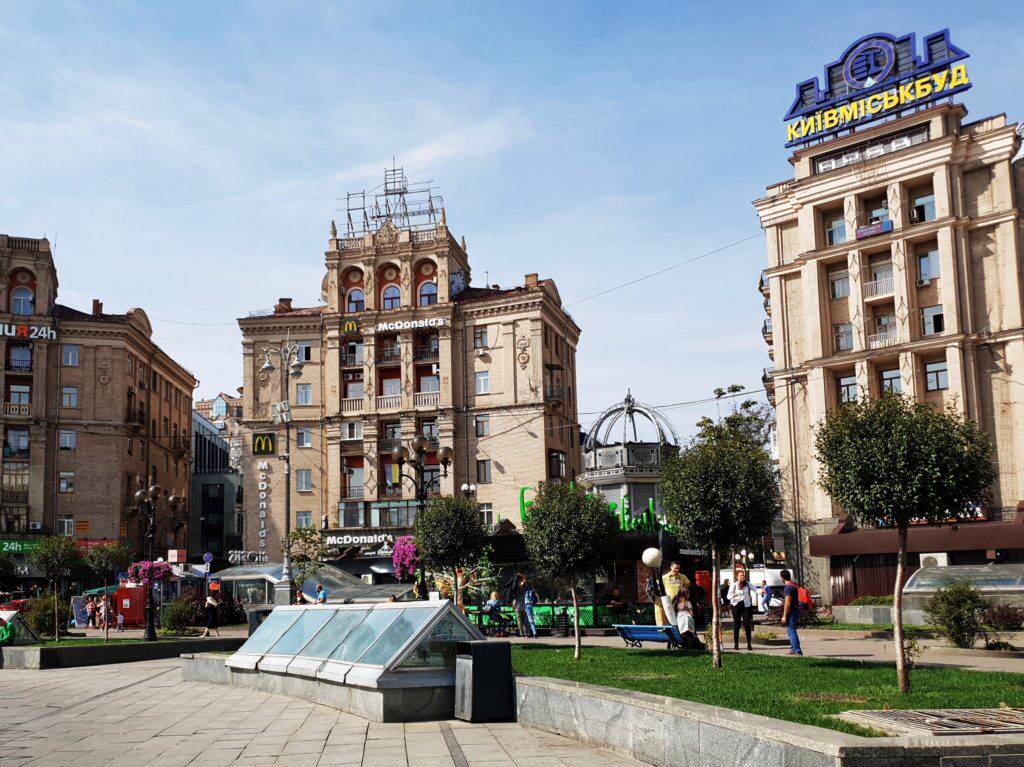 #8 Kiews Straßenzüge | Streets of Kiev
All die bis hierhin beschriebenen Sehenswürdigkeiten lassen sich wunderbar zu Fuß erlaufen. Vor allem lohnt sich das Bummeln durch die Straßenzügen. Denn zwischen heruntergekommenen Plattenbauten und mit Gold verzierten Kirchturmspitzen verstecken sich immer wieder überdimensionale Graffitis, bunte Blumen-, Floh- und Kunstmärkte. Besonders sehenswert im Hinblick auf ukrainische Köstlichkeiten ist der Bessarabsky Market.
All the sights described so far can easily reached by foot. A stroll through the streets of Kiev is worth it anyways, because you will find huge graffitis, colourful flower-, flea- and art markets in between prefabricated buildings and majestic church spires. In terms of Ukrainian delights you should stop by Bessarabsky Market.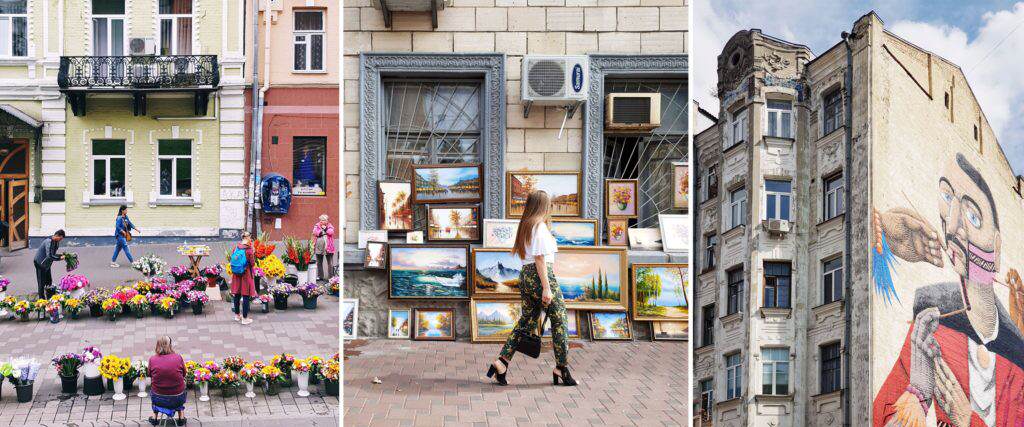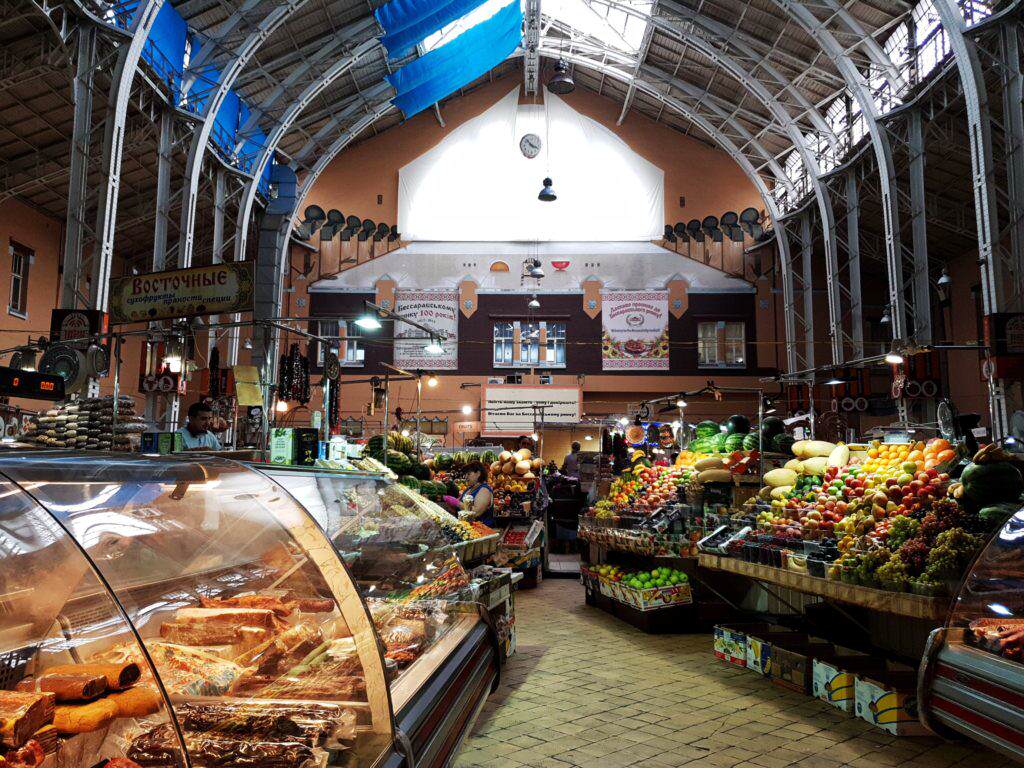 Irgendwie fühle ich mich hier fast wie seinerzeit auf Kuba. Vor allem die breiten Straßenzüge mit ihren bunten Häuserfassaden und Autos erinnern mich stark an das Stadtbild von Havanna. Denn zwischen der ein oder anderen verrosteten Karre versteckt sich ein wahres Oldtimer-Schmuckstück.
Strolling through the streets of Kiev somehow feels like being back to Cuba. Especially the wide streets with its colourful facades and cars strongly remind me of Havanna's Oldtown. Because from time to time you will discover a real beauty of oldtimer cars inbetween lots of rusty ones.
#9 Arsenalna: Tiefste U-Bahn Station der Welt | The world's deepest metro station
Wer die ein oder andere Strecke doch gerne fahren möchte, dem kann ich die Metro von Kiew ans Herz legen. Zum einen ist das Nutzen der öffentlichen Verkehrsmittel in Kiew super günstig. Eine Fahrt mit der Metro kostet nur 8 Hrywna (ca. 0,25 Euro). Außerdem wartet die Kiewer Metro auch mit einigen unterirdischen Schätzen auf. Unterschiedlich gestaltet sind die einzelnen Stationen: Teils minimalistisch modern, teils mit farbenfrohen Wandverzierungen oder Kronleuchtern geschmückt. Die tiefste Metro-Station der Welt befindet sich übrigens auch in Kiew: Ca. 5 Minuten dauert das Fahren mit der Rolltreppe vom Eingang bis zum 105,5 Meter tiefer gelegenen Gleis der Station Arsenalna. Und das obwohl die Rolltreppen sehr schnell fahren.
Who still doesn´t feel like walking all the time is advised to hop on Kiev´s metro. It is super cheap to use puplic transport. One ride only costs 8 Hrywna (ca. 0,25 Euro). And with its variety of designs the metro stations have to offer some sightseeing as well. Some are minimalist modern, others decorated with multicolored wall-paintings or chandeliers. In Kiev you can also find the deepest metro station of the world! It takes around 5 minutes to go down by escalator from entering the station until you reach the tracks of Arsenalna station, 105.5 metres below. And these escalators operate pretty fast in Kiev.
Obwohl sich im Zentrum Kiews schon mehr als genug Sehenswürdigkeiten befinden, lohnt sich ein Abstecher zu diesen etwas weiter außerhalb gelegenen Orten:
Even if there are already lots of sights located in the city center of Kiev, it is worth it to reach out a bit further to visit these highlights:
#10 NSC Olympiyskiy: Nationalstadion | Olympic National Sports Complex
Das NSC Olympiyskiy ist ein multifunktionaler Sport- und Freizeitkomplex und beheimatet das Nationalstadion, das mit 70.000 Sitzen zugleich das größte Stadion der Ukraine ist. Auch wenn Stadien normalerweise nicht auf meiner Sightseeing-Tour bei Städtereisen stehen, ist unser Besuch im NSC Olympiyskiy von Kiew ein ganz besonderer. Der Grund liegt auf der Hand: Wir sind die einzigen Besucher an diesem Tag. Denn nicht etwa für ein Fußballspiel oder eine geführte Stadiontour sind wir hier her gekommen – nein, das in den Nationalfarben Blau und Gelb gehaltene Stadion hat extra nur für uns und unsere Smartphones geöffnet.
The Olympic National Sports Complex NSC Olympiyskiy is a multi-purpose sports and recreation facility, which hosts the National Stadium. With 70.000 seats it is also the biggest stadium of the Ukraine. Normally stadium-visits don't make it onto my personal sightseeing list, when I am on a citytrip. But our stop at NSC Olympiyskiy is a specal one. The reason for that is simple: We will be the only visitors today. So we didn´t come for a football match or a guided tour, but to find the blue and yellow colored stadium all for ourselves and our smartphones.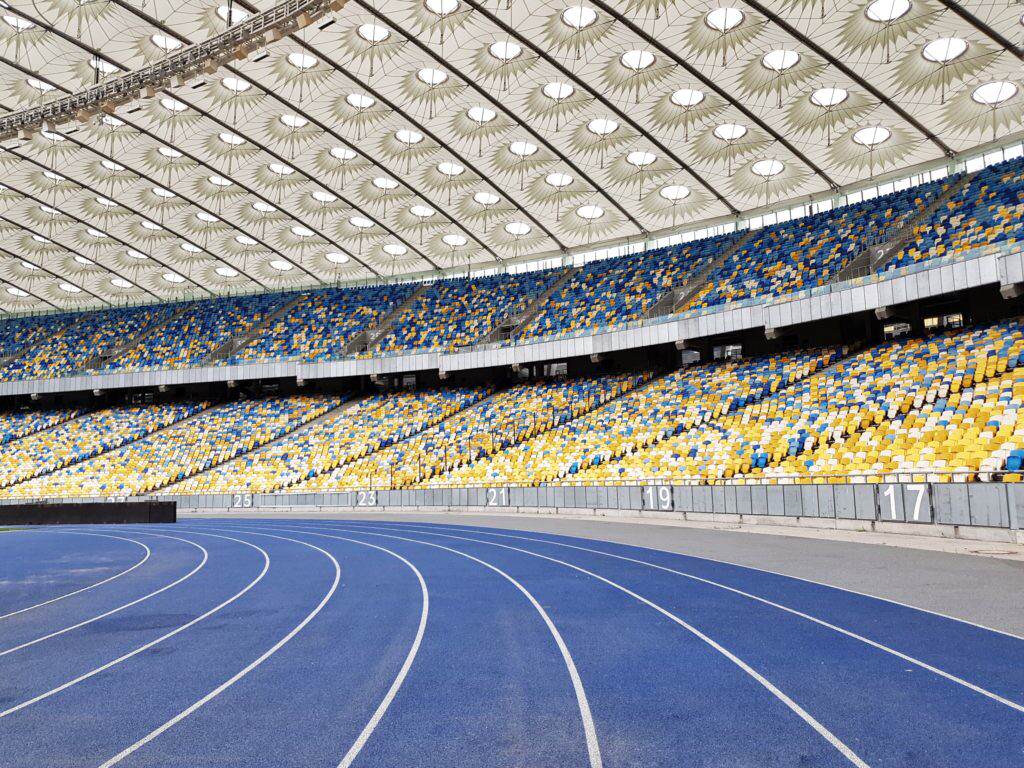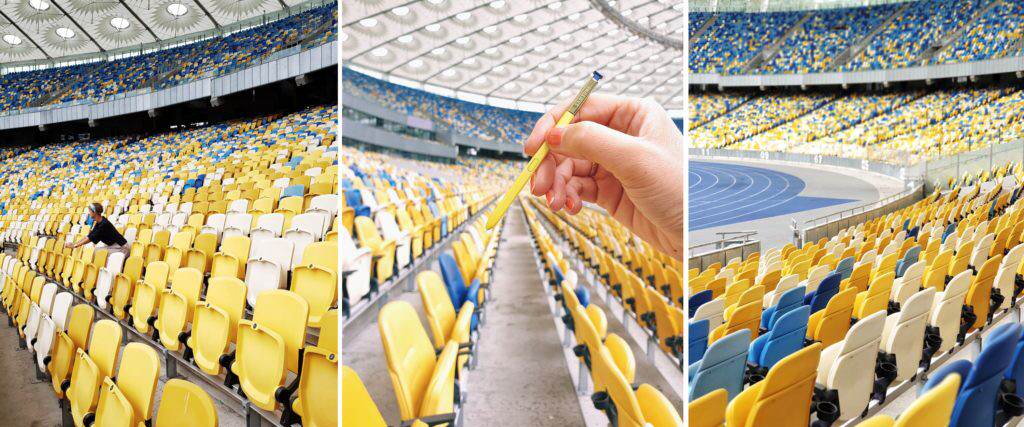 #11 Velodrom | Kiev Velodrome
Eine weitere sehenswerte Sportstätte ist das Velodrom von Kiew. Zum Fotomotiv wird die Outdoor-Radbahn für uns vor allem durch das sich neben dem Velodrom befindende Gaffiti "Red Bicycle" des kanadischen Künstlers Jarus.
Another sports facility worth seeing is the Kiev Velodrome. It gains its attraction for us mainly by spotting the huge graffiti "Red Bicycle" by Canadian artist Jarus located right next to it.
#12 VDNG Expo Center Kiew
Ebenfalls sehenswert ist das 1958 eröffnete VDNG Expo Center, das wunderbar mit dem Fahrrad erkundet werden kann.
Also worth a visit is the VDNG Expo Center of Kiev, which opened in 1958. You can drive around and explore the areal with bicycles.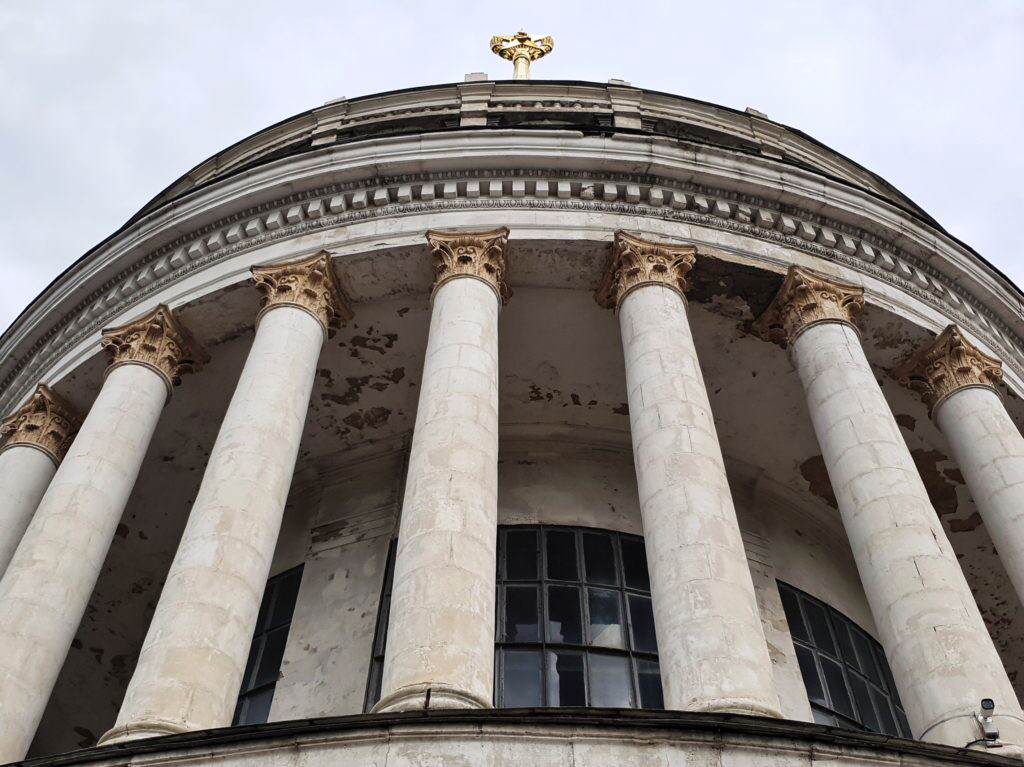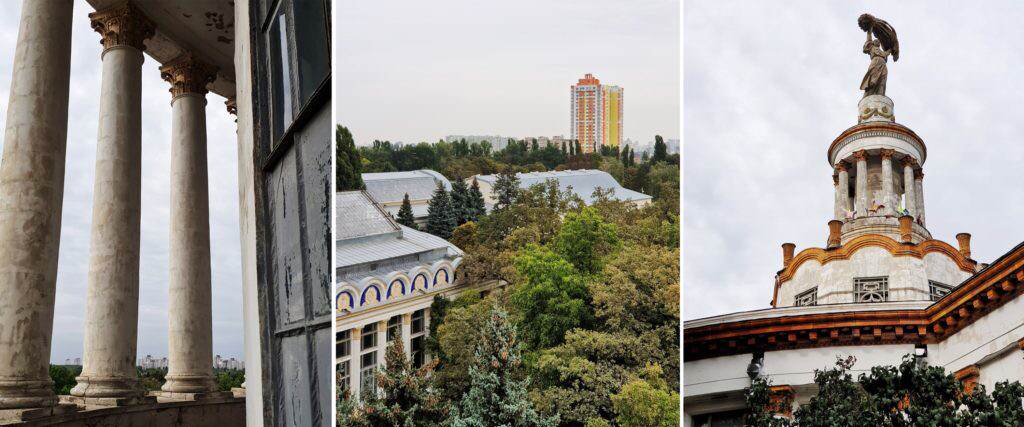 Doch am meisten beeindruckt hat uns die Orangerie, die wir exklusiv besichtigen durften. Ein wahres Paradies für Pflanzenliebhaber und Porträtfotografen.
But the most spectacular sight for us was its Orangerie, which we had all for ourselves. A true paradise for plant lovers and portrait photographers…
#13 IQ Business Center Kiew
Ein weiteres Highlight unserer Tour durch Kiew ist das IQ Business Center, das mit Sicherheit nicht auf einer normalen Sightseeing-Route von Kiew steht. Für uns ist auch nicht das Gebäude selbst ausschlaggebend, sondern das Dach – auf dessen Helikopterlandeplatz wir exklusiven Zutritt haben.
Another highlight of our Kiev tour is the IQ Business Center, which for sure you cannot find on a regular sightseeing trip through Kiev. Because it is actually not the building itself, which draws our attention to it, but the rooftop with its helicopter landing field to which we have exclusive access as well.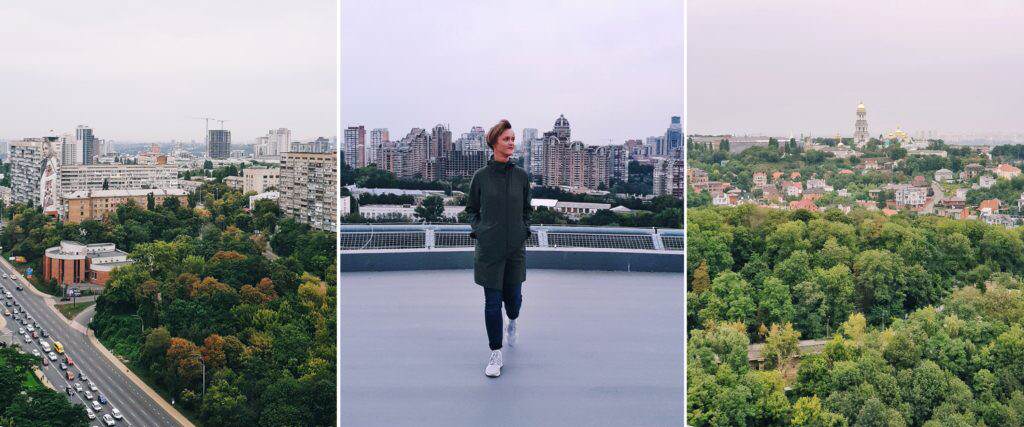 #14 Mutter-Heimat-Statue | Motherland Memorial
Diese riesige Statue ist das Motherland Memorial (Mutter-Heimat-Statue). Ein architektonisches Highlight, wenn es um brutalistische Monumente geht. Als Symbol des Sieges über Nazi-Deutschland wurde dieser weibliche Koloss ursprünglich errichtet. Wie eine Mutter wacht "Vika" über Kiew. Noch imposanter ist das Denkmal, wenn man direkt davor steht und die 62 Meter hohe Statue, die nochmals auf einem 40 Meter hohen Sockel steht, direkt über einem thront.
This huge statue, which we already spotted from the helicopter landing field, is the Motherland Memorial. It is a architectural highlight, when it comes to Soviet Brutalism. This female colossus was built to symbolize the victory over Nazi Germany. Like a mother "Vika" watches over Kiev. It is even more impressive, when you stand right underneath the 62 metres high figure on its 40 metres high socket.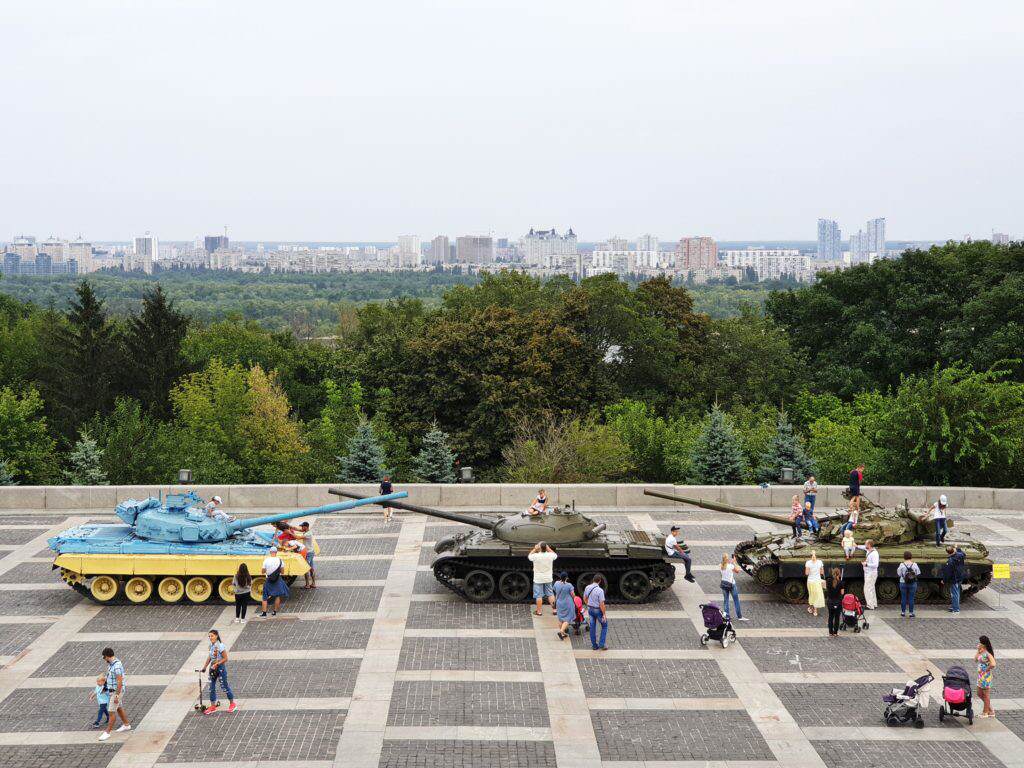 #15 Krematorium | Kyiv Crematorium (House of Memories)
Etwas außerhalb des Stadtzentrums gelegen ist dieses bei Fotografen äußerst beliebte Konstrukt, das dem Opernhaus von Sydney etwas ähnelt. Doch in Wahrheit ist dieser Komplex kein Ort der Freude, sondern ein Krematorium und zeitliches Paradebeispiel für den Sowjet-Modernismus. Eigentlich kein Ort, den man auf einer Sightseeing-Tour vermutet, doch für Architekturfans ein absolutes Muss. Zudem liegen auf dem Baikove Friedhof um das Krematorium herum einige prominente ukrainischer Dichter und Künstler begraben. Somit lohnt sich der Ausflug in den Süden von Kiew für alle, die sich nicht scheuen einen etwas ungewöhnlichen und traurigen Ort aufzusuchen.
Located slightly outside the city center you will find this for photographers really exciting construction, which somehow resembles the Sydney Opera House. But the truth actually is, this building is not a place of joy, but rather a crematorium. On the one hand it is not a typical sight on a citytrip, but on the other side it represents a prime example of Soviet Modernism. And with the Baikove Cementry surrounding it, where you can find graves of famous Ukrainian poets, writers and artists, it is an intersting place to visit and a highlight for architecture fans anyways.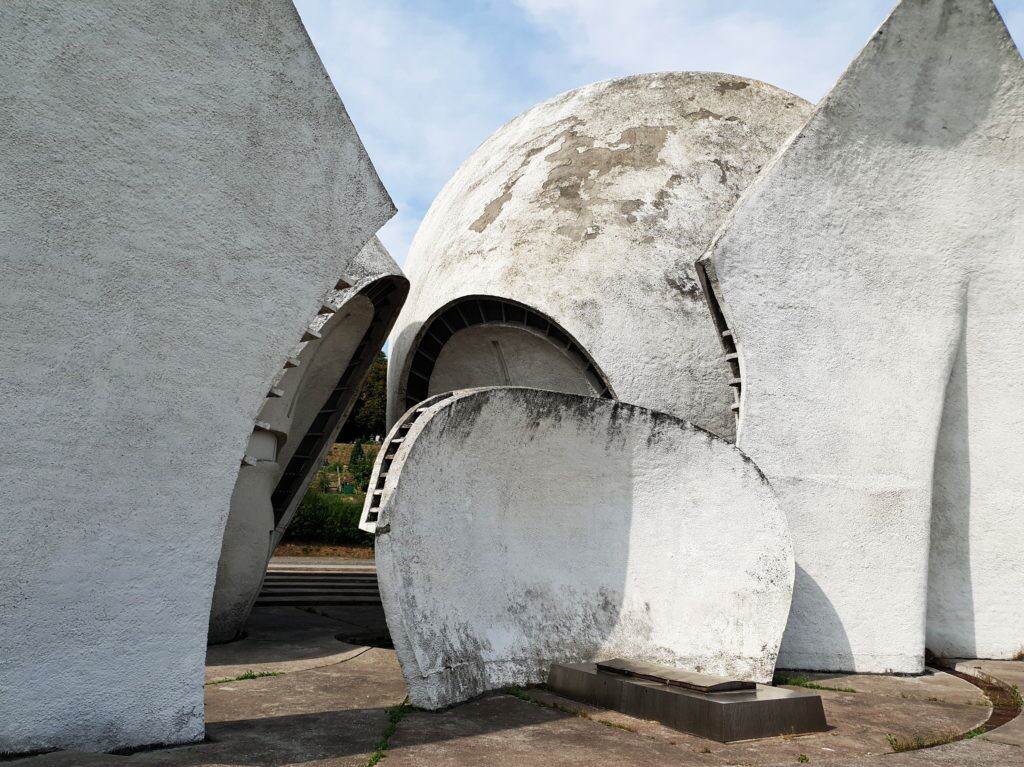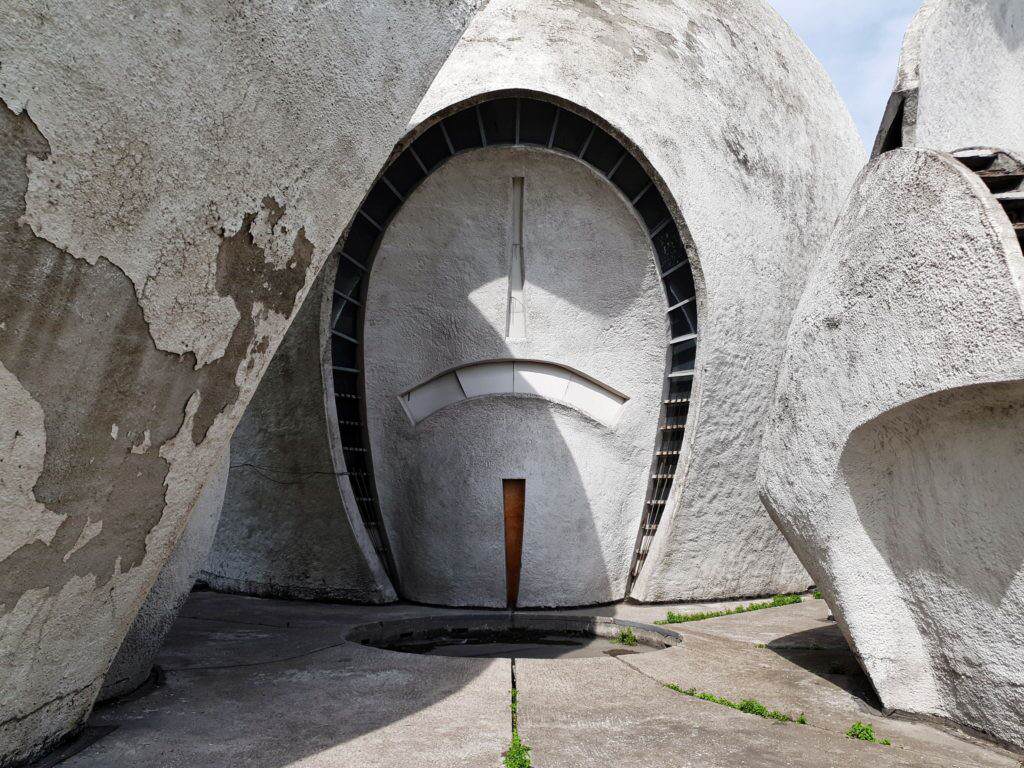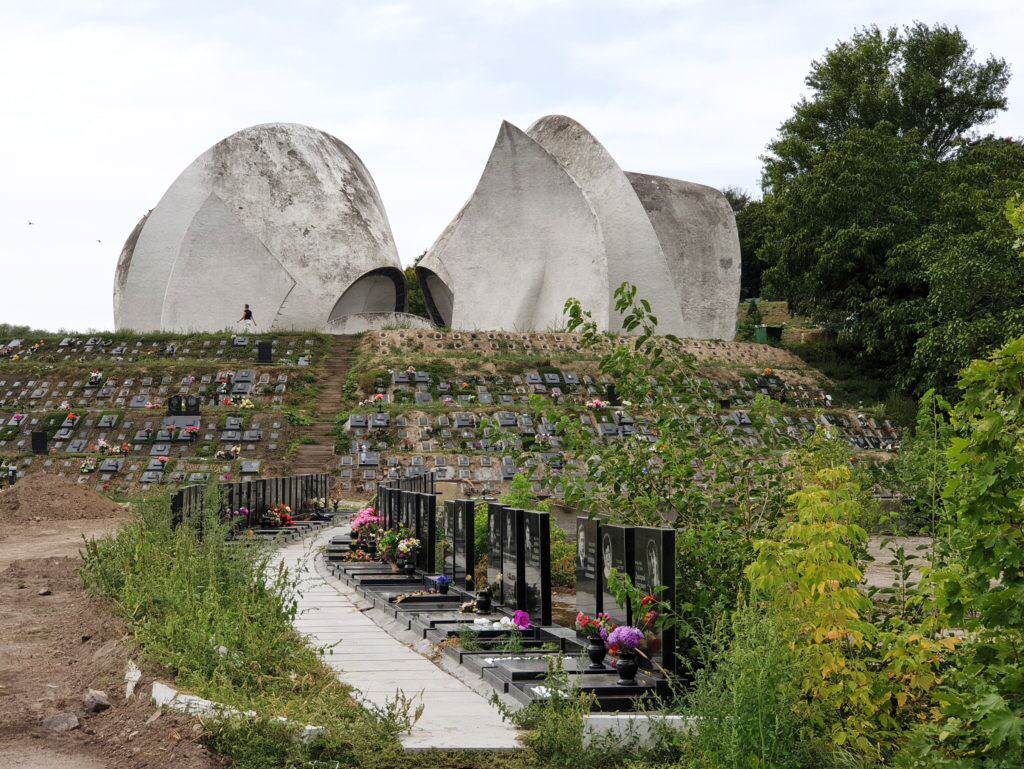 Und zum Schluss: Wo übernachten in Kiew?
Fünf Nächte habe ich im frisch eröffneten Bursa Hotel übernachtet. Das Bursa-Hotel liegt zentral im Stadtteil Podil, sodass viele Sehenswürdigkeiten gut zu Fuß erreichbar sind. Doch nicht nur die Lage punktet. Das Restaurant verfügt über eine ausgezeichnete und individuelle Küche zu wirklich fairen Preisen und auf der Dachterrasse lässt sich das Flair von Kiew bei einem außergewöhnlichen Cocktail aufsaugen.
Last but not least: Where to stay in Kiev?
During the 5 days I have spent in Kiev, I stayed at Bursa Hotel, which opened just recently. The hotel is located centrally in Podil district. So it is easy to start your sightseeing tour through Kiev from here. The hotel´s restaurant offers really good and individually served food and its rooftop bar is a ideal place to soak in the special vive of Kiev by enjoying one of their exceptional cocktails.
Noch ein Tipp zum Schluss: Wer Kiew individuell erkunden und dabei auf Empfehlungen von Einheimischen zurückgreifen möchte, sollte sich den Kiew-Guide "Kyiv by Locals" mal etwas genauer anschauen: Ein toller Reiseführer mit vielen Fotos, persönlichen Beschreibungen der Autoren und einigen versteckten Ecken. Einen sehr informativen Artikel mit vielen allgemeinen Reisetipps für die Ukraine (Reisekosten, Sicherheit, Kommunikation etc.) habe ich im Blog Weltreiseforum" von Oliver Zwahlen gefunden.
One last hint : Who wants to explore Kiev individually and loves to get some recommendations from locals, should have a look at the guidebook "Kyiv by locals", which is an easy to use guide with lots of pictures, personal descriptions from the authors and hidden corners. I found an informative article with lots of general travel information about the Ukraine (travel costs, safety, communication etc.) in the blog "Weltreiseforum" by Oliver Zwahlen.