This post is also available in: Deutsch (German)
My trip to the Ukrainian capital feels like travelling back in time, even if Kiev is a city full of contrasts: Prefabricated buildings and Soviet Brutalism define the cityscape as well as magnificant churches and cathedrals. I have spent five days in Kiev and I am thrilled. – Thrilled by the coexistence of modern and historical buildings, by the delicious food and the individualism, which is visible in each and every street and corner of the city. Let me take you on a journey through Kiev and show you the highlights of my phototour, which is the outcome of my collaboration with Samsung Mobile Germany. All pictures in this blogpost are taken with the Galaxynote9 and some of them you can also find on my Instagram @Smile4Travel. #Smile4TravelinUkraine
#1 Stadtteil Vozdvyzhenka
Colourful facades and cobblestones mark the streets of the historical Vozdvyzhenka District. From here you can easily walk towards Andriivski Descent, which willl lead you up the Castle Hill.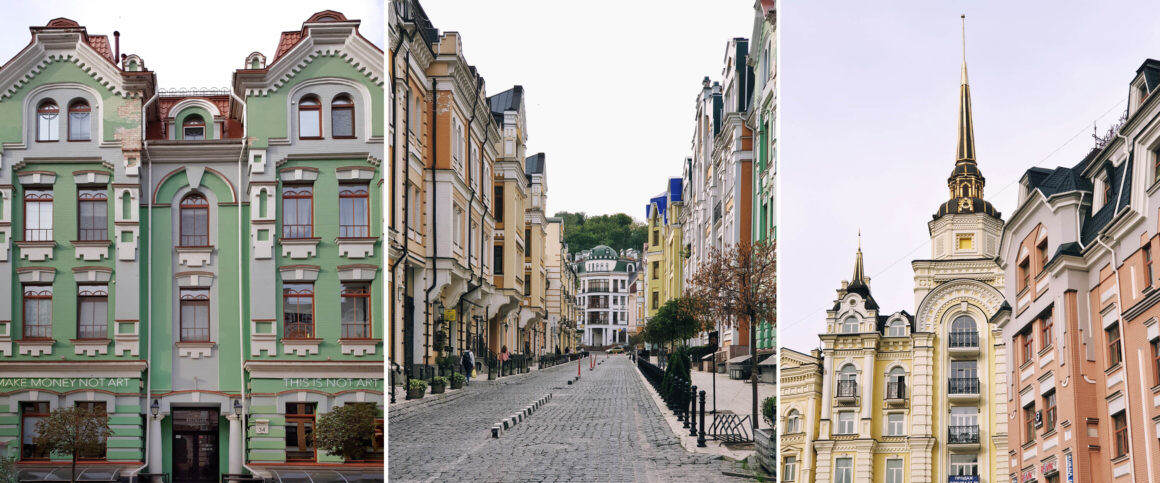 #2 Castle Hill Kiev
But the best view of Vozdvyzhenka District you can catch from above – from the so called Castle Hill (Zamkova Hora), also known as Kiev Hill. It is worth to go for a short exploration as for the best view you should follow the small trail into the bushes.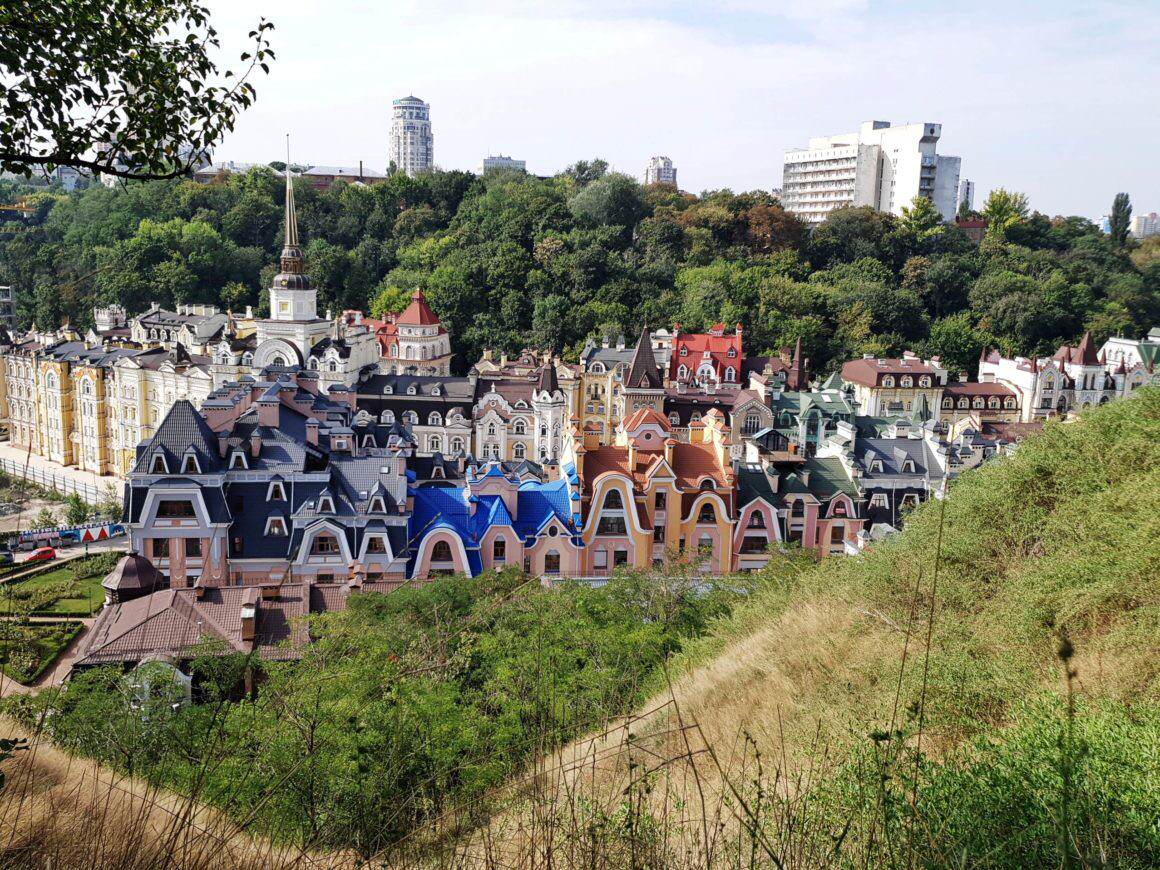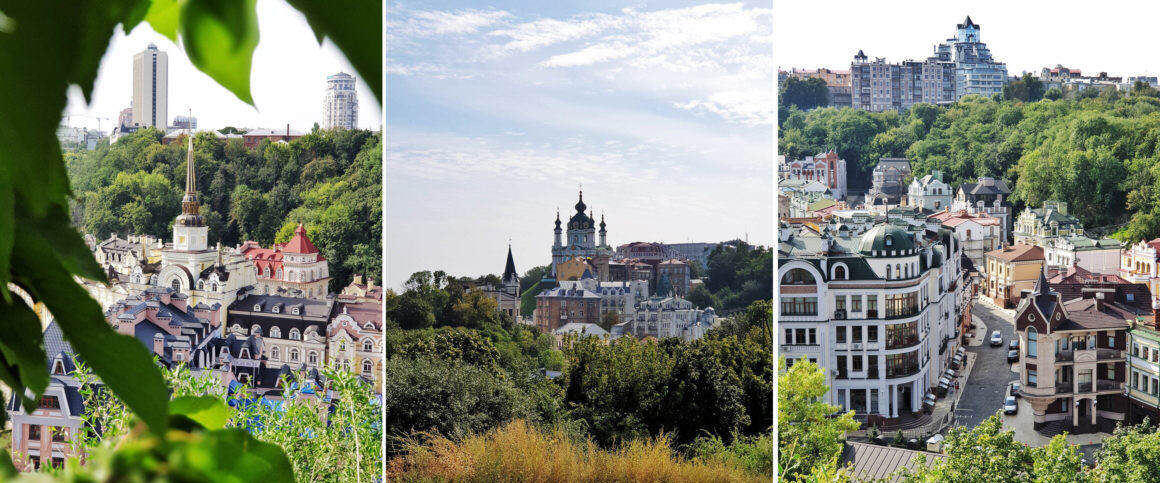 #3 Andriivski Descent
On the way uphill the Andriivski Descent there is heaps to exploe before you eventually reach St. Andrew´s church: Besides restaurants, cafés and a flea market, which is really worth a visit, my highlight is the huge standalone mural "Revival / Renaissance", created by the French streetartist Seth Globepainter together with the Ukrainian artist Aleksey Kislow.
#4 Andriivska Church
This major Baroque St. Andrew´s church (Andriivska Church) resides on the top of Andriivski Descent. No matter from which perspective: It is definitely a great photo motive. With its green-gold cupolas it is overlooking the old town of Kiev. This kind of golden domes you will find throughout the whole city of Kiev, giving the city its nickname "City of the golden cupolas".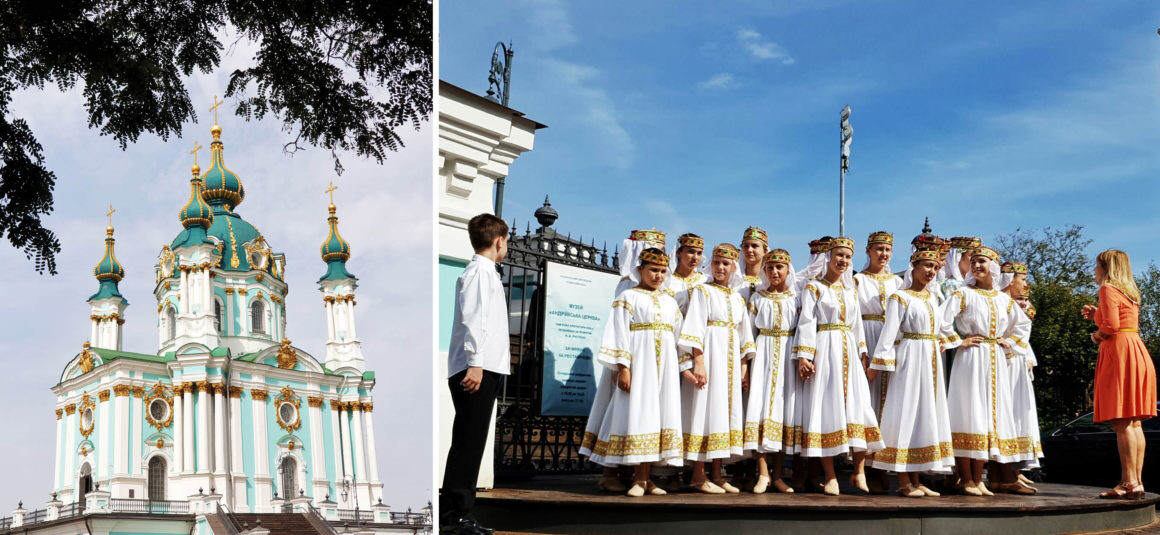 #5 St. Michael´s Golden Domed Cathedral
Also really beautiful is the St. Michaels Golden Domed Cathedral with its sky blue facades and golden cupolas. The whole monastery is worth a stroll, as there are great photo opportunities to discover, like the abbey for example.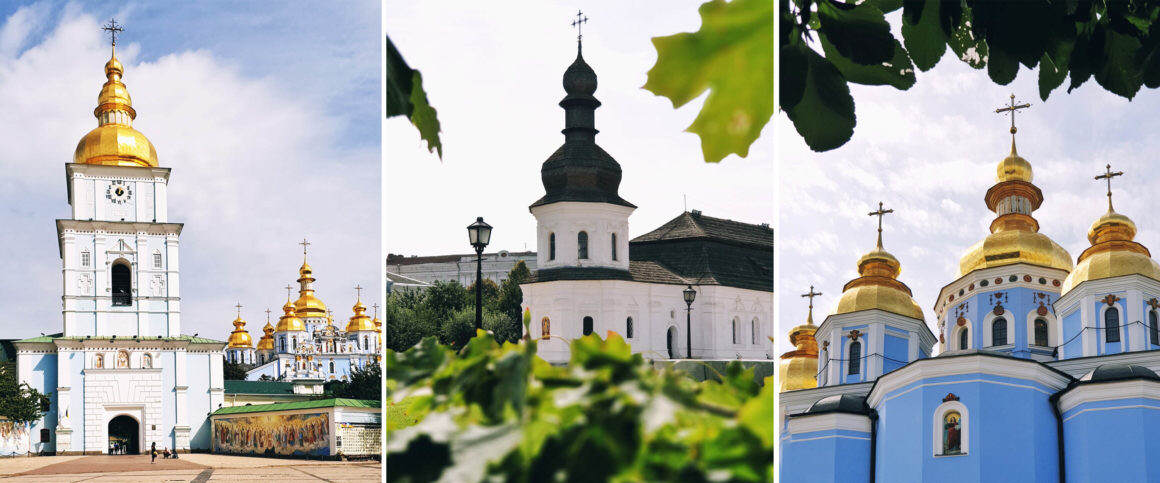 #6 Children Landscape Park Peizazhna Alley
A small imaginatively paradies hides behind this Childrens Landscape Park "Peizaahna Alley". It became even more popular in 2009, after the sculptor Kostyantyn Skrytutsky installed some surrealistic "Alice in Wonderland"-like figures there, eg. blue cats or green rabbits, which serve as a bench to sit on. Peizaahna Alley with its playground elements definitely is not only made for kids.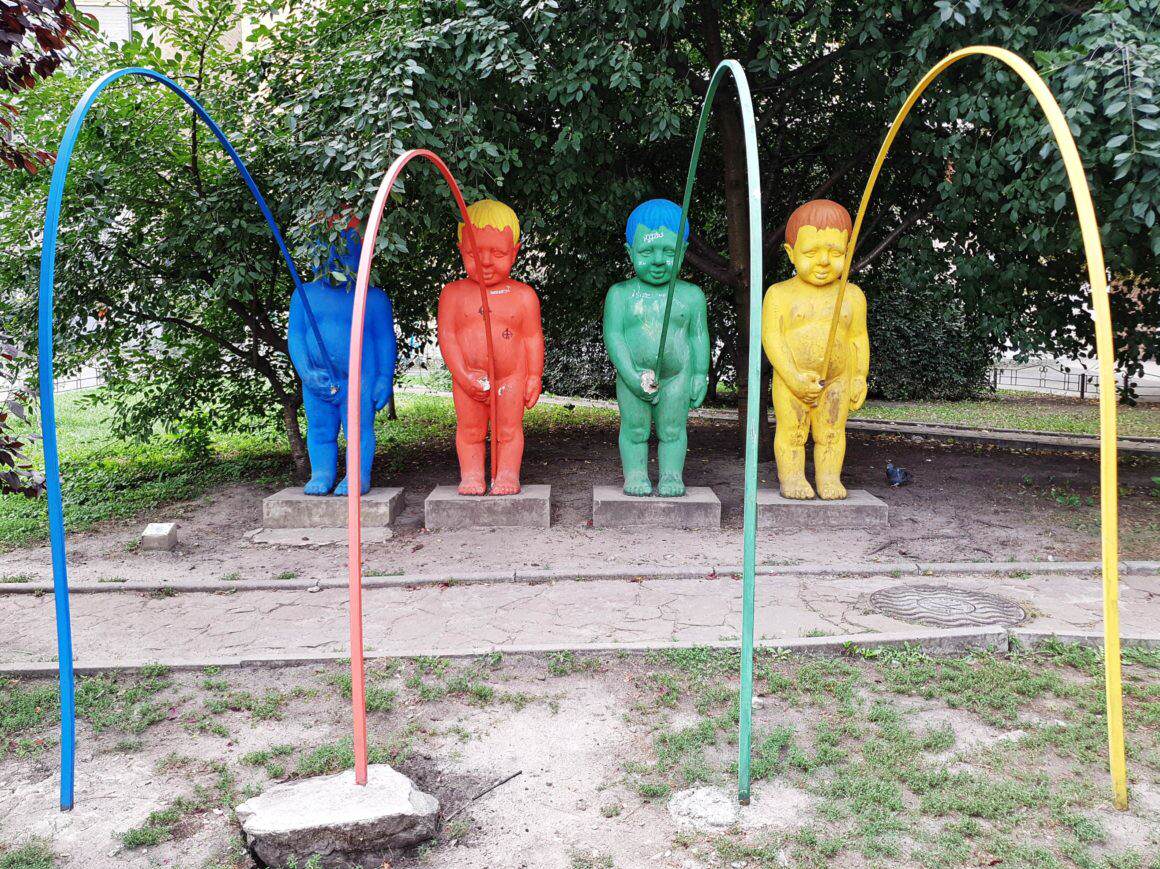 #7 Maidan Nezalezhnsti: Independence Square
The Independence Square, also shortly called "Maidan" is the biggest square of Kiev and should definitely be on your list when visiting the Ukrainian capital. It has been the location of many political events in the past. The buildings around the square were totally destoyed in World War Two and afterwards have been reconstructed in the neo-classical Stalinist architecture. Fun fact: In one of the buildings you will find a Mc Donald´s Restaurant these days.
#8 Streets of Kiev
All the sights described so far can easily reached by foot. A stroll through the streets of Kiev is worth it anyways, because you will find huge graffitis, colourful flower-, flea- and art markets in between prefabricated buildings and majestic church spires. In terms of Ukrainian delights you should stop by Bessarabsky Market.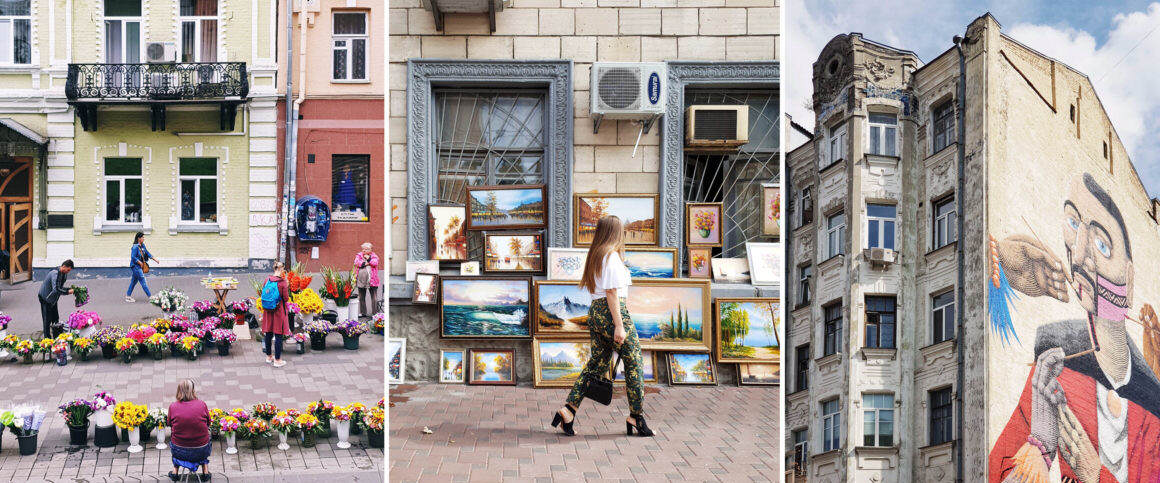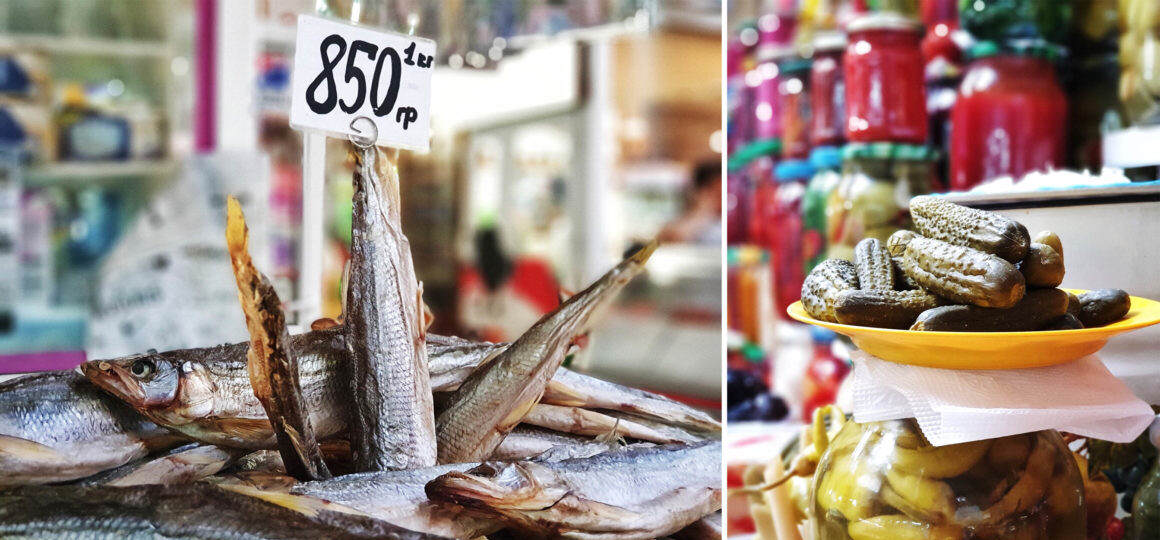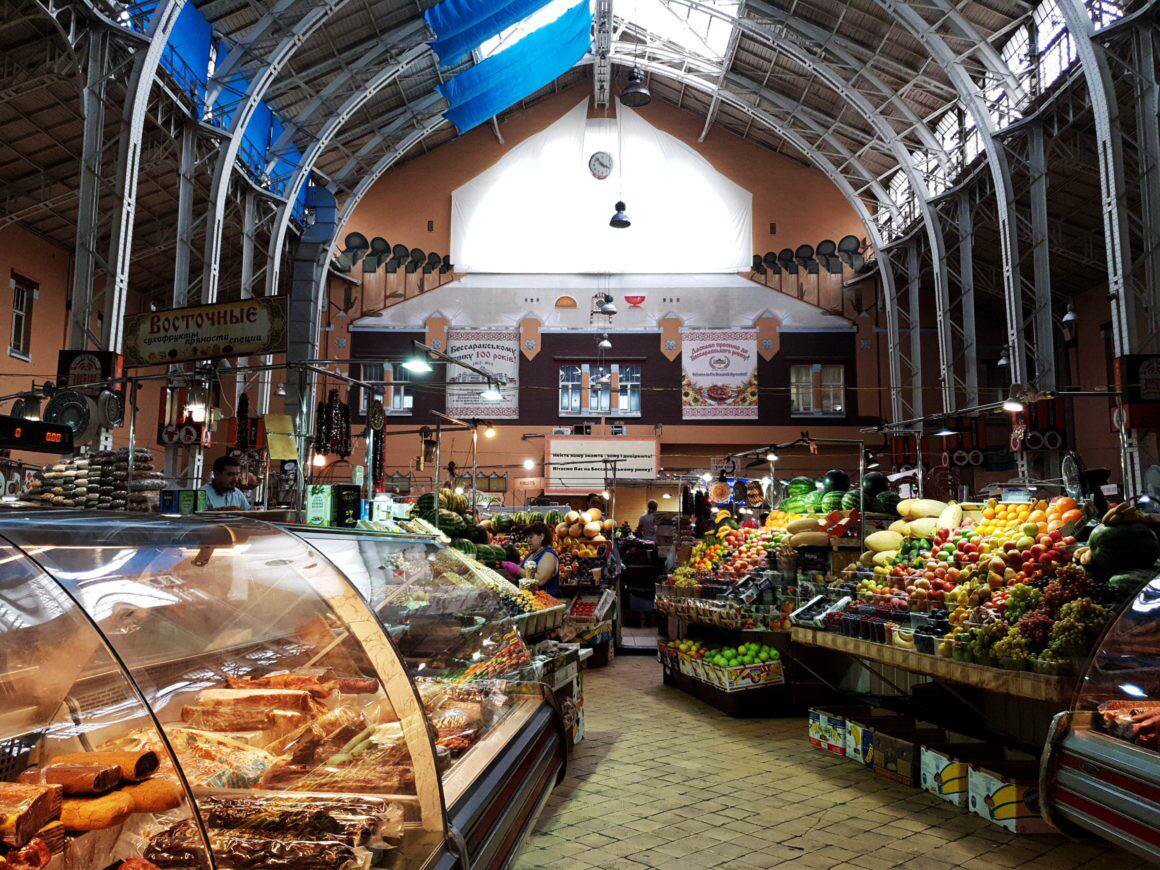 Strolling through the streets of Kiev somehow feels like being back to Cuba. Especially the wide streets with its colourful facades and cars strongly remind me of Havanna's Oldtown. Because from time to time you will discover a real beauty of oldtimer cars inbetween lots of rusty ones.
#9 Arsenalna: The world's deepest metro Station
Who still doesn´t feel like walking all the time is advised to hop on Kiev´s metro. It is super cheap to use puplic transport. One ride only costs 8 Hrywna (ca. 0,25 Euro). And with its variety of designs the metro stations have to offer some sightseeing as well. Some are minimalist modern, others decorated with multicolored wall-paintings or chandeliers. In Kiev you can also find the deepest metro station of the world! It takes around 5 minutes to go down by escalator from entering the station until you reach the tracks of Arsenalna station, 105.5 metres below. And these escalators operate pretty fast in Kiev.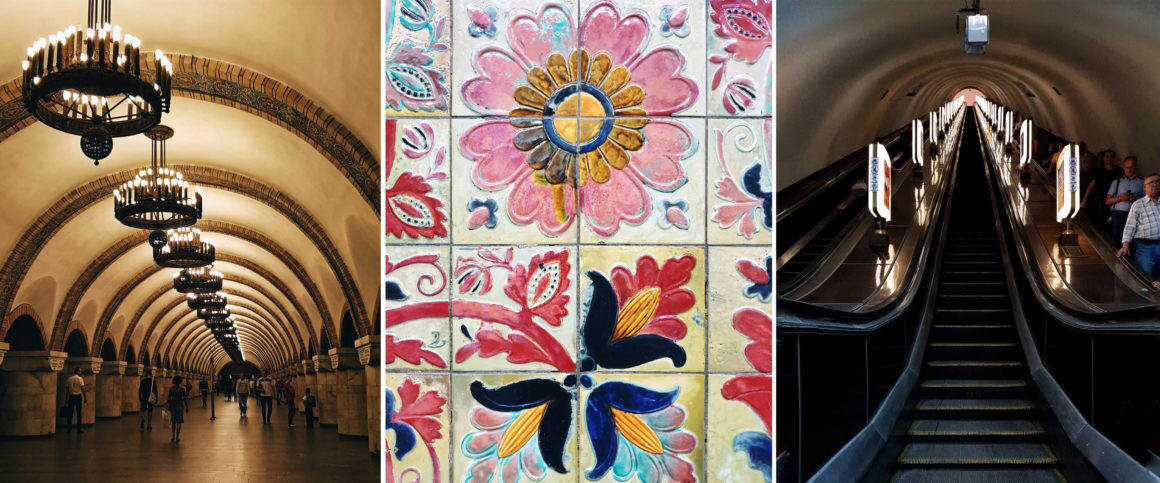 Even if there are already lots of sights located in the city center of Kiev, it is worth it to reach out a bit further to visit these highlights:
#10 NSC Olympiyskiy: Olympic National Sports Complex
The Olympic National Sports Complex NSC Olympiyskiy is a multi-purpose sports and recreation facility, which hosts the National Stadium. With 70.000 seats it is also the biggest stadium of the Ukraine. Normally stadium-visits don't make it onto my personal sightseeing list, when I am on a citytrip. But our stop at NSC Olympiyskiy is a specal one. The reason for that is simple: We will be the only visitors today. So we didn´t come for a football match or a guided tour, but to find the blue and yellow colored stadium all for ourselves and our smartphones.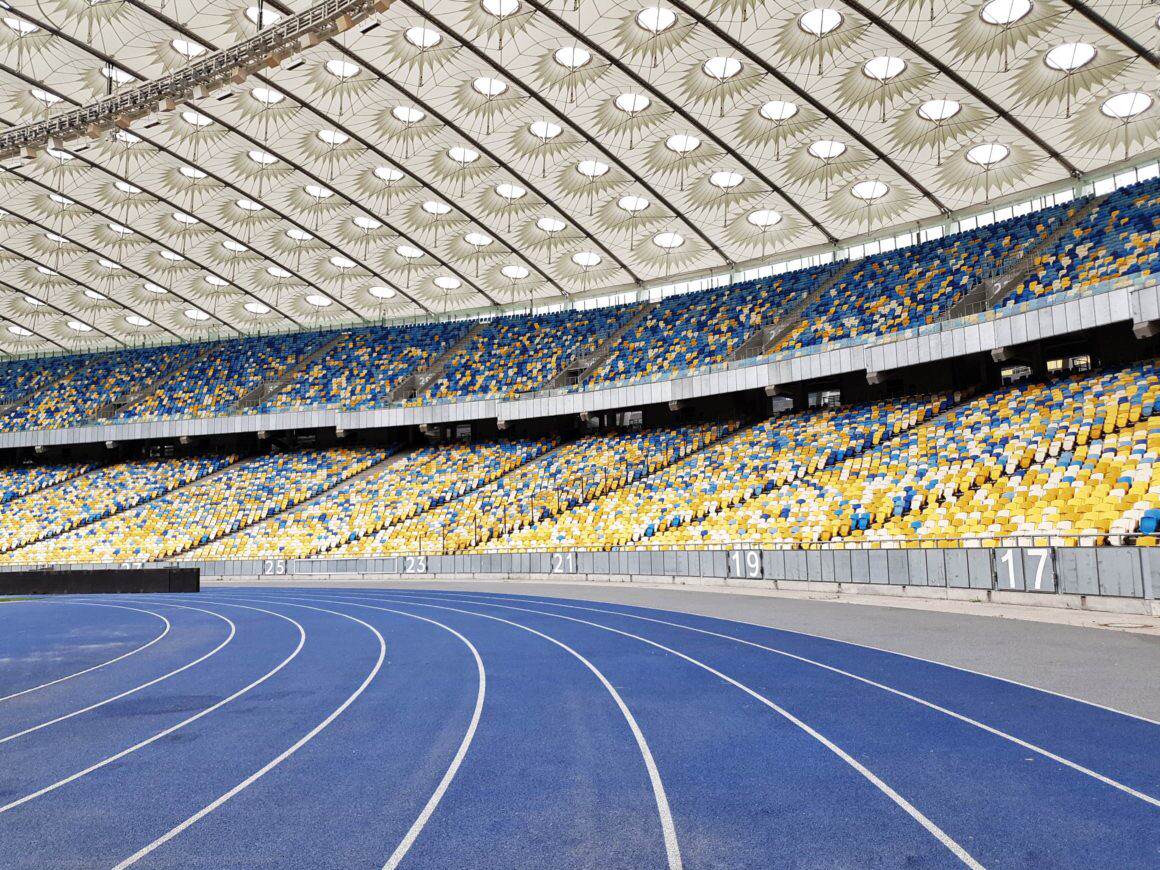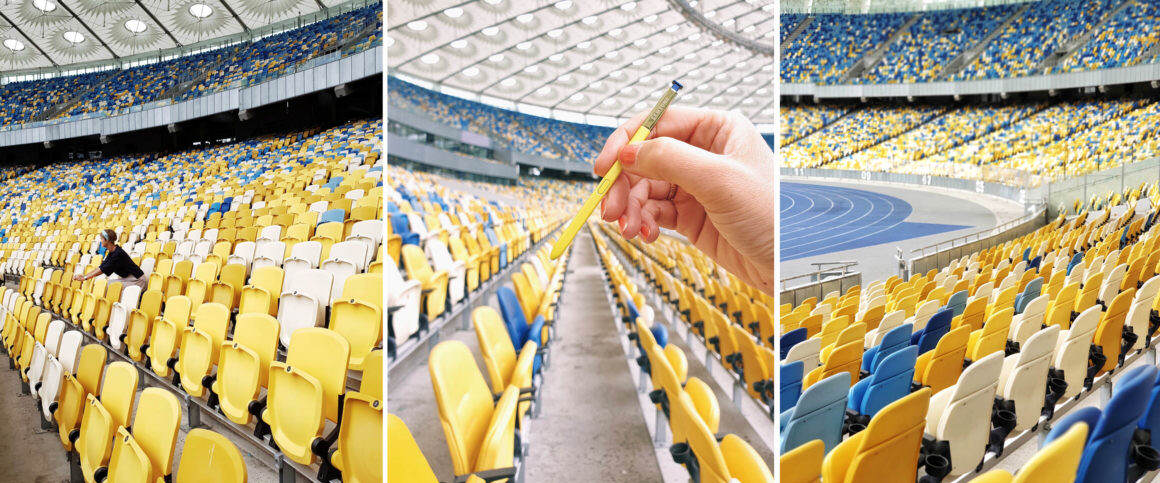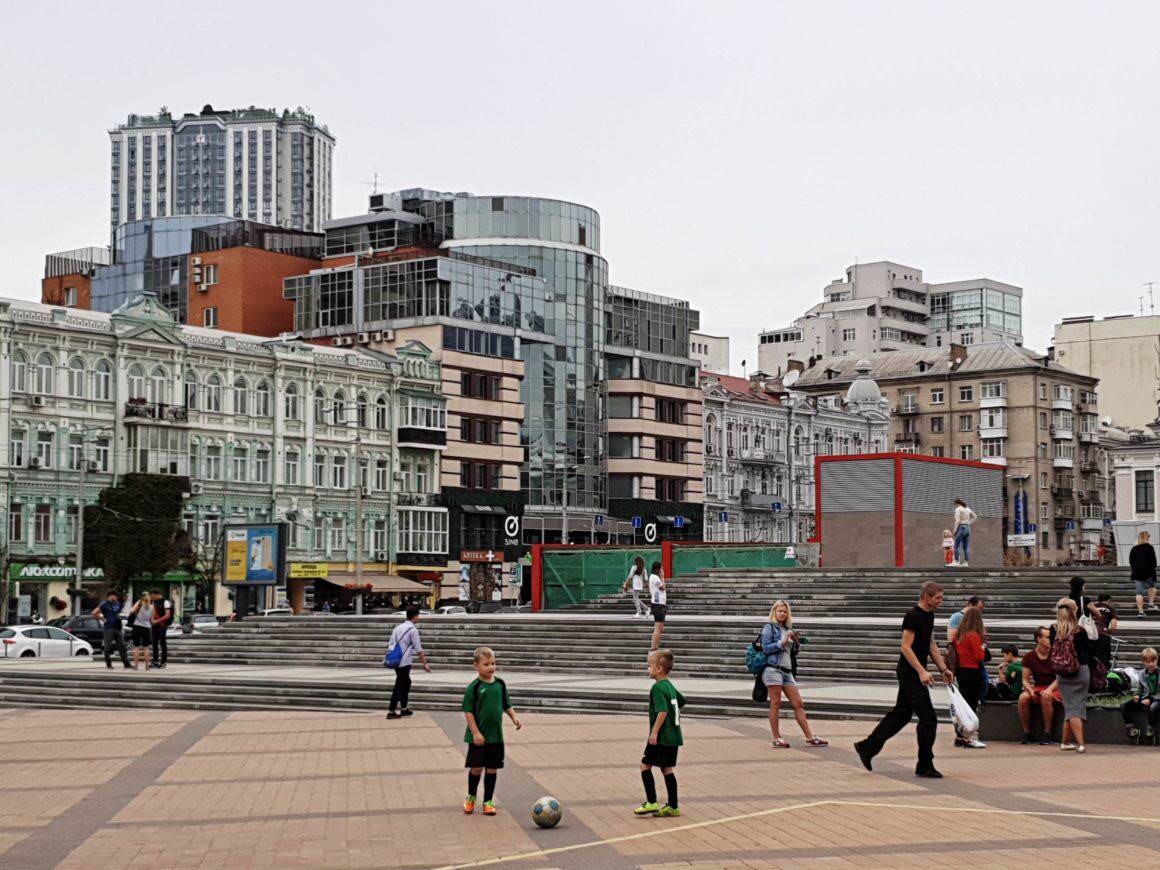 #11 Kiev Velodrome
Another sports facility worth seeing is the Kiev Velodrome. It gains its attraction for us mainly by spotting the huge graffiti "Red Bicycle" by Canadian artist Jarus located right next to it.
#12 VDNG Expo Center Kiev
Also worth a visit is the VDNG Expo Center of Kiev, which opened in 1958. You can drive around and explore the areal with bicycles.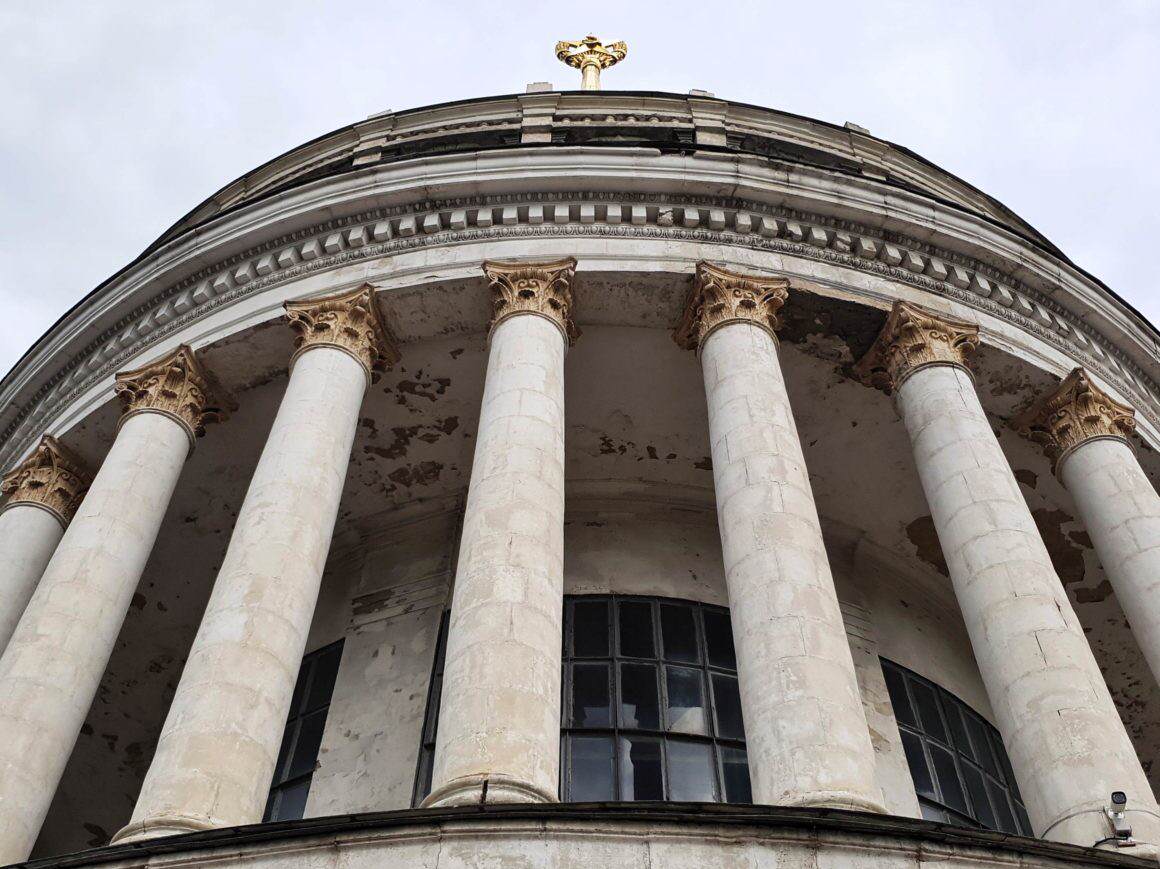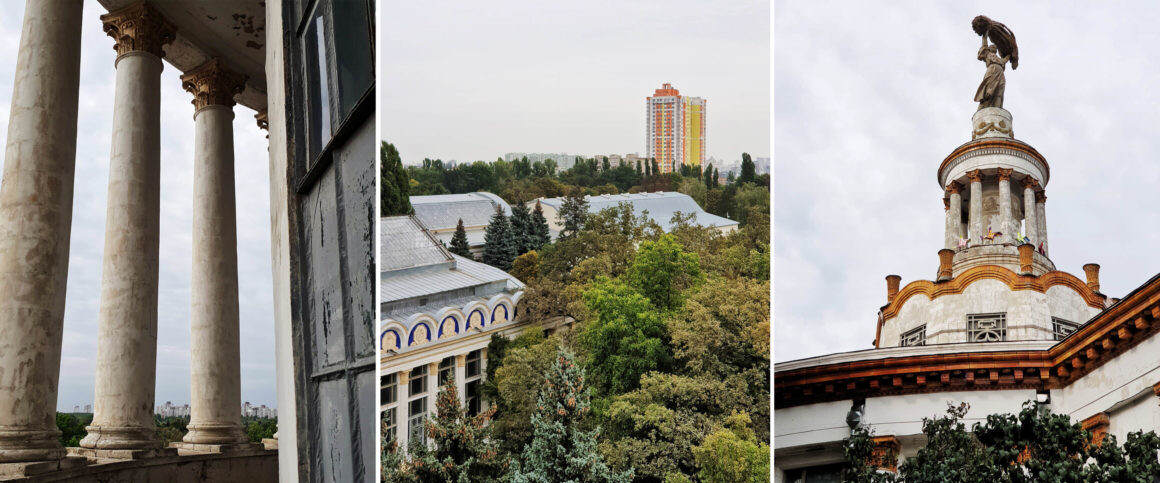 But the most spectacular sight for us was its Orangerie, which we had all for ourselves. A true paradise for plant lovers and portrait photographers…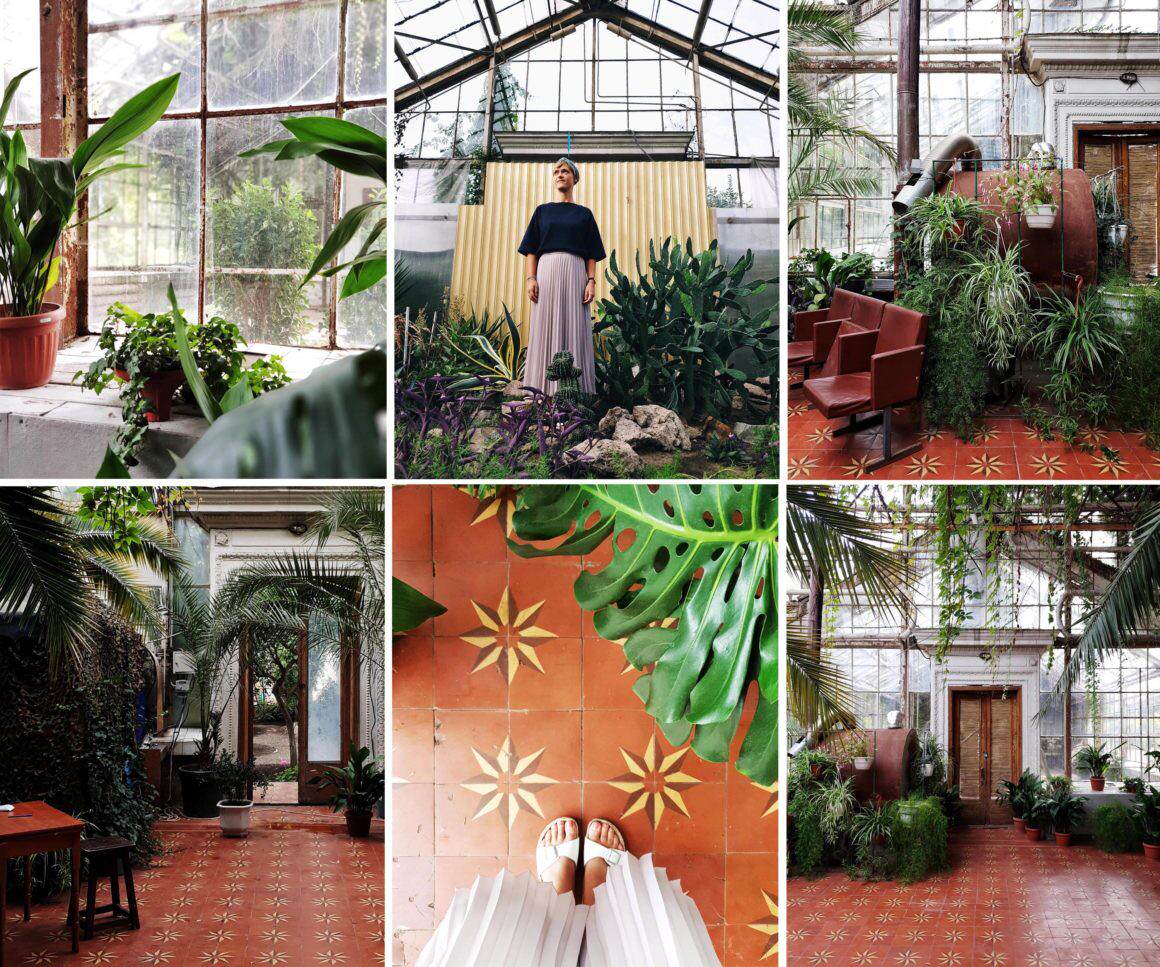 #13 IQ Business Center Kiev
Another highlight of our Kiev tour is the IQ Business Center, which for sure you cannot find on a regular sightseeing trip through Kiev. Because it is actually not the building itself, which draws our attention to it, but the rooftop with its helicopter landing field to which we have exclusive access as well.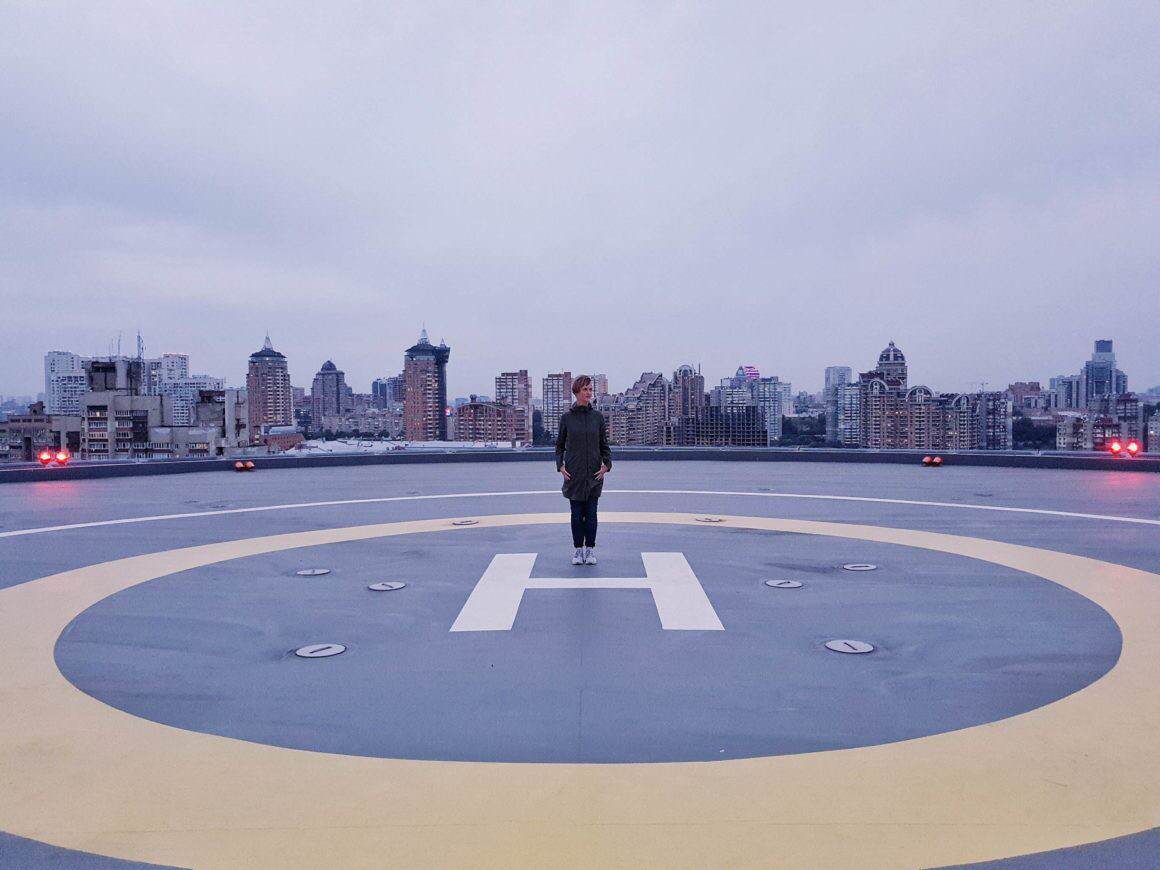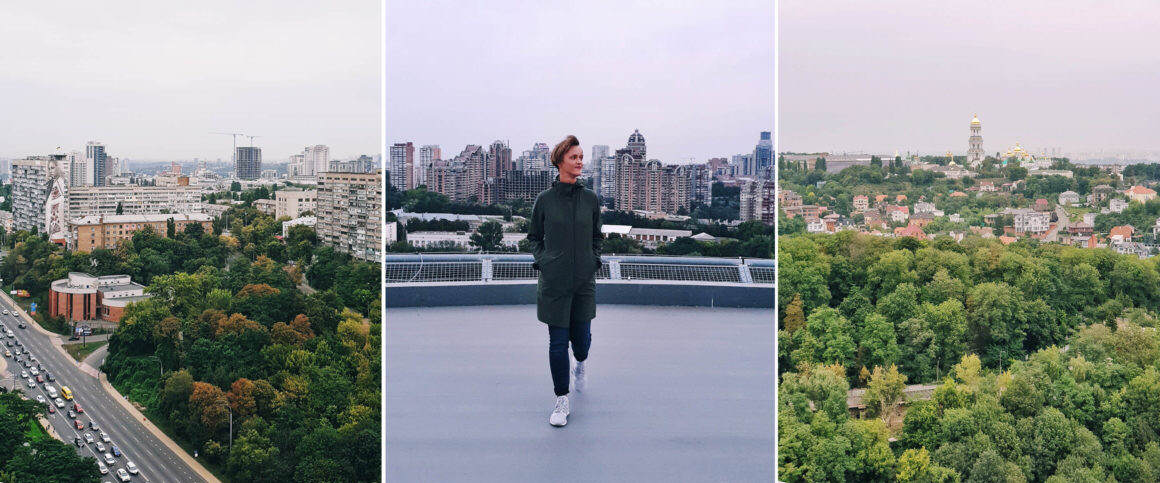 #14 Motherland Memorial
This huge statue, which we already spotted from the helicopter landing field, is the Motherland Memorial. It is a architectural highlight, when it comes to Soviet Brutalism. This female colossus was built to symbolize the victory over Nazi Germany. Like a mother "Vika" watches over Kiev. It is even more impressive, when you stand right underneath the 62 metres high figure on its 40 metres high socket.
#15 Kiev Crematorium (House of Memories)
Located slightly outside the city center you will find this for photographers really exciting construction, which somehow resembles the Sydney Opera House. But the truth actually is, this building is not a place of joy, but rather a crematorium. On the one hand it is not a typical sight on a citytrip, but on the other side it represents a prime example of Soviet Modernism. And with the Baikove Cementry surrounding it, where you can find graves of famous Ukrainian poets, writers and artists, it is an intersting place to visit and a highlight for architecture fans anyways.
Last but not least: Where to stay in Kiev?
During the 5 days I have spent in Kiev, I stayed at Bursa Hotel, which opened just recently. The hotel is located centrally in Podil district. So it is easy to start your sightseeing tour through Kiev from here. The hotel´s restaurant offers really good and individually served food and its rooftop bar is a ideal place to soak in the special vive of Kiev by enjoying one of their exceptional cocktails.
One last hint: Who wants to explore Kiev individually and loves to get some recommendations from locals, should have a look at the guidebook "Kyiv by locals", which is an easy to use guide with lots of pictures, personal descriptions from the authors and hidden corners. I found an informative article with lots of general travel information about the Ukraine (travel costs, safety, communication etc.) in the blog "Weltreiseforum" by Oliver Zwahlen (German).
---
***
DISCLOSURE
I was invited to this trip to Kiev by Samsung Mobile Germany for the launch of Samsung Galaxy Note9. All pictures in this blogpost are taken with this device and some of them you can also find on my Instagram @Smile4Travel. #Smile4TravelinUkraine as well as in the photostory published on the Samsung Website.
***
QUESTIONS & COMMENTS?
Have you ever been to Kiev or other parts of the Ukraine? Leave me a comment! Do you like the article, or still have any suggestions or critics? I am happy to read what you are thiking! If you like my content, please feel free to share this article with your friends!
***
 – SMILE4TRAVEL NEWSLETTER –
Become part of the Smile4Travel Community – Follow my Facebook Page & Instagram and register for my Newsletter, so you don´t miss any Smile4Travel adventures! No Spam – I promise!
[mailpoet_form id="1″]