Die in der Chinesischen Provinz Guanxi gelegene Gegend rundum Yangshuo ist vor allem bekannt für ihre Karstberge, sowie für die Flüsse Li- und Yulong, die zusammen ein wahrlich surreales Landschaftsbild ergeben, das unglaubliche Ausblicke und unvergessliche Outdoor-Erlebnisse verspricht. Nach drei Monaten (Ein-)Leben in Shanghai und dem ersten langen Brückentag-Wochenende vor der Brust, ist Yangshuo Anfang April DIE Wahl schlechthin für unseren ersten Trip in Chinas Natur. Einschlägige Instagram-Fotos haben uns neugierig gemacht auf diese faszinierende Landschaft. 4 Tage später werden wir maximal begeistert, die Lungen gefüllt mit frischer Luft und der ersten Frühlingssonnen-Bräune im Gesicht freudestrahlend aus den Bergen in die Stadt zurückkehren. Der folgende BlogPost zeigt die Spots, die wir besucht haben und gibt Tipps zur Anreise, Aktivitäten sowie Übernachtungsmöglichkeiten.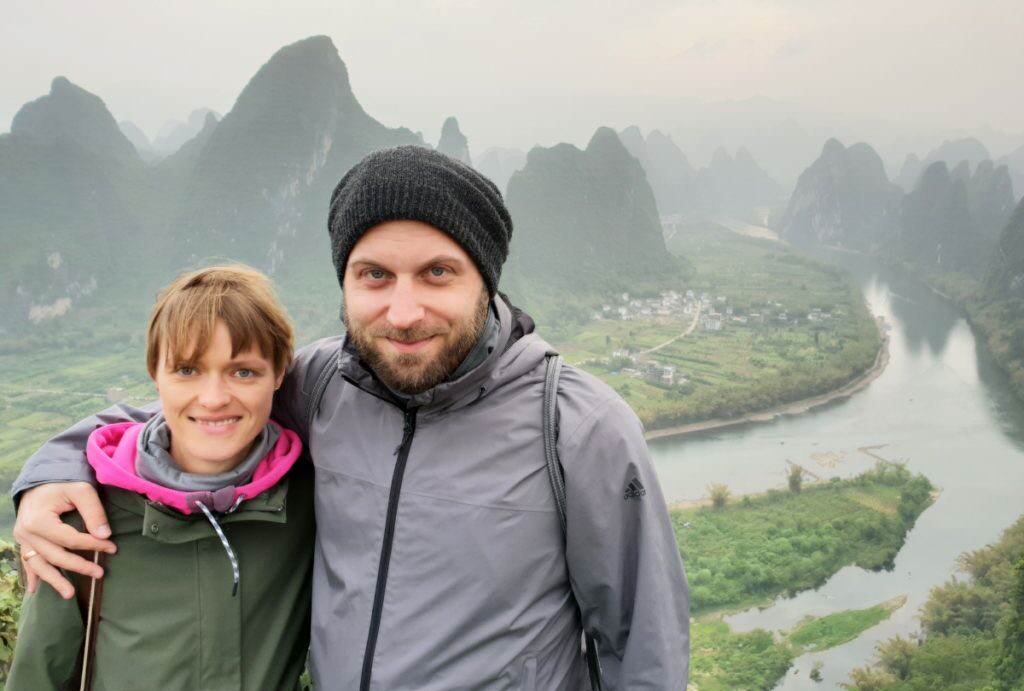 Yangshuo, situated in the Chinese province of Guanxi, and its surrounding area is primarily known for its karst mountains as well as the Li and Yulong River, which altogether create an absolute surreal landscape, incredible views and memorabe outdoor experiences. After 3 months staying and settling-in in urban Shanghai, with the first long weekend ahead, Yangshuo is THE destination of choice for our first city escape at the beginning of April. Remarkable pictures on Instagram made us curious about this one-of-a-kind looking place. After having spent 4 days in this beautiful mountain area, we will return to the cityscape completely relieved, our lungs re-filled with fresh air and the first teint of the season from the gentle spring sun. The following BlogPost will show you spots we visited, the tours we took and give you some recommendations how to get there, what to do and where to stay.
6 things to do in Yangshuo:
---
#1 Sonnenaufgang | View the Sunrise
Wie überall bei Naturereignissen lohnt es sich sehr früh aufzustehen, in völliger Dunkelheit einen Berg oder Hügel zu erklimmen und zu warten, bis die aufgehende Sonne die Umgebung langsam in Licht taucht und das Grau der Nacht in ein saftiges Grün verwandelt.
Like everywhere in nature it can be very much worth it to get up super early, walk up a hill in the dark and wait for the sun to rise and turn everything around you from trist grey to lush green.
Wie schon öfters zuvor, haben wir mit Sonnenaufgängen allerdings nicht das allergrößte Glück. Aber vom Xianggong Hill hinab eröffnet sich einem trotzdem ein so wunderbarer Ausblick, dass sich das frühe Aufstehen dennoch mehr als gelohnt hat.
Like a couple of times before, we aren´t too lucky at all with great sunrises as such. But this spot on Xianggong Hill offers such a great view, no matter the weather conditions, it was definitely worth it doing the early birds.
Ein kurzer Fußmarsch von nur 20 Minuten bringt uns im Anschluss direkt den nächsten Ausblick nach Maß auf die gerade erwachte Natur.
A a short walk of about 20 minutes offers us yet another mezmerizing viewpoint overlooking the landscape touched by the first sunrays and just about the be waking up.
Auf dem Rückweg zu unserer Unterkunft haben wir außerdem an der so früh noch geschlossenen Seven Star Tea Plantation gestoppt. Der Ausblick auf die bepflanzten Hügel lohnt sich ebenso. Habt ihr eine Ahnung, was sich unter den vielen Folien verbirgt? Kumquats! Der Großteil der kleinen orangefarbenen Frucht, die man in China kaufen kann, kommt nämlich aus genau dieser Gegend, erklärt uns unser Fahrer fachkundig.
On the way back to our guesthouse we stopped by at the Senven Star Tea Plantation, which was still closed that early in the morning. But the view of these endlessly planted hills is for sure worth a quick stop. By the way: Do you know what is hiding under these sheets? – Kumquats! The major part of this small orange-coloured fruit you can buy in China, gets grown in this area, as our well-educated driver explains to us.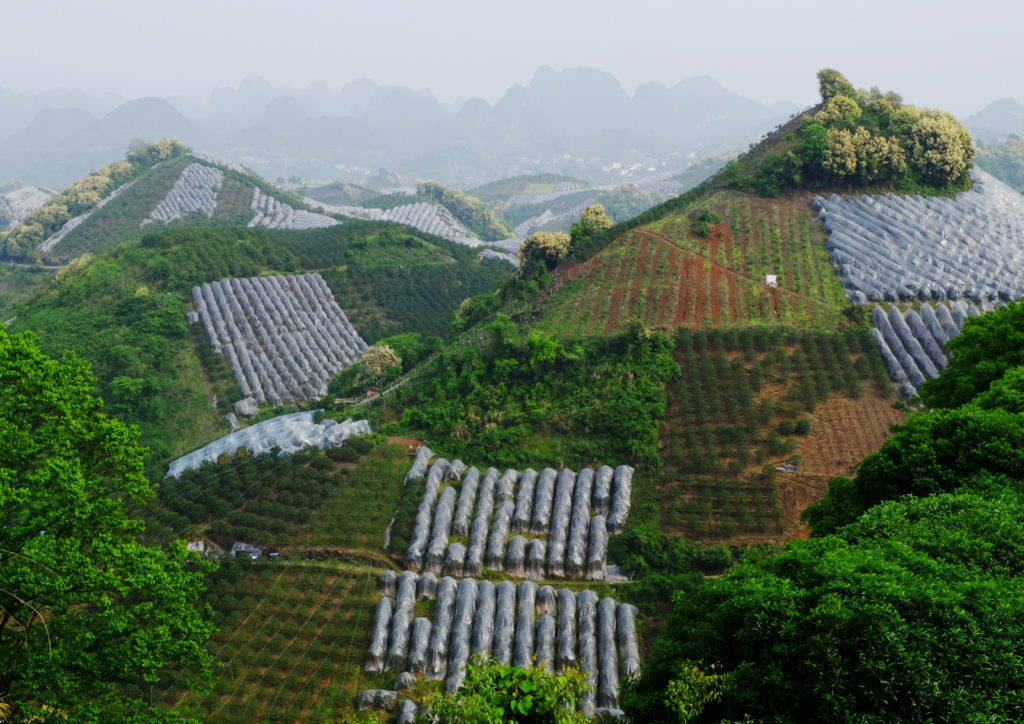 ---
#2 Kormoran-Fischer |
Watch the cormorant fishermen in the dusk or dawn
Wer auch nur ein bisschen über Yangshuo recherchiert, dem fallen ziemlich schnell Bilder in die Hände, die ältere Kormoran-Fischer in mystischem Ambiente in den frühen Morgen- oder späten Abendstunden zeigen. Natürlich verdienen diese Fischer ihr Geld mittlerweile vielmehr durch die neugierigen Touristen als das Fischen selbst. Man könnte diese Fotos also quasi als "paid partnership mit Fischer Huang" bezeichnen, so der Name eines unserer Fotomodels. :).
If you do some research about Yangshuo you will quickly find images of elderly cormorant fishermen in the early morning or late evening sun, that appear almost mystical. Of course these fishermen are not too busy with serious fishing anymore – they rather prefer making a living by posing for the tourists these days. So actually you could call these pictures a "paid partnership with fisherman Huang", as one of our models is called.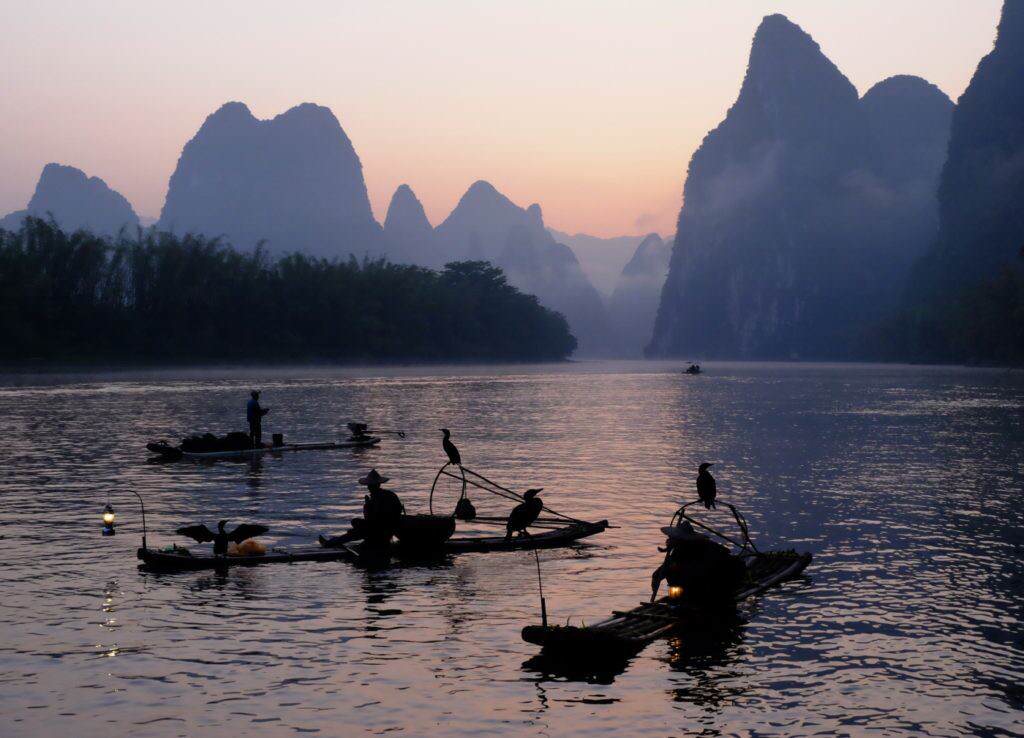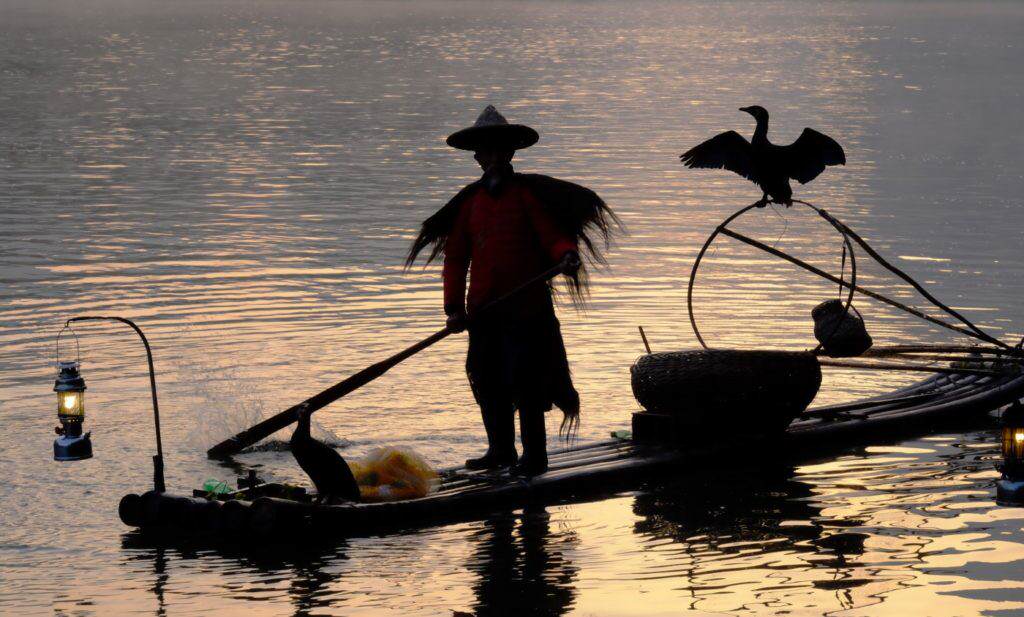 Nachdem Kormoran-Fischen allerdings die für diese Gegend so typische Methode ist, Fische zu fangen, hat das Treffen mit den beiden Fischern kurz nach Sonnenaufgang dennoch seinen Reiz. Und mal ehrlich: Würdet ihr Euch dieses Szenario entgehen lassen?
As cormorant fishing has been the typical method in this area to catch fish in previous days, the meetup with these two fishermen just after sunrise is a very special occasion. And honestly speaking: Who of you wouldn´t have taken the chance to get up, close and personal with the guys to witness this magical scenery when travelling to Yangshou?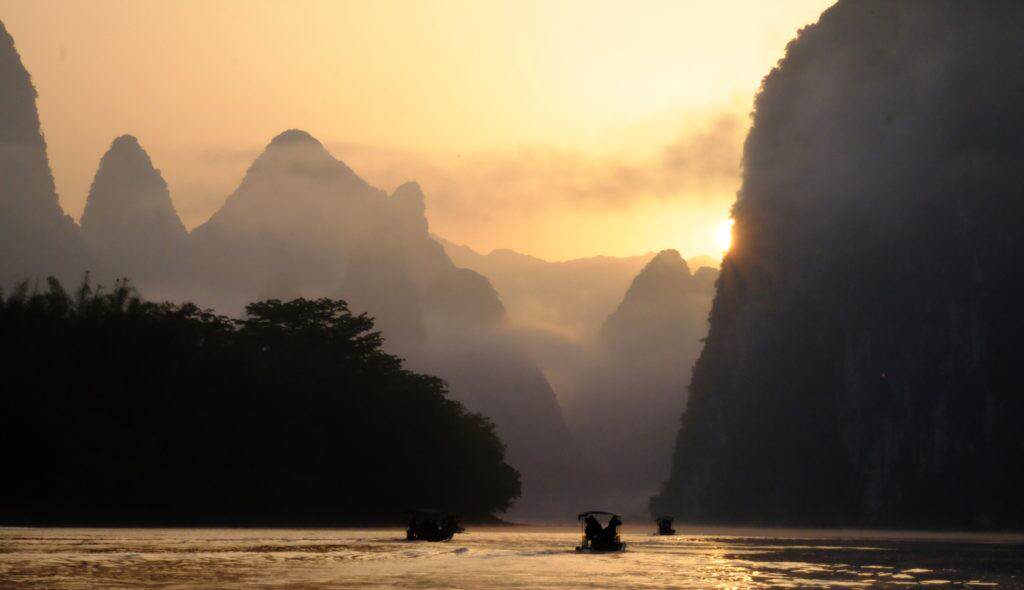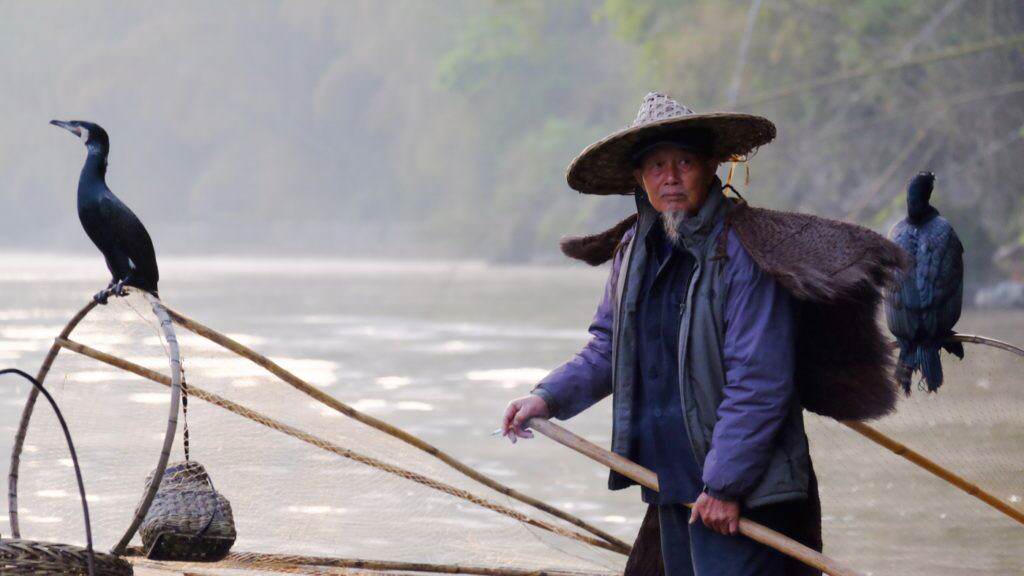 ---
#3 Sonnenuntergang |
View the sunset on top of the hills
So wie jeder Sonnenaufgang kann auch jeder Sonnenuntergang zu einer wahren Überraschung werden. Nachdem sich an diesem sonnigen Tag gegen Nachmittag doch die Wolken wieder verdichten, haben wir nicht viel Hoffnung auf einen spektakulären Sonnenuntergang. Nichtsdestotrotz wollten wir den Ausblick vom Aussichtspunkt in der Nähe von Putato Town nicht missen. Und manchmal wird man ja auch erst richtig belohnt, wenn man einfach nur geduldig ist und seine Erwartungen nicht zu hoch schraubt.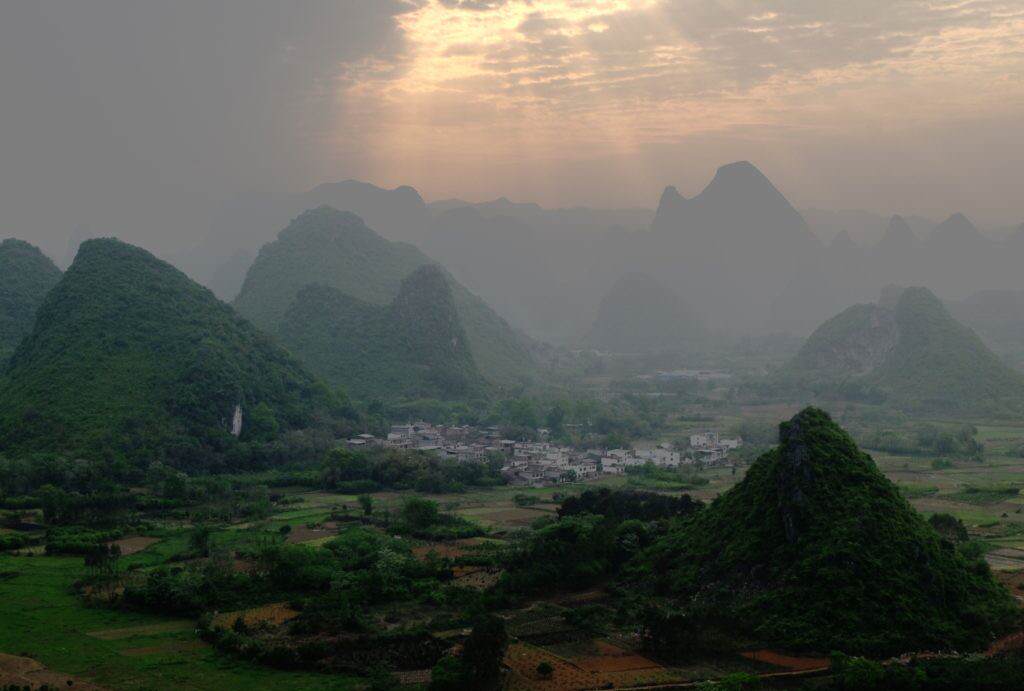 As the rising sun is always a surpirising experience, so is the sunset. During the afternoon the clouds unfortunately covered the blue sky again, so we were almost certain there wouldn´t be a decent sunset. But still, driving to the viewpoint close to Putao Town was a stop we didn´t want to miss. And as every once in a while you simply need to be patient and shouldn´t raise your expectations too high, out of a sudden you will get rewarded big-time.
Nachdem die wenigen Leute, die an diesem späten Nachmittag vor uns da waren, bereits wieder gegangen sind, überlegten auch wir nicht ewig zu bleiben und stattdessen den Abend doch in Yangshuo Town zu verbringen. Doch plötzlich kämpften sich ein paar vereinzelte Sonnenstrahlen durch die Wolkendecke, bahnten sich Schritt für Schritt ihren Weg und wir kamen in den Genuss des wohl atemberaubendsten Sonnenuntergang überhaupt – und das auch noch in komplett exclusiver Zweisamkeit.
After the few people, who came here in the late afternoon, had already left again and we were just thinking of calling it a day as well soon – and rather spending the evening in Yangshuo Town, some sunrays appeared and suddenly the whole ceiling tore up and we got to enjoy the most stunning sunrise ever– just topped by the fact that we were all by ourselves by that time.
---
#4 Radeln am Ufer des Yulong Flusses |
Biking along Yulong River
Nehmt euch ein Fahrrad und radelt damit durch die Reisfelder und die kleinen Dörfer, die entlang des Yulong-Flusses liegen. Mit hoher Wahrscheinlichkeit trefft ihr geschäftige Bauern, gastfreundliche Einwohner, die euch eventuell sogar in ihren Hof einladen um euch etwas anzubieten und euch an privaten Momenten teilhaben lassen möchten, wie uns diese älteren Leute hier an einer Trauerfeier, oder dieses junge Pärchen, das uns fragt, ob wir für ihre Hochzeitsfotos mitposieren würden. Oder kommt sogar in den Genuss eines Privatkonzerts im kleinsten Kreis.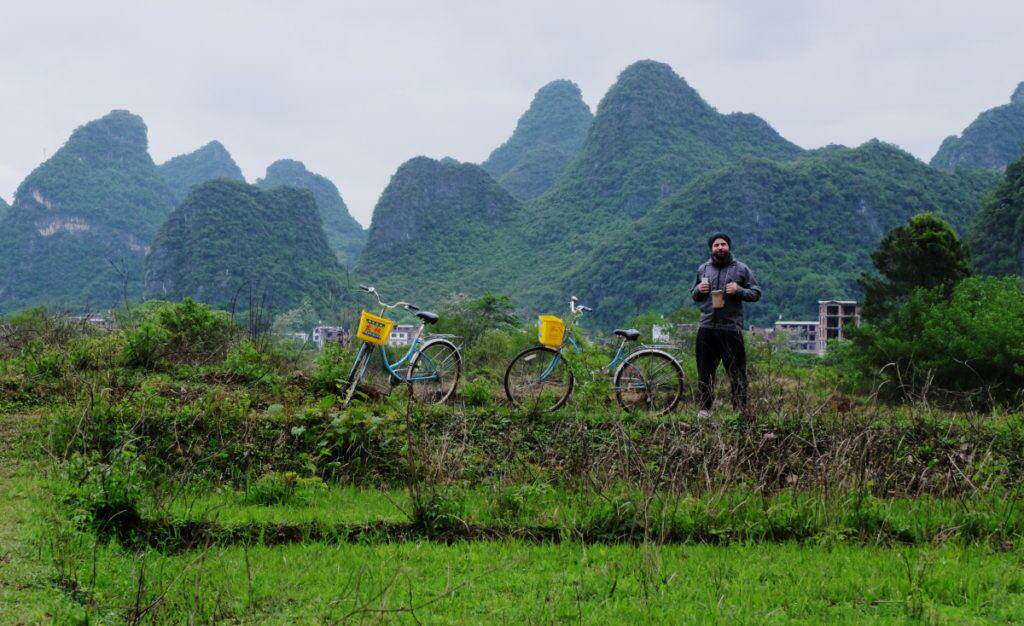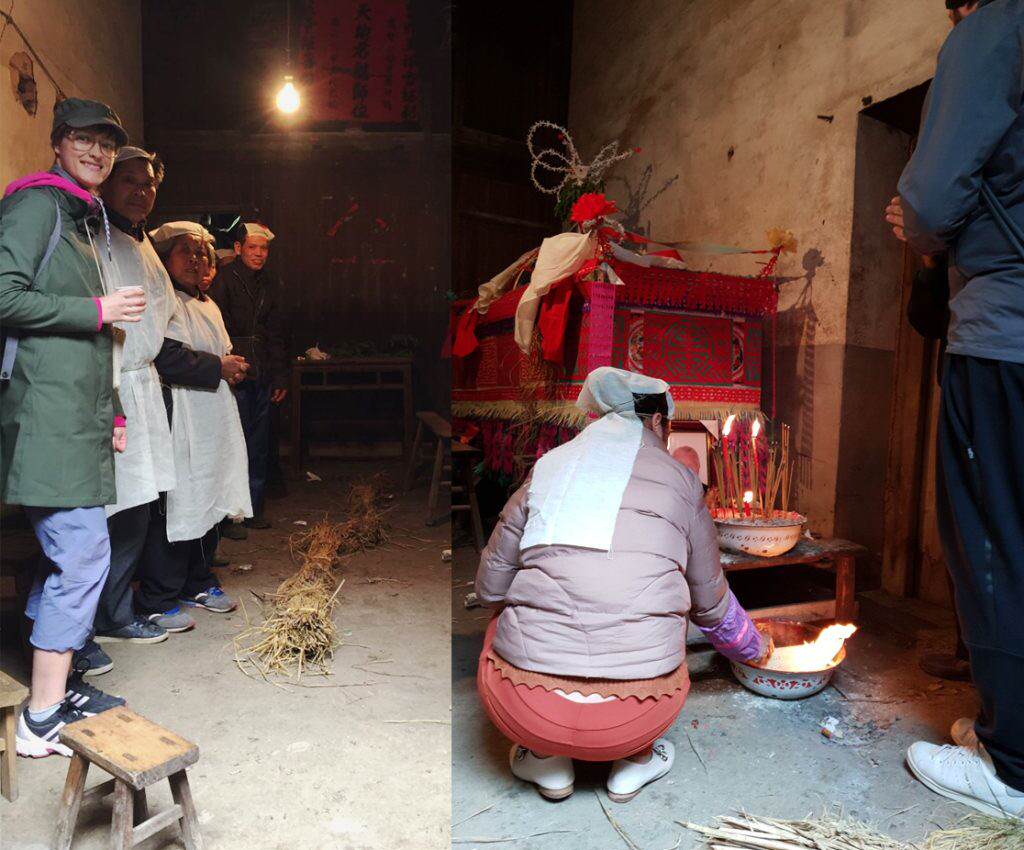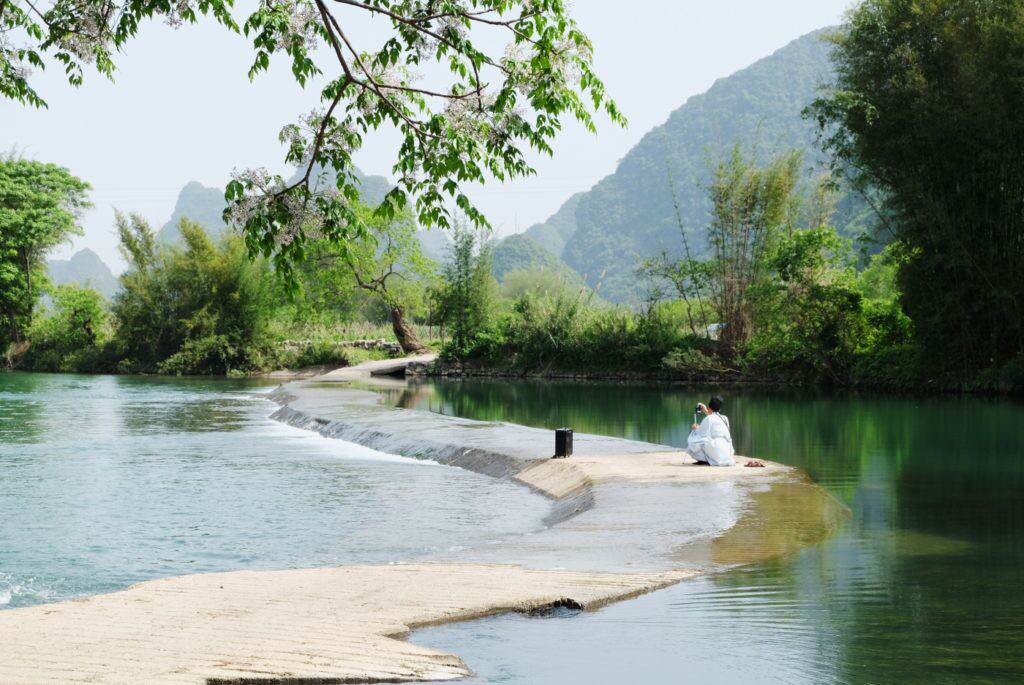 Take a bike and cycle around the rice fields and small villages along Yulong River, where you will definitely meet some busy farmers, super friendly locals, who might even invite you over to take part in really private moments. As these locals asked us into their backyard, where they had a funeral going on,  or this young couple, who wanted us to pose together with them for their wedding pictures. Or have the pleasure to listen to a private concert.
---
#5 Floßfahren | Bamboo Rafting
Eine weitere Möglichkeit die wunderschöne Landschaft an sich vorbeiziehen zu lassen, ist das Flößen auf schmalen Bambus-Floßen. Ein- und Aussteigen könnt ihr an verschiedenen Punkten des Yulong Flußes , so z.B. am Jima Quay, Jiuxan Quay oder dem Jinlongqiao Quay. Unsere Unterkunft hat uns sogar angeboten unsere Fahrräder an einer der Anlegestellen zurückzulassen und unsere Fahrradtour mit einer Floßfahrt flussabwärts zu beenden. Wegen des etwas verregneten Wetters an diesem Tag haben wir uns allerdings entschieden die ganze Strecke zu radeln und neben der Dragon Bridge noch die Fuli Bridge anzuschauen. An einem sonnigen Tag allerdings eine tolle Alternative beide Optionen miteinander zu kombinieren.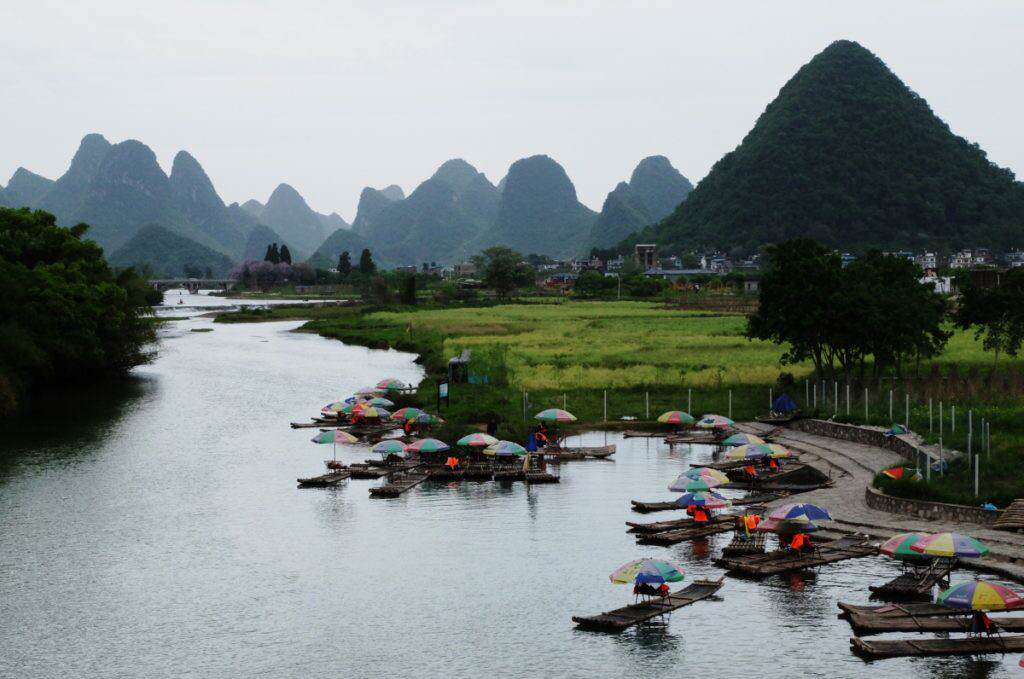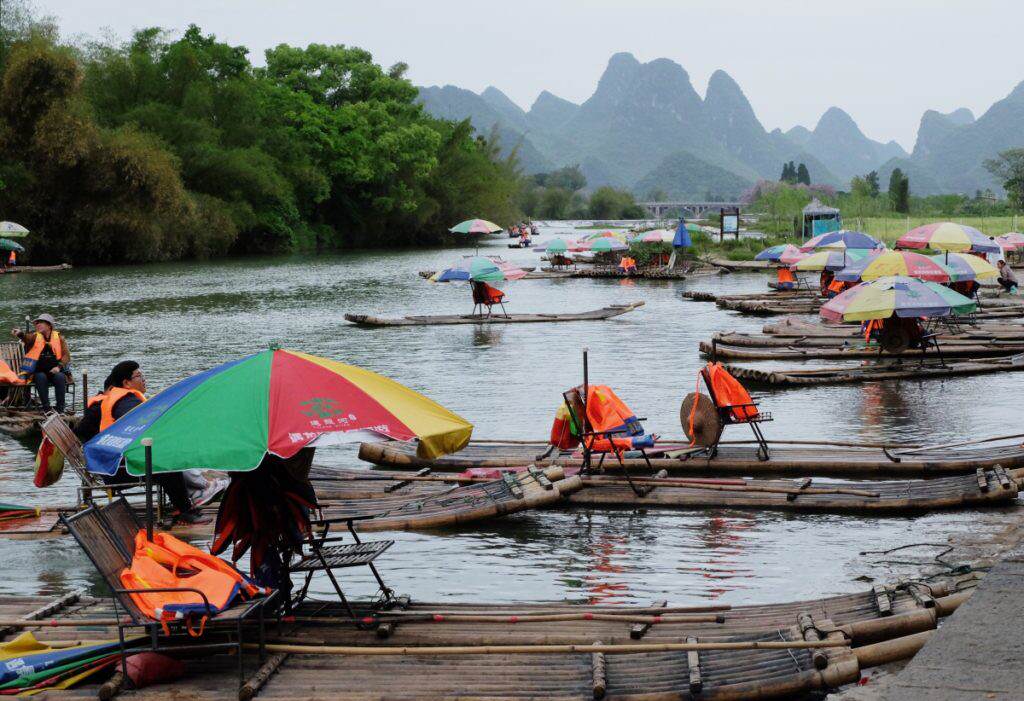 Another opportunity to watch the beautiful landscape passing by, is Bamboo rafting, which you can start at different points along Yulong River, e.g. at Jima Quay, Jiuxan Quay or Jinlongqiao Quay. Our guesthouse even offered us to cycle there, leave the bikes behind and float the way back. We didn´t do this on that day, because it was rainy and not too warm, so we prefered to cycle a bit longer and visited the Dragon and Fuli Bridge instead.
---
#6 Markttreiben aufsaugen |
Visit a local Farmer´s market
Die perfekte Möglichkeit in den ländlichen Alltag hier einzutauchen, bietet der Besuch eines wirklich lokalen Marktes, wie dem Fuli Markt. Von (lebendigen) Lebensmitteln, über Pflanzen, Tabak, Friseur, allen möglichen Heilkräuterchen bis hin zu Rattengift und überdimensionalen Mausefallen, gibt es hier einfach nichts was es nicht gibt – selbst wenn man in Asien schon so einiges gesehen hat.
Another great experience to explore the rural area is to visit a local Farmer´s market, e.g. the Fuli Market. As you will find everything from (alive) food, plants, tabacco, to hairdressers, herbs and salves, rat poison or oversized mousetraps, this was a really special and authentic market experience – even for Asian standards.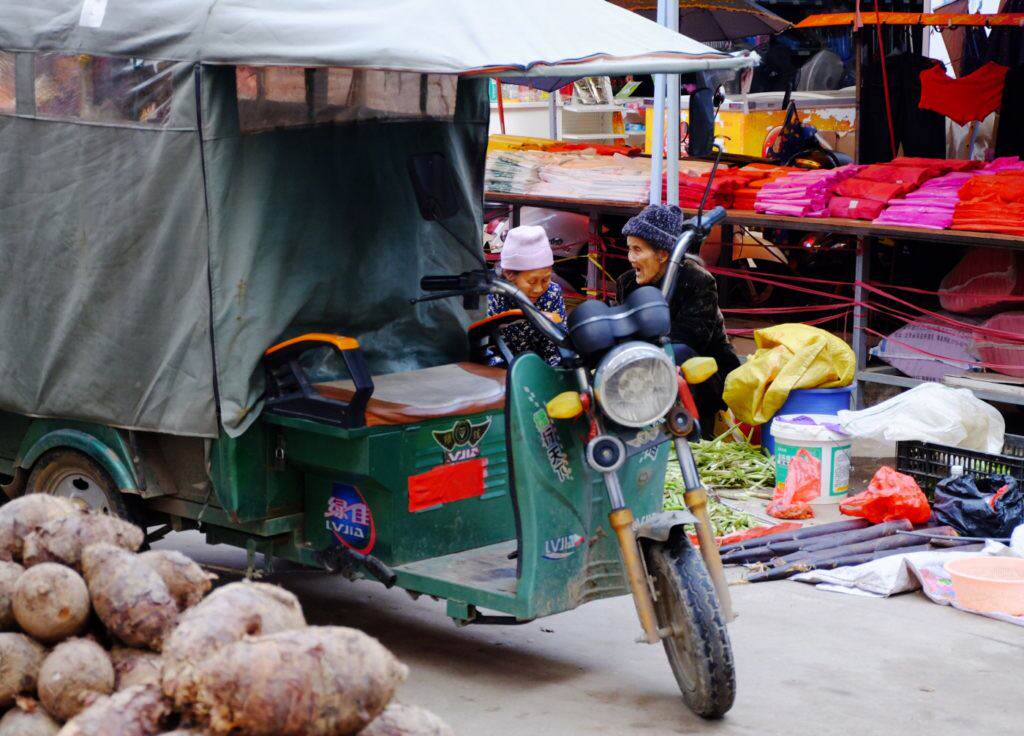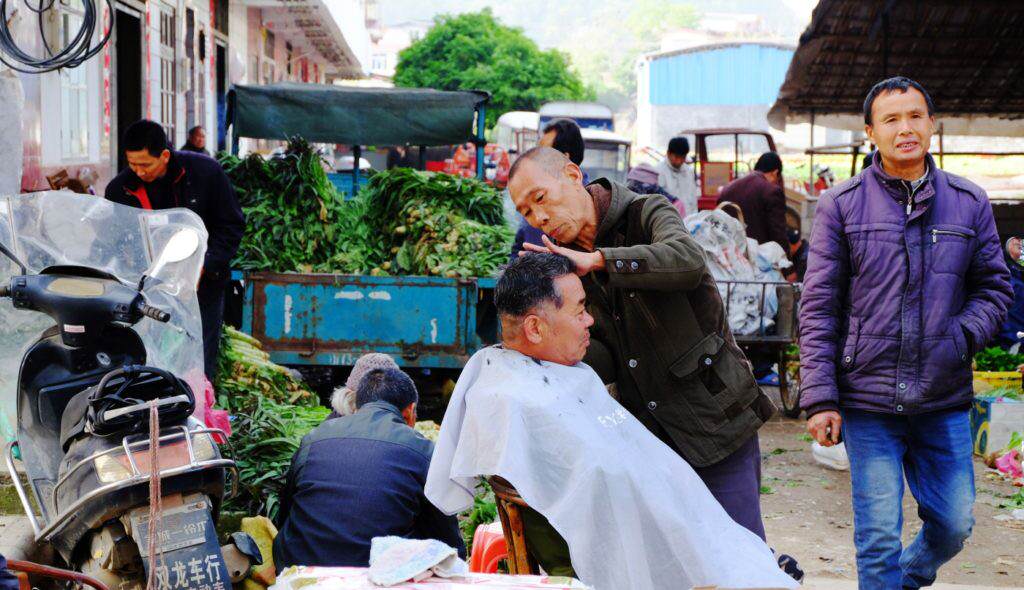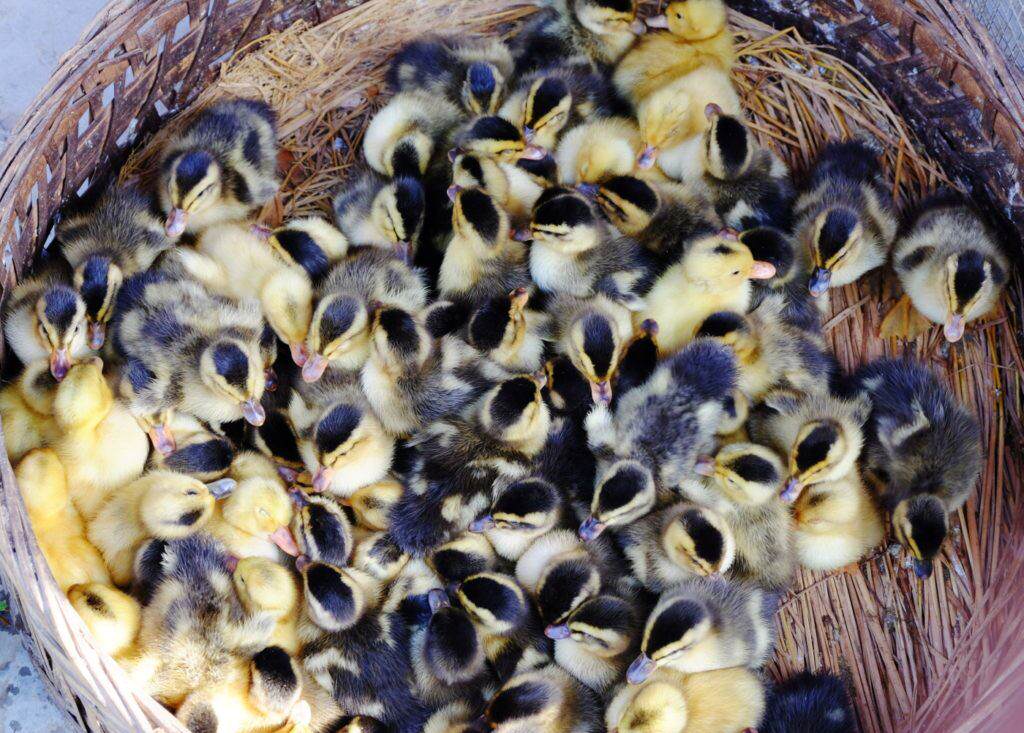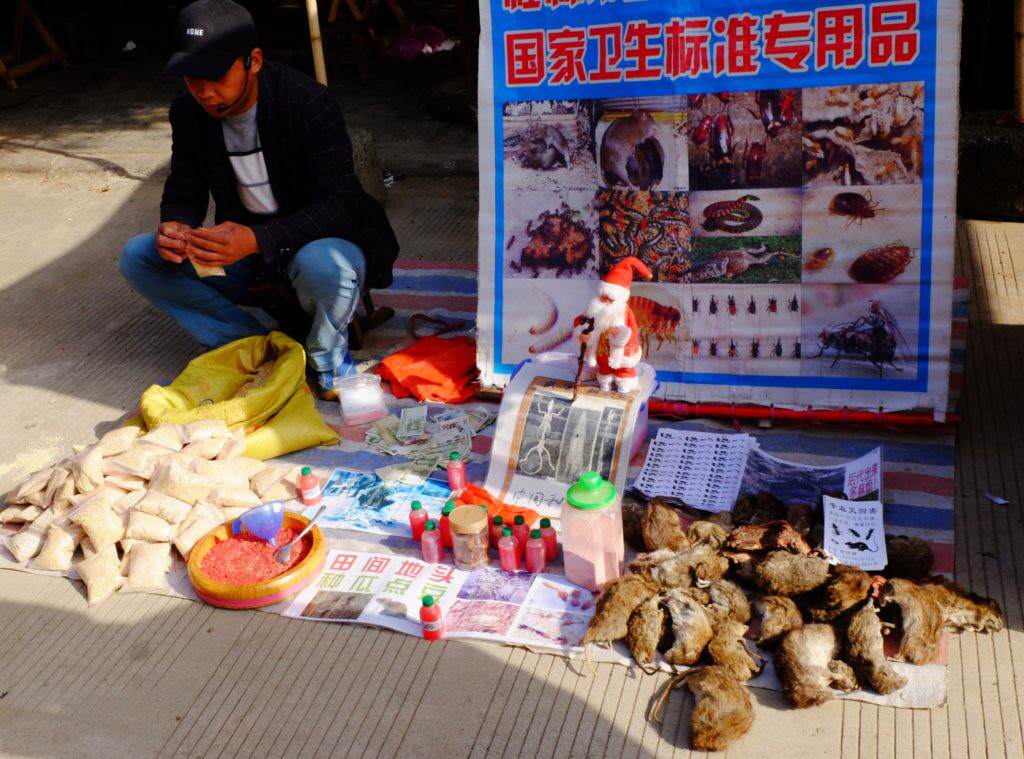 Viele der (meist älteren) Leute, die sich hier tummeln, sind genauso an uns interessiert wie anders herum. Sie bieten uns Snacks an, posieren bereitwillig für Fotos bzw. fotografieren uns übereifrig. Doch wir bevorzugen an diesem Morgen dann doch das schon für richtig gut befundene Frühstück in unserer Unterkunft.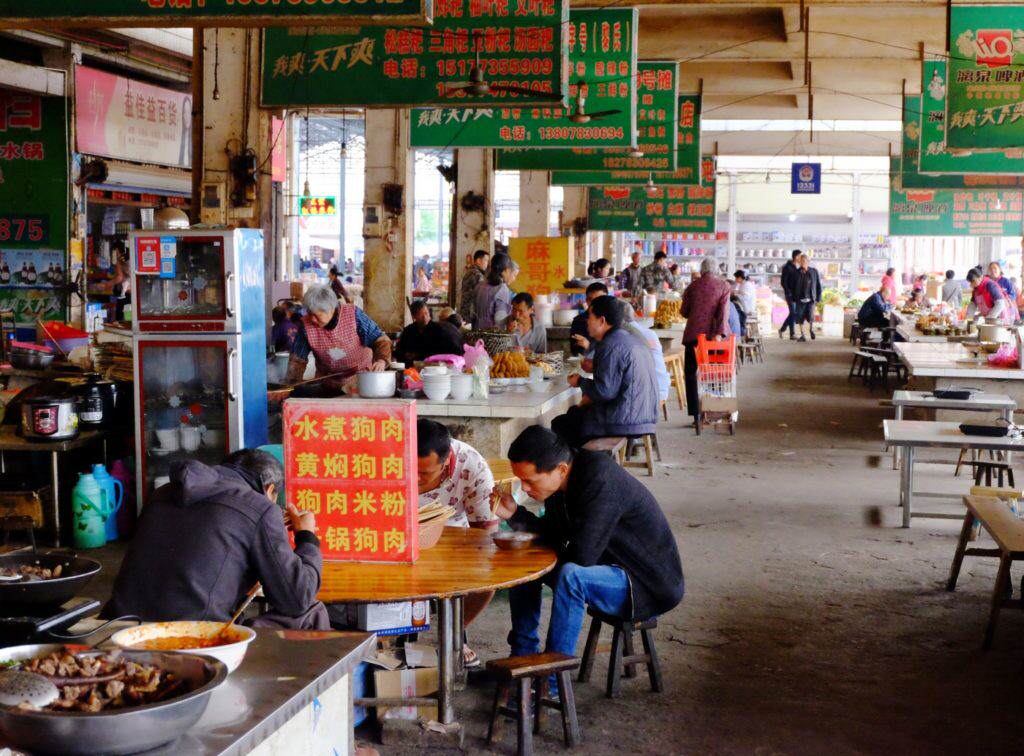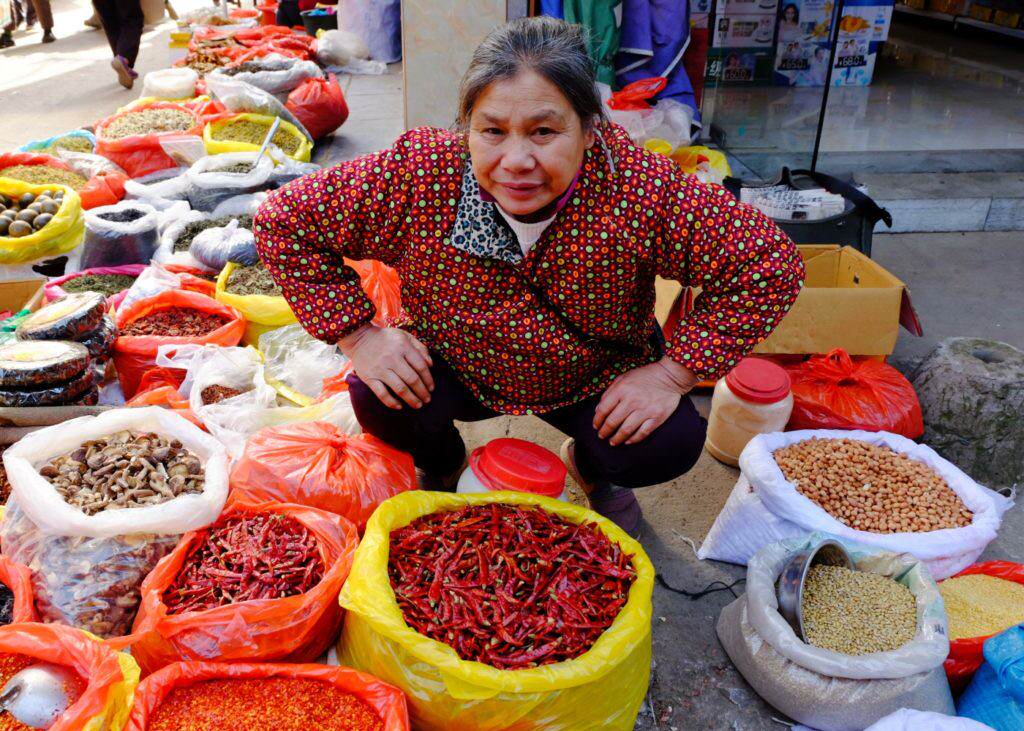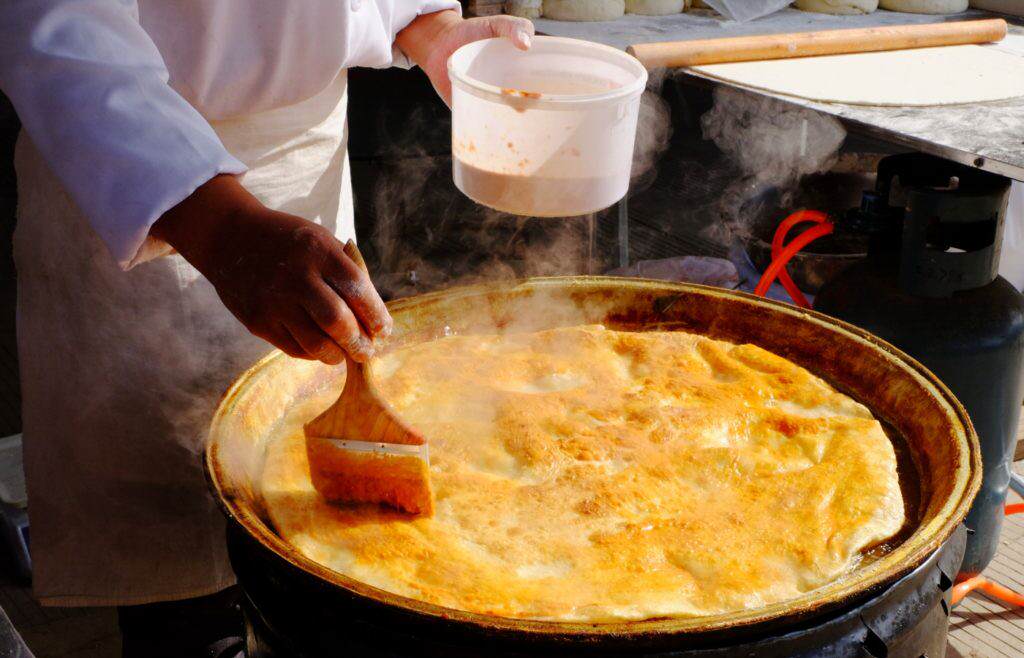 The (mostly elderly) people were really friendly and offered us snacks, as we made our way through the food area, posed passionately for pictures, or eaderly took pictures of us. But to be honest on that morning we preferred and couldn´t harldy wait for another great breakfast at our guesthouse again. 🙂
---
Anreise, Abreise & vor Ort | How to get to and around Yangshuo
Der einfachste Weg nach Yangshuo zu gelangen, ist erstmal nach Guilin zu fliegen (2,5 Flugstunden von Shanghai). Von Guilin aus gibt es mehrere Möglichkeiten nach Yangshuo zu kommen, da viele kleine Reiseveranstalter Touren verkaufen.
The easiest access to Yangshuo area is to fly to Guilin (2,5 h flight from Shanghai). From Guilin there are many options to reach Yangshuo as there are lots of tour operators selling trips.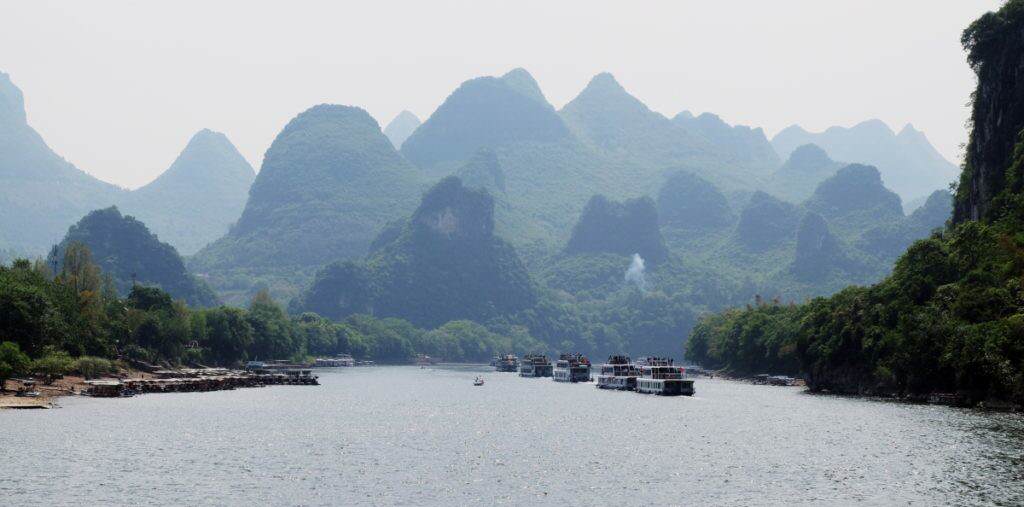 Für uns war es die angenehmste Option eine Flussfahrt auf dem Li River von Guilin nach Yangshuo zu machen – perfekt, um direkt in Urlaubsstimmung zu kommen. Im Vergleich zu einer Fahrt mit Auto oder Bus (ca. 1,5 Stunden), dauert es mit dem Schiff natürlich länger (ca. 4,5 Stunden). Allerdings eröffnet die Flussfahrt bereits erste grandiose Einblicke in die Region der Karstberge und während die Landschaft gemächlich an uns vorbeizieht, stimmen wir uns auf unseren viertägigen Kurzurlaub ein.
For us the most comfortable way was to go on a Li River cruise from Guilin down to Yangshuo. Compared to a car- or busride, which takes around 1,5 hours, going by boat lasts longer for sure (around 4,5h). But by cruising the river you already get more than just a sneak preview of the magical landscape, as the karst mountains line the river bank and it is a relaxed way of switching into vacation mood.
Wir haben uns für ein 3-Sterne Schiff (die günstigste Variante) entschieden. Die Sitzbänke an den Tischen waren komfortabler als erwartet, das Schiff war weder überfüllt, noch gab es Probleme an Deck einen schönen Platz zu finden, um die vorbeiziehende Landschaft zu bestaunen.
We took a 3-star boat (the cheapest option), which was actually quite comfortable with seating at tables, not too crowded at all and the possibility to go on deck and view the landscape passing by.
In der Nähe von XingPing, passieren die Schiffe den sogenannten "CNY 20 Banknote view". Spätestens, wenn alle aufstehen und vergebens versuchen im Fahrtwind eine 20 RMB-Banknote ins Bild zu halten oder gar sich selbst damit fotografieren, wisst ihr Bescheid. Sehr lustig mit anzusehen…
Close to XingPing you will even pass the location, printed on the back of the 20 RMB banknote. And for sure you will recognise it: Everybody will stand up trying to hold up the bill and take a picture while the wind is somehow making it impossible – pretty funny to watch though…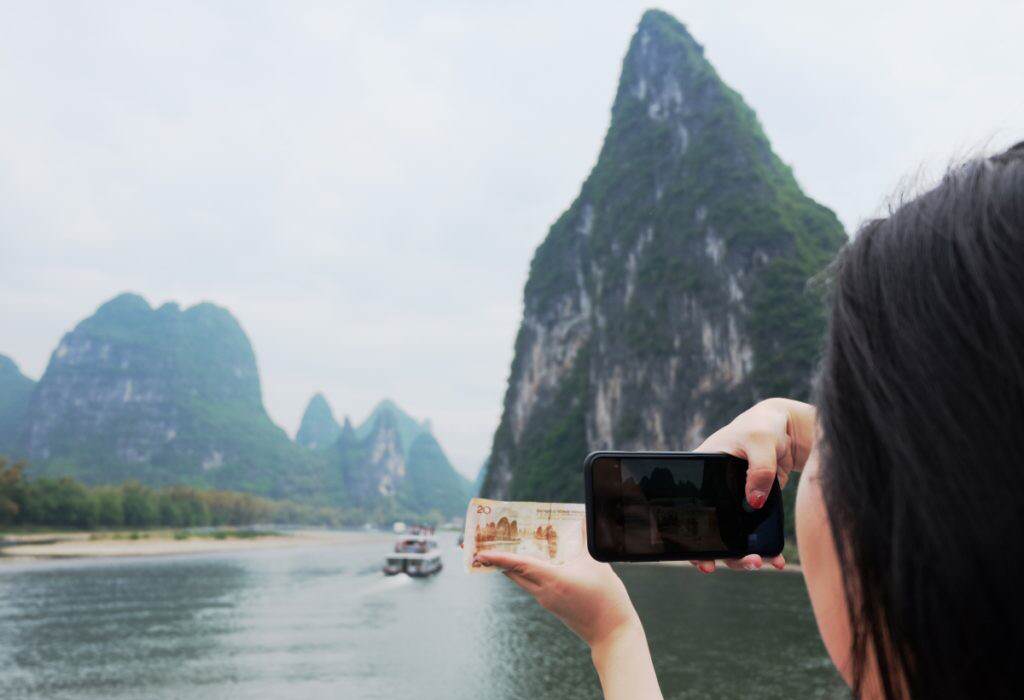 Abreise: Auf dem Rückweg zum Flughafen haben wir uns für eine Autofahrt entschieden, weil es die schnellste und bequemste Art ist über den Highway zum Flughafen zu gelangen. Und so konnten wir vor unserem Abendflug auch den vierten und letzten Tag unseres Trips noch gut nutzen.
On the way back to the airport we took a driver, because it was the easiest and most comfortable way to go up the highway in one hour and catch the evening flight back to Shanghai, so we could even spend our last day to the fullest enjoying the beautiful landscape.
---
Vor Ort | Getting around the area
Nachdem es in der Gegend zwischen Guilin und Yangshuo viele verschiedenen Aussichtspunkte gibt, ist die einfachste und komfortabelste Möglichkeit einen Fahrer zu arrangieren und so auch an einem Tag längere Distanzen zu überbrücken und dabei an verschiedenen Orten zu halten. Unsere Unterkunft hat uns einen Fahrer vermittelt. Um die 600 RMB kostet dieser für einen kompletten Tag. Nicht gerade günstig, aber dennoch die beste Option möglichst viele Spots in kurzer Zeit sehen zu können.
As there are lots of sunrise and sunset viewpoints, smaller hills to climb up and lots of opportunities to explore between Guilin and Yangshuo, the most easiest and comfortable way getting around longer distances is to take a driver. Every guesthouse will be able to organise one for you. A driver for one day costs around 600 RMB, which is not really cheap. But getting to see as many different places in rather short time, this is the best option.
---
Übernachten in und um Yangshuo |
Where to stay?
Nach kurzer Recherche war für uns klar: Wir wollten nicht direkt in Yangshuo Town wohnen, wo es natürlich mehr Optionen im Hinblick auf Restaurants, Bars, Café etc. gibt. Aber nachdem dies unser erster Trip in die Natur war, wollten wir diese auch unmittelbar genießen.
After a quick research it was clear for us: We didn´t want to stay in Yangshuo itself, where you have much more possibilities of restaurants, bars, cafés etc., of course. But as Yangshuo was our first trip into nature, we didn´t want to spent our nights in the buzzling town of Yangshuo, but rather enjoy the tranquility of the rural area surrounding it.
Entlang des Yulong Flußes (kleiner Nebenfluß des Li Flußes) gibt es einige Übernachtungsmöglichkeiten. Wir haben uns für das Tea Cozy entschieden, denn die Website und Bewertungen ließen auf ein gemütliches Gästehaus mit gut bewertetem Restaurant, Pool und Ausblick auf die Karstberge schließen. Und die Realität hat uns wahrlich nicht enttäuscht: Wir waren total angetan von dem wirklich freundlichen und zuvorkommenden Personal, die unseren Aufenthalt zu einem besonderen gemacht haben.
There are also quite a few overnight options along the Yulong River (the smaller sideriver of Li River). We went for Tea Cozy as the website and the description promised to offer a indeed cozy place to stay with a well recommended restaurant, a swimming pool and view of the prominent karst mountains. And in reality it didn´t dissappoint us at all! We were actually really overwhelmed by the friendly and professional staff-members, who made our stay a truly special one.
Amy und ihr Team haben uns mit allem umsorgt, was wir für unseren Kurzurlaub benötigt haben: Nützliche Infos zu Yangshuo und Umgebung, großartige Tipps für Sonnenauf- und -untergang, die schönsten Fahrradrouten inkl. der Möglichkeit direkt Fahrräder zu leihen, die Organisation eines Fahrers sowie die Flussfahrt von Guilin nach Yangshuo, inklusive Transfer zum Tea Cozy und zu guter letzt den Transport zum Flughafen nach Guilin. Und was uns wirklich im positiven Sinne sehr überrascht hat: Das komplette Personal sprach fließend Englisch, was es uns nochmals erleichtert hat alle wichtigen Infos zu bekommen. In Shanghai keine Selbstverständlichkeit.
Amy and her team provided everything to us we needed: Lots of useful information about the area, great hints for sunset and sunrise locations, the best cycling tours, a bike rental, the organisation of a driver, the Li River cruise and pick up to Tea Cozy as well as the transport back to Guilin Airport. And what really surprised us in the most positive way: All the ladies were fluent in English, which made it even easier to get all the information we needed and to feel comfortable. We aren´t used to this from Shanghai. 🙂
Und um das Gästehaus zu beschreiben, sind glaube ich keine Worte nötig…
And to describe the place itself I guess no words are needed…
Unsere letzte Nacht durften wir sogar in einem der großen Zimmer im neuen Gebäude nebenan verbringen, was es uns noch schwerer gemacht hat Yangshuo und das Tea Cozy nach 4 Tagen wieder verlassen zu müssen:
For the last night they even upgraded us to a king size bedroom in their new building, which made it even harder to leave this beautiful place:
Click to see the Photo Galleries of:
Li River Cruise | Cycling along Yulong River | Sunsrise at Xianggong Hill | Sunset at Putao Rural Scenery | Cormorant Fishermen at XingPing | Fuli Town & Farmer´s Market |
Tea Cozy Hotel Yangshuo
---