Grüne Berglandschaften, tosende Wasserfälle und traditionell lebende chinesische Minderheiten – Das ist Guizhou. Obwohl diese chinesische Provinz so reich ist an beeindruckenden Naturlandschaften, ist sie bei Reisenden außerhalb Chinas noch weitaus unbekannt – dafür umso beliebter bei inländischen Touristen. Das im Südwesten Chinas gelegene Gebiet besticht vor allem mit den steil aus dem Boden ragenden Karstbergen, saftig grünen Tälern, durch die sich klare Flüsse ziehen, spektakuläre Wasserfälle und die im Osten lebenden Minderheiten. Ein El Dorado für Naturliebhaber, die auch abgelegenere Landesteile entdecken und dabei in die jahrtausendealte chinesische Kultur eintauchen möchten.
Green mountain scenery, roaring waterfalls and traditionally living Chinese minorities – This is Guizhou. Still widely unknown to travellers outside China, the province of Guizhou is one of the best-known naturally places in the country and popular with domestic tourists. This province in the Southwest of China is mainly popular for its steeply rising karst mountains, lush green valleys with crystal-clear rivers running through, spectacular waterfalls and the minorities living in the East of the province. An absolute El Dorado for naturelovers, who like to travel through remote countryside and also discover the thousands of years old Chinese culture.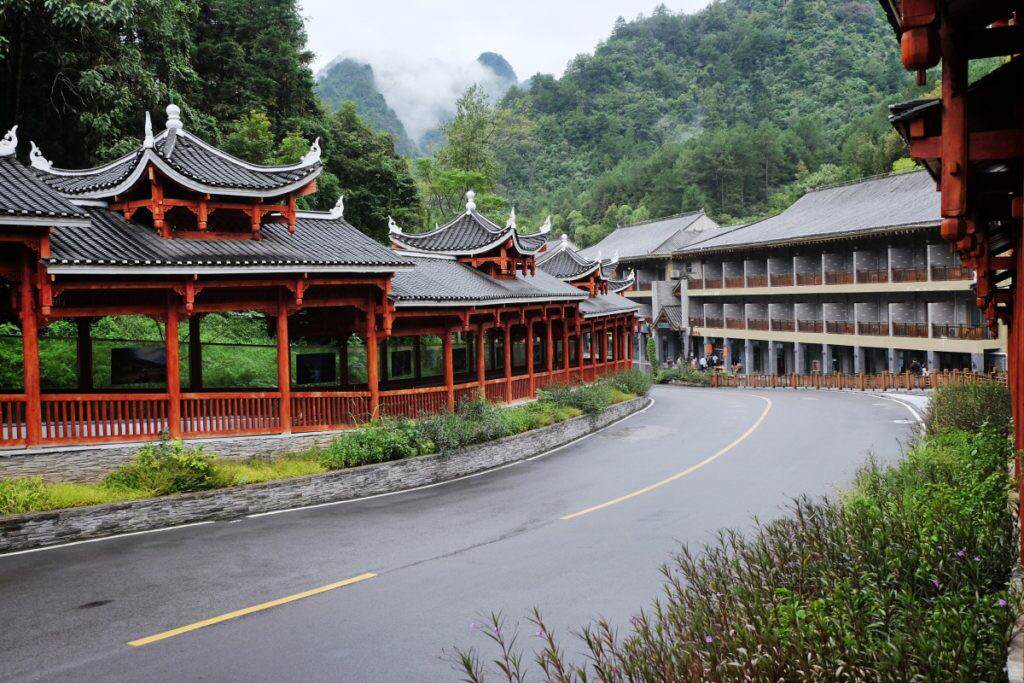 Als ich aus dem Minibus steige und meinen Blick in die Umgebung schweifen lasse, muss ich sofort an die Karstlandschaft von Yangshuo denken. Doch noch viel weitläufiger erstrecken sich die surreal geformten Hügel von Guizhou durchs Land, das werde ich auf meiner Entdeckungsreise durch die Provinz noch feststellen… Ich bin mit einer kleinen internationalen Gruppe in China lebender Expats unterwegs. Zusammen werden wir auf Einladung von AmazingGuizhou in nur 5 Tagen gut 1.000 Kilometer durch Guizhou reisen, um die einmalige Vielfalt der Provinz zu entdecken.
Stepping out of the tour bus and letting my eyes wander around, the landscape immediately reminds me of the karst mountains of Yanghuo. But here these surreal formed hills are stretching even more extensively throughout the countryside of Guizhou, to be found out during my trip. I´ll be travelling with a small international group of expats living in China. Together we will do more than 1.000 kilometers in only 5 days on invitation of AmazingGuizhou to discover the unique diversity of this province.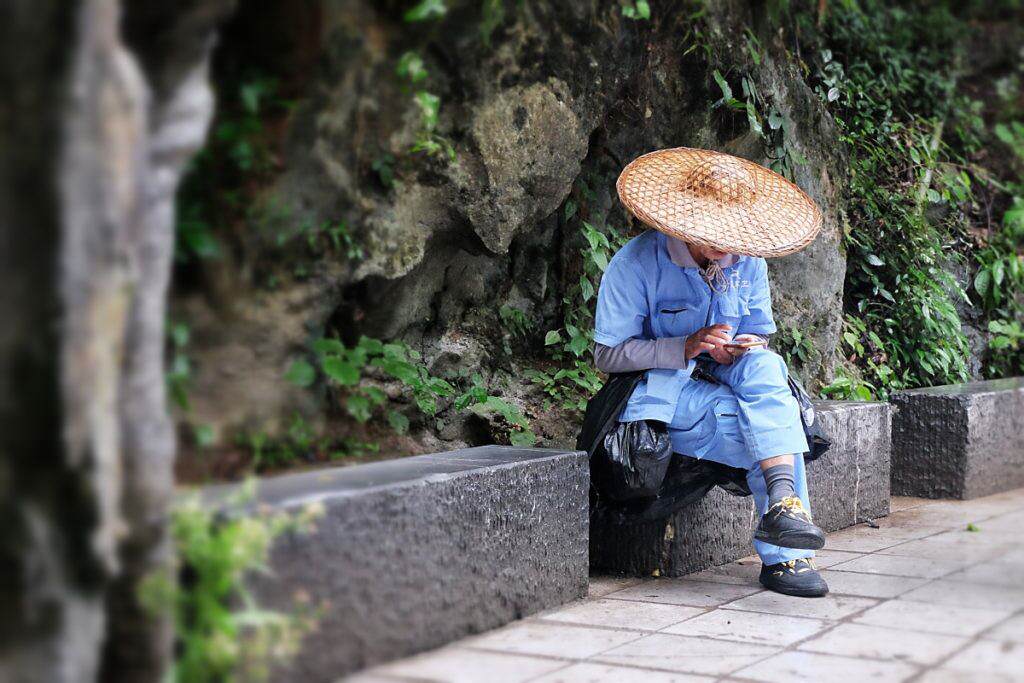 Ein guter Ausgangspunkt für eine Reise durch Guizhou ist die Provinzhauptstadt Guiyan, die auf 1.070 Höhenmetern befindet. Angenehm kühl und somit ideal gelegener Sommerzufluchtsort, so wie im übrigen die komplette Bergregion von Guizhou. Hier startet und endet unsere Tour zu einigen beeindruckenden Naturhighlights, inklusive Abstecher in abgelegene Bergregionen, die vor allem ethnische Minderheiten beheimaten.
A good starting point for a trip through Guizhou is the province´s capital Guiyang. Located 1.070 metres above sea level Guiyang is always pleasently cool and especially during summer an ideal sanctuary – as actually the entire mountain region. We are supposed to start and end our tour in Guiyang, visiting the province´s impressive natural highlights and exploring remote mountain regions, which are home to several Chinese ethnic minorities.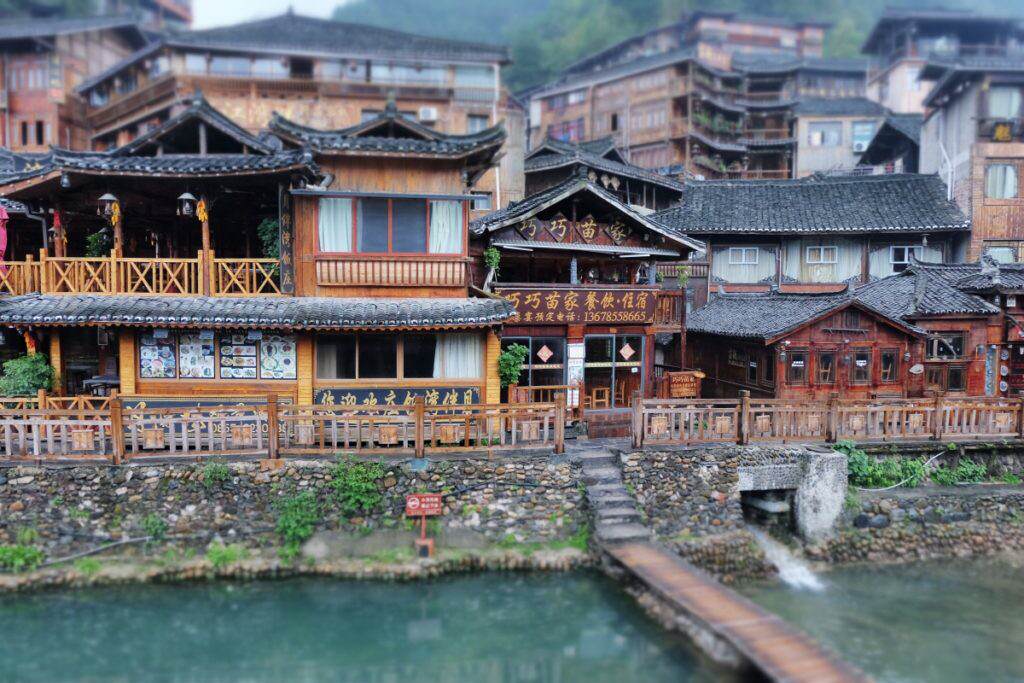 #1 Xiaoqikong & Daqikong Scenic Spots | Zhangjiang Scenic Area
Grüne Hügellandschaften und Täler, rauschende Flüsse und beeindruckende Kalksteinformationen kennzeichnen die Gegend rund um Libo im Südosten von Guizhou, das zum Weltnaturerbe "Südchinesischer Karstlandschaft" gehört. Fast 300 Kilometer legen wir zurück von Guiyang aus, bevor wir die Zhangjiang Scenic Area erreichen – für mich der Punkt, an dem ich zum ersten Mal realisiere, wie weitläufig sich die Karstberge durch die Provinz Guizhou erstrecken. Und nachdem wir am Xiaoqikong Scenic Spot angekommen sind, komme ich aus dem Staunen nicht mehr heraus: Obwohl sich die Sonne während unseres Besuchs nicht blicken lässt, eröffnen sich vor uns saftig grüne Karstberge und darin eingebettet glasklare Flüsse und Seen, die in den unterschiedlichsten Blau- und Grüntönen erstrahlen.
Green hills and valleys, flowing rivers and impressive limestone formations mark the area around Libo in the Southeast of Guizhou, which belongs to the World Natural Heritage of "Southern China Karst". It took almost 300 km of driving from Guiyang until we reach Zhangjiang Scenic Area. For me it´s the first time on this ride that I realize the dimensions of Guizhou´s impressive karst scenery. And after arriving at Xiaoqikong Scenic Spot the amazement does not stop: Even if the sun is not out once during our visit, the rivers and lakes await us with crystal clear water, shimmering in all kind of bright blue and green tones, embedded in lush green karst mountains.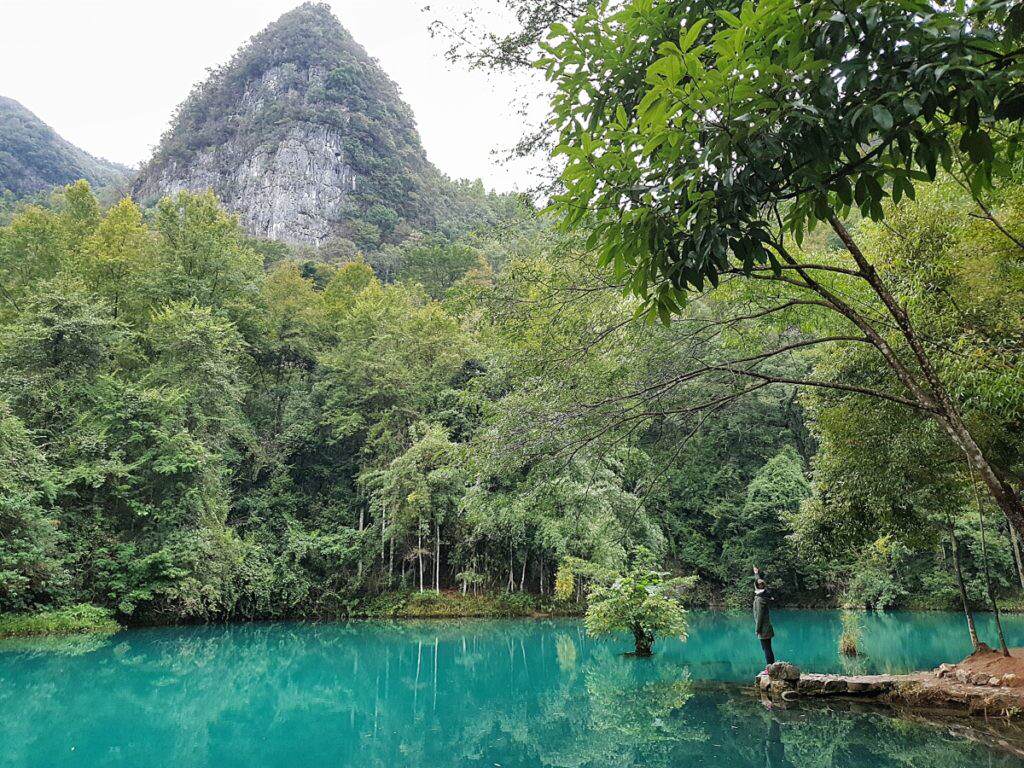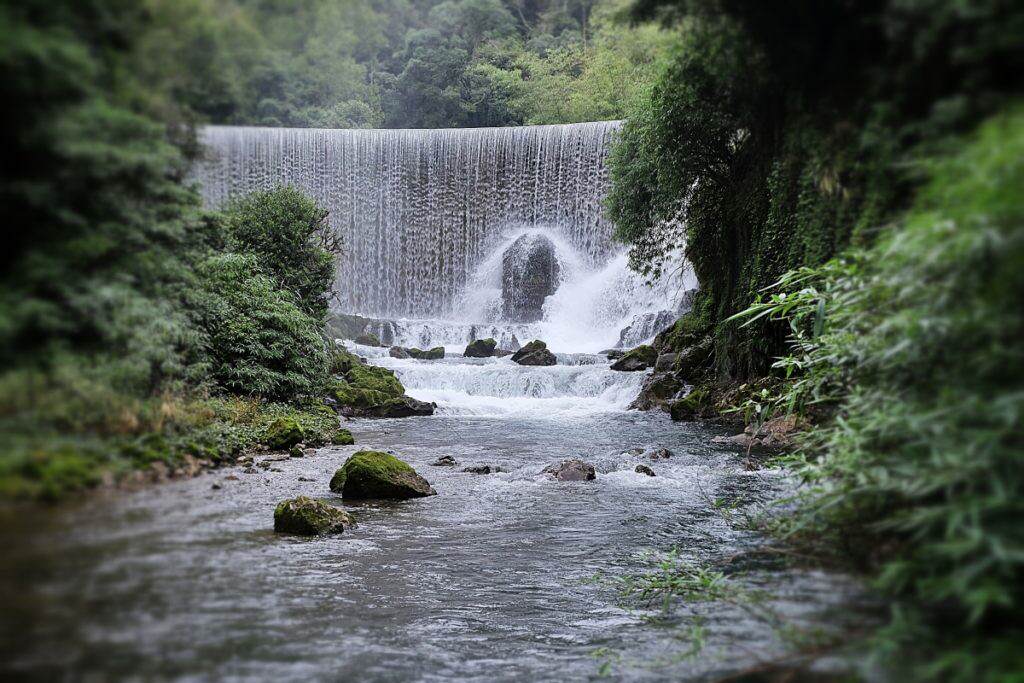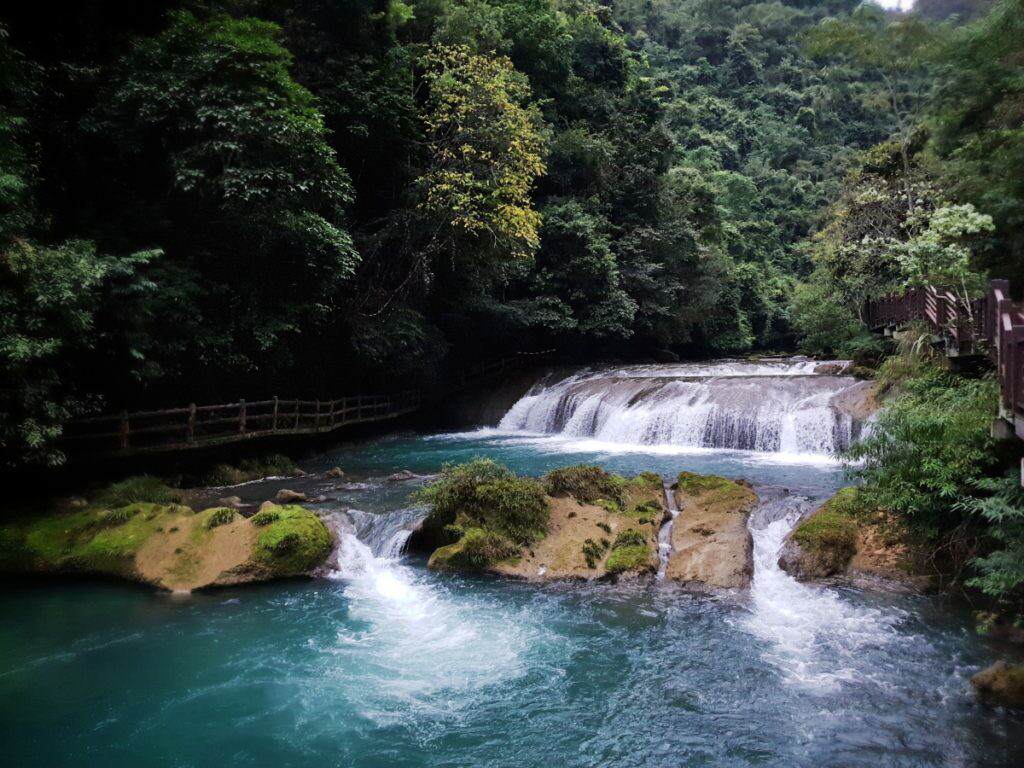 Ungefähr 3 Stunden spazieren wir am Xiangshui Fluss entlang, der uns an einigen großen und kleinen Wasserfällen und Pools mit erstaunlich blauem Wasser vorbeiführt, bis wir schließlich die "Seven-arched Xiaoqikong Bridge" erreichen, das Wahrzeichen der Libo Zhangjiang Scenic Area.
We walk for about 3 hours along the Xiangshui River, passing several waterfalls and pools with amazingly blue water, until we reach the "Seven-arched Xiaoqikong Bridge", landmark of Libo Zhangjiang Scenic Area.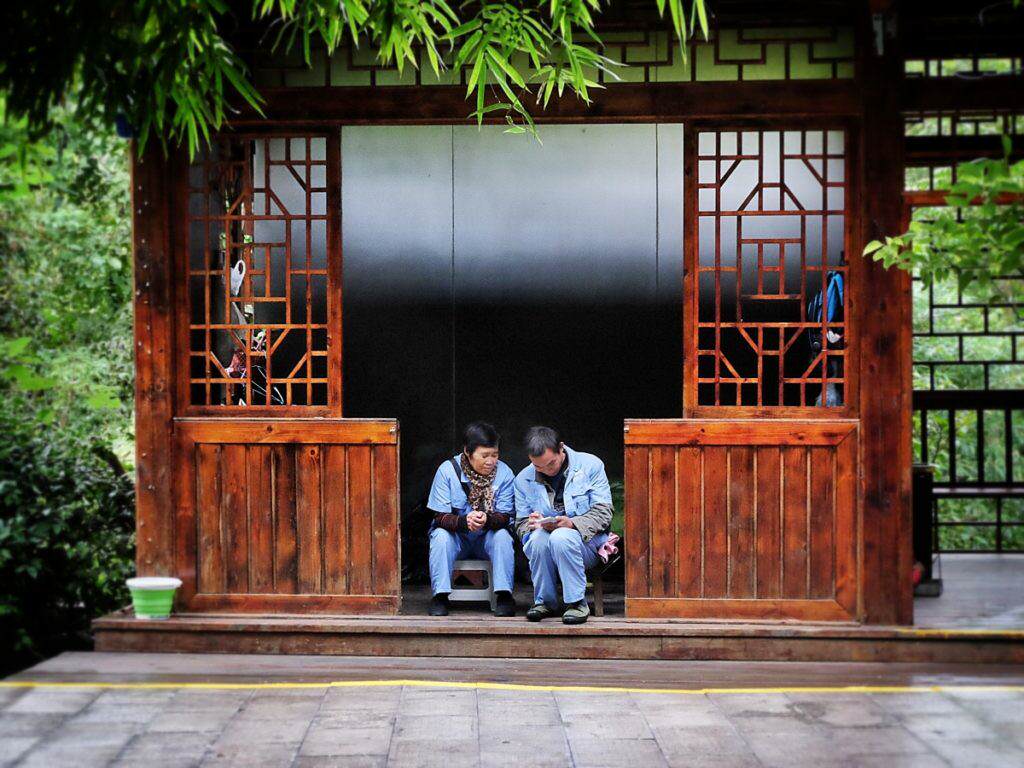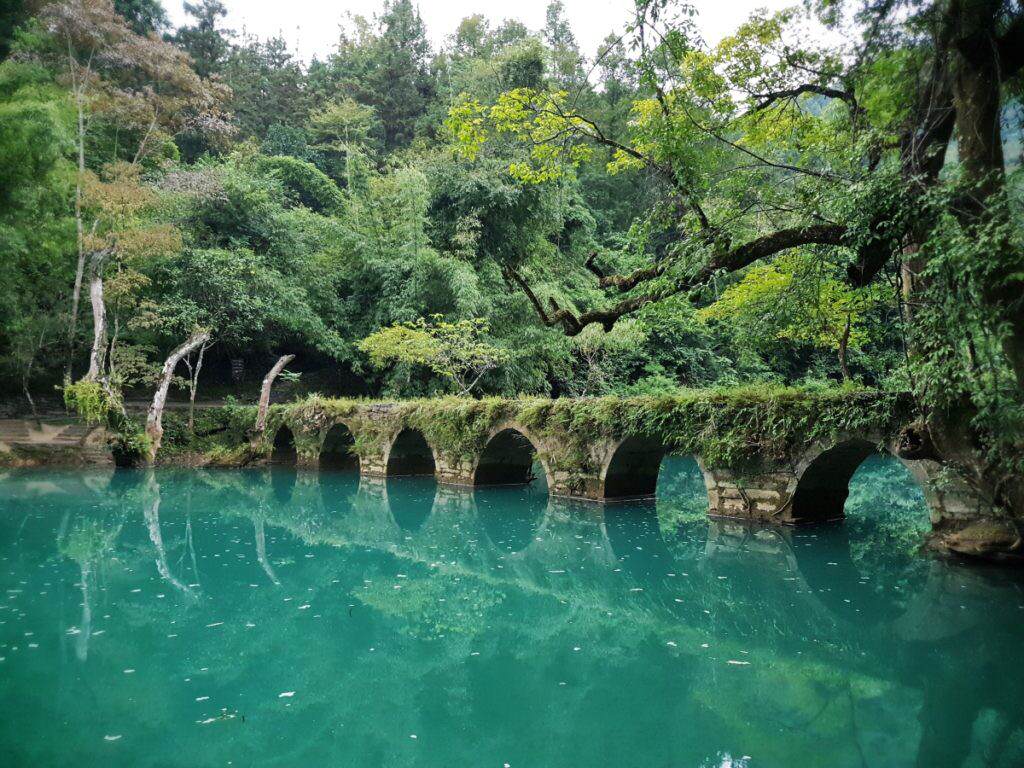 Ebenfalls Teil der Zhangjiang Scenic Area ist der Daqikong Scenic Spot mit seiner natürlich geformten Tiansheng Bridge. Die 73 Meter hohe, 15 Meter dicke und 22 Meter breite Kalksteinbrücke wird auch mit dem Beinamen "Triumphbogen des Ostens" geehrt. Ein Sprichwort besagt, dass wenn man unter dem Bogen der Tiansheng Brücke steht und es sich kalt anfühlt, man keinen guten Charakter hat. Fühlt man sich hingegen wohlig warm, besitzt man eine gute Seele. Ich hoffe, jeder war an diesem Tag entsprechend gekleidet… 🙂
Also part of Zhangjiang Scenic Area is Daqikong Scenic Spot with its naturally formed Tiansheng Bridge. The 73 metres high, 15 metres thick and 22 metres wide limestone bridge is also honoured as "Oriental Triumphial Arch". There is a local saying about it: If you stand underneath and feel cool, you might not be a person with a good character – if you feel warm, your have a good soul. So hopefully everybody has dressed-up properly for this occasion.. 😉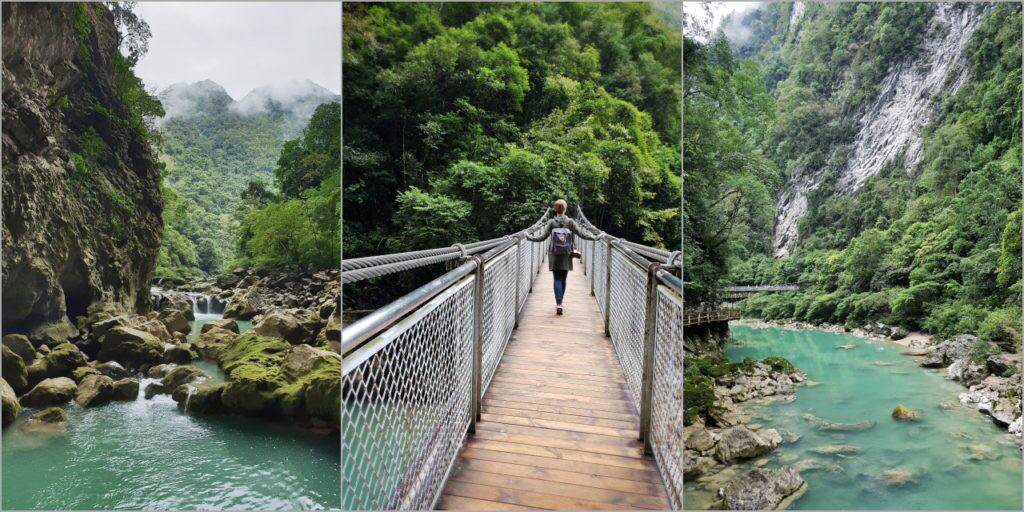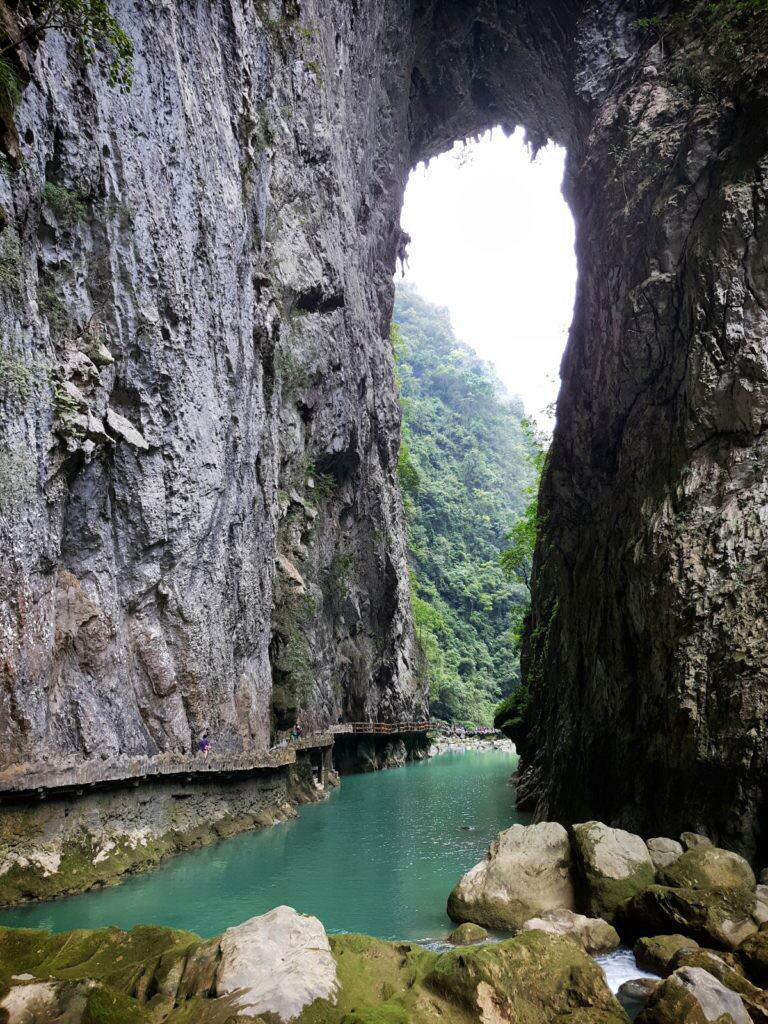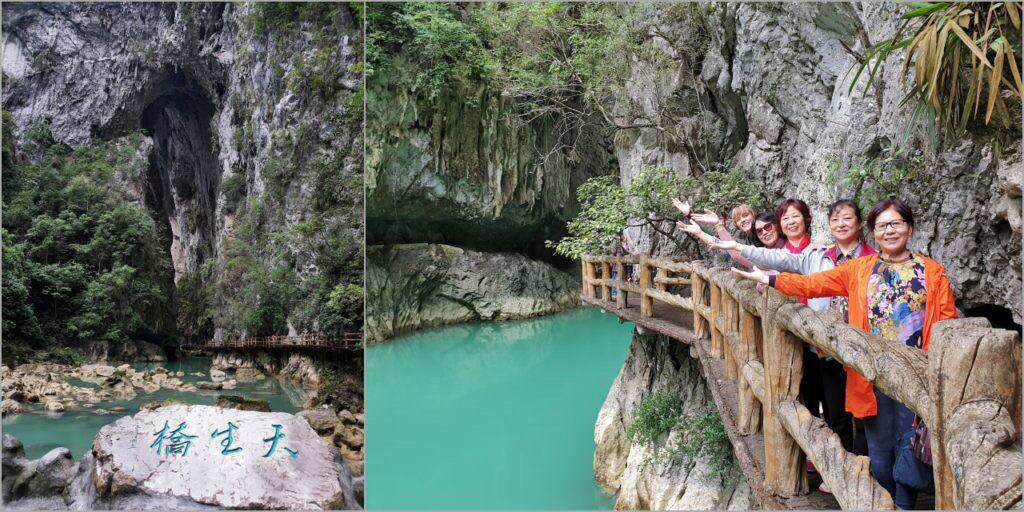 Den ganzen Tag an der frischen Luft spazieren macht definitiv hungrig. Und bevor die Fahrt weiter geht, solltet ihr euch auf jeden Fall noch mit ein paar Snacks eindecken. Das Streetfood an den kleinen Garküchen ist vielfältig und die Verkäufer sind neugierig und freundlich und vor allem überrascht als ich mein Handy zücke, um mit WeChat zu zahlen. 🙂
Wandering around and breathing fresh air of makes hungry. Not to be missed, especially when you keep on travelling is the streetfood you can get from the tiny food stalls. Make sure to try some snacks! The Vendors are really curious and friendly as well as surprised as I grab my Smartphone to pay with WeChat.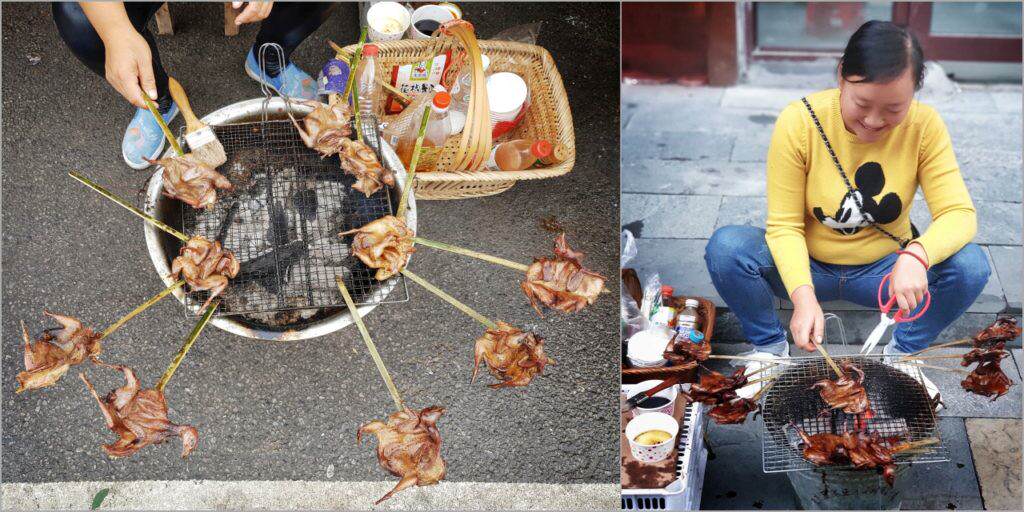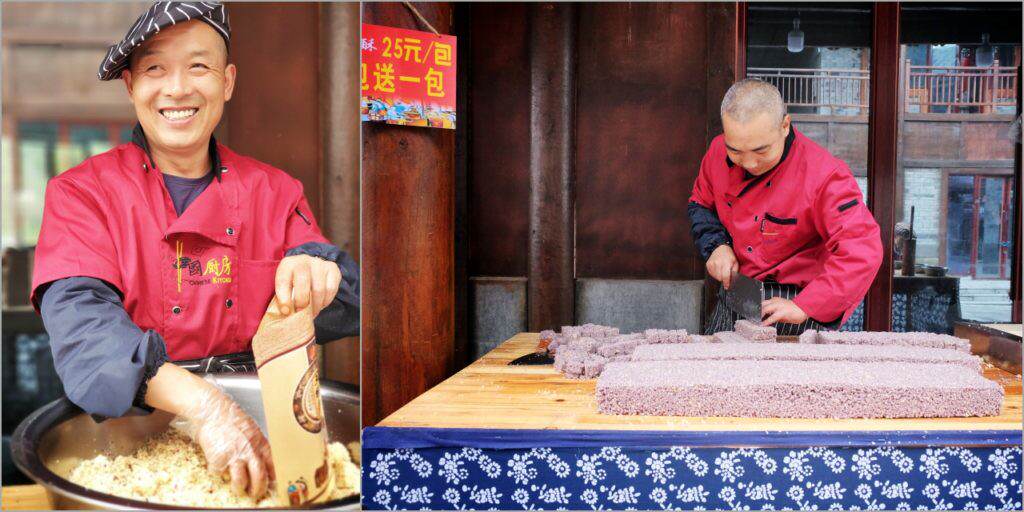 #2 Xijiang Miao Village
Jahrtausendealte Traditionen | Thousand-year old traditions
Die Landschaft ist mindestens genauso vielfältig wie ihre Bewohner: Knapp 20 ethnische Minderheiten leben in der Provinz Guizhou und machen damit fast 40 Prozent der Provinzbevölkerung aus. Das Volk der Miao bildet eine der größten ethnischen Minderheiten im Südwesten Chinas, deren Dörfer in der Bergregion rund um Kaili auch besucht werden können. Eines der bekanntesten Miao Dörfer ist Xijang, das für chinesischen Touristen mindestens genauso faszinierend ist wie für unsereins. Denn Sprache, Kleidung und Traditionen unterscheiden sich merklich von denen der Han-Chinesen. So können sich auch chinesische Touristen nicht mit den Dorfbewohnern verständigen, denn Mandarin wird in den Minderheitendörfern nicht gesprochen.
The landscape is as diverse as its people: Almost 20 ethnic minorities live in Guizhou, which makes almost 40 percent of the province´s population. Miao people form one of the largest ethnic minority in Southwestern China and their villages in the mountain region around Kaili can actually be visited. One of the most famous Miao villages is Xijang, which is as fascinating for Chinese tourists as for ourselves and accordingly popular with domestic tourists – because language, clothes and traditions differ noticeably from the ones of the Han Chinese. Even Chinese tourists cannot understand the Miao people´s language, as Mandarin is not spoken at all within the minority villages.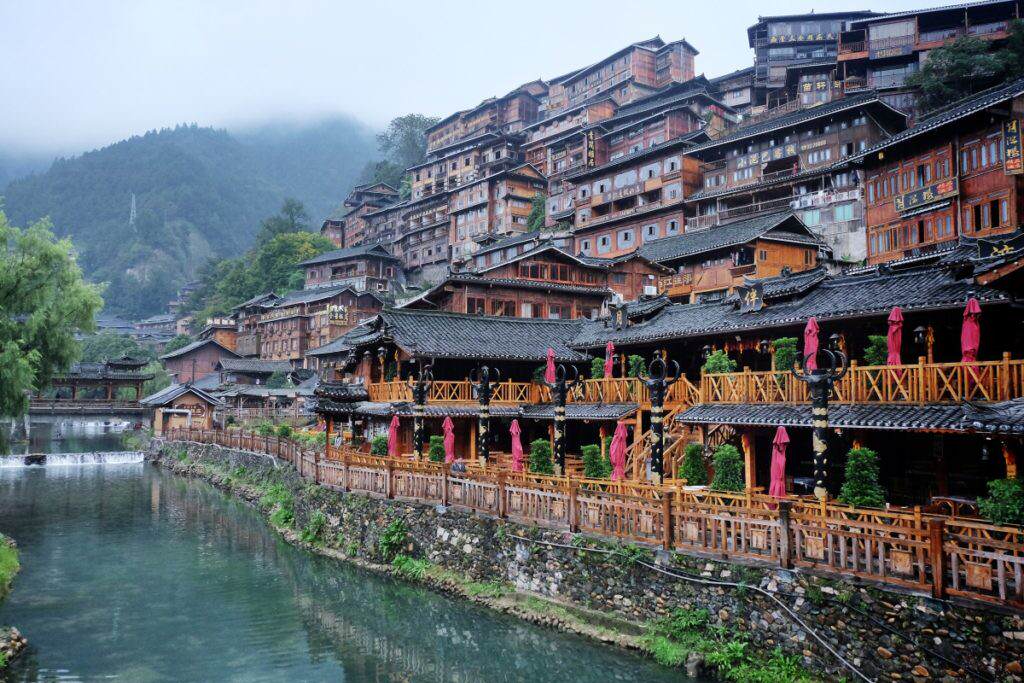 Eingebettet im Grün der Léigong Berge im Osten von Guizhou liegt Xijiang, mit seinen aus Holz gebauten Stelzenhäusern, die mit Silberverzierungen geschmückt sind. Die ethnische Minderheit der Miao lebt hier bereits seit über 2.000 Jahren. Heute sind es noch ca. 6.000 Miao in insgesamt knapp 1.300 Haushalten, was Xijiang zum größten Miao Dorf und einzigartig nicht nur in China, sondern weltweit macht.
Embedded in the greenery of Léigong mountains in the East of Guizhuo province lies the town of Xijiang, with its iconic wooden-stilted houses, decorated with silver ornaments. The ethnic group of Miao minority have been living here for more than 2.000 years. Nowadays around 6.000 Miao people still live in about 1.300 households, which makes Xijiang the biggest Miao village and unique, not only in China, but worldwide.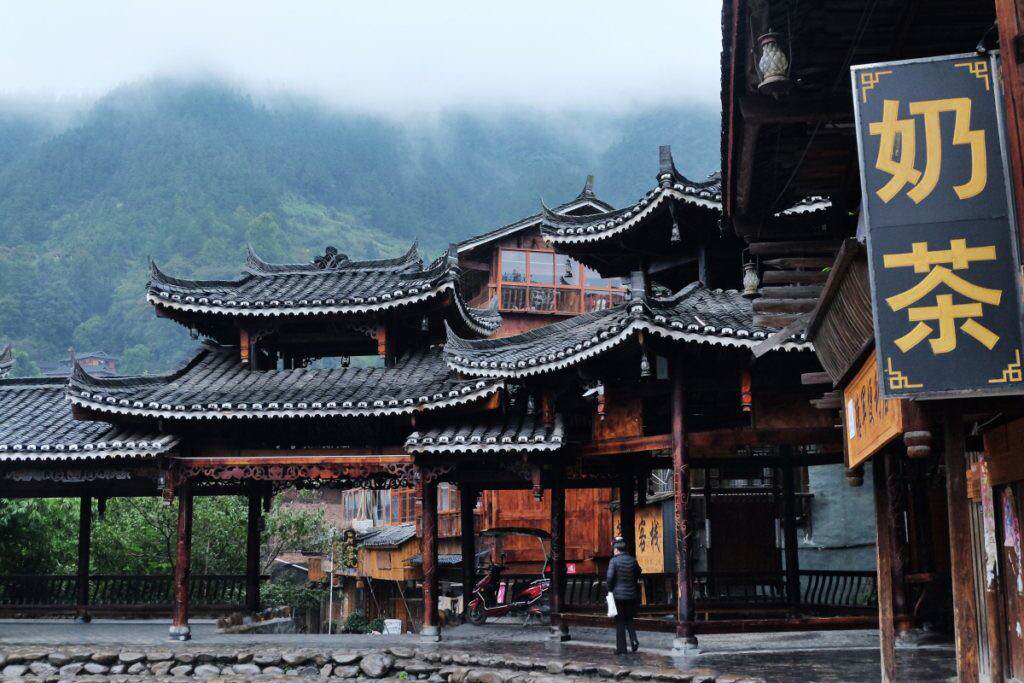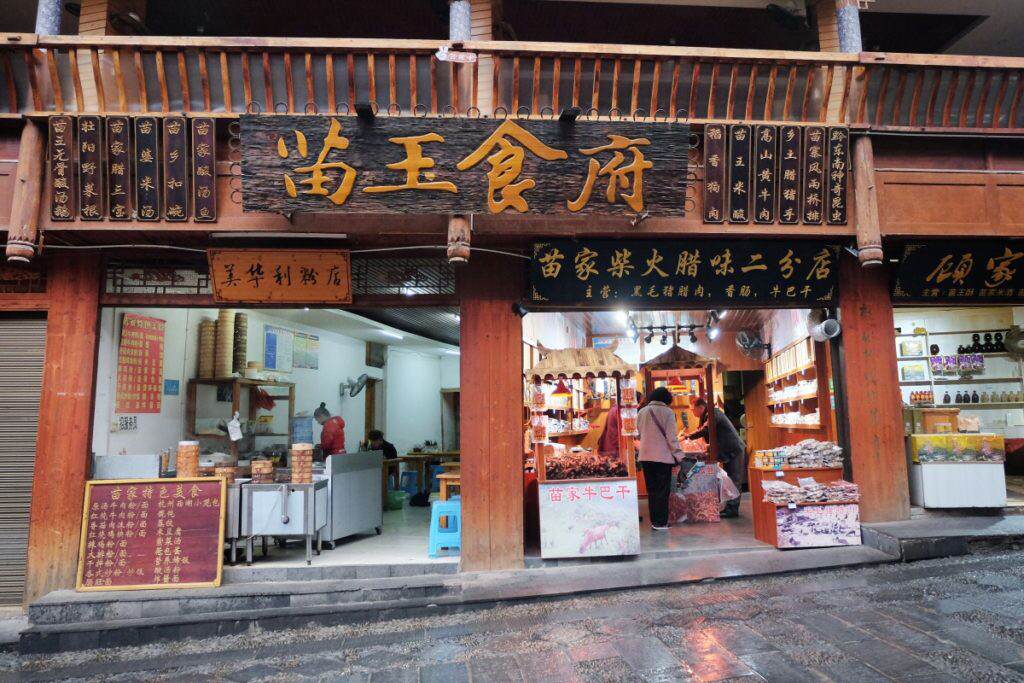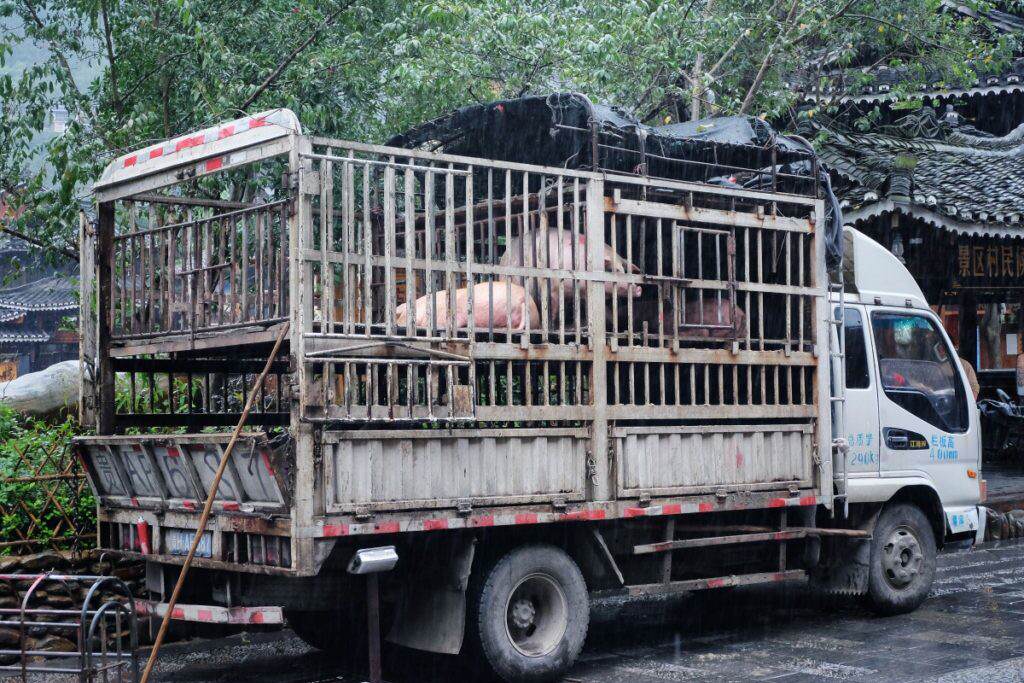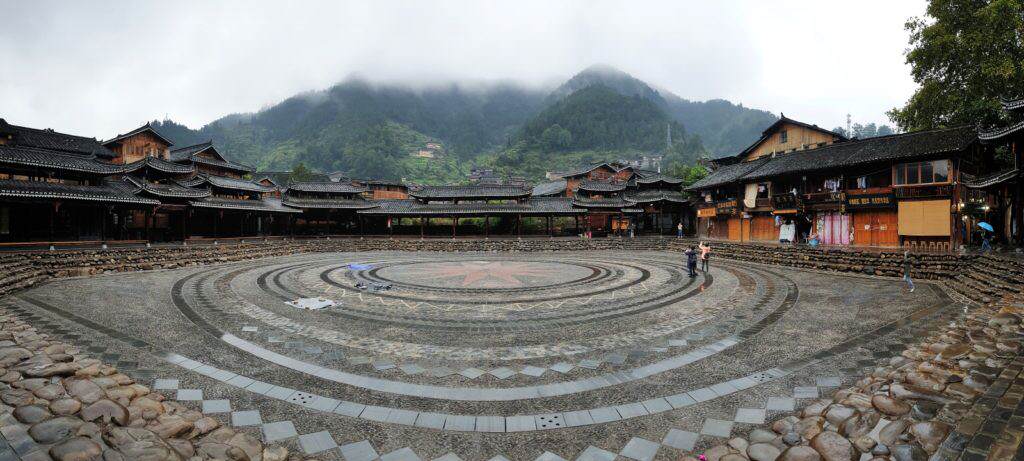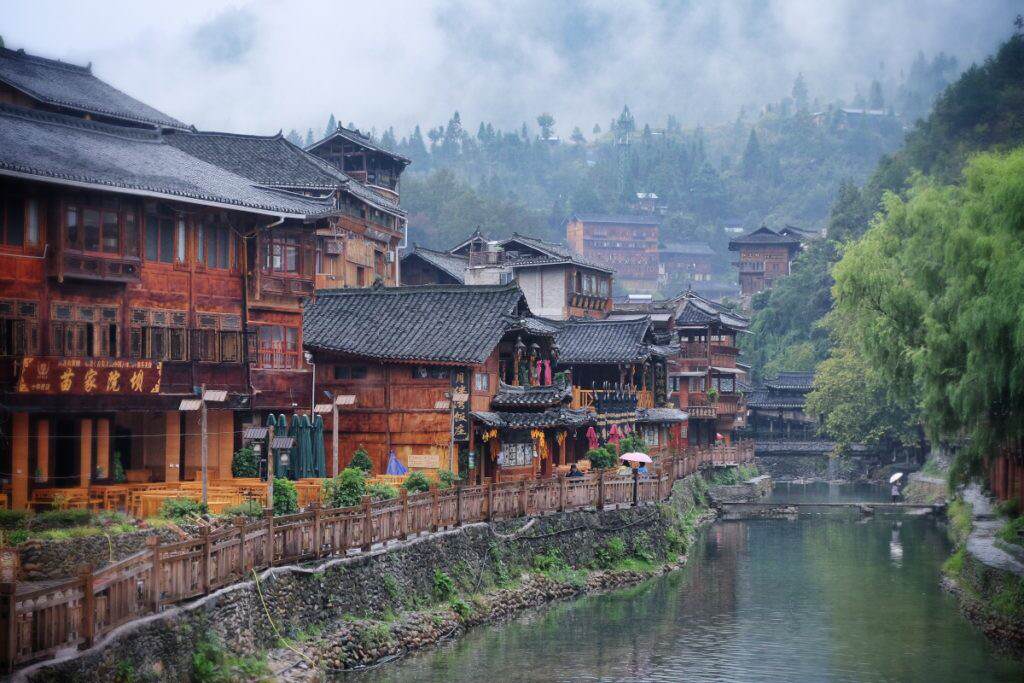 Einzigartige Bräuche | Unique customs
Im Gegensatz zu dem in China typischen runden Drehtisch, wird in Xijiang am sogenannten "langen Tisch" gegessen. Auch die Speisen selbst unterscheiden sich von denen der restlichen Provinz. Während man durch die Straßen schlendert, findet man einige für die Miao typische Snackstände, Handwerksläden und natürlich auch Souvenirshops.
In contrast to the typical Chinese round turning table, in Xijiang it´s common to eat at a so called "long table". Also the dishes served vary from other parts of  the Pfovince. While wandering along the streets of you find lots of stypical nack stalls, craft shops and of course also souvenirs.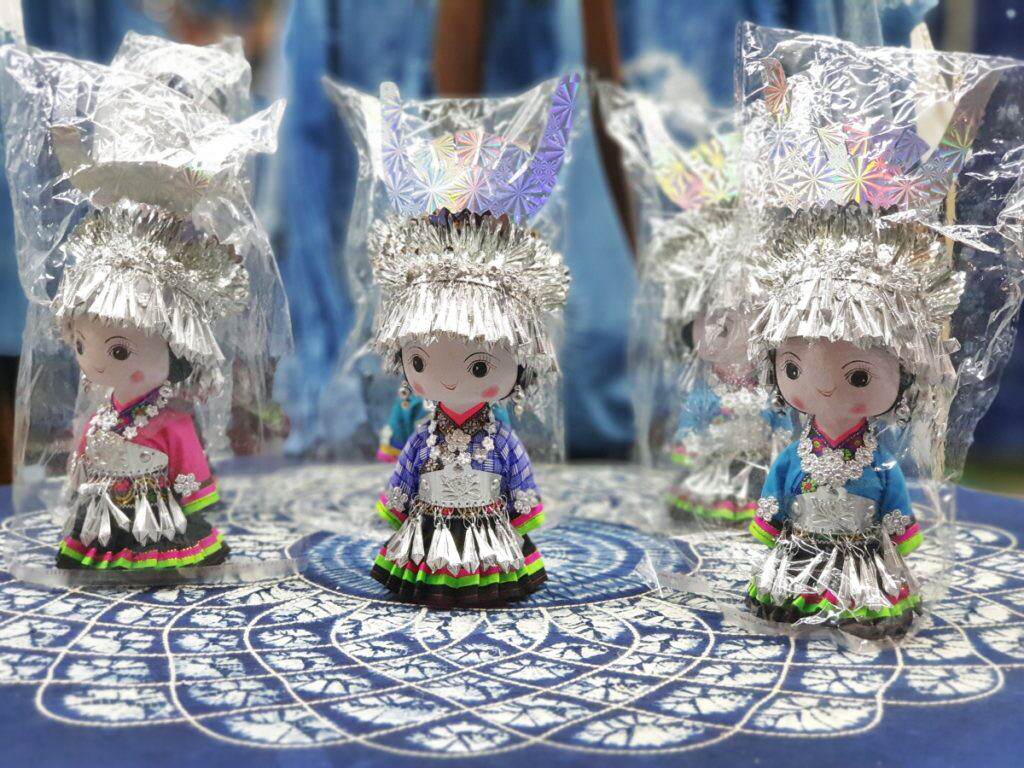 Was man auf keinen Fall verpassen sollte, ist die Verkostung des aus Klebereis gebrauten Reisweins, der den Besuchern, egal ob Chinese oder Ausländer, auf traditionelle Art im wahrsten Sinne des Wortes eingeflößt wird.
What you definitely shouldn´t miss: Try the rice wine brewed from sticky rice, which is literally ´infused´ to Chinese and foreign visitors alike in the most traditional way.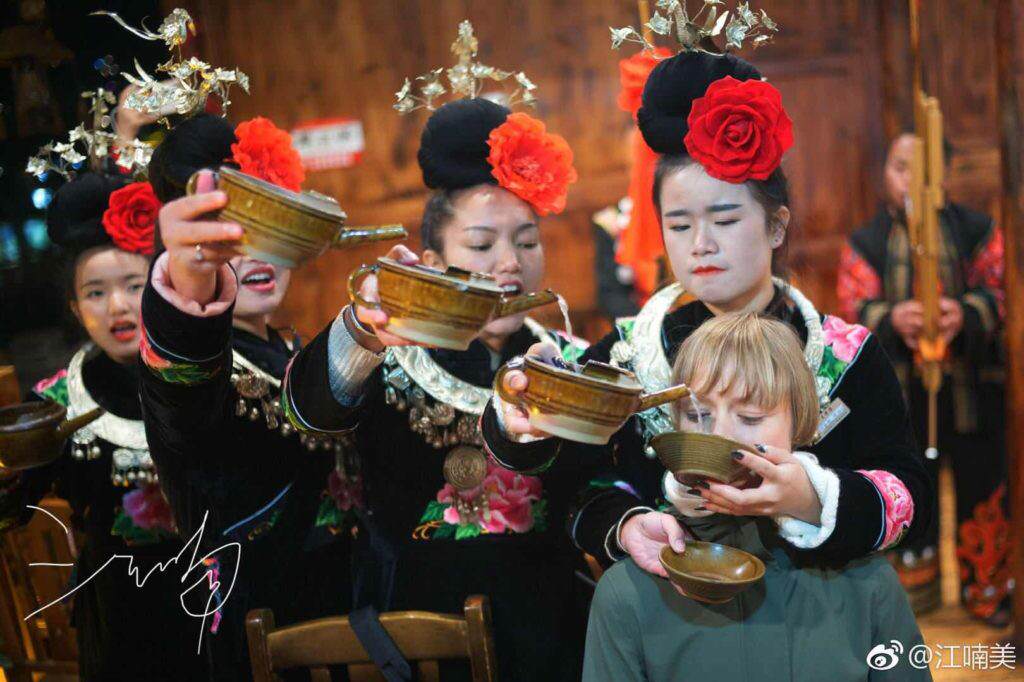 Fun fact: Auch wenn Kultur und Traditionen der Miao in Xijiang gut erhalten sind – weil Tracht, Schmuck und Bräuche stets von Generation zu Generation weitergegeben wurden, sind es nicht nur traditionell gekleidete Miao, die man in farbenfrohen Kleidern durch die Straßen ziehen sieht. Überall in Xijiang kann man Kostüme leihen und damit Fotos machen. Viele chinesische Touristen nutzen dies, um für einen kurzen Moment in die Rolle der traditionellen Miao Minderheit zu schlüpfen.
Fun fact: Even if culture and traditions of the Miao people are well preserved in Xijiang – as clothes, ornaments, customs etc. were handed down from generation to generation, it´s not only traditionally dressed Miao people in colourful robes, wandering through the streets. Everyone can rent Miao costumes to take pictures in, so lots of Chinese tourists actuallly slip into the role of the minority, just to feel like a traditionally dressed Miao for a couple of moments.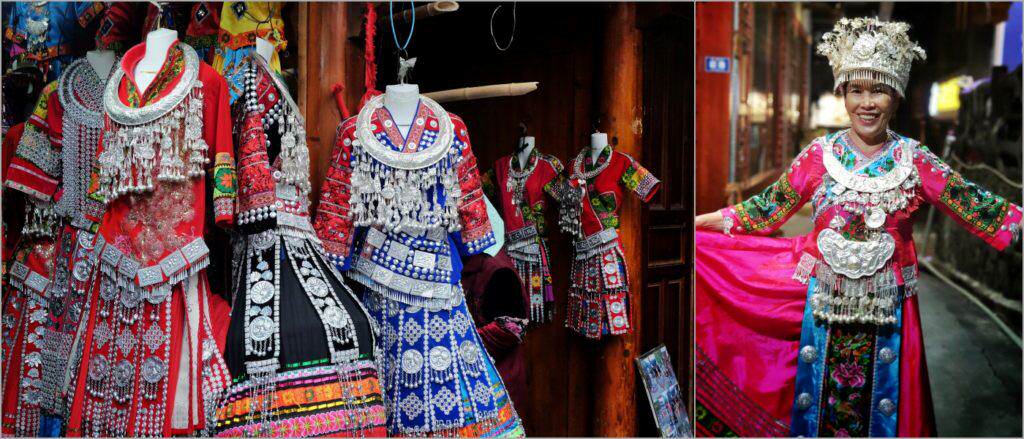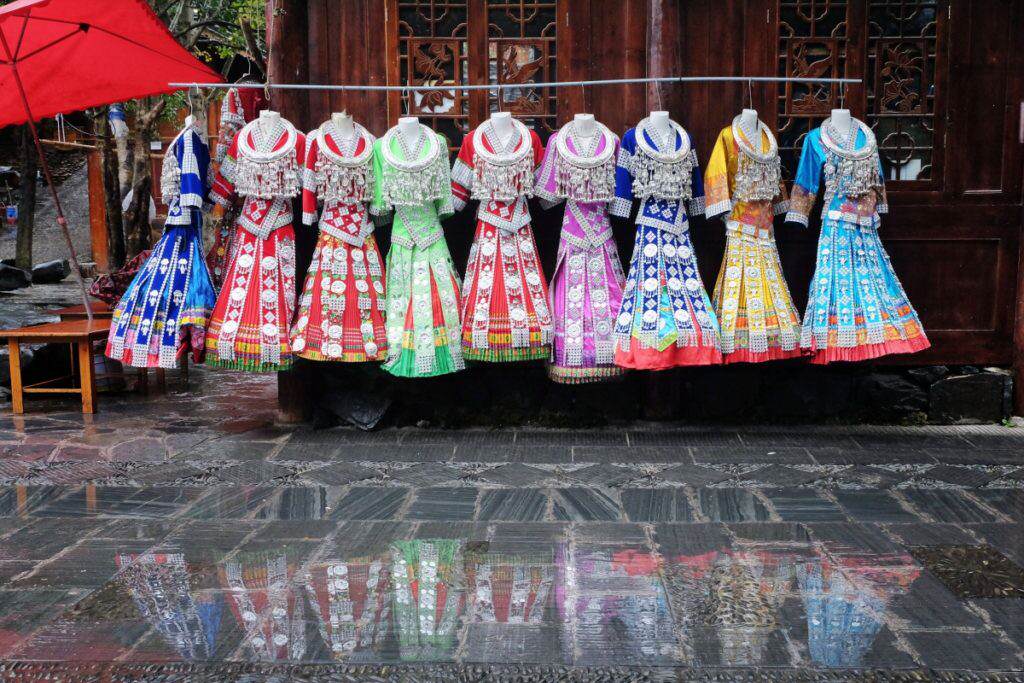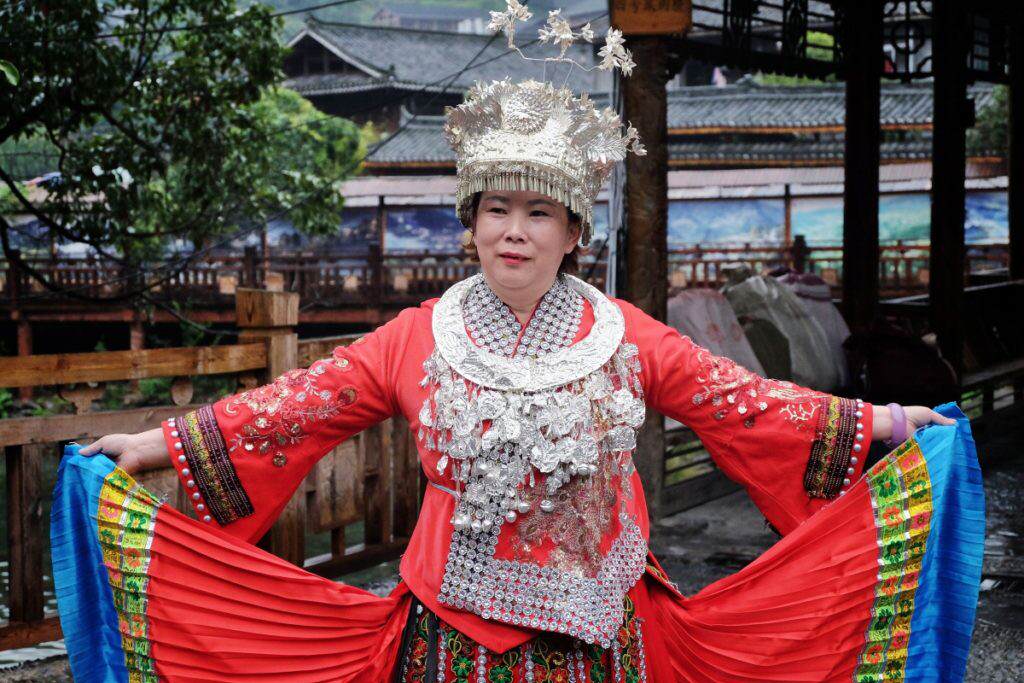 Der beste Ausblick | Find the best view
Es gibt eine Aussichtsplattform, von der aus man Xijiang überblicken kann. Einfach der Hauptstraße bergauf folgen – entweder zu Fuß oder mit einem der unzähligen Touristenbusse. Ich habe nur kurz dort vorbei geschaut, denn eigentlich wurde mir schnell klar, dass ich den besten Blick auf die am Hang gebauten Häuser mit ihren Holzfassaden und -dächern von unserem Hotel aus haben werde. Unsere Unterkunft, das Hua Yin Hotel (画印酒店), ist ebenfalls am Hang gebaut und liegt auf der rechten Seite, noch bevor man das Eingangstor zum Dorf durchschreitet. Um dorthin zu gelangen muss man natürlich ein paar Höhenmeter zurücklegen, doch die Aussicht ist das Schwitzen wert und das Personal hilft beim Tragen des Gepäcks. Ich habe nicht nur den Ausblick, sondern auch die ruhige Lage außerhalb des wuseligen und vor allem nachts doch recht lauten Zentrums genossen und hätte hier definitiv noch ein paar Tage mehr aushalten können.
There is a viewing platform overlooking Xijiang, which you can reach by following the main road leading through the ancient town, walking uphill or taking the bus. I went there just briefly, because I found out rather quickly that anyways I will have the best the view above the houses with its wooden facades and rooftops straight out of my hotel room actually: Our accommodation, the Hua Yin Hotel (画印酒店), is also located on a slope on the right-hand side, just before passing through the village's entrance gate. Of course you have to overcome some altitude by walking uphill, but the view is worth it and staff will help you with your luggage. I also loved the fact that the hotel is not located in the buzzling center, so it's a bit more quiet and you can definitely enjoy the view, simply by looking out of your window! Just for that opportunity I could have stayed even longer…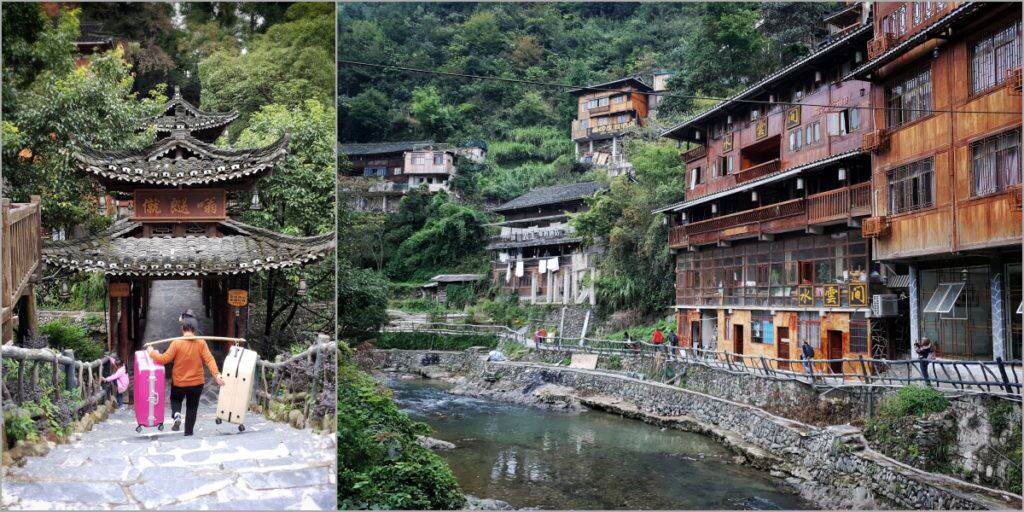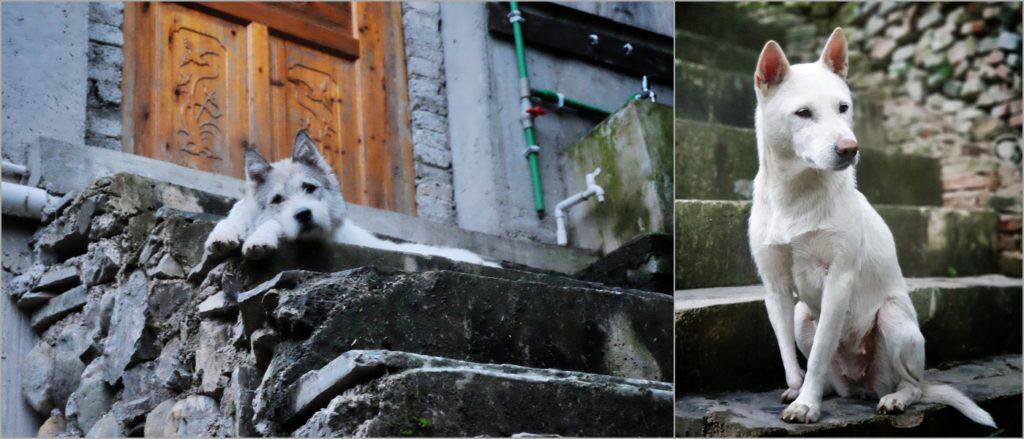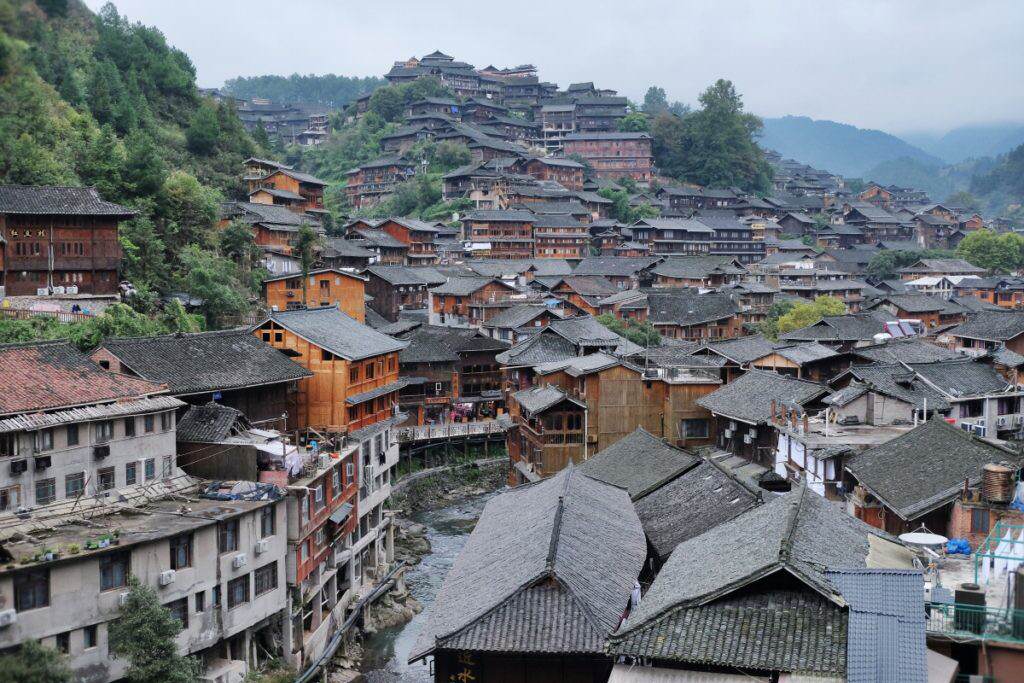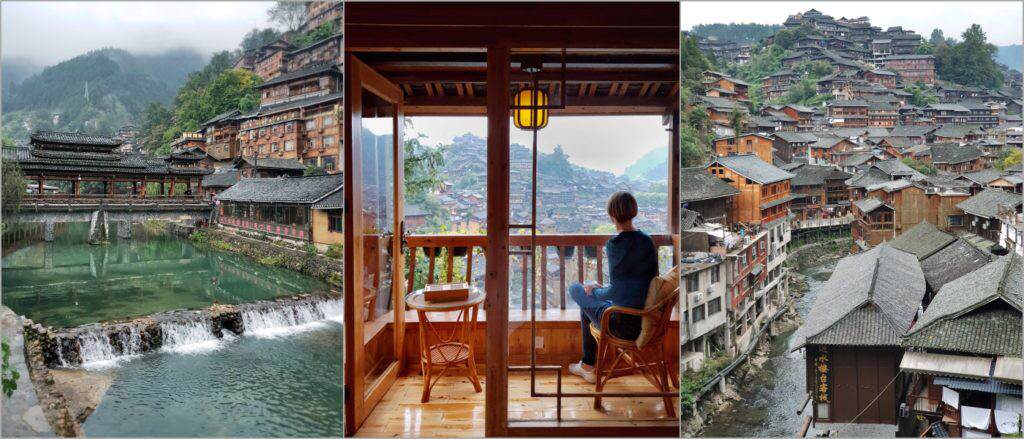 #3 Huangguoshu National Park
Größter Wasserfall Asiens | Asia´s biggest waterfall
Der Huangguoshu Nationalpark im Westen von Guizhou beherbergt einige beeindruckende Wasserfälle, darunter den größten Wasserfall Asiens: den Huangguoshu Wasserfall, der 78 Meter hoch und 81 Meter breit ist. Man kann sogar hinter den riesigen Wasservorhang gehen, wo sich eine 134 Meter lange natürlich gebildete Höhle befindet, die so genannte Water Curtain Cave. Diejenigen, die sich für chinesische Geschichte und Literatur interessieren, haben noch einen Grund mehr den Huangguoshu Wasserfall zu besuchen: Denn die Water Curtain Cave ist das zu Hause von "Monkey King", dem Helden aus dem chinesischen Roman "Journey to the West" – einer der vier wichtigsten Romane der klassischen chinesischen Literatur.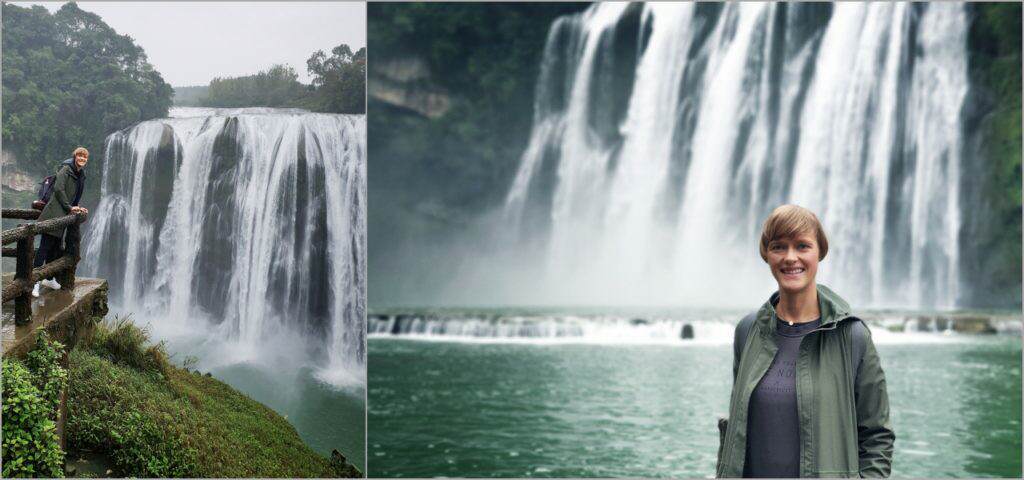 Huangguoshu Nationalpark is home to several impressive waterfalls, including Asia´s biggest one: Huangguoshu Waterfall, which impresses with its 78 m height and 81 m width. You can even walk behind the waterfall, where you will find a 134 metre long, naturally formed cave which due to the setting is named Water Curtain Cave. If you are interested in Chinese history and literature, there is another reason why you can´t afford to miss Huangguoshu Waterfall: The Water Curtain Cave is home to the protagonist "Monkey King" of the Chinese novel "Journey to the West" – one of the four great classical novels of Chinese literature.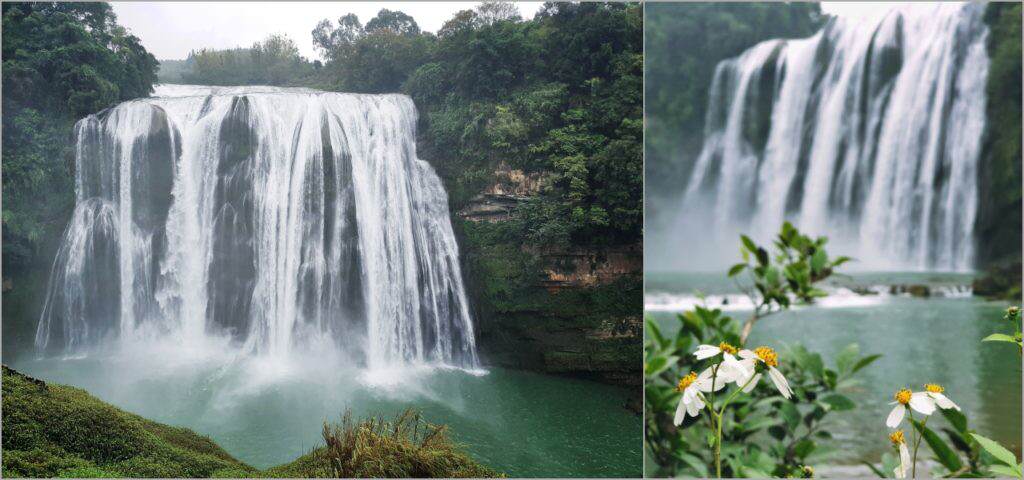 Das chinesische Wort "Huangguoshu" bedeutet übrigens so viel wie "Der Baum, der die goldenen Früchte trägt". Eine gelbe, mandarinen-ähnliche Frucht, die sehr beliebt bei der lokalen Buyi-Minderheit ist, wächst häufig in der Gegend um den Wasserfall – der so zu seinem Namen kam. Bevor man den Wasserfall erreicht, führt ein ca. 15 minütiger Spaziergang durch einen Garten mit künstlich angelegten Bäumen, die den japanischen Bonsai-Bäumen sehr ähnlich sind.
The Chinese translation for "Huangguoshu" actually means: "The tree that bears golden fruit". There is as yellow, tangerine-looking fruit, quite popular with the local Buyi minority. Because the fruit can be found la ot around in this area, the waterfall got named after it. Before you actually reach the waterfall, there is a 15 minutes walk through a garden of artificially groomed trees, which is quite similar to Japanese Bonsai trees.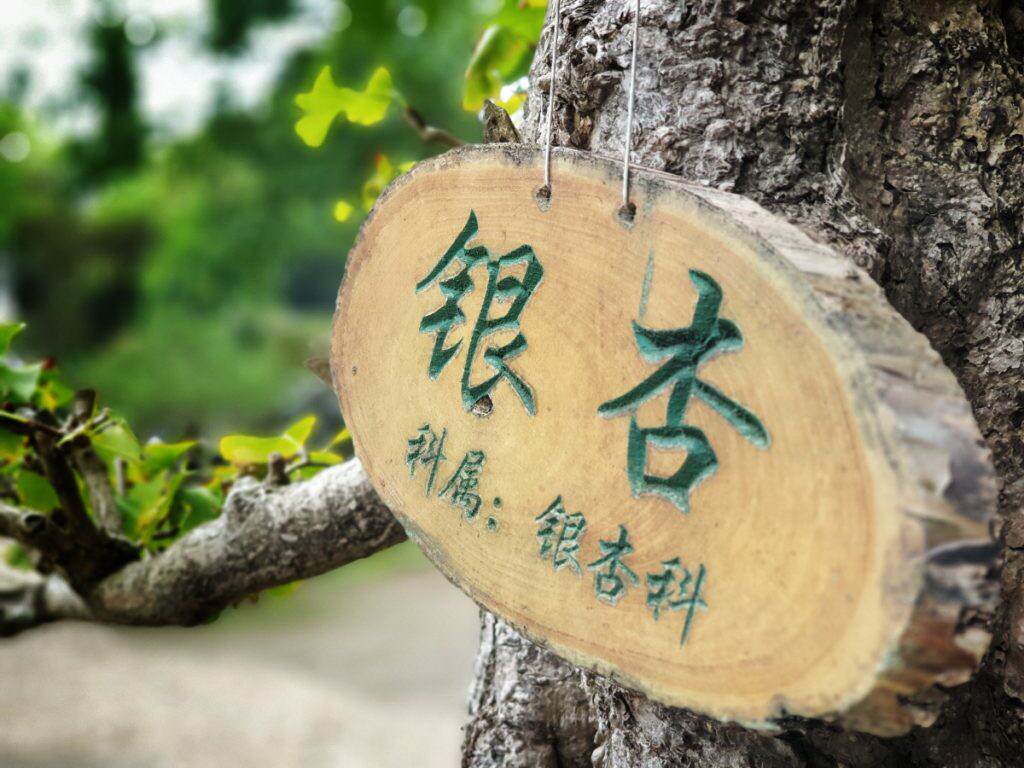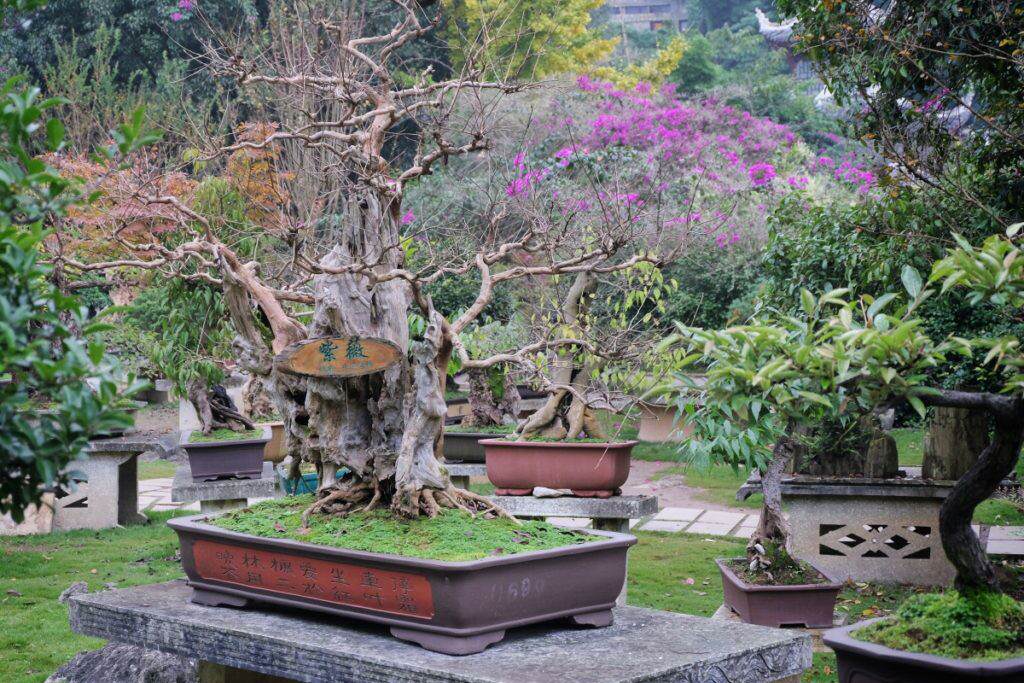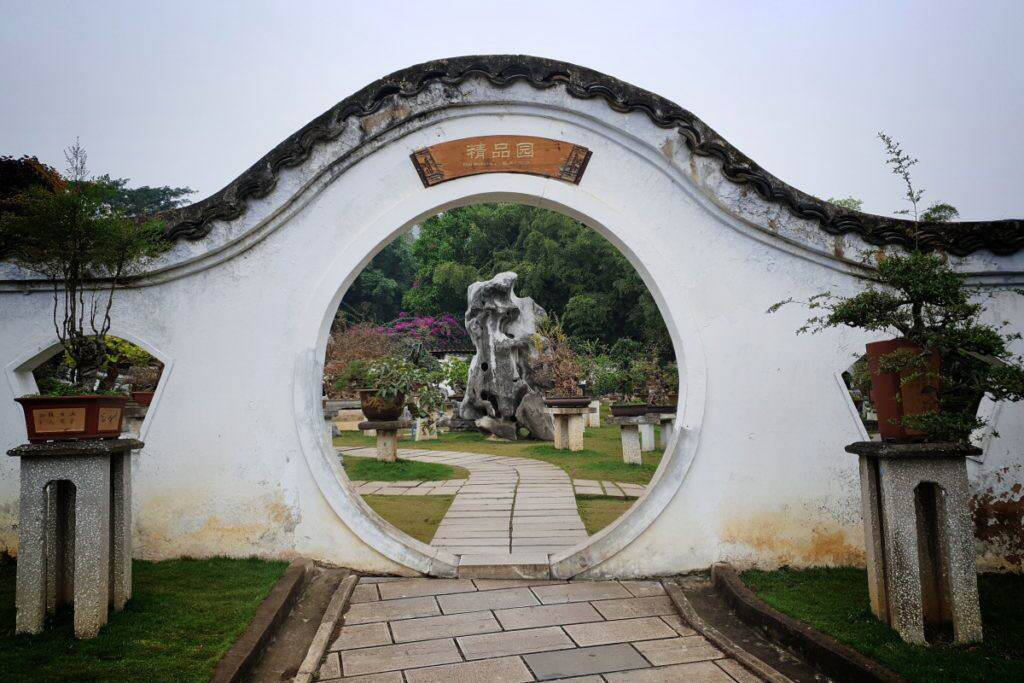 Doupotang waterfall
Ein weiterer sehenswerter Wasserfall des Huangguoshu Nationalparks ist der Doupotang Wasserfall, der mit seinen 105 Metern der breiteste Wasserfall der Hunagguoshu-Gegend ist.
Huangguoshu scenic area also hosts another waterfall worth visiting: Doupotang waterfall, which with its 105 metres is the widest waterfall in the Huangguoshu area.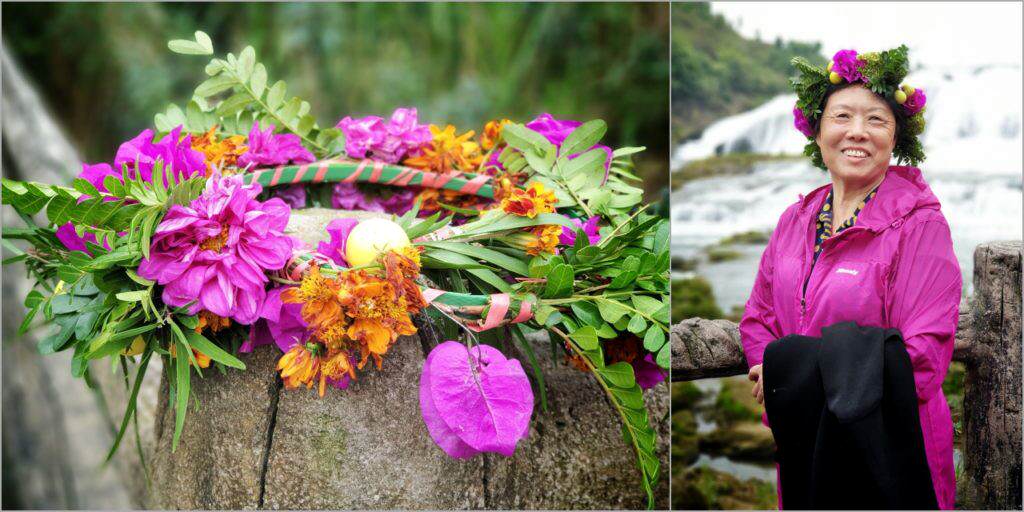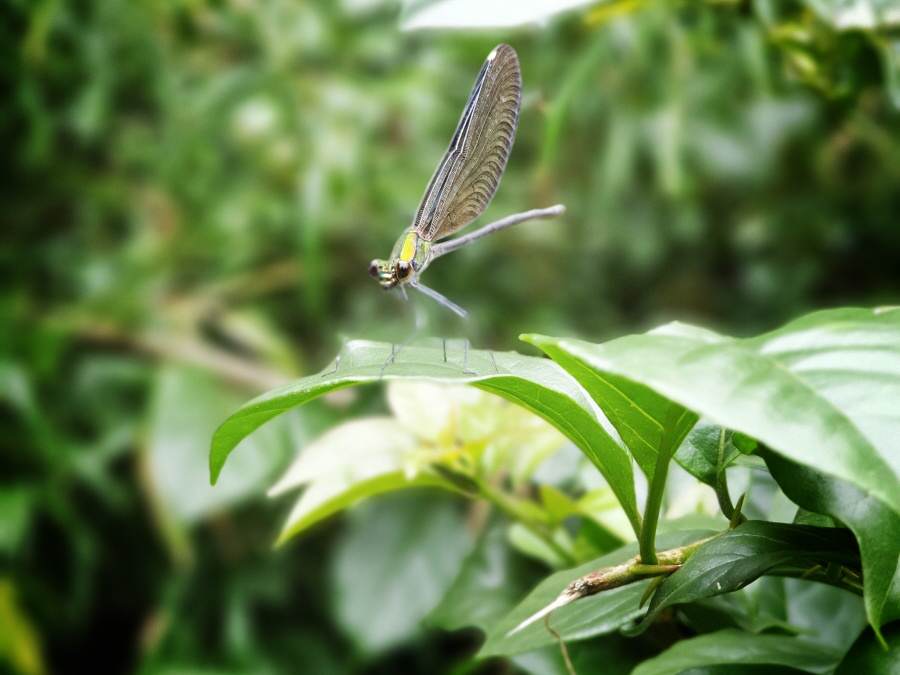 Tianxing Qiao Scenic Zone
Ebenfalls im Huanguoshu Nationalpark gelegen ist die Tianxing Qiao Scenic Zone, die vor allem für ihre von Wind- und Wassererosion geformte "Topftandschaft" bekannt ist. Steinpfade winden sich über den Sancha Fluss und leiten die Besucher zickzackartig über Felsen durch den Steinwald, der schließlich zum Tianxing See führt. Insgesamt markieren genau 365 Steine den Weg, weshalb sie auch Geburtstagssteine genannt werden. Nicht vergessen solltet ihr also ein Foto zu machen sowie euch etwas zu wünschen, sobald ihr euren eigenen Geburtstagsstein gefunden habt.
Also located in Huangguoshu Nationalpark is the Tianxing Qiao Scenic Zone, which is popular for its "potted landscape", formed by wind and water erosion. There are several stone paths winding across the river through the stoneforest, zig-zagging through rocky hills, before leading to Tianxing lake. In total there are exactly 365 stones, therefore also called "birthday stones". So if you step on the stone marking your own birthday, remember to take a picture and make a wish!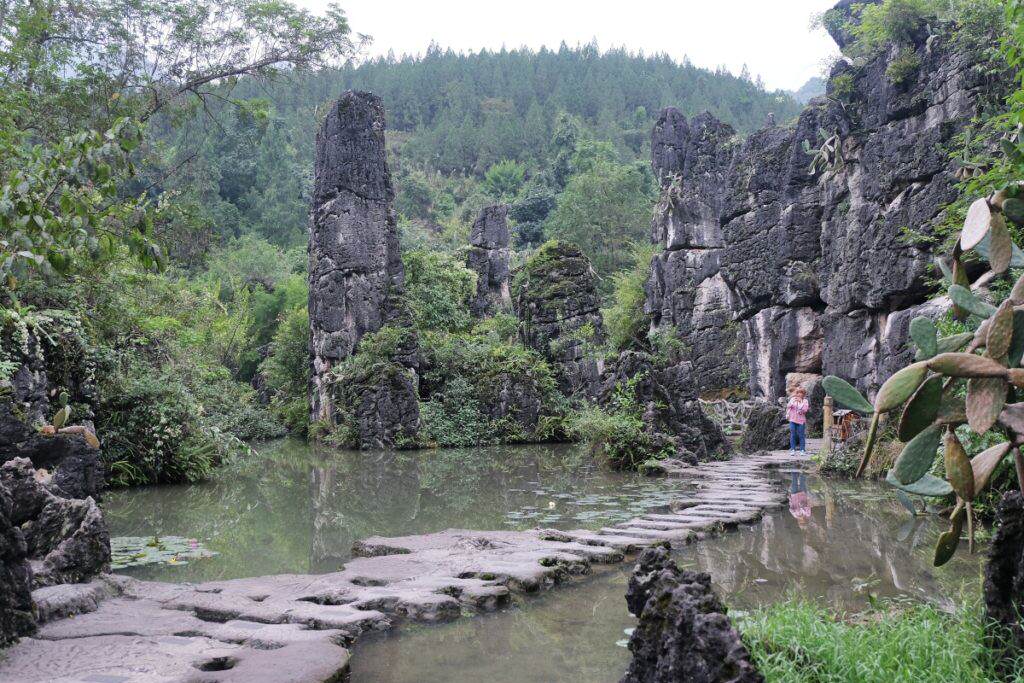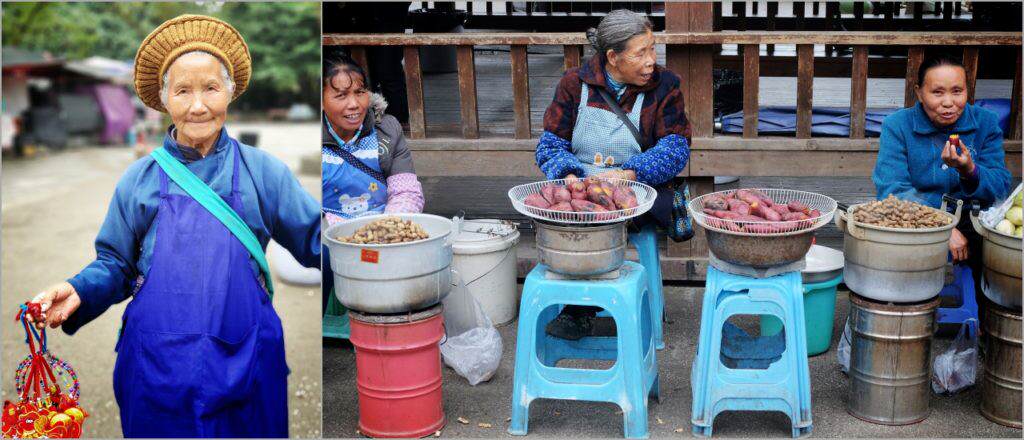 #4 Nationalgericht | National Dish: Sour fish soup
Abgesehen von den Naturhighlights, die Guizhou zu bieten hat, gibt es eine lokale Spezialität, die während keinem Besuch in der Provinz fehlen darf: Die scharf und süßlich schmeckende, heiße Fischsuppe ist eine für die Region sehr typische Speise und kommt in fast jedem Restaurant automatisch in die Tischmitte. Das süßlich scharfe Aroma wärmt von innen und die Suppe wurde zum gerngesehenen und wohlschmeckenden Begleiter unserer Reise durch Guizhou.
Apart from Guizhou´s natural highlights, there is one local specialty, which you can´t afford to miss when visiting this province: The hot and sour fish soup is the region´s typical dish and will automatically be put into the center of the table in almost every restaurant. Its spicy and sour flavour helps warming up from inside and became a welcome and tasty companion during our travels around Guizhou.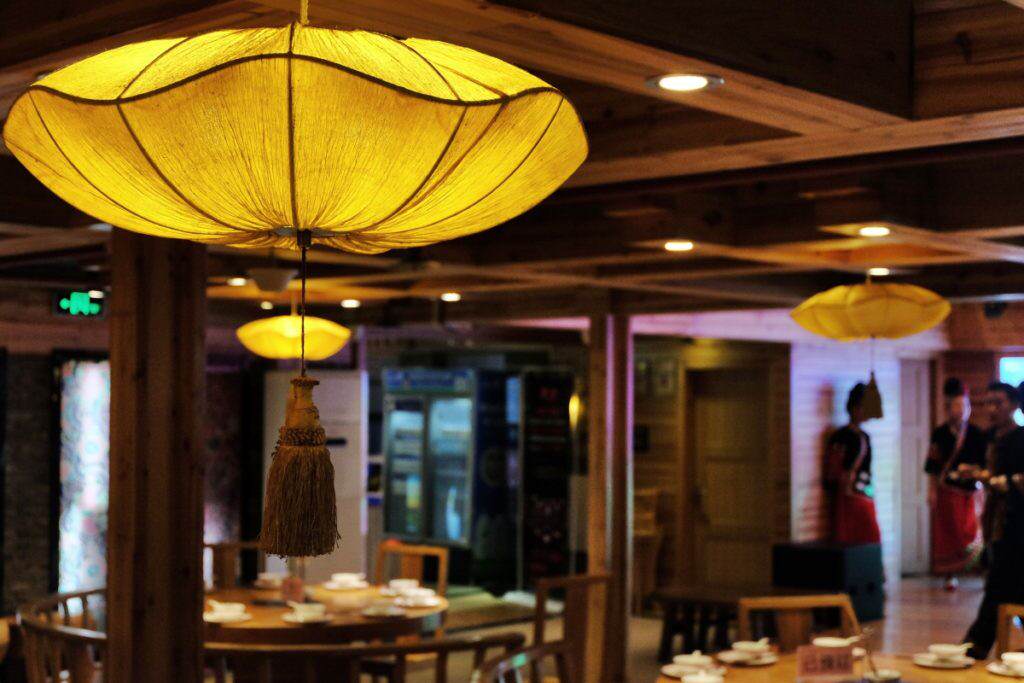 Grundsätzlich sind die Gerichte, die in Guizhou auf den (Dreh-)Tisch kommen, süßlich-sauer und pikant. Und auch wenn ich nur bei einen Bruchteil der Speisen wirklich ausmachen konnte, was genau dahinter steckte, war meine Reise nach Guizhou definitiv auch ein kulinarisches Erlebnis und einmalige Gelegenheit die vielfältige Küche Chinas wieder ein Stückchen genauer kennenzulernen.
Basically all dished served on Guizhou´s (turning) tables, are sweet-sour and spicy. Even for most plates I could only guess what really was on, my trip to Guizhou was definitely a culinary adventure and unique opportunity to get a little step closer to the variety China´s cuisine has to offer.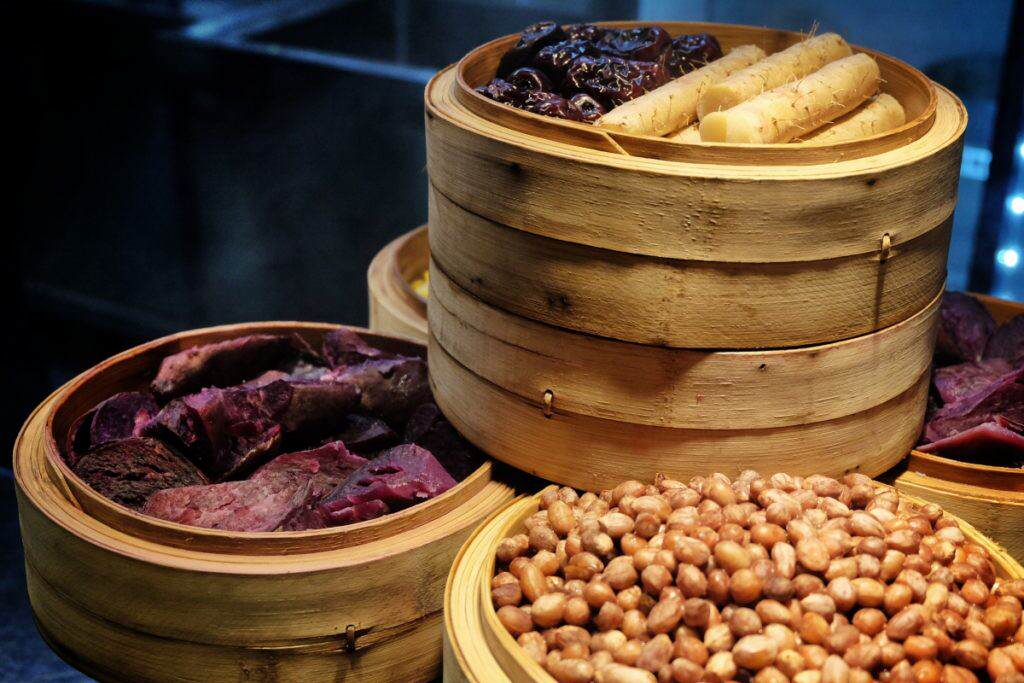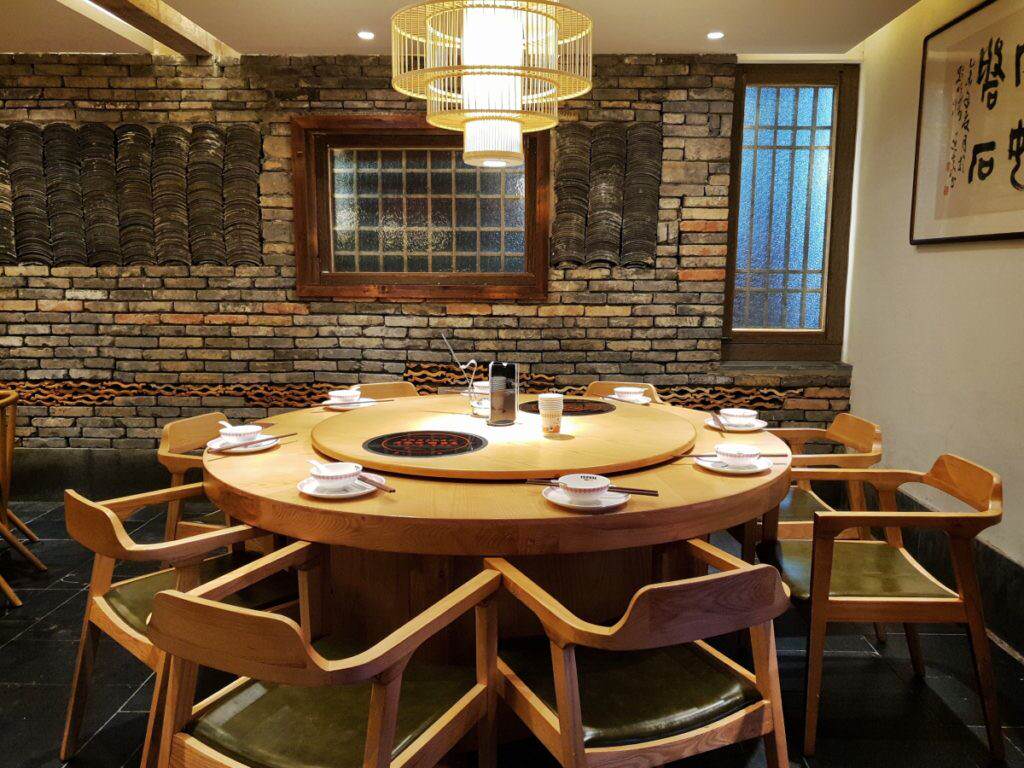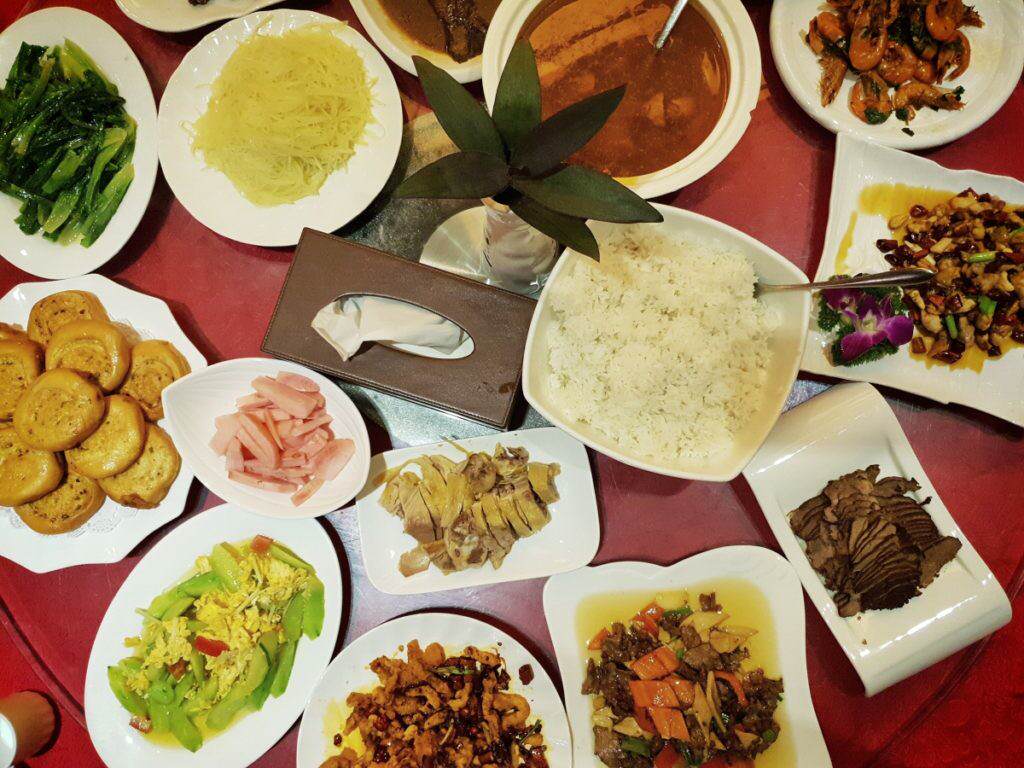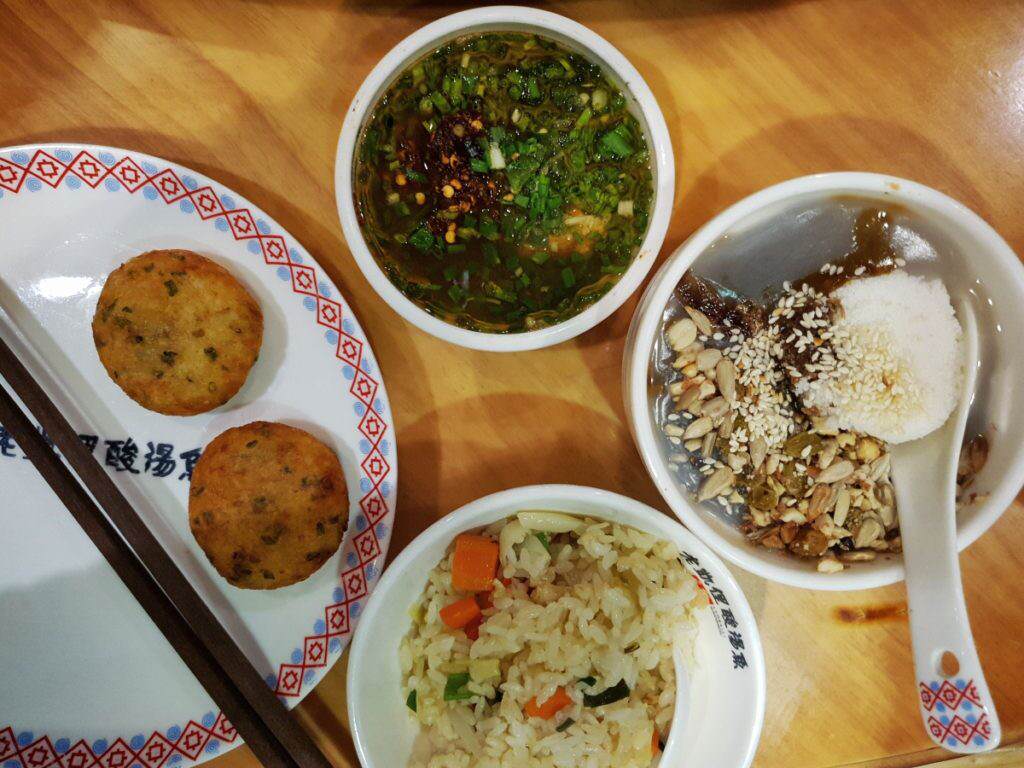 #5 Farbenfrohes Guizhou | Colourful Guizhou
Die Provinz Guizhou ist so bunt, vielfältig und beeindruckend vor allem durch ihre hohe Dichte an Naturhighlights und ethnischen Minderheiten. Einen umfassenden Eindruck von der Geschichte, den Traditionen und Besonderheiten bekommt man in der Performance-Show "Farbenfrohes Guizhou" geboten, die man sowohl in der Provinzhauptstadt Guiyang als auch in Xijiang bewundern kann. Obwohl ich kein Wort Chinesisch verstehe: Die Darbietung der mehr also 300 Tänzer und Sänger repräsentiert Guizhou und dessen Vielfalt auf beeindruckende Weise, sodass ich nicht nur einen tollen Überblick über die Provinz bekommen habe, sondern sie mir auch als eines der absoluten Highlights unseres Trips in Erinnerung bleiben wird!
The province of Guizhou is colourful, diverse and impressive first of all due to its high density of natural highlights and ethnic minorities. You will get an extensive impression of the history, traditions and special features when watching the performance show "Colourful Guizhou", either in the provice´s capital Guiyang or eg. in the minority village Xijiang. Even if I don´t speak any Chinese, the more than 300 dancers and singers bring to life Guizhou with all its diversity in such an impressive way, that it not only provided me with a really great overview of what this province has to offer – but will surely stay with me in my memories as one of the absolute highlights of our trip!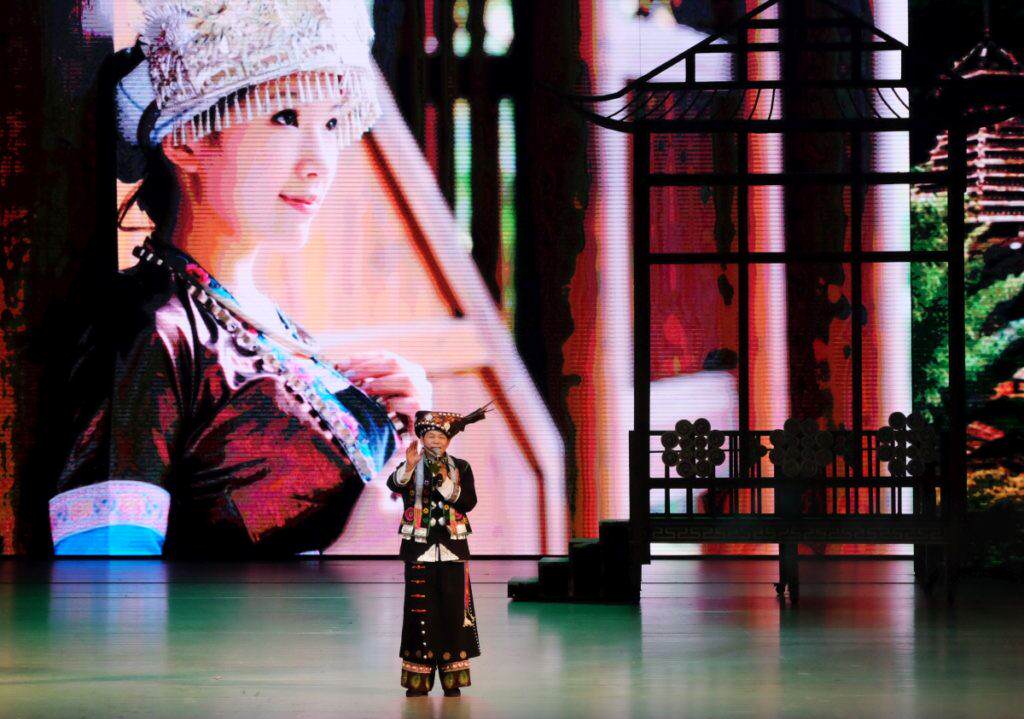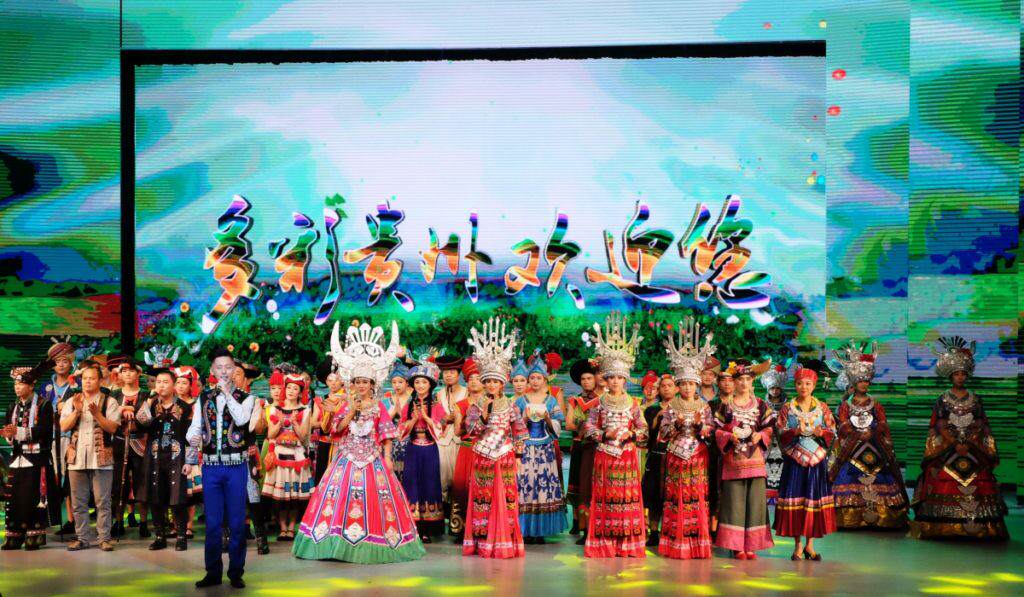 ***
Dieser Artikel ist auf Einladung von AmazingGuizhou entstanden. Dennoch spiegelt er ausschließlich meine persönlichen Eindrücke wider, wie alle Beiträge auf diesem Blog.
I was invited to this trip by AmazingGuizhou. But as all articles on this blog, it only reflects my personal impressions.
***
FRAGEN & KOMMENTARE? | QUESTIONS & COMMENTS?
Seid ihr schon durch China gereist und wisst um die Vielfalt dieses Landes, 0der seid nun neugierig geworden? Hat euch der Artikel gefallen, oder sind noch Fragen offen? Lasst mir gerne einen Kommentar da und teilt den Artikel mit euren Freunden!
In der Kategorie China Reisen findet ihr übrigens noch weitere Artikel aus dem Land der aufgehenden Sonne.
Have you ever been travelling through China and know about the diversity of this country? Or are you curious now? Do you like the article, or still have questions? Please leave me a comment and share this article with your friends! 
In the category China Travelling you can find further blogposts from the land of the rising sun.
***
 – SMILE4TRAVEL NEWESLETTER –
Werde Teil der Smile4Travel Community – folge mir auf Facebook & Instagram und abonniere meinen Newsletter, um keine Smile4Travel-Abenteuer zu verpassen! Kein Spam, versprochen!
Become part of the Smile4Travel Community – Follow my Facebook Page & Instagram and register for my Newsletter, so you don´t miss any Smile4Travel adventures! No Spam – I promise!