This post is also available in: Deutsch (German)
Gokurakuyu is the name of the Japanese bathhouse branch, which found its way to Shanghai back in 2013 and introduced Japanese bathing culture to the Chinese people. Of course it´s not an easy matter for Chinese people to be naked in front of each other. But Japanese bathhouses (so-called Onsen) are just awesome. Also more and more Chinese appreciate these institutions and that's why on a rainy Sunday afternoon lots of families, couples and friends find their way to this big Japanese Onsen-spa (jap. for hot spring) to bath, hang out and to have fun. I am totally with them, because: What else could be better on a grey, wet and cold Shanghai winter-day than to relax in 40 degree hot water, to clean the pores in the salt sauna, to be tickled in the "electric bath", to relieve or feel some pressure during a massage?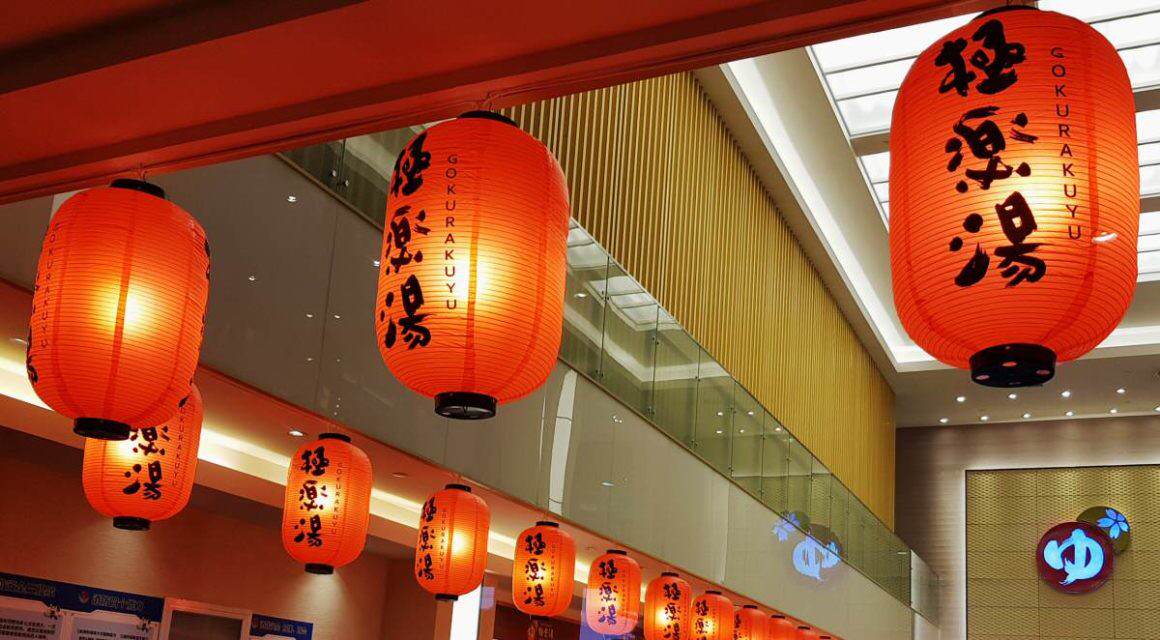 In contrast to us the Chinese visitors seem to enjoy something else even more: Gokurakuyu is really big, new and modern. And features lots of entertainment facilities, which Chinese love so much:
Mayong-rooms, where most of the men disappear to do what they like most: stay among each other and play cards.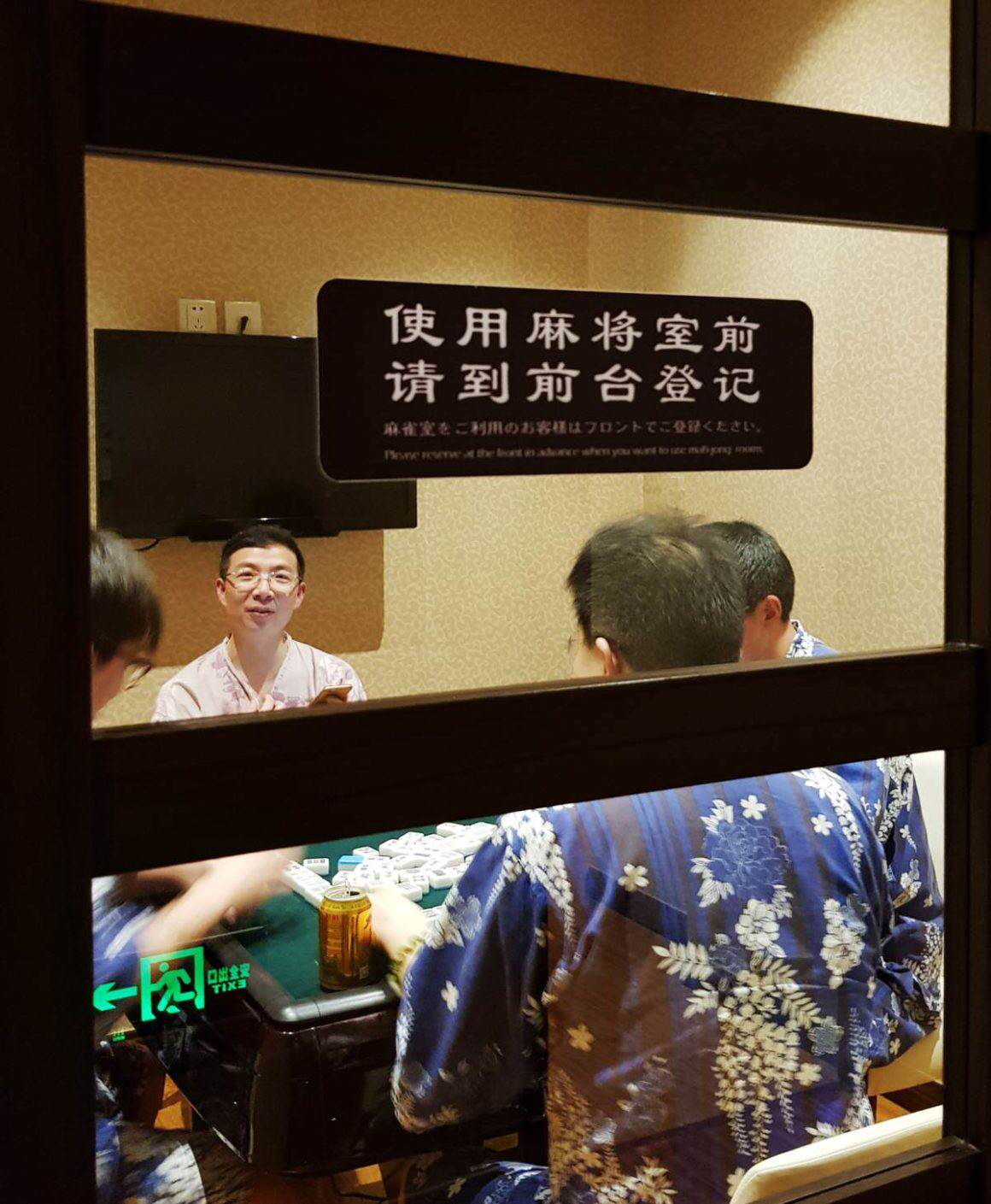 Huge relaxation rooms, which are equipped with traditional Tatami-mats or comfortable loungers as well as TV, plug sockets, computer- and reading-corners, as well as small bars to grab a few drinks or some ice cream.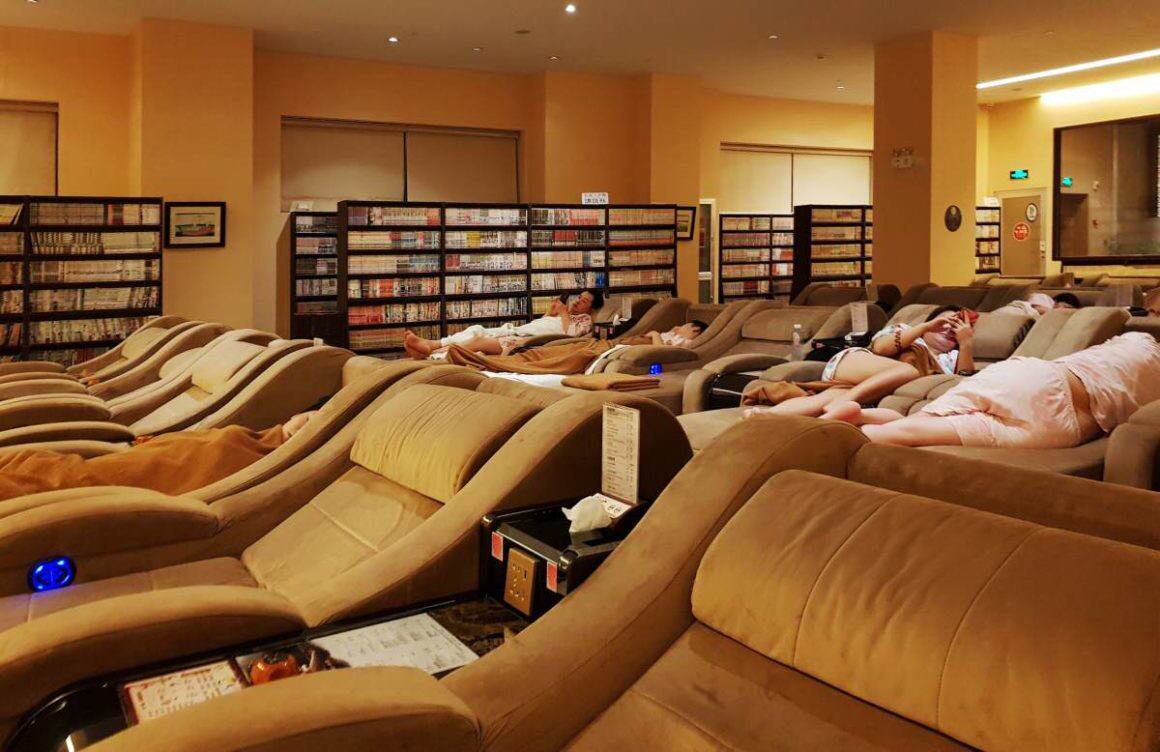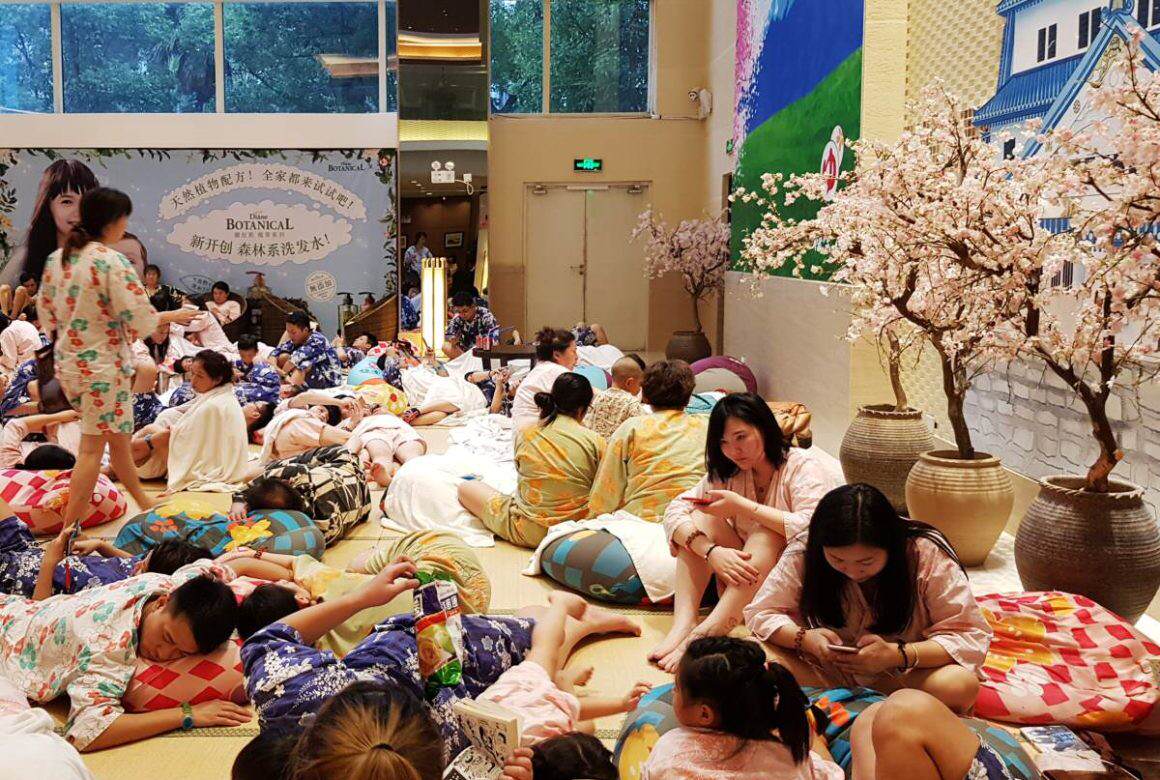 WiFi is available anyways – mobiles however are only permitted outside the changing and naked areas.
Play-corners, where the kids can have a fling with loud, shrill and luminous games of various kinds.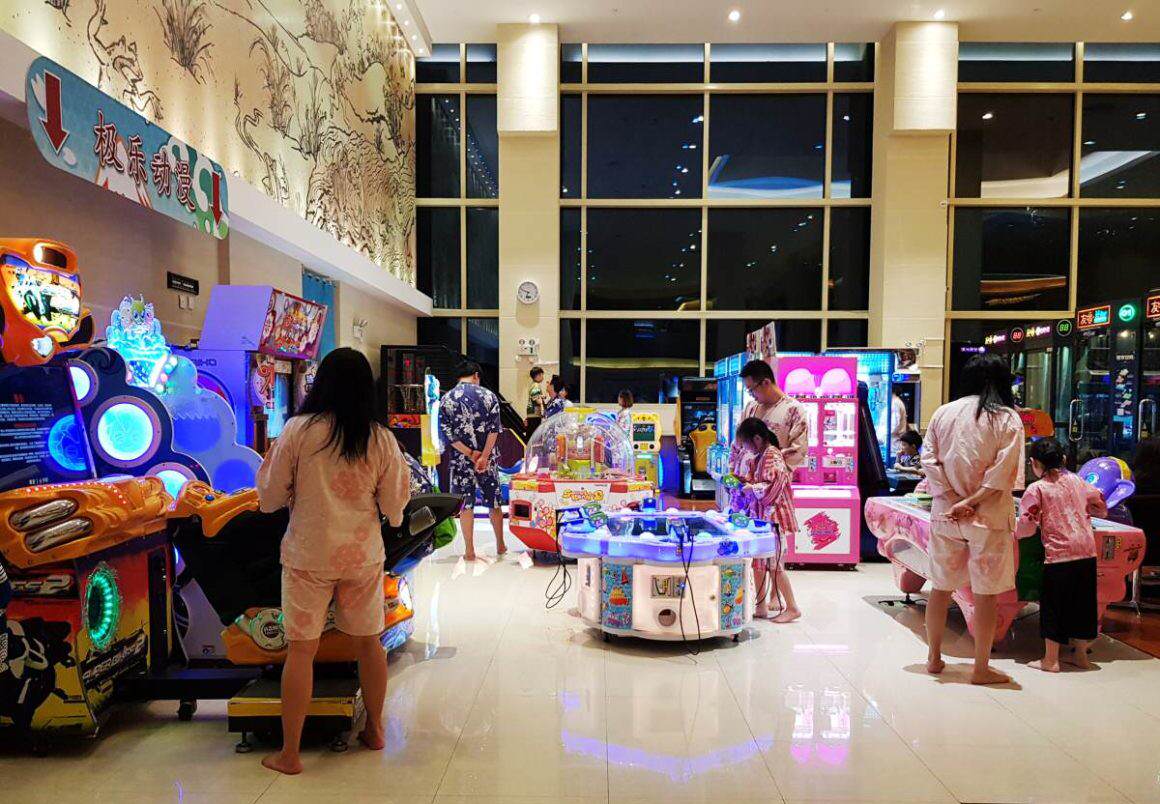 A central restaurant, where you can find lots of Japanese as well as Chineses food and snacks, such as Sashimi, noodle soups, Hot Pot or chicken feet.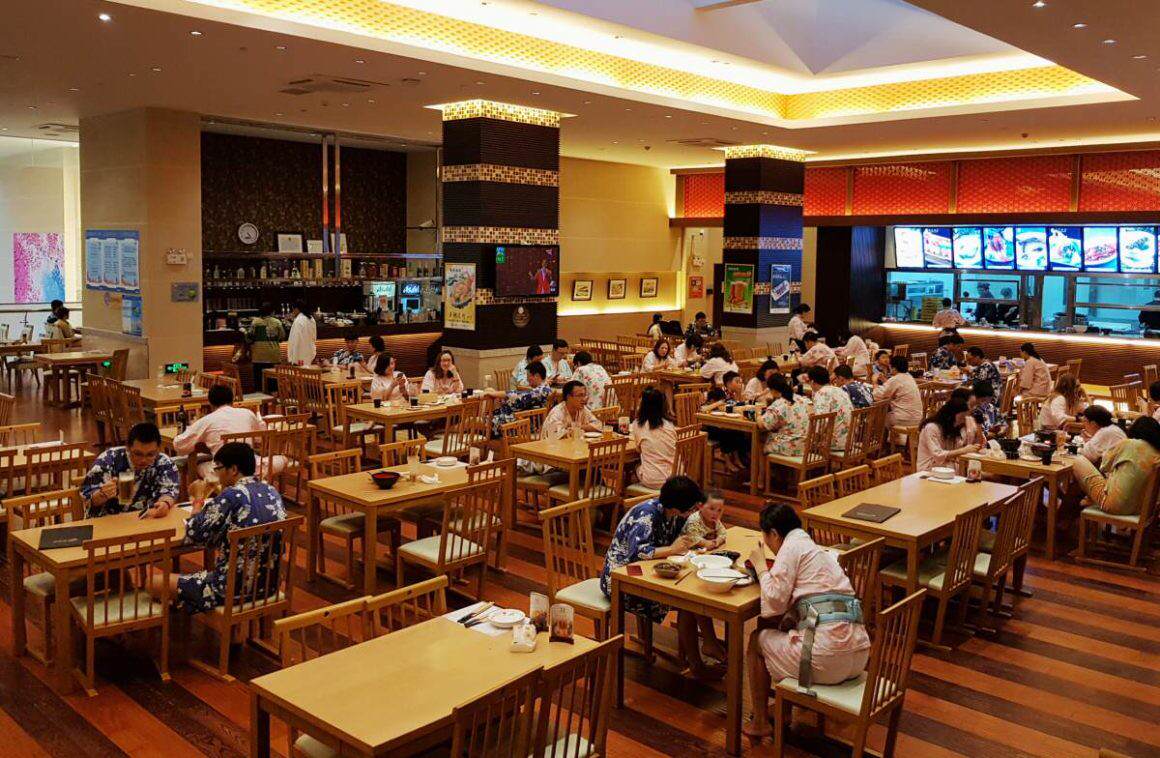 A spa, which offers everything from foot over tradtional Chinese massages to manicure- or pedicure-treatments.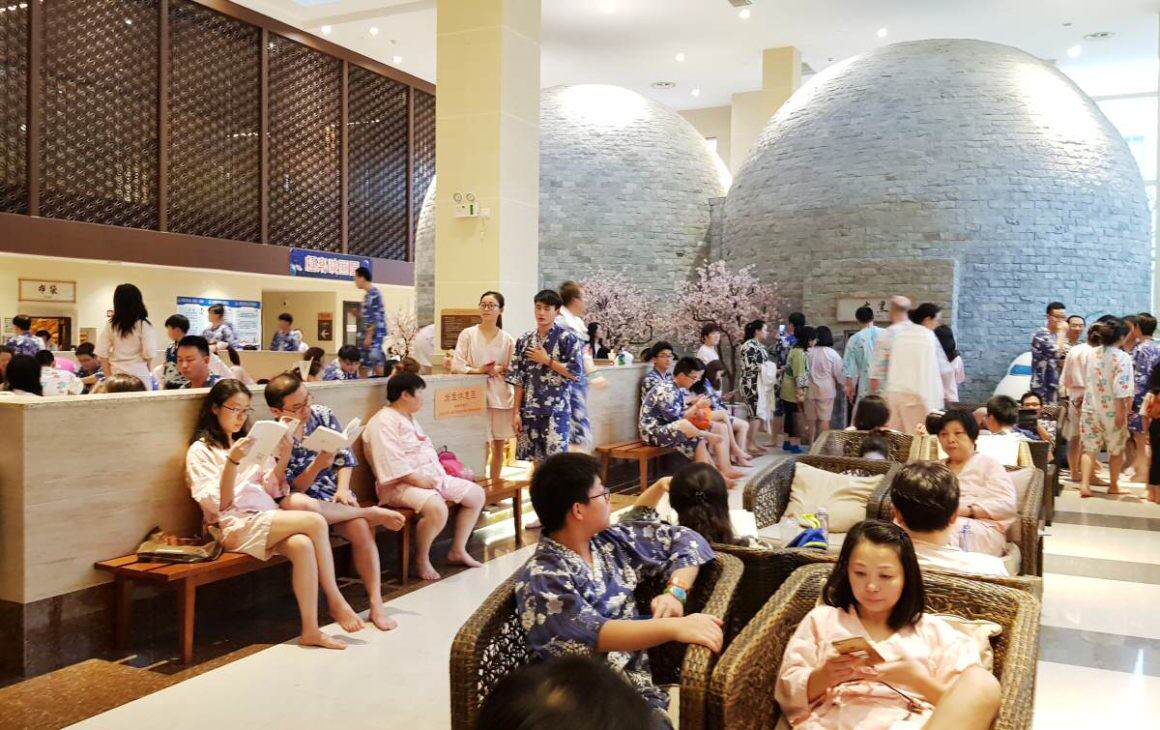 Stone- & Salt saunas, steam baths and, and, and.
Actually the sauna and steam baths in the mixed and dressed area are a bit suspicious to us: While using them you have to keep wearing(!)  your Yukata (cotton kimono), which means it will be soaking wet afterwards. What's meant to be the individual steam baths I actually only realize at second sight: Don´t you think these lovely ladies and gentlemen rather look like receptionists? 🙂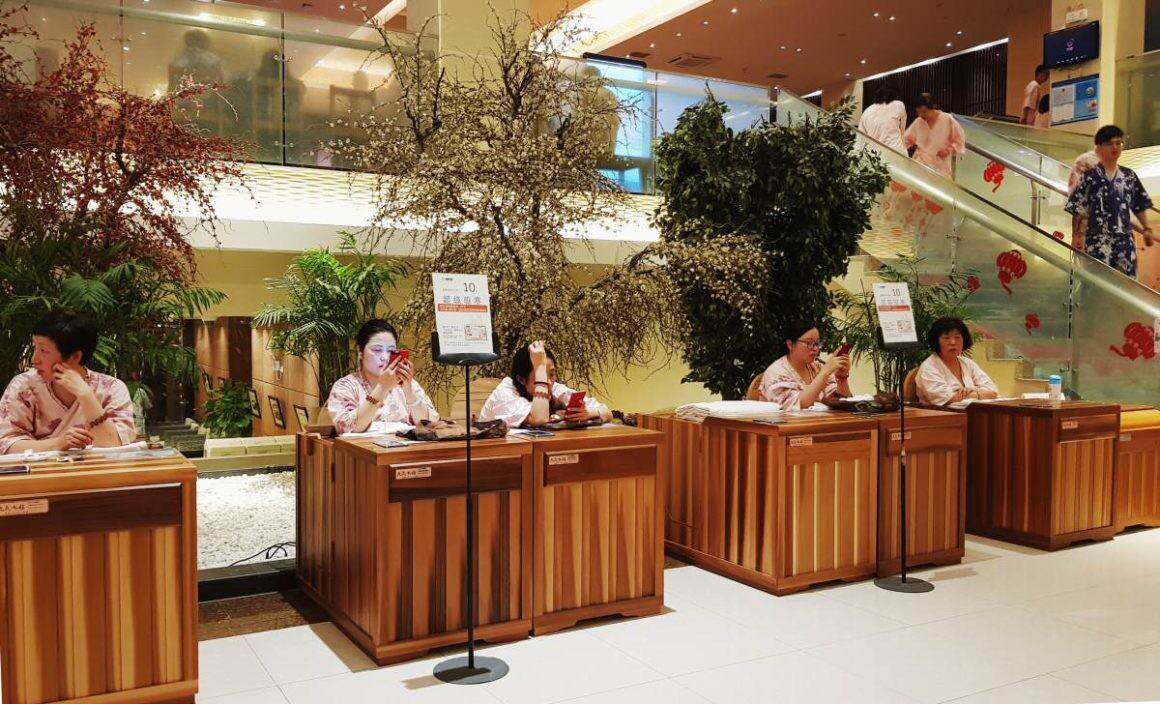 Basically the Gokurakuyu gets really close to some of the Japanese Onsen, we have visited in Japan already. A little bit more of entertainment-character maybe – but actually also the saunas in Japan where equipped with TVs…
And the essential guidelines are the same:
Also in Gokurakuyu in Shanghai the rules are:
1. Take off your shoes and drop them into one of the small lockers, before even putting a foot onto the tatami-equipped entrance area. Afterwards everyone just walks barefoot.
2. Rent yourself a Japanese cotton kimono (Yukata).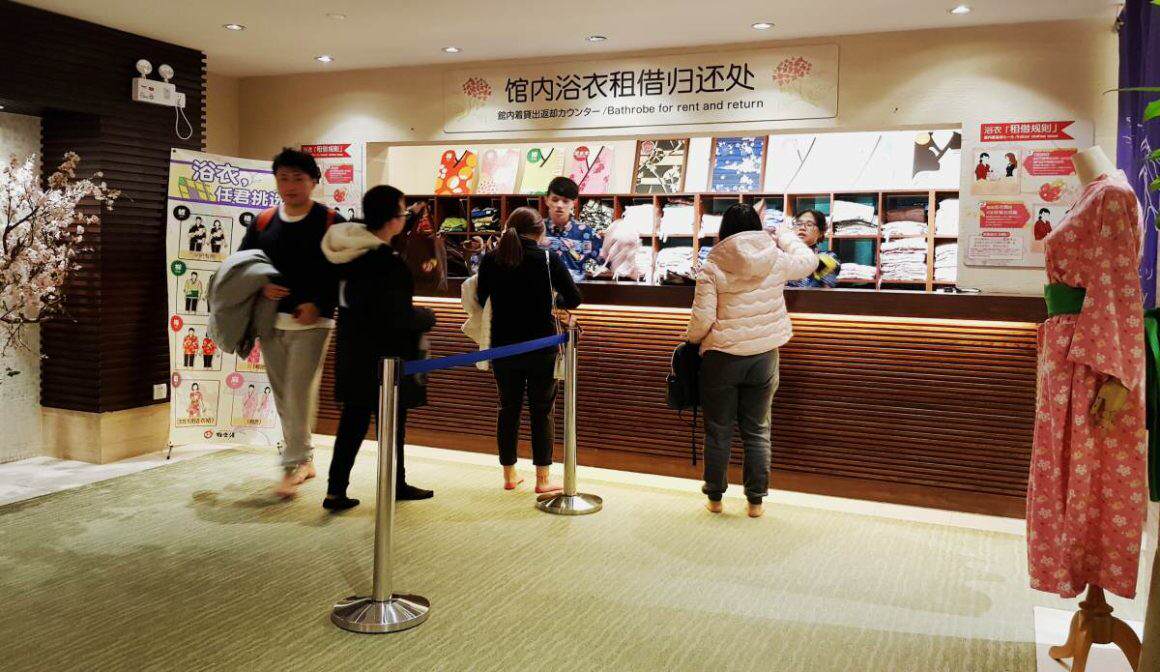 3. Change and/or get naked – of course men and women separately.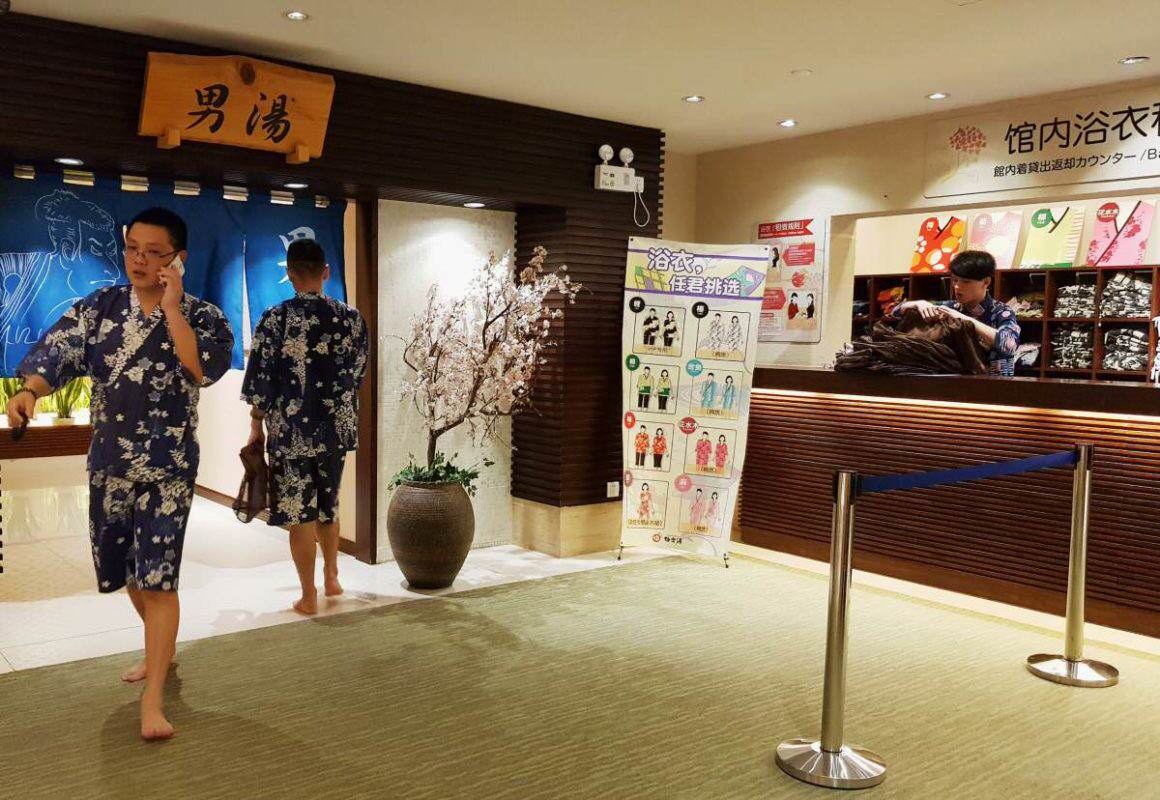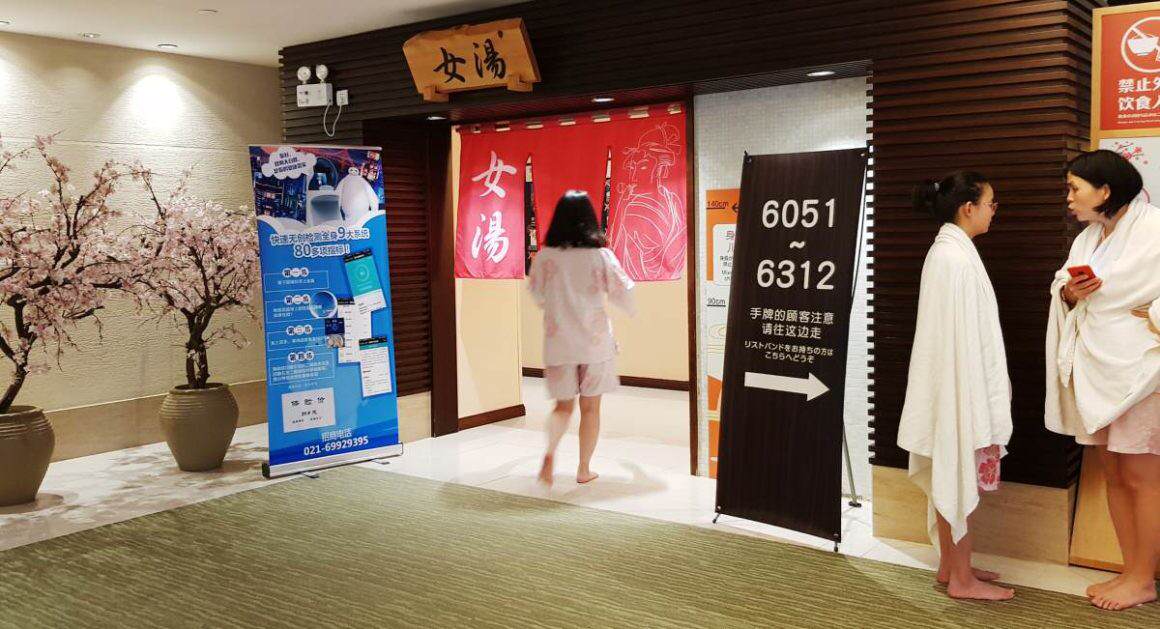 4. Wash yourself spring-clean – like in a Japanese Onsen you don´t have to bring anything: Every shower is equipped with bath soap, shampoo etc. Fresh towels you will get provided. Bathing-slippers are not allowed and in the bathing area everybody is naked anyhow.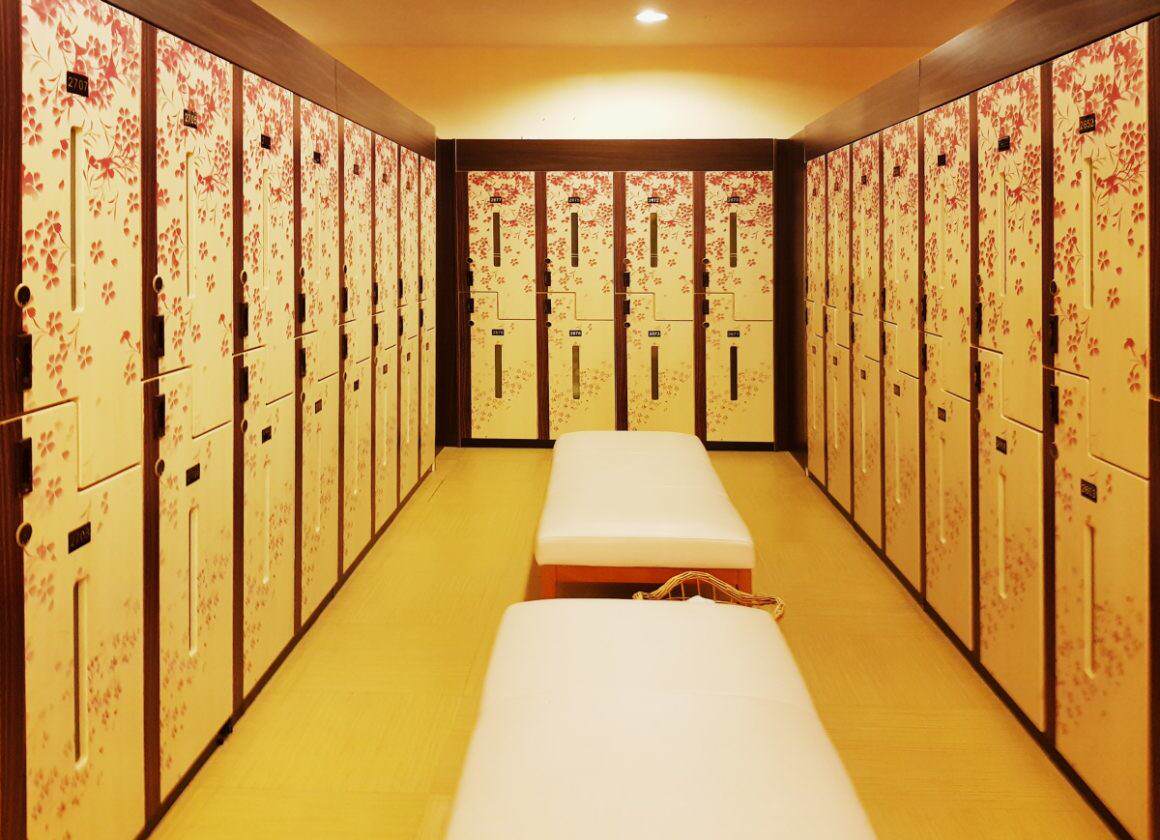 5. Bathing and sauna is strictly separated by men and women. You can meet later on or inbetween dressed in your Yukata in the mixed area to relax, eat, read or anything you like.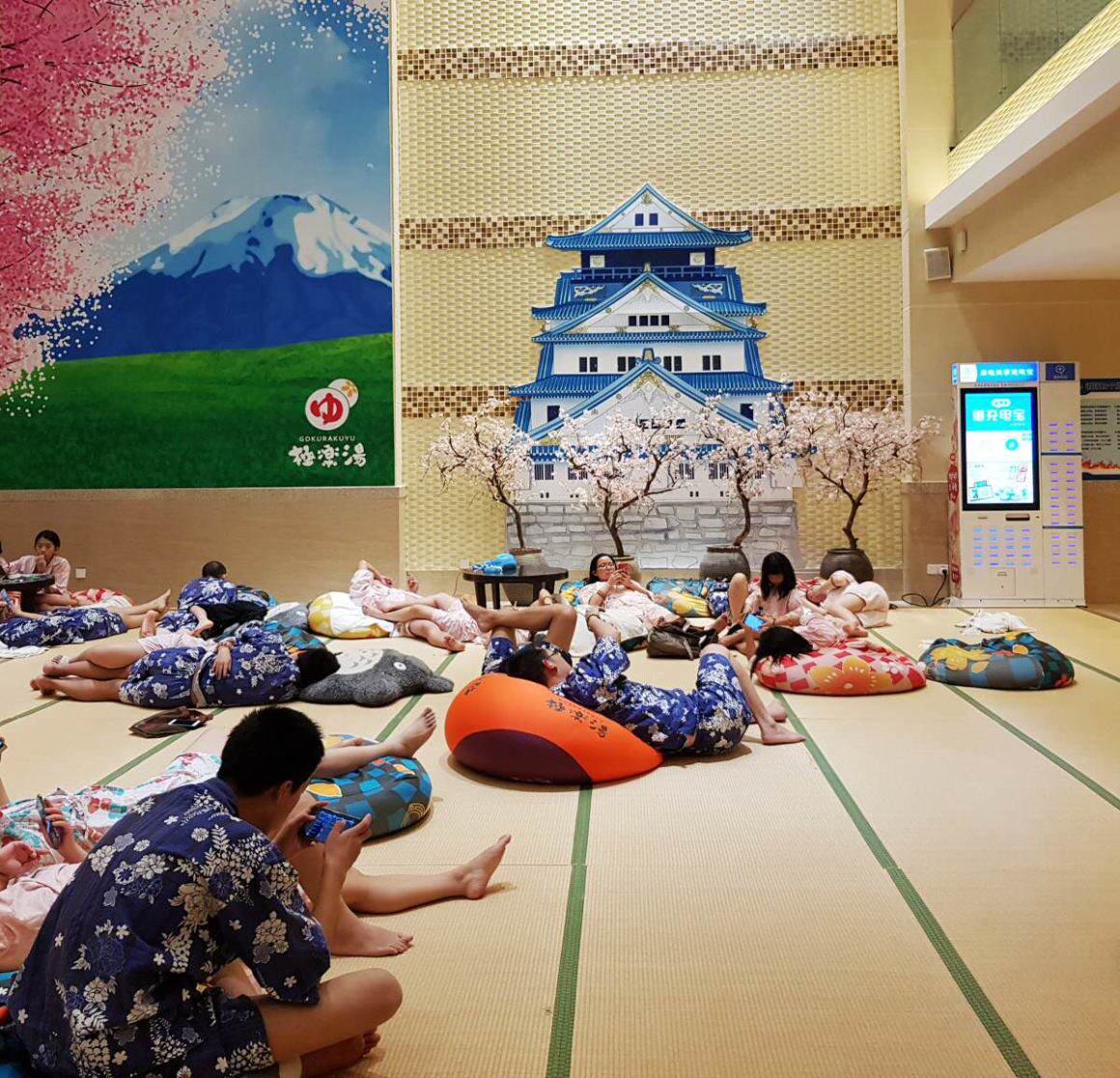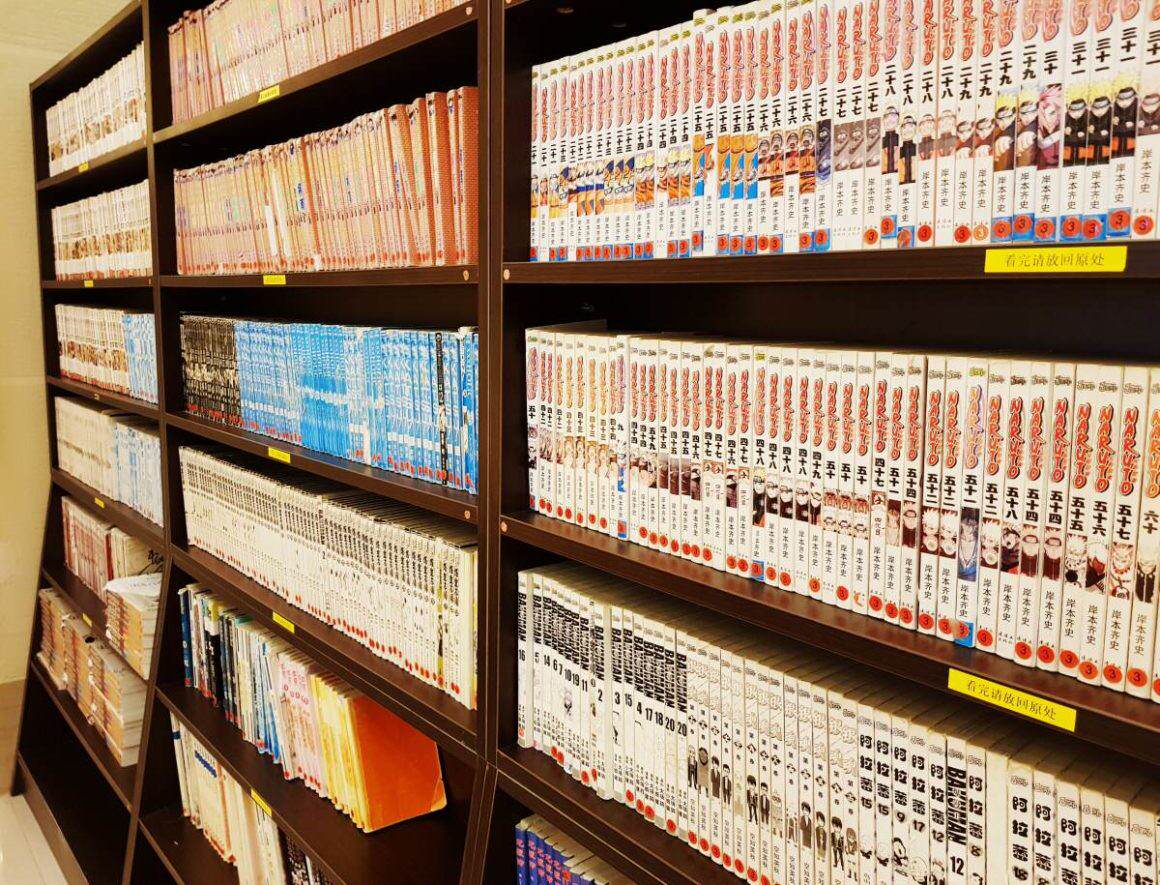 But there are still some differences we have discovered in comparison to traditional Japanese Onsen: Apperently in China it is not prohibited to enter an Onsen if you have any tattoos – an absolute no-go in Nippon.
---
Actually you could spend various hours or even the whole day here. There is more than enough to do: From manicure to pedicure or even quite affordable massage offers give lots of opportunities, even if you don´t like the entertainment-character too much. Only option missing is to stay overnight – latest by 2am at night you need to leave the bath.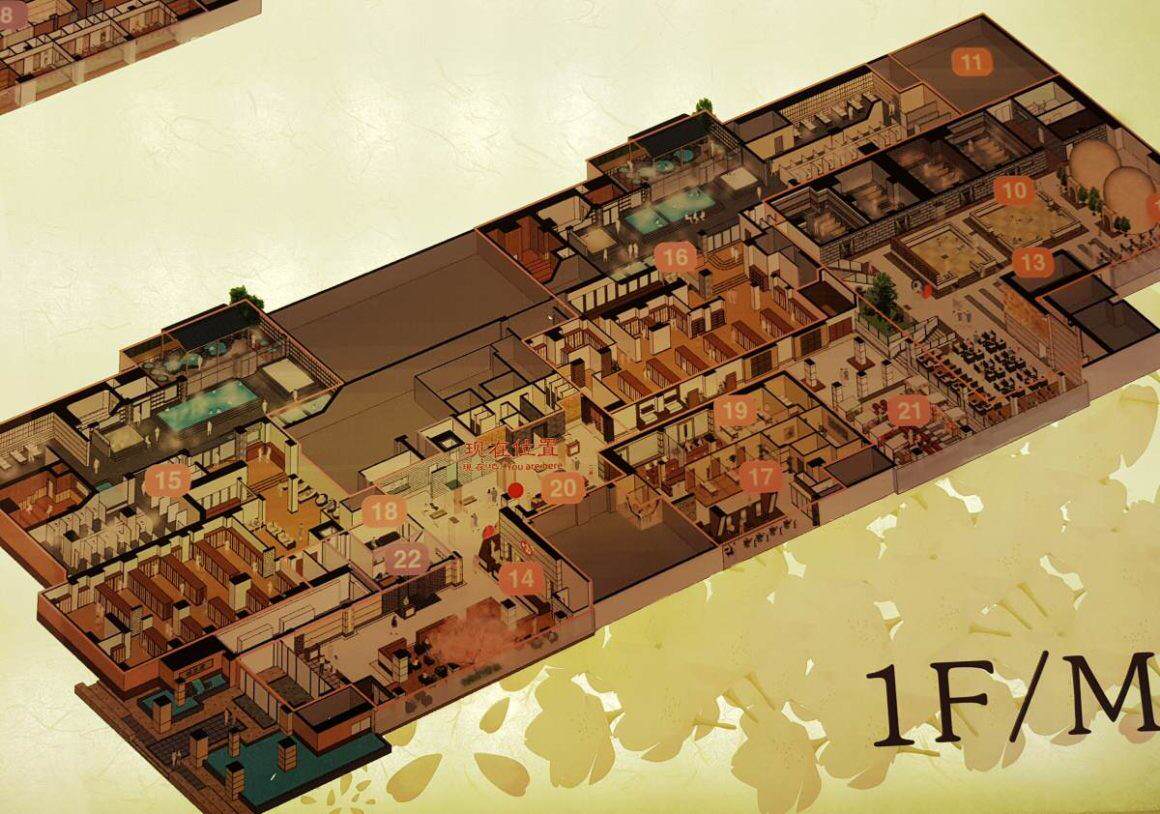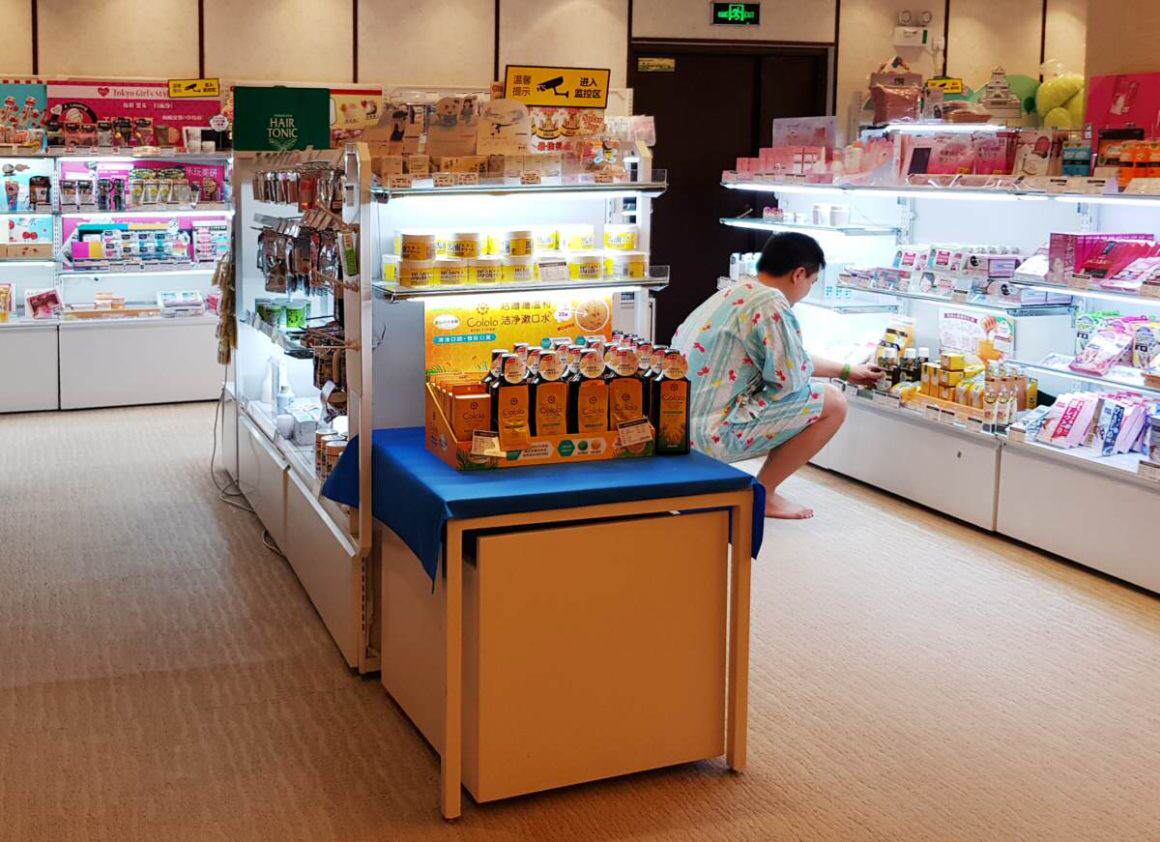 Good to know: The later, the calmer it gets. By then in the relaxing room you rather get annoyed by the snorring of your neighbour than from the voices or mobile sounds.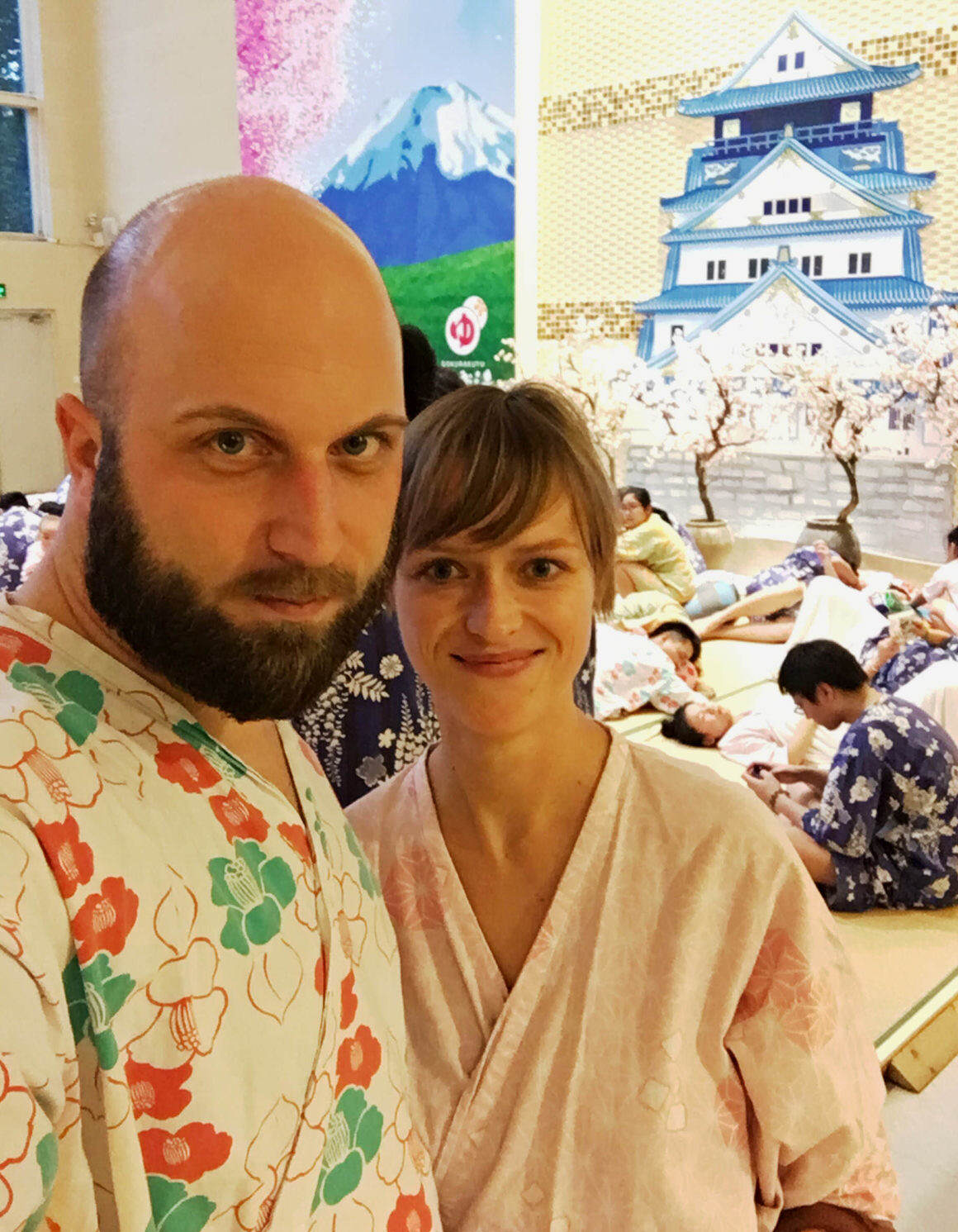 We actually like it so much that we don´t think about the operating hours of the metro. Furthermore the payment procedure again takes longer than expected, because none of our four credit cards work. After putting all our remaining cash together the cashier lady still has to grant us a discount so that the we can pay and leave our relaxed day in the Onsen behind. Of course: It seams that around 11 o clock the last metro already passed the station…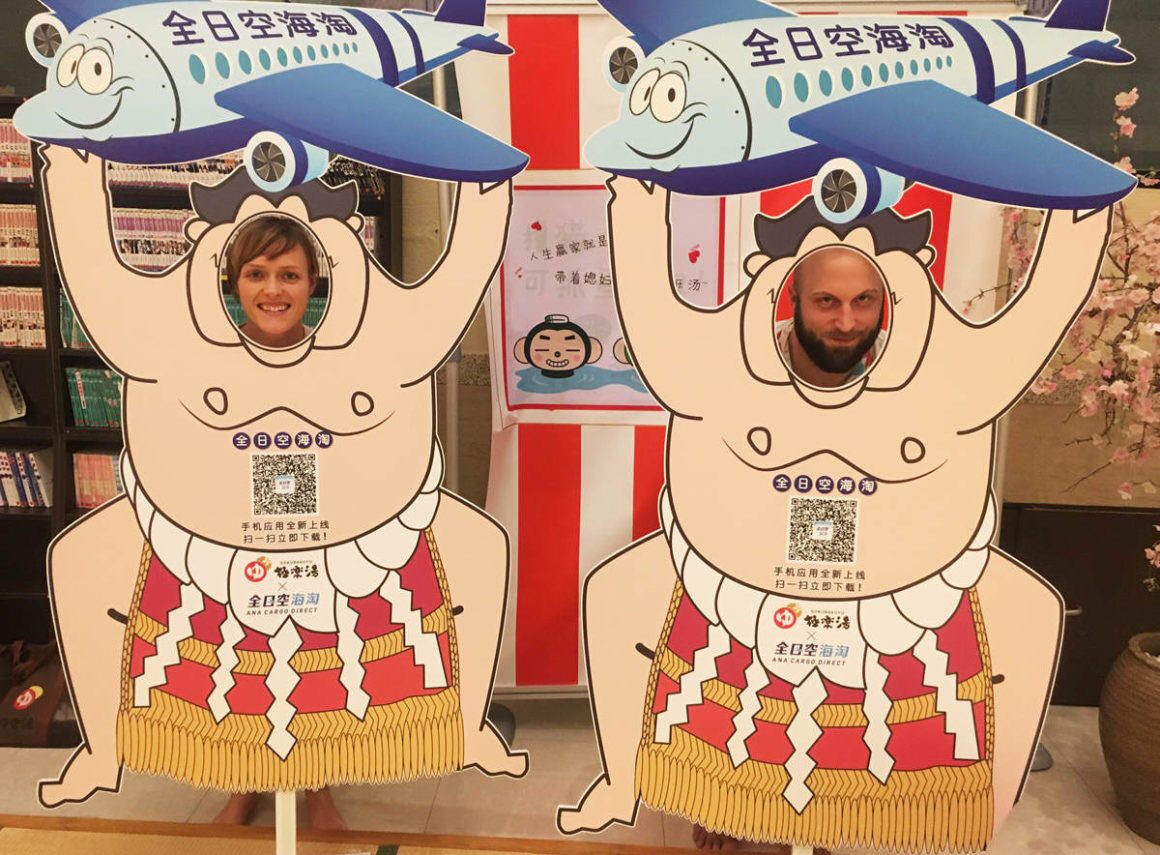 For us that means: Getting back to the street and finding a taxi. We are lucky: After 10 minutes we join a former sailor, who speaks some Englisch. On empty highways (which I have never seen before in Shanghai) he drives us from the middle of nowhere of "New Shanghai" (Pudong) back to "Old Shanghai" (Puxi). Somehow that just fits the weather conditions perfectly on this rainy and cold Sunday evening.
---
Gokurakuyu Onsen
Adress: 600 Xin Jinqiao Lu / Jinxin Lu
Metro: Line 9 / station: Tai´erzhuang Rd. Frome there 7 min. walking
entry: 138 RMB
opening hours: 10 am – 2 pm
www.gokurakuyu.cn
Rated as the best bathhouse in Shanghai by SmartShanghai
Related article:
Which 10 rules you should know, when visiting a Japanese Onsen bath, no matter if in Japan or China, you can find hier. (German only)
***
QUESTIONS & COMMENTS?
Have you ever been to a Japanese bathhouse or onsen? Leave me a comment! Do you like the article, or still have any suggestions or critics? I am happy to read what you are thiking! If you like my content, please feel free to share this article with your friends!
Are you curious now? In the category China you can find further travel stories from the land of the rising sun.
***
 – SMILE4TRAVEL NEWSLETTER –
Become part of the Smile4Travel Community – Follow my Facebook Page & Instagram and register for my Newsletter, so you don´t miss any Smile4Travel adventures! No Spam – I promise!
[mailpoet_form id="1″]