This post is also available in: Deutsch
Every global metropolis has a reputation for its own landmark and iconic views. For Seattle this is definitely the Space Needle – the tower, everyone associates with the NorthWestern American city, located in Washington State. Going up the Space Needle and viewing the cityscape, waterfront and surrounding islands from the 360-degree platform is one of Seattle´s most popular tourist attractions. The best thing upfront: To avoid long queues, you can get tickets online in advance for going up during a specific timeslot. Once you have reached the top, you can stay as long as you want – which is not self-evident on all the towers in the US, from what I have heard. So it´s seemingly worth going up Seattle´s landmark, even if ticket prices of almost 40 US Dollars (for adults) aren´t low. Nevertheless there are also many other stunning vistas of Seattle from different locations throughout the city, where you don´t have to spend any of your money at all. Many of them are completely free of charge or only require an affordable transportation ticket. And maybe you also want to catch a view including Seattle´s iconic tower. That´s actually what I prefer most of the time: Checking out the city´s landmarks from a distance rather than standing on top of them…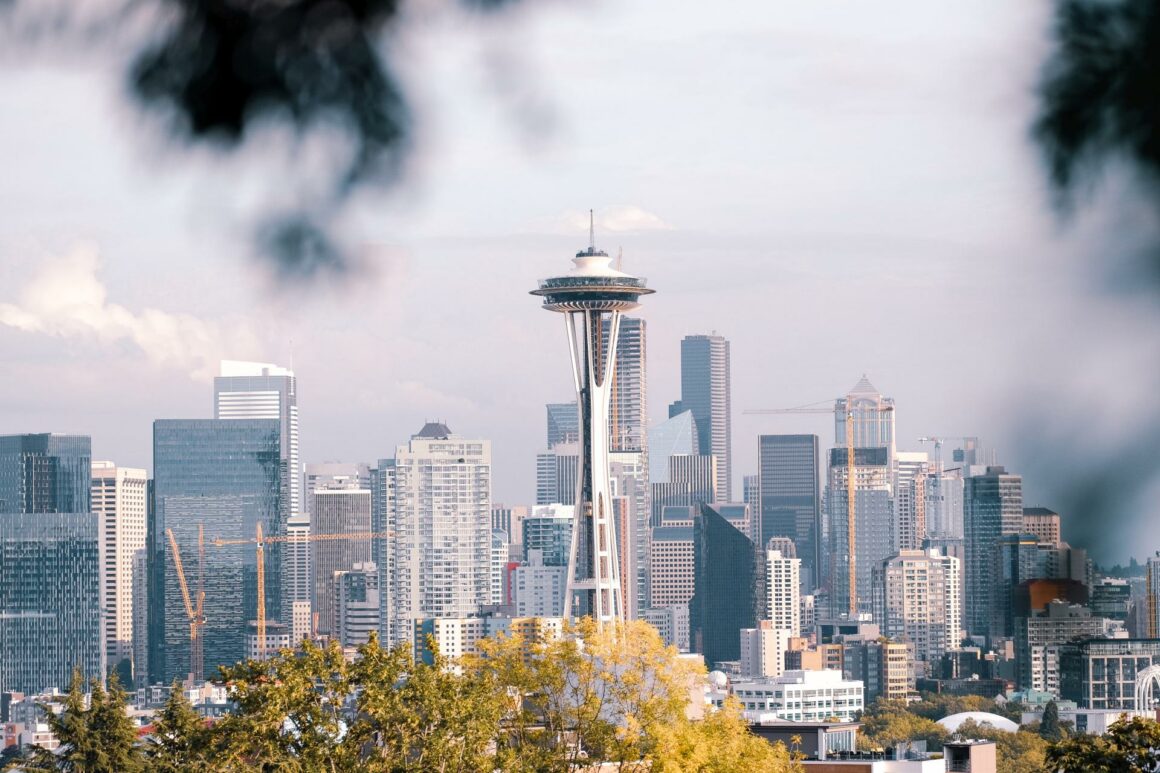 #1 Space Needle, Seattle Center
As exciting as the views from the top might appear, I often find it more appealing to discover different perspectives of the most recognizable monuments on my own, while strolling around the city. Don´t get me wrong, you should still visit the Seattle Center for impressive close-ups, even if you aren´t planning to go up the Space Needle. The park, which is home to the Space Needle itself, Chihuly Garden and Glass as well as the Museum of Pop Culture, offers some really cool up-close-and-personal angles.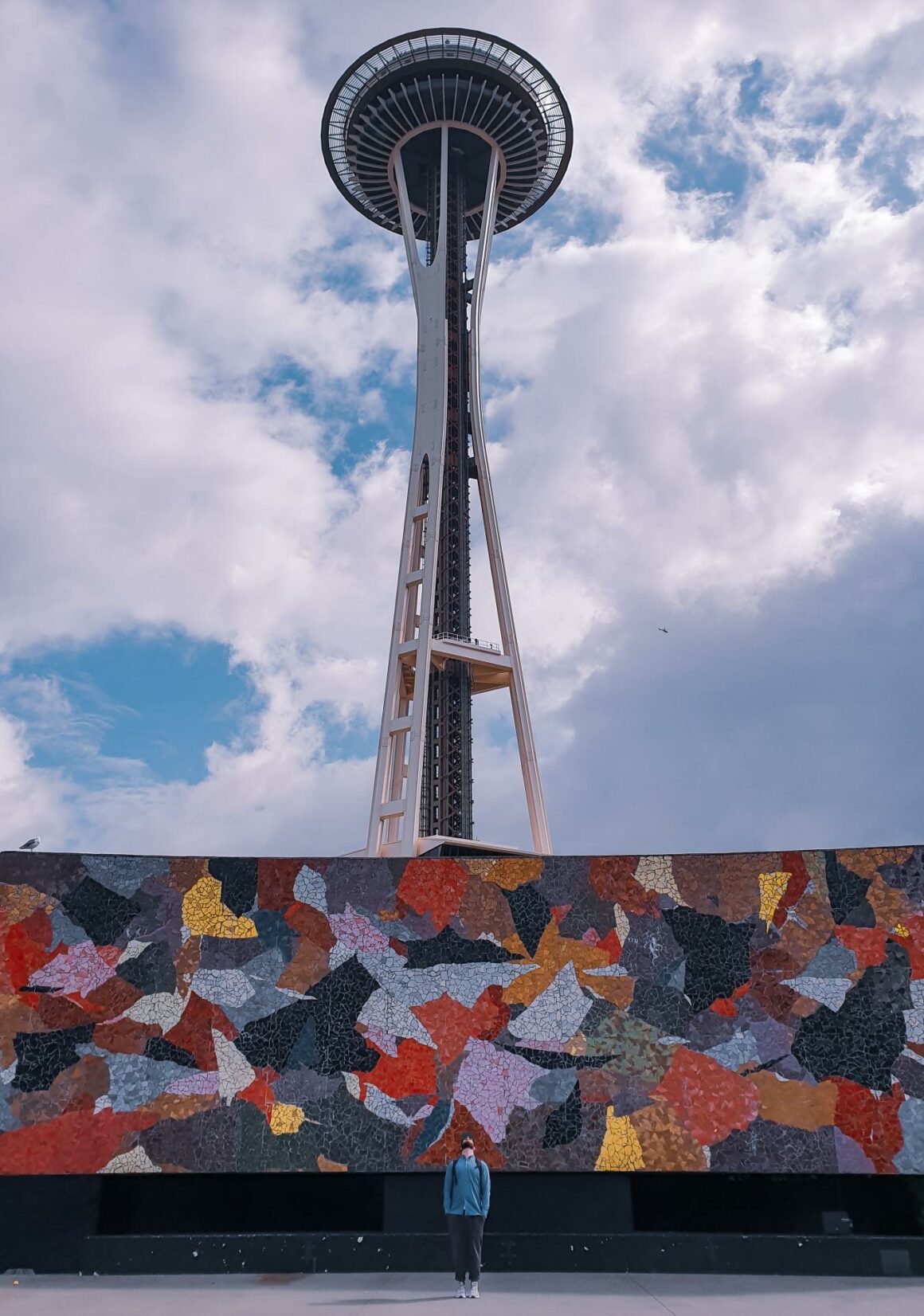 #2 Kerry Park, Queen Ann
For the picture-perfect view and/or shot of Seattle's skyline, which you have probably seen several times already, you need to head up to Kerry Park in the Queen Ann district. This tiny park also features a viewing platform on a hill, which allows you to spot the iconic panorama of the Space Needle, Seattle´s cityscape and waterfront and – if you are lucky enough and visit on a clear day: even Mount Rainier popping-up in the background.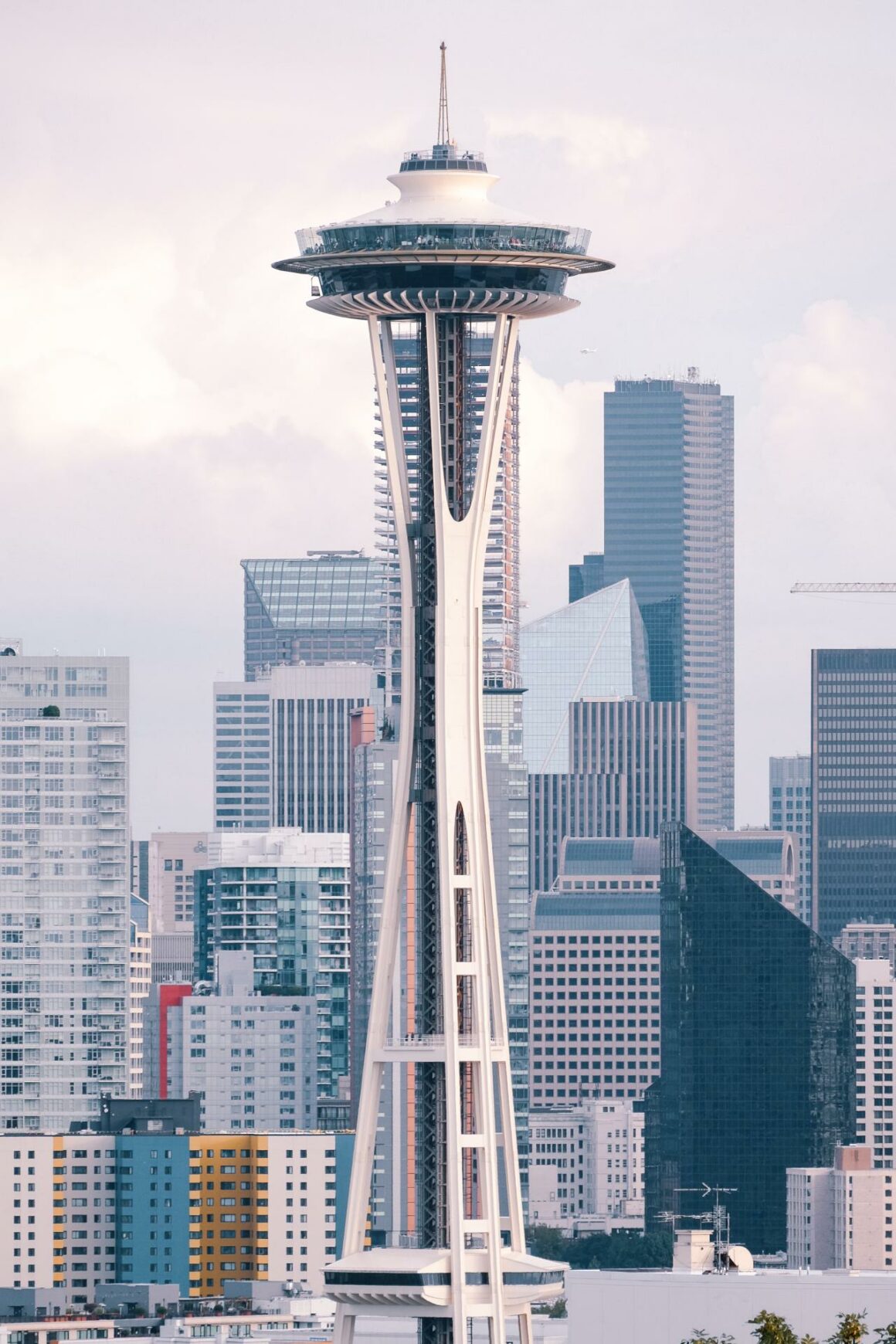 The view is extremely beautiful during sunset and of course very popular among tourists. Honestly speaking, I was a little surprised how tiny Kerry Park actually is. It´s only a small green strip rather than a wide-spread park, where you would like to spend your time. Not sure how the residents of the pricy and exclusive villas feel about the crowds arriving in front of their doorsteps on a daily basis. The good part: Most visitors don´t stay for too long, just snap their shot and are gone again. But if weather allows, I would recommend to arrive in the late afternoon and stay until sunset. There can definitely be some surprises while clouds formate, birds cross the way and the sky slowly but surely turns pink. If you are lucky, even the silhouette of Mount Rainier might appear, after hiding in the clouds earlier on.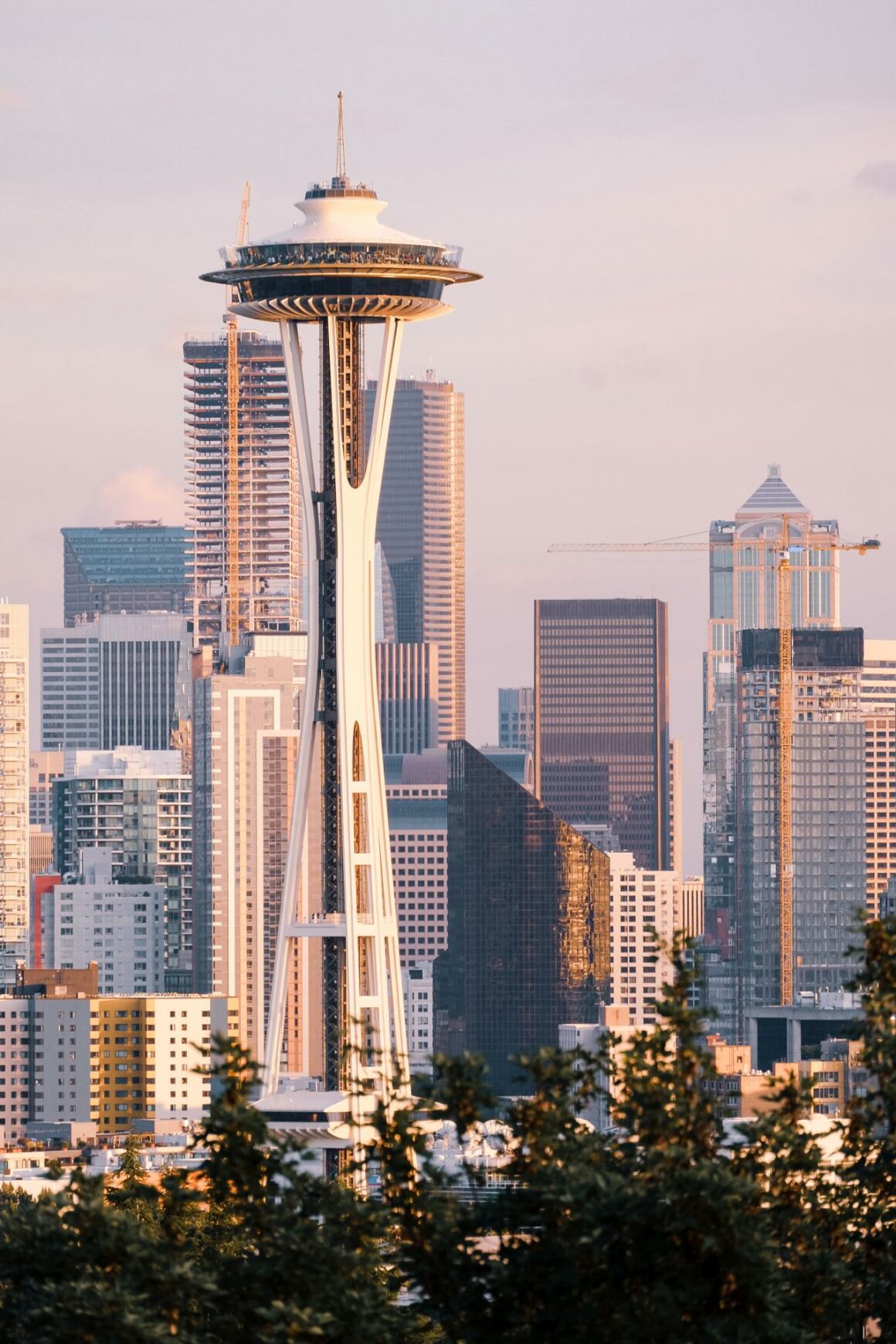 #3 Waterfront & Pier 66, Downtown Seattle
Seattle´s harbour front with its Great Wheel is another classic postcard motif. You can get a great shot at it from the Pier 66 Rooftop Park, which you will reach by crossing Bell Street Pedestrian Bridge.
Hint: Walking from the Seattle Center towards waterfront allows you to stop by the Olympic Sculpture Park, which also offers some sneaky views of the Space Needle. Pier 66 is then also just a short walk from popular Pike Place Market. On a sunny day you can easily combine these sights for a nice walk.
#4 West Seattle
If you want to witness Seattle´s skyline from the seaside, you should make the investment of 5.75 USD (one way) for taking the Water Taxi over to West Seattle. King County Water Taxi departs hourly at Colman Dock and takes visitors from Downtown to West Seattle. The trip only takes around 10 minutes, but offers not only beautiful vistas of Seattle´s skyline from aboard – you will even pass by some noisy, sunbathing sea lions on your way.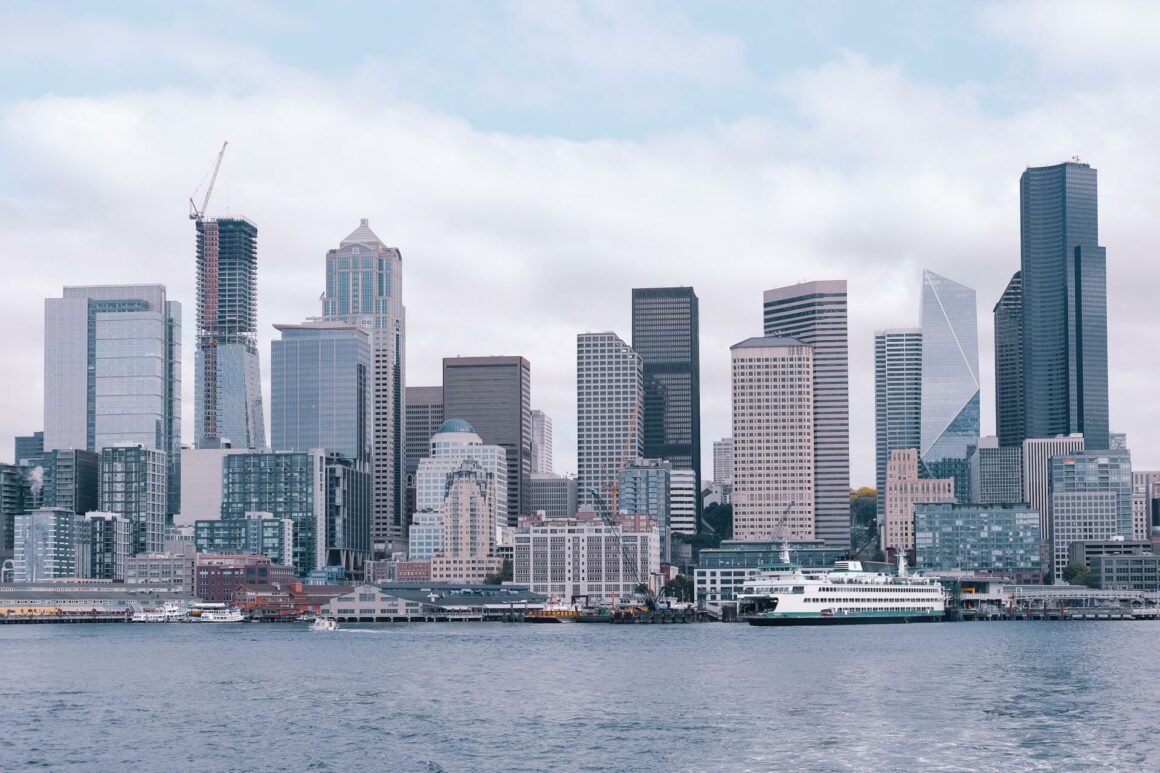 After having arrived at the docks, you have many options to choose from and get active by walking the promenade along to Alki Beach, renting a bike, longboard or why not a canoe. If you simply want to enjoy the fresh breeze and have a a bite to eat, take a seat at the dockside patio of Marination Ma Kai and grab some yummy Hawaiian-Korean-inspired tacos – enjoy and thank me later, you´re welcome! 😉
If you rather prefer to enjoy some more nature, you can also take the water taxi from Colman Dock to Brainbridge Island (30 minutes), which will transport you directly from the inner city limits into the outdoors.
#5 Gas Works Park, Lake Union
Upfront I couldn´t really figure what was supposed to be so special about Gas Works Park, even after receiving it as a recommendation from all sides. Now after having been there, it still hasn´t become my favourite spot, but that´s probably more due to the poor weather conditions while we were visiting. In fact Gas Works Park is a former major gas manufacturing plant, which got shut down after Seattle had moved on to alternative energy sources in the late 1950s. From Kite Hill you can spot the abandoned giant metal constructions (which of course had been cleaned of all the toxic substances), as well as Seattle´s cityscape on the other side of Union Lake. Imagining this view during a warm and sunny day, I can now understand a bit better why people love to come here for picnics, to hang out and enjoy the view.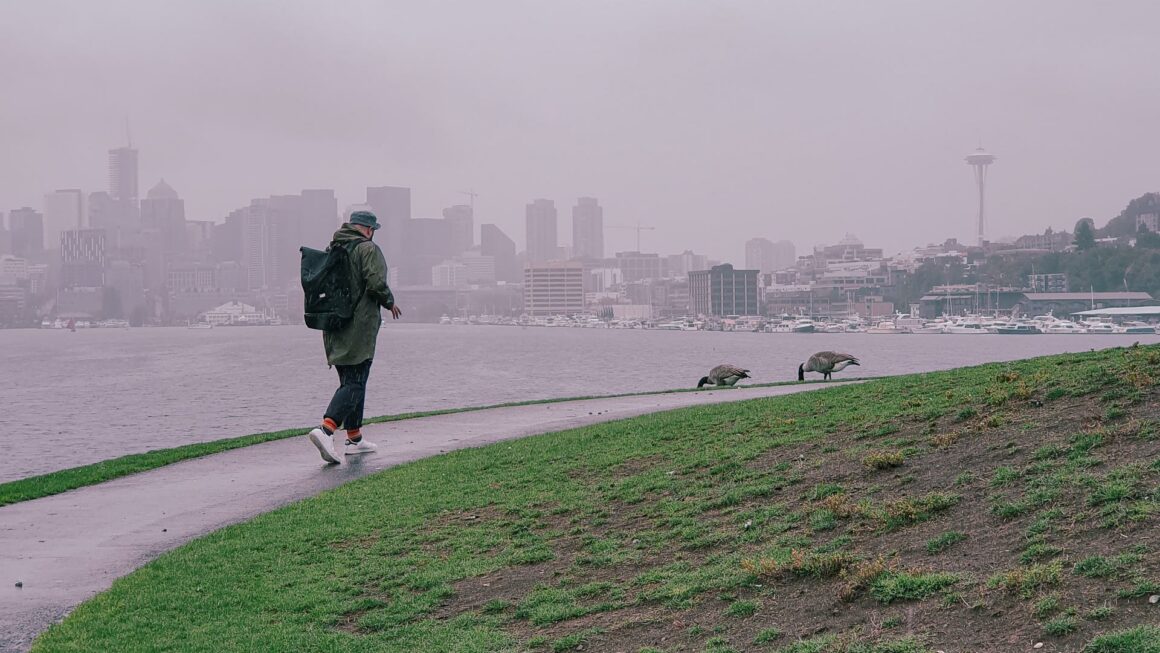 Fun fact: From here you can also spot the ´floating homes, which got famous by the Hollywood romance "Sleepless in Seattle" , with Meg Ryan and Tom Hanks back in the days.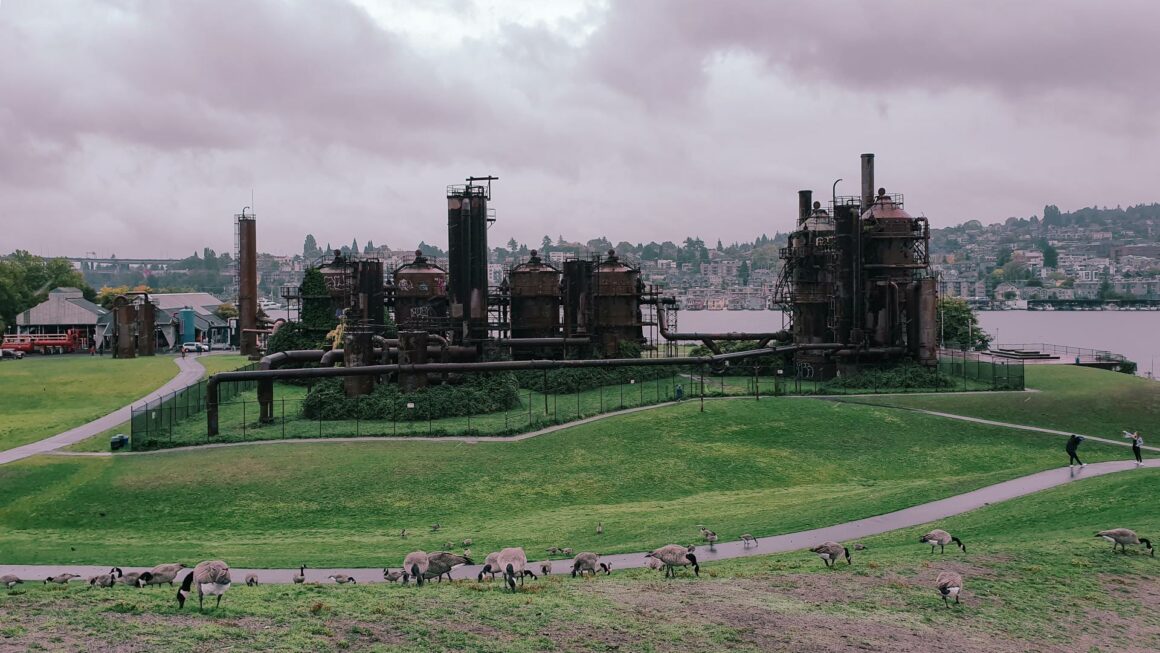 #6 Downtown Seattle
Downtown Seattle is a great place to be for those, who love the big city lights and highrise buildings. After moving from Shanghai, China to Portland, Oregon we occasionally miss out on the strolls through the urban canyons and the opportunity to find rooftop bars or hidden terraces for spectacular angles. Directly upon arrival, Seattle rewarded us with some of those feelings and how it feels like wandering around a big metropolis and discover interesting facades, look-ups and skyscrapers.
#7 Dr. Jose Rizal Bridge, Beacon Hill
Last but not least I would like to introduce you to a less touristic spot, offering a completely different perspective of Downtown Seattle: The district of Beacon Hill lies South of the city-center, facing towards Chinatown and Downtown Seattle. You can cross Dr. Jose Rizal Bridge by foot and look straight down to multi-track highways merging into each other. This might already be thrilling enough for those of you being scared of heights. If this isn´t your kind of thing, you can continue walking uphill towards the former US Marine Hospital Building to a viewpoint overlooking the downtown highrise buildings. In my opinion the view from Dr. Jose Rizal Bridge with the highway lanes underneath offers you by far the best perspective, especially around sunset with the constant stream of passing cars right in front of you, plus the citylights in the background starting to shine.
---
***
QUESTIONS & COMMENTS?
Have you ever been to Washington State and explored bustling Seattle? Leave me a comment! Do you like the article, or still have any suggestions, feedback or recommendations? I am happy to read what you are thiking! If you like my content, please feel free to share this article with your friends!
***
 – SMILE4TRAVEL NEWSLETTER –
Become part of the Smile4Travel Community – Follow my Facebook Page & Instagram and register for my Newsletter, so you don´t miss any Smile4Travel adventures! No Spam – I promise!
[mailpoet_form id="1″]