This post is also available in: Deutsch (German)
Travelling is my passion and photography my biggest hobby. I really appreciate when my content inspires you that you feel like commenting and sharing it. Please find below media mentions of Smile4Travel:
Top 50 German Travelbloggers: Escapio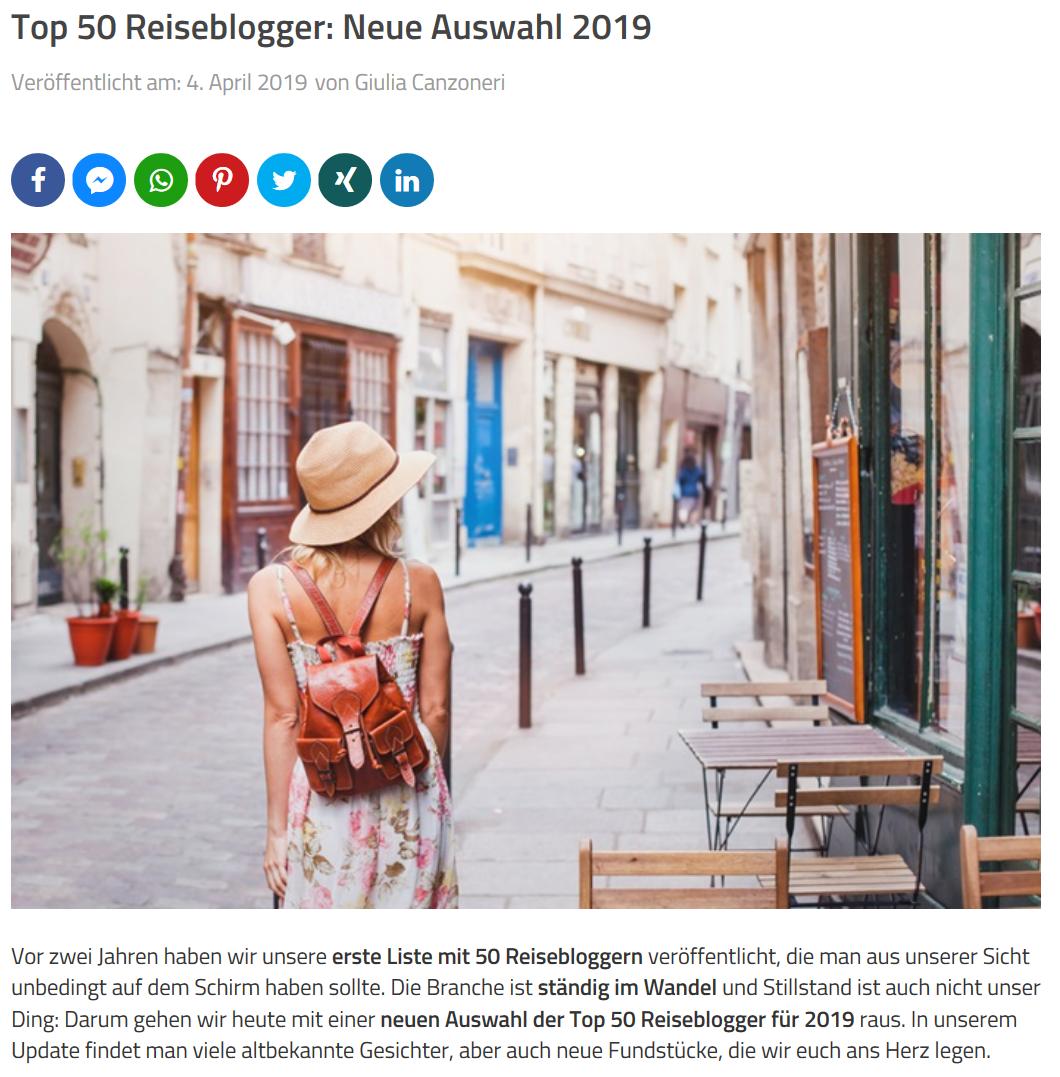 The hotel comparison Portal Escapio published a list of their *TOP50* German Travel Bloggers, which focusses on passionately told stories, humorous and also thoughful traveloques as well as atmosphereic posts. It´s a pleasure for me to find Smile4Travel among 49 designated and recommended blogger colleagues!
Chiang Mai´s Songlines: Hello Bali Magazin February 2019
Stefanie Wich-Herrlein takes us on an escape through the magnificant journey of Chiang Mai, Thailand.
A portrait of Smile4Travel in the Hellobali magazine: Curious to read about my trip to Thailand in December 2018, as well as my vision of travelling in general? Then check out this article in Hello Bali´s Edition of February 2019 – to read the full version just follow the link in the E-Magazine and head straight to page 76.
7 stunning China travel shots: Radii China
Radii China is an online platform and guide for culture, innovation and life in today´s China. Every week local photographers are being represented with their best pictures in the category #ChinaGrams. In December 2018 seven of my travel images of Beijing, Guanxi, Hangzhou and Shanghai were featured in the #ChinaGram-gallery.
Warum in die Ferne schweifen…  Nürnberger Nachrichten
#14Cities durfte ich im Rahmen der Kampagne "Fränkische Städte" im Sommer 2017 erkunden und alle miteinander haben mich davon überzeugt: Für tolle Erlebnisse und großartige Städtereisen reicht es manchmal aus vor die eigene Haustür zu schauen. Warum ich allerdings dennoch gerne in die Ferne schweife, wie ich zum Bloggen gekommen bin und was ich daran liebe, habe ich den Nürnberger Nachrichten verraten.
So geht Wellness auf Japanisch: AHGZ –
Allgemeine Hotel- und Gastronomie-Zeitung
Meine 10 Tipps, die man im japanischen Onsen (hot bath) unbedingt beachten sollte, hat nicht nur für viele Kommentare und Rückfragen im Blog gesorgt. Vielen Dank an meine Leser dafür! Auch in die Printausgabe der Allgemeinen Hotel- und Gastronomie-Zeitung (AHGZ) haben sie es geschafft:
Instagram im Reisebüro: Amadeus Magazin –
Die Zeitschrift für Reisebüros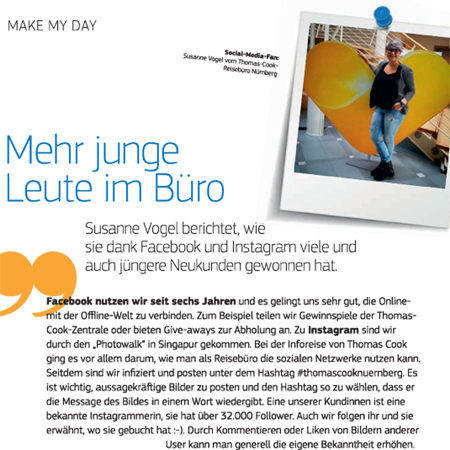 Vor allem aus der Reisebranche sind Blogs und Kanäle wie Instagram nicht mehr wegzudenken. Wie lokale Reisebüros mit diesem Trend umgehen, hat das Amadeus Magazin – Die Zeitschrift für Reisebüros – in seiner zweiten Ausgabe 2017 aufgegriffen und darin Susanne Vogel, Mitarbeiterin des Thomas Cook Reisebüros Nürnberg, interviewt.
Mit dem Smartphone durch den Hafen:
Nürnberger Stadtanzeiger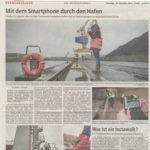 Ein Beispiel dafür, wie aktiv die Instagram-Community in Franken ist. In regelmäßigen Abständen finden so genannte IgersMeets in Nürnberg oder auch in anderen Städten der Metropolregion statt. Über das IgersMeet am Nürnberger Hafen im November 2016 haben die Nürnberger Nachrichten ausführlich berichtet.
Für aktuelle Infos folgt den Instagram-Kanälen @nuernberg_de @IgersFranconia und @Igers_Nuernberg. Dort werden die anstehenden Treffen und Photowalks kommuniziert.
10 Dinge, die du für eine Reise nach Kalimantan wissen solltest: Gastbeitrag Indujunkie

Indojunkie ist wohl einer der bekanntesten und best recherchierten Reiseblogs mit dem Fokus auf Indonesien. Von Bali bis Papua findet ihr dort Reisereportagen und Checklisten bis hin zu ganzen Reiseführern. Im August 2016 hatte ich die Möglichkeit meinen Gastbeitrag "Du planst eine Reise nach Kalimantan? 10 Dinge, die du wissen solltest" auf Indojunkie.com zu veröffentlichen.
Nürnberg im Quadrat – Die zweite analoge Instagram-Ausstellung
Insgesamt vier Fotos meines Instagram-Accounts Smile4Travel haben es in Nürnberg´s zweite Instagram-Ausstellung geschafft. Vom 20. Oktober bis 20. November 2016 wurden insgesamt 160 Nürnberg-Bilder von 62 Instagramern aus Stadt und Region im Museum für Kommunikation gezeigt.
Canon Influencer Event – "Berlin Off Limits"
Das Influencer-Event von Canon bot im Dezember 2016 insgesamt 25 Bloggern und Instagramern die Möglichkeit an einer "Urban Exploration" in der alten Fleischfabrik in Berlin-Lichtenberg teilzunehmen.
Online-Redakteurin – Thomas Cook & Neckermann Reisen
Zwei Jahre lang habe ich als Content Managerin die Reiseblogs von Thomas Cook und Neckermann Reisen redaktionell betreut und dort auch den ein oder anderen Reisebericht hinterlassen.
Mit Stefanie auf Bali #machtsmöglich
Im Rahmen der Neckermann Reisen #machtsmöglich-Kampagne werden Thomas Cook-Mitarbeiter zu Reisebotschaftern. In meinem 30-Sekunden Video über Bali nehme ich euch mit auf Tauchgänge in die bunte Unterwasserwelt im Nordwesten, durch saftig grünen Reisfelder im Landesinneren und in bunte hinduistische und buddhistische Tempelanlagen der indonesischen Insel. Das Videomaterial ist in meinem privaten Indonesien-Urlaub im Frühjahr 2015 entstanden. Den Reisebericht findet ihr hier: