This post is also available in: Deutsch (German)
I cannot believe how time flies! It almost feels like it´s only been some weeks ago that we were looking for a cooling dip into Oregon´s mountain lakes. Now it´s become October and Halloween is around the corner. As the season changes, the parks, forests and even cities turn into colorful playgrounds before winter eventually kicks in and leaves us behind with almost dreary, short days and long, dark nights. October is the best time to bring some colour into your life, house – and onto your plates! So if you haven´t fallen for the pumkin hype yet, your time is now!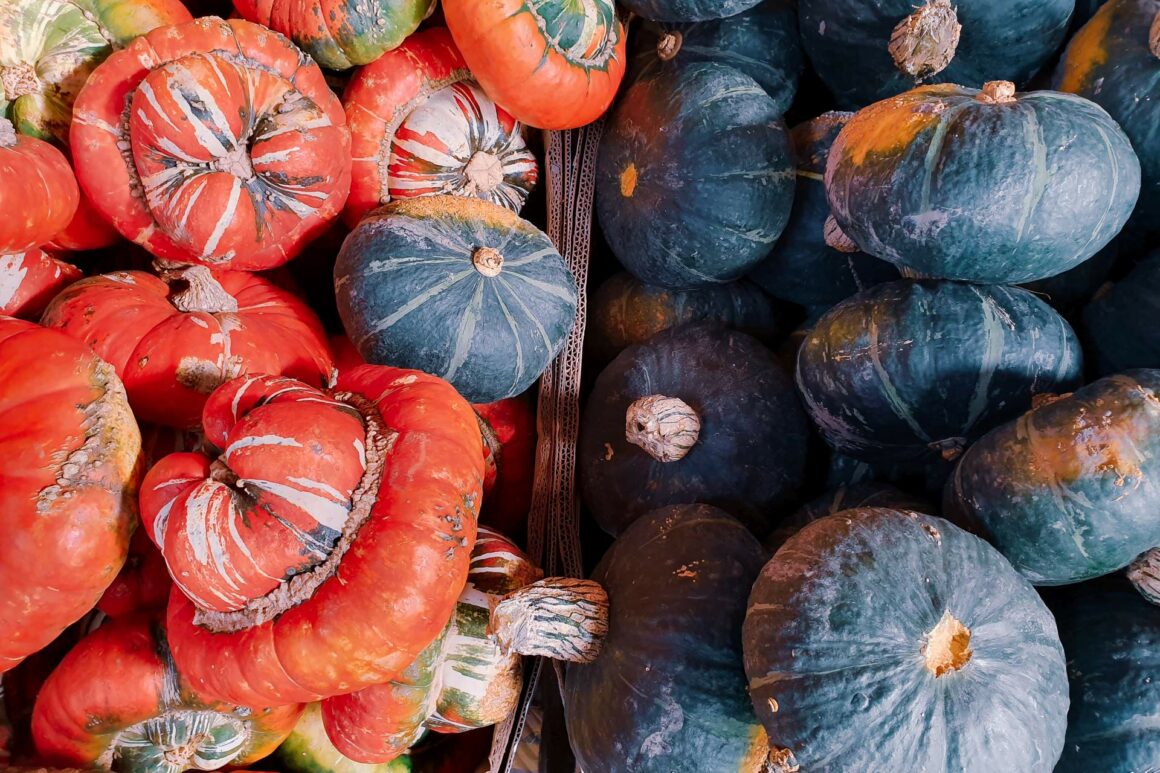 You can find these autumn fellows in all different shapes, colors, sizes – and literally everywhere: In supermarkets, on the menu of your favourite restaurant or the front porch of your neighbour´s house. And if you feel like joining an American autumn tradition, you should head out to one of the numerous pumkin patches in the sourroundings. For me this is by far the most entertaining way to find the perfect shaped, sized and colored pumkin!
Pumpking Patch Sauvie Island
There are several pumkin patches in and around Portland. One of the most famous is the Sauvie Island Pumpkin Patch, which is Portland´s original one – located about 20 minutes outside the city. The family-run farm can look back to a tradition of 52 years and has a lot to offer, not only pumkins! Did you know that the Sauvie Island Pumpking Patch already opens in June for Strawberry picking? I didn´t! Of course October is their most busiest time of the year, as the farm closes by the end of the month. But it´s also the best time to come around, if you want to choose from all different kinds of seasonal fruits and vegetables freshly picked on a daily basis.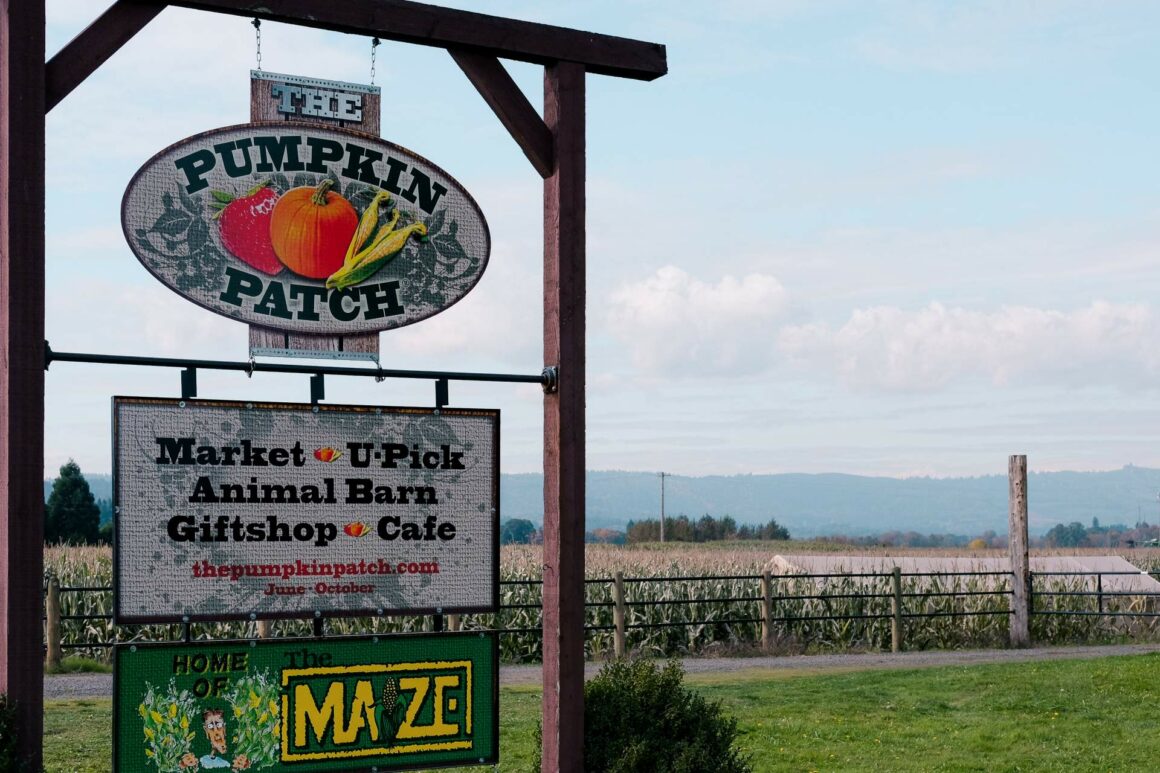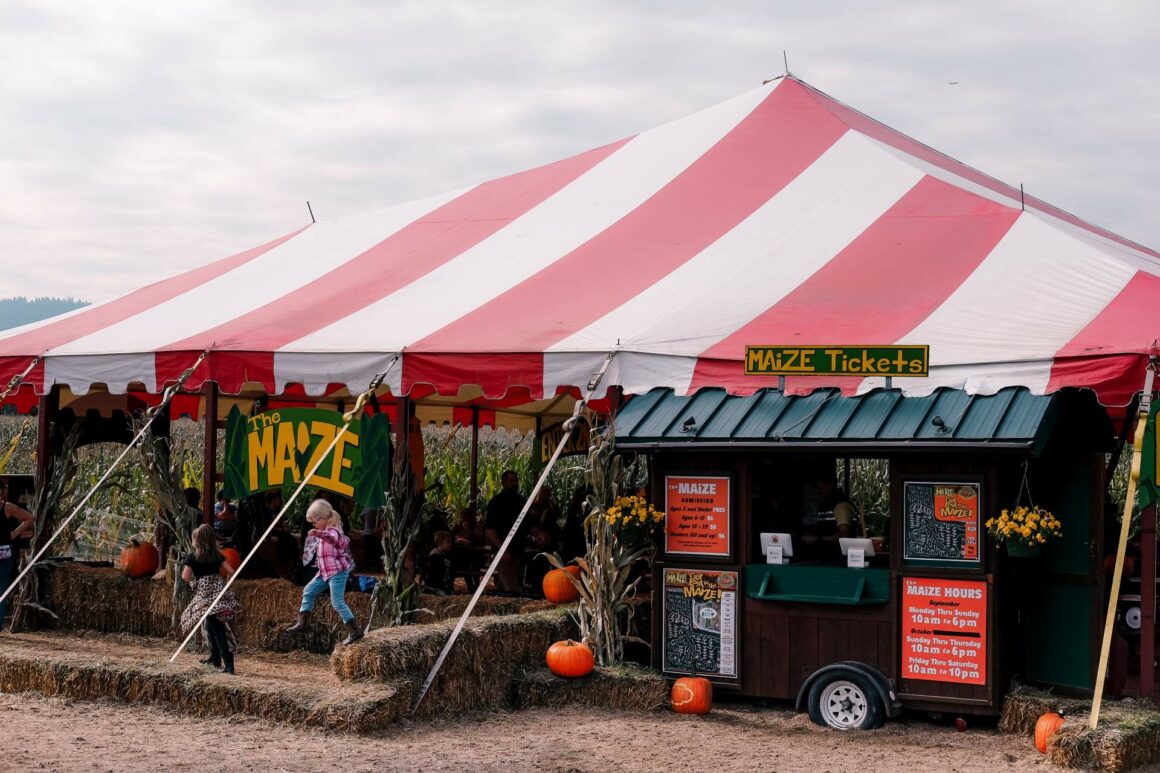 Sauvie Island isn´t just a great place for good local and seasonal shopping. Especially over the weekends the Pumpkin Patch turns into an amusementpark-like areal, when not only pumkin hunters are around but also many families with kids. And I can totally understand why: The animal barn, their famous huge corn maze, a ´cow train´ and many more activities turn the farm into a huge playground. The patio cafe, various food booths, the Pumpkin Perk Coffee, the Pumpkin Cottage Gift Shop and last but not least free hayrides out into the pumkin field invite visitors to spend a couple of hours around the farm and dive into a real American Pumpkin Patch experience.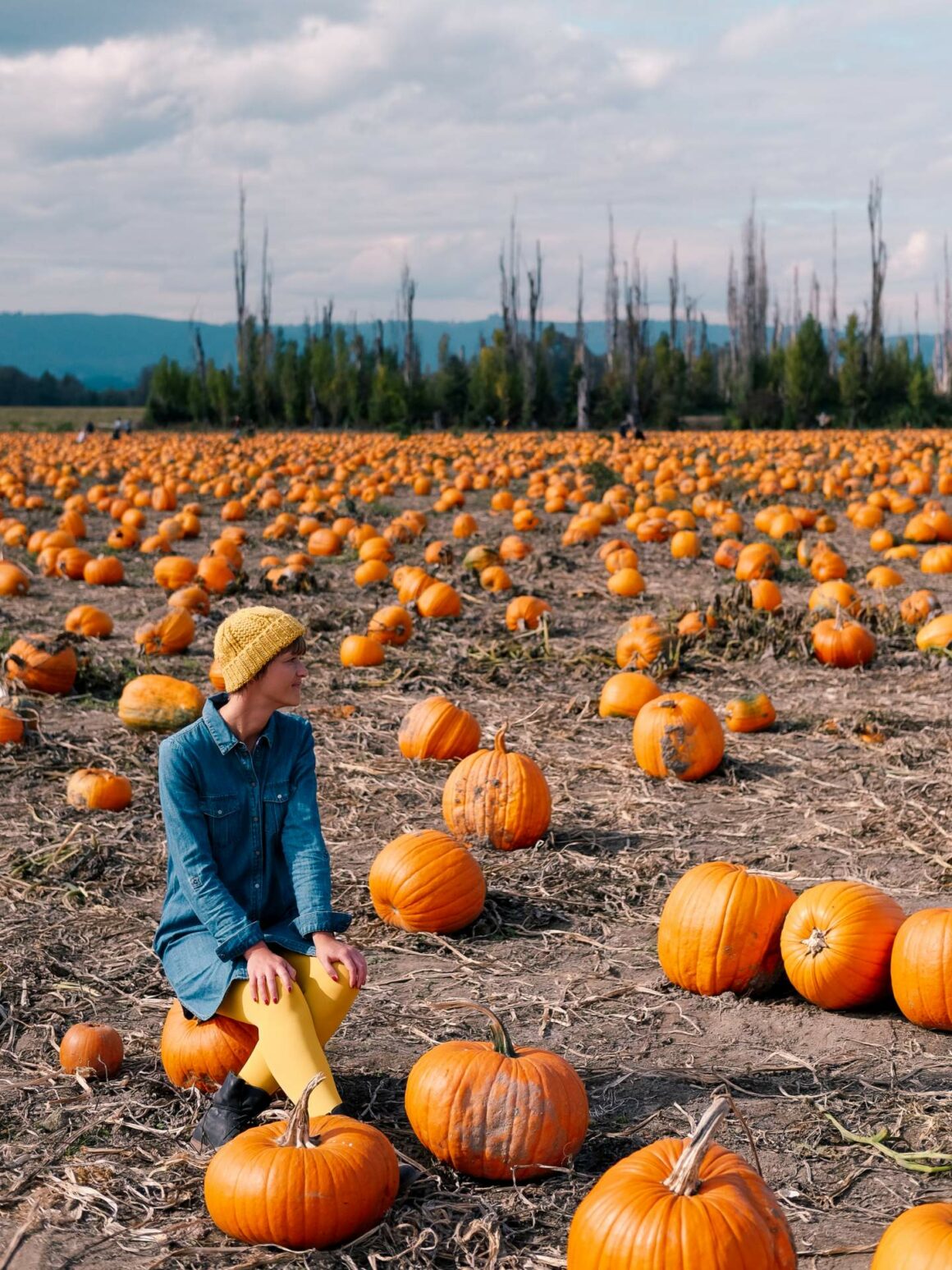 Definitely an amusing October activity you should´t miss out on. For me hunting for my own pumpkin is by far the best part of this trip to Sauvie Island. And before you ask: Yes, in the end I also found my perfect orange-colored favorite – a small and a big version of it to be precise!
Halloween decorations
Got your pumpkin but need some inspiration how to turn your new friend into a funny, weird or even scary decoration? Just walk through your neighourhood by choosing different side streets as you normally do and you will be surprised how creative some of your neighbours are when it comes to turning their home into a chamber of horrors. Especially for us Germans it somehow seems incedibly amusing how much effort and creativity people put into their Halloween decoration. Very obviously something you cannot afford to miss out on here in October. Welcome to America, the country which turned the originally Irish tradition into an excessive celebration with creepy costumes, pumkin decoration and the by now also in Europe famous ´trick & treat´ habit.
Admire Oregon´s fall foliage
If you are not as much into pumpkins or Halloween, but still love to admire the autumn colours, you can still find many other opportunities to enjoy the autumn foliage around the city. Just head into the various parks, take a stroll around the tree-lined alleys in town, go for a hike in Washington or Forest Park, take the 4T Trail or visit the Japanese Garden, where earty autumn colours are on their absolute peak right now!
---
***
QUESTIONS & COMMENTS?
Have you ever been to a Pumpkin Patch in Portland or somewhere else? How did you like it? Leave me a comment! Do you like the article, or still have any suggestions, feedback or recommendations? I am happy to read what you are thiking! If you like my content, please feel free to share this article with your friends!
***
 – SMILE4TRAVEL NEWSLETTER –
Become part of the Smile4Travel Community – Follow my Facebook Page & Instagram and register for my Newsletter, so you don´t miss any Smile4Travel adventures! No Spam – I promise!
[mailpoet_form id="1″]