This post is also available in: Deutsch
The Space Needle as futuristic landmark, rotating in- & outdoor art installations, modern steel- & glass architecture, a troll that has been living under the Aurora Bridge for 30 years, a gum wall which was honored as official tourist attraction, the world´s longest curated streetart corridor and great museums. These are only some examples that make Seattle a desperado for art- and architecture lovers. Here are the highlights you don´t wanna miss.
#1 Space Needle – futuristic landmark
Seattle´s futuristic landmark was built for the 1962 World´s Fair at Seattle Center and is THE building everyone automatically associates with the city. Did you know that its iconic architecture actually was a compromise of two mens´ ideas: Edward E. Carlson wanted to create a dominant central structure, inspired by the Stuttgart Tower. So he came up with the sketch of a giant balloon tethered to the ground.The architect John Graham finally turned the balloon into a ´flying saucer´ and so the Space Needle´s shape as we know it today was born. Seattle´s Space Needle is definitely a great location to visit. From its rotating observation deck at 520 feet / 160 metres you can enjoy views of the Seattle skyline, the islands surrounding the city and the Cascade Mountains in the distance. If you are more into spotting the Space Needle itself rather than standing on top of it, just read my article "Seattle at-a-glance: Insights for Outlooks", where I´ve put together a list of Seattle´s best viewpoints.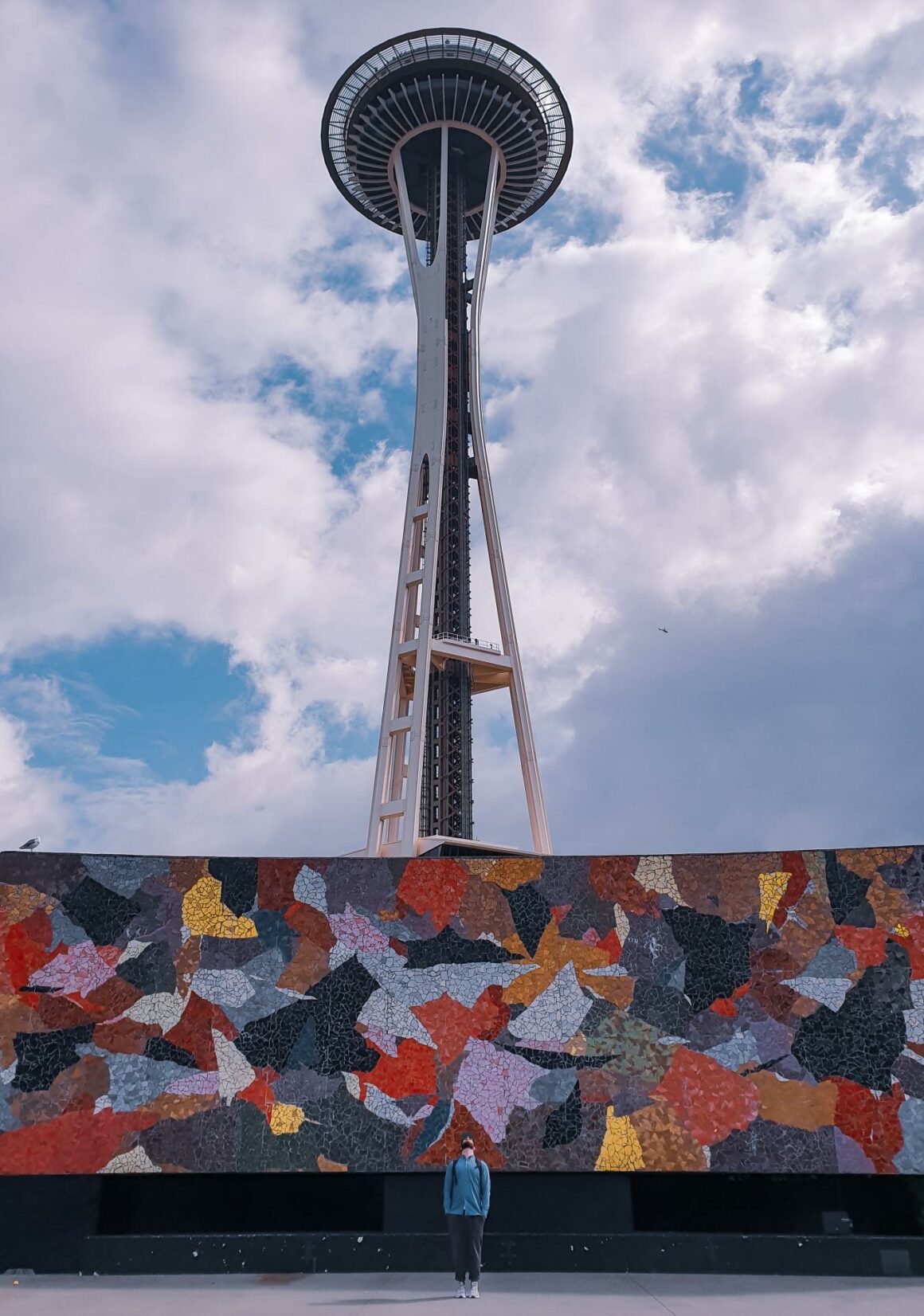 #2 Museums at Seattle Center
At Seattle Center you can actually find some more arty sights, which are especially a great option if the local weather lets you down. Chihuly Garden & Glass e.g. is a museum presenting artworks of Dale Chihuly, an American glass sculptorer whose work is included in more than 200 museum collections worldwide. I haven´t visited the colorful exhibition myself yet, but it´s a recommendation I got from several people independantly. So I will definitely check it out next time I´ll be going to Seattle.
Practical tipp: You can save some money by buying a combined pass for the Space Needle observatory and the Chihuly Glass Museum, or with the purchase of a discounted ticket, available 2 hours before the museum closes.
Another spot for creative inspiration at Seattle Center is the Museum of Pop Culture (MoPOP). This non-profit museum features in-depth exhibitions and brings the history of pop music and pop culture to life.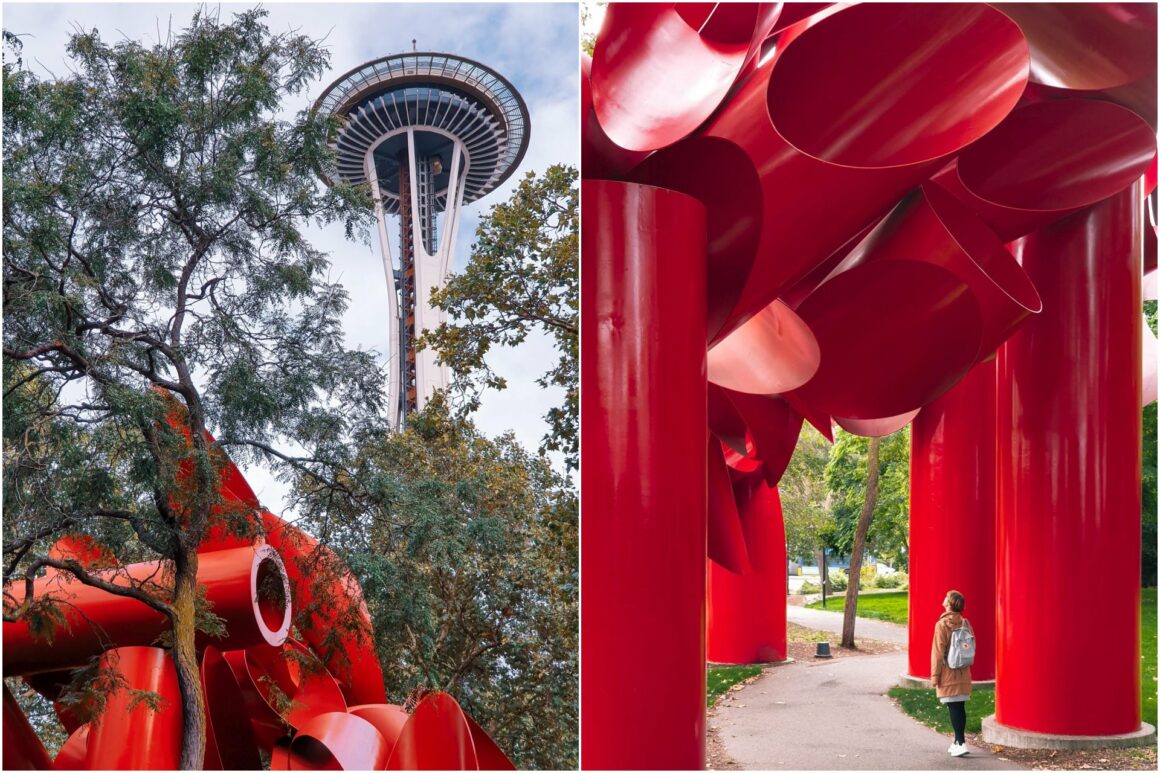 #3 Olympic Sculpture Park – Art by the water
This outdoor park, operated by Seattle Art Museum hosts various sculptures as well as permanent and rotating installations from influencial modern artists.Access to Olympic Sculpture Park is free and open to the public, which attracts plenty of bikers, walkers, locals who enjoy their lunch break and Seattle visitors alike. Definitely a nice spot to have a break from all the sightseeing, looking at some sophisticated pieces of art and admire the views across the Puget Sound.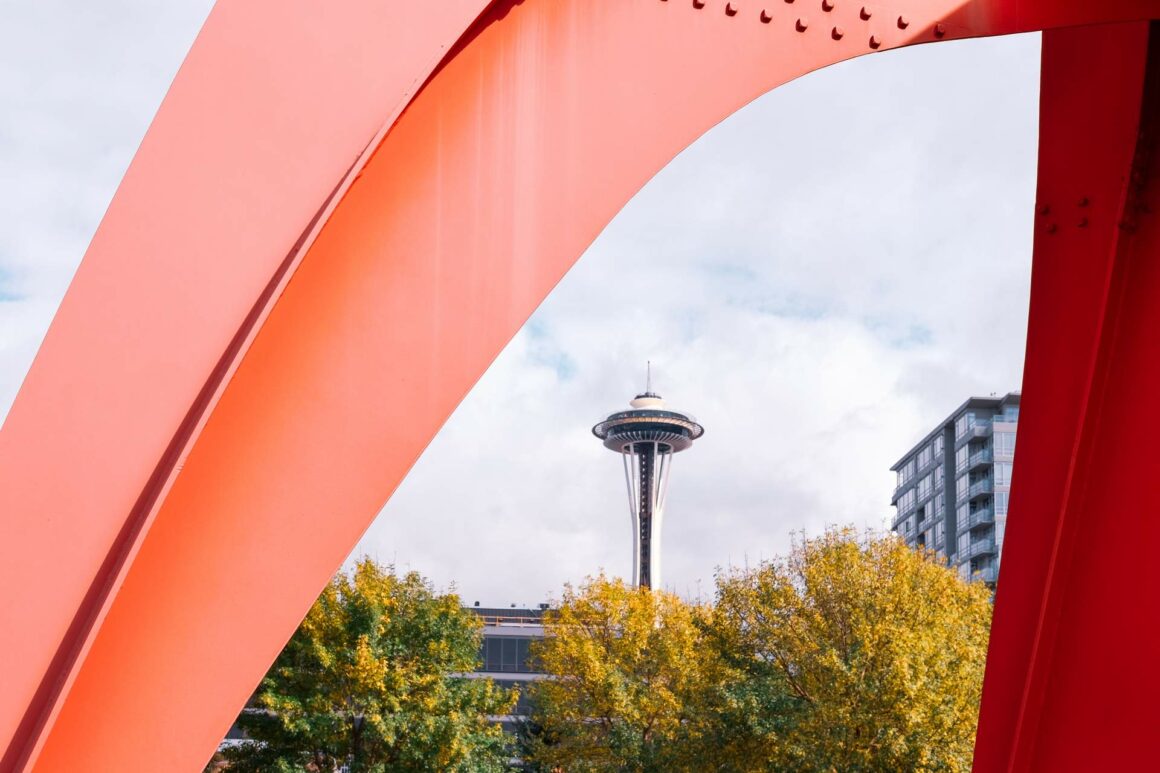 #4 Seattle Public Library – Steel & glass architecture
Architecture lovers will love the Downtown location (Central Library) of Seattle Public Library, which is the flagship library of their 27 branches. Not only the 11 stories filled with 1.45 million books, magazines etc. and 400 computers open to the public are a paradise for library lovers. The steel and glass architecture of the Central Library´s building attracts photographers and architecture fans alike. There is a "Book Spiral" between floors 6 to 9, which is basically a 275-seat auditorium including open spaces. The lookout from the 10th floor is the highest public point, with views down to level 3. So if you are around, make sure to check it out. You can access the library and walk through the entire building without any registration. For sure a fun experience also to do just some random people watching.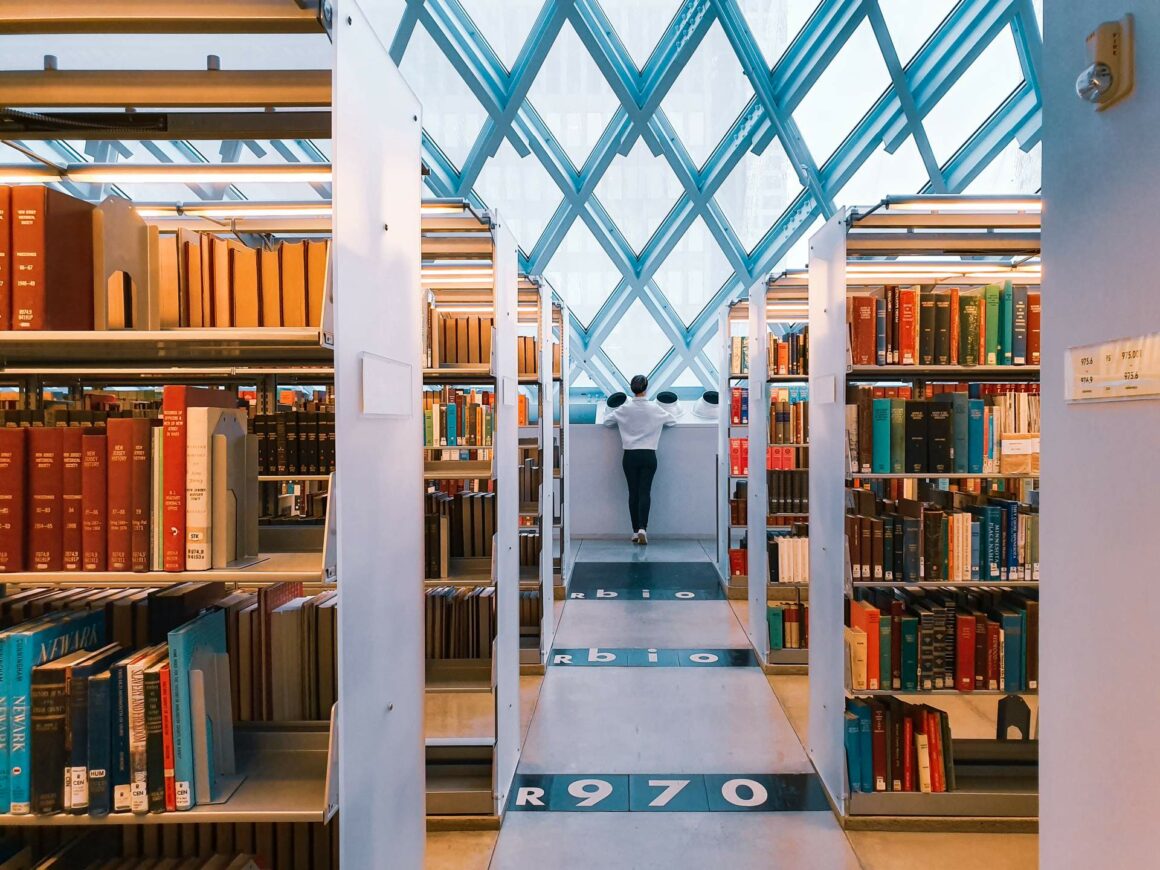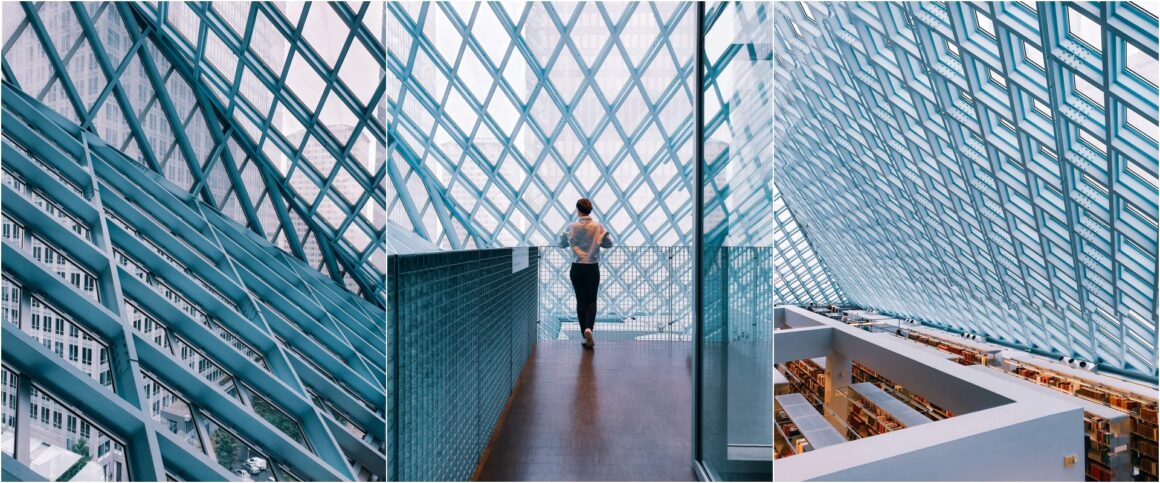 #5 Amazon Spheres & Amazon Go
Another glass building with fascinating architecture is Amazon´s  "The Spheres". The ultra-modern office building with botanical garden inside is open for the public during specific timeslots. To visit you need to make a reservation upfront. The architecture is also worth to be admired from the outside. And if you fancy a digital shopping experience you can stop by at the adjacent Amazon Go to shop, simply paying with the Amazon app automatically  while walking out – no queueing at the cashier needed.
#6 Fremont Troll under the Aurora Bridge
Created and sculptured by four local artists, the Fremont Troll is the result of an art competition launched by the Fremont Arts Council back in 1990. Part of the purpose was to rehabilitate the areal underneath Aurora Bridge, after it became a dumping ground and meeting point for drug dealers. As Steve Badanes, Will Martin, Donna Walter and Ross Whitehead won the competition with their Scandinavian-inspired troll sculpture, the project can definitely be considered as a big success. Today the Fremont Troll is a local landmark, tourist attraction and photo-hotspot. And the Northern part of Aurora Avenue was even renamed into "Troll Avenue" in 2005, honoring the positive impact the sculpture had.
#7 Gum Wall – art not for everybody´s taste
"Is this supposed to be art – or can it be chucked away?" Co-workers of Seattle´s Market Theater have answered this question already 20 years ago, after in 1993 patrons of the theater started to stick their chewing gums to the brick walls, which soon after became a popular tourist attraction. Also the Pike Place Market Preservation & Development Authority initiated a complete scrub down and steam cleaning of the gum wall in 2015 to prevent further erosion of the bricks, caused by the high sugar-content of the gums. But neither the attempts of the theater workers nor the big cleaning 20 years later could stop people from sticking thier chewed gums straight to the walls. In 1999 the market officials had already given up cleaning the wall and deemed it a tourist attraction instead. Since in 2009 the gum wall had received another "award" as one of the Top 5 germiest tourist attractions and even Jennifer Aniston was posing in front of the Gum Wall in the movie "Love Happens", it turned into a local landmark and (Instagram) hotspot, which is no longer indispensable – if you like it or not. The central location right behind popular Pike Place Market plus the fact that city tours such as Seattle´s Ghost Tours take off from Post Alley doesn´t help to stop the fame and countless curious visitors passing by every single day.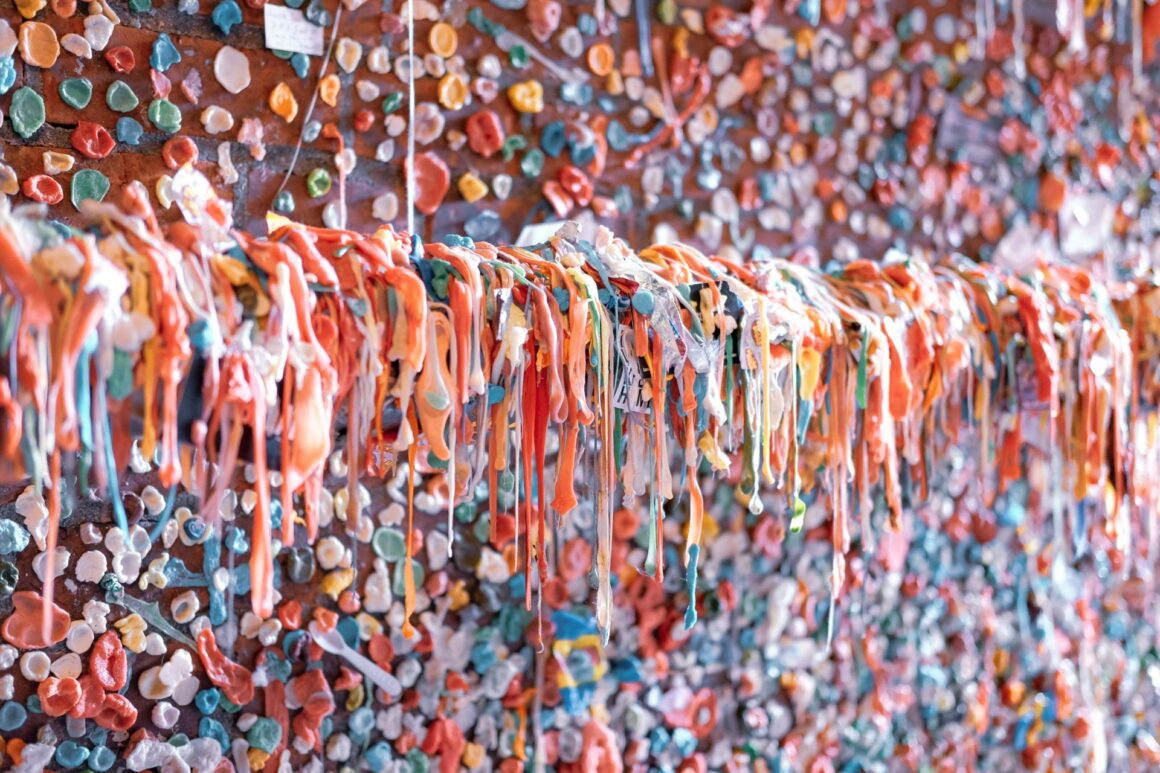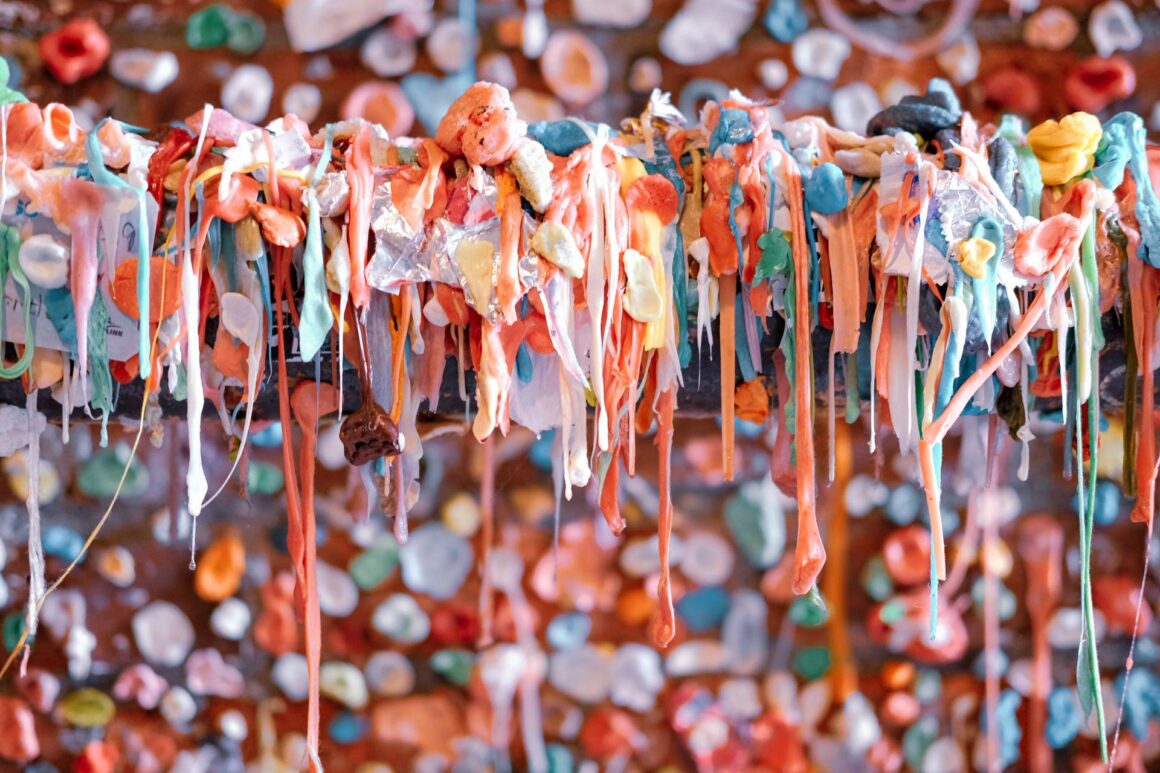 #8 SODO Track – World's longest curated streetart corridor
60 artists, 32 walls, 3 summers, 2 miles make up for 1 holisitic art experience – this is Sodo Track, located in Seattle´s stadium district. Between 2016 and 2018 more than 60 local and international artists turned the backs of the industrial buildings around the rail tracks into the world´s longest continuous corridor of streetart. And the best part: This urban gallery is free and open to the public, so you can stop by whenever you feel like. As the track spans from the 5th Ave South of Chinatown between Royal Brougham Way and Spokane Street, it is visible for an average of 50,000 commuters, visitors, travellers daily by riding the light rail or Metro Transit bus South to the stadium station. You can also walk or cycle along the Sodo Trails to experience 20 artworks up close and personal. For further information visit: Sodotrack.com or 4Culture.org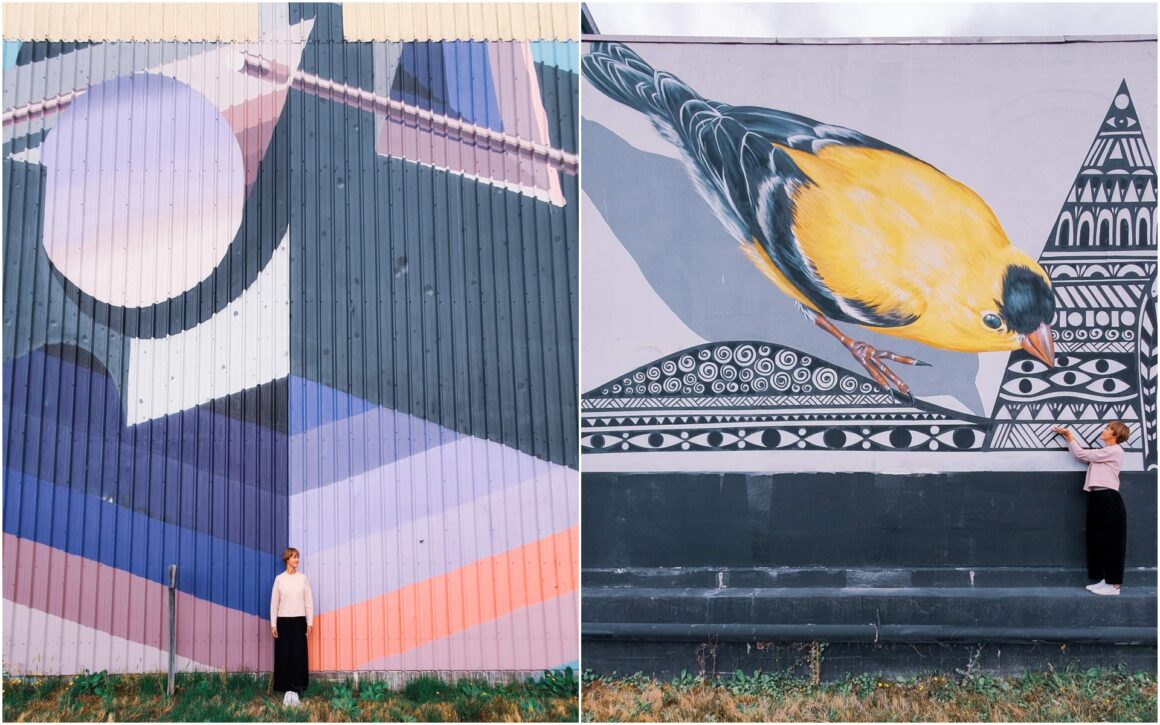 #9 Cinemarama – restored mid-century theater
Movie enthusiasts will love the restored mid-century theater located at 2100 4th Avenue, which today is yet again Seattle's No 1 theater for blockbuster premieres and cult classics. It already hosted several film festivals and serves chocolate popcorn. Cinemarama opened in 1963 but got in danger of being demolished after the suburban multiplexes gained in popularity during the 80s and 90s. In 1999 the theater re-opened after entrepreneur Paul Allen had saved Cinemarama by buying it and embarked a multi-million-dollar renovation. In 2014 Cinemarama again underwent a huge renovation and got upgraded with a state-of-the-art digital laser projection system, new screens, Dolby Atmos surround sound & cinema speaker system, wider seats etc. So if you are into the movies, you got to check out Cinemarama or even plan to watch a screening there!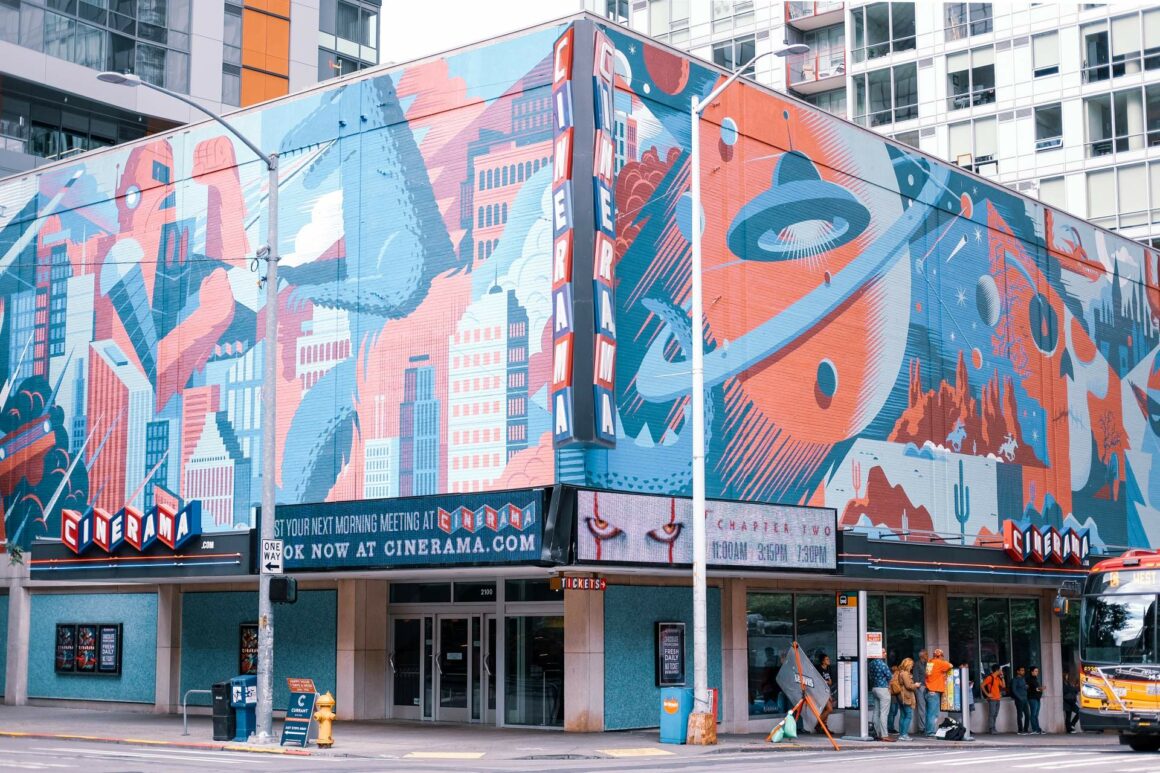 #10 Skyscrapers – Downtown Seattle
If you are into architecture and highrise buildings, you shouldn't miss walking around downtown and admire some views through the high-rise canyons. After moving from the skyscraper-mekka Shanghai to primarily flat Portland (Oregon) those unexpected sightings of Seattle's skyline and skyscrapers mentally threw us back right into the urban Asian jungle. And there are even some skybridges connecting adjacent buildings between 4th and 6th Avenue, from where you can enjoy some peticular impressive views.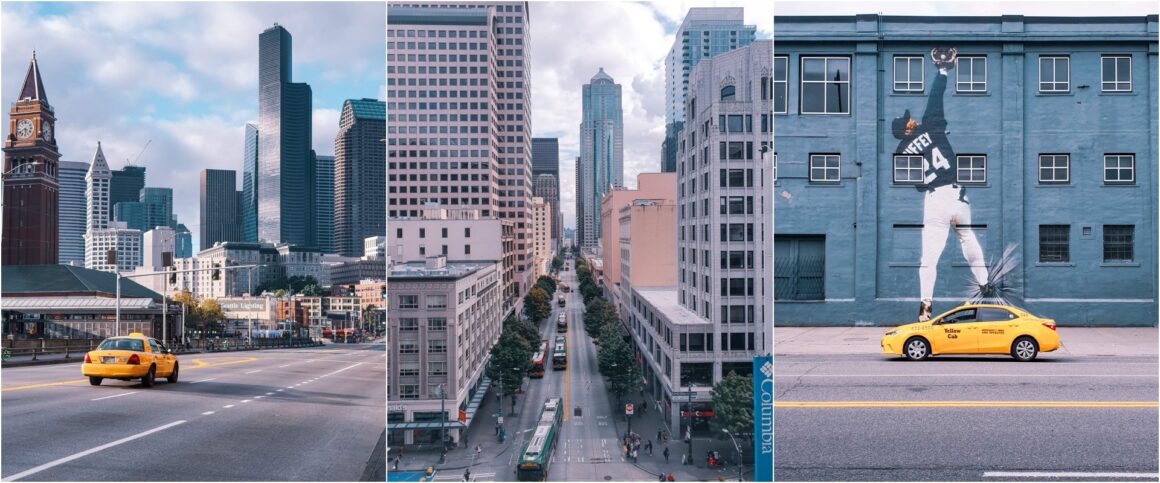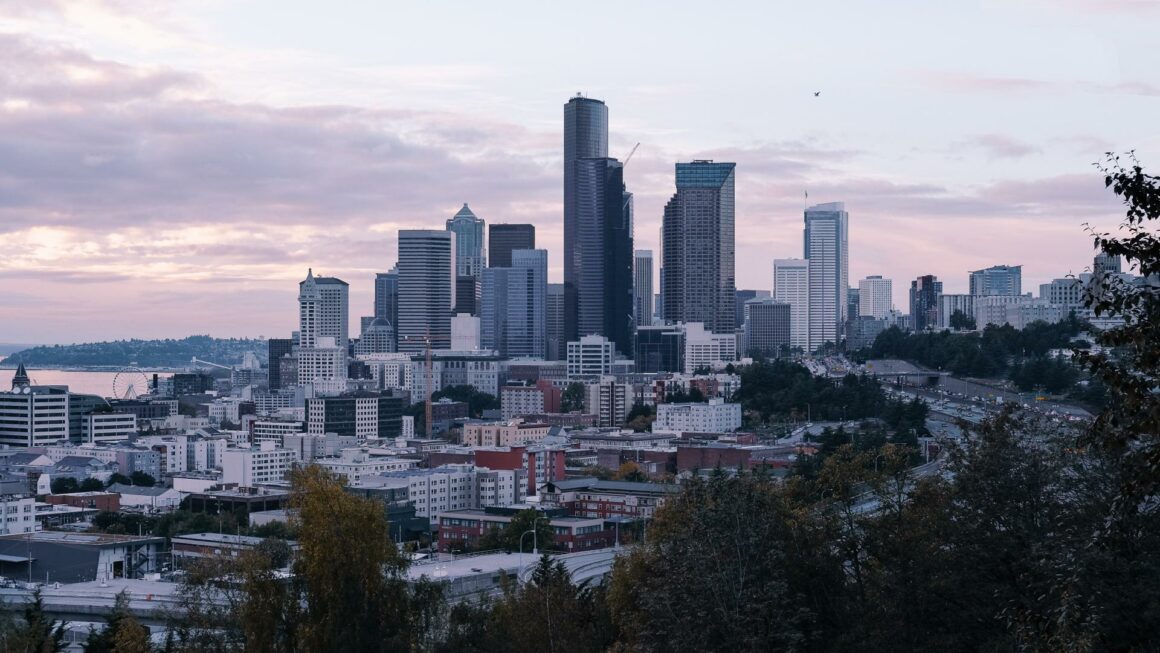 ---
***
QUESTIONS & COMMENTS?
Have you ever been to Washington State and explored bustling Seattle? Leave me a comment! Do you like the article, or still have any suggestions, feedback or recommendations? I am happy to read what you are thiking! If you like my content, please feel free to share this article with your friends!
***
LIKE IT? PIN IT & SAVE IT FOR LATER!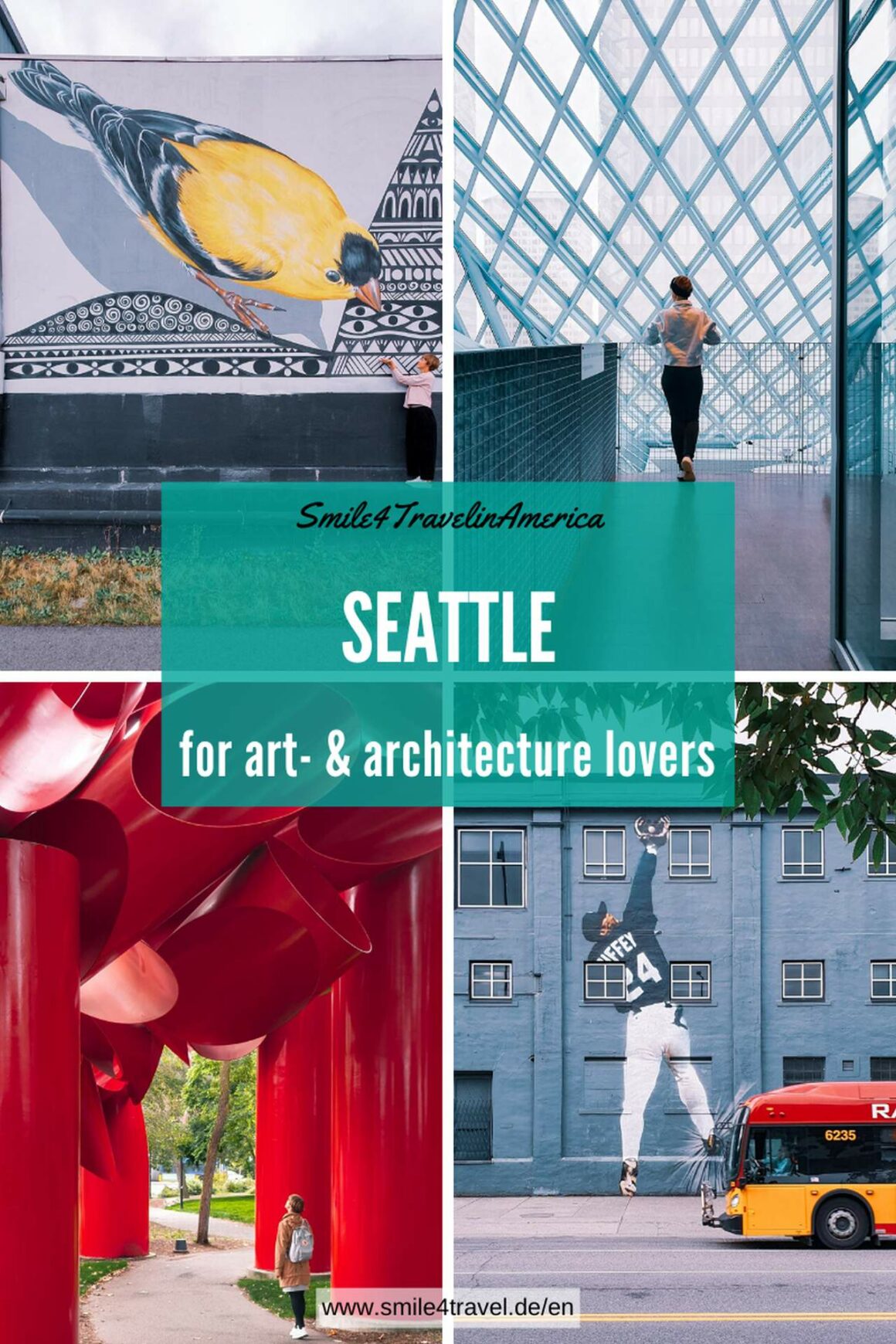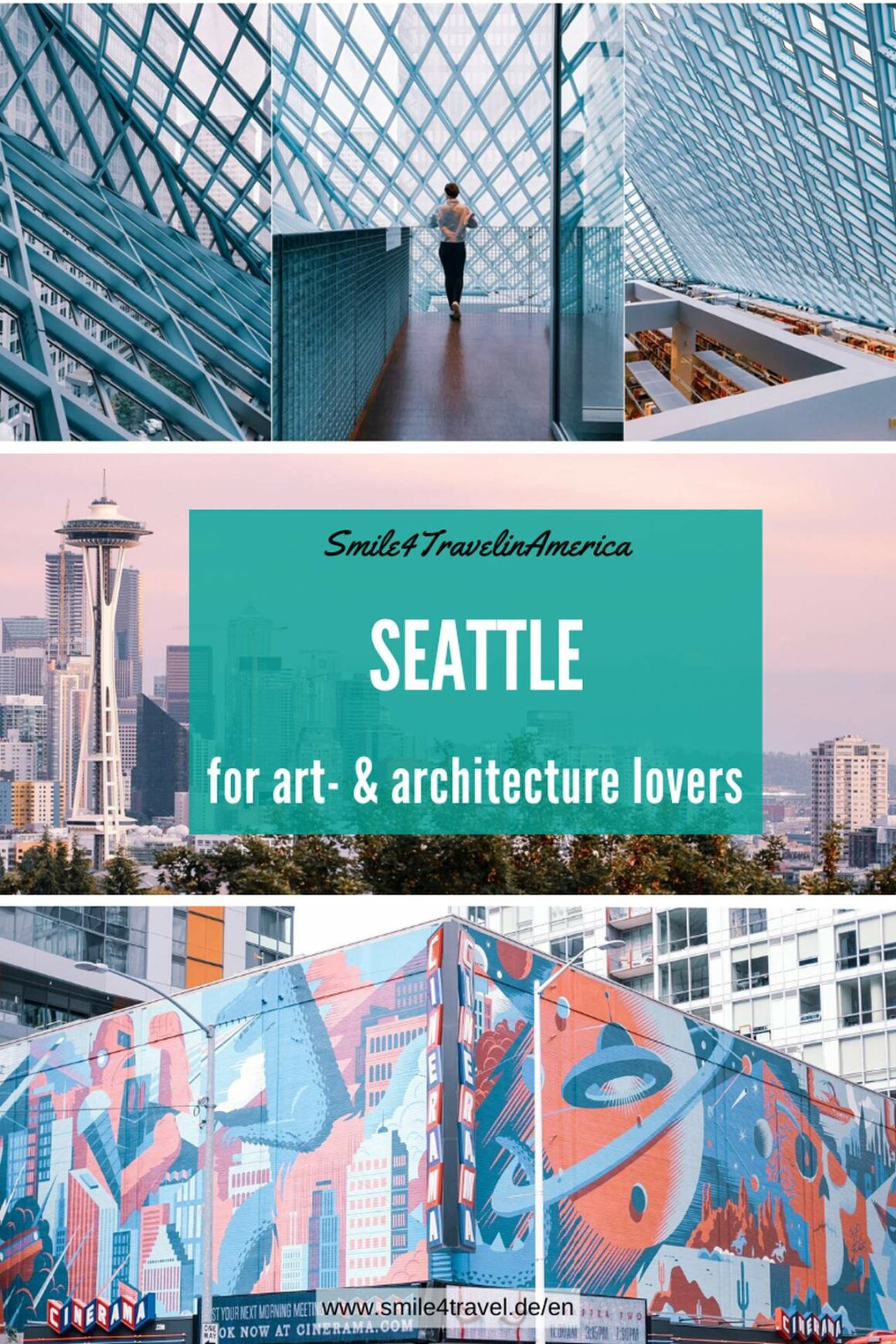 ---
***
 – SMILE4TRAVEL NEWSLETTER –
Become part of the Smile4Travel Community – Follow my Facebook Page & Instagram and register for my Newsletter, so you don´t miss any Smile4Travel adventures! No Spam – I promise!
[mailpoet_form id="1″]