Hangzhou, die Hauptstadt der chinesischen Provinz Zhejiang, liegt 170 km von Shanghai entfernt und ist mit dem Highspeed Train in weniger als einer Stunde vom Bahnhof Shanghai Hongqiao zu erreichen. Hangzhou mit seinem Westsee ist somit ideal, um dem Großstadtdschungel zu entfliehen und ein Wochenende in der Natur zu verbringen. Doch aufgepasst, Hangzhou ist nicht etwa ein kleiner Ort, sondern mit gut 6 Millionen Einwohnern eine beachtliche Stadt, die wie Shanghai auch mit einigen modernen Hochhäusern aufwartet. Auch wenn Hangzhou oft als Tagesausflug von Shanghai empfohlen wird, solltet ihr mindestens zwei Tage einplanen, um den Westsee und Hangzhou einigermaßen gemütlich erkunden zu können. Länger geht natürlich immer. Aber China bietet noch so viel mehr, die Zeit ist also rar. Was also unternehmen in Hangzhou? Die Stadt oder den Westsee erkunden, oder beides? Hier meine Top 10 Sehenswürdigkeiten in Hangzhou:
Hangzhou, the capital of China´s Zhejiang province, located 170 km from Shanghai, is reachable in less than one hour by highspeed train from Shanghai Hongqiao railwaystation. Hangzhou with its West Lake is ideal zu escape the hustle and bustle of the city and enjoy a weekend in the nature. But be aware: With a population of more than 6 million people Hangzhou is not a small town, rather a remarkable city with modern skyscrapers as known from Shanghai. Although Hangzhou is often recommended as a daytrip from Shanghai, I would advise to stay at least for two days to explore the West Lake and parts of the city. Of course it´s always possible to stay longer, but China has to offer so many great destinations and scenic spots, hence time is limited. So what to do in Hangzhou? Explore the city or the West Lake or both? Here are my top 10 things to do in Hangzhou:
#1 Der frühe Vogel fängt den Wurm | The early bird catches the worm
Wie nahezu überall in China müsst ihr an beliebten Orten mit sehr vielen einheimischen Touristen rechnen, vor allem an Wochenenden oder Feiertagen (Feiertage solltet ihr grundsätzlich meiden, um innerhalb Chinas zu reisen). Hangzhou gehört definitiv zu den Top Highlights für China-Reisende, egal ob international oder inländisch. Somit gilt auch am Westsee von Hangzhou: Früh aufstehen und gezielt die (Foto)Spots ansteuern, die ihr gerne für euch haben wollt – zumindest für ein paar Sekunden. Der Jixian Pavillion an der Ostseite des West Lakes war für mich definitiv ein solcher Ort. Und das frühe Aufstehen hat sich wahrlich gelohnt. Der See lag kurz nach Sonnenaufgang noch im Nebelschleier bevor sich langsam die Sonnenstrahlen ihren Weg bahnten und den Pavillion sowie die vorbeifahrenden Fischerboote mit sanftem Licht erhellten.
Like almost everywhere in China you have to expect lots and lots of local tourists at popular spots, especially on weekends or public holidays. (You should actually try to avoid travelling in China on public holidays in general). And Hangzhou definitely is one of the highlights for China travellers, no matter if international or domestic. That means: Also when visiting the West Lake you should get up early if you want to head to specific (photo)spots, which you ideally want to have for yourself – at least for a couple of seconds. The Jixian Pavilion for example was one of these places for me. And the early wake-up was worth it. Just after sunrise the lake was still covered in mist, before the sunrays slowly came through and gently lightened up the pavilion and the fisherboats passing by.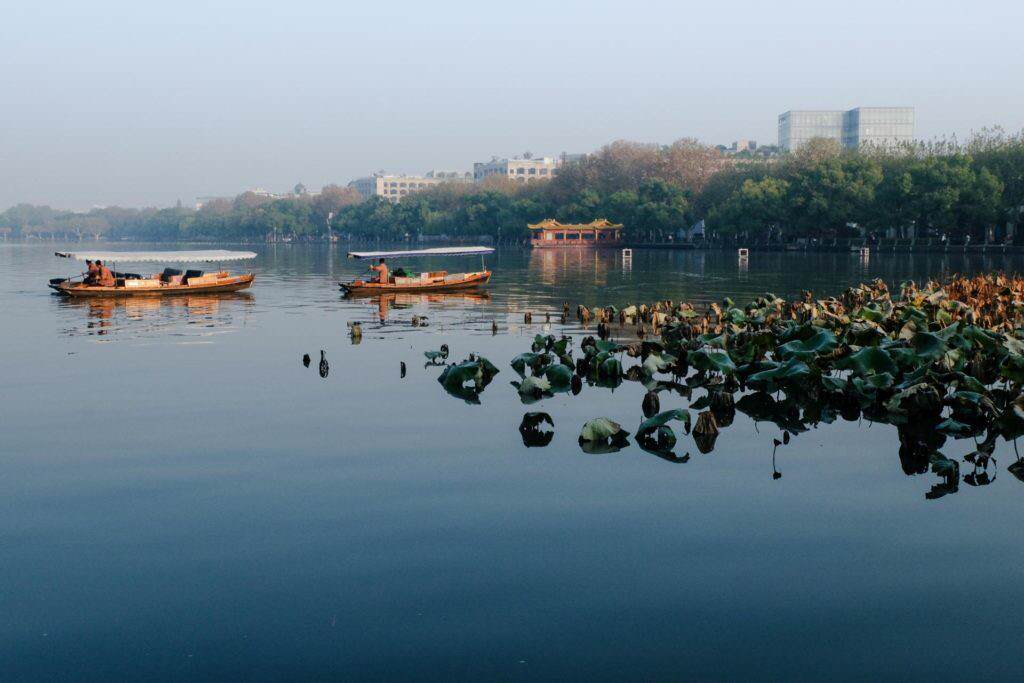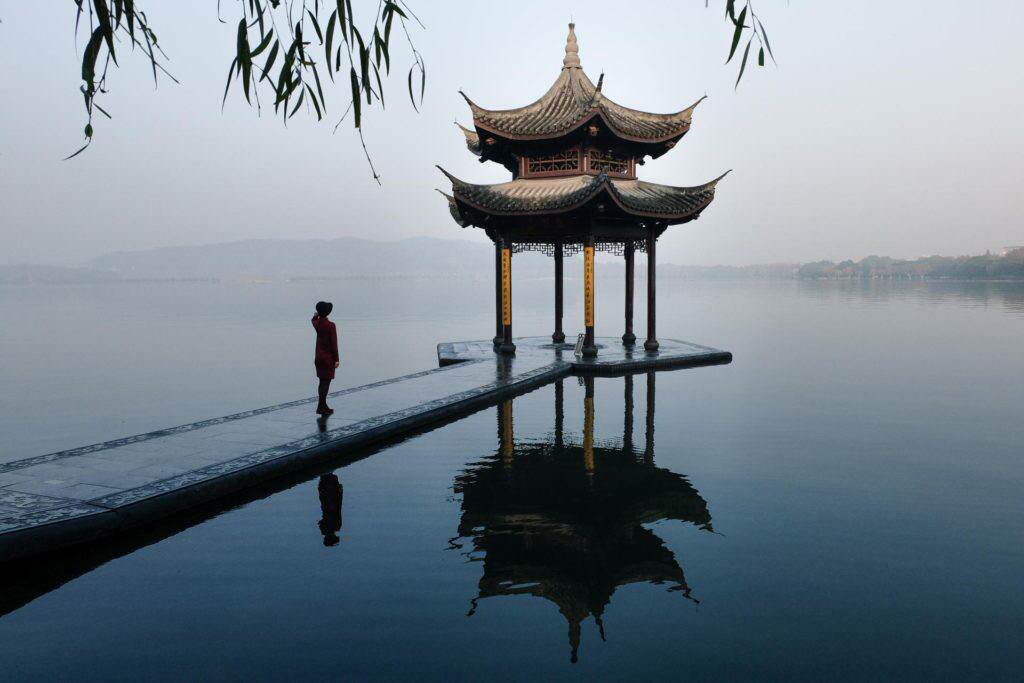 Doch aufgepasst: Chinesen sind die unangefochtenen Selfie-Meister. Also denkt nicht, dass ihr an solch Instagrammable Orten wie diesem nur junge Fotografen antrefft! Ob jung oder alt: Geposed wird in China immer und das ohne Rücksicht auf Verluste… 🙂
But watch out: The Chinese are the undisputed Selfie-masters. So don´t think that you will share an Instagramable place like this only with young photographers! Whether young or old: Posing passionately in front of scenic spots is something you will not find anywhere else outside China to such an extent. And everybody thinks his or her picture is the most important, of course… 🙂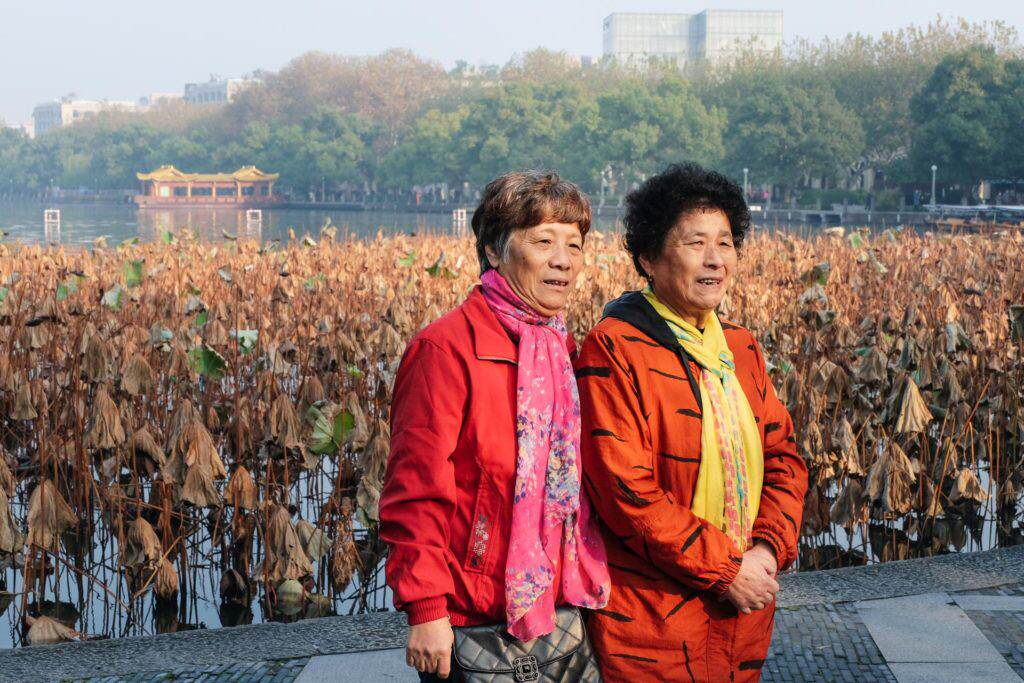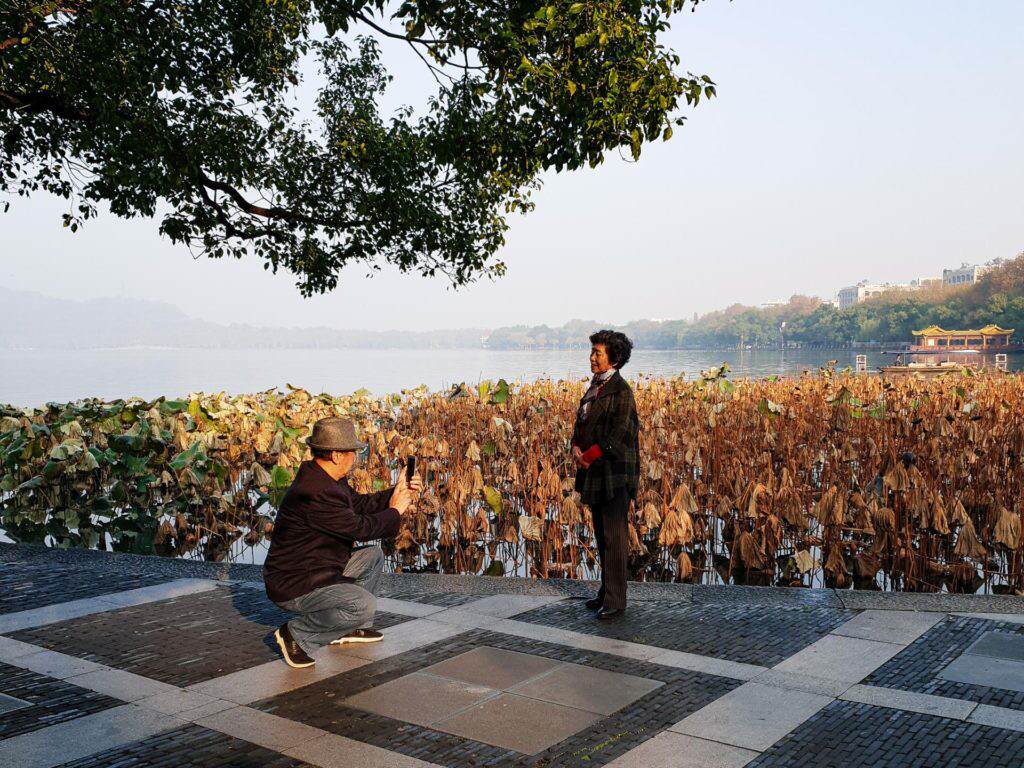 #2 Tai Chi, Gymnastik und Diskofox am Westsee |
Tai Chi, morning workout and dancing around the West Lake
Ein weiterer lohnenswerter Grund früh aufzustehen sind die unzähligen Gruppen und Einzelkämpfer, die sich zum Tai Chi, Frühsport, Tanzen oder Singen in den Parks, am Ufer des Westsees und vor den zahlreichen Tempeln treffen. Alle paar Meter dröhnen lautstark die unterschiedlichsten Musikstile aus mitgebrachten Lautsprecherboxen. Und obwohl es auf den ersten Blick scheint als würde jeder den anderen übertönen wollen, ist doch jeder für sich komplett in seinem Element. Amüsant und zugleich faszinierend anzusehen.
Another reason why it´s worth to get up early are all the local people doing their thing: Be it Tai Chi, morning workouts, dancing or singing in the parks, at the lakeside or in front of many temples. Every few meters the most different music styles roar loudly out of brought along speakers. And even though it looks like they are all competing with each other, everybody seems to be in his or her own element. It´s really amusing and fascinating to watch!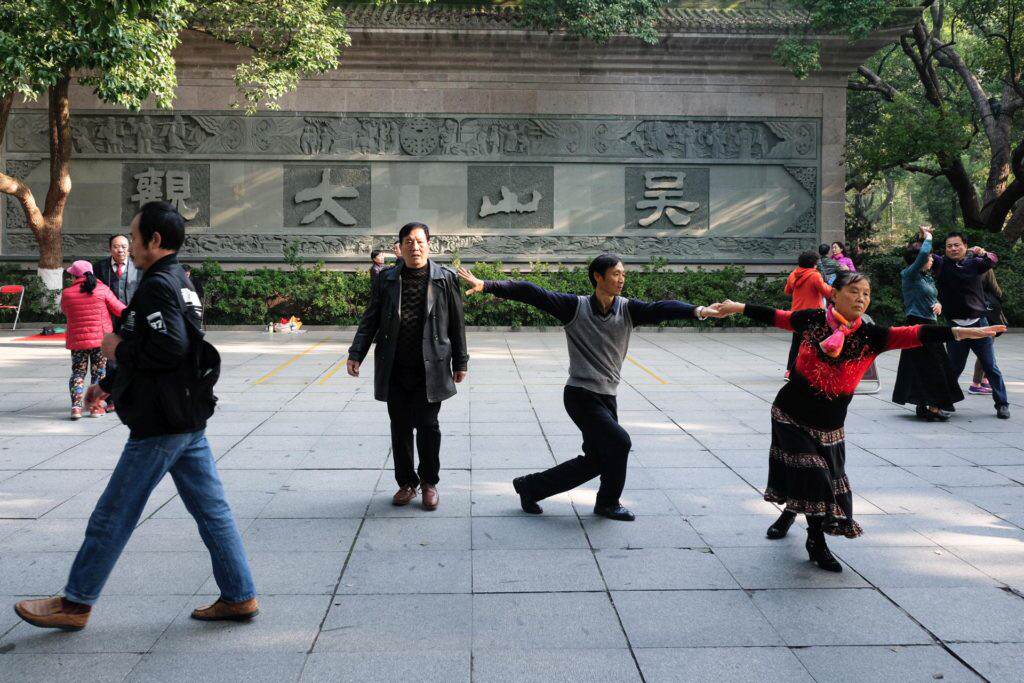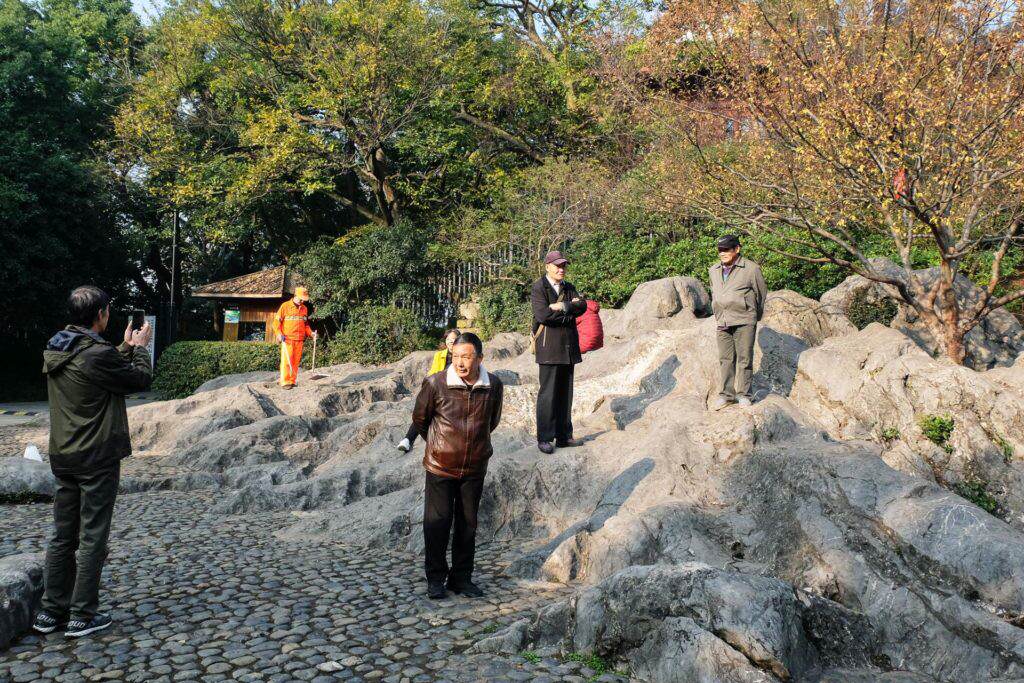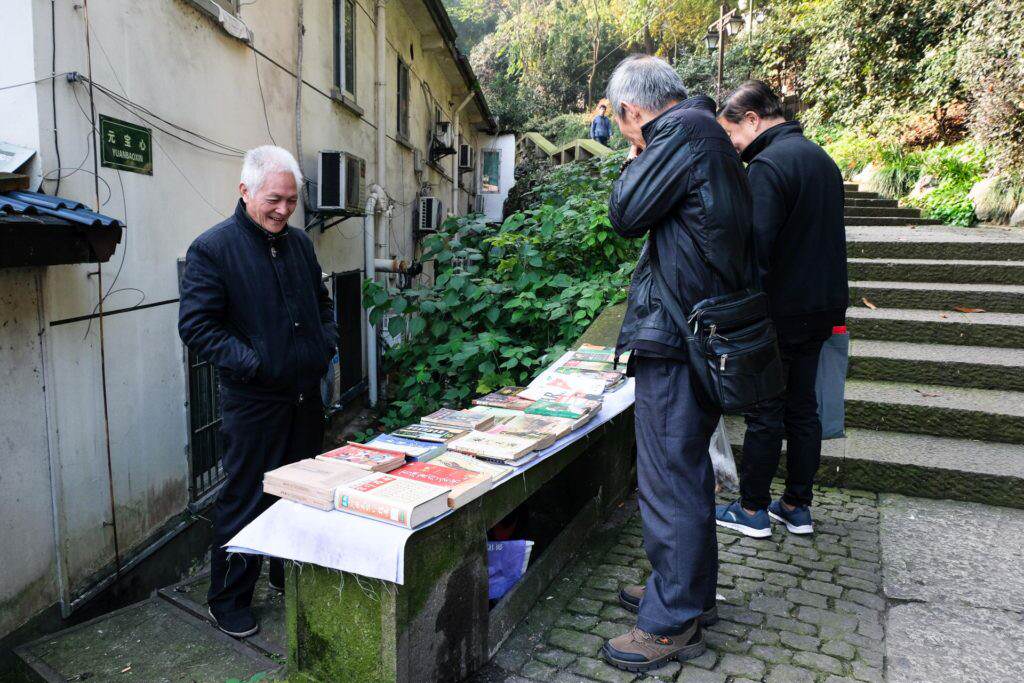 #3 Mit dem Fahrrad um den Westsee | Cycle around the West Lake
Der einfachste und komfortabelste Weg Hangzhous Westsee zu erkunden ist mit dem Fahrrad. Überall um den See verteilt gibt es Fahrräder und Leihstationen. Für einige Anbieter muss man sich registrieren, andere Räder der bekannten Marken wie Ofo oder MoBike, können einfach mit der entsprechenden App entriegelt werden. Abstellen müsst ihr das Fahrrad immer, wenn ihr die große Straße verlasst, die den Westsee umrundet. Doch keine Sorge, ihr werdet nach jedem Spaziergang in einem der Gärten, zu einem Tempel, oder nach einem Bootsausflug wieder einen Drahtesel finden, mit dem ihr weiterradeln könnt.
The easiest and most comfortable way to explore the West Lake of Hangzhou is by bike. There are bike rental options everywhere. For some providers you need to register, some bikes from popular brands like Ofo or MoBike, you can just unlock with your App. Everytime you leave the main road surrounding the Westlake, you need to lock your bike. But don´t worry: You will definitely get another one when you come back from your stroll in any of the gardens, temples, or after taking a boat tour.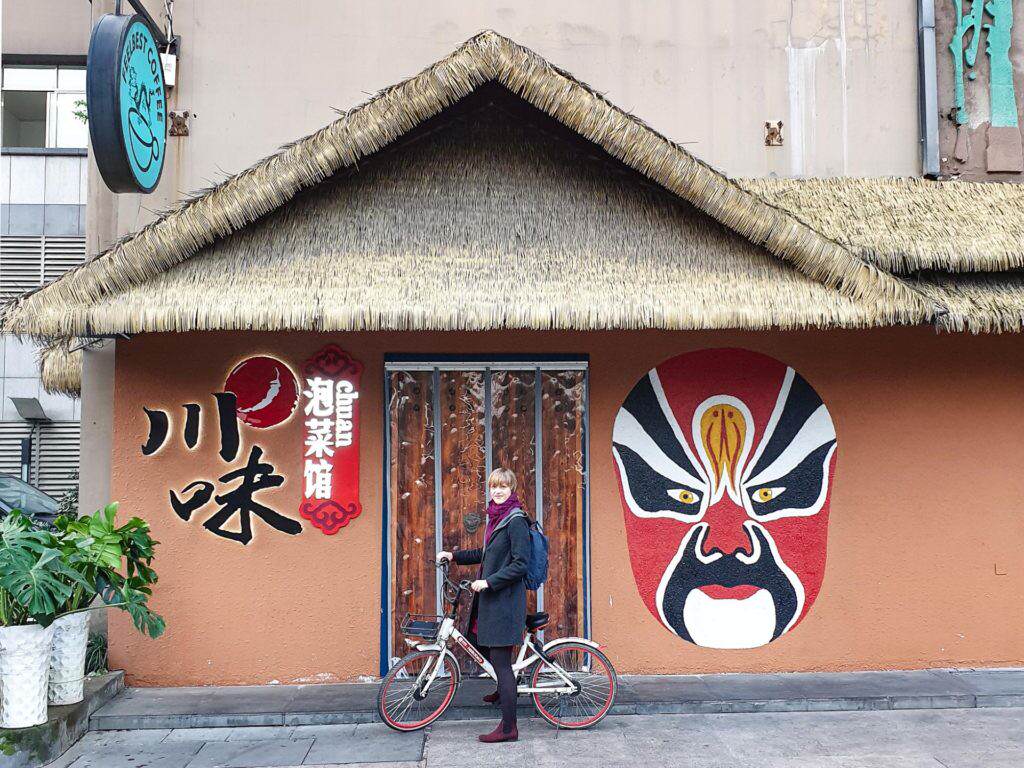 #4 Mit dem Boot über den Westsee von Hangzhou cruisen |
Take a boat and cruise the West Lake of Hangzhou
Wenn ihr Hangzhous Westsee vom Wasser aus genießen wollt, steigt auf eines der unzähligen kleinen oder großen Holzschiffe, die von diversen Anlegestellen rund um den See starten und Besucher zum Mittelpavillion und zur Xiaoying Insel bringen. Selbstudernde Boote stehen für ausländische Touristen leider nicht zur Verfügung, zumindest nicht ohne chinesische Begleitung. Nur ein Grund, warum wir eine Bootsfahrt über den Westsee ausgelassen und uns das rege Treiben auf dem Wasser lieber vom Ufer aus angesehen haben.
If you want to enjoy the West Lake of Hangzhou from the water, take one of the bigger or smaller wooden cruise boats, which shuttle visitors from many different stations at the banks of the West Lake to the Mid Pavilion and Xiaoying Island. For foreign tourists the self-rowing boats are only available with a Chinese escort. That´s one reason, why we skipped the boat tour, but instead watched the busy waterways from the banks.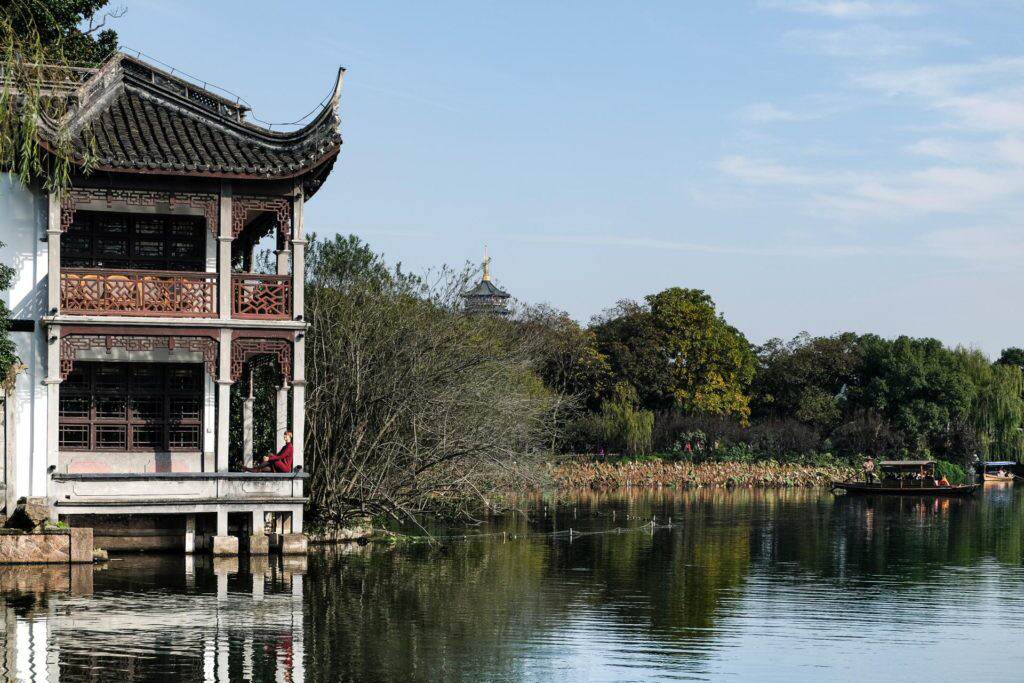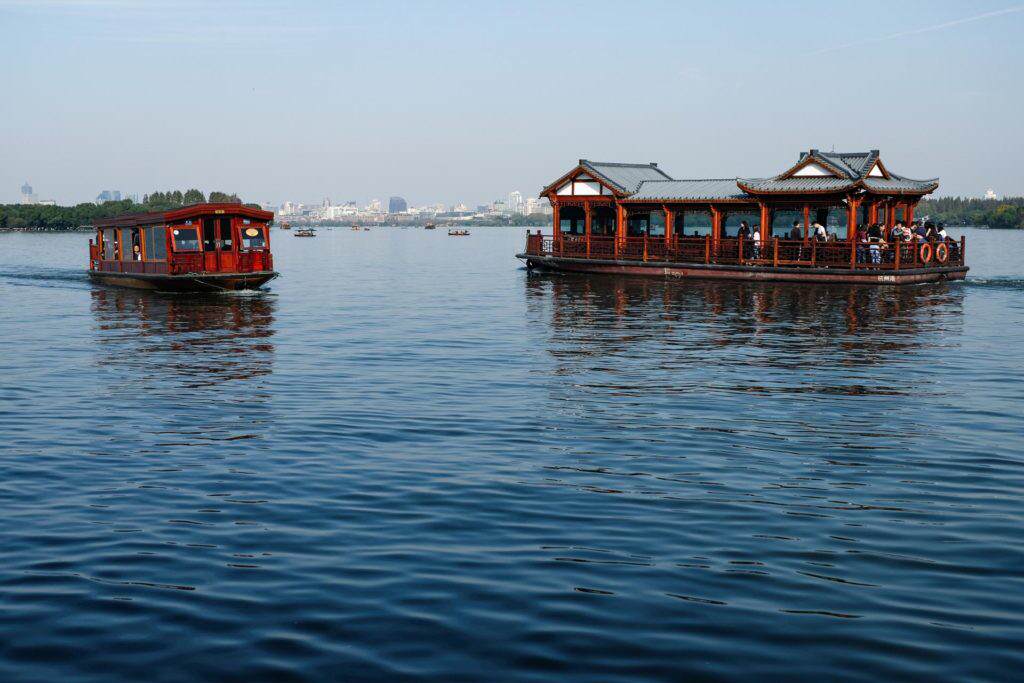 #5 Causeways vermeiden, wenn ihr keine Menschenmassen mögt |
Avoid the Causeways, if you don´t like crowds
Hangzhou´s Westsee wird von zwei Dämmen durchzogen, dem langen Su Causeway, der im Westen von Nord nach Süd führt, sowie dem Bai Causeway, der das Nordostufer mit der Gushan Insel verbindet. Beide Fußwege sind von chinesischen Reisegruppen übervölkert, die gemächlich von einem Ende zum anderen schlendern, dabei stets ihren Reiseleitern mit Fahne und lautstark krächzendem Mikrofon folgen, sich an den unzähligen Essensständen tummeln, oder im Hochzeitskleid krampfhaft versuchen romantische Fotos zu schießen. Ein Erlebnis allemal. Doch, wem das Getümmel zu viel wird, sollte versuchen so schnell wie möglich das Weite zu suchen, Möglichkeiten gibt es rund um den Westsee genügend. Fahrradfahren ist auf beiden Dämmen übrigens nicht erlaubt.
You can also cross Hangzhou´s West Lake by foot via two causeways: The long Su Causeway leads from the North to the South side in the West and the shorter Bai Causeway connects the Northeast bank with Gushan Island. Both causeways are overpopulated with Chinese tourist groups, that stroll from one end to the other, following their flag-carrying guides with yelling loudspeakers, gathering around the foodstalls or trying desperately to take romantic pictures in their wedding dresses in between the crowds. It´s definitely an experience and amusing to watch. But if you cannot stand the crowds and the volume, get off the causeways. There are many opportunities to find more quiet places around West Lake. By the way: Biking on both causeways is not allowed.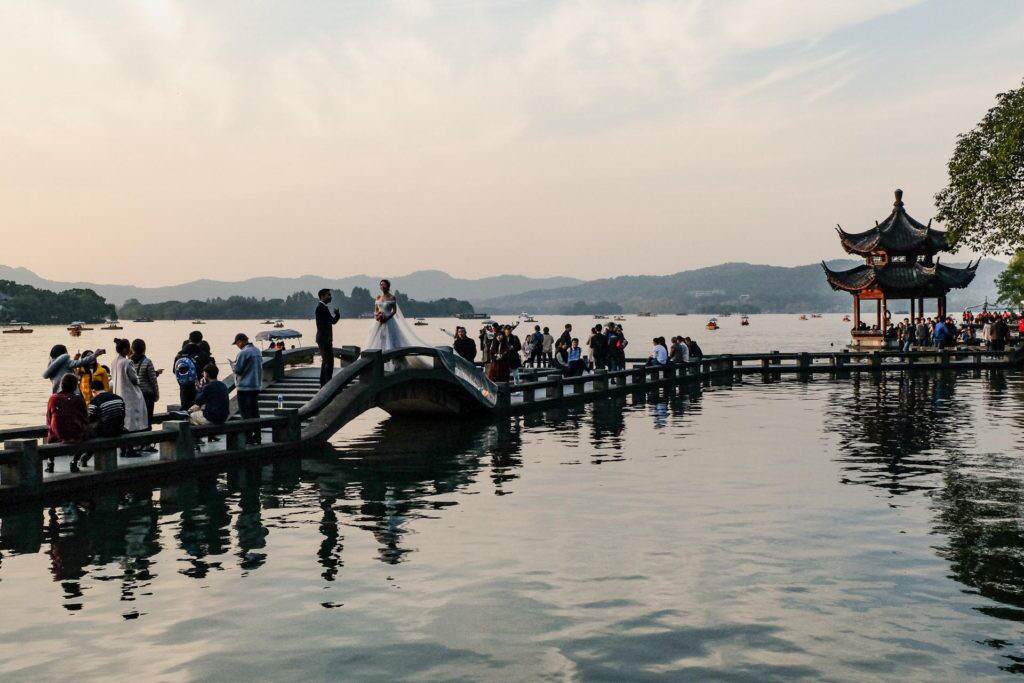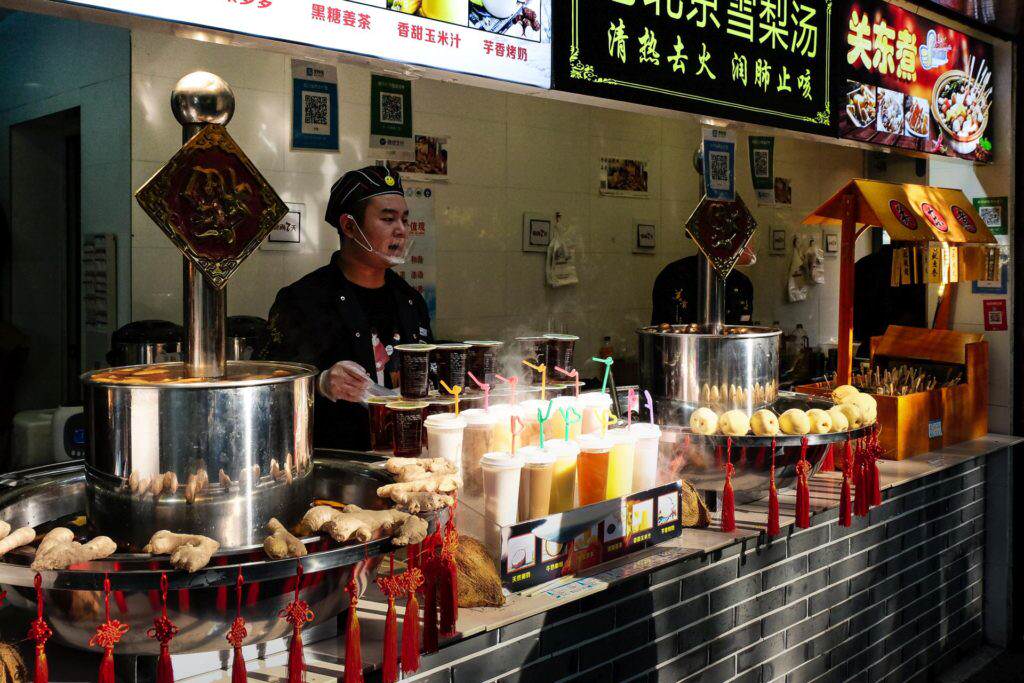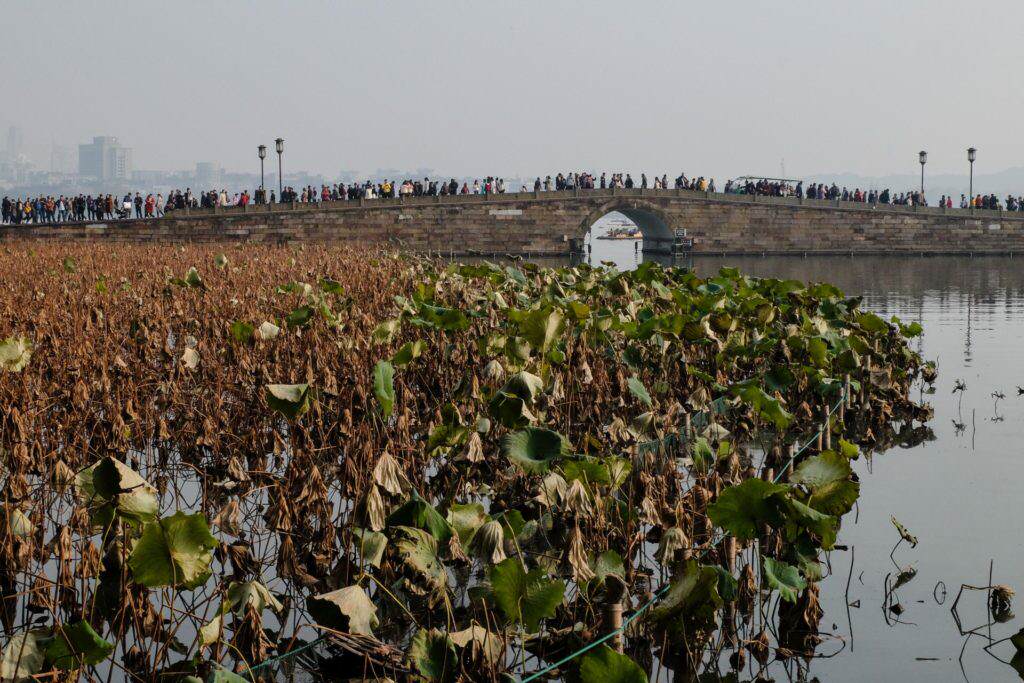 #6 Stadtgott Pavillion / Chenghuang Tempel Hangzhou |
City of God Temple / Chenghuang Pavilion Hangzhou
Der "Tempel des Stadtgottes" (Chenghuang Pavillion) liegt auf dem Wushan Hügel im Südosten des Westsees. Der Wushan Hügel ist die einzige Anhöhe im Innenstadtgebiet von Hangzhou. Seit alten Zeiten wird der Wushan Berg aufgrund seiner Vogelperspektive verehrt, die er über den Qiantang Fluss, den Westsee mit seiner umliegenden Hügellandschaft sowie die Stadt Hangzhou bietet. Wenn ihr also nach einem spektakulären Ausblick sucht, macht euch auf zum Wushan Hill!
The City God Temple (Chenghuang Pavilion) sits on top of Wushan Hill in the Southeast of the lake. Wushan Hill is the only one among all West Lake hills that is located downtown Hangzhou. Since ancient times the hill has been treasured for the bird´s eye view from its top, overlooking the Qiantang River, the West Lake, the hills around and the city of Hangzhou. So if you wanna get a spectacular vista, head up Wushan Hill!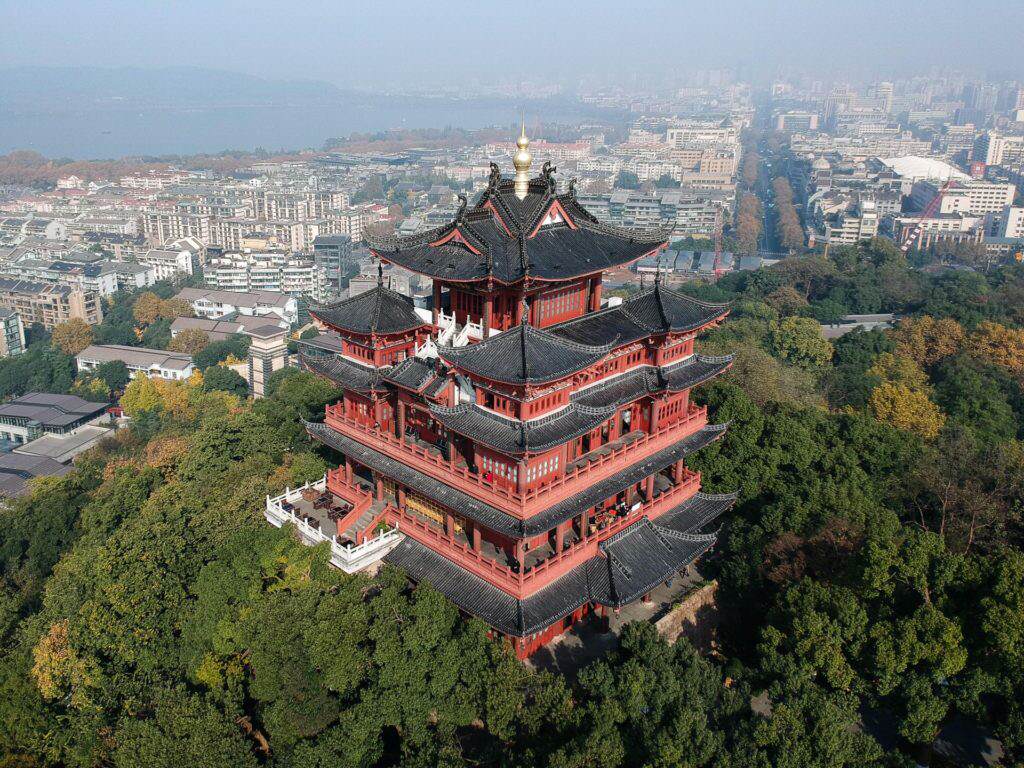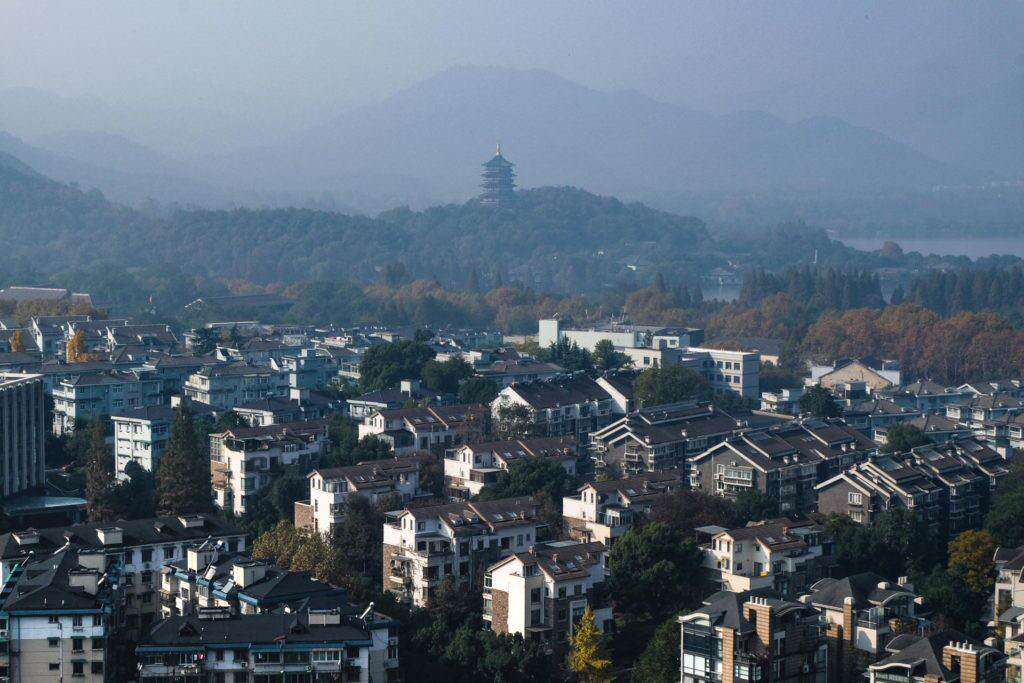 #7 Die Innenstadt von Hangzhou erkunden | Stroll around downtown Hangzhou
Wenn ihr den Wushan Hügel nach Osten Richtung Zhongshan South Road verlasst, landet ihr in einem nicht zu stark von Touristen besuchten Teil der Innenstadt. Wenn ihr also Lust habt etwas in das alltägliche Leben der Hangzhouer einzutauchen, seid ihr hier genau richtig. Vor allem am Vormittag, wenn die Einheimischen zum Einkaufen auf die Straßen gehen und ihr schon mal vorfühlen könnt, was eventuell am Abend auf eurem Teller landen könnte…
When descending the City God Temple to the East, in direction of Zhongshan South Road, you might wander around downtown to discover Chinese daily life. It´s particularly interesting in the mornings, as many locals go for grocery shopping. You can already get an overview what could land on your plate for dinner…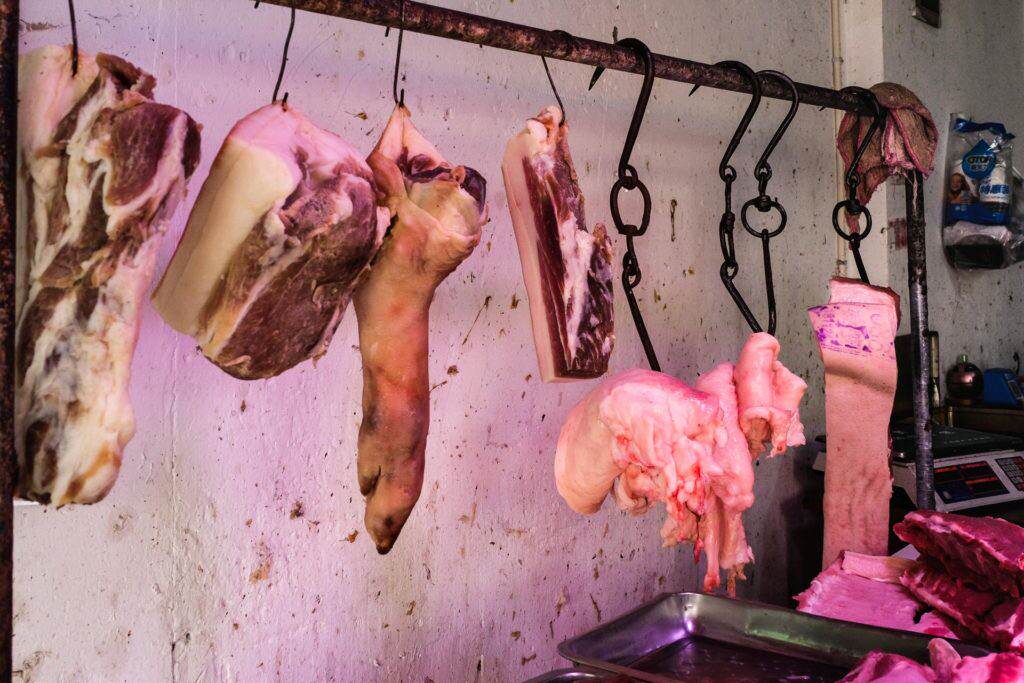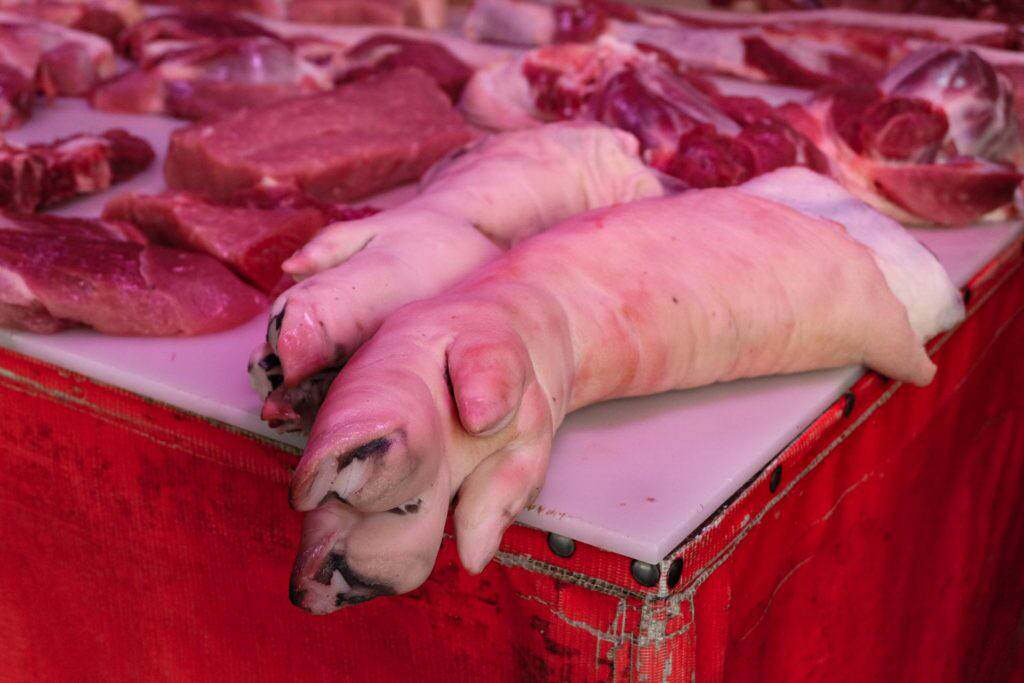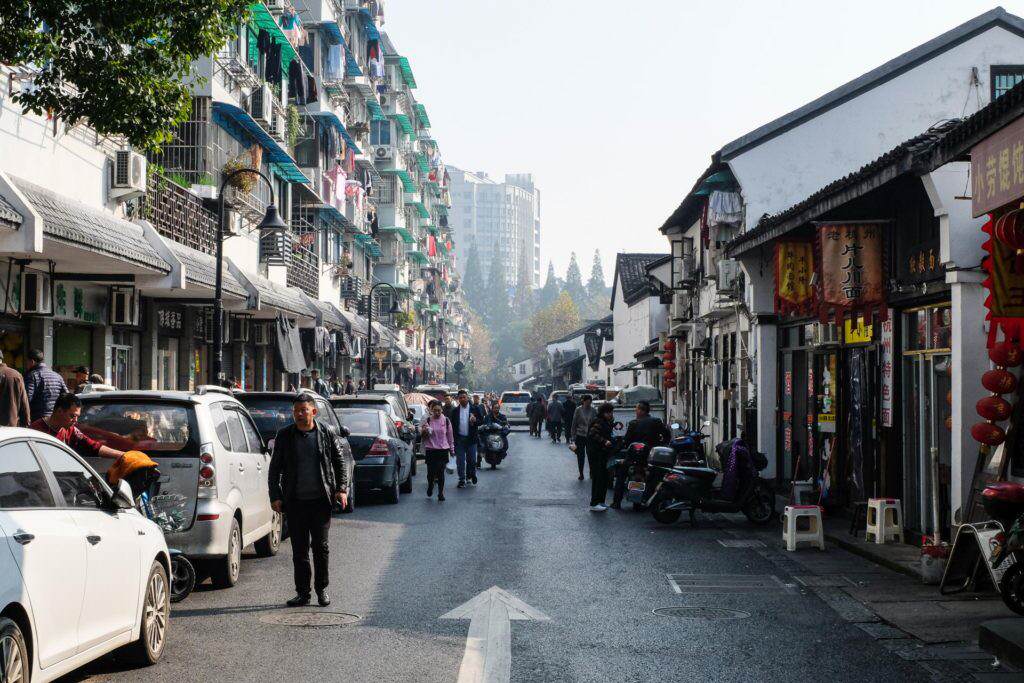 #8 Erklimmt die Leifeng Pagode für den besten Blick auf den Westsee |
Climb up Leifeng Pagoda for the best view over Hangzhou´s West Lake
Am Südufer des Westsees auf einem kleinen Hügel liegt die buddhistische Leifeng Pagode, die aufgrund ihrer goldenen Spitze nicht zu verkennen ist. Die Original-Pagode von 977 AD ist 1924 eingestürzt, wurde aber Anfang der 2000er wieder aufgebaut. Freigelegte Reste der ursprünglichen Konstruktion können im unteren Bereich der Pagode besichtigt werden. Doch das eigentliche Highlight ist der Blick vom oberen Stockwerk der Leifeng Pagode auf den Westsee. Zu empfehlen vor allem in den späten Nachmittagsstunden, wenn die Sonne schon etwas niedriger steht und so den See und die Skyline von Hangzhou in der Ferne anstrahlt.
On a tiny hill at the Southbanks of Hangzhou´s West Lake lies the eye-catching buddhist Leifeng Pagoda, which is easy to spot because of its golden spire. The original pagoda from 977 AD collapsed in 1924, but was rebuilt at the beginning of the 2000´s. You can spot some ruins at the buttom of the pagoda. But the undisputed highlight is the view over Hangzhou´s West Lake from the top of the Leifeng Pagoda. I would recommend to go there in the late afternoon hours, when the sun is low already and subtly illuminates the West Lake and Hangzhou´s skyline in the distance.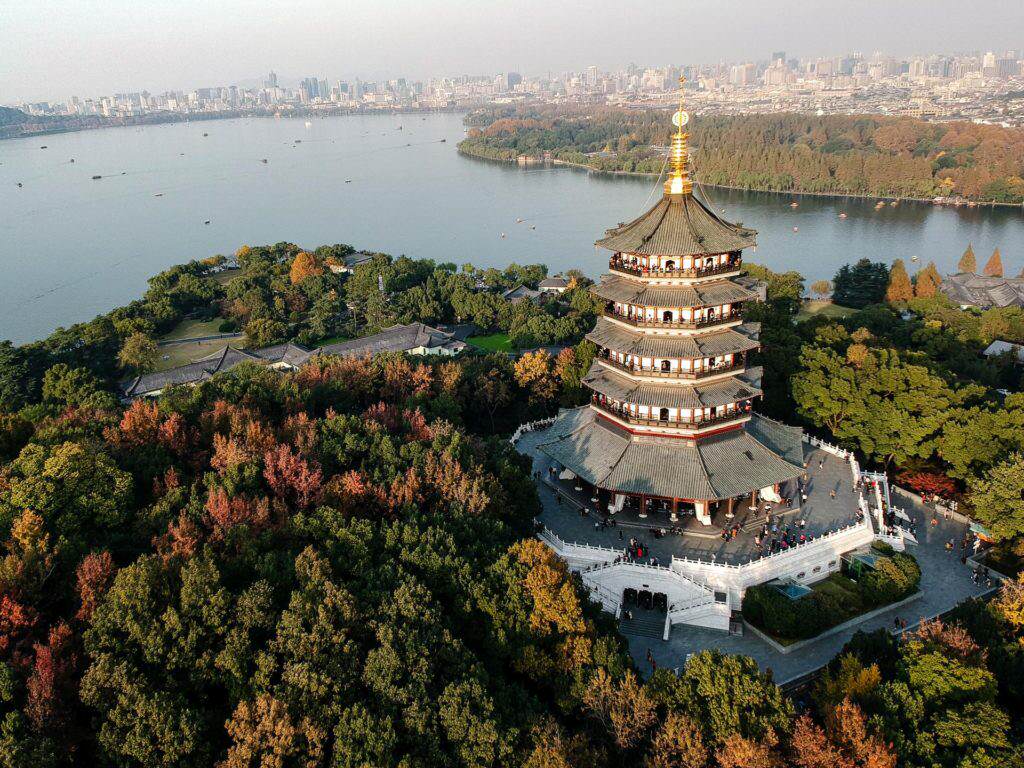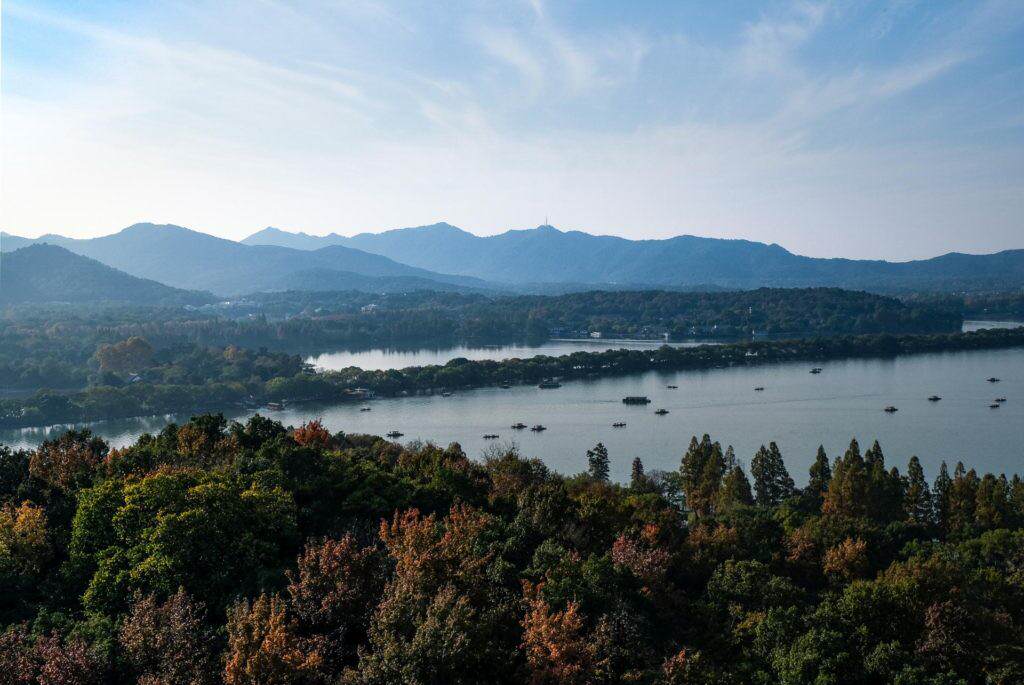 Wie überall in China wird es den Besuchern sehr leicht gemacht, Aussichtspunkte bequem und ohne viel Eigeninitiative zu erklimmen. Doch was ich hier gesehen habe, verschlägt mir für ein paar Sekunden die Sprache: Eine Rolltreppe(!) führt den Hügel hinauf zum Eingang der Leifeng Pagode. Und im Inneren der Pagode transportieren anschließend Fahrstühle die zahlreichen Besucher von unten nach oben und zurück. Natürlich ist die Schlage vor den Fahrstühlen lang. Man steht sich doch lieber ein paar Minuten die Beine in den Bauch, um dann bequem nach oben gefahren zu werden…
Like everywhere in China comfortable ways have been established for visitors to reach viewpoints easily and without putting to much effort into getting up somewhere. But what I spottet here, left me speechless for a couple of minutes: There is actually an escalator(!), which takes people up the tiny hill to the entrance of the pagoda, from where elevators transport them up for the rest of the way. And of course there are queues in front of the elevators. Most Chinese prefer standing around waiting than walking up the stairs themselves…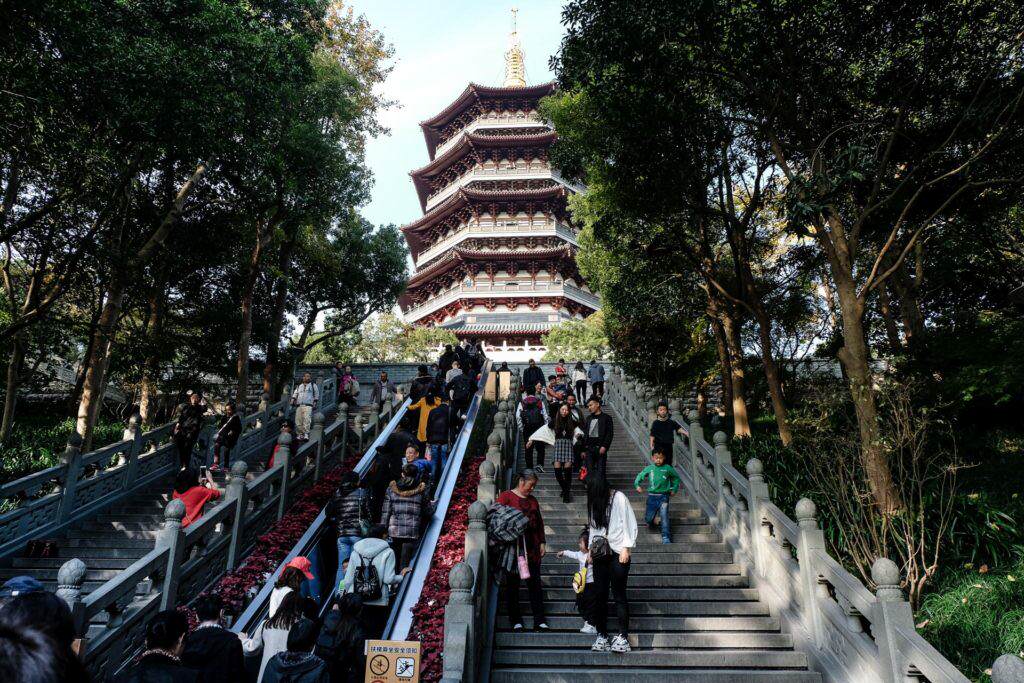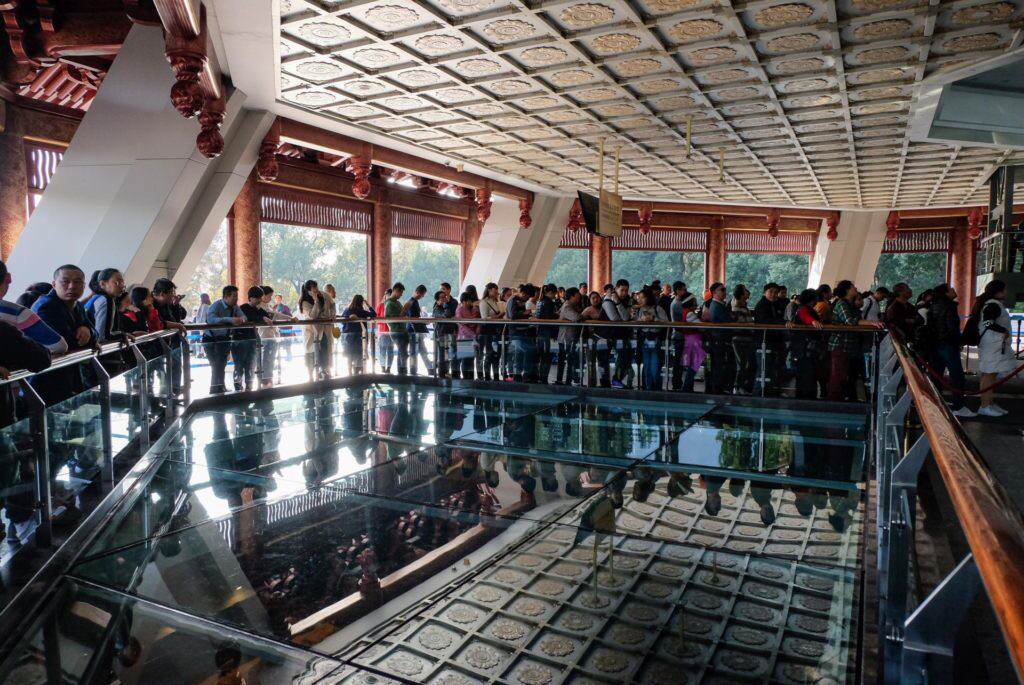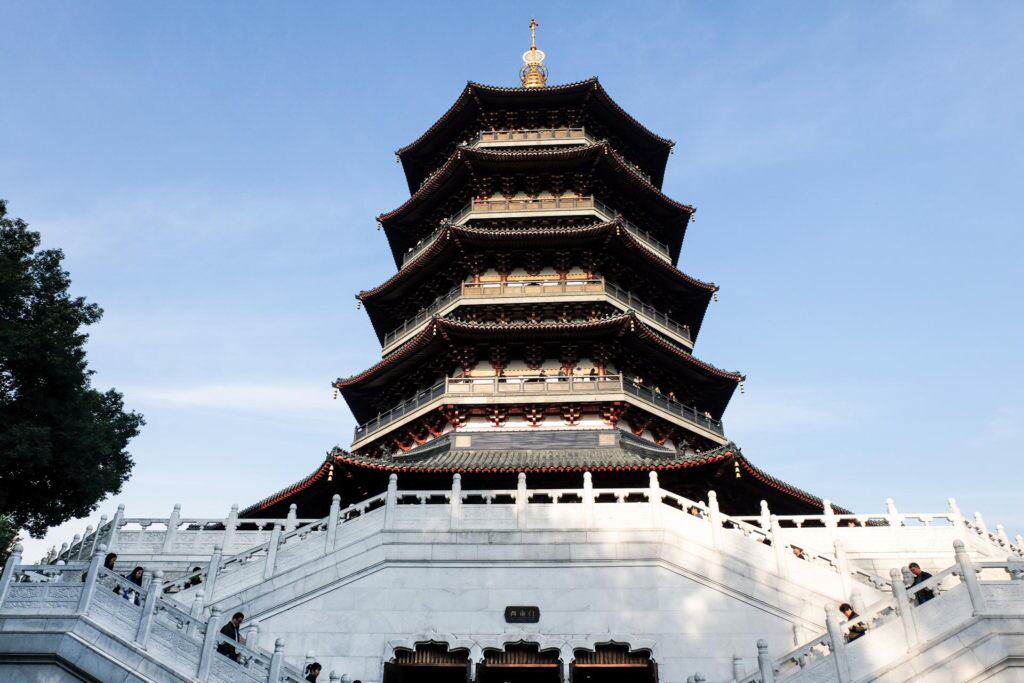 #9 Sonnenuntergang über dem Westsee: Auf jeden Fall von der Ostseite | View the sunset from the East side of the West Lake
Zwar geht im Osten die Sonne auf, doch ist die Ostseite des Westsees auch gleichzeitig seine schönste Seite, um den Sonnenuntergang zu bewundern. An einem freundlichen Tag haben dies allerdings so gut wie alle Besucher von Hangzhou auf dem Plan. Also freundet euch direkt mit dem Gedanken an, dass ihr nirgends auch nur annähernd alleine sein werdet! Brautpaare, traditionell gekleidete Touristengruppen, Selfiejäger und natürlich alle chinesischen Reisegruppen tümmeln sich hier, soviel steht fest. Doch es hat schon was, wenn der rote Feuerball hinter dem Ufer des Sees langsam verschwindet, sich der Himmel orange färbt und die Leifeng Pagode förmlich in den Schatten stellt. Glücklich ist derjenige, der noch ein vorbeifahrendes Ausflugsboot erwischt, bevor diese auch langsam ihre Fahrten für den Tag einstellen. Ein gelungener Abschluss eines sonnigen Tages. Und danach?
Though the sun rises in the East, the East Side of the West Lake is also the best spot to experience the sunset. But on a sunny day this will be the idea of almost everybody visiting Hangzhou, so don´t be illusioned: You will definitely be not alone there! Wedding couples, traditionally dressed tourist groups, selfie-hunters and of course all the Chinese tourist groups will be around. But still: There is a kind of magic in the air, when the red fireball sets slowly behind the lake, coloring the sky in shades of orange and literally overshadows Leifeng Pagoda. Consider yourself lucky if you manage to catche one of the cruise boat passing by, before they are also closing down after a busy day. What a perfect ending of a sunny day.  And afterwards?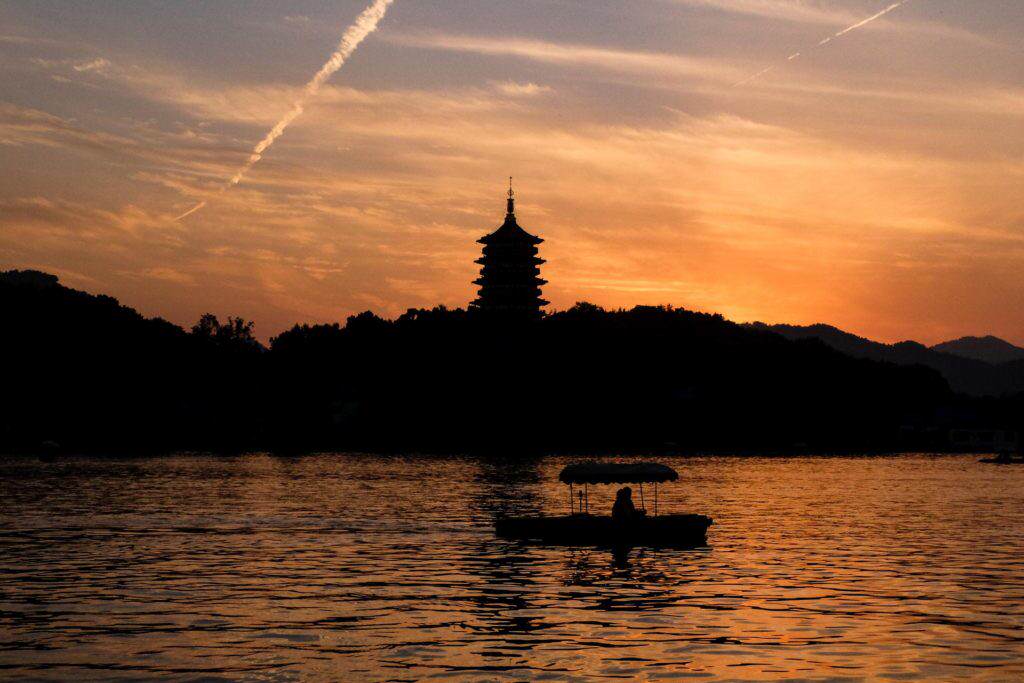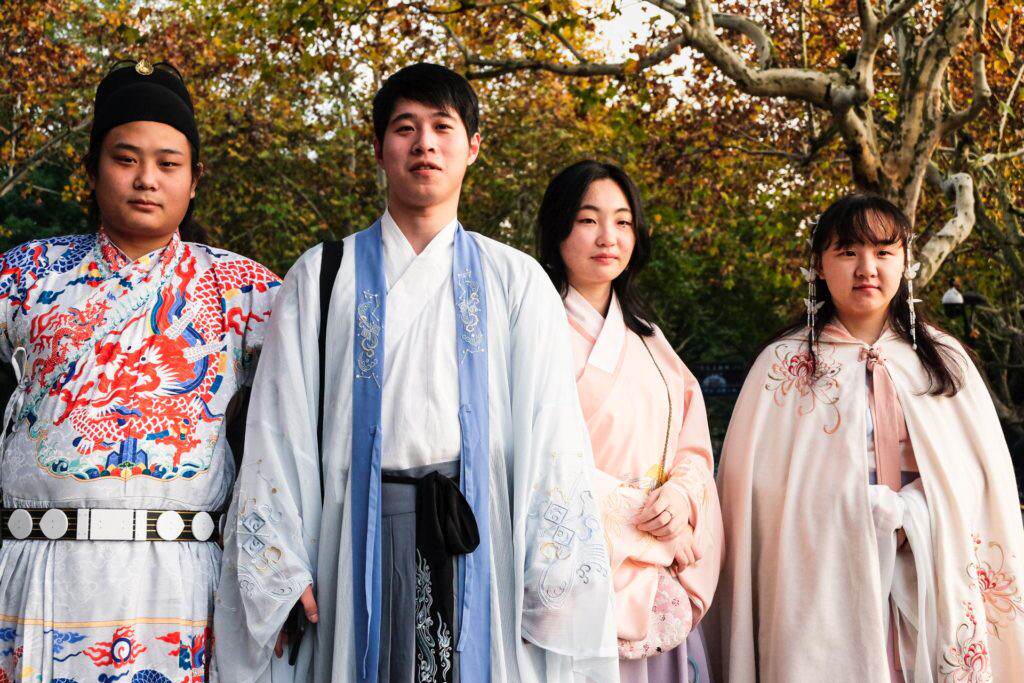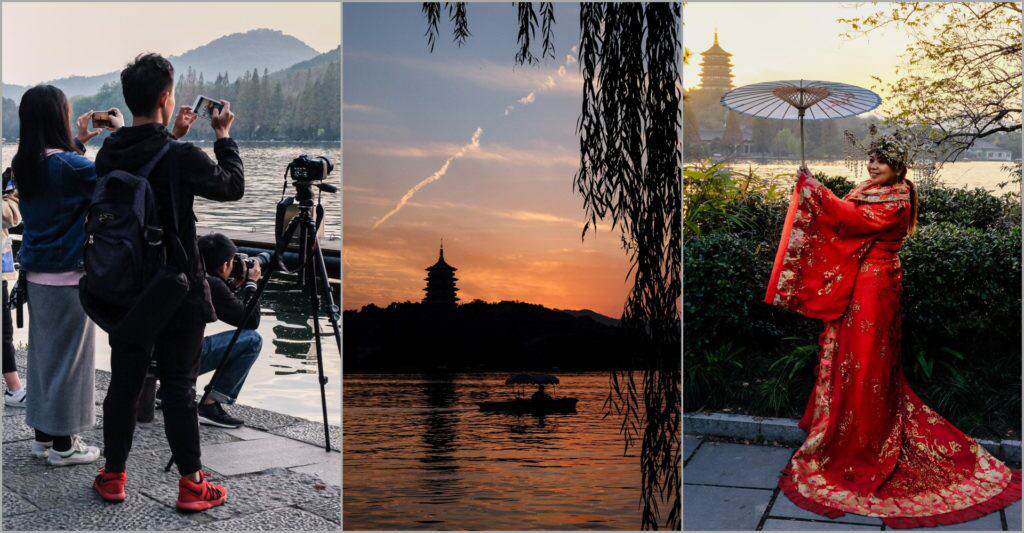 #10 Auf der Qinghefang Old Street den Abend authentisch ausklingen lassen |
End the day authentic on Qinghefang Old Street
Diese belebte Füßgängerzone ist touristisch und überfüllt und am Ende des Tages sehr ähnlich zu allen altertümlichen Straßenzügen in anderen chinesischen Städten. Aber um euren Tag authentisch chinesisch abzuschließen, gehört es irgendwie dazu an lokalen Essenstsänden, kitschigen Souvenirgeschäften und traditionellen Medizinläden vorbeizuschlendern sowie Hangzhou bei Nacht zu erleben. Sobald ihr genug davon habt, könnt ihr in die Parallelstraße "Gaoyin Jie" wechseln, die von Neon-Reklamen förmlich strahlt. Hier findet ihr eine große Auswahl an chinesischen Restaurants, die perfekte Gelegenheit also, um lokale Küche zu probieren. Einige Restaurants haben auch englischsprachige Karten, es ist also durchaus möglich das zu bekommen, was ihr bestellt habt. 🙂
This bustling pedestrian street is highly touristy and crowded and in the end offers the same as every "Old Street" in other Chinese cities. But to wrap-up your day while walking around local foodstalls, kitschy souvenirshops and traditional medicine stores and explore Hangzhou at night is somehow what makes a trip to a Chinese city authentic. After you had enough you can head over to the parallel street "Gaoyin Jie", where you will find a long sprawl of neon-lit restaurants and have the chance to try local food. There are restaurants, which offer an english menu, so there are chances to actually get what you ordered. 🙂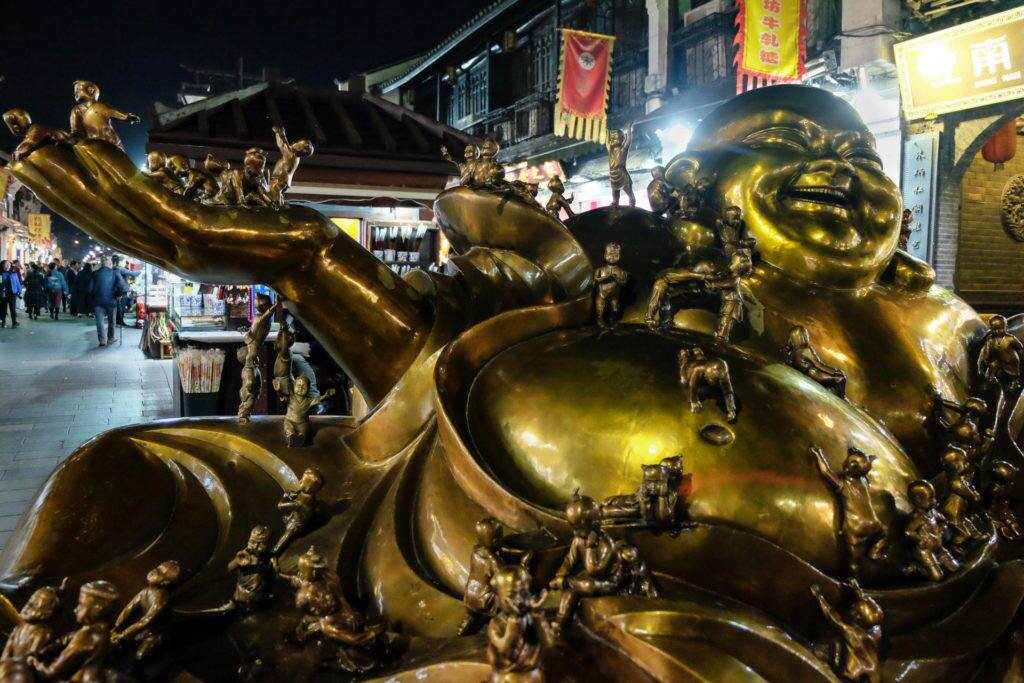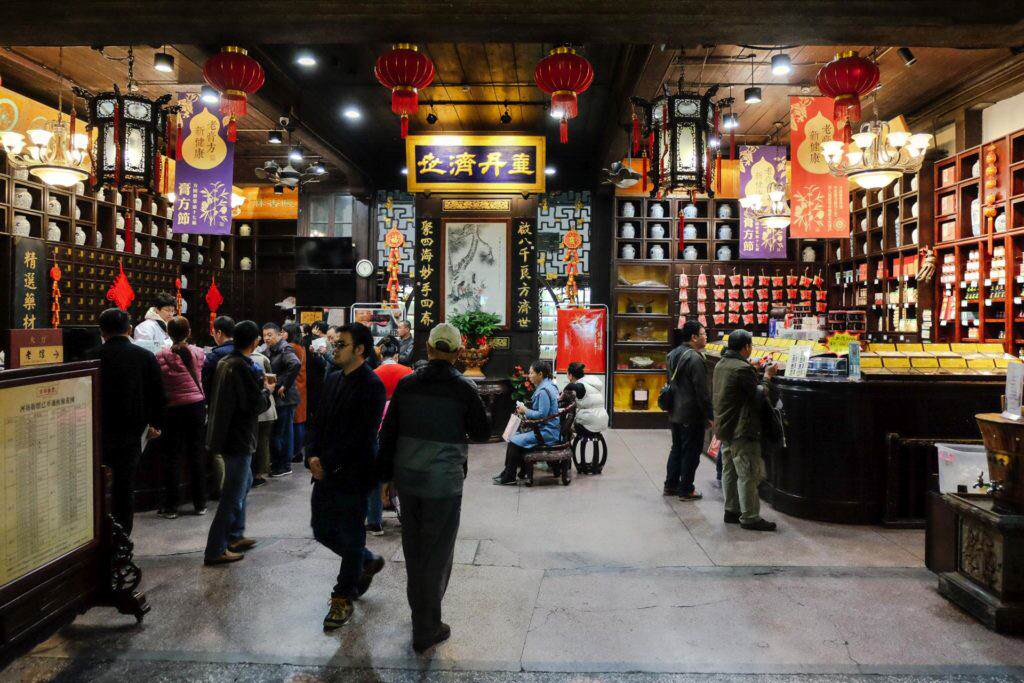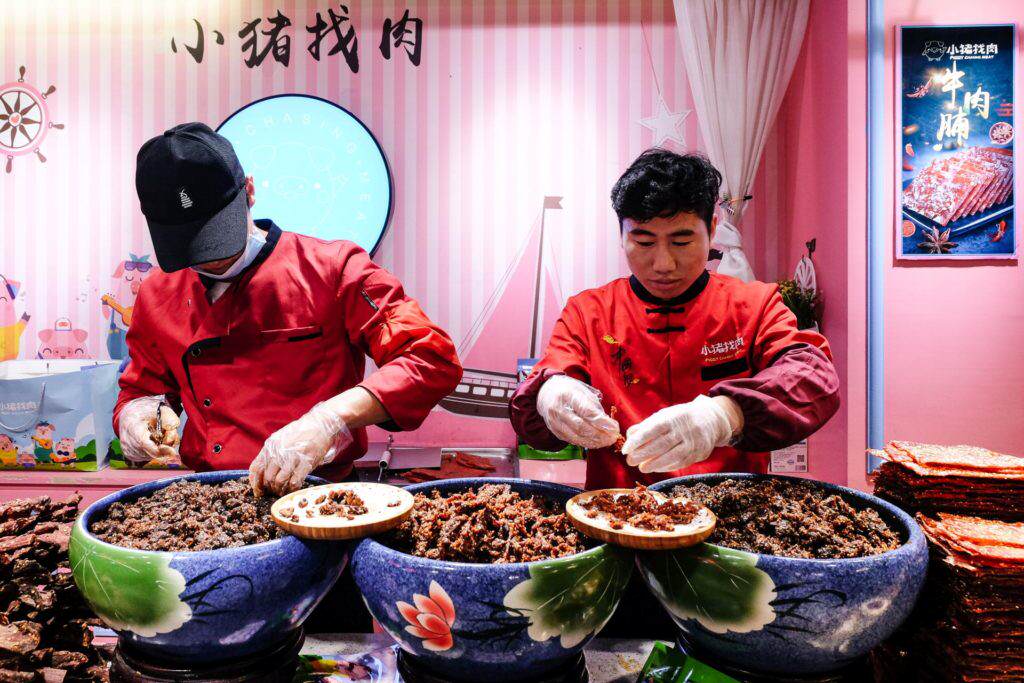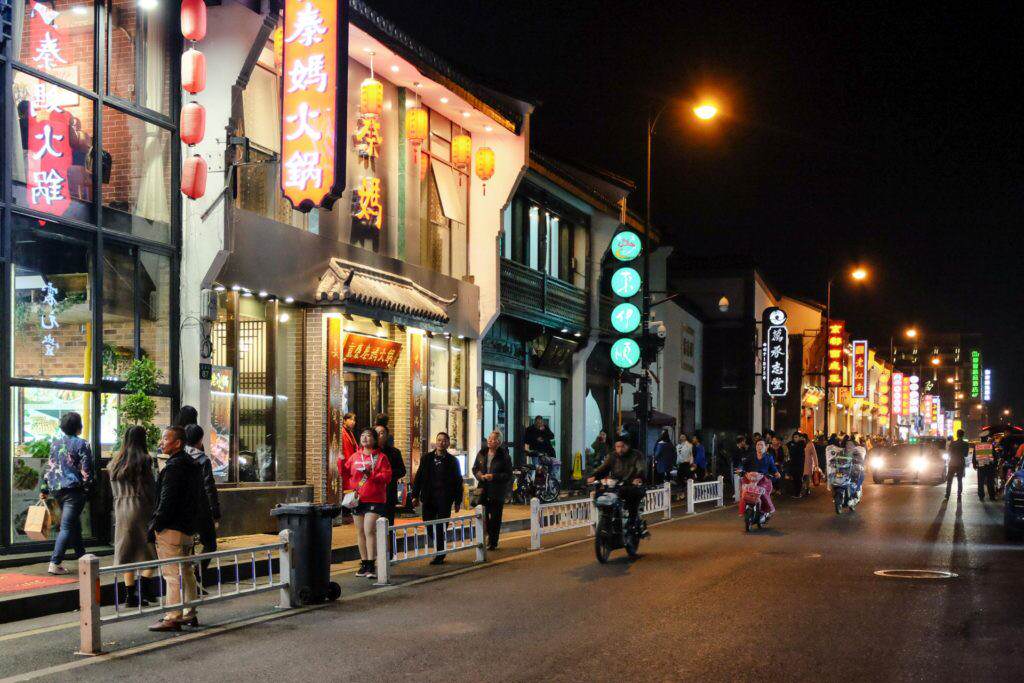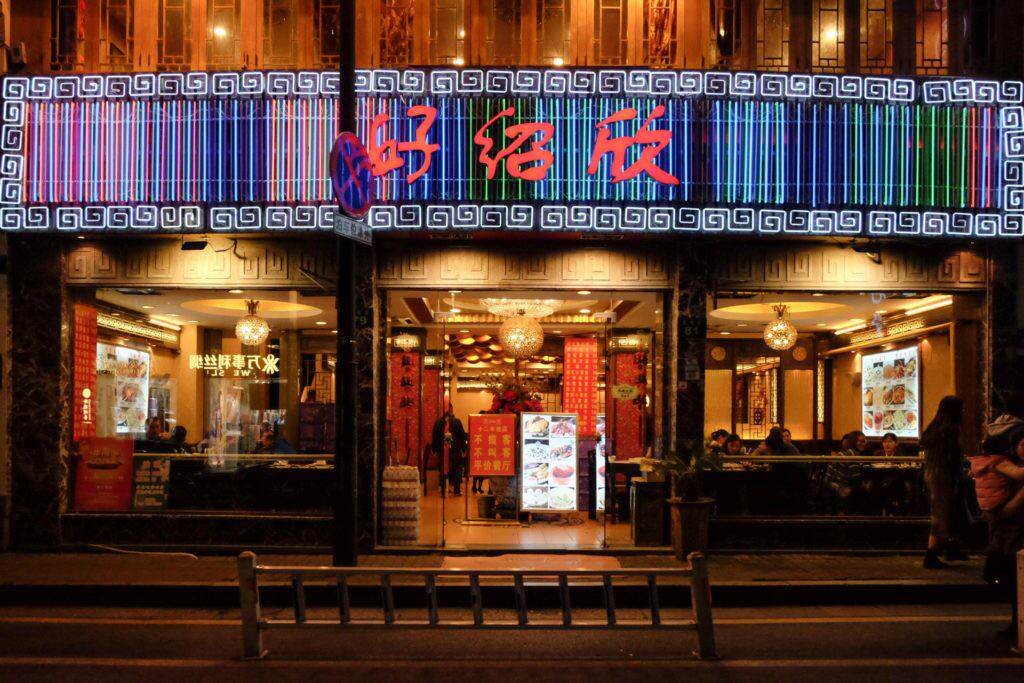 Was ihr sonst noch wissen solltet, wenn ihr einen Ausflug nach Hangzhou plant:


What else you should know, when plannig a trip to Hangzhou:
Auch wenn Hangzhous Hauptattraktion der Westsee ist, ist die Stadt selbst keine kleine. Mit 6.241.971 Millionen Einwohnern ist Hangzhou eine chinesische Metropole mit modernen Hochhäusern, mehrspurigen und viel befahrenen Autobahnen und wuseligen Straßenzügen – eben allem, was ihr von einer chinesischen Großstadt erwarten würdet.
Even if Hangzhou´s main attraction is its West Lake, the city itself is not a small one. With 6.241.971 million inhabitants it is a remarkable metropolis, which offers modern skyscrapers, multi-track roads, busy streets and anything else, you would expect from a Chinese city.
Wie kommt man am besten von Shanghai nach Hangzhou? | 

How to get to Hangzhou from Shanghai?
Hangzhous Haupt- und Ostbahnhof sind beide von Shanghai Hongqiao mit dem Hochgeschwindigkeitszug in 45 Minuten bzw. einer Stunde erreichbar. Hangzhou besitzt auch einen Flughafen. Ihr könnt die Stadt also ebenso von weiter weg anfliegen.
Hangzhou Railway Station and Hangzhou East Railway Station are both easy to reach from Shanghai´s Hongqiao Railway Station via highspeed train in 45 minutes to an hour. Hangzhou also has an airport, so if you are arriving from further away, you can also fly in.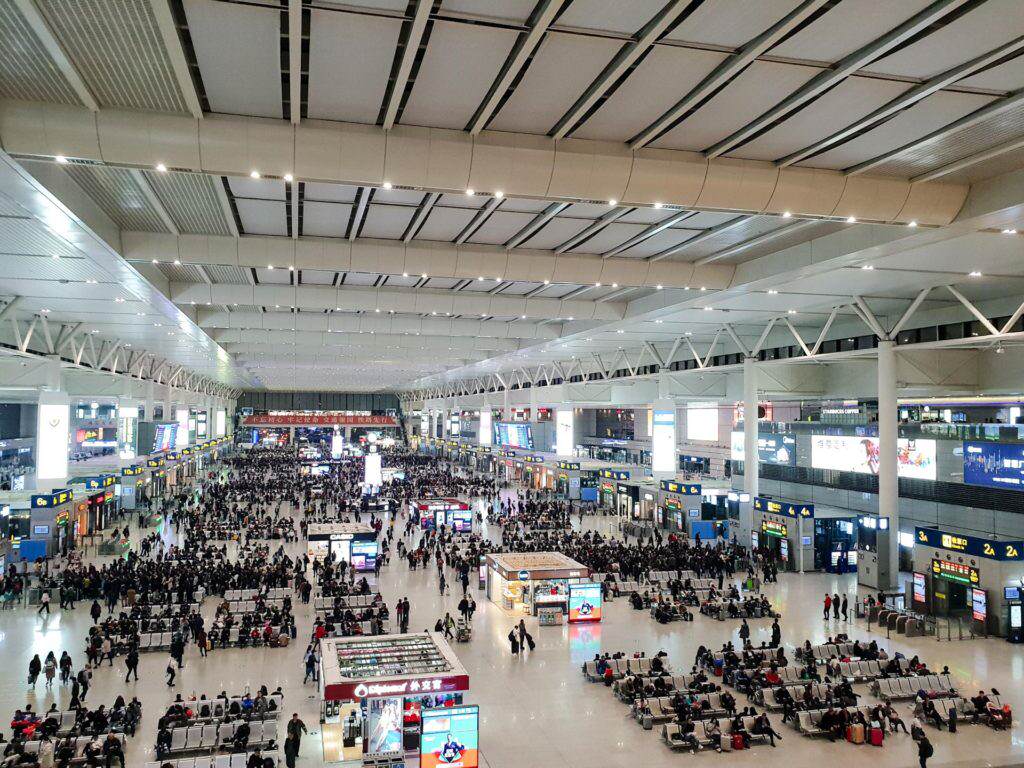 Hangzhou und den Westsee erkunden | Getting around Hangzhou
Hangzhou hat zwei U-Bahn-Linien, die sich durch die Stadt ziehen, jedoch nicht mit dem Westsee verbinden. Wenn ihr also plant hauptsächlich die Umgebung des Sees zu erkunden, fahrt ihr am besten Fahrrad. Für längere Strecken lohnen sich Taxifahrten bzw. Didi. Die chinesische Antwort auf Uber (Didi) hat für uns am besten funktioniert. Da alles über die App läuft (Start und Ziel eingeben, Abholpunkt auf Englisch vereinbaren), müsst ihr euch keine Sorge haben, dass euch der Taxifahrer nicht versteht. Doch Achtung: Der Verkehr in Hangzhou ist verrückt! Also Zeit einplanen!
There are two metro lines running through the city of Hangzhou, both not covering the West Lake. So if you especially plan to explore the lake area, you can easily use a bike or for longer distances a taxi or Didi to get around. The Chinese version of Uber (Didi) worked best for us. Because everything works via the Didi App (select your pick-up point and destination in English app-version) you don´t have to worry that the driver doesn´t understand where you wish to be going. But be aware: Traffic in Hangzhou is crazy! So you need to plan in enough time for getting around.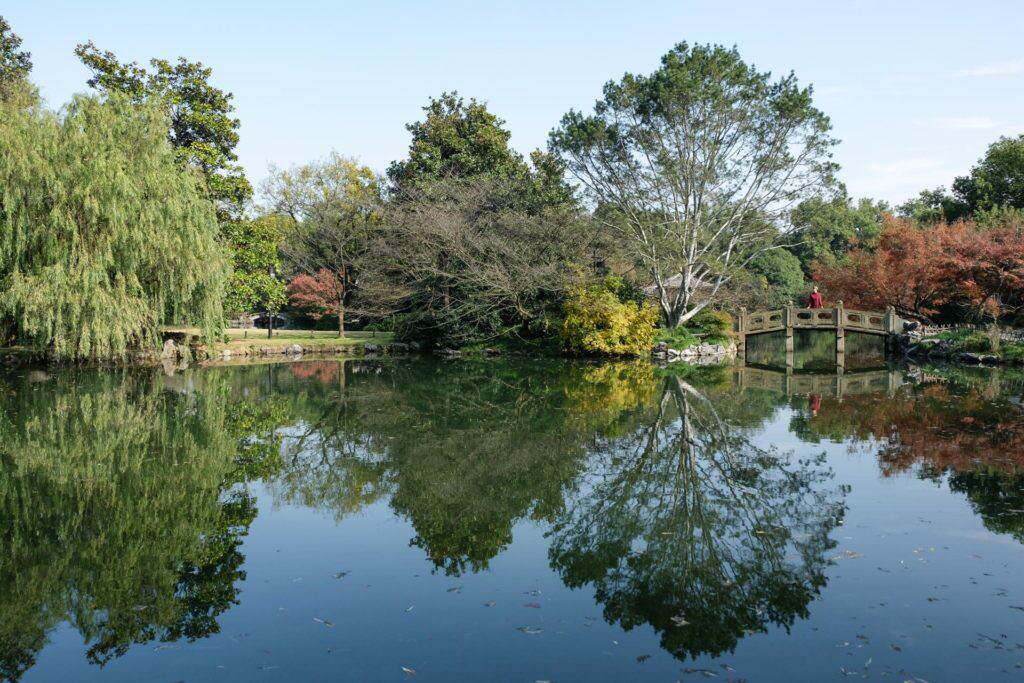 Wo übernachten in Hangzhou? | Where to stay in Hangzhou?
Hangzhou bietet zahlreiche Übernachtungsmöglichkeiten und Hotels nahe des Westsees, von günstigen Gasthäusern bis hin zu 5-Sterne-Hotels. Es ist also für jeden Geldbeutel etwas dabei. Im Hinblick auf den Verkehr empfehle ich euch eine Unterkunft in Seenähe zu wählen, vor allem wenn dieser euer hauptsächliches Ausflugsziel ist. Distanzen sind länger als sie auf der Karte auf den ersten Blick erscheinen und mit dem Auto dauert es oft ziemlich lange, um von A nach B zu kommen. Wenn ihr plant Hangzhou an eurem Abreisetag erst abends zu verlassen, solltet ihr einkalkulieren, dass ihr bereits vormittags auschecken müsst, euer Gepäck aber evtl. im Hotel abstellen wollt, um es später abzuholen. Ein nah am Westsee gelegenes Hotel spart euch dann viel wertvolle Zeit. Wir hatten ein kleines Hotel ein paar Kilometer nördlich vom Westsee gebucht (ursprünglich wegen der Sauna- und Wellnesseinrichtungen, die es letztendlich nicht gab). Würden uns aber beim nächsten Mal für ein näher zwischen Bahnhof und Westsee gelegenes entscheiden.
Hangzhou offers many options and hotels near the West Lake: From budget guesthouses to 5-star hotels, you will definitely find a nice place to stay, which suits your wallet. Regarding the traffic in Hangzhou I recommend you to choose your accommodation wisely, especially when you plan to spend your time around the lake. As distances are longer than expected after looking at the map, it might take you too much time to get to the lake area and back, especially on your last day, when you might plan to leave Hangzhou in the afternoon or evening, but need to check out of your hotel before noon. Leaving you luggage in the hotel and picking it up later can take a while. We stayed at a small hotel a few kilometers North of the West Lake, actually because of the advertised sauna and wellness facilities, which we found out didn´t exist in the end. So next time, we would definitely choose a hotel closer to the lake and railway station.
***
FRAGEN & KOMMENTARE? | QUESTIONS & COMMENTS?
Seid ihr schon durch China gereist und wisst um die Vielfalt dieses Landes, 0der seid nun neugierig geworden? Hat euch der Artikel gefallen, oder sind noch Fragen offen? Lasst mir gerne einen Kommentar da und teilt den Artikel mit euren Freunden!
In der Kategorie China Reisen findet ihr übrigens noch weitere Artikel aus dem Land der aufgehenden Sonne.
Have you ever been travelling through China and know about the diversity of this country? Or are you curious now? Do you like the article, or still have questions? Please leave me a comment and share this article with your friends! 
In the category China Travelling you can find further blogposts from the land of the rising sun.
***
 – SMILE4TRAVEL NEWSLETTER –
Werde Teil der Smile4Travel Community – folge mir auf Facebook & Instagram und abonniere meinen Newsletter, um keine Smile4Travel-Abenteuer zu verpassen! Kein Spam, versprochen!
Become part of the Smile4Travel Community – Follow my Facebook Page & Instagram and register for my Newsletter, so you don´t miss any Smile4Travel adventures! No Spam – I promise!