1,3 Milliarden Menschen leben in der Volksrepublik China. Dabei bilden Han-Chinesen mit einem Anteil von 91,5 Prozent den Großteil der Bevölkerung. Doch neben ihnen existieren noch weitere 55 ethnische Minderheiten, die ein autonomes Leben führen. Kultur, Traditionen und sogar die Sprache unterscheiden sich merklich. Allein in der Provinz Guizhou sind 48 unterschiedliche Volksstämme heimisch. Vor allem im Osten der Provinz, in den Bergregionen rund um Kaili, haben sich schon vor Tausenden von Jahren die Miao angesiedelt. In einem Gebiet, in dem es keine Ebenen gibt, waren die Miao schon immer Meister der Landwirtschaft, indem sie in Balance mit der Natur lebten und ihre vielfältigen Kenntnisse von Generation zu Generation weitergaben. Und so weist jede Volksgruppe ihre eigenen Besonderheiten auf. Das Volk der Miao ist vor allem für seine kulturellen Tänze bekannt, währen sich die Dong beispielsweise durch ihre einzigartigen Gesangskünste auszeichnen und die Buyi hervorragende Fähigkeiten im Druckhandwerk besitzen.
1,3 billion people live in the People´s Republic of China. With 91,5 percent the Han-Chinese form the mayority of the population. But besides them China is home to 55 further ethnic groups, who live autonomously. Their culture, traditions and even language differ a lot from those of the Han-Chinese. Alone the province of Guizhou hosts 48 different folks. Especially in the Eastern mountain regions around Kaili mostly Miao people have already settled down thousands of years ago. Living in this region without any plains, they have always been living as farmers and protecting the balance between nature and carrying forward their diversified folk customs to the next generation. Each minority has its specific customs. The Miao people are well known for their cultural dances, while the Dong for example stand out with their singing skills and the Buyi are great at printing.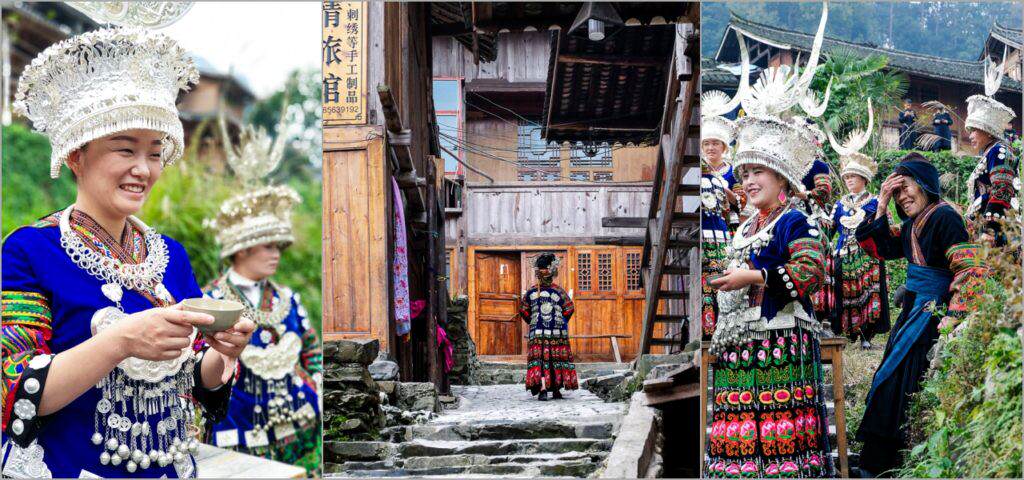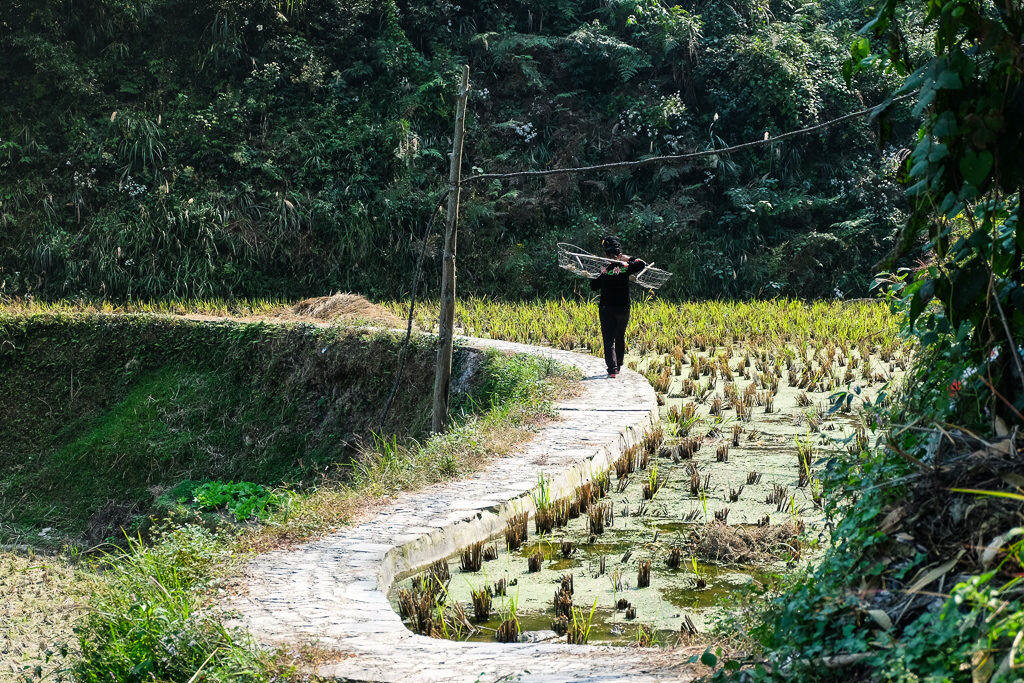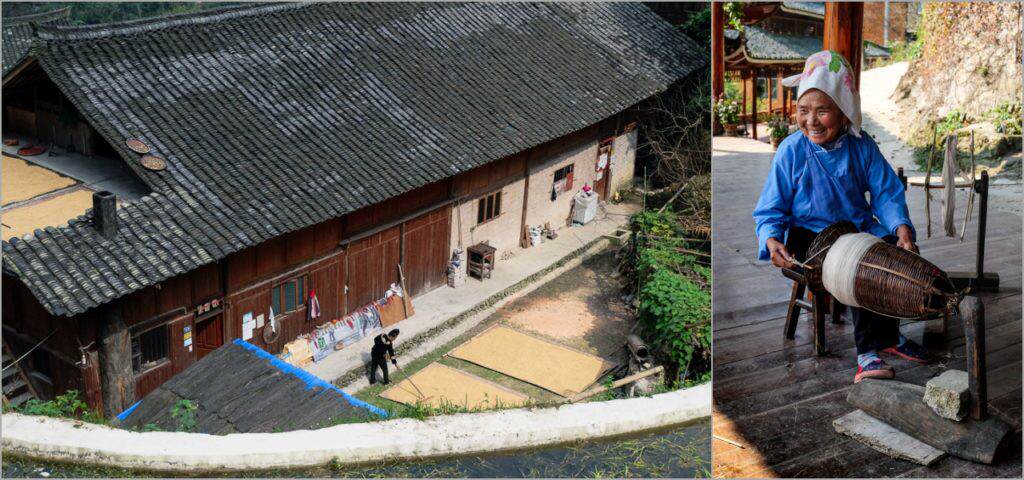 Zwischen Reiswein & Folklore | Between rice wine & folklore
Mein erstes Ziel auf dieser Reise durch Guizhou ist das Miao Dorf Langde, ca. 50 km nördlich von Kaili. Unsere Gruppe erreicht Langde Miao Village am Vormittag und ich bin geplättet vom Empfang, den uns die Dorfbewohner bereiten. Um ein vielfaches mehr traditionell gekleidete Dorfbewohner als Gäste empfangen uns mit Musik und ihrem Lieblingsgetränk: Reiswein. Während die in schlichten, dunkelblauen Roben gekleideten Männer das traditionell aus Bambus gefertigte Instrument "Lusheng" spielen, blockieren die bunt gekleideten und mit Silber prunkvoll geschmückten Damen die Stufen zum Dorf hinauf. Es gibt kein Durchkommen ohne nicht einen großen Schluck vom Reiswein probiert zu haben. Willkommen in Langde Miao Village, willkommen zur traditionellen "Lanmen Jiu" Zeremonie!
My first destination on this trip through Guizhou is Langde Miao Village, 50 km north of Kaili. Our group arrives at Langde in the morning and I am totally flattened by the cordal welcome of the villagers. So many more traditionally dressed locals than guests welcome us with music and their alltime favourite drink: rice wine. While the men, simply dressed in dark blue robes, play the traditional bamboo-instrument "Lusheng", the more colourfully dressed and with silver magnificently decorated women literally block the stairs winding up to the village. There is no getting through without trying a big sip of the rice wine. Welcome to Langde Miao Village, welcome to the "Lanmen Jui" ceremony!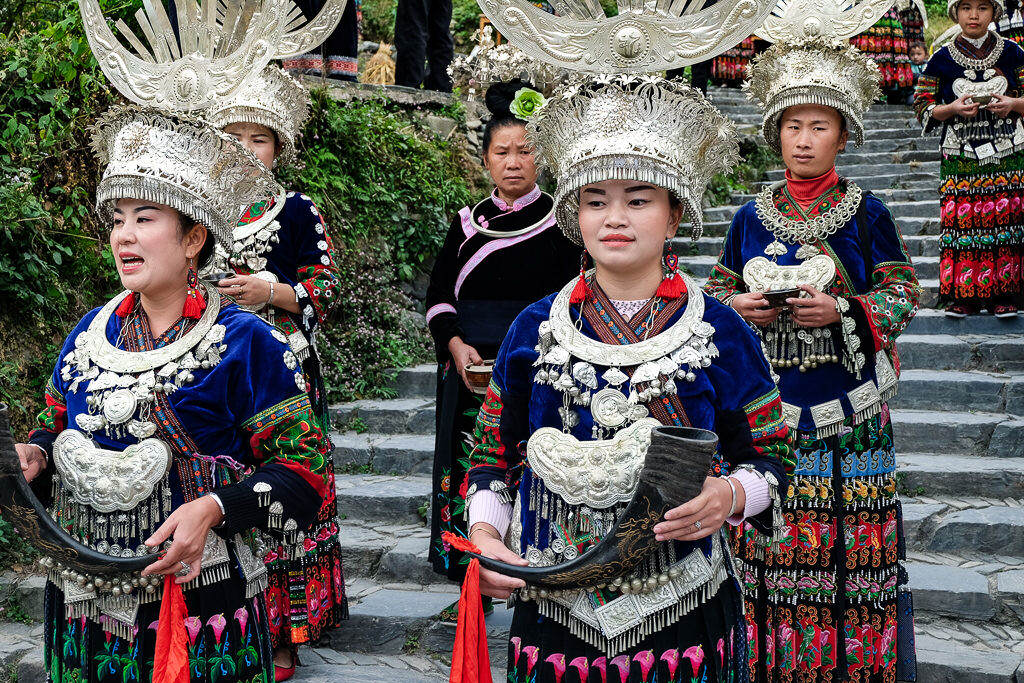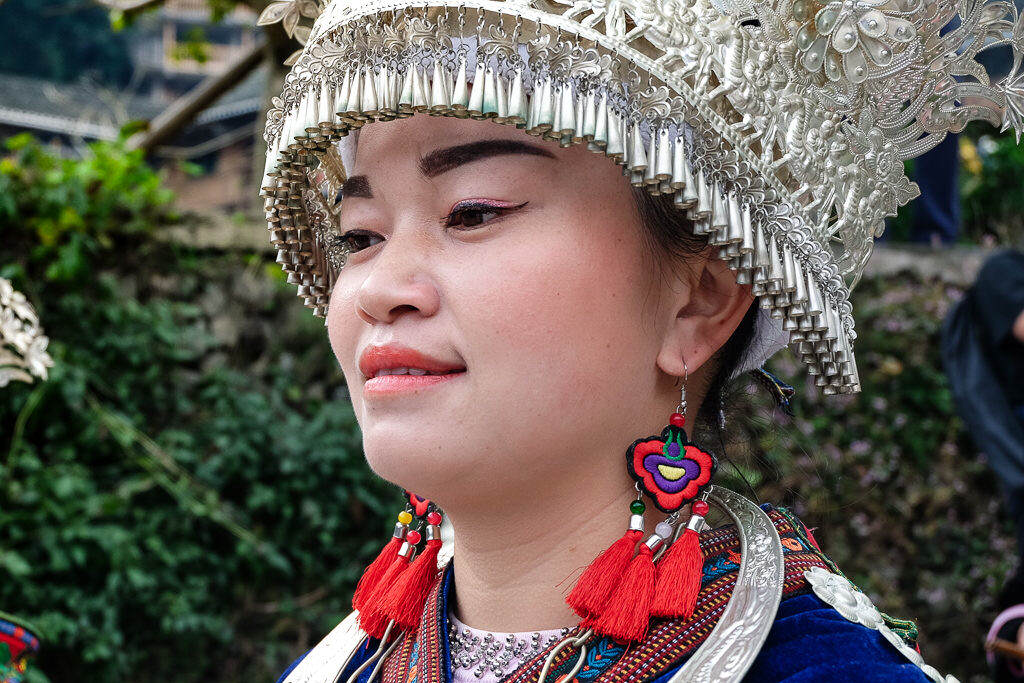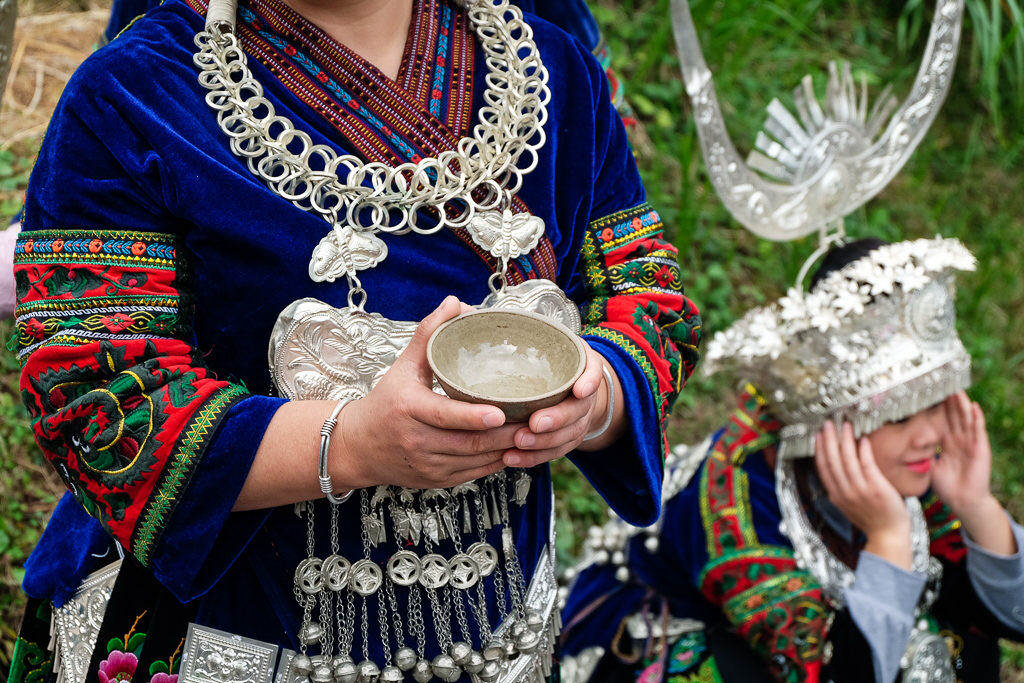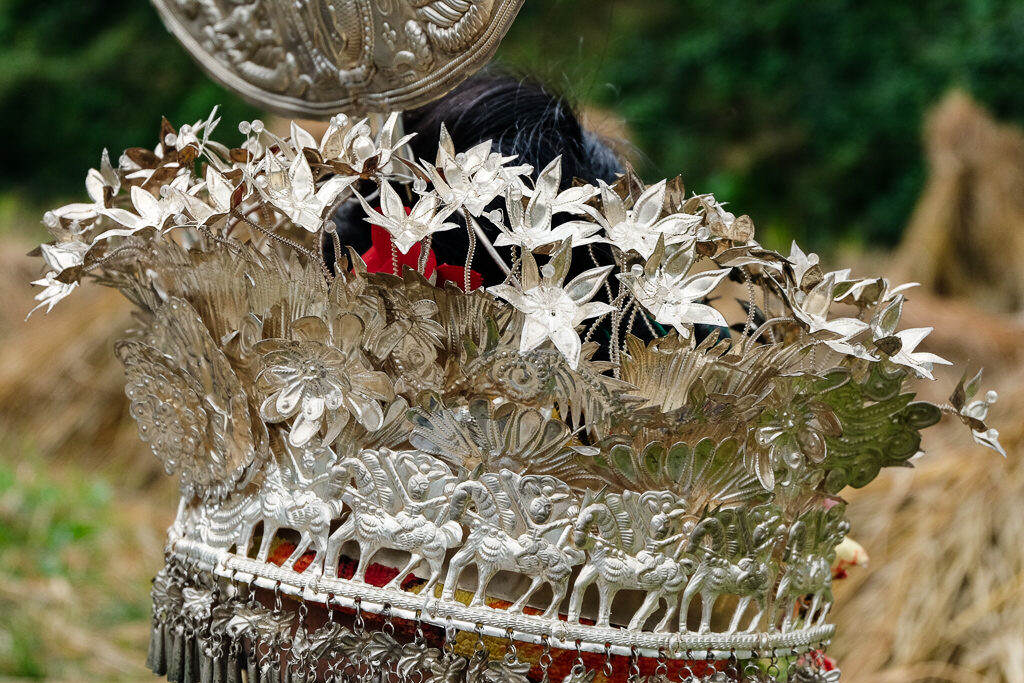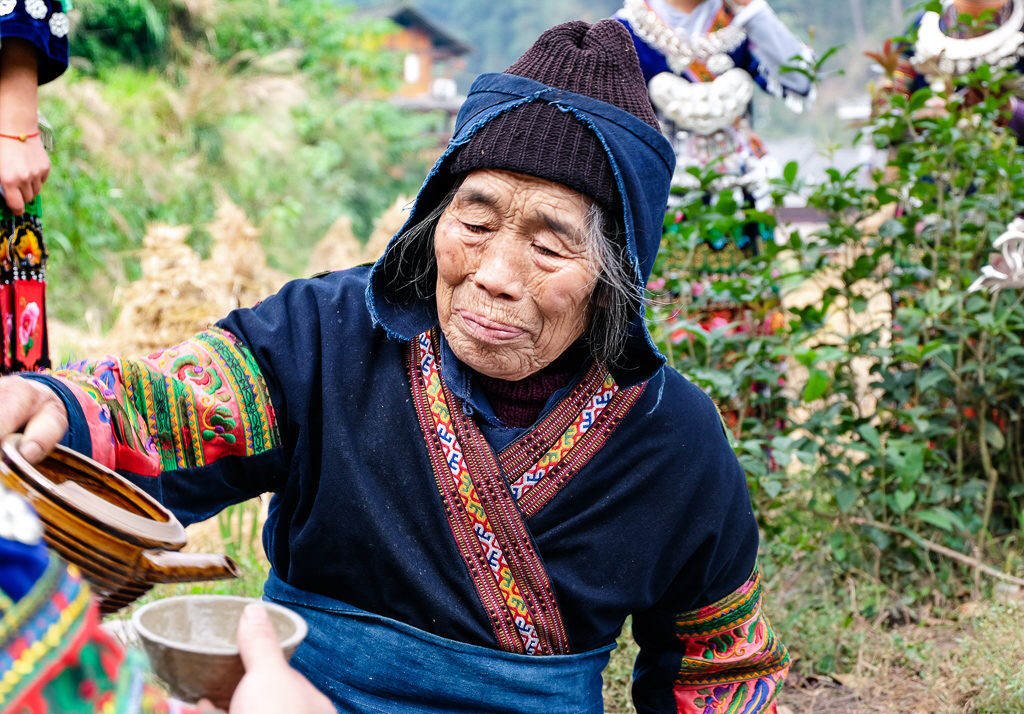 Im Dorf angekommen geht es direkt weiter: Dutzende Miao tanzen und singen auf dem runden Platz in der Ortsmitte, um uns in Langde willkommen zu heißen. Vor allem die älteren Männer und Frauen singe in Miao-Sprache das so genannte "Alte Lied", das die Geschichte des Volkes erzählt.
Arriving at the village the music and dances continue: Dozens of Miao dance and sing at the round yard in the village center to welcome their guests in Langde. Especially elderly men and women sing the so called "Old Song" in Miao language, which tells the history of the folk.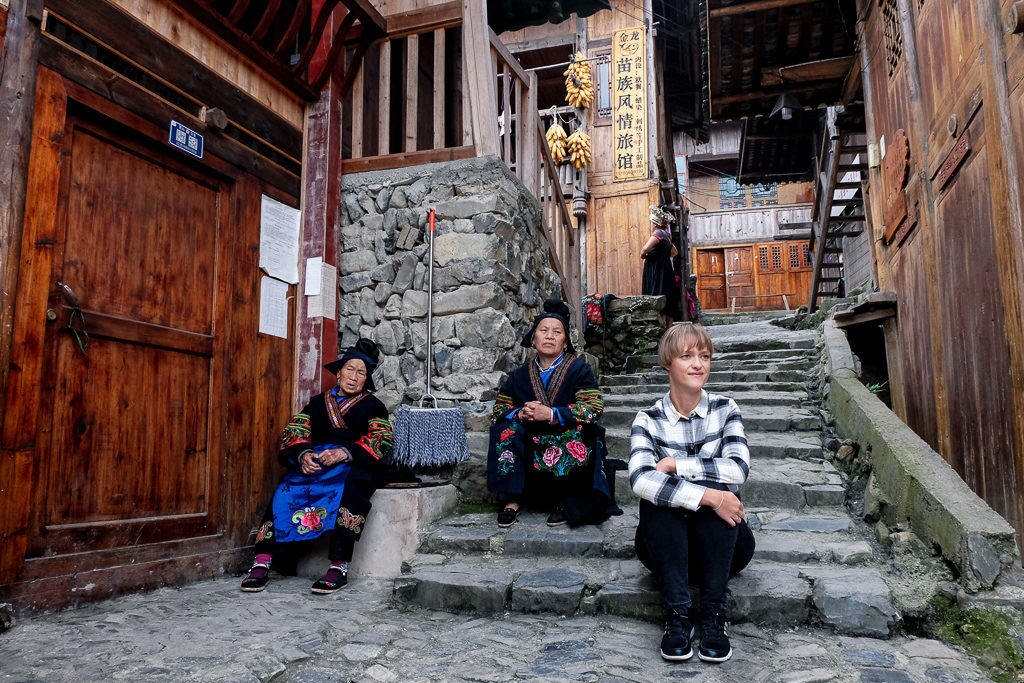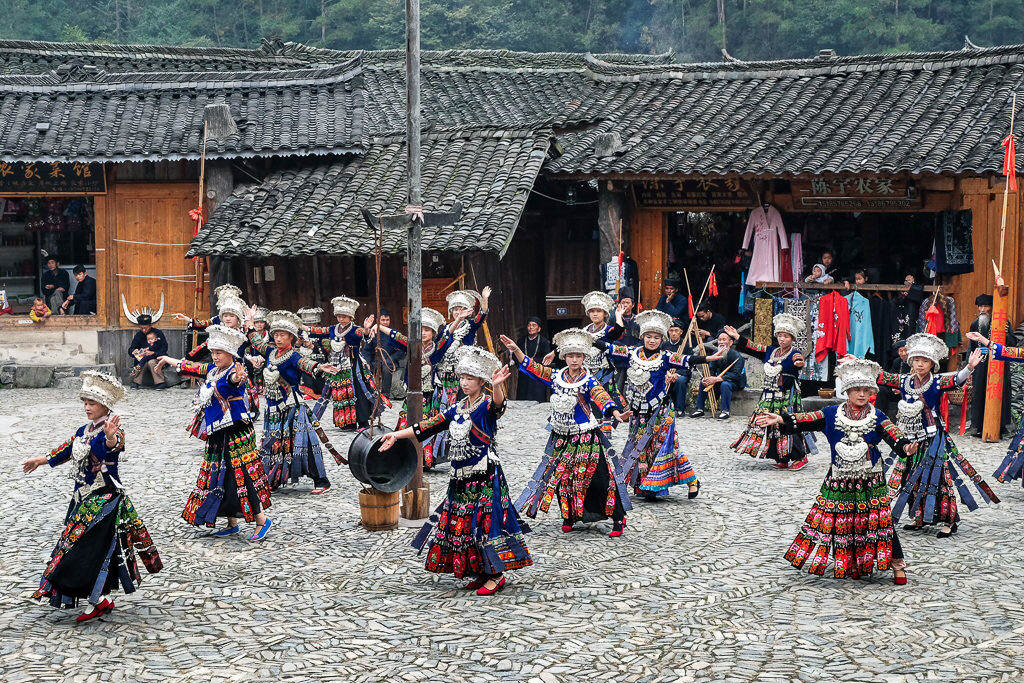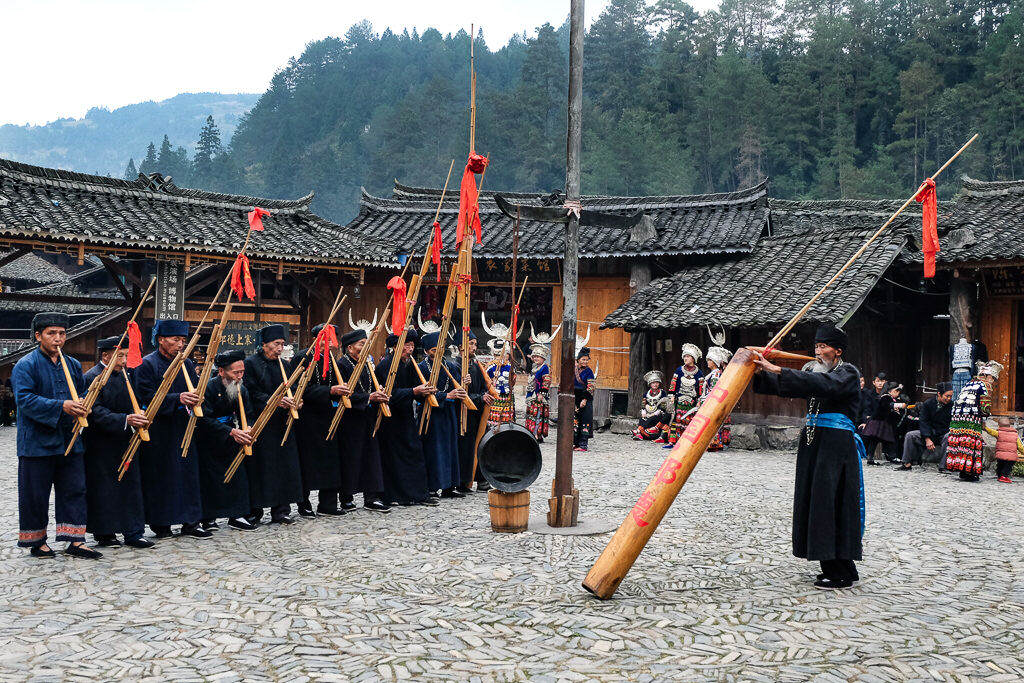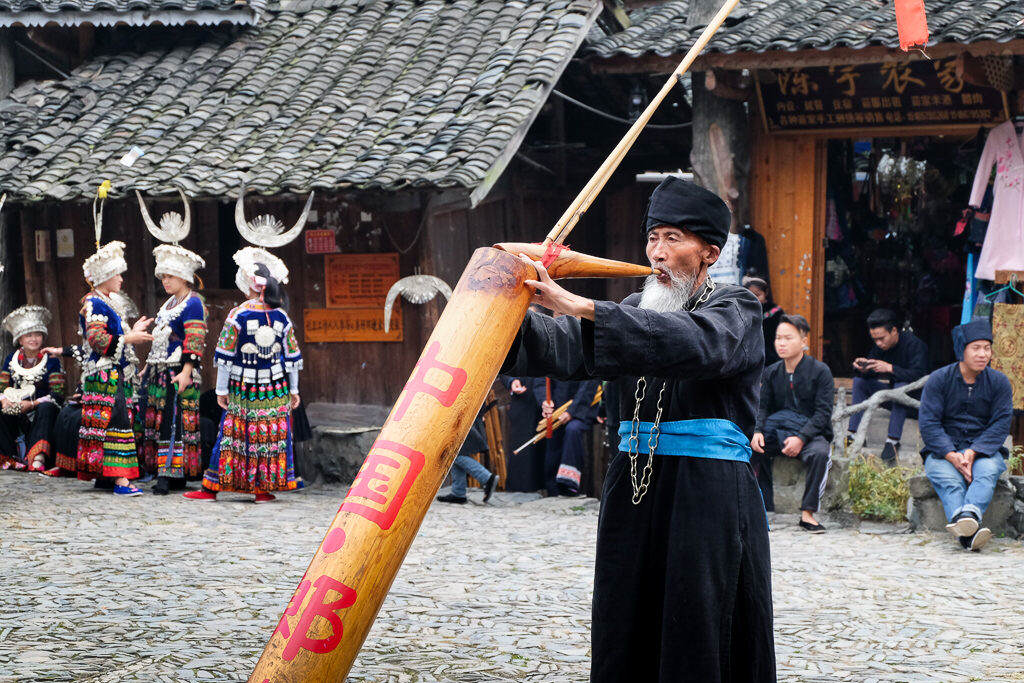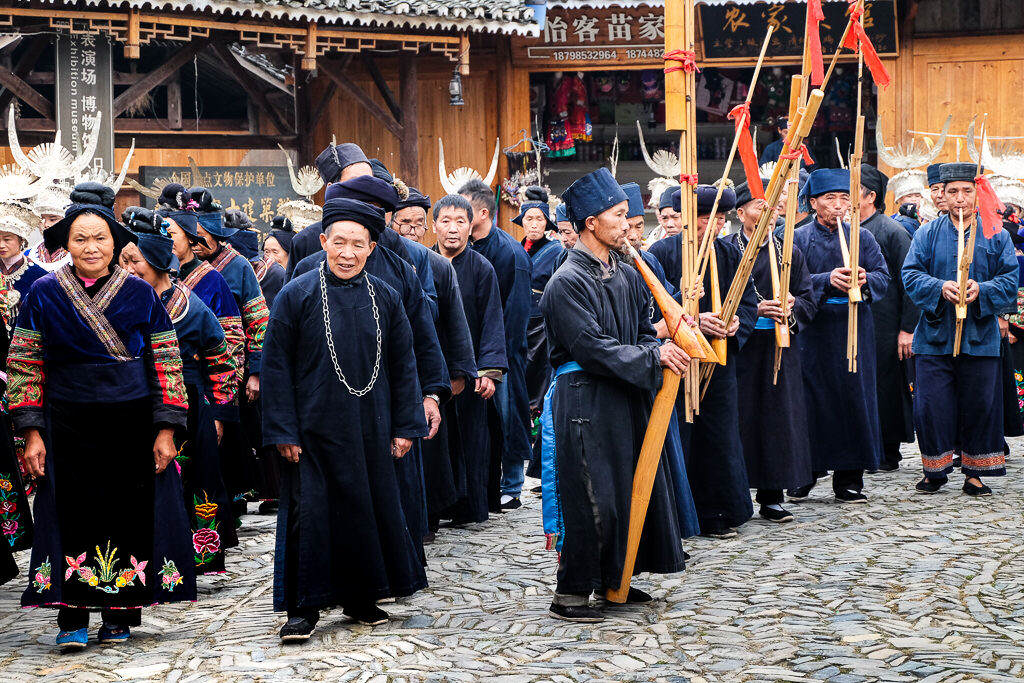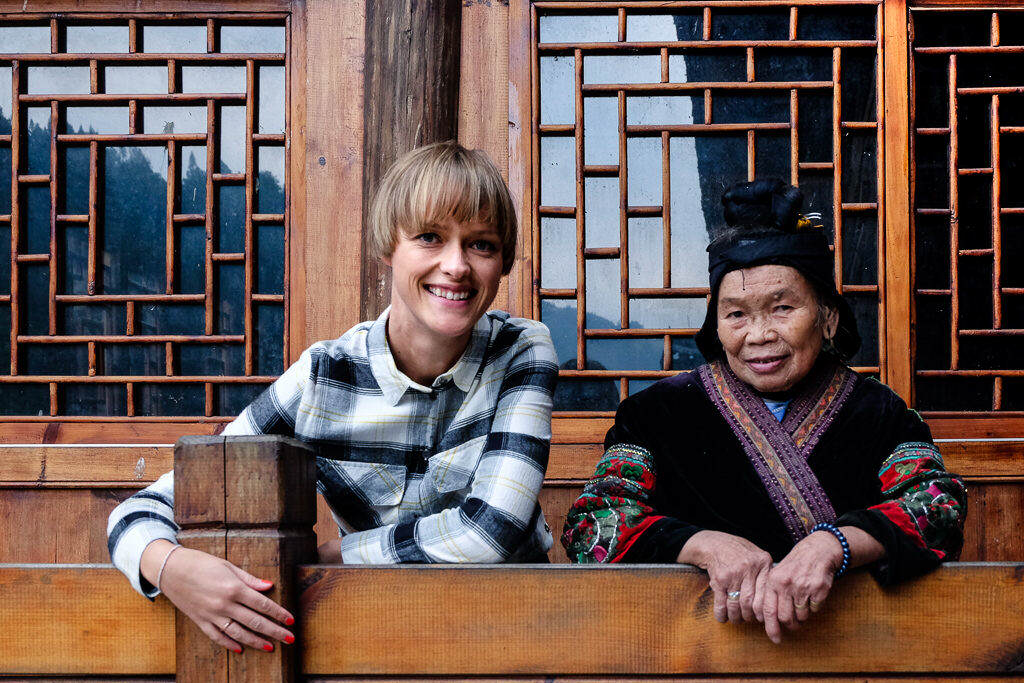 Tipps für individuell Reisende: Langde Miao Village ist mit dem Bus von Kaili aus erreichbar. Die Willkommens-Ritual "Lanmen Jiu" findet täglich von 11:00 bis 11:30 Uhr statt – die Zeremonie im Dorf  direkt im Anschluss sowie noch ein weiteres mal am Nachmittag gegen 16 Uhr, sobald genug Zuschauer anwesend sind . Und danach? Die perfekte Zeit, für ein warmes Mittag- oder Abendessen. Und auch hier gibt es einen signifikanten Unterschied zum klassischem gemeinsamen chinesischen Mahl: Gegessen wird nicht am runden Drehtisch, sondern am "langen Tisch", an dem alle aufgereiht auf kleinen Hockern sitzen.
Tips for individual travellers: You can reach Langde Miao Village by bus from Kaili. The Welcoming ritual "Lanmen Jiu" takes place daily from 11:00 to 11:30 – the ceremony inside the village, which also lasts around 30 minutes, starts right after, as soon as enough people have gathered. There is one more performance in the afternoon starting around 4pm. And then? Perfect time to have lunch or dinner, right? Also here there is a significant difference to the classic Chinese way of dining: You will not sit around a round turning table, but rather on small stools along the traditional "long table".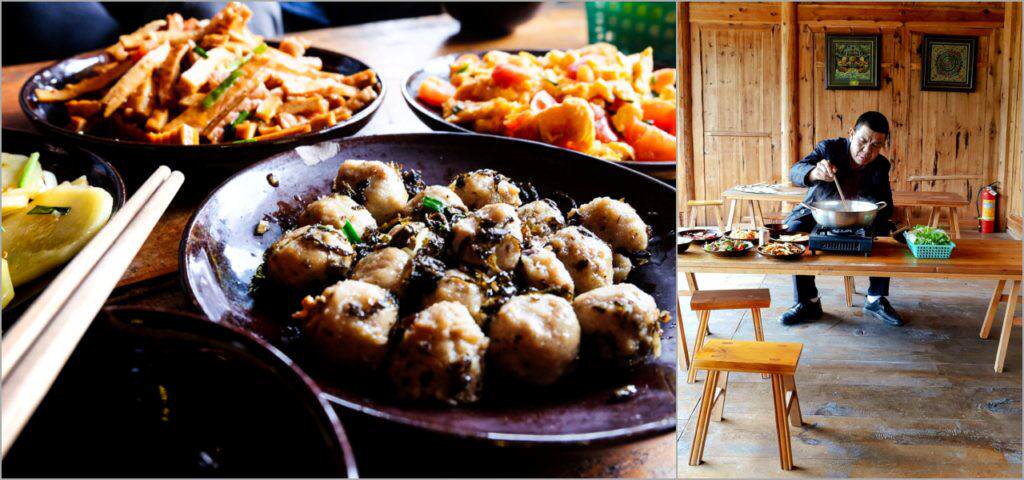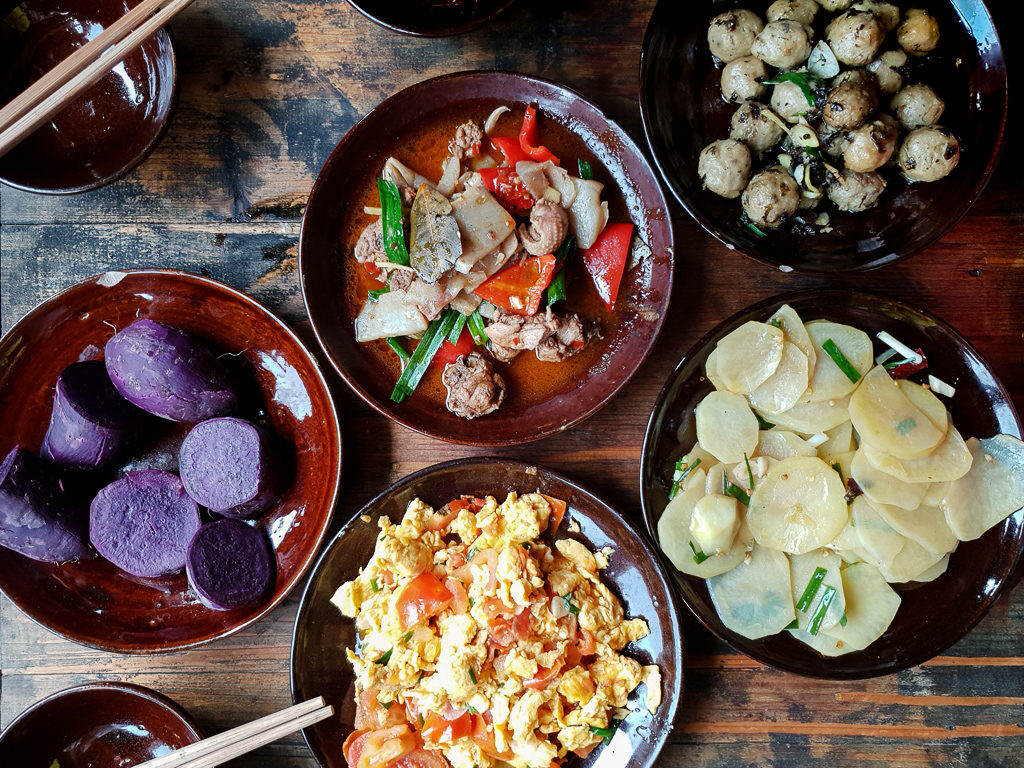 Wer etwas Zeit hat, sollte auf jeden Fall das Dorf noch weiter erkunden. Wenig kommerzialisiert geht es in Langde Gott sei Dank noch zu, sodass man gemütlich durch die Gassen schlendern und den ein oder anderen Ausblick genießen kann, ohne dabei von Souvenier-Shops oder eifrigen Verkäufern umgeben zu sein.
If you have some time left, you definitely should go for a stroll around the village. As Langde is not as commercialized as other villages yet, you can easily walk through the alleys and enjoy some views without being surrounded by souvenirshops or eager vendors.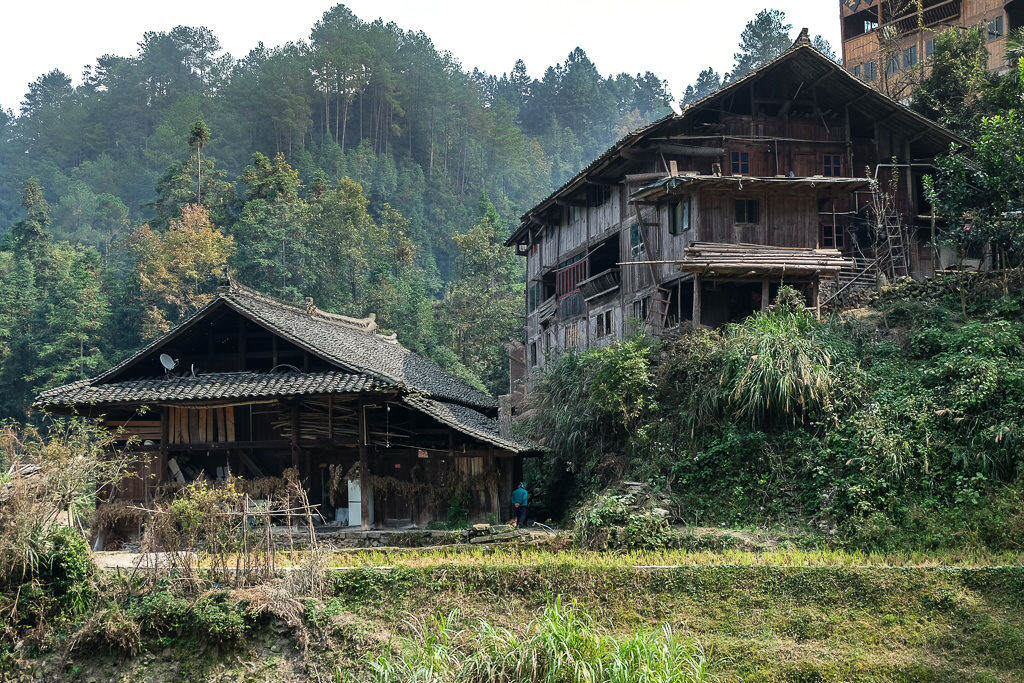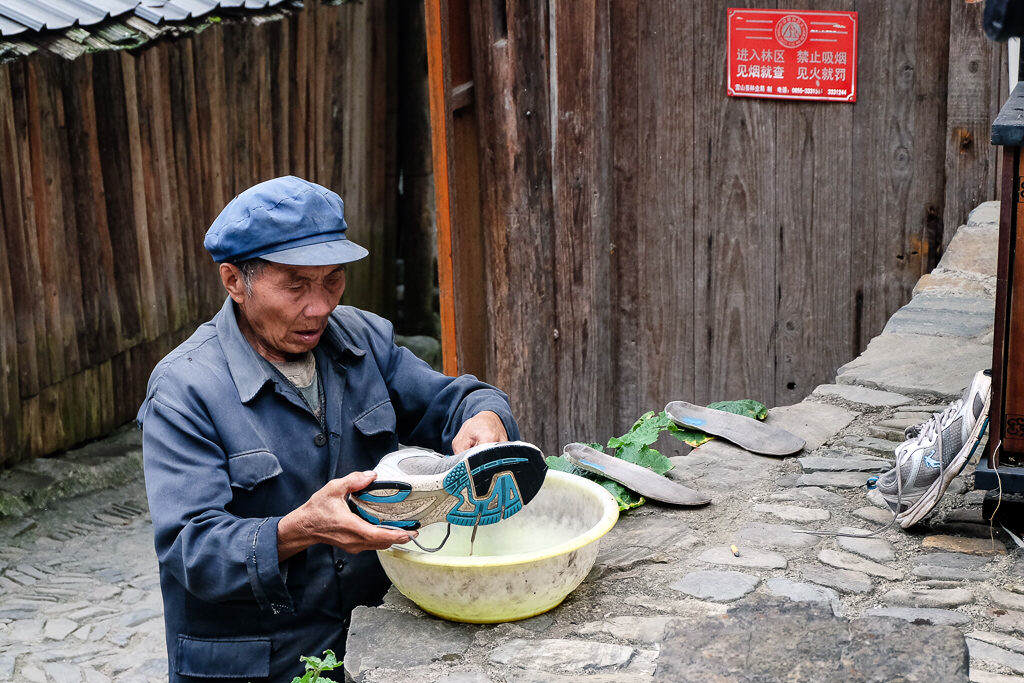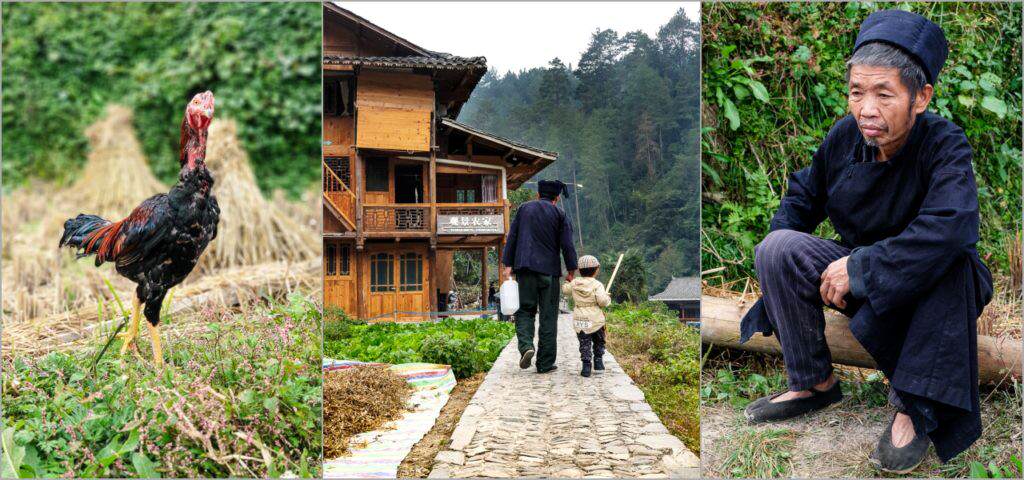 Historisches Zentrum der Miao | Ancient home to Miao people
Zhenyuan liegt im Osten der Provinz Guizhou und war über lange Zeit historisches Zentrum für das Volk der Miao. Von Bergen umgeben und geschützt, sowie vom Wuyang-Fluss durchzogen, war Zhenyuan in früheren Zeiten eine wichtige Land-Wasser-Verbindung. Auch wenn die Stadt nur 3,1 Quadratkilometer groß ist, birgt sie einige historische Sehenswürdigkeiten. Der perfekte Ort, um in das traditionelle China einzutauchen, das ihr vielleicht aus Geschichtsbüchern kennt oder mit fiktiven Geschichten aus Fernost in Verbindung bringt.
Located in the Eastern part of Guizhou Province, Zhenyuan has ever been an ancient town of the Miao people. As Zhenyuan is sheltered by the mountains and cut through by the Wuyang River, the ancient town is a land-and-water transportation center since the early days. Even if the town only covers an area of 3.1 square kilometers, it is full of historical sights and a great place to dive into the traditional China as you might imagine it out of a history textbook or even a fairytale.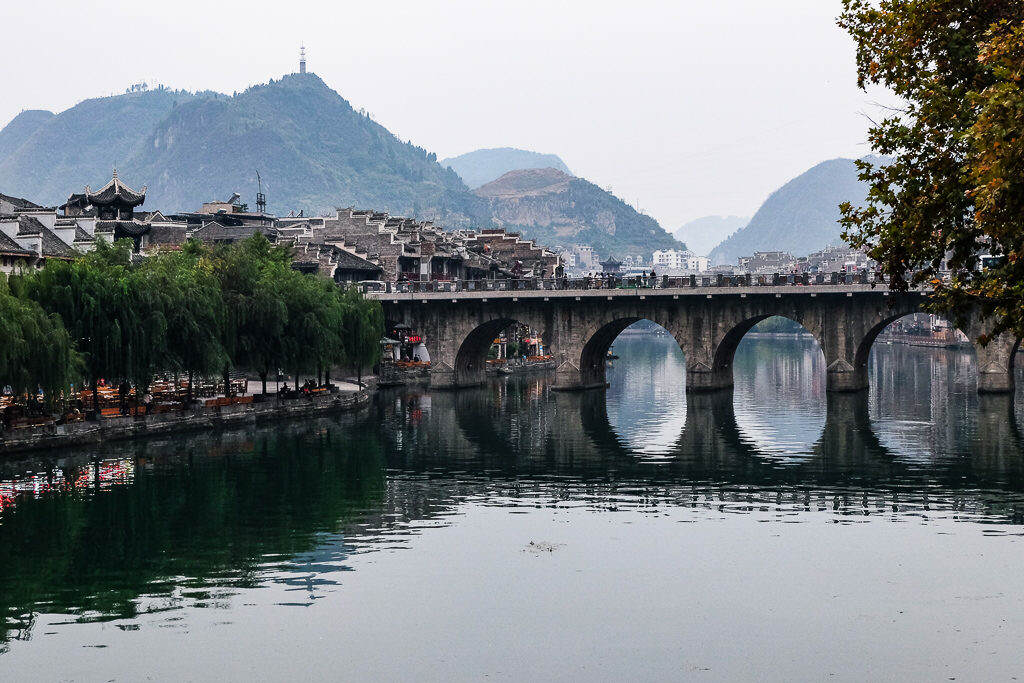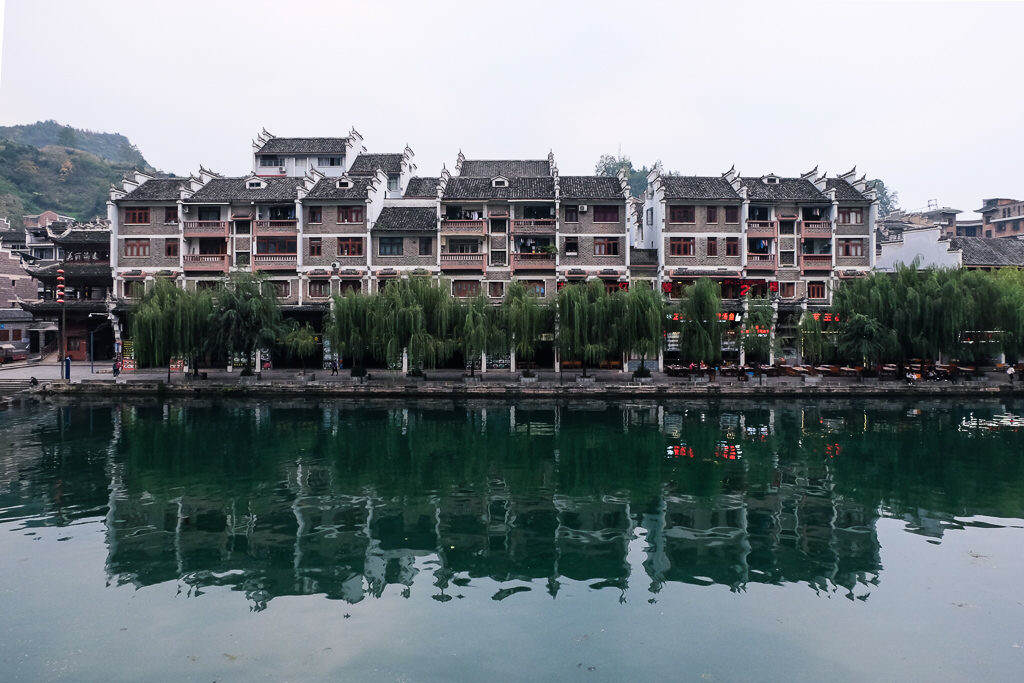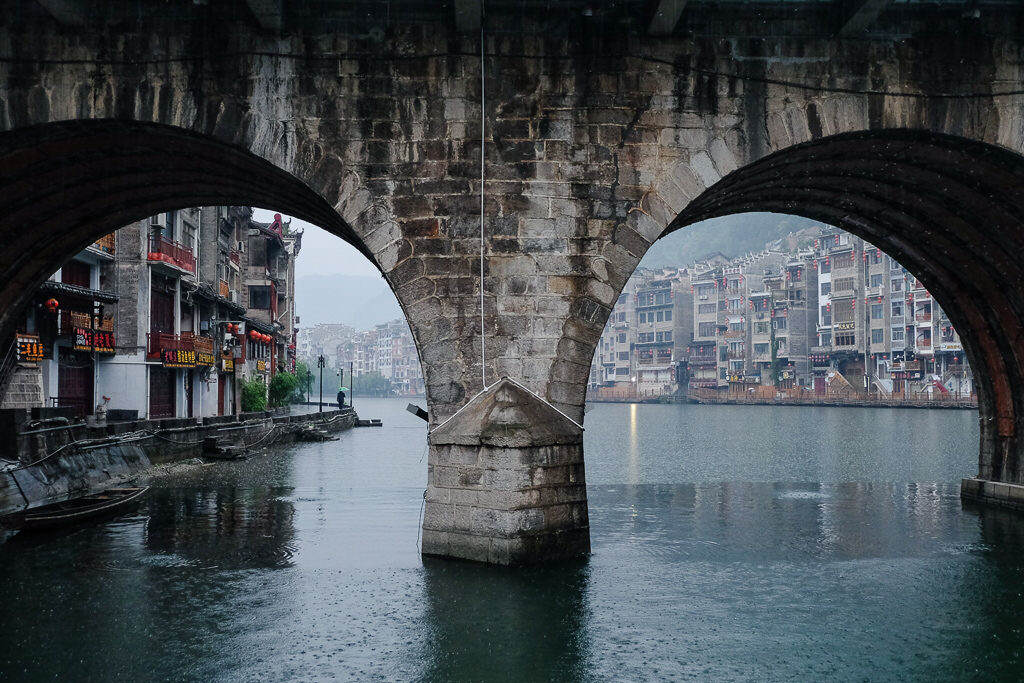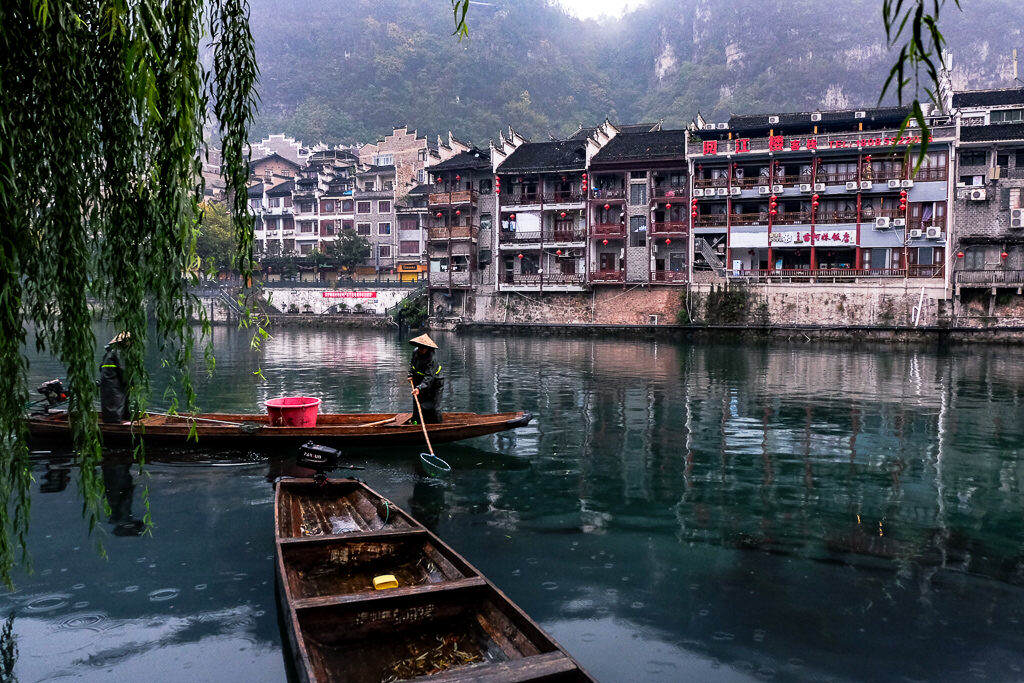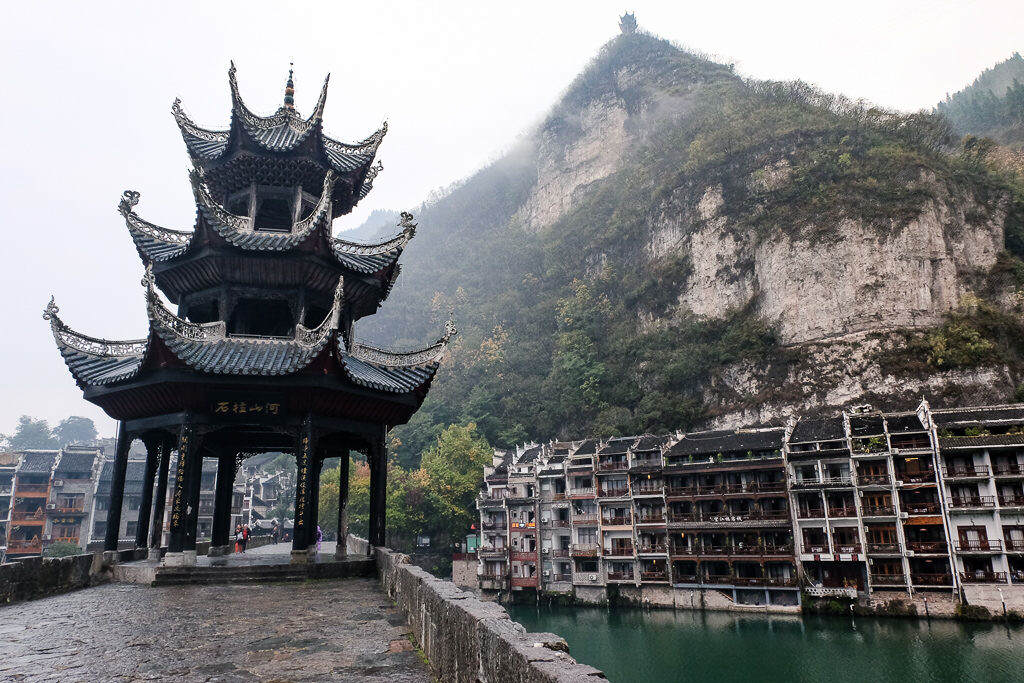 Für mich fühlte sich der Spaziergang entlang des Flussufers an als wäre ich sehr weit in Zeit und Raum zurückgereist. Und auch wenn ich definitiv kein Liebhaber von Regen bin: Die mit Nebel behangenen Berge und die trübe Atmosphäre haben für mich genau die richtige Stimmung an diesem Ort erzeugt.
Walking along the riverbanks, I felt like having travelled back in time and distance. Even if I am not a lover of rain at all, it was only these misty mountains and the moody atmosphere , which brought this perfect scenery to life for me.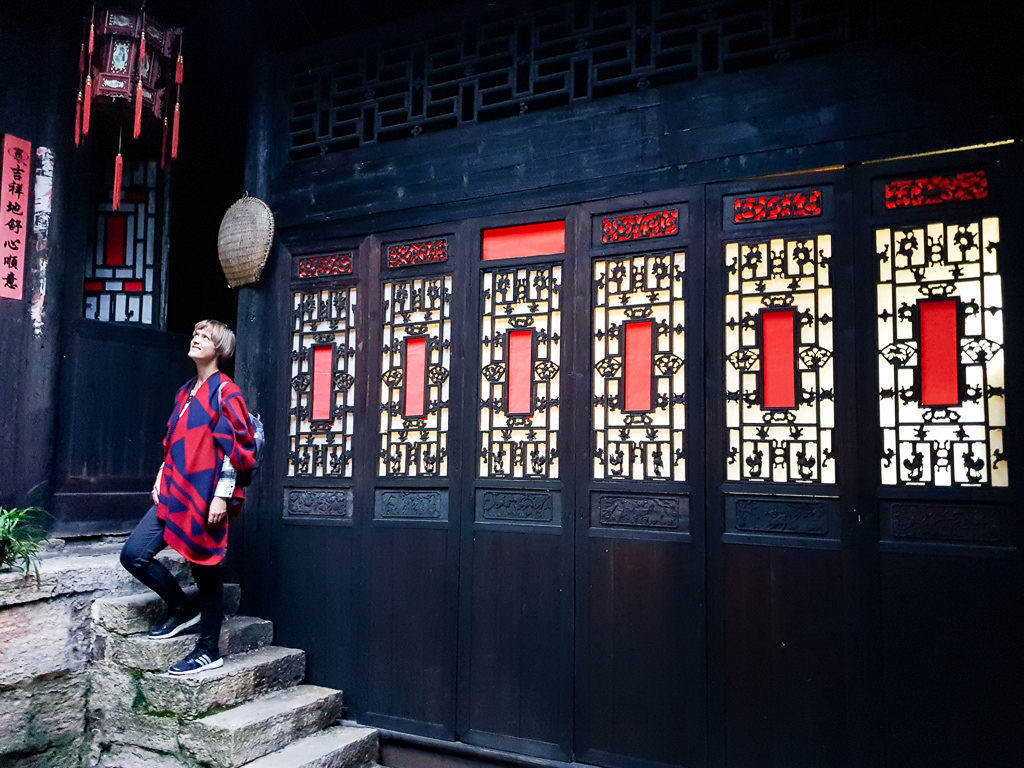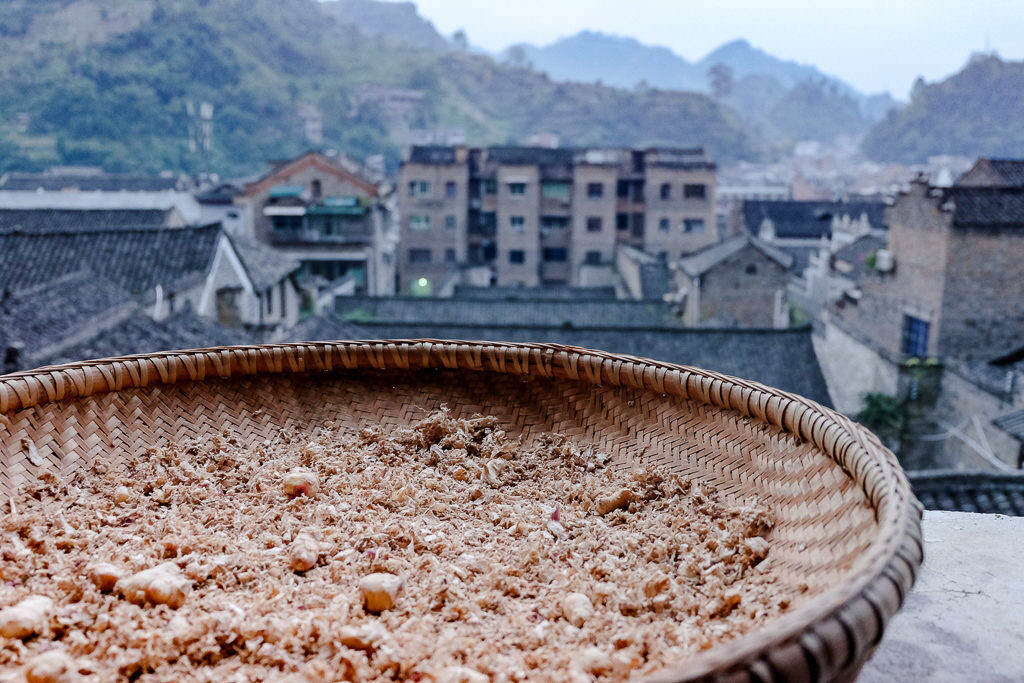 Ein lohnenswerter Blick über Zhenyuan, den Wuyang Fluss und die Zhusheng Brücke eröffnet sich einem von der "Black Dragon Cave" (Qinglong Cave), einem alten Tempelkomplex, der in den Zhonghe Berg eingelassen ist.
A scenic view across Zhenyuan, Wuyang River and Zhusheng Bridge is offerered by the "Black Dragon Cave" (Qinglong Cave), which in fact is an ancient temple complex, somehow built into Zhonghe mountain.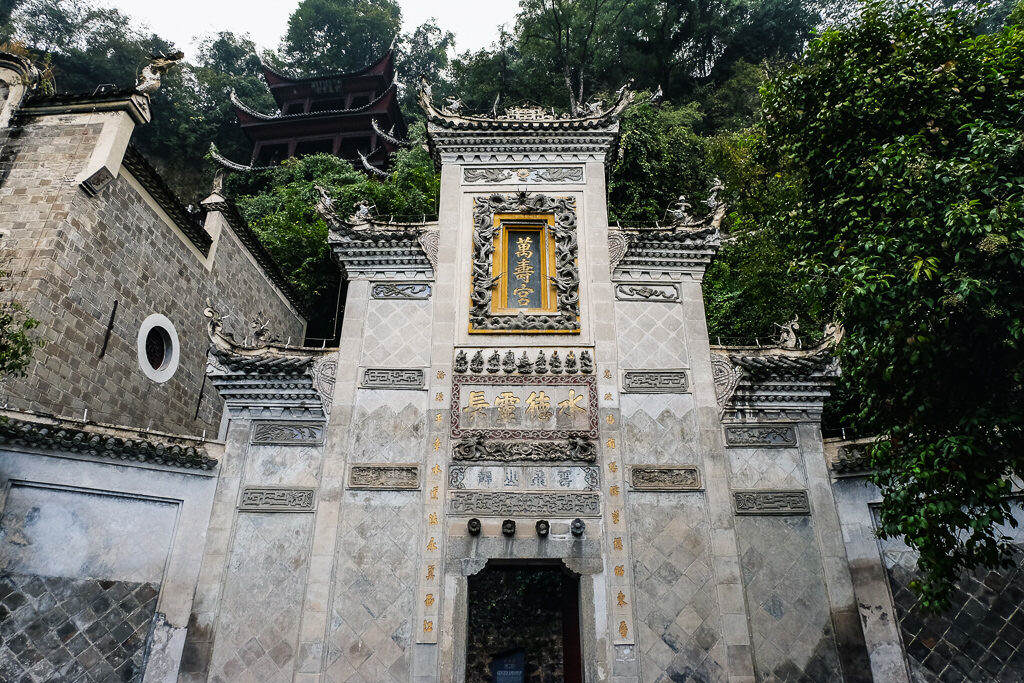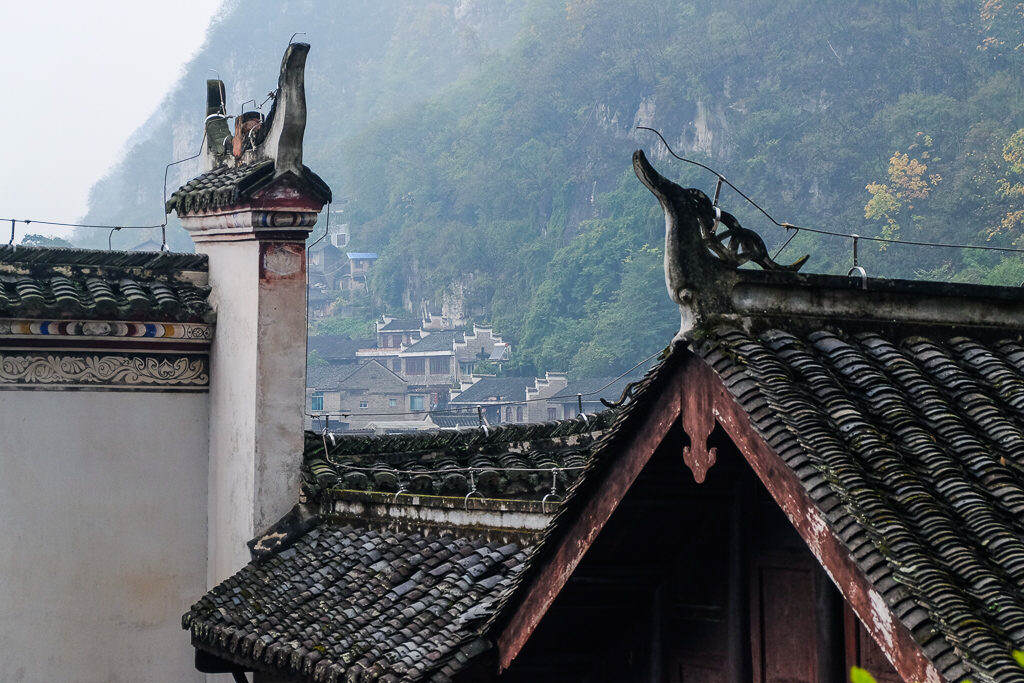 Schweinefüße & kleine Chinesische Mauer | Pig feet & a Small Great Wall
Ein guter Ausgangspunkt Guizhou zu bereisen ist die Provinzhauptstadt Guiyan. Wer bereits hier einen kleinen Abstecher in eine chinesische Altstadt machen möchte, kann die ca. 30 km entfernte Qingyan Ancient Town besuchen, die 1378 ursprünglich aus Militär-Gründen errichtet wurde. So erklärt sich auch die Mauer, die sich wie ein Imitat der Chinesischen Mauer den kleinen Hügel empor schlängelt.
A good starting point for travelling through Guizhou is the province´s capital Guiyang. If you are keen on visiting an ancient town closeby, you can directly aim for Qingyan Ancient Town, 30 km away from the province´s capital, which originally was built in 1378 for military purposes. That also explains the existance of the small lookalike wall of the Great Wall of China, that is winding up the hill.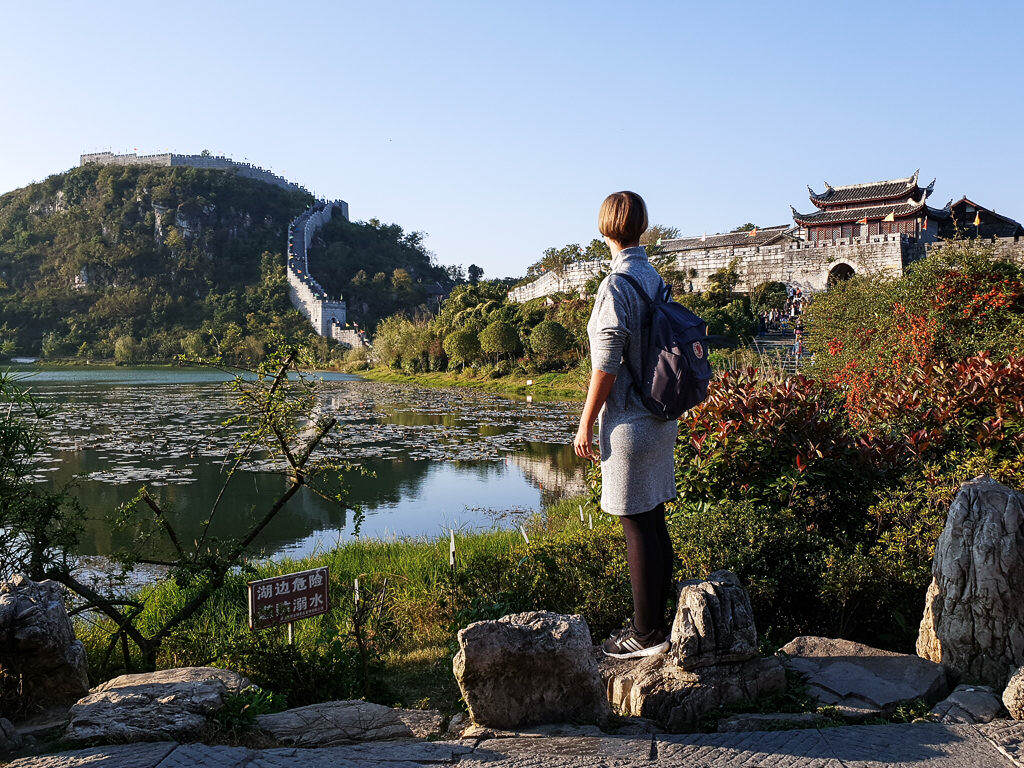 Leider ist das Städtchen aufgrund der Nähe zu Guiyang sehr beliebt und somit ziemlich voll mit Besuchern, die sich von Shop zu Shop, an Souvenir- und Essständen vorbei schieben. Mitunter entdeckt man jedoch auch schöne Motive einheimischer Verkäufer oder Handwerker sowie chinesischer Touristen, die es auskosten in historische oder festliche Gewänder zu schlüpfen und vor der idyllischen Szenerie zu posieren. Für einen ersten Eindruck, was es bedeutet China zu bereisen, also gerade ausreichend, doch meine Empfehlung lautet definitiv tiefer in die abgelegeneren Landesteile einzutauchen.
Unfortunately this town is quite popular with tourists due to the short distance to Guiyang and you will find it packed with people, who push themselves from one souvenirshop to the neighbouring foodstall. But inbetween you can also find nice motives of local food vendors or craftsmen, as well as Chinese tourists, who use the idyllic scenery to get dressed up in historical or festive outfits and strike some poses. Fair enough to get a first impression of what it feels like travelling China. But my recommendation would definitely be to dive deeper into the rural parts of the country!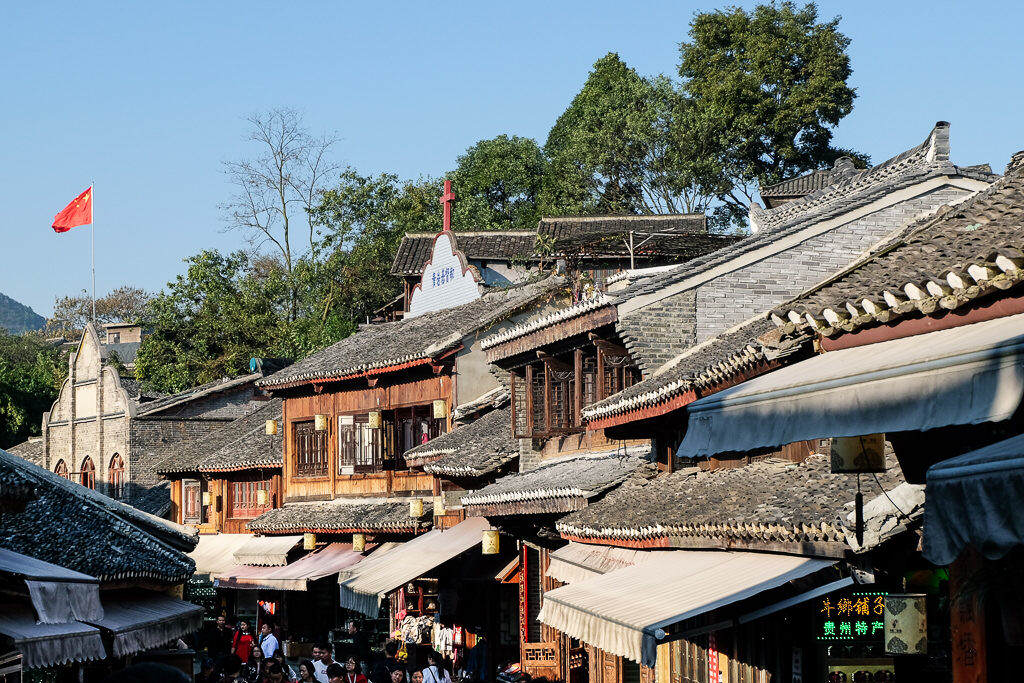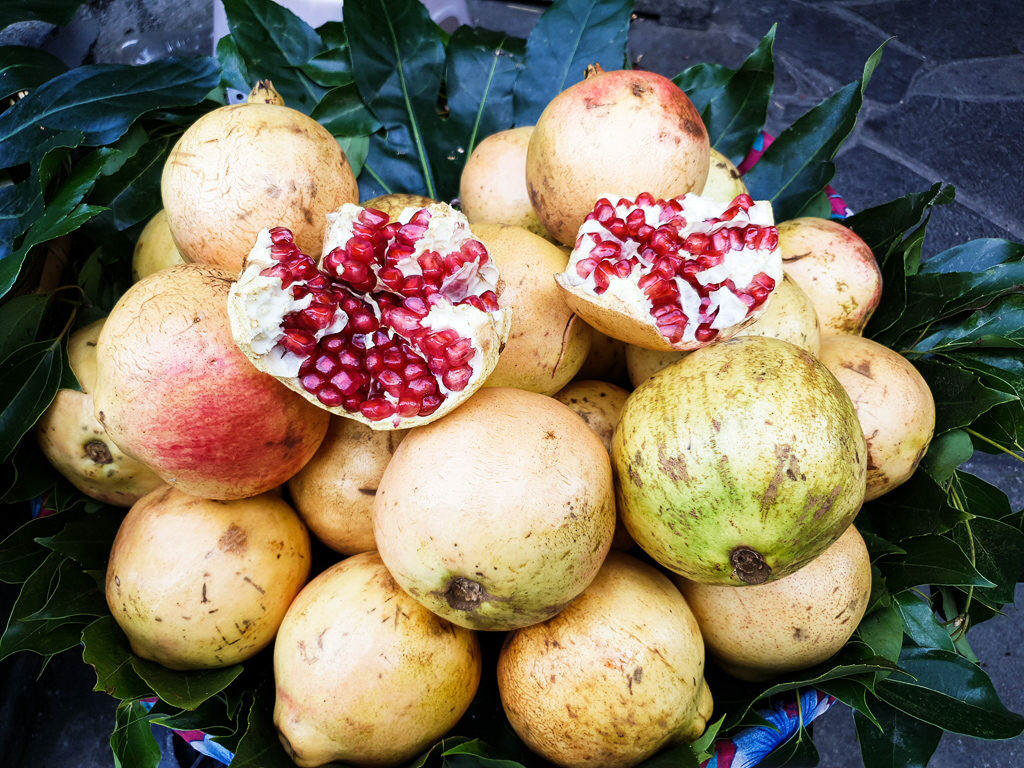 Fun Fact: Nicht wundern, warum es hier an jeder Ecke Schweinefüße zu kaufen gibt: Das Verzehren von Schweinefüßen soll angeblich Glück für anstehende Prüfungen bringen. Und wie in China oft gesehen: Viel hilft viel, also gibt es die für unsereins gewöhnungsbedürftige Spezialität hier an jeder Ecke.
Fun Fact: Ever wondered why you find so many food stalls selling pig feet in Qingyan? Eating pig feet supposedly brings good luck before exams. And as always in China: a lot seems to help a lot – thst´s why you will find pig feet at every corner.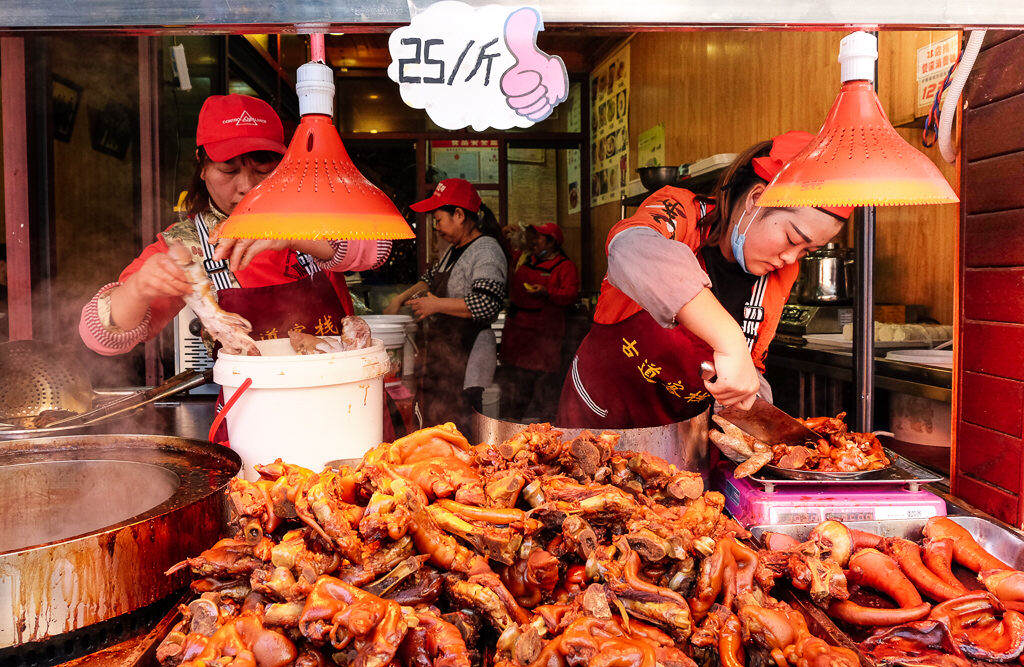 Wenn ihr mehr über Guizhou erfahren wollt, schaut in meinen Artikel "Unterschätzt oder noch unbekannt? Guizhou ist Chinas verstecktes Juwel!". Dort findet ihr auch die 5 Dinge, die ihr in dieser Provinz auf keinen Fall verpassen solltet.
If you wanna know more about Guizhou and find out the 5 things defintely not to be missed in this province, have a look at my BlogPost "China´s hidden gem: 5 things not to be missed when travelling Guizhou".
***
Dieser Artikel ist auf Einladung von AmazingGuizhou entstanden. Dennoch spiegelt er ausschließlich meine persönlichen Eindrücke wider, wie alle Beiträge auf diesem Blog.
I was invited to this trip by AmazingGuizhou. But as all articles on this blog, it only reflects my personal impressions.
***
FRAGEN & KOMMENTARE? | QUESTIONS & COMMENTS?
Seid ihr schon durch China gereist und wisst um die Vielfalt dieses Landes, 0der seid nun neugierig geworden? Hat euch der Artikel gefallen, oder sind noch Fragen offen? Lasst mir gerne einen Kommentar da und teilt den Artikel mit euren Freunden!
In der Kategorie China Reisen findet ihr übrigens noch weitere Artikel aus dem Land der aufgehenden Sonne.
Have you ever been travelling through China and know about the diversity of this country? Or are you curious now? Do you like the article, or still have questions? Please leave me a comment and share this article with your friends! 
In the category China Travelling you can find further blogposts from the land of the rising sun.
***
 – SMILE4TRAVEL NEWSLETTER –
Werde Teil der Smile4Travel Community – folge mir auf Facebook & Instagram und abonniere meinen Newsletter, um keine Smile4Travel-Abenteuer zu verpassen! Kein Spam, versprochen!
Become part of the Smile4Travel Community – Follow my Facebook Page & Instagram and register for my Newsletter, so you don´t miss any Smile4Travel adventures! No Spam – I promise!