(P)Roof of Africa Tag 2: Im Regen durch das alpine Moorland ins Shira Camp
Es ist der 16. Februar und wir werden von Regentropfen geweckt, die auf unser Zelt prasseln. Das war es nun mit der vorübergehenden Trockenheit. Doch Jan geht es wieder gut als wir zum Frühstück aus unserem Zelt kriechen, es hat aufgehört zu regnen und wir sehen den Kilimandscharo zum ersten Mal bei Tageslicht. Das Frühstück ist genauso reichhaltig wie das Abendessen am Tag zuvor: Toast, Spiegelei, Mango, Papaya und Schoko-Porridge, der von nun an unser täglicher Morgengruß sein wird. Nach dem Früshtück heißt es Packen und fertig machen für die zweite Tagesetappe. In ungefähr fünf Stunden werden wir zwölf Kilometer bis zum Shira Camp auf 3.840 Meter Höhe laufen. Und gleich zum Start wird es ziemlich steil.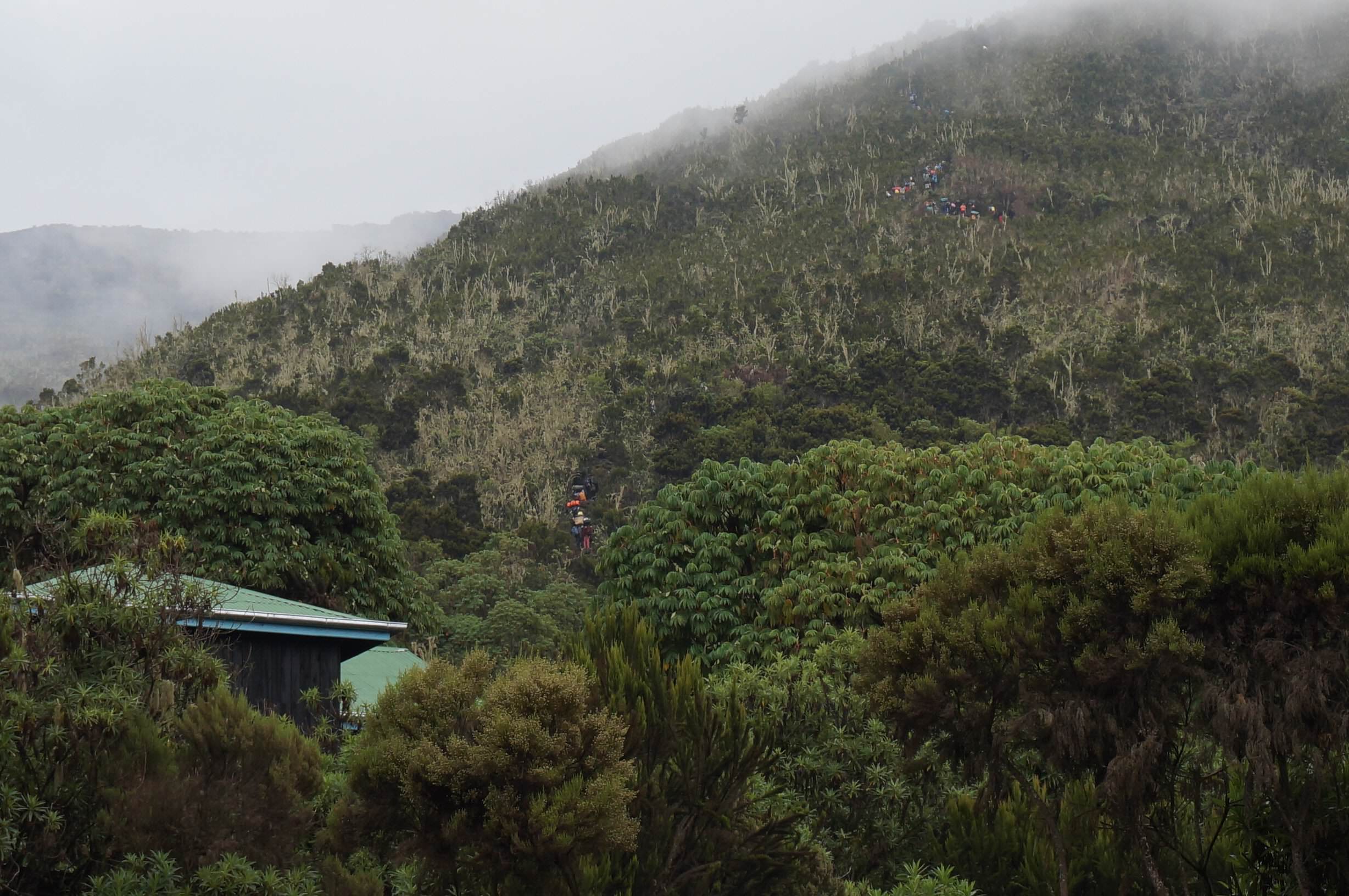 Wir sind die Letzten, die das Machame Camp verlassen. Aber das macht nichts. Da wir nur zu zweit sind, können wir unser Tempo selbst bestimmen. "Pole Pole" (sinngemäß: Gemach, gemach!) geht es also gleich mal steil bergauf durch das alpine Moorland. Die Landschaft, die gestern noch von Bäumen, grünen Blättern und Farnen geprägt war, ändert sich heute schnell. Moos hängt von den Bäumen wie riesige Spinnenweben. Mich erinnern die hellgrünen Moose an alte Fischernetze. Ernest, unser Guide, beschreibt es mit "beard of an old man".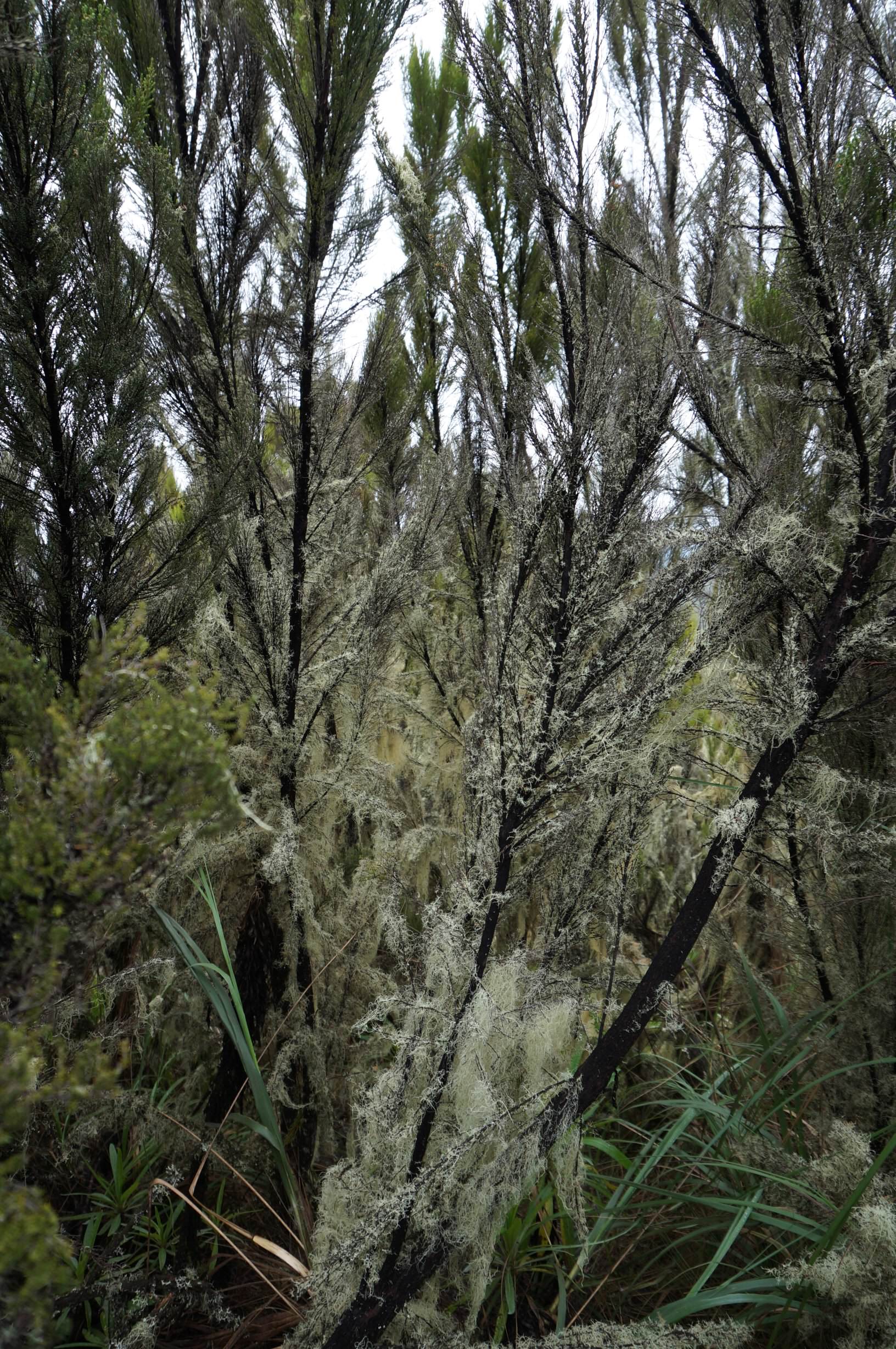 Das erste Drittel haben wir ohne Regen überstanden, doch danach erwischt es uns. Unaufhörlich geht es steil bergauf. Im Regen ist das Gehen auf den rutschigen Steinen noch anstrengender. Dichter Nebel hat sich nun über das alpine Moorland gelegt. Ab und an erhaschen wir einen Blick nach unten, doch weit ist die Sicht nicht. Und der Weg nach oben gibt keinen Aufschluss über die noch verbleibende Weglänge. Es ist uns ein Rätsel wie die Träger mit all dem Gepäck auf Schultern und Kopf den steilen Weg nach oben meistern. Wolfgang, unser Koch, trägt zudem immernoch einen kleinen gelben Kanister, der mit Sägespäne gepolstert Platz für ca. 30 Eier bietet.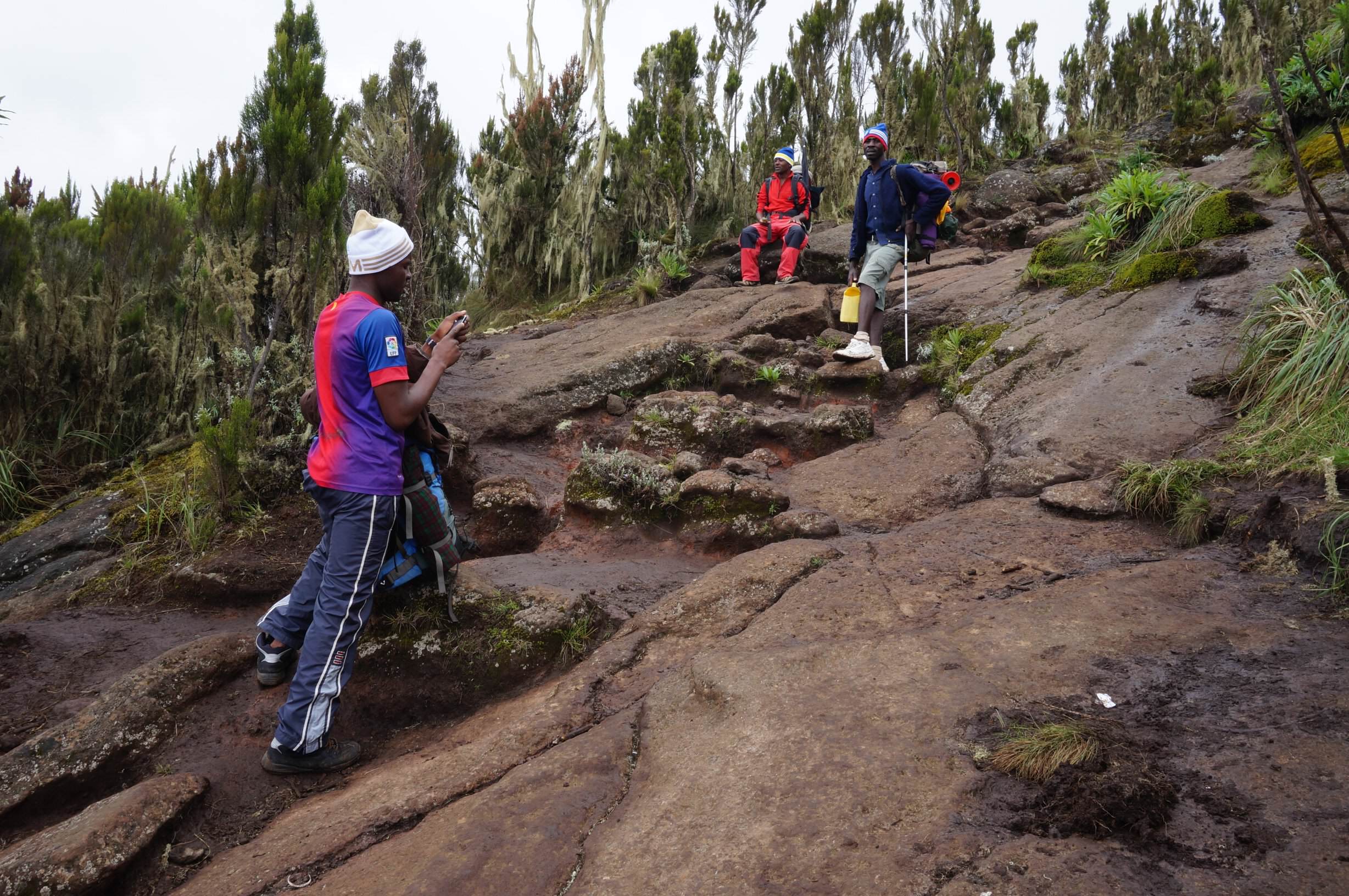 Der Regen ist mittlwerweile ziemlich heftig geworden und ich bin froh um meinen Regen-Poncho. Gegen Mittag erreichen wir einen Felsvorsprung einer früheren Höhle. Unsere Mittagspause können wir somit im Trockenen verbringen.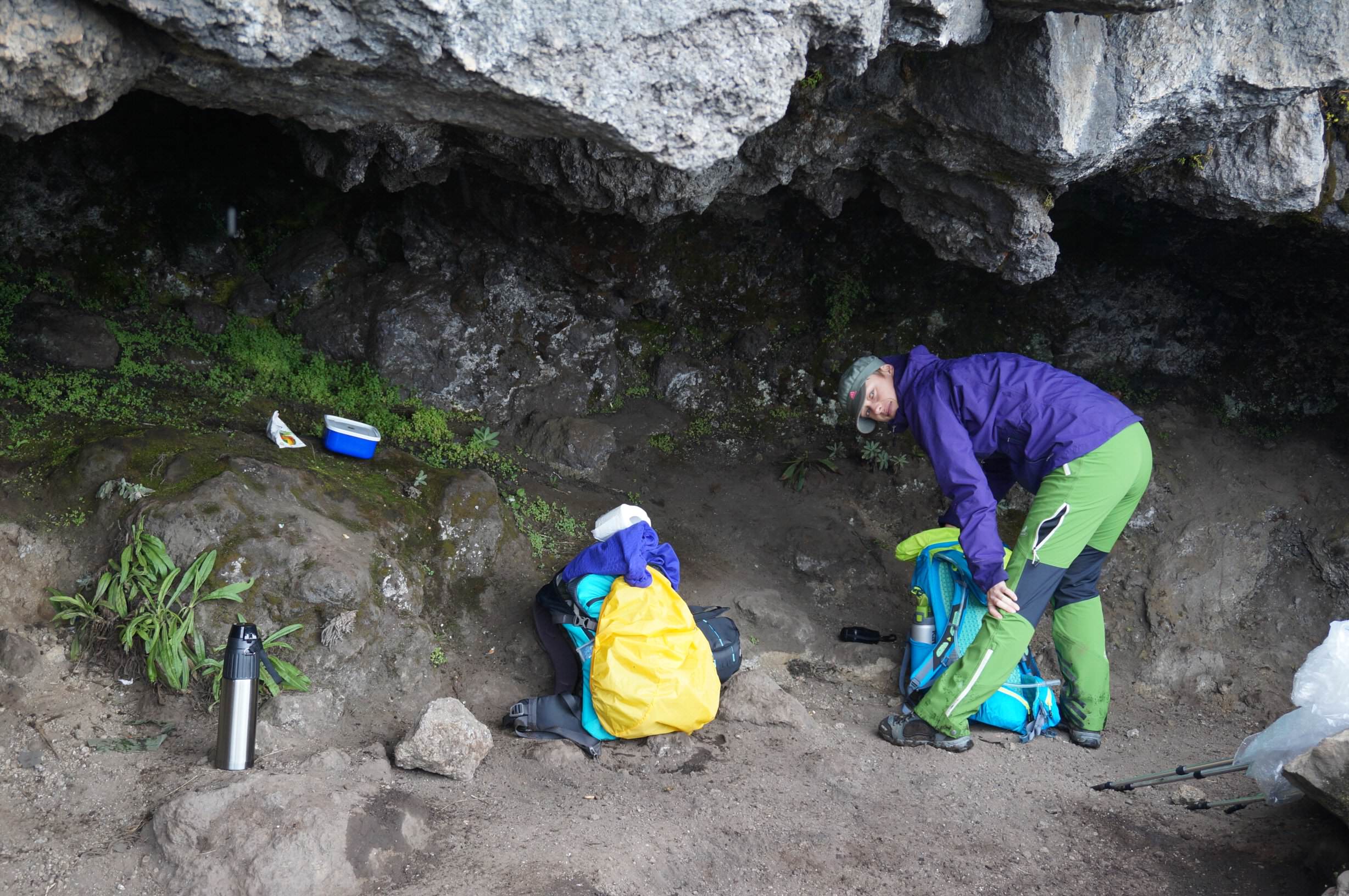 Nach einer Weile wird es etwas heller, der Regen lässt nach. Es sind nun noch ca. 1,5 Stunden zu Gehen bis wir das Ziel der heutigen Tagesetappe, das Shira Camp, erreichen. Und es dauert nicht lange, da holt uns der Regen wieder ein. Wir laufen weiter steil bergauf, müssen teilweise über Felsen klettern. Wir balancieren auf Steinen über kleine Bäche und kommen an Wasserfällen vorbei, die es sonst nicht gibt. Aber da es nun schon seit ein paar Wochen heftig regnet, fließt jetzt überall Wasser, selbst an Stellen an denen es sonst trocken ist. Denic und Ernest bringen uns immer weiter nach oben, ohne zu verraten wie weit es noch ist.
Jan geht es heute besser als gestern. Doch das Wandern steil bergauf begleitet vom ständigen Regen strengt an. Wir machen eine weitere Pause unter einem Felsvorsprung, denn der Regen ist wieder heftiger geworden und scheint nicht nachzulassen. Eine halbe Stunde noch bis zum Camp. Wir ziehen los und es regnet weiter. Ein letztes steiles Stück führt uns auf den höchsten Punkt der heutigen Etappe. Danach laufen wir noch ca. 15 Minuten leicht bergab bis zum Shira Camp auf 3.840 Meter Höhe. Im Camp angekommen lässt der Regen nach.
Es ist Zeit zum Umziehen und für Popcorn. Alles ist bereits gerichtet. Doch die Popcorn-Pause sollte nur von kurzer Dauer sein. Danach müssen wir uns registrieren und Denic will uns noch auf einen nahe gelegenen Hügel bringen, von dem aus wir das Shira Camp 2 sehen werden.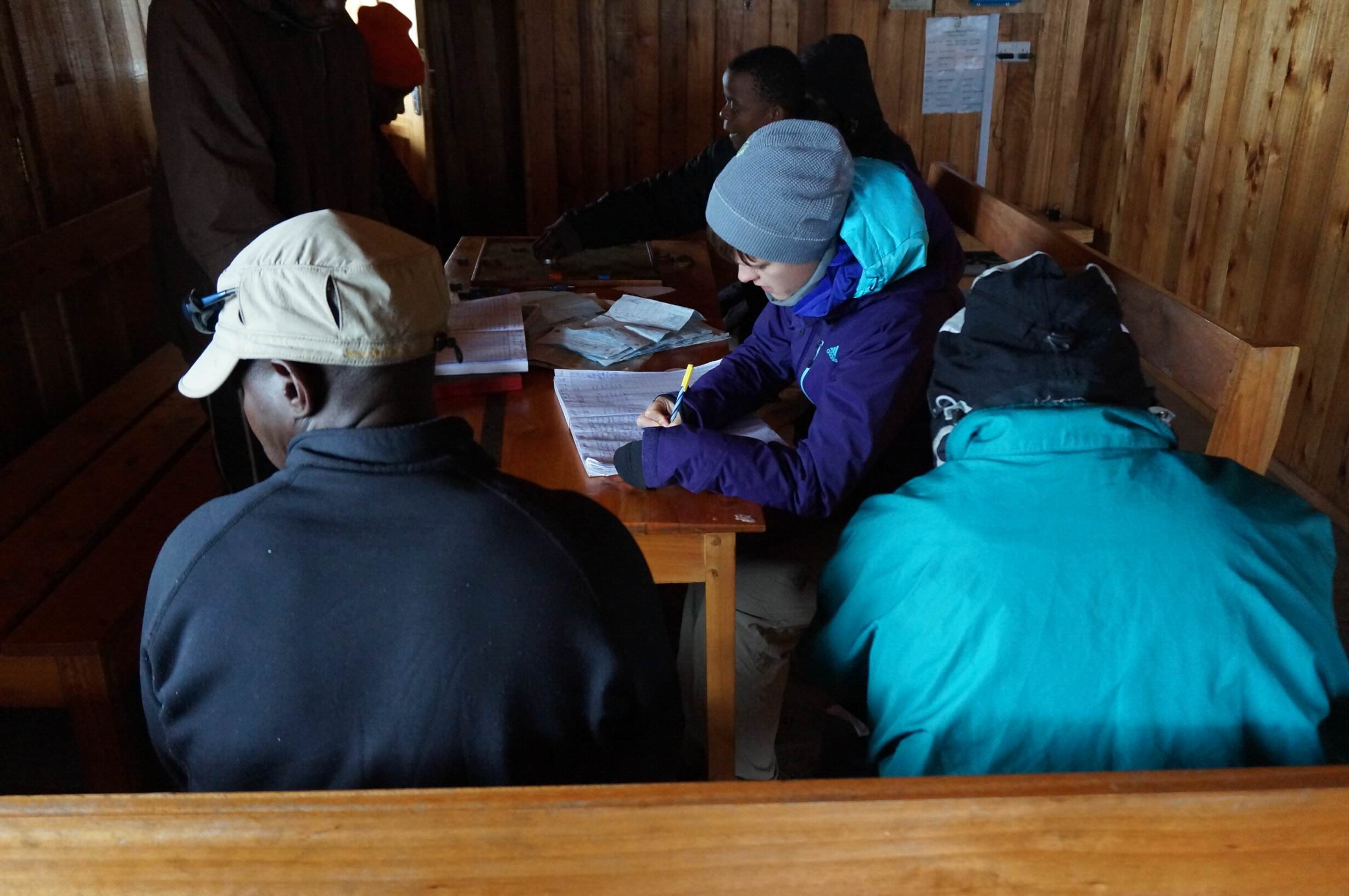 Auf dem Weg dorthin verrät er uns, dass eigentlich ein Akklimatisations-Lauf bis zum Shira Camp 2 geplant war. Doch aufgrund des schlechten Wetters und der anstrengenden Tagesetappe soll eine weitere halbe Stunde ausreichen.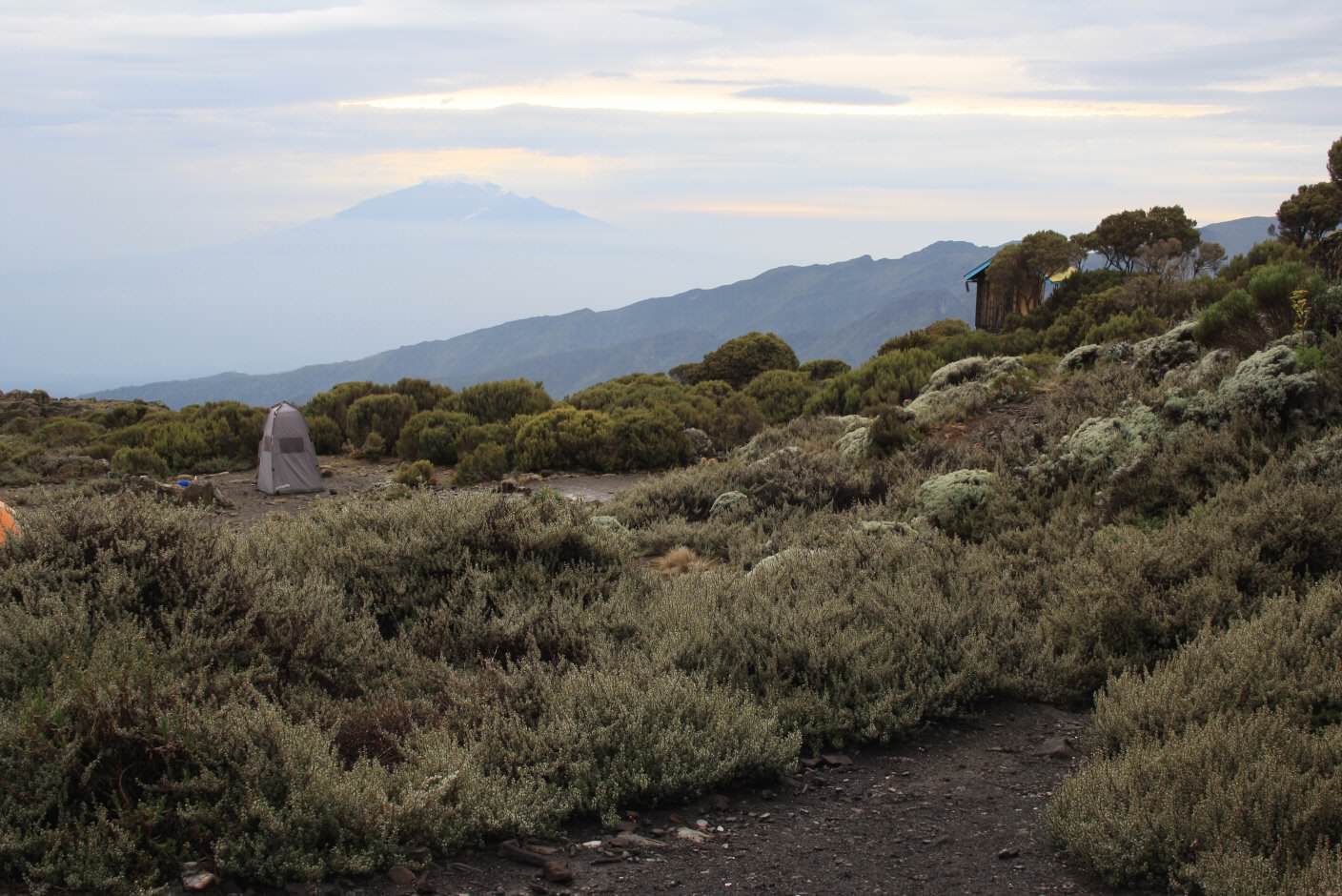 Wir kommen an einem Felsvorsprung vorbei, der den Eingang zu einer Höhle bildet. Früher haben die Träger in diesen Höhlen übernachtet. Mittlerweile ist das aufgrund von Einsturzgefahr zu riskant und deshalb verboten. Auf dem Hügel angekommen haben wir einen wunderbaren Blick auf den Mount Meru, das auf dem Shira Plateau gelegene Shira Camp 2 und auf unser Camp. Es wirkt von hier oben wie ein kleines Dorf.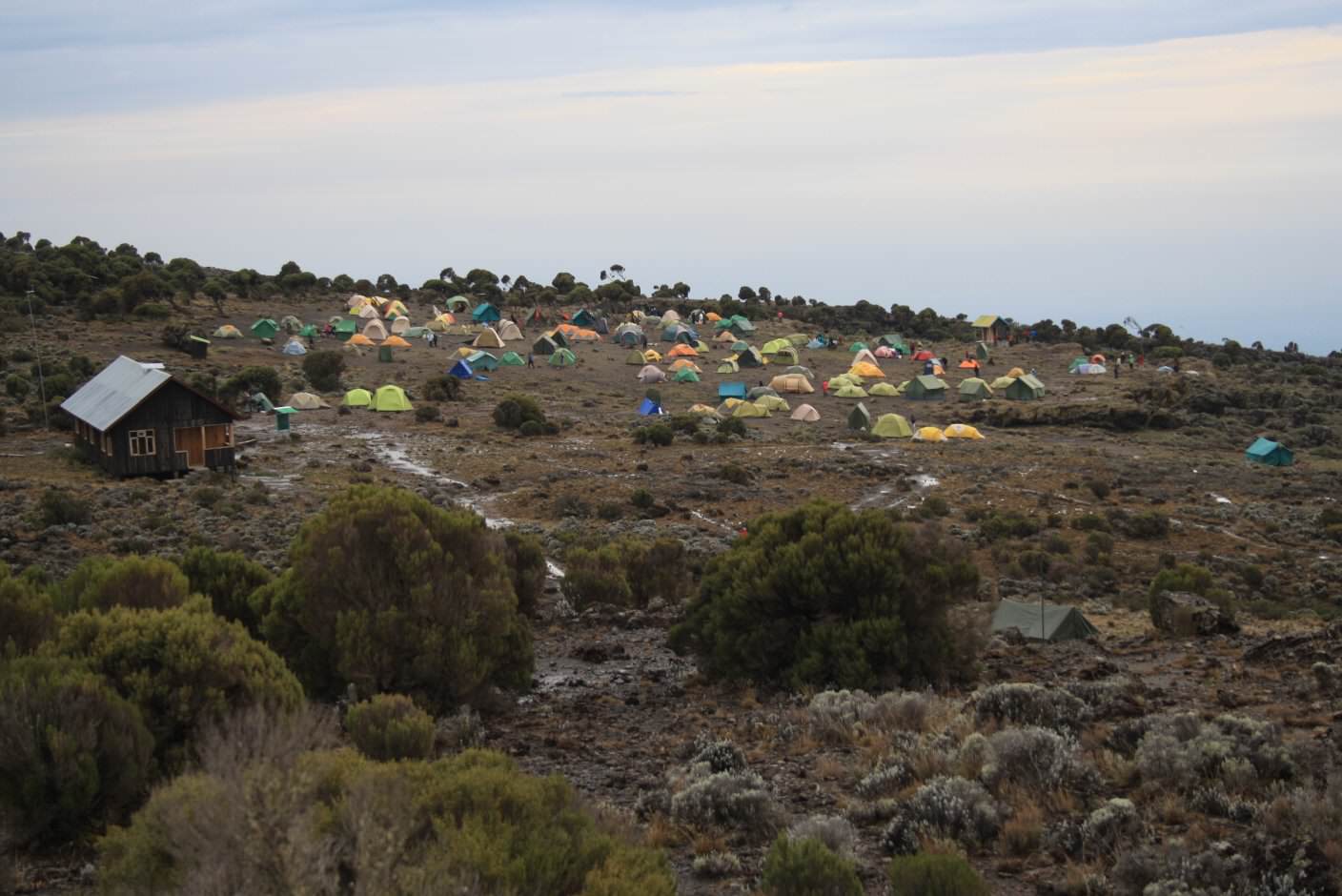 Durch die Wolken hindurch blinzelt ab und zu die Schneedecke des Kilimandscharo. Es erscheint uns surreal, dass wir gerade auf dem Weg dorthin sind. Auch hier auf knapp 4.000 Metern Höhe ist es schon relativ kühl. Und trotzdem wirken die Gletscher des Kilimandscharo noch unendlich weit entfernt.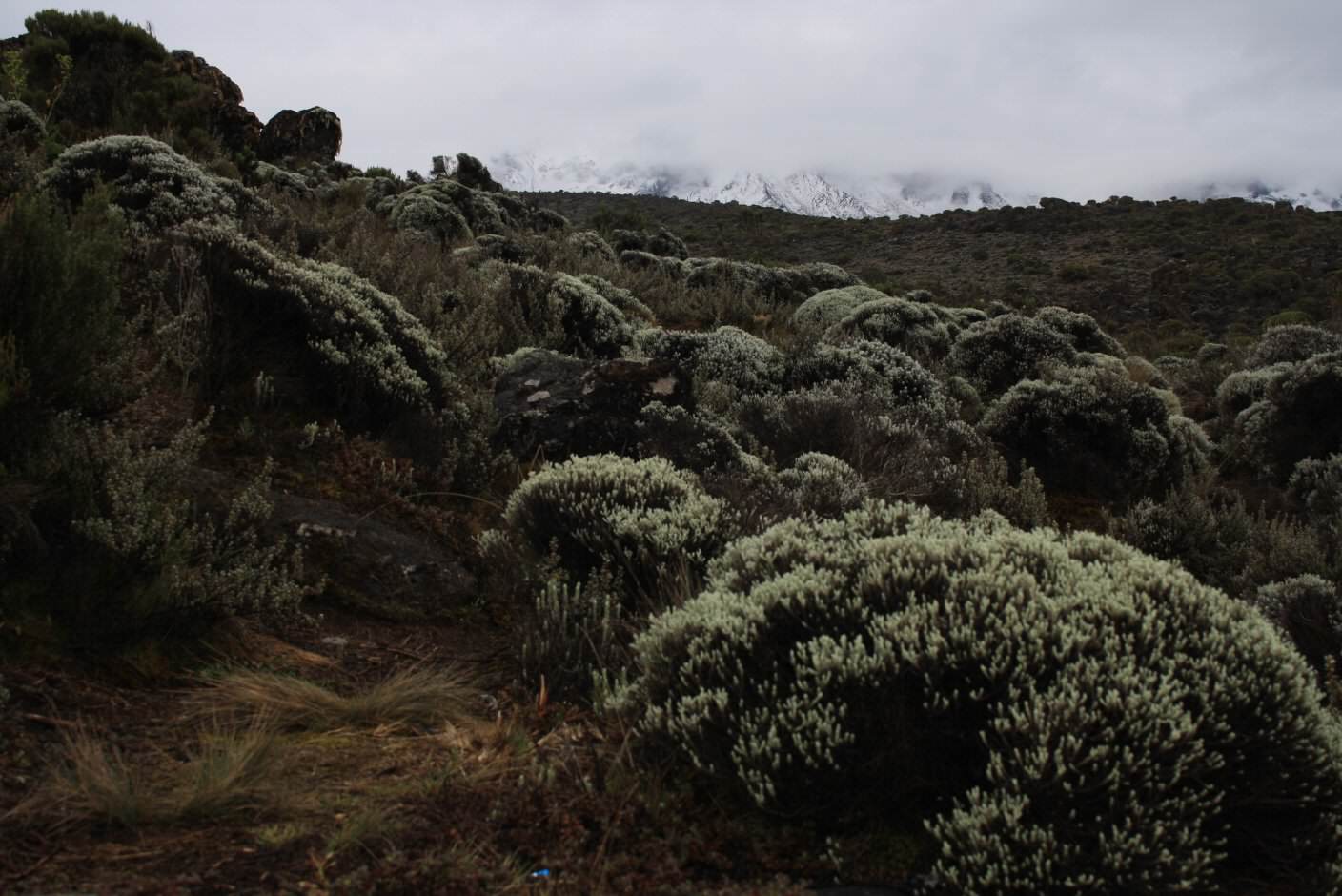 Wieder ankommen im Camp erkunden wir noch etwas unser kleines Dorf, bevor es Abendessen gibt. Auch heute ist es wieder sehr reichhaltig und lecker: Lauchsuppe, Pancakes, Reis, Gemüse, Kraut und Rindfleisch. Nach dem Essen ist endlich Zeit zum Relaxen. Der Kilimandscharo gibt nun etwas mehr von sich preis. Seine Gletscher scheinen im Mondlicht und sorgen für eine abenteuerliche Atmosphäre.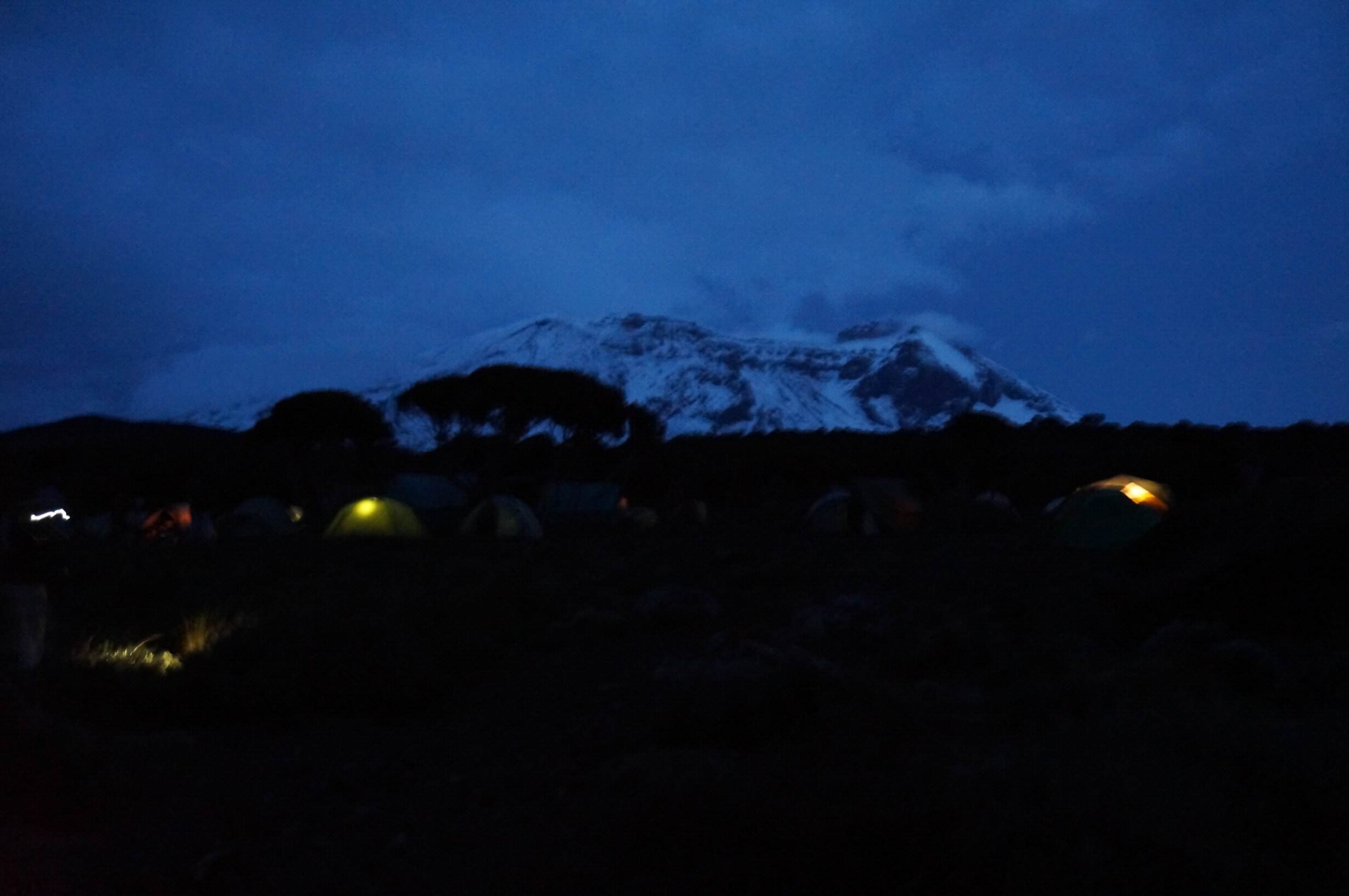 Morgen heißt es auch für uns etwas früher Aufstehen: 7 Uhr. Danach Frühstück und Packen. Die morgige Tagesetappe wird uns auf 4.600 Meter Höhe führen. Wir hoffen, dass es das Wetter gut mit uns meint.
Weiterlesen: Tag 3 – Durch Mordor zum Lava Tower auf 4.400 Meter
Das könnte Dir auch gefallen | You may also like
Tags:
Afrika
,
Dach Afrikas
,
Kilimandscharo
,
ProofofAfrica
,
Tansania
,
Wanderlust