This post is also available in: Deutsch (German)
When thinking of beaches, sand dunes and the Pacific Ocean in general, what comes to your mind first? Summer, sunshine and warm temperatures, right? What if I told you that the Pacific Northwest is the exact opposite of that. But even though and maybe especially because of this the Oregon Coast is a perfect winter travel destination. Would you believe it?
Of course there are several reasons why every single of the 363 miles (584 km) along the Oregon Coast is lovely to visit in summer: Longer days, higher temperatures and the fact that our brain associates beaches with summer automatically. But the weather at the Pacific coast can be unpredictable in summer as well as in winter. Fog and rainy days are a common things all year around. And as the Oregon Coast with its high waves and fresh water temperatures isn´t a typical sunbathing and swimming destination anyways (not even during summer) there are good reasons to pick an alternative season to visit. A trip along the Oregon Coast in winter actually is a magical experience and there is very reasonable proof for it: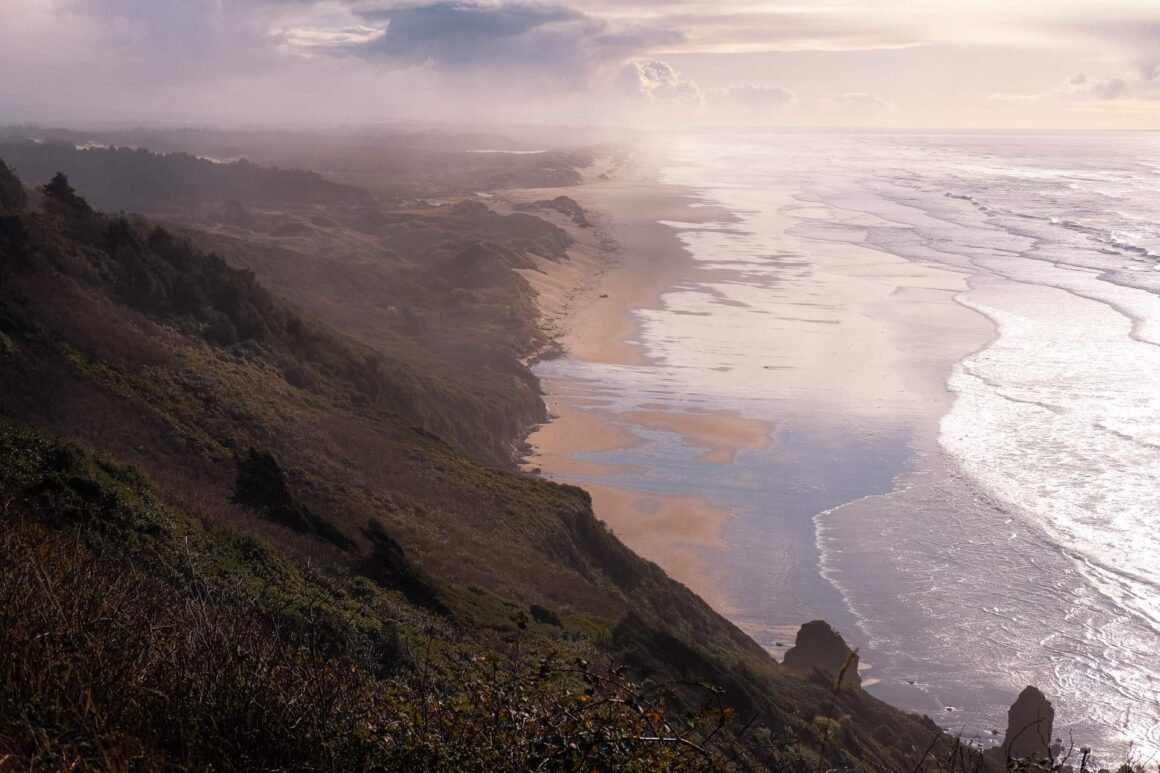 #1 No crowds, not even at popular spots
First of all the Oregon Coast is less crowded during the winter months, which for me is a huge plus already. During our entire roadtrip from Portland down to San Francisco we were overwhelmed on a daily basis by the lonesome beaches and less frequented hiking trails, even at popular and well-known spots. After crossing the boarder to California we really felt a significant difference, which got more and more obvious as we moved closer to the Bay area of course. Even as we traveled during the Christmas holidays we found ourselves only between some locals taking their dog for a walk or few other Oregon travelers.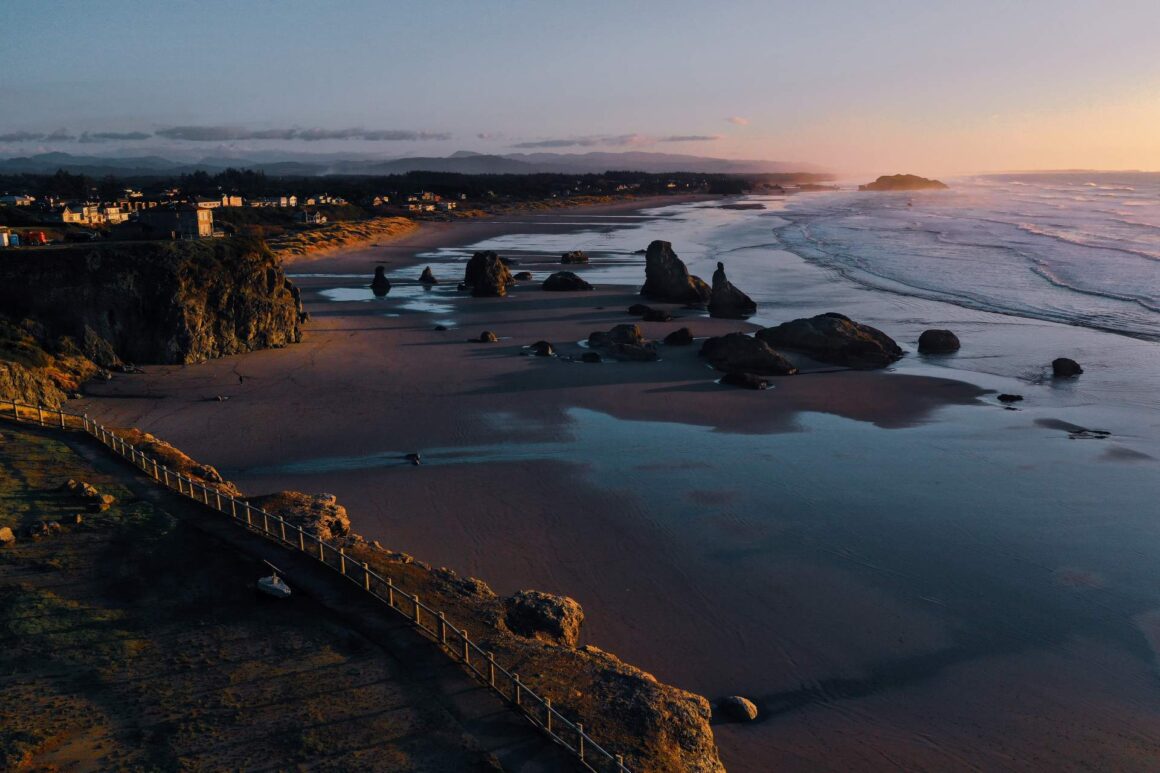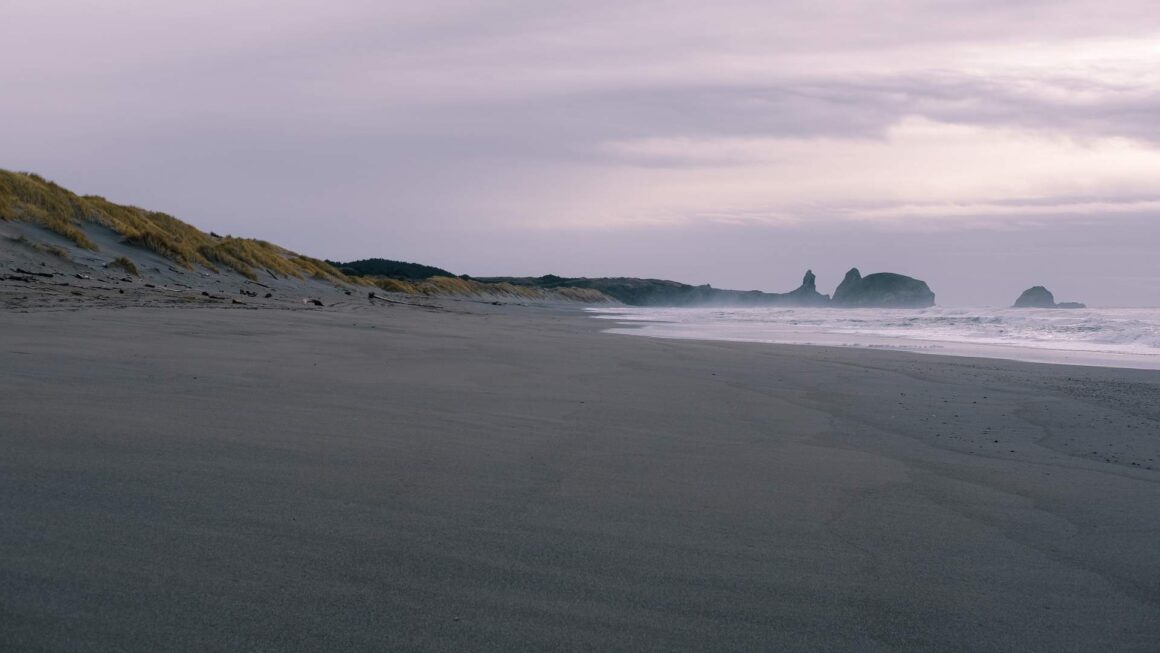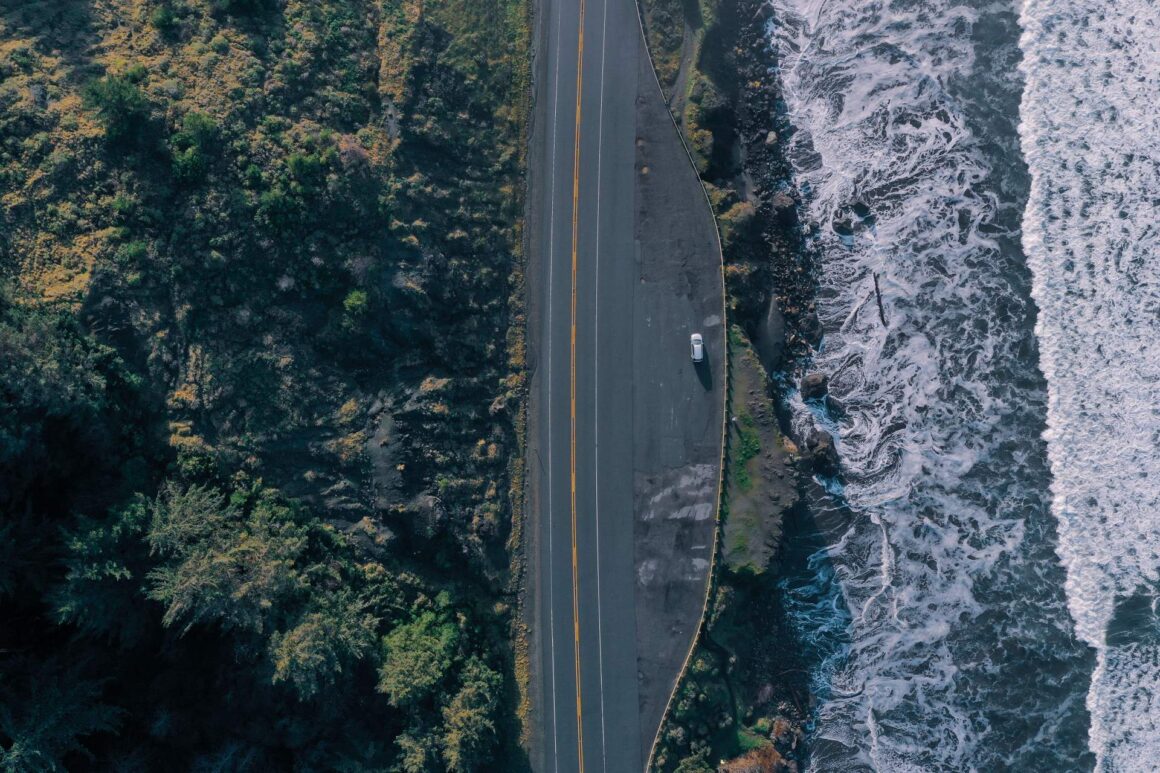 #2 Moderate temperatures during winter months
The moderate climate brings pleasant temperatures all year long and it doesn´t get icy at the Oregon Coast. Of course there are rainy days during the winter months, like there are in spring, summer and fall. Waterproof clothes, a beanie and fleece-top are a Oregonian traveler´s essentials in any season. As conditions change fast you can get surprised by lovely days and rewarded with beautiful sunsets just a day after you´ve been soaking wet.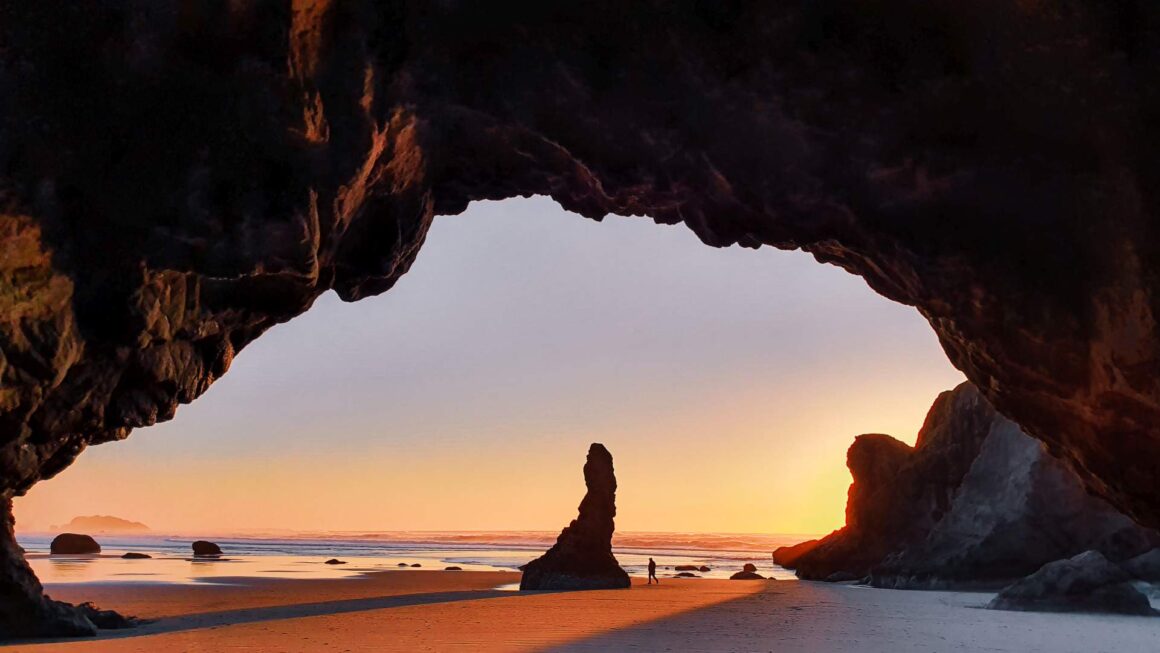 And guess what, that´s exactly what happened to us in Depoe Bay, where we arrived on the first day of our roadtrip along Highway 101. We had left Portland covered in clouds and it didn´t stop raining until we reached the Oregon Coast close to Lincoln City. We stopped at the Whale Watching Center in Depoe Bay to get an overview of the current sightings. While reading the board the sun hit the horizon and suddenly the sky, still fully covered in a carpet of clouds, turned into a sea of orange, red and pink tones. It only took a few minutes and the sky above us was literally glowing. Actually one of the most stunning sunsets I have seen in my entire life so far and definitely a good omen to kick off our roadtrip.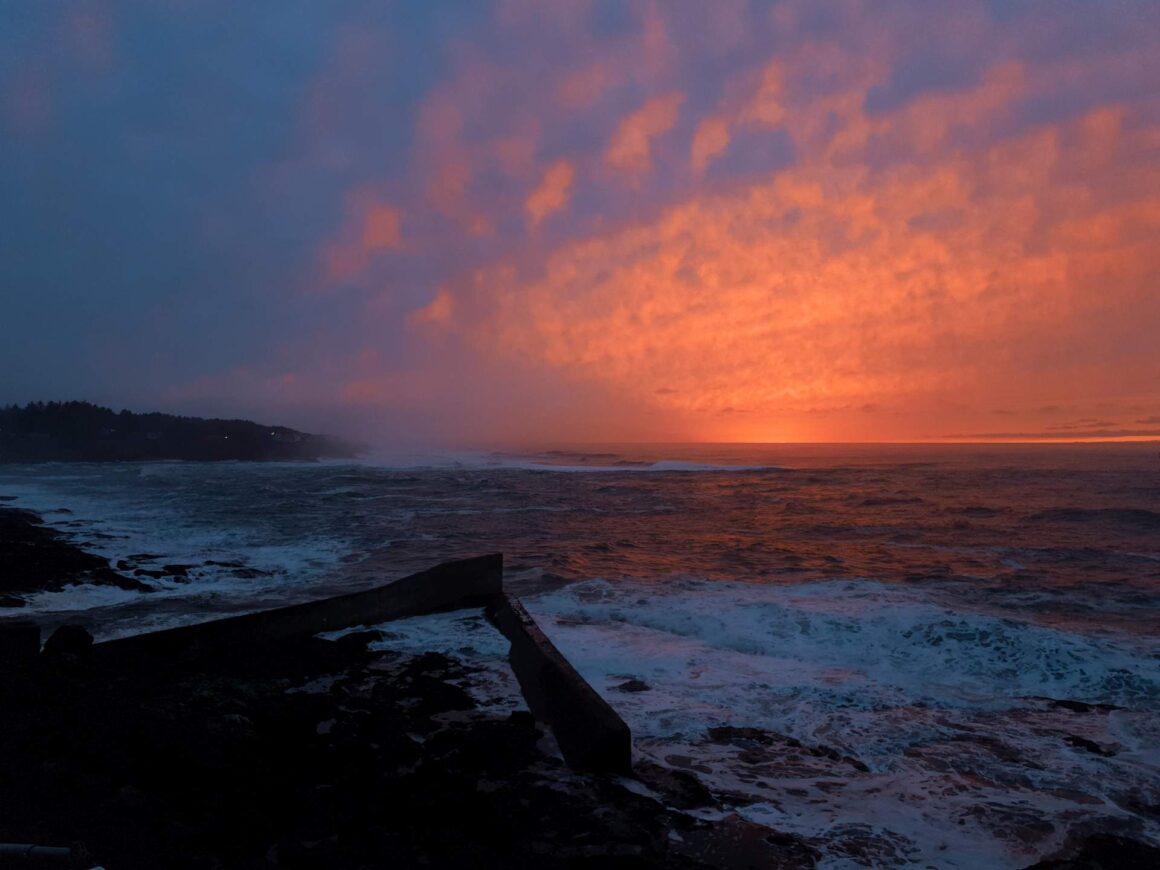 #3 Foggy forests & soft rays of light: A photographer´s paradise
The low hanging and fast moving fog suits the wild scenery of the Oregon Coast perfectly and from a photography point of view winter turns the coast into a perfect playground. The soft light created by the low standing sun and the beautiful sun rays are just magical. No matter if you catch light rays by driving through the woods or while they lighten up the ocean and surrounding rocks: it definitely beams you into another world.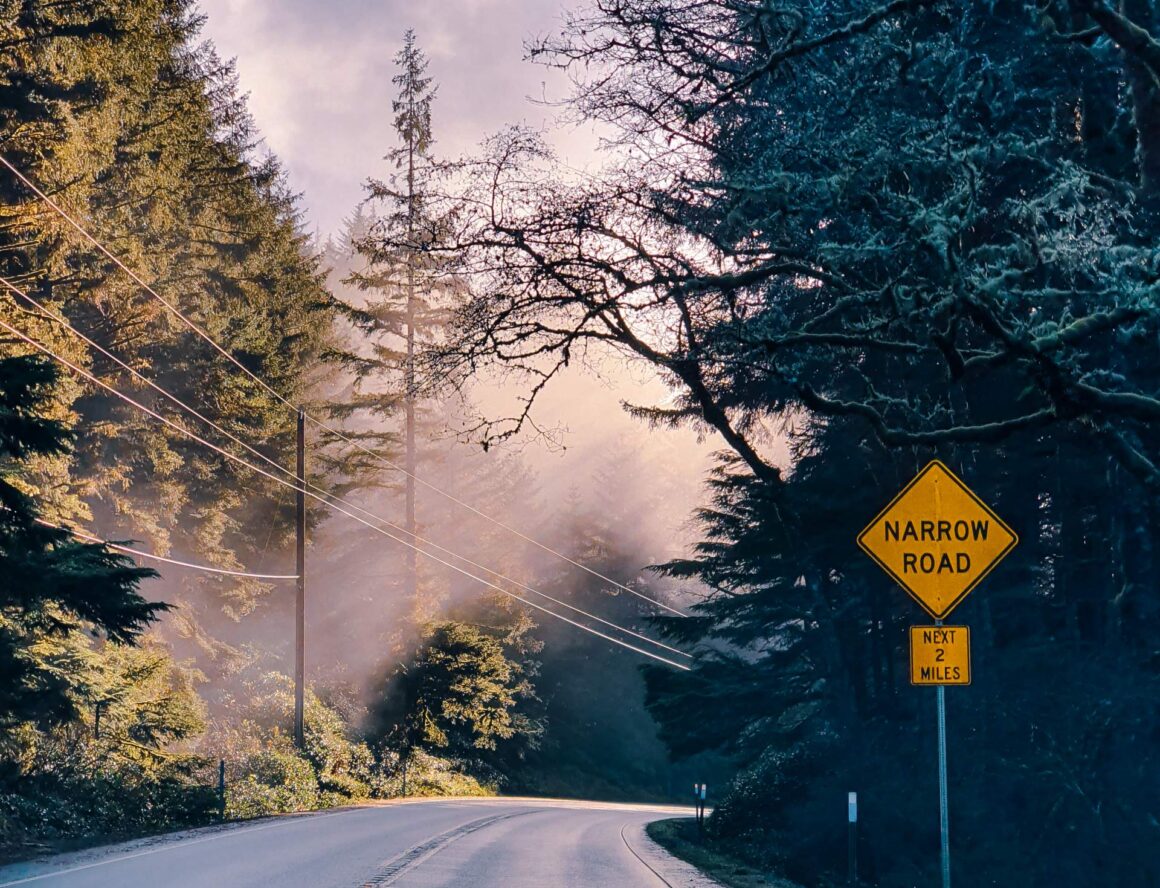 In combiantion with the spume created by the crashing waves the sun creates an atmosphere which can only be described as jaw-dropping. It was by far not the only one, but we caught ourselves in a special moment like this at Cape Sebastian Scenic Corridor. Of course we had to stop and stare at the silhouettes of the rock formations.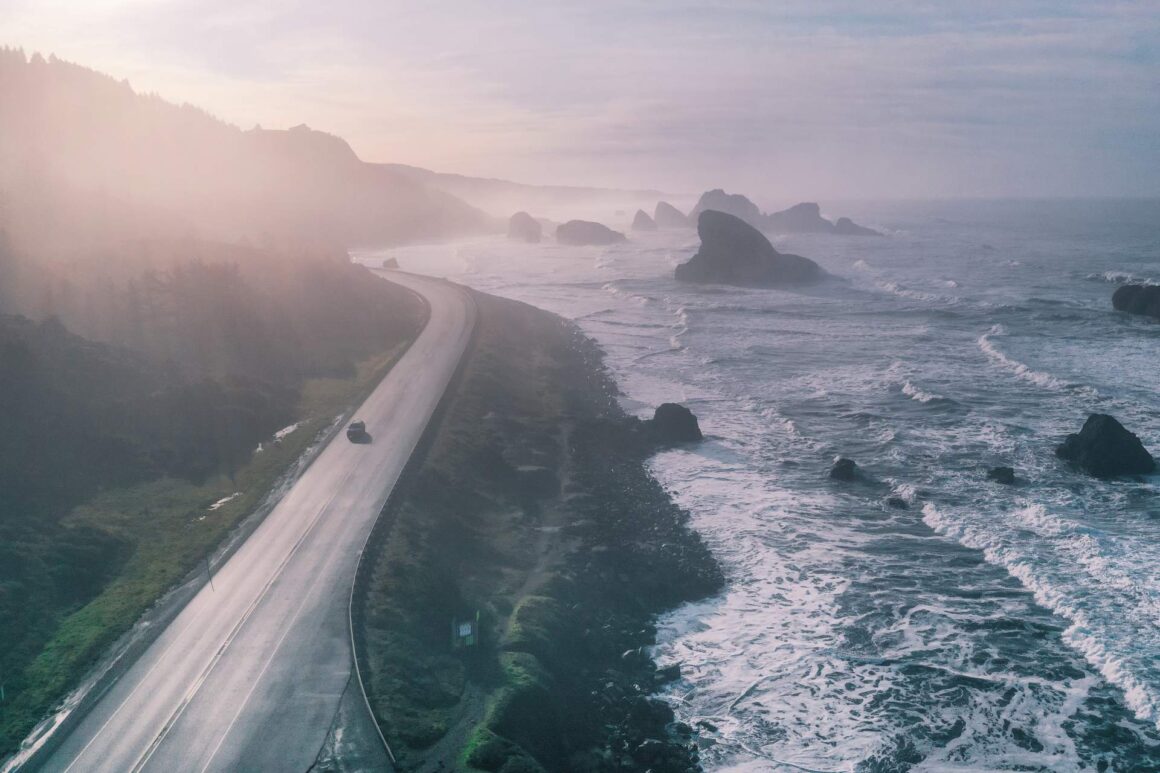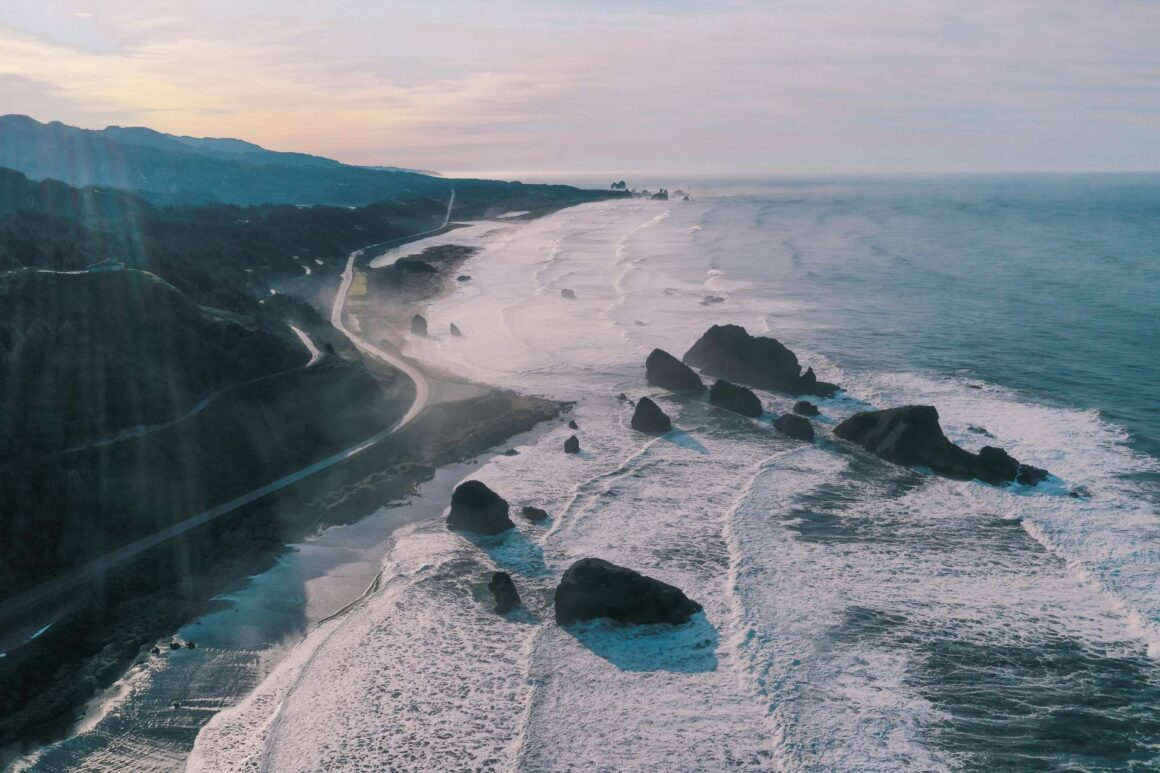 The further down South you get, the wilder the coast will become. The landscape changes from long and wide beaches to small bays, hidden by spectacular rock formations and cliffs. And for a rough scenery like this stormy winter weather is simply the best condition you can get, isn´t it? Samual H. Boardman Scenic Corridor definitely is my South Oregon Coast highlight when it comes to wild and mystic landscapes. The location appears especially picturesque when the sunrays make their way through the clouds and trees to lighten up the rocks and ocean. The Natural Bridges are one spot which displays this spectacle in perfection.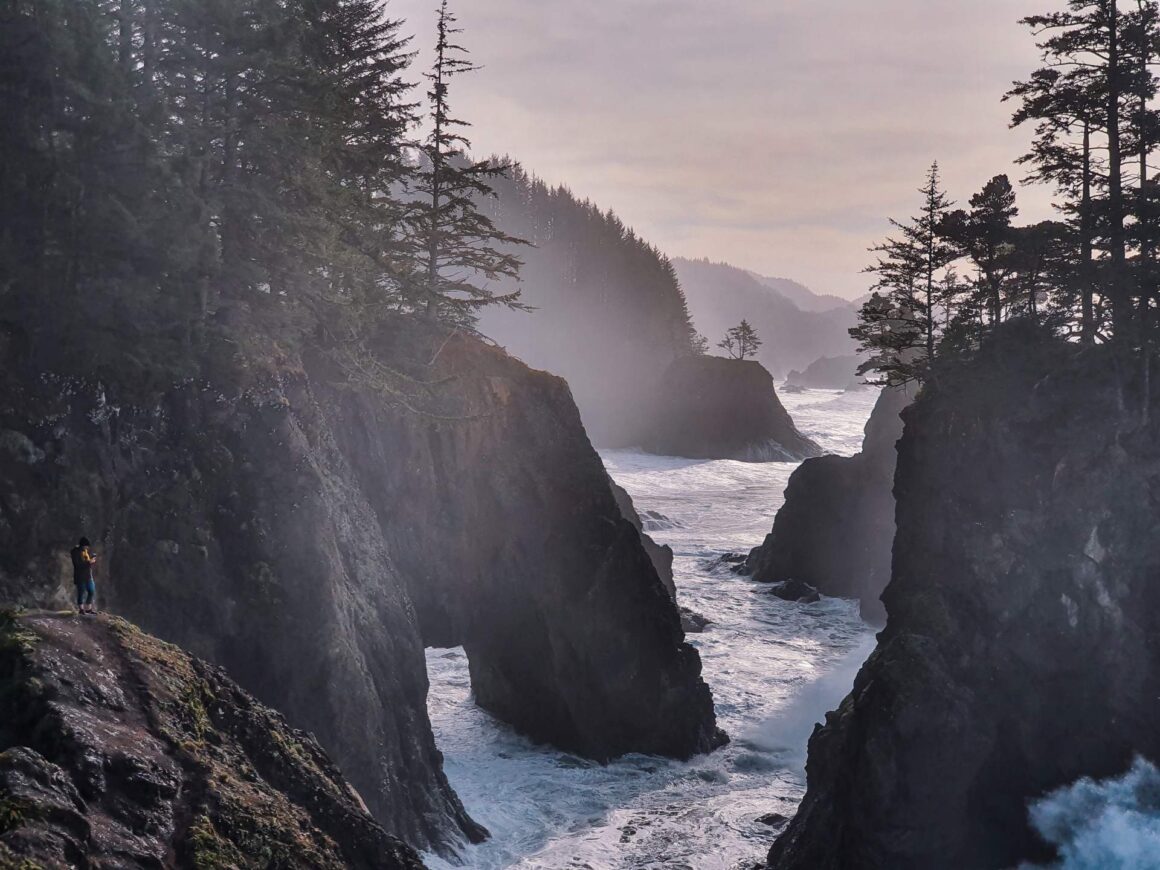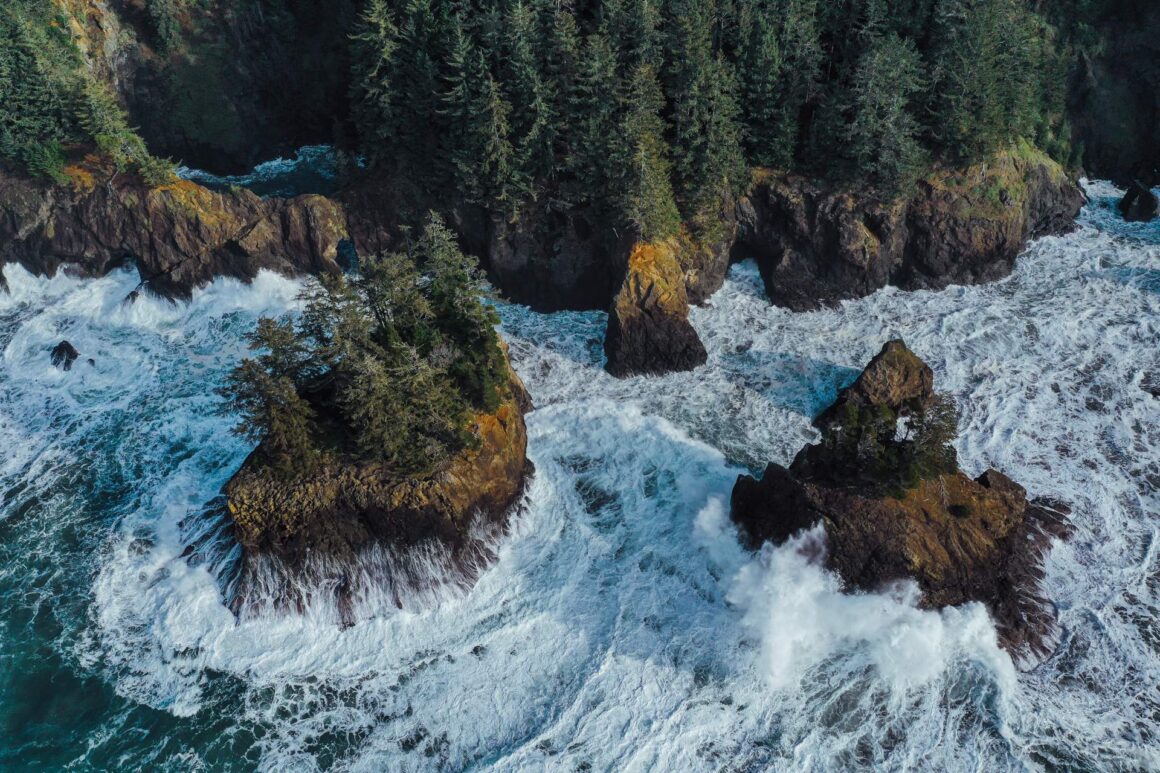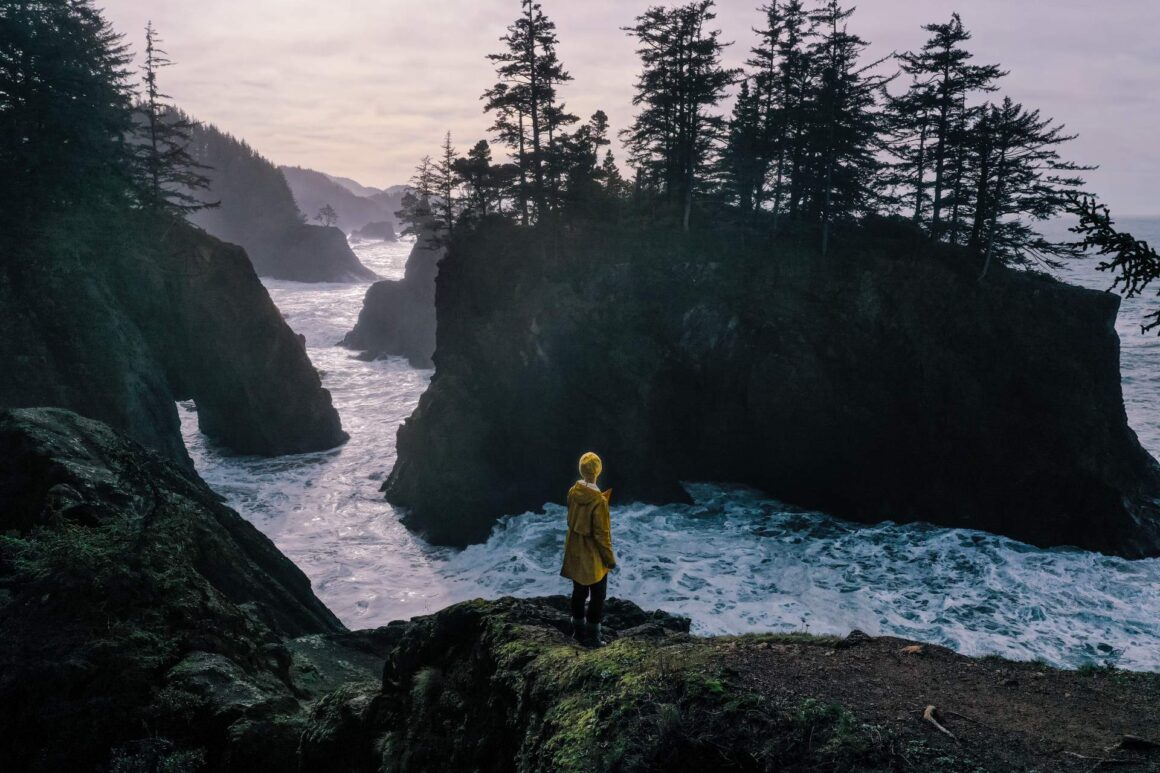 Whales Head Beach is another location well worth stopping for. We came by just in between a cuple of rain showers, but still loved the place because of the reflections of the rocks – and again its lonesomeness.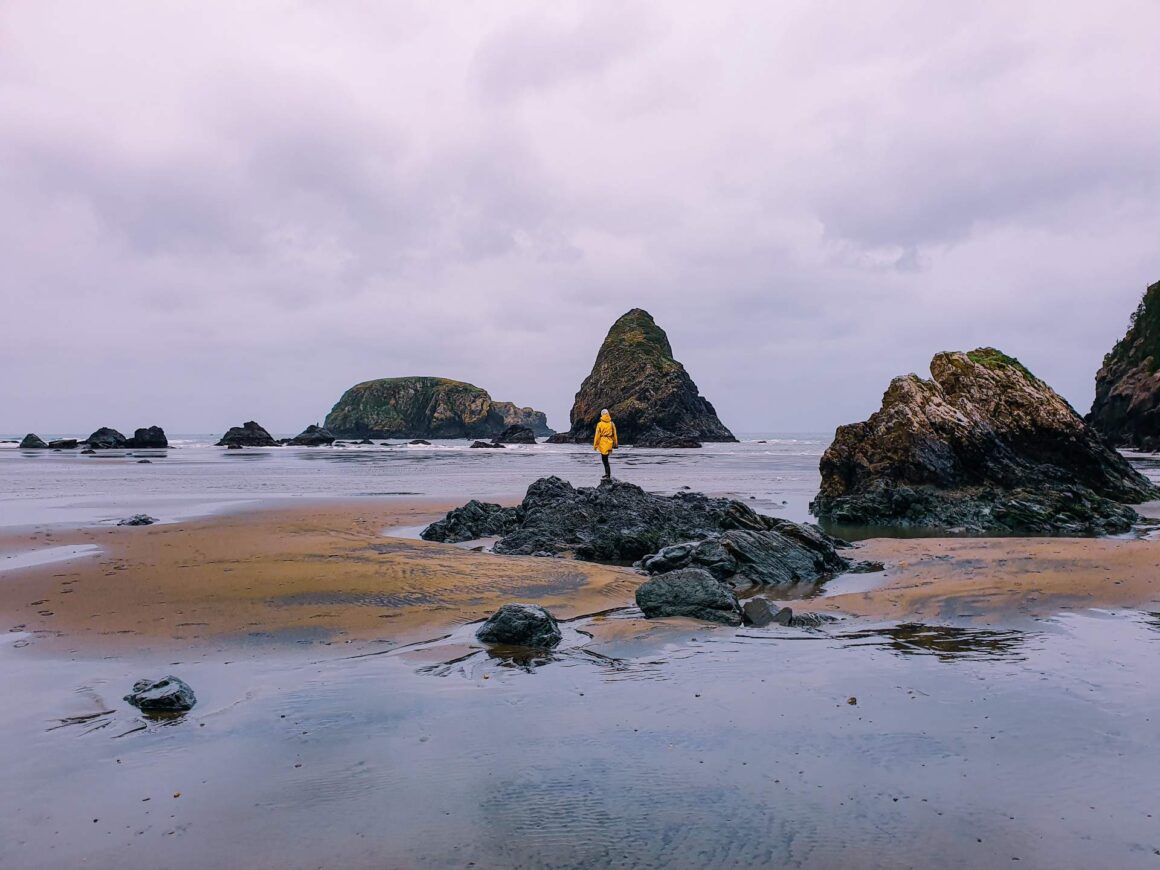 #4 Official storm watching season
Winter at the Oregon Coast is the official storm watching season. Cape Perpetua with sites like Thor´s Well, Devil´s Churn etc. or Shore Acres a bit further South are perfect locations to watch giant waves crashing the shoreline and blow holes spitting out huge fountains. But be careful: Waves can be really high and the power of the ocean is unpredictably dangerous. So don´t get too close to the shoreline and don´t stand on cliffs!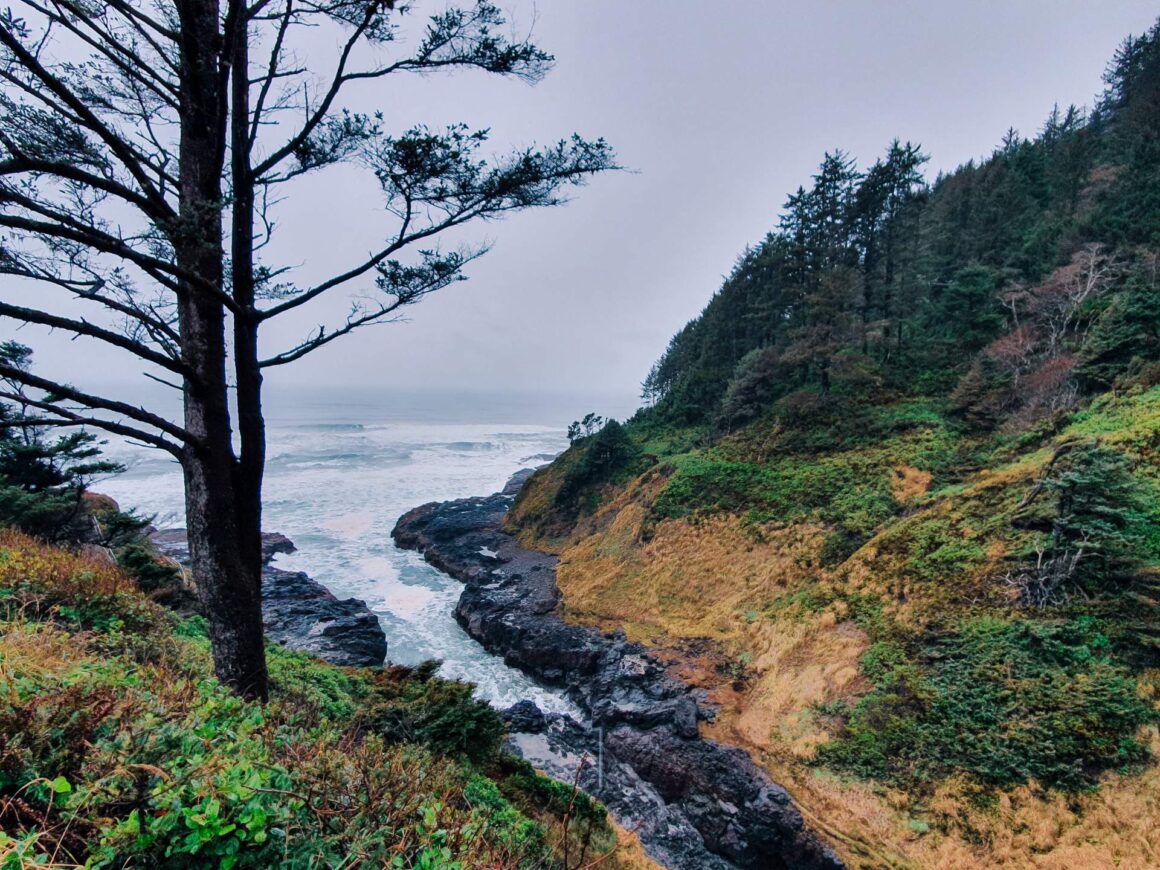 #5 Whale watching at the Oregon Coast
The winter months are also whale watchig season at the Oregon Coast. Between December and March nearly 20.000 grey whales migrate from their summer feeding grounds in the Bering Sea near Alsaka to the warmer waters of Baja, Mexiko to mate. While they pass by the Oregon Coast between mid December and mid January as well as on their way back by the end of March the huge mammals come close enough to the bays and shores so that they can be spotted and heard. Two official whale watching weeks (late December and late March) mark the highlight of the annual migration. This is the best time to learn about the giant creatures by trained volunteers. At 24 locations along the coast they are present to answer questions and support you in finding the best whale watching spots.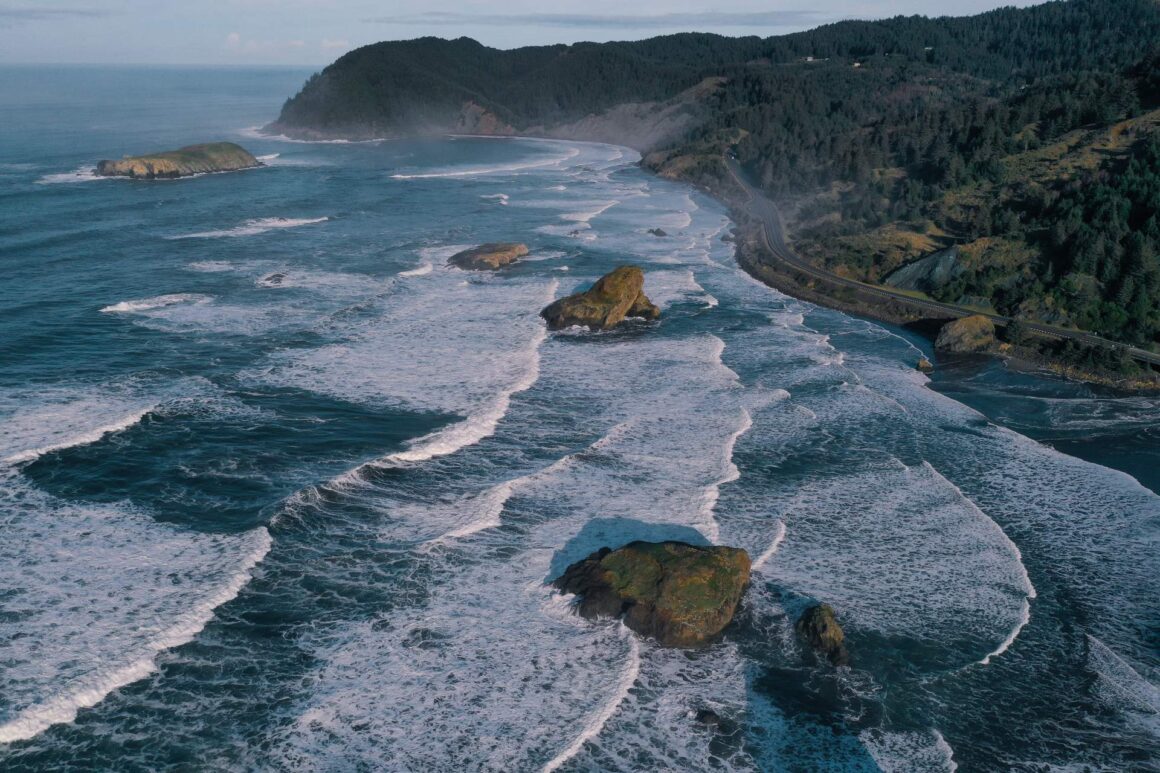 Ideal timing for the perfect coastal ride
Talking about the best time for visiting the Oregon Coast also brings up the question of how much time to spend for a roadtrip. I would recommend to plan at least one week or even two, depending if you want to cover the entire coast from Astoria in the North to Brookings in the South or only pick-and-choose certain parts. My advice would be to spend at least 2 nights at different places along the coast, so you can make the most out of your time on-site and experience beautiful sunsets and sunrises in different sceneries.
As most of the hikes are short and easily accessible directly from Highway 101 – the road you are travelling on anyways- you don´t have to worry about long detours. Viewpoints, lighhouses and hiking trails are literally lying on the road. You will find so many great places to stop along the way that there is no need to plan everything in detail upfront. But as during the winter months you will have less daylight time than in summer, plan your itinerary accordingly and don´t squeeze in too much.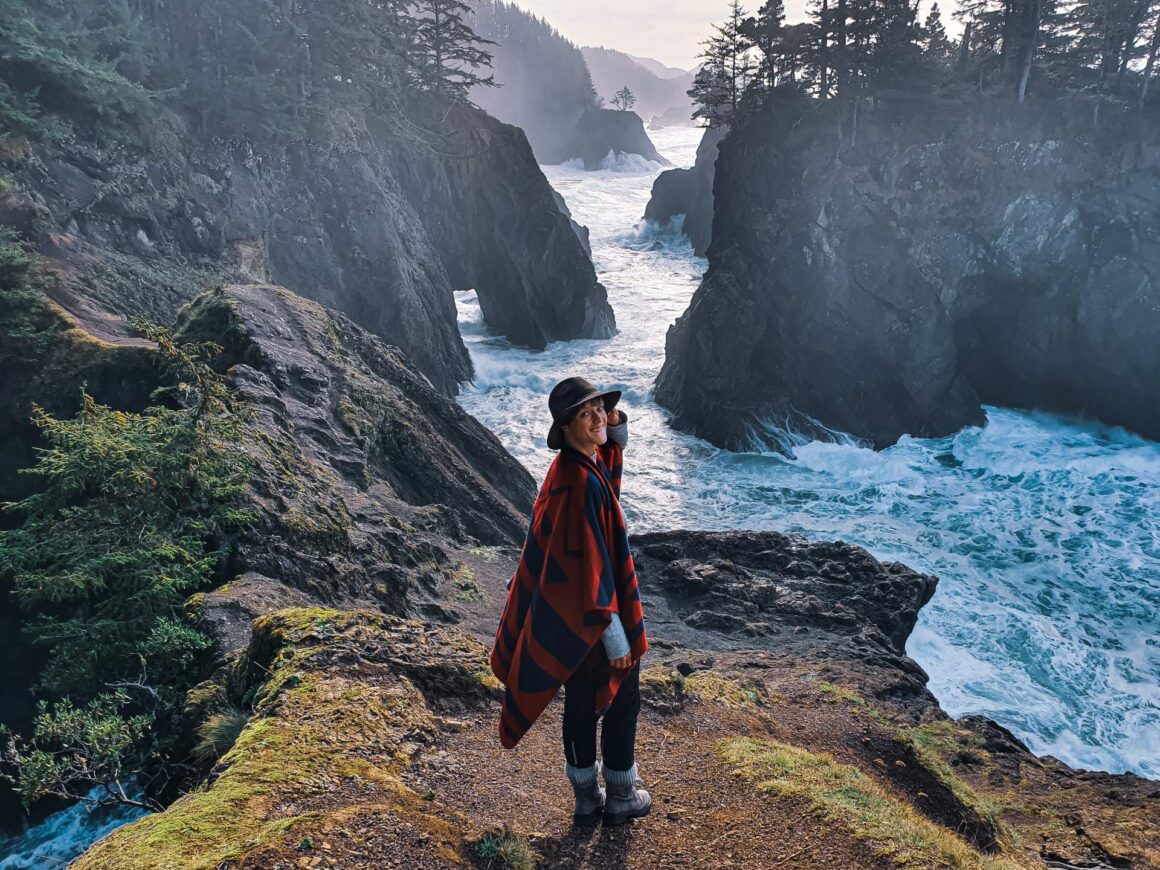 All the 363 miles of the Oregon coastline are open to the public, means there are no private beaches – one of the reasons for its nickname "the people´s coast". So there will definitely be a perfect spot for you to choose from for a break along the way, a place to picknick or just sit in your car, watch the ocean and unwind – no matter where a beautiful sunset, light rays or low hanging fog catches you off-guard.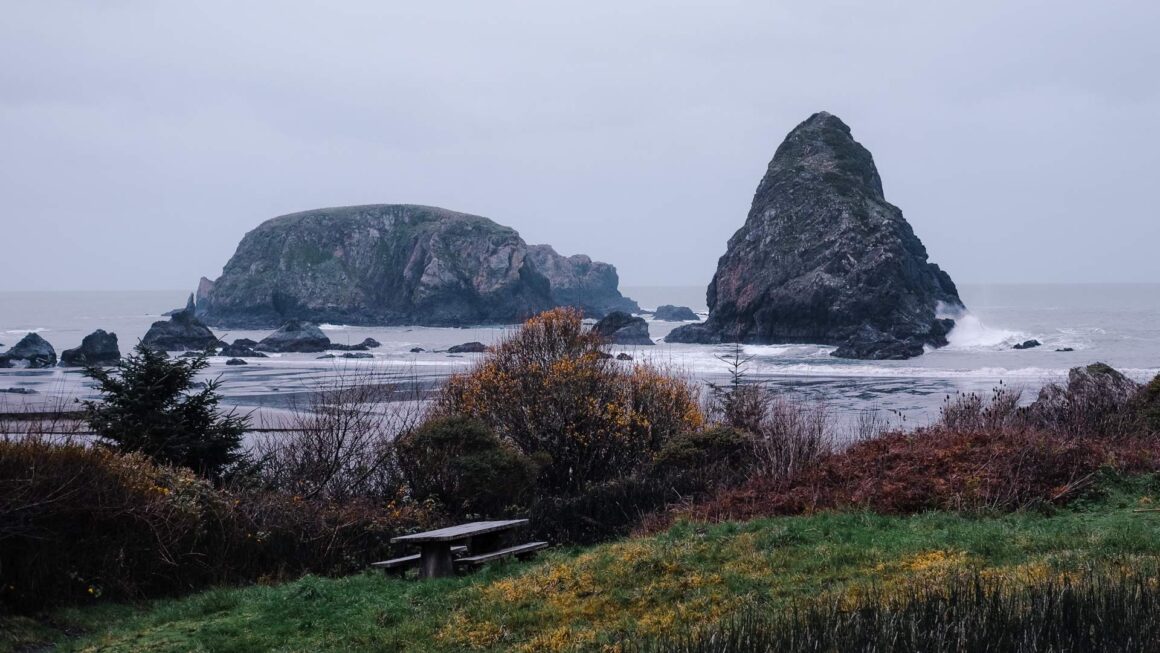 ---
***
QUESTIONS & COMMENTS?
Have you ever been to Oregon and explored the Oregon Coast? Leave me a comment! Do you like the article, or still have any suggestions, feedback or recommendations? I am happy to read what you are thiking! If you like my content, please feel free to share this article with your friends!
***
LIKE IT? PIN IT & SAVE IT FOR LATER!
***
 – SMILE4TRAVEL NEWSLETTER –
Become part of the Smile4Travel Community – Follow my Facebook Page & Instagram and register for my Newsletter, so you don´t miss any Smile4Travel adventures! No Spam – I promise!
[mailpoet_form id="1″]