This post is also available in: Deutsch
No trip to Seoul is complete without visiting the royal Gyeongbokgung Palace. Hundreds of years ago the royal family wandered on these grounds, nowadays it´s tourists from all over the world. Many things have changed in South Korea´s capital since then, where the borders between tradition and future are flawless, besides one fact: The traditional South Korean costume is still a common dress. Mostly worn by visitors strolling around the historical site. Why is that? Where does the adherence of South Korean history come from? As it´s actually mostly young people wearing the colourful dress, while taking pictures of each other. From the front, from the back, standing in front of historical walls and perfectly trimmed trees. Two girls, holding hands, a shy glace over their shoulders, a group synchronously stretching their hands up in the air: All of these seem to be the typical photo motives.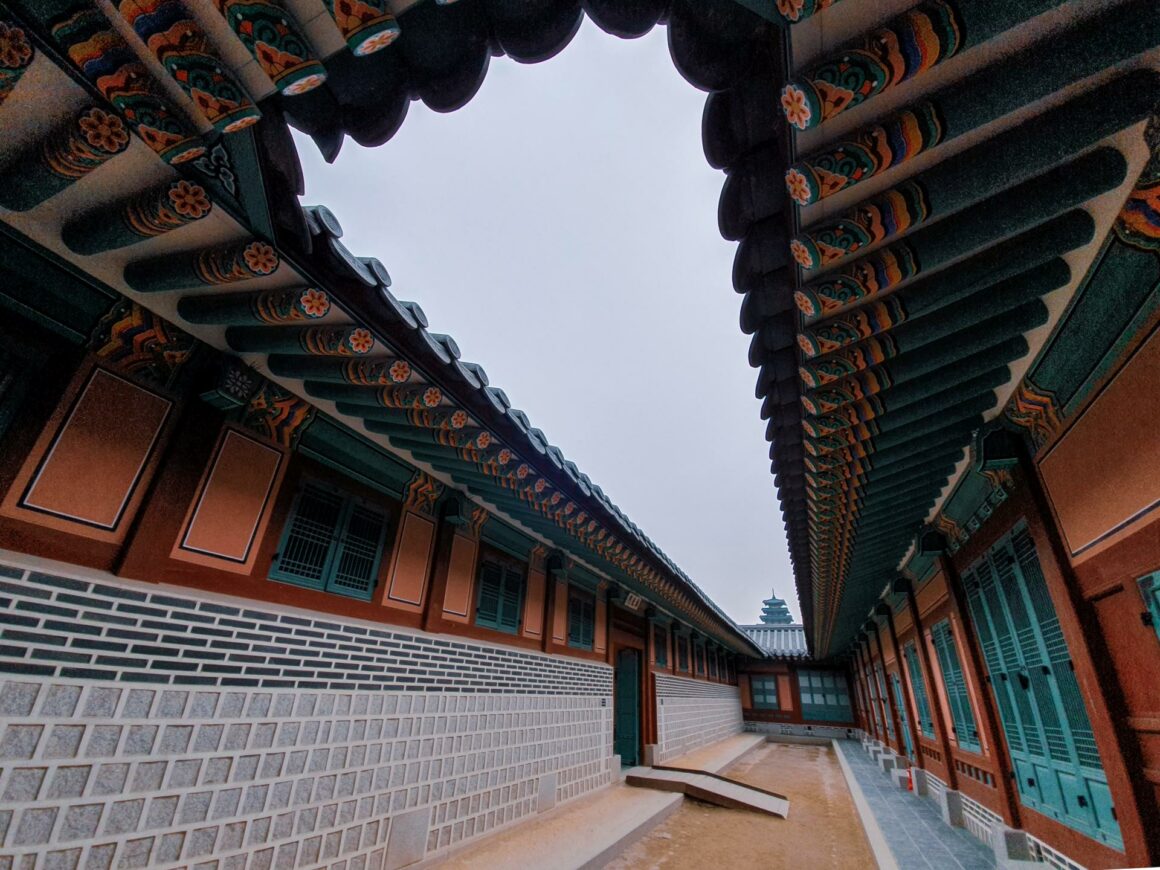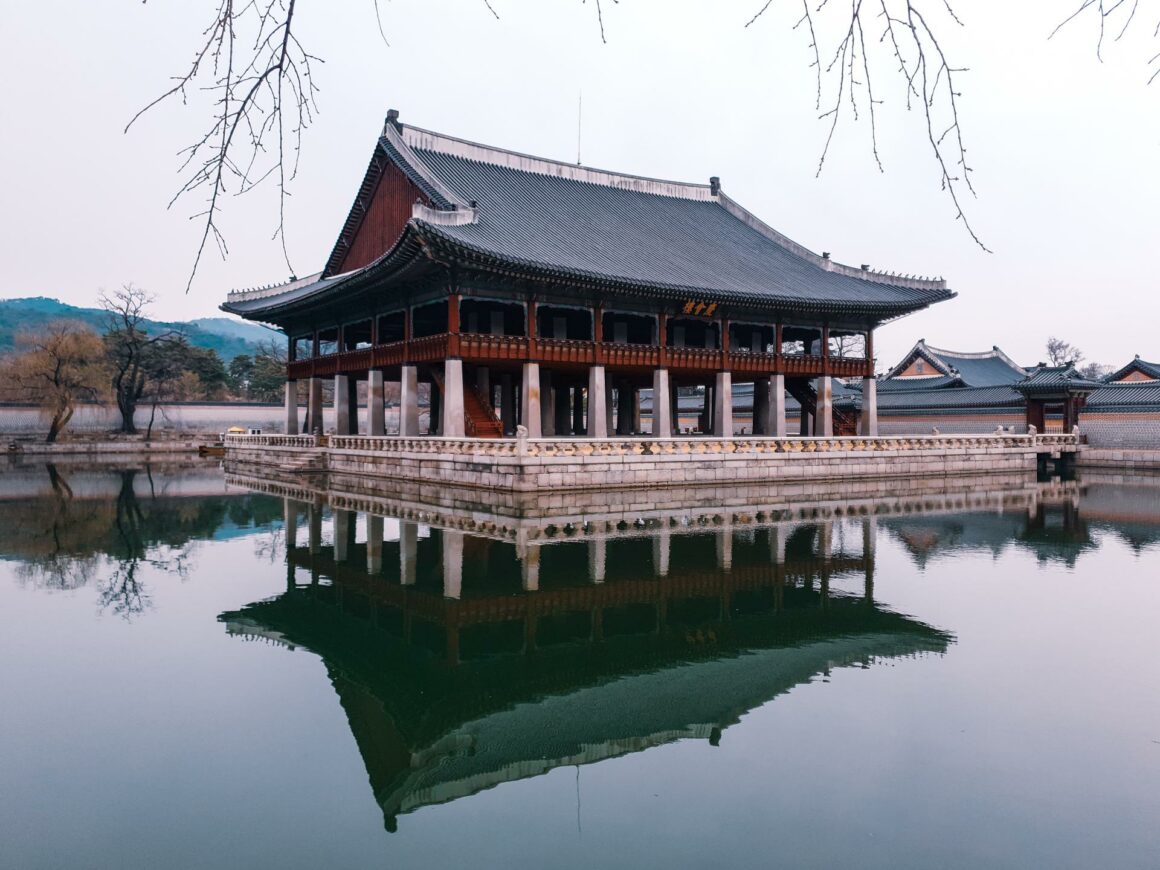 The secret behind wearing a hanbok
I want to find out, what makes wearing a hanbok so special and together with some of our group members I slip into a traditional robe for one day. We have to leave early. The Gyeongbokgung Palace opens its gates at 9am. At 8am we are already on our way to one of the numerous costume rentals, spread out all over the city center between the major palaces and the Bukchon Hanok Village. A steep staircase leads down into the basement and suddenly we find ourselves surrounded by colourful dresses, skirts, patterned jackets, handbags, hairclips, hats and many more accessoires.
We need to create one complete outfit each. The chance that we are allowed to combine skirts and jackets individually doesn´t make the choice any easier. And then we get tied up. Some of us can hardly breathe while the girls from the staff help us into our chosen hanbok, one by one. Everything has to fit perfectly and cannot be too loose.
One last scrutinizing look and we are ready to go, almost: I don´t wear my headdress proberly: The small crocaded fabric is meant to be placed in the middle of the forehead. I prefer it at the side though. After some persuasion I can convince the Korean girls to release me with it. Looks like there is a little space for interpretation, even when wearing a traditional dress.
You enjoy free entry to the four major palaces of Seoul (Gyeongbokgung, Changdeokgung, Deoksugung and Changgyeonggung), when entering dressed in a hanbok. For sure one of the key reasons why so many people do it. But the trend can also be explained by the general popularity, which South Korean traditions gained throughout the 21st century due to several TV series. A cultural movement which can be compared with the Japanese Anime hype of the 90ies in the neighbor country.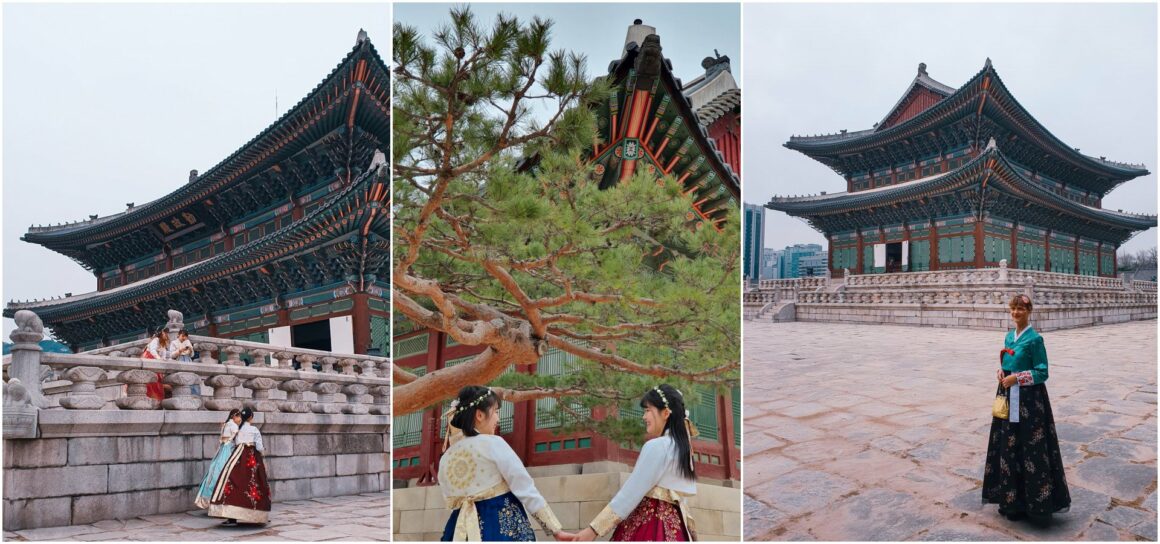 And indeed: Somehow it makes you feel kind of royal to wander around Gyeongbokgung Palace dressed in a hanbok. Every photo situation becomes quite unique and we get in touch with other visitors so easily: Mostly Asian girls ask for joined pictures with us. And suddenly we find ourselves between selfie sticks and in the display of numerous smartphones. It´s definitely a unique experience and finally I also start finding delight by posing in front of the green-and-red painted walls and pavilions.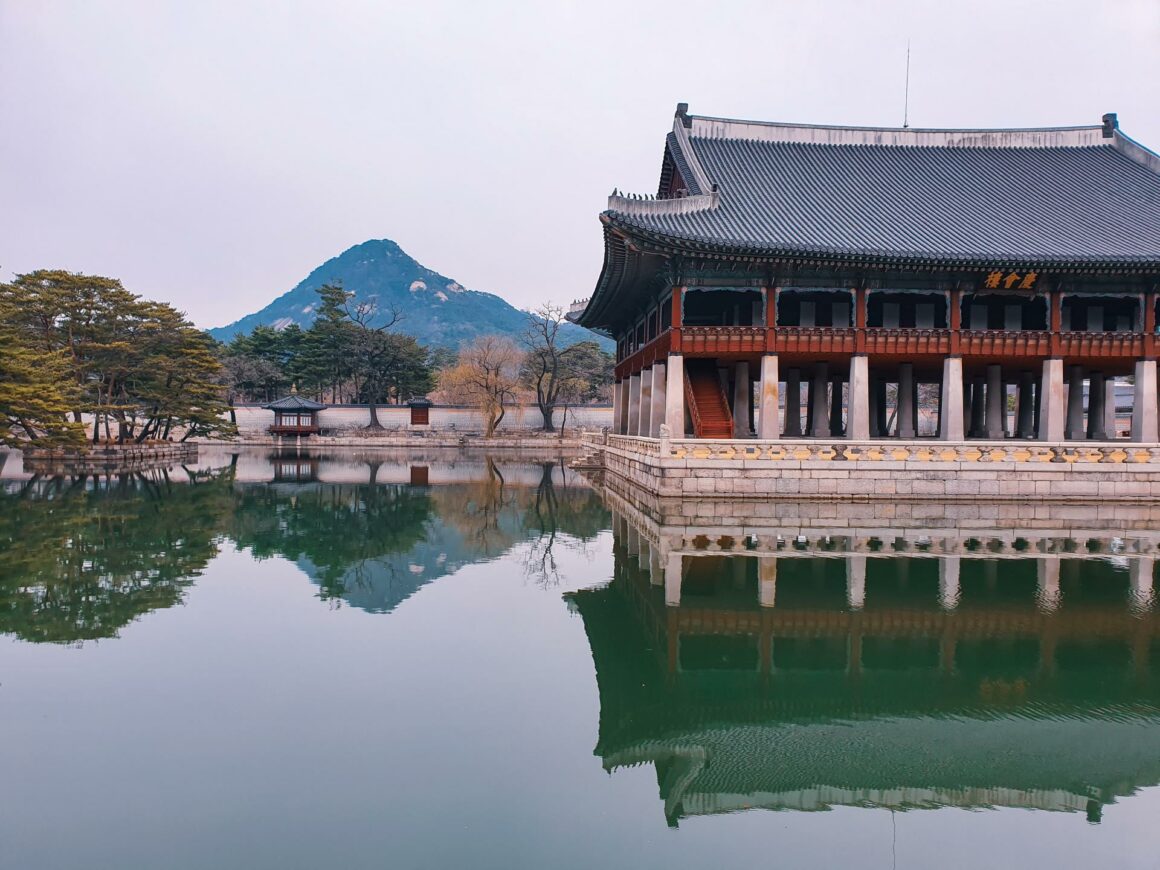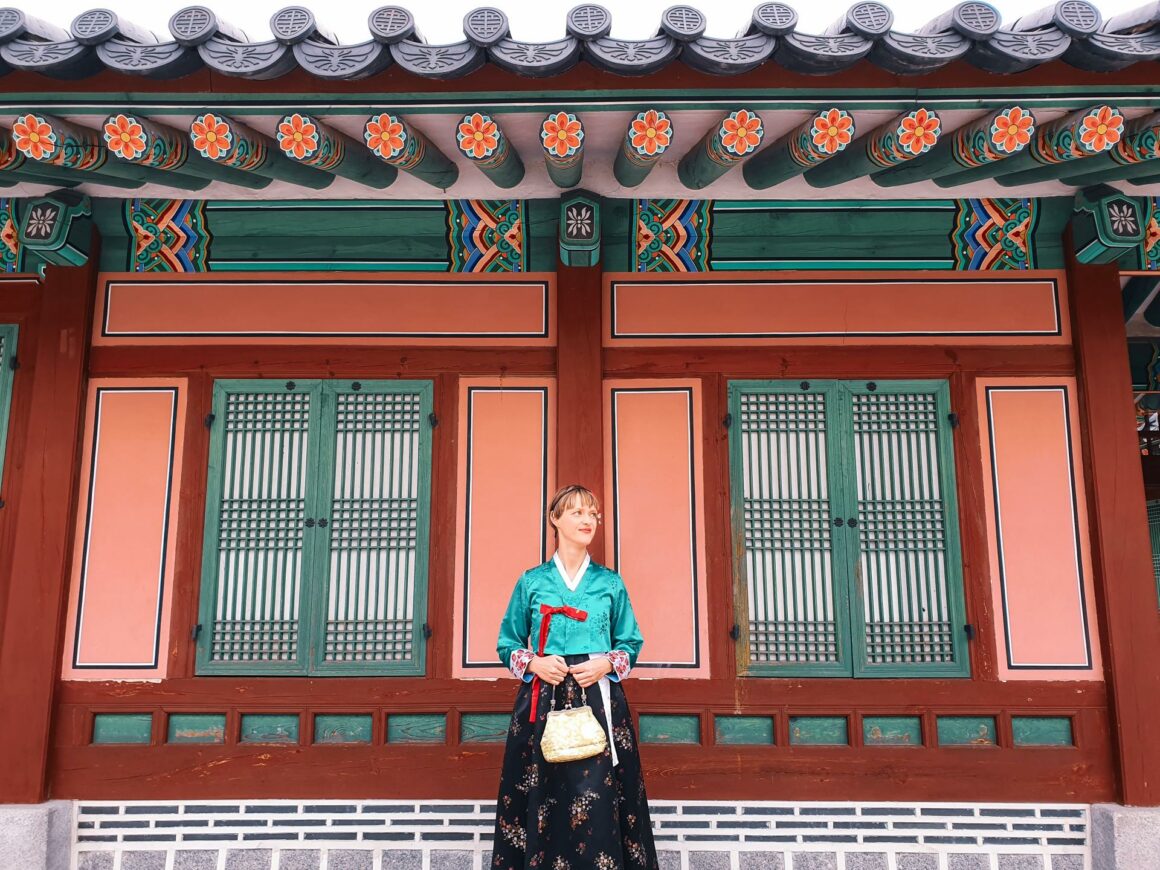 My personal conclusion: It´s definitely worth it to get dressed in a hanbok. Saying this, even if I am not a big fan of disguise and masking, neither for carnival nor other occasions.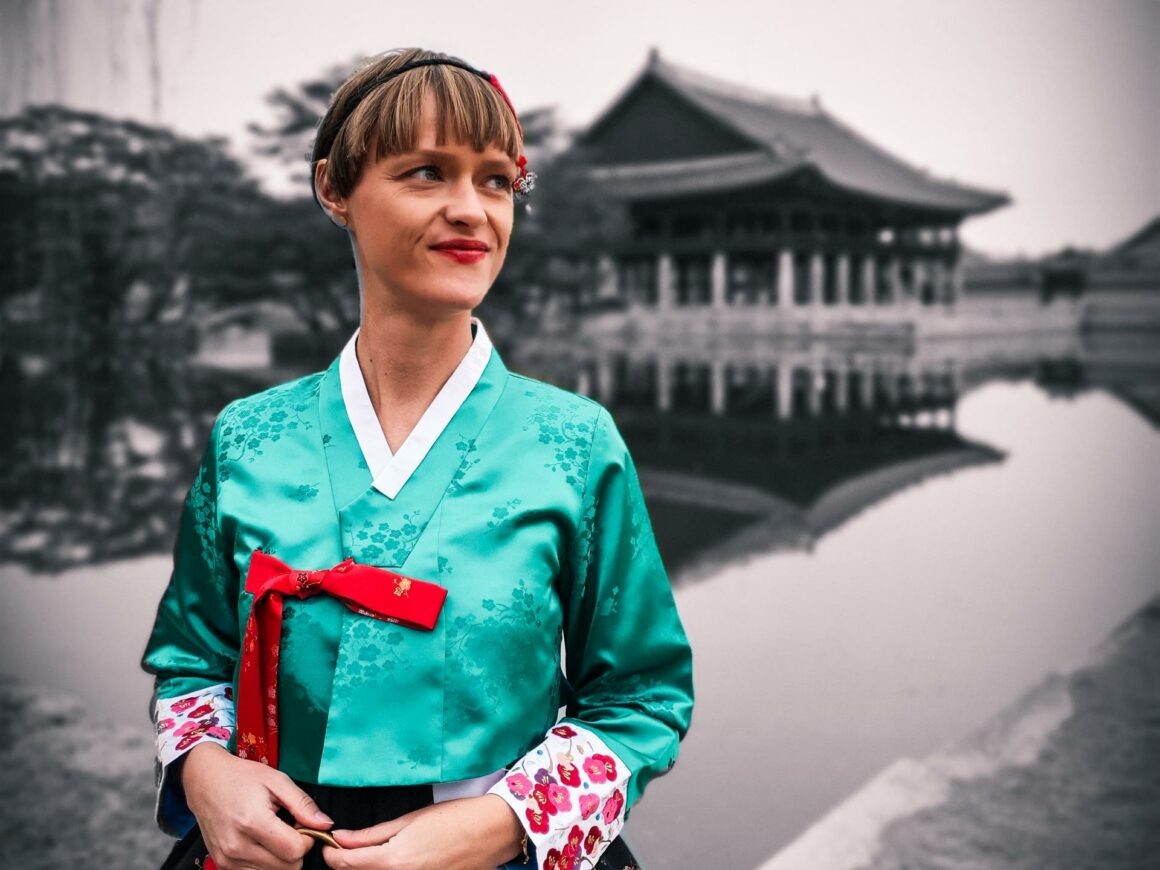 Wrapping-up with some hanbok facts
Literally translated "hanbok" means "Korean clothes". But hanbok is actually only the name for the South Korean traditional rope. In North Korea it´s called "Chosonot".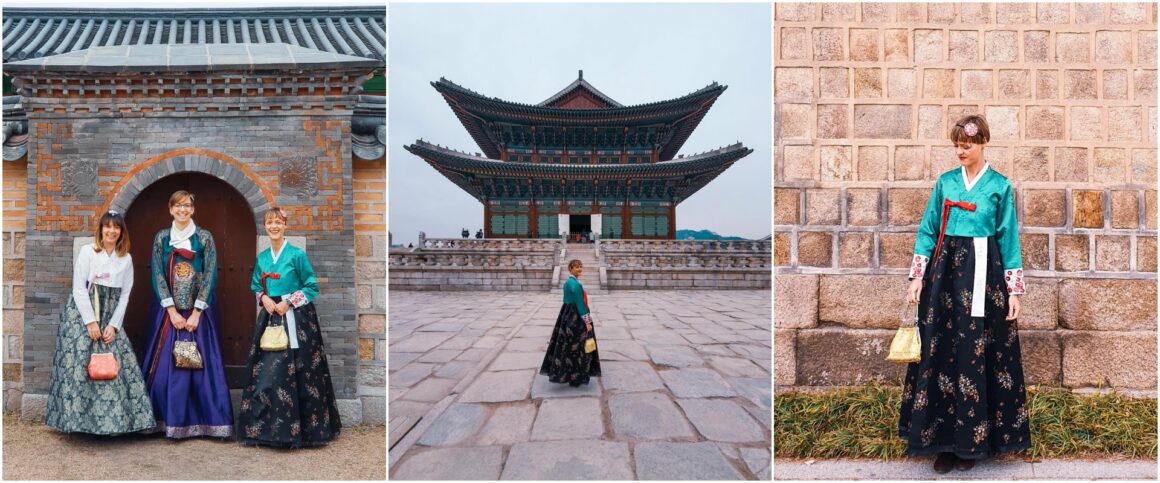 South Korean hanboks have a long lasting tradition: Their design dates back to the Mongolian dominion of the 23th century. Until 100 years ago it was still common and part of South Korean daily life to wear a hanbok. Hardly any traditional costume has such a impressive history. Nowadays the costume is only worn by elderly women in the countryside, on public holidays or during important family occasions, such as weddings or funerals. Or by tourists. 🙂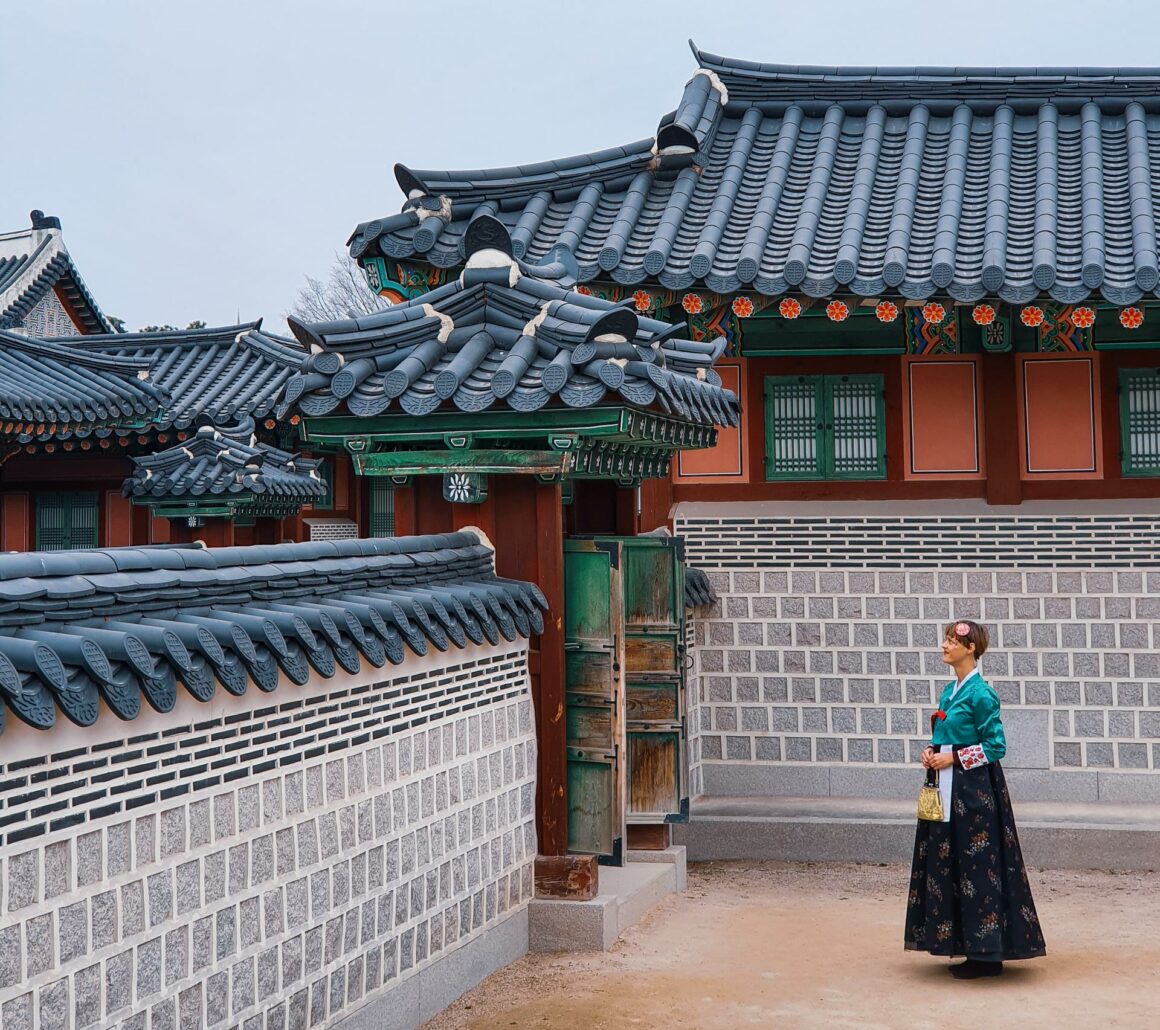 The differences between male and female outfits
The male hanbok consists of comfortable trousers, tied at the ankles (baji), combined with a jacket (jeogori) or a vest (joggi). Both are traditionally woven out of hemp fibers. While with only two pieces for men it´s definitely a little easier to get dressed – for women it´s more time-consuming. The reason for this is not only the fact that we cannot decide between the colours, patterns or fabrics. It's simply because of the fact that our costume consists of several layers: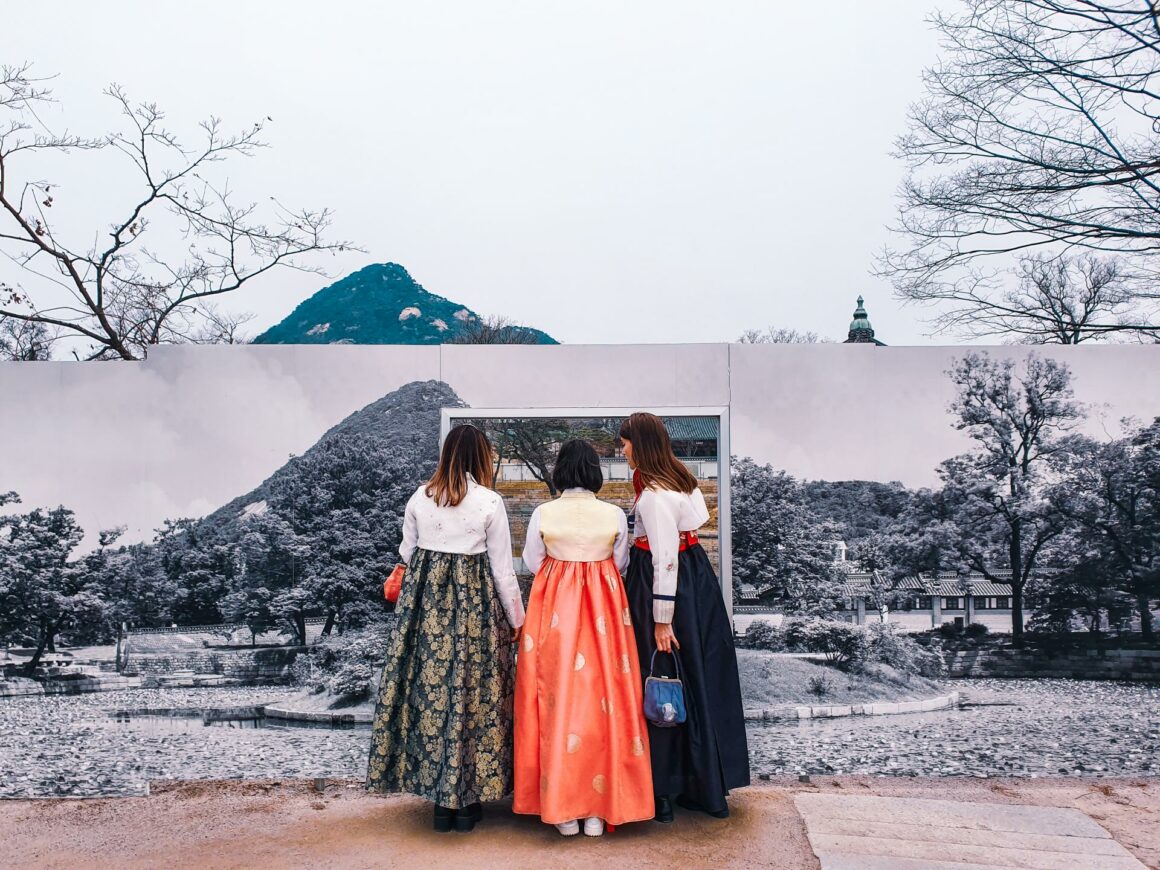 A undershirt (sokjeoksam) and long underpants (sokbaji), which in winter get extended by warm trousers. On top of this comes a petticoat (sokchima) and finally a skirt (chima). The skirt is being tied under the breast. Finally there comes a short bolera-like jacket with wide sleeves (jeogori), which is being closed with a big loop in front of the chest. Traditionally the dress is combined with comfortable lined socks and colourful rubber shoes. We, on the other hand, slip back into our own shoes, which may look a little funny, especially for those of us who´s skirt is not long enough to cover them up. Sneakers or other everyday shoes are actually the most obvious indication to also expose other Asian people in hanboks as tourists. 🙂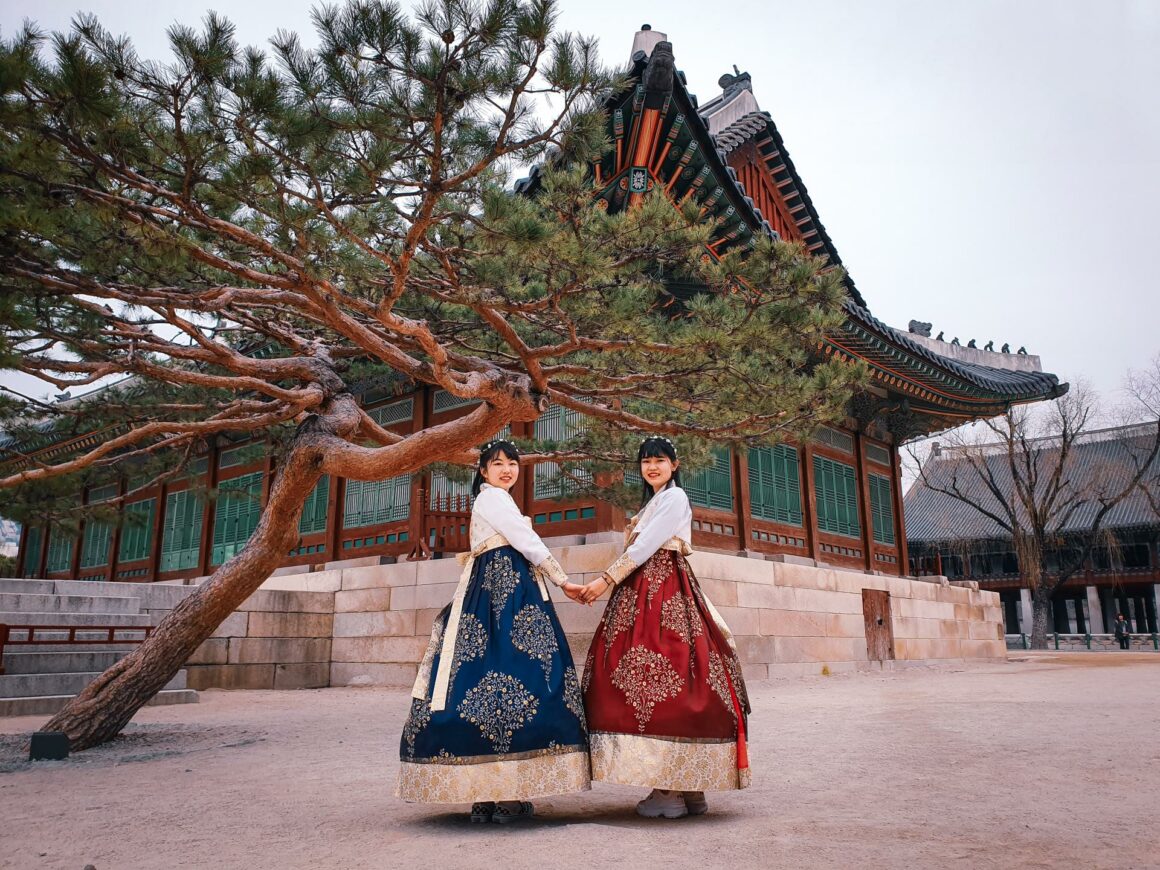 South Korean hanboks are strikingly colourful, especially for young woman. After getting married, women then wear more subtle colours. Traditional hanboks are made of silk or ramie, which creates a costume of very high perceived quality. The cut is linear, tailored slim on top and getting wider at the bottom, which leads to the graceful look when women move around.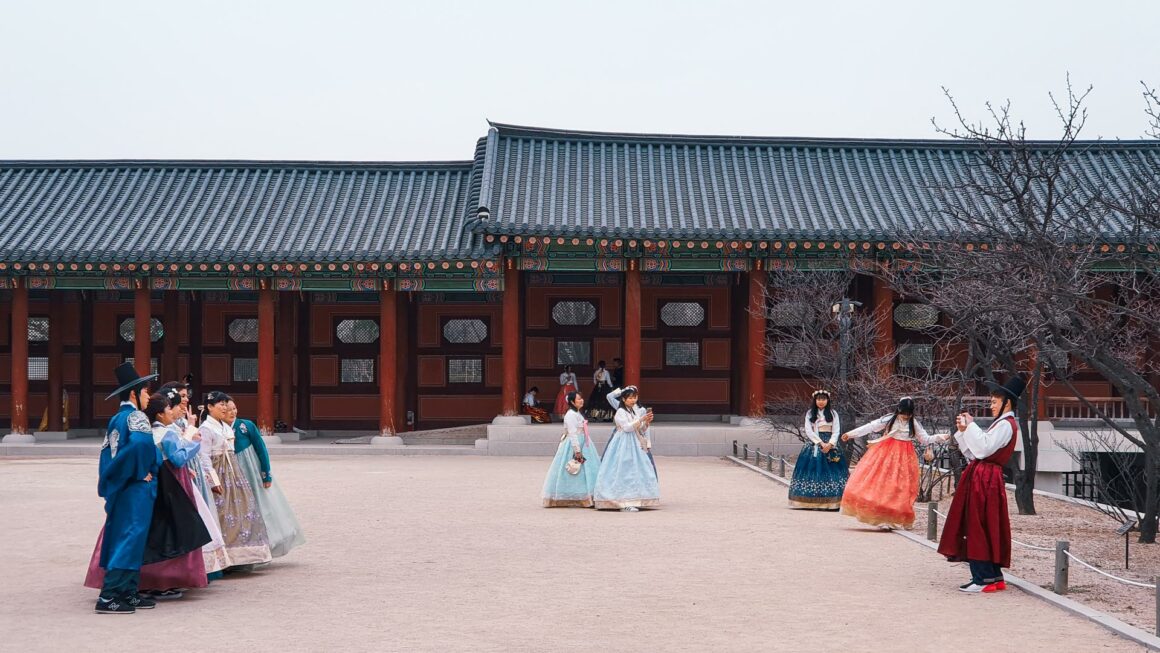 Where to rent a hanbok?
Hanbok rental shops are numerous. On the website of the Korean Tourism Organization you can even find offers for complete hanbok experience tours, as well as useful information and links to the specific tour operators: Via GetYourGuide you can reserve hanboks online beforehand. Costs: Between 13.000 and 45.000 Won (10 € – 35€ / 12 USD – 40 USD) for 1,5 to 4 hours / traditional or premium quality.
---
***
DISCLOSURE
I was invited to this trip to Seoul by Samsung Mobile Germany for the launch of Samsung GalaxyS10+. All pictures in this blogpost are taken with this device and some of them you can also find on my Instagram @Smile4Travel. #Smile4TravelinKorea as well as in the photostory published on the official Samsung Website.
***
QUESTIONS & COMMENTS?
Have you ever been to Seoul or other parts of South Korea and worn a traditional hanbok? Leave me a comment Do you like the article, or still have any suggestions or feedback? I am happy to read what you are thiking! If you like my content, please feel free to share this article with your friends!
***
– SMILE4TRAVEL NEWSLETTER –
Become part of the Smile4Travel Community – Follow my Facebook Page & Instagram and register for my Newsletter, so you don´t miss any Smile4Travel adventures! No Spam – I promise! [mailpoet_form id="1″]