This post is also available in: Deutsch (German)
Zhangjiajie National Forest Park, also known as "Avatar Mountains" is one of the most spectacular natural highlights in China. The national park located in the "Wulingyuan Scenic Area" was actually China´s very first authorized national park, when opened in 1982. Its popularity, especially for international travellers, rose after the nationalpark was declared as UNESCO Wolrd Heritage Site in 1992 and UNESCO Global Geopark. And of course the hype started after the unique scenery of giant rocks rising from deep valleys became inspiration for James Cameron´s movie "Avatar" in 2009. And even though it can be crowded there, as the national park is one of China´s main attractions for foreign and domestic tourists, this unique natural scenery was very high up our China bucketlist from the very beginning.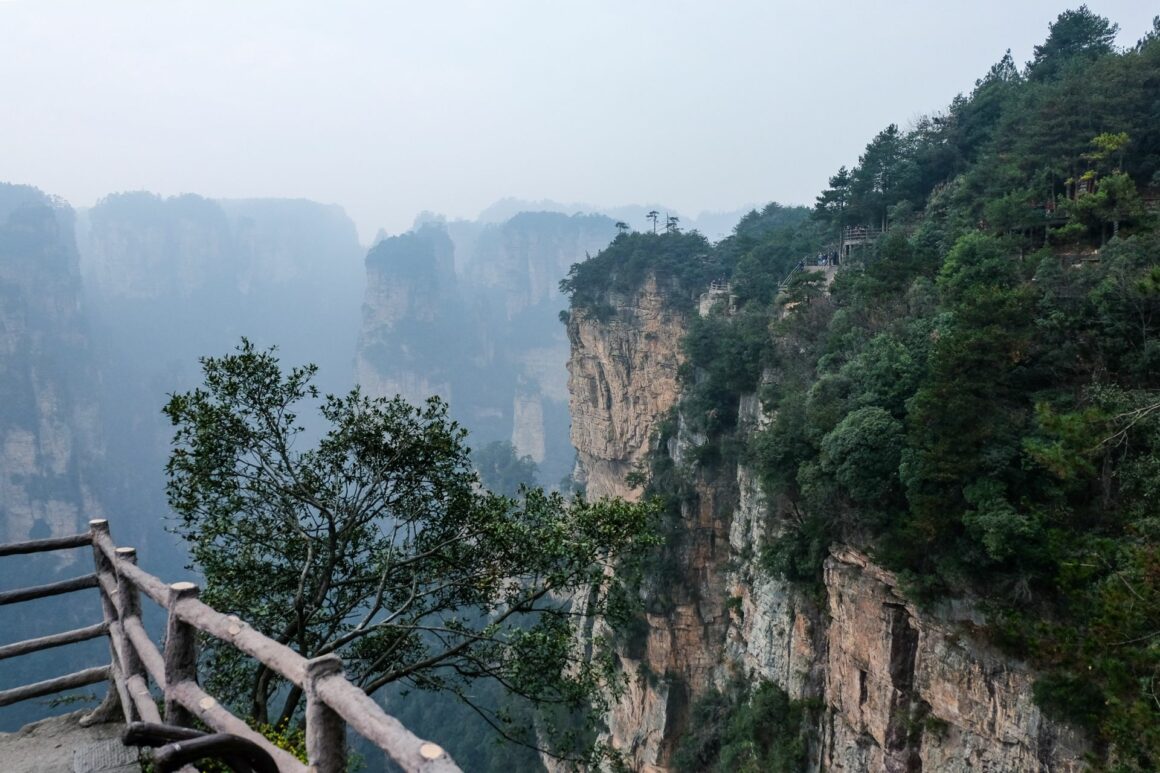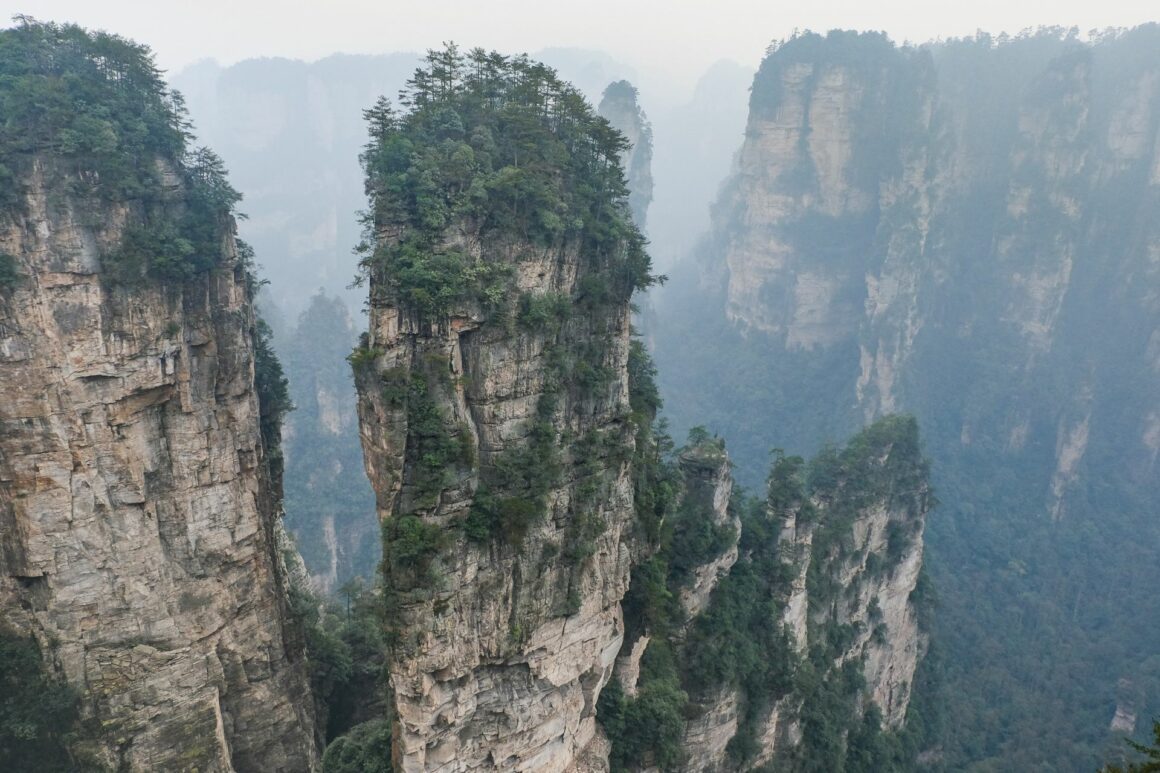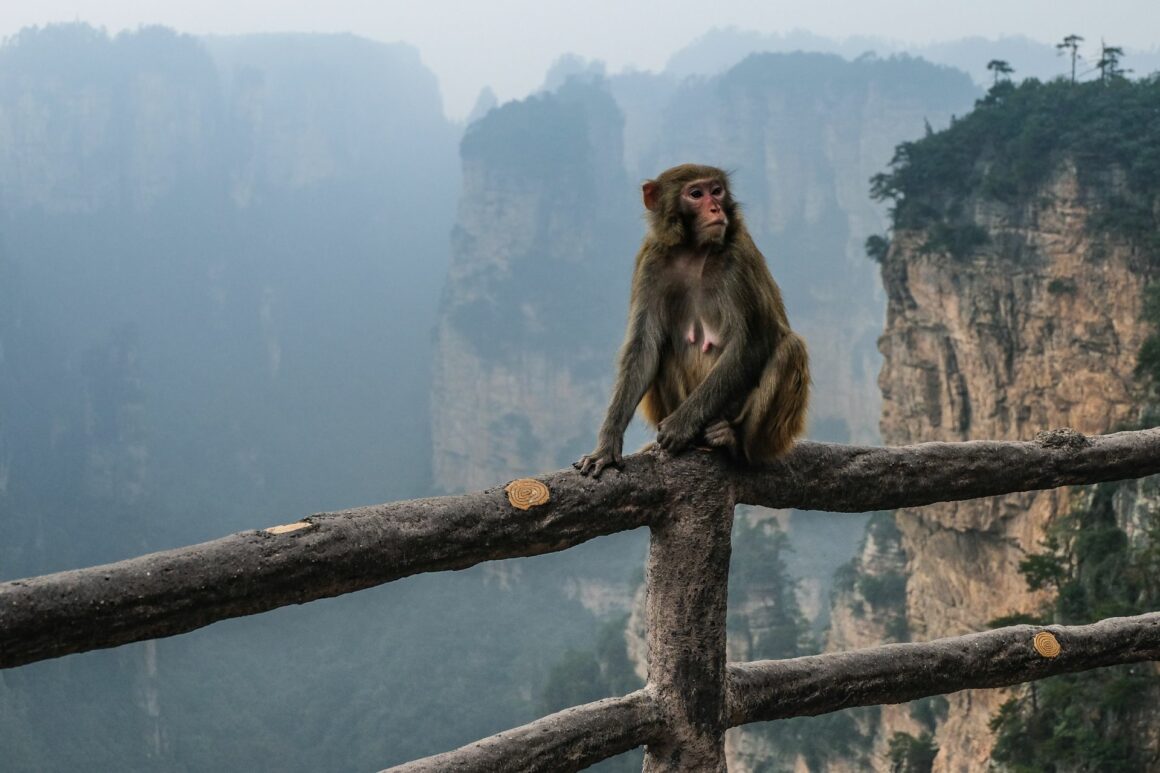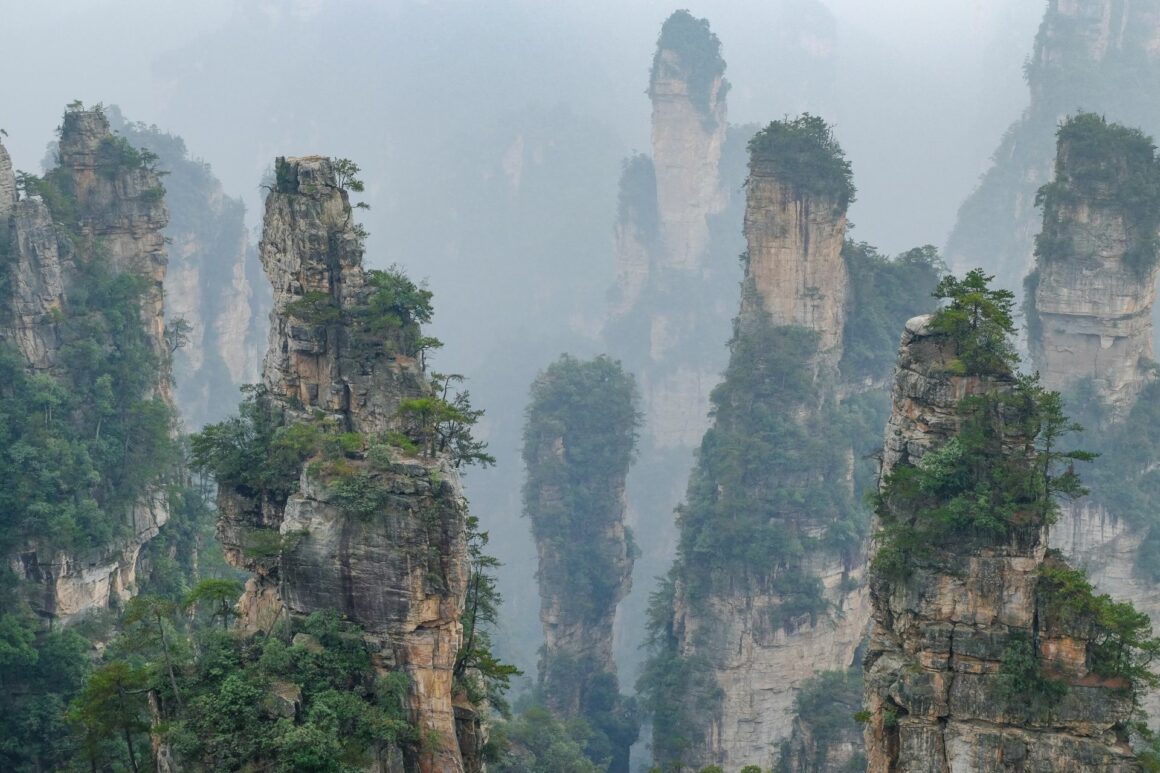 When researching about Zhangjiajie National Forest Park I got the impression that the area is huge and there are countless options for exploring. So where to start, especially if you only have limited time? Of course I also expected Zhangjiajie Nationalpark would be well developed, because the area has to handle more then 20 million visitors a year. But even after reading quite a few articles, travel guides and viewing pictures, still lots of questions were running through my head: How to get to the Zhangjiajie National Forestpark? Is it possible to explore the area on your own, or is it neccessary to go on a pre-organized tour? How many days are required to explore the nationalpark? Where to stay best? What is the best time to visit Zhangjiajie?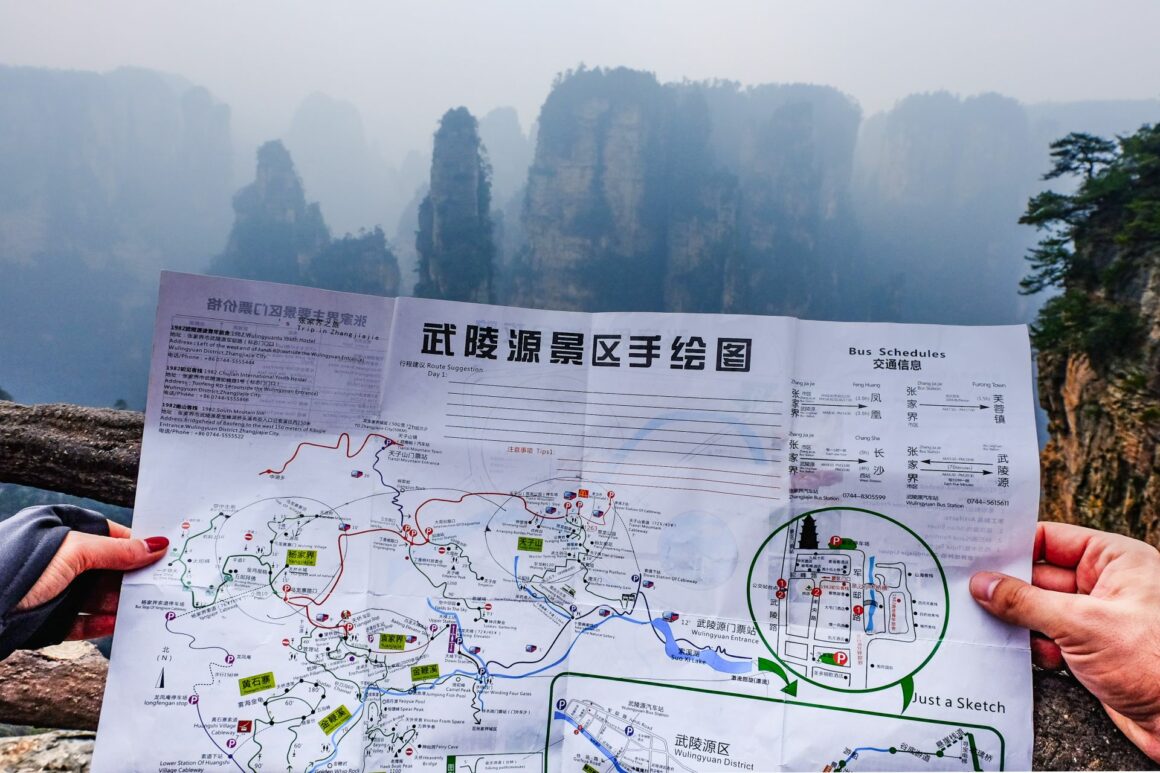 After I´ve been to Zhangjiajie National Forest Park I can definitely tell: It is easier than expected to travel around the nationalpark. You can definitely go on your own and you should at least plan two or better three days, especially if you want to hike Zhangjiajie Nationalpark and visit Tianmen Mountain. If you have more time, of course you will not get bored exploring the park. You could also include visiting the world's longest and highest glass bridge. Opened in 2016 this attraction is quite new, but with its 430 meters height and almost 300 meters lenght it might be an interesting sight, you might want to include into your itinerary. The glass bridge, suspended between two mountains, is located in Zhangjiajie Grand Canyon 40 km East of Zhangjiajie Nationalpark.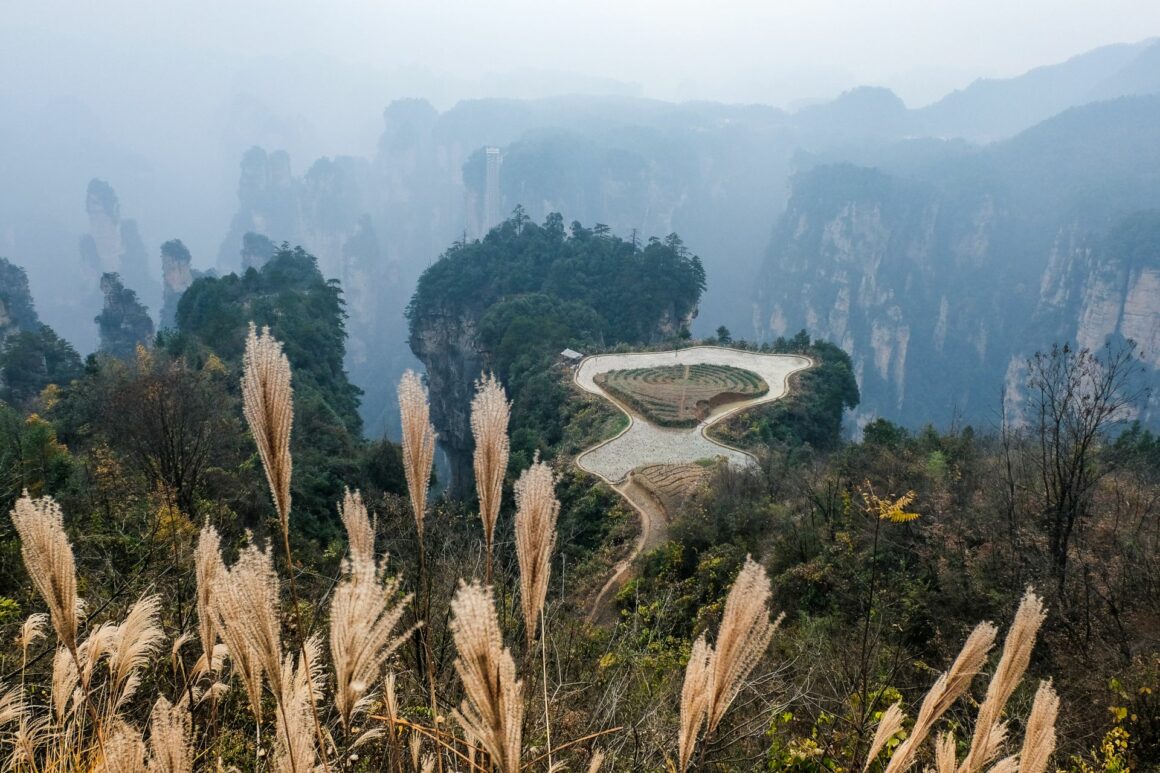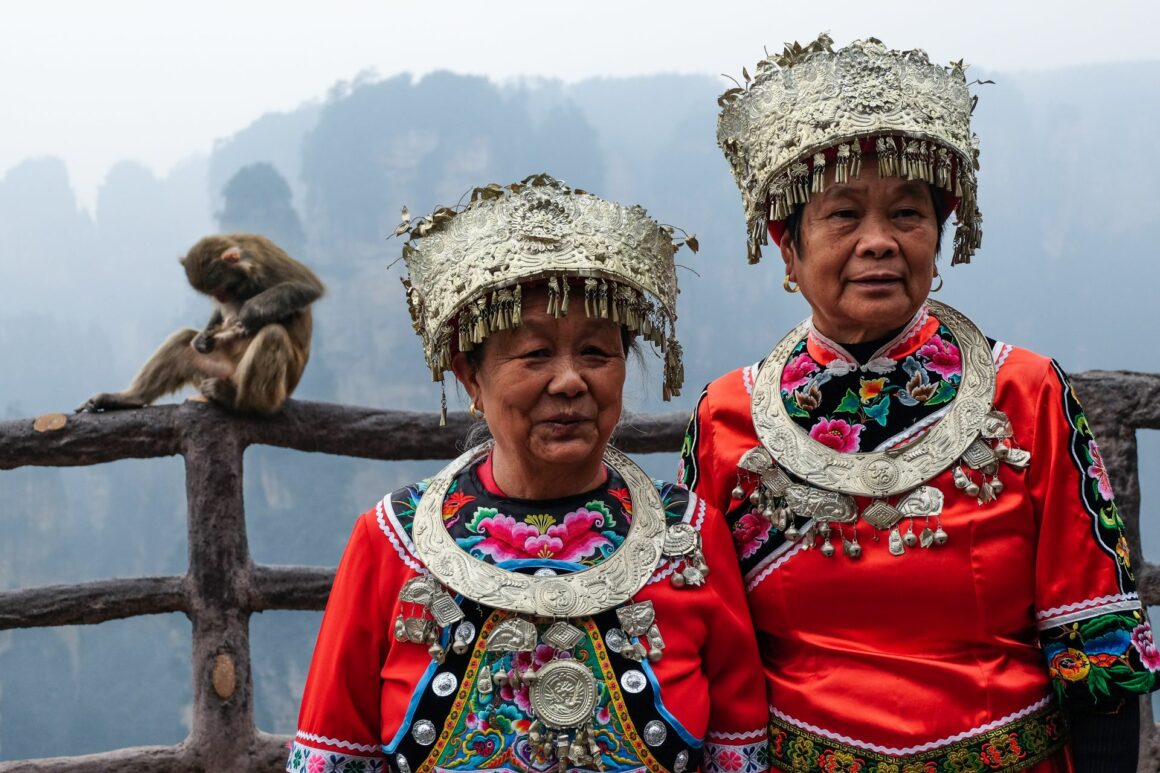 Because it seems like many people are wondering about the same questions as I did, I wrote this travel guide about Zhangjiajie National Forest Park. I want to answer questions how to plan your individuel trip to Zhangjiajie and give fellow travellers some advise. So here we go!
#1 How to get to Zhangjiajie National Forest Park?
Zhangjiajie is located in Hunan province in central China. You can reach Zhangjiajie city by train or by plane. There are no highspeed trains serving Zhangjiajie, but some direct trains as well as planes from major Chinese cities, such as Beijing, Shanghai, Chengdu and Xián. The Zhangjiajie Hehua International Airport is located just outside the city center. Zhangjiajie National Forest Park is located 30 km North of Zhangjiajie city, so actuallly easy to reach by bus, taxi or didi. Some hotels even provide a pick-up service. Here one of the main entrances: Wulingyuan Entrance, East Gate 
#2 How to get around Zhangjiajie National Forest Park?
Zhangjiajie Nationalpark is divided into four main areas:
Tianzi Mountain area in the Northwest of the Forest Park
Yuanjiajie area, which is is the most popular area, as the Avatar Hallelujah Mountain, Bailong Elevator, the Yellow Stone Village (Huangshizhai) are located there
Also part of the Southern Yuanjiajie area is the Gold Whip Stream at the foot of the mountains, which offers easy walking
the much quieter Yangjiajie area in the West of the park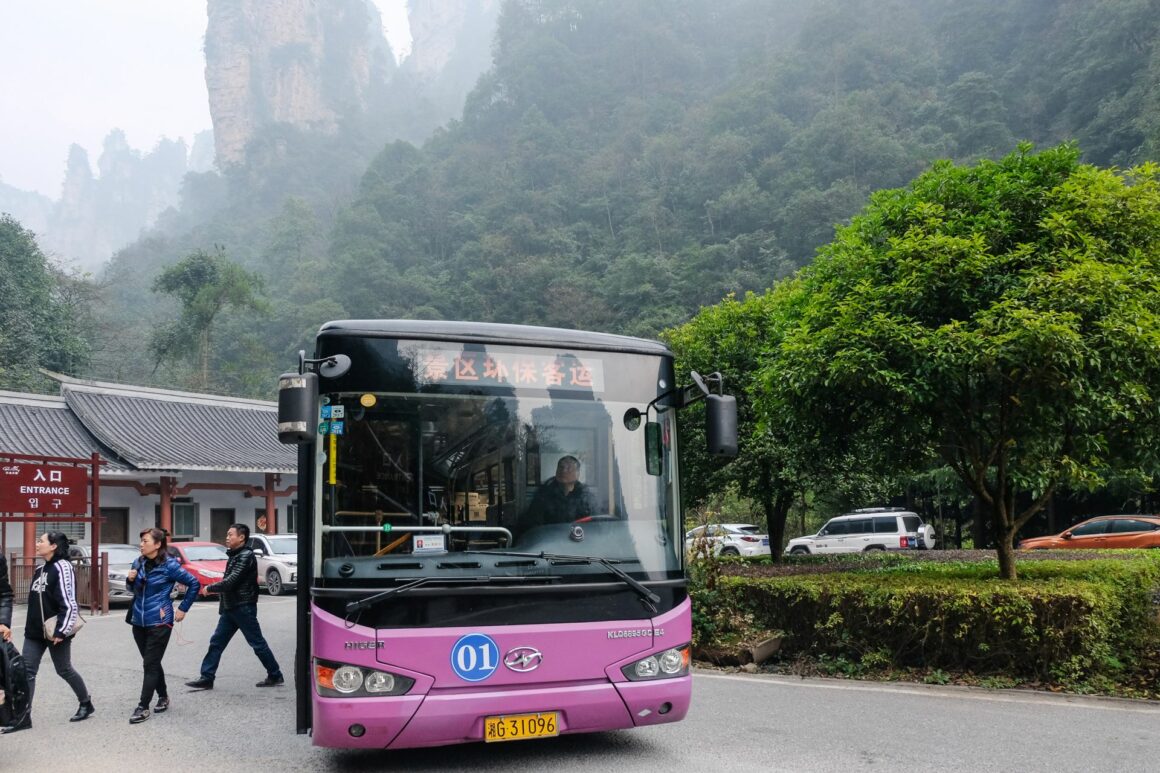 Because the different areas are described on several websites already, I will not waste time to write all the specific information down, as you can easily find details about each area e.G on Chinahighlights.com or TravelChinaGuide I will rather give you essential information for travelling Zhangjiajie Nation Forest Park on your own, including an itinerary.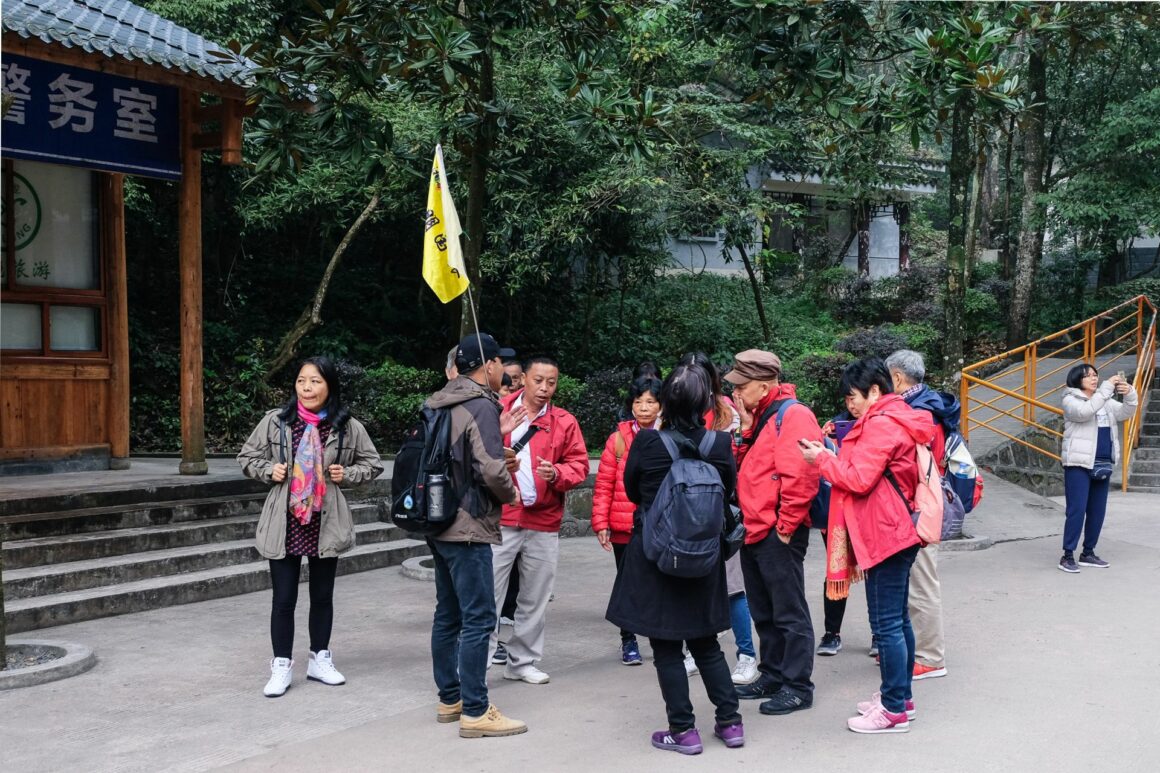 First of all, don´t worry: Even if Zhangjiajie is a 480 thousand square meters big nationalpark it´s a Chinese one. This means: There are many ways to get up and down the mountains by cable cars, escalators or elevators. You can get from the different entrances to the scenic spots bus. Furthermore there are prepared walking paths and signs (also in English) pointing you the direction to the next scenic spot.
#3 Entrance fees to Zhangjiajie National Park
You need to buy several tickets to get arount the national park The entrance tickets costs 248 RMB in high season (March – November) and 115 RMB in low s season (December – February).
The tickets are valid for three (high season) or four (low season) consecutive days and you need to leave your fingerprint so you cannot pass on your ticket to someone else. The main buses covering the nationalpark are included in the park´s entracne fee, but not the cable cars, the Bailong Elevator and e.G. smaller buses, which take you to more remote areas (see details about how to get to the Gathering Soldiers in my itinerary).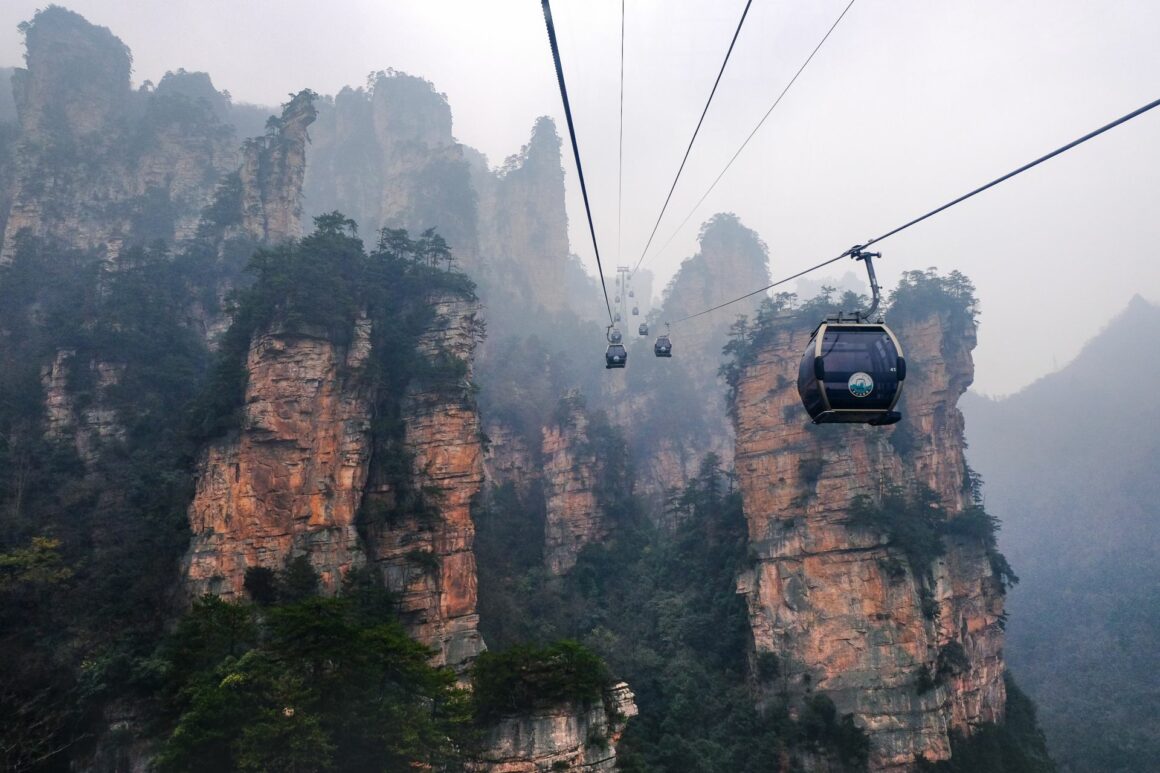 As Tianmen Mountain is a separate scenic spot, you need to buy a entrance ticket for Tianmenshan, which is 261 RMB + 25 RMB for the cableway (one way). So in the end it can get quite expensive to explore the park, which brings me to the next essential point: good planning is important!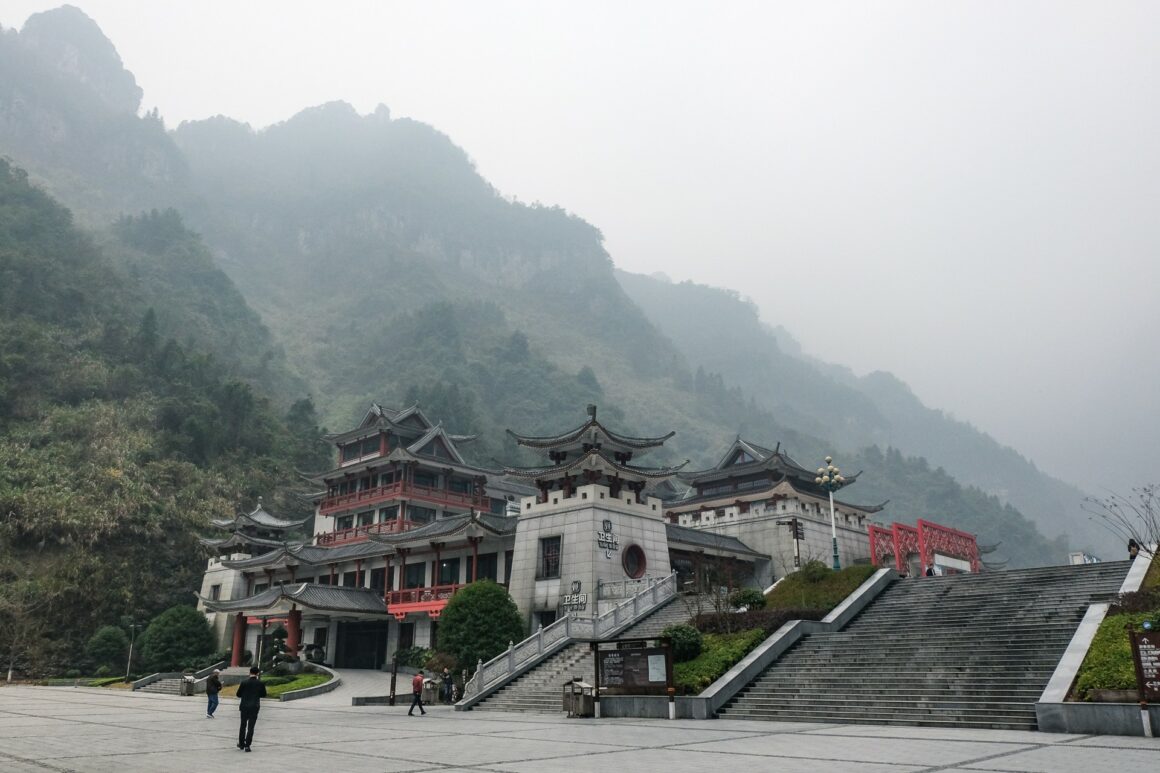 #4 When to visit the Avatar Mountains?
Of course this depends on what you want! Located in central China there is a subtropical climate all year long with average temperatures between 10 degree celcisu in winter and and 17 degree celcius in summer. Travelling during low season is recommended, if you want to:
save some money
visit the national park when it is less crowded, means:
No hours long queueing for buses, cable cars, the elevator etc.
have the possibility to walk on some paths without bumbing into too many Chinese tourgroups
experience much quieter surroundings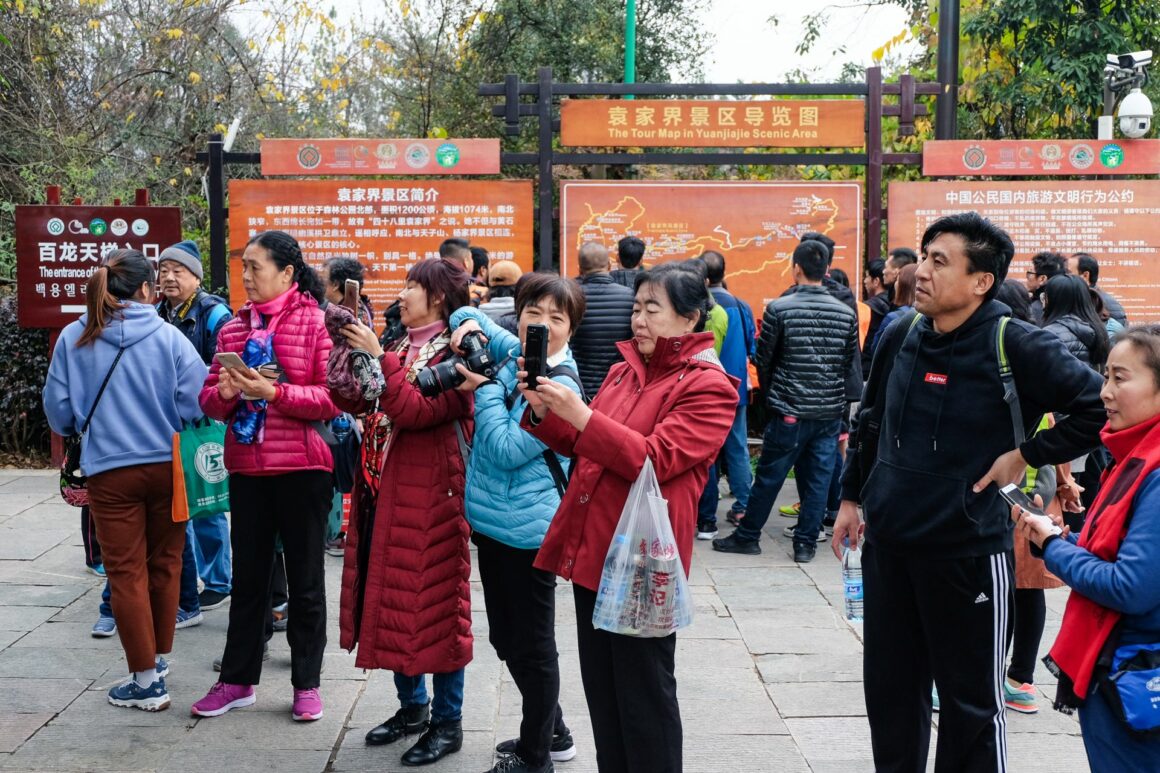 But: The weather in low season can be unpredictable, which we actually experienced. Even the weather forecast was more than ok, we had only one day out of three, when we acually were able to spot the attractions we visited. The other two days of our trip were too foggy to spot any scenery.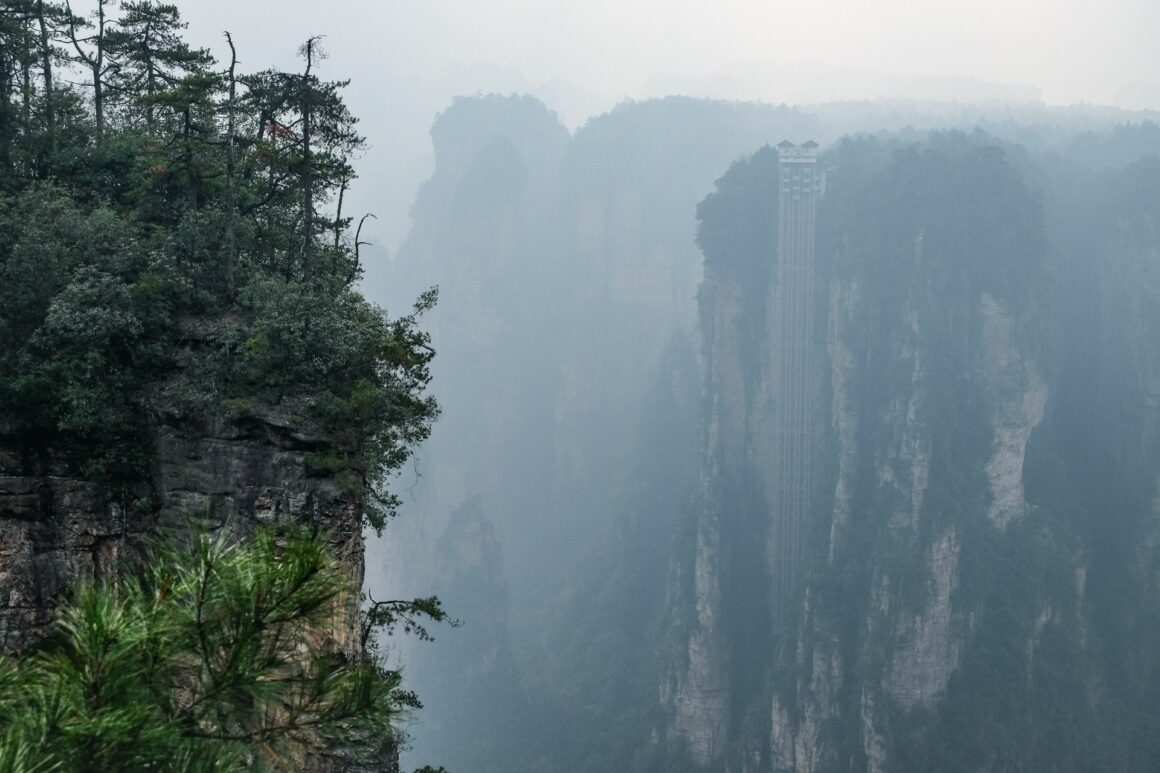 Wintertime gets pretty cold on top of the mountains, and summer (especially July and August) can be rainy. So the best time for good views is actually spring (April/ May) or autumn (September/October). But make sure to avoid public holidays, especially the October "Golden Week", when you will probably not be able to spot the path you are walking on, because it is full of people, seriously!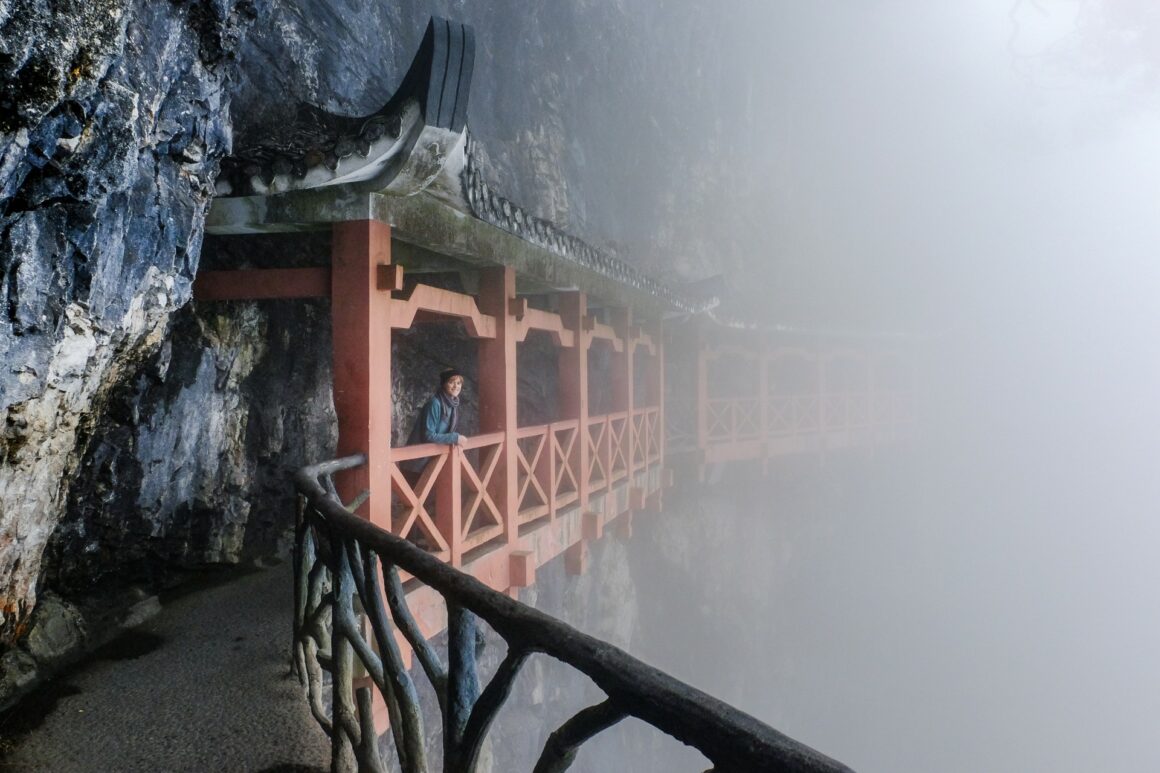 #5 What to do in Zhangjiajie when the weather lets you down?
After 1,5 years in China I unfortunately came to the conclusion that it always rains in Chinese mountains, at least for me… The quintessence from that: As we cannot change weather (I guess the Chinese were the first to do so, if they could ;)) and in the mountains forecasts are unpredictable anyways, I learned to be even more thankful for every moment the clouds clear a little and appreciate the spectacular views they then offer. Still: Not to be totally disappointed, it´s always good to be prepared. So here are some bad weather alternatives for Zhangjiajie: The village of Wulingyuan offers quite a few nice corners to explore. Even if the restaurants and shops only come alive after dawn, you can find some nice spots by walking around during the day. The best part: It won´t be crowded then. We actually spent a few hours of our third day walking around this tiny village, finding some wallart, flying our drone and chatting with locals. As the rain kicks in you can find a warm spot inside the massage salons or in the pool or sauna of one of the local spas.
#6 How to prepare the days in the mountains?
As the weather can be unpredictable and food options aren´t great, prepare yourself before coming to Zhangjiajie! Bring some warm clothes and a rain/ wind jacket with you as clouds and fog can come in quickly and weather in the Wulingyuan Scenic Area changes fast. It will be much cooler on top of the mountains than in the valley, so be prepared for temperature changes!
Also take some snacks and drinks with you, preferably buy it even before travelling to Zhangjiajie! You will find food stalls at the main spots on the mountains serving Chinese snacks and two fast food restaurants at the main bus stops. Yes, seriously: They built a McDonalds and a KFC at the most popular spots on top of the mountains at Tianzi Mountain and Yuanjiajie… No comment. But if these options will not suit you, you will be happy to find some fruits, nuts and cereal bars in your backpack.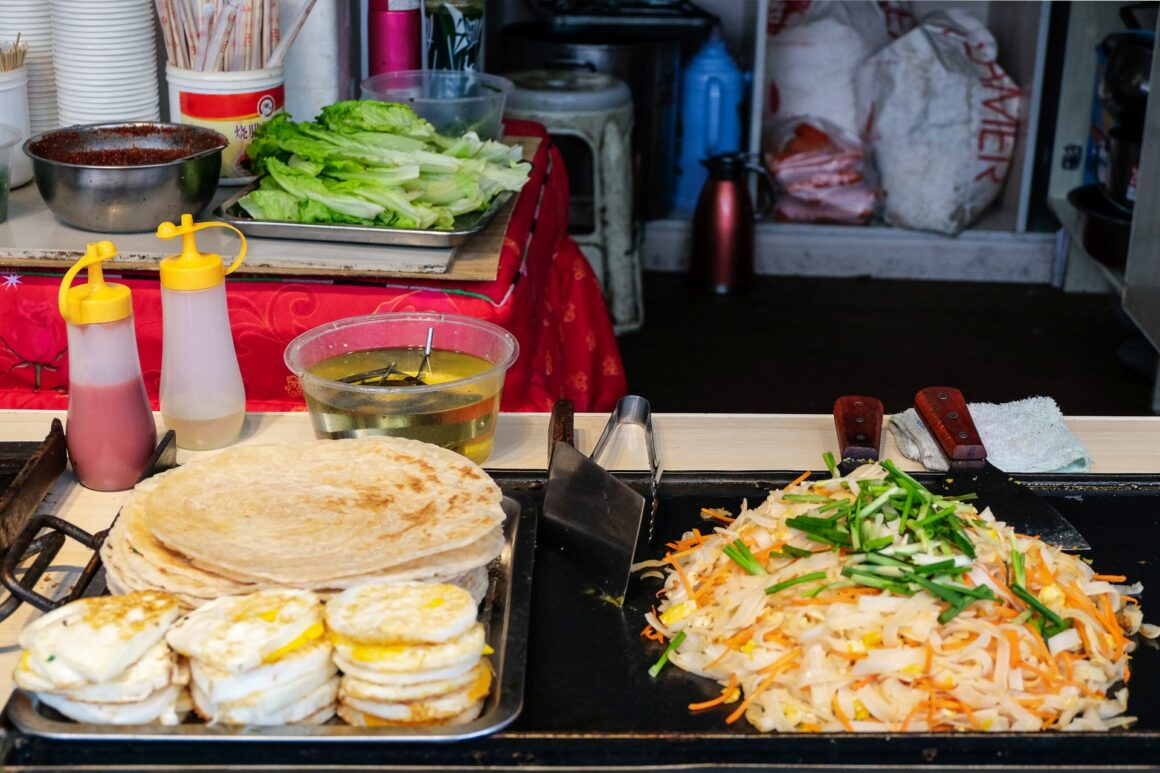 #7 Restaurants at the foot of Zhangjiajie Nationalpark
Even the food options in Wulingyuan are better than in the nationapark, they are still limited: We only found one restaurant serving "Western food". But the question is: Do you really want to have pizza in a remote Chinese town? So be prepared to taste local cuisine and see animals such as turtles, the giant salamander (which is a delicacy here, even if endangered and protected) or toats alive in front of restaurants.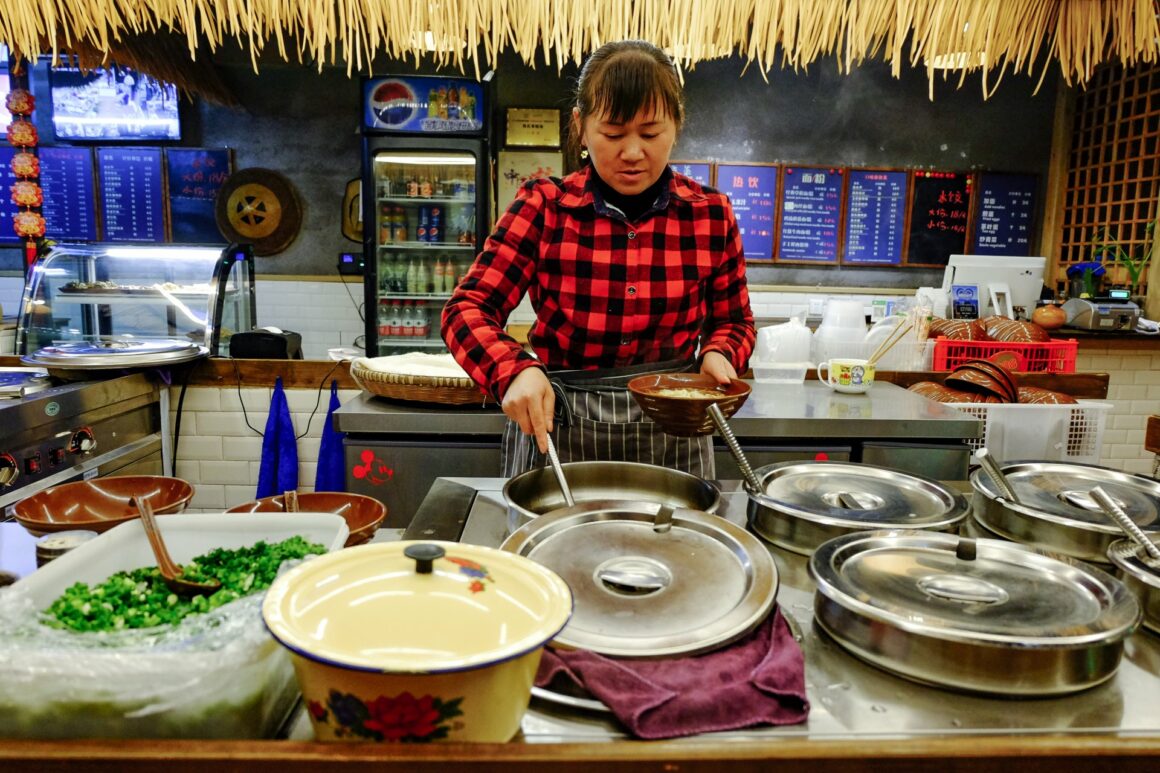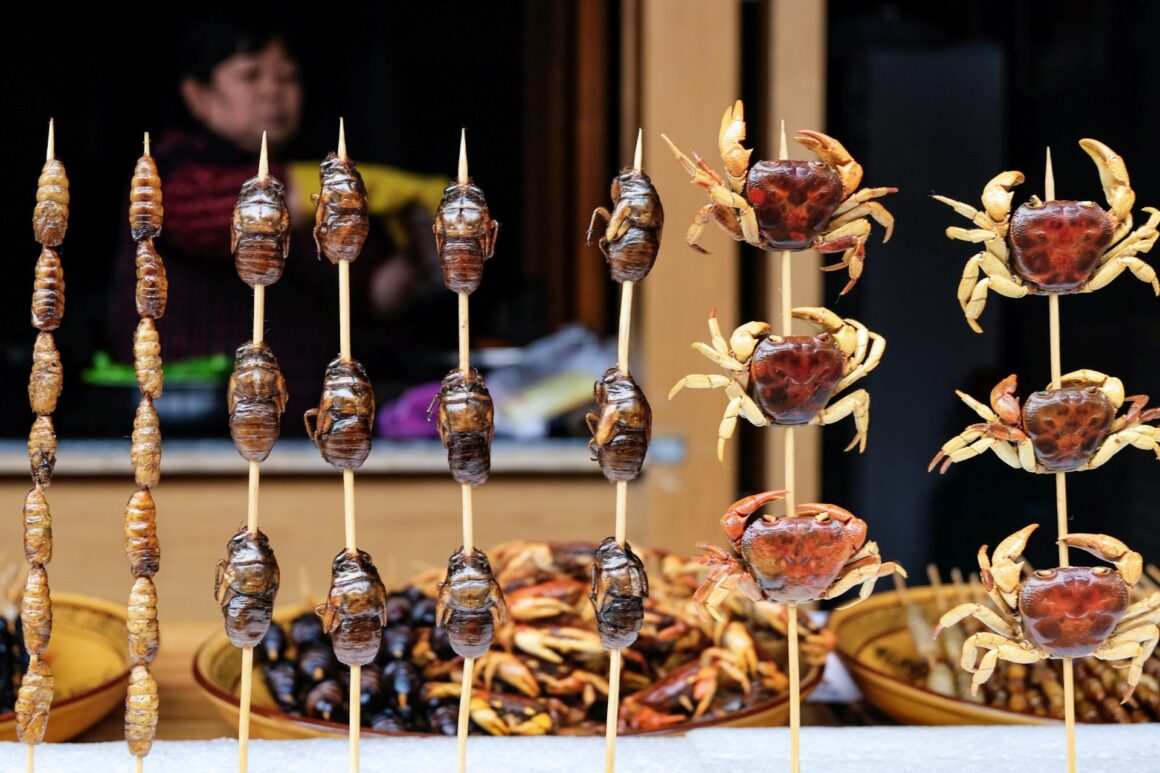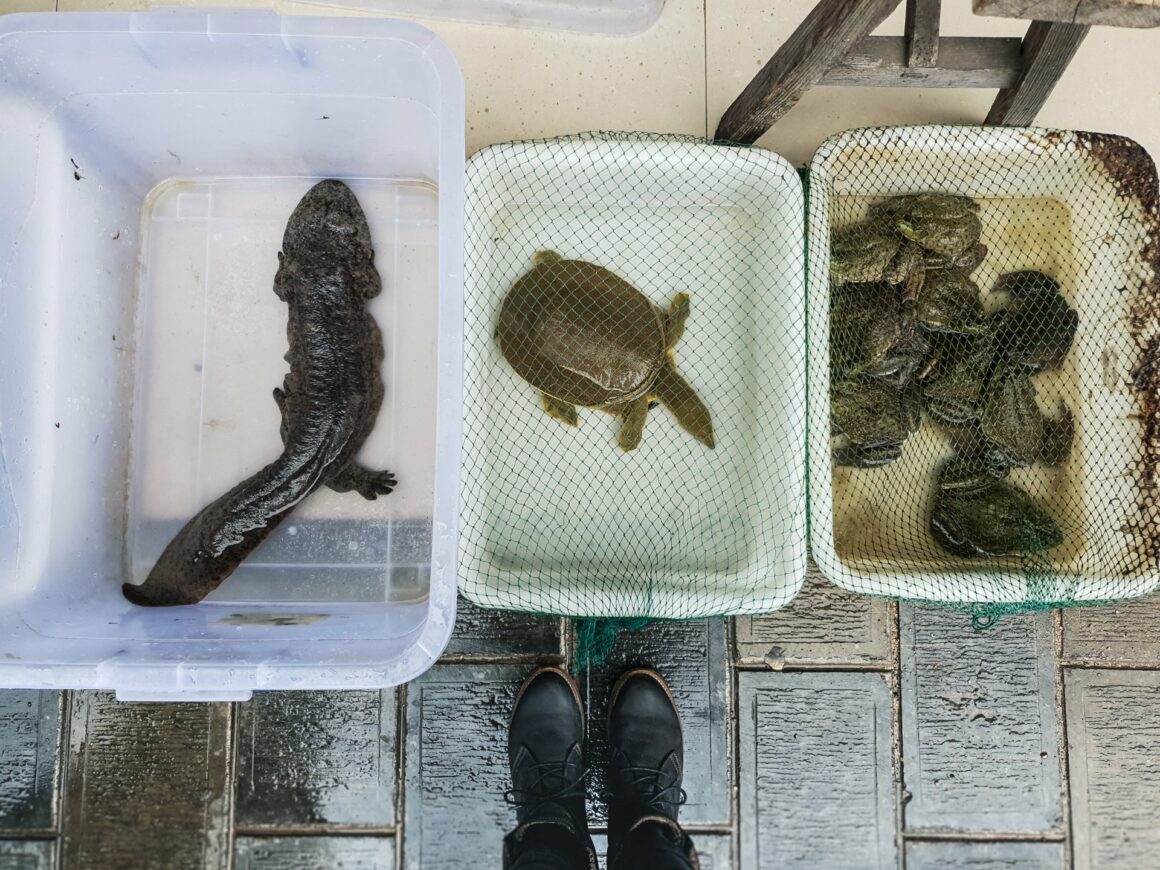 #8 Where to stay around Zhangjiajie?
There are many options to stay around and even in the nationalpark. Most accommodation you can find in Wulingyuan. From Wulingyuan downtown you can walk to the East entrance of the Zhangjiajie Nationalpark and after coming back in the evening, you will have some more restaurant options, massage spots etc. We stayed at South Mountain Boutique Hotel and were moe than happy with the Location, comfort, style and price.
#9 Where to start it all off?
As Zhangjiajie city is located on the foot of Tianmen Mountain, you could also plan to stay there after arriving via plane or train, visit Tianmenshan from there and drive the 30 km up to Zhangjiajie Nationalpark the next day. Then you save some time and money on travelling back and forth between Zhangjiajie Nationalpark and Zhangjiajie city. If you prefer to stay at one place without changing accommodation, I would recommend you to find a place to sleep close to the nationalpark as Zhangjiajie City doesn´t have to offer anything. You can then still take the public bus (14 RMB) or didi (around 150 RMB) down to the Tianmen Mountain Cableway and are more flexible in planning your days. Click here for my detailed 3-day-itinerary for Zhangjiajia and Tianmen Mountain inluding the most instagrammable spots.
---
***
QUESTIONS & COMMENTS?
Have you ever been to China´s impressive mountain Areas like Zhangjiajie, climbed the Great Wall or visited the Yellow Mountains? What was your experience? Leave me a comment! Do you like the article, or still have any suggestions, critics or route recommendations? I am happy to read what you are thiking! If you like my content, please feel free to share this article with your friends!
In the category China you can find further travel stories from the land of the rising sun.
Clicke here to read my 3-days-itinerary for Zhangjiajie Nationalpark including Tianmen Mountain
***
 – SMILE4TRAVEL NEWSLETTER –
Become part of the Smile4Travel Community – Follow my Facebook Page & Instagram and register for my Newsletter, so you don´t miss any Smile4Travel adventures! No Spam – I promise!
[mailpoet_form id="1″]