This post is also available in: Deutsch (German)
After I discovered Zhangjiajie on Instagram, I´ve been totally inspired by Jord Hammond´s pictures. He actually wrote a "Instagrammer´s Guide to Zhangjiajie", where he introduces his favourite spots. You can actually cover the main highlights of Zhangjiajie National Forest Park in only one day, even without a rush. You can do the following route in both directions. Next time I might would do it the other way around to have better light conditions and not being forced to shoot against sunlight all day long. The advantage of this itinerary: less people. Read my detailed travel guide to China´s Avatar Mountans to find many tips how to get to Zhangjiajie, where to stay, how to prepare your trip and what to think of, when planning it on your own as well as bad weather alternatives and much more.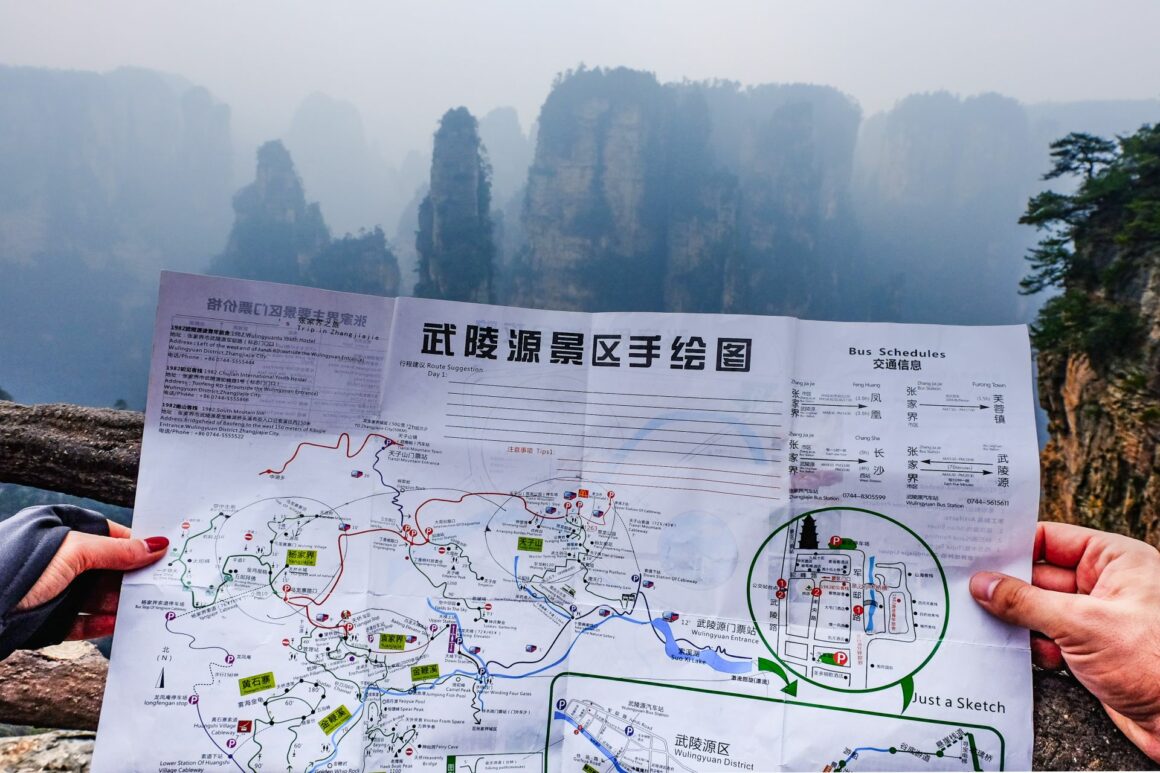 Day 1: Yuanjiajie and Tianzi Mountain
Enter the Zhangjiajie National Forest Park through the East Wulingyuan Entrance and from there take the bus (30 minutes) to the Bailong Elevator, also known as "Hundred Dragons Elevator". Then you´ll arrive in Yuangjiajie area. The Bailong Elevator is the longest and heaviest outdoor elevator worldwide, which brings you 326 metres up on the outside of a massive sandstone column in 1.30 minutes, crazy, he?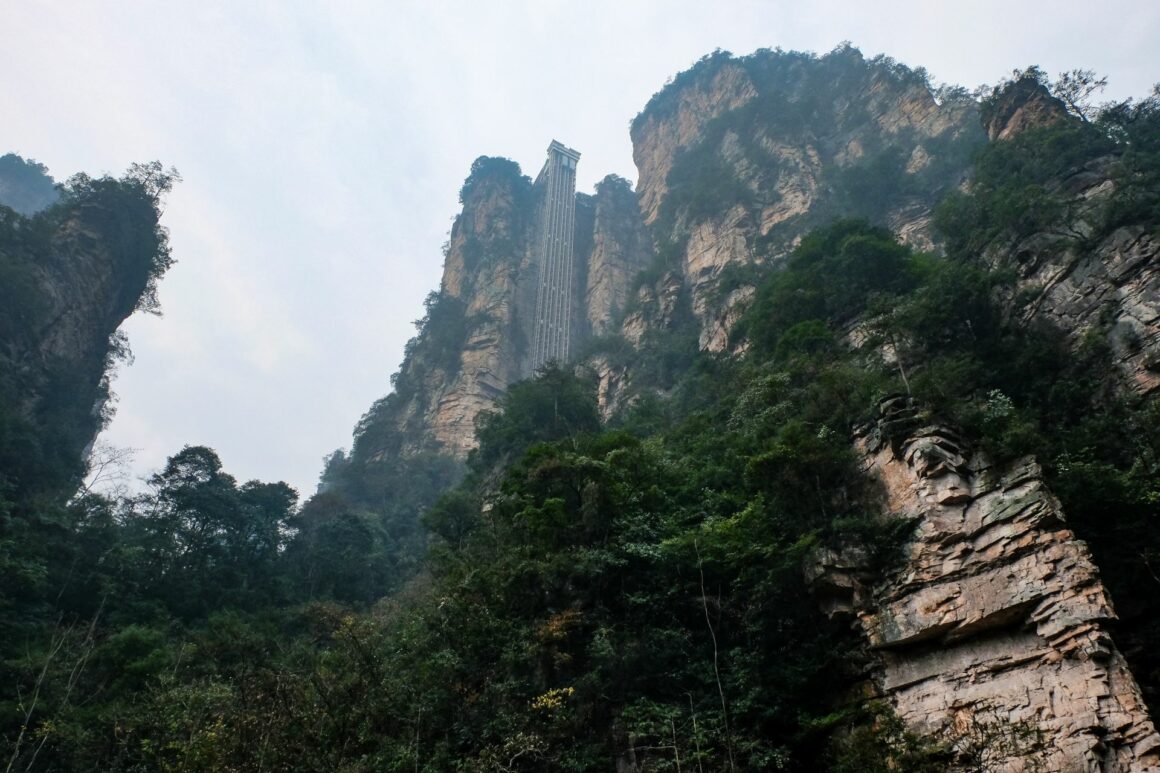 1st Highlight: The Avatar Hallelujah Mountain
From the Bailong Elevator start walking the route, which brings you along various viewing points until you reach a metal bridge, from where you spot the famous Heavenly Pillar. Also known as "Southern Sky Column" it was the inspiration for Avatar´s Hallelujah Mountain. Actually the 150 metres high pillar with its lush vegetation on top was officially renamed into "Avatar Hallelujah Mountain" in 2010, after the movie was such a big success. Nowadays you can find human-sized Avatar figures there, which are happily accepted by Chinese tourists as photo scenery. Feels a little like walking through a theme park…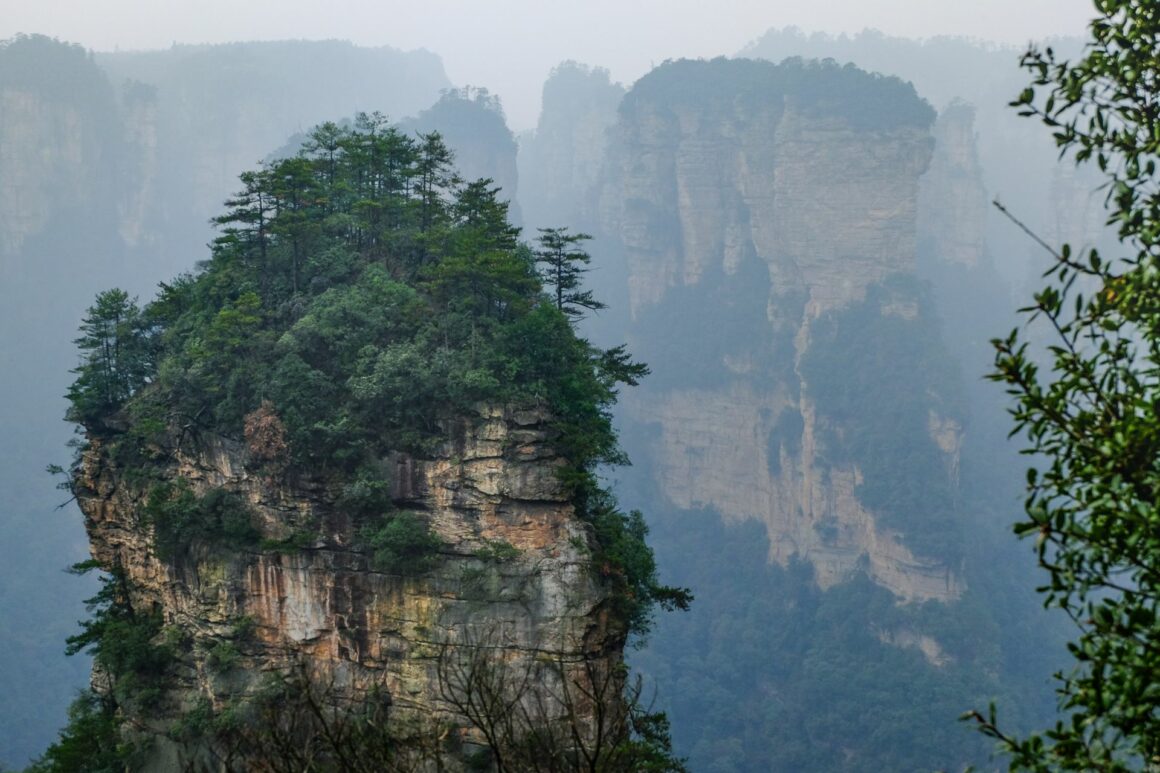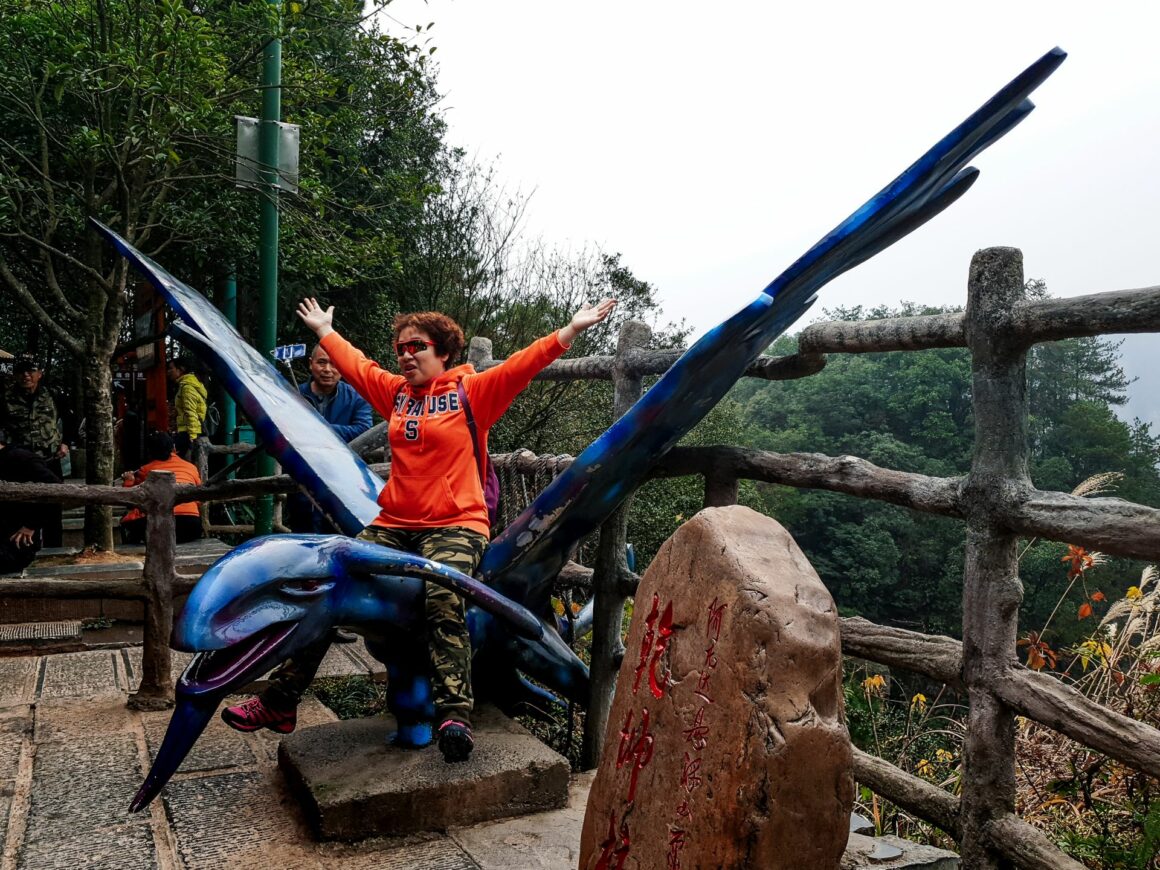 Zhangjiajie Forest is monkey business!
Be aware of the makaques! They are cute, but wild! So you shouldn´t feed them. But they are quite smart and used to the tourists as well, so don´t carry any food around visibly, they will definitely steal it out of your hands!
2nd Highlight: Rocky Natural Bridge
After passing by the Hallelujah Mountain, you will reach the "Rocky Natural Bridge", also known as "First Bridge under the Sun". This naturally built formation is 2 metres wide, 5 metres thick and spanning 25 metres between two mountains. The 400 metres vertical hight is the largest found in the world so far. Quite impressive! From there follow the signs to the bus station "Tianqiao Stop".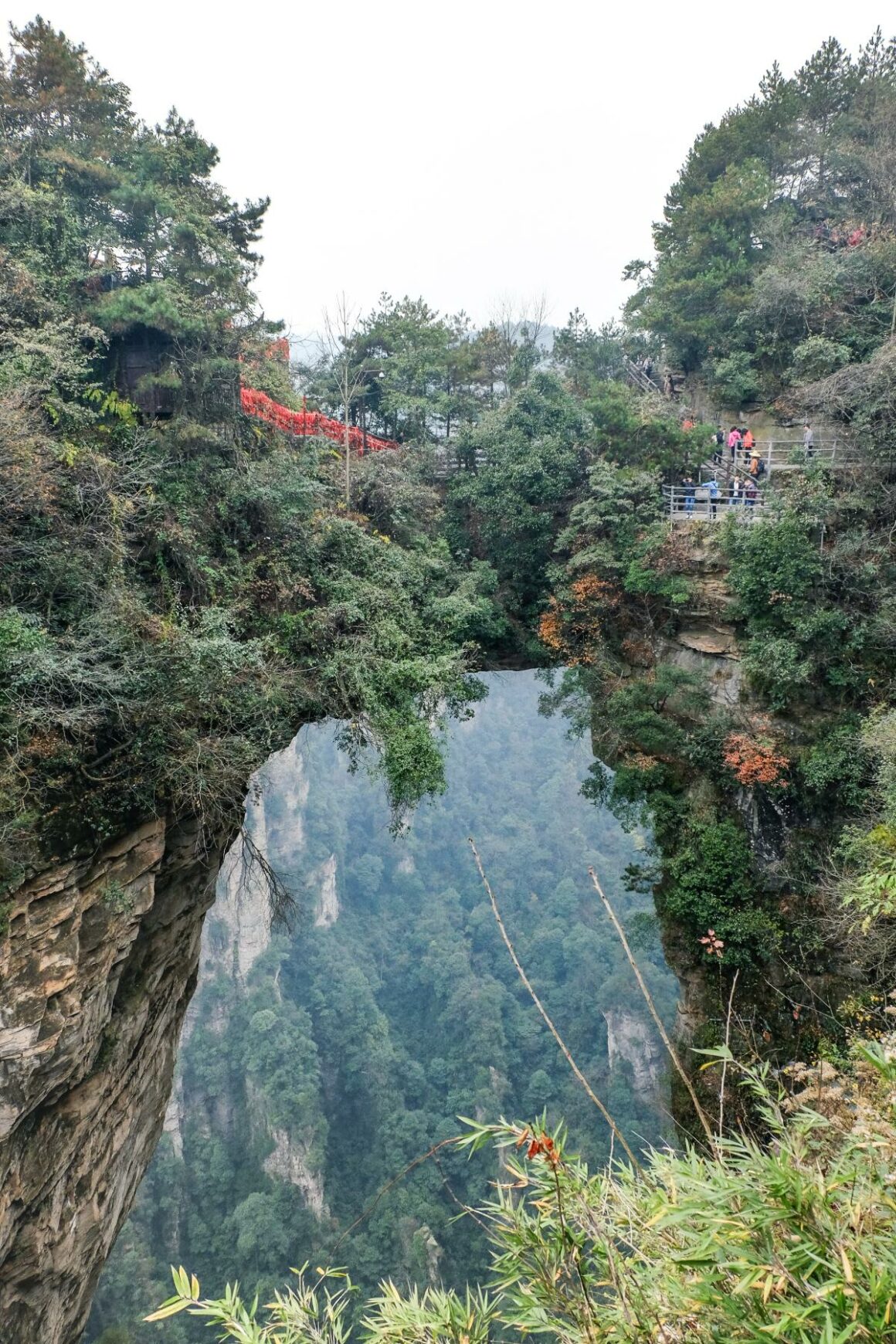 3rd highlight: The Gathering Soldiers
To reach the "Gathering Soldiers", you need to hop off the bus at the intersection of Sancha. Tell the bus driver where you want to get off by pointing on your map and he will be happy to help. From there you could walk, but I would not recommend it, as it takes around 3 hours and the scenery isn´t that spectacular. So take one of the smaller buses for 50 RMB (not sure if there are buses, or only some cars during winter). They will bring you to a spot from where you can spot the "Fields in the Sky" with the Bailong Elevator in the distance.
Take a walk for about 10 minutes downhill and you will reach the "Gathering Soldiers", actually a quite impressive formation and my personal highlight in Zhangjiajie National Forest Park. One reason for this are the sandstone pillars themselves, as they rise from deep down the valley high up into the sky. But also the fact that there were only a few other people around.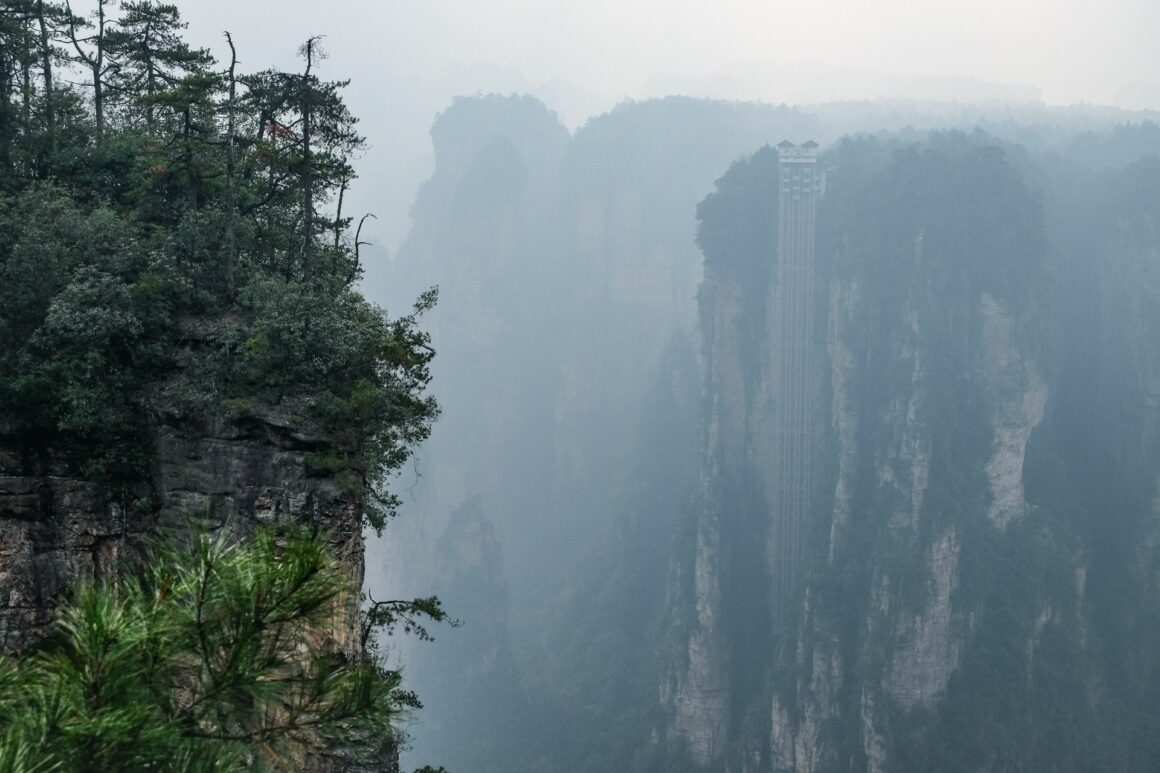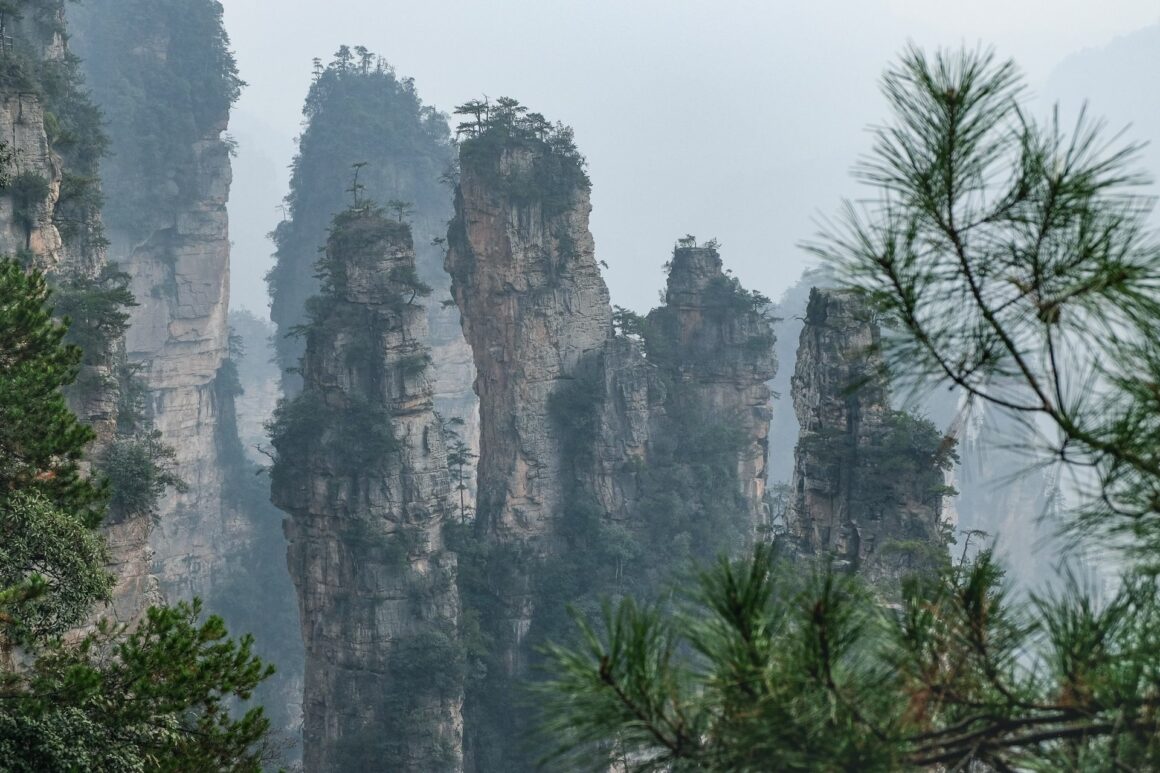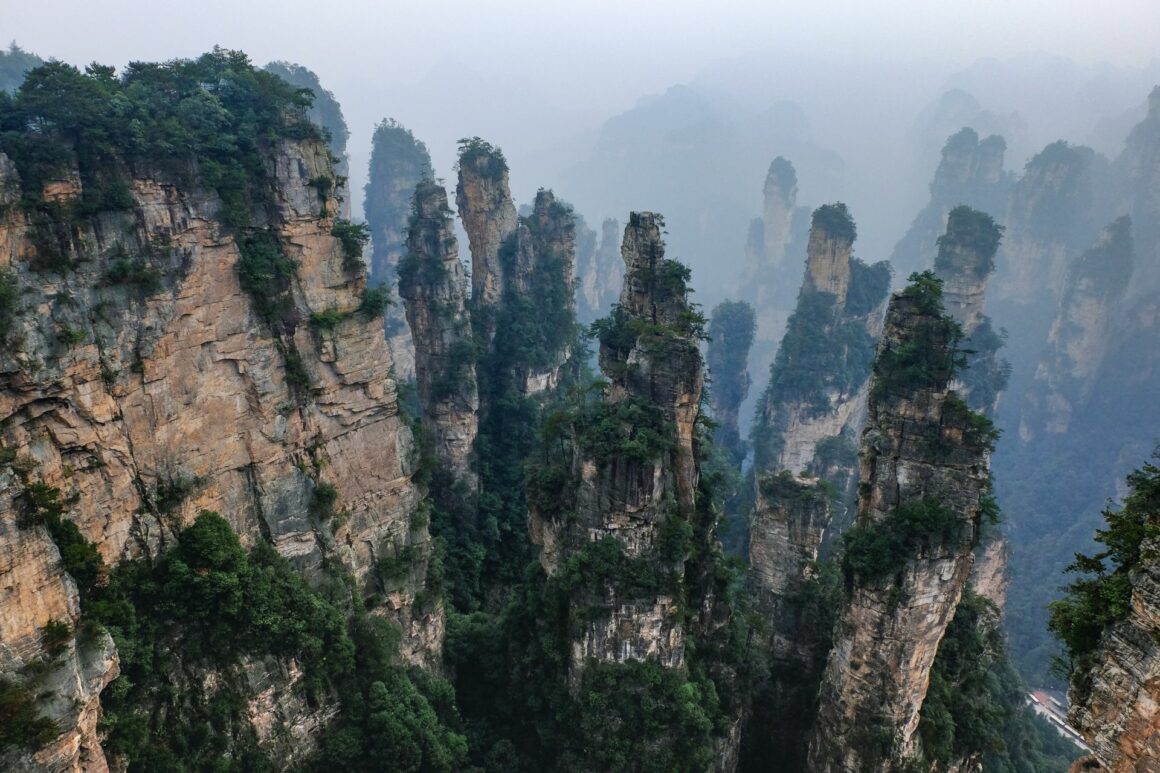 After coming back, the small bus brings you back to the intersection of Sancha, where you can hop on a bus serving the main route to Tianzi Mountain (on the map the station, where you will find McDonalds).
Last but not least: The Imperial Writing Bushes & the way down
When you get off at Tianzi Mountain (Helong Stop), you can walk to the Imperial Bushes, which also offer an unique shape. Unfortunaltely we couldn´t spot the Imperial Writing Bushes, because fog came in and covered the mountains. If the weather is nice and it is no too late, you can walk down the mountain. It will take you 1,5 to 2 hours. The hike isn´t crowded and again offers some incredible views (I heard so). As there were no views expected for us, we took the Tianzi Mountain Cableway down, which was also an impressive experience driving through the clouds, passing by these huge sandstone pillars.
From the "Down Station" of the Tianzi Cableway you can then take the bus back to Wulingyuan Entrance. As I said earlier, you can also do this tour the other way around, starting your day by driving up Tianzi Mountain with the cale car. Next time I would do so, because now I can imagine how spectacular it must feel, when starting your journey in the valley and only see huge sandstone walls, which will change into an impressive scenery and incredible views after arriving on top.
Day 2: Explore the more remote parts of Yangjiajie area
If you managed to visit all these spots in one day, you can then focus on other areas of Zhangjiajie National Forest Park. Yangjiajie area e.G. is is much quieter and it´s obvious why: As this area was only recently discovered and infrastructure is still in progress being maintained, there are more hiking trails than bus routes covering the area. We definitely would have gone on a hike through Yangjiajie, if the weather forecast hadn´t predicted even more clouds and rain on our 3rd day. So for our second day we decided to visit another highlight for which we actually came to Zhangjiajie: Tianmen Mountain with its Stairway to Heaven. Unfortunately the weather got worse, so in the end we didn´t come back to Zhangjiajie National Forest Park during this trip…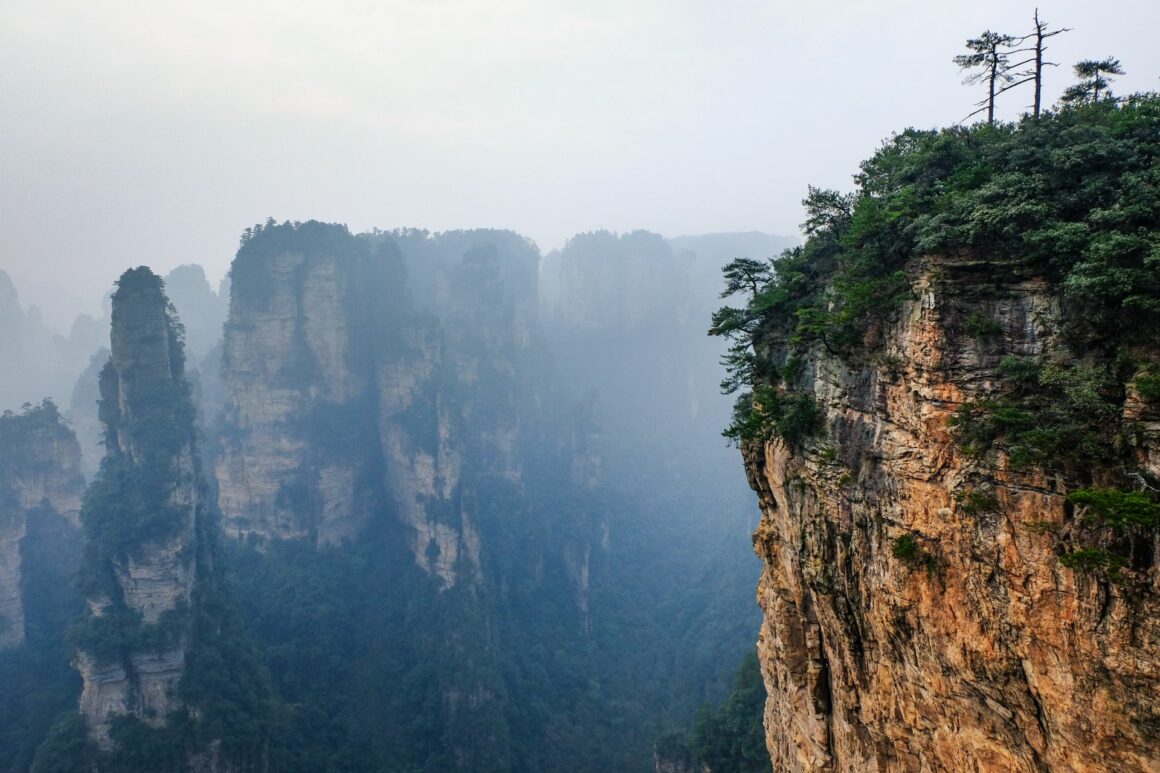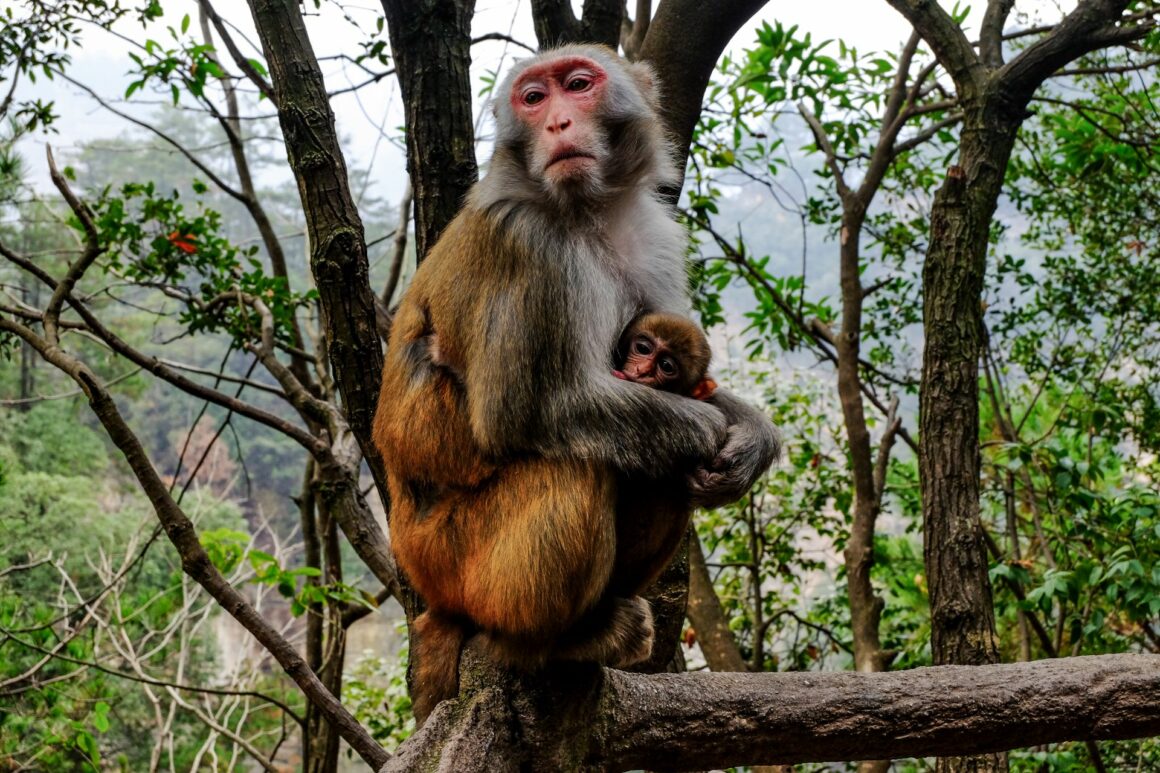 Day 3: Tianmen Mountain
30 km south of Zhangjiajie National Forest Park, on the outskirts of Zhangjiajie City lies another spectacular sight: Tianmen Mountain (Tianmenshan), which got its name from a natural formed karst cave underneath the mountain: Tianmen means "Heavenly Gate" and Shan = mountain). To reach it, you need to take the Tianmen Mountain Cableway, which is the longest cableway in the world and not only because of that an experience itself. 
The Tianmen Mountain Cableway is 7.455 metres long and starts downtown of Zhangjiajie city, leading to the summit of Tianmenshan Mountain in 28 minutes. While riding the cable car you will look down to the spectacular 99-Bend Road winding up the mountain underneath you. This road, also known as Heaven-linking avenue, will actually be your way back, if you decide for the bus on your way returning down. Unfortunately it was too foggy, so we could only spot the beginning of the road.
Reaching the top, Tianmen Mountain was covered in even thicker fog, so we were only able to capture some mystic shots, but unfortunately without any view. Still Tianmenshan is a crazy place: You can walk around the plateau and experiece adrenalin-filled walks on cliff-hanging paths along the edges and glass skywalks on the summit of Tianmen Mountain.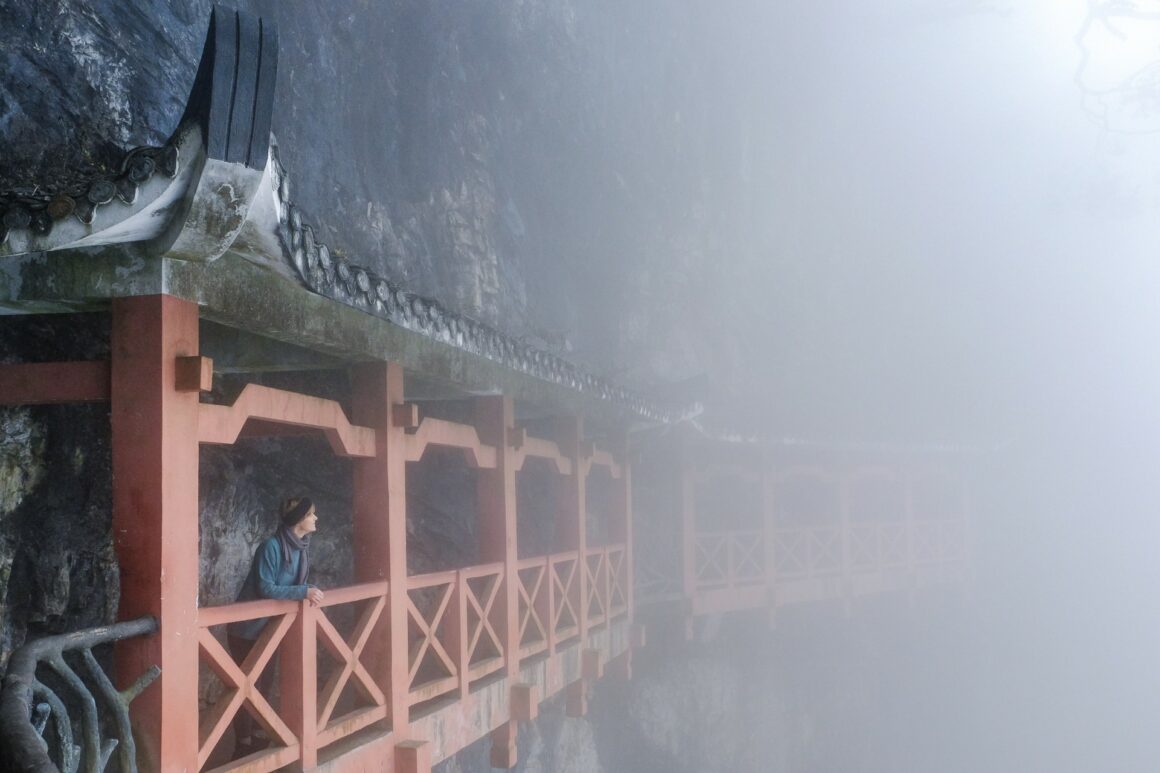 And then there is Tianmenshan´s main attraction: The Tianmen Cave underneath the mountain. You have to go down a bit to view it. One of the most craziest things, are the escalators in the mountain. Yes, they really built escalators into the mountain to take people up and down fast and comfortable…I haven´t seen something similar to this yet. But I guess this is something you will only find in China…
After you took the escalators and the the 999 steps down, you will arrive at the buttom of Tianmen Cave and if it´s not covered in fog or clouds, view the magnificant Staircase to Heaven. Of course, we expected a different view and were disappointed by not getting to see Tianmenshan at all. So I guess there will be a second time visiting Zhangjiajie National Forest Park and Tianmen Mountain. And now, after knowing what to expect and how to get around Zhangjiajie, I would actually also go for a weekend and plan it spontaniously, depending on the weather forecast.
---
***
QUESTIONS & COMMENTS?
Have you ever been to China´s impressive mountain Areas like Zhangjiajie, climbed the Great Wall or visited the Yellow Mountains? What was your experience? Leave me a comment! Do you like the article, or still have any suggestions, critics or route recommendations? I am happy to read what you are thiking! If you like my content, please feel free to share this article with your friends!
In the category China you can find further travel stories from the land of the rising sun.
Click here to read my detailed travelguide to Zhangjiajie Nationalpark including tips how to get to Zhangjiajie, where to stay, how to prepare your trip and what to think of, when planning it on your own as well as bad weather alternatives and much more.
***
 – SMILE4TRAVEL NEWSLETTER –
Become part of the Smile4Travel Community – Follow my Facebook Page & Instagram and register for my Newsletter, so you don´t miss any Smile4Travel adventures! No Spam – I promise!
[mailpoet_form id="1″]