This post is also available in: Deutsch (German)
As temperatures rise above 15 degrees celcius, not only the early spring blossoms awake from their hibernation. From now on Shanghai´s parks and green spaces will be well visited: Not only by elderly people, who come during all seasons especially in the early morings and late afternoons for tai chi, to dance, sing, play mahjong, or debate. Cherry-, peach- & plum-blossoms, as well as magnolia, tulips etc. attract countless visitors. All going crazy about taking pictures with the pink blossoms. Everyone who is looking for a quiet place might go crazy as well. Nevertheless Shanghai´s parks are the perfect location to enjoy springtime and spot some queerly activities like: Retrowalking (walking backwards), tree backing (rubbing one's back against a tree) or presenting singing birds can definitely only be spotted in the Middle Kingdom. During the last couple of days I made my way into several parks of Shanghai, each of them with their own character. In most of these parks cherry blossom can be spotted between late February and early April. But also besides that attraction all parks are worth a visit. My listing is not a ranking, just roughly sorting the parks by their distance from Shanghai´s city center.
#1 French charme and Western lifestyle at Fuxing Park
In the heart of the Former French Concession lies the 10 hectare large Fuxing Park, once the biggest park of Shanghai. The European way of life and the original flair of the former concession are still present today. No wonder that lots of Western visitors and expats stroll between the locals. In the streets around Fuxing Park life was pulsating especially in the 1920s and 1940s, when the concession was home to intellectuals and artists. The "très chic" villas and estates date back to the end of the 19th century – their charme still makes the area unique nowadays. The Western vibes continue in Fuxing Park: Designed in French style it´s hosting a small lake, fountains, covered pavilions, huge flowerbeds and a rose garden. Close to this you can spot the Sunday´s marriage market – this on the other hand is very Chinese. The big meadow is popular with those who fly kites, even if kite flying officially is prohibited. But who cares? Fuxing Park is also a huge playground for dancers, musicians and (karaoke) singers, some of them really talented. The park also hosts a lifesize statue of Karl Marx and Friedrich Engels, which was built in 1985 in honor of the 90th anniversary of Engels´death.
district: Former French Concession (Luwan district)
address: 516 Fuxing Zhong Lu, close to Huaihai Zhong Lu
subway station: Xintiandi (line 10)
opening hours: 6am – 6pm
entry: free
#2 Dancing at Xiangyang Park
Xiangyang Park is the place to go, when you wanna spot China´s national hobby: dancing in the park. The park located opposite the fancy iapm shopping mall is tiny, but the wide tree-lined promenade leading to a small pavillion becomes stage to the very famous Chinese way of outdoor dancing almost every day. Tango, foxtrot, waltz, cha-cha-cha or freestyle: Mostly elderly men and women come here at dawn, moving and shaking to hellishly loud music – most of them very masterly. It gets really interesting when everybody turns up their own music and soothingTai Chi sounds mix up with classic Chinese symphonies or pop music. But nobody seems to mind, everybody is dancing in their own world.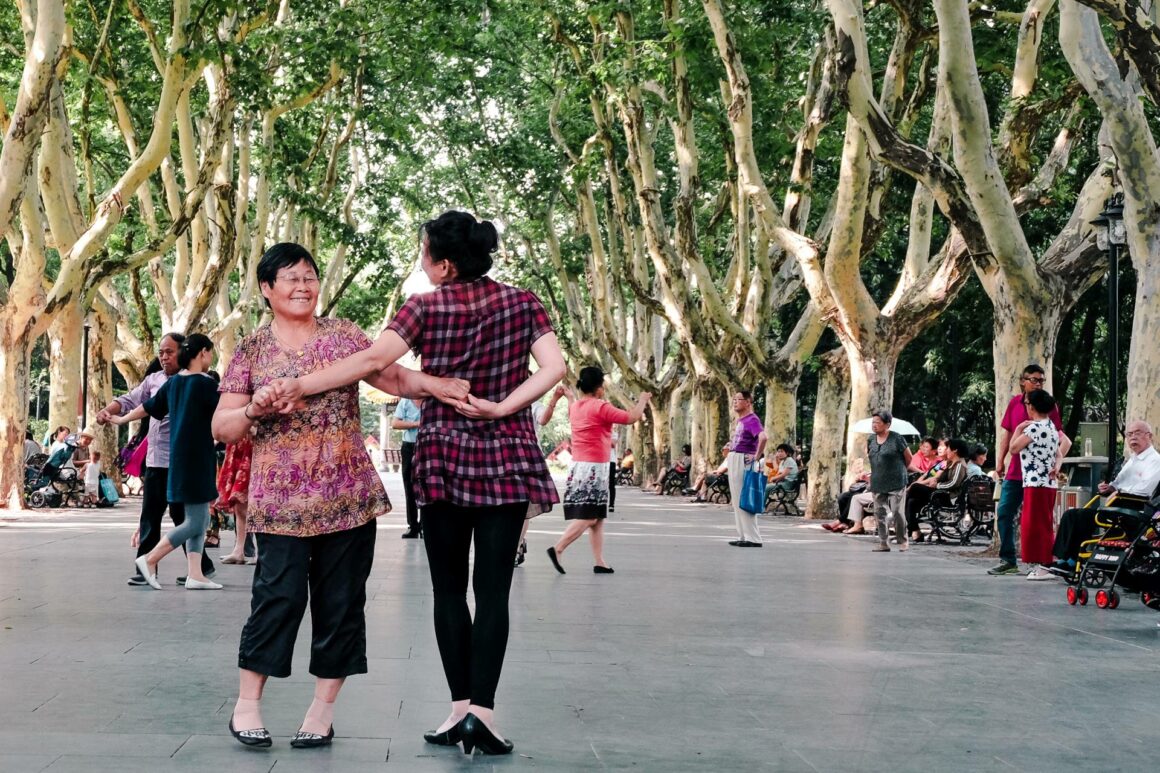 district: Xuhui
address: 1008 Huaihai Zhong Lu / Xiangyang Bei Lu
subway station: South Shaanxi (lines 1, 10, 12)
opening hours: 24/7
entry: free
#3 Art and flowers at Jing'an Sculpture Park
This quiet and family-friendly park is located in the North of Jing'an District. Life-size sculptures and statues from local and international arists make its character unique. While some sculptures rotate throughout the year, some can be seen permanently, e.g. the metallic bulls sitting in the grass and the huge pergola roof behind them. Special exhibitions also allow international artists to present their work. So it´s worth to have a look during different times of the year. As the Natural History Museum is located there as well, Jing'an Sculpture Park is also worth a visit, when weather isn´t great. It´s forbidden to walk or sit in the grass. Security guards will make sure everybody follows the rules. Be aware: Don´t mix up Jing'an Sculpture Park with Jing'an Park next to Jing'an Temple, or Shanghai Sculpture Park, which is located in Songjiang district outside the city center.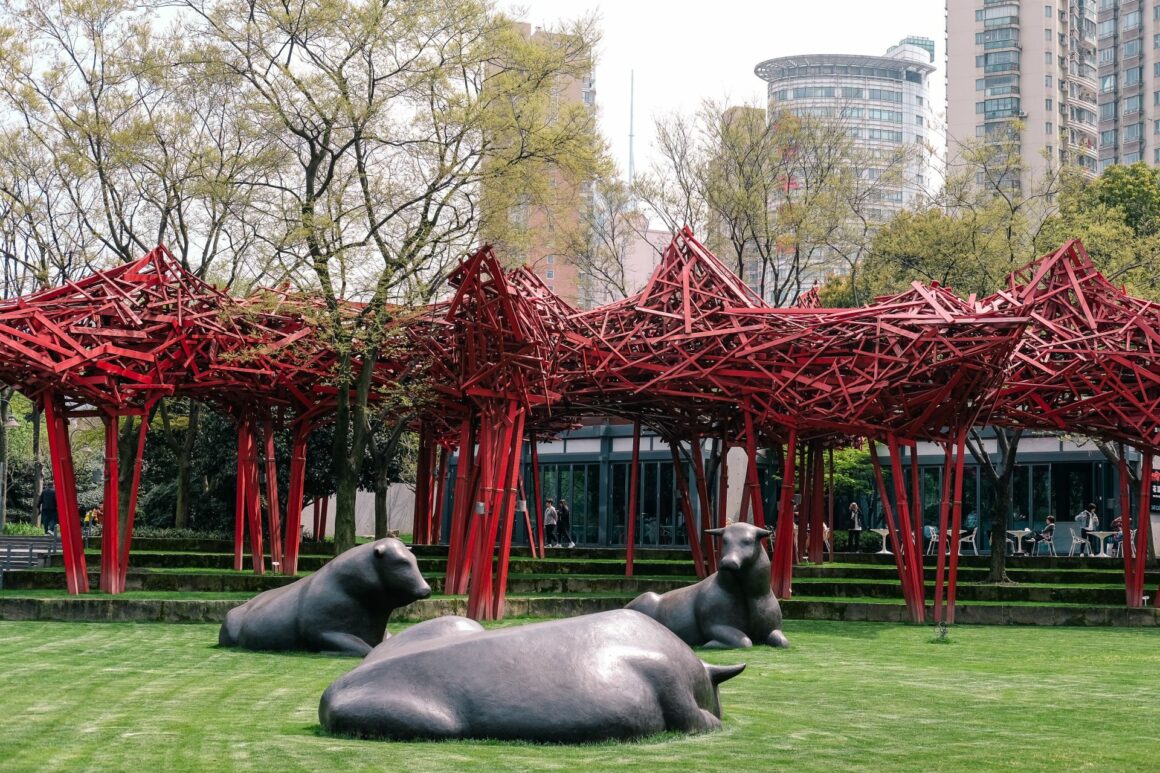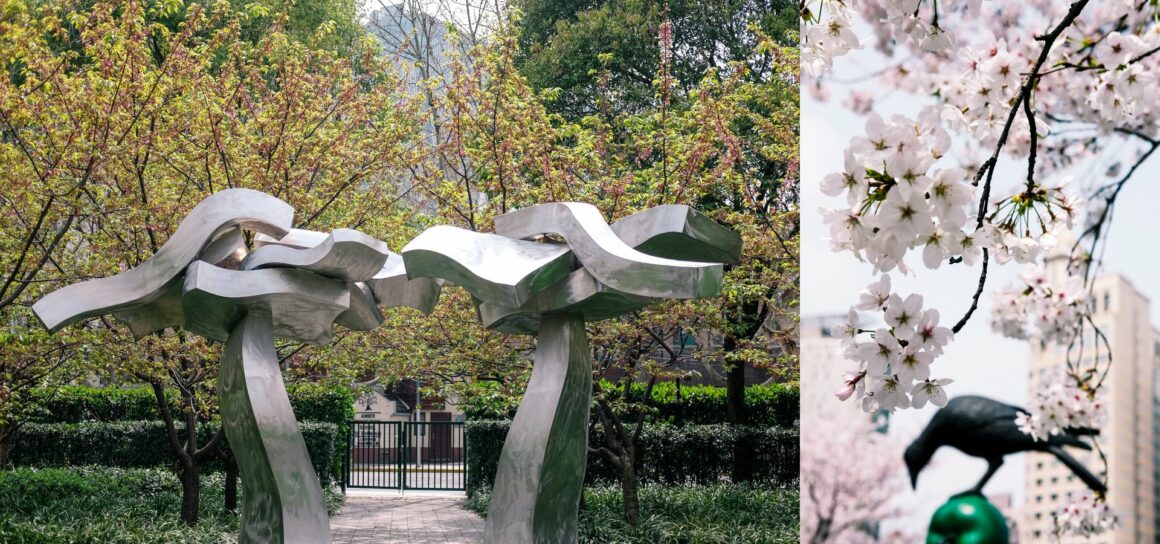 district: Jing'an
address: 128 Shimen Er Lu, close to Beijing Xi Lu
subway station: Natural History Museum (line 13)
opening hours: 6am – 8.30pm
entry: free
#4 Enough space for everyone at Zhongshan Park
Plenty of shady spots, huge green spaces and long-winded paths characterize Zhongshan Park, located in the West of Shanghai´s city center. Expat families and locals feel equally comfortable as Zhongshan Park offers plenty of space for the locals' favourite activities: singing, playing instruments and debating. The huge green spaces allow people to picnic and to exercise. Enchanted paths and lotus ponds invite for extensive strolls. Peach- and cherry blossom can be spottet here as well. So Zhongshan Park is an ideal place for young and old alike.
district: Changning
address: 780 Changning Lu / Dingxi Lu
subway station: Zhongshan Park (lines 3 &4)
opening hours: daily 5am – 7pm (summer), 6am – 6pm (winter)
entry: free
#5 Where world literature meets manga costumes: Lu Xun Park
Lu Xun Park is definitely one of these parks in Shanghai, which are worth visiting because of their high entertainment quality, not only during cherry, plum or peach blossom. By locals Luxun Park is intensively used as a recreational area, which means you can spot all the typical outdoor activities characterizing a Chinese park: From classic mahjong-, card games and typical Chinese debate clubs formed by elderly men, over extensive excercise and stretching to playing instruments, singing, painting or just having a picnic. Lu Xun Park also stands out because of its size. The lake, on which you can cruise in small boats, stone ponds, various benches and the tea house in the center give Lu Xun Park a special character. Somehow it reminds me of Beijing´s Beihai Park.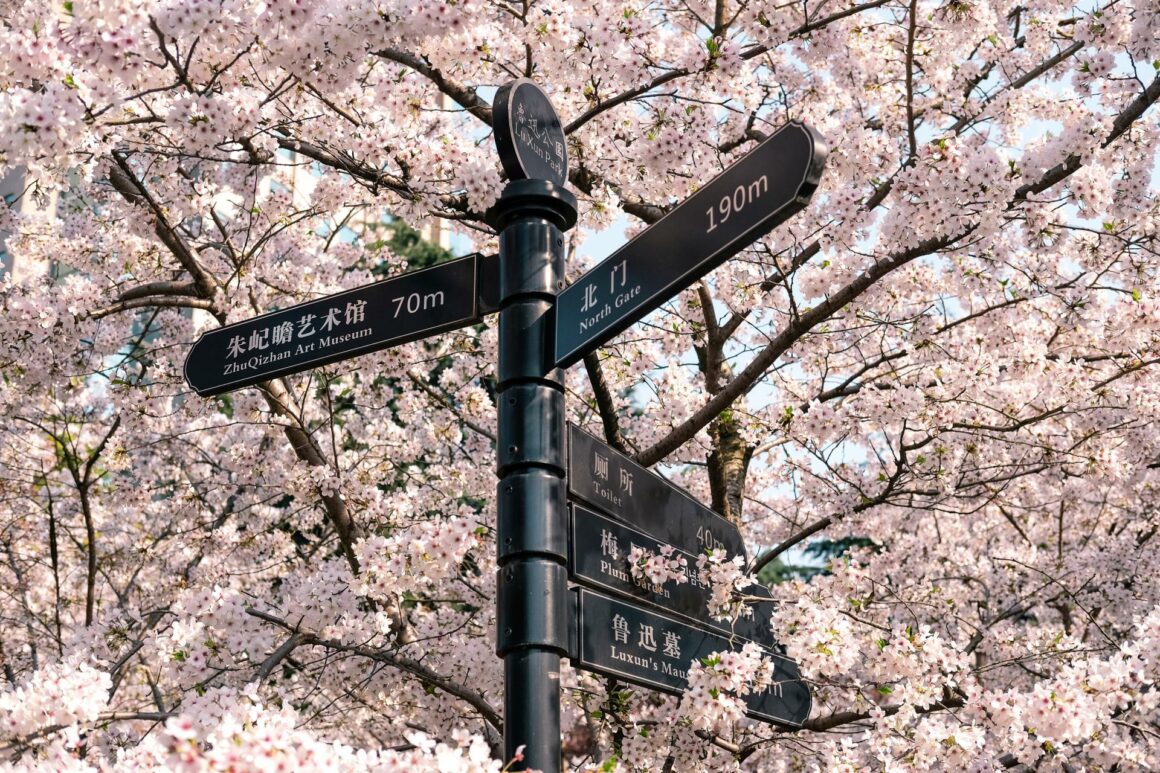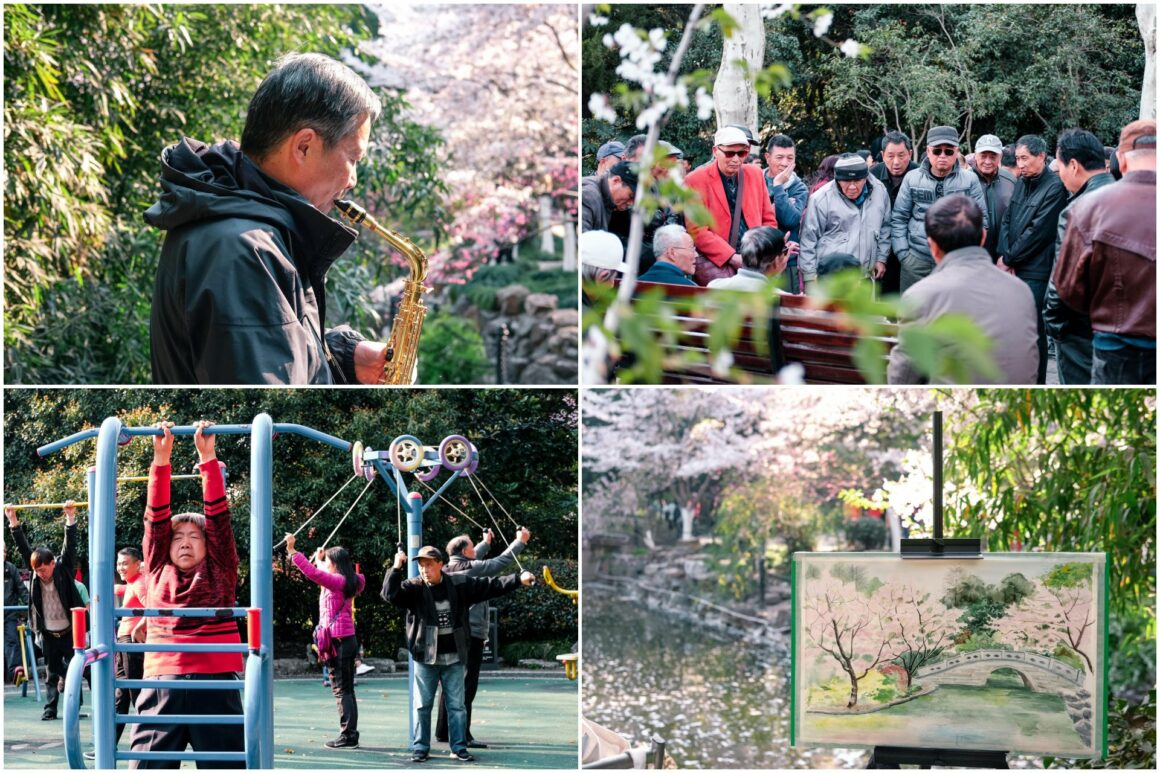 Not only elderly people spend their days here. Especially during springtime, when the trees and flowers awake from winter, many dressed-up young people romp betwen pink cherry blossoms and bright yellow forsythia. Meeting new people here works easily and digitally. Despite language barriers the intention is clear: Western park visitors are gladly taken as selfie opportunity. And exchanging pictures via WeChat right after being shot is a total given of course.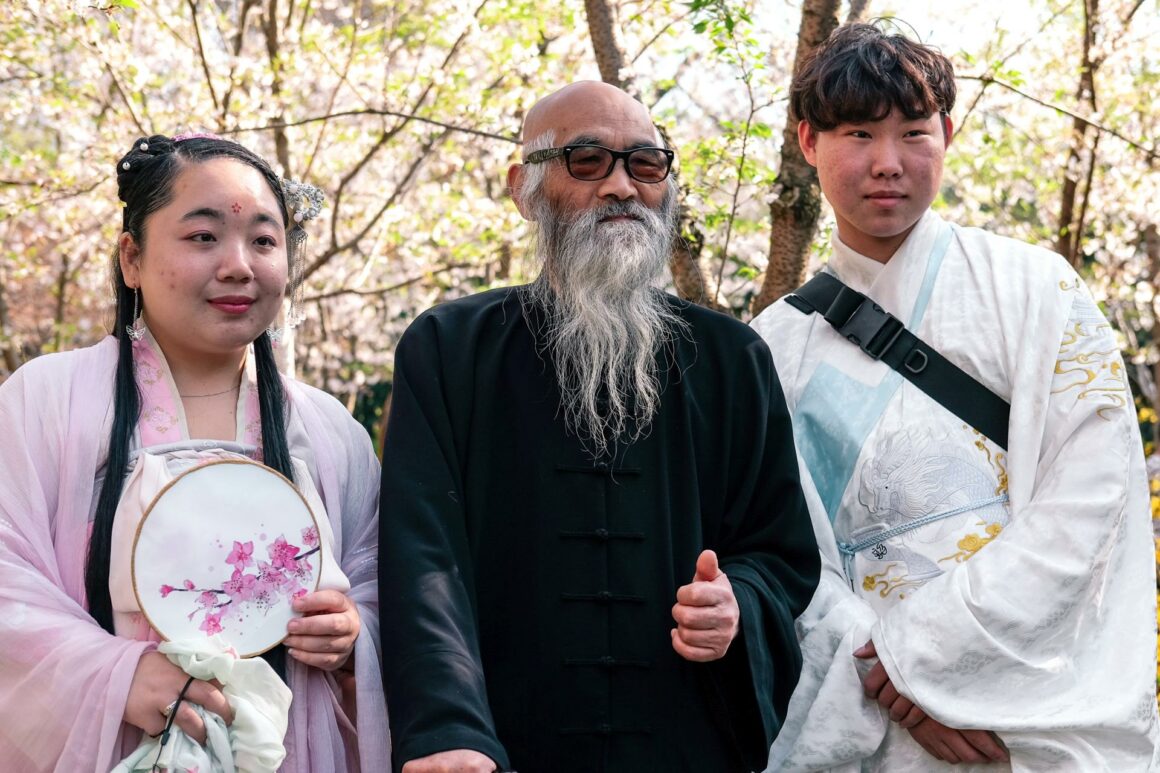 Lu Xun Park is also interesting for literature addicts. The park got its name from the godfather of modern Chinese literature: Lu Xun, who used to live in this area. Lu Xun´s former residence is only 10 minutes by foot. The Lu Xun Memorial and Gravesite is located right in the park. World famous writers can be admired at "World Literary Giant Square". Chinese love to pose next to the lifesize stone sculptures of Wilhelm Shakespeare, Johann Wolfgang v. Goethe, Victor Hugo etc. Not sure if they really know on whose lap they are actually sitting on.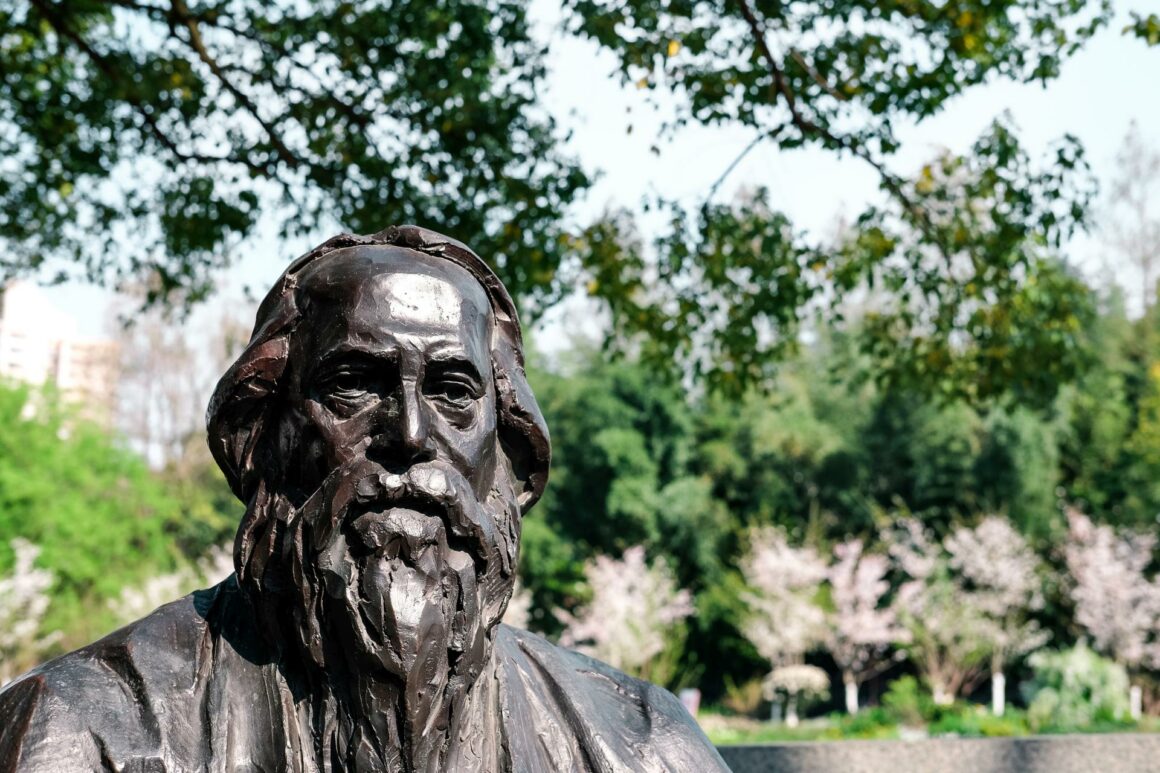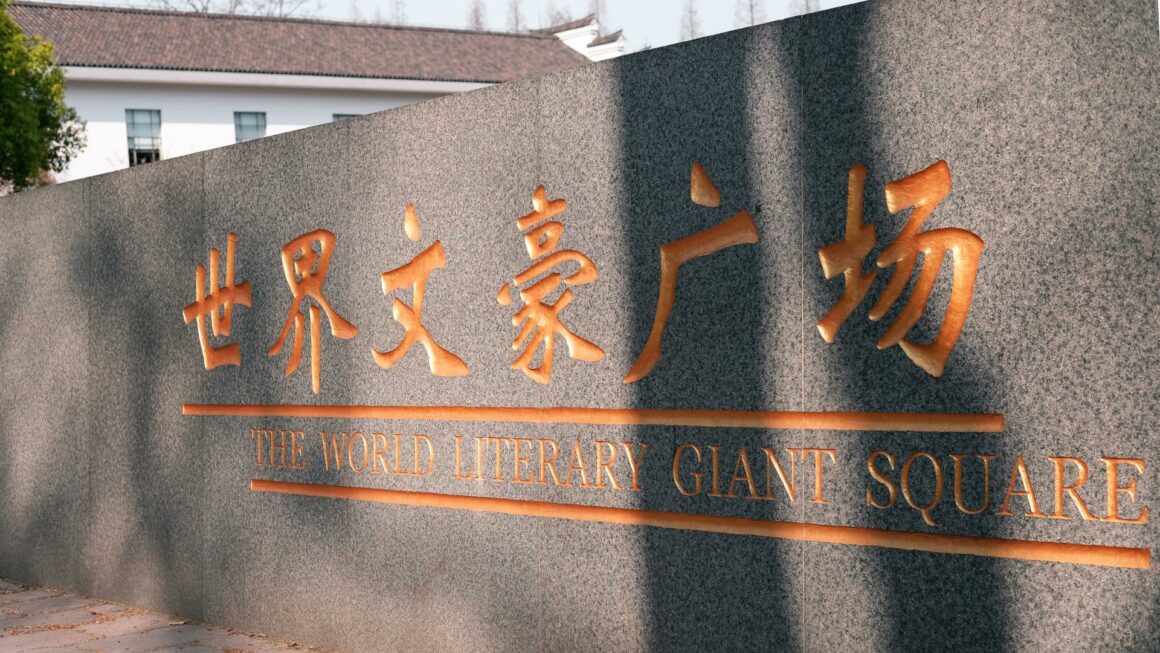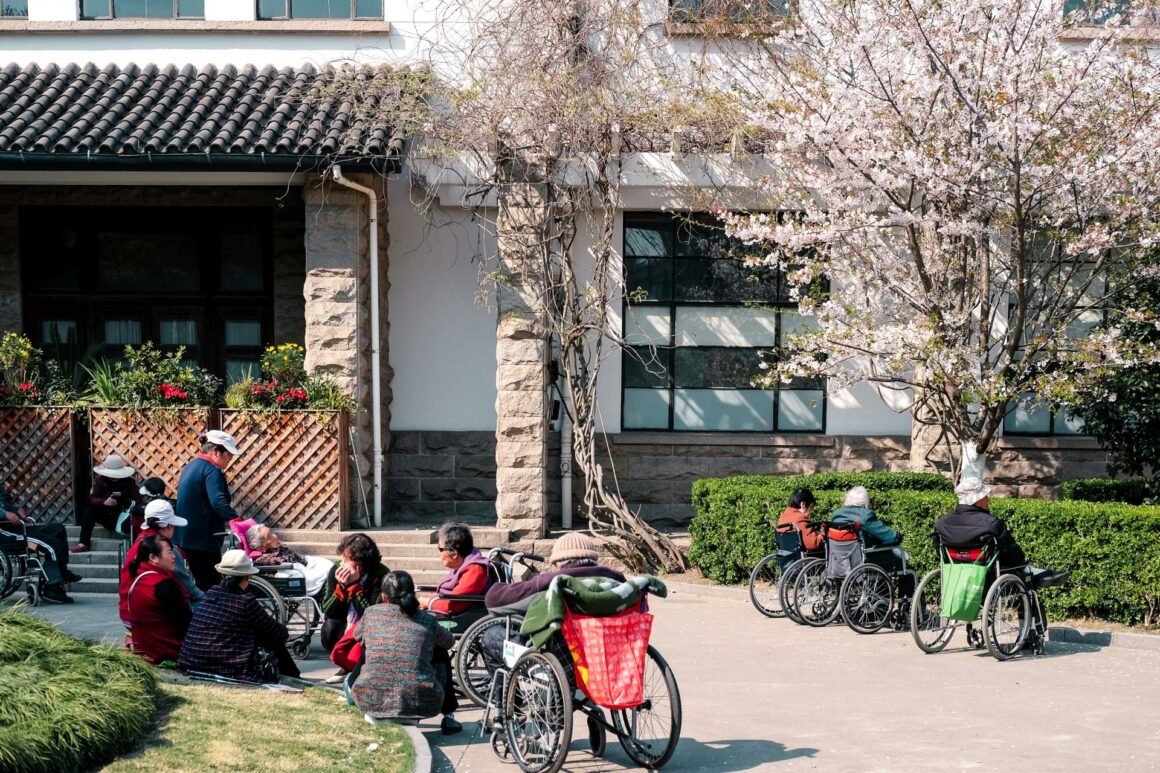 district: Hongkou
address: Sichuan bei Lu / Tian'ai Zhi Lu
subway station; Hongkou Football Stadium (line 3)
opening hours: 6am – 6pm
entry: free
#6 Between art and bouldering: Getting active at West Bund
Not really a park, but rather an open-air recreational ground. The West Bund area is all about art, at least since the West Bund Art & Design Center was established in 2014. But also outdoor fans and everyone who is looking for a place to exercise outdoors can enjoy oneself. The "Xuhui Riverside Public Open Space" is located on the Westside of Huangpu River, South of the former Expo areal. When the weather is great and especially on weekends it gets really crowded. Then it feels like every single resident of Shanghai comes out to walk (their dog), bike, run or just enjoy the sun. A biking lane and running trail, skate parks, a boulder wall and basketball courts provide plenty of opportunites to get active. Chinese families even bring all their camping gear including tents to spend all day at West Bund riverside park. And of course there are also some cherry trees: Planted just behind Long Museum, attracting fans of the blooming spectacle and (wannabe) photographers.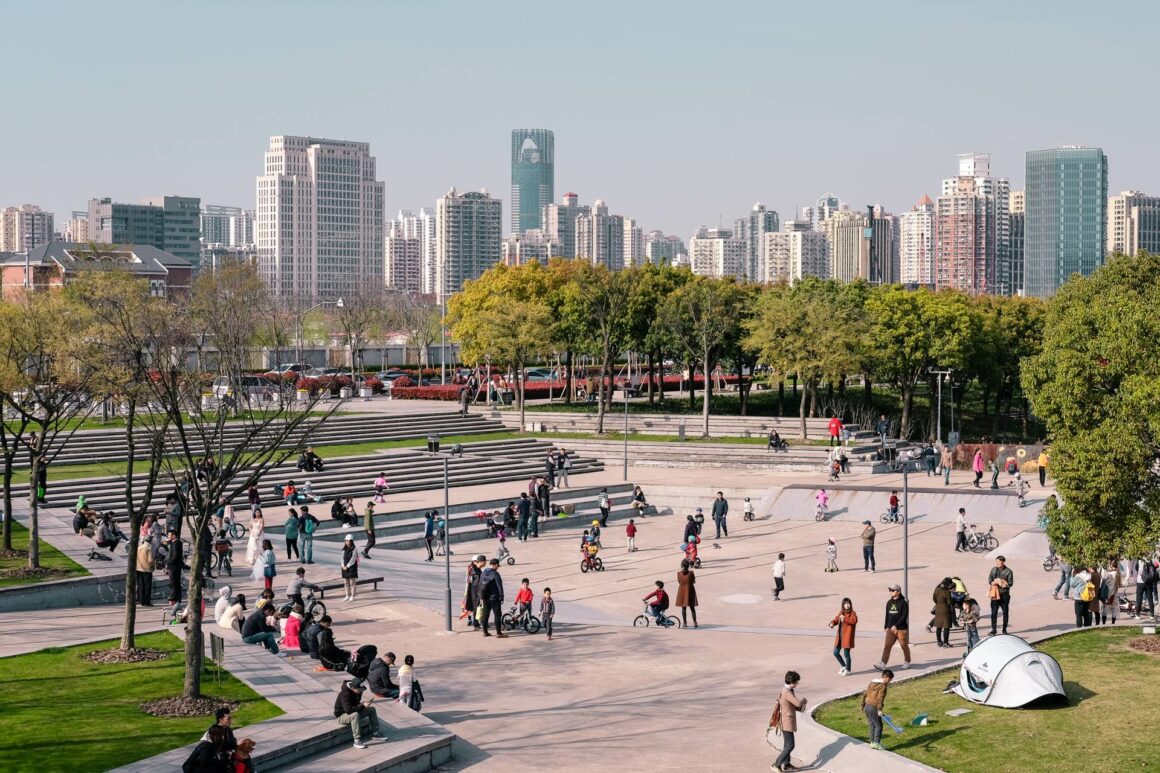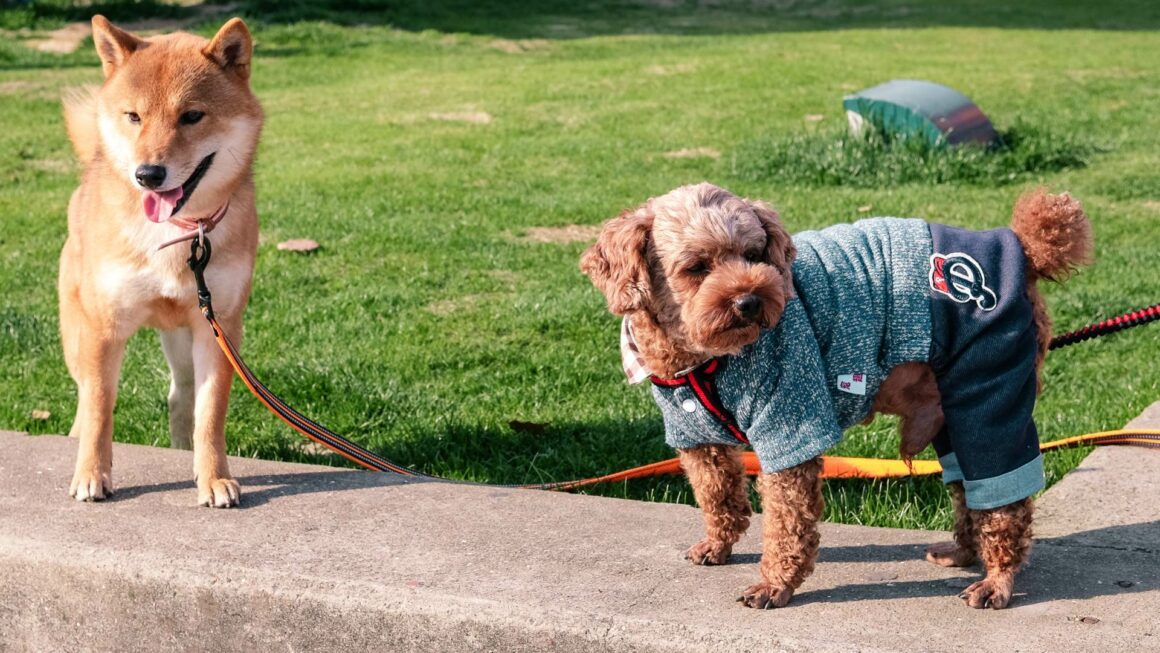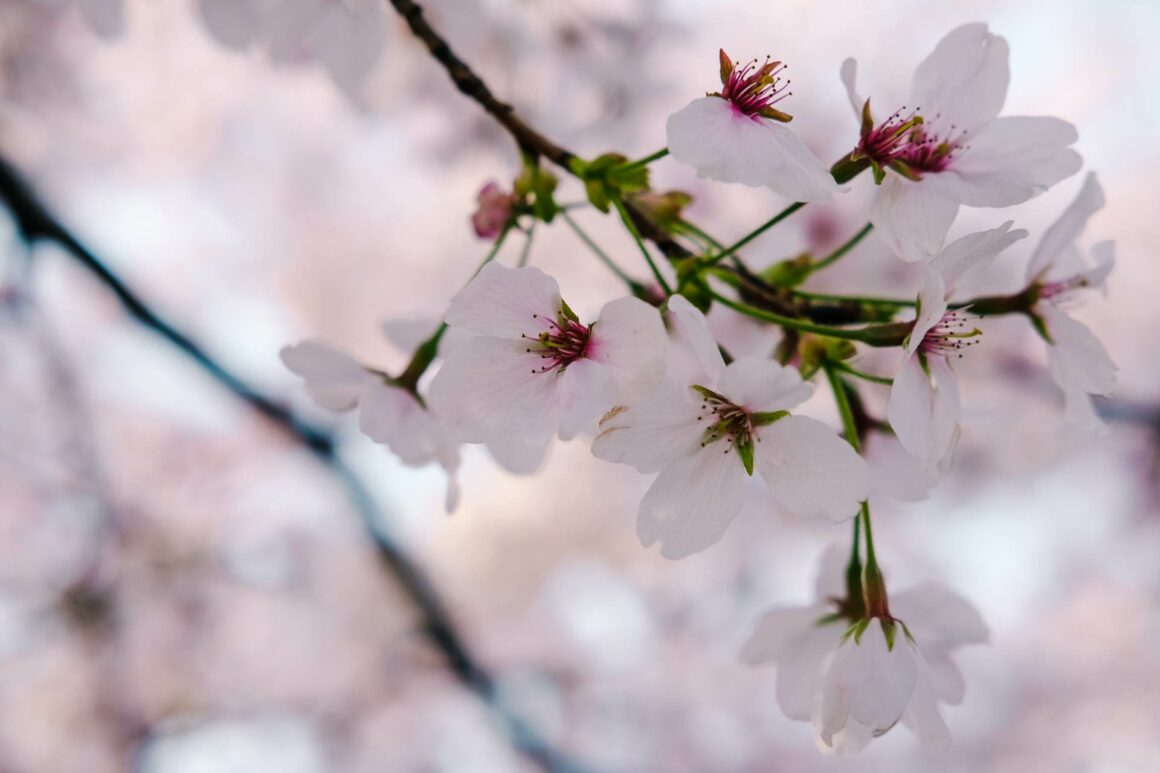 district: Xuhui
subway station: Longhua Middle Road (line 7 & 12) or just come with the bike.
Opening hours: 24/7
entry: free
#7 Inbetween students and those who might have been decades ago: Tongji University
The Yangpu downtown campus of Tongji University isn´t a public park officially, but who cares when it comes to hunting for cherry blossoms? The 200 meter long lane lined up with cherry trees is one of the most popular areas for shooting sakura. No wonder that inbetween students and dressed-up graduates there are also many elderly people, who usually can be found in Shanghai´s parks. In no way the pensioners inferior the youngsters in capturing the perfect picture framed in pastel cherry blossoms. The campus is quite big including many green areas. So it´s actually a nice location for wandering around in a relaxed atmosphere, even outside the sakura season. The cherry blossom lane is located next to the soccer field.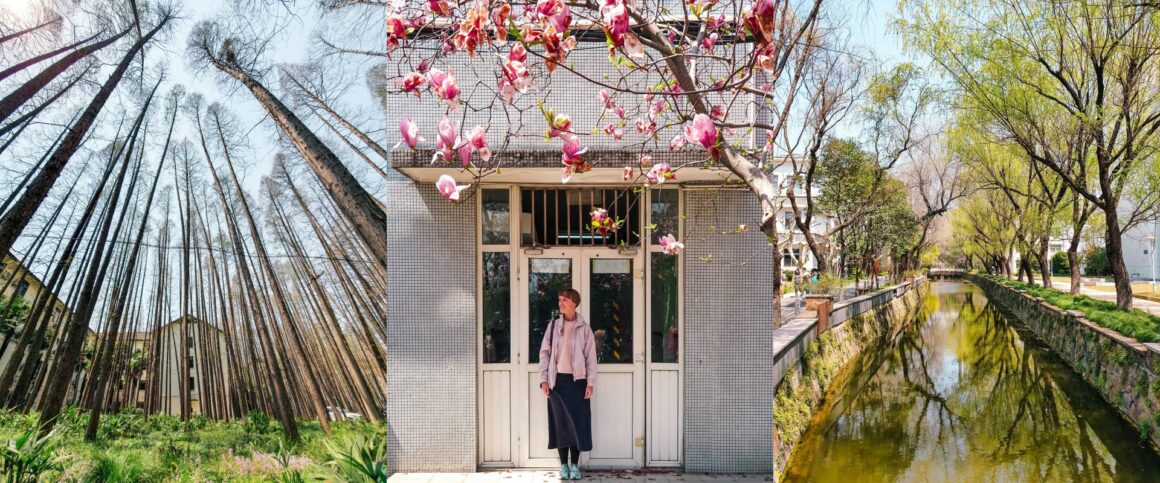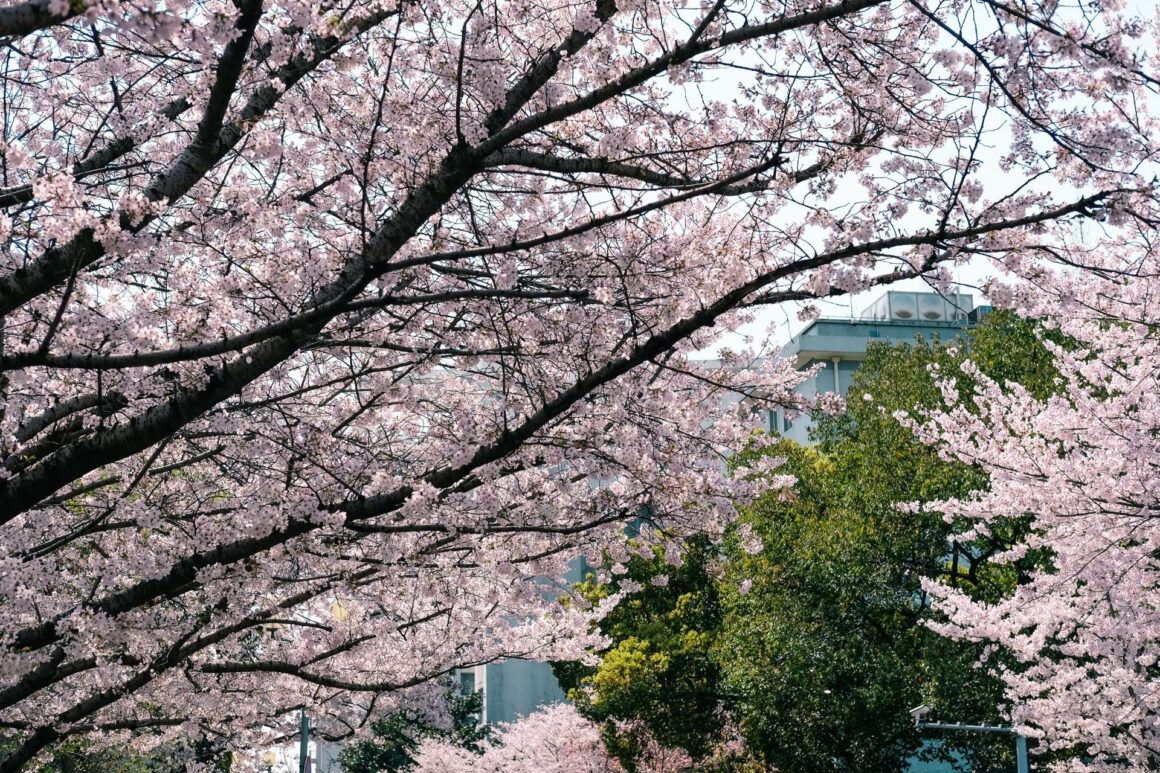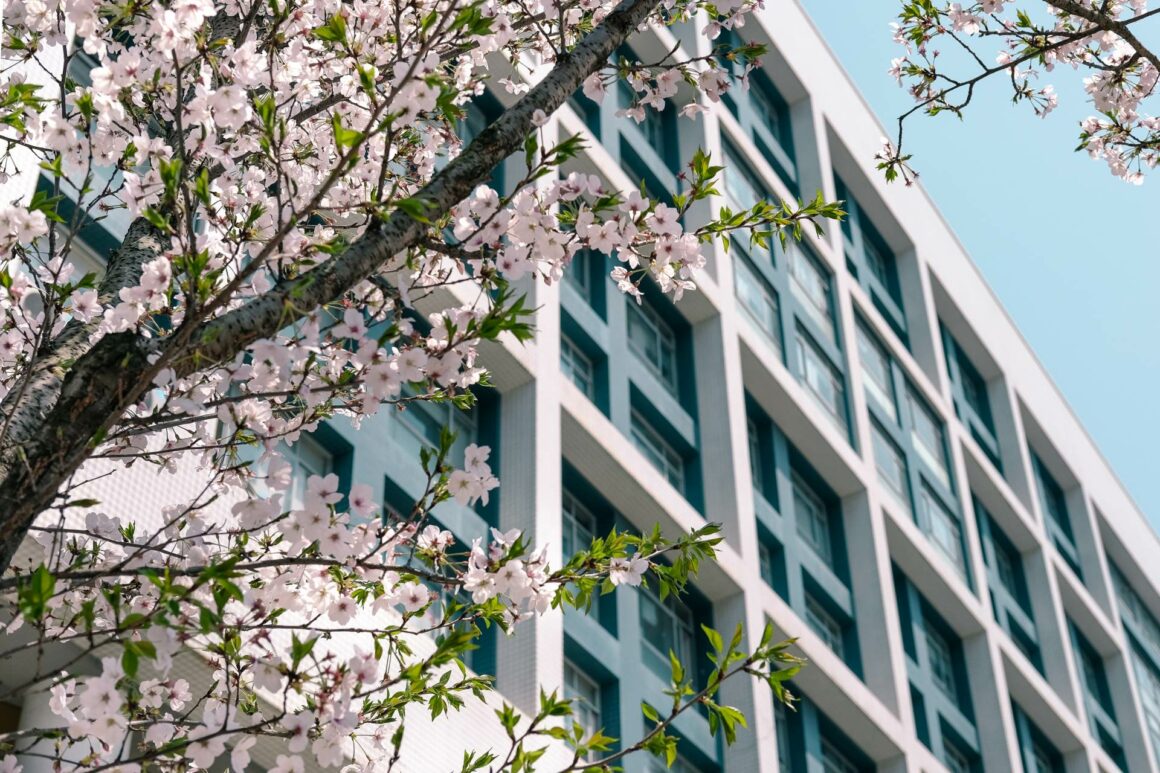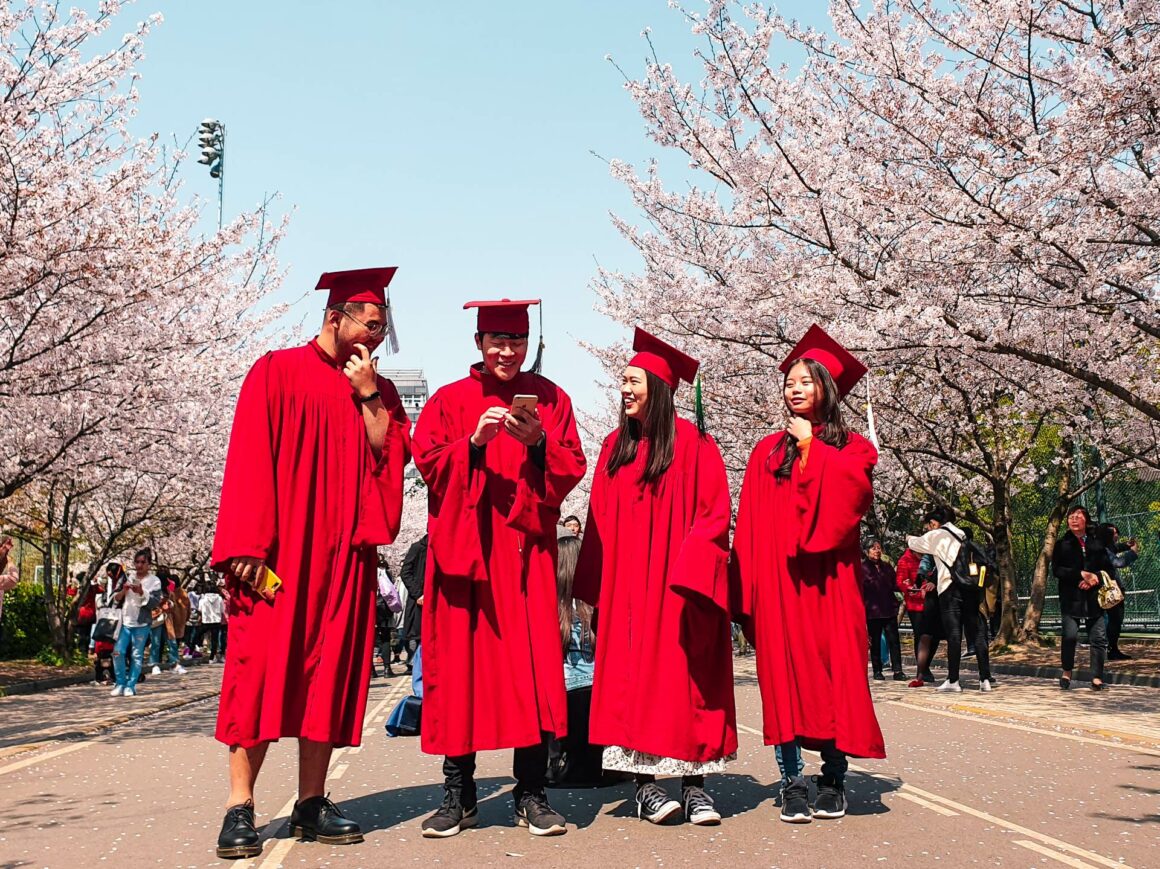 Fun Fact, especially for me as a German living in Shanghai: As the Tongji University was established by German government together with German doctors in 1907, the "Chinesisch-Deutsche Hochschule für Angewandte Wissenschaften" is located here. After one year of living in Shanghai I finally found my very first real "BasicGermanWord". Today Tongji is one of the oldest and most prestigious universities of China.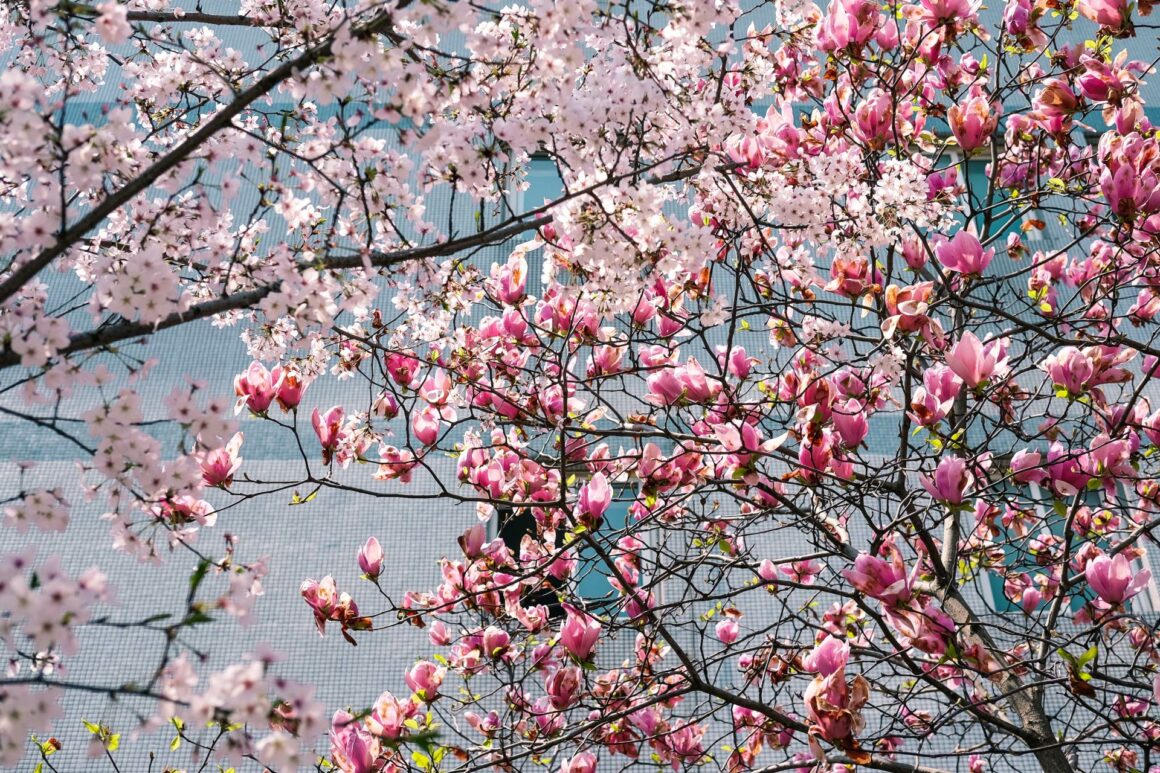 district: Yangpu
address: 1239 Siping Lu / Zhangwu Lu
subway station: Tongji University (line 10)
entry: free
#8 Gucun Park: Annual cherry blossom Festival
Gucun Park is the one the furthest away from Shanghai´s city center on my list. But as it´s one of the biggest blossom parks, it´s worth the travel time of 30 – 45 minutes. Gucun Park is traversed by a wetland and really huge, so it´s devided into different sections. And it definitely makes you feel like not being in a bustling city of 25 million people any more. Of course also Gucun Parks hosts some of these crazy Chinese children theme parks with a ferris wheel and merry-go-rounds. But if you are keen on walking a bit further away from the main entrance, you can also find more quiet spots to sit in the grass, picnic and relax. Those coming especially for the cherry blossoms can admire more than 60 species of cherry blossoms in Gucun Park: The huge urban forest park in the Southwestern part is dedicated home to 4.000 cherry trees. Another 500 trees are located in the Children´s Forest Carnival in the Eastern part of the park. From mid March to Mid April Gucun Park hosts the annual cherry blossom festival.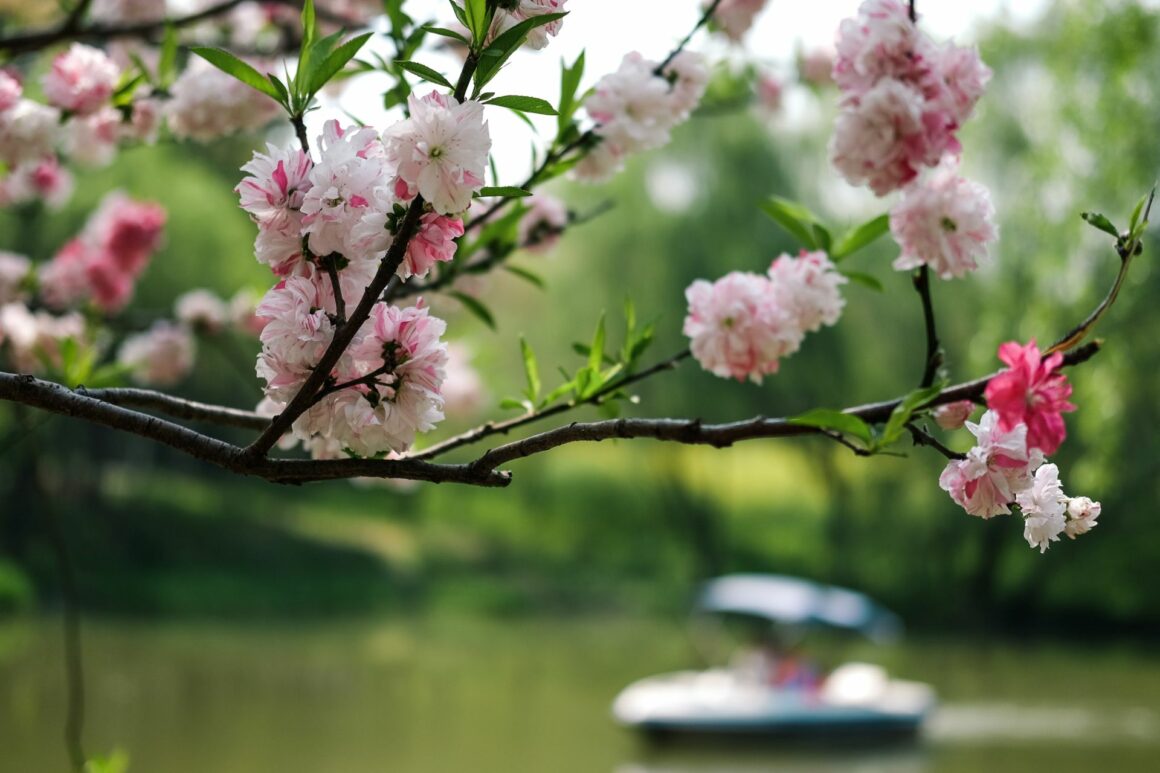 district: Baoshan
address: 4788 Hutai Lu / Huandao Lu
subway station: Gucun Park (line 7)
opening hours: May & June: 5am-6pm; July – September: 5am-7pm; January – March: 6am-6pm
entry: 20 RMB
---
***
QUESTIONS & COMMENTS?
Did you know that Shanghai offers so many parks and green areas and that Japan is not the only country worth visiting for cherry blossom? Which are your favourite parks?
Do you like the article, have feedback or have some more recommendations? Leave me a comment! I am happy to read what you are thinking! If you like my content, please feel free to share this article with your friends!
***
 – SMILE4TRAVEL NEWSLETTER –
Become part of the Smile4Travel Community – Follow my Facebook Page & Instagram and register for my Newsletter, so you don´t miss any Smile4Travel adventures! No Spam – I promise!
[mailpoet_form id="1″]