This post is also available in: Deutsch (German)
Yangshuo, situated in the Chinese province of Guanxi, and its surrounding area is primarily known for its karst mountains as well as the Li and Yulong River, which altogether create an absolute surreal landscape, incredible views and memorabe outdoor experiences. After 3 months staying and settling-in in urban Shanghai, with the first long weekend ahead, Yangshuo is THE destination of choice for our first city escape at the beginning of April. Remarkable pictures on Instagram made us curious about this one-of-a-kind looking place. After having spent 4 days in this beautiful mountain area, we will return to the cityscape completely relieved, our lungs re-filled with fresh air and the first teint of the season from the gentle spring sun. The following BlogPost will show you spots we visited, the tours we took and give you some recommendations how to get there, what to do and where to stay.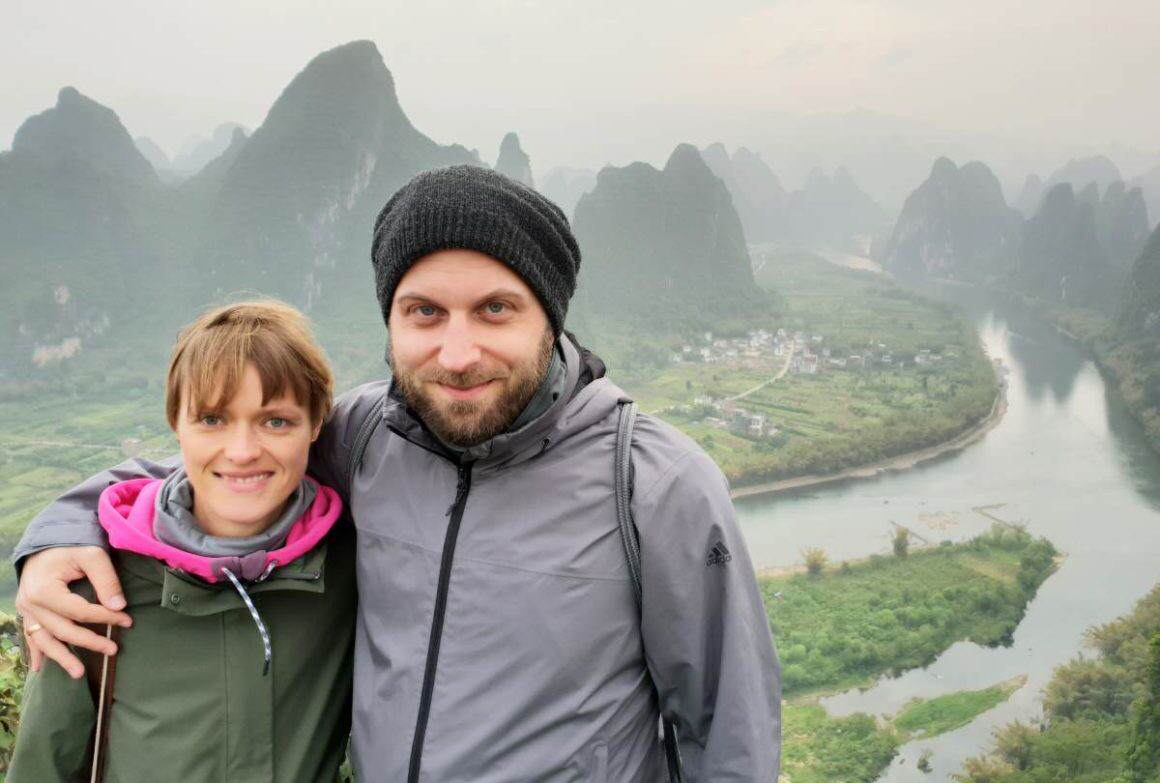 6 things to do in Yangshuo:
---
#1 View the Sunrise
Like everywhere in nature it can be very much worth it to get up super early, walk up a hill in the dark and wait for the sun to rise and turn everything around you from trist grey to lush green.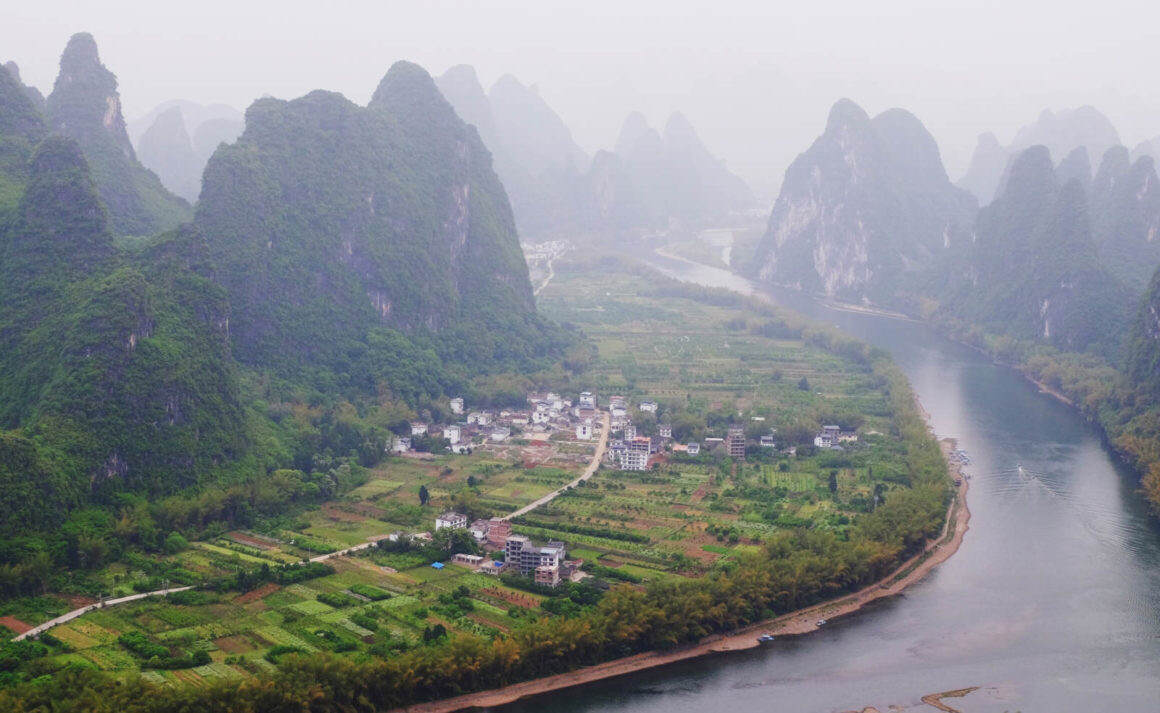 Like a couple of times before, we aren´t too lucky at all with great sunrises as such. But this spot on Xianggong Hill offers such a great view, no matter the weather conditions, it was definitely worth it doing the early birds.

A a short walk of about 20 minutes offers us yet another mezmerizing viewpoint overlooking the landscape touched by the first sunrays and just about the be waking up.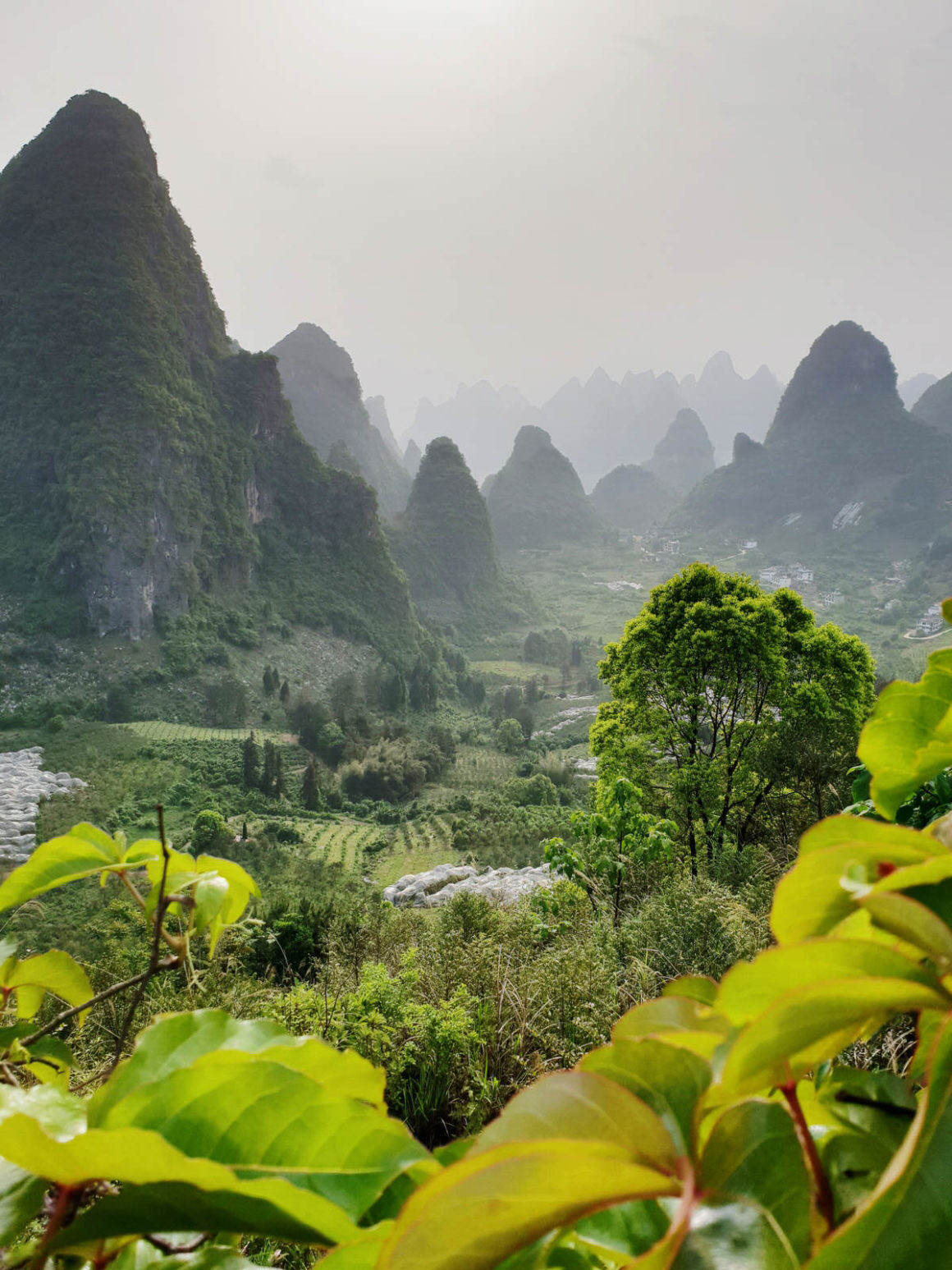 On the way back to our guesthouse we stopped by at the Seven Star Tea Plantation, which was still closed that early in the morning. But the view of these endlessly planted hills is for sure worth a quick stop. By the way: Do you know what is hiding under these sheets? – Kumquats! The major part of this small orange-coloured fruit you can buy in China, gets grown in this area, as our well-educated driver explains to us.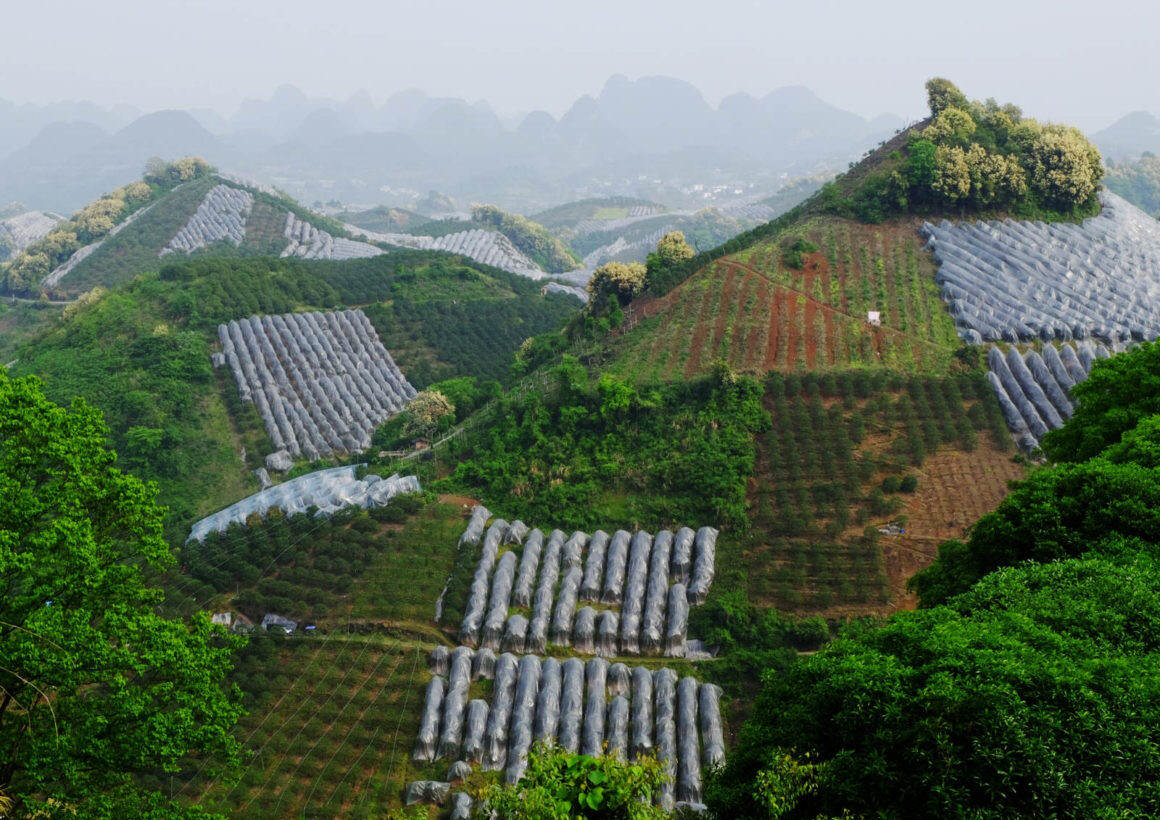 ---
#2 Watch the cormorant fishermen in the dusk or dawn
If you do some research about Yangshuo you will quickly find images of elderly cormorant fishermen in the early morning or late evening sun, that appear almost mystical. Of course these fishermen are not too busy with serious fishing anymore – they rather prefer making a living by posing for the tourists these days. So actually you could call these pictures a "paid partnership with fisherman Huang", as one of our models is called.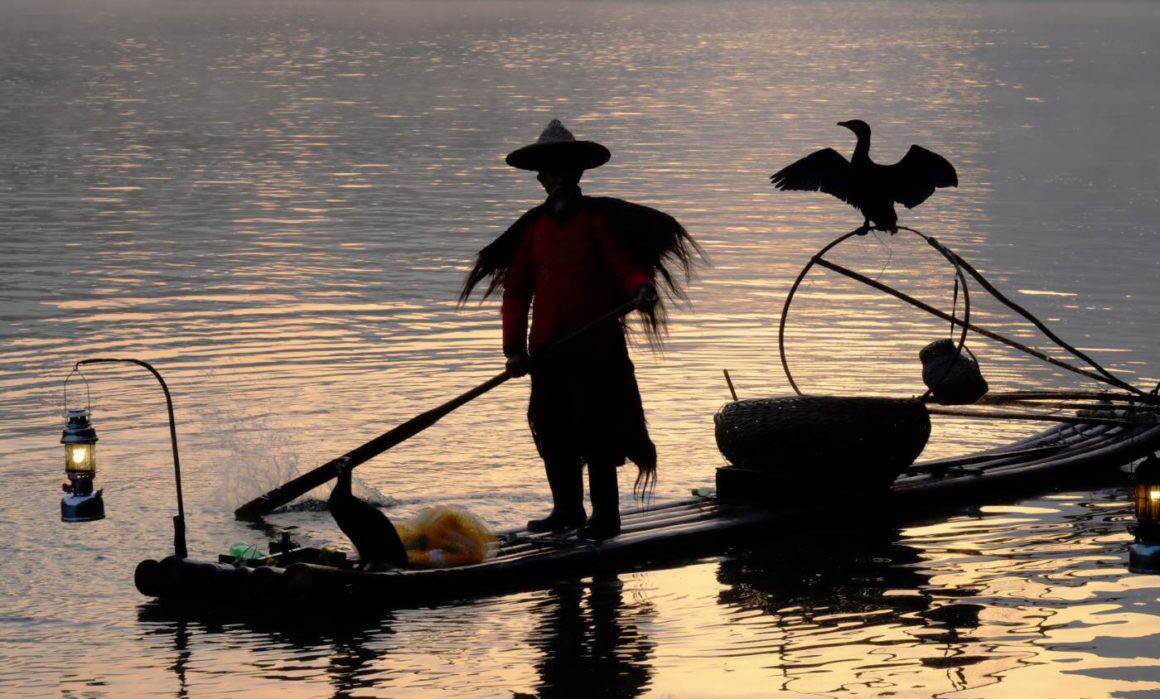 As cormorant fishing has been the typical method in this area to catch fish in previous days, the meetup with these two fishermen just after sunrise is a very special occasion. And honestly speaking: Who of you wouldn´t have taken the chance to get up, close and personal with the guys to witness this magical scenery when travelling to Yangshou?
---
#3 View the sunset on top of the hills
As the rising sun is always a surpirising experience, so is the sunset. During the afternoon the clouds unfortunately covered the blue sky again, so we were almost certain there wouldn´t be a decent sunset. But still, driving to the viewpoint close to Putao Town was a stop we didn´t want to miss. And as every once in a while you simply need to be patient and shouldn´t raise your expectations too high, out of a sudden you will get rewarded big-time.

After the few people, who came here in the late afternoon, had already left again and we were just thinking of calling it a day as well soon – and rather spending the evening in Yangshuo Town, some sunrays appeared and suddenly the whole ceiling tore up and we got to enjoy the most stunning sunrise ever– just topped by the fact that we were all by ourselves by that time.

---
#4 Biking along Yulong River
Take a bike and cycle around the rice fields and small villages along Yulong River, where you will definitely meet some busy farmers, super friendly locals, who might even invite you over to take part in really private moments. As these locals asked us into their backyard, where they had a funeral going on,  or this young couple, who wanted us to pose together with them for their wedding pictures. Or have the pleasure to listen to a private concert.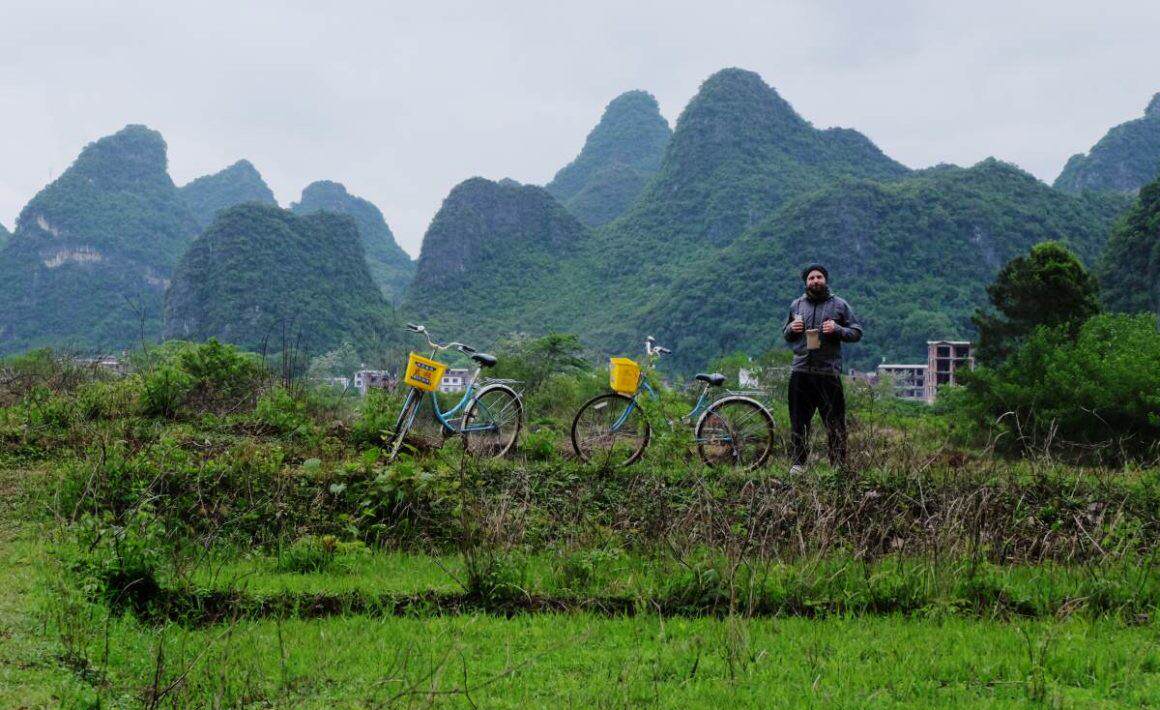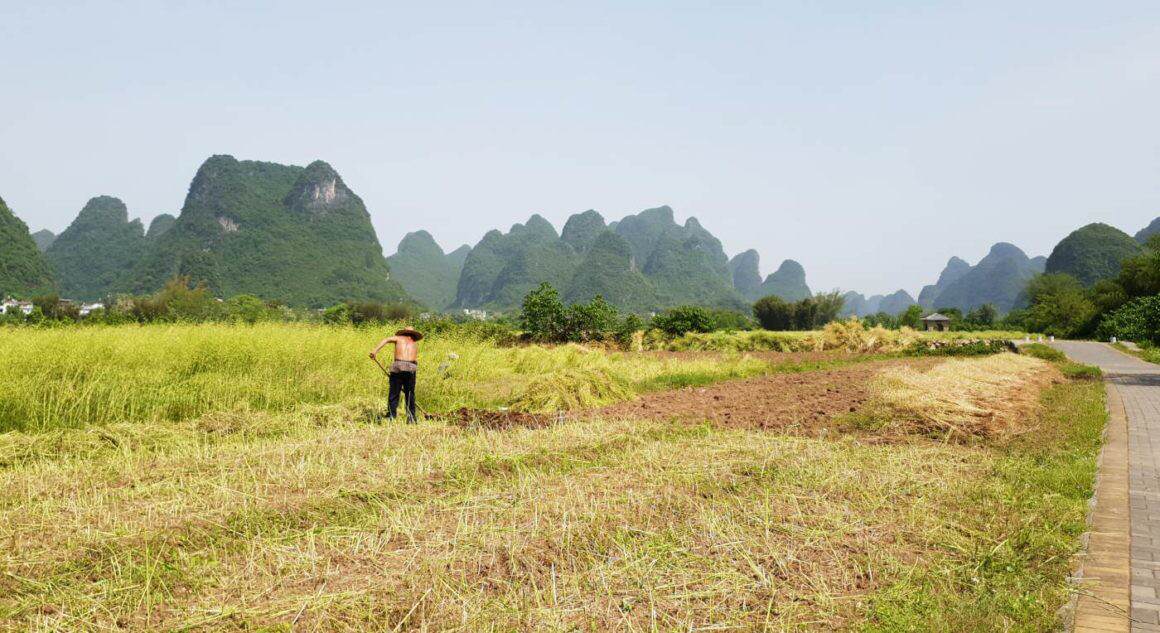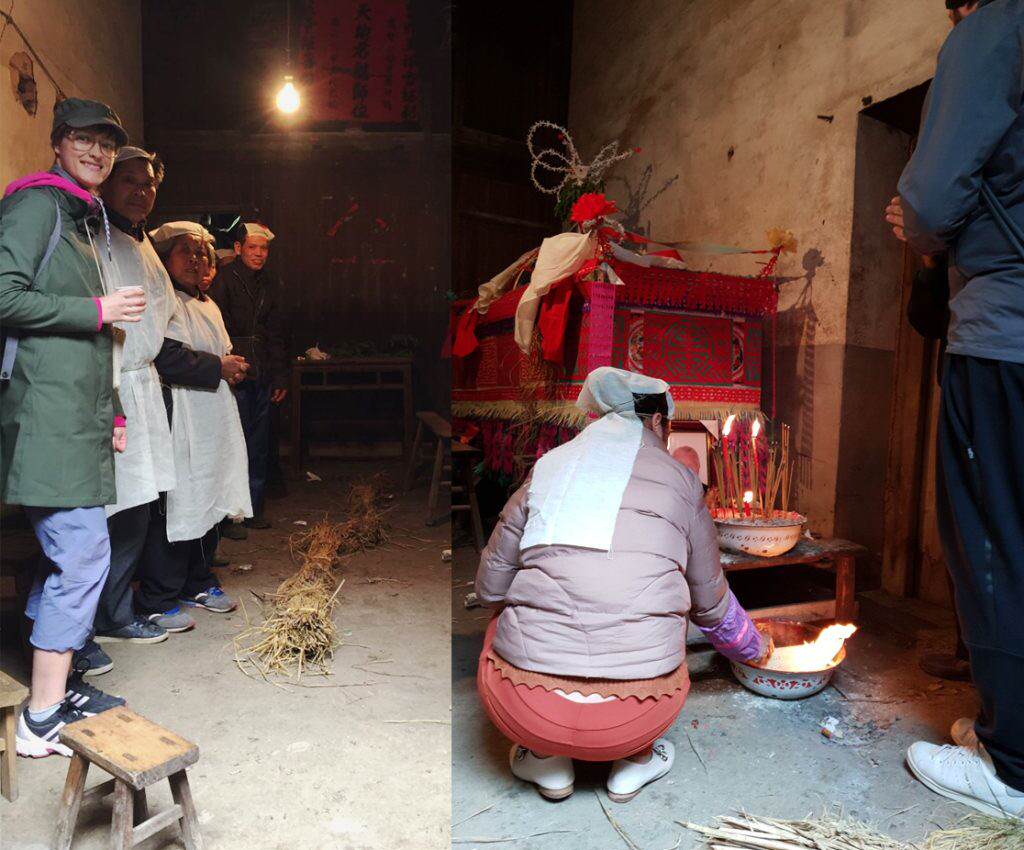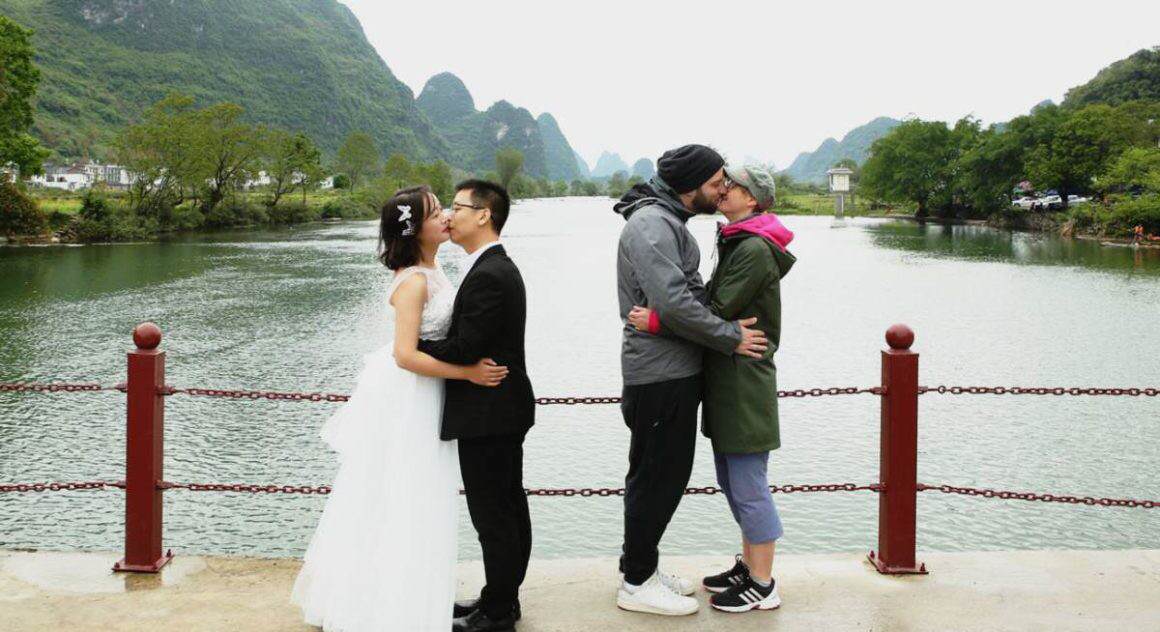 ---
#5 Bamboo Rafting
Another opportunity to watch the beautiful landscape passing by, is Bamboo rafting, which you can start at different points along Yulong River, e.g. at Jima Quay, Jiuxan Quay or Jinlongqiao Quay. Our guesthouse even offered us to cycle there, leave the bikes behind and float the way back. We didn´t do this on that day, because it was rainy and not too warm, so we prefered to cycle a bit longer and visited the Dragon and Fuli Bridge instead.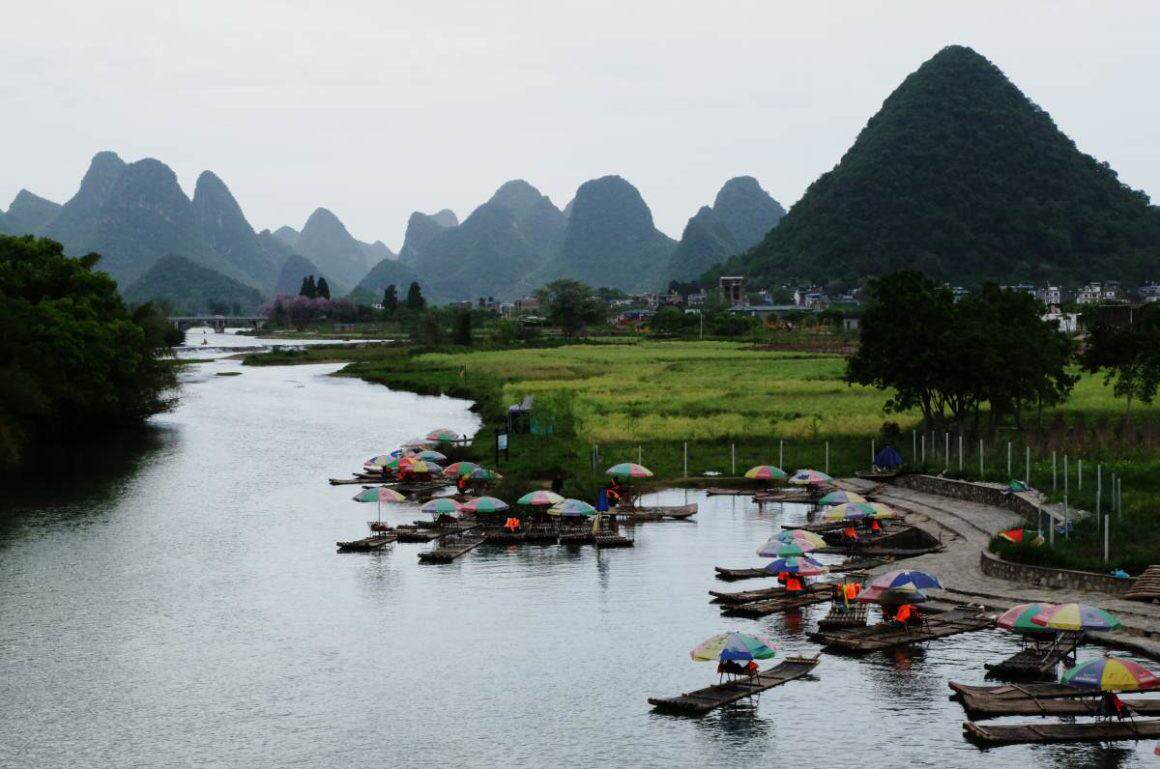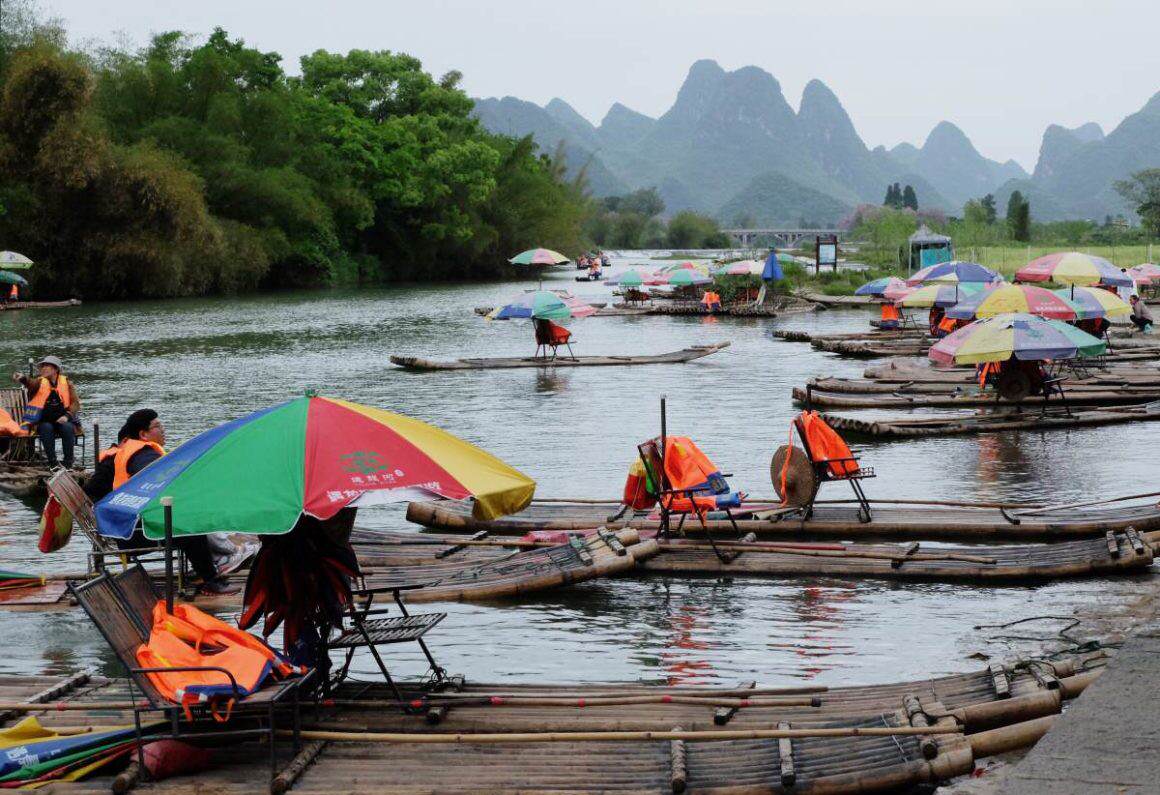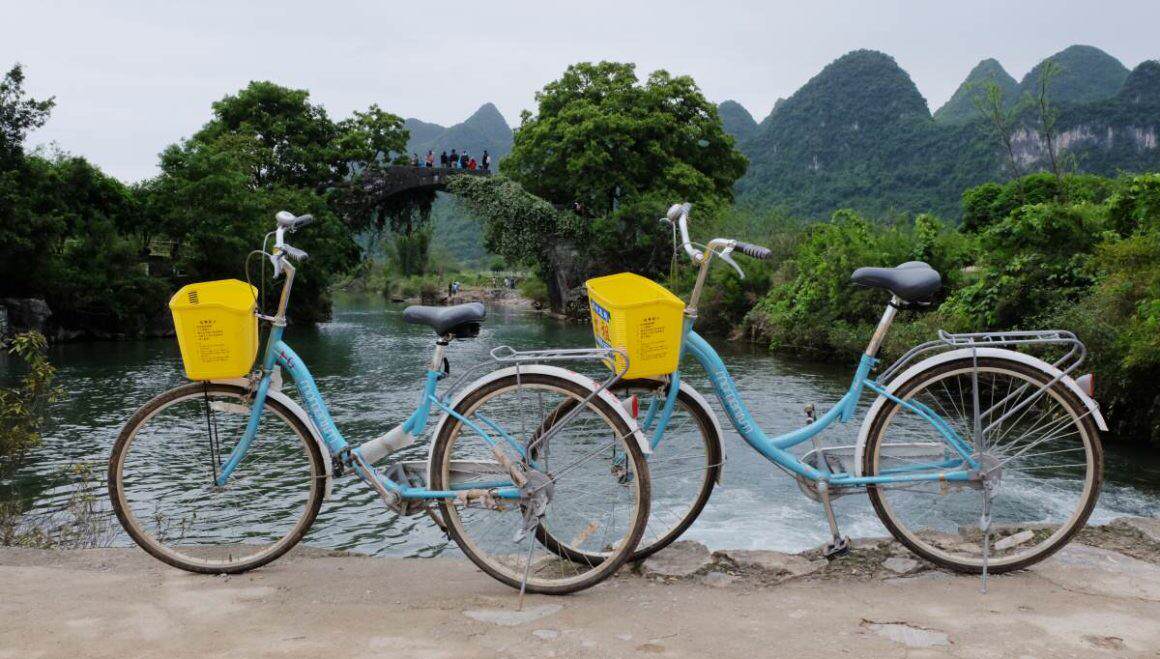 ---
#6 Visit a local Farmer´s market
Another great experience to explore the rural area is to visit a local Farmer´s market, e.g. the Fuli Market. As you will find everything from (alive) food, plants, tabacco, to hairdressers, herbs and salves, rat poison or oversized mousetraps, this was a really special and authentic market experience – even for Asian standards.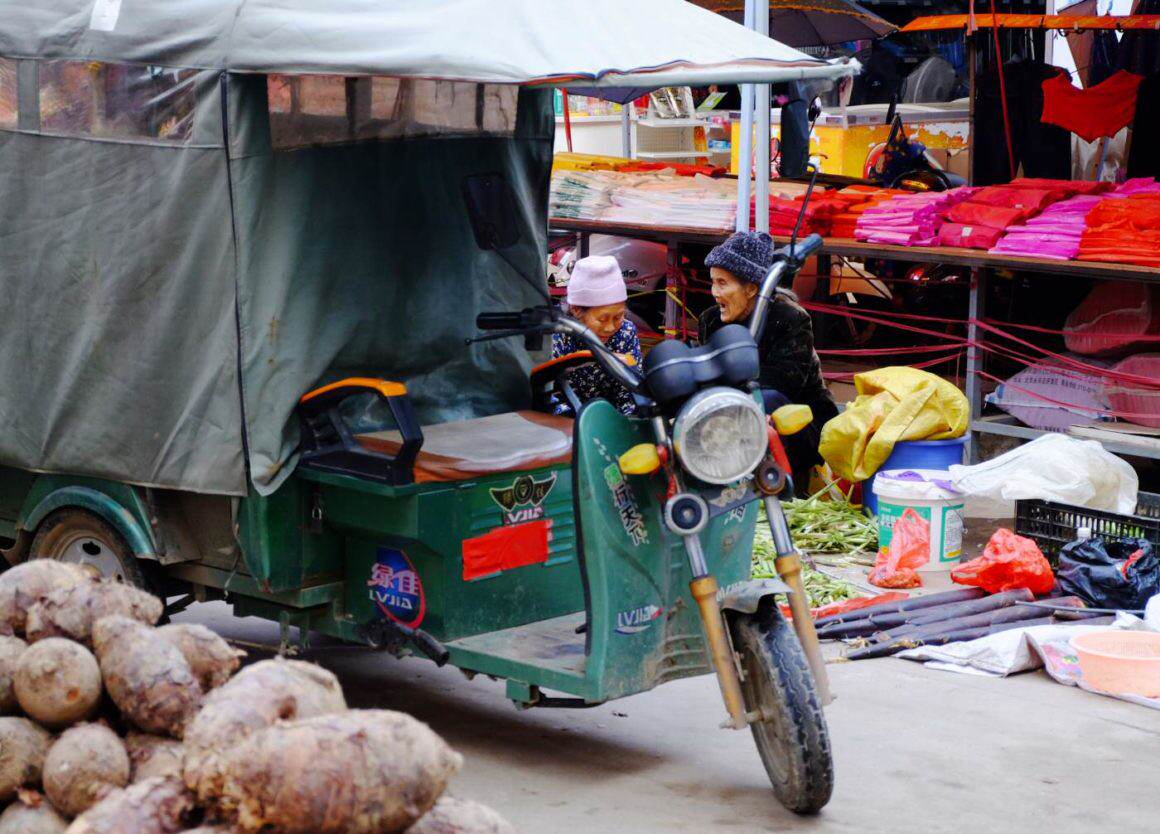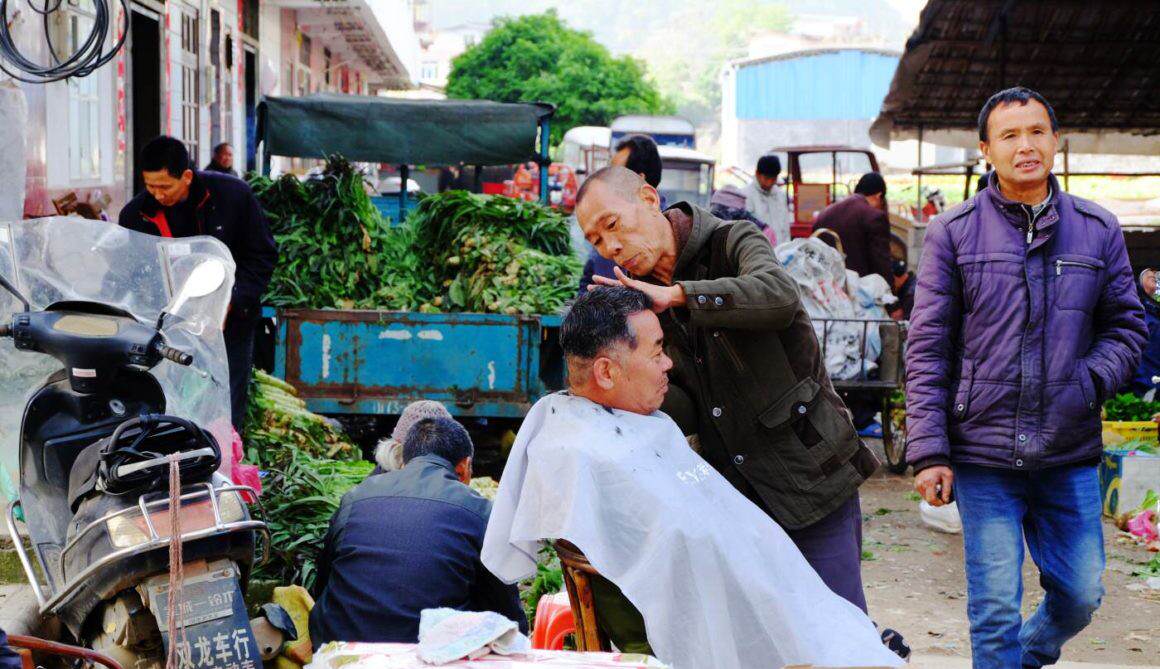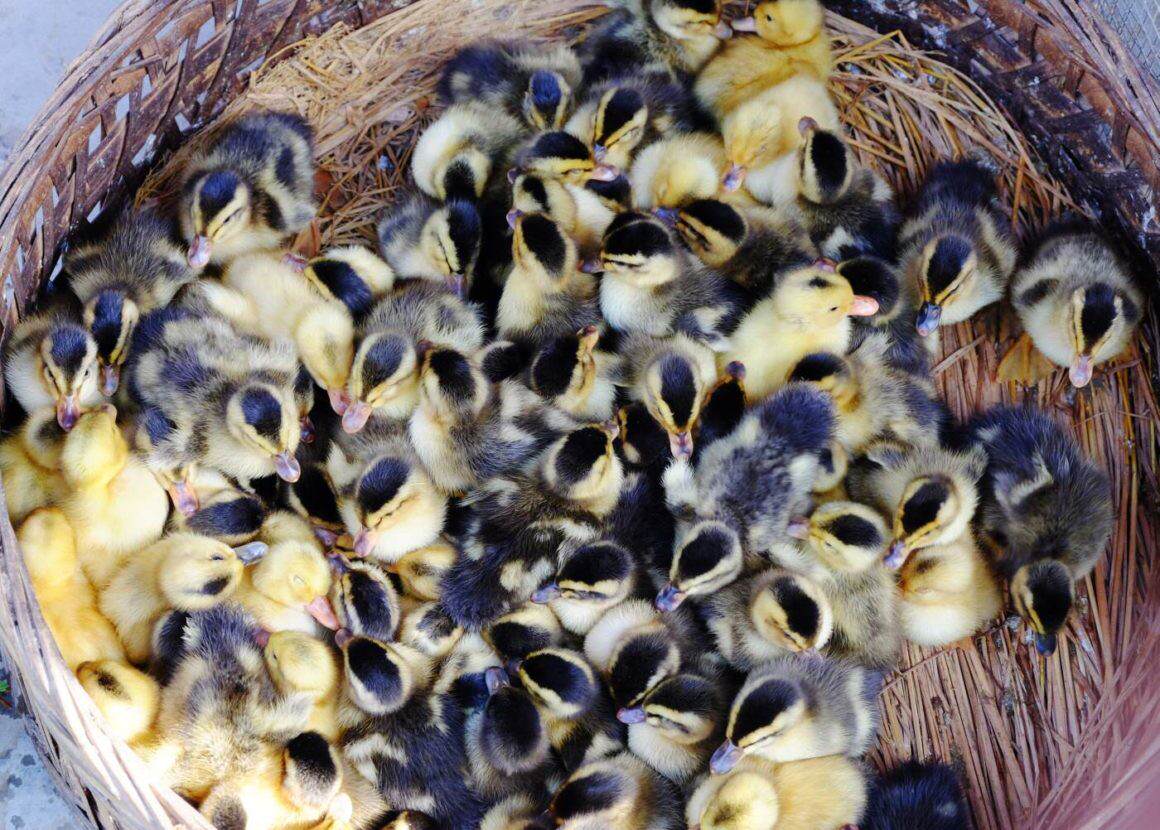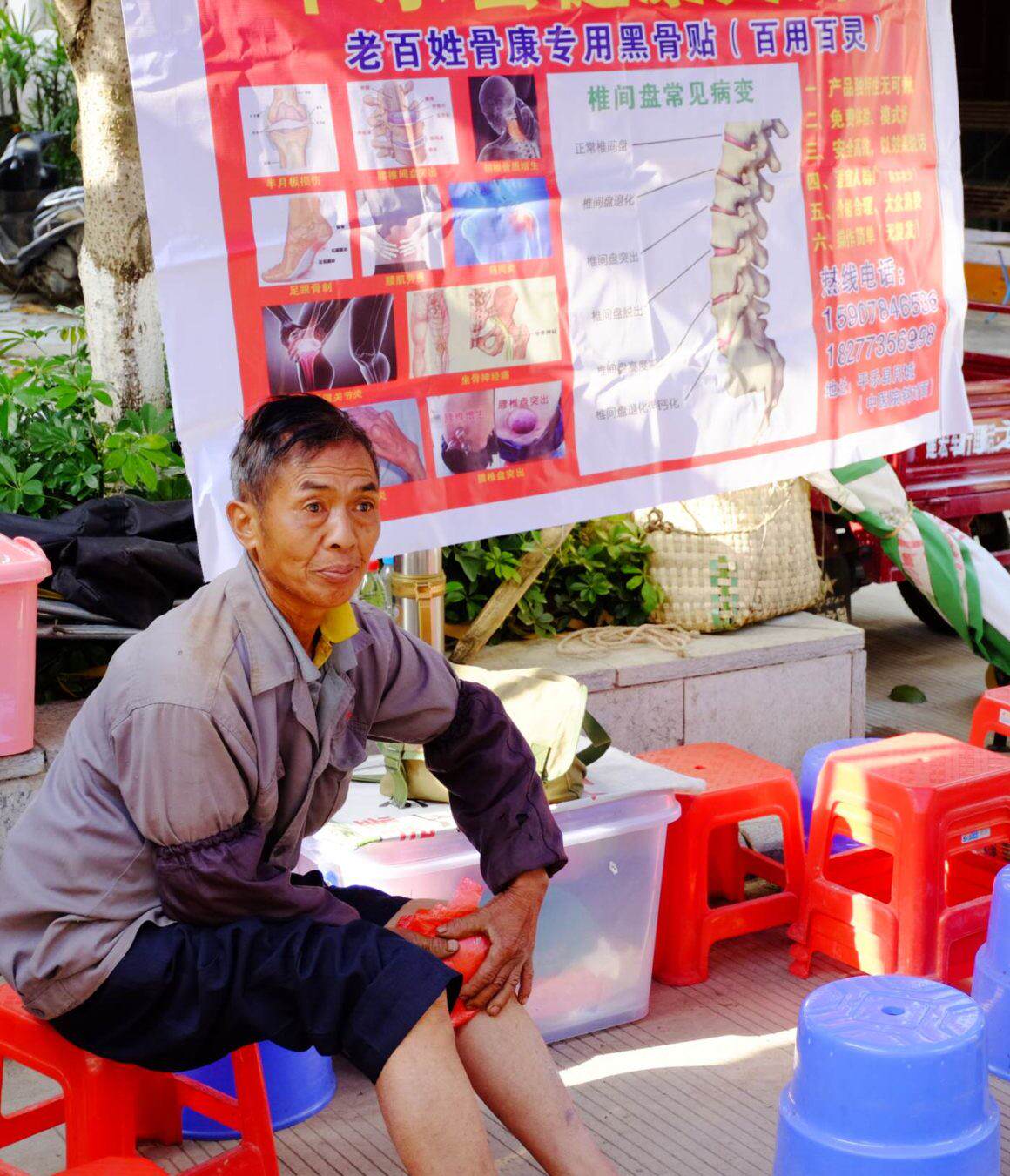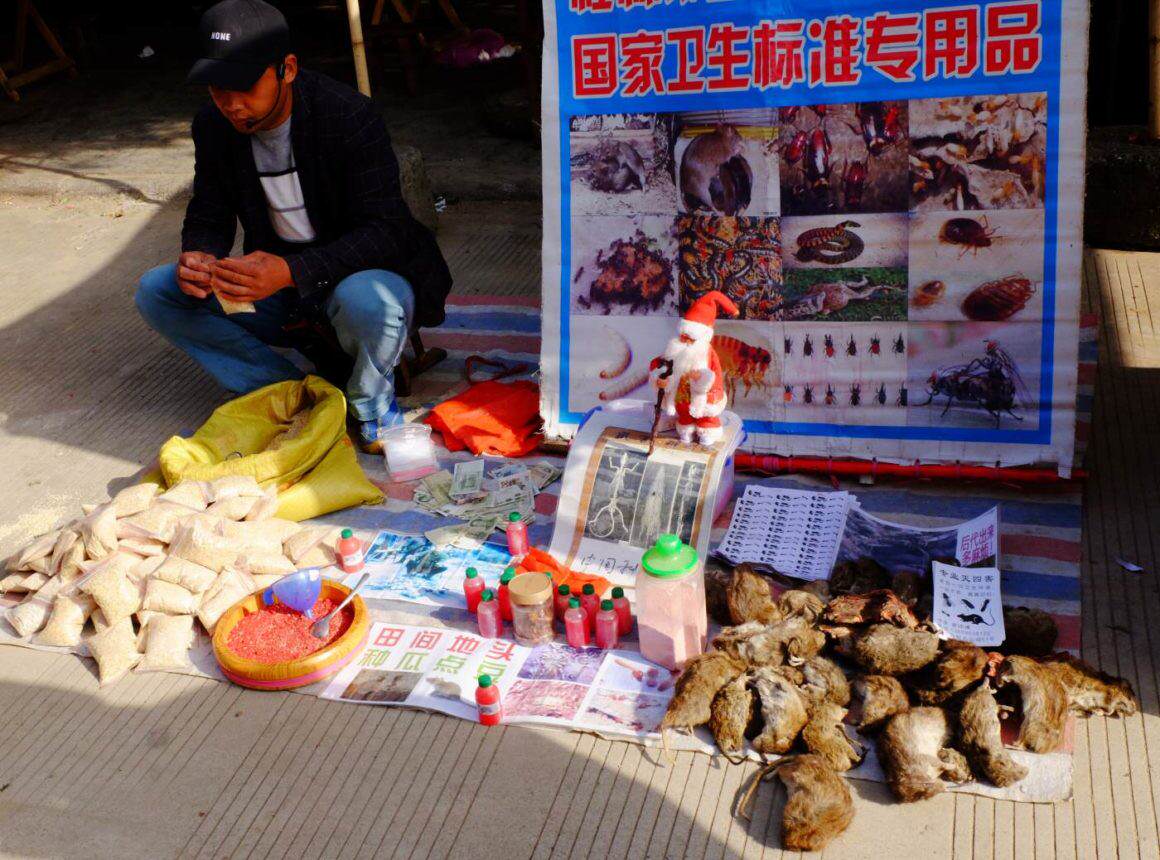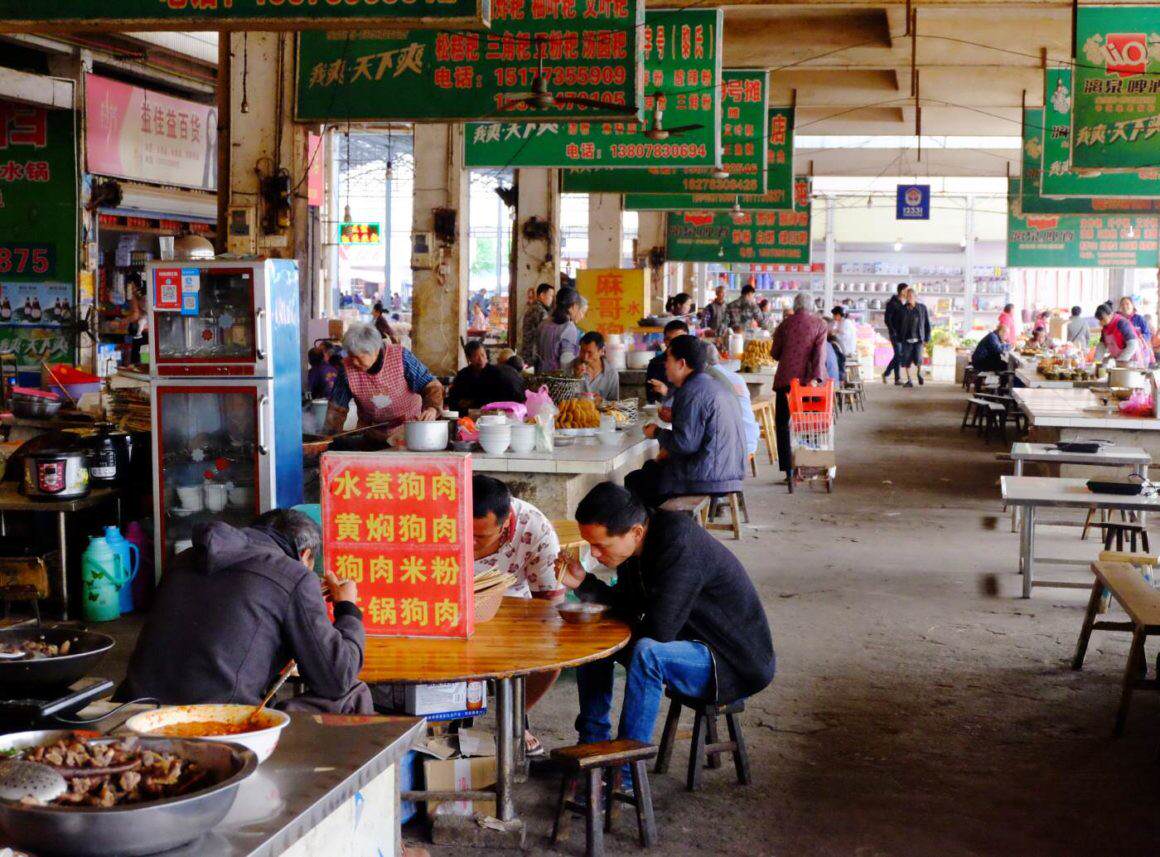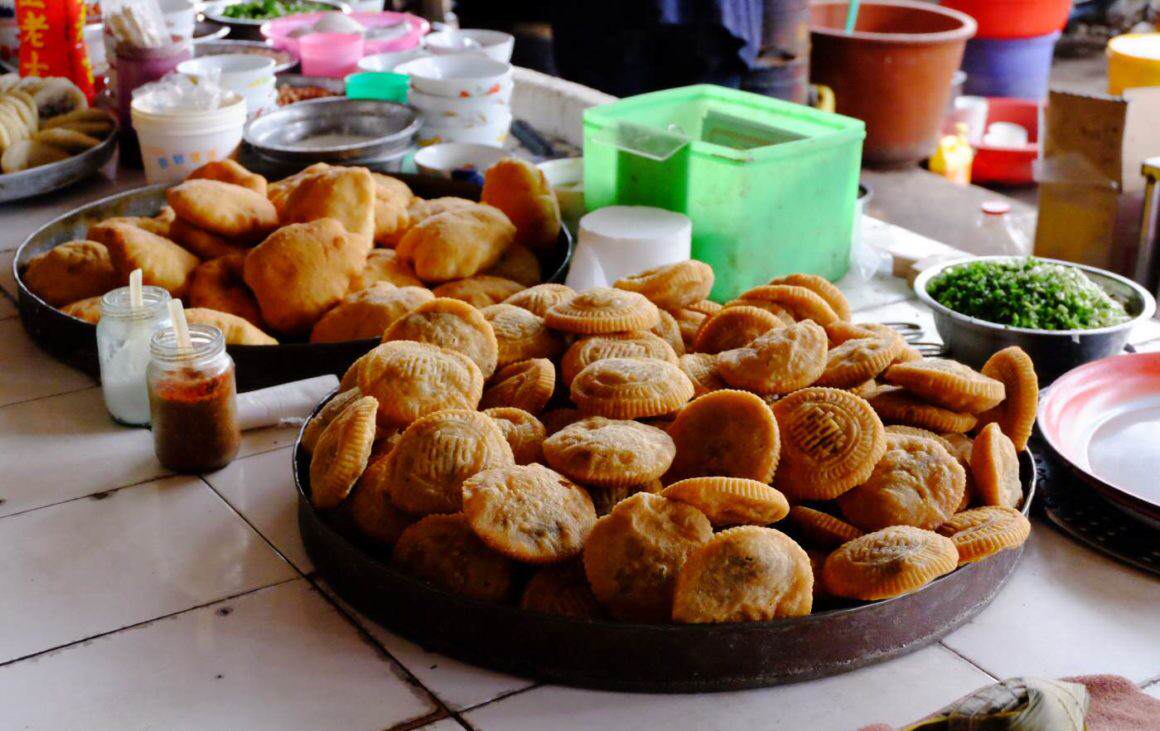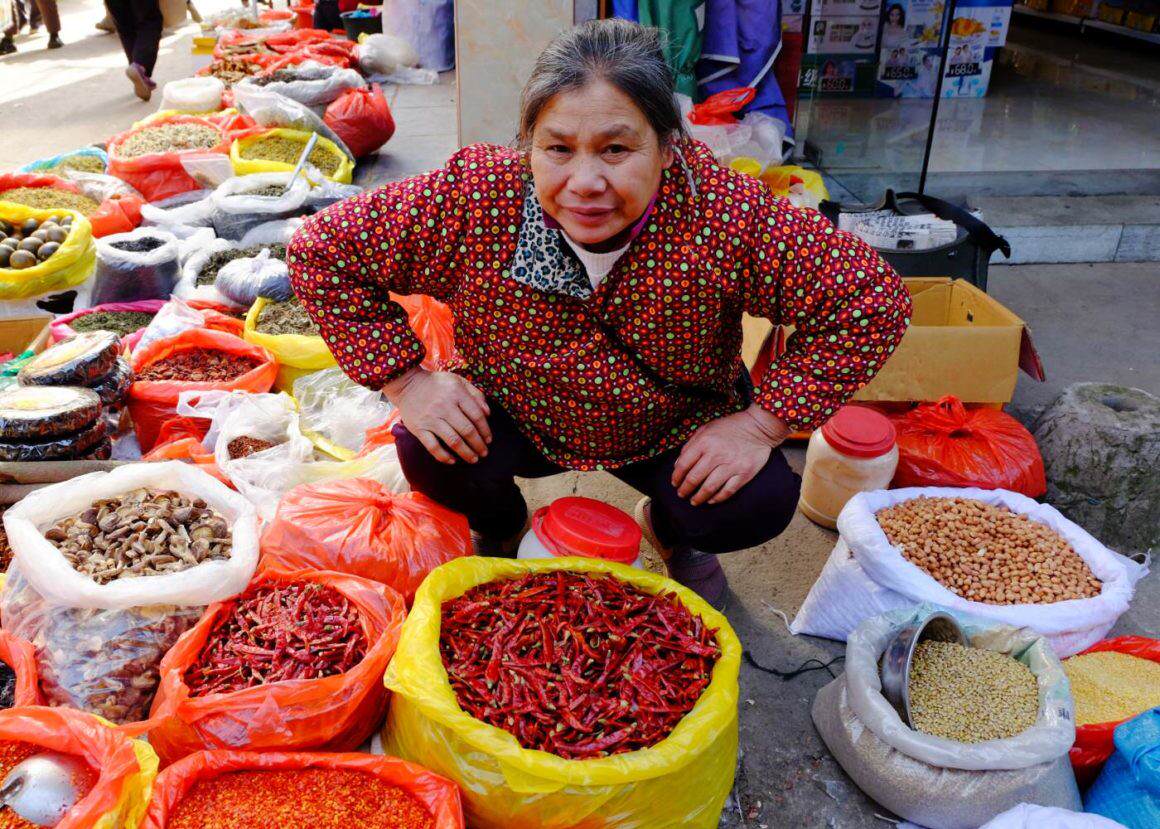 The (mostly elderly) people were really friendly and offered us snacks, as we made our way through the food area, posed passionately for pictures, or eaderly took pictures of us. But to be honest on that morning we preferred and couldn´t harldy wait for another great breakfast at our guesthouse again. 🙂
---
How to get to and around Yangshuo
The easiest access to Yangshuo area is to fly to Guilin (2,5 h flight from Shanghai). From Guilin there are many options to reach Yangshuo as there are lots of tour operators selling trips.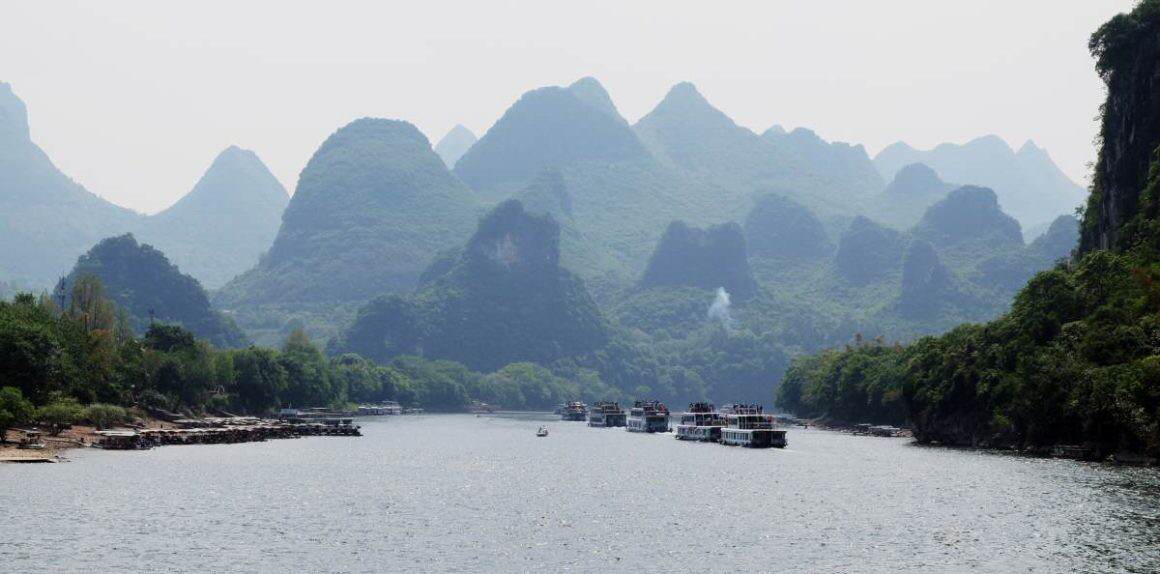 For us the most comfortable way was to go on a Li River cruise from Guilin down to Yangshuo. Compared to a car- or busride, which takes around 1,5 hours, going by boat lasts longer for sure (around 4,5h). But by cruising the river you already get more than just a sneak preview of the magical landscape, as the karst mountains line the river bank and it is a relaxed way of switching into vacation mood.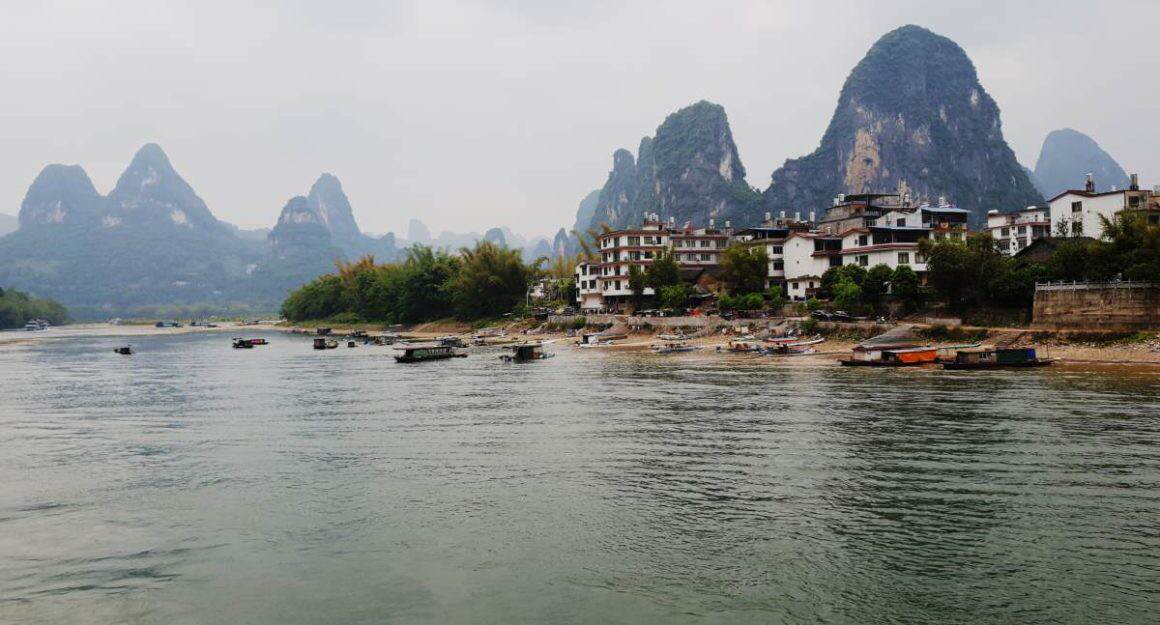 We took a 3-star boat (the cheapest option), which was actually quite comfortable with seating at tables, not too crowded at all and the possibility to go on deck and view the landscape passing by.
Close to XingPing you will even pass the location, printed on the back of the 20 RMB banknote. And for sure you will recognise it: Everybody will stand up trying to hold up the bill and take a picture while the wind is somehow making it impossible – pretty funny to watch though…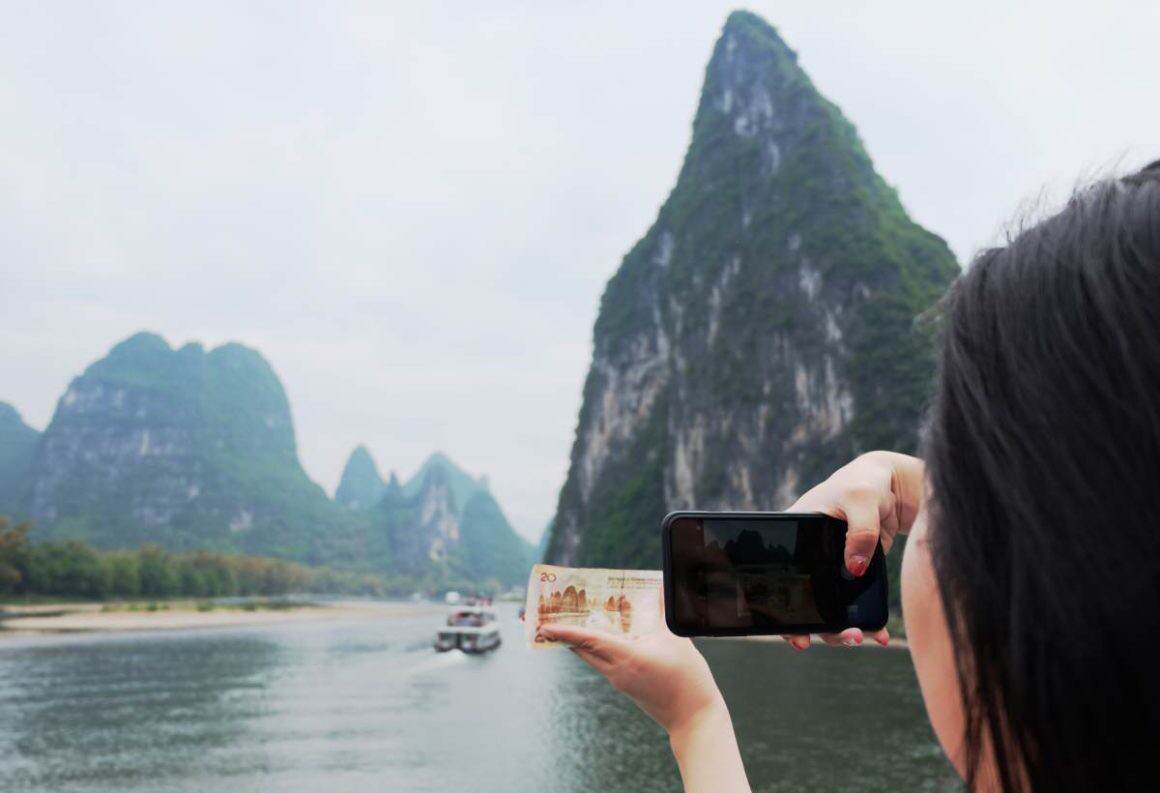 On the way back to the airport we took a driver, because it was the easiest and most comfortable way to go up the highway in one hour and catch the evening flight back to Shanghai, so we could even spend our last day to the fullest enjoying the beautiful landscape.
---
Getting around the area
As there are lots of sunrise and sunset viewpoints, smaller hills to climb up and lots of opportunities to explore between Guilin and Yangshuo, the most easiest and comfortable way getting around longer distances is to take a driver. Every guesthouse will be able to organise one for you. A driver for one day costs around 600 RMB, which is not really cheap. But getting to see as many different places in rather short time, this is the best option.
---
Where to stay in Yangshou?
After a quick research it was clear for us: We didn´t want to stay in Yangshuo itself, where you have much more possibilities of restaurants, bars, cafés etc., of course. But as Yangshuo was our first trip into nature, we didn´t want to spent our nights in the buzzling town of Yangshuo, but rather enjoy the tranquility of the rural area surrounding it.
There are also quite a few overnight options along the Yulong River (the smaller sideriver of Li River). We went for Tea Cozy as the website and the description promised to offer a indeed cozy place to stay with a well recommended restaurant, a swimming pool and view of the prominent karst mountains. And in reality it didn´t dissappoint us at all! We were actually really overwhelmed by the friendly and professional staff-members, who made our stay a truly special one.
Amy and her team provided everything to us we needed: Lots of useful information about the area, great hints for sunset and sunrise locations, the best cycling tours, a bike rental, the organisation of a driver, the Li River cruise and pick up to Tea Cozy as well as the transport back to Guilin Airport. And what really surprised us in the most positive way: All the ladies were fluent in English, which made it even easier to get all the information we needed and to feel comfortable. We aren´t used to this from Shanghai. 🙂
And to describe the place itself I guess no words are needed…
For the last night they even upgraded us to a king size bedroom in their new building, which made it even harder to leave this beautiful place:
Click to see the Photo Galleries of:
Li River Cruise | Cycling along Yulong River | Sunsrise at Xianggong Hill | Sunset at Putao Rural Scenery | Cormorant Fishermen at XingPing | Fuli Town & Farmer´s Market |
Tea Cozy Hotel Yangshuo 
***
QUESTIONS & COMMENTS?
Have you ever been travelling through China and know about the diversity of this country? Leave me a comment! Do you like the article, or still have any suggestions or critics? I am happy to read what you are thiking! If you like my content, please feel free to share this article with your friends!
Are you curious now? In the category China you can find further travel stories from the land of the rising sun.
***
 – SMILE4TRAVEL NEWSLETTER –
Become part of the Smile4Travel Community – Follow my Facebook Page & Instagram and register for my Newsletter, so you don´t miss any Smile4Travel adventures! No Spam – I promise!
[mailpoet_form id="1″]
---