This post is also available in: Deutsch (German)
Even if Busan might not yet have made it onto your bucketlist, South Korea's second largest city is definitely worth a visit. Less than 3 hours highspeed train ride away from Seoul, you can easily reach Busan, even if the city is located on the Southeast coast and you have to more or less cross the whole country. But the train system is as efficient, fast and reliable as known from e.g. Japan, Taiwan or China. So if you have some time at your hands and feel like experiencing a totally differrent vibe compared to the South Korean capital: Get yourself a train ticket and visit the seaside city of Busan. Even if you only have 48 hours, there is heaps to explore for you!
#1 Find orientation and enjoy incredible vistas from Busan Tower
Honestly the view from Busan Tower is one of the best views I have ever had from an observatory tower so far. I really had the feeling to get orientated while standing on the platform, which offers a 360 panorama view of the port and the hilly surroundings. As Busan Tower is only 120 metres high, you can see the cityscape very clearly and the colourful houses shine beautifully in the sunlight. The best part besides the brilliant view was the fact that there were almost no other people visiting the tower. So no queuing, waiting or hustling to capture the best angle. I can really recommend you to visit Busan Tower as a starting point for your urban exploration.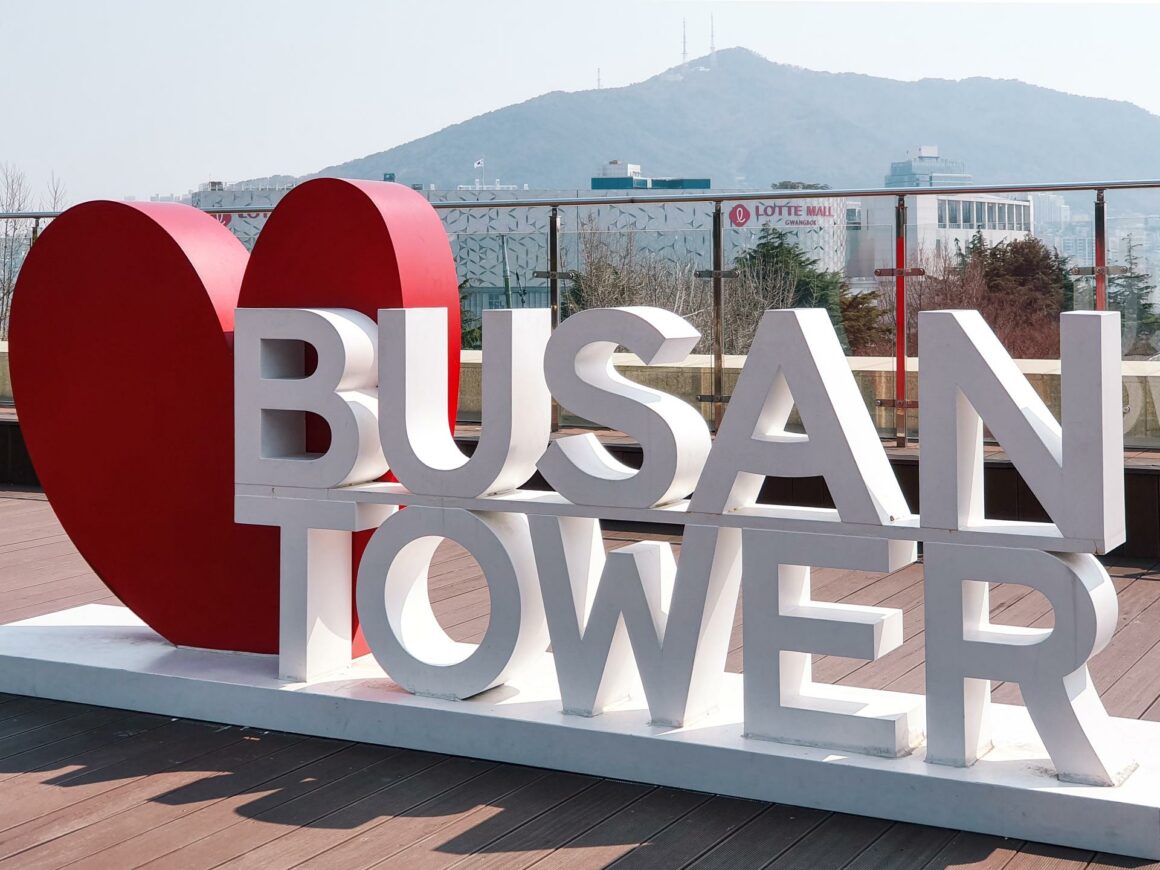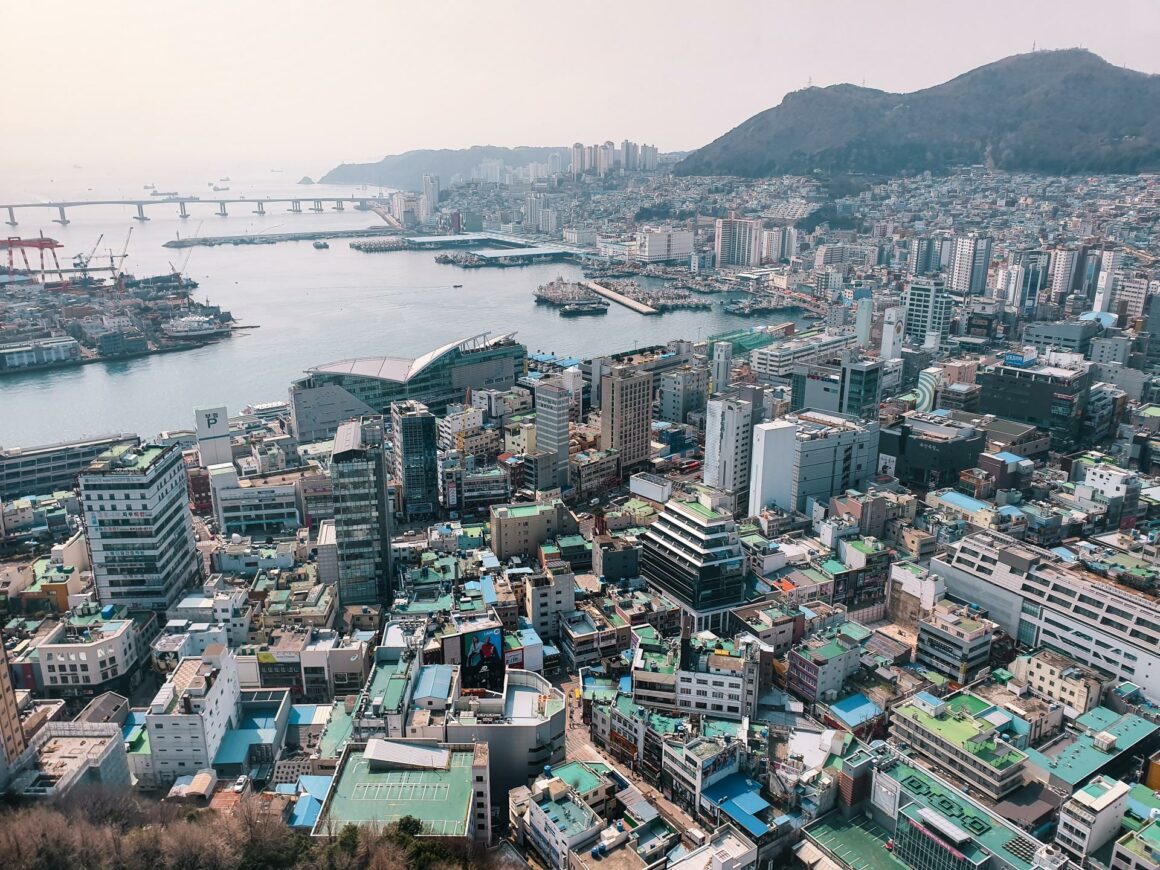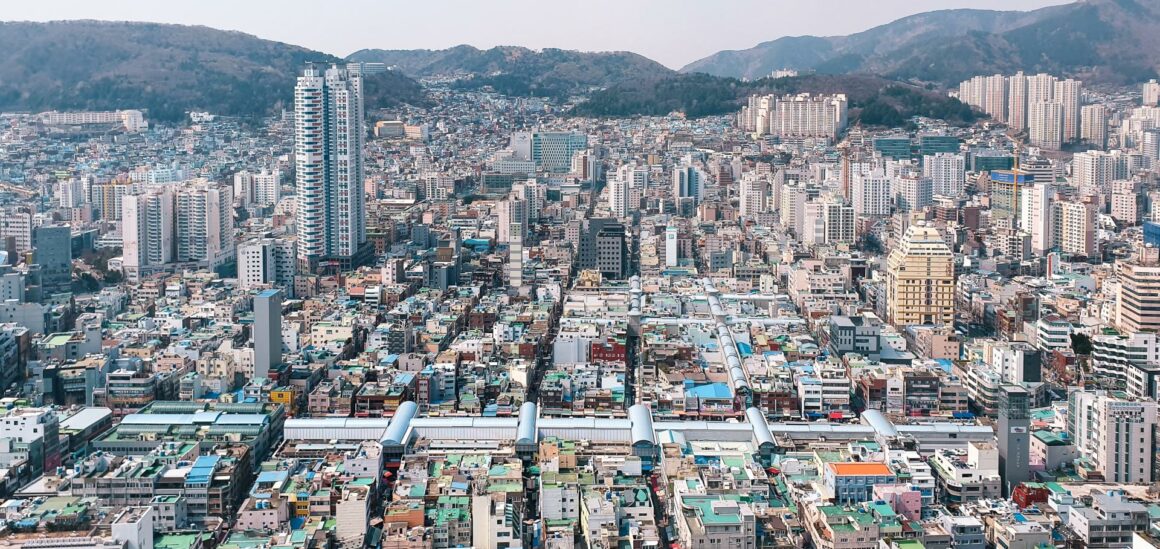 Even after getting down with the elevator there is a little surprise: A black-and-white painted room with iconic places of the city. It instantly reminds me of Seoul´s YND239-20 Café. And as there were not many people on top of the tower, there were obviously not many coming down. So more than enough time and opportunity to have some fun. 🙂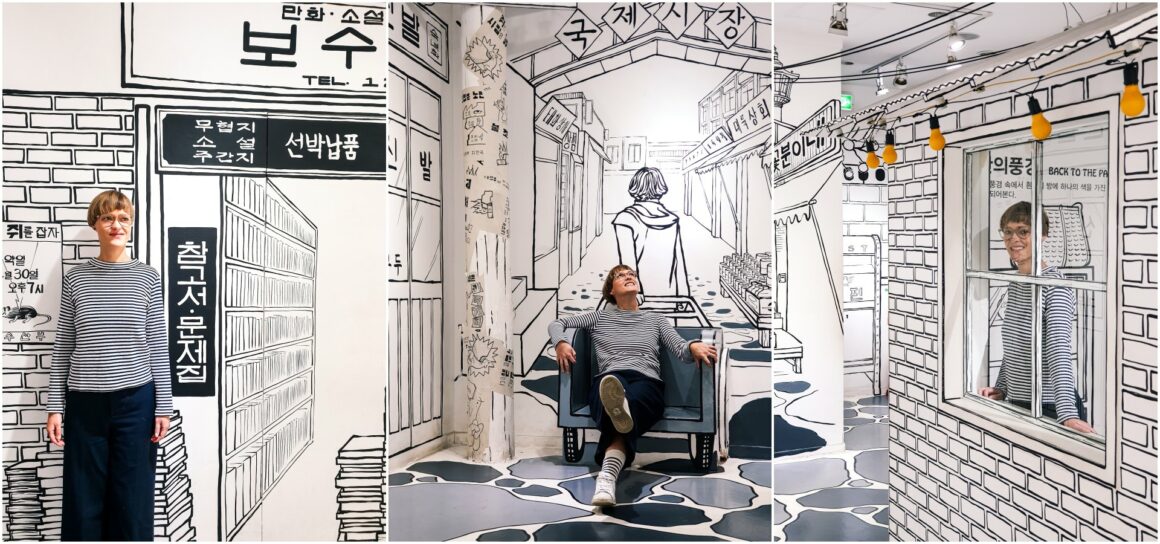 #2 Gamcheon Culture Village: Convince yourself how a former slum turned into a picturesque sight
This fromer dilapidated slum for refugees of the Korean War was revitalised in 2009 by the government´s Ministry of Culture, that turned it into a flourishing and creative neighbourhood. Today Gamcheon Culture Village welcomes many visitors and became a "must see"-sight for Busan. The arty village is located on a foothill, which earned it the nickname "Machu Picchu of Busan". And indeed: With the flat houses painted in different colours and the narrow streets winding up and down steep stairways, exploring Gamcheon Culture Village feels more like wandering around a South American than a Asian neighbourhood.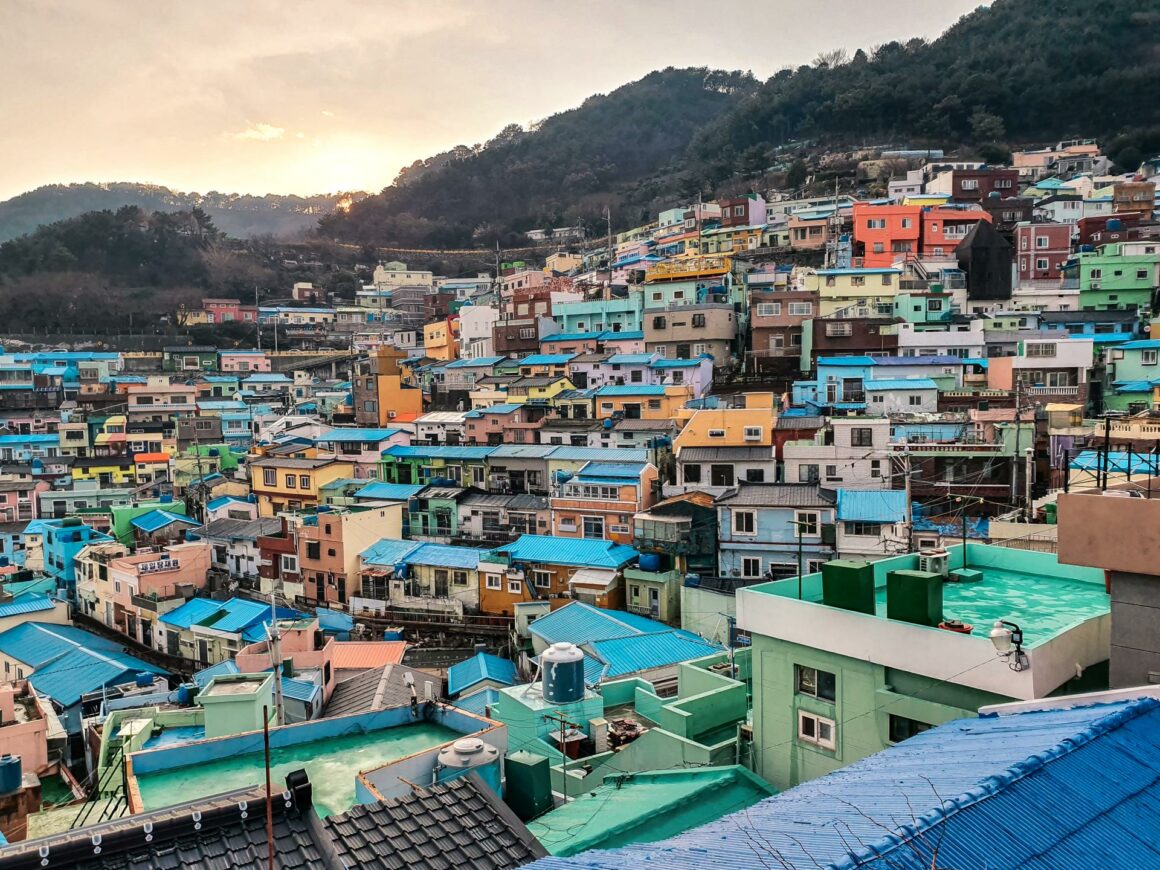 There is a bike curcuit around the village, offering quite a bunch of viewpoints and also small cafés from where you can nicely overlook the neighbourhood. There is a lot of streetart to discover as well. Murals and sculptures are actually created by the residents themselves. So better make sure you don´t miss Gamcheon Culture Village, when visiting Busan.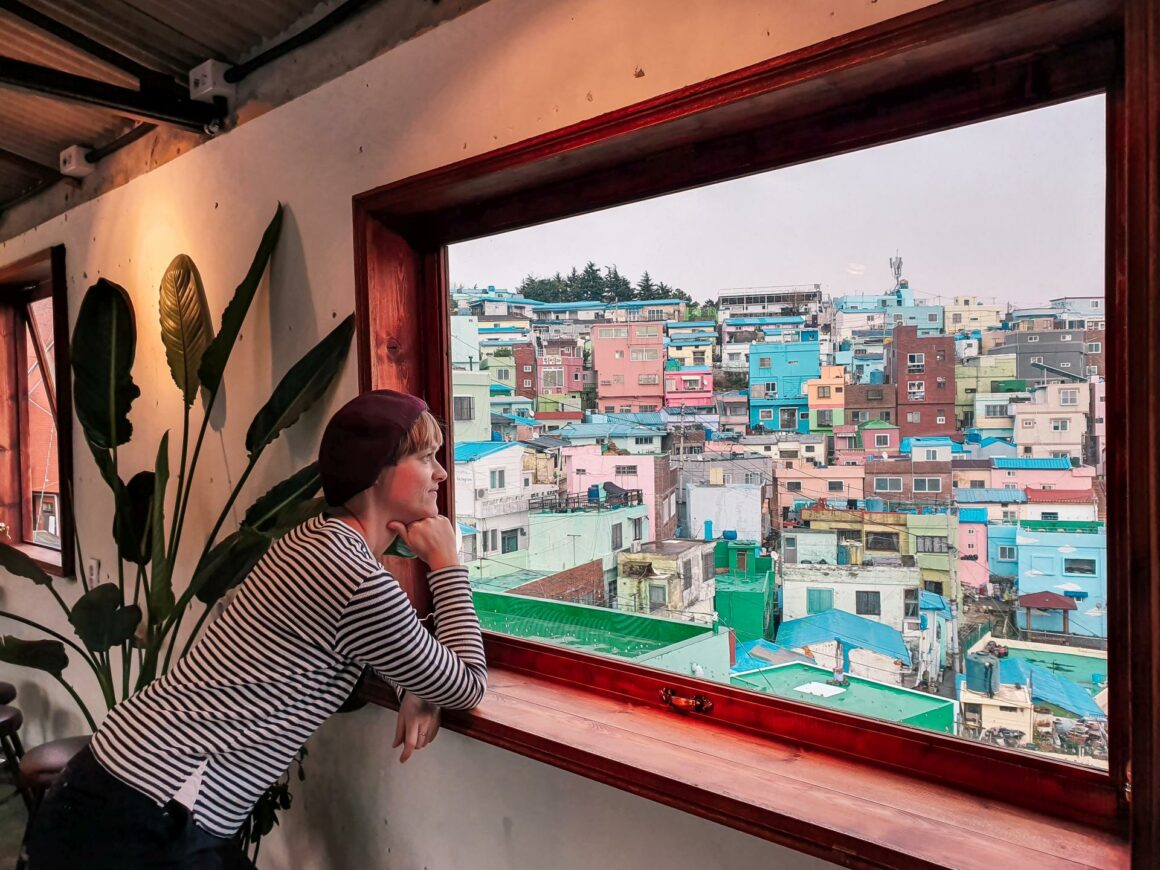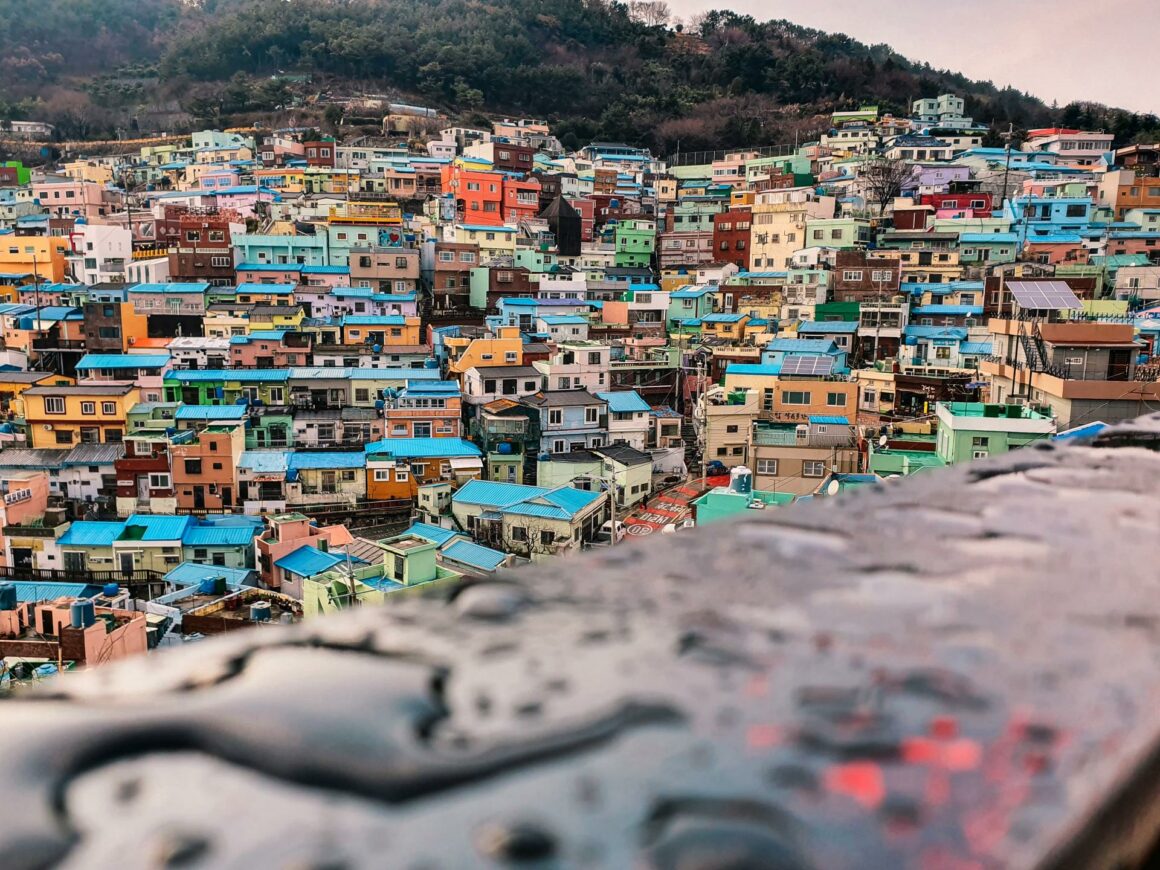 How to get there?
Take the metro Toseong (line 1) and walk uphill for about 15-20 minutes, if you don´t mind walking. Or take bus no. 2 or 2-2 from exit 6.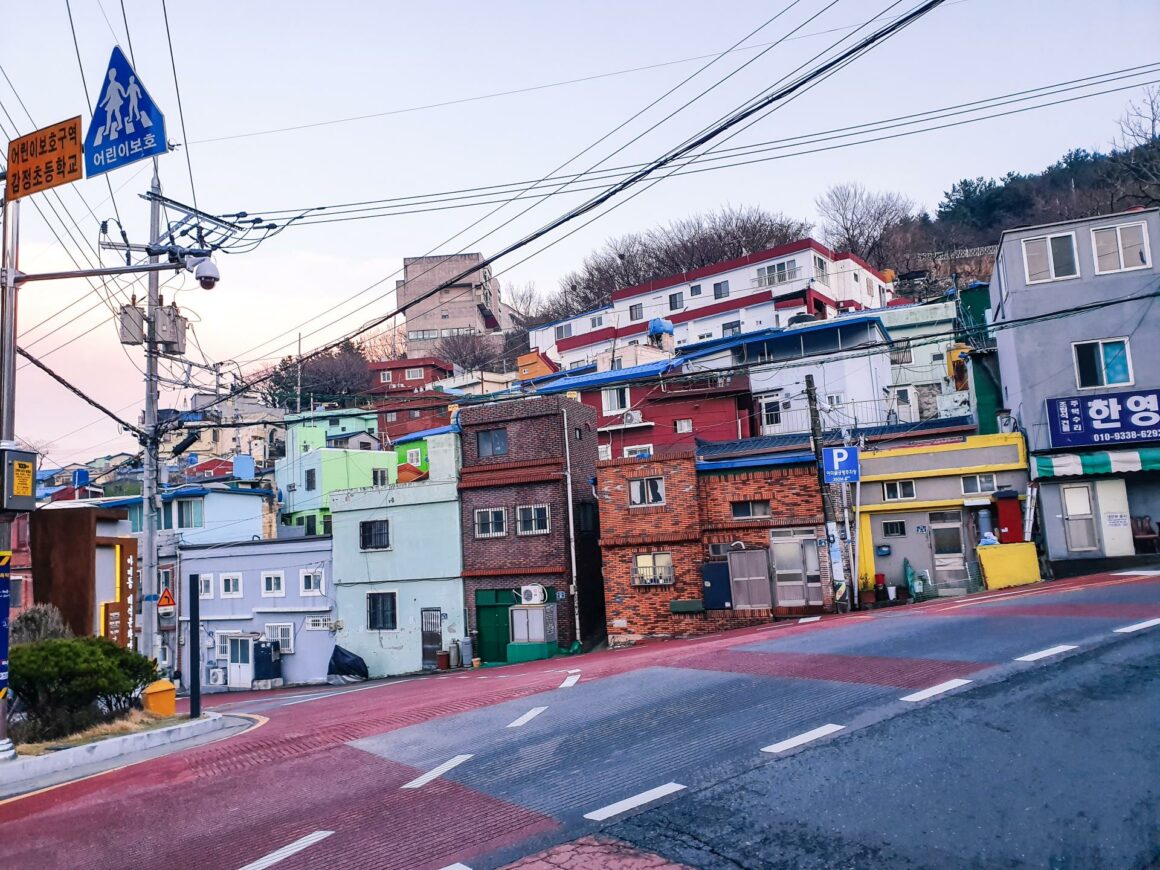 #3 Would you dare to taste live octopus at Jagalchi Fish Market?
As colourful as the cityview from Busan Tower and Gamcheon Culture Village as coulourful is Jagalchi Fish Market. Definitely one of the highlights while visiting Busan, especially when you love food and market vibes in general. Jagalchi is Korea´s biggest fish market with lot of stalls located outside. When you come around in good weather conditions the colours just pop everywhere.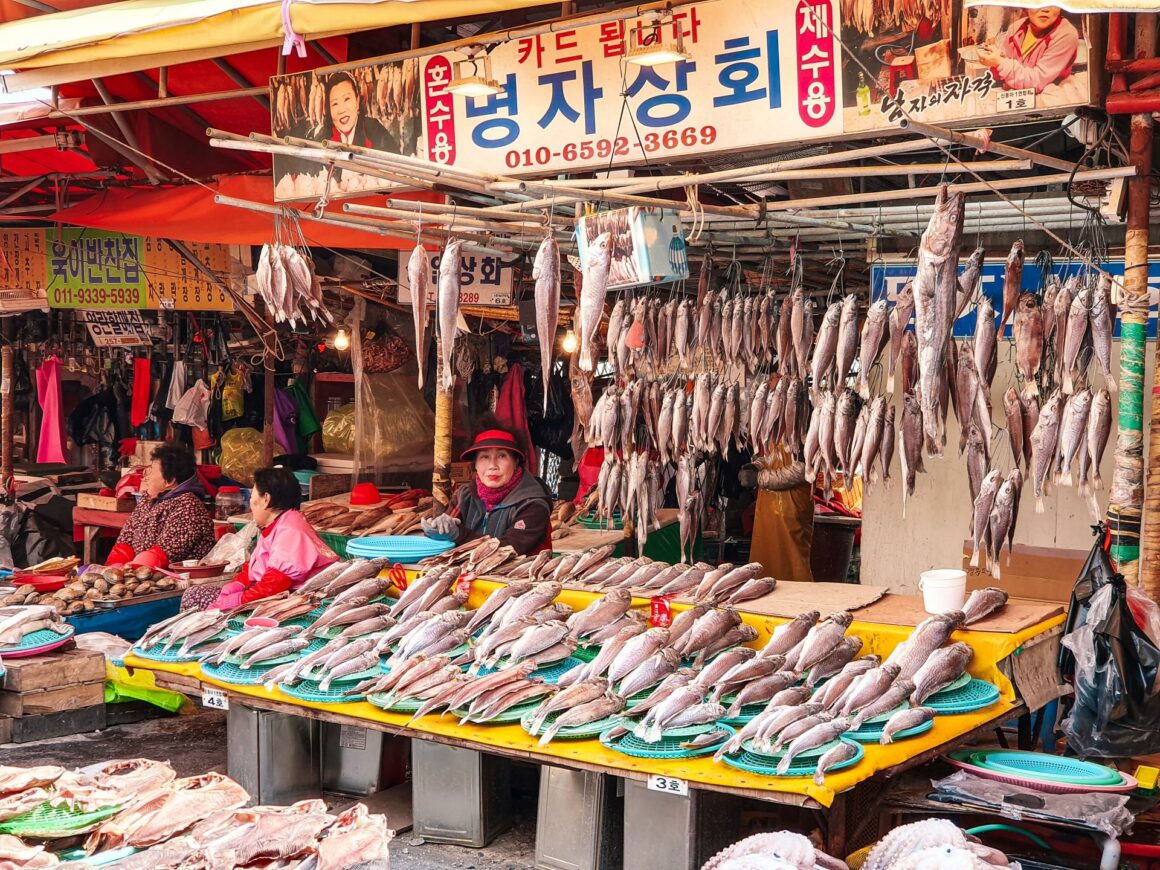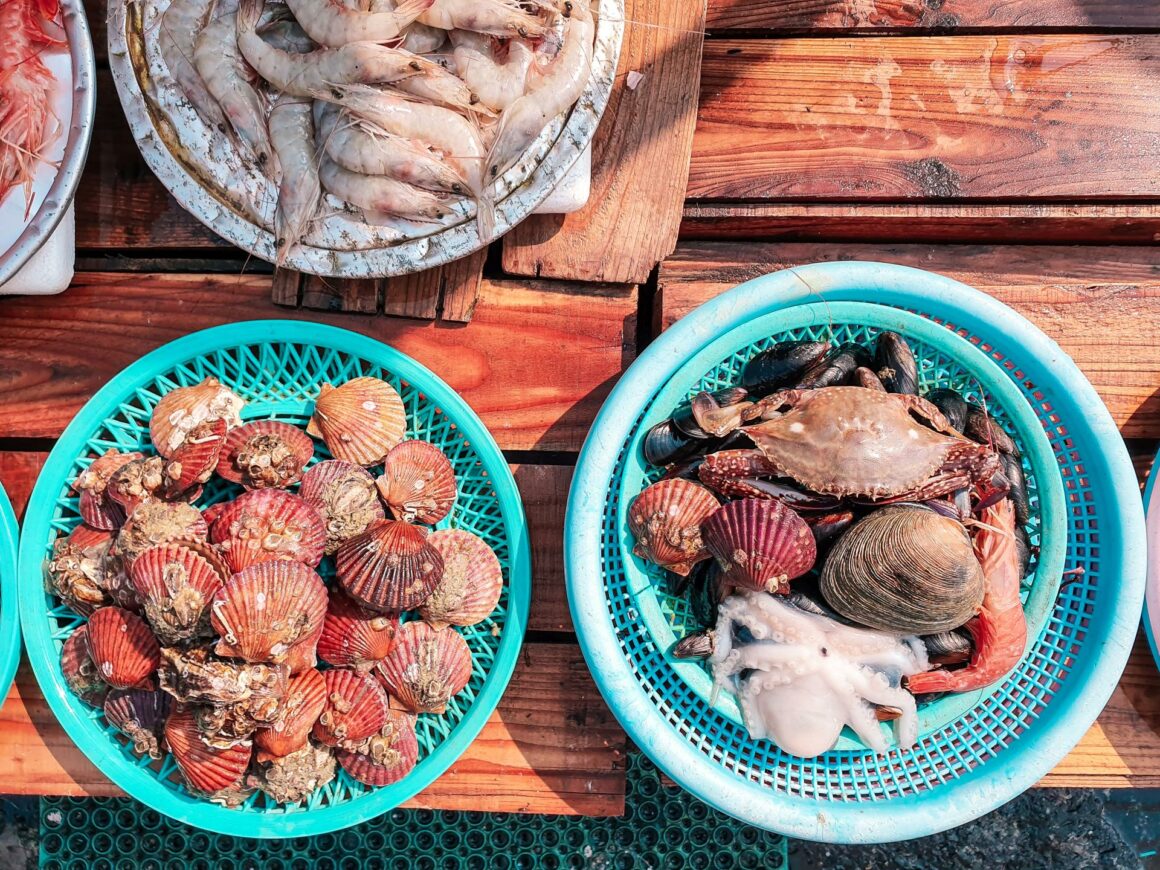 You definitely cannot get seafood any fresher than here and if you dare to taste abalones, oysters, sea urchin or some Korean specialties like live octopus, Jagalchi Fish Market is the place to go. It´s not cheap to be honest, but definitely worth the experience! Also be careful to chew the live octopus properly to avoid any surprises, e.g. its suctioncups sucking to your throat. And rest assured: The octopus isn´t actually alive anymore, but because of its highly complex nervous system it still shows reflex actions without any input from the brain,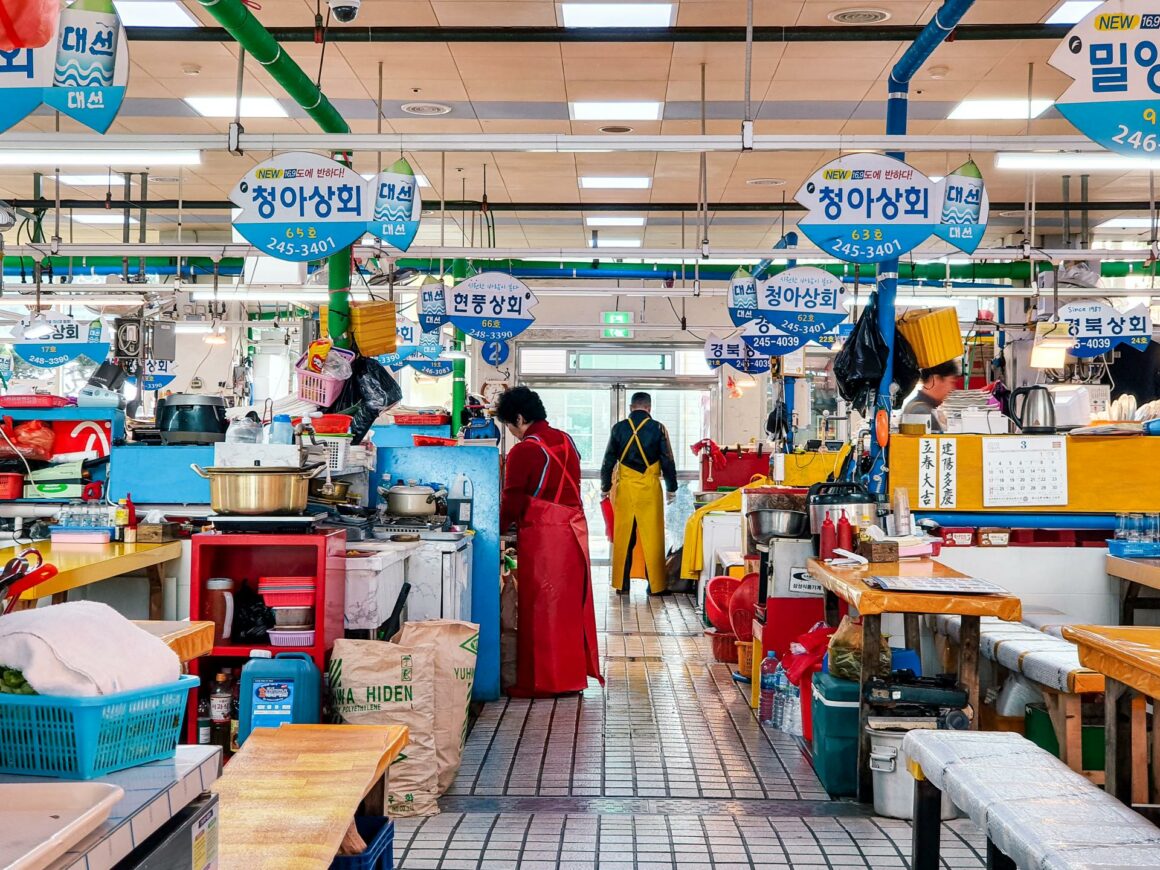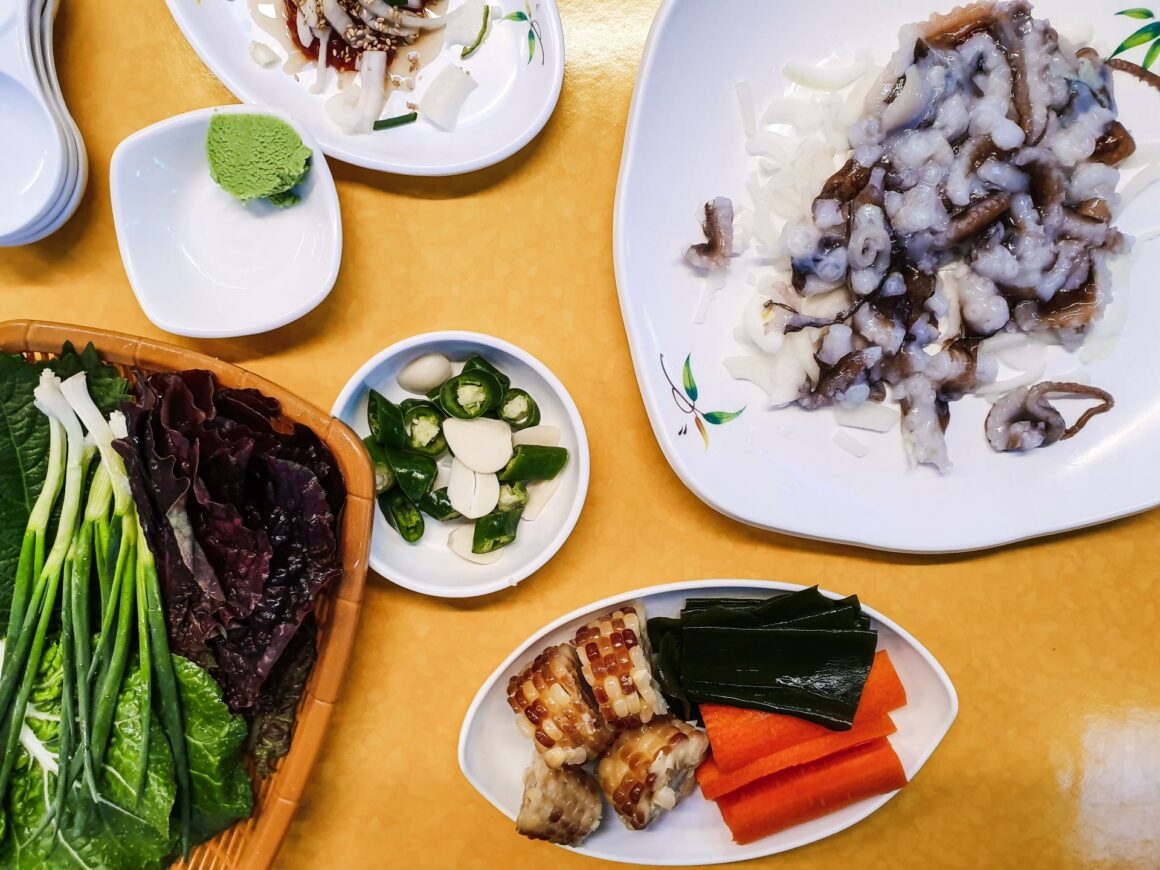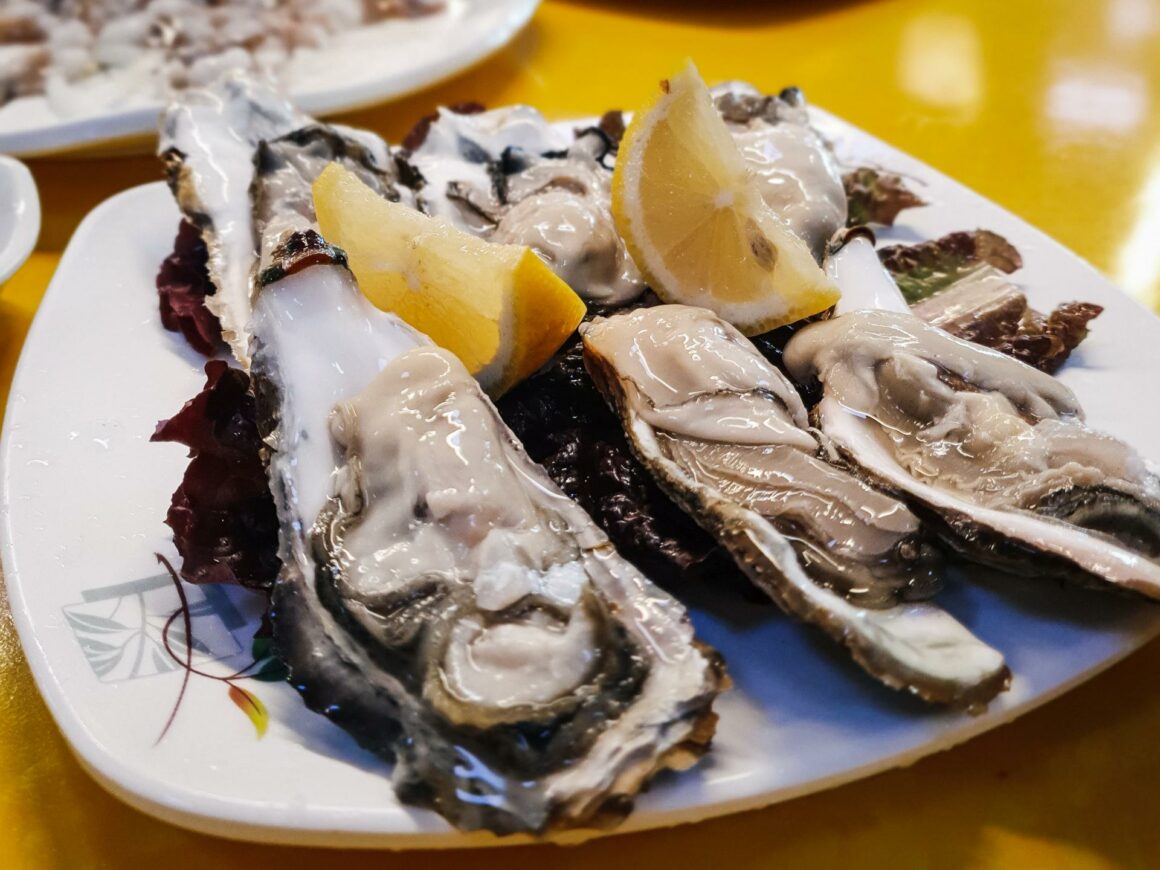 #4 Snacking, Shopping and Getting lost in the Streets of Nampodong & Gukje Market
Like most Asian markets Nampodong and Gukje market are enormous areas, where you will find everything from souvenirs to household goods, toys, clothing and of course street food. Gukje market, actually is one of the most popular markets of Busan and Nampodong market merges right into it. As both are widely huge and you might get lost inbetween all the shops and stalls: You can differentiate both markets as follows: Nampodong is a street market and Gukje´s shops and stalls will be indoors.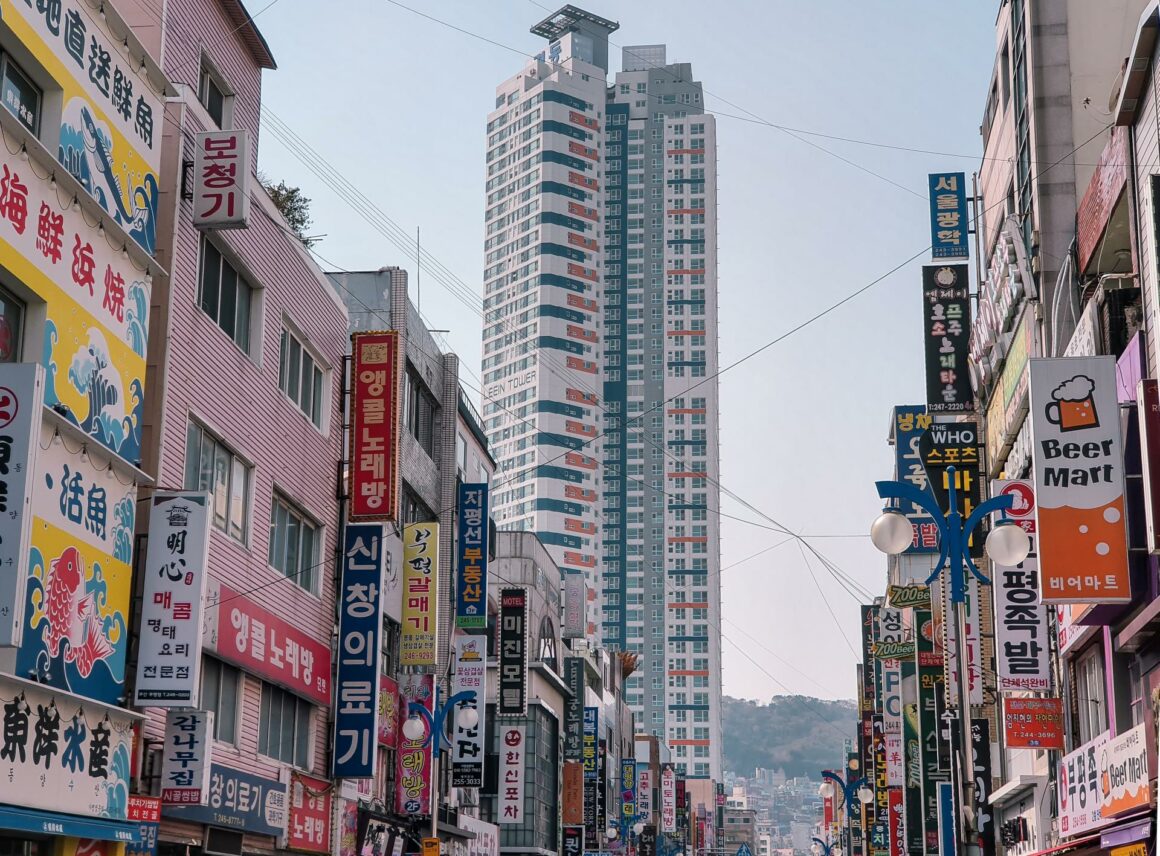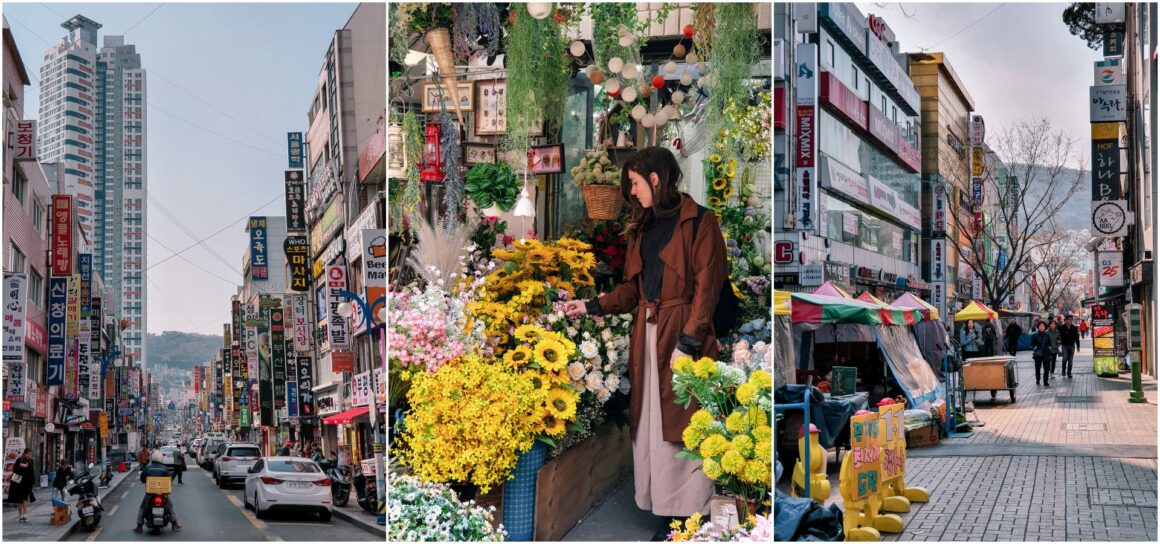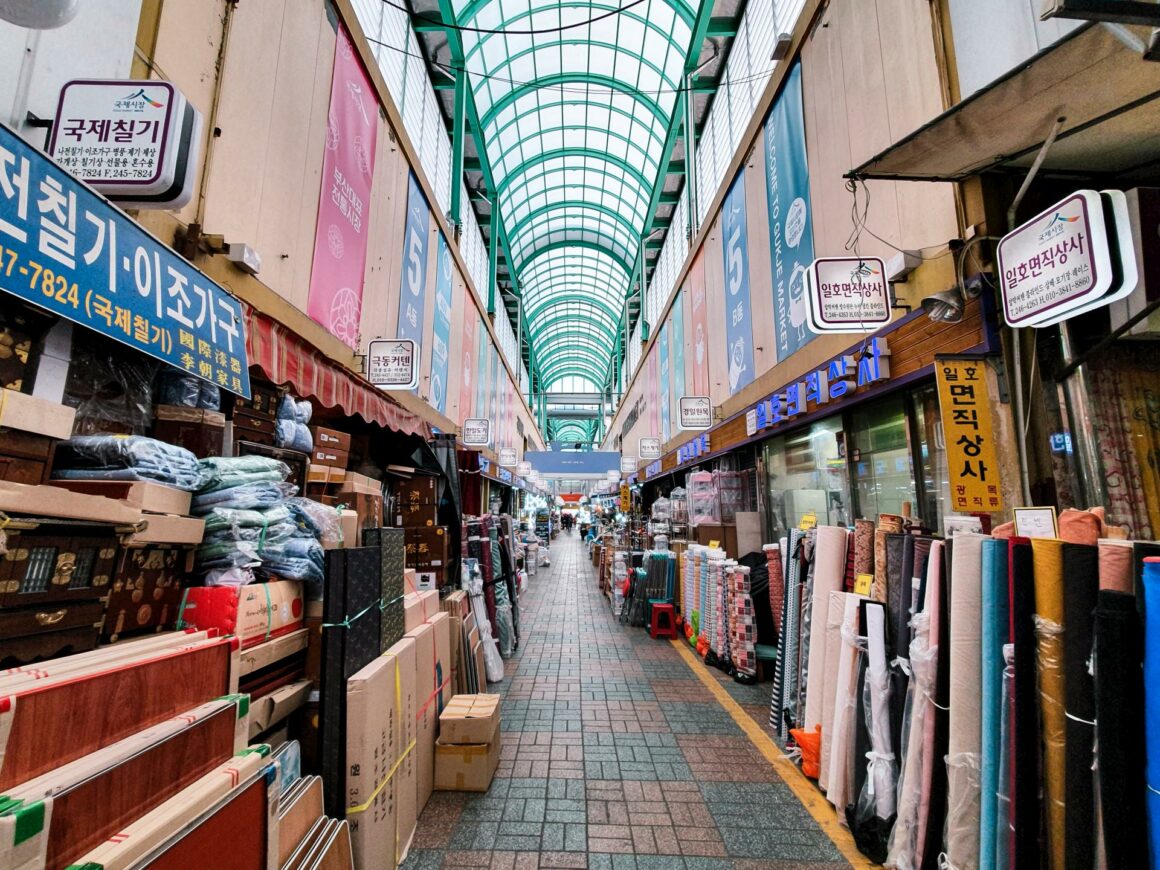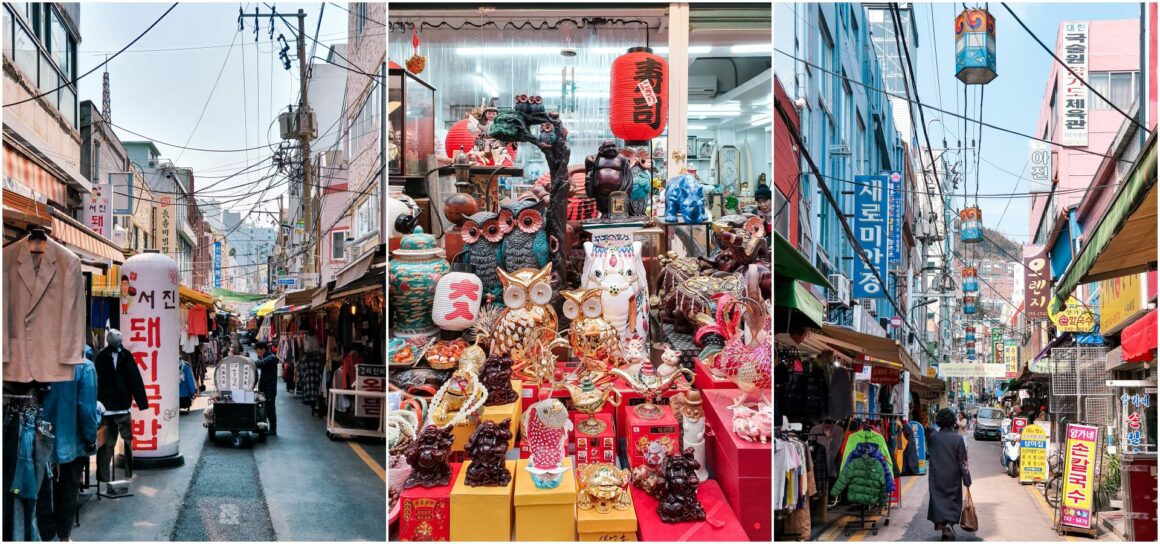 At both markets the streets and lanes are packed with little shops, fortunately divided into different zones for an easier orientation – at least in what to buy. If you try to find vintage clothing, Nampodong market is the place to go. In a side street between socks, flowers and smartphone cases you can also find a small restaurant offering the typical Korean Sinchang Toast. A greatly recommendable bite to start your day.
Close to Nampodong Market is BIFF Square (Busan International Film Festival Square). It´s Busan´s former movie district and used to be home to the famous film festival before it was transferred to Busan Cinema Center.
#5 Haedong Yonggung Temple:Visit one of South Korea´s few seaside temples
As most of South Korea´s temples are located on a mountain or hill, the seaside Haedong Younggung Temple is definitely a sight worth visiting. There is a special vibe when walking around the buddhist temple with the blue ocean and shore closeby. Of course you won´t be the only person there, as its a famous destination for local and international travellers alike. And the entry is free. But the trip slightly Northwards of Busan city is worth the visit. Especially when you combine it with a stop at Haeundae Beach, you can spend a day at the sea combined with a cultural experience.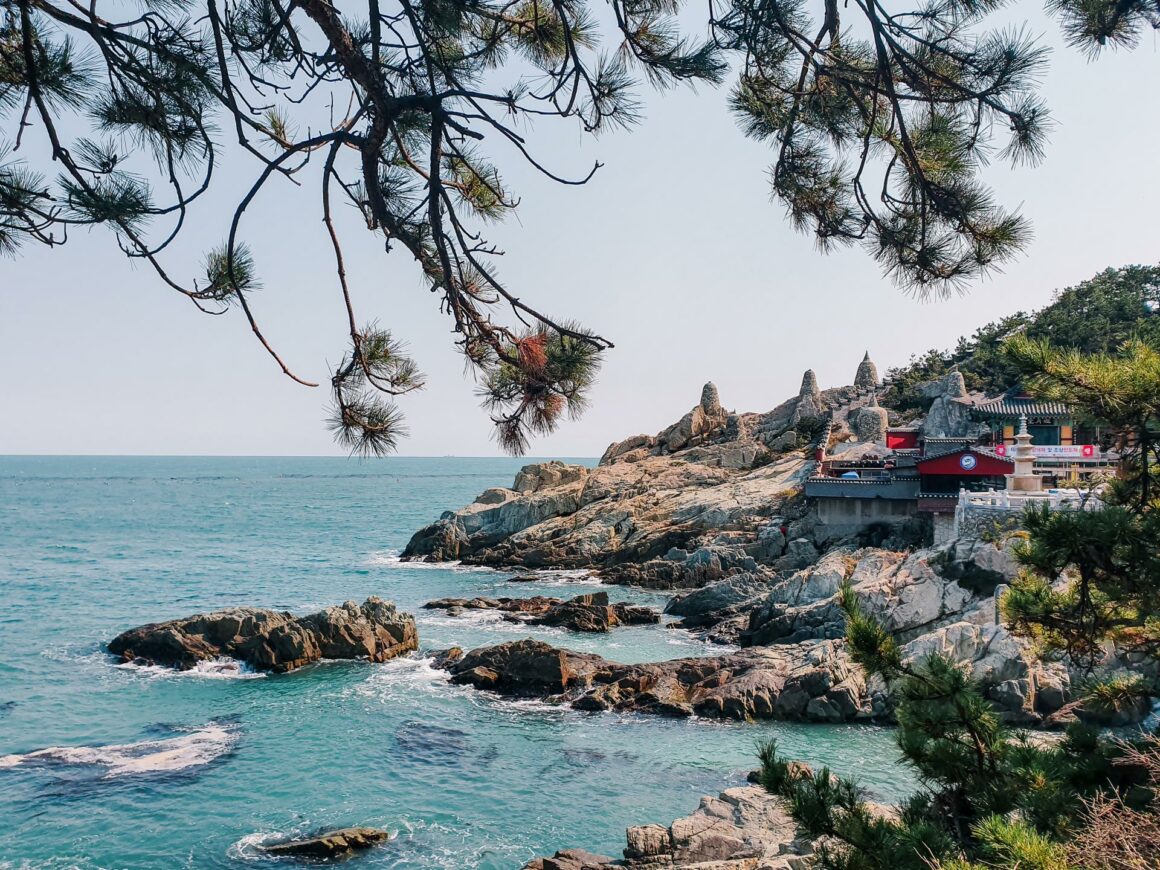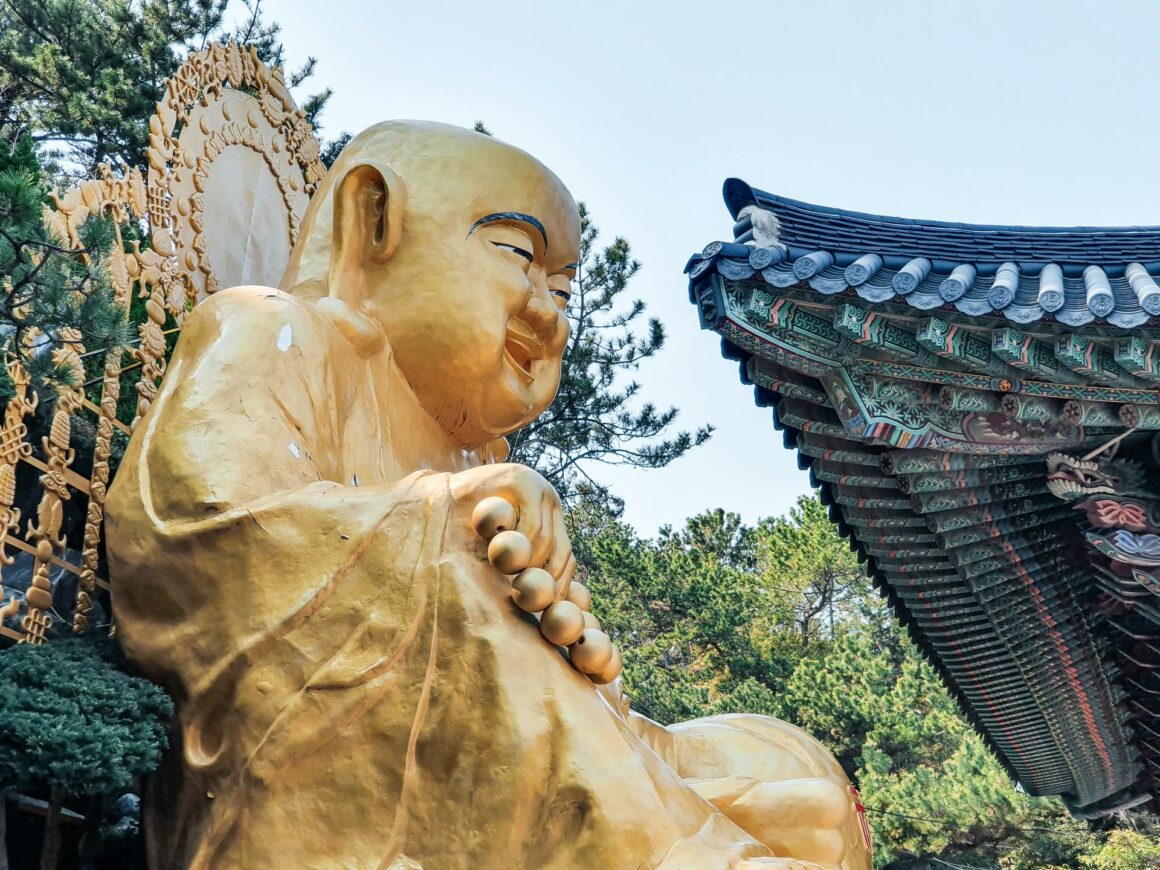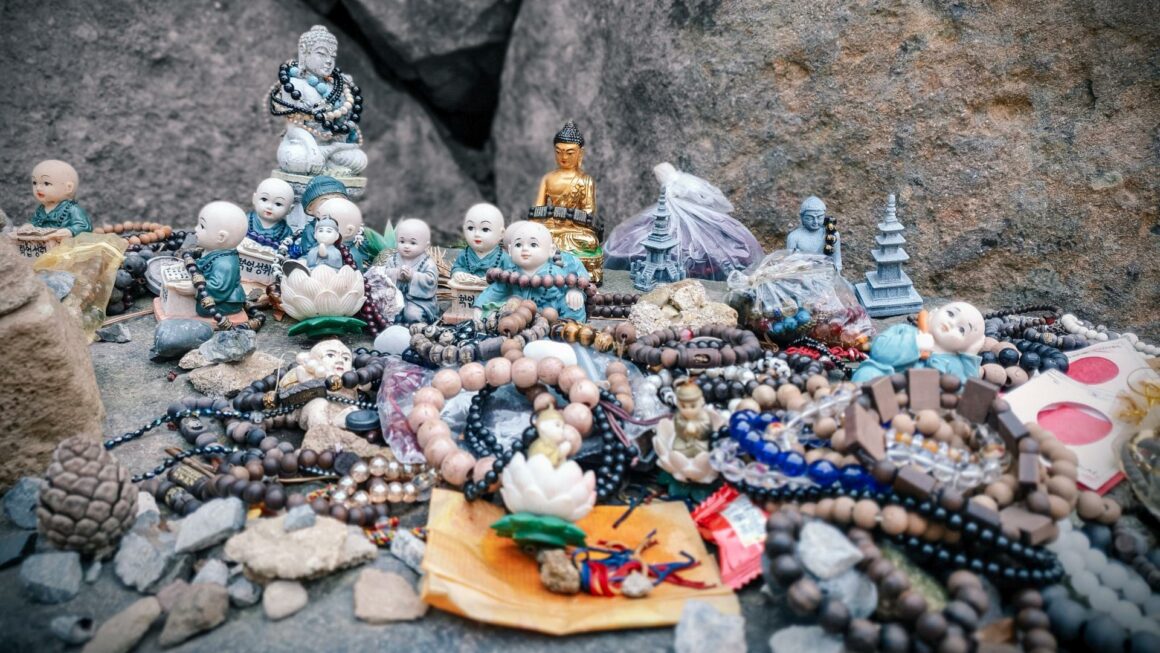 How to get to Haedong Yonggung Temple:
There are several ways to reach Haedong Yonggung Temple:
Metro and bus: You can take the metro (line 2) to "Haeunde" station and jump on the public bus 181 at exit 7. All in all this will take you another 50 minutes until you reach Haedong Younggung Temple as you need to walk from the bus station to the temple. Much faster and more comfortable is the combination of
metro and taxi. For this you should exit at "Jangsan" station, which brings you closer to the temple and from there finish by taxi. From the parking lot there are several food and souvenir stalls marking the way. Finally 12 Zodiac Stone Figures lead visitors to the temple´s entrance.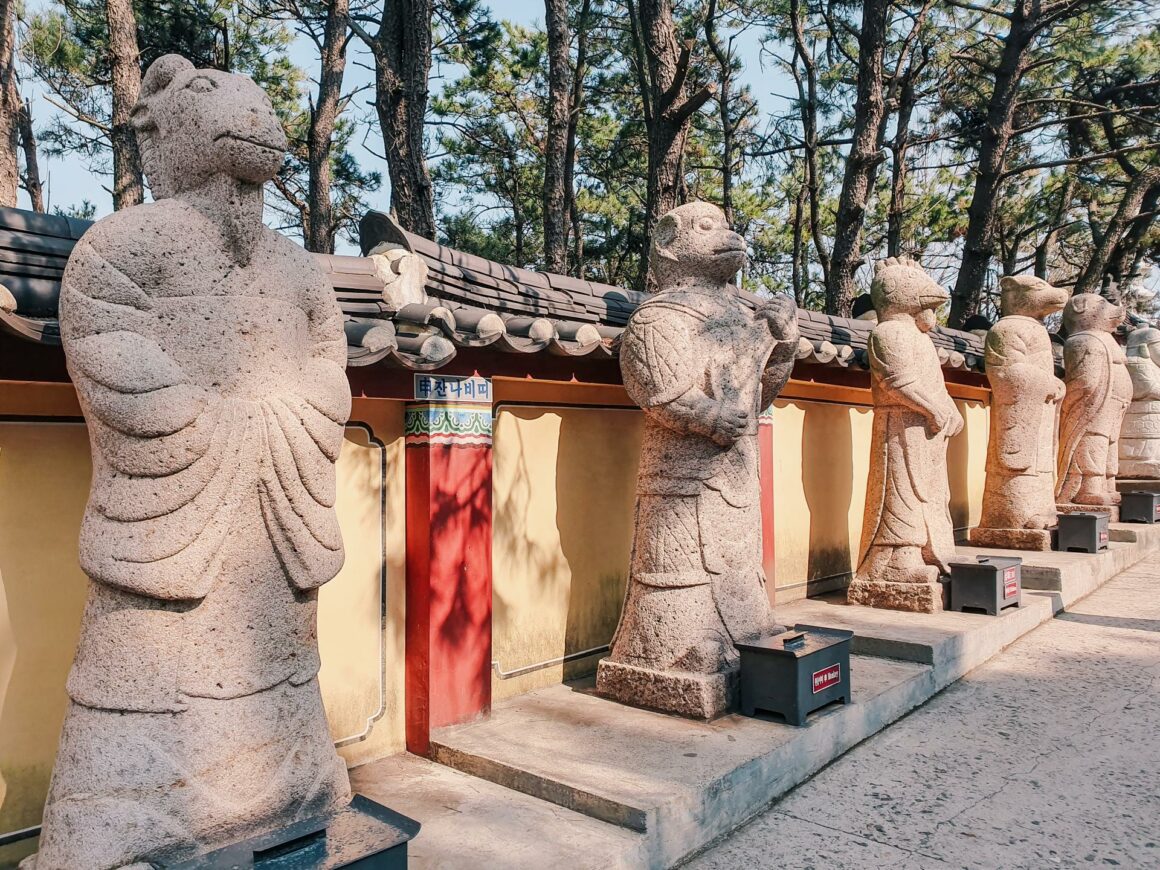 #6 Strolling along the wide promenade of Haeundae Beach
When visiting Haedong Yonggsung Temple, you can easily combine your tour with Haeundae Beach on your way there or back. As Haeundae Beach has its own metro stop, it´s easy to get there from Busan innercity. Within 40 minutes from Busan Station you can escape the bustling center and reach the beach, dip your toes into the water and walk along the wide promenade with the skyskrapers in the background. There is a circuit around Dongbaek Park, which offers lovely views especially for sunset.
#7 Wrap-up your day at Marine City
If you decide to visit Haeundae Beach and stay for the sunset, you shouldn´t miss the golden hour at Marine City. Closeby Dongbaek Park you can watch the sky turning pink, while the lights of the skyscapers get switched on and turn the day into night. I experienced this as a perfect wrap-up of a day by the sea.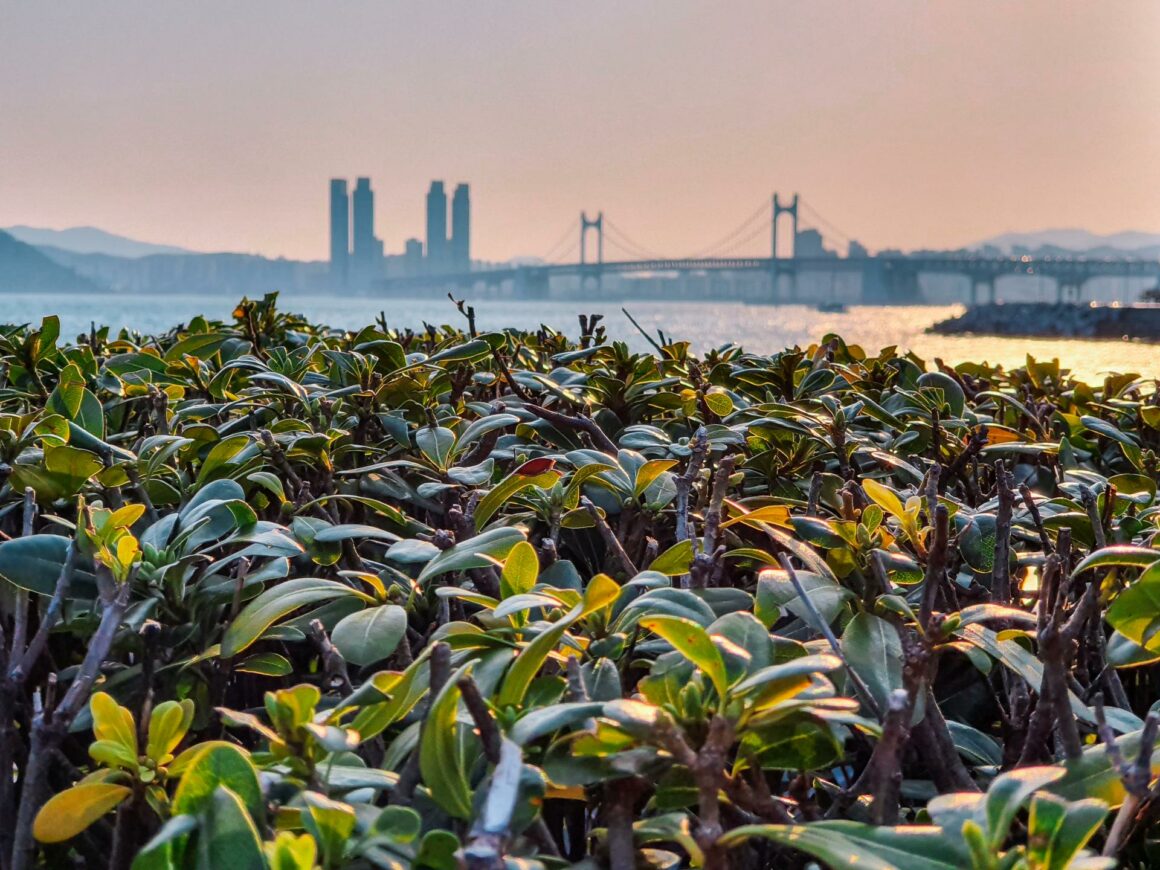 #8 Taste Busan´s giant dumplings "Wangmandu" at Choryang Milmyeon
I love dumplings! And they became my favourite food in China, even if Chinese would never serve dumplings as a single main dish. But I could just eat myself through boiled, steamed or fried varieties at least once a week. So when I discovered the recommendation for Busan´s giant dumplings (Wangmandu) via the online magazine TimeOutBusan, I knew I had to give them a shot. The restaurant Choryang Milmyeon, which TimeOutBusan extolled as the place to go for authentic Korean food, is located close to Busan KTX Station and only 10 minutes walk from our hotel.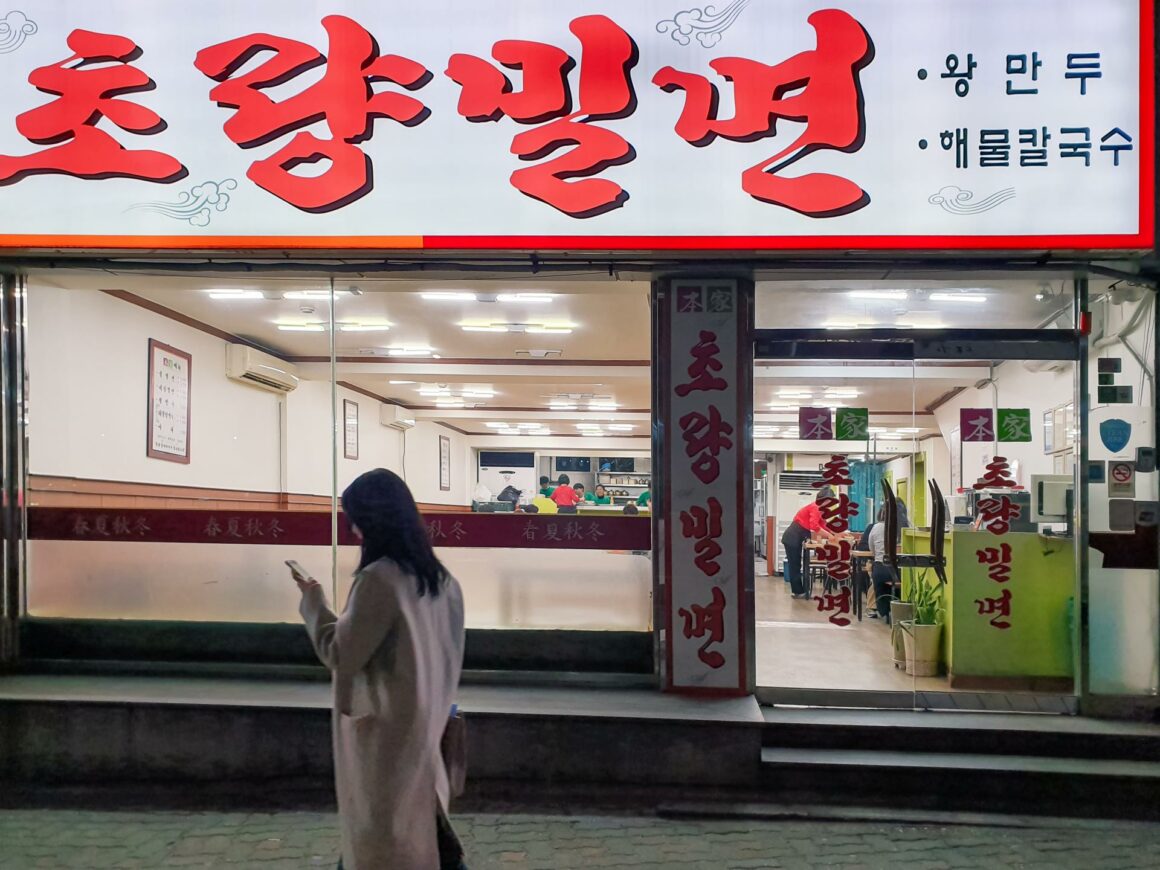 So it was just perfect to end our trip to Busan, before having to take the train back to Seoul the next morning. And honestly speaking: If I hadn´t read about Choryang Milmyeon upfront, this wouldn´t have been our choice for our "last supper'… The restaurant was nearly empty when we got there, the lights were shining bright like in a supermarket´s butchery area and the menu didn´t offer much more than the giant dumplings and iced noodle soup (milmyeon).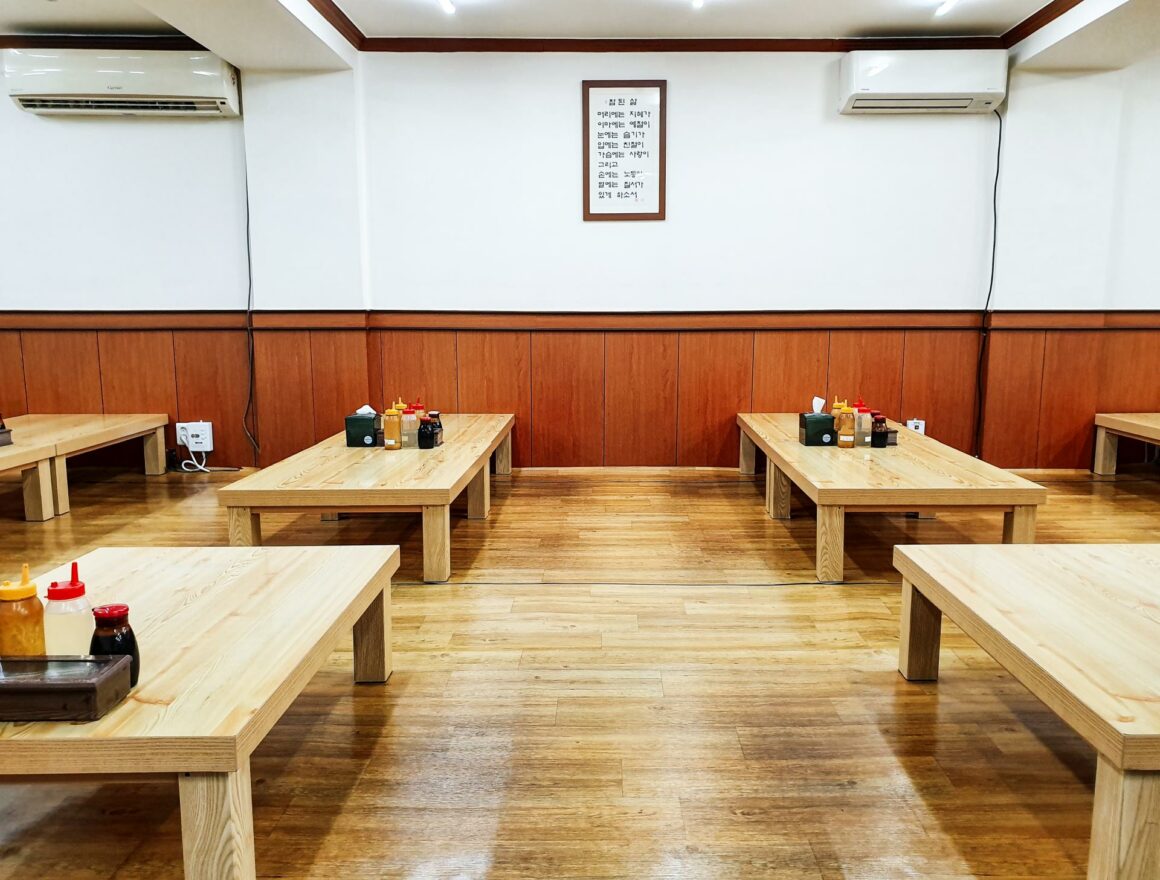 But we gave it a try and ordered one portion of 6 dumplings each. Normally 6 dumplings wouldn´t be enough to fill a really starving stomach. But as the dumpling plates arrived at our table, we already knew it would fill us up. They were really gigantic! When biting into these still steaming dumplings, the flavours started exploding in my mouth. In the end we were so glad that we entered the restaurant and ordered one of their two signature dishes. These dumplings were just so yummie that they got a own section in my Korean food guide you also shouldn´t miss.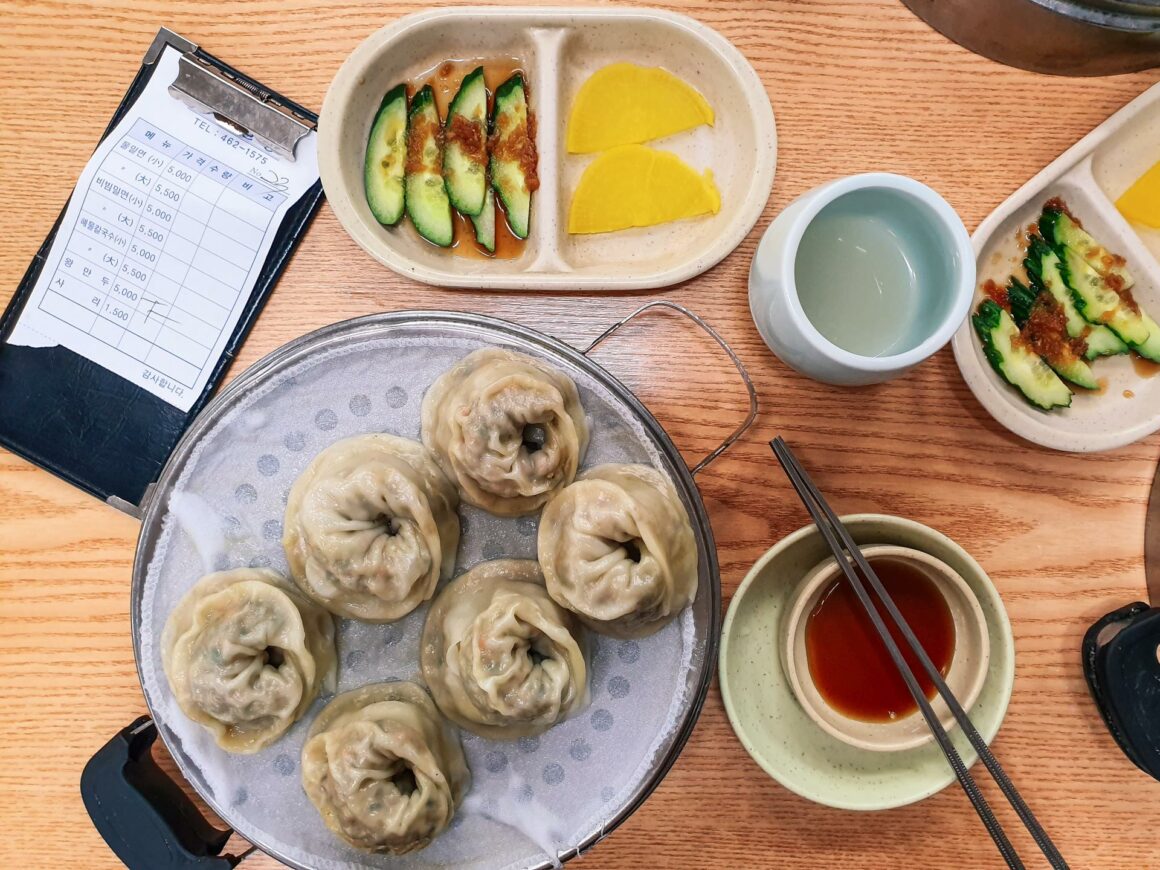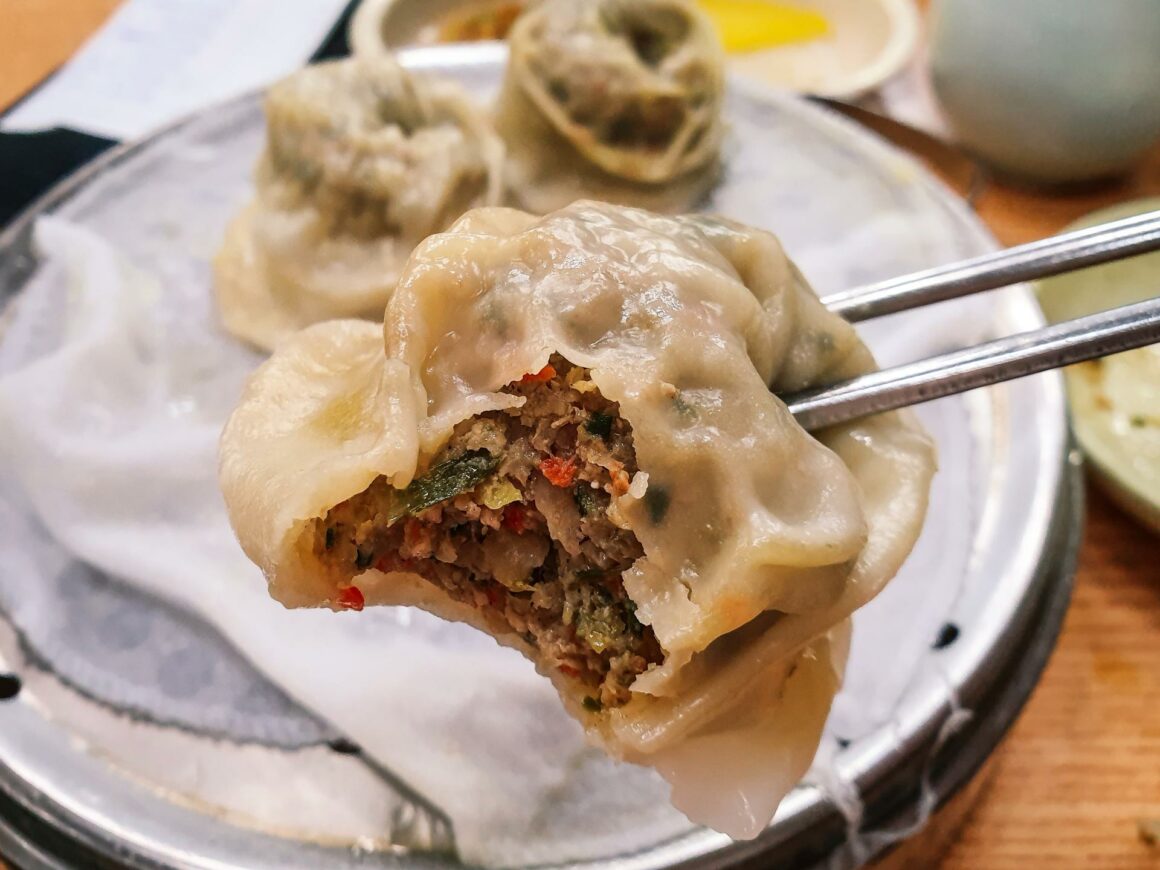 Itinerary for 2 days in Busan
Busan Tower, Jagalchi Fish Market as well as Nampodong and Gukje Market can be combined in one day as all landmarks are located closeby South of Busan´s KTX Station and are reachable by foot or within only a few metro stops on line 1. Also Gamcheon Culture Village isn´t far away.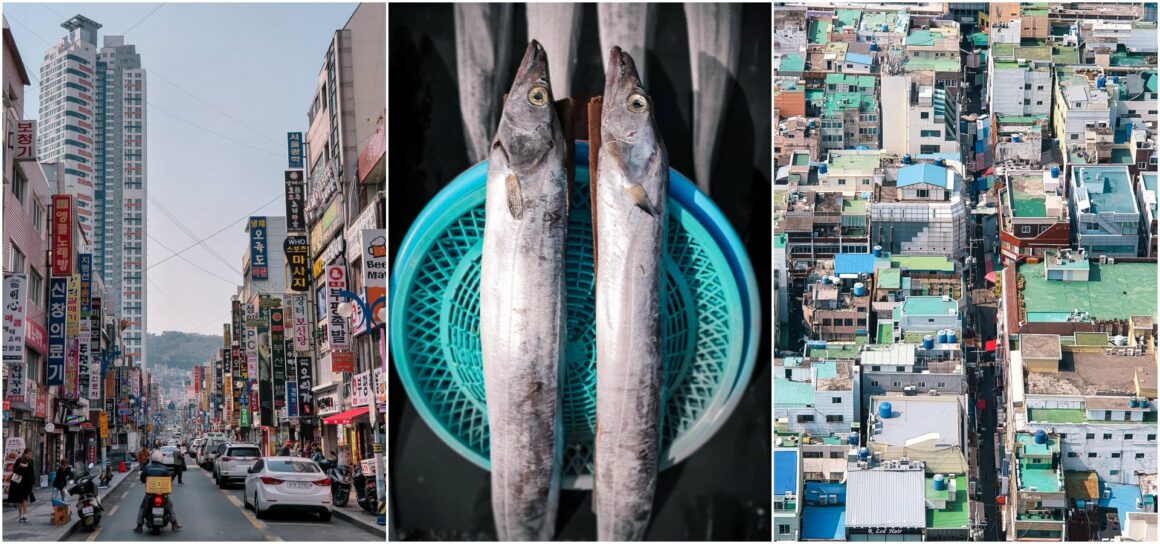 For a second day in Busan I would recommend to travel North of the ciy center to visit Haedong Yonggung Temple in the morning, go to Haeundae Beach for the day to enjoy some extensive strolls along the beach. Then wrap-up the day by watching the nightfall at Marine City. Get back into the metro at Dongbak station (line 2) and head to downtown Busan, where you can digest everything by eating giant dumplings. 🙂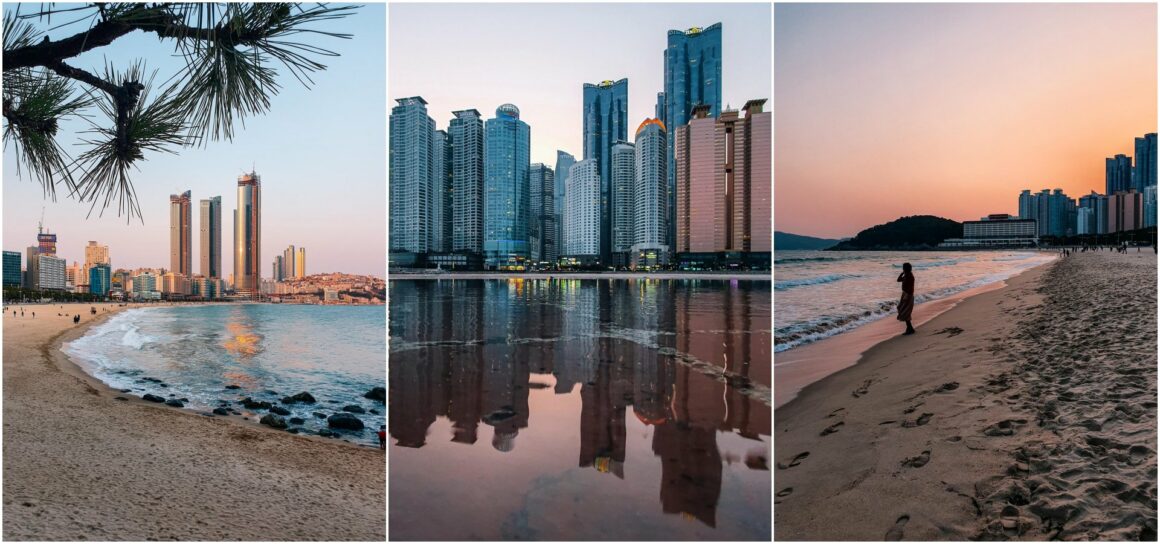 ---
***
DISCLOSURE
I was invited to Seoul by Samsung Mobile Germany for the launch of Samsung GalaxyS10+ and extended my trip to Busan. All pictures in this blogpost are taken with this device and some of them you can also find on my Instagram @Smile4Travel. #Smile4TravelinKorea as well as in the photostory published on the official Samsung Website.
***
QUESTIONS & COMMENTS?
Have you ever been to South Korea? Wich parts did you travel and what are your highlights? Leave me a comment Do you like the article, or still have any suggestions or feedback? I am happy to read what you are thiking! If you like my content, please feel free to share this article with your friends!
***
– SMILE4TRAVEL NEWSLETTER –
Become part of the Smile4Travel Community – Follow my Facebook Page & Instagram and register for my Newsletter, so you don´t miss any Smile4Travel adventures! No Spam – I promise! [mailpoet_form id="1″]