This post is also available in: Deutsch (German)
Hangzhou, the capital of China´s Zhejiang province, located 170 km from Shanghai, is reachable in less than one hour by highspeed train from Shanghai Hongqiao Railway station. Hangzhou with its West Lake is ideal zu escape the hustle and bustle of the city and enjoy a weekend in the nature. But be aware: With a population of more than 6 million people Hangzhou is not a small town, rather a remarkable city with modern skyscrapers as known from Shanghai. Although Hangzhou is often recommended as a daytrip from Shanghai, I would advise to stay at least for two days to explore the West Lake and parts of the city. Of course it´s always possible to stay longer, but China has to offer so many great destinations and scenic spots, hence time is limited. So what to do in Hangzhou? Explore the city or the West Lake or both? Here are my top 10 things to do in Hangzhou:
#1 The early bird catches the worm
Like almost everywhere in China you have to expect lots and lots of local tourists at popular spots, especially on weekends or public holidays. (You should actually try to avoid travelling in China on public holidays in general). And Hangzhou definitely is one of the highlights for China travellers, no matter if international or domestic. That means: Also when visiting the West Lake you should get up early if you want to head to specific (photo)spots, which you ideally want to have for yourself – at least for a couple of seconds. The Jixian Pavilion for example was one of these places for me. And the early wake-up was worth it. Just after sunrise the lake was still covered in mist, before the sunrays slowly came through and gently lightened up the pavilion and the fisherboats passing by.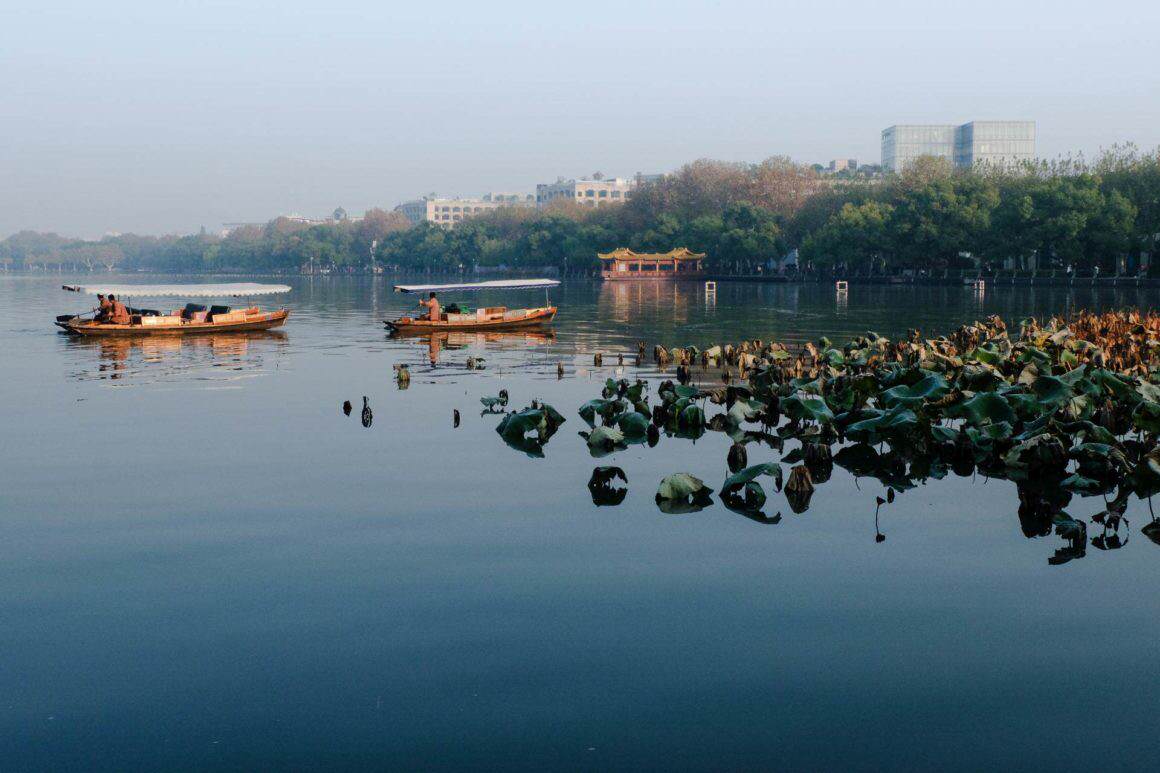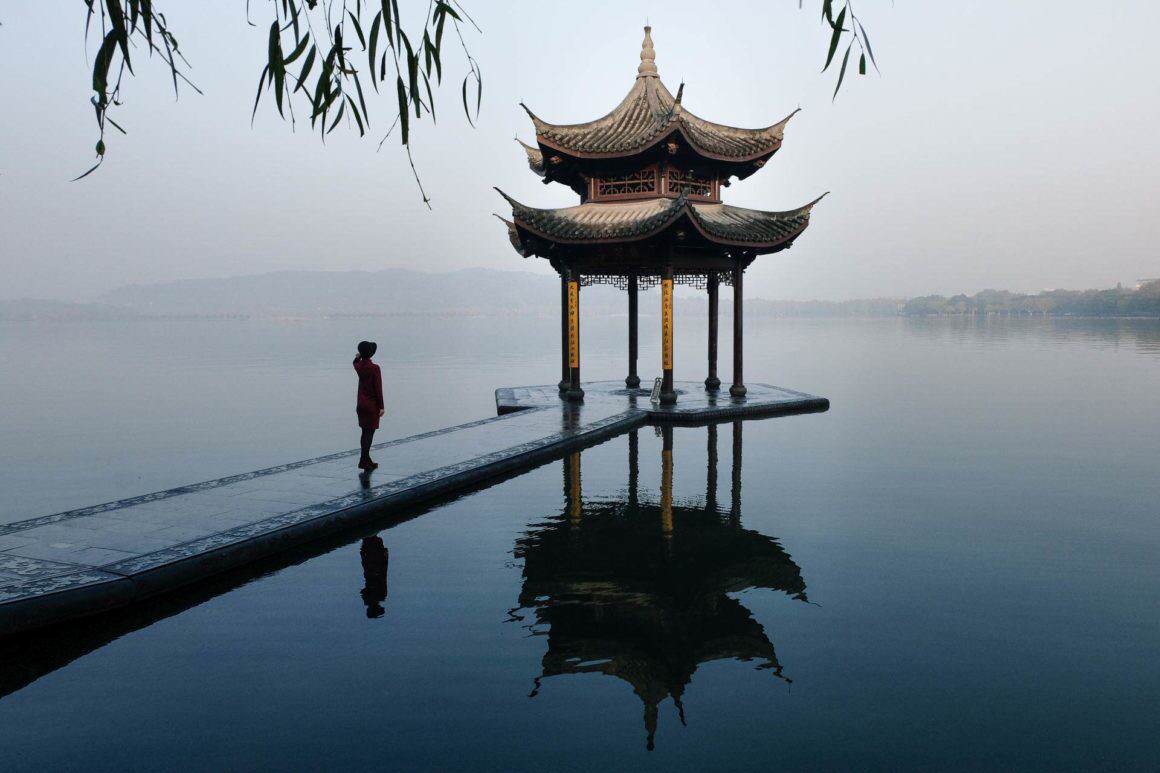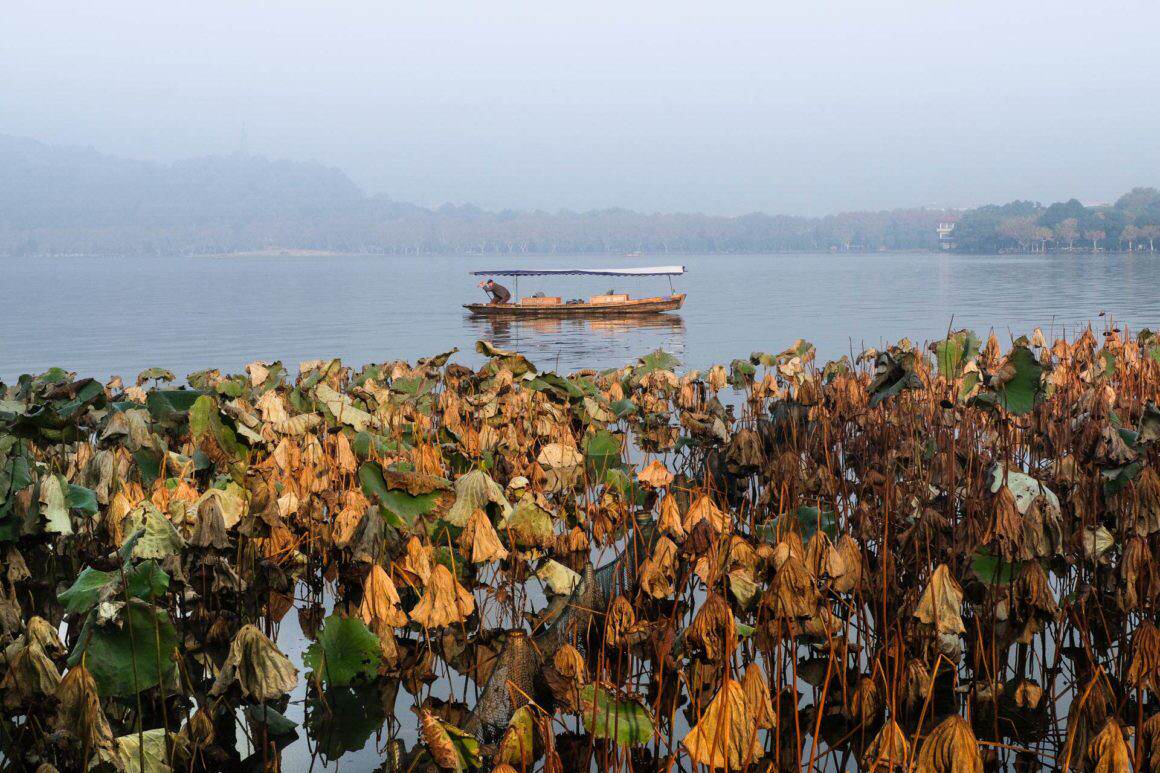 But watch out: The Chinese are the undisputed Selfie-masters. So don´t think that you will share an Instagramable place like this only with young photographers! Whether young or old: Posing passionately in front of scenic spots is something you will not find anywhere else outside China to such an extent. And everybody thinks his or her picture is the most important, of course… 🙂
#2 Tai Chi, morning workout and dancing around the West Lake
Another reason why it´s worth to get up early are all the local people doing their thing: Be it Tai Chi, morning workouts, dancing or singing in the parks, at the lakeside or in front of many temples. Every few meters the most different music styles roar loudly out of brought along speakers. And even though it looks like they are all competing with each other, everybody seems to be in his or her own element. It´s really amusing and fascinating to watch!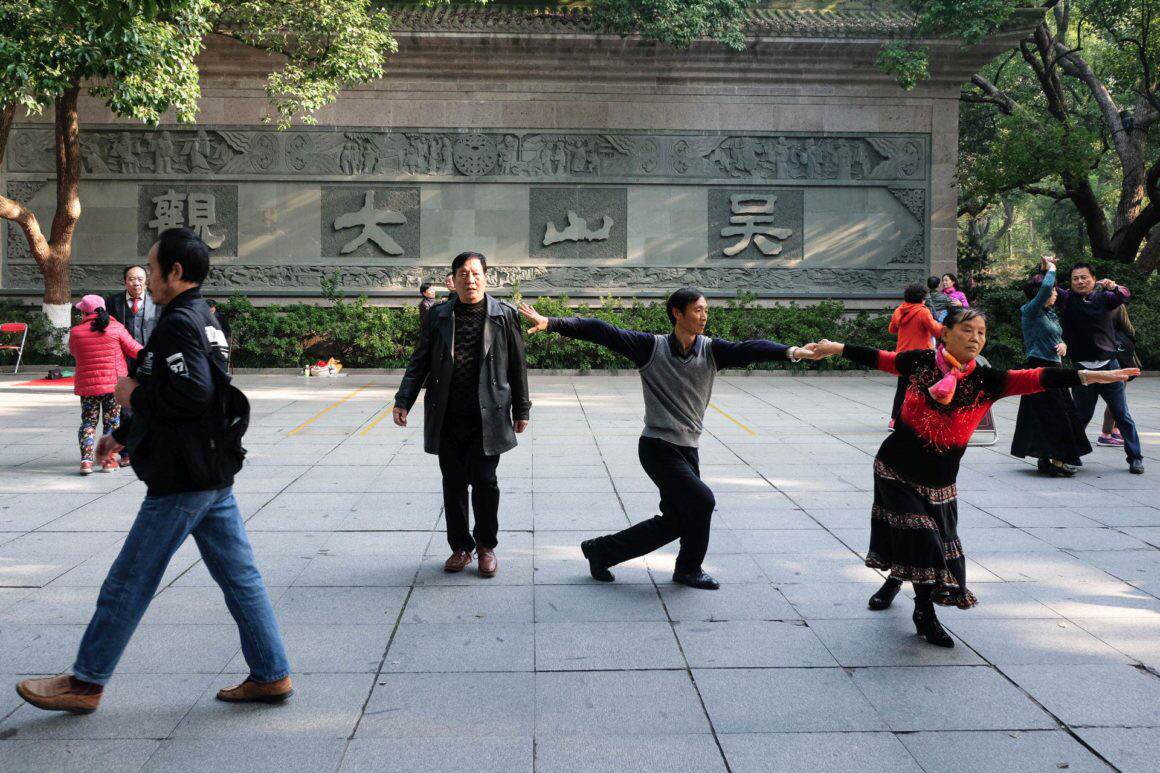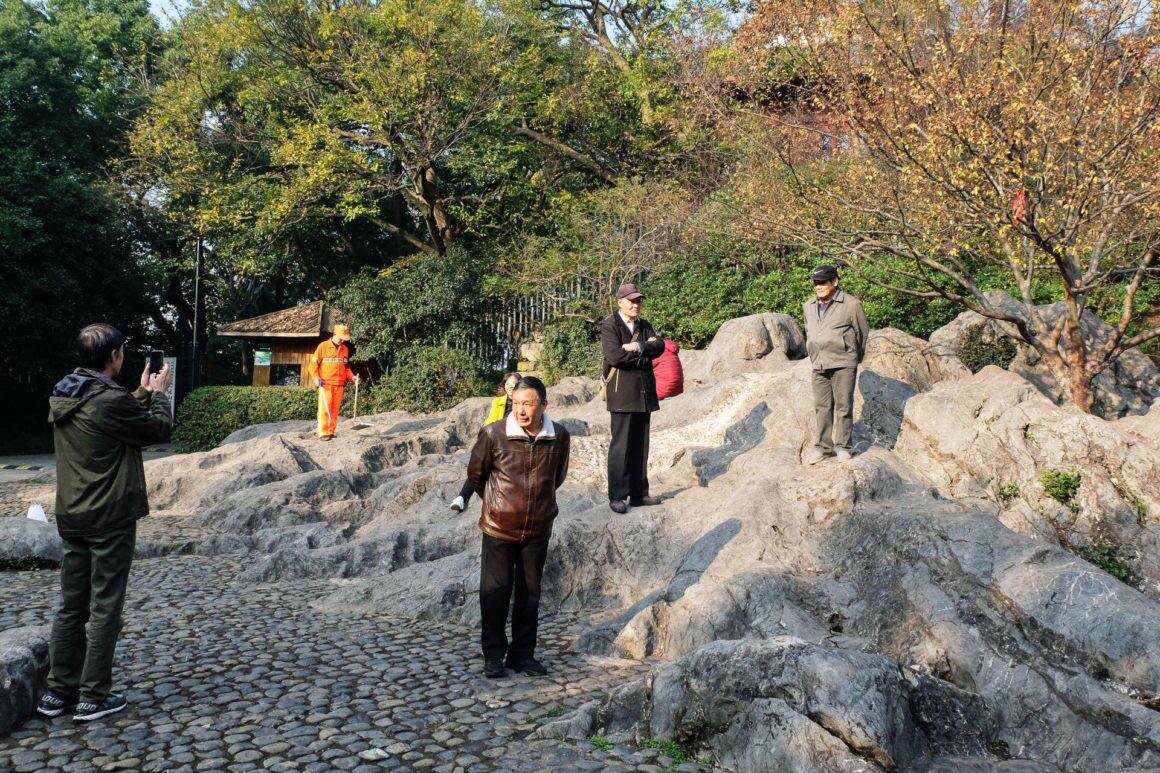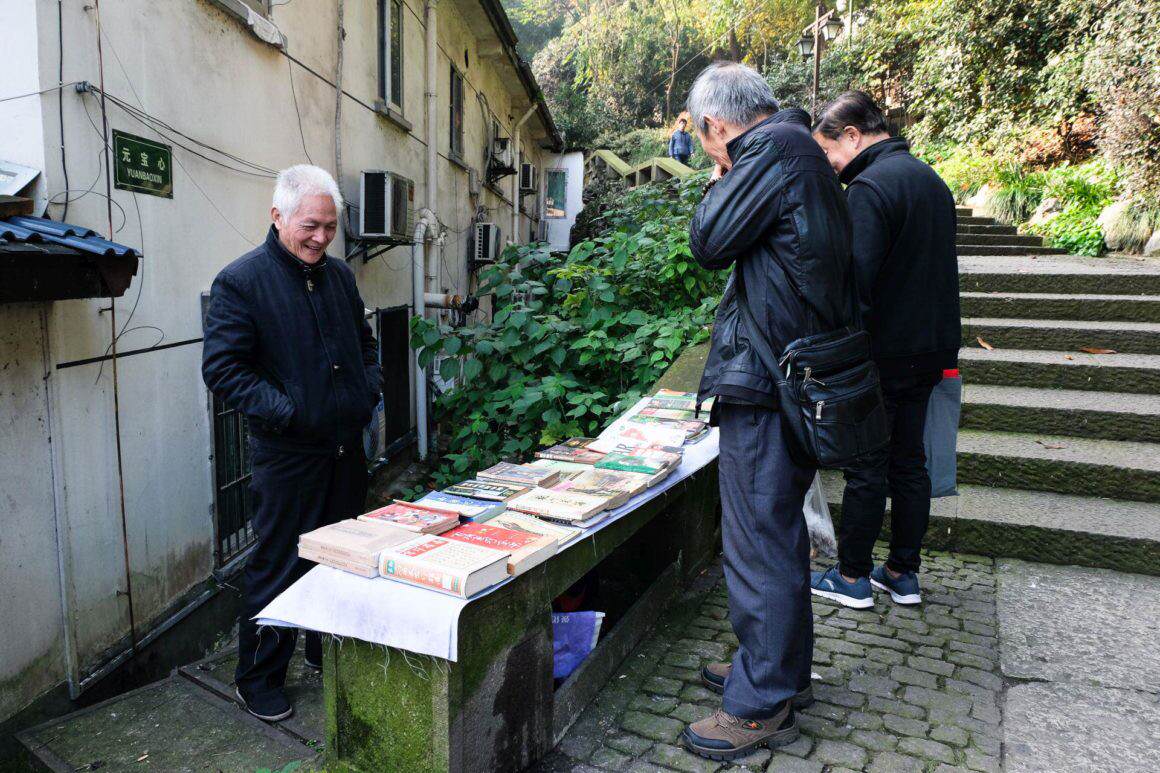 #3 Cycle around the West Lake
The easiest and most comfortable way to explore the West Lake of Hangzhou is by bike. There are bike rental options everywhere. For some providers you need to register, some bikes from popular brands like Ofo or MoBike, you can just unlock with your App. Everytime you leave the main road surrounding the Westlake, you need to lock your bike. But don´t worry: You will definitely get another one when you come back from your stroll in any of the gardens, temples, or after taking a boat tour.
#4 Take a boat and cruise the West Lake of Hangzhou
If you want to enjoy the West Lake of Hangzhou from the water, take one of the bigger or smaller wooden cruise boats, which shuttle visitors from many different stations at the banks of the West Lake to the Mid Pavilion and Xiaoying Island. For foreign tourists the self-rowing boats are only available with a Chinese escort. That´s one reason, why we skipped the boat tour, but instead watched the busy waterways from the banks.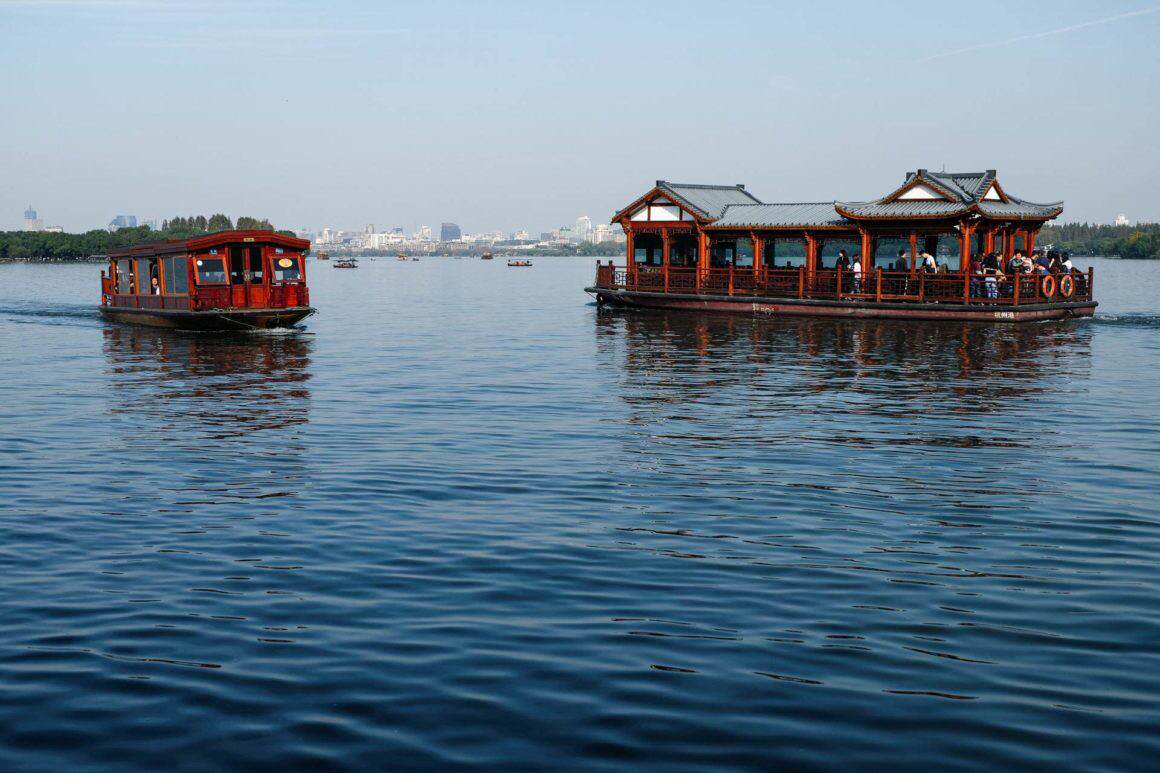 #5 Avoid the Causeways, if you don´t like crowds
You can also cross Hangzhou´s West Lake by foot via two causeways: The long Su Causeway leads from the North to the South side in the West and the shorter Bai Causeway connects the Northeast bank with Gushan Island. Both causeways are overpopulated with Chinese tourist groups, that stroll from one end to the other, following their flag-carrying guides with yelling loudspeakers, gathering around the foodstalls or trying desperately to take romantic pictures in their wedding dresses in between the crowds. It´s definitely an experience and amusing to watch. But if you cannot stand the crowds and the volume, get off the causeways. There are many opportunities to find more quiet places around West Lake. By the way: Biking on both causeways is not allowed.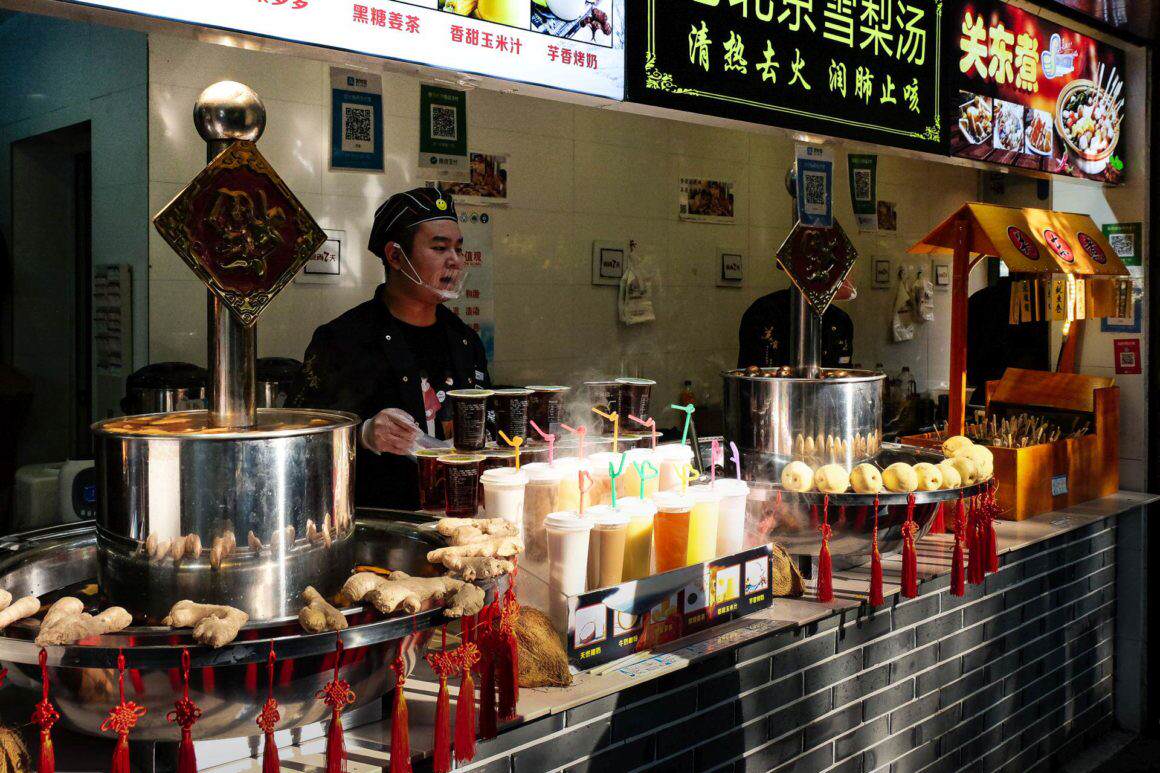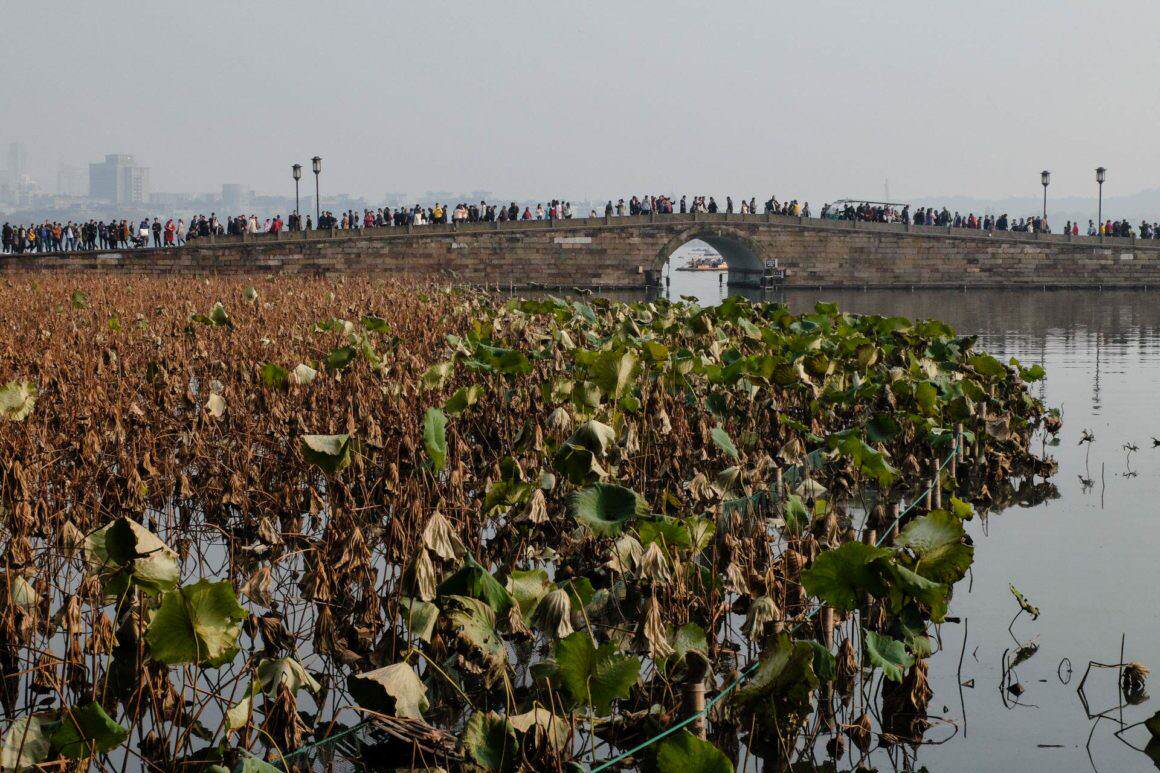 #6 City of God Temple / Chenghuang Pavilion Hangzhou
The City God Temple (Chenghuang Pavilion) sits on top of Wushan Hill in the Southeast of the lake. Wushan Hill is the only one among all West Lake hills that is located downtown Hangzhou. Since ancient times the hill has been treasured for the bird´s eye view from its top, overlooking the Qiantang River, the West Lake, the hills around and the city of Hangzhou. So if you wanna get a spectacular vista, head up Wushan Hill!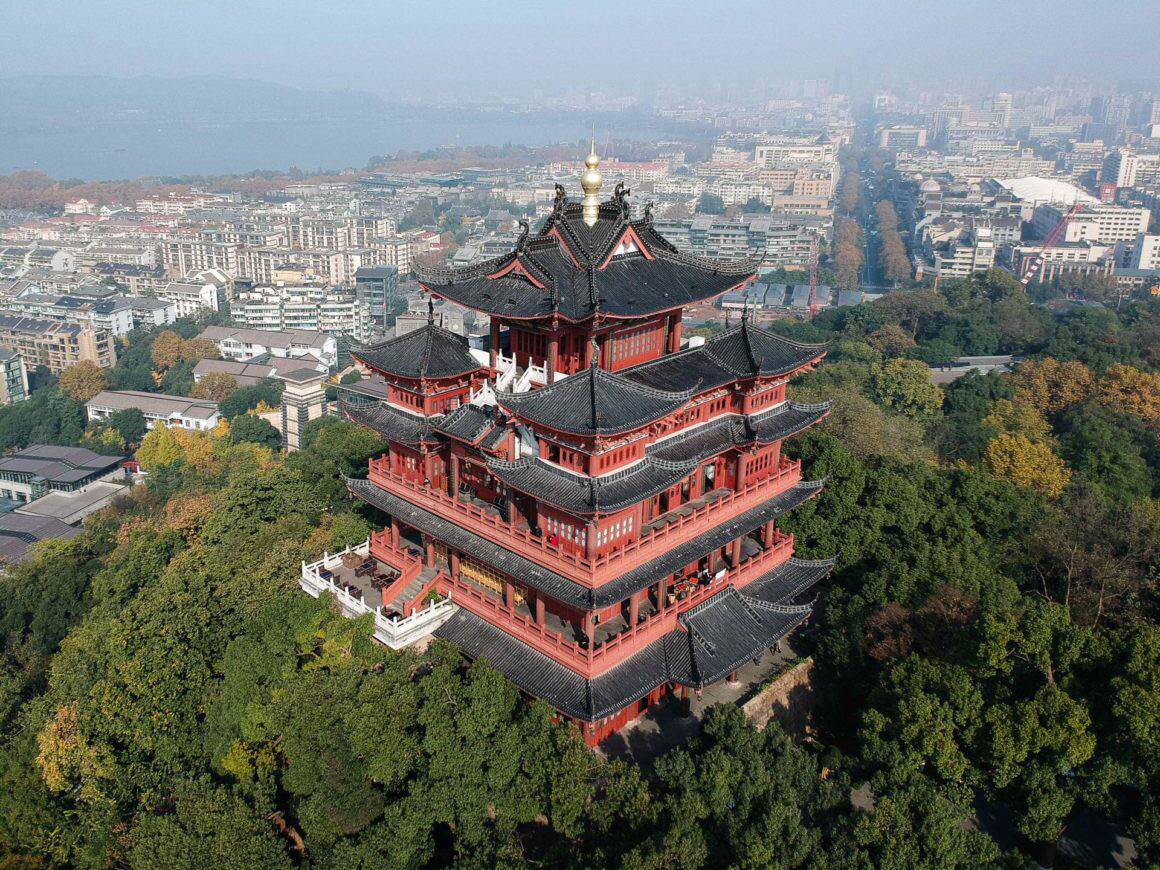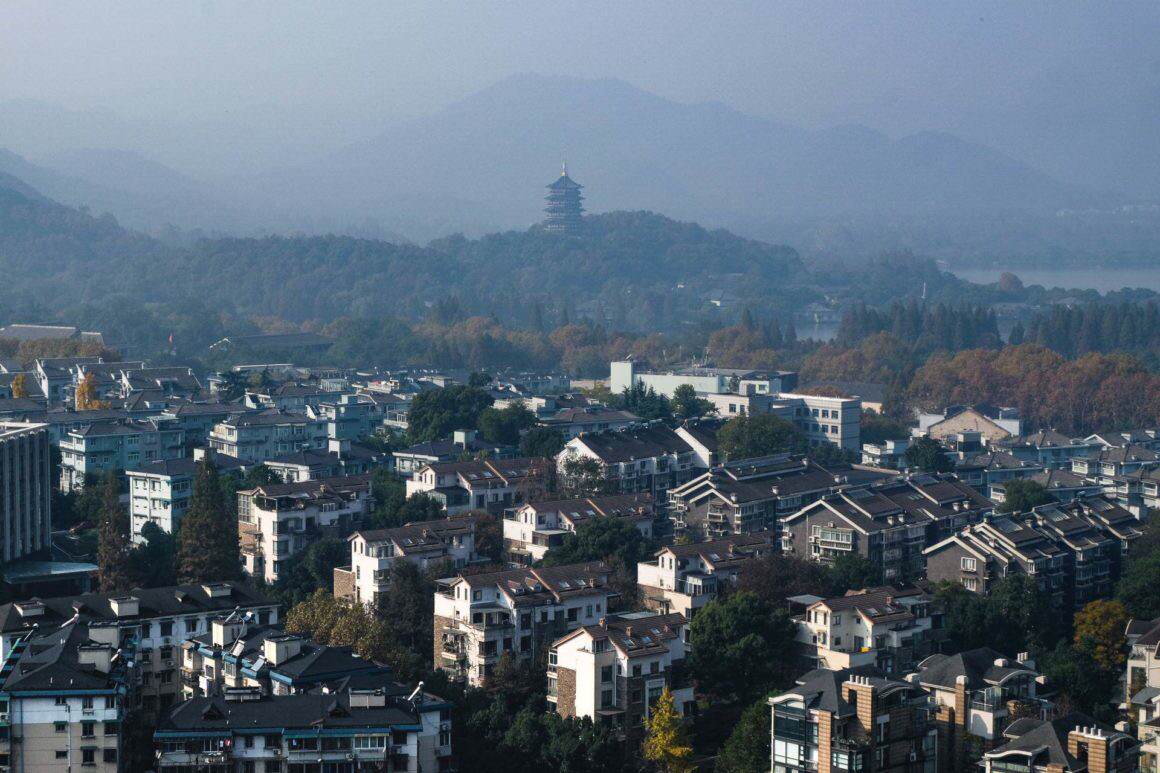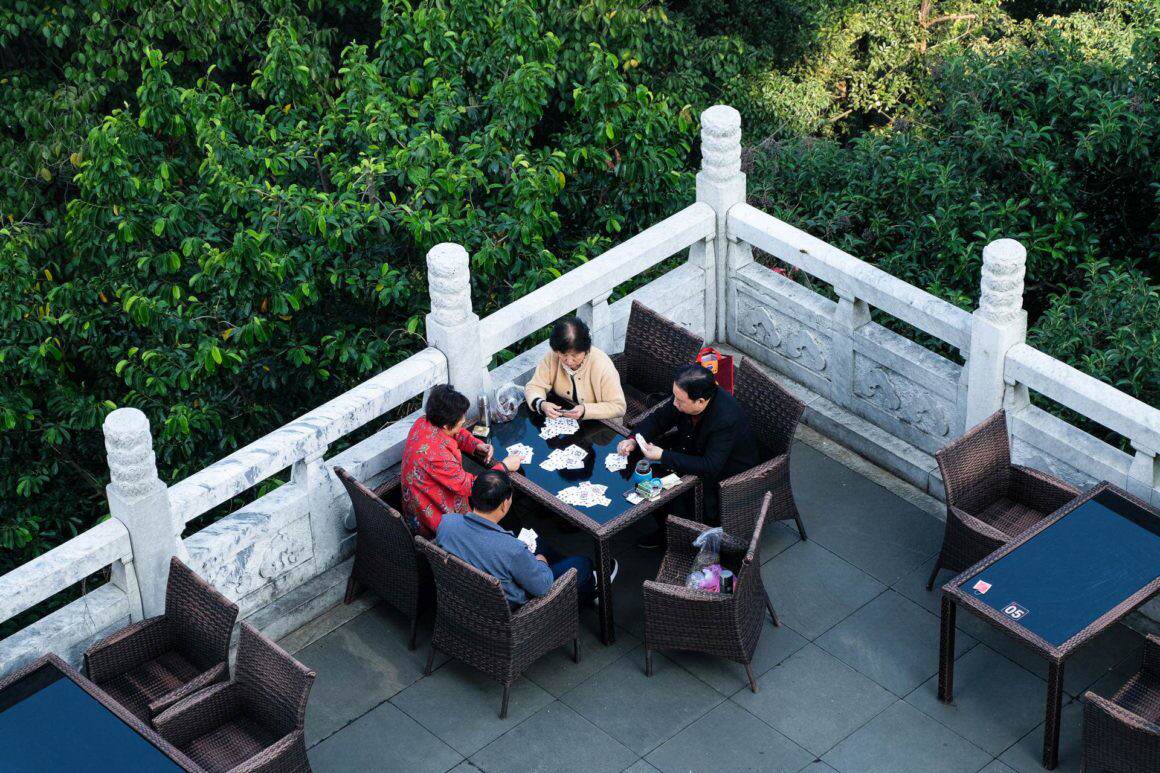 #7 Stroll around downtown Hangzhou
When descending the City God Temple to the East, in direction of Zhongshan South Road, you might wander around downtown to discover Chinese daily life. It´s particularly interesting in the mornings, as many locals go for grocery shopping. You can already get an overview what could land on your plate for dinner…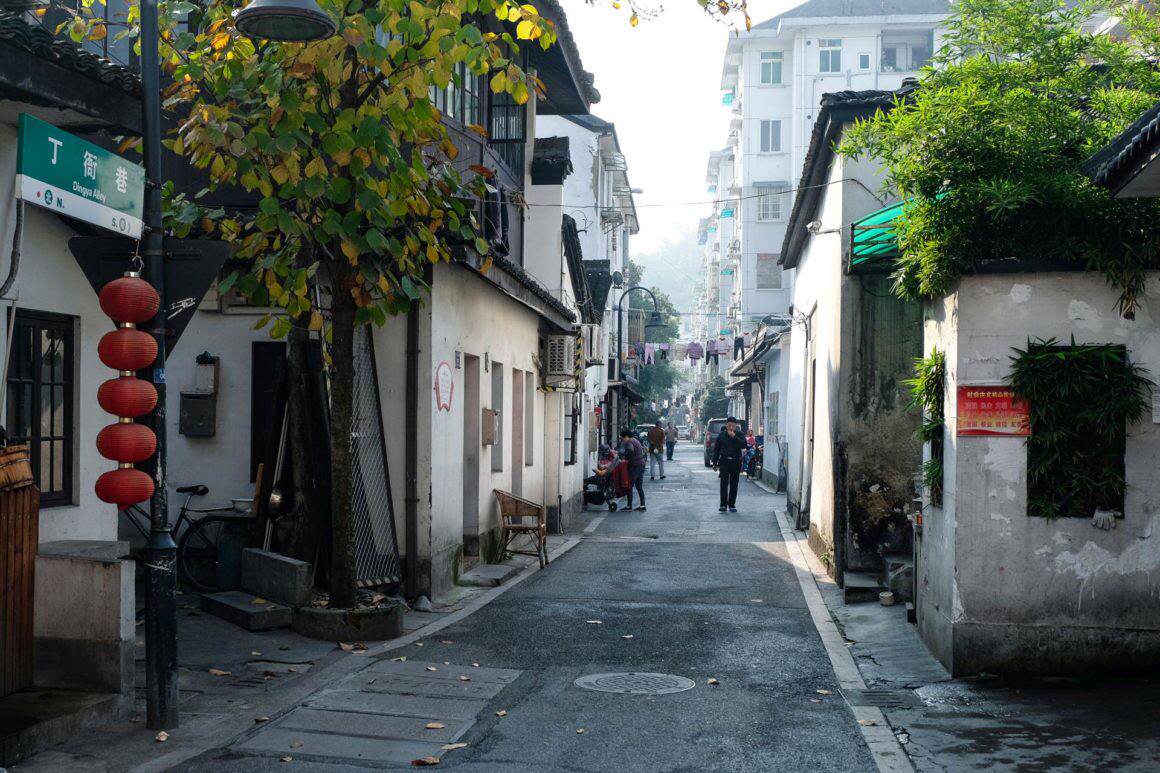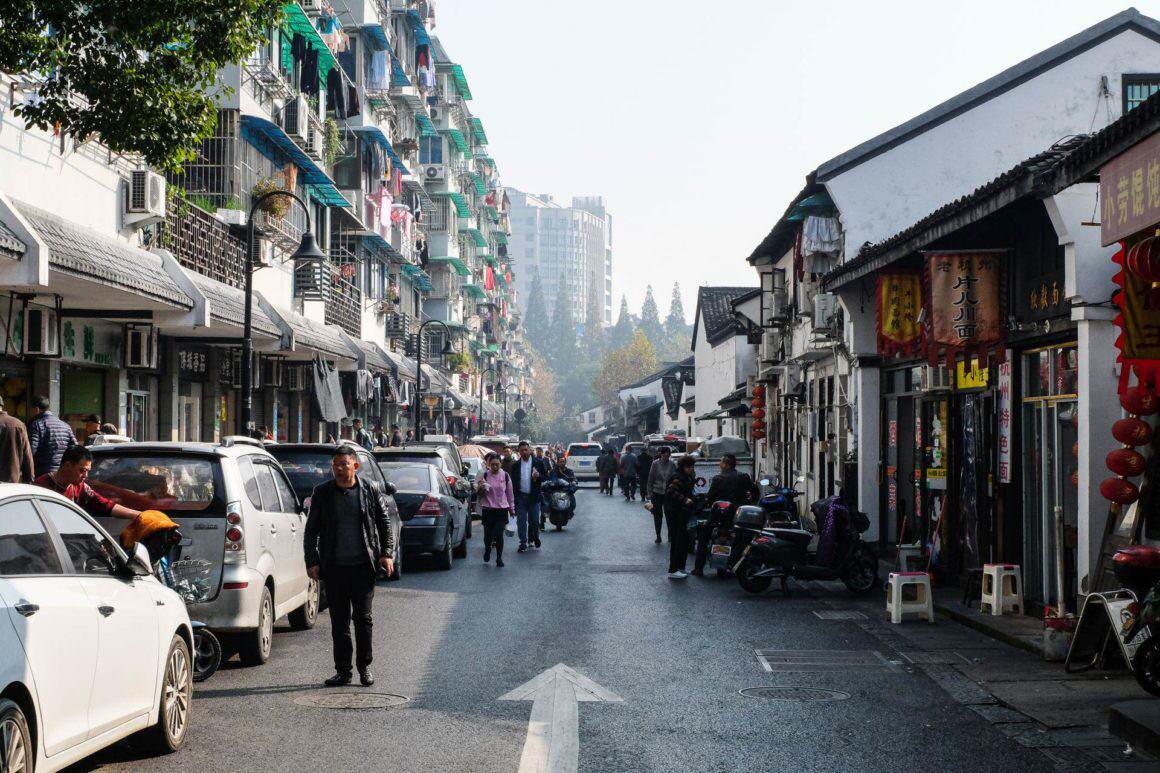 #8 Climb up Leifeng Pagoda for the best view over Hangzhou´s West Lake
On a tiny hill at the Southbanks of Hangzhou´s West Lake lies the eye-catching buddhist Leifeng Pagoda, which is easy to spot because of its golden spire. The original pagoda from 977 AD collapsed in 1924, but was rebuilt at the beginning of the 2000´s. You can spot some ruins at the buttom of the pagoda. But the undisputed highlight is the view over Hangzhou´s West Lake from the top of the Leifeng Pagoda. I would recommend to go there in the late afternoon hours, when the sun is low already and subtly illuminates the West Lake and Hangzhou´s skyline in the distance.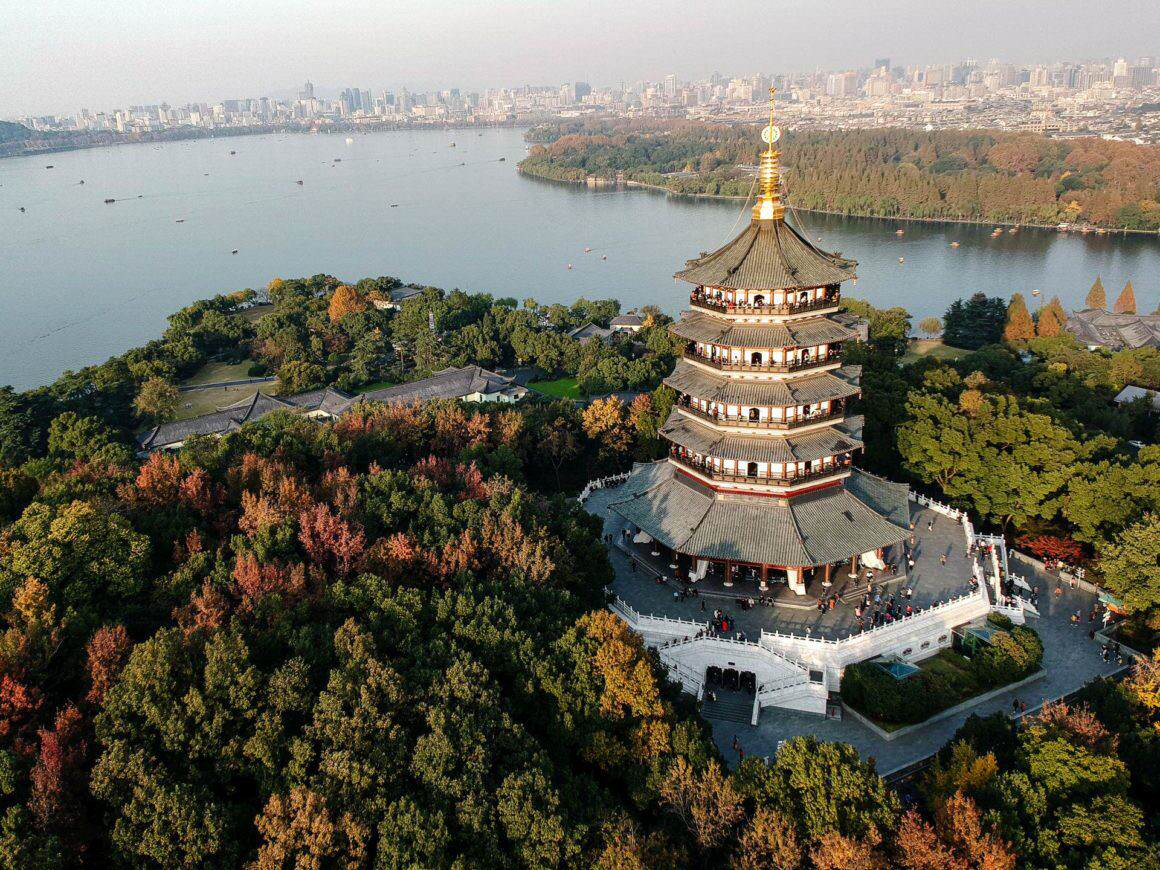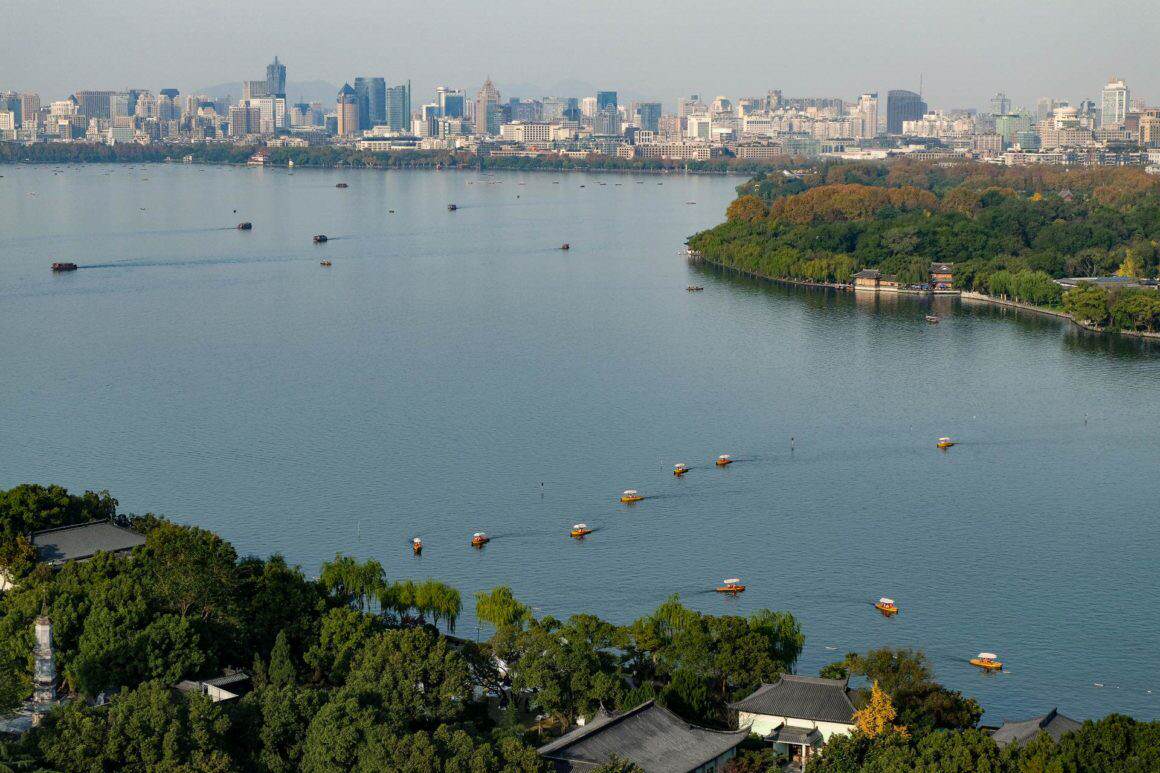 Like everywhere in China comfortable ways have been established for visitors to reach viewpoints easily and without putting to much effort into getting up somewhere. But what I spottet here, left me speechless for a couple of minutes: There is actually an escalator(!), which takes people up the tiny hill to the entrance of the pagoda, from where elevators transport them up for the rest of the way. And of course there are queues in front of the elevators. Most Chinese prefer standing around waiting than walking up the stairs themselves…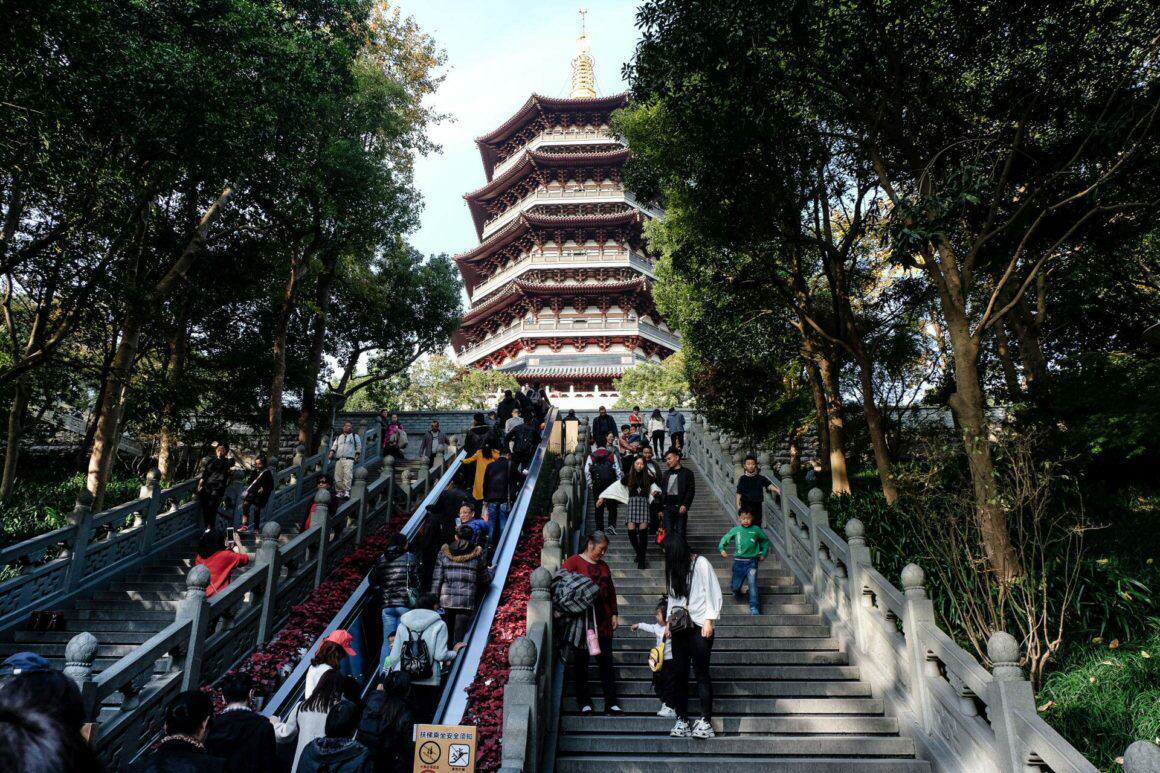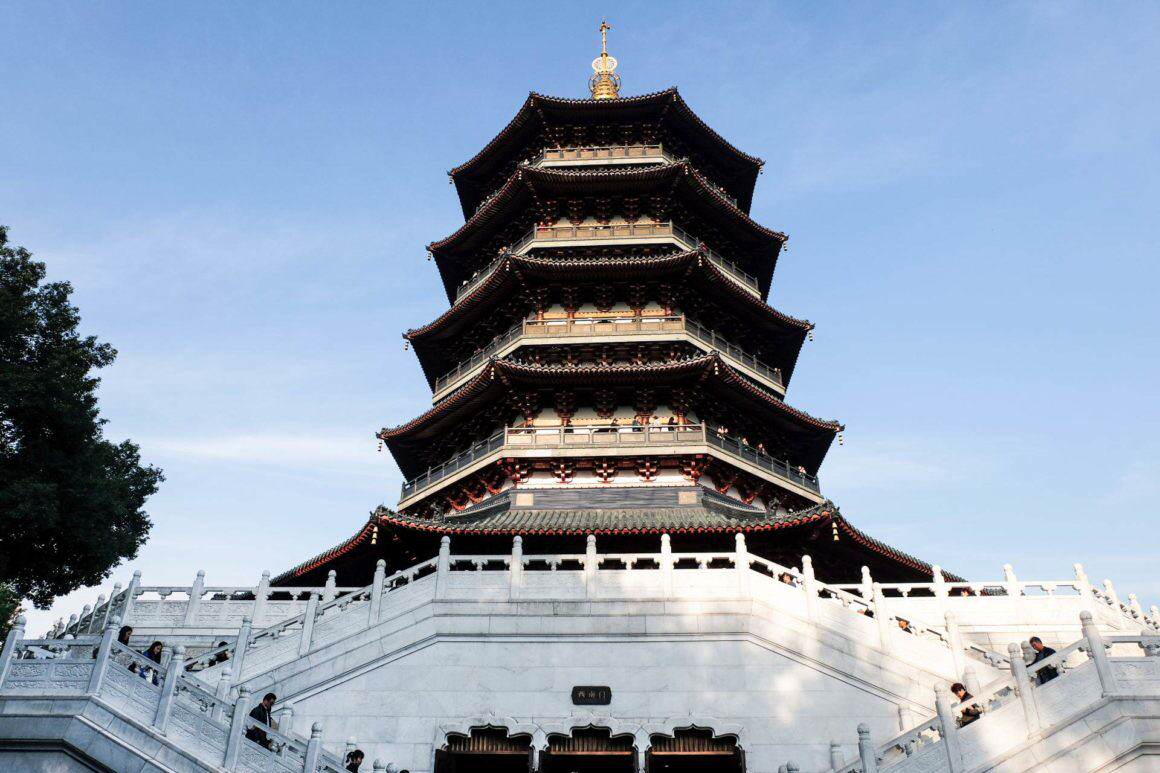 #9 View the sunset from the East side of the West Lake
Though the sun rises in the East, the East Side of the West Lake is also the best spot to experience the sunset. But on a sunny day this will be the idea of almost everybody visiting Hangzhou, so don´t be illusioned: You will definitely be not alone there! Wedding couples, traditionally dressed tourist groups, selfie-hunters and of course all the Chinese tourist groups will be around. But still: There is a kind of magic in the air, when the red fireball sets slowly behind the lake, coloring the sky in shades of orange and literally overshadows Leifeng Pagoda. Consider yourself lucky if you manage to catche one of the cruise boat passing by, before they are also closing down after a busy day. What a perfect ending of a sunny day.  And afterwards?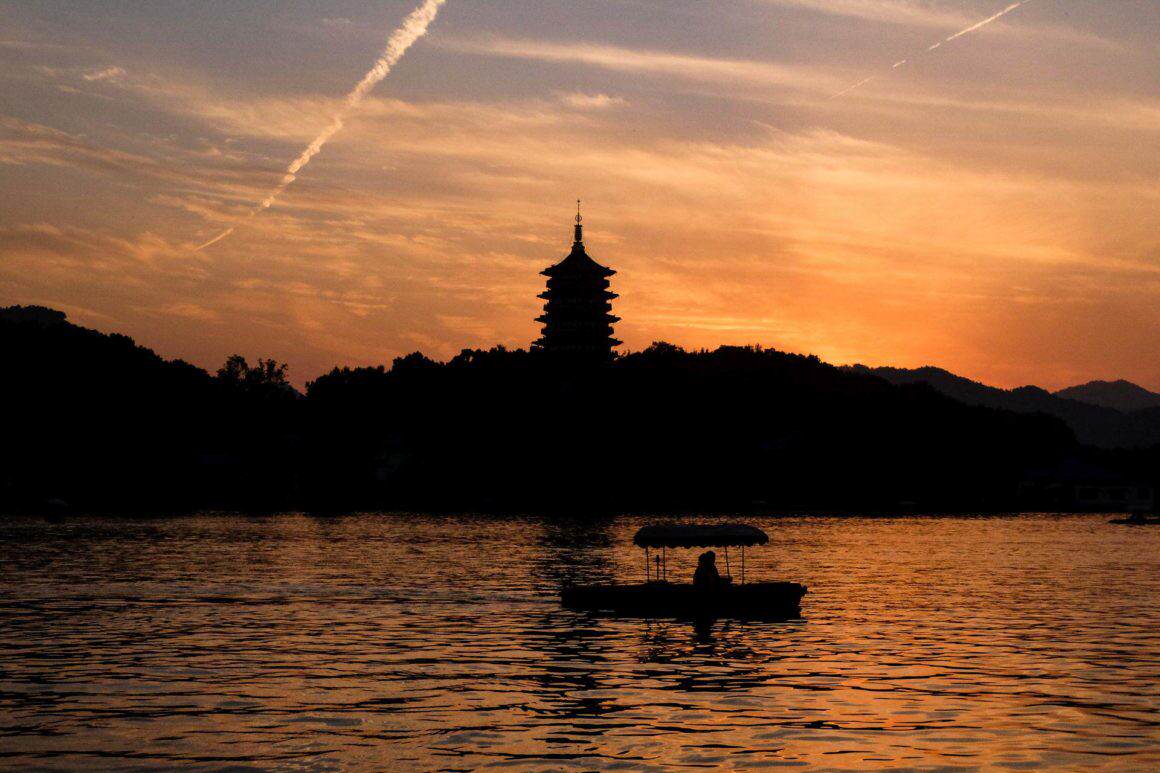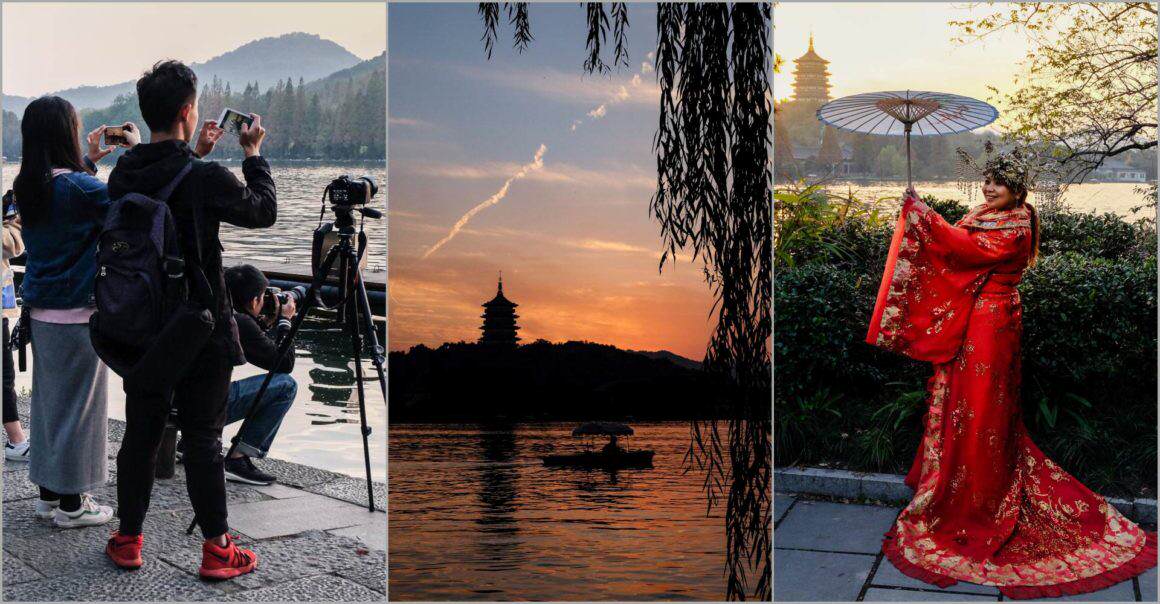 #10 End the day authentic on Qinghefang Old Street
This bustling pedestrian street is highly touristy and crowded and in the end offers the same as every "Old Street" in other Chinese cities. But to wrap-up your day while walking around local foodstalls, kitschy souvenirshops and traditional medicine stores and explore Hangzhou at night is somehow what makes a trip to a Chinese city authentic. After you had enough you can head over to the parallel street "Gaoyin Jie", where you will find a long sprawl of neon-lit restaurants and have the chance to try local food. There are restaurants, which offer an english menu, so there are chances to actually get what you ordered. 🙂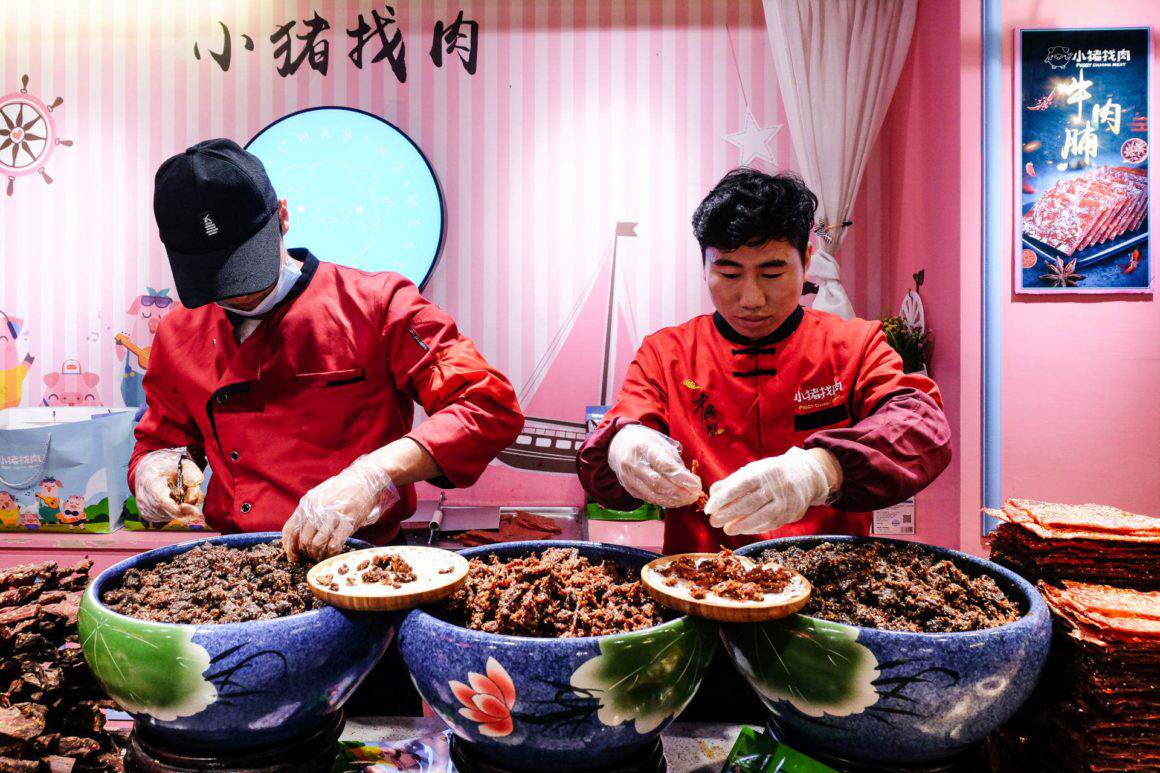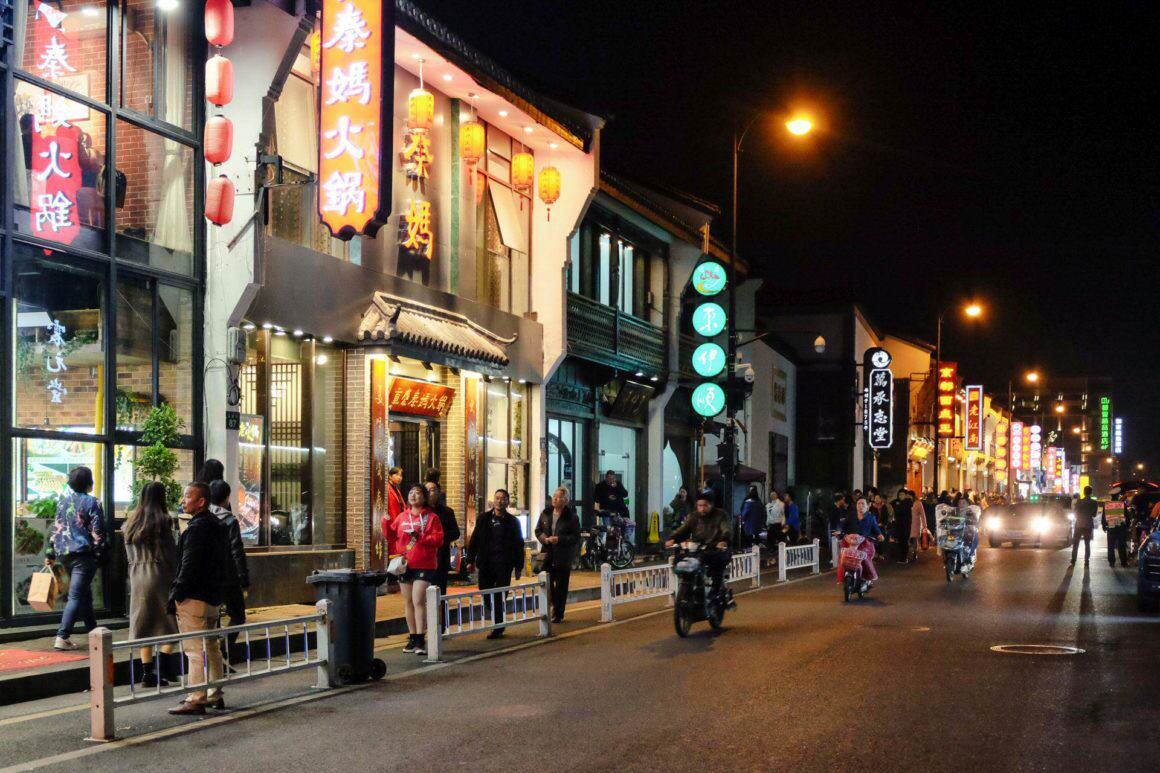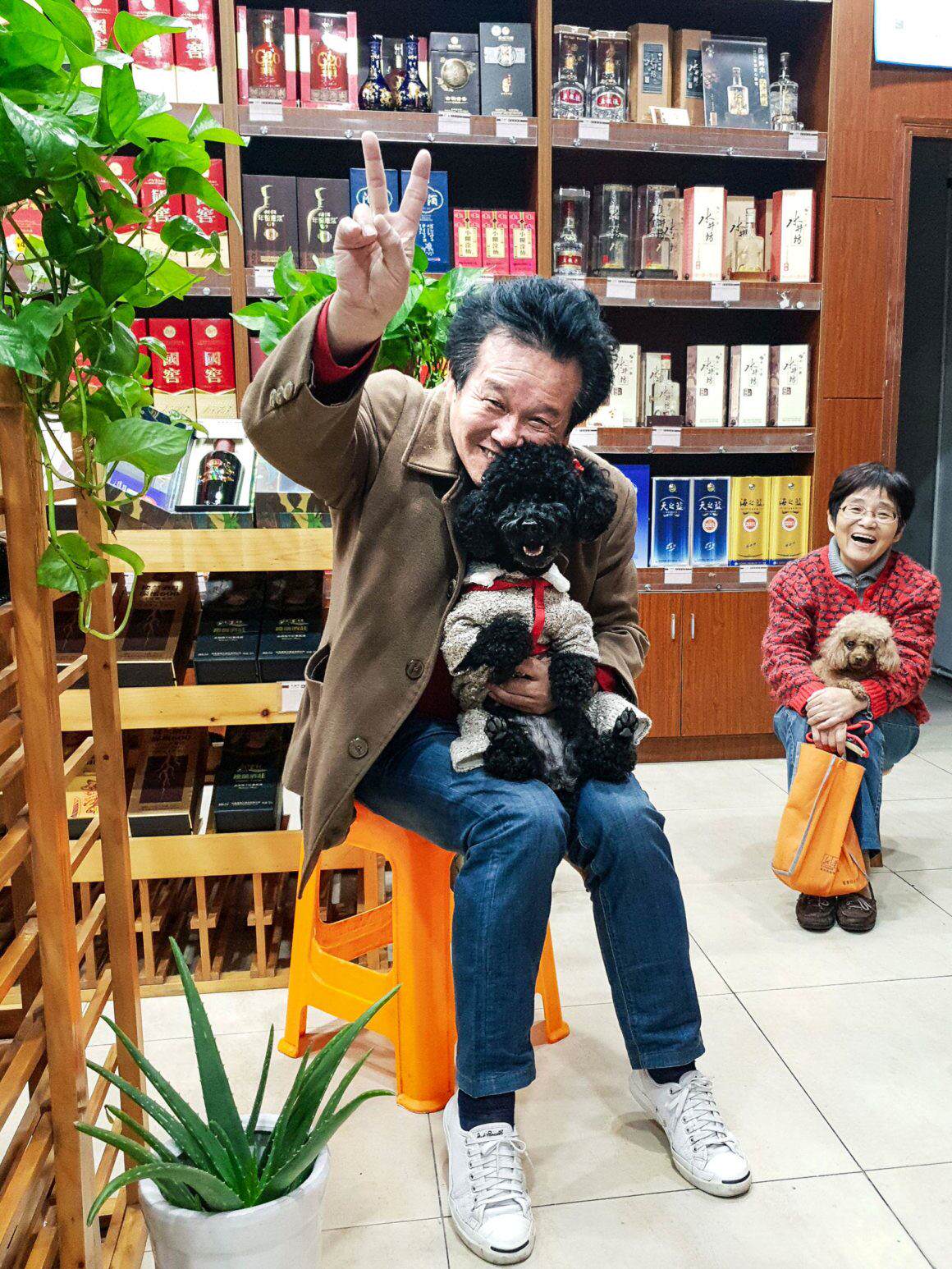 What else you should know, when plannig a trip to Hangzhou:
Even if Hangzhou´s main attraction is its West Lake, the city itself is not a small one. With 6.241.971 million inhabitants it is a remarkable metropolis, which offers modern skyscrapers, multi-track roads, busy streets and anything else, you would expect from a Chinese city.
 

How to get to Hangzhou from Shanghai?
Hangzhou Railway Station and Hangzhou East Railway Station are both easy to reach from Shanghai´s Hongqiao Railway Station via highspeed train in 45 minutes to an hour. Hangzhou also has an airport, so if you are arriving from further away, you can also fly in.
Getting around Hangzhou
There are two metro lines running through the city of Hangzhou, both not covering the West Lake. So if you especially plan to explore the lake area, you can easily use a bike or for longer distances a taxi or Didi to get around. The Chinese version of Uber (Didi) worked best for us. Because everything works via the Didi App (select your pick-up point and destination in English app-version) you don´t have to worry that the driver doesn´t understand where you wish to be going. But be aware: Traffic in Hangzhou is crazy! So you need to plan in enough time for getting around.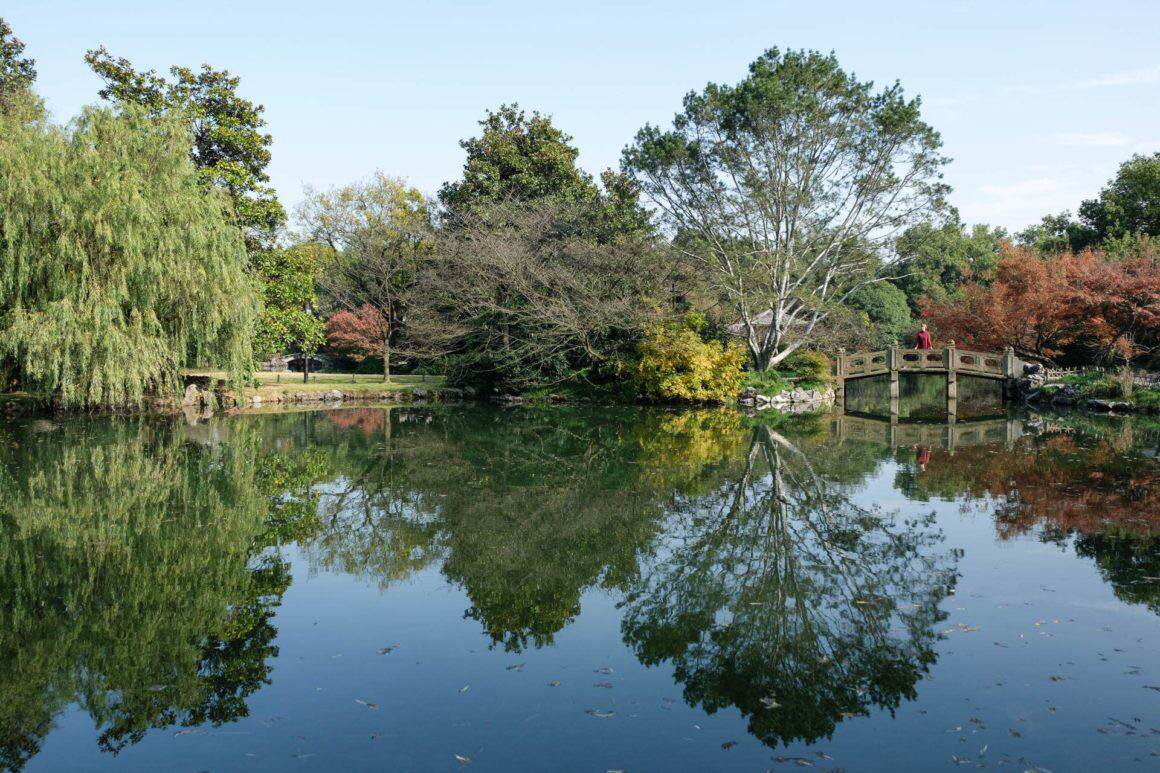 Where to stay in Hangzhou?
Hangzhou offers many options and hotels near the West Lake: From budget guesthouses to 5-star hotels, you will definitely find a nice place to stay, which suits your wallet. Regarding the traffic in Hangzhou I recommend you to choose your accommodation wisely, especially when you plan to spend your time around the lake. As distances are longer than expected after looking at the map, it might take you too much time to get to the lake area and back, especially on your last day, when you might plan to leave Hangzhou in the afternoon or evening, but need to check out of your hotel before noon. Leaving you luggage in the hotel and picking it up later can take a while. We stayed at a small hotel a few kilometers North of the West Lake, actually because of the advertised sauna and wellness facilities, which we found out didn´t exist in the end. So next time, we would definitely choose a hotel closer to the lake and railway station.
***
QUESTIONS & COMMENTS?
Have you ever been travelling through China and know about the diversity of this country? Leave me a comment! Do you like the article, or still have any suggestions or critics? I am happy to read what you are thiking! If you like my content, please feel free to share this article with your friends!
Are you curious now? In the category China you can find further travel stories from the land of the rising sun.
***
 – SMILE4TRAVEL NEWSLETTER –
Become part of the Smile4Travel Community – Follow my Facebook Page & Instagram and register for my Newsletter, so you don´t miss any Smile4Travel adventures! No Spam – I promise!
[mailpoet_form id="1″]