This post is also available in: Deutsch (German)
1,3 billion people live in the People´s Republic of China. With 91,5 percent the Han-Chinese form the mayority of the population. But besides them China is home to 55 further ethnic groups, who live autonomously. Their culture, traditions and even language differ a lot from those of the Han-Chinese. Alone the province of Guizhou hosts 48 different folks. Especially in the Eastern mountain regions around Kaili mostly Miao people have already settled down thousands of years ago. Living in this region without any plains, they have always been living as farmers and protecting the balance between nature and carrying forward their diversified folk customs to the next generation. Each minority has its specific customs. The Miao people are well known for their cultural dances, while the Dong for example stand out with their singing skills and the Buyi are great at printing.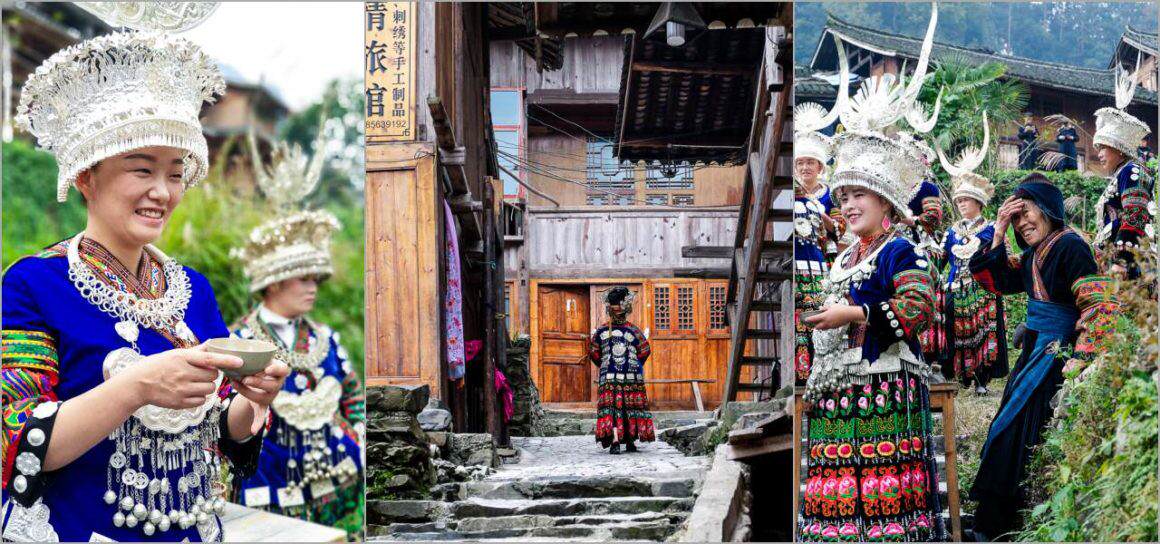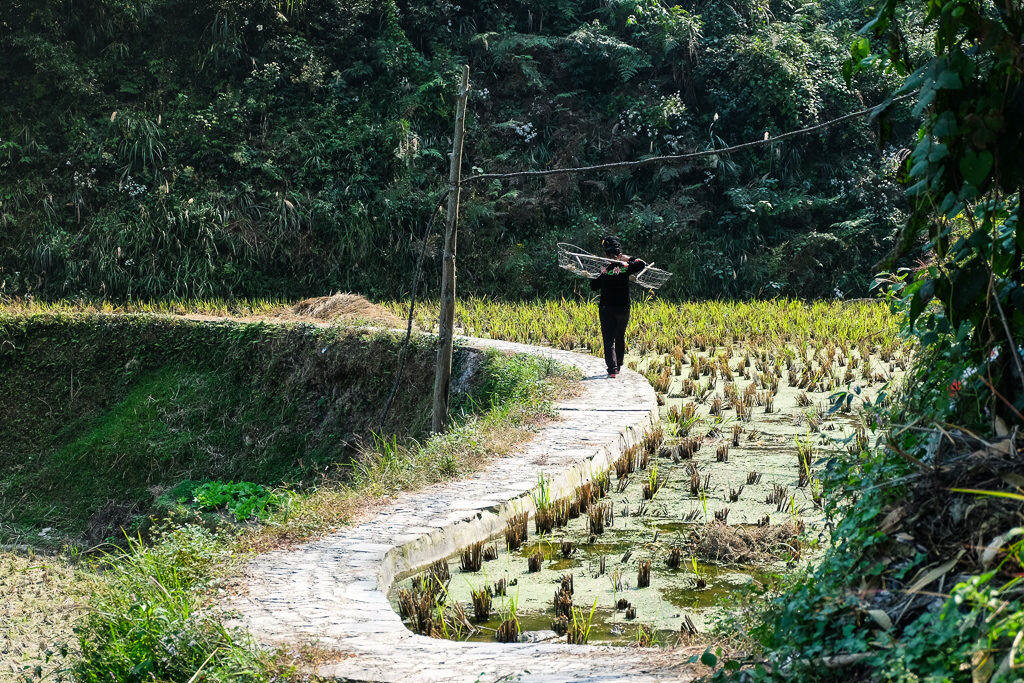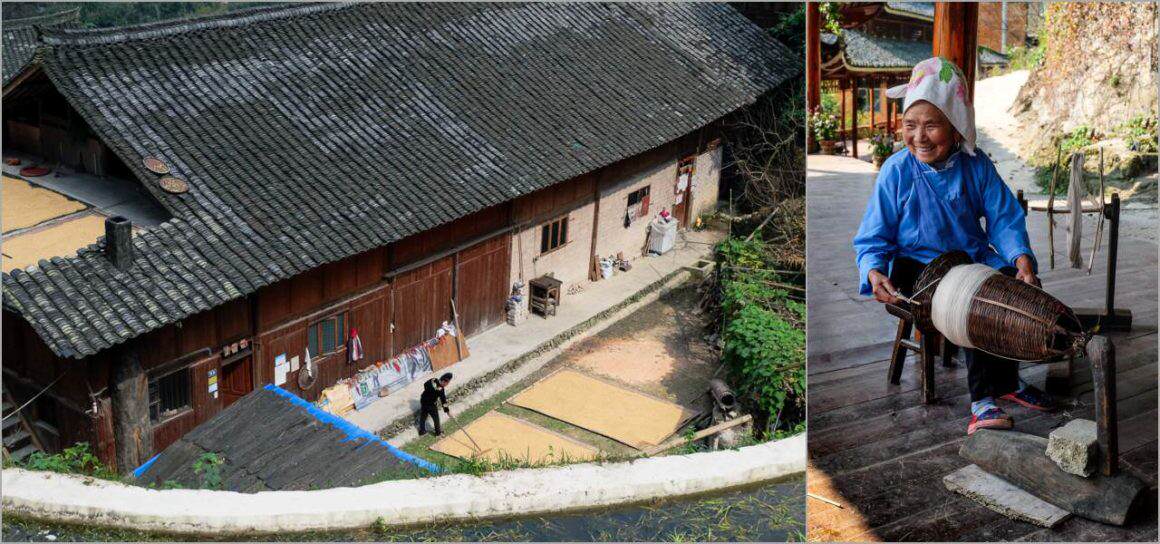 Between rice wine & Folklore
My first destination on this trip through Guizhou is Langde Miao Village, 50 km north of Kaili. Our group arrives at Langde in the morning and I am totally flattened by the cordal welcome of the villagers. So many more traditionally dressed locals than guests welcome us with music and their alltime favourite drink: rice wine. While the men, simply dressed in dark blue robes, play the traditional bamboo-instrument "Lusheng", the more colourfully dressed and with silver magnificently decorated women literally block the stairs winding up to the village. There is no getting through without trying a big sip of the rice wine. Welcome to Langde Miao Village, welcome to the "Lanmen Jui" ceremony!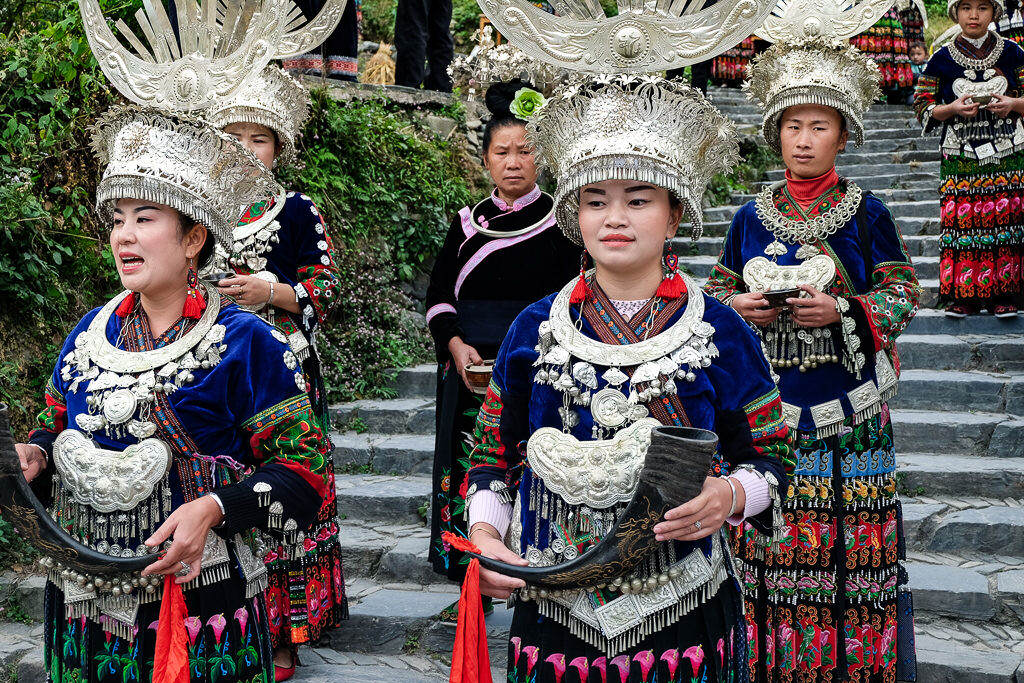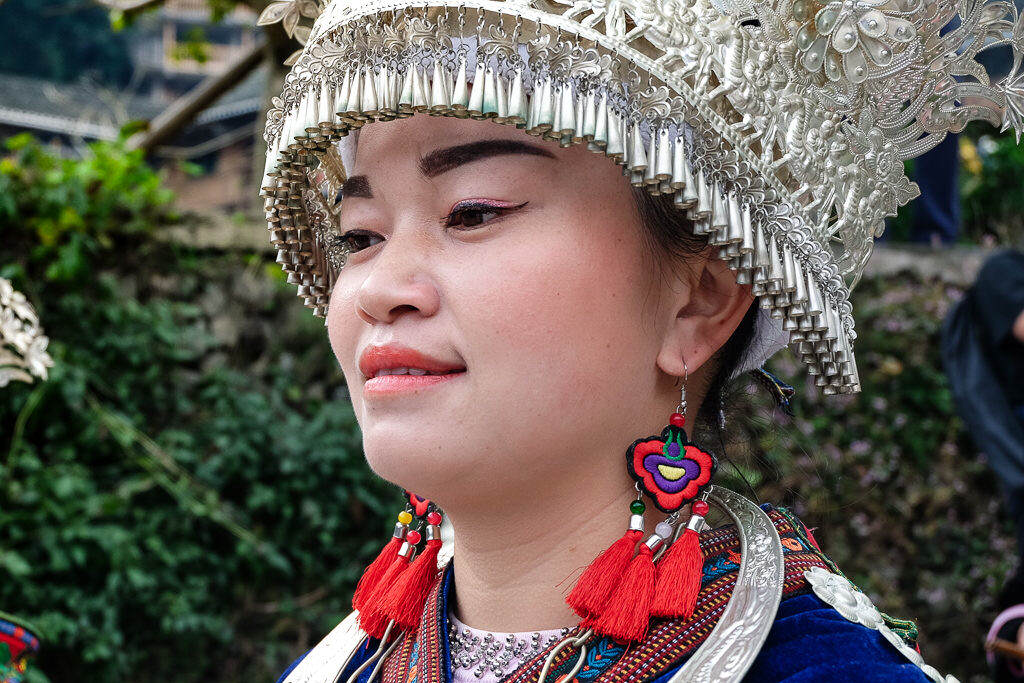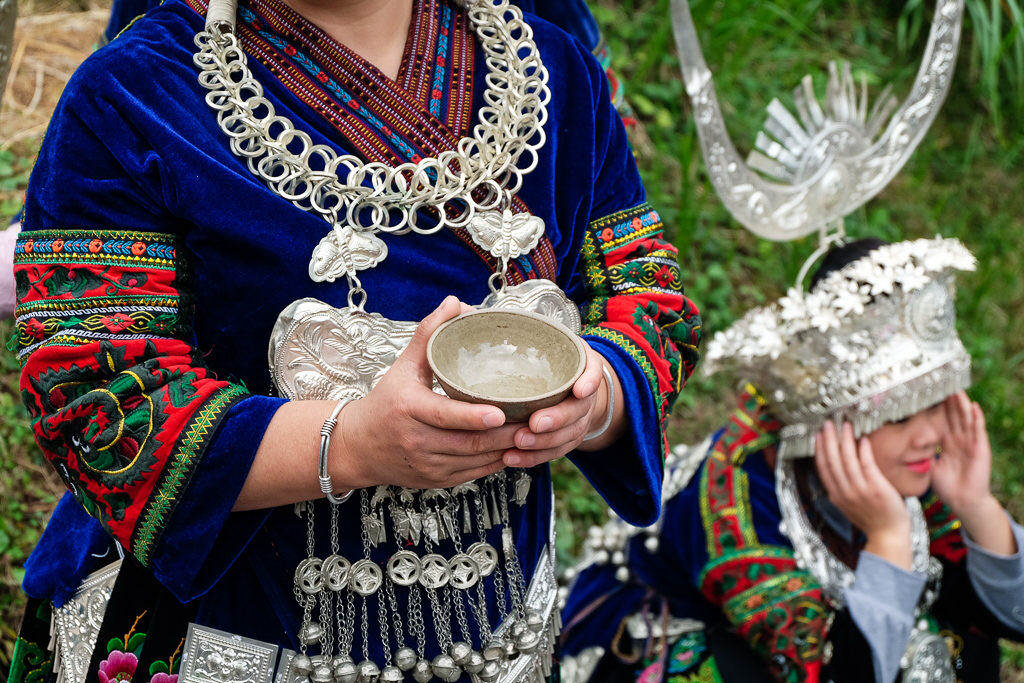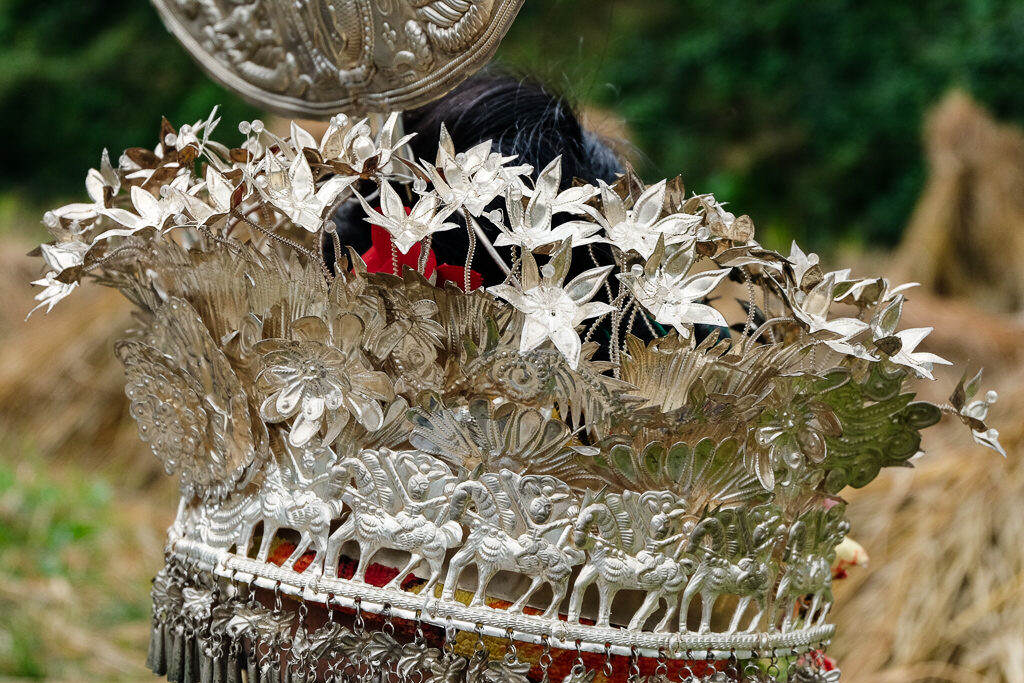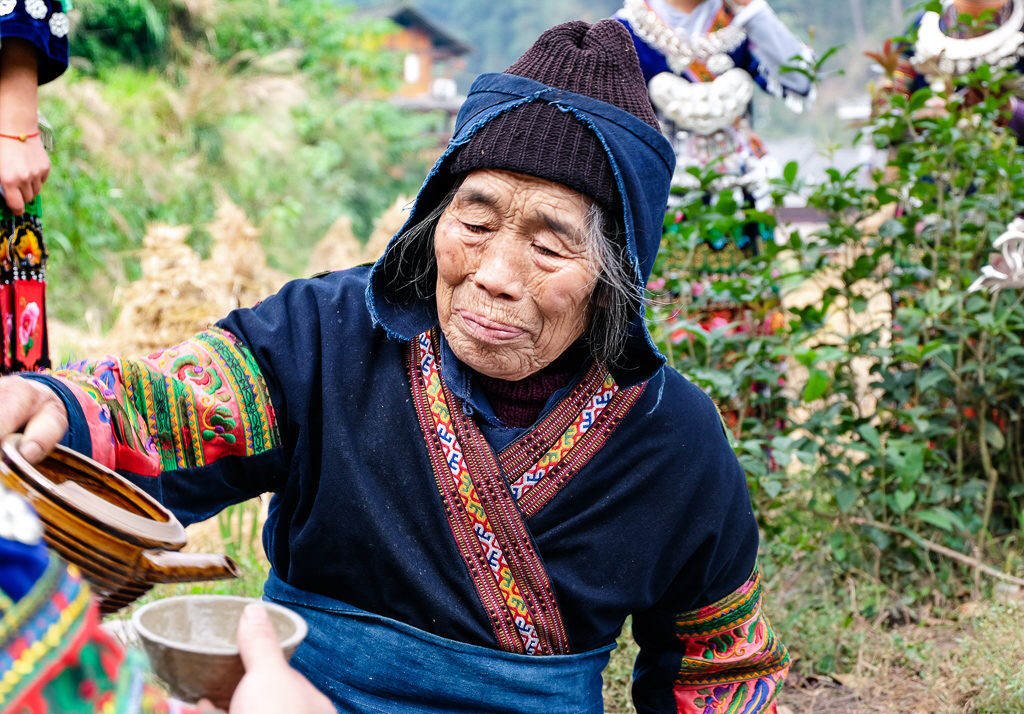 Arriving at the village the music and dances continue: Dozens of Miao dance and sing at the round yard in the village center to welcome their guests in Langde. Especially elderly men and women sing the so called "Old Song" in Miao language, which tells the history of the folk.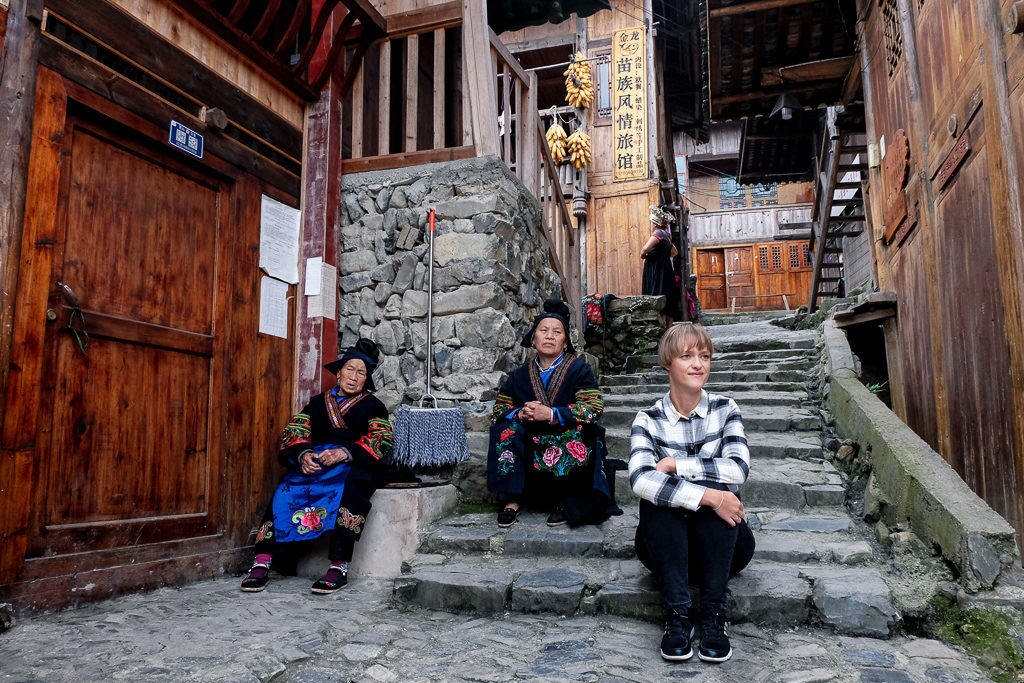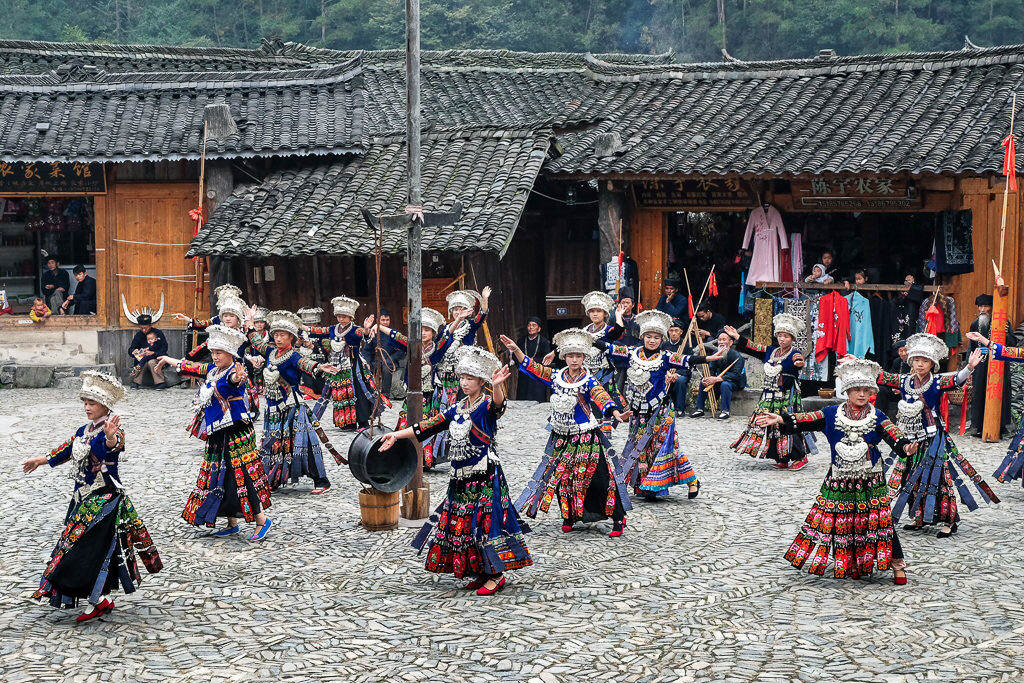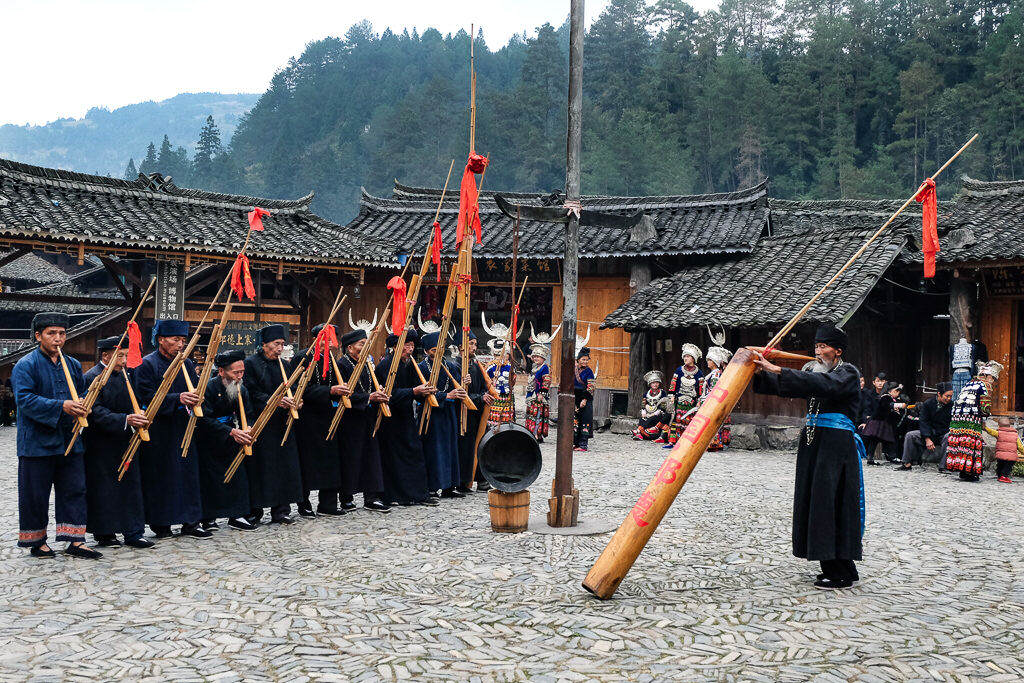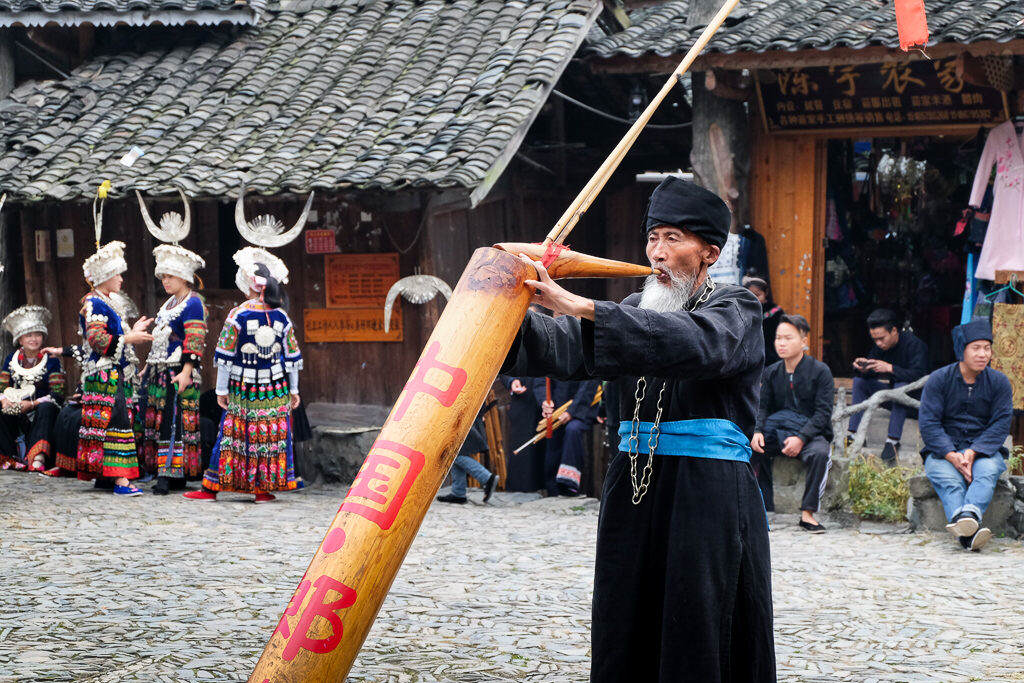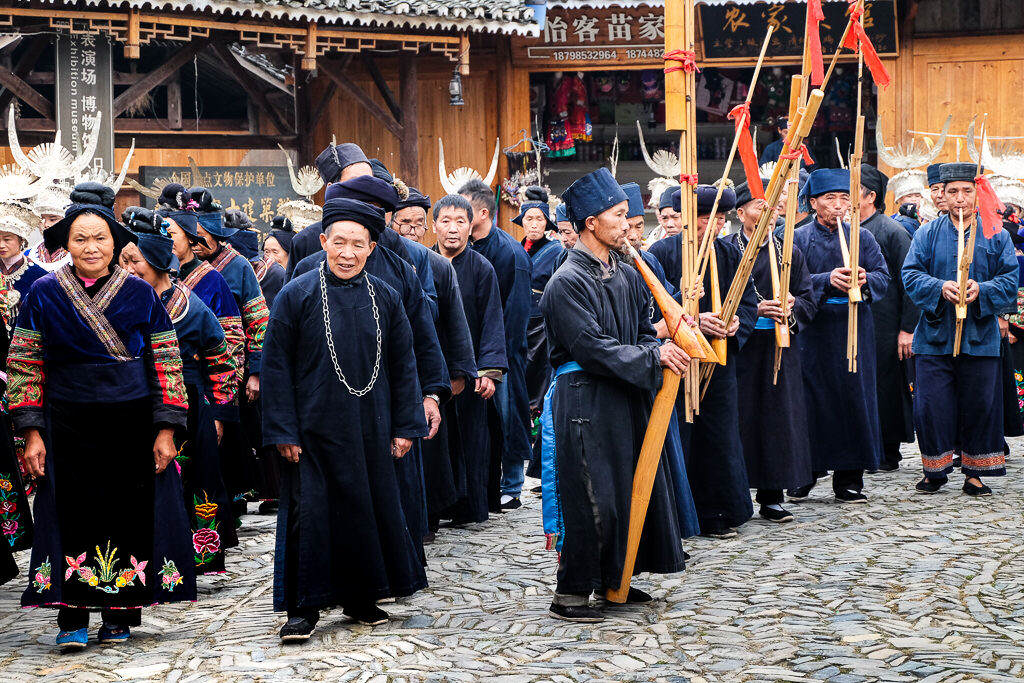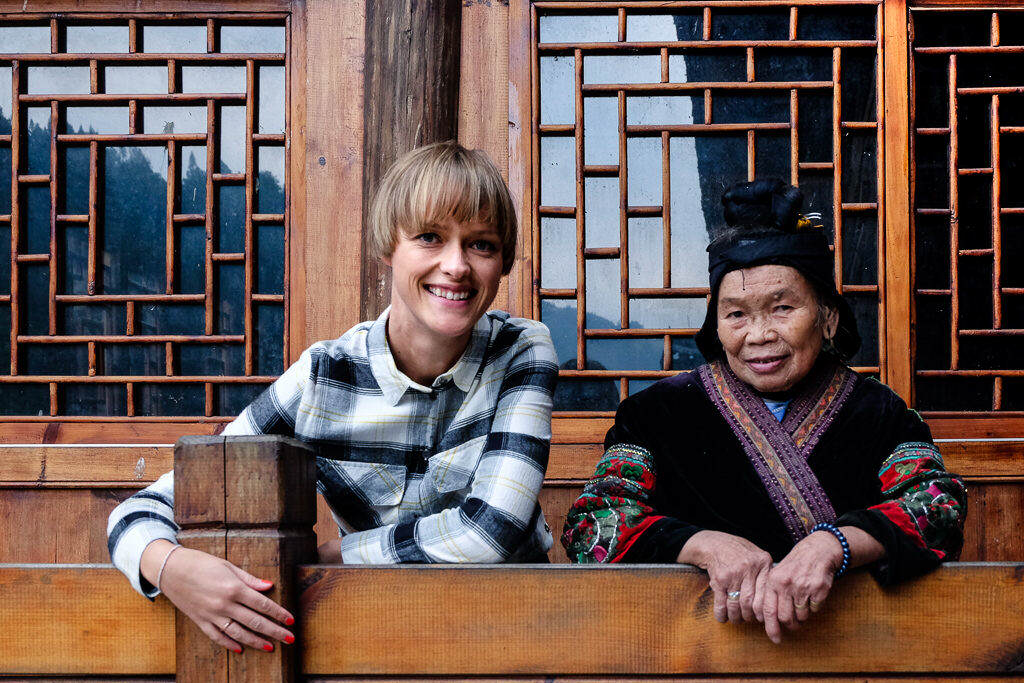 Tips for individual travellers: You can reach Langde Miao Village by bus from Kaili. The Welcoming ritual "Lanmen Jiu" takes place daily from 11:00 to 11:30 – the ceremony inside the village, which also lasts around 30 minutes, starts right after, as soon as enough people have gathered. There is one more performance in the afternoon starting around 4pm. And then? Perfect time to have lunch or dinner, right? Also here there is a significant difference to the classic Chinese way of dining: You will not sit around a round turning table, but rather on small stools along the traditional "long table".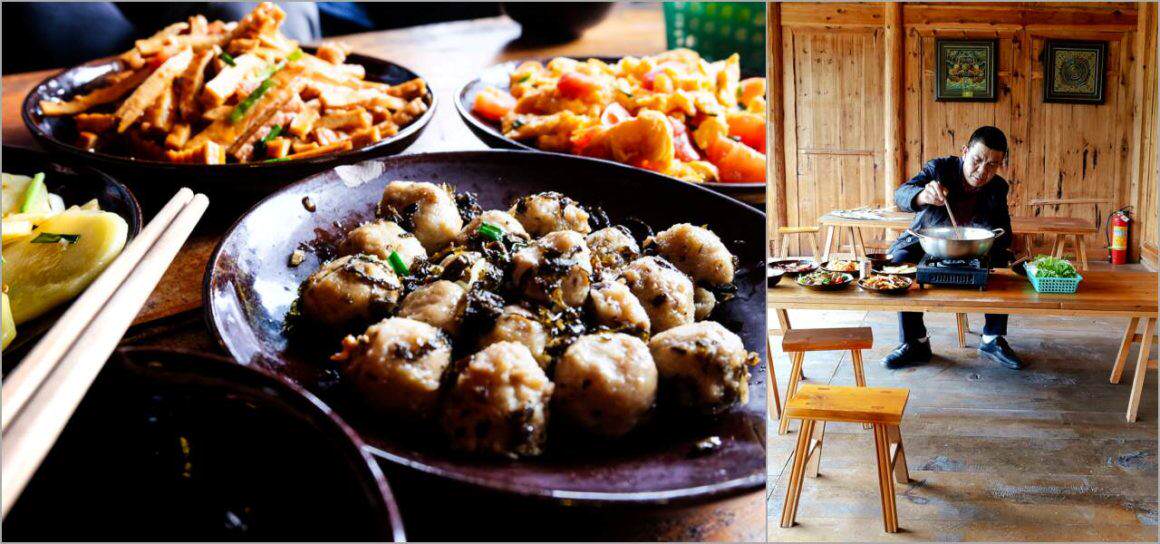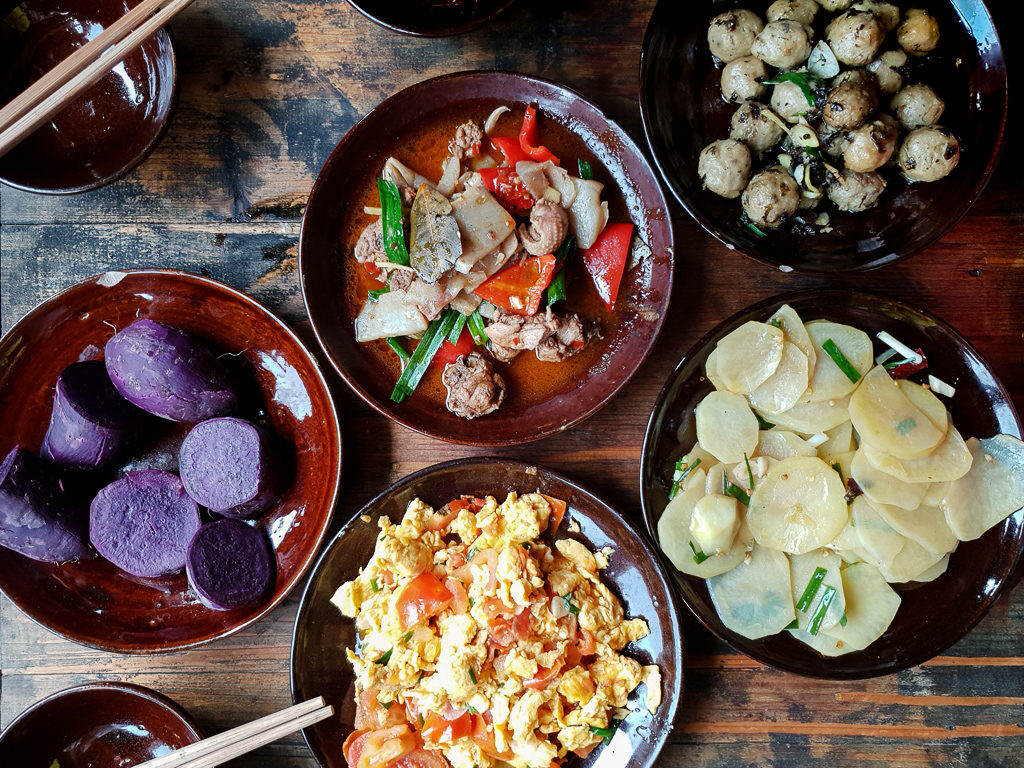 If you have some time left, you definitely should go for a stroll around the village. As Langde is not as commercialized as other villages yet, you can easily walk through the alleys and enjoy some views without being surrounded by souvenirshops or eager vendors.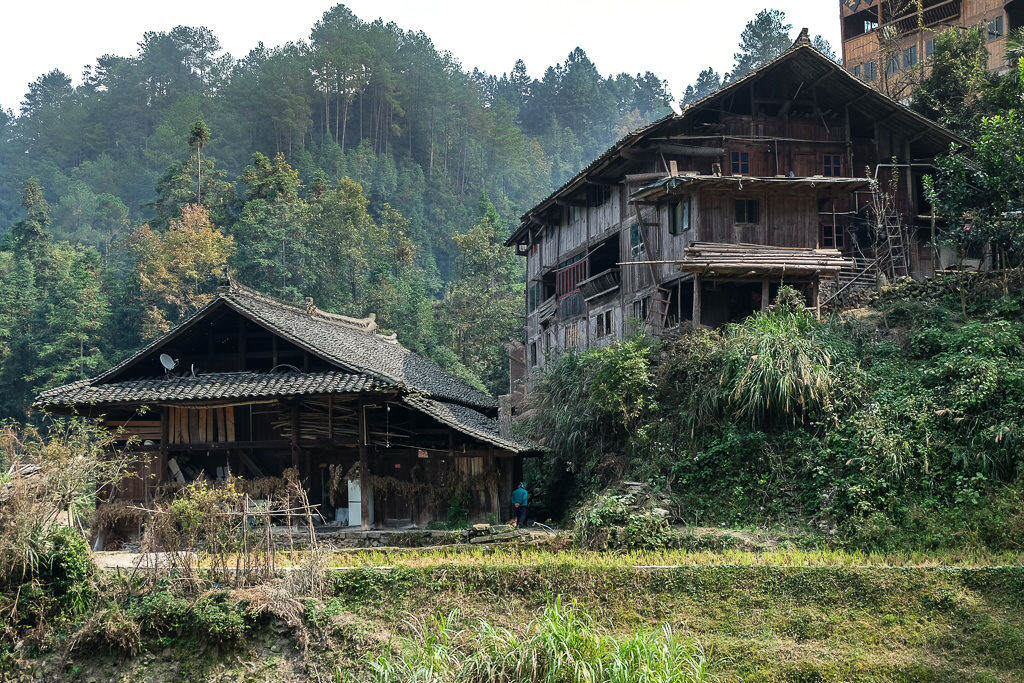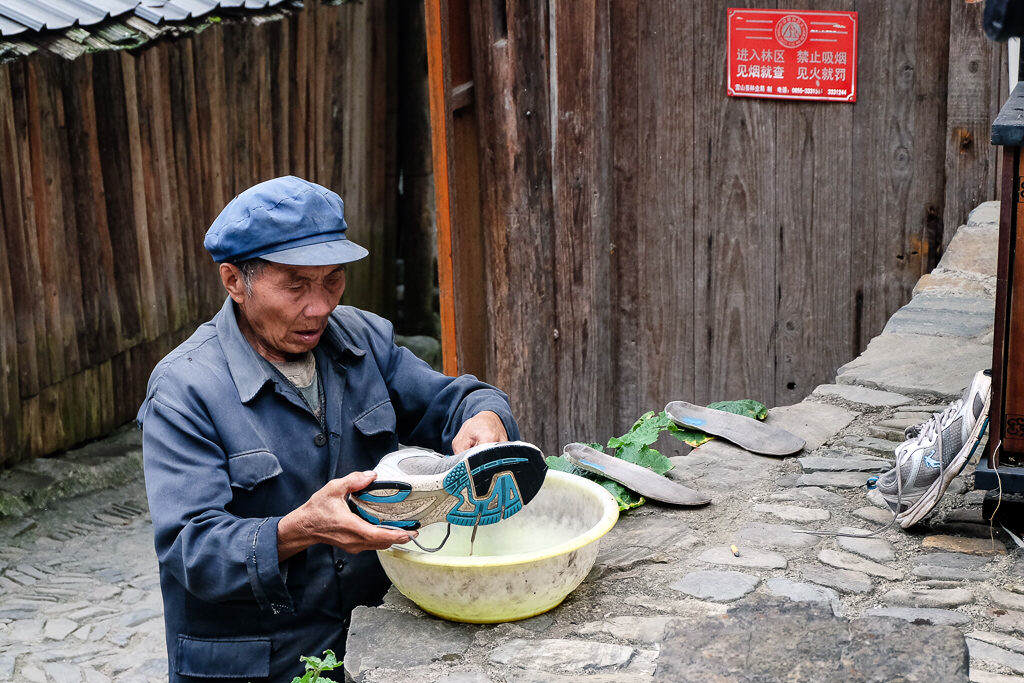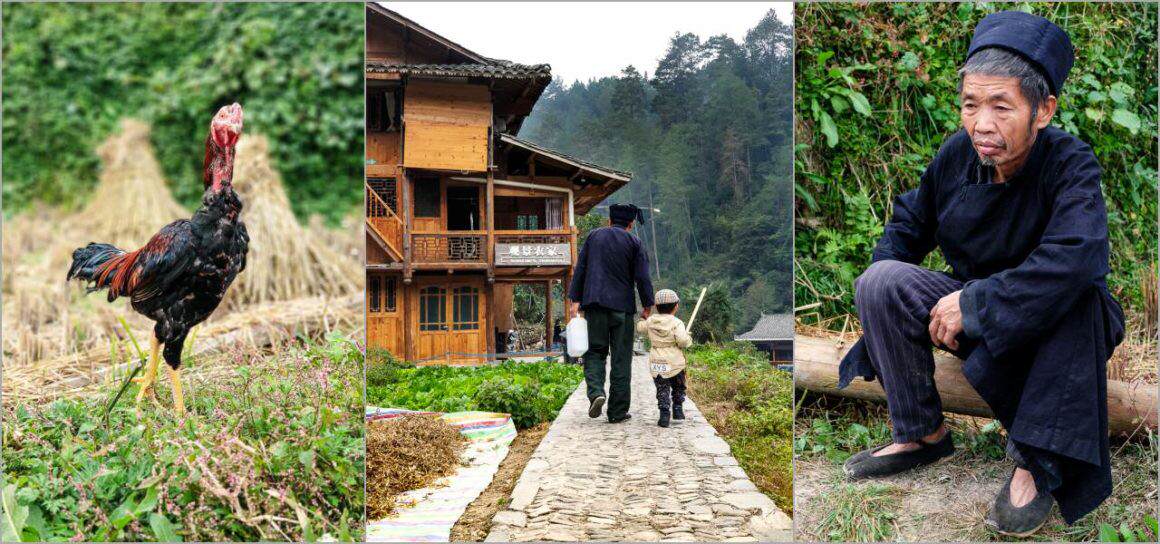 Ancient home to Miao People
Located in the Eastern part of Guizhou Province, Zhenyuan has ever been an ancient town of the Miao people. As Zhenyuan is sheltered by the mountains and cut through by the Wuyang River, the ancient town is a land-and-water transportation center since the early days. Even if the town only covers an area of 3.1 square kilometers, it is full of historical sights and a great place to dive into the traditional China as you might imagine it out of a history textbook or even a fairytale.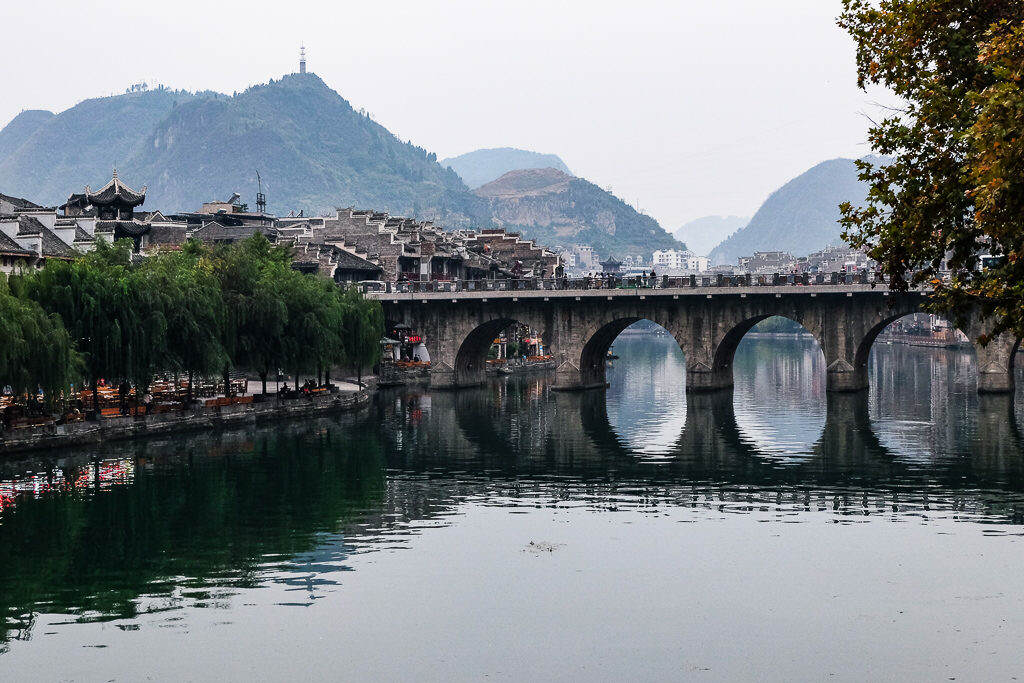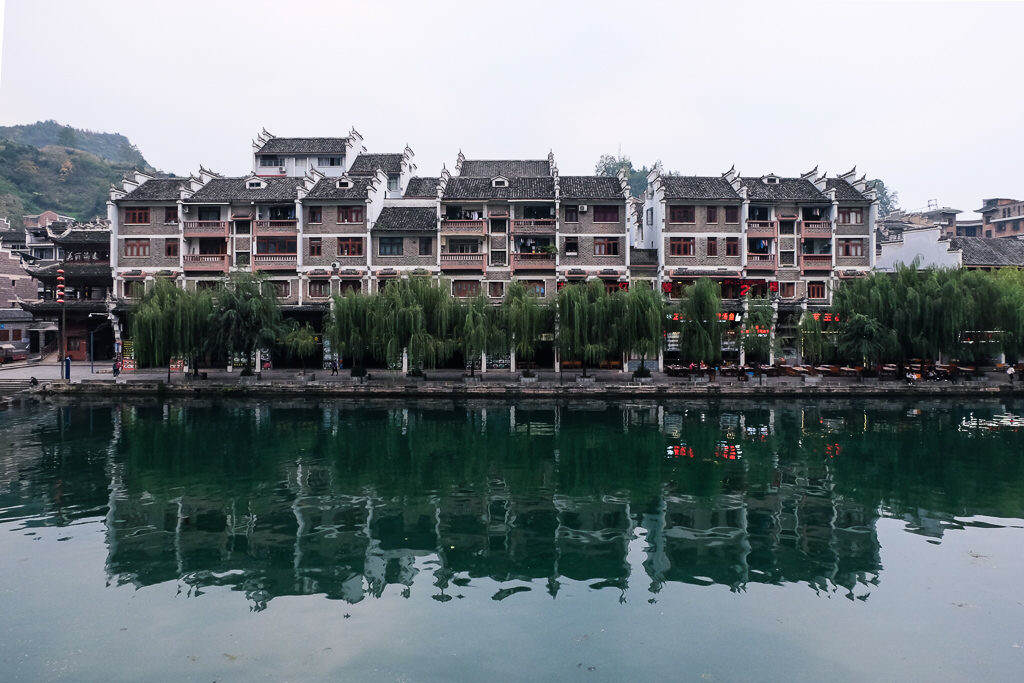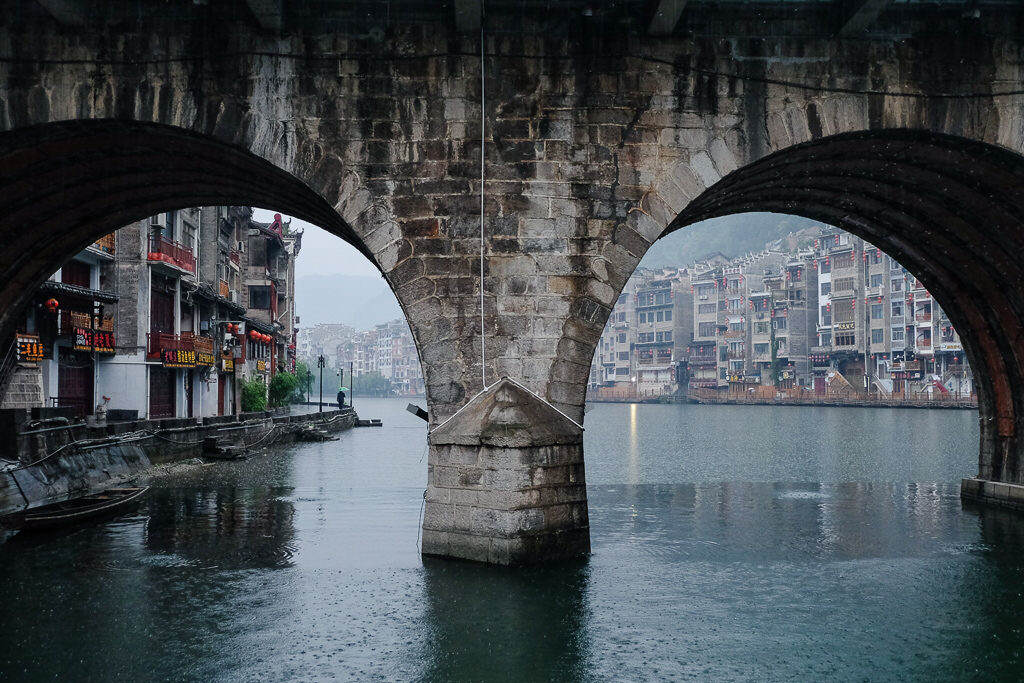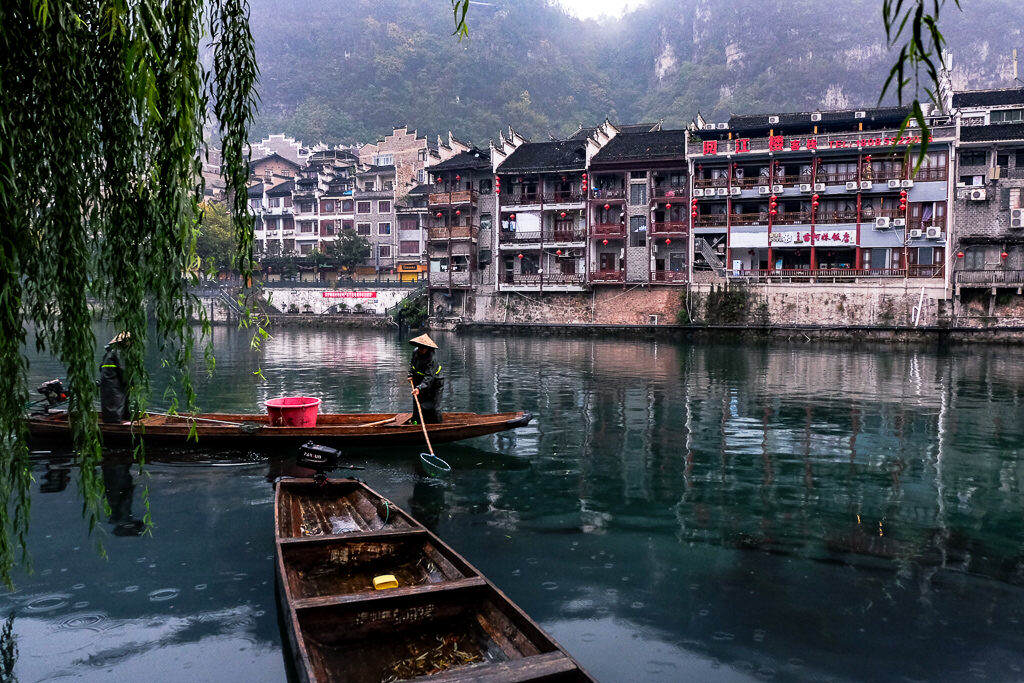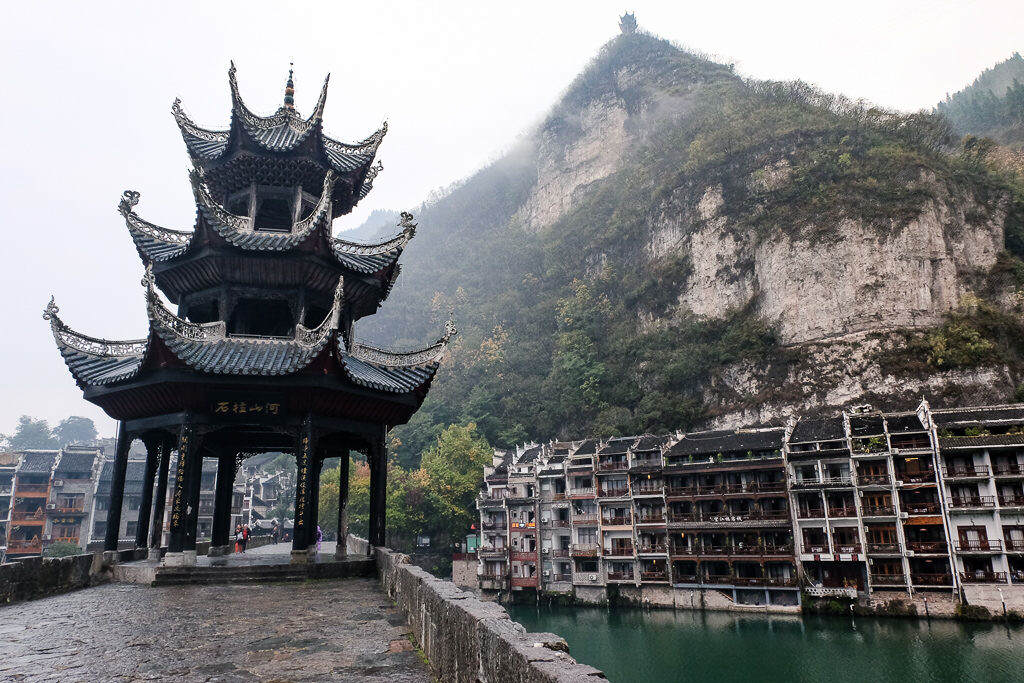 Walking along the riverbanks, I felt like having travelled back in time and distance. Even if I am not a lover of rain at all, it was only these misty mountains and the moody atmosphere , which brought this perfect scenery to life for me.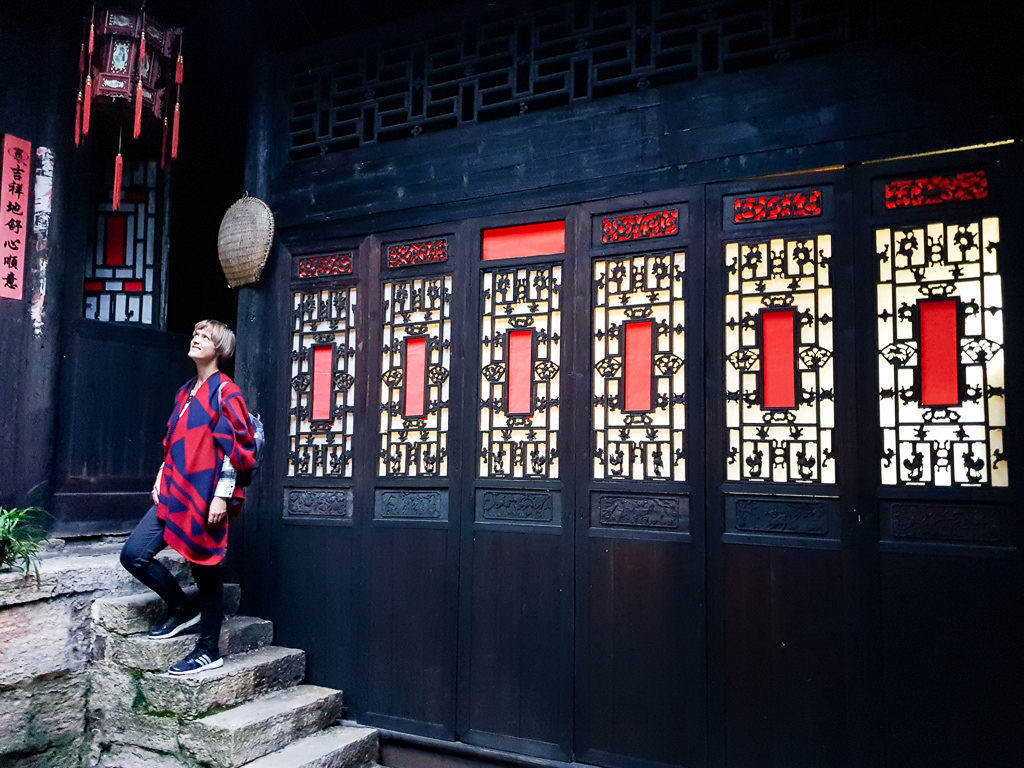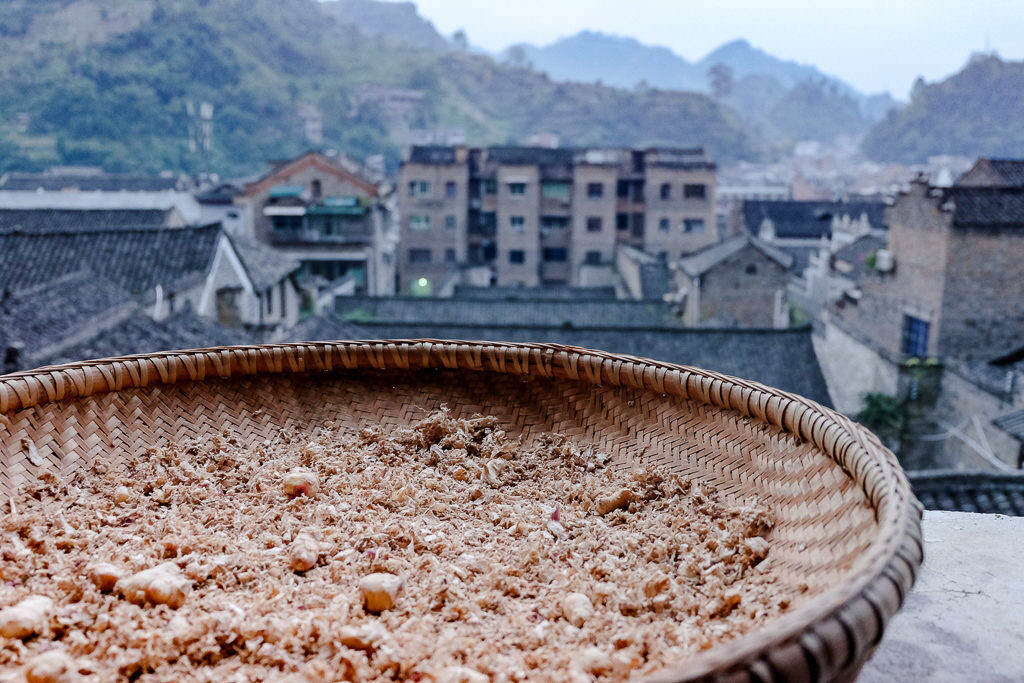 A scenic view across Zhenyuan, Wuyang River and Zhusheng Bridge is offerered by the "Black Dragon Cave" (Qinglong Cave), which in fact is an ancient temple complex, somehow built into Zhonghe mountain.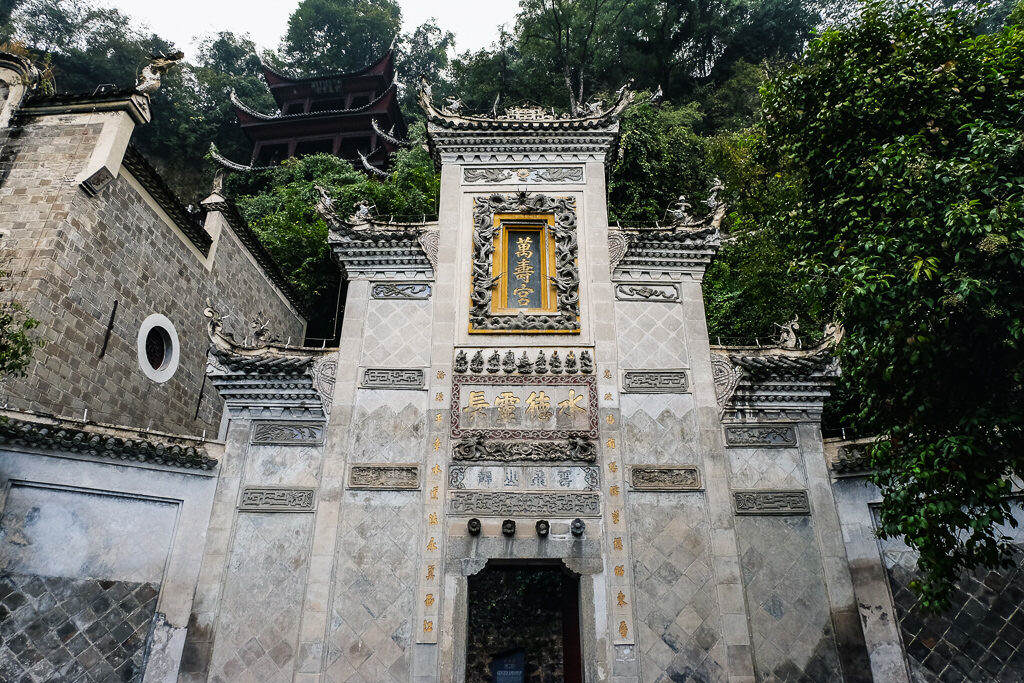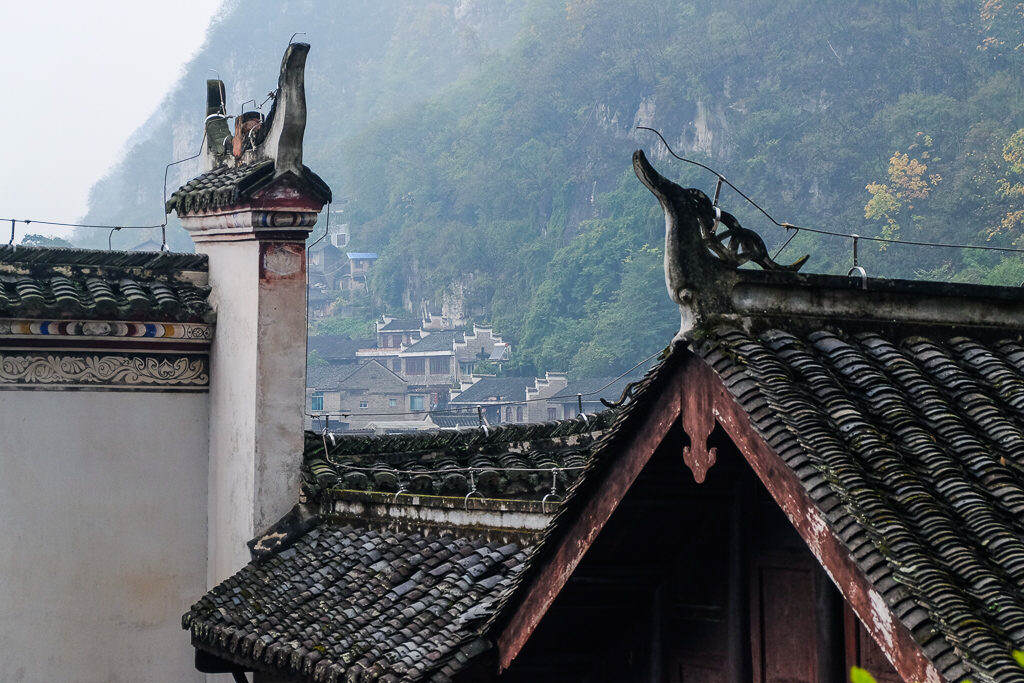 Pig feet & a Small Great Wall
A good starting point for travelling through Guizhou is the province´s capital Guiyang. If you are keen on visiting an ancient town closeby, you can directly aim for Qingyan Ancient Town, 30 km away from the province´s capital, which originally was built in 1378 for military purposes. That also explains the existance of the small lookalike wall of the Great Wall of China, that is winding up the hill.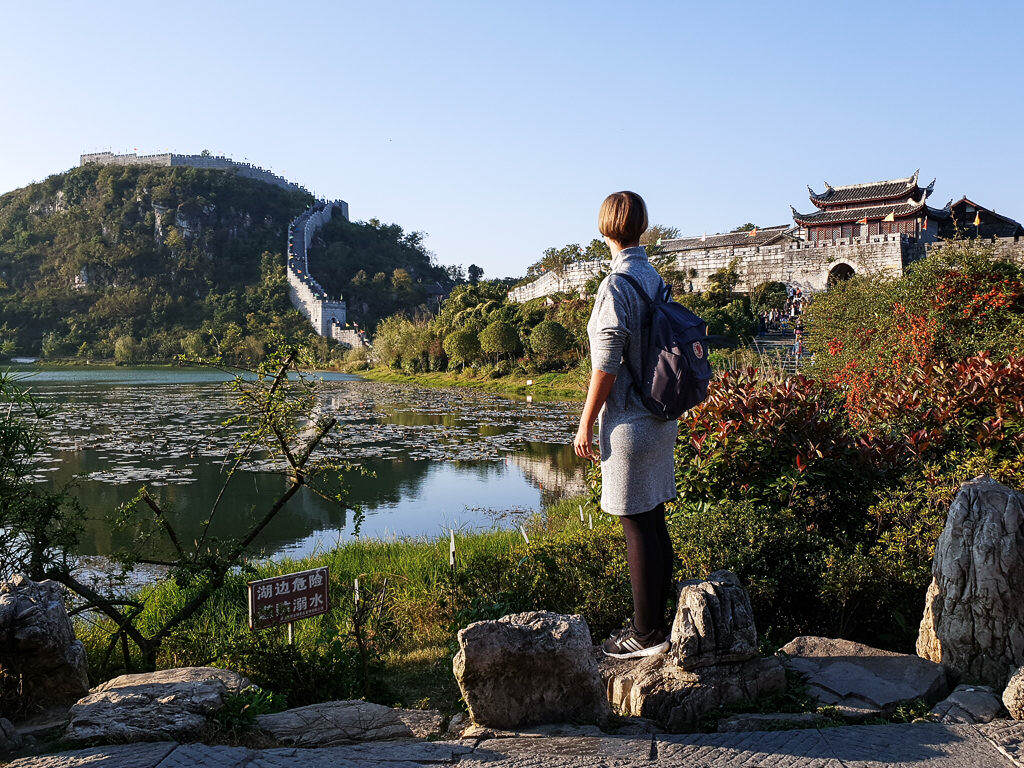 Unfortunately this town is quite popular with tourists due to the short distance to Guiyang and you will find it packed with people, who push themselves from one souvenirshop to the neighbouring foodstall. But inbetween you can also find nice motives of local food vendors or craftsmen, as well as Chinese tourists, who use the idyllic scenery to get dressed up in historical or festive outfits and strike some poses. Fair enough to get a first impression of what it feels like travelling China. But my recommendation would definitely be to dive deeper into the rural parts of the country!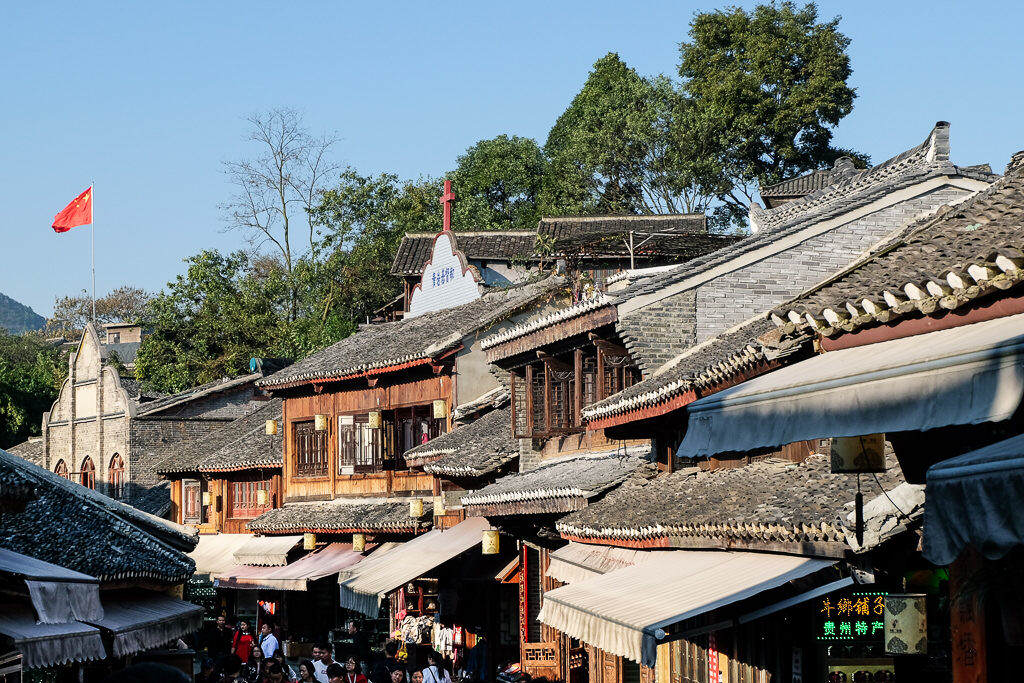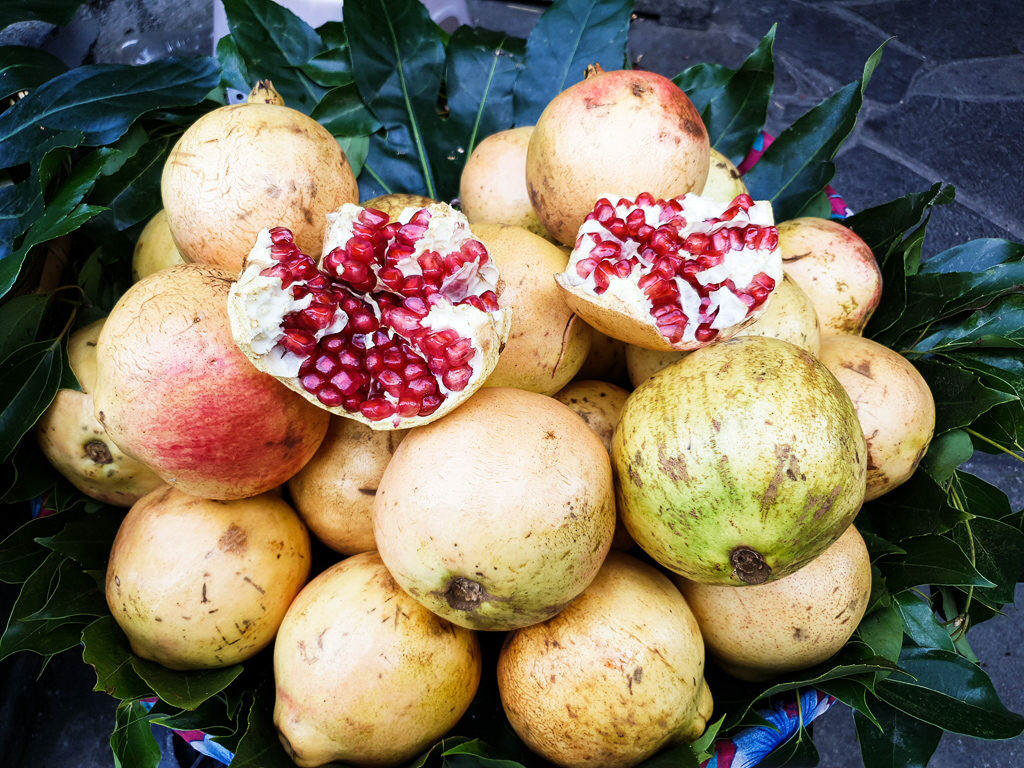 Fun Fact: Ever wondered why you find so many food stalls selling pig feet in Qingyan? Eating pig feet supposedly brings good luck before exams. And as always in China: a lot seems to help a lot – thst´s why you will find pig feet at every corner.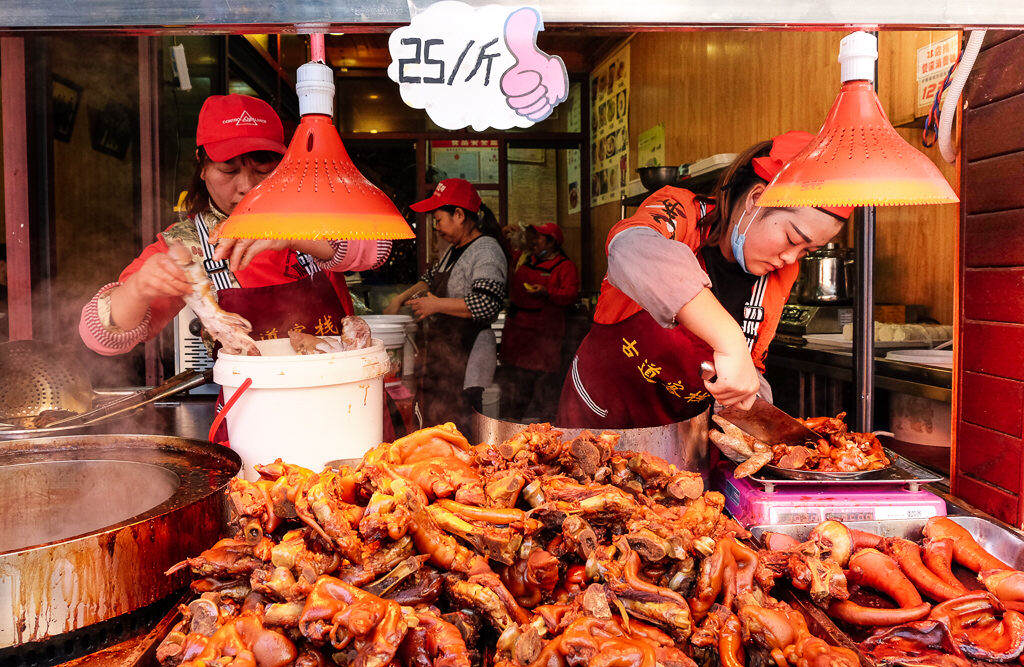 If you wanna know more about Guizhou and find out the 5 things defintely not to be missed in this province, have a look at my BlogPost "China´s hidden gem: 5 things not to be missed when travelling Guizhou".
***
DISCLOSURE
I was invited to this trip by AmazingGuizhou. But as all articles on this blog, it only reflects my personal impressions.
***
QUESTIONS & COMMENTS?
Have you ever been travelling through China and know about the diversity of this country? Or are you curious now? Do you like the article, or still have questions? Please leave me a comment and share this article with your friends!
In the category China you can find travel stories from the land of the rising sun.
***
 – SMILE4TRAVEL NEWSLETTER –
Become part of the Smile4Travel Community – Follow my Facebook Page & Instagram and register for my Newsletter, so you don´t miss any Smile4Travel adventures! No Spam – I promise!
[mailpoet_form id="1″]