This post is also available in: Deutsch (German)
Lantau Island is the biggest of 263 islands, which belong to Hong Kong' territory and offers many opportunities to leave the bustling city behind and dive into lush green nature. Hiking fans will find many popular routes with various levels of difficulty, e.g. the Wisdom Path, or Lantau Peak on 934 metres above sea level and Hong Kong´s third highest surrounding mountain Sunset Peak, as examples for more challenging tours. Even if you are "only" planning to get some sightseeing done, Lantau Island offers many attractions worth a day trip.
#1 Tian Tan Buddha
Majestically the Tian Tan Buddha thrones above Lantau Island, facing North towards Mainland China. For good reason the statue is simply also known as "Big Buddha": With its 34 metres height (including the podium) this seated bronze Buddha is known to be the tallest in the world. Overlooking the hilly landscape of Lantau Island the Giant Buddha is equally impressive because of its size and the views offered from the viewing platform surrounding it. Not surprising that the Tian Tan Buddha is considered one of the main attractions of Lantau Island.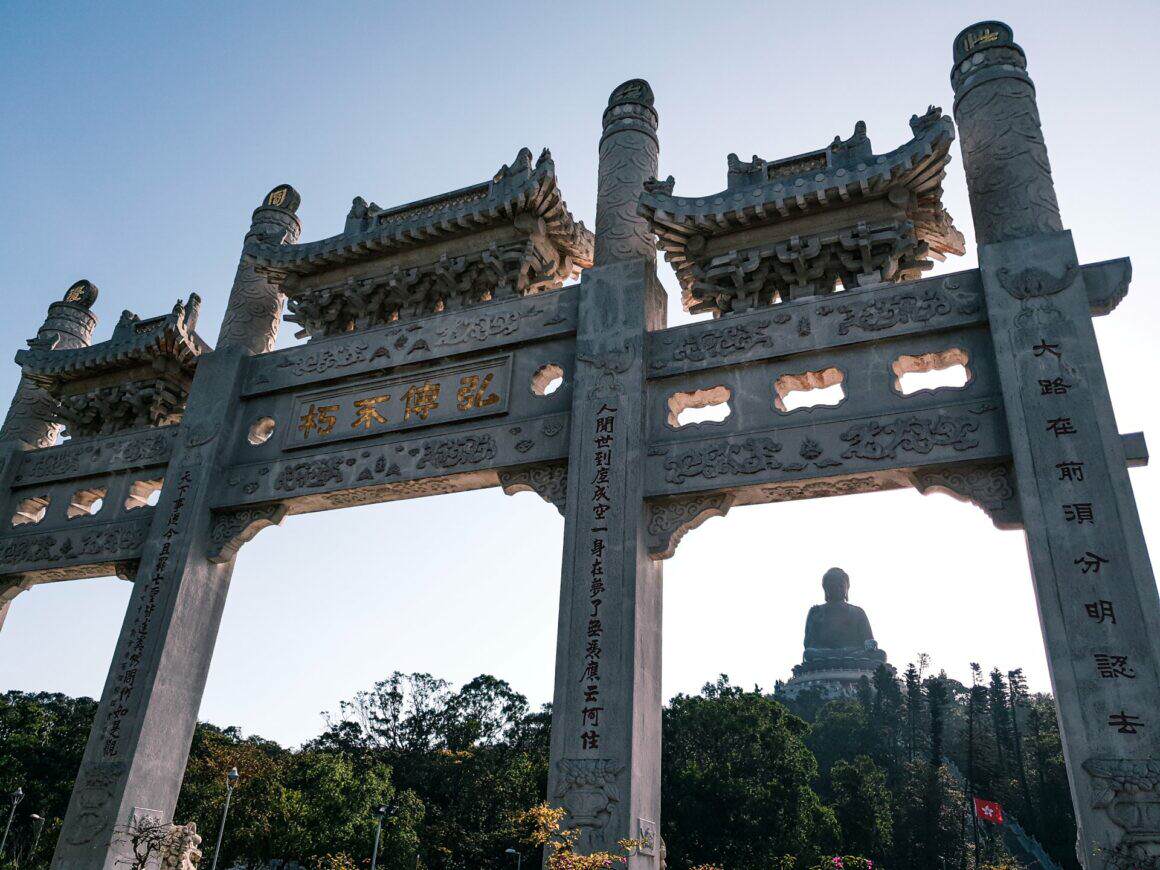 #2 Po Lin Monastry
Opposite the Big Buddha lies one of Hong Kong´s most important buddhist sanctuaries: The Po Lin monastry, which was originally built by three monks of Jiangsu province (Mainland China) in 1906. The more recent buildings close to the entrance are colourful and designed with attention to details, while the original ones are kept more simple. The Po Lin monastry is surrounded by a blooming garden. By the way: The Big Buddha, which was finished in 1993, is an extension of the Po Lin monastry and the main reason, why nowadays not only strictly religious Buddhists pay a visit, but also many tourists find their way to this part of Lantau Island.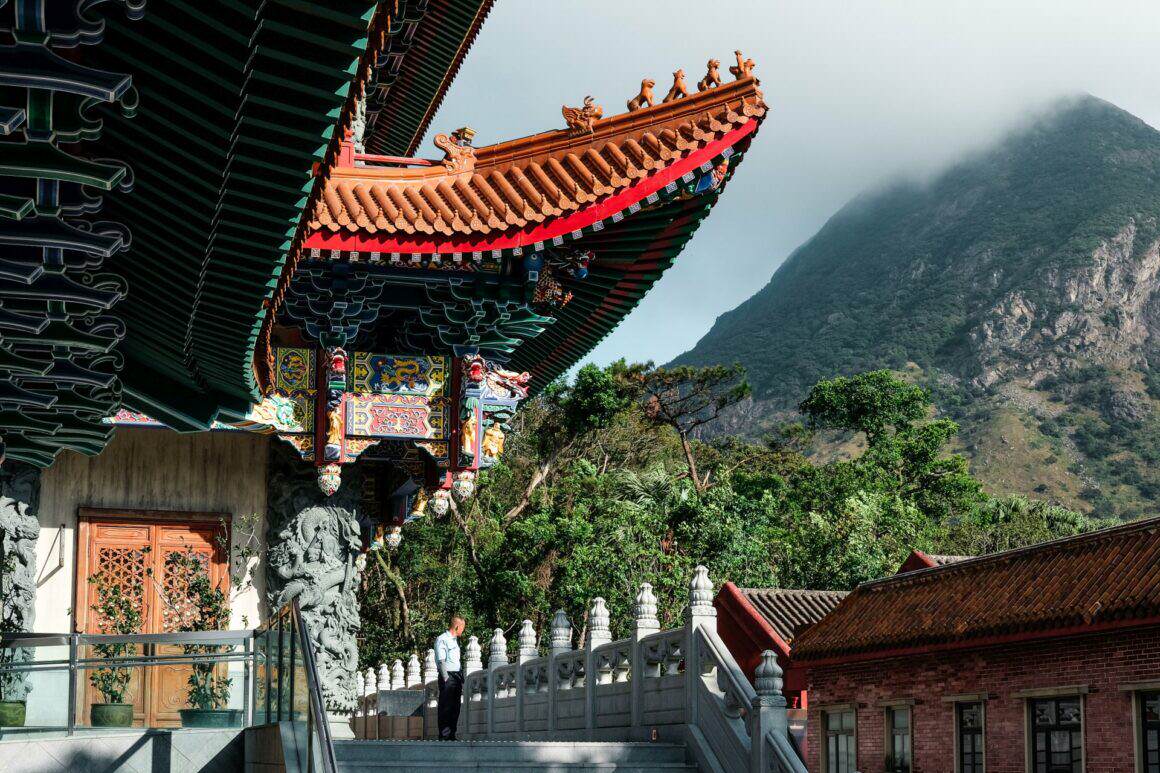 #3 Ngong Ping 360:
Cable Car ride with spectacular views
If you plan to visit Lantau Island and the Big Buddha, you should definitely include a cable car ride with Ngong Ping 360 (at least for one way), as the 25-minute happening offers breathtaking views. Ngong Ping 360 connects Tung Chung in the North of Lantau Island with Ngong Ping plateau, on which Tian Tan Buddha thrones. It´s the perfect opportunity to get up the mountain fast and combine the transportation with a sightseeing highlight. Tickets for Ngong Ping 360 are not cheap (single ride in standard cabin: 160 HK Dollar, round trip: 235 HK Dollar and in the glass-bottom Crystal cabin: 215/315 HK Dollar). But the views definitely pay off the small investment and if you decide for a transportation alternative on your way back, you can easily compensate the price.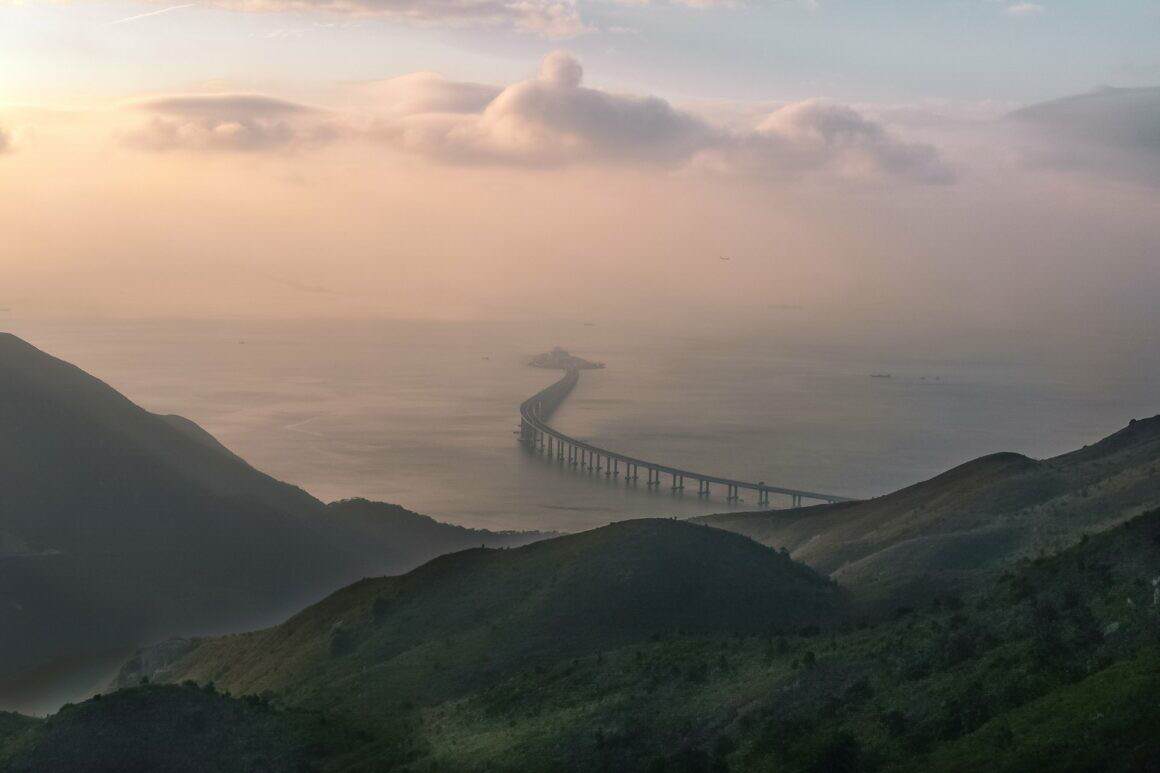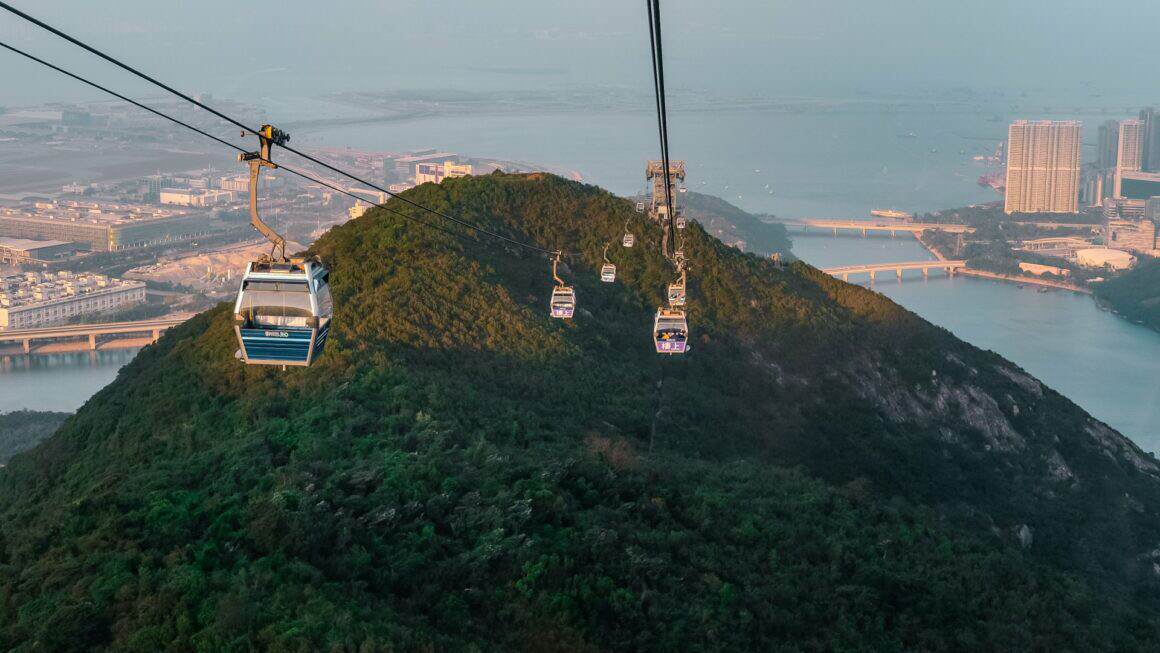 Keep the opening hours of Ngong Ping 360 in mind, especially when you plan to take the cable car on your way back: Weekdays from 10am to 6pm, on weekends and public holidays: 9am to 6.30pm. To get from Ngong Ping 360 to the Big Buddha, you will come through the touristy Ngong Ping village, a typical Chinese souvenir & shopping mile. If not interested in buying cheesy merchandise, just walk by and enjoy the promising views of the Giant Buddha.
#4 Tai O Fishing village
There couldn´t be a bigger contrast between Hong Kong´s urban jungle and Tai O fishing village. The wooden huts built on stilts, which are connected with each other define the scenery of the village. Not only the stilt-houses are connected seemlessly, also are its people: The Tanka, a community of fishermen, who live on the water for generations, call Tai O their home. Needless to say that Tai O´s stilt-houses are a photographer´s paradise. And so is the food coming straight out of the ocean. The dried and salted fish and seafood are typical snacks, not only attracting daring (Chinese) tourists. You can find variations at every corner as well as shrimp paste, a very welcome Tai O souvenir. Undisputed highlight however is the freshly prepared cuttlefish.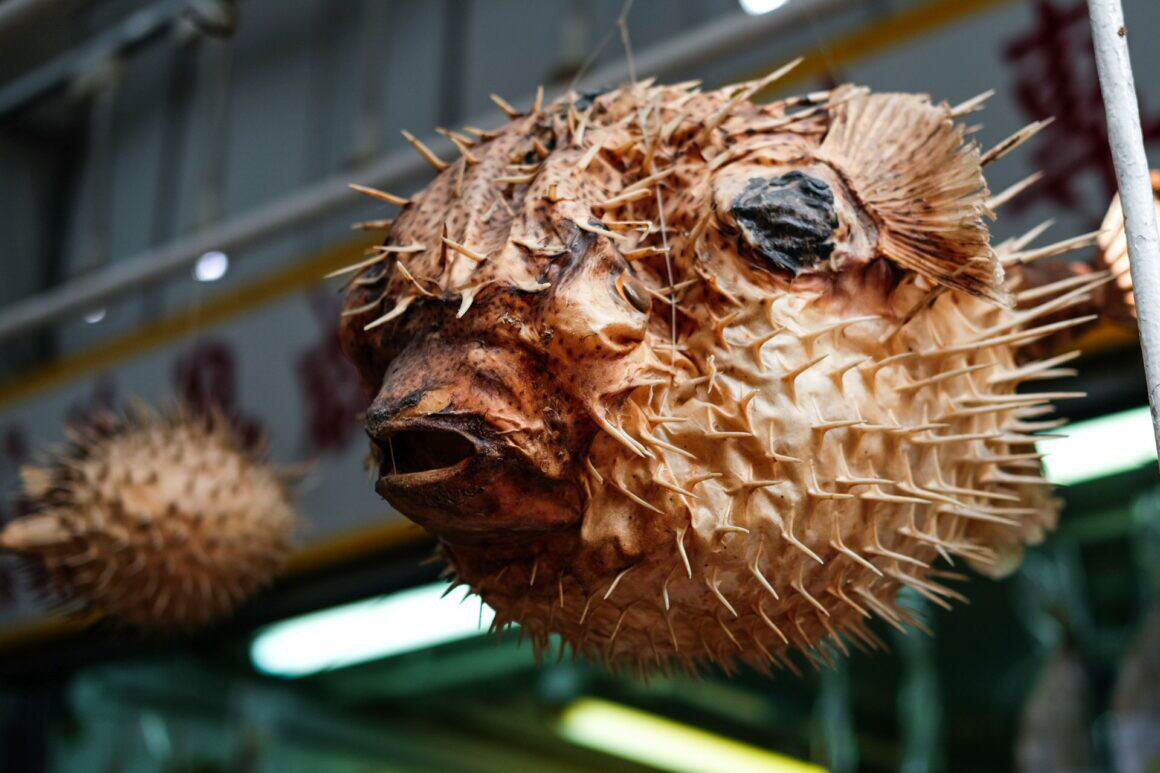 To get to Tai O from anywhere on Lantau Island, you can take the bus or taxi. There is a ferry connection between Hongkong Tuen Muen and Tai O. Further details you can find in the section "proposed route" below.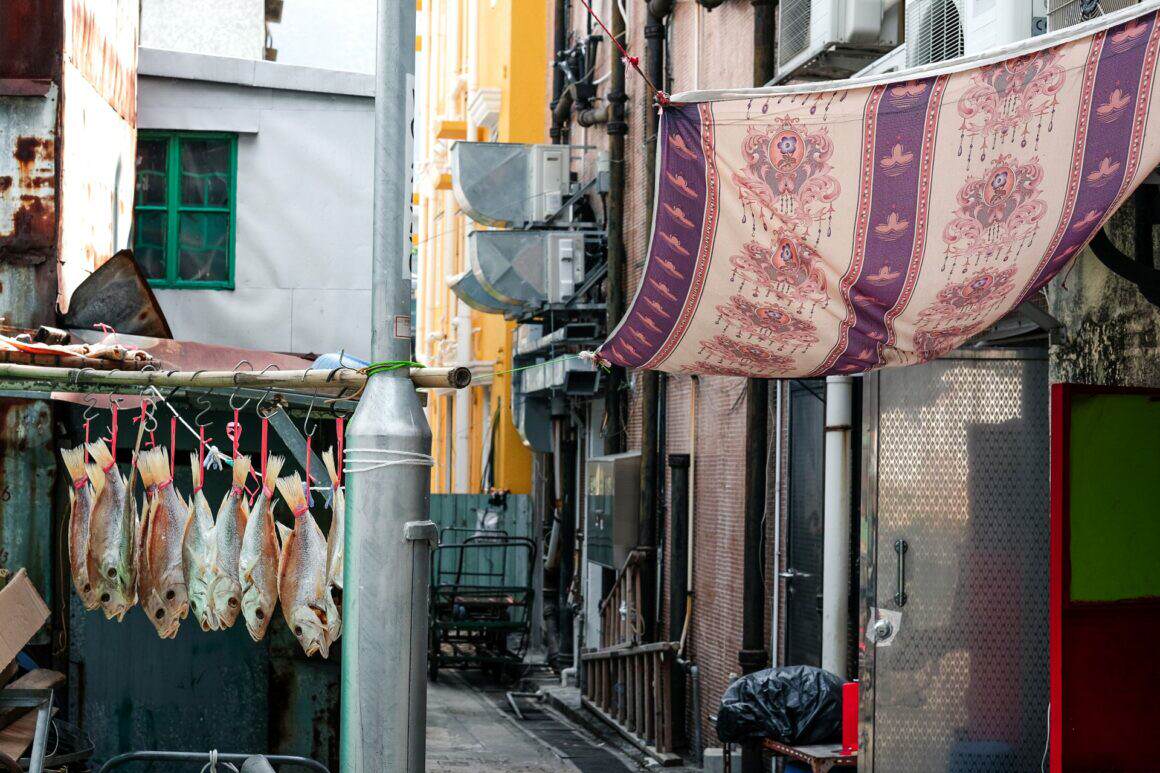 #5 Beaches of Lantau Island
As Hong Kong consists of several hundreds of islands, there isn't only a great choice of outdoor options available, but also fantastic bays and beaches. On Lantau Island they are mainly located on the Eastcoast and are ideal for a break during your island tour. The sandy sections of Upper and Lower Cheung Sha Beach form the longest beach of Lantau Island. Tong Fuk Beach joins almost seamlessly. A little further North you can find Pui O Beach. For our lunch-break we choose Lower Cheung Sha Beach as this is the area with most of the restaurants. We relish a seafood basket and Hongkong-style crispy noodles at "Long Island" while enjoying the ocean view and the light sea breeze in our faces. As February is still considered wintertime in Hong Kong, the beaches and restaurants are almost abandoned. Arriving from cold and grey Shanghai we couldn´t think of anything better than feeling the first spring sun at pleasently 20 degrees celcius. You can find a list of Lantau Island´s most beautiful beaches on the Blog DroneandDSLR, which also summarizes details about getting there.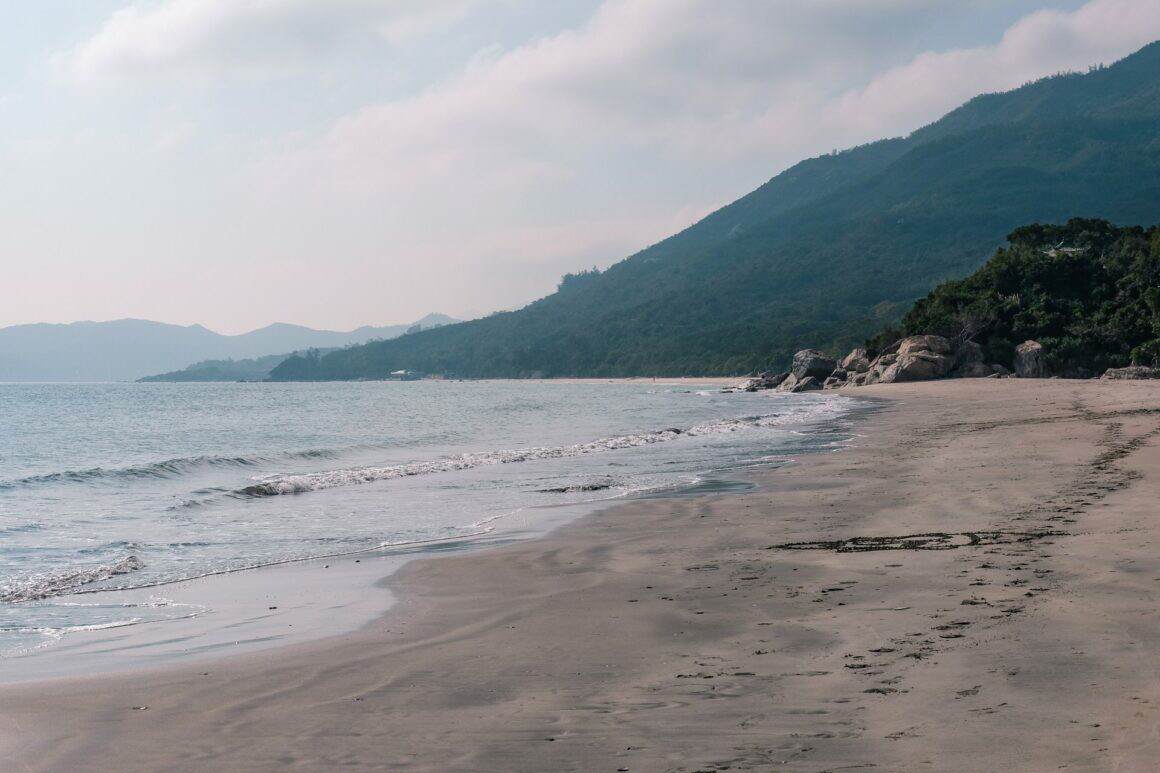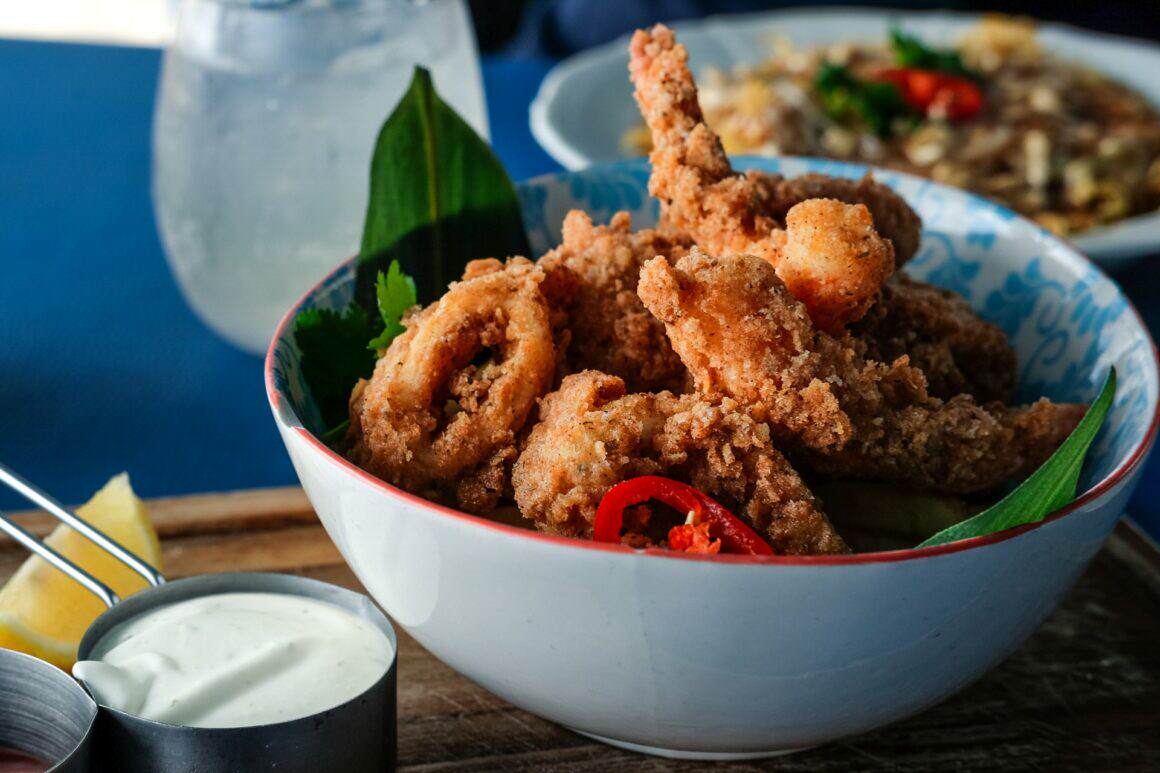 Route suggestion for a daytrip to Lantau Island
The described attractions on Lantau Island can easily be combined as a day-trip from Hong Kong. For our island tour we chose various means of transportation: From cheap rides with MTR, bus and ferry, mid-priced taxi rides to the more expensive trip with Ngong Ping cable car. If you combine all these options the total costs can still be kept pretty much under control. Of course you can also plan the tour in reverse order. We headed to Tai O fishing village first, because we wanted to use the ferry connection between Hongkong Tuen Muen and at the same time we had the chance to buy our ferry tickets for our trip to Macau the next day. If you stay at Hongkong Island or Kowloon, you might find it easier to take the MTR to reach Lantau Island and start your journey for the day with the impressive cable car ride up to the Giant Buddha.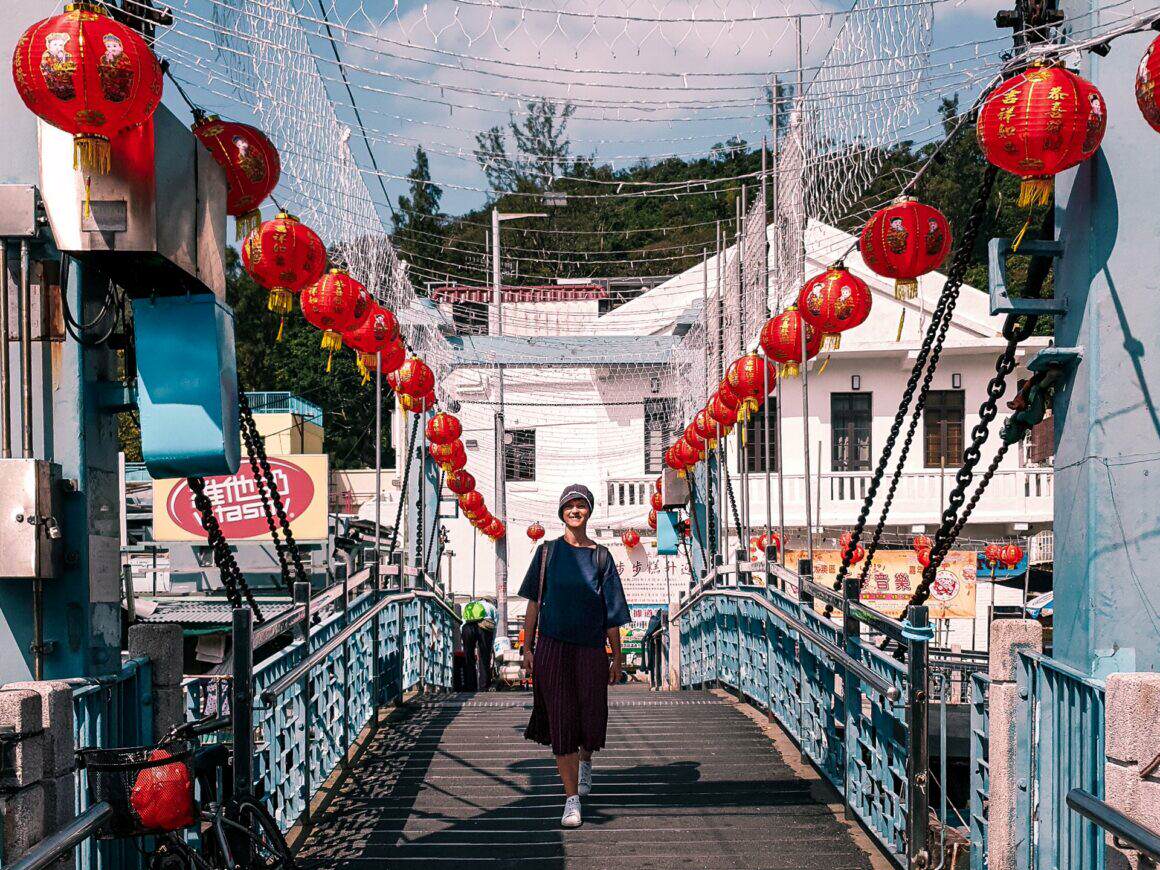 Our route from Hongkong Tuen Muen to Lantau Island and back:
#1 Ferry: Hongkong Tuen Muen, New Territories –
Tai O fishing village, Lantau Island
Fortune Ferry Company Limited operates between Hong Komg Tuen Muen and Tai O on Lantau Island. This connection is a great alternative for everyone, who wants to reach the fishing village directly, fast and cheap. The ride takes around 50 minutes (fast ferry) with stops at Tun Chung and Sha Lo Wan on Lantau Island.
Costs: between 18 and 30 HK Dollar, depending on the ferry (fast or ordinary ferry) and the weekday. Detailed information and the timetable you can find here:
#2 Taxi:
From Tai O to the beaches on the Eastcoast of Lantau Island
To get to the beaches fast and without any detours, we grabbed a taxi right at the village´s entrance. The costs of 120 HK Dollar for the 15 minutes ride weren´t cheap, but we reached Cheung Sha Beach directly.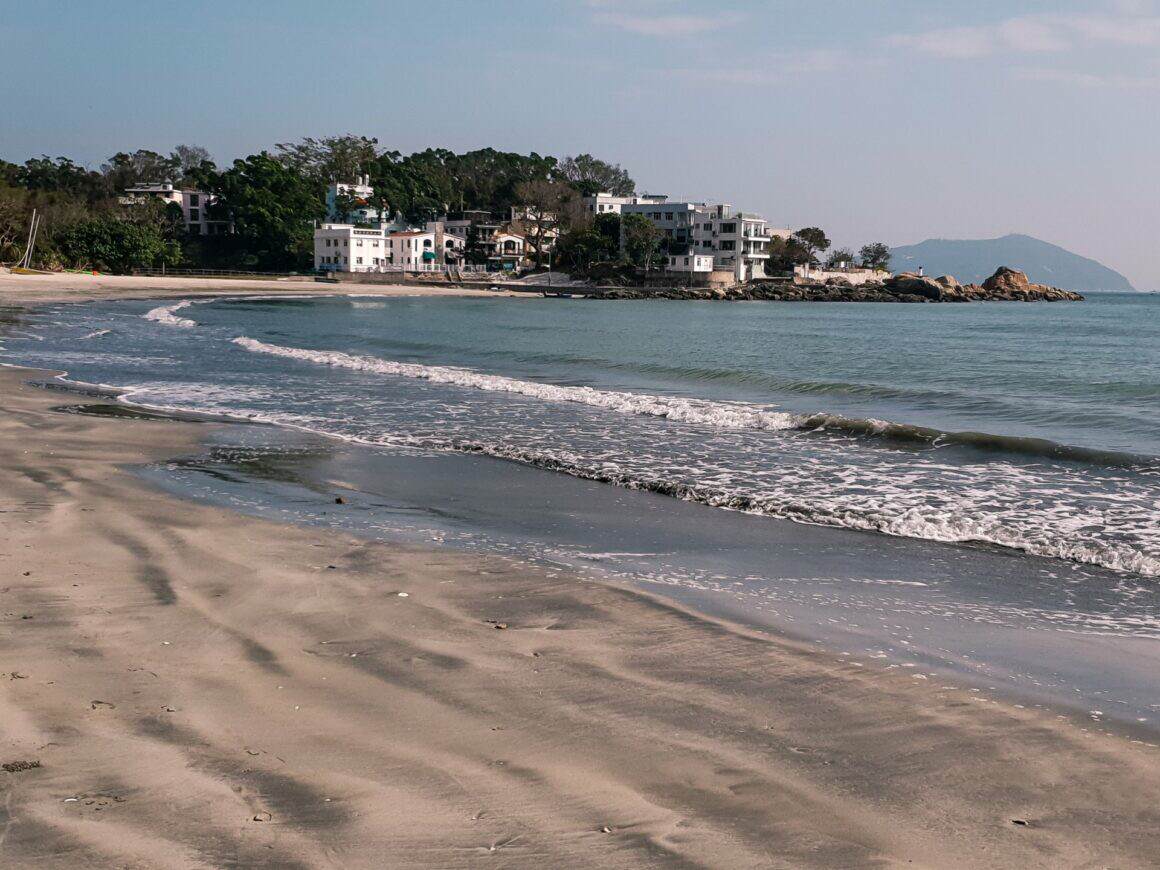 #3 Bus: Lower Cheung Sha Beach – Ngong Ping Plateau
To get to the Ngong Ping plateau, which is starting point to visit the Tian Tan Buddha und the Po Lin monastry, we took Bus No.23. For the 10 minutes ride we paid only 11 HK Dollar per person.
#4 By foot: Tian Tan Buddha & Po Lin Monastry
Nobody will walk the 268 stairs to the Big Buddha on behalf of you. But the closer you get to the bronze statue the more impressive it gets. Standing in front of the Giant Buddha and viewing the Po Ling monastery, the mountain scenery and the ocean from above, pays off for the short ascent.
#5 Cable car: Ngong Ping – Tung Chung
As mentioned above, you shouldn´t miss on the chance for a ride with the Ngong Ping cable car. Besides the view of Lantau Island it is also the fastest way to commute between Ngong Ping and Tung Chung.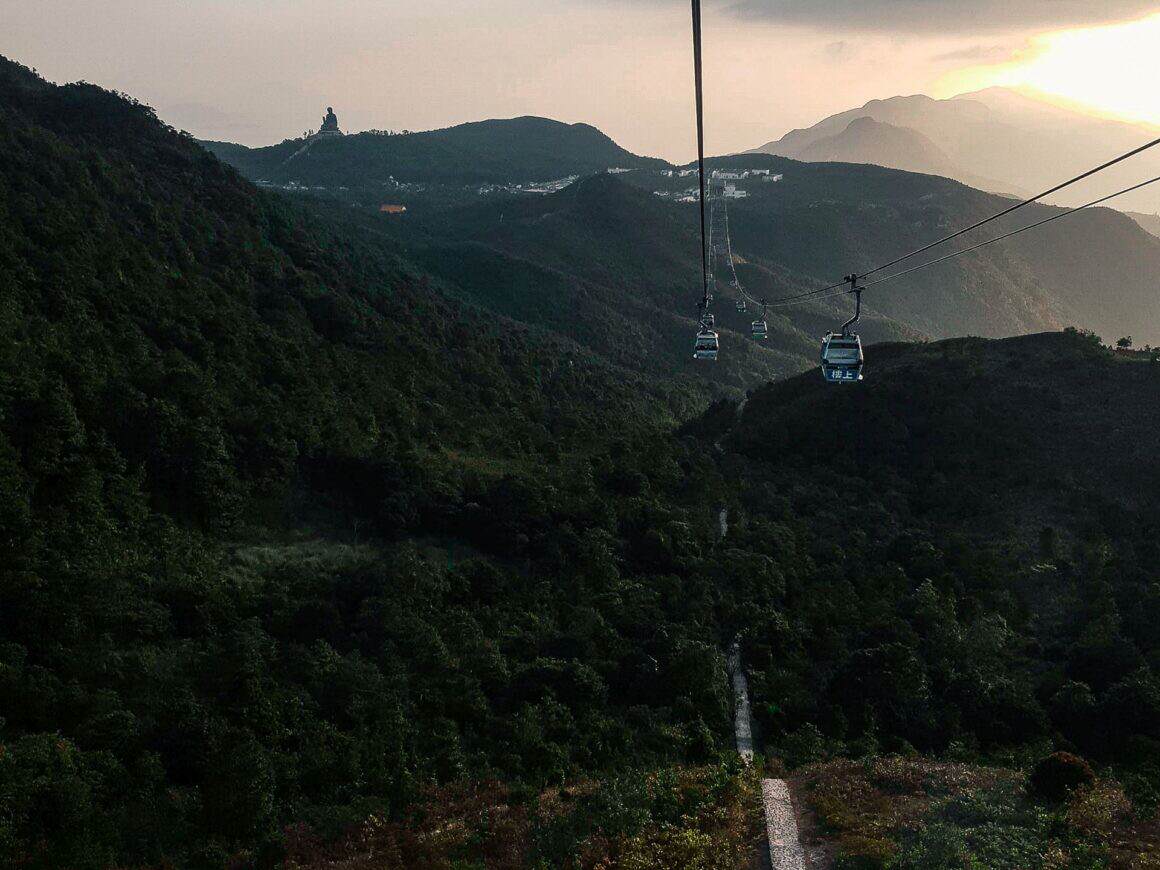 #6 Subway: Tung Chung back to Hongkong Tuen Muen via Kowloon
The MTR also connects the Hong Kong´s city center with Lantau Island. It´s a fast and cheap way to reach Hong Kong´s biggest island.
---
***
QUESTIONS & COMMENTS? 
Have you ever been to Hong Kong and have tips for a daytrip to Lantau Island? Leave me a comment! If you are planning to visit Lantau Island, I hope this article provided you with some hints how to get there and around the island as well as inspiration how to plan and structure your day-trip. Any suggestions or feedback? I am always happy to read about your thoughts!
***
 – SMILE4TRAVEL NEWSLETTER –
Become part of the Smile4Travel Community – Follow my Facebook Page & Instagram and register for my Newsletter, so you don´t miss any Smile4Travel adventures! No Spam – I promise!
[mailpoet_form id="1″]