This post is also available in: Deutsch (German)
Lion Rock definitely is my highlight when it comes to hikes and views over Hong Kong´s cityscape. Located in the North of the peninsula a ridge separates Kowloon from the New Territories. The Lion Rock, as well as Kowloon Peak, are part of the 100 km long MacLehose Trail and can be climbed from the Southern (Kowloon) or Northern side (New Territories). The ascent is partly steep, but definitely managable and worth the sweat, because it offers breathtaking views of Hong Kong and the most densly populated parts of the city. You should plan at least a half-day tour for the hike to leave enough time for breaks on the way up and to enjoy the unique views from the top. While the ascent will take you 1,5 to 2 hrs, depending on your pace and fitness level, the descent can be achieved in around 40 minutes thanks to a shortcut. So trekking Lion Rock is also an option for those, who do not have plenty of time, but don´t want to miss out on these views. In this article I describe how to climb Lion Rock from Kowloon and give you details about the route as well as some impressions of our tour.
Starting point for hiking Lion Rock
Pentahotel Hong Kong Kowloon is the perfect starting point for us to climb Lion Rock. We can even spot the final destination, the massive rock shaped like a lion's head, from the hotel.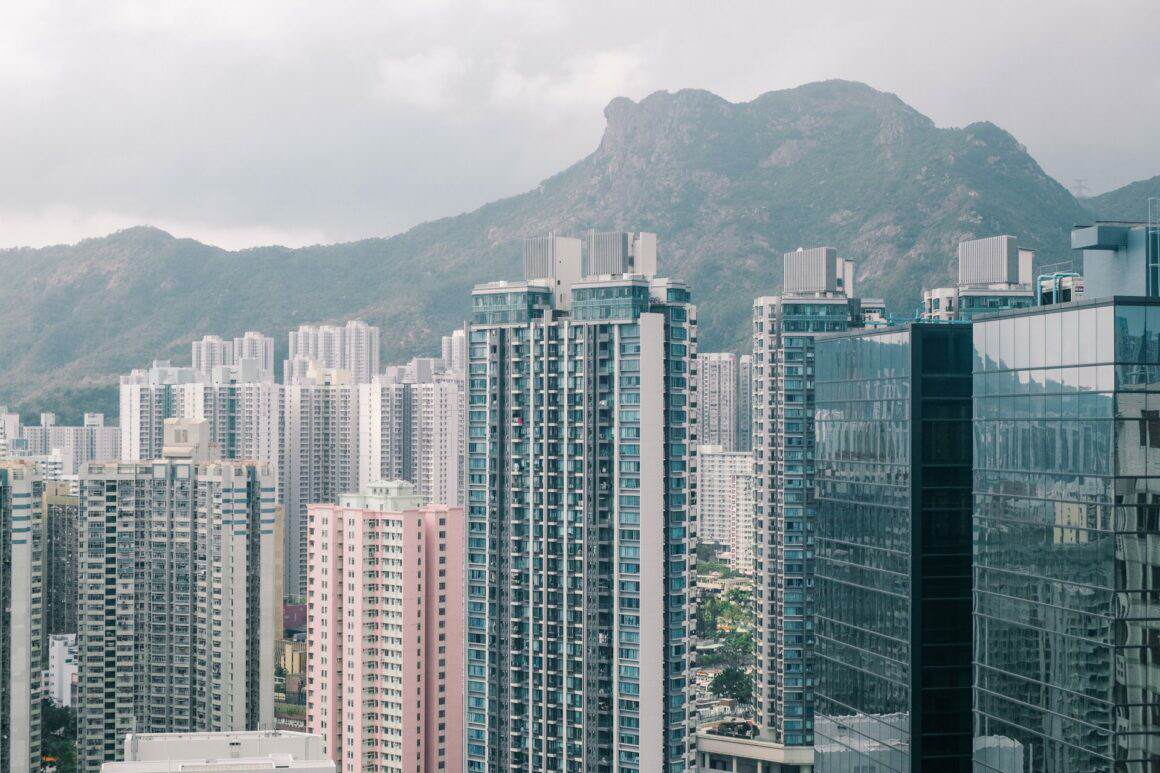 The Pentahotel is located close to MTR-station Diamond Hill in the East of Kowloon. The closest MTR to start the hike would be Wong Tai Sin, which is only one stop away from Diamond Hill. To get from Wong Tai Sin to the hike´s real starting point, there is a walk of 20 minutes on the asphalted Shatin Pass Road. So we better take a taxi to Fat Jong Temple to save time and energy, which we don´t want to waste by walking on concrete roads full of traffic.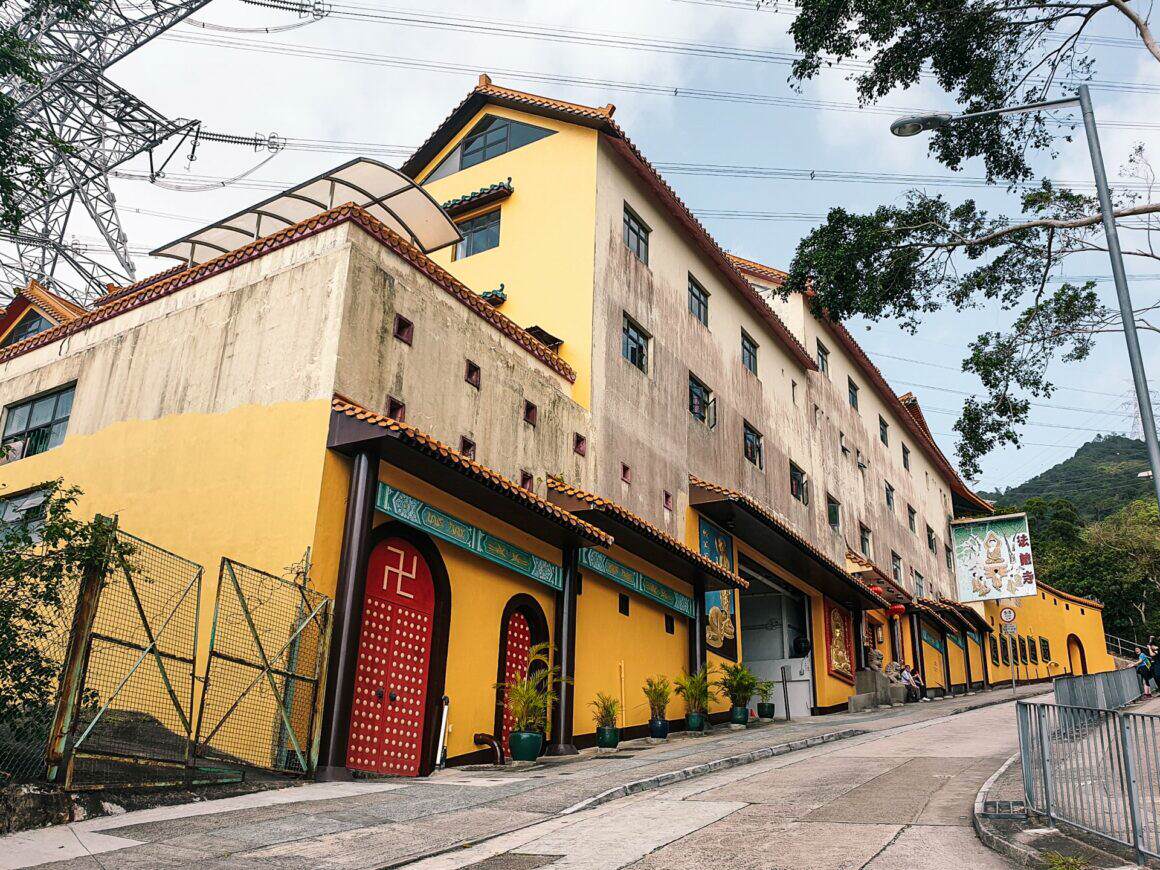 1st stage: From Fat Jong Temple to the entrance of Lion Rock Country Park
So our tour starts at Fat Jong Temple. Although our taxt driver tells us this is the furthest point he is allowed to drive, cars are still using the road to get even further up. But anyways: By now there we are joined by quite a few other hikers on the road and at one point we would need to get walking anyways. The first 20 minutes to the entrance of Lion Rock Country Park take us further up on the asphalted Shating Pass Road, which winds up the mountain in steep bends. It feels like never ending. But as soon as you see the wooden sign "Lion Rock Country Park" on your left the real hike finally starts. And the surface thankfully also changes from a pathed road to a natural trail with shady trees, interrupted by stairs from time to time.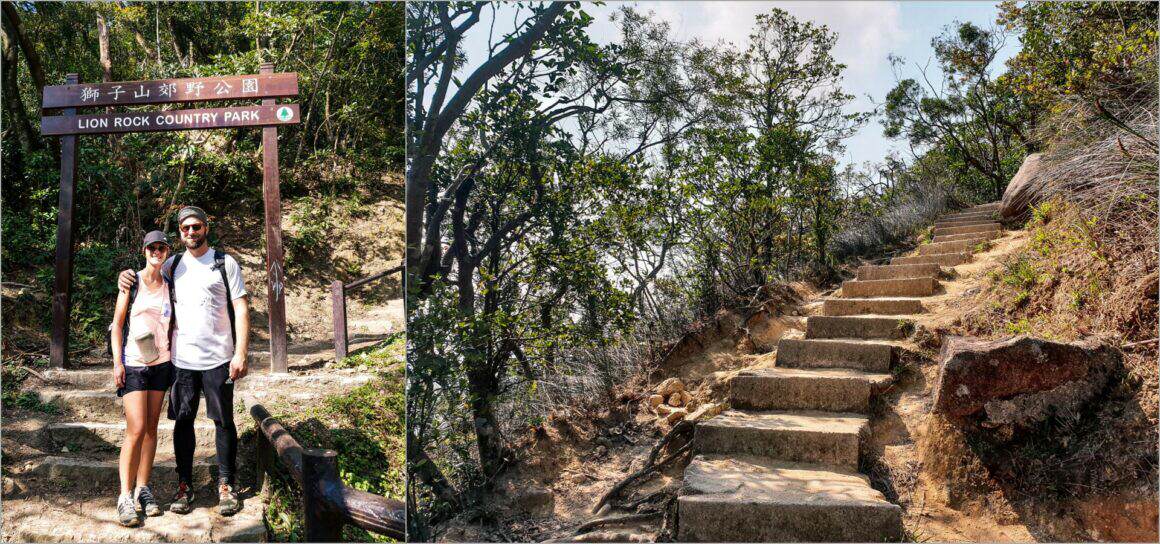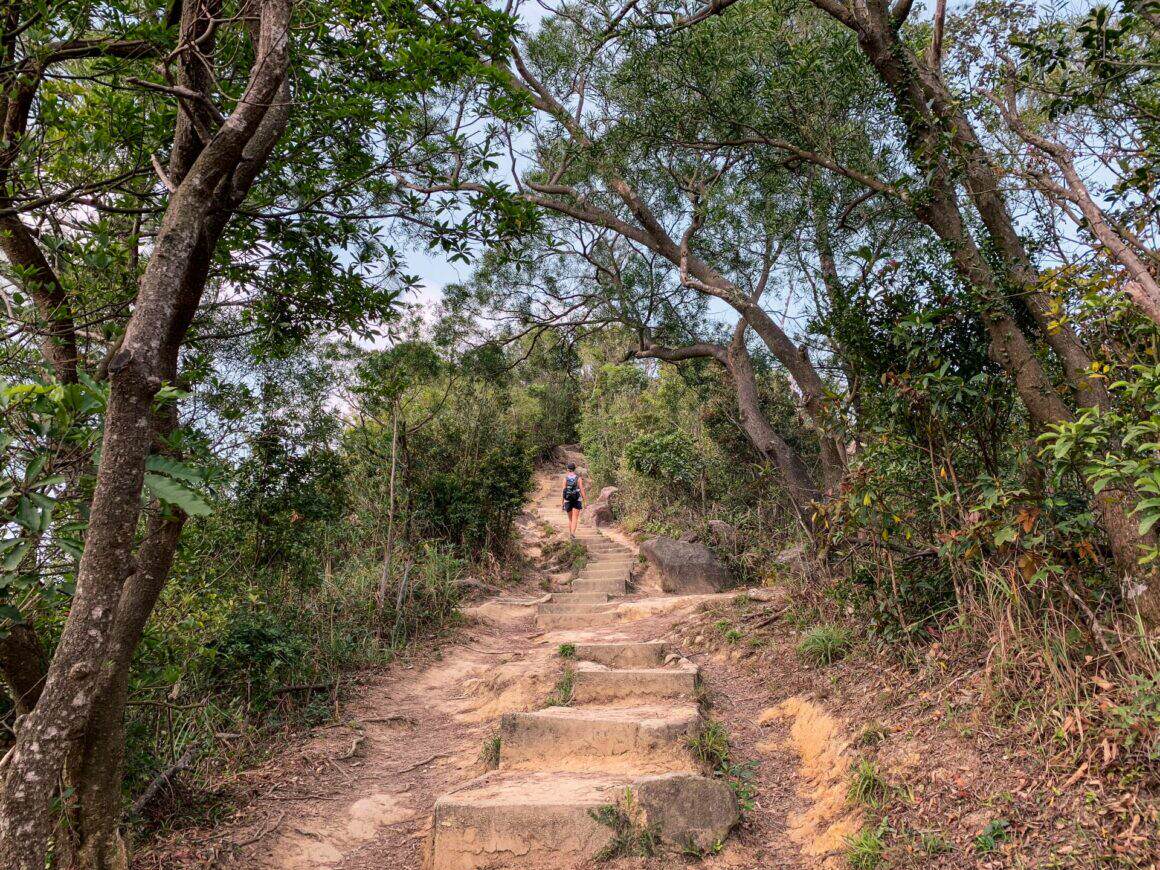 2nd stage: Lion Rock Country Park
While walking through Lion Rock Country Park you can already spot some terrific views of Kowloon´s skyscarpers. Take it easy on this stage and enjoy the panorama as the steepest part of the climb is yet to come. And be careful: Even if you are still quite close to the city, there are monkeys and snakes to be found around here. We actually spotted quite a big snake close to the trail. So don´t just walk into the higher grass. Also the monkeys won´t bother you if you don´t bother them. 🙂 After some steps and steeper parts you can relax and take some deep breaths as the trail turns into a more flat terrain.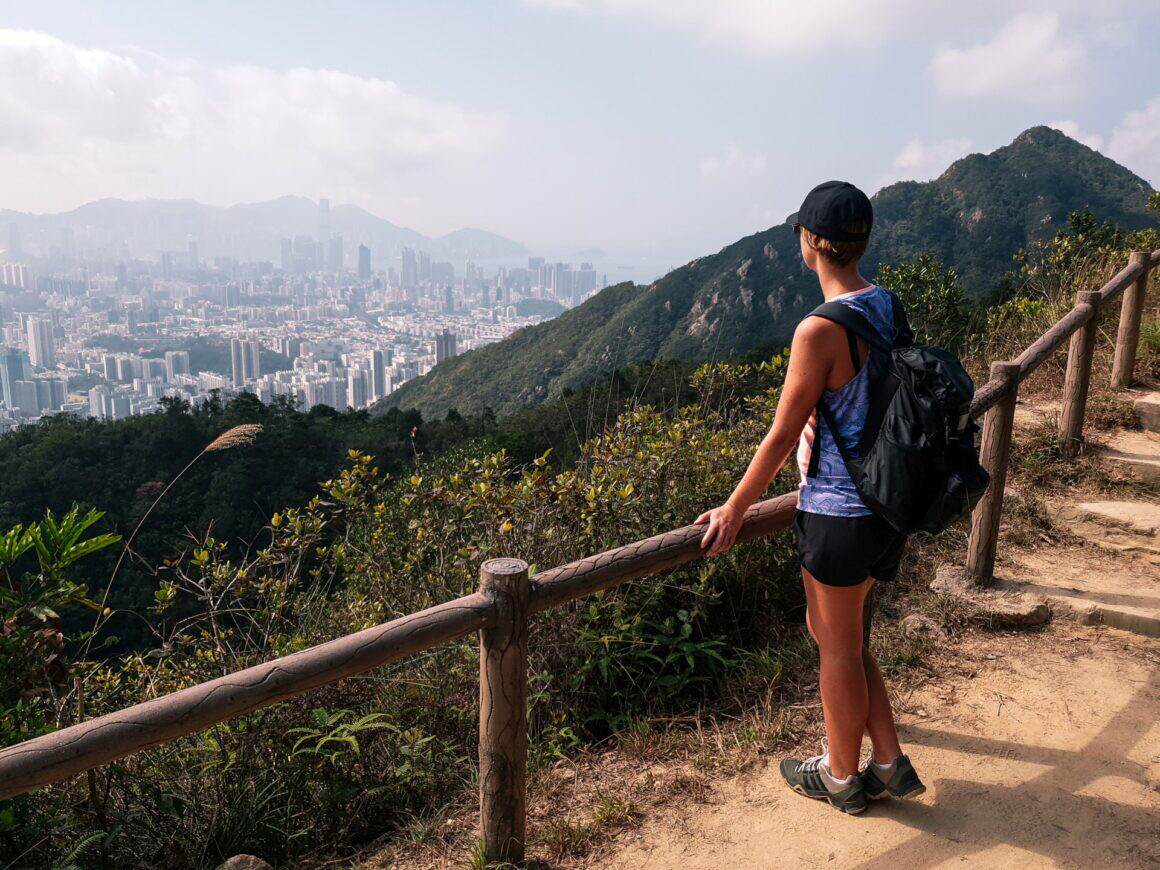 3rd stage: Ascent to Lion Rock Peak
So off we go through more even terrain until we reach the wooden sign "Lion Rock Peak". Once more you have make a left and again there will be steep steps leading up to the peak. But the remaining distance of only 500 metres promises: The final destination is close!
After reaching the top you will be rewarded with breathtaking views, while the supposed destination offers some more corners to be explored as Lion Rock consists of three peaks actually: You are standing on the first one as soon as you see the sign "Lion Rock, Altitude 495m" in front of you. Two more peaks can be fouund on your right side. All three peaks are connected by a trench. You can walk on the ridge until you reach the foremost rock: Lion Rock Head. This is actually the rock we spotted from our hotel earlier.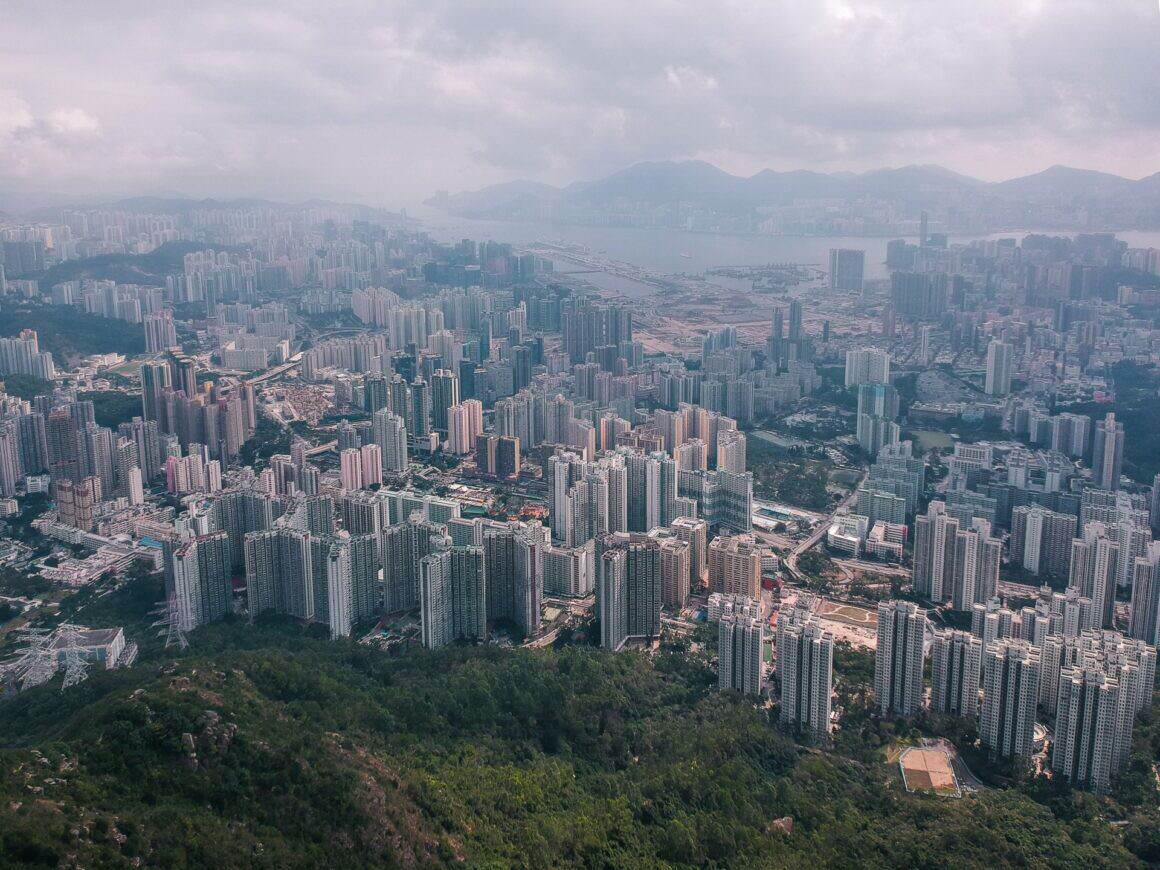 Now it´s time to admire different perspectives and absorb the immense size of the city. As Lion Rock is located on a ridge you can enjoy an open 360degree view: The densly populated Kowloon and Hong Kong Island on the one and the New Territories on the other side.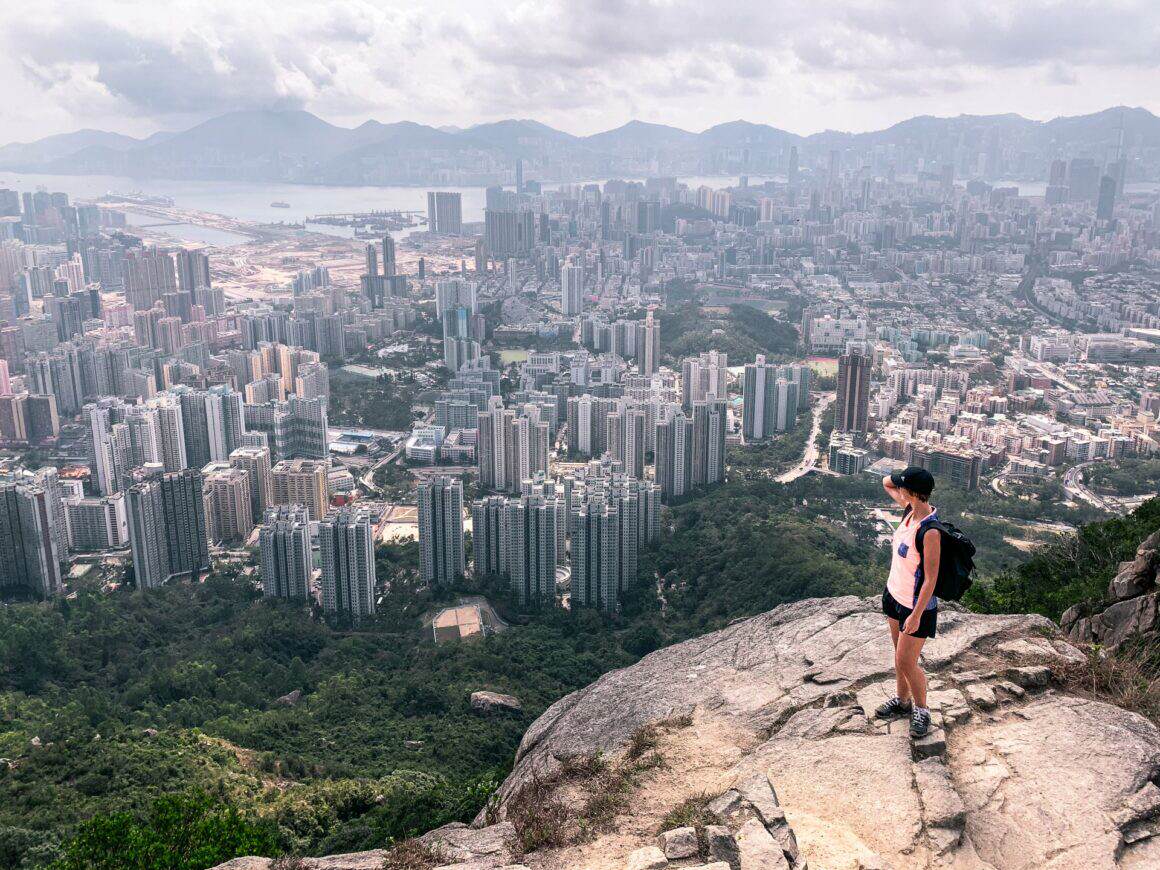 Descent: Back to Fat Jong Temple
When you absorbed enough and are ready for the descent, it´s time to head back. First you will walk back the same way you came, but only until you reach the sign "Shatin Pass Estate", which you´ve already passed on your way up. This shortcut will bring you back to Fat Jong Temple in only around half an hour. It mostly consists of steep steps winding down the mountain slope. For the descent it´s a great option, because the distance of 2km is only half the distance compared to the way up (4km). But therefore it´s really steep and definitely not a great alternative you want to choose for your hike up.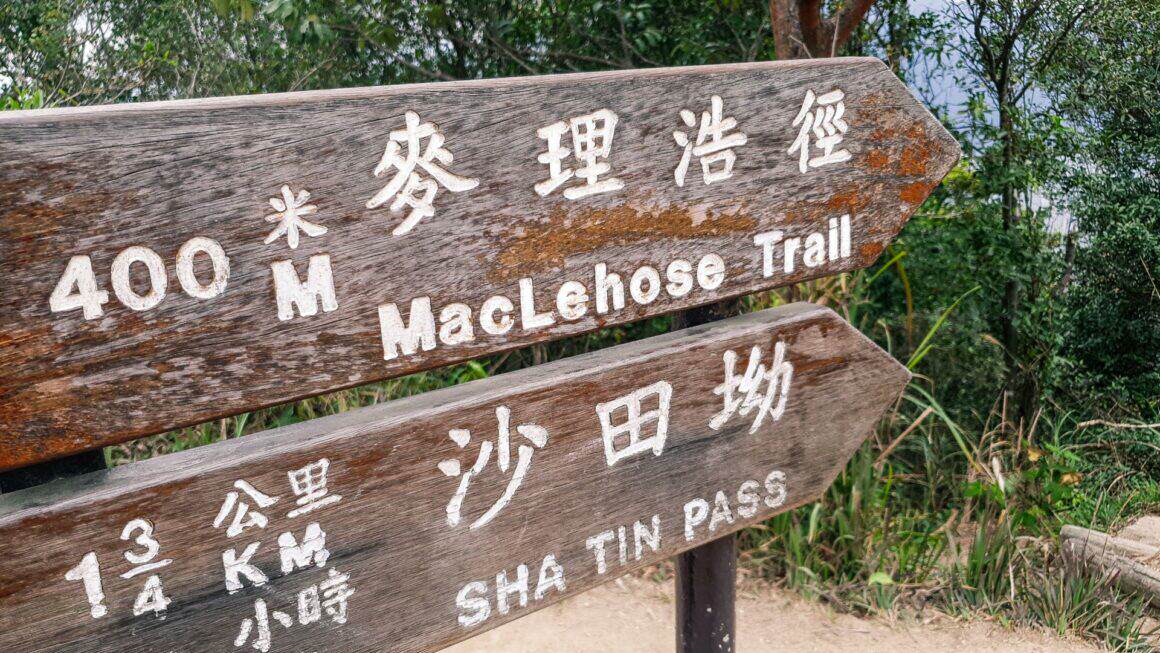 ---
***
QUESTIONS & COMMENTS? 
Have you ever visited Hong Kong and got tips for an urban hike? Leave me a comment! If you are planning to trek up Lion Rock, I hope this article gave you some useful hints about the route as well as inspiration to get started. Any suggestions or feedback? I am always happy to read about your thoughts!
***
 – SMILE4TRAVEL NEWSLETTER –
Become part of the Smile4Travel Community – Follow my Facebook Page & Instagram and register for my Newsletter, so you don´t miss any Smile4Travel adventures! No Spam – I promise!
[mailpoet_form id="1″]