Je weiter man sich aus dem Innenstadtkern Shanghais entfernt, und seien es nur ein paar U-Bahn-Stationen, desto näher rückt man an das echte chinesische Leben. Mein Ausflug in den nordwestlich gelegenen Stadtteil Putuo entführt mich in eine andere Welt: Wohnblocks und Industrie gibt es hier zur Genüge, dafür wenige bis gar keine Touristen. Das liegt zum einen daran, dass es hier draußen keine wirklichen Touristenattraktionen gibt – außer den beschaulichen Zhenru-Tempel, der wiederum auf der Liste für nationales Kulturerbe Chinas steht. Zum anderen wirkt die angrenzende Gegend etwas unspektakulär: Es fehlt das charmante Chaos von Puxi, das klassische China wie es in der Old Town zu finden ist, aber eben auch das Innovative und Moderne von Pudong.
The further you head out of the city center of Shanghai, even if it´s only for some metro stations, the closer you get to the real Chinese way of living. My trip into the Northwestern district of Putuo takes me into another world: Solely apartment buildings and industrial facilities everywhere, but no tourists at all. The main reason behind this is on the one hand there are not too many tourist attractions out here – besides the contemplative Zhenru-temple, which is actually on the list of national cultural heritages of China. On the other hand the area seems rather unspectacular: It lacks the charming chaos of Puxi, the classic China, which can be found in the Old Town, but also the innovative and modern spirit of Pudong.
Verständlich also, dass es Shanghai-Besucher, die nur ein paar Tage oder gar Stunden Zeit haben, vorziehen die im Stadtkern gelegenen und leicht erreichbaren Tempelanlagen zu besichtigen. Denn immerhin ist man ca. eine halbe Stunde vom Former French Concession Quarter aus unterwegs, bis man die gleichnamige Metro-Station am Randgebiet der Innenstadt erreicht. Als ich diese verlasse und auf die Straßen von Putuo trete, fühle ich mich direkt wie in einer anderen Stadt: Um mich herum nur mehrstöckige Wohnhäuser so weit das Auge reicht – breite, lange Straßen und eine Baustelle reiht sich an die vorherige.
Perspicuous that the Shanghai visitors, who only spend some days or even hours in town, prefer to visit the easily accessible temples in the middle of the city centre. Anyhow, from Former French Concession it takes half an hour to reach the Zhenru metro station at the outskirts of the ciy centre. As I exit the metro and enter the streets of Putuo, I feel like being in a completely differnet town: Only surrounded by multi-level apartment buildings as far as I can look, long roads and one construction site after the other.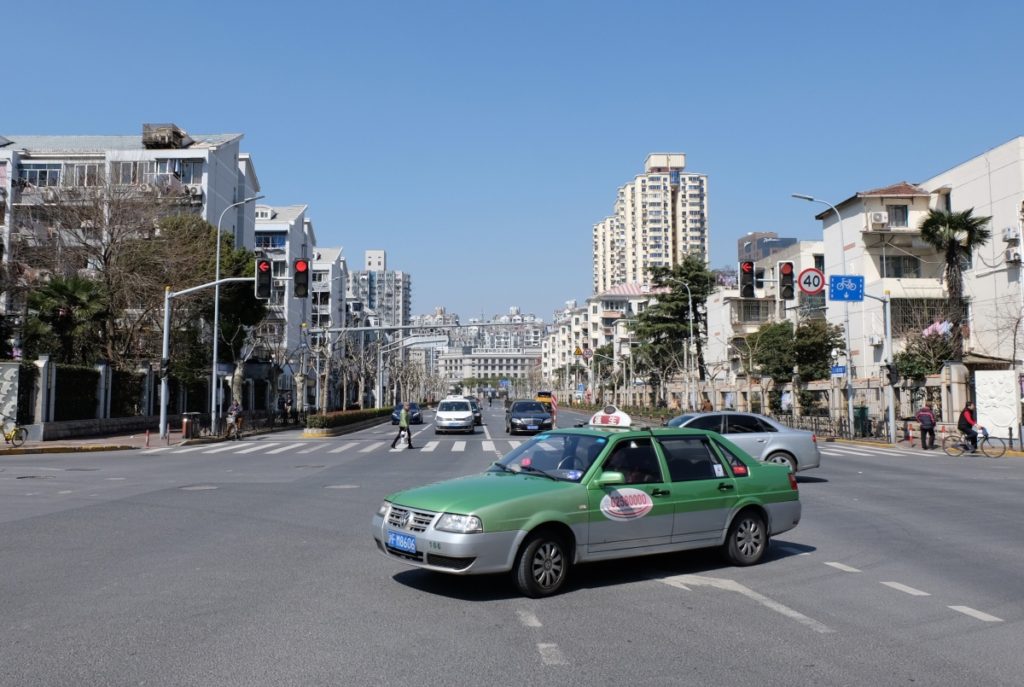 Buddhistischer Tempel | Buddhist Temple Zhenru
Einige hundert Meter zu Fuß sind es, die ich an abgeschirmten Baustellen entlang laufe, bis ich die alten Straßen von Zhenru und den dort gelegenen buddhistischen Tempel mit seiner bereits von außen sichtbaren 50 Meter hohen Pagode erreiche. 10 RMB kostet der Eintritt in die Anlage, die an diesem sonnigen Frühlingstag nur von einigen Gläubigen und Rentnern besucht ist.
After passing by several hundred metres of construction sites, I eventually reach the ancient streets of Zhenru and the buddhist temple with its 50 metres high pagoda. It´s 10 RMB to enter the temple site, which is only visited by a few religious Chinese and retirees on this sunny spring day.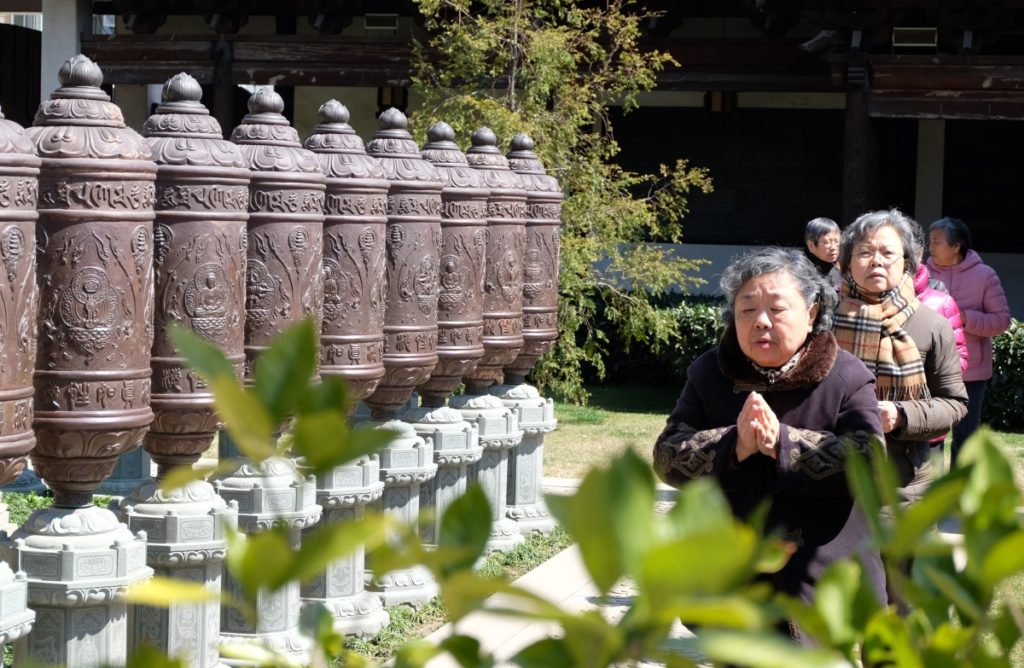 Man trifft sich hier zum Beten, Ausruhen und Tratschen, so scheint es. Es ist erstaunlich ruhig, obwohl die Tempelanlage doch mitten eines Wohngebietes liegt. Langsamen Schrittes erkunde ich das Gelände, genieße die Beschaulichkeit, die mich umgibt und beobachte die Menschen um mich herum.
People meet here to pray, rest and chat, it seems. It´s surprisingly quiet, although the temple is located in the middle of an residential area. Slowly paced I start exploring the areal, enjoy the tranquility and watch the people around me doing their thing.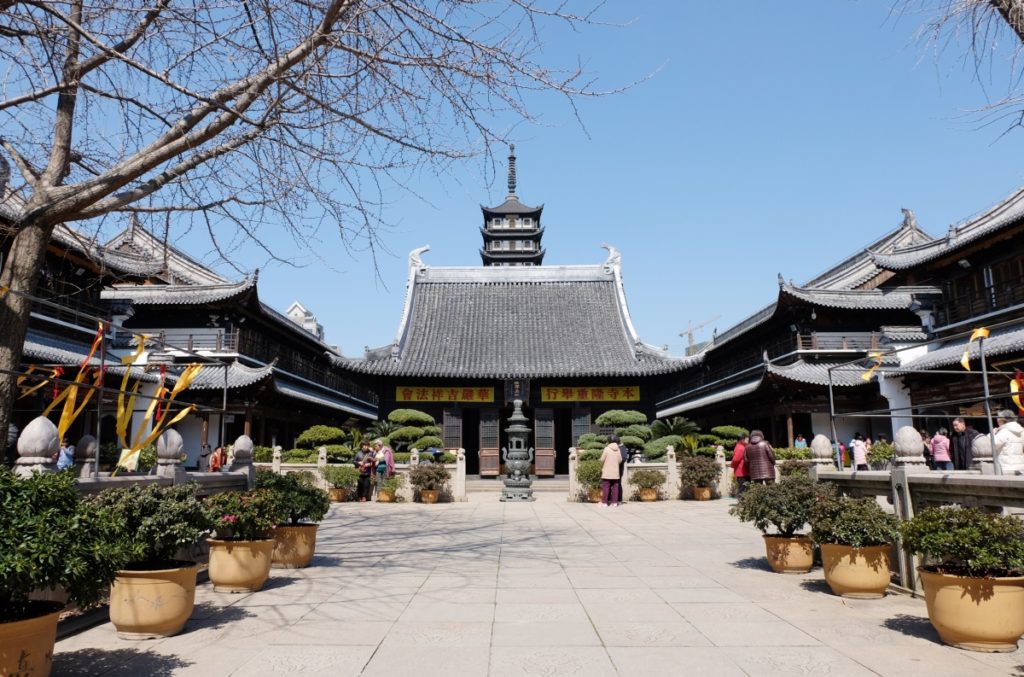 40 Mönche wohnen im Zhenru-Tempel und bewirtschaften die Anlage. Wer also etwas Zeit mitbringt, kann hier noch in den buddhistischen Alltag eintauchen.
40 monks live in Zhenru-temple and cultivate the facilities. So if you bring some time, you can still dive into buddhist everyday life around here.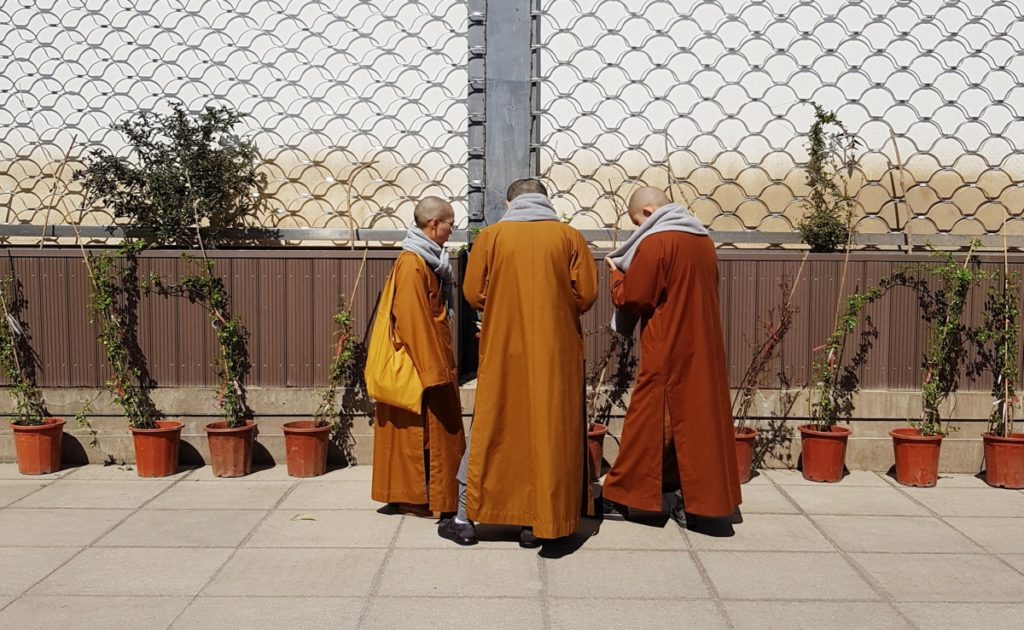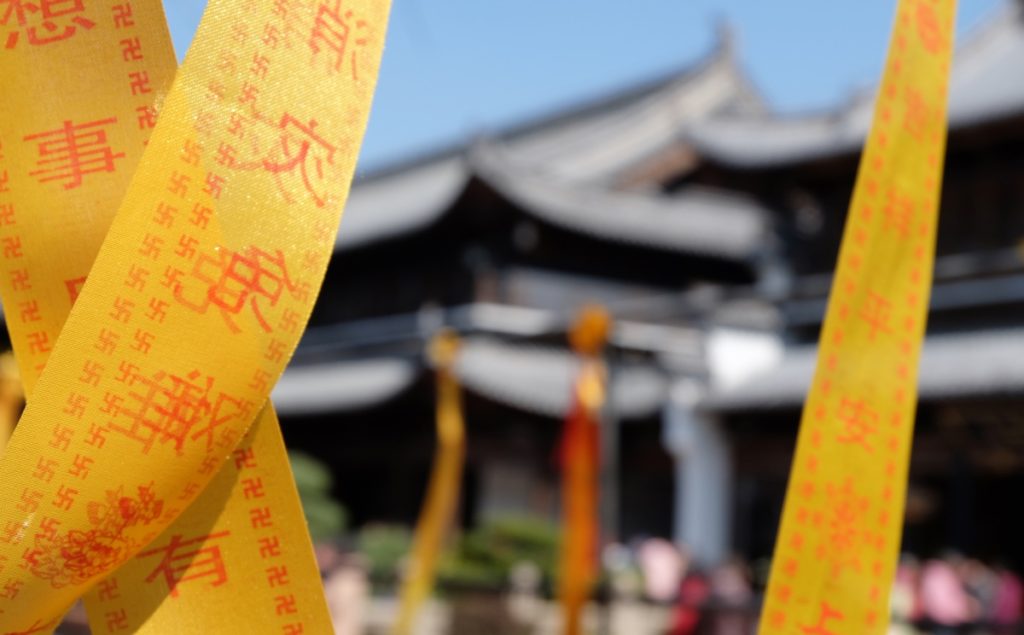 Shanghai Vorstadt(Idylle) | Outskirts
Mein weiterer Weg führt mich noch tiefer in dieses Vorstadtgebiet Shanghais Richtung Jinding Lu. Auch hier überquere ich riesige Kreuzungen. Weit und breit Wohnblocks, aber keine belebten Straßenzüge mit Geschäften oder Restaurants, wie ich sie aus dem Former French Concession kenne. Hier draußen ist Shanghai etwas anders. Etwas ruhiger und normaler vielleicht. Ein Gefühl von Vorstadtleben überkommt mich, nur eben ohne Idylle. Doch ich finde es durchaus interessant diese Gegend von Shanghai zu erkunden, wo das Leben der Chinesen viel deutlicher sichtbar wird als im bunten, lauten und geschäftigen Innenstadtkern.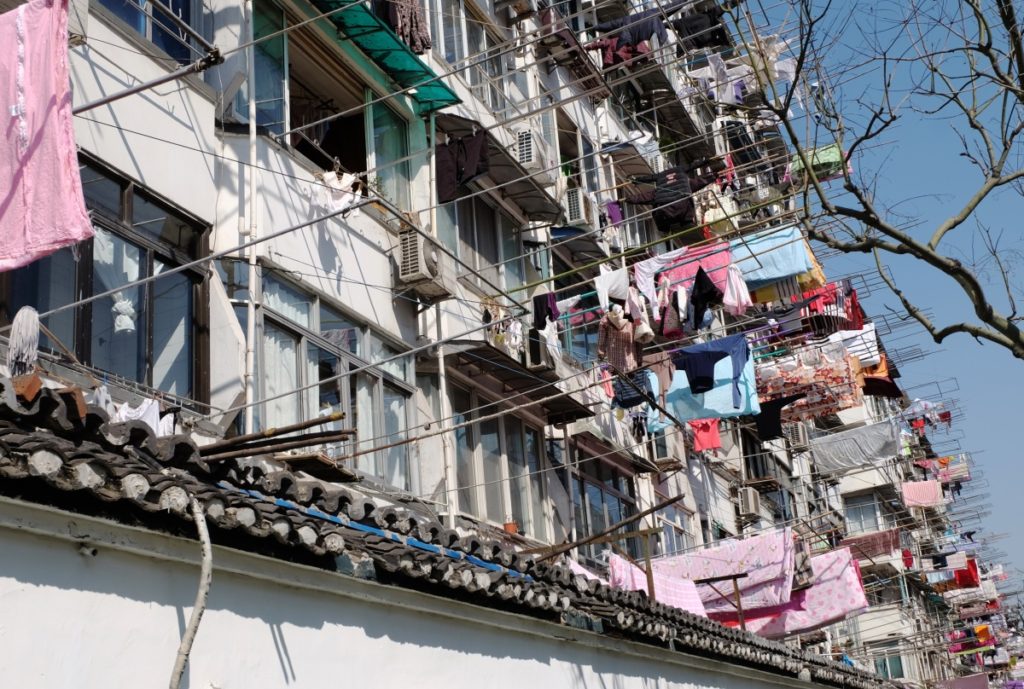 My further exploration takes me even deeper into this outskirt of Shanghai, close so Jinding Lu. Also here I have to cross big junctions and pass apartment buildings without seeing any vibrant streetlife with shops and restaurants as I´m used to from Former French Concession. Out here Shanghai is different. It´s more quiet and maybe a bit more normal. There is a feeling of suburban atmosphrere but without any idyllic touch to it. Still I find it quite interesting to explore also this side of Shanghai, where the life of an average Chinese becomes more visible than in the colourful, loud and vibrant city centre.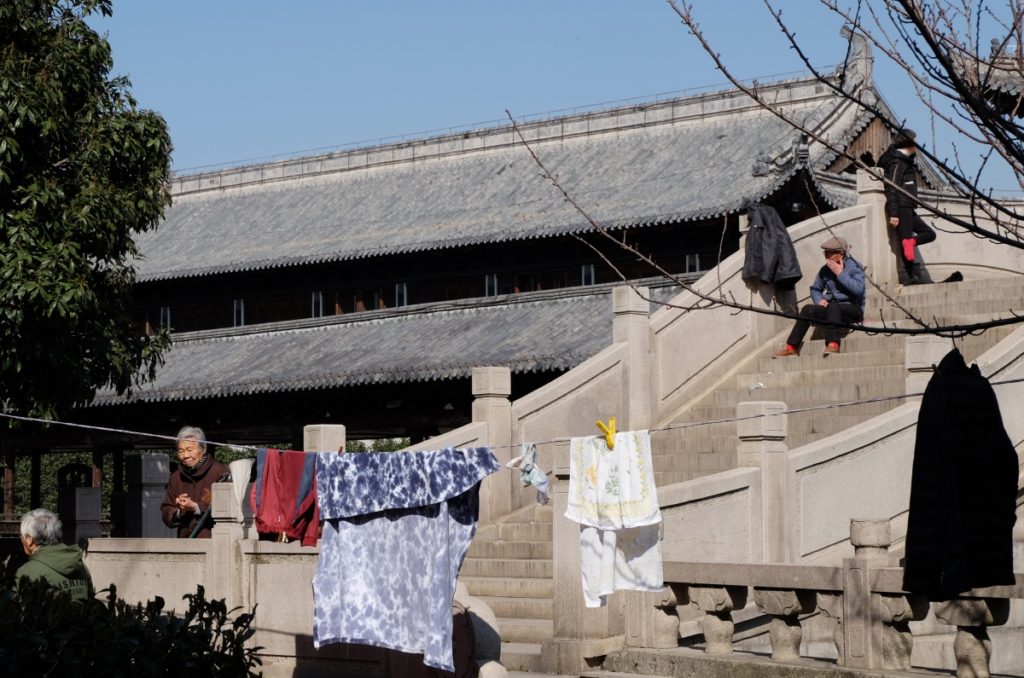 Mein nächstes Ziel, den Blumenmarkt an der Zizhou Lu, finde ich allerdings nur verlassen vor. Anscheinend wurde dieser erst vor wenigen Tagen geschlossen. Die Zugangstore sind versperrt und von Beamten bewacht. Ein kurzer Blick durch die Absperrung jedoch bestätigt: Hinter diesen Toren war bis vor kurzem noch ein riesiger Markt, auf dem neben Pflanzen und Kleintieren auch Keramik, Deko und Möbel verkauft wurden. Die Händler sind noch dabei ihre letzten Sachen zusammenzupacken und abzutransportieren. Ob der Markt wieder öffnet, oder umziehen wird, ich weiß es nicht. Ich habe nur gelesen, dass bereits einige dieser Märkte in den letzten Jahren geschlossen wurden.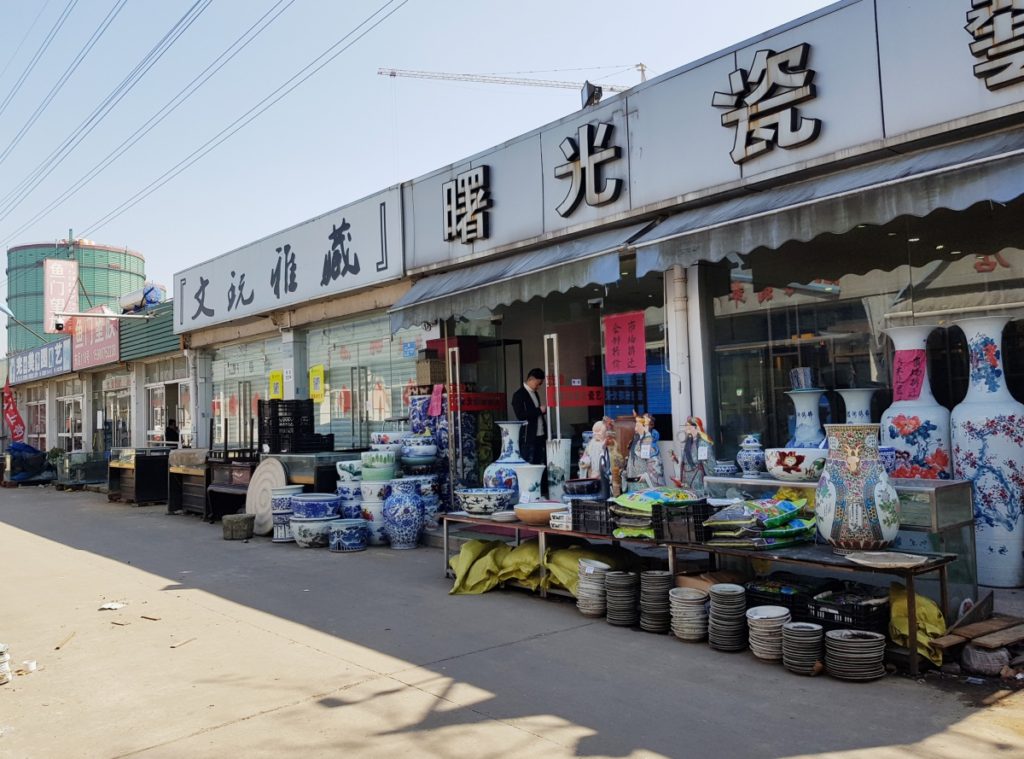 My next destination, the birds and flower market at Zizhou Lu, which I unfortunately only find abandoned. Apperently it was only closed down some days ago. The entrance doors are blocked and guarded. A short look through the barriers confirms: Behind these doors must have been a big market, where beside plants and small animals also pottery, decoration and furniture was sold. The vendors are still busy wrapping-up and removing their goods. Whether the market will re-open again or move somewhere else, I cannot tell. Just read that lots of markets like this were shut down in the past years already.
Mein Weg führt mich also wieder zurück Richtung Zhenru, denn die nächste U-Bahn-Station in dieser Gegend ist mindestens 20-30 Minuten zu Fuß entfernt. Zurück in Zhenru tauche ich noch einmal in die geschäftigen Straßenzüge rund um den Tempel ein und entdecke erneut einen anderen Blickwinkel auf die Pagode.
So my way takes me back to Zhenru, because the next metro station in this area is at least 20-30 minutes away. Back at Zhenru once more I dive into the busy streets around the temple and discover yet another new perspective of the pagoda.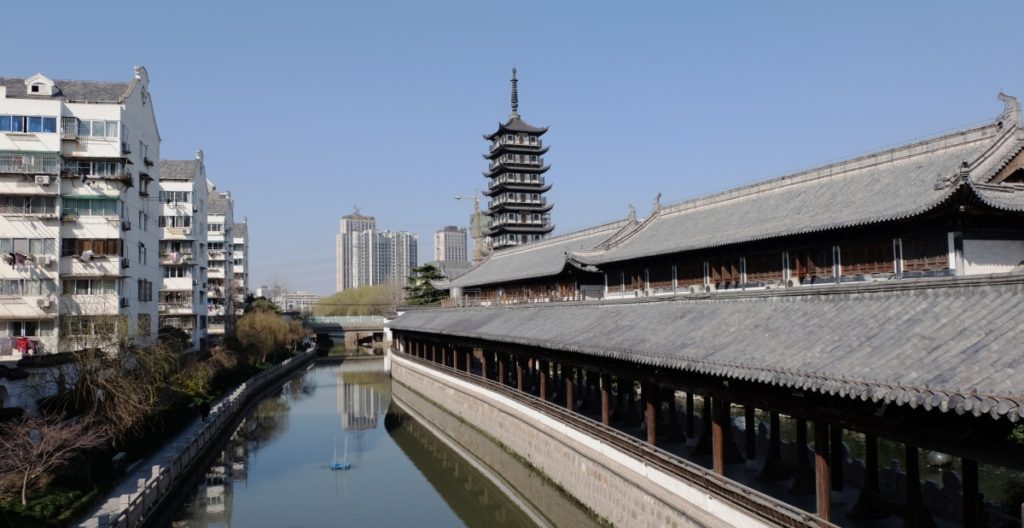 Mein Fazit: Der Ausflug nach Zhenru hat sich gelohnt. Leider war die neunstöckige Pagode am Tag meines Besuchs nicht zum Aufstieg geöffnet. Ansonsten genießt man von oben einen wunderbaren Blick, der an klaren Tagen angeblich bis nach Pudong reicht.
My conclusion: The trip to Zhenru was worth absolutely it. Unfortunately the nine-level pagoda was closed to climb on the day I visited. Otherwise you can enjoy a wonderful view, which allegedly reaches all the way to Pudong on a clear day.
---
⇒ Fotogalerien | Photo Galleries: Zhenru Temple & Putuo