(P)Roof of Africa – Das Abenteuer Kilimandscharo beginnt
Gut sechs Wochen Vorbereitung, Einlesen, Ausrüstung zusammenstellen sind vorüber und das Abenteuer rückt in greifbare Nähe. Von Frankfurt fliegen wir mit Ethiopian Airlines über Addis Abeba/Äthopien nach Tansania. Ziel: Kilimanjaro Airport. Mission: (P)Roof of Africa – Besteigung des 5.895 Meter hohen Kilimandscharo. Sieben Tage haben wir für die Besteigung inklusive Akklimatisation eingeplant. Schlafsack, Matratze, wetterfeste Kleidung für fünf Klimazonen, Wanderstöcke, Trinkflaschen, Taschenlampe und ein wenig Powerriegel-Proviant haben wir dabei. Zelt und Verpflegung bekommen wir von Decent Safaris.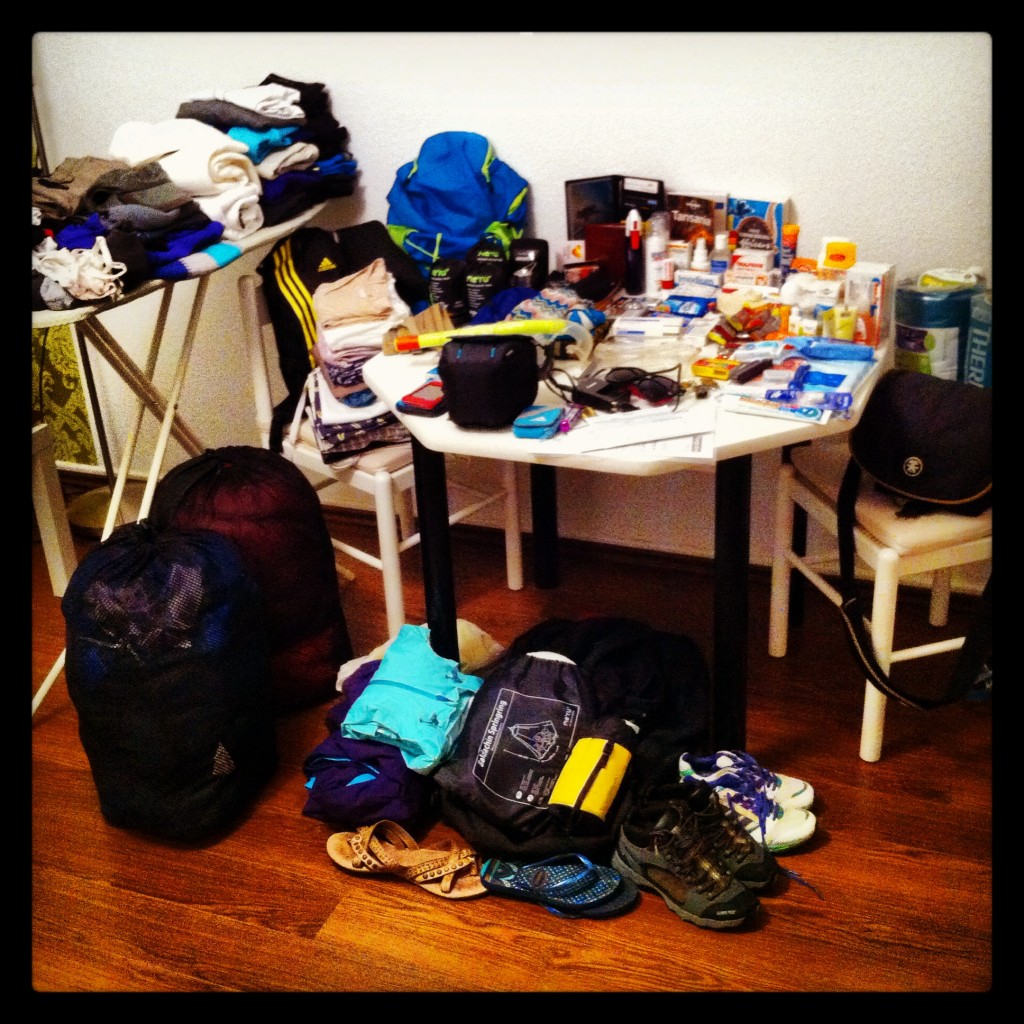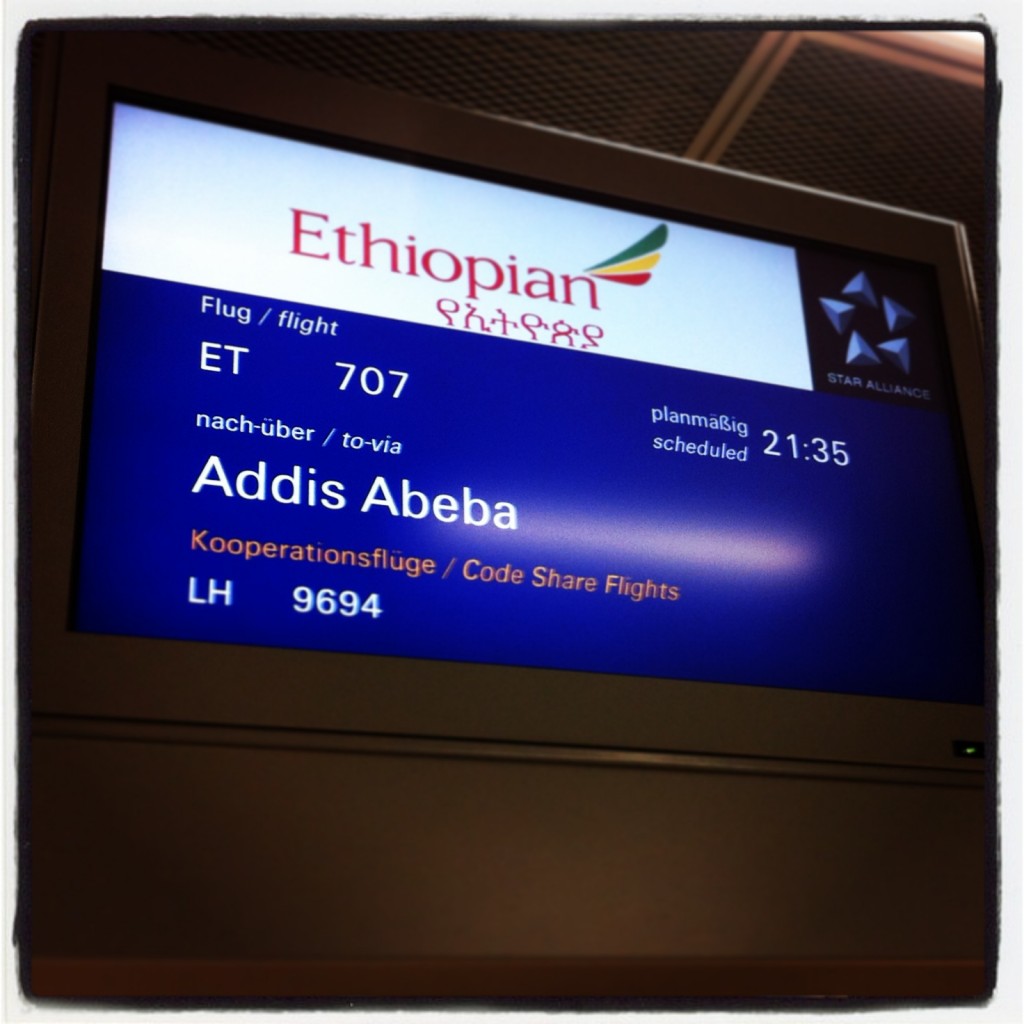 Erster Eindruck: Wie Sie sehen, sehen Sie nichts – Der Kilimandscharo hüllt sich in Wolken
Die Landung auf dem Kilimanjaro Airport ist wackelig. Mächtige Wolken versperren nicht nur dem Piloten, sondern auch uns die Sicht auf unser bevorstehendes Abenteuer. Ernest, unser Guide, holt uns vom Flughafen ab, um uns nach Arusha zu bringen. Ernest freut sich, dass er Besuch aus Deutschland hat, hält aber mit den weniger erfreulichen Nachrichten nicht lange hinter´m Berg. Ob wir wohl wetterfeste Kleidung eingepackt hätten? Wasserfeste Schuhe, regenfeste Hosen, Gamaschen, Regenjacke, Handschuhe, Mütze?  Er will sichergehen, dass wir auch an alles gedacht haben. Hier am Boden ist es zwar trocken, doch der Kili ist in dicke Wolken gehüllt. Seit gut zwei Wochen regnet es nun schon am Berg, sagt Ernest. Für Mitte Februar ist das ungewöhnlich, denn die Regenzeit beginnt erst im März. Genau aus diesem Grund haben wir ja auch Februar als Reisemonat gewählt. Nun ja, ändern können wir es nicht, nur hoffen, dass sich der Regen legt. Bei gefühlten 30 Grad ist es im Moment auch schwer vorstellbar, dass wir in ein paar Tagen Mütze und Handschuhe brauchen werden…
Wir sind also froher Dinge. Auf dem Weg nach Arusha können wir einen Blick auf Kilis 4.566 Meter hohen Nachbarn Mount Meru erhaschen. Auch der zweithöchste Berg Tansanias versteckt sich hinter Regenwolken, doch ab und an lässt er seine Silhouette durchschimmern. Nicht so der Kilimandscharo. Er versteckt sich weiterhin hinter dicken Wolken.
Am Abend treffen wir Yohann, den Manager von Decent Safaris, um noch ein paar Details zu besprechen. Die nächste Woche werden wir nun am Berg verbringen, ohne festes Dach über unserem Kopf, ohne Dusche, ohne Bett. Auch Yohann fragt nach unserer Kleidung und ob wir noch etwas ausleihen möchten. Auch das wäre möglich. Doch wir sind gut ausgerüstet. Schlafsack neu erstanden, Matratzen dazu gekauft, Trekking-Stöcke von Freunden geliehen und Kleidung wohlüberlegt ausgesucht. Eine Packliste folgt.
Auch Yohann berichtet von heftigen Regen- und Schneefällen in den letzten Tagen und frostigen Temperaturen. Doch Yohann erzählt uns auch von einer 15-köpfigen Gruppe, von denen es 14 vergangene Nacht auf den Gipfel geschafft haben. Gute Quote. Unsere Guppe wird nur aus Jan und mir bestehen. Wie groß unsere Gruppe inklusive Guides und Trägern letztendlich sein wird, erfahren wir morgen direkt am Machame-Gate, wo wir unsere Tour starten werden. Mit einem unwirklichen Gefühl gehe ich Schlafen. Morgen beginnt das Abenteuer. (P)Roof of Africa Tag 1: Durch dichten Regenwald vom Machame Gate bis zum Machame Camp auf 3.000 Meter Höhe.
Weiterlesen: Tag 1 – Machame Gate bis zum Machame Camp
Tags:
Afrika
,
Dach Afrikas
,
Kilimanscharo
,
ProofofAfrica
,
Tansania
,
Wanderlust