(P)Roof of Africa – Reisevorbereitungen Kilimandscharo
Entscheidung ist getroffen
Die Entscheidung ist getroffen, 2014 wird das Jahr, in dem ich gemeinsam mit Jan versuchen werde den Kilimandscharo, das höchste freistehenden Bergmassiv der Welt zu besteigen. Die Idee ist nun schon ein paar Wochen gewachsen und jetzt kann es los gehen. 2014 werde ich mich meinem persönlichen (P)Roof of Africa stellen.
Fragen über Fragen
Ist es überhaupt zu schaffen? Bleibt uns genug Zeit zur Vorbereitung? Wie können wir uns überhaupt vorbereiten? Wie können wir uns auf die unterschiedlichen Höhenverhältnisse einstellen? Fragen über Fragen. Auch wenn Internet-Recherche und Reiseführer schon einige Fragezeichen ausgelöscht haben, wir wollen es nun genau wissen und fahren nach München in den Globetrotter. Dort stehen neben allgemeiner Kaufberatung noch Kälte- und Höhenkammer sowie eine Reisepraxis zur Verfügung.
Gute Reisevorbereitung & Beratung ist alles
Los geht's in die Outdoor-Abteilung. Schnell wird klar: Hier könnten wir den ganzen Tag verbringen. Erster Anlaufpunkt: Reisepraxis. Ich muss gestehen, davon habe ich mir etwas mehr versprochen. Malaria-Prophylaxe ok, die brauchen wir. Impfungen, ok, die ein oder andere ist nötig. Aber, ob ich Tollwut unbedingt haben muss… Ich bin noch unschlüssig. Und Cholera? Wer hat sich schon mal gegen Cholera impfen lassen? Ist ja nicht so, dass ich das erste Mal verreise… Also geht's weiter zur Höhenkammer. Das ist irgendwie cool. Man kann sich einfach Klamotten aussuchen und sie dann in der Kammer testen, auf Eisbrocken liegen, und sich kurz fühlen, als wäre man in der Antarktis. Denn bis zu minus 25 Grad hat es hier.
In der Höhenkammer kann man sich sogar auf die Anstrengungen über 3.500 Meter vorbereiten und auf Fitnessgeräten trainieren. Aber dafür haben wir weder Zeit, noch wohnen wir in München, um das als Vorbereitung regelmäßig zu nutzen. Sogar einen Höhentauglichkeitstest kann man hier machen. Aber was nutzt der uns? Wir haben ja schon gebucht. Und egal, was der Test ergeben würde, versuchen würden wir es ja trotzdem.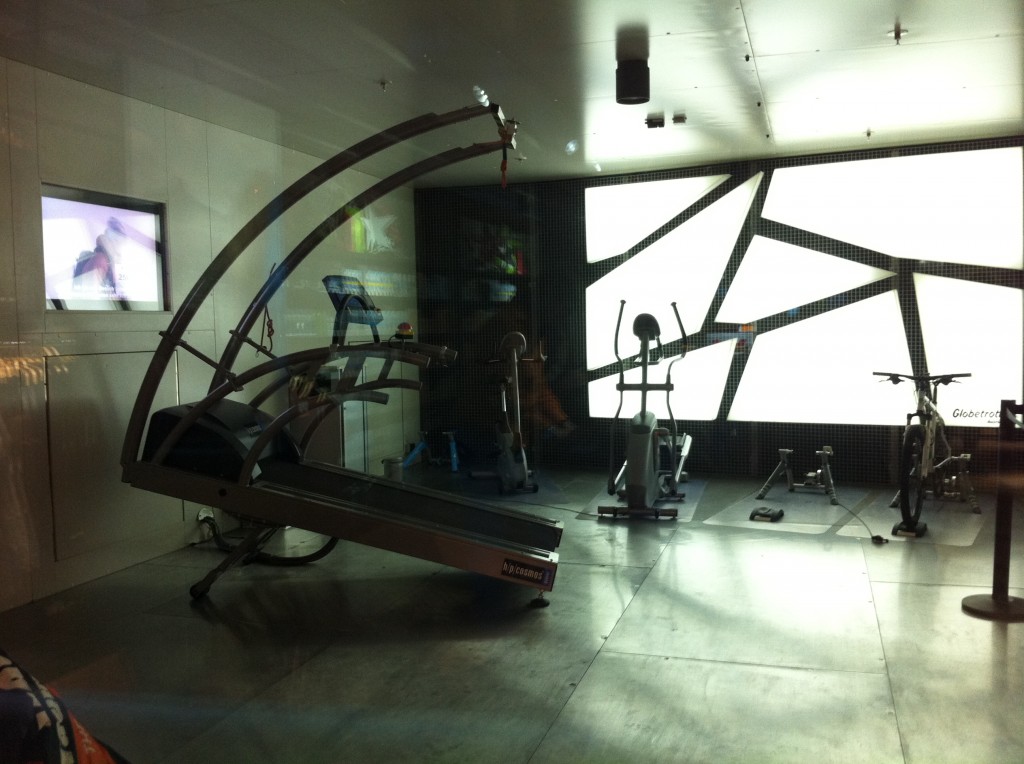 Also lassen wir uns lieber hinsichtlich Ausrüstung beraten, denn eins steht fest: Einen ordentlichen Schlafsack brauchen wir auf jeden Fall noch. Er muss vor allem relativ leicht sein, darf kein zu großes Pack-Maß haben und warm halten muss er bei eventuell bis zu minus 10 Grad.
Wenn ich nur daran denke, wird mir schon etwas anders. Aber das gehört dazu zum (P)Roof of Africa.
Tags:
Globetrotter
,
Höhentraining
,
Kältekammer
,
München
,
Outdoor
,
Wanderlust