(P)Roof of Africa: Kilimandscharo-Abenteuer – Abstieg zum Mweka Gate
Der letzte Tag unserer Kilimandscharo-Tour beginnt mit einer Melodie, die ich in den nächsten Tagen nicht mehr aus meinen Ohren bekommen sollte: "Kilimandscharo, Kilimandscharo, Kilimandscharo… Kili…maaandscharo" trällert unsere gesamte Helfertruppe zum gelungenen Aufstieg auf Afrikas höchsten Berg am Tag zuvor.
Unser Abenteuer (P)Roof of Africa erfolgreich gemeistert, folgt heute der für mich anstrengenste Teil der Tour: Sechs Stunden bergab Laufen. Zwei Stunden bis zum Mweka Camp, das eigentlich unser Quartier für die letzte Nacht hätte sein sollen, und dann noch die geplante Tagesetappe. Nach dem Frühstück brechen wir auf Richtung Mweka Gate auf 1.500 Meter. Der Weg führt steil bergab über Stock und Stein. Wie verlieren schnell an Höhenmetern und die Landschaft ändert sich rasch: Die Bäume werden höher, das spinnennetz-ähnliche Moos der ersten beiden Tagesetappen taucht wieder an den Felsen und Bäumen auf. Schließlich kommen wir in den Regenwald. Und obwohl sich der Kilimandscharo am vergangenen Abend von seiner besten Seite gezeigt hat, bleibt uns das unbeständige Wetter auch am letzten Tag unserer Tour treu und der Regenwald macht seinem Namen alle Ehre.
Der steile Weg macht mir ziemlich zu schaffen. Ohnehin geht das Bergab-Laufen in die Knie und Oberschenkel. Doch der felsige Weg ist so steil, dass ich bei jedem Schritt erst genau schauen muss, wo ich meinen Fuß hinsetze, um nicht umzuknicken. Nach einer gefühlten Ewigkeit ändert sich der steinige Weg in hölzerne Stufen, was nicht weniger anstrengend ist. Der Weg zieht sich ewig. Es ist matschig und rutschig. Heute bin schließlich ich diejenige, die stets hinter Ernest, Denic und Jan läuft und langsam immer weniger Kraft hat.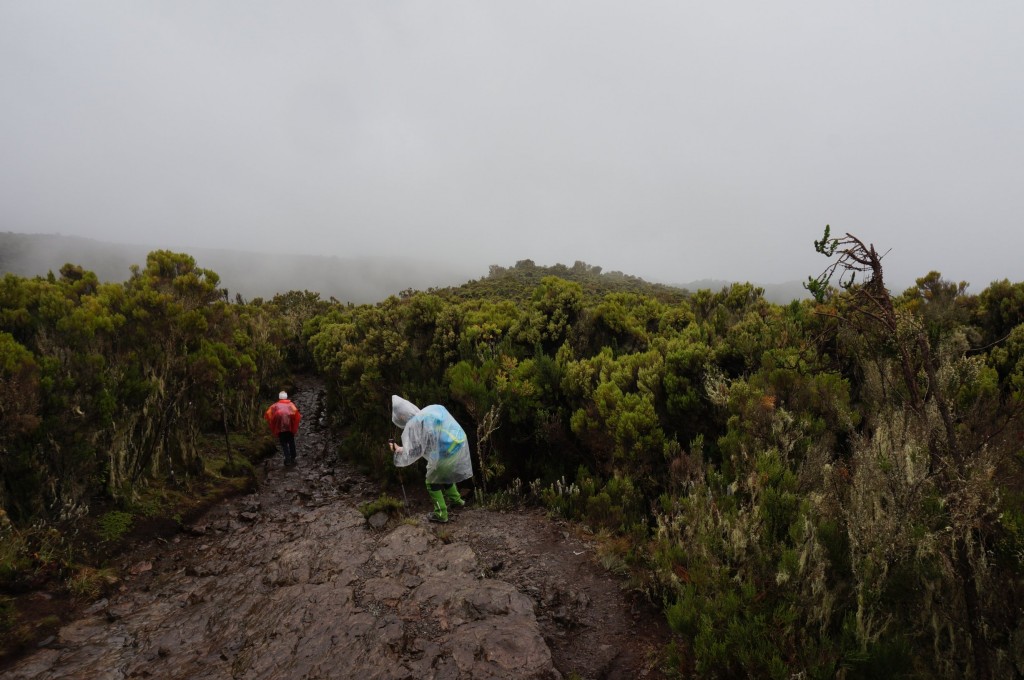 Ca. 40 Minuten vor dem Mweka Gate kommen wir schließlich auf einen breiten Weg, der nun das erste Mal seit einer Woche wieder etwas an Zivilisation erinnert. Stetig bergab und ohne Stufen geht es nun auf der Zielgeraden weiter. Und obwohl das Ziel nun in greifbare Nähe gerückt ist, mag ich kaum mehr laufen. Am Wegesrand stehen verlassene Stretcher. Ernest sagt, dass in der vergangenen Nacht mindestens drei Bergsteiger mit den Sackkarren-ähnlichen Gefährten zum Fuß des Berges gebracht werden mussten. Kaum vorstellbar, wie es möglich ist den steilen Weg auf einen Stretcher gespannt zu überwinden und noch weniger vorstellbar ist es, wie die Stretcher von Trägern wieder auf den Berg hoch gebracht werden, um für die nächsten höhenkranken oder verletzten Wanderer als Transportmittel zur Verfügung zu stehen. Hat man es bis hierhin geschafft, kann man schließlich vom Krankentransport abgeholt werden. Einer kommt uns entgegen und fährt wenige Minuten später wieder an uns vorbei zum Gate und dem Ausgang des Kilimandscharo-Nationalparks. Aufgrund des schlechten Wetters mussten laut Ernest in den vergangen Tagen und Wochen mehr Leute als sonst die Tour abbrechen oder gar per Stretcher nach unten gebracht werden. Wir können also mehr als stolz sein, dass wir es ohne größere Beschwerden auf den Gipfel des 5.895 Meter hohen Riesen geschafft haben und heil wieder nach unten gekommen sind. Nur eine halbe Stunde trennt uns noch vom Mweka Gate. Es regnet nun nicht mehr auf dem letzten Stück nach unten. In den Baumwipfeln spielen Blue Monkeys und Vögel zwitschern.
Gegen 14.30 Uhr erreichen wir schließlich das Mweka-Gate, wo alle Träger inklusive Gepäck bereits seit einiger Zeit im Minibus auf uns warten. Auch für sie ist eine anstrengende Bergtour zu Ende gegangen. Im Gegensatz zu uns werden sie allerdings bereits in ein paar Tagen wieder den Aufstieg in Angriff nehmen und einer andere Gruppe versuchen den Traum von der Besteigung des Kilimandscharo zu ermöglichen.
Unser Traum, Afrikas höchsten Berg zu besteigen, ist in Erfüllung gegangen. Voller Stolz nehmen wir unsere Urkunde entgegen und als hätte jemand die Uhr gestellt, beginnt es wieder in Strömen zu regnen.
Es scheint als seien wir die letzten Wanderer, die heute Nachmittag das Mweka Gate erreichen.  Zusammen mit all unseren Trägern, Wolfgang, dem Koch, Geoffrey, unserem Kellner, Denic und Ernest, unseren beiden Guides, fahren wir im Minibus nach Moshi. Dort trennen sich unsere Wege. Während sich alle auf das Wiedersehen mit ihren Familien freuen, sehnen wir uns nach einer heißer Dusche, einer Klospülung, einem trockenem Bett und ein paar Stunden Zeit, um das Erlebte zu verarbeiten. Das Abenteuer Tansania ist noch nicht zu Ende. Wir begeben uns auf die Fährte der wilden Tiere Afrikas. Aber das steht auf einer anderen Seite des Blogs…
Das könnte Dir auch gefallen | You may also like:
Tags:
Afrika
,
Dach Afrikas
,
Kilimandscharo
,
Mweka Gate
,
Proof of Africa
,
Tansania
,
Uhuru Peak
,
Wanderlust